The Provençal city of Avignon was built to house kings and enlightened artists, when the popes made this their home after departing Rome in the 14th century. The impressive architecture of Old Town and its deep stone walls now house some of the best Airbnbs in Avignon, centred around the Palais des Papes (Popes' Palace) and its fascinating history.
Situated on the left bank of the River Rhône, Avignon is known for the song, sur le pont, d'Avignon, which sings about its famously half-finished bridge, Pont Saint-Bénézet. Many of the best Avignon Airbnbs offer sublime views over this World Heritage protected waterway.
Further reading: Avignon Travel Guide
---
Top Avignon Airbnbs for Every Holiday Type
Avignon is renowned for its historic buildings and the best Airbnbs in Avignon don't disappoint in terms of historical charm and old-world French ambience.
Ranging from traditional farmhouses and sophisticated city townhouses, to extravagant castles and kitted out boats, there's something for everyone and every budget. Find the best places to stay in Avignon, below.
AVIGNON AIRBNB ON THE RIVER
There are several barges (peniches) moored along the banks of the Rhône, but none so stylish as this one, which comes complete with its own private pool on the deck.
Matelot is the French word for sailor, and whilst you cannot set sail, you can recline on one of the brightly coloured deck chairs overlooking Avignon's stunning Old Town or in one of the four spacious bedrooms and bathrooms. It's ideal for a group of friends, who want to be close enough to walk into town, but yearn for their own secluded space to catch up and relax.
Peniche Les trois matelots works for families with older kids too, where the kids can close out the day in the pool in warmer months and there's enough space for the parents to prep dinner in the grand kitchen.
Key Features: 4 bedrooms (each with their own bathroom), pool, air-conditioning, WiFi, BBQ, unbeatable location & views!
What the guests are saying: "If you are looking for a unique experience, this is it!! We loved our stay. "
View More Photos & Check Availability Here
---
CENTRAL AIRBNB IN AVIGNON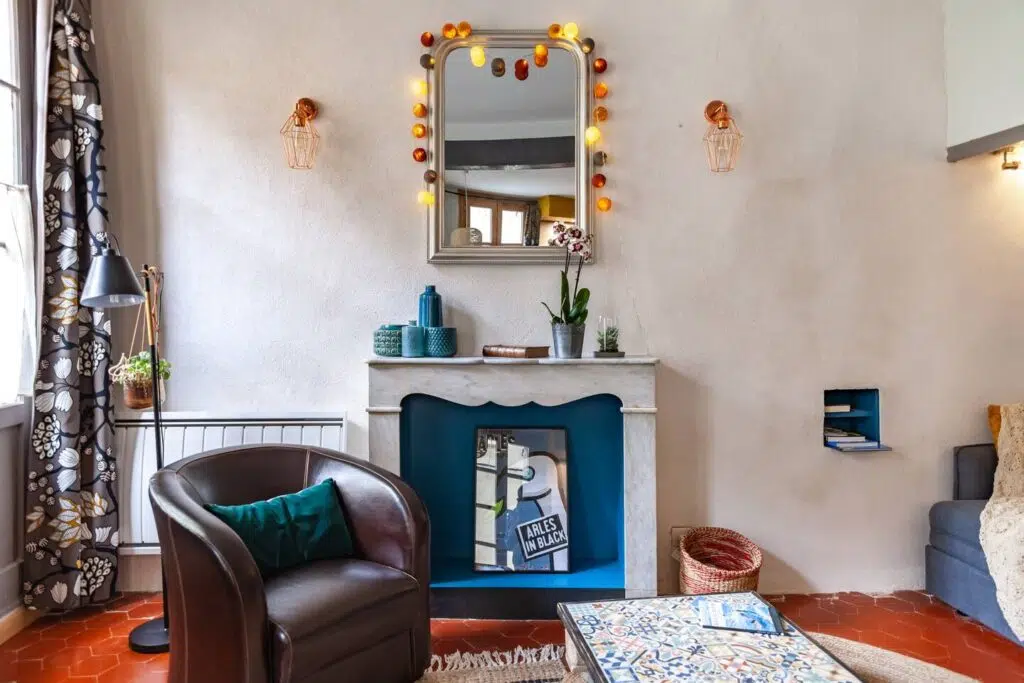 Those looking for an Airbnb in Avignon historic centre will be charmed by this bohemian apartment.
It has one bedroom and can sleep another couple on a pull-out couch in the living room if you're travelling with friends. But it's the attention to detail that gets consistently rave reviews; interesting books in the nook of the wall, candles on the mantelpiece, the blue and yellow coloured tiles in the bathroom and kitchen.
Bikes are available for guests to pootle around town to visit the sites before stopping off in the local restaurants and bars on the way home.
Key Features: Central location, pets allowed, baby facilities, beautifully decorated, washer & dryer.
What the guests are saying: "A superb apartment right in the heart of Avignon, very beautiful and stylish interior and very caring host."
View More Photos and Check Availability Here
---
LARGE FARMHOUSE TO RENT IN AVIGNON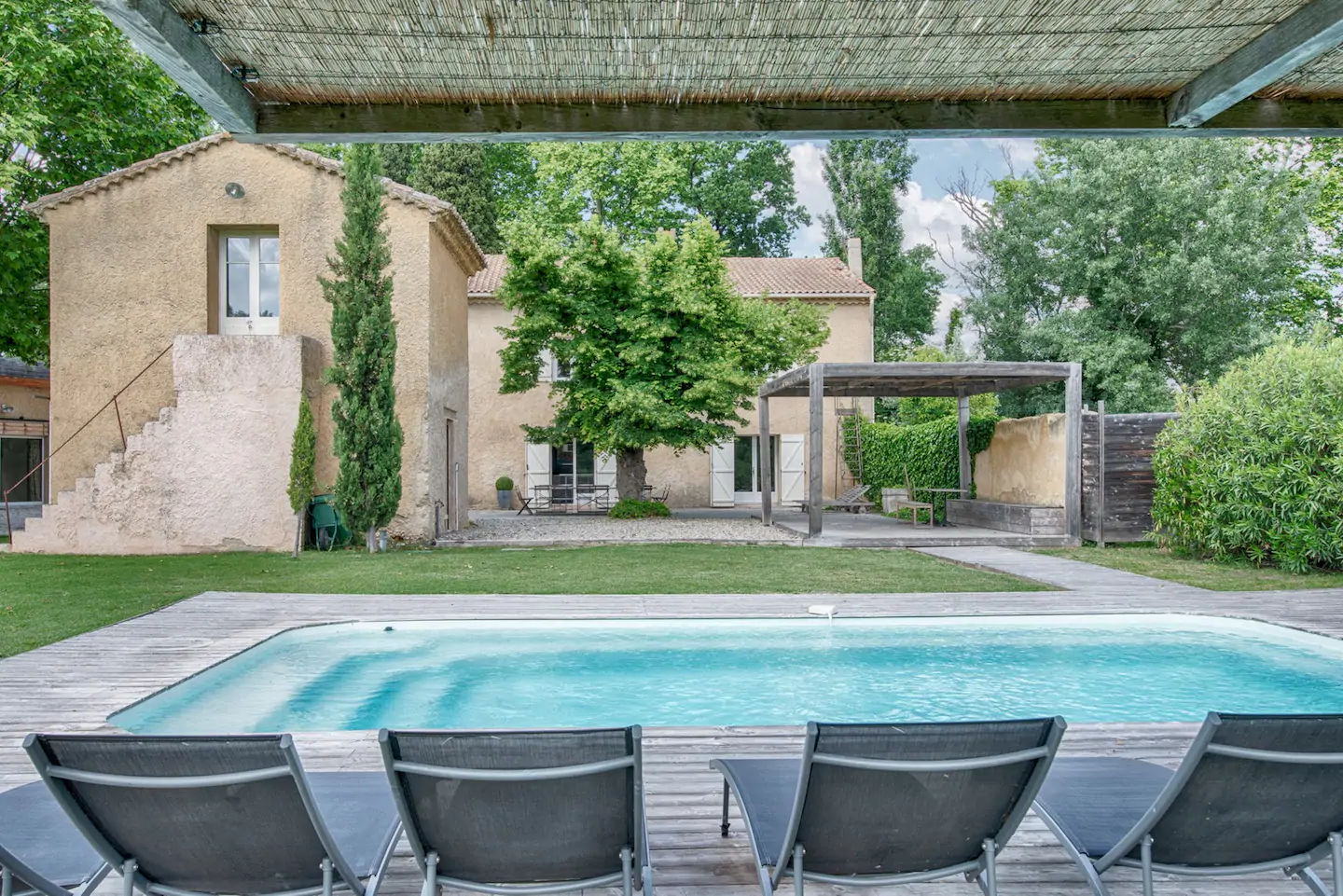 A lot of high-scale Avignon estates are sophisticated preppy affairs but this one is a Mas, an old-style farmhouse (rather than a country house) that offers a more laidback vibe.
The décor is basic, the sun loungers have shade, and the rustic nature means kids can traipse in and out without anyone worrying about keeping the house spotless.
Ideal for groups of families or friends with small kids looking for accommodation in Avignon, it sleeps 15. Another notable point is that this large Mas can be rented for a two-night minimum (many large properties are by the week), meaning it could be a way to meet up with friends for a big finale to a holiday.
Key Features: 6 bedrooms, 3.5 bathrooms, pool, large grounds, family-friendly, pets allowed.
What the guests are saying: "The house is very spacious and rustic and the pool area was amazing!."
View More Photos & Check Availability Here
---
Looking for more Provence travel inspiration? Don't forget to join our free Facebook group Provence Travel Planning!
---
CENTRAL AVIGNON TOWNHOUSE WITH POOL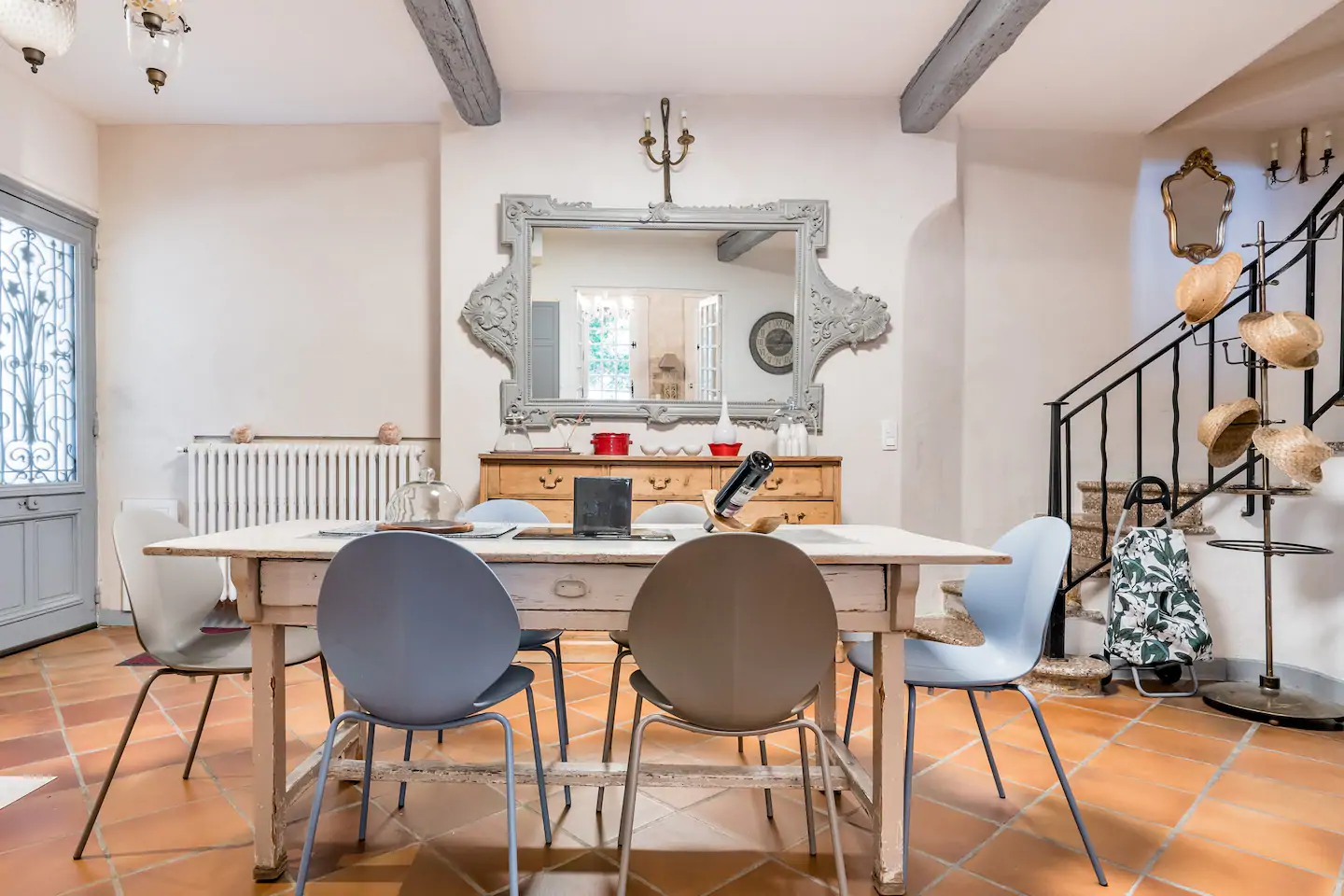 This sumptuous townhouse is unrivalled by any Avignon Airbnb for its contemporary aesthetic and stunning interiors, completely in keeping with its age and history; with authentic flagstone floors, original open fires, wooden doors and cornicing.
It's a moment's walk from the Palais des Papes – if you can tear yourself away. The outdoor courtyard terrace offers the perfect place to dine on local market produce, the sun loungers and bathtub offer an ideal way to relax and if you feel like doing a little exercise, there's a 'hidden', indoor, heated plunge pool too!
Key Features: 4 bedrooms, 2 bathrooms, pool, central location, beautiful styling, outdoor area, and clawfoot tub!
What the guests are saying: "The house was conveniently located to explore the region and our children loved the pool."
View More Photos & Check Availability Here
---
SLEEP IN A CASTLE IN AVIGNON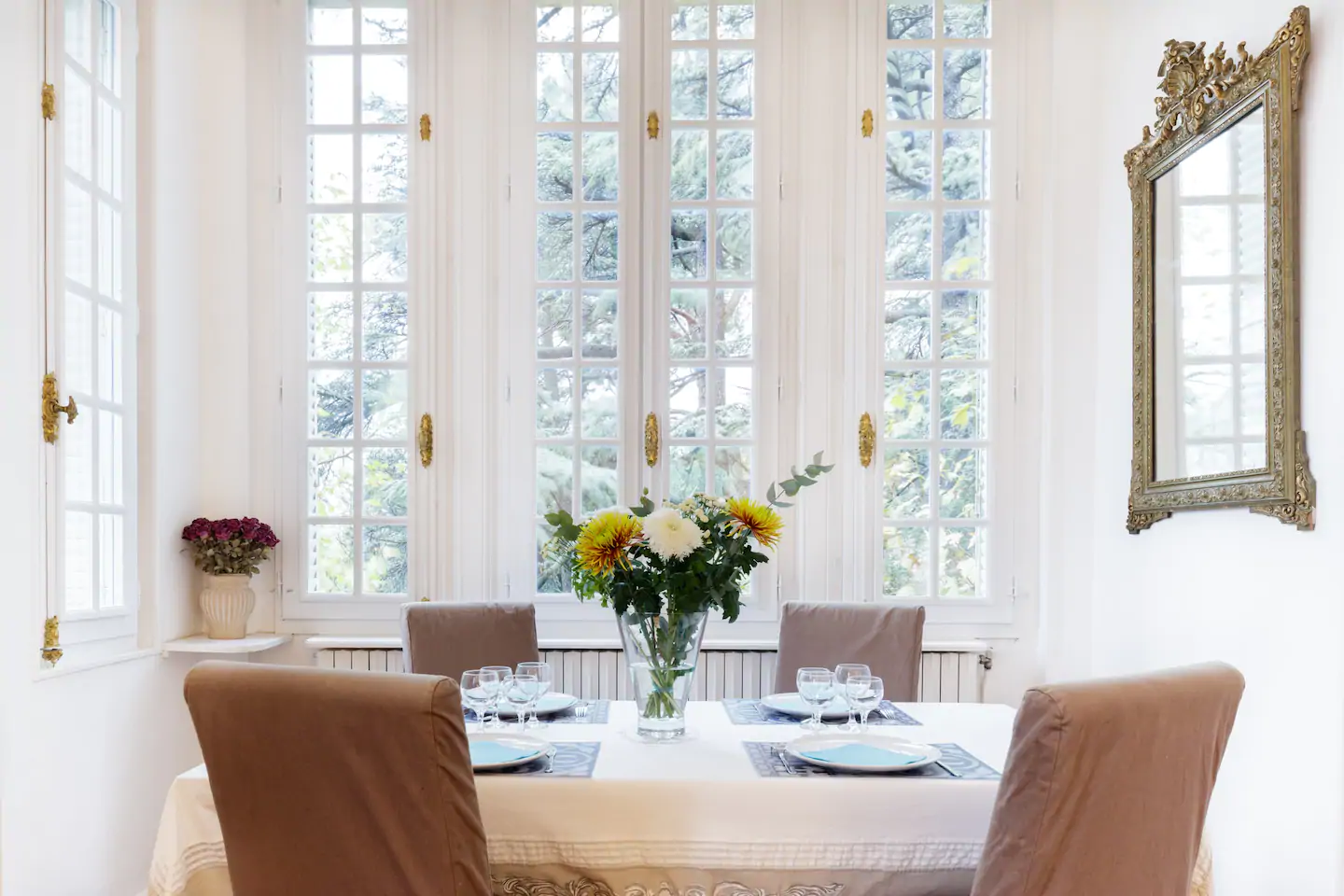 This 19th-century castle offers something different when choosing where to stay in Avignon. It's in Villeneuve-lès-Avignon, on the other side of the river from Avignon's Old Town, near to interesting food and flea markets, and surrounded by lush greenery.
From the sweeping gated driveway and turrets and balconies to the open fireplaces and elegant décor, this three-bedroom apartment housed within the château would be ideal for a family or a small group of friends looking for some high-end class, away from the hustle of the main city.
Key Features: 3 bedrooms, indoor fireplace, air-conditioning, baby facilities, laundry.
What the guests are saying: "Truly five-star experience! One of those places that actually looks better in reality than in the photos!"
View More Photos & Check Availability Here
---
CENTRAL STUDIO WITH OUTDOOR COURTYARD
Simplicity meets style at this gorgeous studio in central Avignon. Featuring a pared back aesthetic and authentic Provençal details, it's the perfect place to unwind after touring the city's museums and art galleries.
With just one large and airy bedroom, this petite Avignon Airbnb is ideal for a couple to enjoy. And the air-conditioning and private outdoor patio make it fitting for every season.
Key Features: Large bedroom, self-contained, outdoor patio, air-conditioning, indoor fireplace.
What the guests are saying: "Lovely, beautiful apartment with everything you may ask for: nice decoration, great location and an easy, communicative host."
View More Photos and Check Availability Here
---
MODERN GROUP ACCOMMODATION NEAR AVIGNON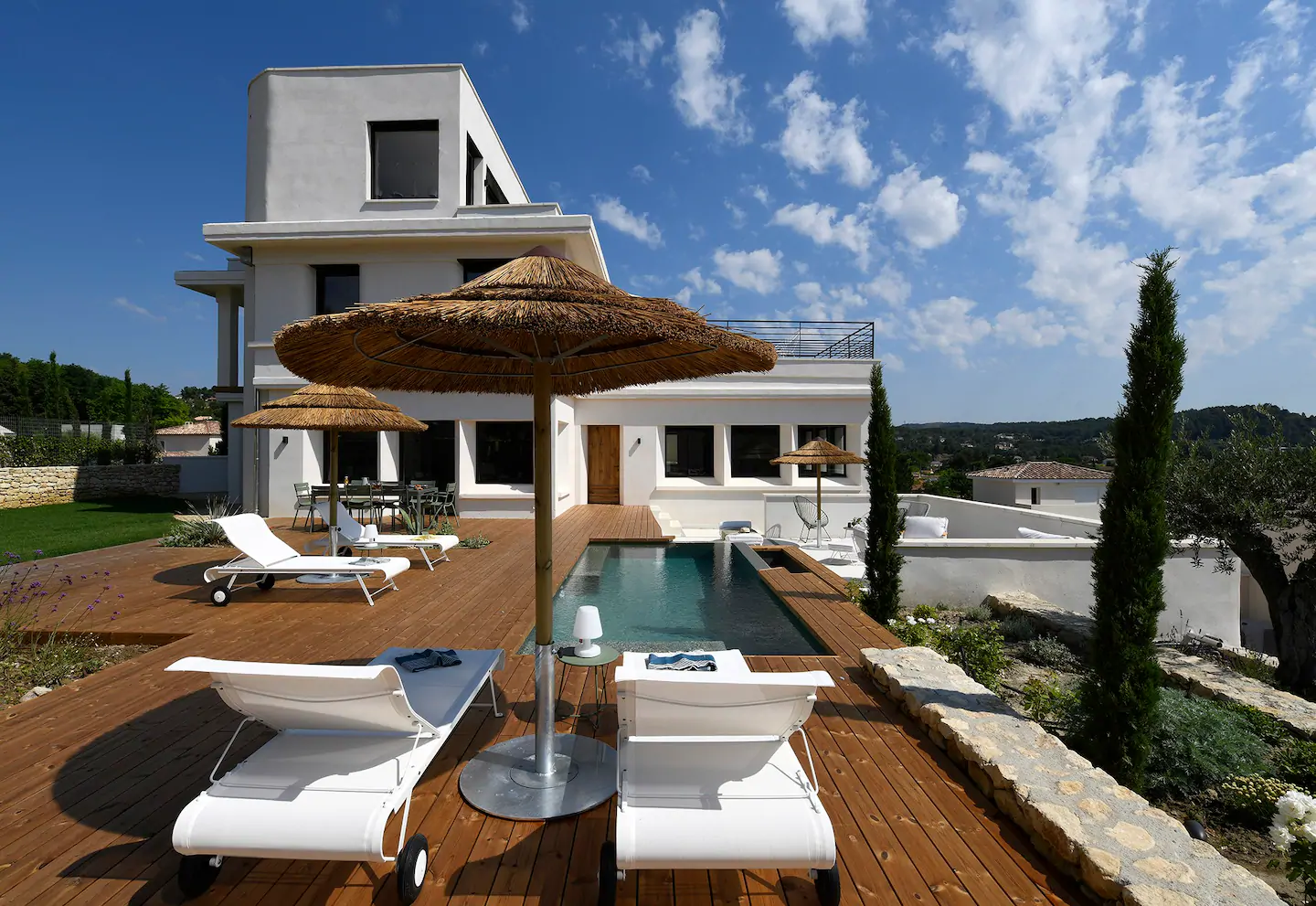 For a large group, you could rent one or more of these three luxury villas (all fitted with pools and gyms) in Villeneuve-lès-Avignon, across the Rhône river from the Pope's Palace.
Uber modern and simply luxurious, the three houses are secluded, with views from the poolside barbecues over the Provençal countryside and mountains beyond, offering a little bit more of the area than a city getaway usually provides.
Key Features: 5 bedrooms, 5 bathrooms, gym, pool, landscaped garden, air-conditioning, modern & stylish setting, indoor fireplace.
What the guests are saying: "The house is absolutely amazing. Rent it if you can. Stylish, beautiful, sparkling clean and great location"
View More Photos & Check Availability Here
---
HISTORICAL LOFT AIRBNB IN CENTRAL AVIGNON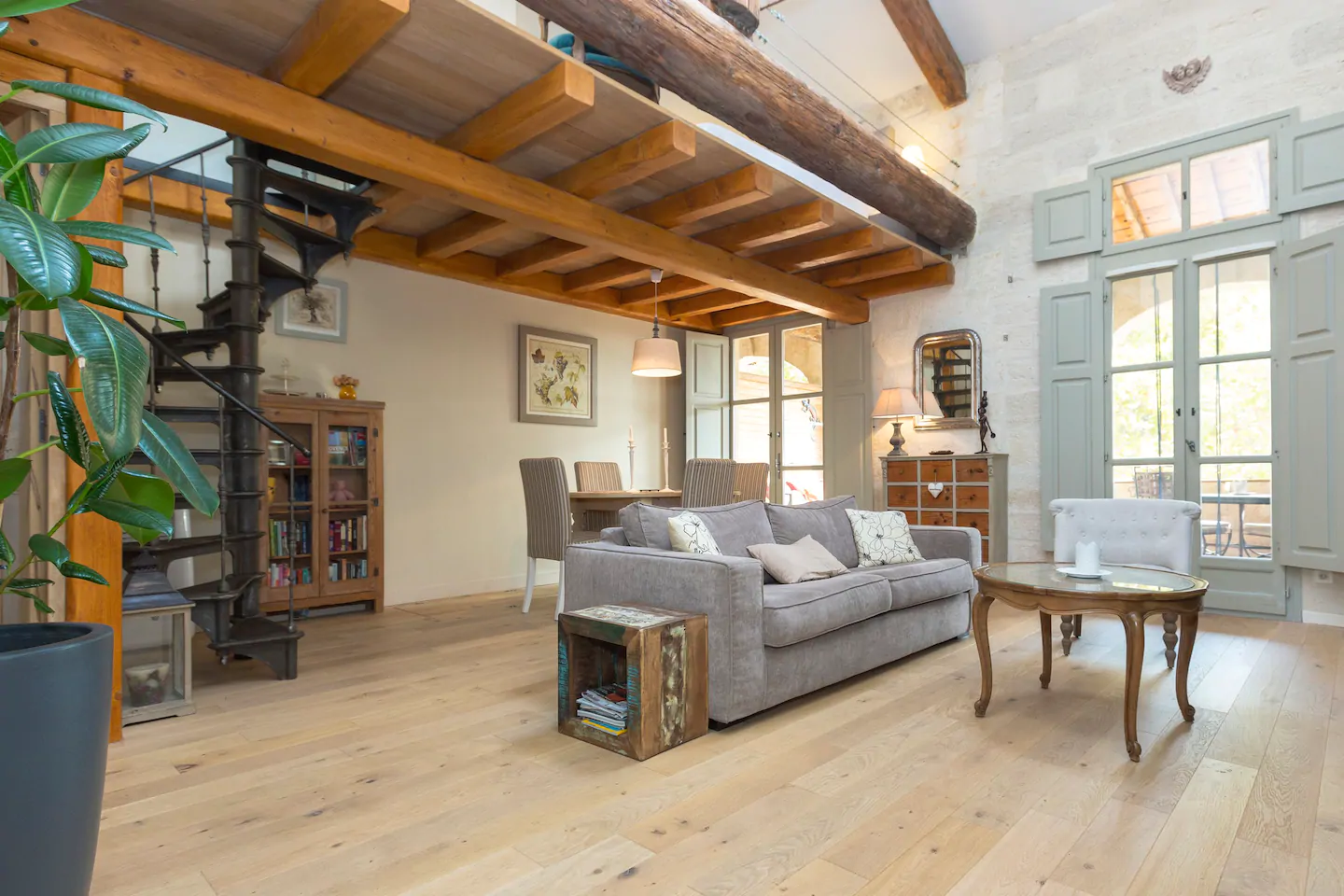 A city break is always good when convenience meets comfort, and this Airbnb in Avignon ticks all the boxes.
Standing out for its extras – it's a loft, so it's particularly bright; it encompasses the entire floor, so it's private; it's in a 14th-century listed building (it used to be an art school); it's next to Les Halles, the delicious food market; and it's in a gated plot, so very quiet.
The best part is that this loft apartment comes with parking – something that's almost impossible to find with an Airbnb in Avignon's historical centre. It can sleep five in total (one bedroom and two sofa beds), making it an ideal base for friends or a couple wanting a practical and central base from which to explore.
Key Features: 3 beds, private terrace, central location, parking, baby facilities, air-conditioning, elevator.
What the guests are saying: "This is a really beautiful apartment with a wonderful terrace and a romantic feel."
View More Photos and Check Availability Here
---
BEAUTIFUL GÎTE ON BARTHELASSE ISLAND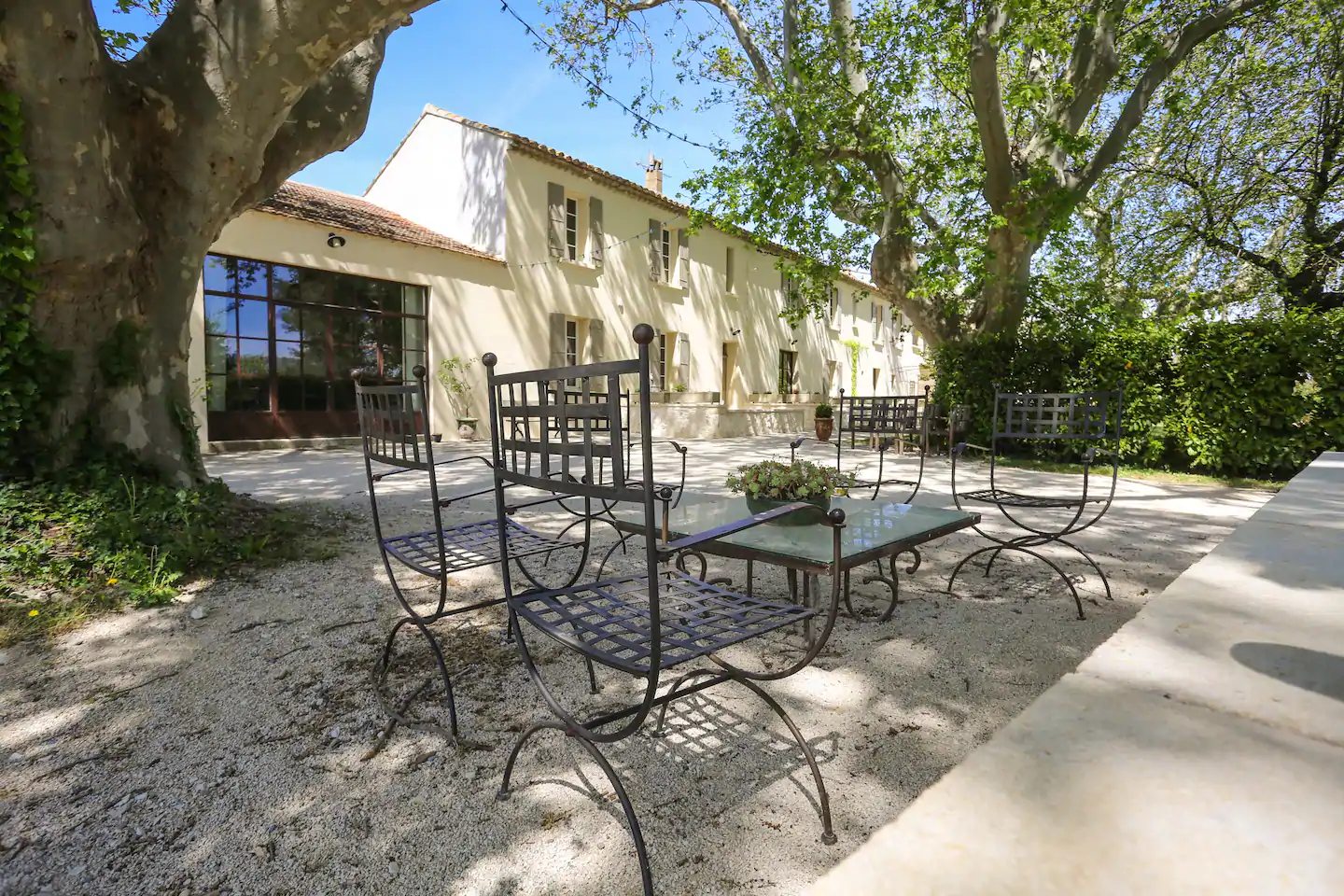 Île de la Barthelasse sits between Avignon and Villeneuve-lès-Avignon, creating a calm and tranquil haven away from the bustle.
This affordable gîte accommodation provides a relaxing environment in nature, from which you can get out and explore the region easily. Decorated simply, it's for those who are happy to have a comfortable base to come home to at the end of the day.
As a one-bedroom apartment, it's perfect for couples or small families who appreciate having the convenience of a self-catering stay, while enjoying the luxury facilities such as a large heated swimming pool and grand garden.
Key Features: Wheelchair accessible, quiet environment, affordable, heated pool, close to attractions.
What the guests are saying: "A wonderful peaceful, relaxing and refreshing retreat in the countryside but only minutes from Avignon."
View More Photos and Check Availability Here
---
BED & BREAKFAST IN AVIGNON CENTRE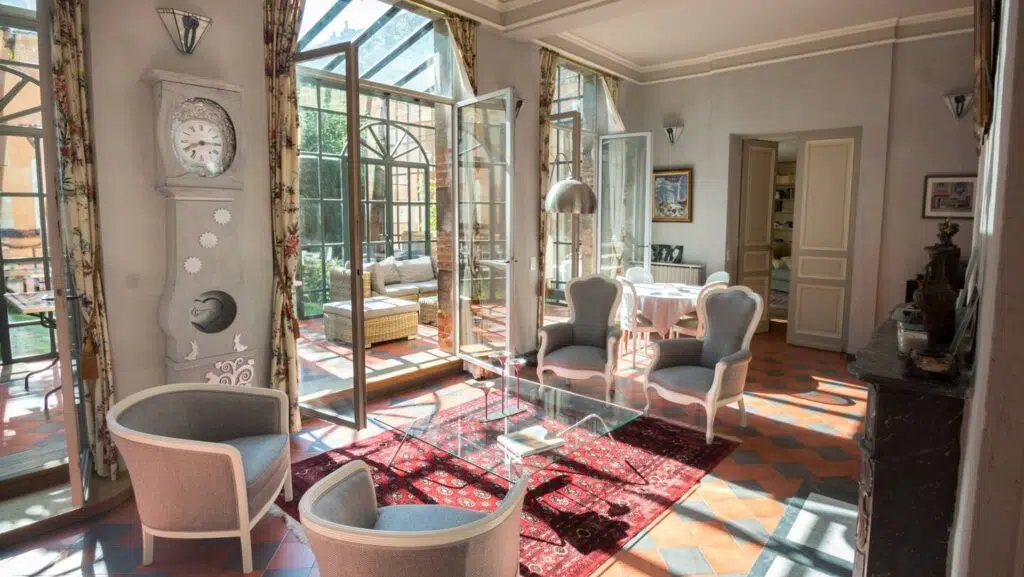 This Airbnb in Avignon centre, chez Lionel, is perfect for a family with one child, a couple or business travellers. The en-suite bedroom is tastefully decorated and the house is a haven of quiet.
Stay here for a more traditional bed and breakfast experience. Fresh croissants are served in the lush green courtyard every morning, and guests can go for a swim in the pool or enjoy the wine bar in the ornate drawing room.
Key Features: Indoor fireplace, pool, baby facilities, beautiful garden, central location, B&B experience.
What the guests are saying: "Beautiful place, very comfortable and spacious. We enjoyed sitting by the roaring fire in the wine bar."
View More Photos and Check Availability Here
---
AIRBNB FOR ENTERTAINERS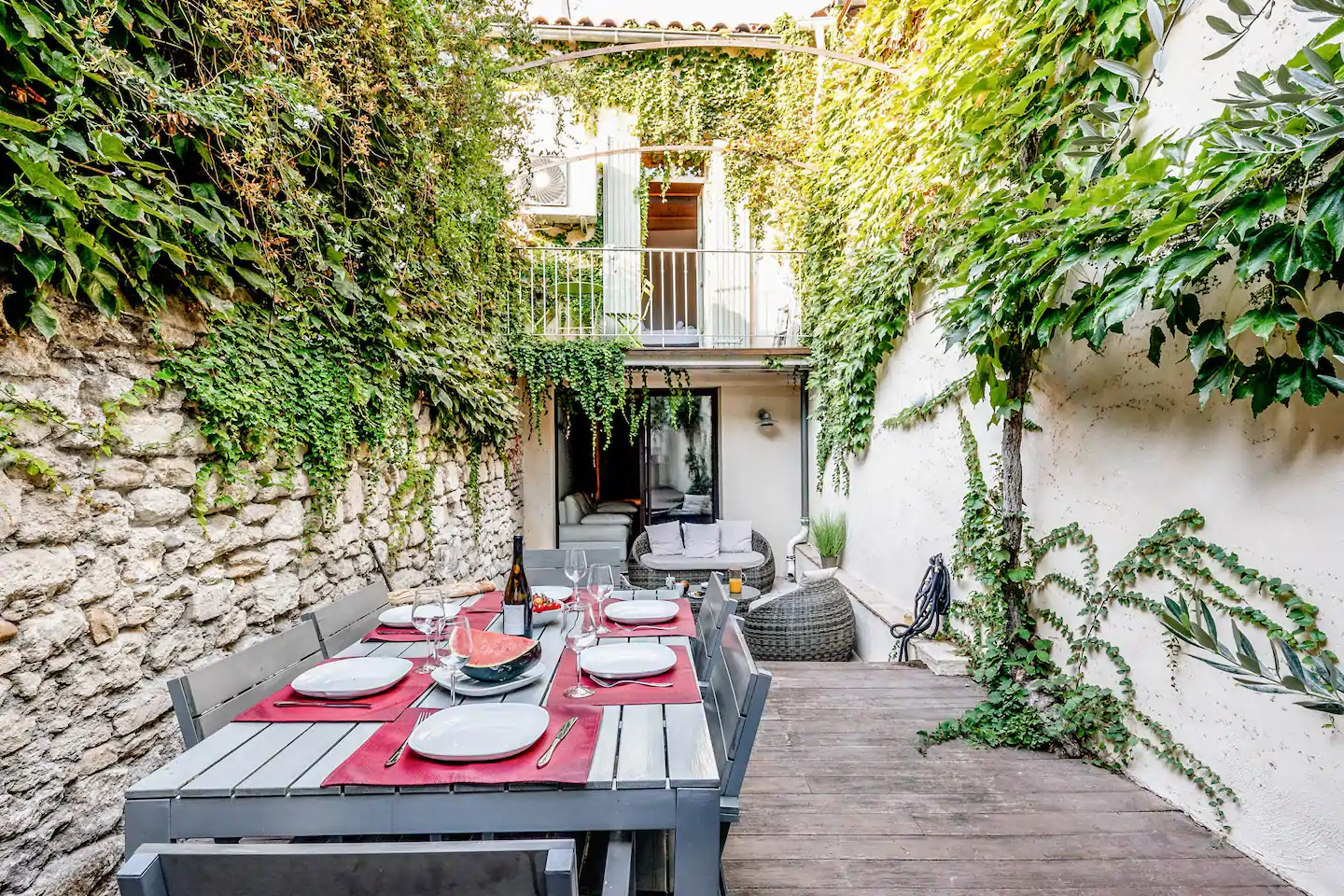 This townhouse is spot on for a group of friends (it sleeps six) who want to explore Avignon during the day before returning with delightful produce from the market to cook up a feast in the stylish, plush kitchen.
The secluded shaded patio is perfect for enjoying a glass of local chilled wine and the heated jacuzzi ideal for idling in while the dinner cooks.
A sleek option for people who want to spend as much time catching up on good conversation as they do heading out to explore the nearby sites.
Key Features: 3 bedrooms, jacuzzi, outdoor courtyard, air-conditioning, central location.
What the guests are saying: "Beautifully, well thought out, innovative and stylish home with a beautiful ambience."
View More Photos and Check Availability Here
---
LUXURIOUS AIRBNB IN AVIGNON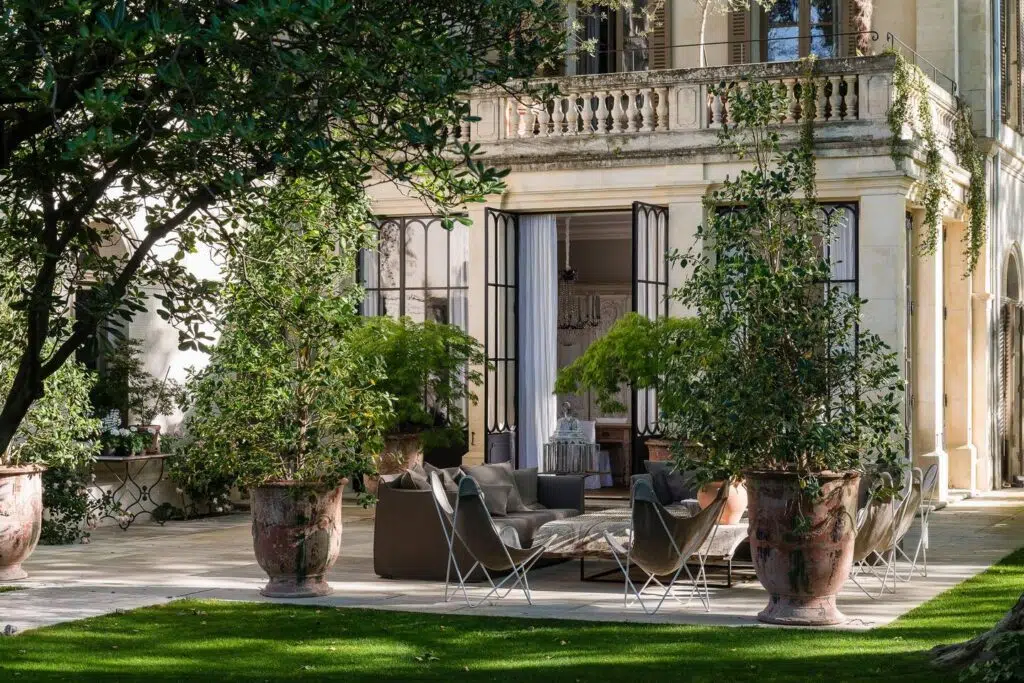 There are lots of country estates to rent in their entirety but very few you can benefit from as a bed and breakfast guest in an Airbnb in Avignon's centre.
There are five suites at La Divine Comédie, all with access to the largest private garden in the centre of Avignon, a jacuzzi with a view over the Palais des Papes, plus a swimming pool and spa.
It's the perfect opportunity to have two holidays in one – the historical city break with the spa break literally next door.
Key Features: Luxury surroundings, pool, beautiful garden, breakfast provided, sauna & hamman.
View More Photos and Check Availability Here
---
MODERN VILLA TO RENT IN AVIGNON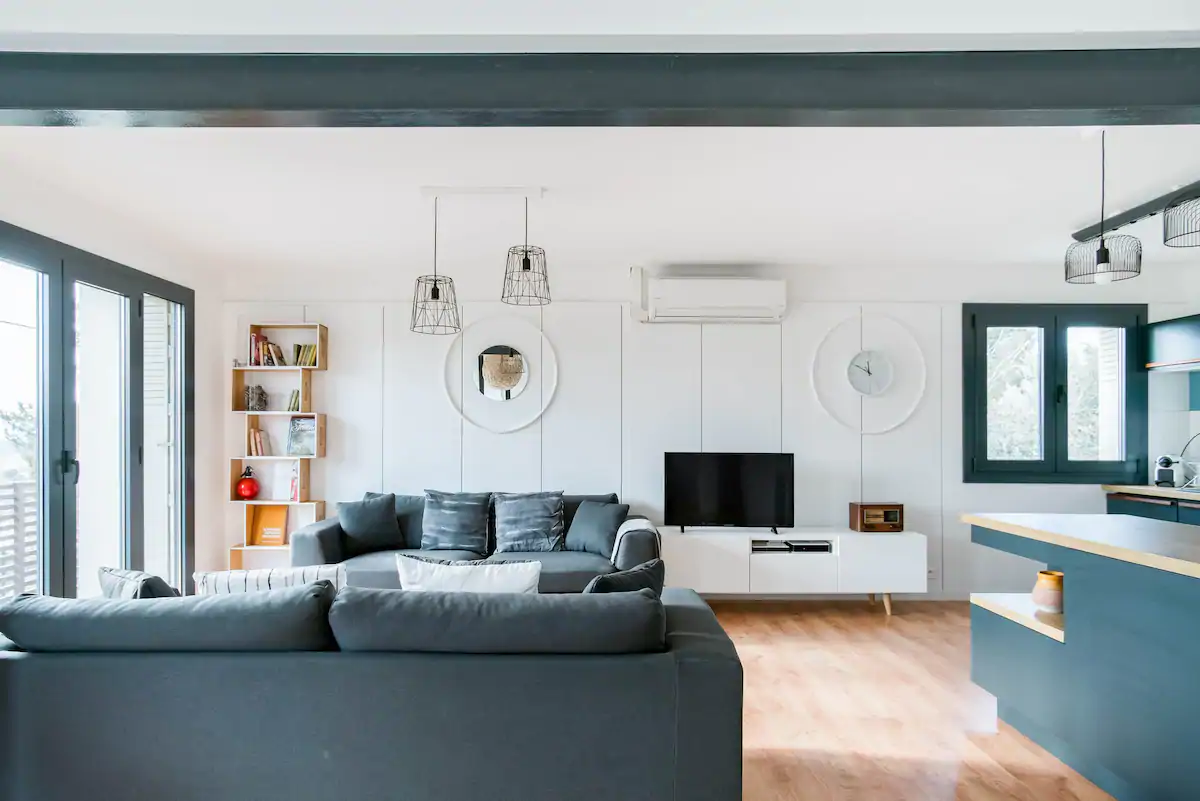 It's fairly easy to find a restored Provençal town or farm house but much harder to find a modern villa to rent in Avignon. With its dark blues, greys and creams, the interior is clean and sleek, and sleeps six (3 couples or two families with kids).
The outside is just as exciting for the kids (hammocks, pool, places to run about) as it is for the grown-ups (a barbecue, sun loungers).
Located in Les Angles on the other side of the river from Avignon's old town, this holiday property is ideal for the warmer summer months when walking the streets with kids can be offset by the promise of a big outdoor garden to kick back in late in the day.
Key Features: 3 bedrooms, pool, outdoor dining area with BBQ, free parking, family-friendly, pets allowed.
What the guests are saying: "We had a great time. The pool was a fantastic addition and a lifesaver with kids during the summer heat."
View More Photos and Check Availability Here
---
HISTORICAL CENTRE AVIGNON AIRBNB
If there's just the two of you, this Avignon Airbnb is the perfect spot from which to explore the town and the wonderful nearby amenities (markets, cafés and shops).
This Airbnb Plus apartment has its eye on the small details – the plants, the soaps and shampoos – and an attentive host.
Inside an old grand house in the historic heart of Avignon, the self-contained apartment is quiet, cheerful and full of aesthetic charm, hidden behind centuries-old doors and a delightfully typical cobbled French courtyard.
Key Features: Quiet setting, central location, tastefully decorated, fully self-contained.
What the guests are saying: "This is a dreamy spot full of character and charm in the middle of a beautiful city."
View More Photos and Check Availability Here
---
OLDEST AIRBNB IN AVIGNON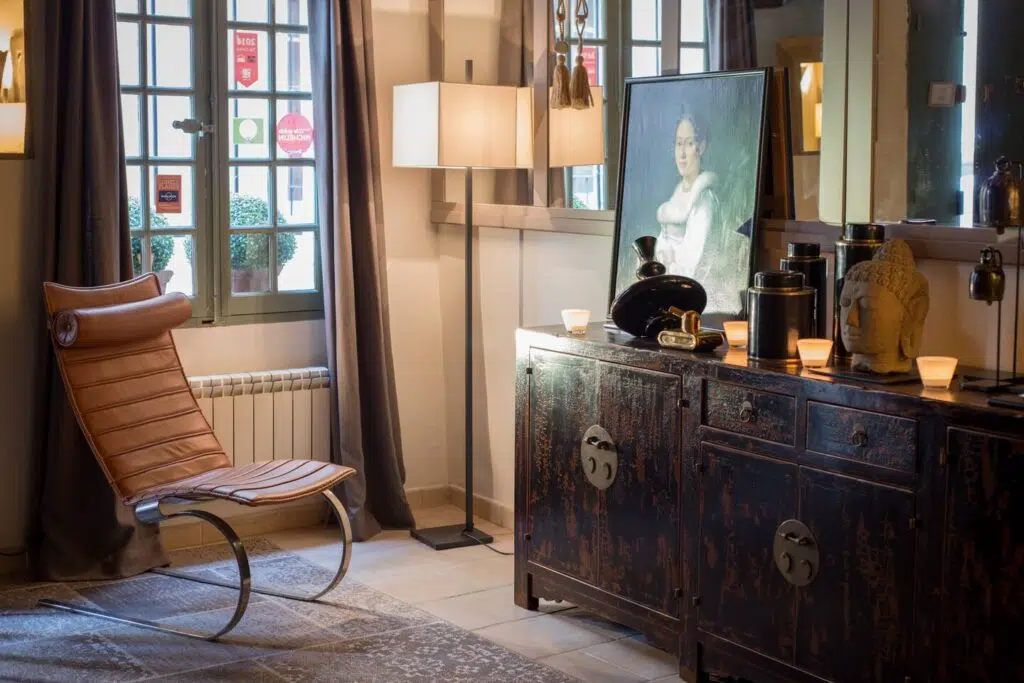 Sharing the same stone walls as the Palais des Papes (just 50 metres away from this stunning apartment) this bed and breakfast is the oldest Airbnb in Avignon's historic centre, dating from 1521.
The flowered terrace is the perfect place to enjoy breakfast or a glass of wine before heading out to dinner. Guests have use of the library to relax after a busy day sightseeing.
Key Features: Historical building, bathtub, private terrace, breakfast provided, central location.
View More Photos and Check Availability Here
---
---
All of the Avignon Airbnbs above are exceptional choices – whether you value location, style, or family-friendliness. Whichever one you choose, you'll look as forward to returning in the evening as you will heading out to explore in the morning.
Haven't quite found what you're looking for yet? Browse the map selection of Airbnbs in Avignon below.
Pin this for later!