Gordes village is a must-see for travellers heading to the south of France. An ancient village perched high on a cliff, 340 metres above the valley floor, and overlooking the luscious scenes of the Luberon.
The village has a colourful history, having survived the plague, earthquakes and bombings. Its residents, who are called Gordians, are known for their rebellious spirit, having sparked medieval invasions and supported Resistance fighters during World War Two.
Its spectacular views and lighting attracted artists in the 50s and 60s, giving Gordes an artsy reputation which still exists today. It also boasts a legendary market, fantastic restaurants and great places to stay.
Let me introduce you to one of my favourite Provence villages…
---
A Brief History of Gordes, Provence
Gordes has a renegade instinct, which has played itself out throughout the centuries. In the 15th century after local King Roi René died, villagers unsuccessfully fought against becoming part of France as a whole. Centuries later, during the Second World War, Gordes village became a hothouse of resistance against the Nazis and the ruling French Vichy government.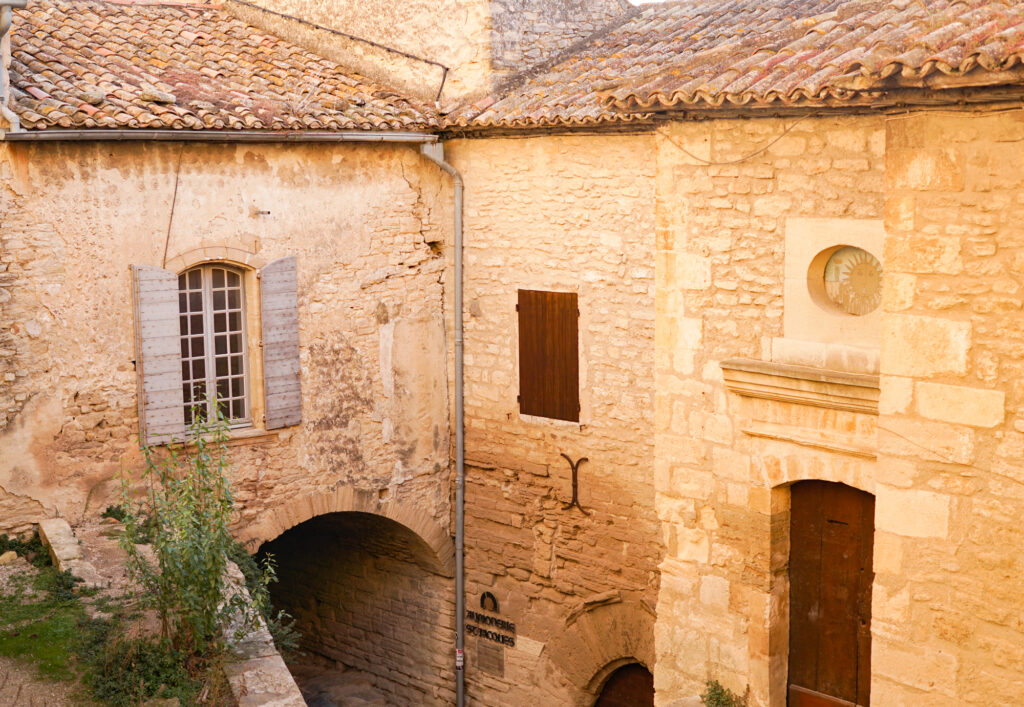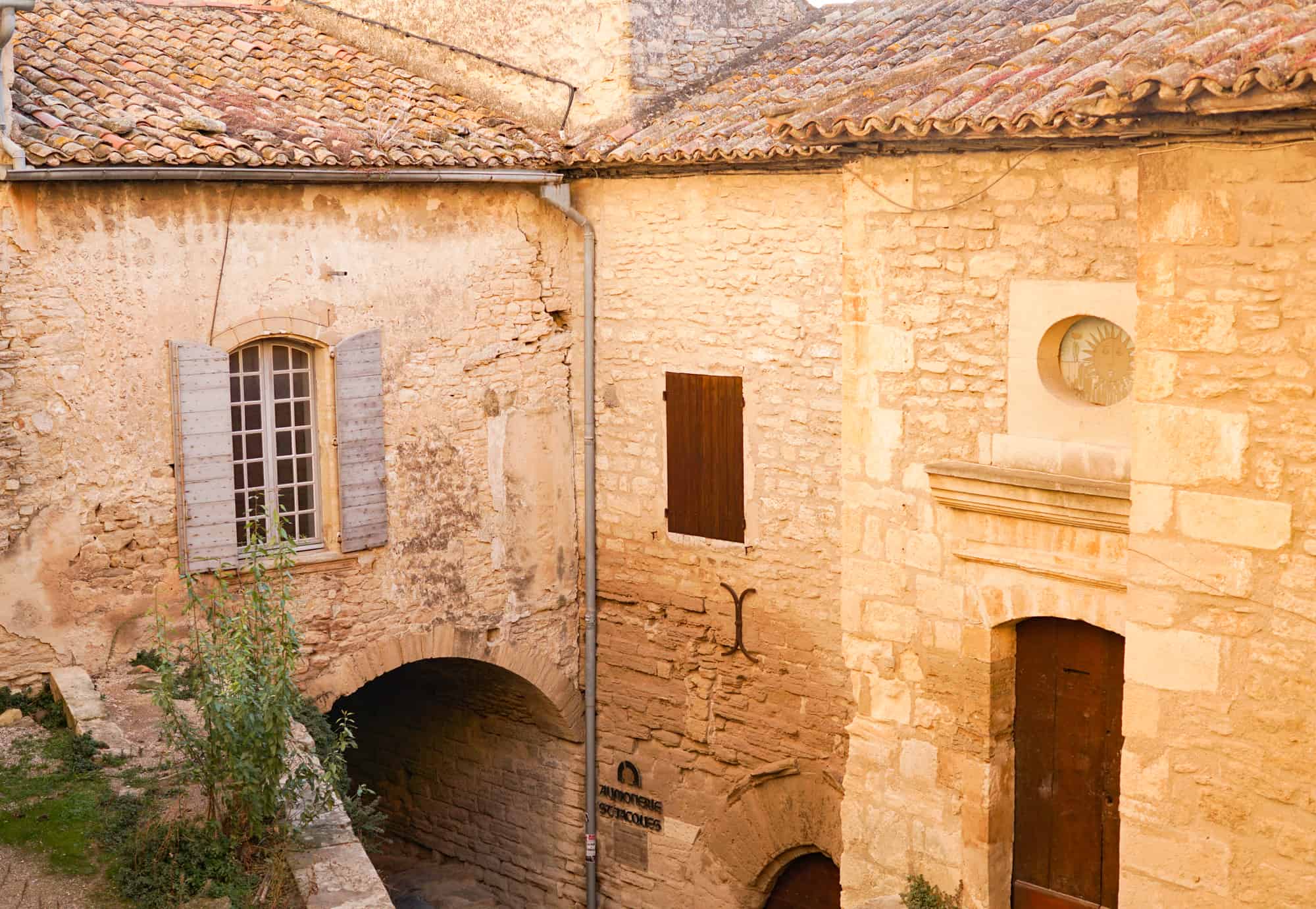 As payback, in 1944, German soldiers entered a number of homes in Gordes, shot or executed 13 villagers and deported five. The village was awarded the "Croix de Guerre" medal in 1948 for being "one of the most active centres of German Resistance under Occupation".
After the war, the village was settled by artists, notably Marc Chagall, who is most well known for his New Testament stained glass murals found in many cathedrals across France. Local friend, Picasso, said of him, that "When Matisse dies, Chagall will be the only painter left who understands what colour is".
In the 1970s, Victor Vasarely–the "grandfather of art using optical illusion" decided to open his first art museum in the town and today, there are art shops, galleries and exhibitions to wander.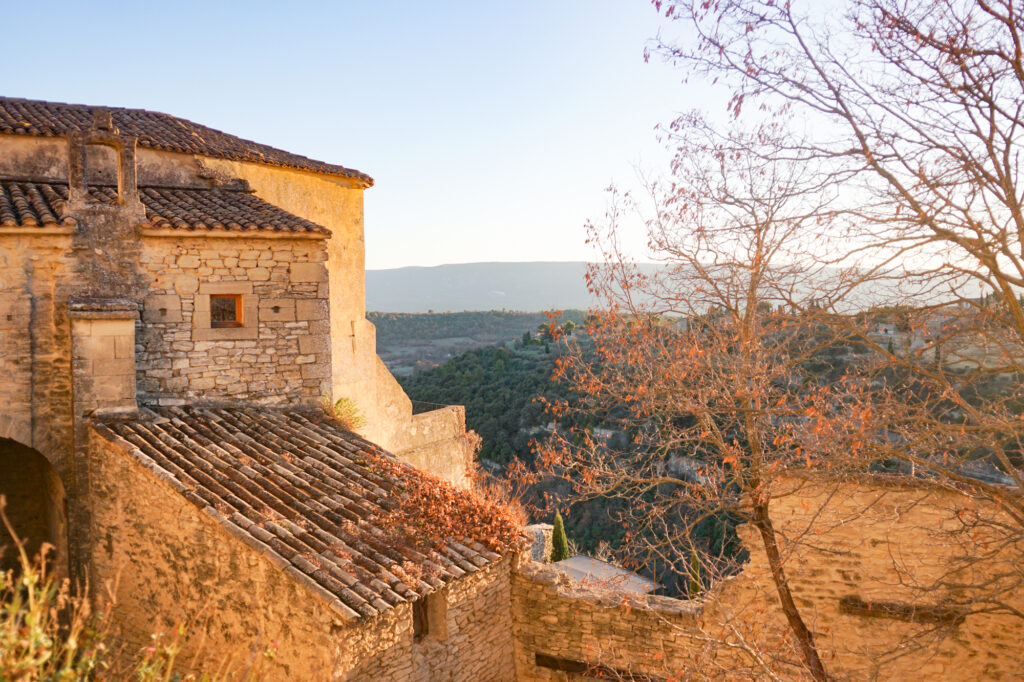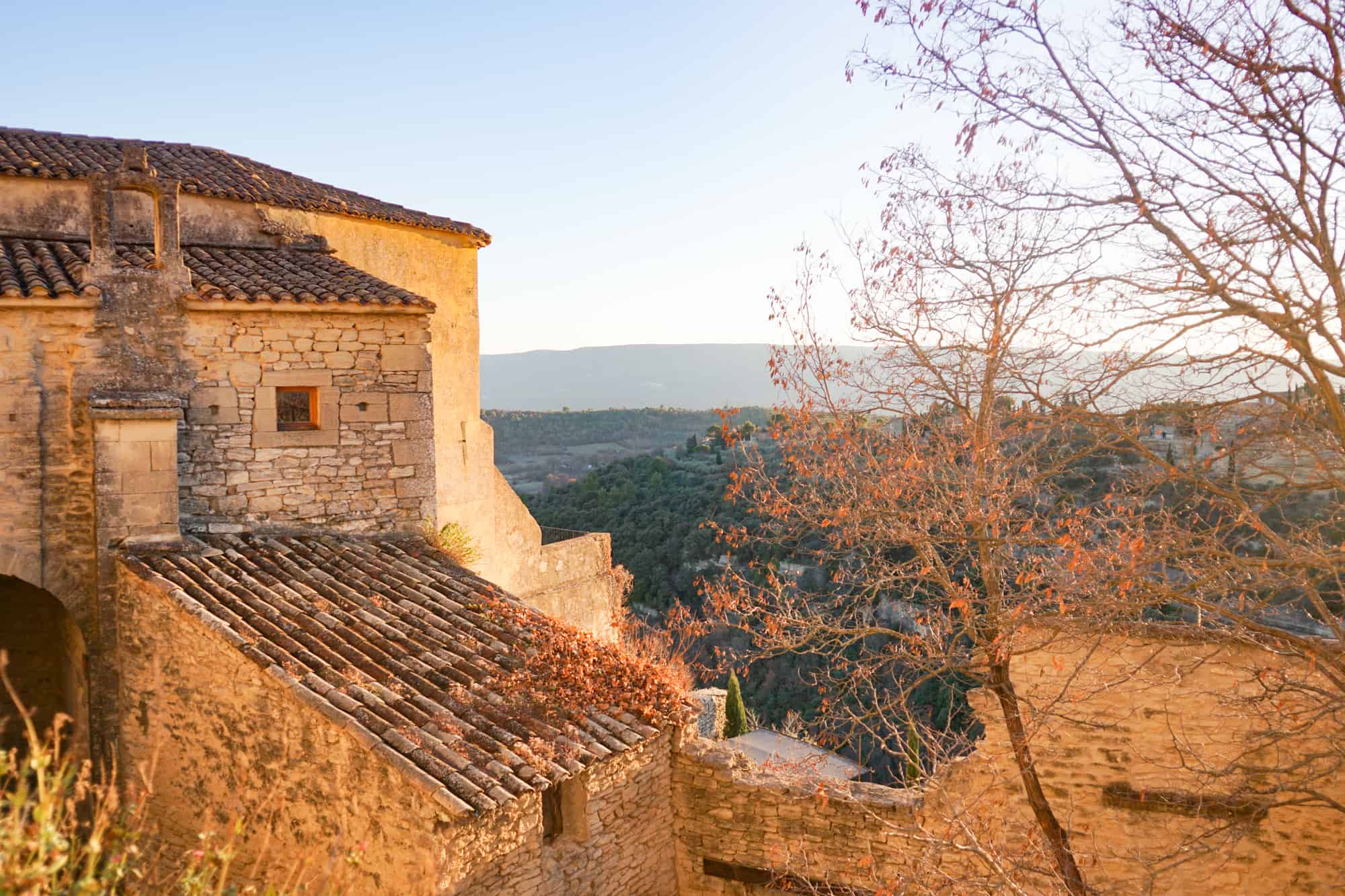 Where is Gordes Village?
The village of Gordes is located in the Luberon, a spectacular region in the heart of Provence. The Luberon is well known for its perched villages, lavender fields, agricultural heritage, and vineyards.
How to get to Gordes Village
Gordes is a winding one-hour-drive from Aix-en-Provence, the "city of a thousand fountains" or a more languorous two-hour journey by public transport.
Take bus LO25 from Aix, stop "sous prefecture" to the town of Salon, stop "gare routiere". From here, take the train to Cavaillon and then the number 17 bus to Gordes, stop "les bories".
The city of Avignon is only 45 minutes by car or take a 34-minute train ride to Cavaillon and pick up the same number 17 bus into the village.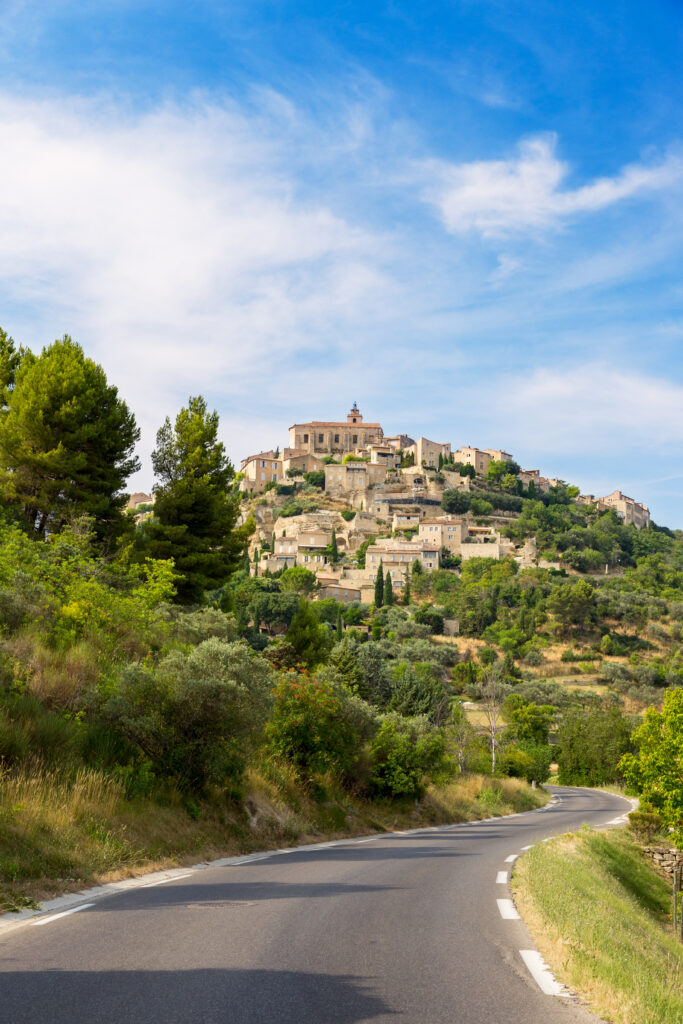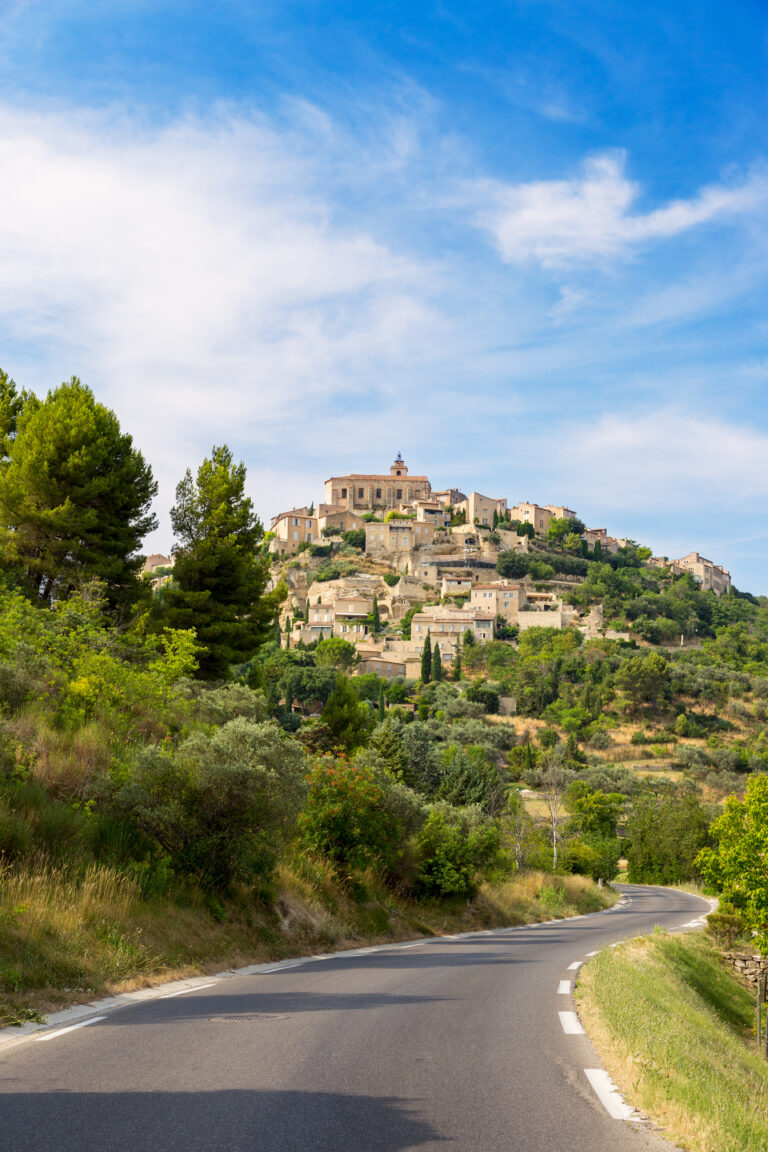 Parking in Gordes, France
There are very few parking spots in the centre of Gordes, and because it is a hilltop village, expect some parking logistics. It gets particularly busy on market day where local officials direct vehicles to car parks, a short walk from the centre.
The main such car park is located at the entrance to Gordes, just off the Route de Cavaillon. If you do venture further into the village, there are another two parking lots a little way up the Route de Murs. Parking costs €4 for the day.
---
Looking for more Provence travel inspiration? Don't forget to join our free Facebook group Provence Travel Planning!
---
Key things to do in Gordes, France
For such a small village, Gordes has a surprising amount of varied pursuits and attractions, ranging from the architectural and historical to some more twenty-first century pursuits. Here's our guide to what to do in Gordes, France.
Visit le Château de Gordes
Gordes Castle has been at the heart of the village since its completion in 1031. Renovated in 1525, its architecture offers a wonderful link between the Middle Ages and the golden Renaissance period.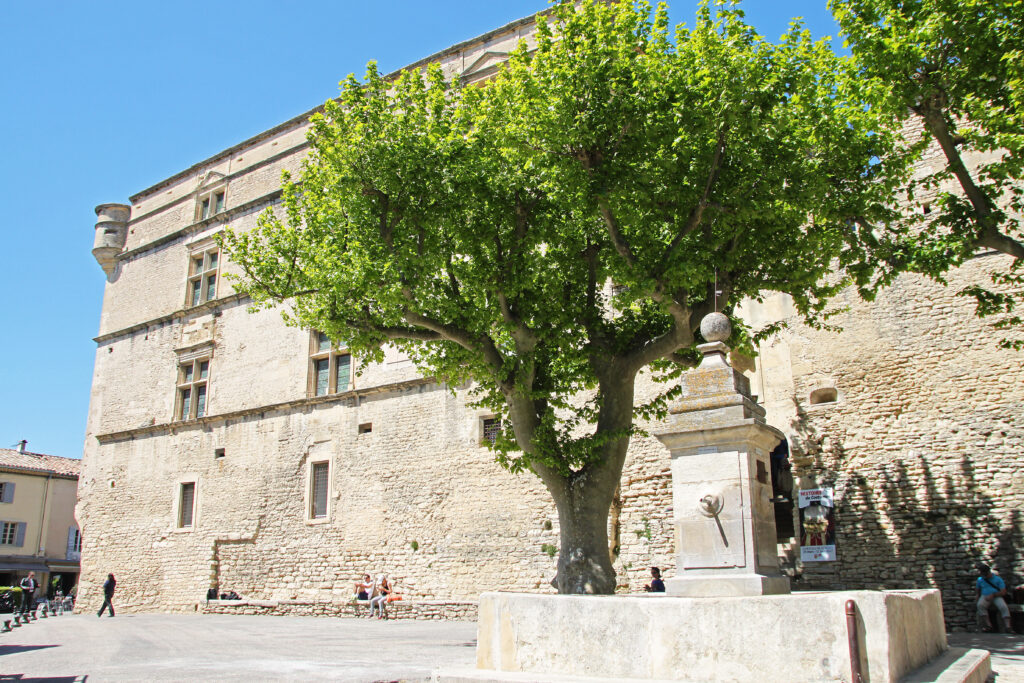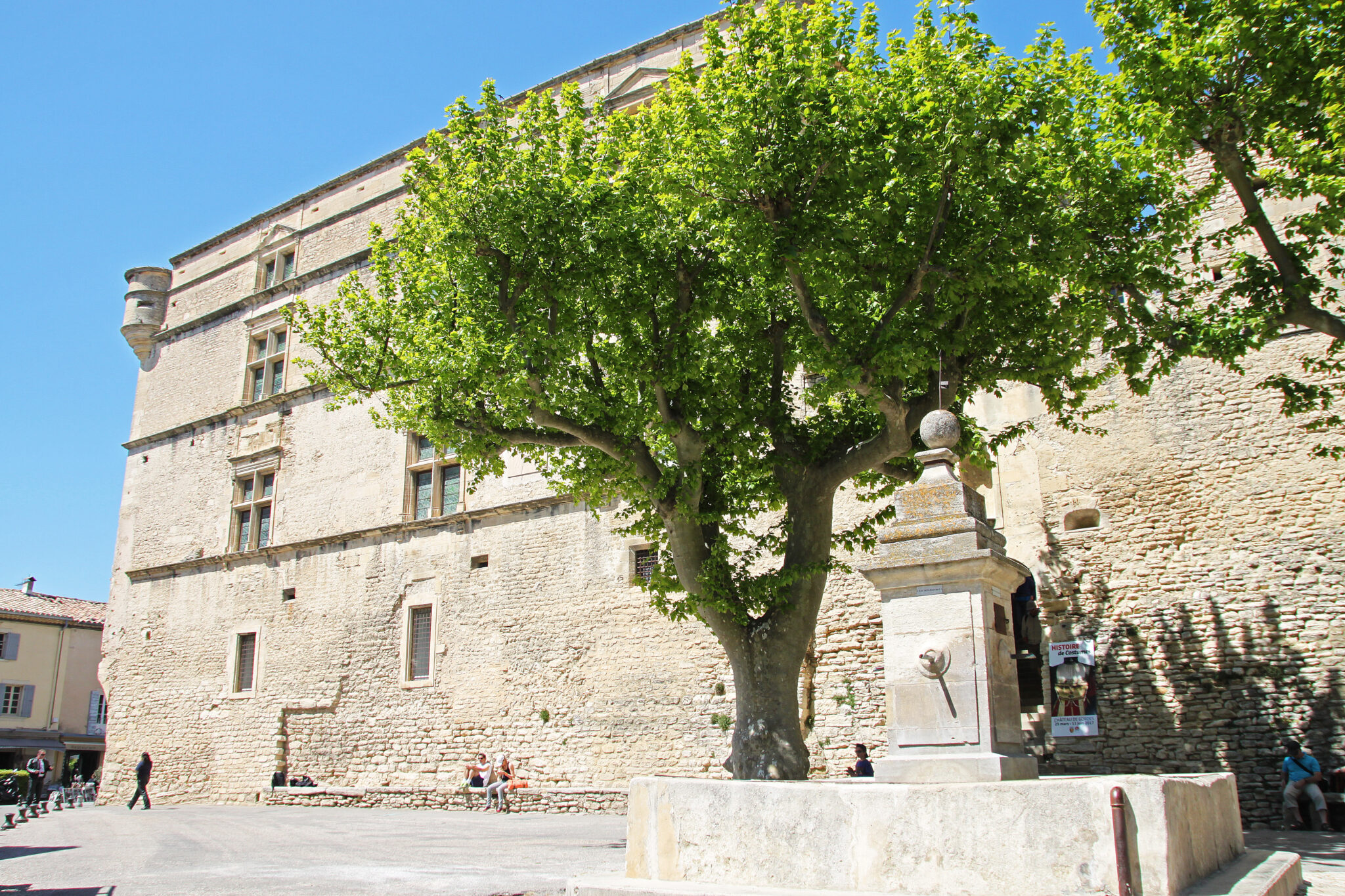 Entry is €5, and it often houses art exhibitions by local artists. It's open daily from 10am to 6pm. At Christmastime, the château hosts the annual Xmas market in Gordes and entrance is free.
The Caves of the Palais Saint Firmin
In the middle ages, local villagers carved out a city in the rock underneath their world above. They added everything to sustain working life, including an olive oil mill and silos to store food. The site, which has undergone 40 years of excavation is a perfect opportunity to embrace your inner Bilbo Baggins.
The Caves of the Palais Saint Firmin are open every day from March 31 to November 3 from 10am to 6pm (July and August until 6.30pm). It closes for lunch from 1-2pm. Adults pay €6 and reduced rates are €5.
L'Eglise Saint Fermin (Church of Saint Fermin)
Built on the grounds of an old 12th-century Romanesque church, this site was consecrated for the Bishop of Uzes (Saint Fermin) in the 18th century. Each of the small, eight chapels are dedicated to patron saints of different professions, like shoemakers and blacksmiths, to watch over their livelihoods.
The faded church colours are a marvel in the Luberon light and the Italian-style painted interior deserves to be seen. Entrance is free but donations are welcome.
Browse the Local Boutiques
As befits a village with a big artistic reputation, there are small, individual art displays to be found in the local shops, which sell a mixture of southern French crafts, high-end tourist gifts and artists' own work.
You can also pop into L'Occitane boutique, an iconic Provence cosmetics brand, for a wonderful range of natural creams, soaps and fragrances.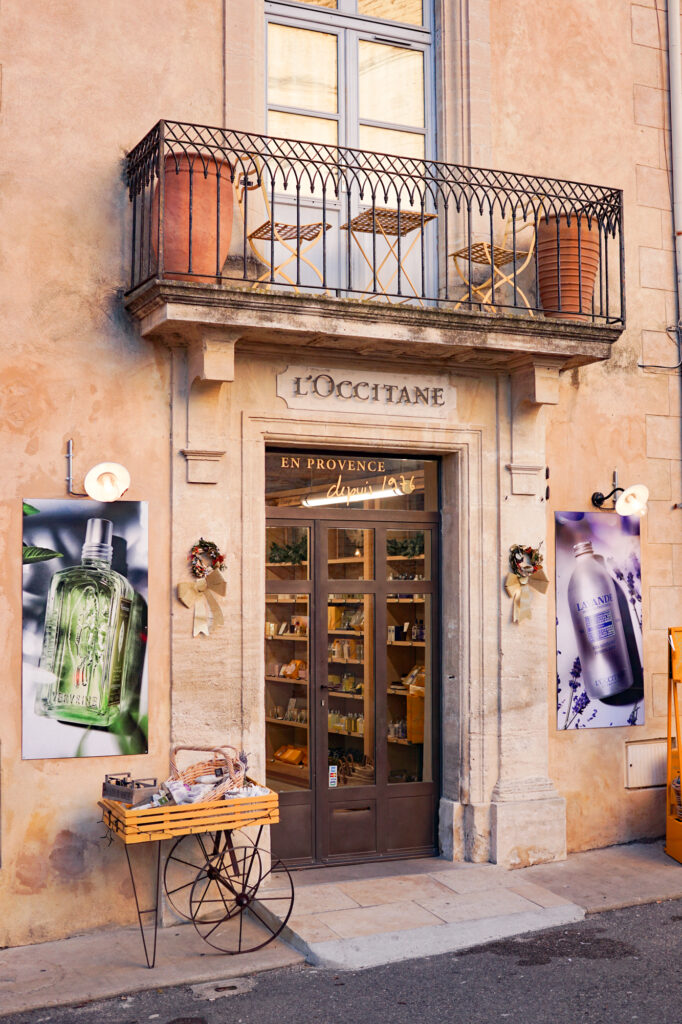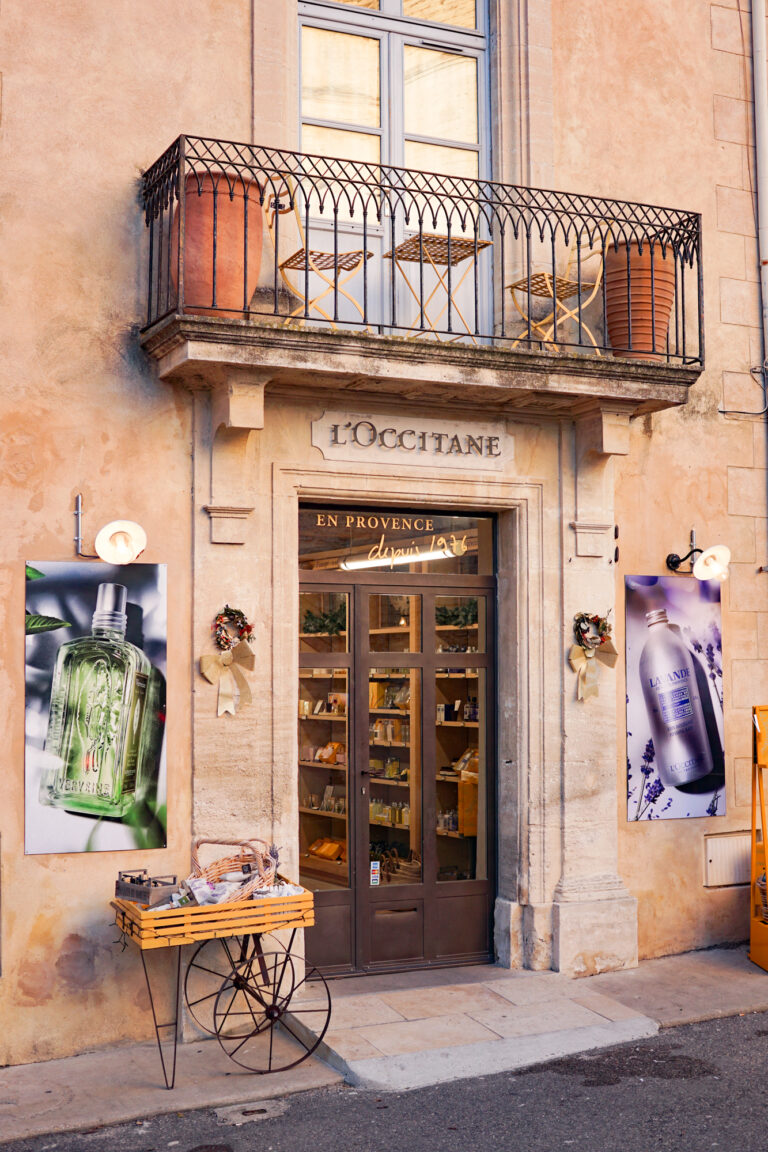 People Watch From a Café Terrace
Gordes village has a fair few ice cream shops, creperies and cafés; stop and enjoy a sweet treat during an afternoon stroll or take a seat in a leafy square and watch the world go by.
Wander the Cobbled Lanes
One of the best things to do in Gordes is to simply follow your nose through the cobbled lanes and see where you end up. You'll no doubt stumble across beautiful viewpoints, ancient gateways, and charming little nooks among the hillside houses. It's hard to get lost, so stroll at leisure and take in all the little details as you go.
Visit the Gordes Viewpoint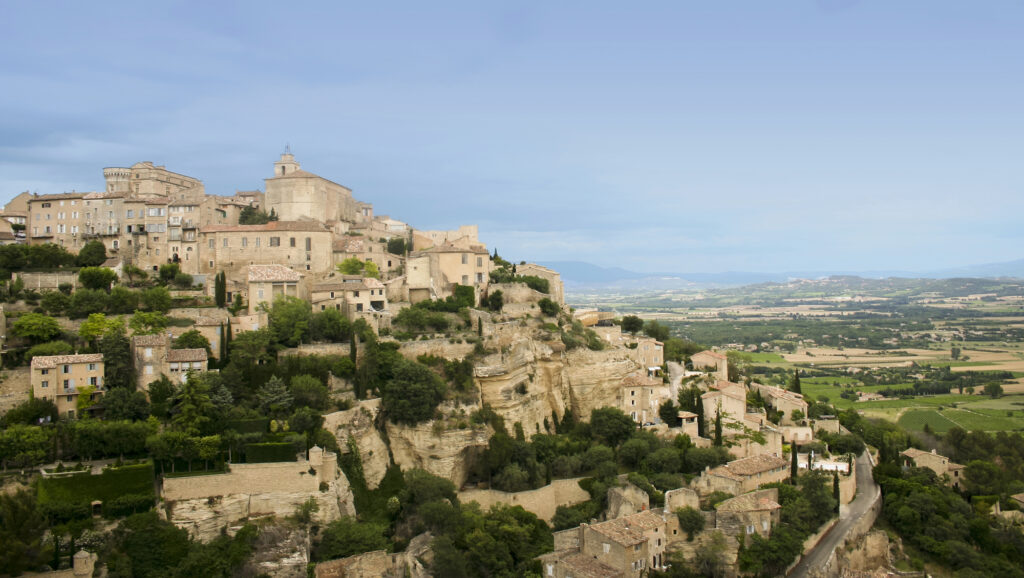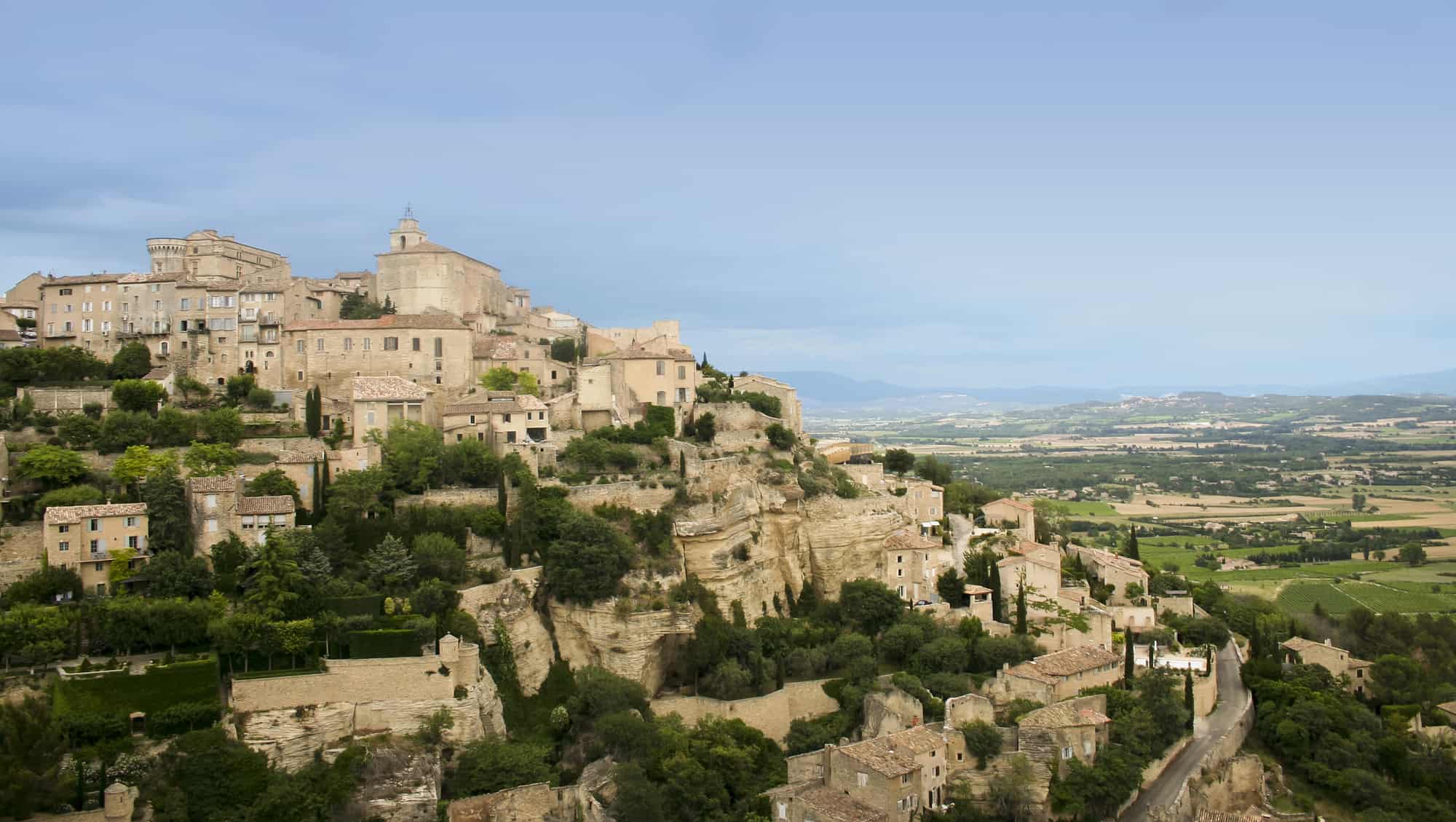 The most iconic photos of Gordes are taken from a viewpoint on the way into the village. Simply type "Town View Point Gordes" into Google maps and it'll bring up the location. There isn't a lot of parking around the viewpoint, and you'll want to get there before dark shadows descend over the lower half of the village. It's a little way out of the village, so visit Gordes lookout point on your way in, or your way out…
---
Things to do near Gordes
Some of the most beautiful buildings in the Luberon are very close to Gordes, and in less than twenty minutes, you can be visiting abandoned villages and exceptional abbeys.
Village des Bories
During the 18th century, peasants from Gordes village began to make a living working the land, buying smallholdings to sow grain to feed the growing population. On this land, they built huts called bories – derived from the Provencal bori meaning farmhouse – with state-of-the-art masonry techniques, where each row of stones overhangs the one below to prevent water from seeping inside.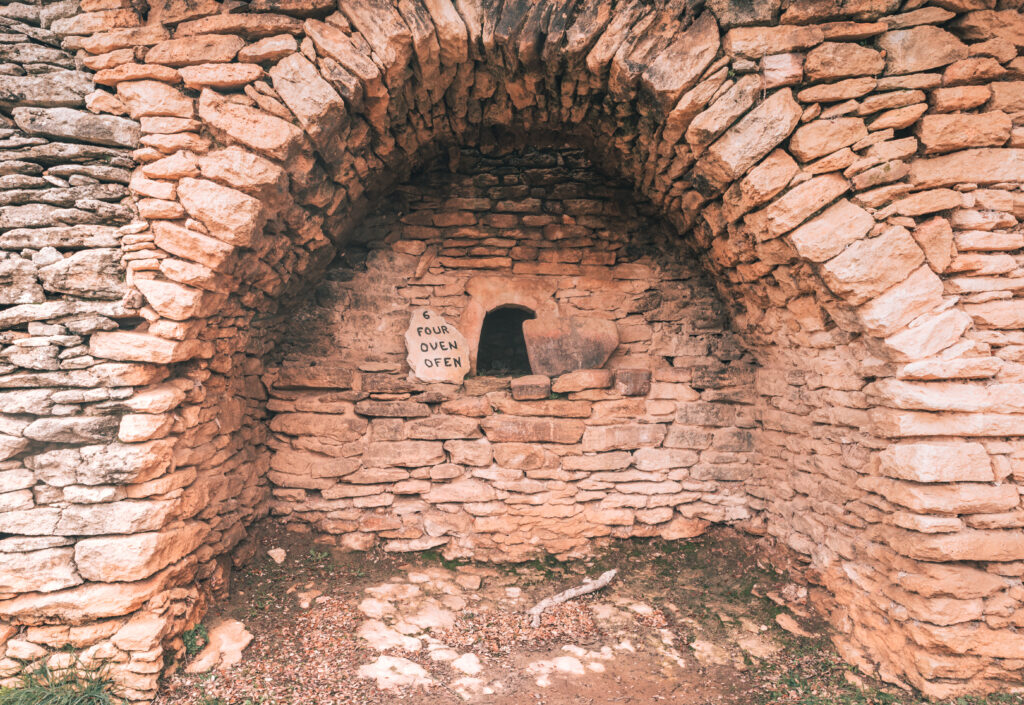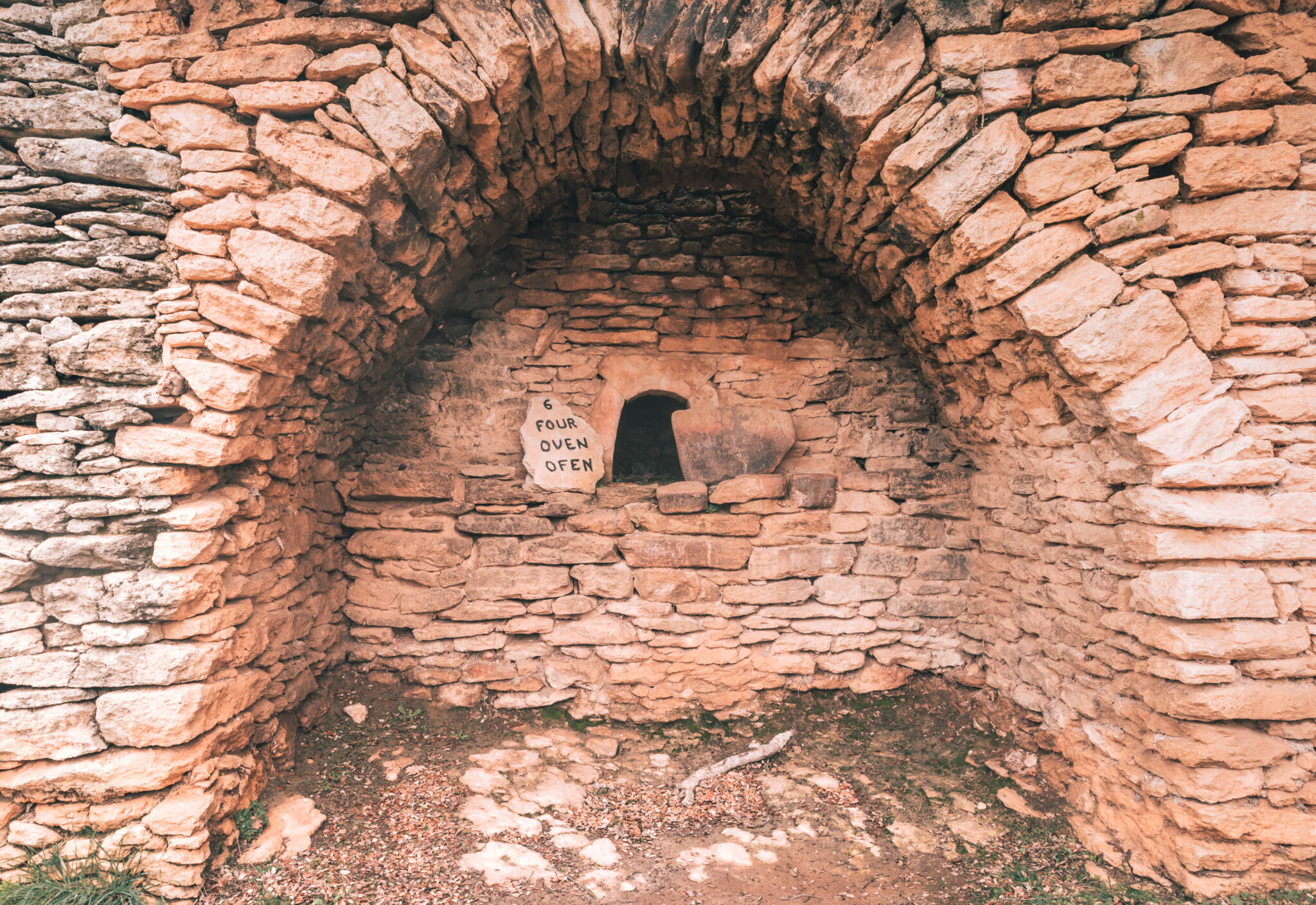 Locals harvested honey and silk farms or housed sheep, horses and hens inside. They used them as a base to cultivate the mulberry, almond and especially olive trees, whose nearby olive mills formed much of the village income until the great frost of 1956.
After this time, the huts were left to grow over until they were restored in the 1970s and became protected monuments in 1983.
The Village des Bories is an open-air museum that opens daily at 9am and closes at 5.30pm in winter and 8pm in summer. Adults cost €6, teenagers €4 and under 12s enter free.
Abbey de Senanque
One of the most photographed buildings in Provence is the beautiful Senanque Abbey. Built in the 12th century, monks have lived under a vow of silence (they are only permitted to speak in the Chapter room) in the abbey ever since (apart from a brief period in the 1920s).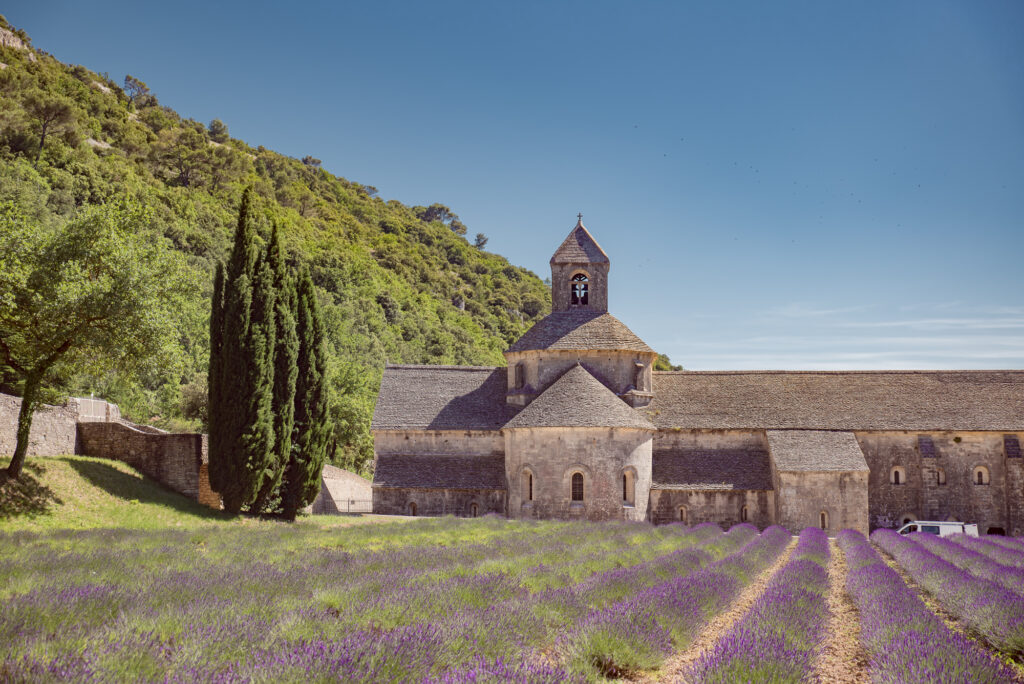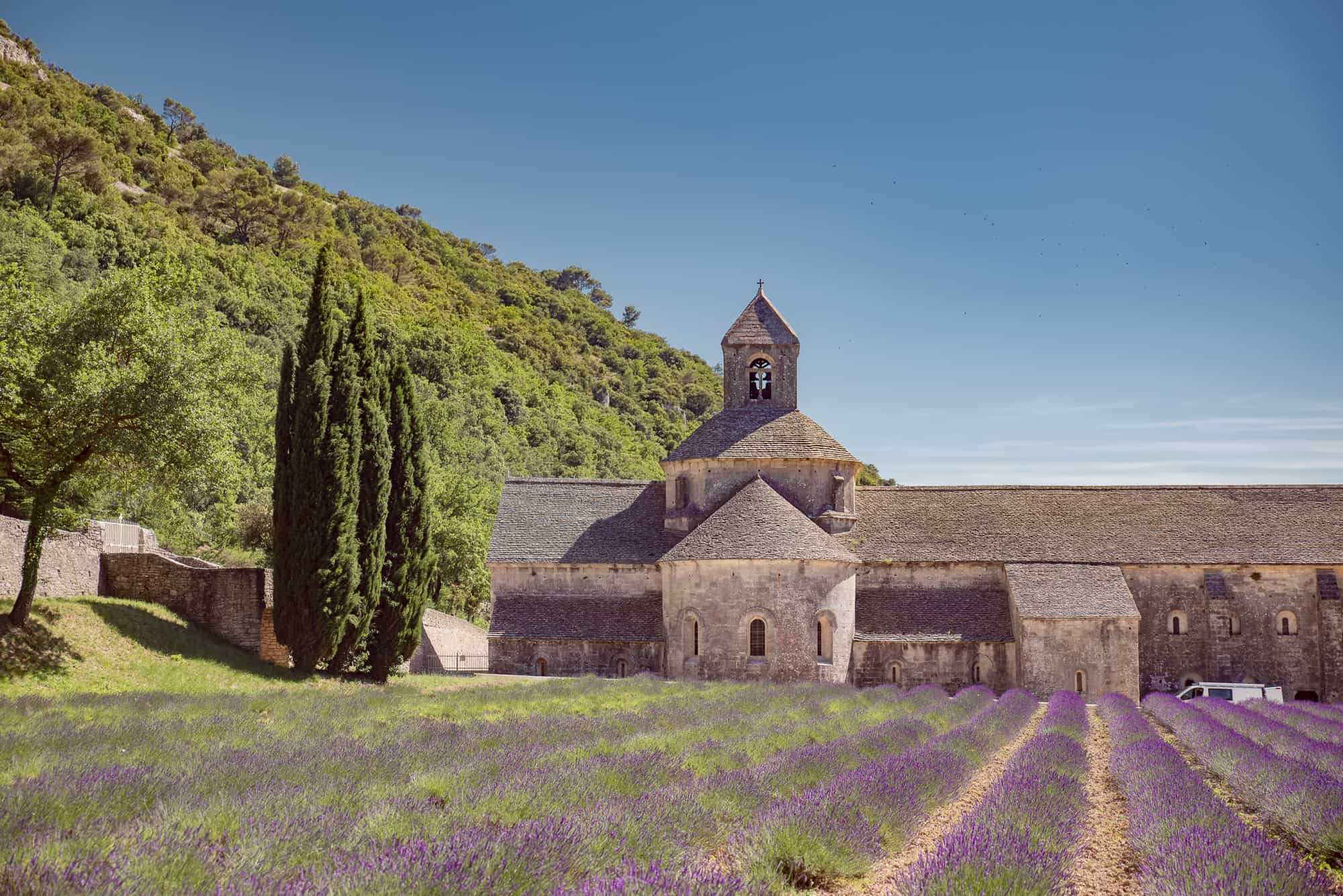 The monks now turn a profit growing lavender. You'll find it planted in beautiful rows in front of the abbey – where it flowers and looks suburb in summer. They also cultivate honey and welcome visitors on retreat or for hourly tours.
Visit early (in summer it opens at 10am and closes at 5pm but the abbey keeps sparser winter hours) and you'll also avoid the crowds for those perfect Provence lavender photos. Guided audio tours are available in many languages. Entrance is €8 for adults, €5 for students and €3.50 for kids.
---
Gordes Market Day
The Gordes market doesn't disappoint visitors in search of legendary French produce. On Tuesday mornings from 8am to 1pm, stallholders congregate in the shadow of the magnificent Gordes castle allowing you to amble through the stalls, hiding from the Provençal sunshine in the shadow of magnificent Renaissance architecture.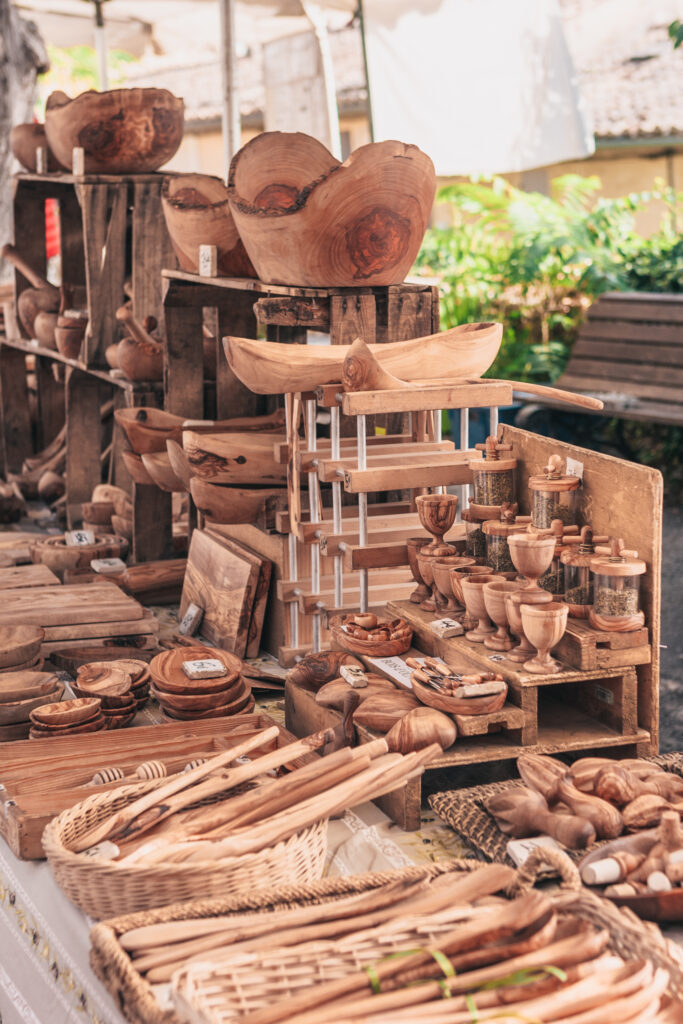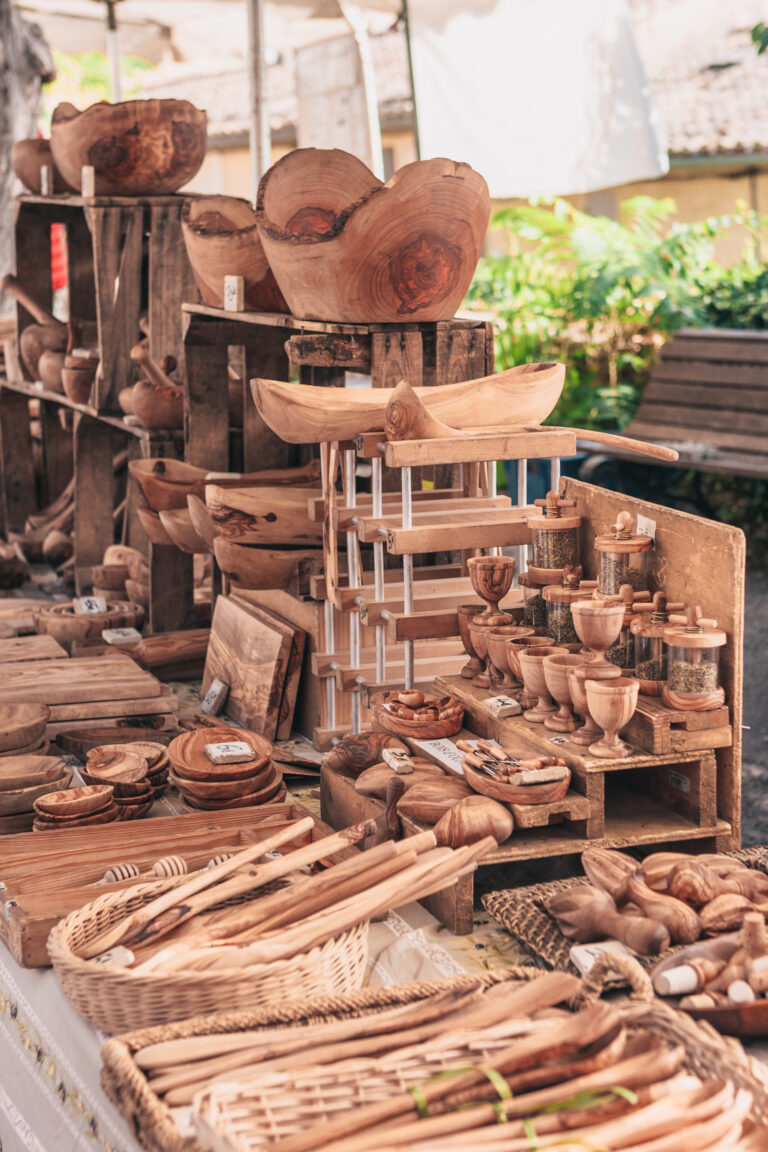 The market sells many food types, and a lot of Provençal items, such as products made from lavender, olive wood, and the famous Marseille soap.
Wander the stalls tasting fresh breads and local lavender-infused honey. Marvel at the cheeses, stacked in colours, flavoured with dried tomatoes (red), basil (green) and rosemary (blue). Smell the flowers, test the straw hats and baskets, eating the plump fruit as you admire one of the best views over the valley.
Tip – take cash with you to avoid long queues at the ATM.
---
Best Restaurants in Gordes, France
It might be a village accommodating thousands of visitors each year but Gordes restaurants are small and cosy, contained in picture-perfect courtyards (vigilantly preserved by the town council) with terraces overlooking sublime valley views. Booking ahead is always advised.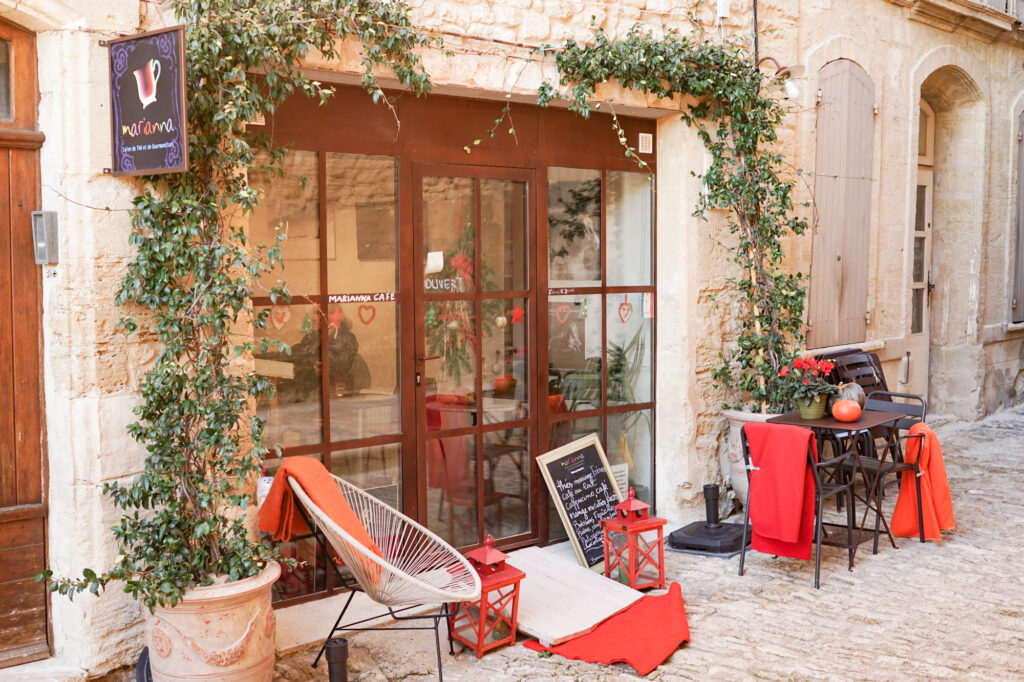 La Bastide de Pierres
La Bastide de Pierres calls itself the "gateway to Italy" offering freshly-made pasta, pizza, focaccia and bruschetta. The food is casual but upmarket, serving Italian ingredients which match the local wines on colourfully rustic, but comfortable tables.
At dusk, the garland lights and chatter fill the warm skies above its delightful terrace overlooking the castle. Open every day for lunch (12-2pm) and dinner (7-9.45pm).
La Trinquette
Down a small alley with cobblestones, La Trinquette is a small French bistro serving up home-made specials (think ravioli with prawns or braised ribs in red wine) to its few tables, some of which are on the tiny balcony with a magnificent view (book ahead to secure the sunset toasts).
The service is friendly and some English is spoken. Open daily for lunch and dinner.
---
Where to Stay in Gordes
Gordes accommodation ranges from boutique hotels with five-star service to homely bed and breakfasts, with an intimate feel. Here are two of our favourite places to stay in Gordes.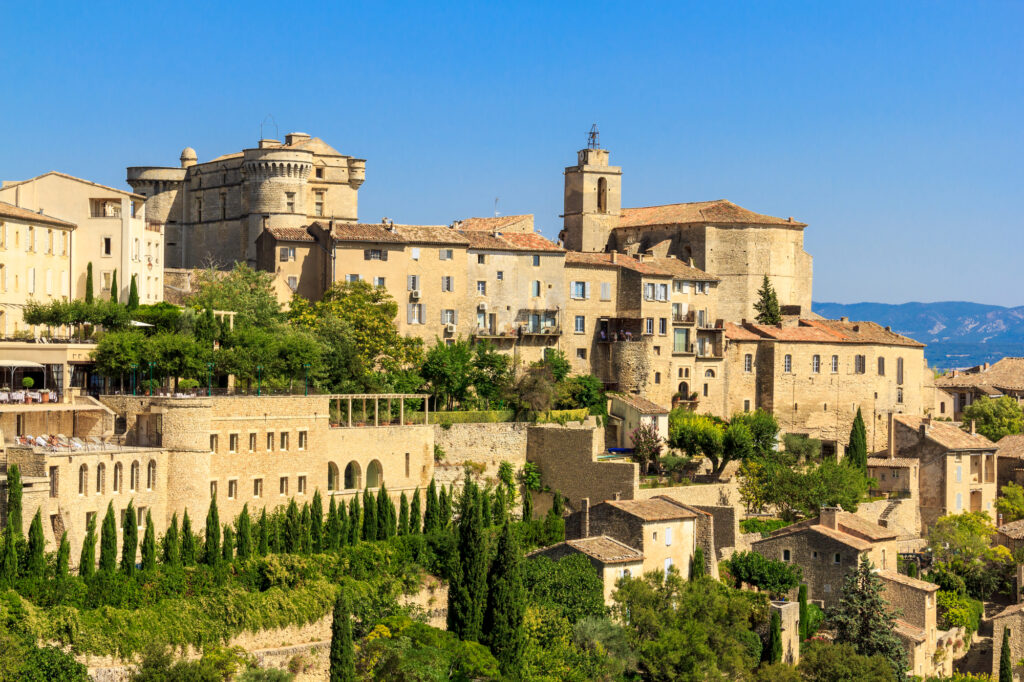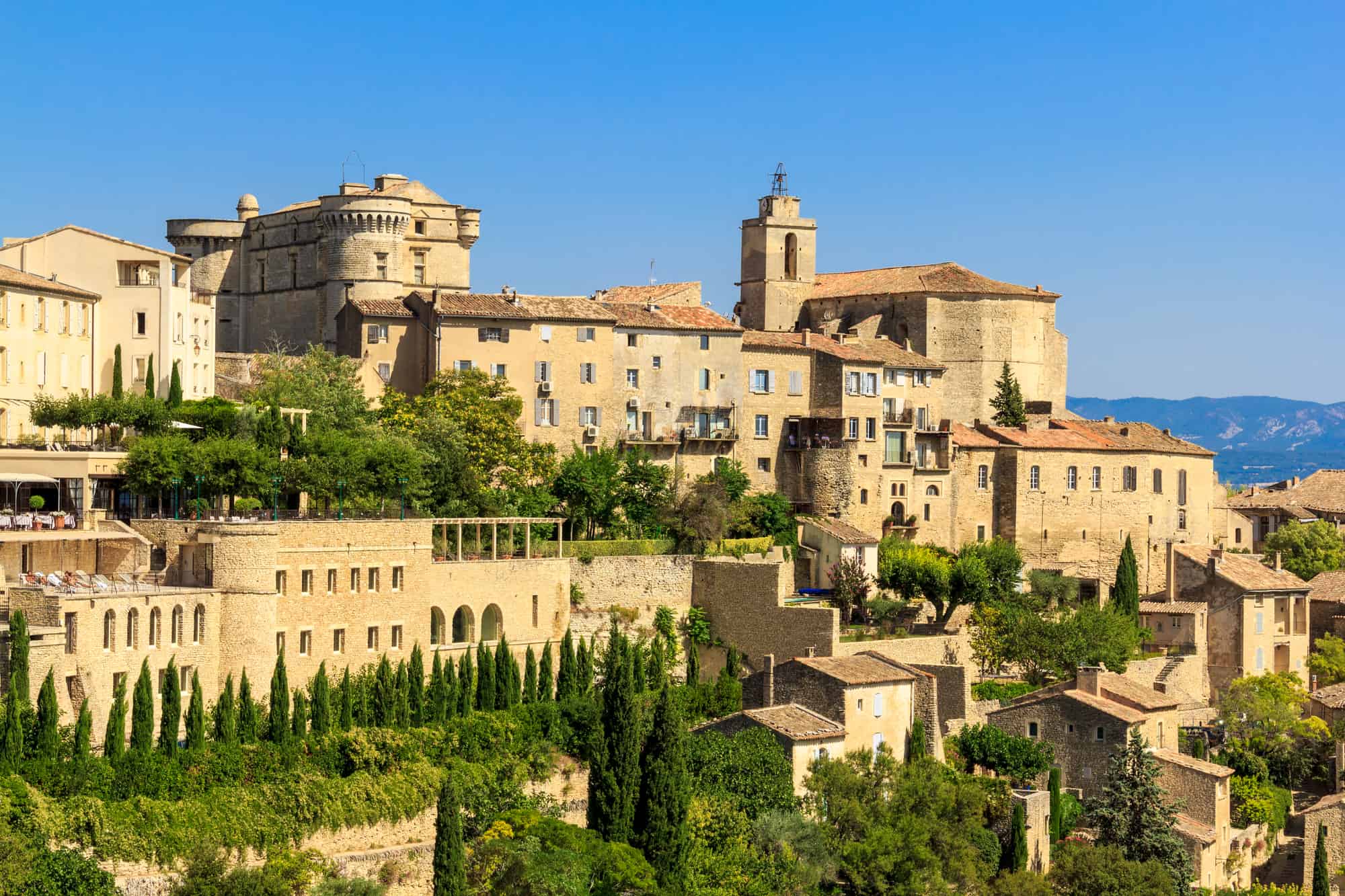 La Bastide de Gordes, a five-star hotel & spa, spans across a large part of the hillside with rooms, bars and pools on split levels. It has the requisite perfect view when dining on the terrace or having a cocktail dipping your toes in the pool, and the atmosphere is unfussy and family-friendly.
Attend evening stargazing events on the lawn with an astronomer or a wine-tasting with the hotel sommelier for an introduction to local wines. Children's activities include an open-air cinema, magicians, treasure hunts and drawing classes.
Check prices and availability at La Bastide de Gordes here.
Wendy and Miguel run Mas de la Beaume, a private Gordes villa with 5 boutique rooms, close to the village centre. This is a place for foodies, where breakfast is served on a private terrace in the shade of a fig tree eating succulent homemade jams.
After touring Gordes market or the local abbey, take a swim in the pool surrounded by almond trees with a view across the valley, before heading out to dinner. A calm home-from-home.
Check prices and availability at Mas de la Beaume here.
Airbnb in Gordes, Provence
If you are happy to stay further afield, Airbnb has a wide range of more eclectic places to stay, running the gamut of log cabins, eco-lodges and windmills.
Find your Airbnb in Gordes here.
---
Gordes village is an essential stop on any travel itinerary to the south of France. With its rebellious, artistic nature, it's more than just a beautiful place to take in the view. It's a place to recharge, to wonder at architectural endeavours and to eat succulent local produce from either Gordes market or the chic, laid-back restaurants.
Pin this for later!