This post was first published in 2020 and has been updated every year since.
The lavender fields of Provence seduce visitors year after year with their heady scent and ethereal appearance. And nowhere is the scene so seductive as it is in the Luberon Valley.
Crisscrossing the plains, in between ancient villages, crumbling châteaux and poker-straight cypress trees, you'll find a patchwork of vibrant lavender fields.
The Luberon lavender fields are not about making grandiose statements, their beauty lies in their composition. More often framed by a stately mas or old stone farm building, they're a delight to see and to photograph.
Read on to find out where the most beautiful lavender fields in the Luberon are located, and how to structure your day to make the most of this bucolic area of Provence, France.
---
Lavender of Provence
There are three main regions to see lavender in Provence, France. And they're all unique.
Most famously, there is the Valensole Plateau with its expansive rolling fields. Then higher up in the region, you'll find another plateau by the name of Sault. It's here you'll find lavender farms densely packed around the village of the same name. Finally, you have the Luberon Valley.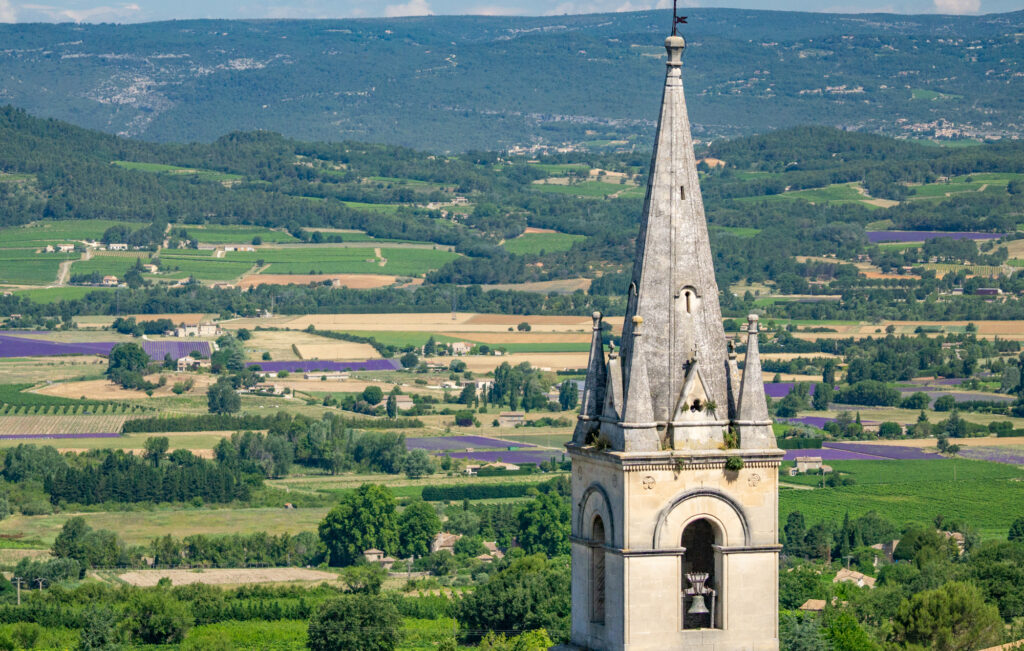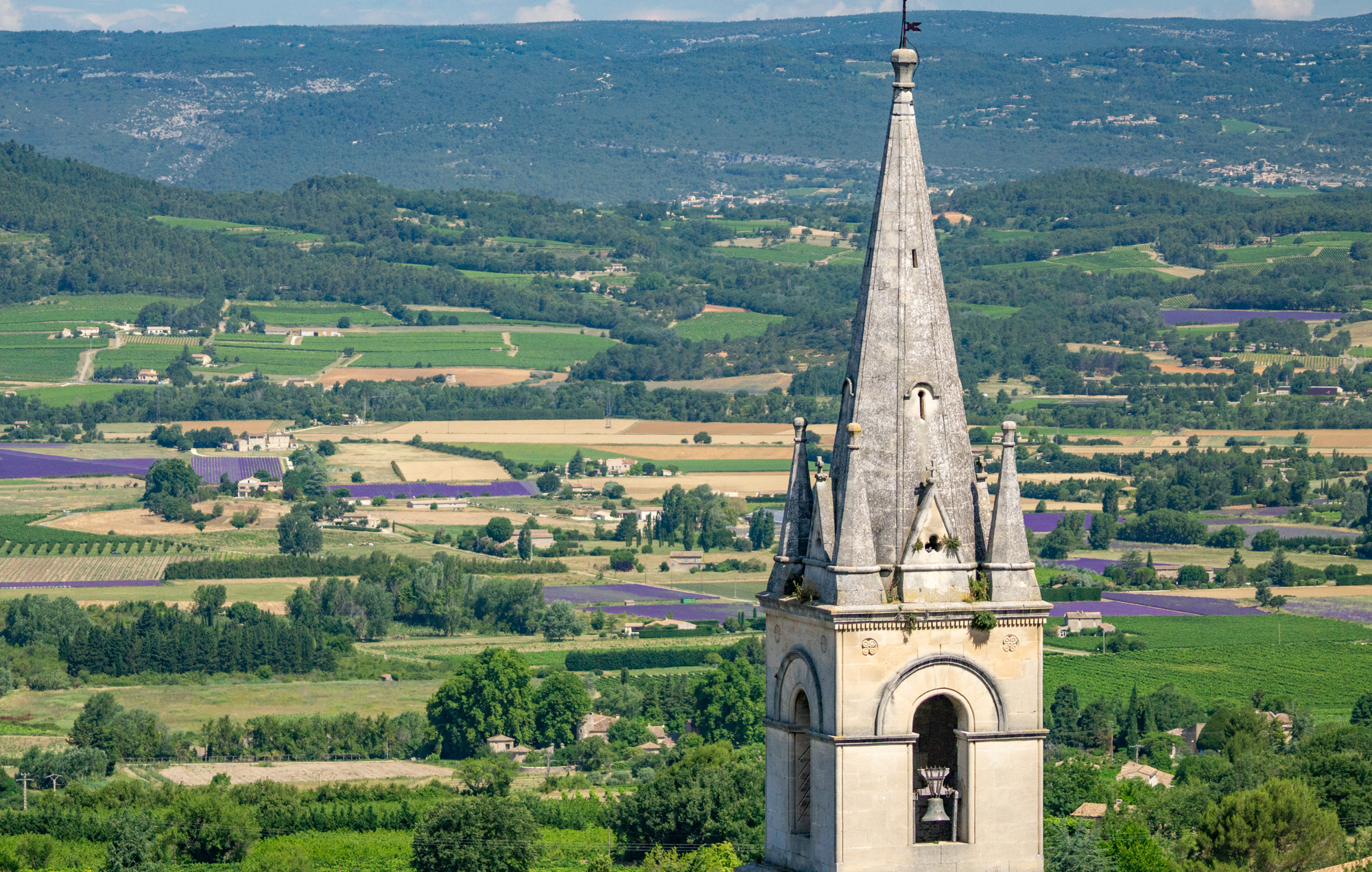 The Luberon Regional Natural Park is famed for its hilltop villages, ochre canyons, and famed rosé wines. But come summer, the landscape is punctuated with purple and there's no doubt this is home to some of the most picturesque lavender fields in Provence.
For a more in-depth overview of the Provence lavender fields, read this article. Or browse all of our lavender guides, here.
You can also join our Facebook Group for regular updates on the lavender season – as well as lots of other Provence travel tips!
One Day Luberon Lavender Fields Itinerary
There is so much to see and do in the Luberon that you could spend weeks (if not months!) discovering it all. So if time is limited, it can be very hard to know where to start. I've previously written some self-guided driving tours you can take to discover the various villages, walks and châteaux. You can discover those here.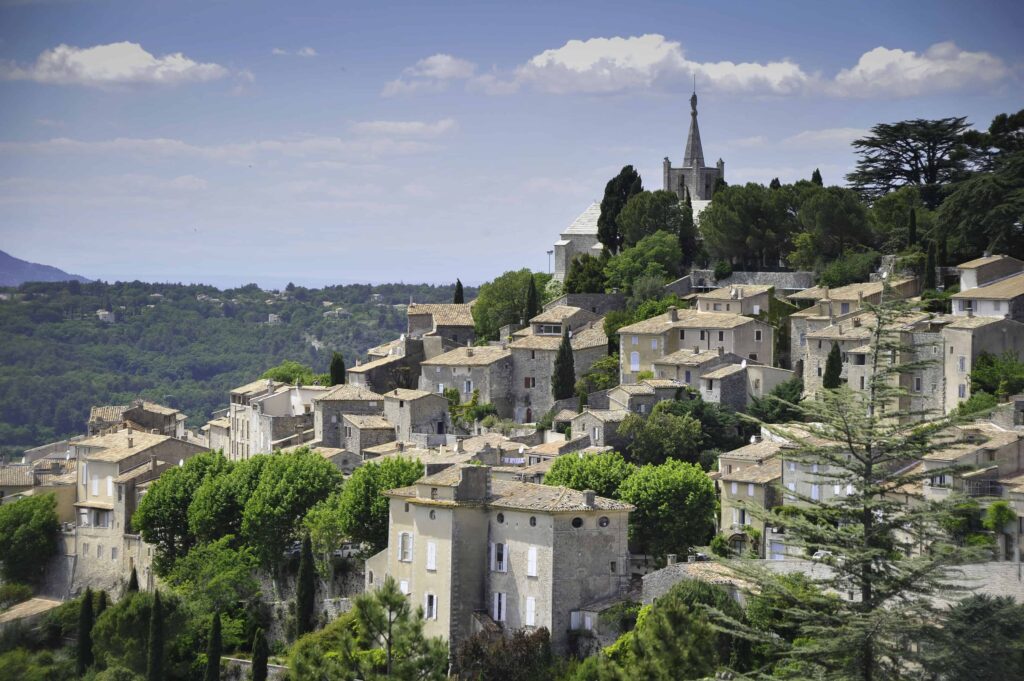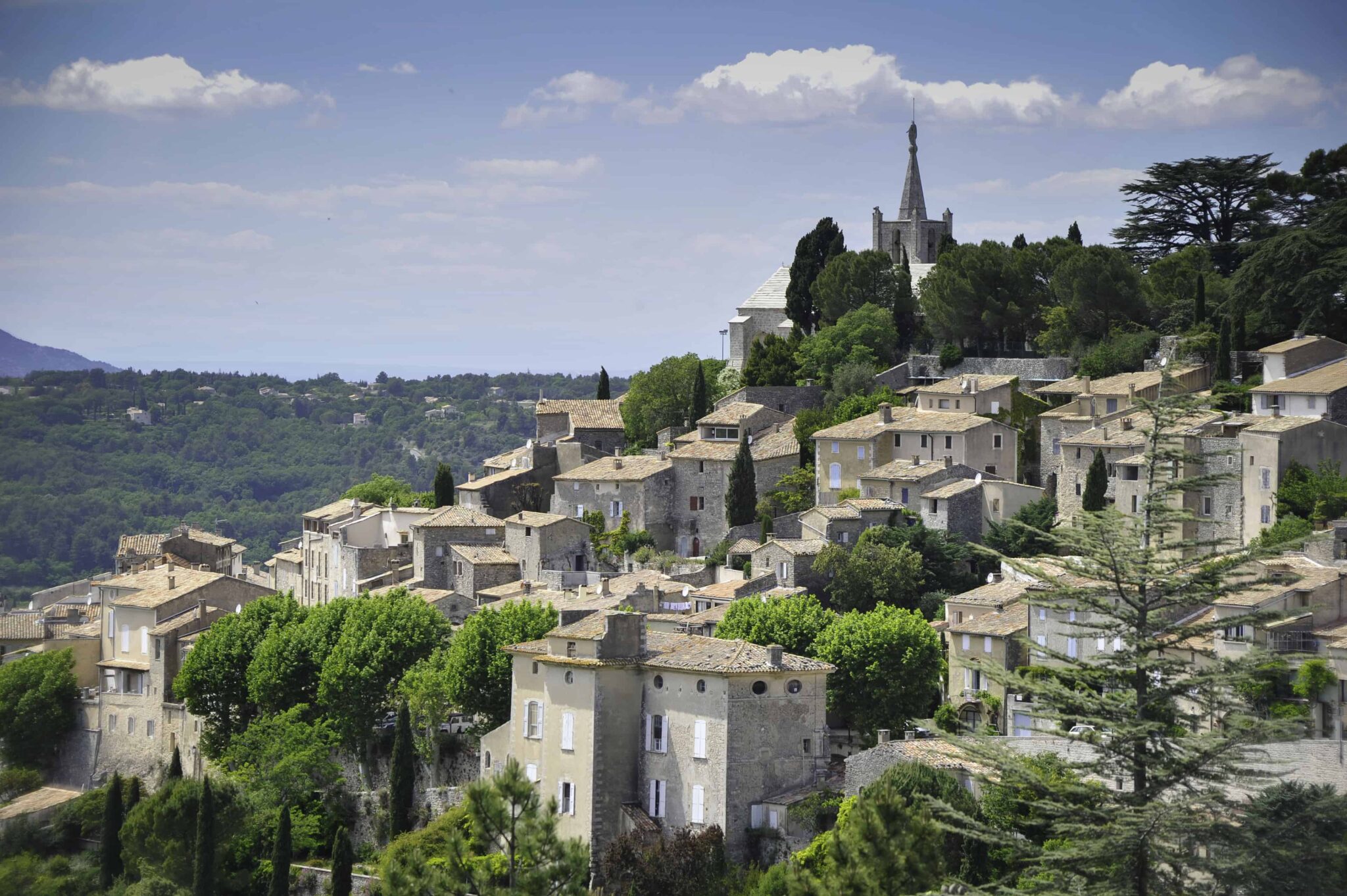 This itinerary is focused more on the lavender fields of the Luberon, with optional stops at the villages and other sites you'll pass on the way. I've also included some lavender distilleries so you can take some pure lavender oil home with you to experience the beauty of Provence lavender year-round!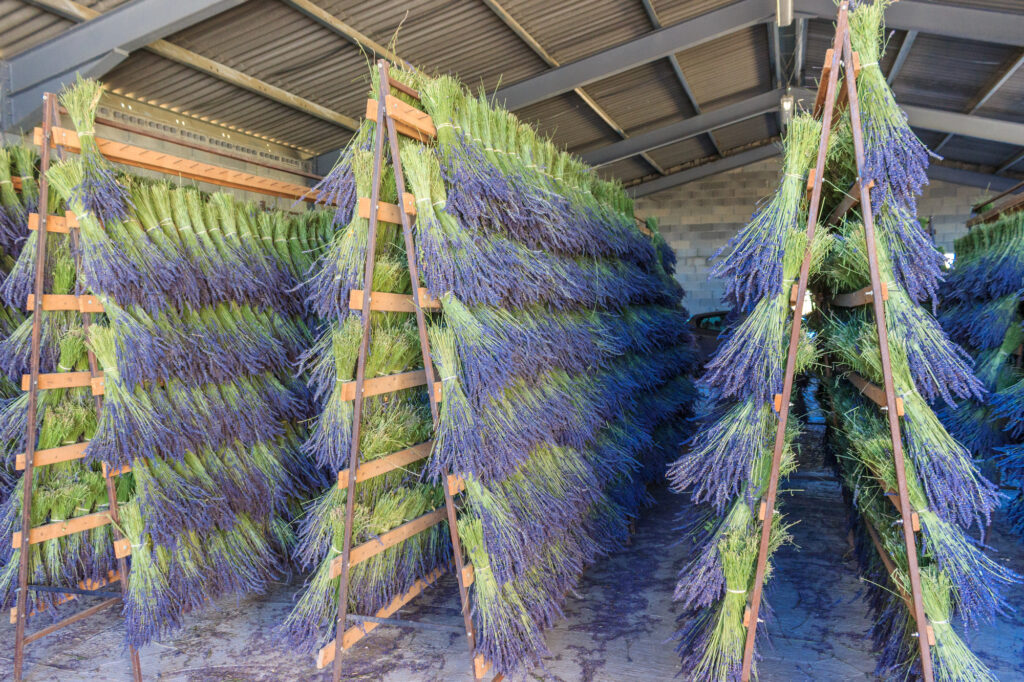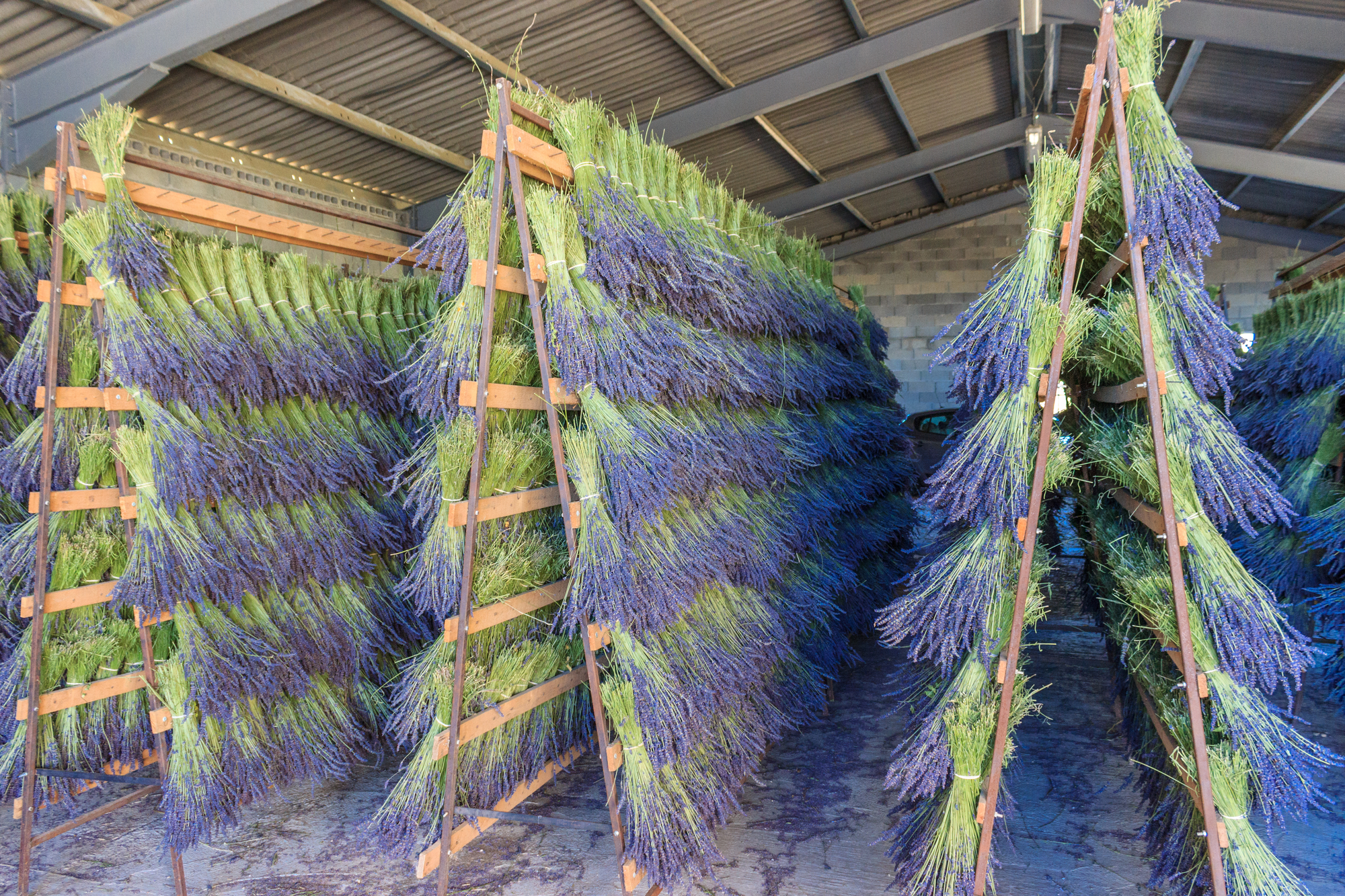 Note that this lavender route couldn't possibly cover all the lavender fields in the Luberon. There are many many more that you'll encounter as you drive around the Luberon – but that adds to the fun of discovery!
I've tried to simplify this route based on the most popular villages and sights.
Map of the Luberon Lavender Fields
I've made this lavender route a circular tour within the Luberon so that you can adjust the start and end points depending on where you are staying.
The Luberon is an easy day trip from Aix-en-Provence and Avignon, or you could choose to stay in one of the incredible Luberon villages.
See our Provence accommodation guide for more details about the best places to stay in the region.
Please note – while this lavender route covers a lot, it's not realistic to think you can fit in every field, distillery and village suggested in one day. I'd recommend choosing two villages & perhaps one distillery visit to incorporate into your tour.
Alternatively, for a more relaxed pace and good 'taster' of the Luberon lavender fields and villages, I have another, more simplified, itinerary suggested below as a day trip from Aix or Avignon.
Start – Bonnieux Village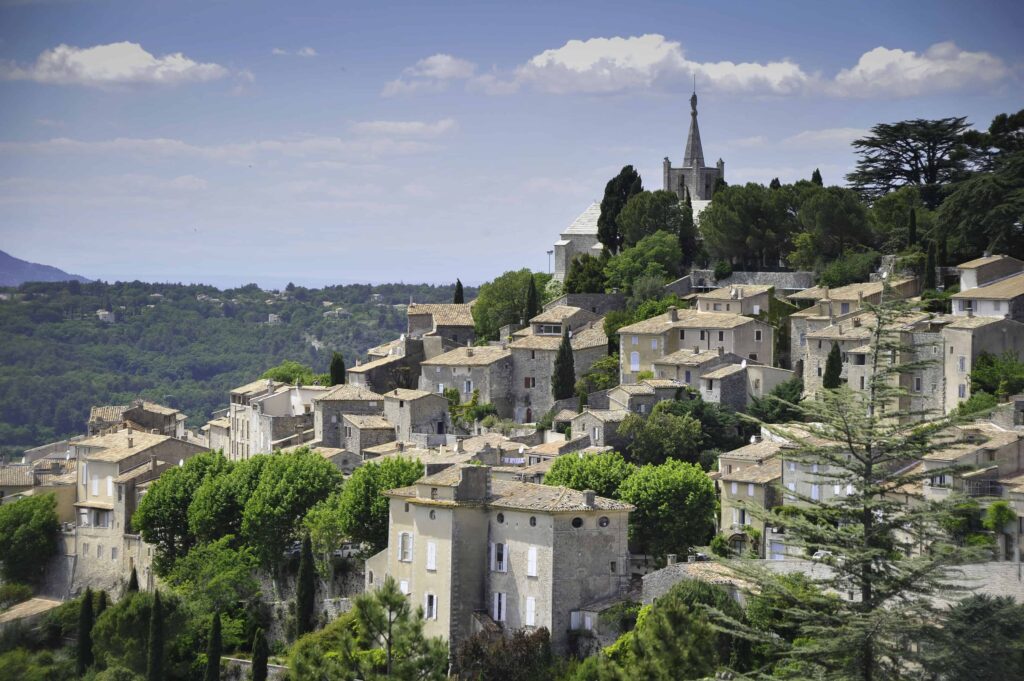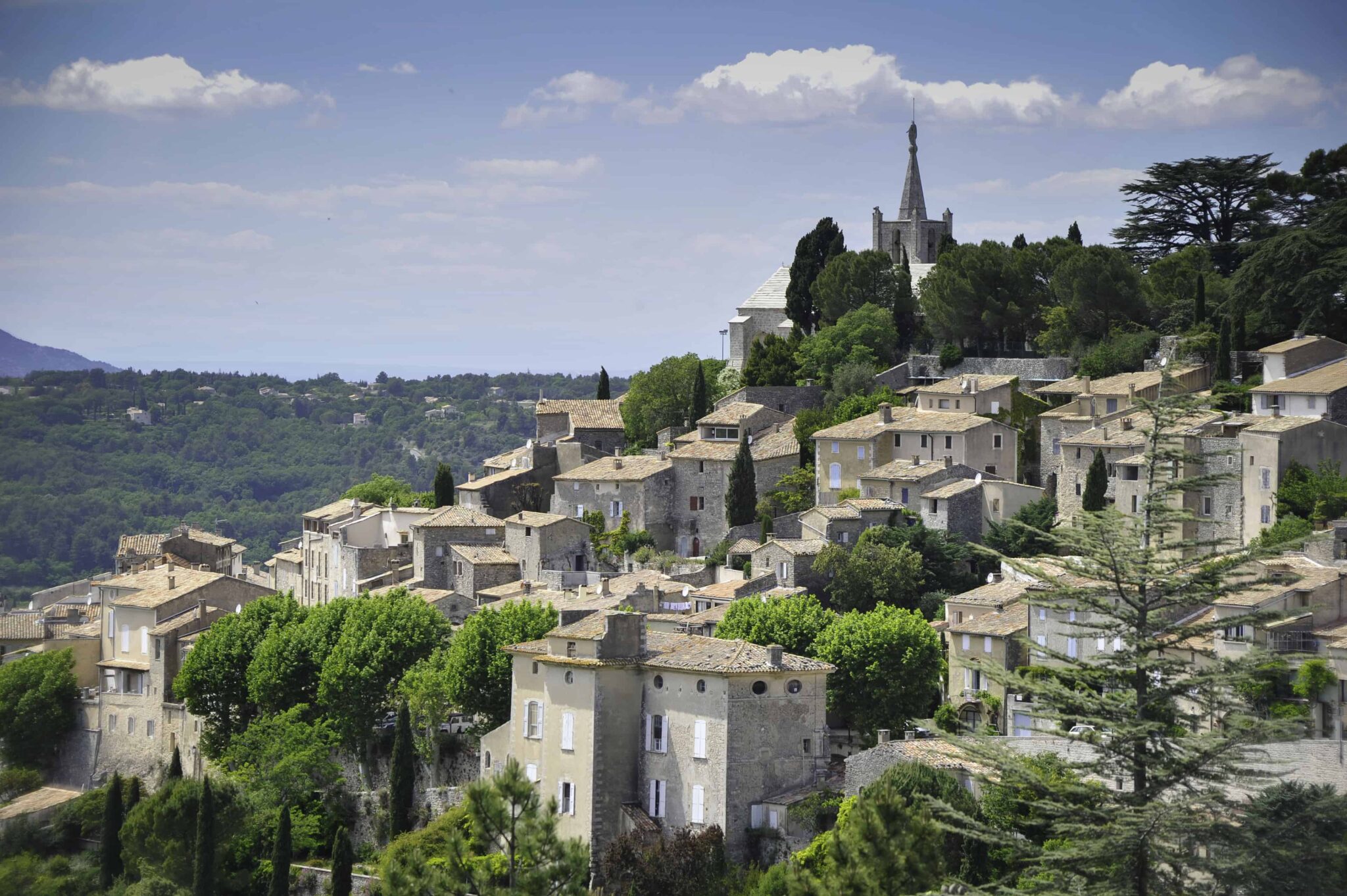 The charming Luberon village of Bonnieux is one of the most impressive in the region – especially when viewed from afar! If driving from Aix or Lourmarin, be sure to stop before you enter the village for this chocolate-box viewpoint.
But it's not just the views of the village that stand out, it's also the views from the village. From the Cours Elzéar Pin, or further up by the 13th-century church, you have an outstanding view of the valley – complete with vibrant lavender fields. And in the near distance, the hilltop village of Lacoste.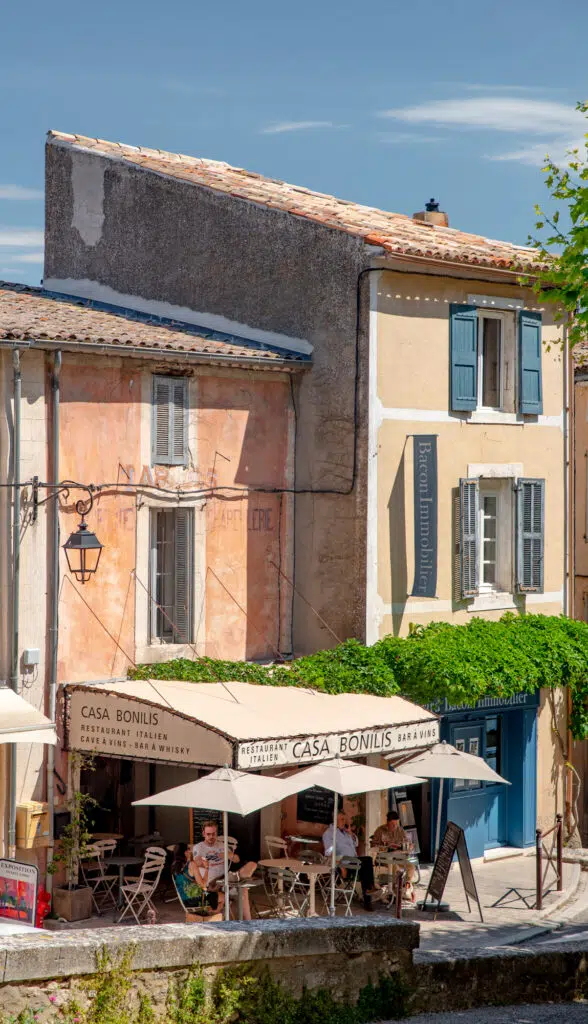 Park the car and wander up through the winding lanes of the village. Take the old stone stairs up to the ancient church and pause to catch your breath in the sheltered park at the top. Pop into entre miel et Terre for some local honey and boutique souvenirs before you head out to your next stop.
Market day in Bonnieux: Friday, around the 'new' church (lower part of the village).
Where to eat in Bonnieux: L'Arome or Le Fornil
Field #1 – Les Agnels Organic Lavender Distillery & Nearby Fields
GPS: 43.8539, 5.38602 & 43.84494, 5.39241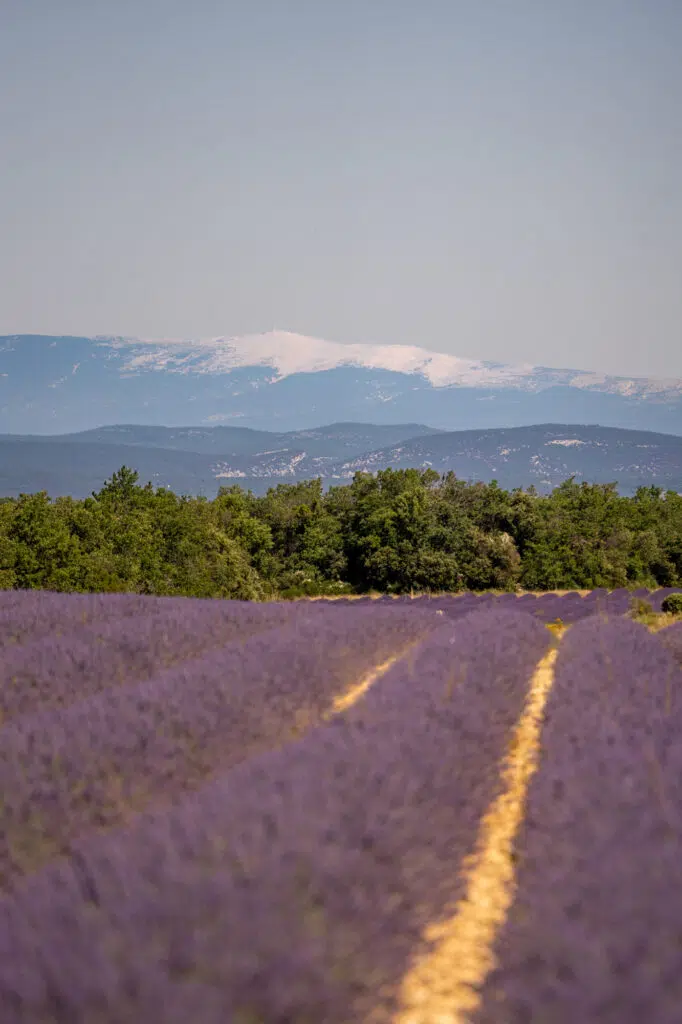 The drive from Bonnieux to Apt is rural and beautifully unkempt. You'll see the signs for the distillery before you see the fields, but they're not far away.
On the corner of D232 and D113, you'll find the intersection surrounded by lavender. You can stop here and snap some shots with Mt Ventoux in the background, or continue down the road towards the distillery where you'll encounter many more blooming fields.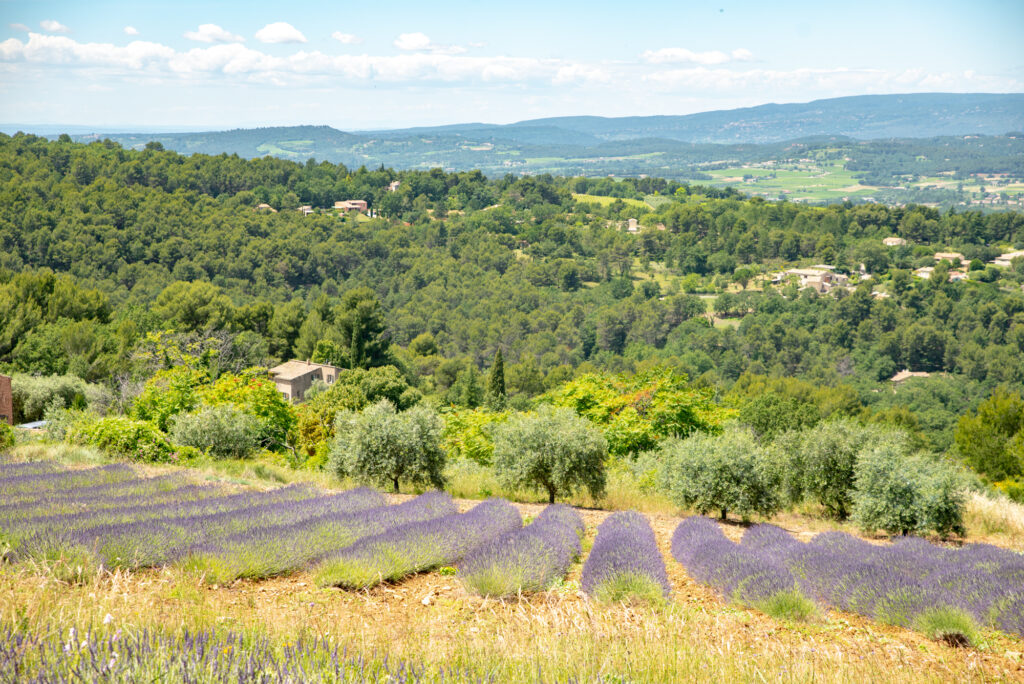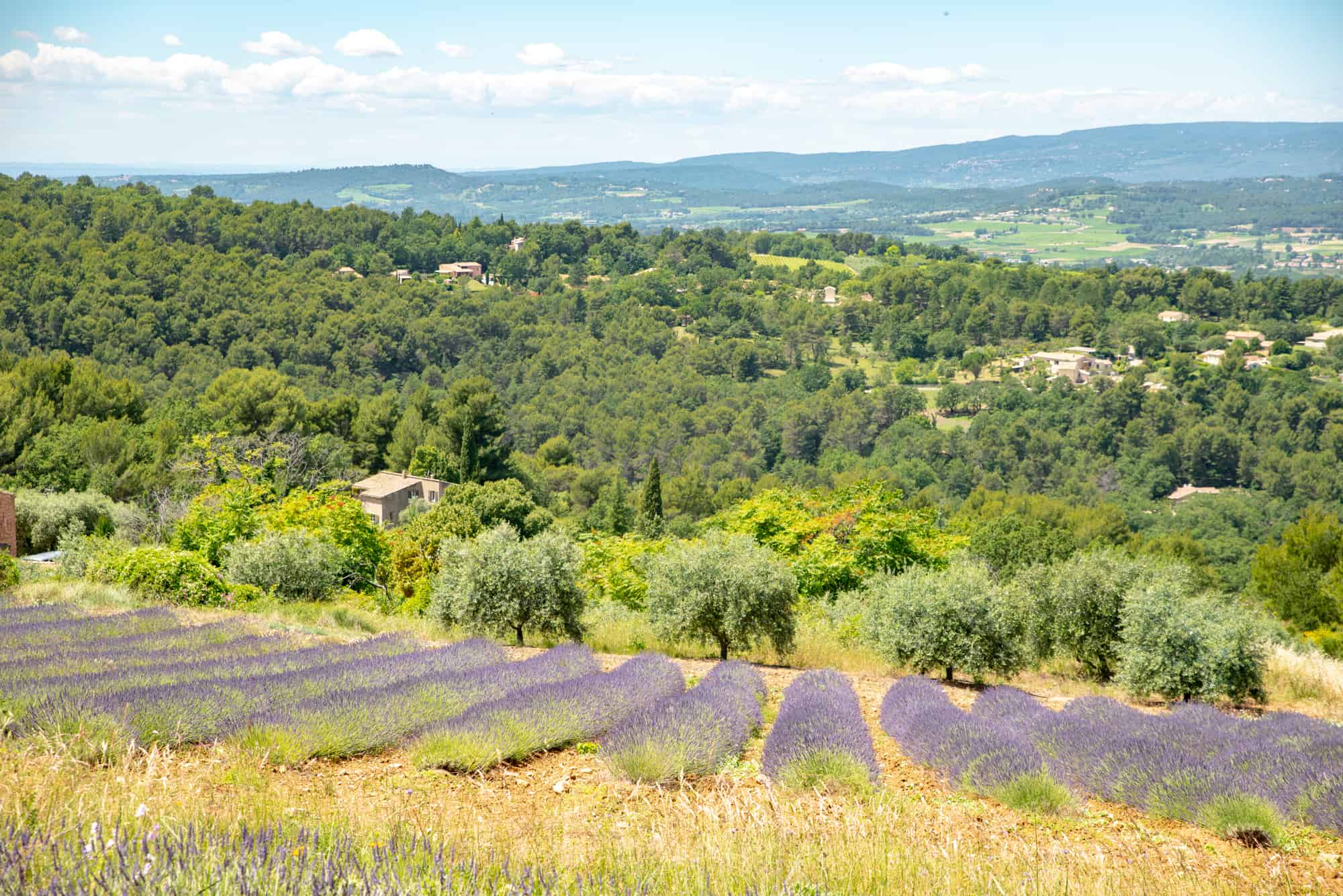 Call into the distillery which sells a range of organic lavender products. If you can, I'd also recommend taking one of the guided tours of the distillery for a good introduction to lavender oil production. These are held every day during summer at regular intervals. You can find more information on times here.
Just down the road from the distillery, towards Saignon, you'll find a few more picturesque lavender fields, including the one shown above.
Field #2 – Saignon Views
GPS: 43.86011, 5.42388
Below the striking settlement of Saignon, you'll encounter this small field that frames the village perfectly. It's fairly easy to find, just hang a right off the main road before you enter the village and you'll see a small road with fields on both sides.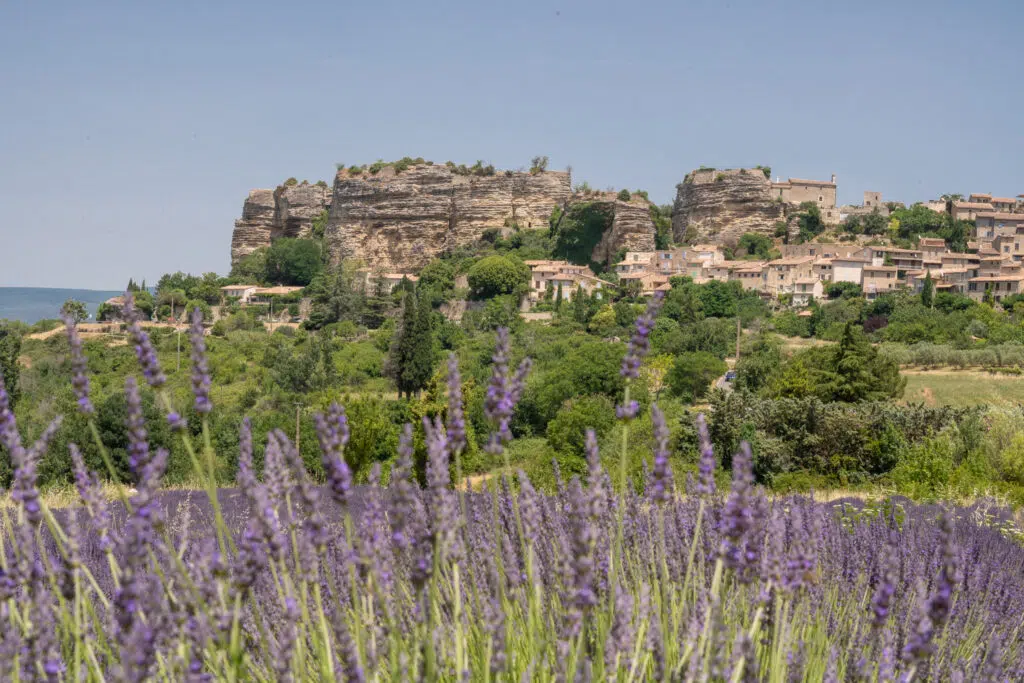 You can drive up this road to where it splits in two – this is the perfect spot to do a u-turn, and on your way back you'll see a small verge on the left where you can park your car.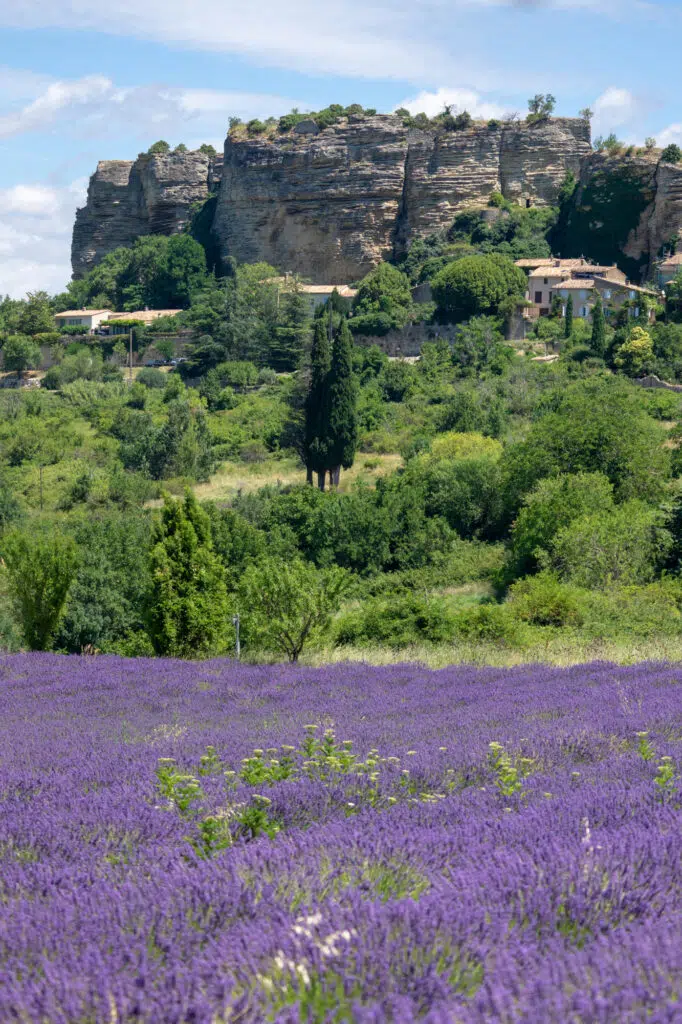 The feeling of this field is very rural compared to some in the Luberon. It could be a good place to shake out a picnic rug and enjoy the scenery over lunch.
Optional Stop – Saignon Village
The village of Saignon is still largely 'undiscovered' compared to most Luberon villages. And yet it's without a doubt one of the most beautiful and quintessentially cute villages around!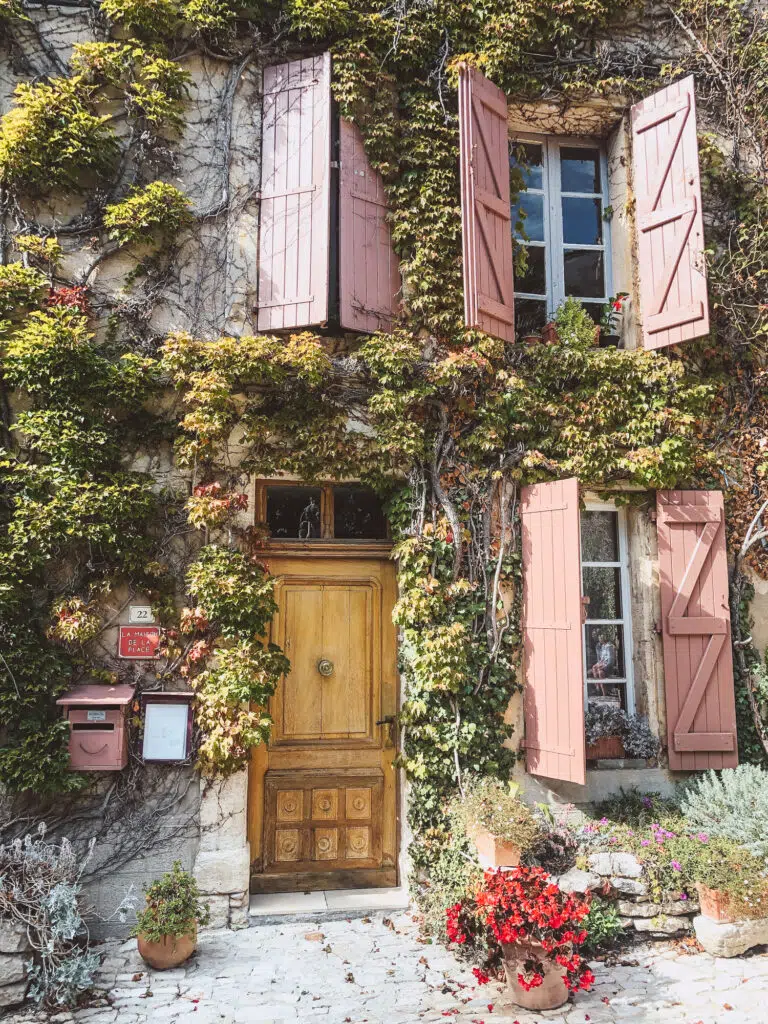 A wander through the cobbled streets won't take you very long, and it's extremely rewarding to seek out the little shaded courtyards, ivy-covered façades and hidden fountains. Be sure to follow the trail up to the Rocher de Bellevue – the large rock that Saignon is built on, to appreciate the best views on offer.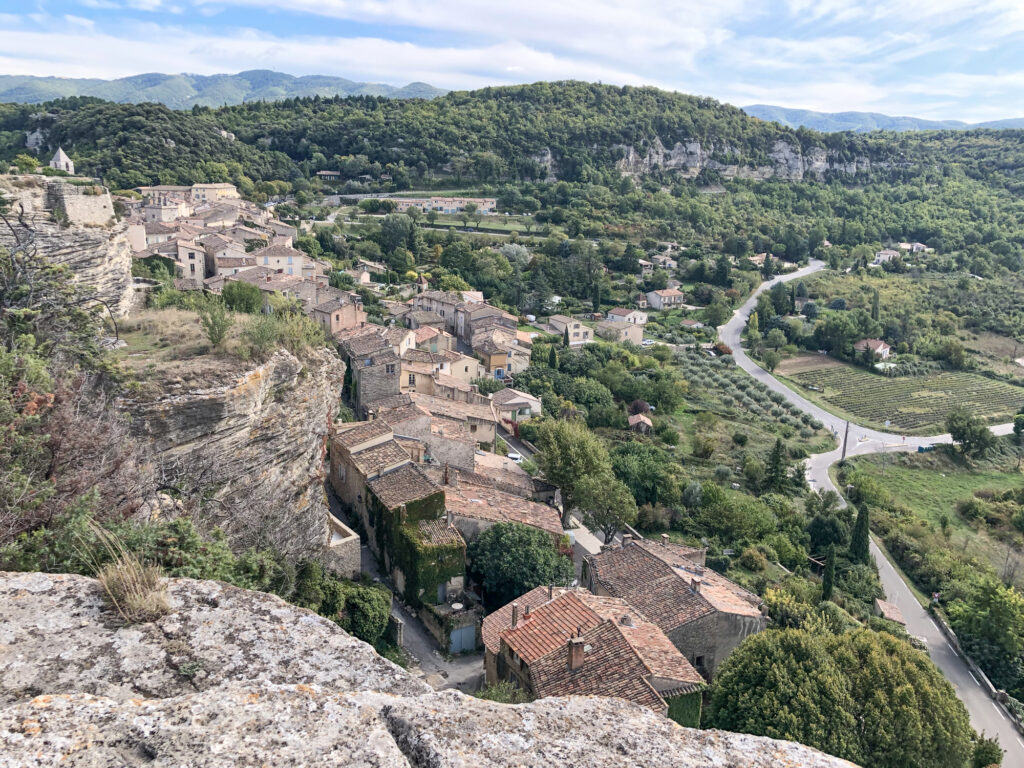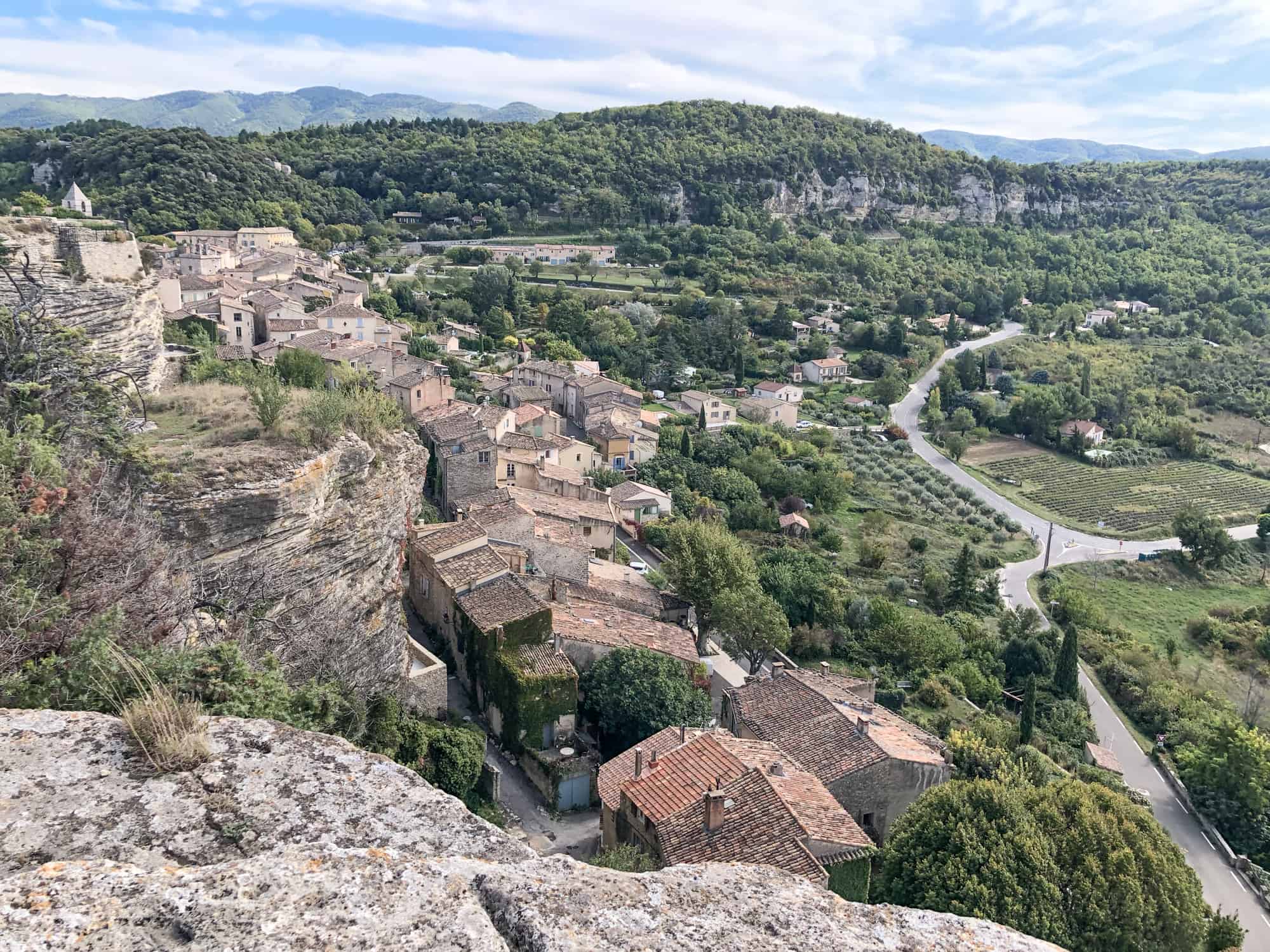 Market day in Saignon: Thursday
Where to eat in Saignon: Au Petit Bouchon
Field #3 – Le Petit Cabanon Aux Lavandes
GPS: 43.86649, 5.43351
Driving away from Saignon you'll pass this delightful little lavender field surrounding a stone cottage. With the addition of a couple of well-placed cypress trees, it's picture-perfect!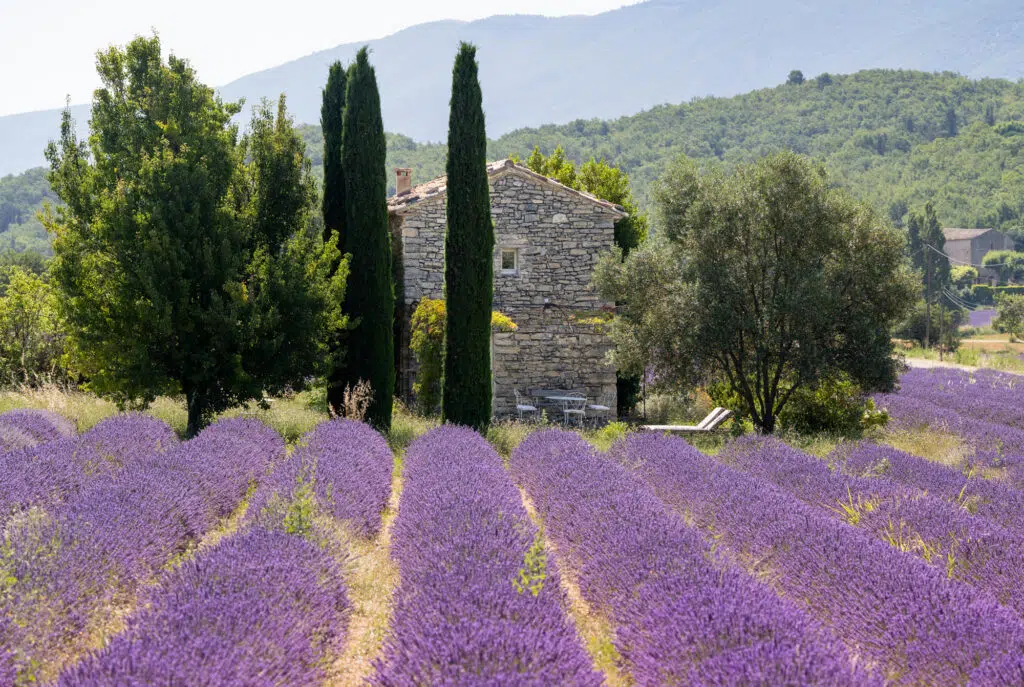 The cottage is actually a little holiday rental and would make the most idyllic place to stay in the Luberon, so long as you could put up with people taking pictures of the fields in front of you!
Field #4 – Simiane-la-Rotonde
GPS: 43.98127, 5.5699
This next lavender field is a bit of a drive away, but it's a pleasant drive through the hills, and once you arrive you'll see why it shouldn't be missed. At the foot of the hilltop village of Simiane-la-Rotonde is the Young Living Farm and its delightful lavender fields.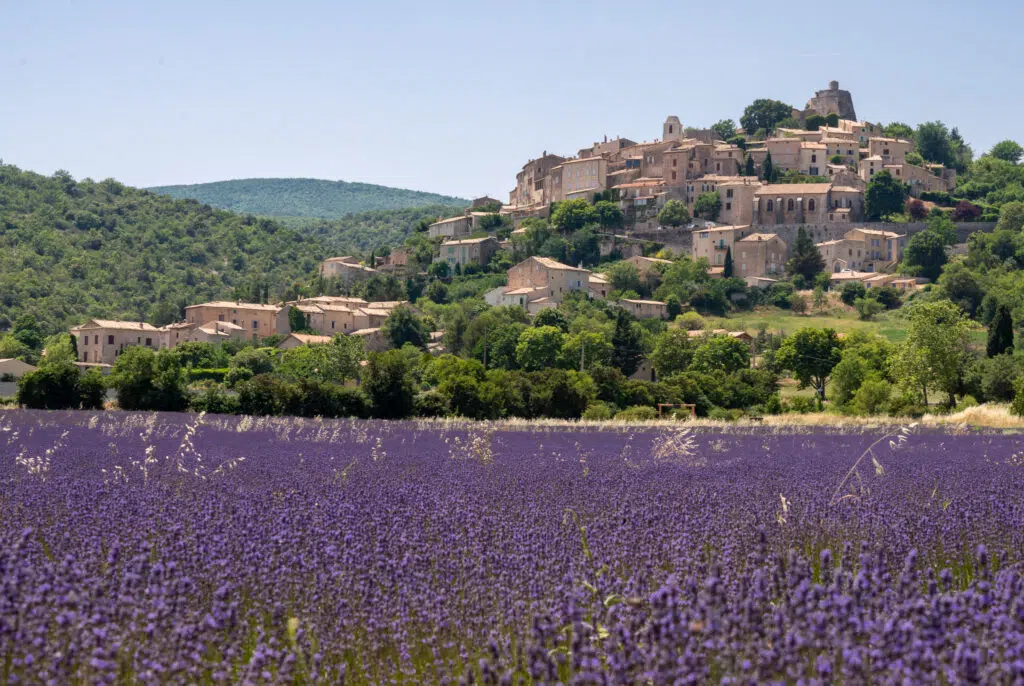 You can either park in the car park of the Restaurant Le Chapeau Rouge, or pull over carefully on the side of the D701 road where there's space. I wouldn't advise this on days when the road is busy though.
Field #5 – Rustrel
GPS: 43.92336, 5.46449
The underrated village of Rustrel is surrounded by expansive, and serene lavender fields. Some of the best examples can be found just as you're leaving the village and driving back towards Apt. I stopped in this specific spot as the building caught my eye. But as you can see below, there are fields as far as the eye can see.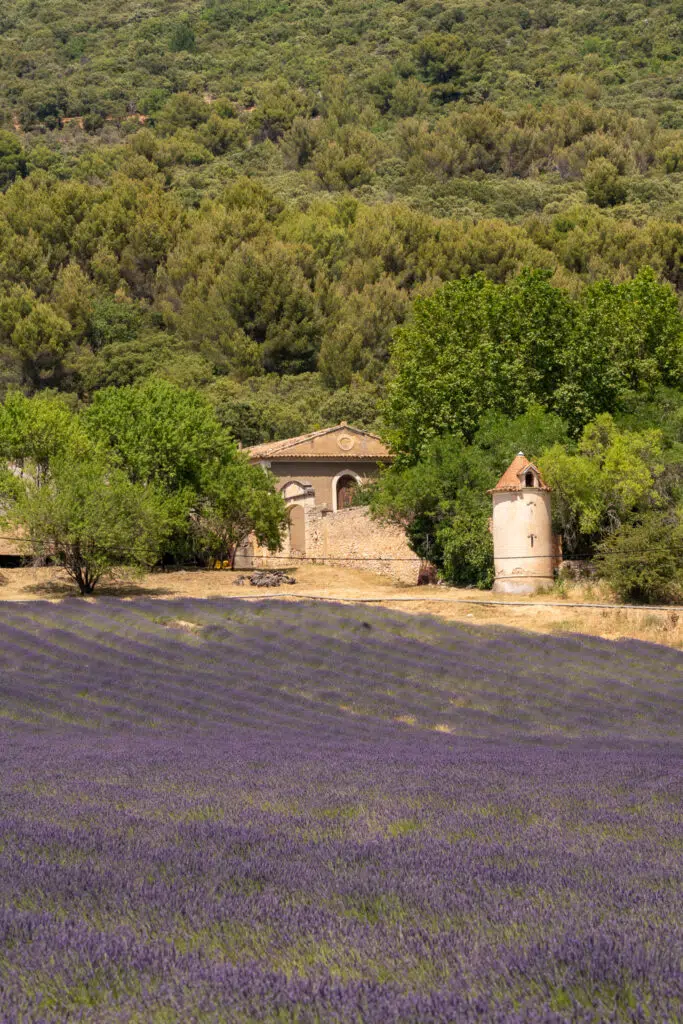 Where I've dropped the pin, you can pull off into a small side street and park to the side. If this proves difficult, you can also carry on down the road a little while where there's more of a verge on the side of the road to park.
Field #6 – The Coulets Distillery & Surrounds
GPS: 43.88839, 5.42228 & 43.89673, 5.42146
A little rustic distillery sits in a hamlet above the busy village of Apt. On the way there, you'll pass a medley of lavender fields in different sizes and shapes. The vineyards along this road are also beautiful, with a few stone houses in between to offer variation in the landscape.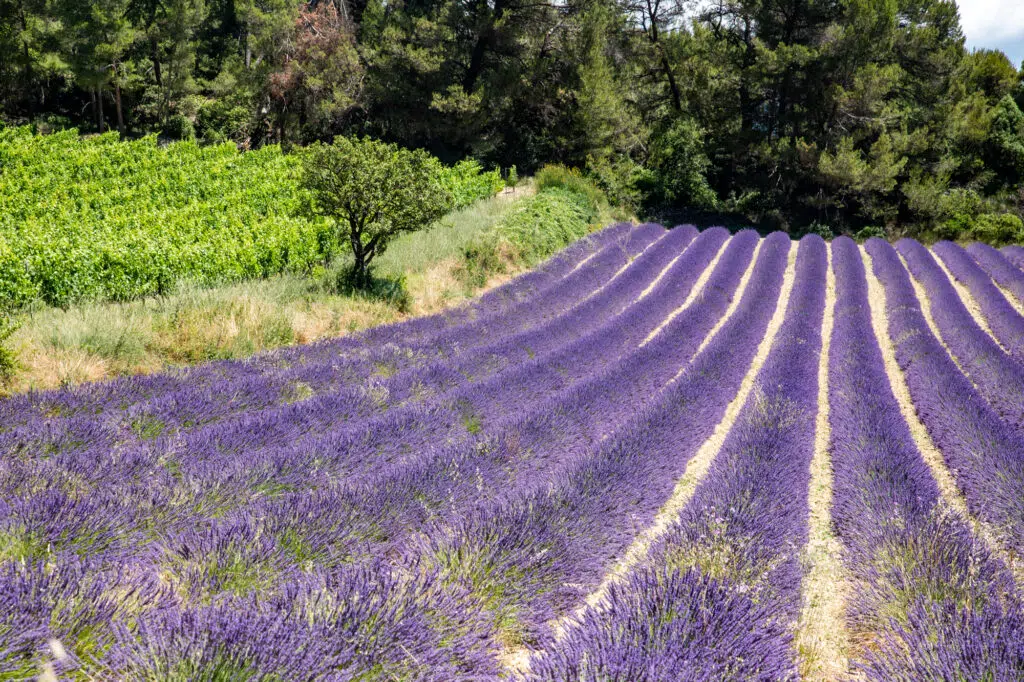 If you've already visited the Agnels distillery, perhaps you can give this one a miss. But it does make an easy side trip on your way towards Roussillon and the fields here are undeniably quiet and well off the beaten track.
Optional Stop – Roussillon Village
Roussillon is an artist's haven, and with its rich colour palette of ochre-inspired tones, it's not hard to imagine why. Perched at the southern end of the Plateau de Vaucluse, it affords wonderful views over the valley and rust-coloured cliffs that surround it.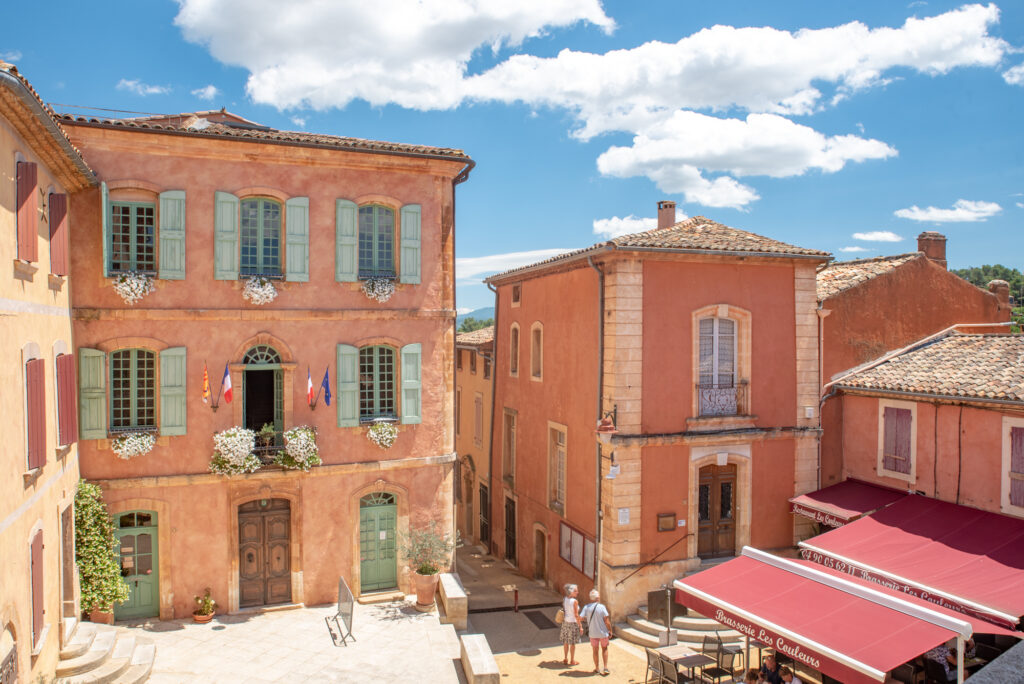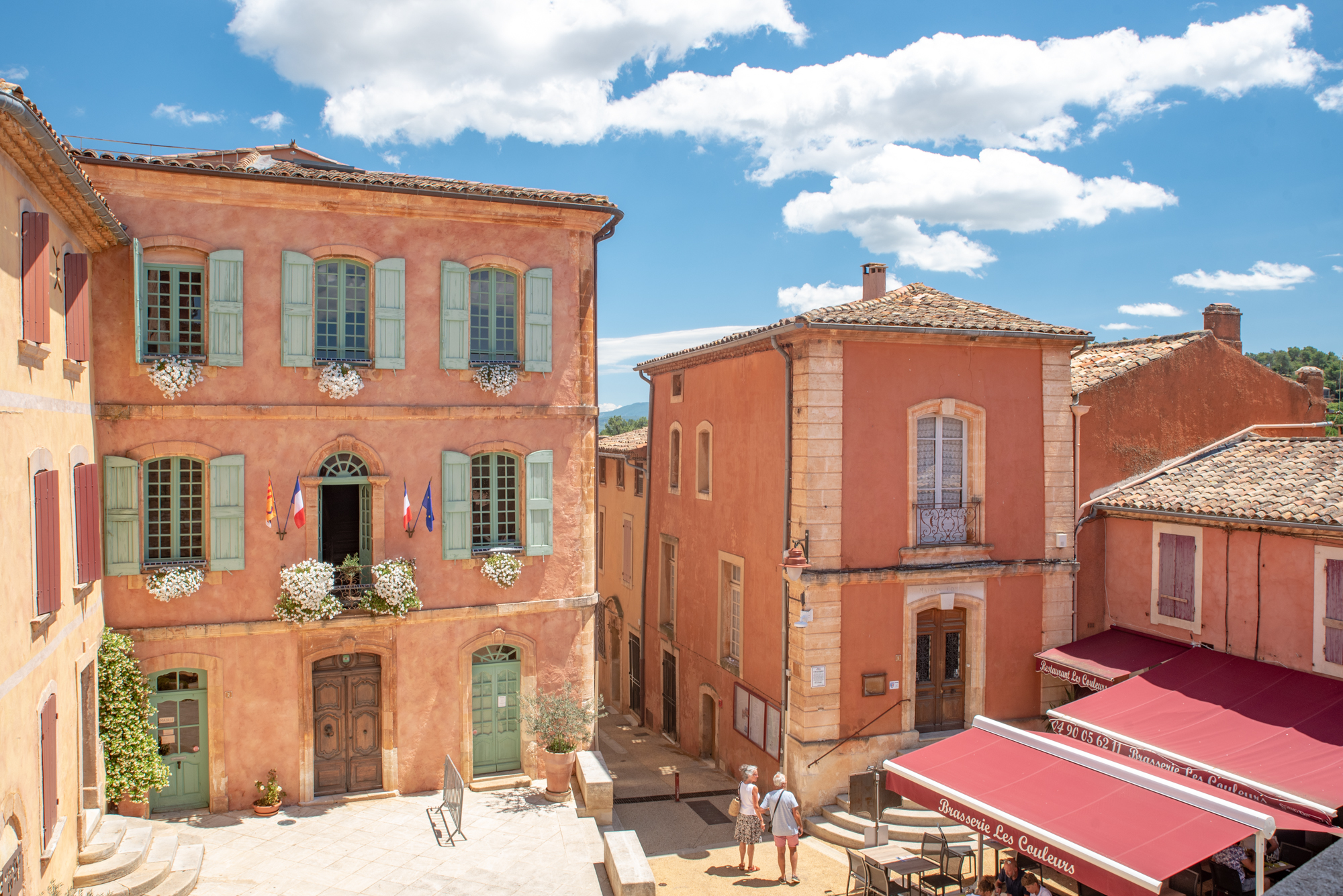 Officially named one of France's most beautiful villages, it's no doubt also one of the busiest. The narrow, boutique-laden lanes all lead into the town square with its iconic town hall and cafe terraces. Wander further up, under the belfry, and through narrow streets until you find the orientation table at the top.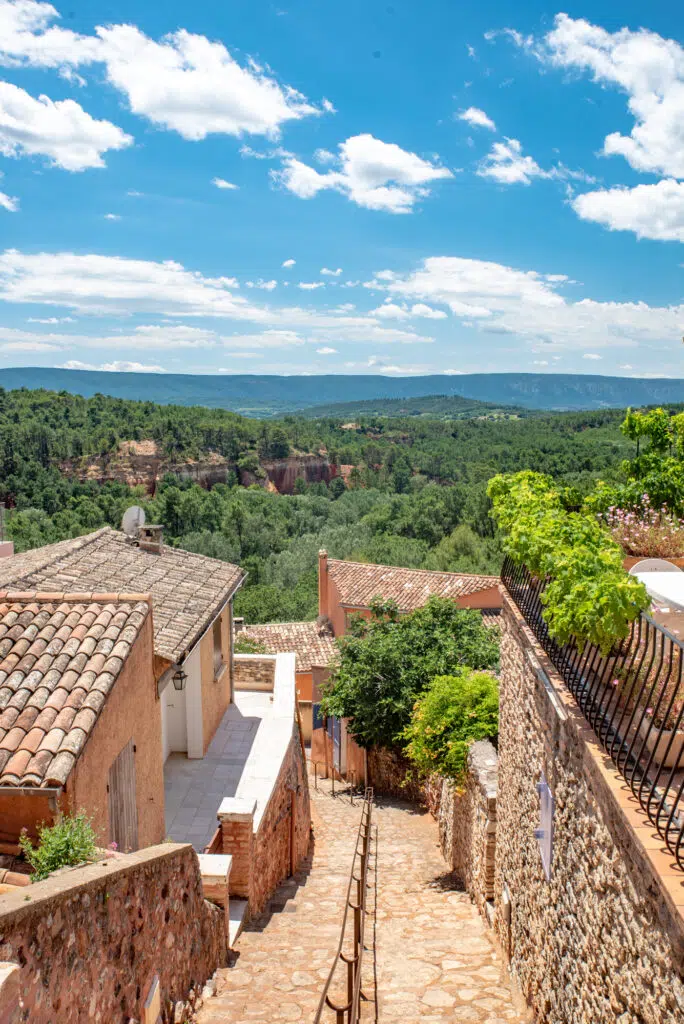 If time allows, a walk through the former Ochre mine is a worthwhile exercise. The short loop only takes 30 minutes to complete, with the longer loop only adding another 20 minutes or so. Both are family-friendly, but sadly not wheelchair accessible.
Market Day in Roussillon: Thursday
Where to eat in Roussillon: Restaurant David
Optional Extra Stop – Château de Lioux
This atypical chateau sits in the upper Luberon in an exquisitely charming village. The chateau doesn't appear to be open to the public, but there's a lovely lavender field framing it that's worthy of a pause.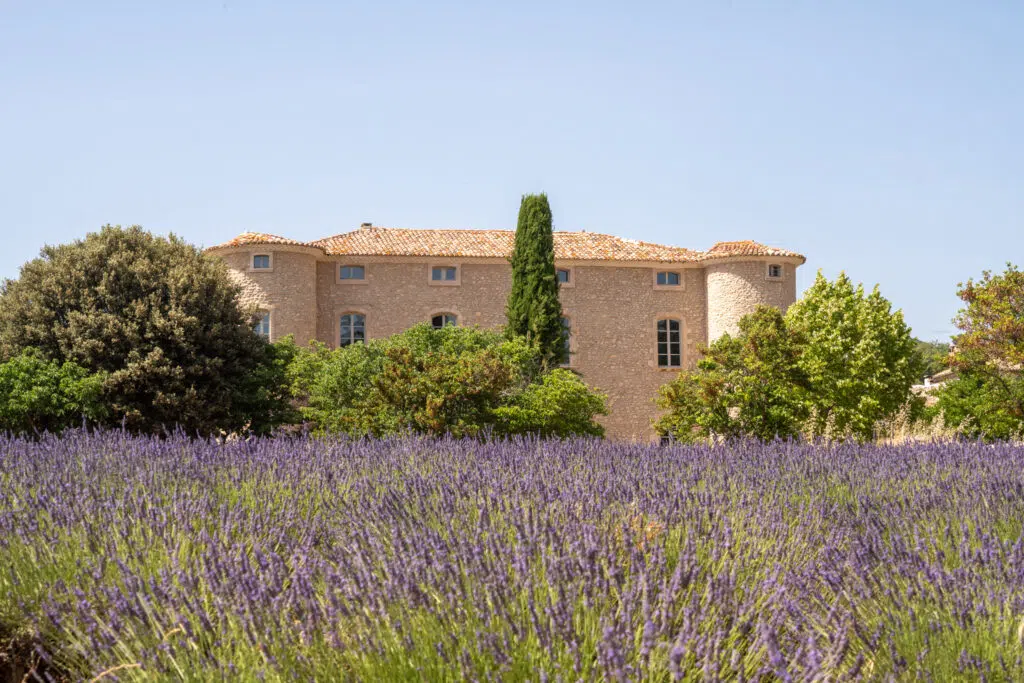 If you're into hiking, this is a good place to start, with trails snaking up into the hills behind the village. Otherwise, continue on towards Gordes and your next stop.
Field #7 – Farmhouse lavender field near Gordes
GPS: 43.9105, 5.2145
On your way into Gordes, there's a small lavender field that's too good to miss. You'll find it just after the popular hotel/restaurant Carcarille, on the left-hand side of the road. Look out for the small bay on the left where you can park the car, and walk the final 100m or so.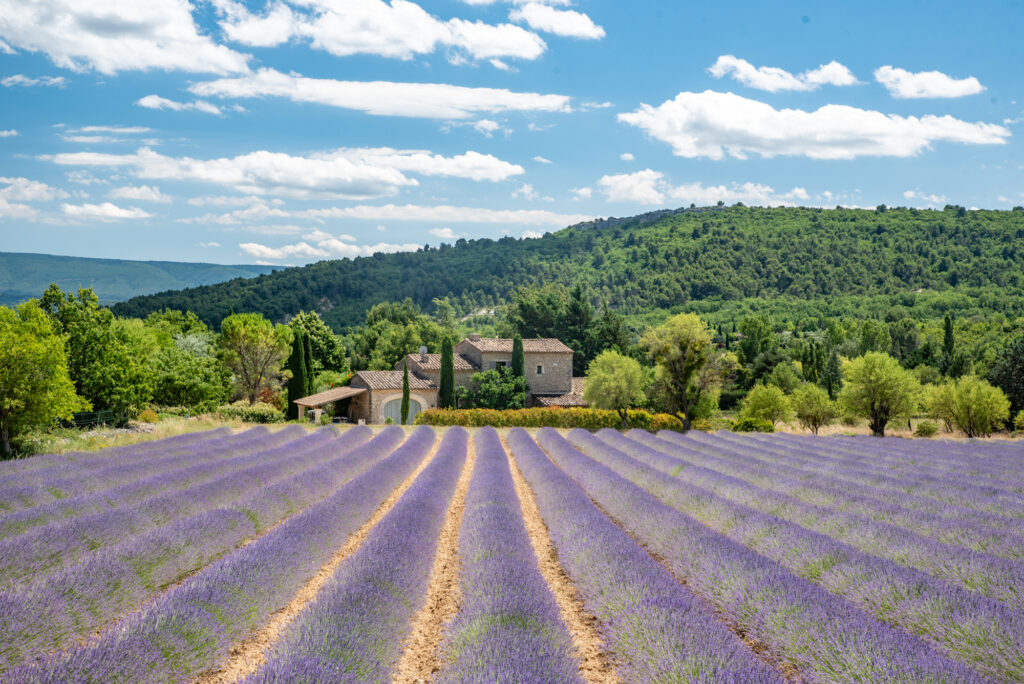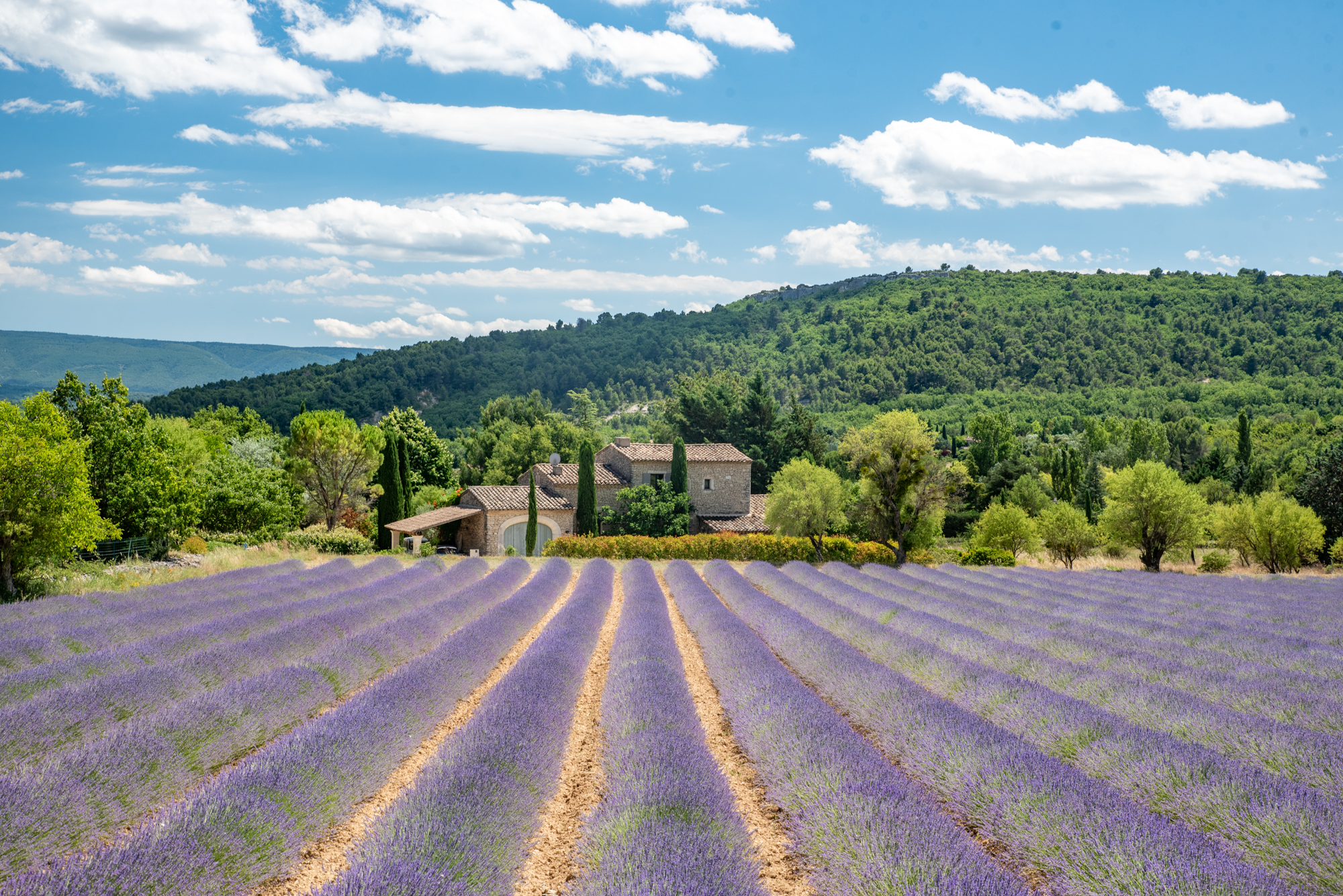 This beautiful stone house is typical of Gordes, and with its cypress trees and rural outlook, I think it makes a stunning scene.
Pit Stop – Gordes Lookout Point
This best view of Gordes is located just outside the village – just type Town View Point Gordes into Google Maps and it'll take you to the spot.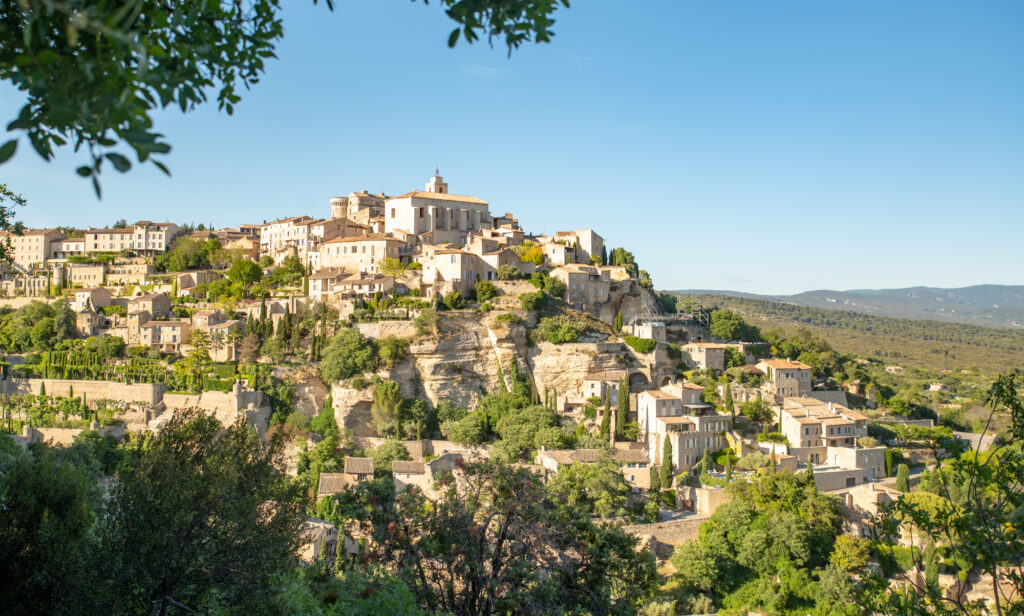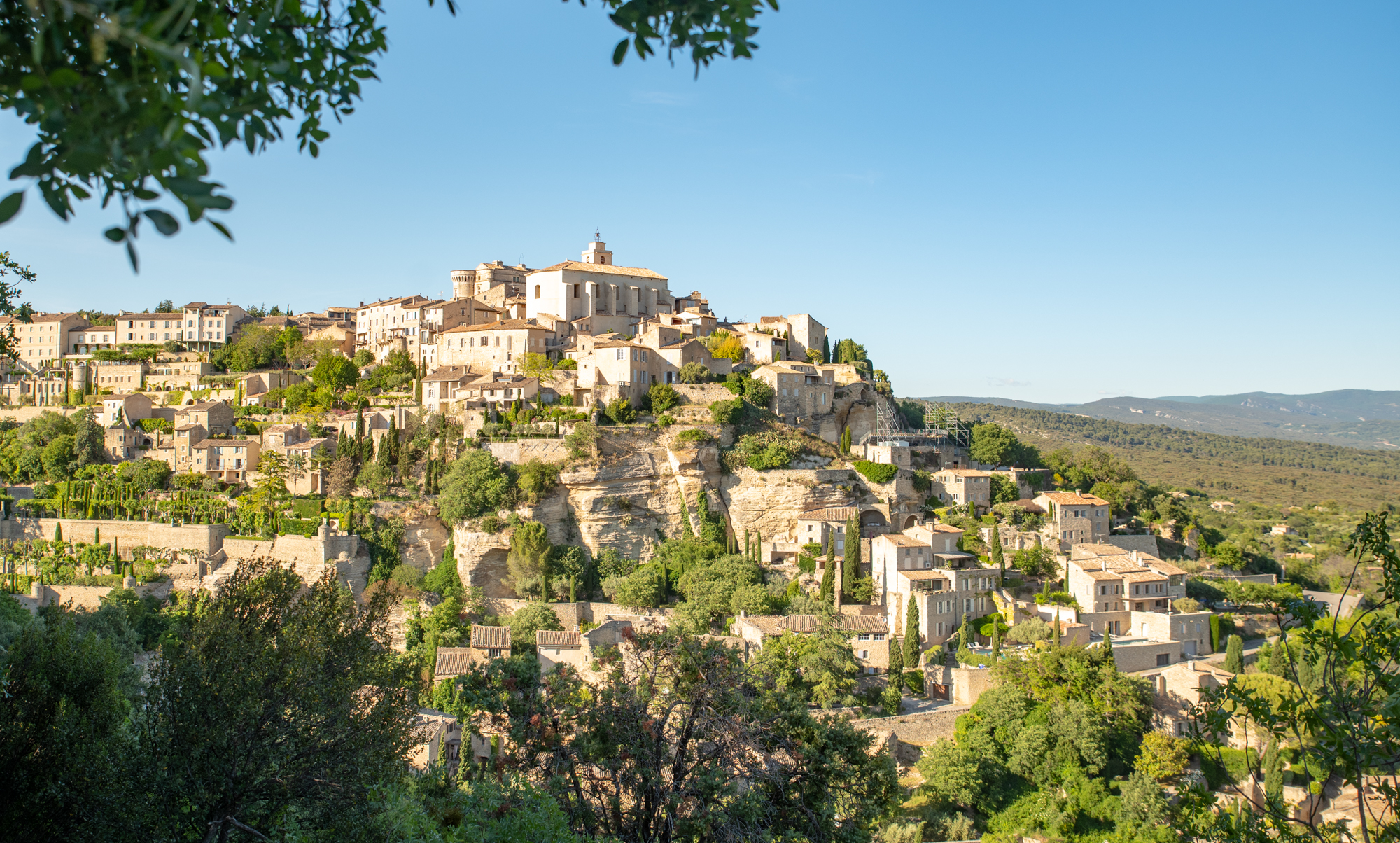 It's best to stop here before continuing on into the village, or towards the Senanque Abbey.
Field #8 – Senanque Abbey
GPS: 43.92828, 5.18665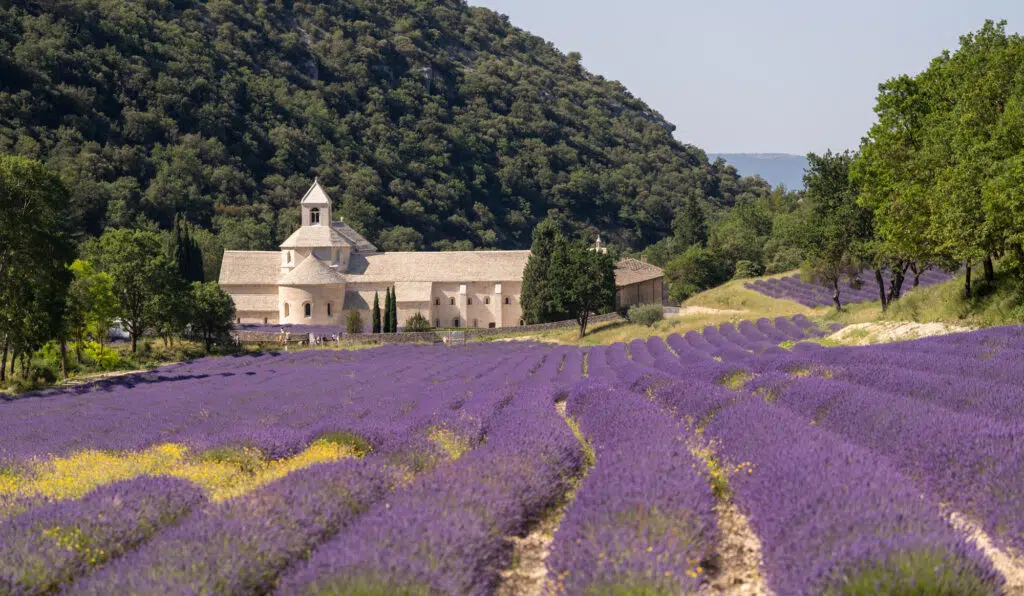 A local favourite, the Abbey de Senanque is an important historical site in France, and one that is symbolic of the South of France. The Abbey is a working monastery, and you'll find the monks tending to the lavender fields and honey bees on site.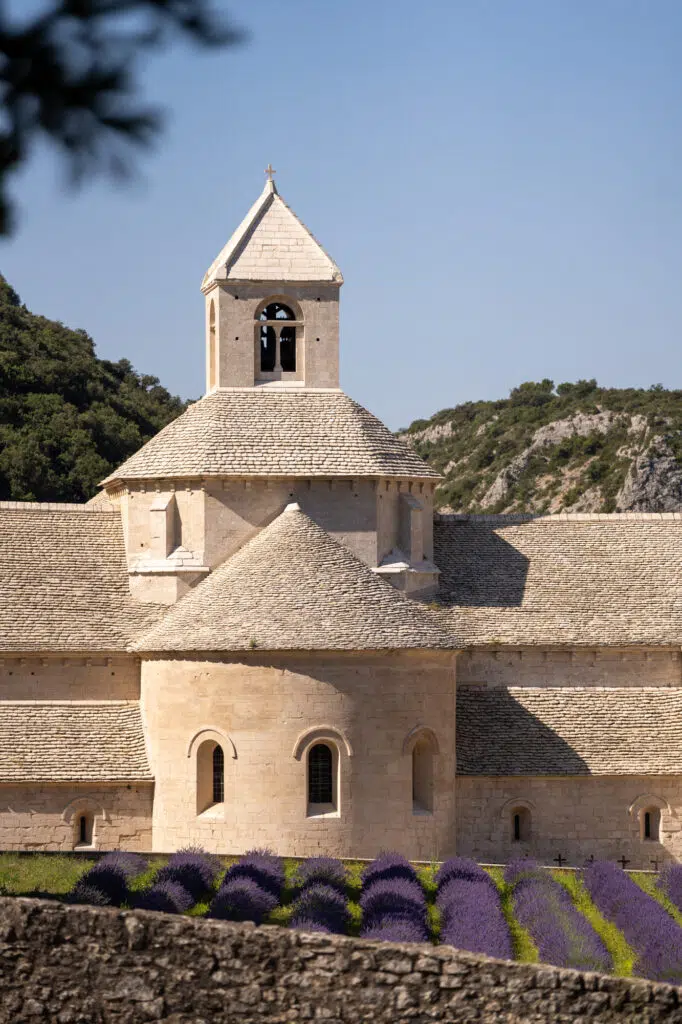 The lavender fields here benefit from a bit more shade than most, due to the Abbey's position deep within a valley. It's, therefore, better to come here a little later in the season, if you can, to see the flowers at their fullest.
There's ample parking around the abbey, but be aware it does get busy, especially when the tourist buses arrive.
Optional Stop – Gordes Village
Gordes is probably the most famous village in the Luberon, and it's largely due to its fairytale appearance. I mean does it get any more quintessentially Provence than this?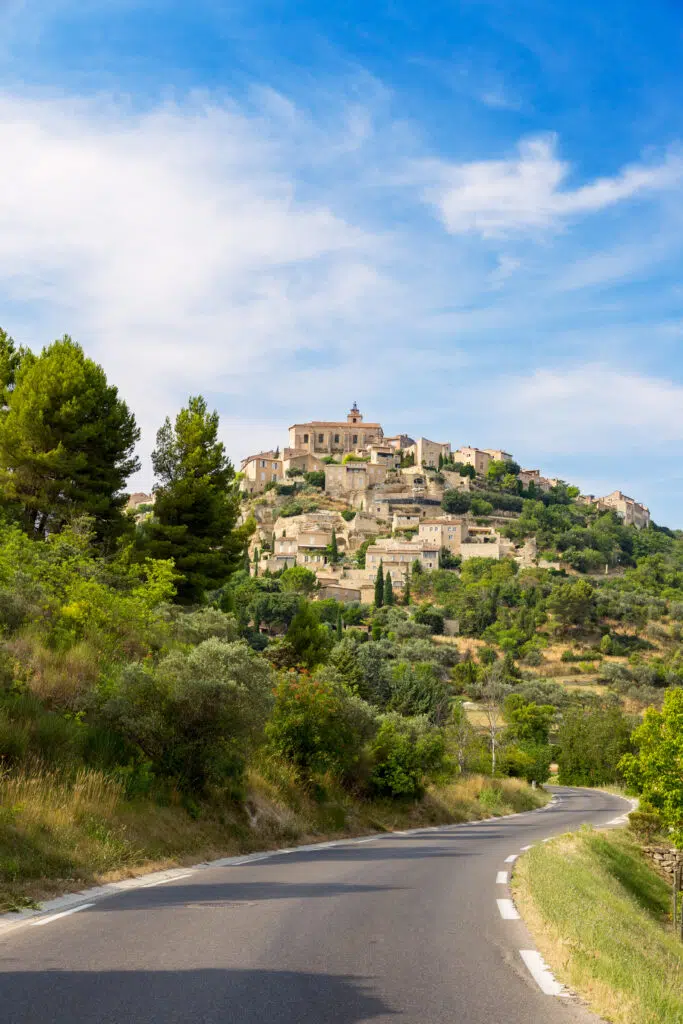 But if you do have time, it's worth venturing into Gordes for a walk, especially on Tuesdays when the village market is on. Have a ramble through the cobbled lanes, pop into the boutiques, and perhaps even duck underground to discover the Caves of the Palais Saint Firmin.
You can find more detailed information about what to see and do in Gordes here: Guide to Gordes, France – Hilltop Village in Provence
Market day in Gordes: Tuesday
Where to eat in Gordes: La Bastide de Pierres
Field #9 – Beautiful Mas near Oppède
GPS: 43.86411, 5.16398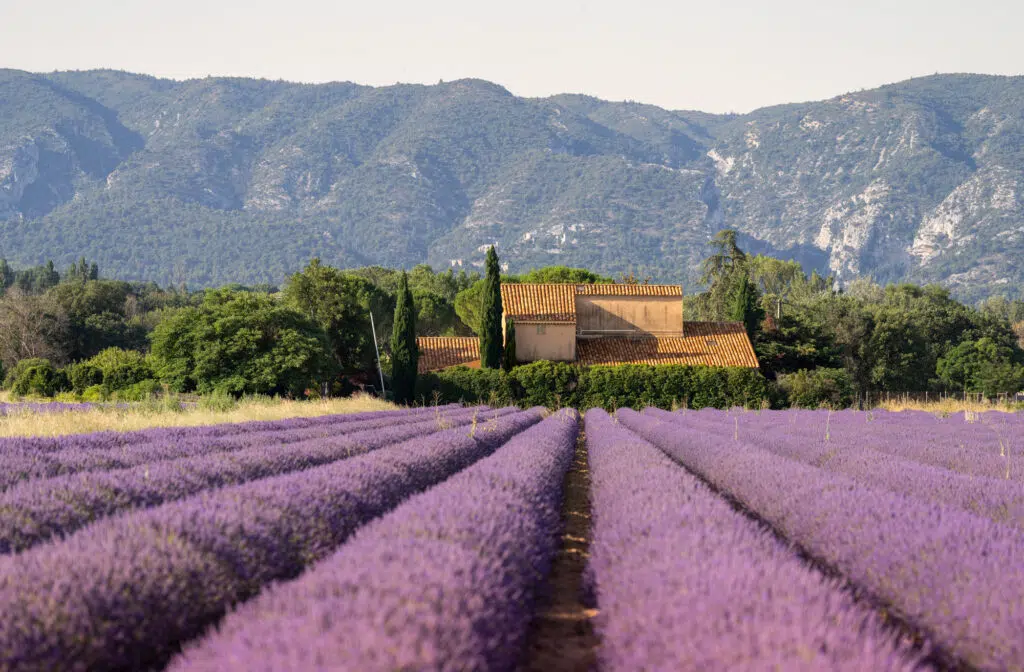 Hidden in plain sight, it's easy to miss this stunning field as you're driving along the D900 (the main road that cuts east-west through the Luberon). You have to pass under a small bridge and access it on a road that's running parallel.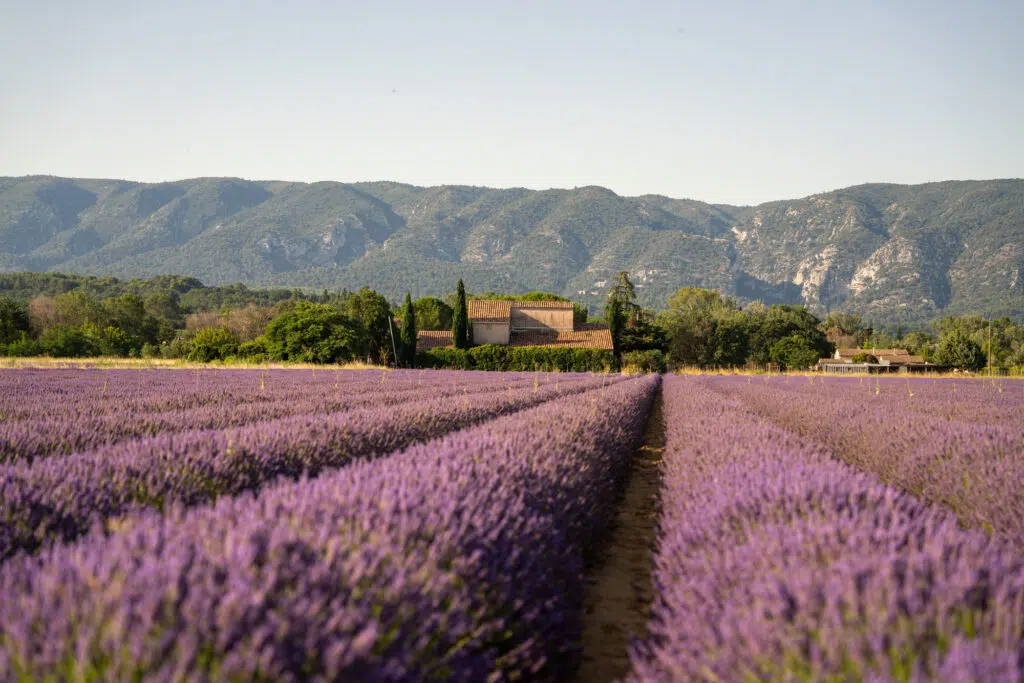 It's an absolute gem of a lavender field though! Perfectly positioned framing a Provençal Mas, and with the Luberon Mountains looming behind – it's picture-perfect in every sense. Parking is limited, but there's enough for a few cars on the verge of the road, and in the gravel area a little past the field.
Optional Stop – Goult Village
The village of Goult is another underrated gem in the Luberon. Despite its privileged position smack bang in the middle of the 'golden triangle', it gets far fewer visitors than its more famous neighbours. And it's certainly not because it's lacking in anything!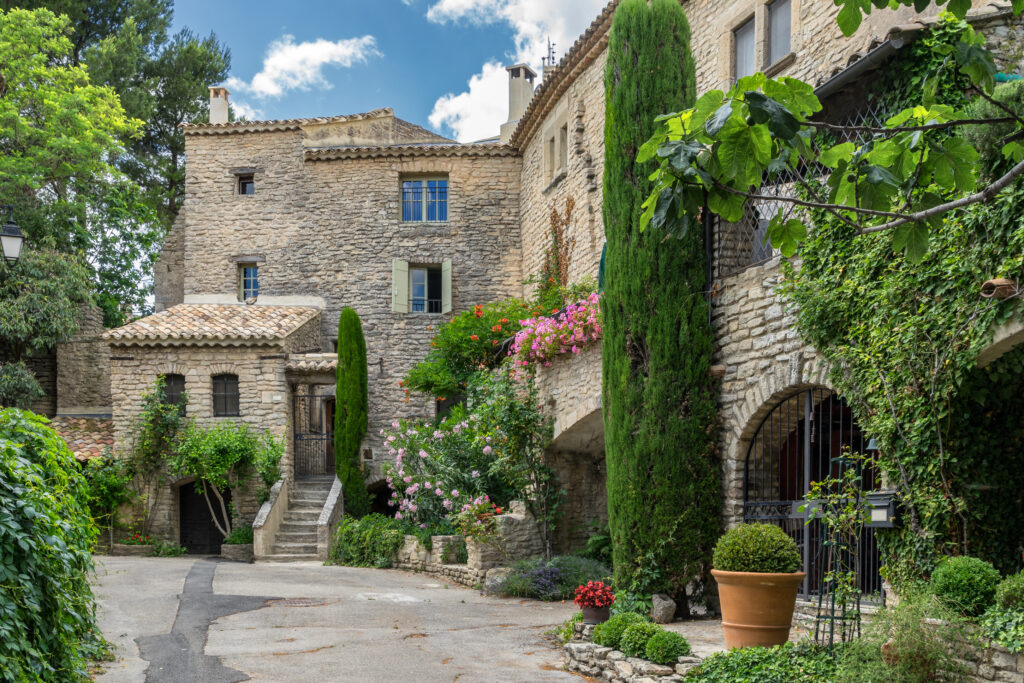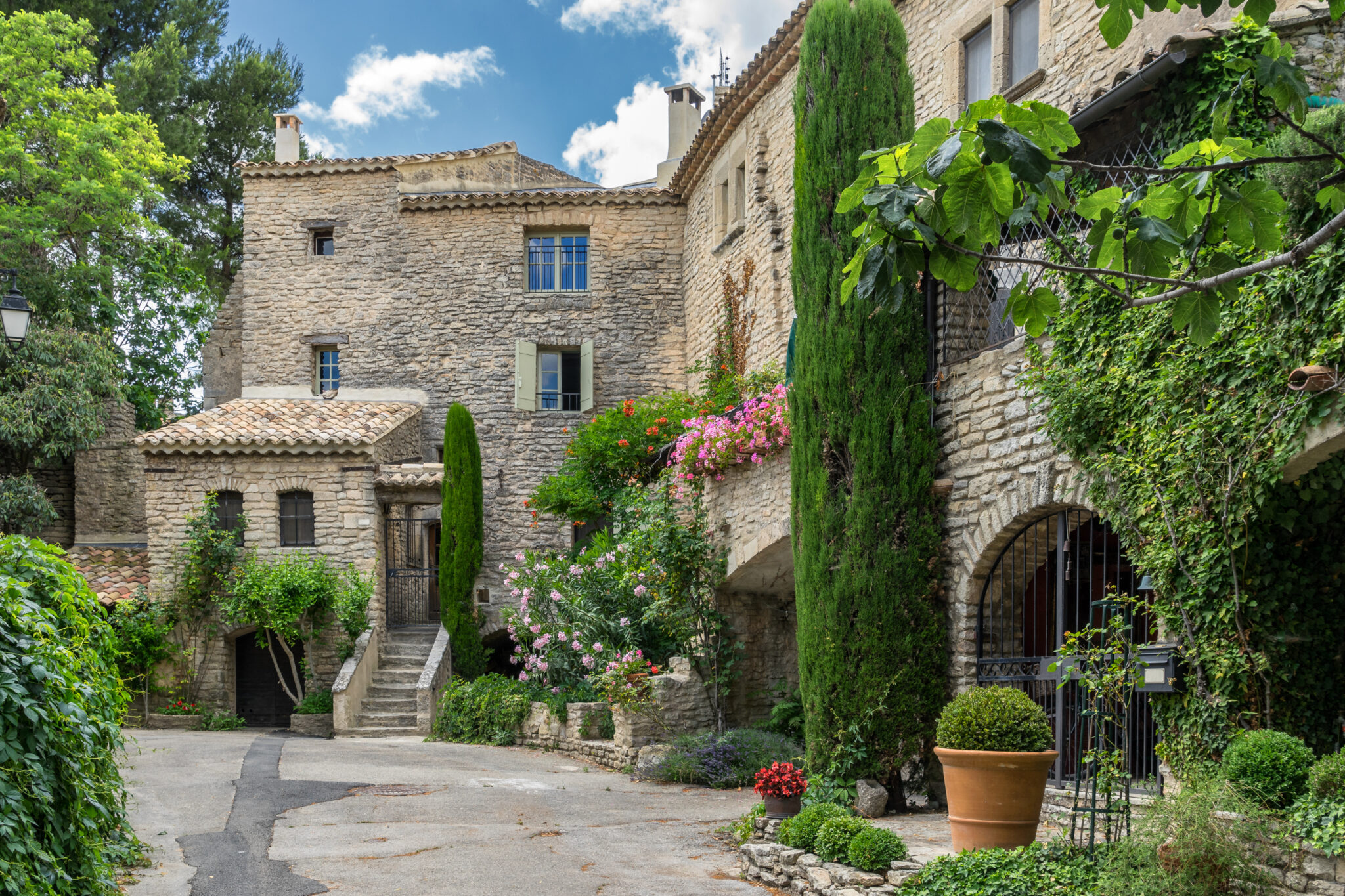 Take a walk through the charismatic streets and you'll spot signs leading to the reconstituted Jerusalem Mill, and the hidden garden beyond. The Conservatoire des Terrasses de Cultures de Goult offers a unique insight into the heritage of Provence farming techniques. Plus, it's just a lovely walk if you have time up your sleeve…
Goult market day: Thursday
Where to eat in Goult: Restaurant La Bartavelle
Field #10 – Expansive lavender field near Bonnieux
GPS: 43.8506, 5.2774
My new favourite Luberon lavender field, this one takes a little know-how to get to. I spotted the Provençal mas while driving past and immediately pulled over to investigate.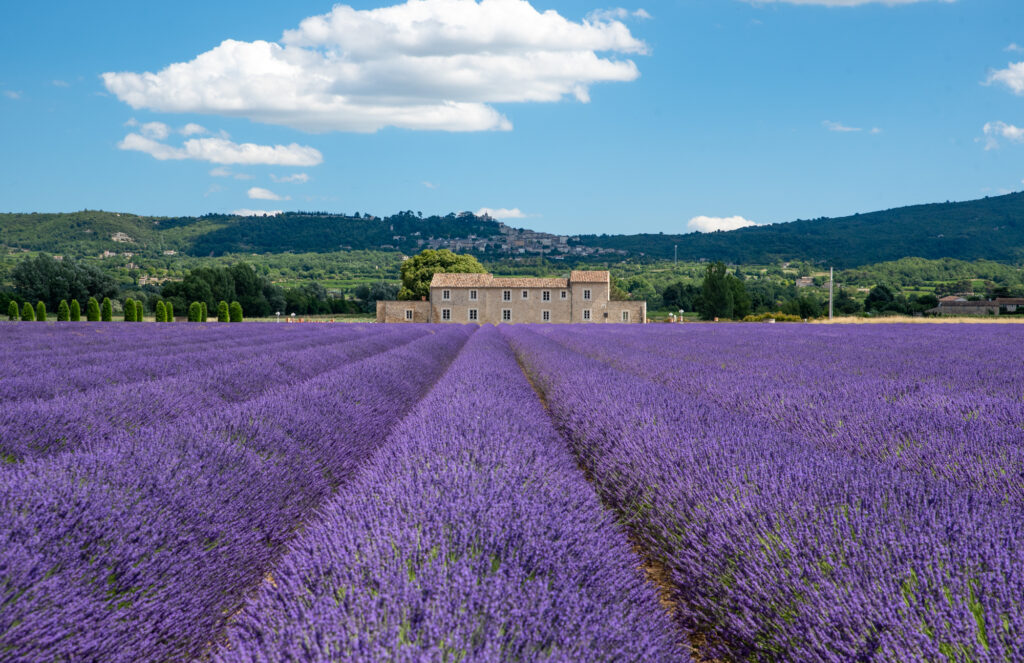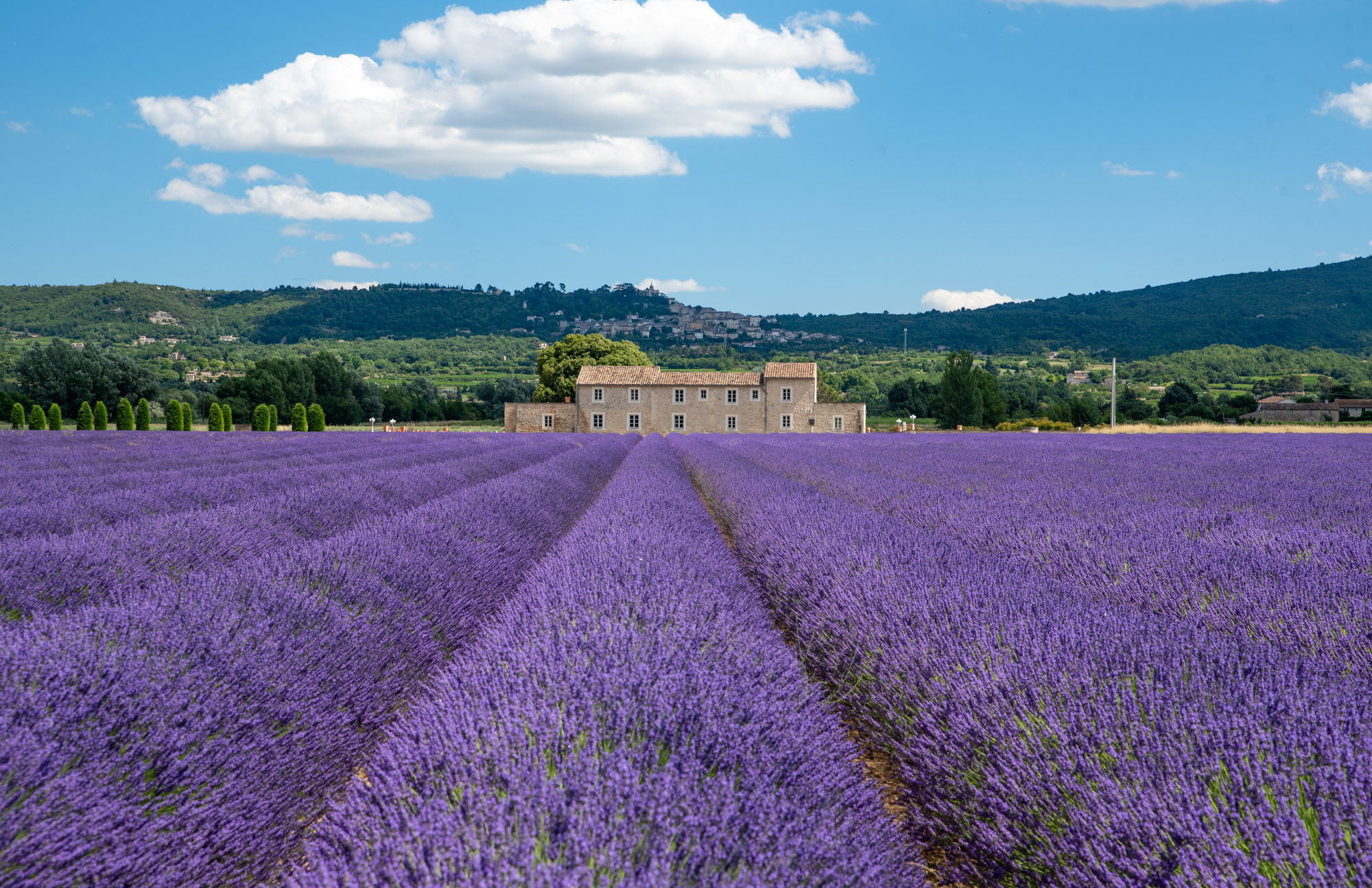 You can park near the Cave de Bonnieux (and stock up on wine while you're at it!) and walk carefully down the road until you come to a little dirt track running alongside a house.
Follow this dirt track to the end of the fence and you'll have to scale a rather steep but not too deep ridge to a makeshift bridge over a trickling stream. It's just as steep on the other side, but not too difficult to navigate.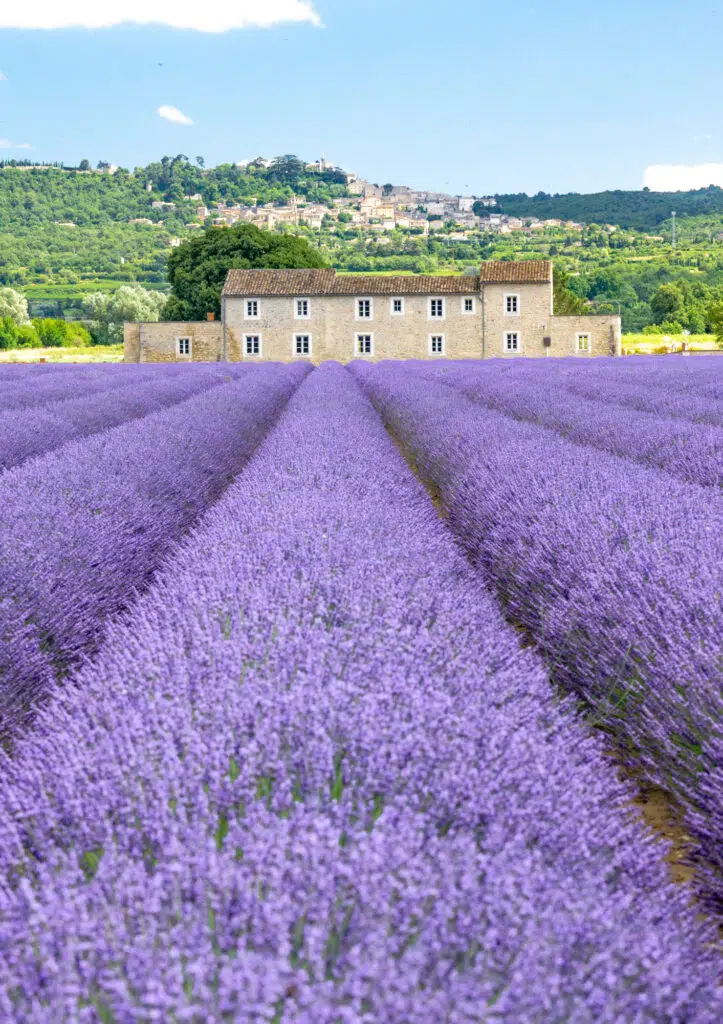 Once you make it over, walk down alongside the lavender field until you're in front of the mas and you'll find the village of Bonnieux in the background.
When you leave, be sure to stop outside the main tree-lined driveway of the mas where you'll find a farm stand selling lavender products.
2023 update – The field is a little scruffy with weeds this year, but still lovely. Just not as pretty and neat as it used to be – which you can see from the side-by-side comparison above.
Sunflower Field
GPS: 43.85271, 5.28866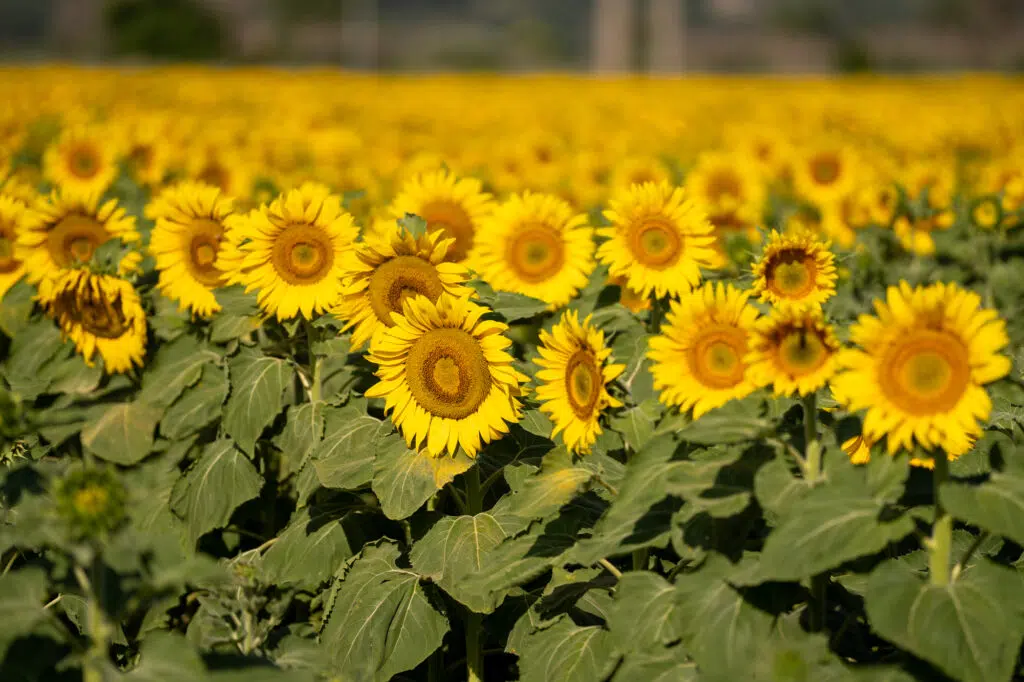 As you're driving to the next stop, you'll come across a beautiful field of sunflowers. And hidden between the sunflower fields is a lovely holiday house you can rent… Imagine waking up surrounded by all this beauty! You'll also be within walking distance of a few local lavender fields.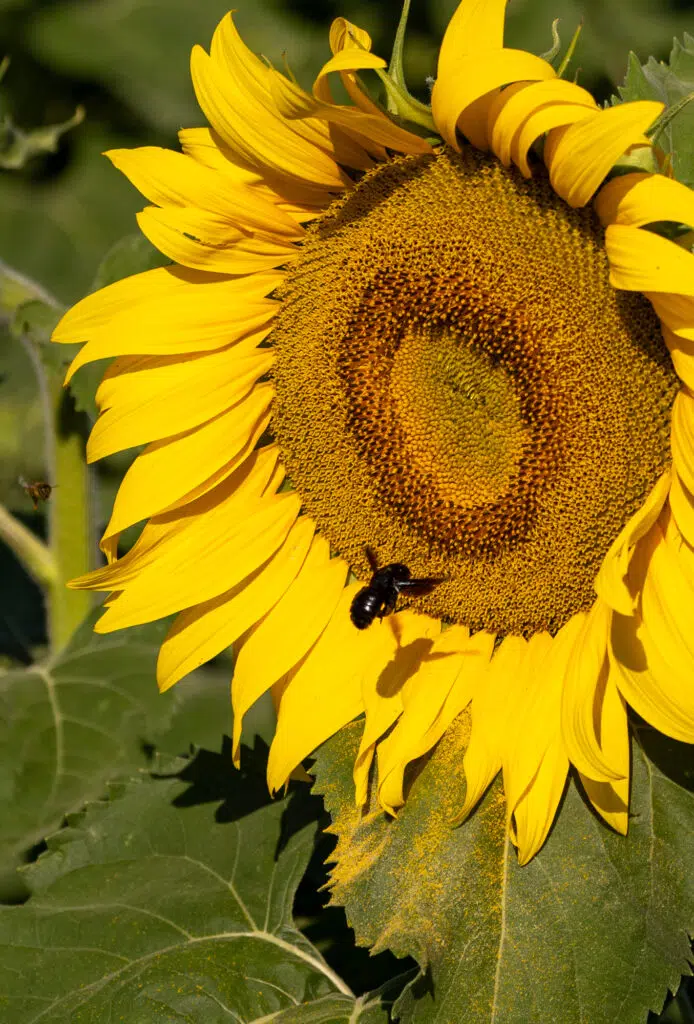 Field #11 – Hidden field near Bonnieux
GPS: 43.85181, 5.29283
A discreet little lavender field tucked away off the main route. This one felt a little more intimate and I wouldn't encourage wandering past the chain link gate or lingering here too long.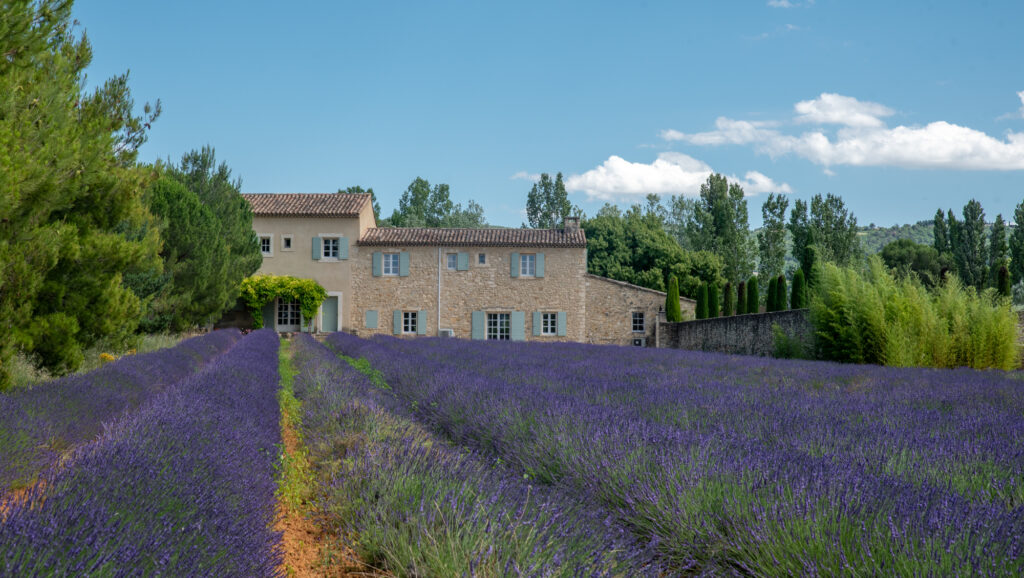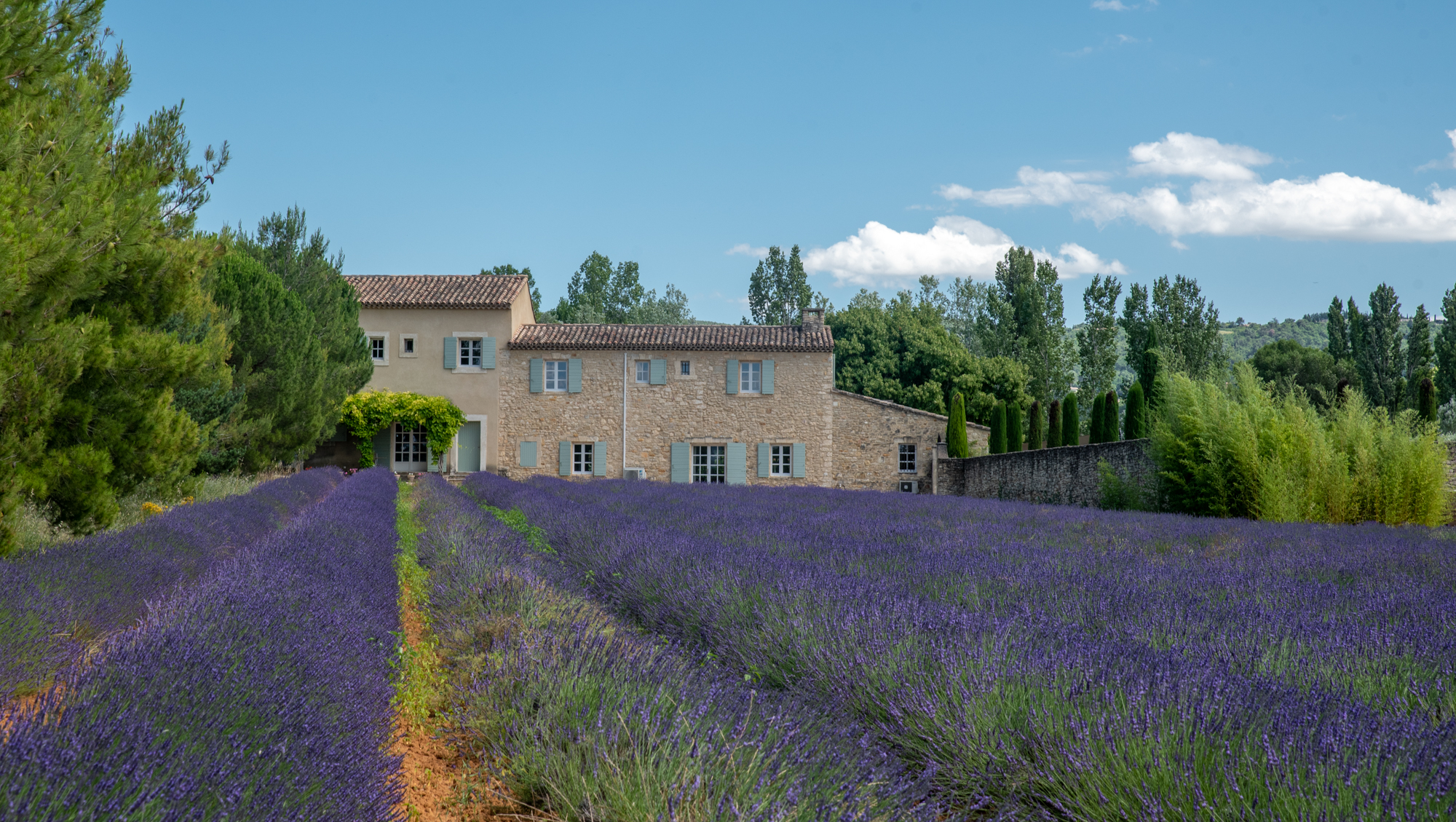 Backed by a lovely stone house and complimented by the dense foliage that surrounds it, it's a stunning field to snap on your way past.
Pit Stop – Pont Julien
A stone's throw from Bonnieux you'll find this Roman bridge spanning the gently flowing Calavon river. At over 2000 years old, it's a remarkable sight, and an excellent place to take a breather during your sightseeing.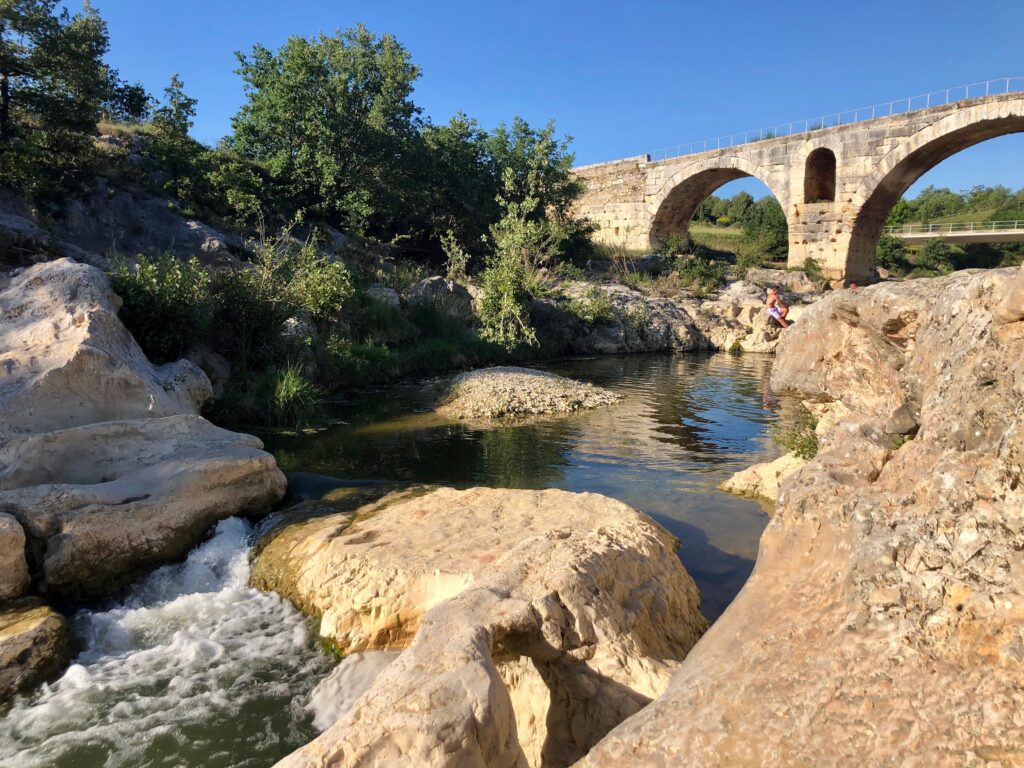 A favourite with locals, you'll find families and friends picnicking, swimming, and dipping their toes into the river well into the early evening.
Field #12 – Framing Lacoste
GPS: 43.83982, 5.29021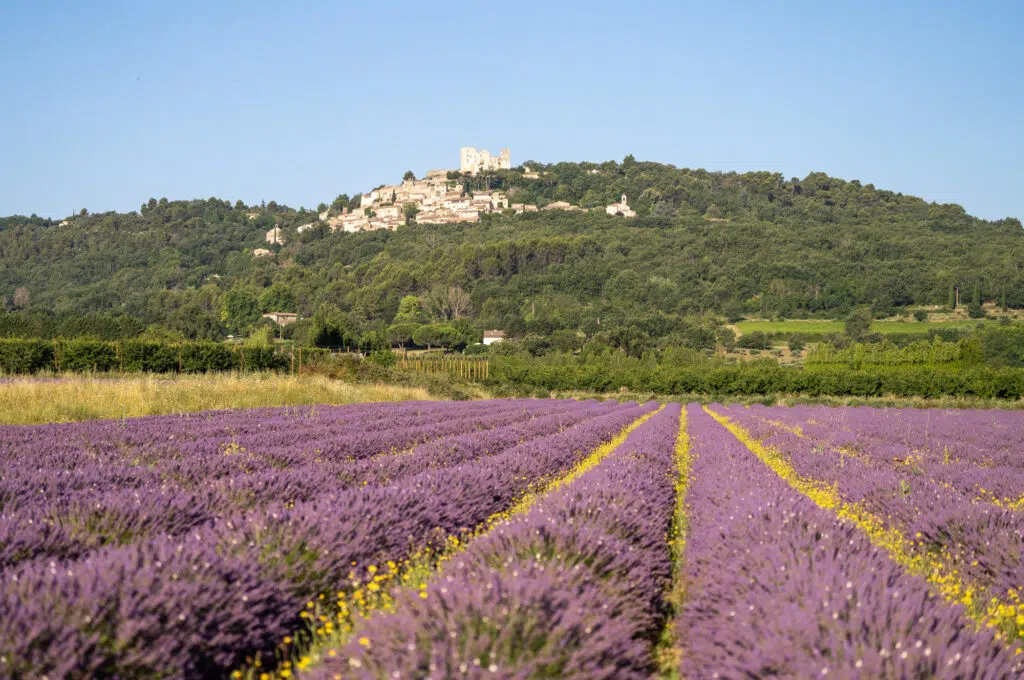 As you're driving away from Bonnieux, you'll pass this easily accessed lavender field on your left-hand side. It's worth a stop, as it quite prettily frames the village of Lacoste which sits high on the hill above.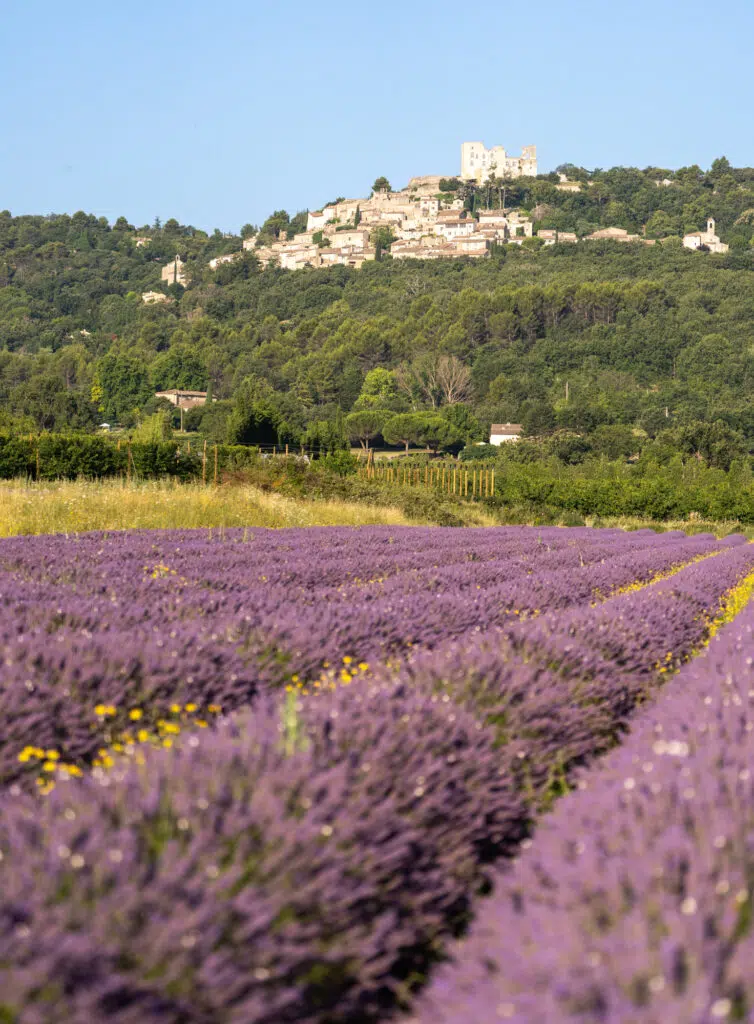 There's really only room for one or two cars on the verge, but when I visited there was no one to share it with. This is a fairly young lavender field in the Luberon, so it should be looking good for years to come.
Optional Stop – Lourmarin Village (if returning to Aix-en-Provence)
If you're driving into the Luberon from Aix-en-Provence, you'd be doing yourself a disservice if you didn't stop, even briefly, in Lourmarin. Another of France's 'most beautiful villages', it's distinct from the other villages of the Luberon, but no less appealing.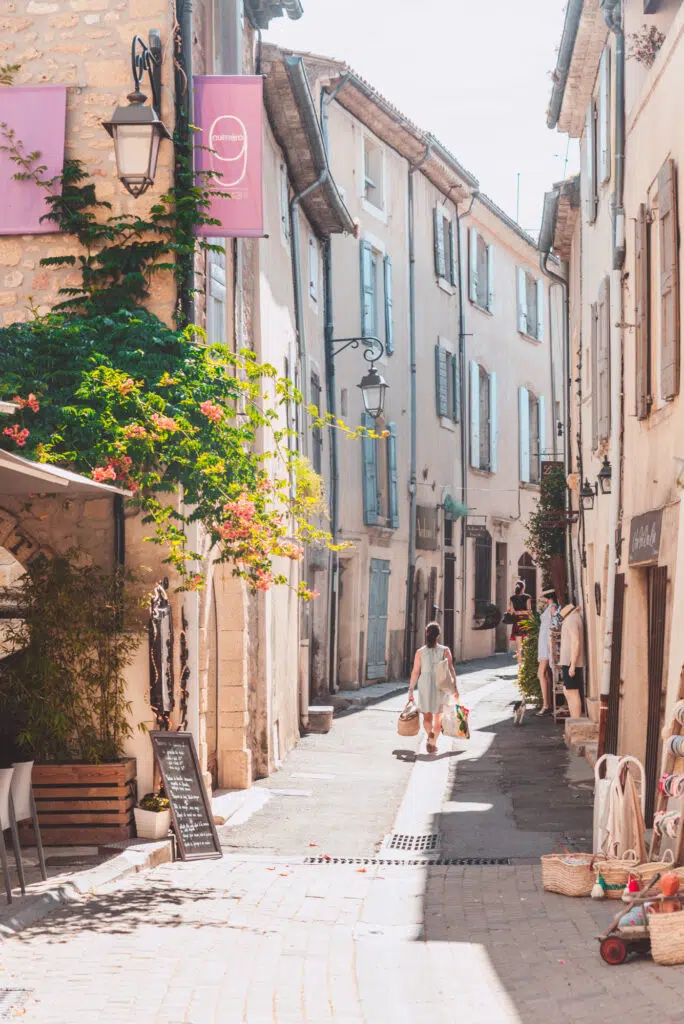 The Friday morning market is a particular highlight. But any day of the week you can browse the colourful boutiques, get acquainted with the village cats or soak up the sunshine on a cafe terrace.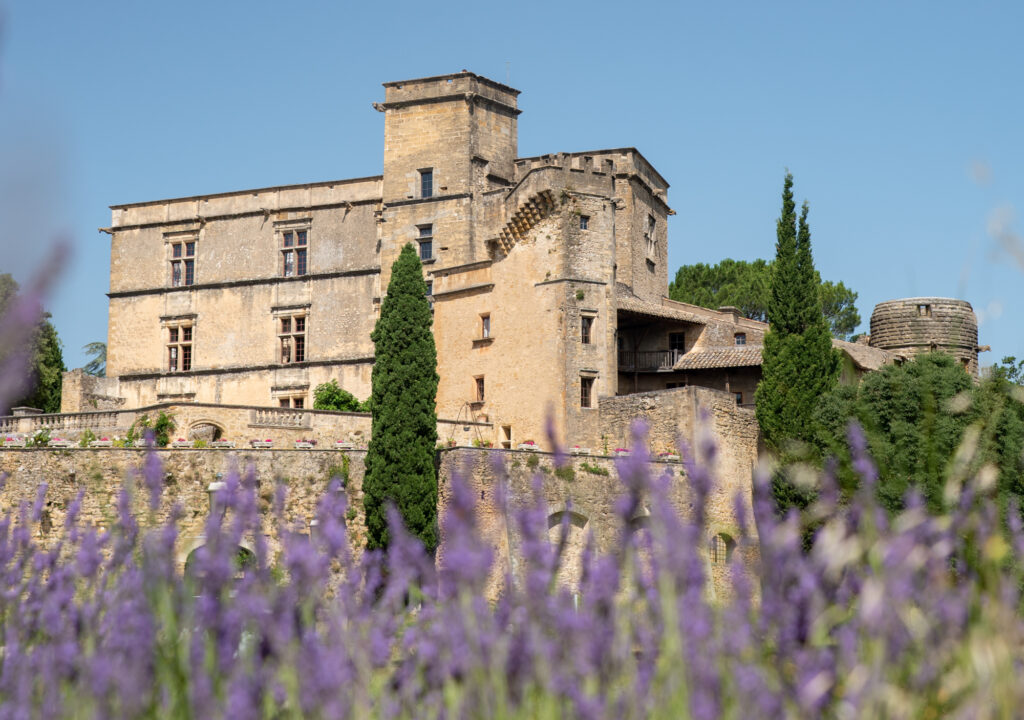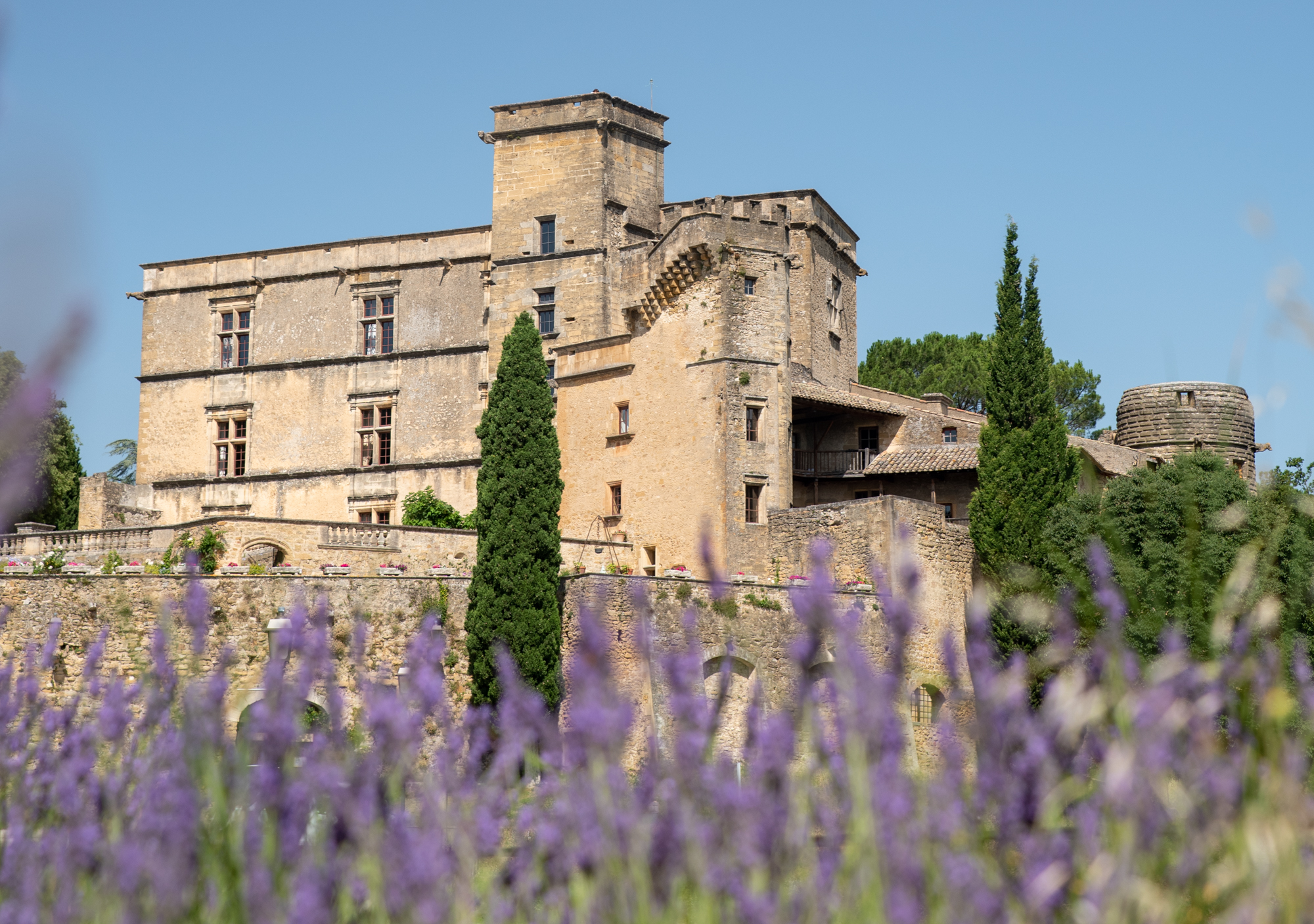 The wonderfully restored castle is also a rarity in the Luberon, and it's open every day for visits and guided tours.
Alternate (Relaxed) Day Trip Itinerary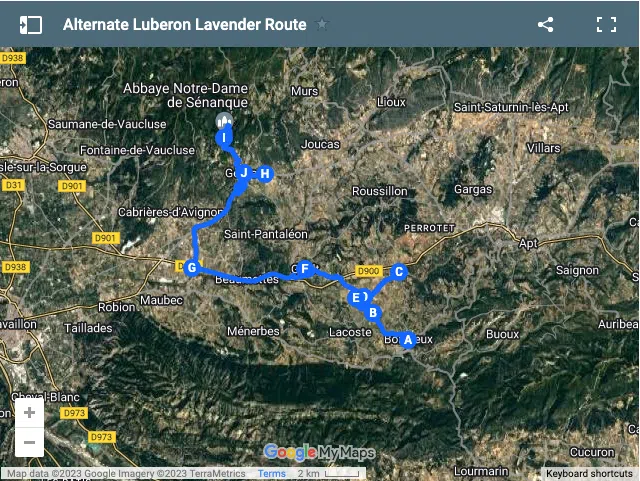 If you're running on limited time, or you just want to keep things simple, the above itinerary is the one for you.
This route will introduce you to a few key villages, take you past some beautiful lavender fields, and also introduce you to some of Provence's history.
The alternate itinerary starts in Bonnieux (or Lourmarin as suggested in the other route), and takes you past the Pont Julien, before weaving through the lavender and sunflower fields in the plains below Bonnieux. Be sure to stop at point (D) to purchase lavender products from a little farm stand on your way.
From there you'll go to Goult & the beautiful lavender field in front of the Mas, before continuing on towards Gordes with its lavender fields, viewpoints, and abbey.
If you time this right, you could easily have lunch in Bonnieux and end the day with dinner in Gordes.
Tips for making the most of your Luberon Lavender Tour in Provence
The Luberon lavender normally blooms between mid-June to mid/late July, but it can change year on year. Your best bet is to come in the first week of July for the best blooms. The farmers generally start harvesting in the second or third week of July. You can read more about the lavender season here.
Remember that the lavender fields are in constant motion. Fields that look beautiful one year, may be neglected and overgrown the next, or even replaced with another crop!
When you're in the lavender fields, there isn't any shelter, so be sure to wear a hat and sunscreen.
Bring plenty of water, and remember that even if you're planning on visiting the villages on this Valensole lavender fields itinerary, you'll struggle to find somewhere to eat outside of regular meal times.
Check out this post for other lavender routes in Provence.
To keep up to date on the current year's lavender situation, be sure to join our Facebook group here.
Pin this for later!