In a town synonymous with candy-coloured houses, celebrity sightings and a port glittering with sparkling superyachts, it probably comes as no surprise that St Tropez beaches are more than worthy of the limelight.
From petite coves tucked away at end of cobblestone streets to shimmering swathes of sand in the Bay of St Tropez, there's a beach to suit every style of sun worshiper.
But if there's one thing that all the beaches in St Tropez have in common, it's that they're all blessed with velvety smooth sand, unlike the pebble beaches more often associated with Southern France.
Want to know where to find the best beaches in Saint Tropez? Read on for the loveliest coves in and around this star-studded town.
---
Old Town St Tropez Beaches
With a permanent population of under 4000 residents, Saint-Tropez is a small town centred around what was once a bustling fishing and boat-building industry. Nowadays, the port is the heart of the town, and where you'll be more likely to rub shoulders with wealthy holidaymakers than fishermen.
What may not be immediately obvious, is that there are three beaches hidden away out of plain sight in the centre of town. Simple coves where the locals take a morning dip and kids fossick for hidden treasures beneath the sand.
Plage de la Glaye
Snuggled into a little nook and surrounded by picturesque fishermen's houses, swimming at Plage de la Glaye is a delight for the senses. It's less about the beach here, and more about the stunning setting.
It's a small beach with just enough sand for a few sunbathers, so get here early if you plan to stay awhile.
As the saying goes for St Tropez, it's a place to "see and be seen" and this is the perfect spot for those who want to be seen, as it's also a bit of a thoroughfare between the walkway that leads from the Tour du Portalet, and over the sand to Plage de la Ponche.
Plage de la Ponche
Plage de la Ponche is just around the corner from Plage de la Glaye and has a similar feel, although it's a little larger and feels more open. It's certainly not a spacious beach and offers just a few visitors the chance to sunbathe on this prime real estate in the heart of St Tropez.
Sheltered between terraced houses and a short pier, it's good for swimming in the shallows and cooling off on a hot summer's day. But as with Plage de la Glaye, it's not recommended to swim out too far as this can be a busy area for boat traffic.
To get there, either stroll along the waterfront path from the Port or wander down from Place du Revelen where you'll find a restaurant with the same name (La Ponche).
Plage de la Fontanette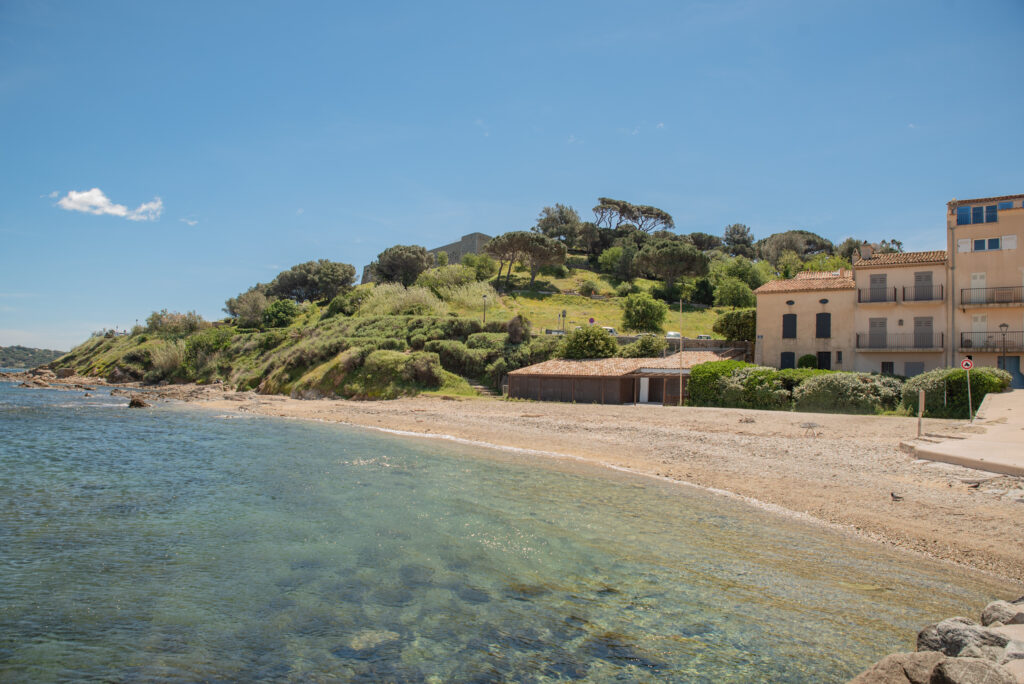 Just around the corner from Plage de la Ponche, and separated by the aforementioned concrete pier, Plage de la Fontanette is a little wilder in its appearance. It's only partially backed by the houses of St Tropez, with the other half against a scenic setting of native bush, and the terraced gardens of the hilltop citadel.
The sand here is a little more coarse, but still comfortable enough to lay on, and the bay is open and wide.
If you're lucky enough to find a car park along Rue Cavaillon, you can access the beach via a stairway. Otherwise, it's only a short walk from the centre of town.
---
Beaches Close to St Tropez
You'll find the following beautiful beaches within walking distance from the centre of St Tropez, yet far away enough to escape the crowds.
Plage de la Moune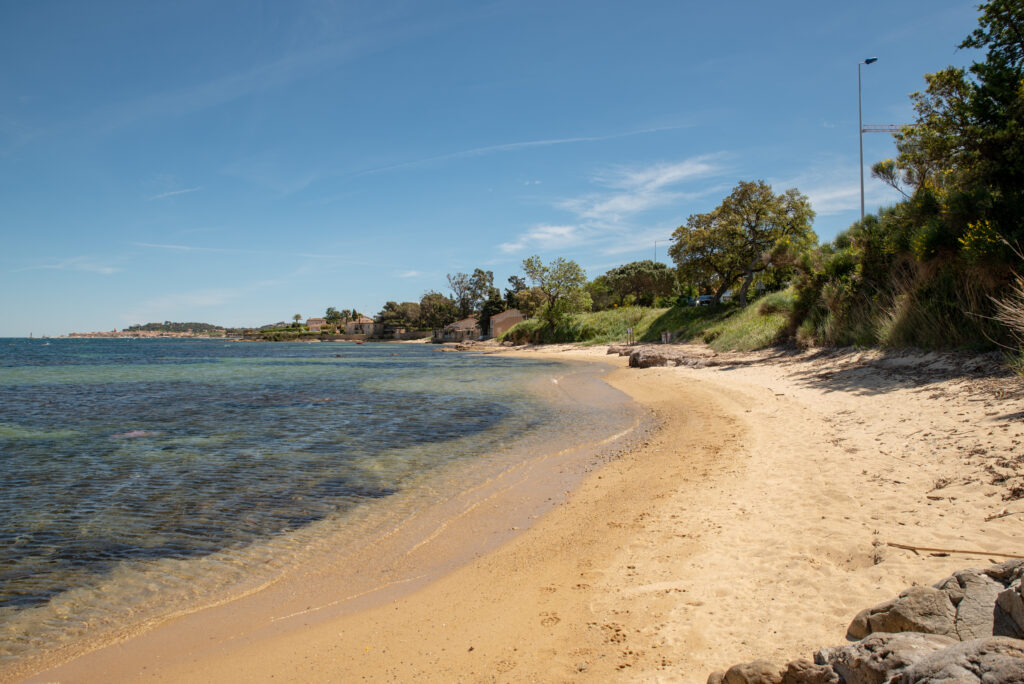 This beach is little more than a quiet slither of sand, but it feels very different to the bustling beaches only a few kms away in the heart of St Tropez. It's the ideal spot to find a secret nook and spread out your towel for a day of reading, sunbathing, and dipping into the sea when you need to cool off.
Located next door to a Sailing & Windsurfing school, it's also a popular place to partake in these watersports away from the heavy boat traffic of the port.
There's a small car park directly behind the beach, but getting in and out of it requires time and care, as it's located on a busy road. It's best to approach from the St Tropez side if you can.
Bouillabaisse beach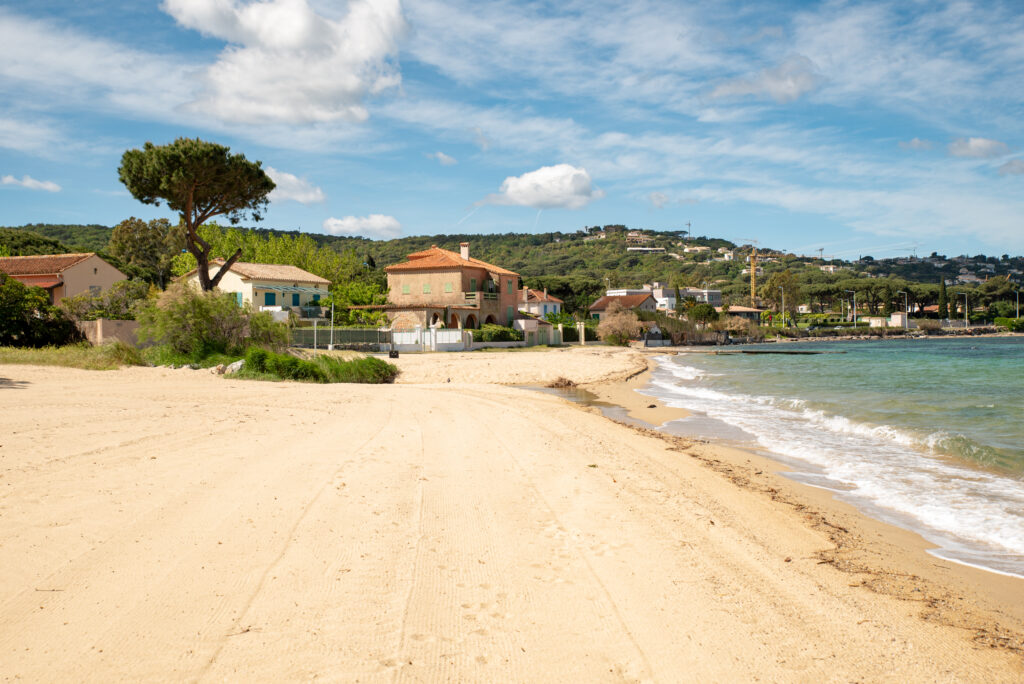 The largest of the central St Tropez beaches, Bouillabaisse beach is a wide sheath of sand that overlooks the Gulf of St Tropez and Sainte-Maxime in the distance. It's furnished by a few low-key beach bars that rent out loungers and parasols, but it's not overtaken by them.
This is a great option for families visiting St Tropez, as there's more room to spread out, a shallow bay for short swimmers, and facilities on hand for when you need them.
There are two free car parks behind the beach that understandably fill up quickly in the summer months, but it's just a very short walk from the large "Nouveau Port" (paid) car park should you find yourself arriving later in the day.
Plage de Graniers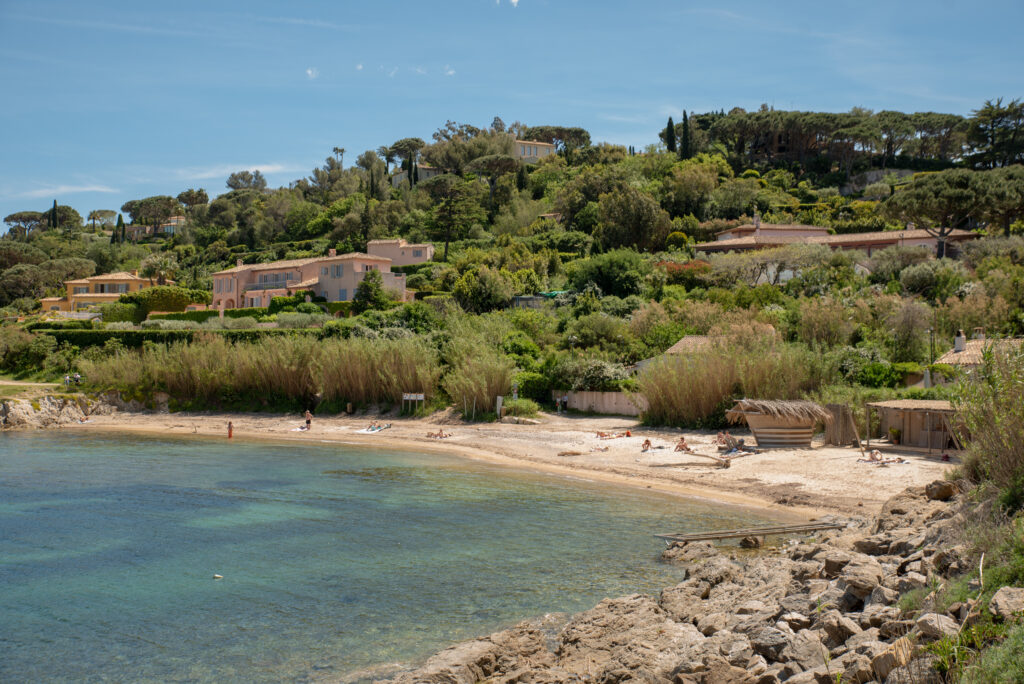 At the base of the citadel, and tucked away from plain sight behind the cemetery, lies Plage de Graniers. This beach has a definite Mediterranean resort vibe going for it, and a reputation to match.
Dine with your feet in the sand at the popular Les Graniers restaurant, and spend your day admiring the bucolic scene that surrounds you. This is truly one of the most beautiful beaches in St Tropez, and if you're visiting on a weekday before or after the summer holidays, you'll enjoy it in relative peace.
Parking can be hard to come by nearby. But arriving at midday on a weekday in May, I had no trouble securing a car park right near the beach at the southern end of the cemetery. There's also a slightly bigger, paved car park at the Northern end, or else you can leave your car in town and walk the short distance along from La Ponche.
Plage Criques des Graniers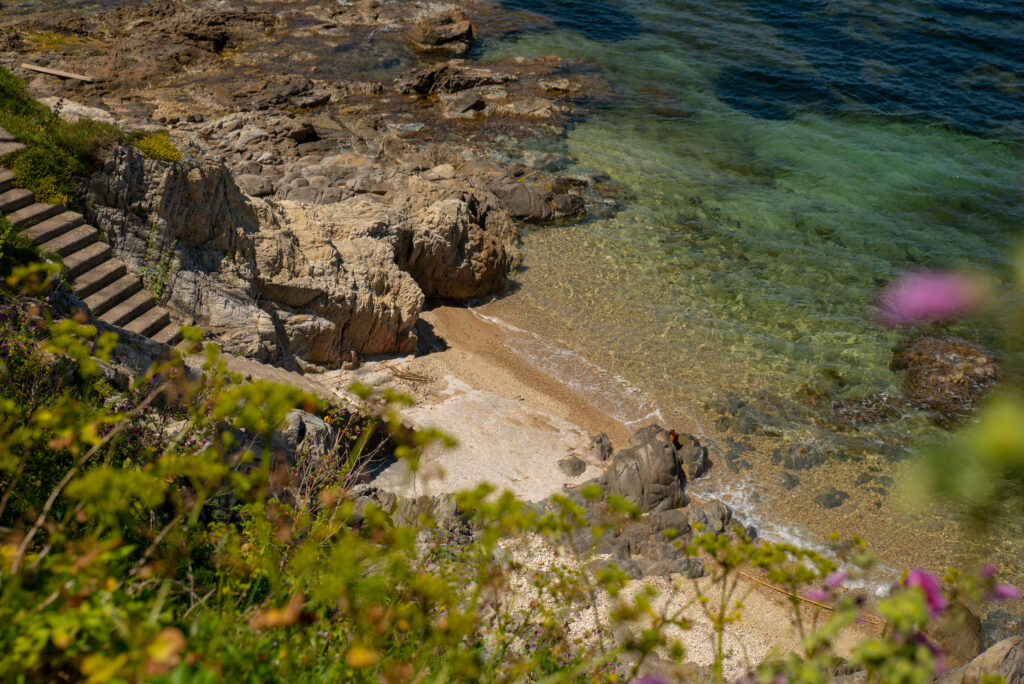 Continue walking along the coastal path from Plage de Graniers and you'll pass a series of tiny beaches hidden away between fragrant flowering bushes and natural stone promontories. Some have stairs tempting you to descend down to the sand, and others come to greet you at ground level.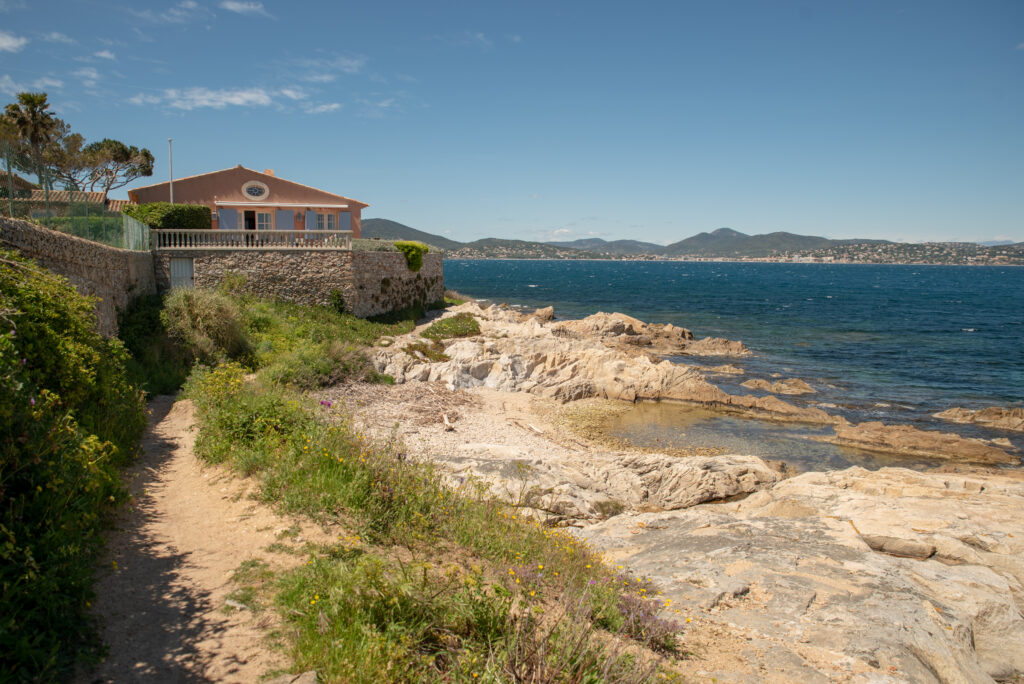 This particular cove (shown above) I could imagine would make the perfect spot for a family with toddlers/young children to settle in for the day. The natural rock pool was perfect for young ones to splash safely, and there was just enough room on the sand for a picnic rug, parasol, and a few sandcastles.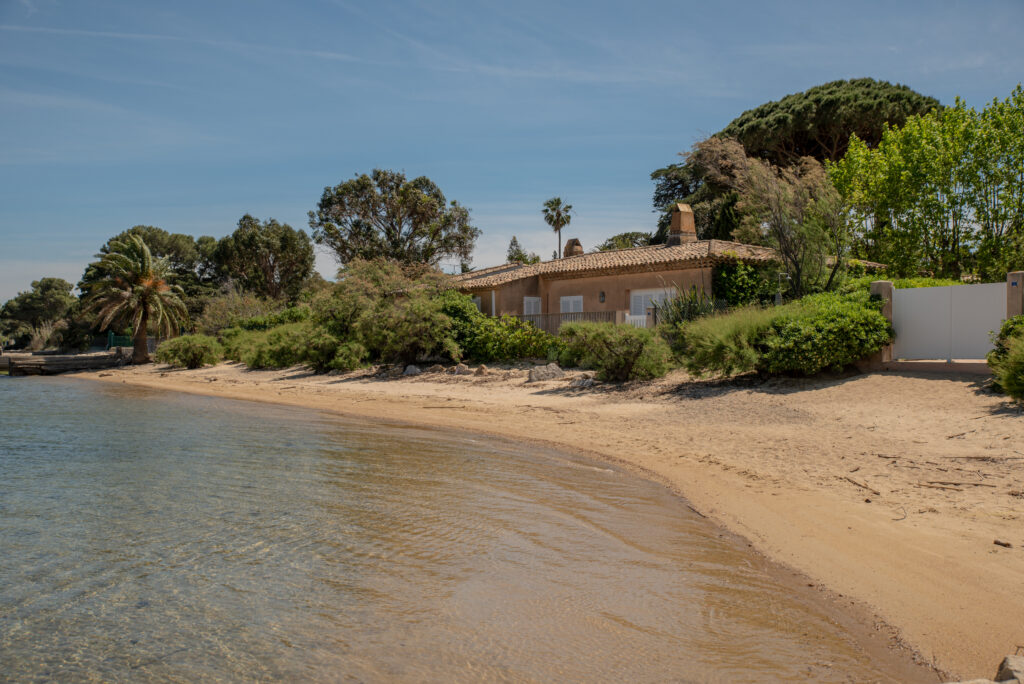 This path eventually leads you to Plage Criques des Graniers and Plage de Paressouso with their rickety wooden piers, ramshackle sheds and rustic appeal. These beaches are where you'll mingle with the locals who come here seeking respite from the more popular St Tropez beaches.
If you wish, you can also keep walking the seaside path all the way around to Plage des Canoubiers.
Plage des Canoubiers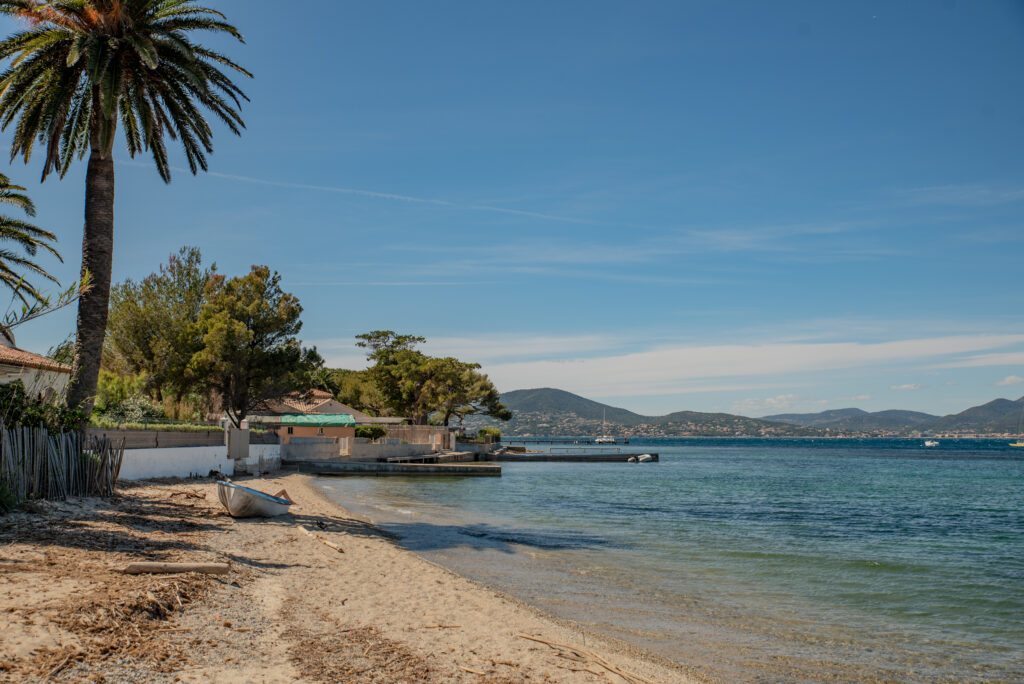 Canoubiers beach is one of the more well-known in St Tropez, and one of the largest. In summer, it boasts a large swathe of sand to relax on (these photos were taken in May when the seagrass hadn't been cleared yet), trees aptly placed to provide shade, and a calm sheltered bay for swimming.
Teens dangle their legs off the wooden pier, and families set up camp under the pine trees. There's a restaurant at one end for when hunger pains hit, and toilets and showers are available too.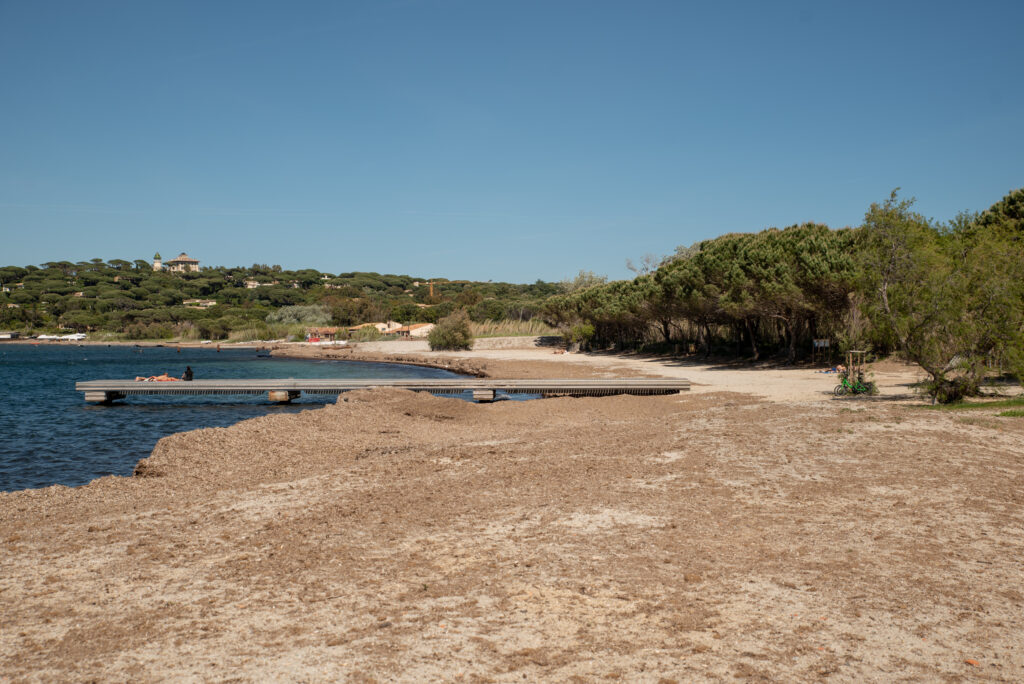 At the far end of this beach, you'll find a yacht club and kitesurfing school, and there are lifeguards stationed in summer for safe swimming.
Parking is fairly easy and is offered for free along the road behind the beach (Chemin de l'Estagnet). Or, as I mentioned earlier, you can take a very leisurely stroll along the coastal path to reach this beach from St Tropez. Just allow around half an hour to do so.
---
Beaches in the Bay of St Tropez
A short drive from St Tropez village, due southeast, a lazy coastline peppered with sublime beaches awaits. There's something for everyone here, from hip beach clubs made famous by Brigitte Bardot, to sleepier shores requiring a little more effort to reach. Let me introduce you to the best beaches in the Bay of St Tropez.
Plage de la Moutte
Where the land reaches out into the sea, Plage de la Moutte lies at the tip of Cap de Saint-Tropez. It's an idyllic spot, with more than enough room to while away the days under a striped beach umbrella. With nothing but native bush surrounding this beach, you truly feel like you've found a hidden paradise on the Côte d'Azur.
Lying just off the coast, you can swim out to the tiny La Croisette island. Although it's recommended that only strong swimmers attempt this feat.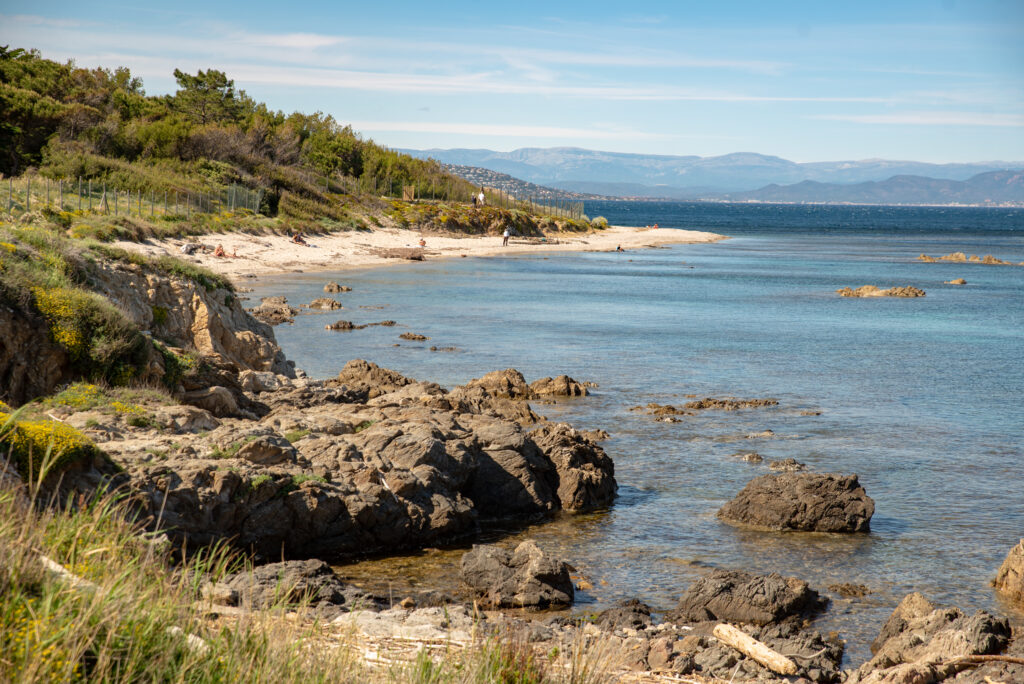 To get there, you can walk through the private residence at the end of Chemin des Treilles de la Moutte. Or you can do as I did and park behind Plage Les Salines and take the coastal route along to Plage de Mouette. As you walk, you'll be lured by charming little sandy nooks and several impossibly attractive places to swim, so be warned you may never make it to the point!
If you prefer to bathe in your birthday suit, there are also several places to do so along this stretch. There are no facilities or lifeguards on this beach, so you'll need to bring everything you need with you for the day.
Plage des Salins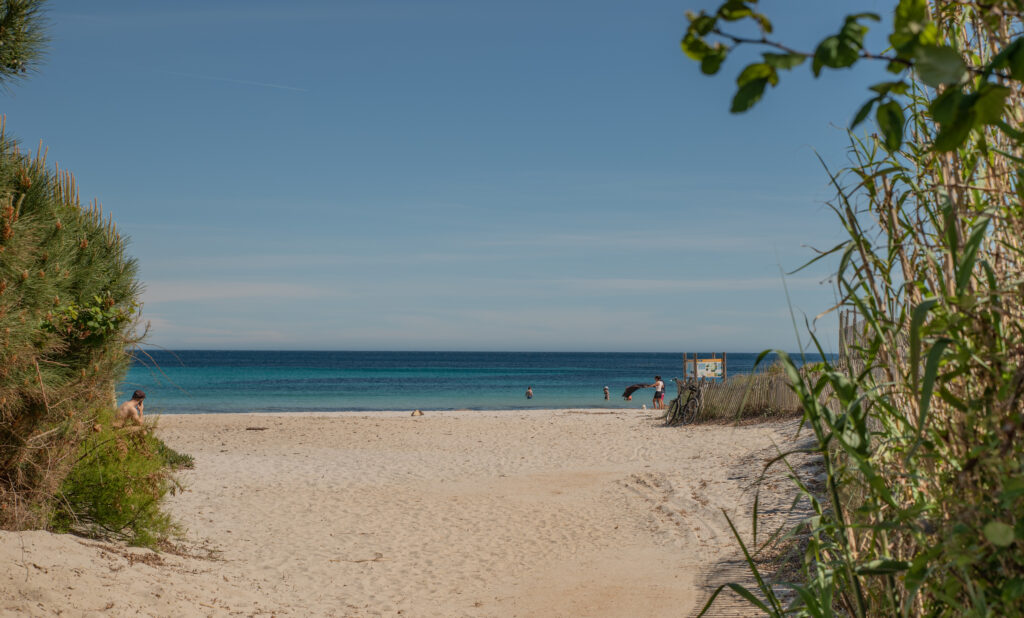 The luminous Plage des Salins is a local favourite for its tranquillity, pine-fringed dunes, and unspoiled location. It never feels crowded here, as visitors flock to the more well publicised Pampelonne Beach down the road. It's therefore a Saint Tropez beach that shouldn't be missed if you're after a more authentic experience.
A small marsh behind this beach preserves its natural appeal, and it's a popular place for local wildlife to congregate.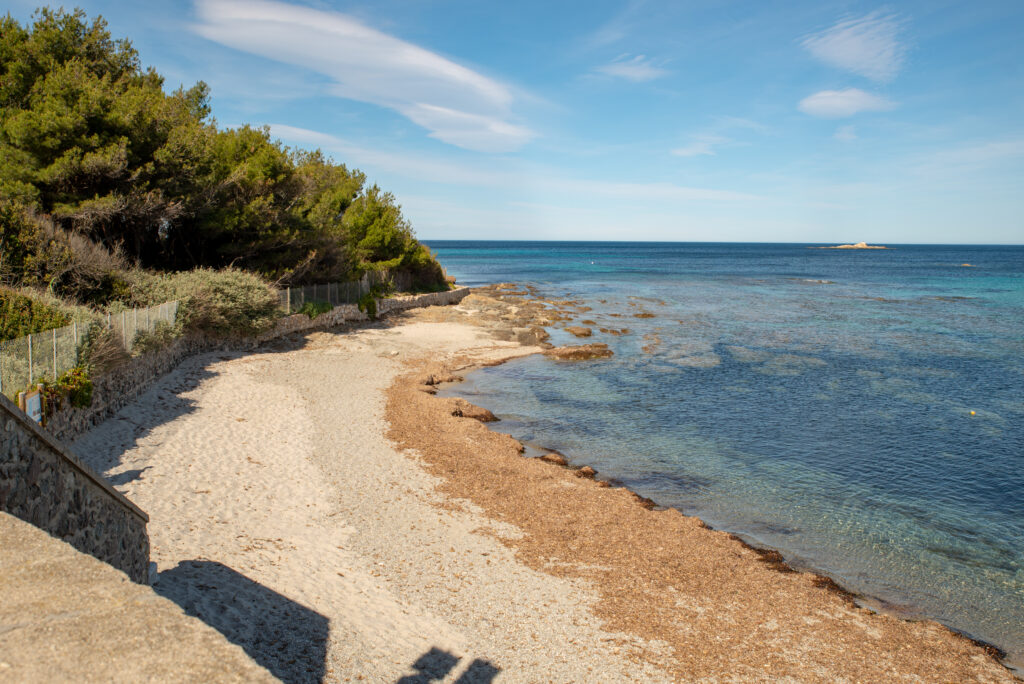 There are lifeguards and a shower block available in the summer months, and at the southern end of the beach (shown above), there's a seaside restaurant serving up typical Provençal cuisine. You can also rent sun loungers and parasols from the restaurant.
To get there, leave your car in the dirt car park at the end of Parc de la Moutte and follow the marked path down to the beach. There's also a shuttle bus that runs from St Tropez to Plage des Salines, you can view the route & timetable here.
Pampelonne Beach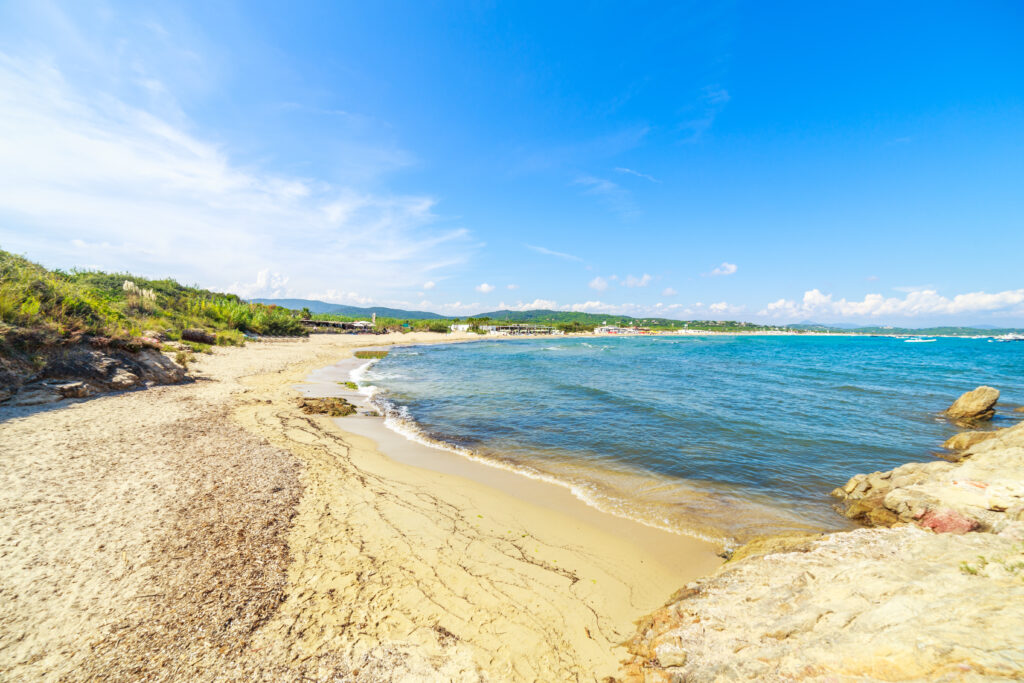 A movie star setting, with the credentials to match, this 5km elongated cove of fine golden sand is the most famous beach in Saint Tropez. Trendy beach clubs such as Club 55 or the Indie Beach House dot the sand, offering their well-dressed clientele cocktails and fine cuisine.
However, if it's more of an easy-going or family-friendly vibe you're after you can find that too. Simply saunter down the sand to find your ideal spot and set up for a day on one of France's finest beaches. If adventure calls, hop along to one of the waiting kiosks to go water skiing, sailing, or windsurfing.
While this is technically just one continuous stretch of sand, you'll find that sometimes the sections of it are commonly referred to by the beach bars that grace their shores. Such as Nikki Beach in the South and Tahiti Plage in the north.
To get there, take the not-so-imaginatively named "Route des plages" away from St Tropez to the bay of Pampelonne. There are several large free car parks behind the beach, just take your pick and park up near your preferred beach bar.
Plage de l'Escalet
If Pampelonne beach proves to be a little too preened for your liking, head further south to Plage de l'Escalet. While technically a Ramatuelle beach, it's still only a 15-minute drive from the centre of St Tropez.
Small and simple, it's ideal for those who seek a more homely kind of experience, devoid of loud beach clubs and water sports.
The bay here is absolutely divine, with crystalline water and alabaster sand. And if the beach does get too busy, you can simply walk along the coast to take your pick of any of the secluded coves along the way.
There's a decent-sized paid car park behind the beach, or you can park on the roadside for free. There are also toilets and a shower block available.
Plage de l'Amour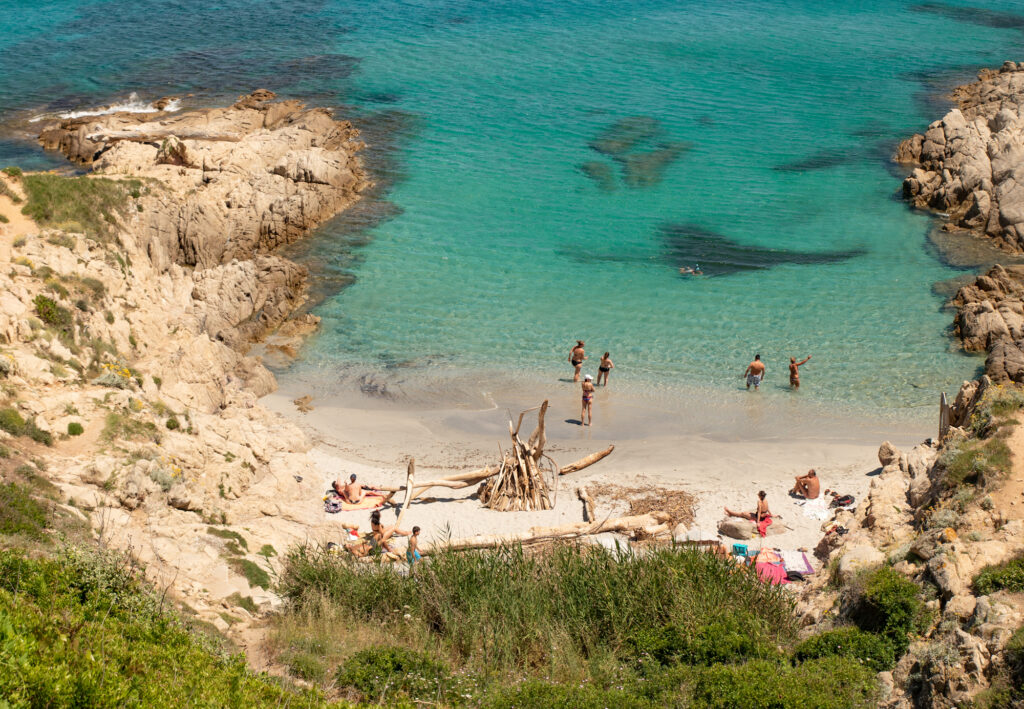 Walking along the coastal route towards Cap Taillat, you'll pass by Plage de l'Amour – a beach that wouldn't look out of place on Menorca or Ibiza. This seductive little cove offers impossibly clear water, pristine sand, and privacy between the rocky walls.
Stop for a quick dip, or stay for the day – whichever you choose it'll be an experience to remember.
Plage Taillat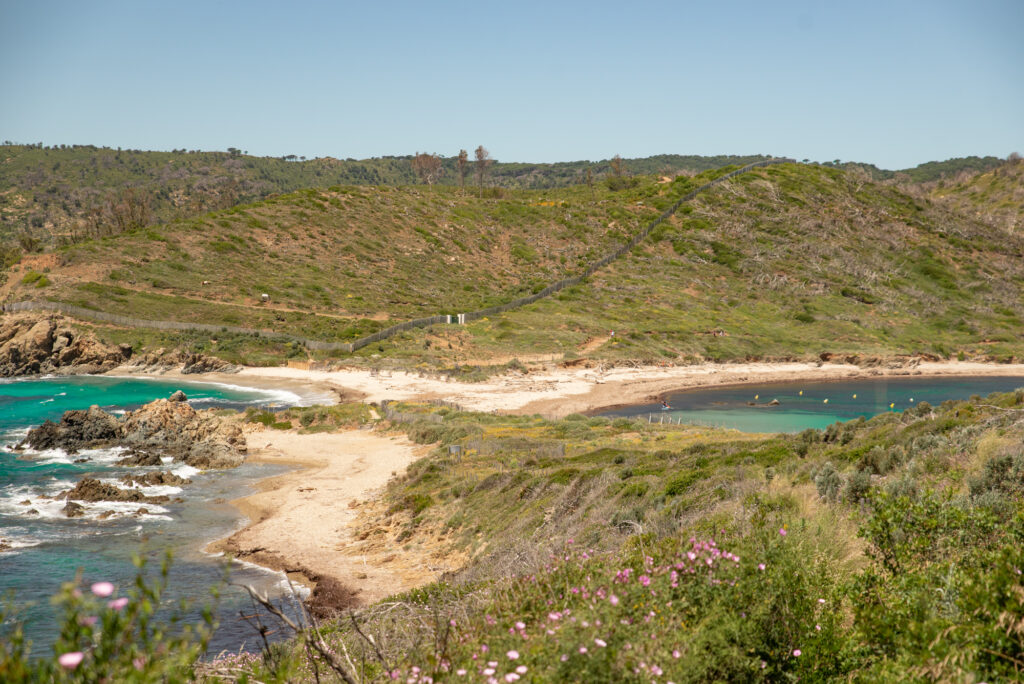 At the end of the coastal walk from Plage de l'Escalet, you'll arrive at Plage Taillat. A double-sided beach that reaches out to meet Cap Taillat, it's sheltered on one side and typically a little wilder on the other.
Famous for being one of the filming locations of Chitty Chitty Bang Bang (you may be starting to sense that this entire coastline has a star-studded past!), its remote location appeals to the more intrepid beachgoer.
Bring your snorkel or blow up paddleboard and enjoy this quiet and remote location surrounded by nature.
Plage De Briande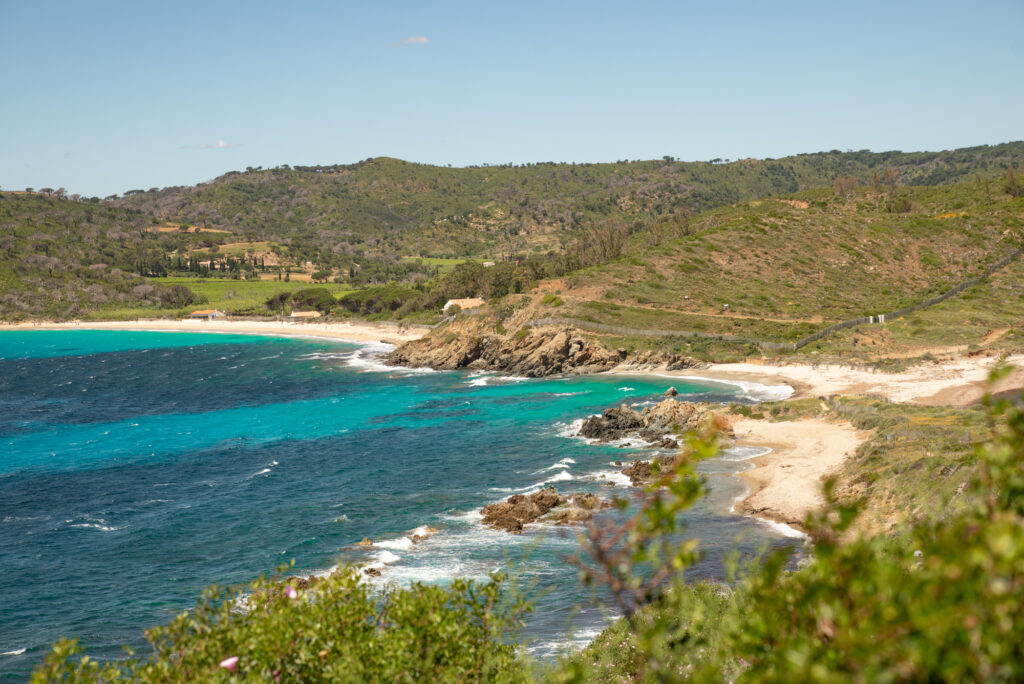 While we're now stretching the limits of what can be called a St Tropez beach, I couldn't mention Cap Taillat and not include this little gem of a beach that hides around the corner.
The last 'proper' beach you'll encounter on this stretch of coast before you round the bend and head back towards Gigaro, it's overlooked by less than a handful of buildings and feels truly isolated.
Due to the fairly long walk to get there, it's less frequented by families but is popular with boaties, and those who seek a secluded, somewhat secret spot.