It's no secret I love my home. Living in Provence inspires me and awakens my senses in every way. The sheer natural beauty of the landscape, the herby scent carried on a breeze, the taste of market-fresh produce, the texture of an ancient stone wall, and the sound of the sea washing over a pebbled shore…
As I remarked to a friend recently "Provence lives up to the dream".
But I'm far from the only person who is inspired by living in this bucolic corner of the world. Provence is home to some incredible artisans and creatives, and I'm taking this opportunity to showcase some of my favourite local brands and products.
If you're looking to treat yourself or someone close, this Provence Gift Guide is perfect for anyone wanting to welcome the soul of Southern France into their lives at any time of the year.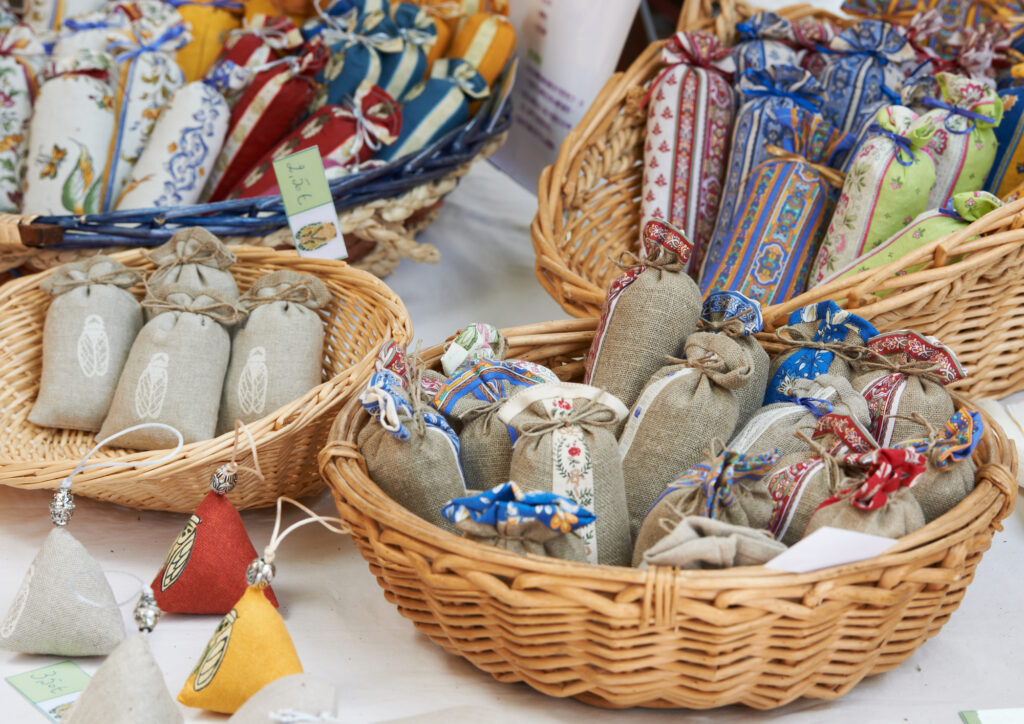 ---
French Gifts for Lovers of Provence
The following is a carefully curated list of unique French gifts made in, or inspired by, Provence. Some of the companies featured have been kind enough to offer an exclusive discount code just for my readers, so be sure to look out for these special offers below!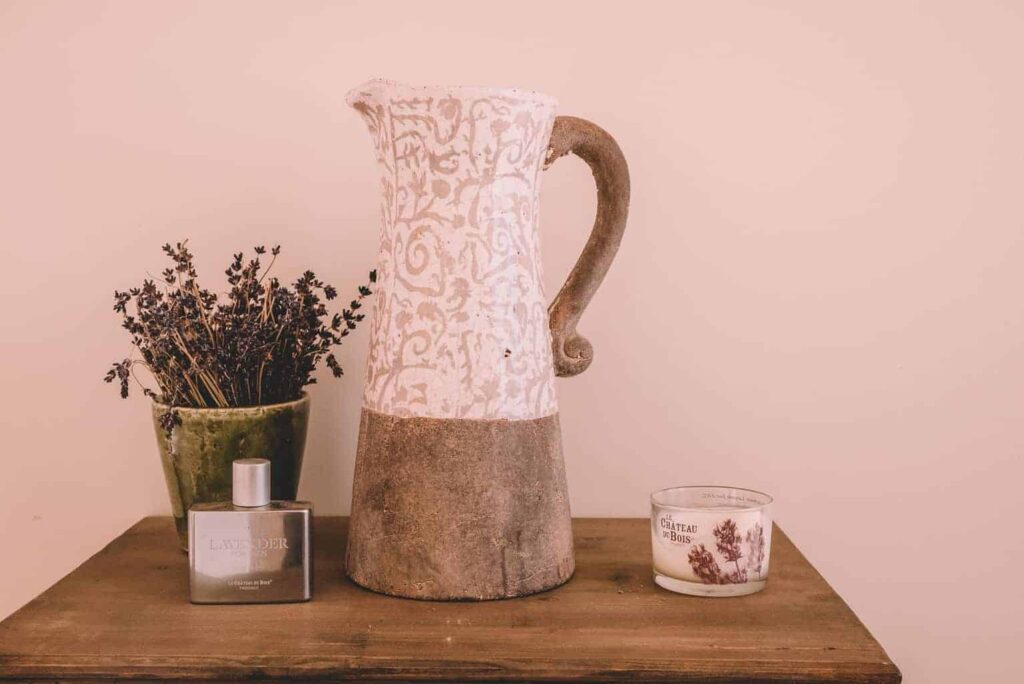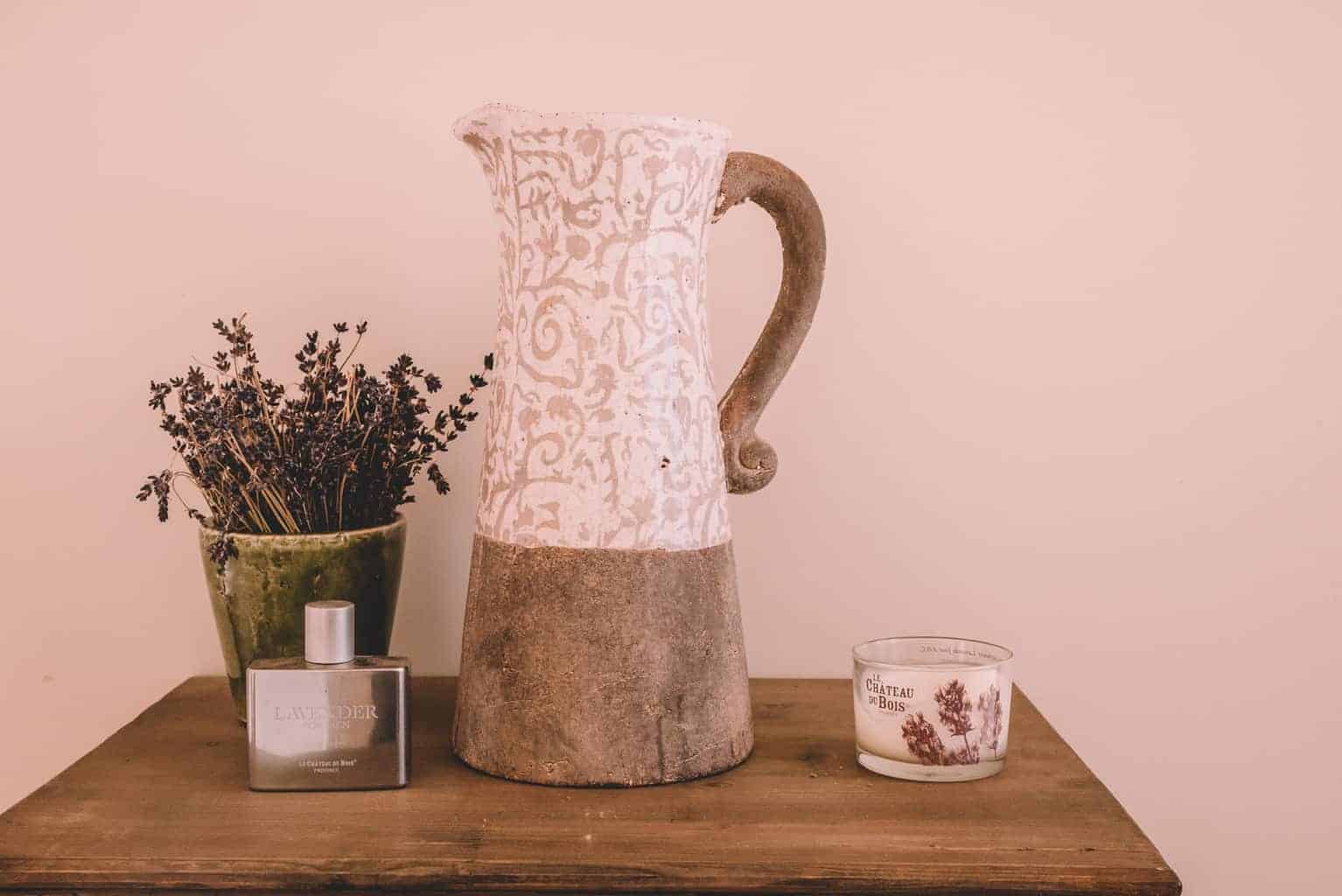 ---
Boutique Provence Beauty Products
These French beauty products are either things I've tried myself and fallen in love with, lusted after from afar, or heard raving reviews about. They're all locally made with the highest quality natural ingredients from France.
Fine Provence Lavender Gift Ideas
Le Château du Bois has been growing fine lavender since 1890. Their lavender farm, set high in the hills of the Vaucluse, is where they oversee every step in the production of their AOP-certified lavender.
The Lincelé family is involved in the entire process, from planting the lavender seeds to distilling their fine lavender essential oil.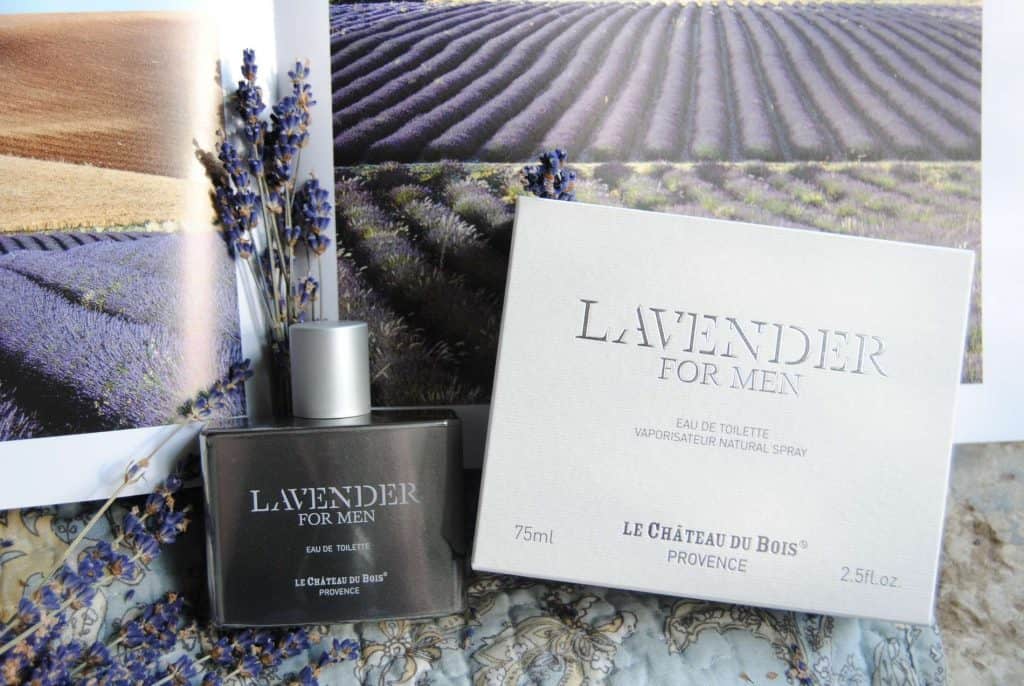 In recent years, they've expanded their Provence lavender products to include an organic beauty and fragrance range. And if you can't visit their Provence boutique in person, the online shop is the perfect place to buy the highest-quality organic lavender gifts. At the very least you'll want to pick up a bottle of their pure lavender essential oil.
Unlike lavandin oil, fine lavender essential oil has a much more delicate fragrance and has higher medicinal properties. It's an absolute staple in our household.
EXCLUSIVE DISCOUNT: USE THE CODE "LELONGWND" TO RECEIVE 20% OFF LAVENDER GIFTS
---
The Scent of Provence
Bastide is a beauty and lifestyle brand based in Aix-en-Provence, France. Shirin, Frederic and their team of qualified beautisans work together to create an exquisite range of French beauty products that are guaranteed to tantalise your senses in the best way possible.
I love the sense of passion and history that is infused in the brand, along with their ethos of only using natural, non-toxic ingredients.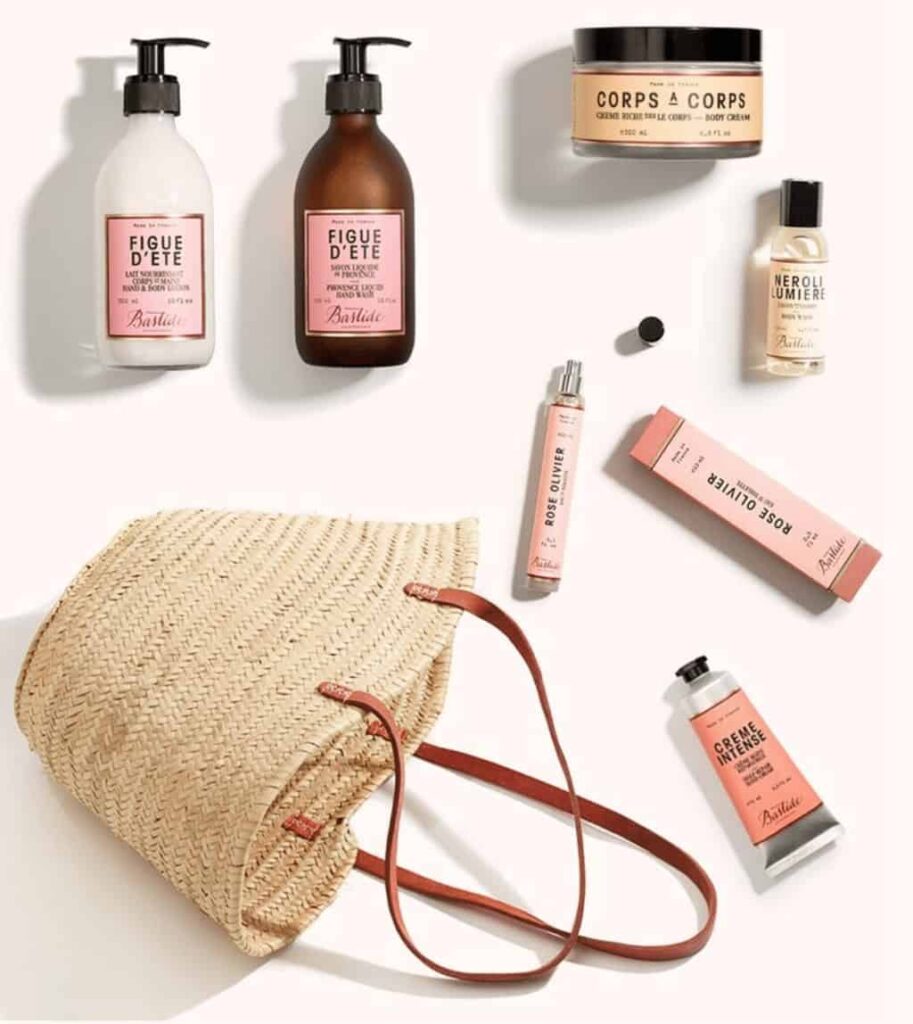 Their creations epitomise Provençal living in every sense. And the Rose Olivier Eau de Toilette is the ideal way to carry the beauty of Provence with you wherever you are. A delicate rose scent with woody notes, it's the perfect summer accessory.
---
French Floral Cosmetics
Provence local and trained herbalist, Charlotte Maes, combined her love of raw materials and nature to create a line of natural cosmetics and infusions.
Les Simples de Charlotte offers a range of healing and nurturing products made with 100% French, natural, organic ingredients.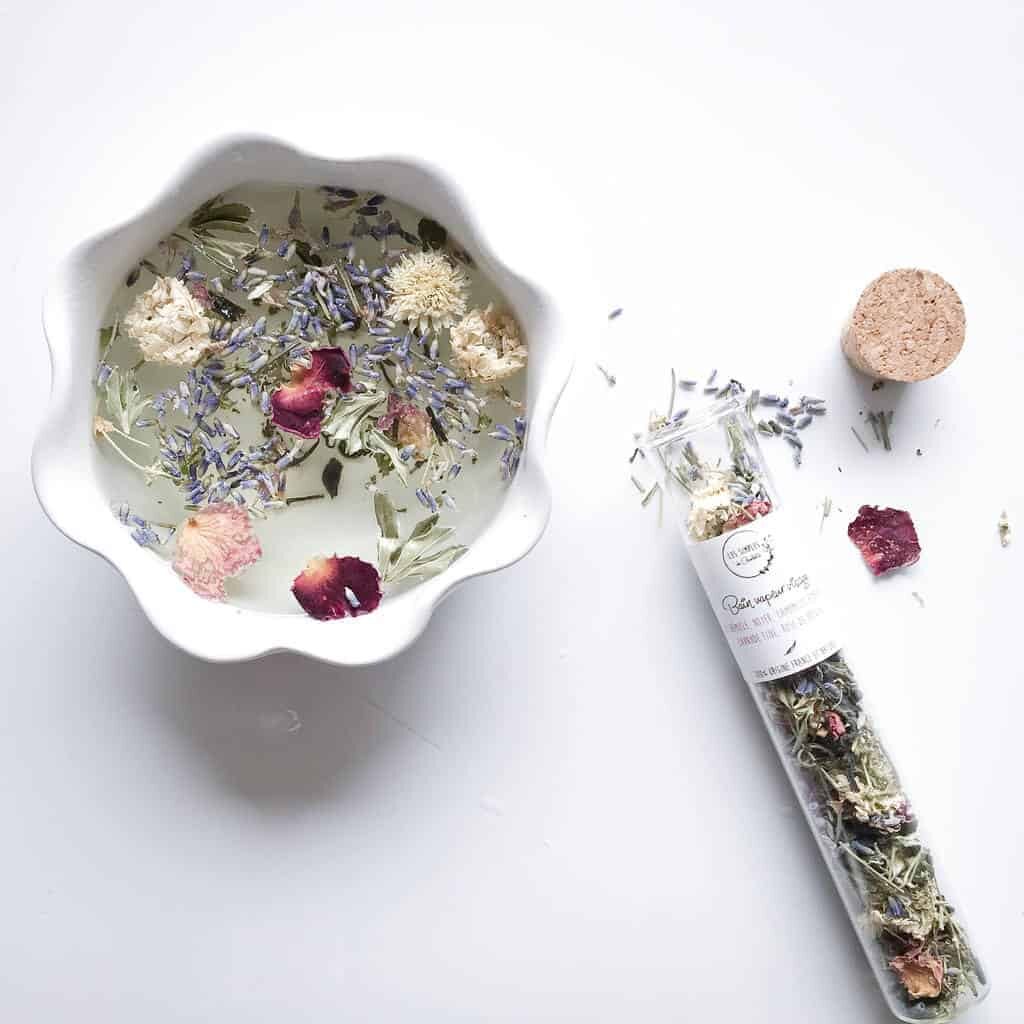 The products are made in small batches in Provence and packaged beautifully and simply – in line with the store's core values. Choose from body firming balms, detox teas that look almost too good to drink, or baby lotion, and then package it all up in an organic tote for the perfect Provence gift.
---
Boutique Provence Style
Whether you enjoy family holidays in Provence, live here year-round, or only ever visit in your dreams; being able to wear something that is tied to this place of great beauty is such a precious gift. From antique French linens to jewellery inspired by the landscape of the South of France, here are a few of my favourite finds.
Artisanal Provence Style
Luxe Provence manages to make luxury and practicality meet with their exclusive and limited edition range of locally made garments. The perfectly formed lifestyle collection draws on inspiration from the natural environment to create timeless pieces "designed to be worn barefoot in the garden by day, and paired with heels for an elegant dinner by night"
Luxe Provence creates their stunning range from natural products such as organic linen, handprinted silk, and luxury haute couture deadstock from Italy. The feel is romantic, enchanting, and provokes images of idyllic seaside escapes or Provençal château stays.
Their recent collaboration with artist Jamie Beck continues this romantic theme and has a nostalgic nod to the renaissance.
---
Beautiful Handcrafted Jewellery
Poulette Bijoux is the brainchild of Julie Maigret, an Aix-en-Provence local with an antipodean background. Ever since I stumbled upon her creations I've been in love with the simple, yet incredibly elegant designs. The pieces are easy to wear and effortlessly chic, perfect for the South of France lifestyle.
My favourite pieces in the AW19 collection, the Iris earrings and the Gaspard necklace, have both been hammered by hand to create a unique finish. The entire range is incredibly affordable, making it the ideal Provence gift for those on a budget.
---
Exclusive Provence Decor
Who doesn't long to take a piece of Provence home with them when they visit? With these handcrafted decor ideas, you'll be able to have a little slice of Southern France at home with you – wherever you live.
French Pottery of Provence
ENW Céramique creates the most beautifully designed Provence decor and dinnerware. Each piece is unique, taking several weeks to craft by hand. The artist behind the brand, Emmanuelle, lives and works in Aix-en-Provence.
I covet everything on their Instagram account. But some of my favourites include these Ibiza cups that look like they could have come straight out of Cezanne's studio, and the beautiful teal-tinged dinnerware set pictured above.
---
Antique French Linens for Home
Creating new from old is what De Boer – Linge de Maison does perfectly with their inspired range of French decor accessories. Flo De Boer takes vintage French table linens and gives them a new life, while at the same time respecting their unique attributes.
This Avignon-based boutique brand sells its wares on Etsy. Why not buy a gift that combines the best of an eco-friendly ethos, vintage charm and unique style. These pieces would look fabulous in any Provence kitchen.
---
Provence Books & Stationery
Buying books and stationery may just be my biggest weakness. There's just something special about a beautifully illustrated book, or a one-of-a-kind print to hang on your wall. If you know someone else who gets a thrill from finding unique paperbound treasures, I'm sure they'll love the following products too…
Weekend Journal
Provence by Weekend Journals delivers you the very best of the region in a beautifully laid-out format. Whether you're a regular to the South of France, or you only dream of visiting, Provence allows you to sample what's on offer without ever leaving your armchair. Featuring exclusive interviews with local business owners and creatives, it offers a unique insight into this inspiring corner of France.
With insider tips and local know-how, Provence makes the perfect travel companion. Pick up your copy with our exclusive discount code below.
EXCLUSIVE DISCOUNT: USE THE CODE "LELONGWEEKEND" TO RECEIVE 10% OFF
---
Stationery
Claire Leina is the illustrator and founder of French paper-goods brand All the ways to Say. From her studio in Aix-en-Provence, she creates funky, beautiful, and earthy designs that adorn everything from wrapping paper to posters.
Her online shop is a great place to pick up Provence-designed paper goods. I'm especially fond of the botanic wrapping paper, and the weekly planner might have to make its way to my desk very soon!
---
Provence Food & Wine
Anyone familiar with Provence will know it has its own distinct flavour palate. From the sumptuous local rosé to the saltiness of a freshly baked olive fougasse, you'll be left wanting when you leave. With the following gifts, you can experience the tastes of Provence all year round – no matter where you are!
The Wine of Provence
While in Provence, you're spoiled for choice when it comes to sampling the region's finest wines. But if you want to continue to enjoy your favourites once you get home, nothing beats having them delivered right to your door.
If you're living in the US, 90+ Cellars stock a fantastic range of French wines, including the best Provençal offerings. And their delivery fees are some of the best I've seen!
For my UK readers, Majestic Wine has you covered with their broad wine selection and super fast delivery service.
Herbes de Provence
Herbes de Provence are sold around the world, but none are as hypnotic in flavour and scent as those grown, picked, and dried under the Provençal sun. Let this mixture of Thyme, Savory, Rosemary, Oregano, and Basil transform your cooking, as you enjoy the flavours of Provence on your plate.
---
Other Provence Essentials
Embrace the French lifestyle with the following essentials. Whether it's carrying your groceries in a typical Provence market basket, carrying thoughts of Provence in your head with a good novel, or carrying the knowledge of the local lingo – the following gifts are for those who wish to let France filter further into their life.
French Market Basket
There are few things more quintessentially Provençal than a woven market bag. While these bags and baskets can be found at seemingly every market in Provence, elsewhere you may have trouble finding this essential French accessory.
Choose a simple basket with sturdy handles for everyday market adventures and impromptu picnics. Or upgrade to a rattan trolley for carting around your weekly veggie shop. I have both, and they're invaluable in daily Provence living.
We love this range by Vivi et Margot
Provence Inspired Reading
Sometimes you just want to escape in a book and indulge in a little armchair travel. These books will transport you smack bang into the Luberon Valley, or the site of a crumbling château while delivering a decent dose of comedic therapy too.
Browse books based in Provence, here.
---
---
Whether you're looking for a little something special for yourself, or you know someone else besotted with Provence, these French gift ideas are sure to delight even the most discerning of Francophiles. Plus, by buying these French gifts online, you're helping support the local artisans and creators who call Provence home.
Pin this for later!