The Calanques National Park encompasses an immense natural area of land, sea and semi-urban areas between Marseille and Cassis in the South of France.
It's beloved by locals and visitors alike, who frequent the park's trails, hiking through native trees and shrub to secluded coves and incredible elevated viewpoints.
The Calanques are a series of steep-walled inlets that punctuate the craggy coastline, each cutting unique shapes into the limestone cliffs, and often culminating in picture-perfect beaches.
Perhaps the most loved Calanque is that of Calanque d'En Vau. Surrounded by dramatic cliffs, this inlet is one of the deepest, and most sheltered in the park, making it perfect for swimming, kayaking, and snorkelling. Its beauty is unparalleled, and it's absolutely worth the effort required to reach it.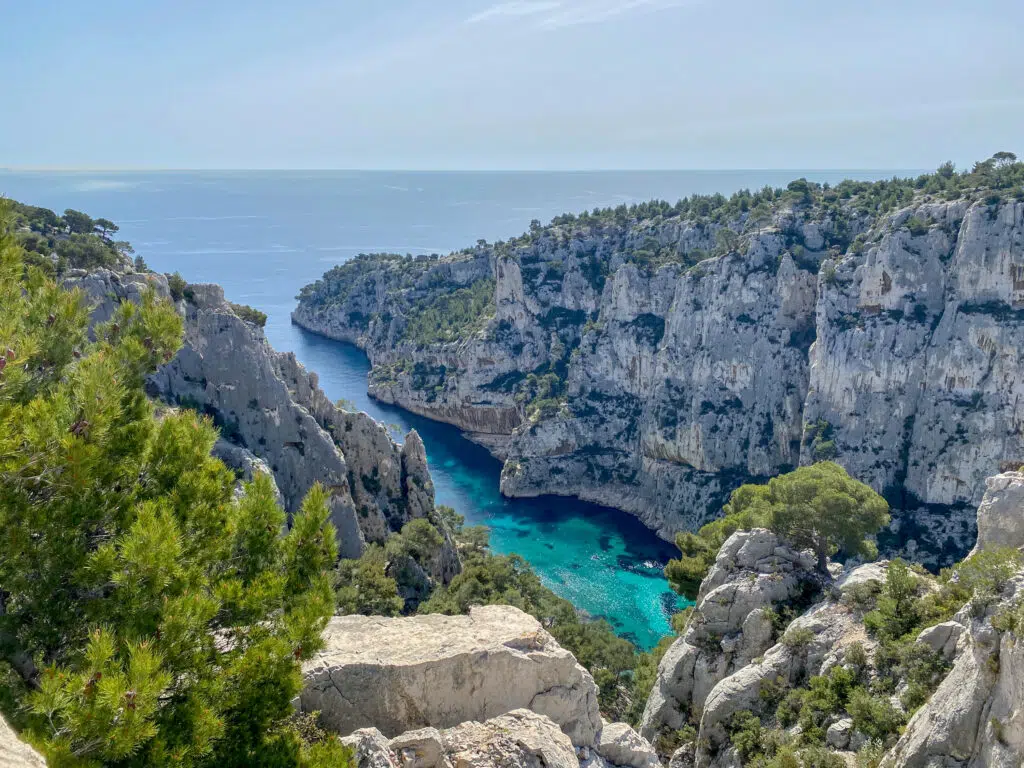 This article may contain affiliate links. See our full disclosure here.
---
Why Visit Calanque d'En Vau?
The Calanques National Park is studded with calanques, many of which can be accessed via walking trails. You can read more about the other calanques in the park here.
Calanque d'En Vau is a personal favourite, and the feeling is shared among many. Here's a glimpse of what it's like to spend time in this natural wonder.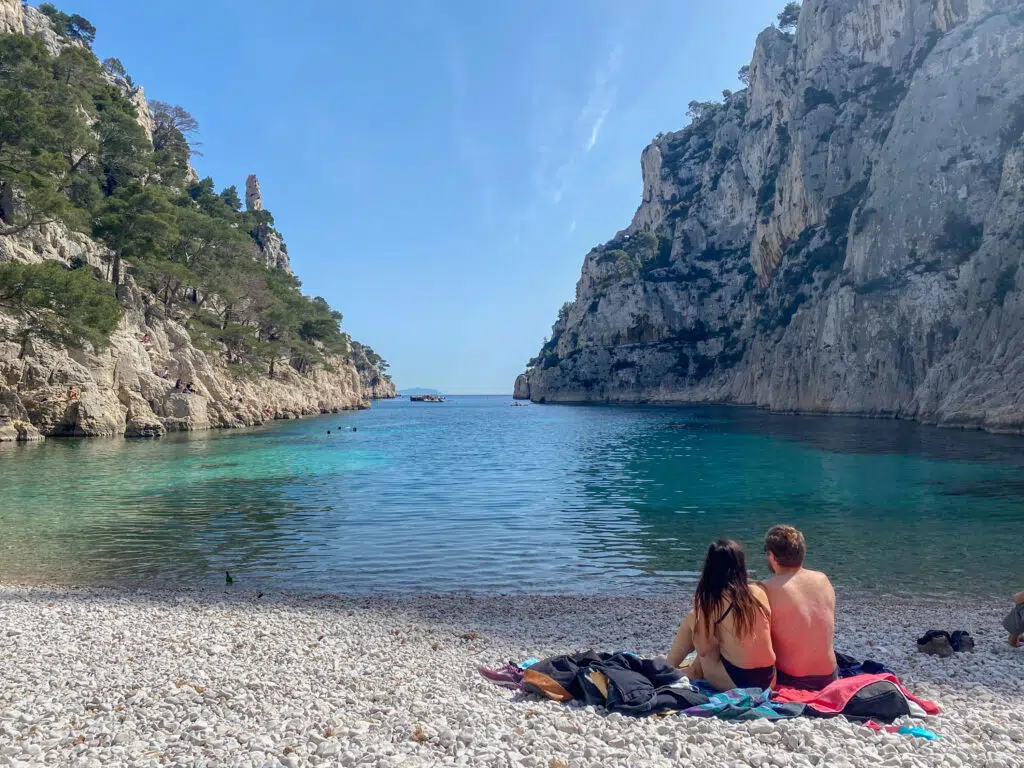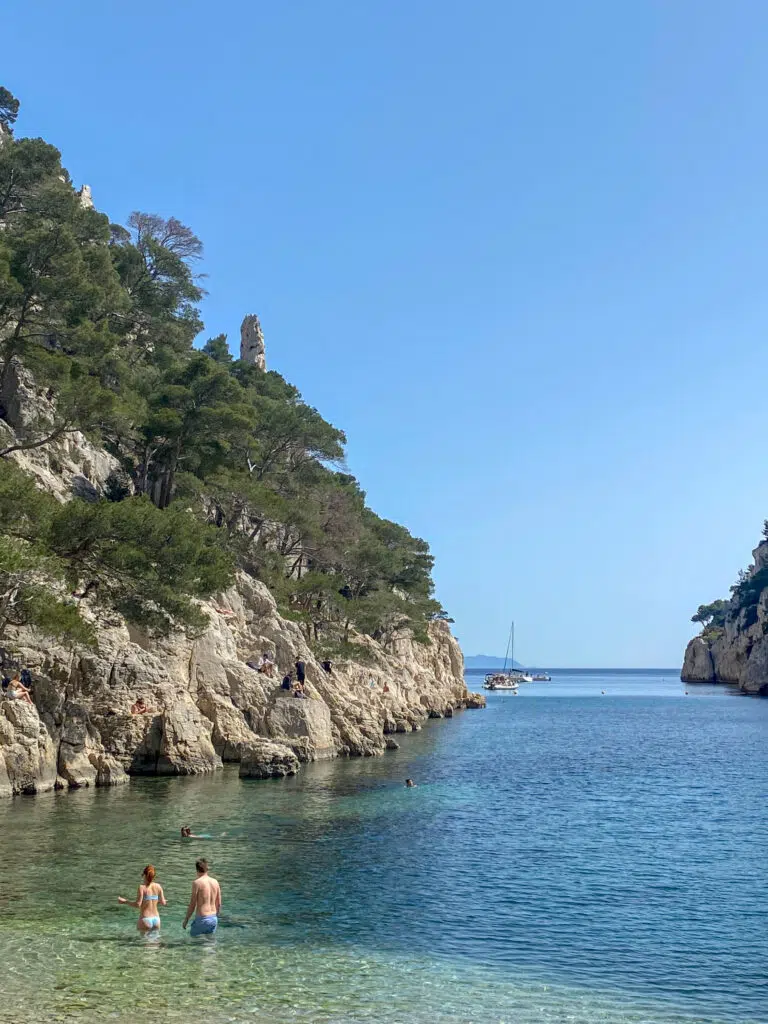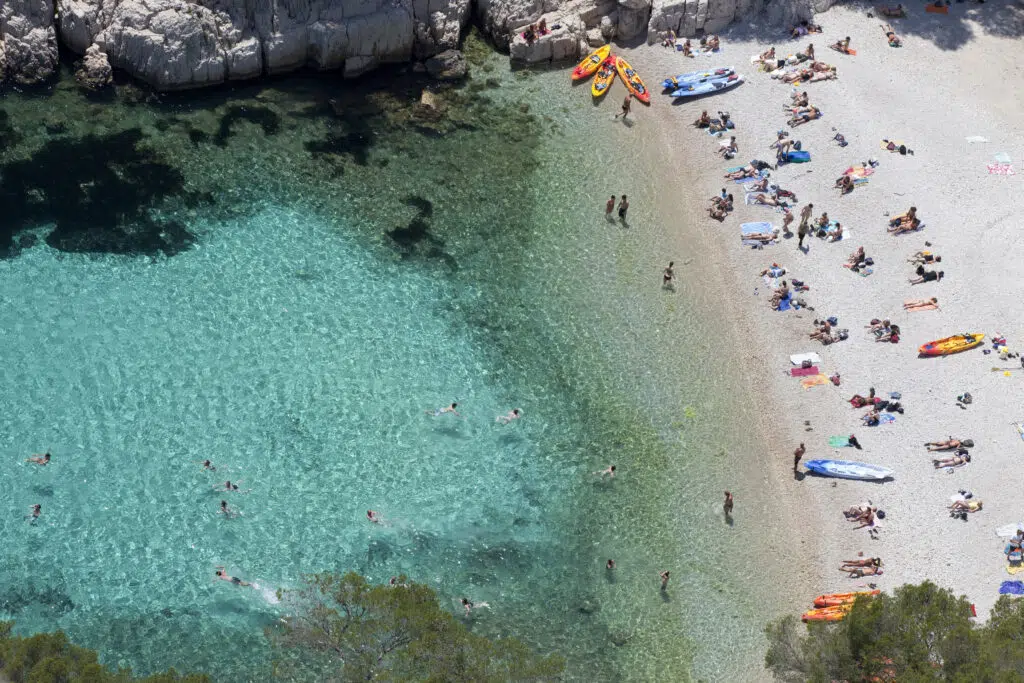 ---
How to Get to Calanque d'En Vau
The most common way to hike to Calanque d'En Vau is from Cassis, via Port Miou and Port Pin. However, there are other routes available – hikes that will be easier for those with kids, or with more limited mobility. We'll also look at how you can reach the calanque via the sea!
Hiking to Calanque d'En Vau from Cassis (2 Options)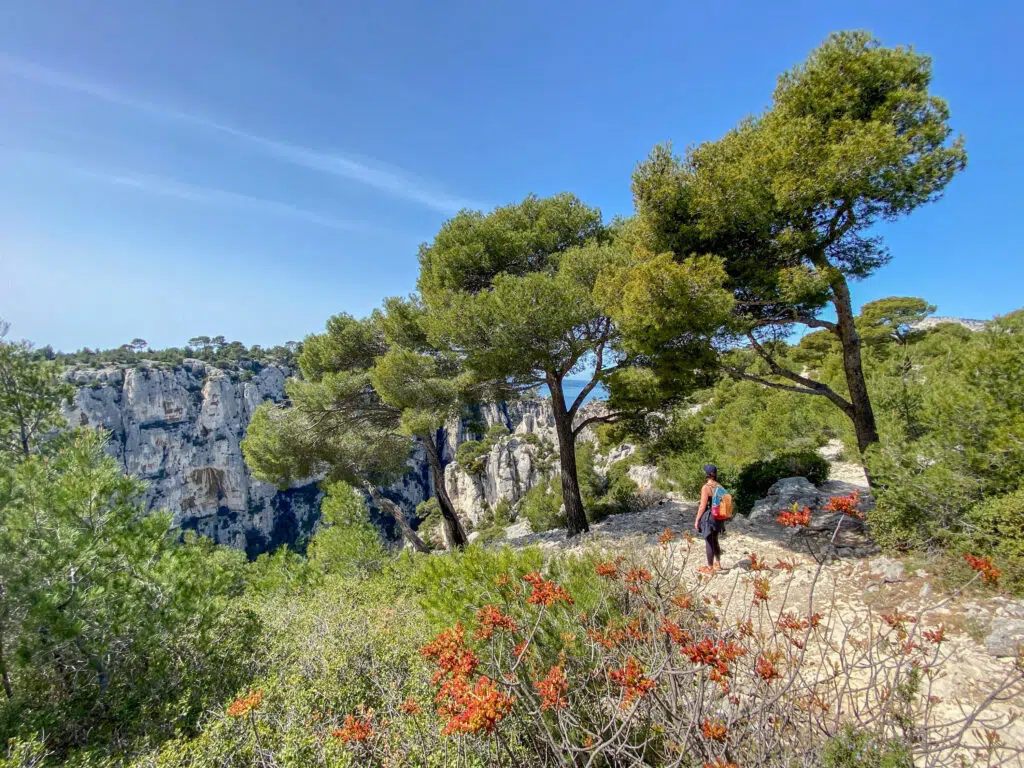 As mentioned above, the most popular route to Calanque d'En Vau is from the fishing village of Cassis.
You have two options for this hike, or you can mix them up. I'd recommend taking hike #1 to get to Calanque d'En Vau, and hike #2 for the return journey.
Option #1 – Via Port Pin
2 hours (4 hours return)
Moderate difficulty
4km (8km return)
The easiest place to park for this trail is at Parking de la Presqu'île (point A), just past Cassis. It costs €8 to park for the day.
From here, you'll walk back along Avenue Notre Dame until you find the start of the track marked on a post between two houses. Continue down to the end of Port Miou where the official track starts.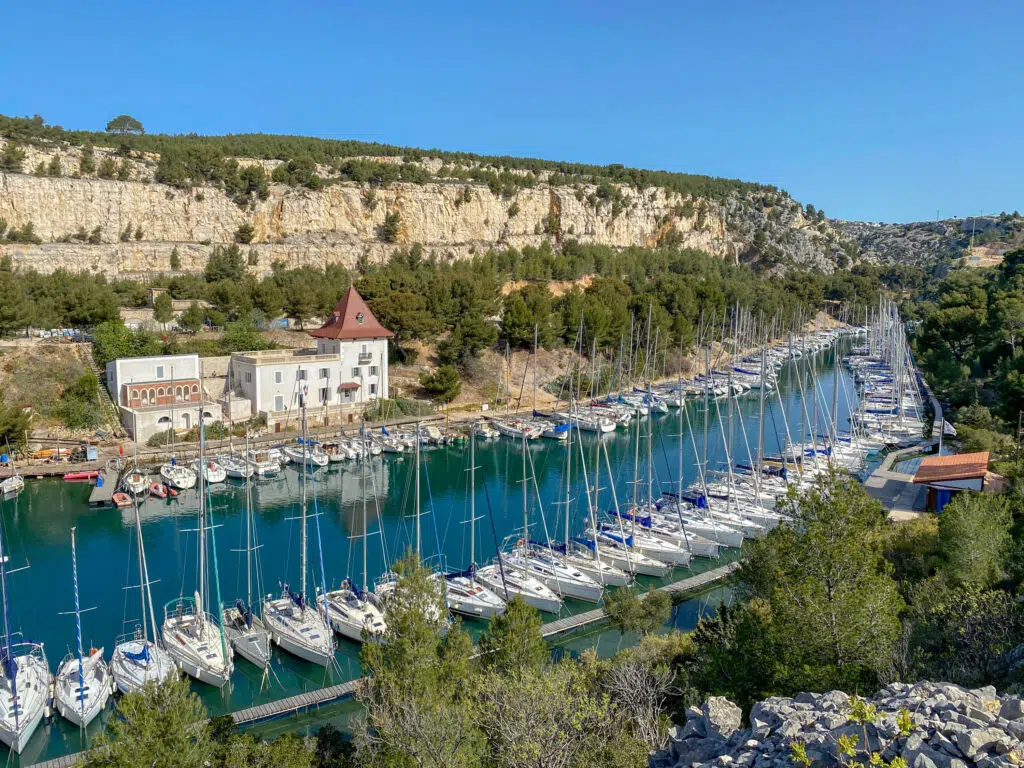 From Port Miou, the track is straightforward to Port Pin. It's an easy walk at this point, with some steep uphill parts, and rocky stairs on your descent to Port Pin.
If you wish, before making your descent, you can carry along the track to the Pointe de la Cacau where you'll find some ruins, a blowhole, and a unique viewpoint of Calanque Port Pin and Calanque d'En Vau.
Port Pin is a lovely sheltered beach, and worth stopping at for a quick dip if you've already worked up a sweat!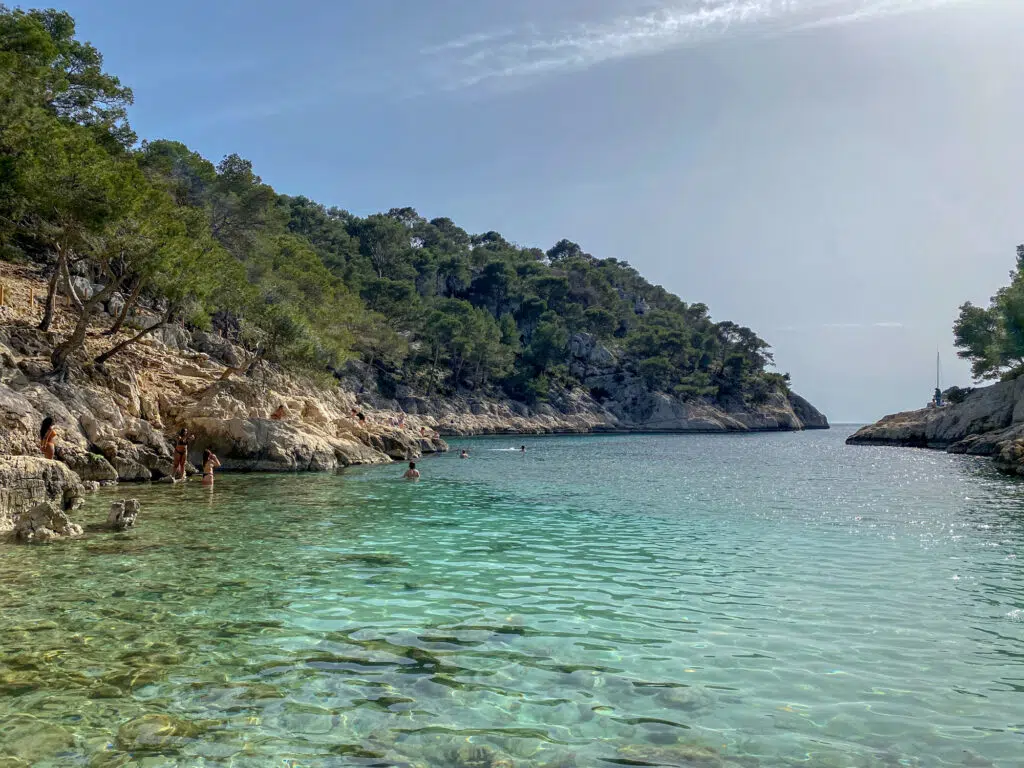 Otherwise, keep following the path that goes straight up the hill towards Calanque d'En Vau. After a steep uphill trek, you'll reach the summit. From here, you can take a side path to the viewpoints (more on those below), or continue straight to Calanque d'En Vau.
From here it's all downhill – very steeply. This path is covered in slippery rocks and you do need to take care with your footing. That said, the locals make it look easy and it's very doable if you take your time.
The last 200m are flat through the gorge, before revealing the magnificent Mediterranean beach before you.
I have written about our first experience of hiking this route with our then 4yo son, here. But note that time we didn't make the descent to the beach. We've since completed the entire walk with him at 7 years old and he enjoyed the challenge!
Photos from this route: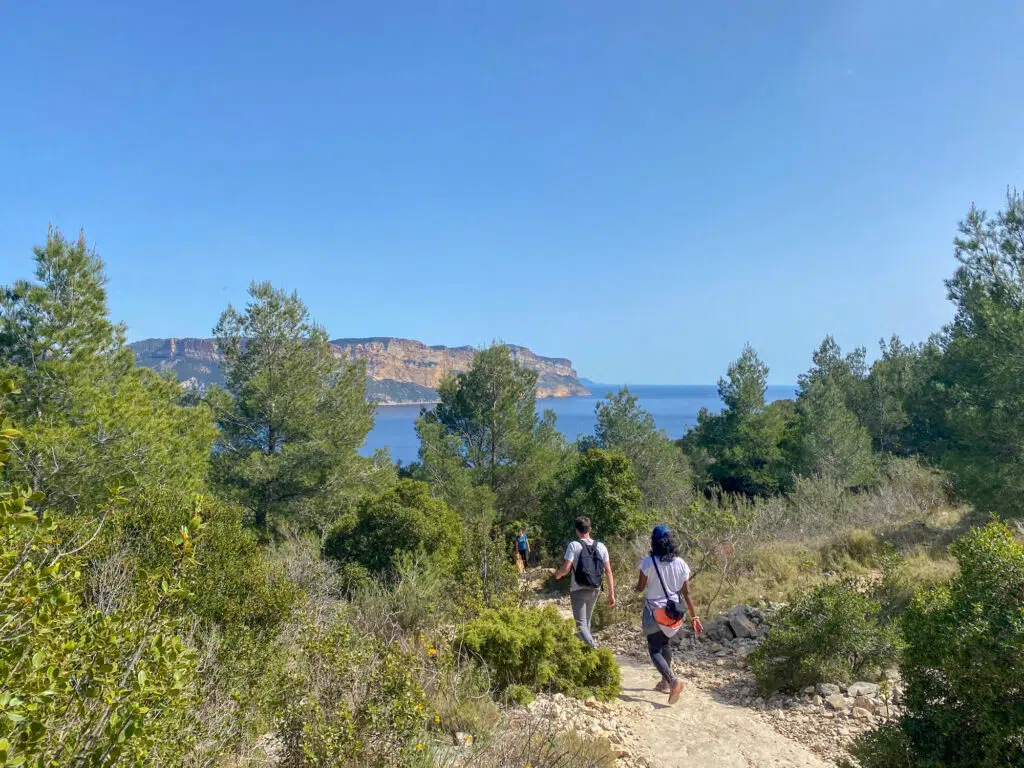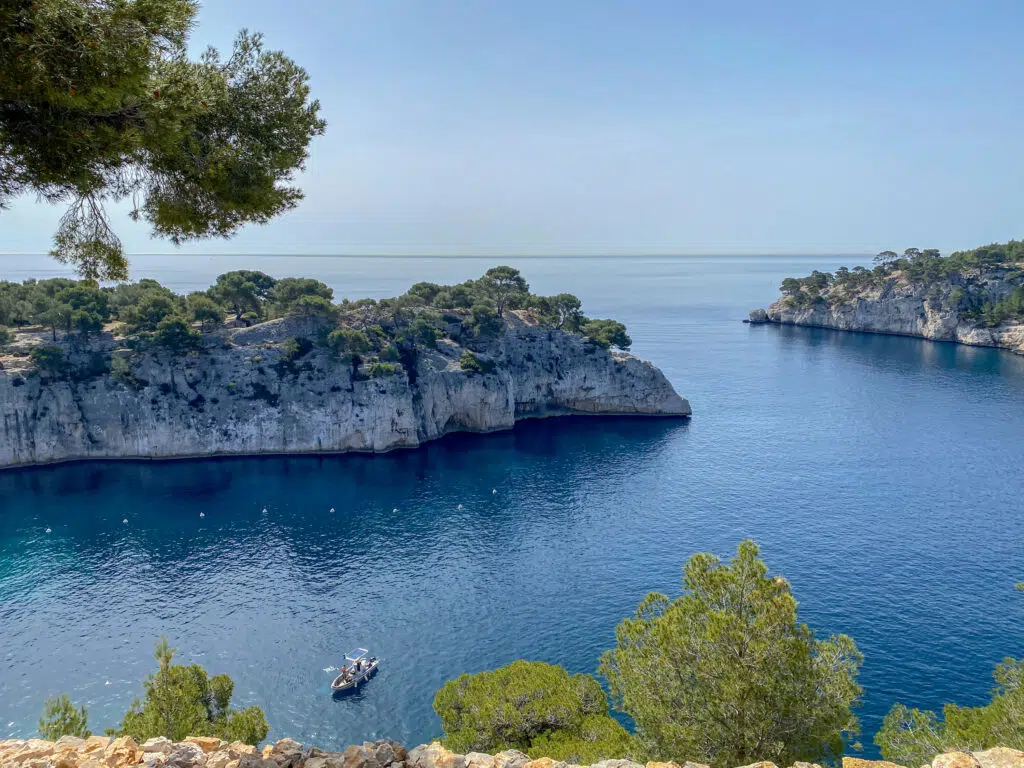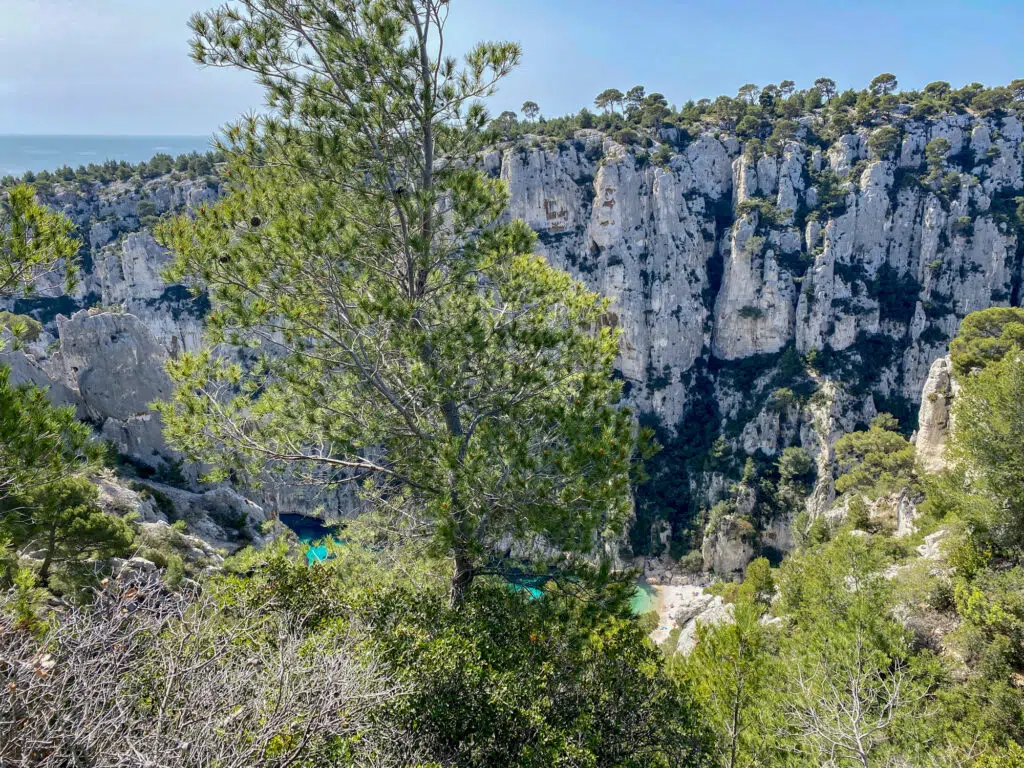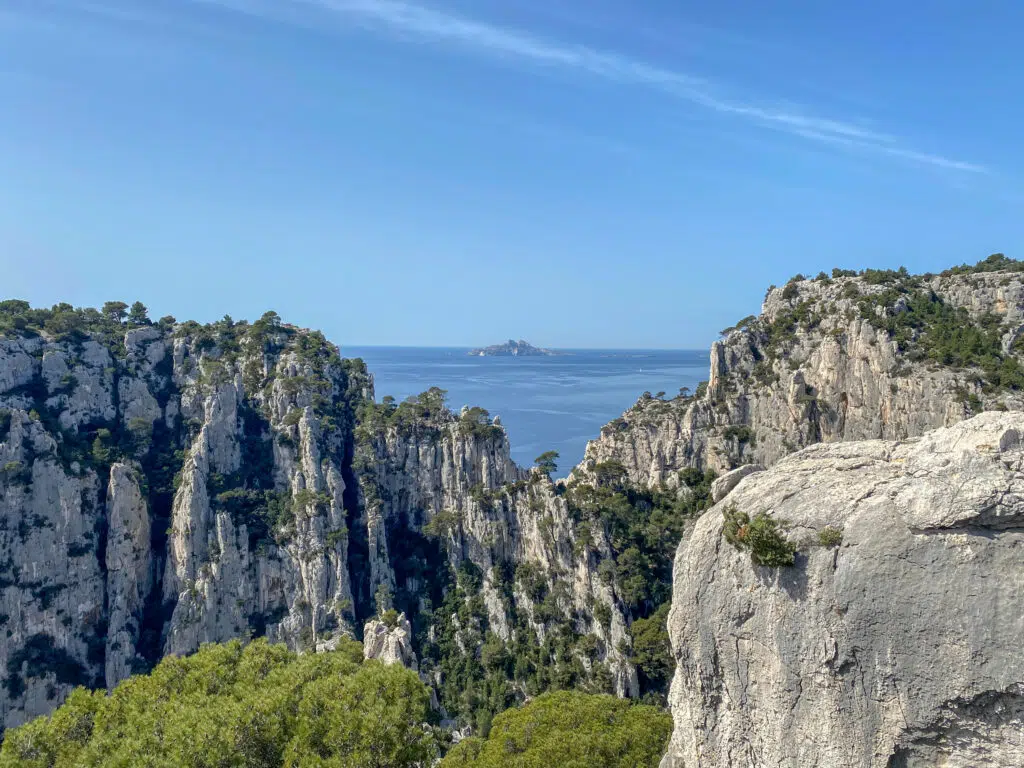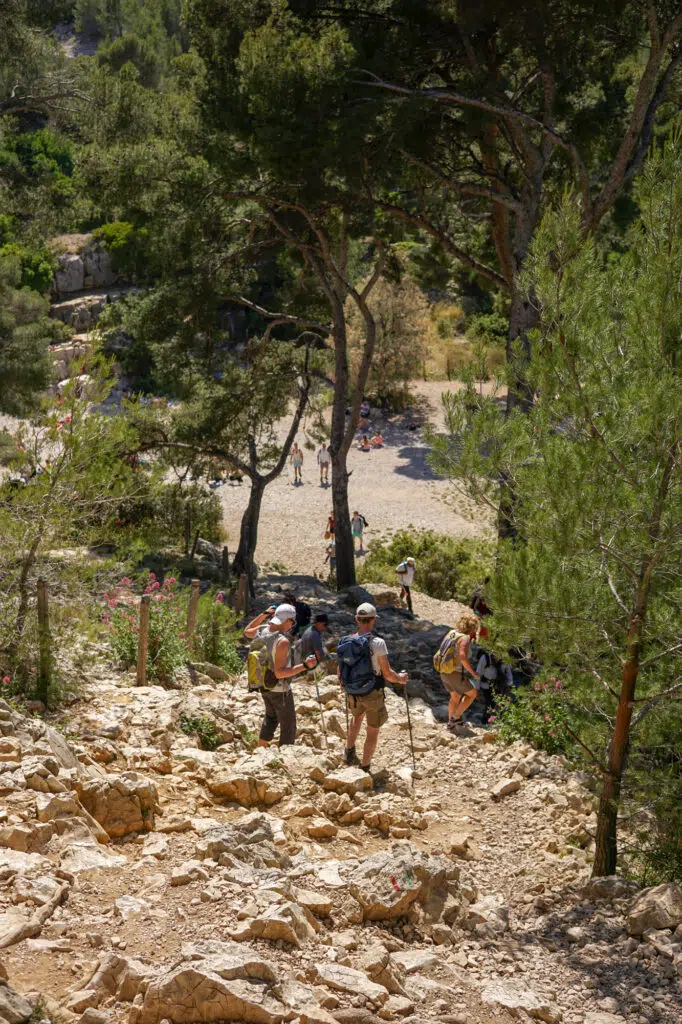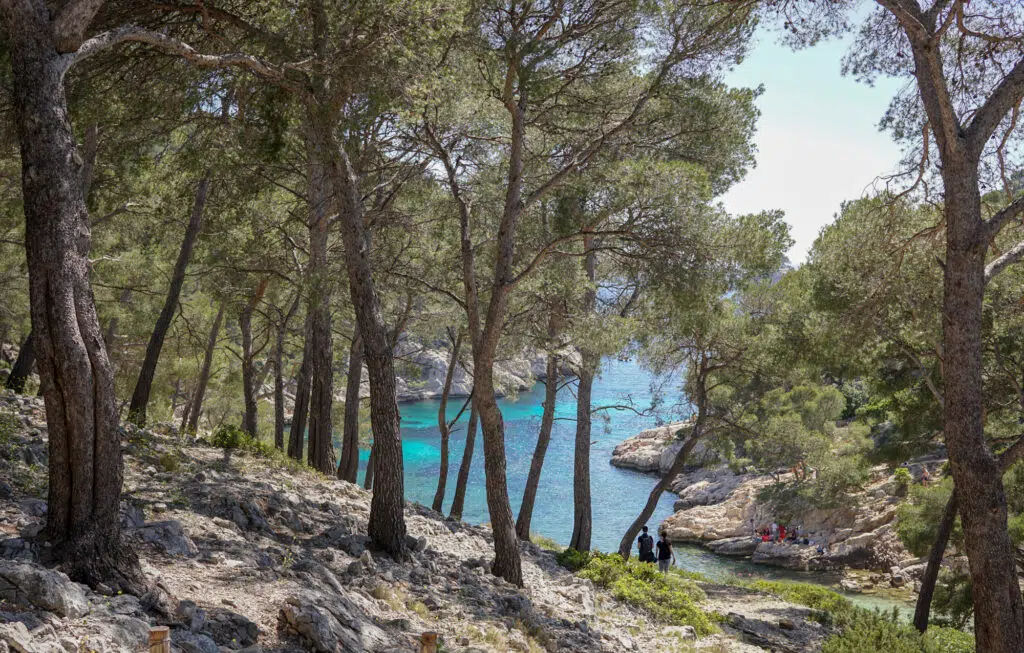 Option #2 – Via La Fontasse
2 hours (4hr return)
Moderate difficulty
5km (10km return)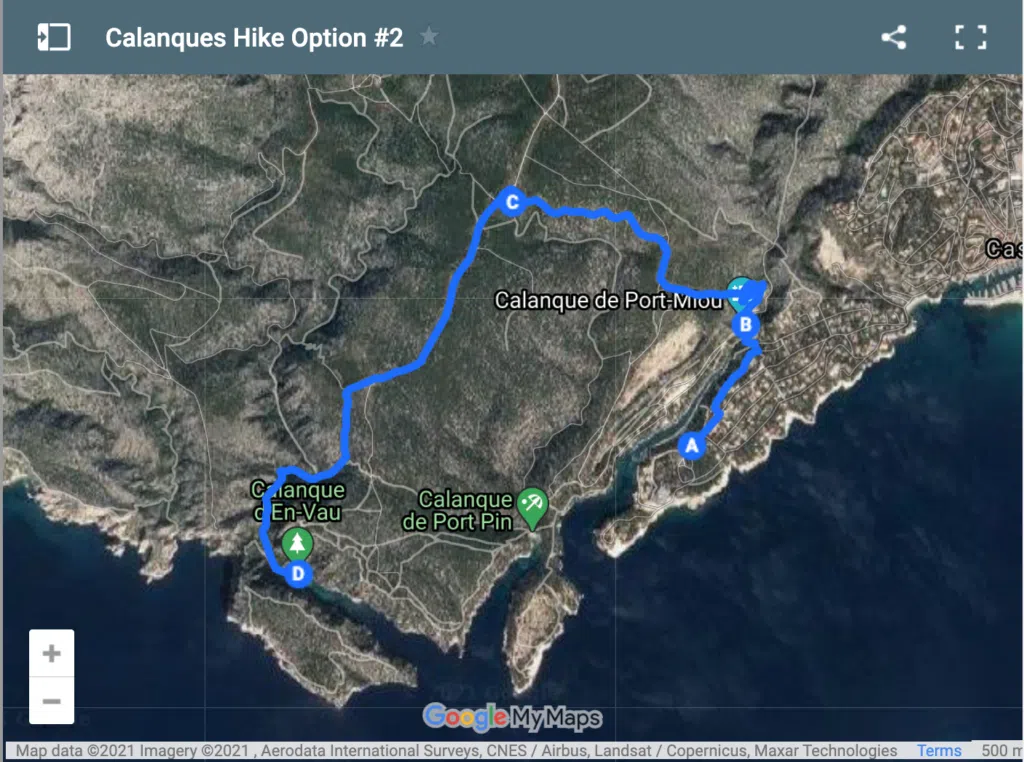 Starting at the car park again, you'll make your way down to Port Miou. But from here, instead of walking parallel with the water, you'll head straight up into the hills!
This trail is much quieter, and more level after the initial climb. It's a wonderfully fragrant walk through the bush and offers stunning views of Cap Canaille in the distance.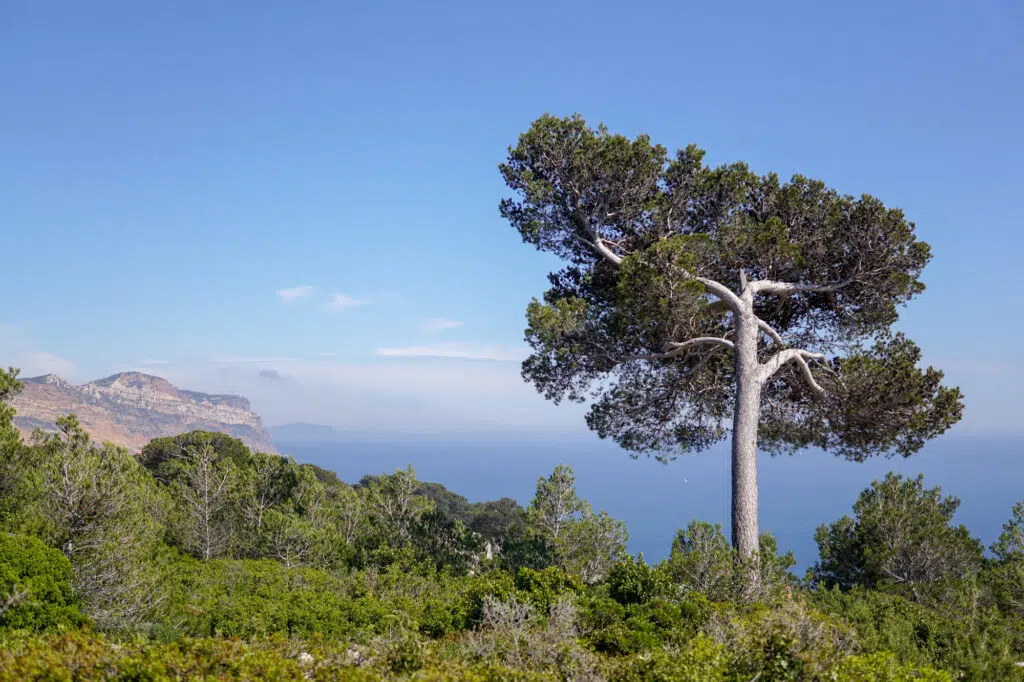 It takes you up to La Fontasse (where you'll find a small hostel), before turning back towards the coast.
This alternate track meets the first just before the steep descent to Calanque d'En Vau, which is why I'd still call it moderate, and not easy with young children in tow.
Photos from this route: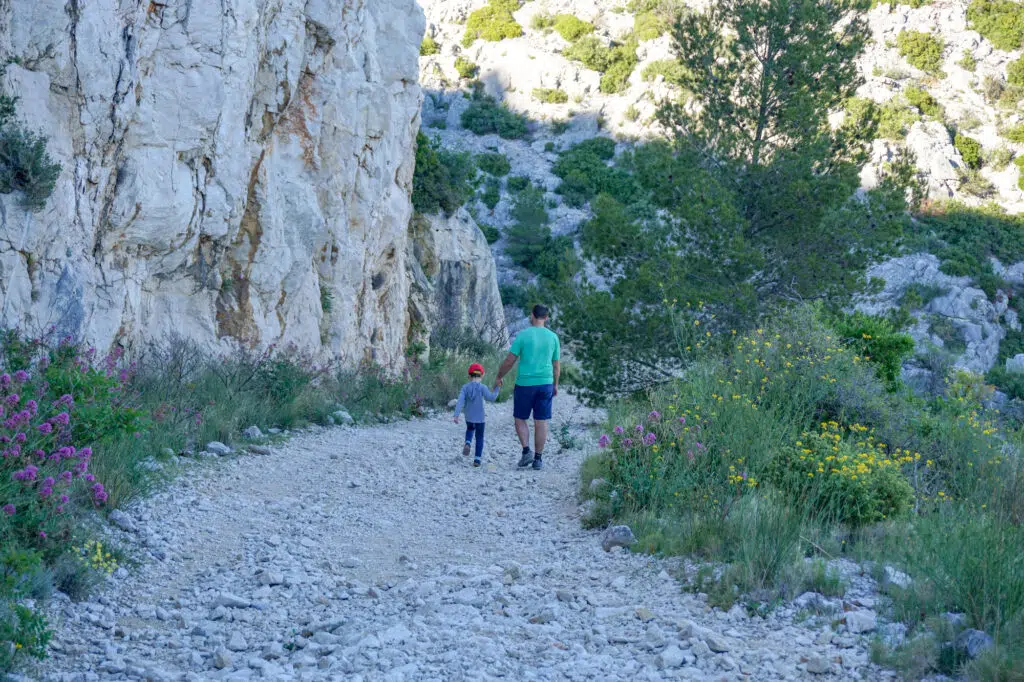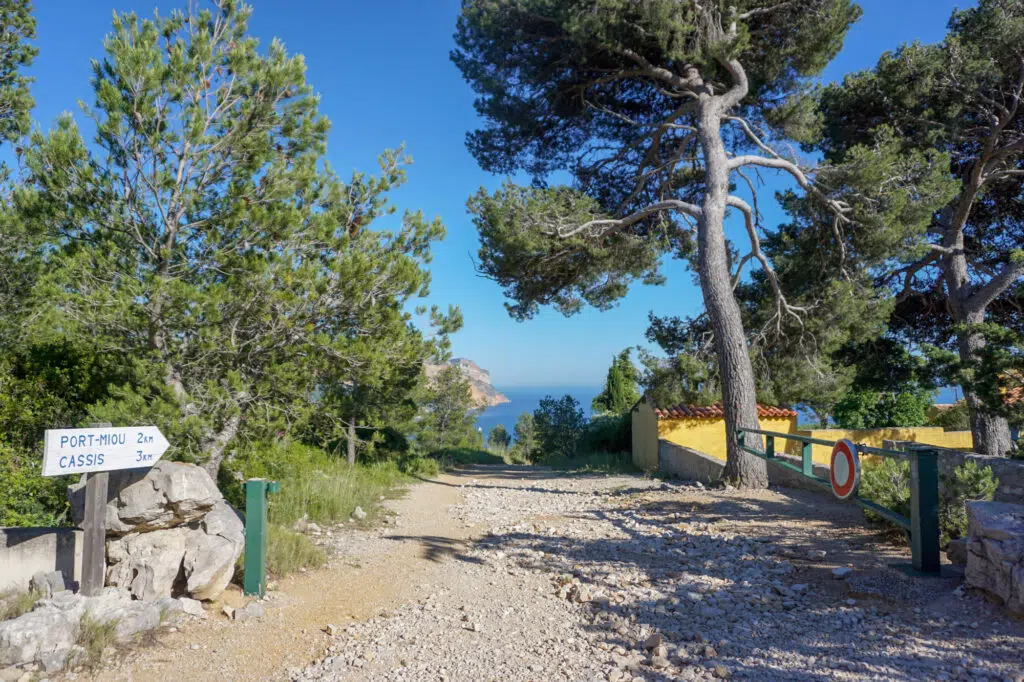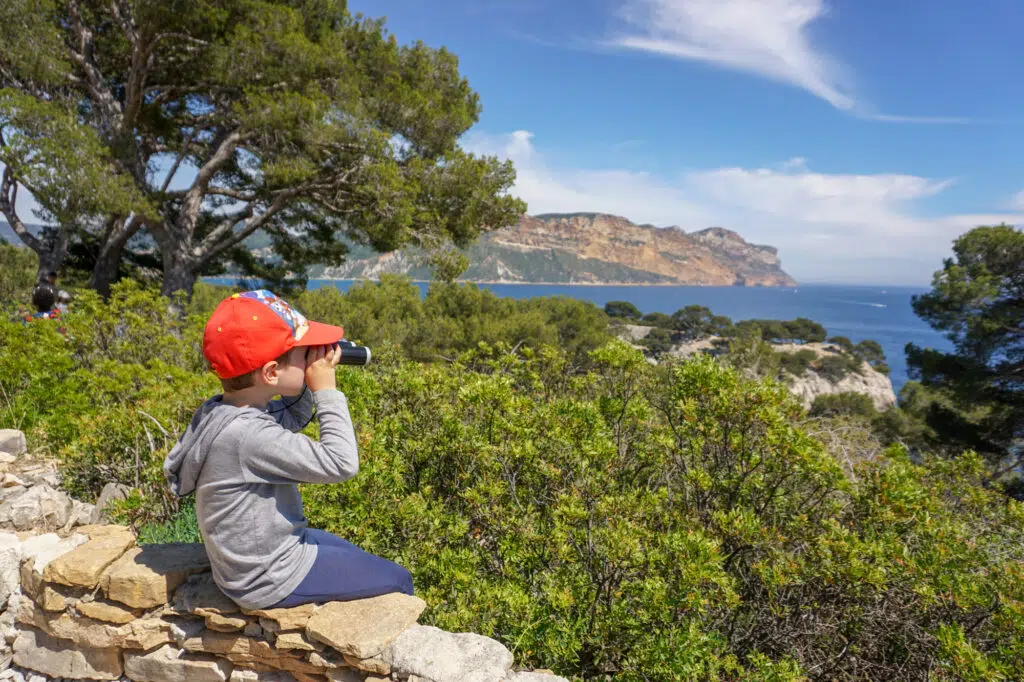 Combining the two Trails
The first time we walked to Calanque d'En Vau, we took option #1 to get to the Calanque, and option #2 to get back to the car park. I'd recommend this route for another vantage point.
You can read more about this walk here: Hiking the Calanques de Cassis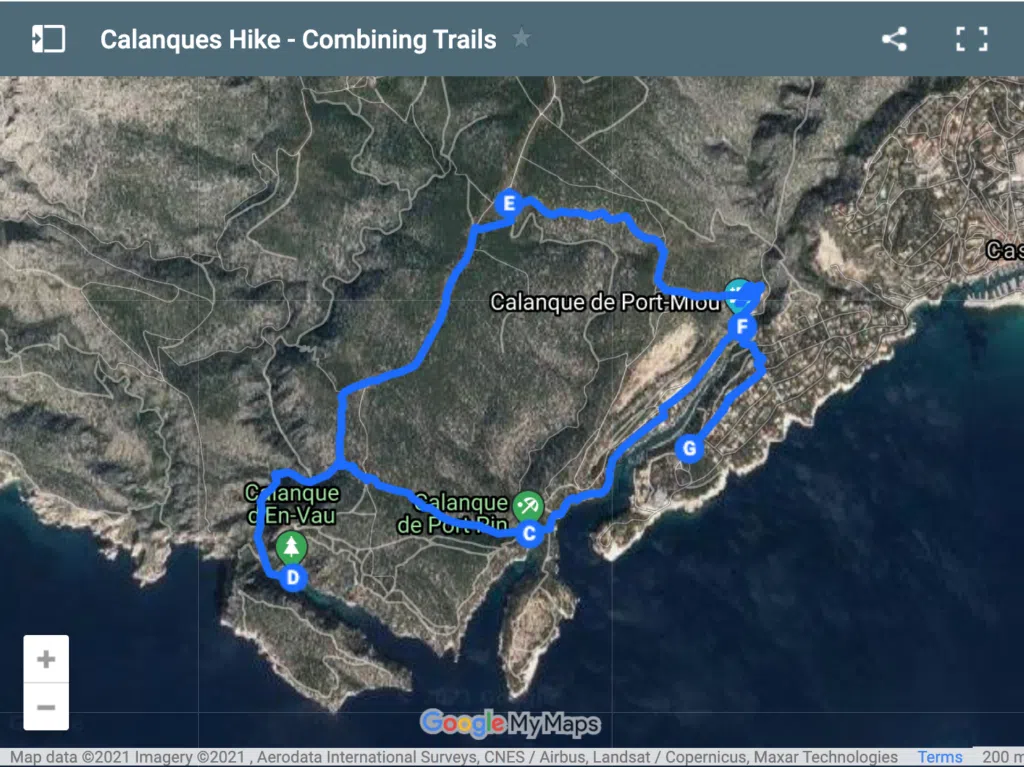 ---
Hiking to Calanque d'En Vau from the Col de la Gineste (More Accessible Route)
4hr return
Easy
11km return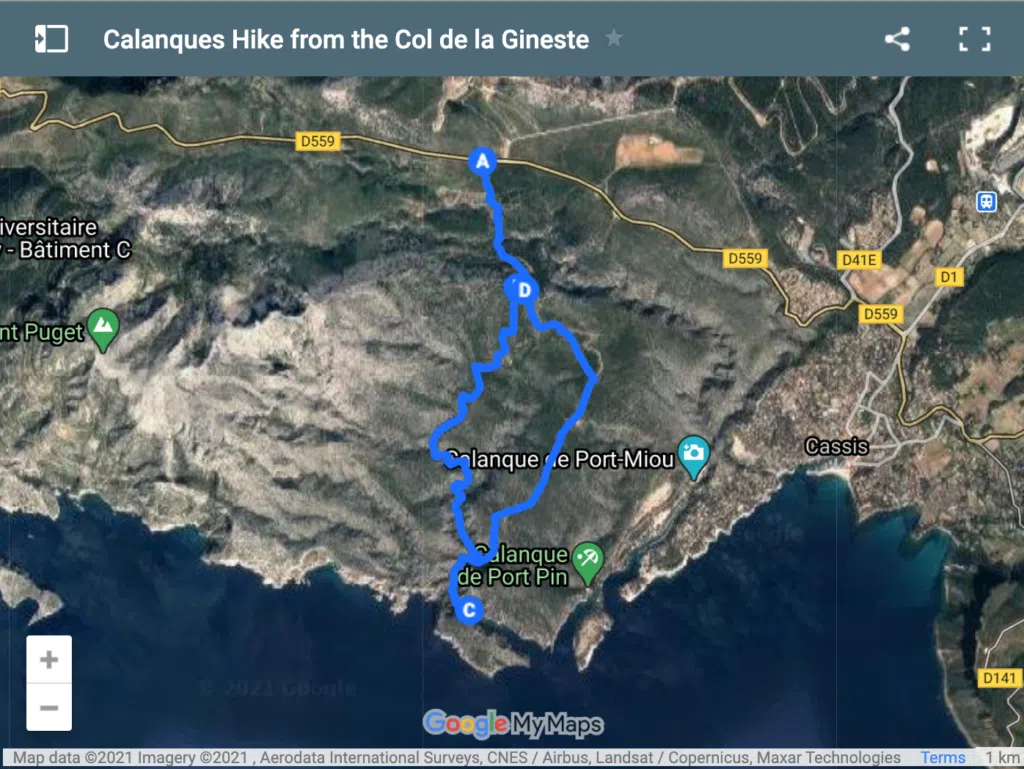 For my birthday hike last year, I decided I wanted to try a different route into Calanque d'En Vau.
This time, we'd planned to start the walk at the Col de la Gardiole. But it wasn't until we got closer, that we realised access to cars is now prohibited, so you have to start at the car park on the side of the D559 (see the map).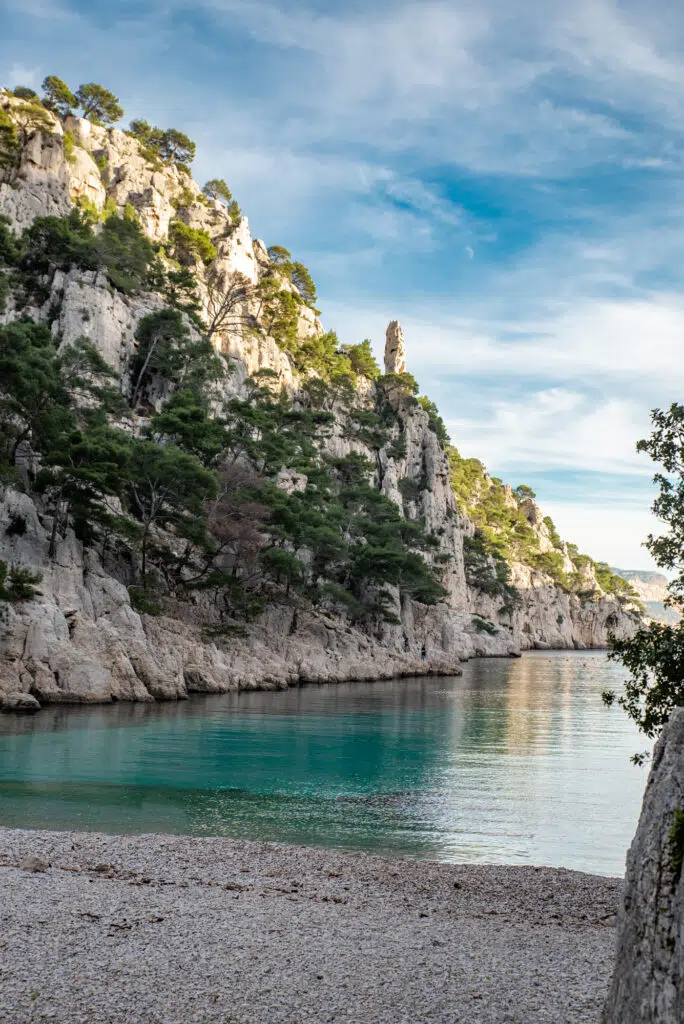 This hike is longer in distance than the other two options, but as it doesn't require any climbing, or difficult parts, it takes roughly the same time to walk.
You also have the option of taking bikes on this hike, either partway, and locking the bikes up at the Col de la Gardiole, or the full way if you're a confident mountain biker.
The first part, to the Col de la Gardiole is paved and you can follow the road with your bike, or cut through the bush via a walking track on foot.
This walk cuts a route inland, but you still get some stunning vistas on your way down, and it's much quieter than the coastal track. I found this trail manageable with our 7yo in tow.
On the way back, we decided to scale the rocky steep path that connects Calanque d'En Vau with the walking track options listed above, and then follow this path back to the Col de la Gardiole, but you can of course, simply follow the same track back as you came in.
Photos from this route: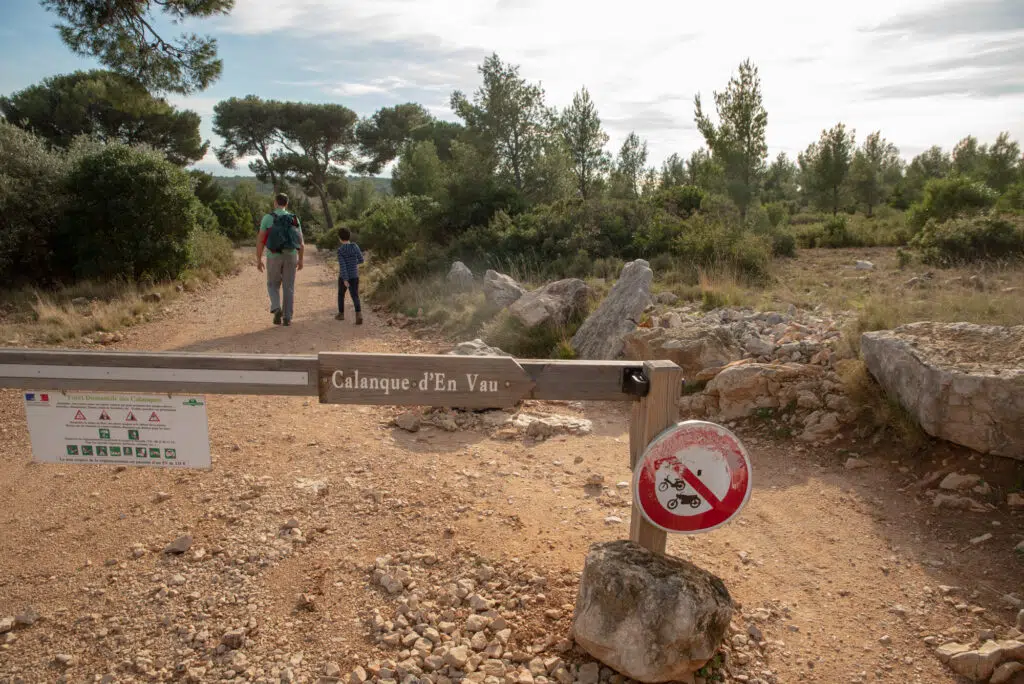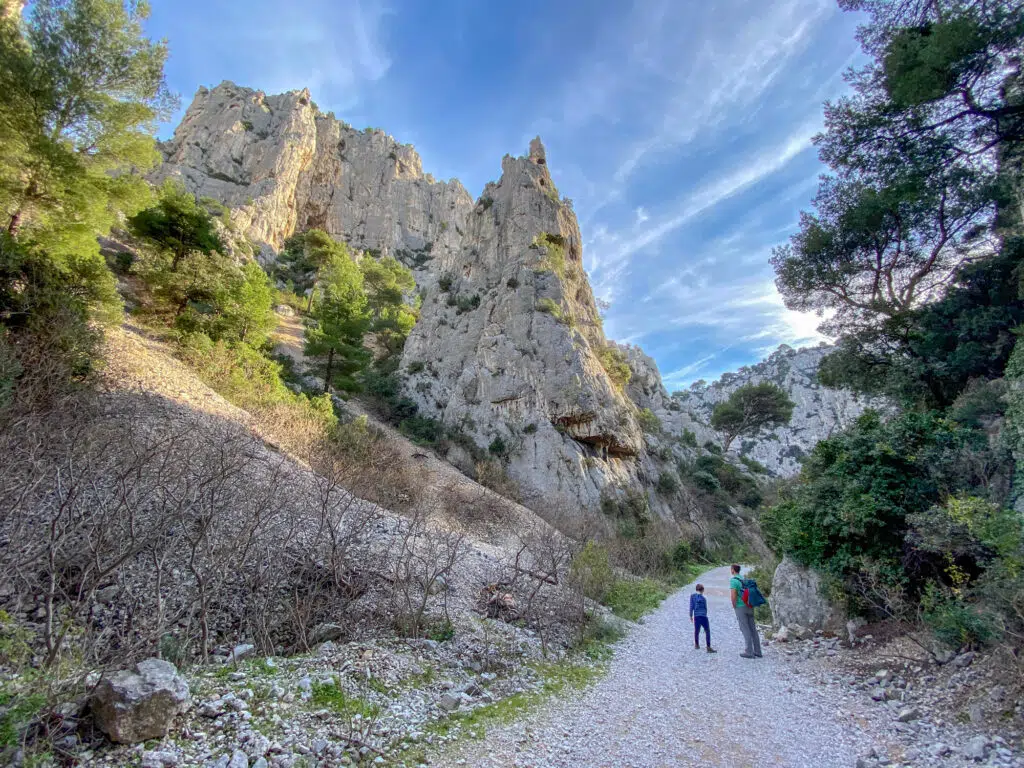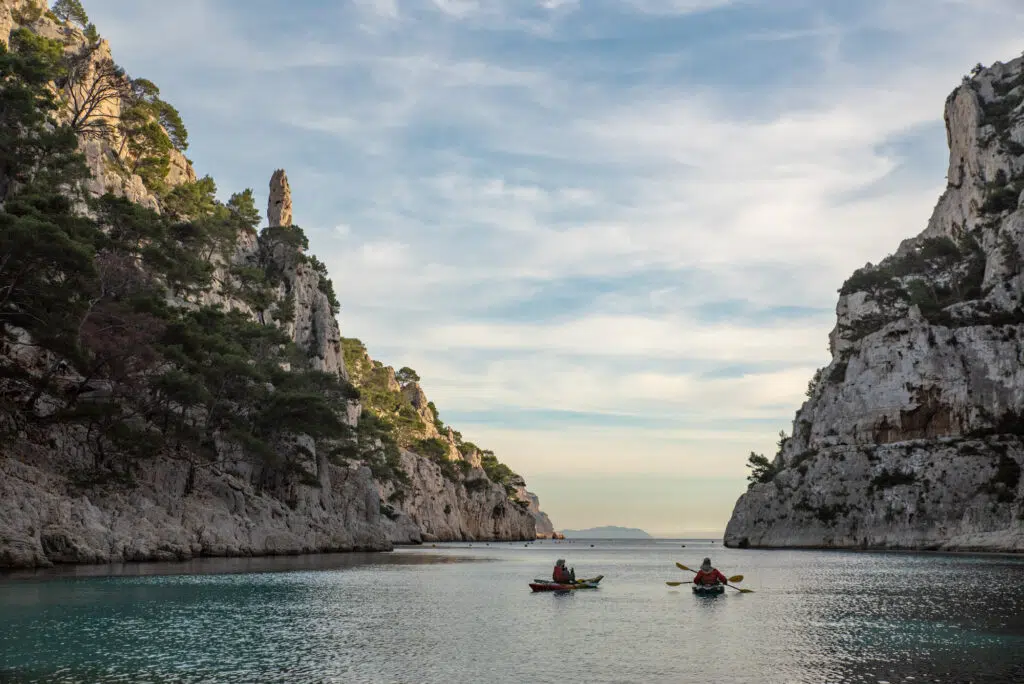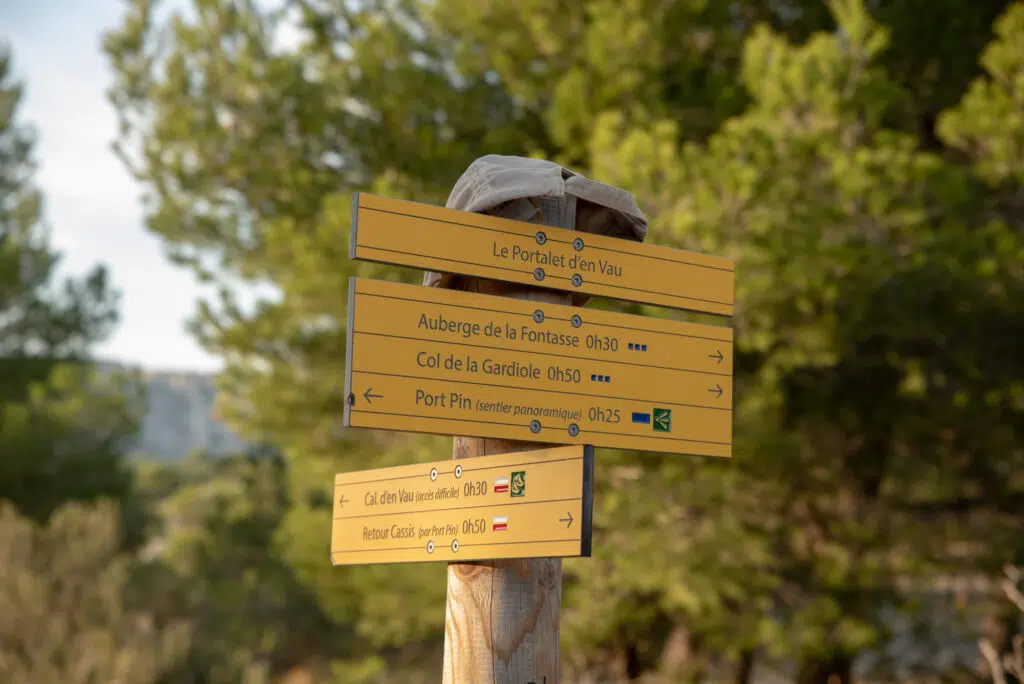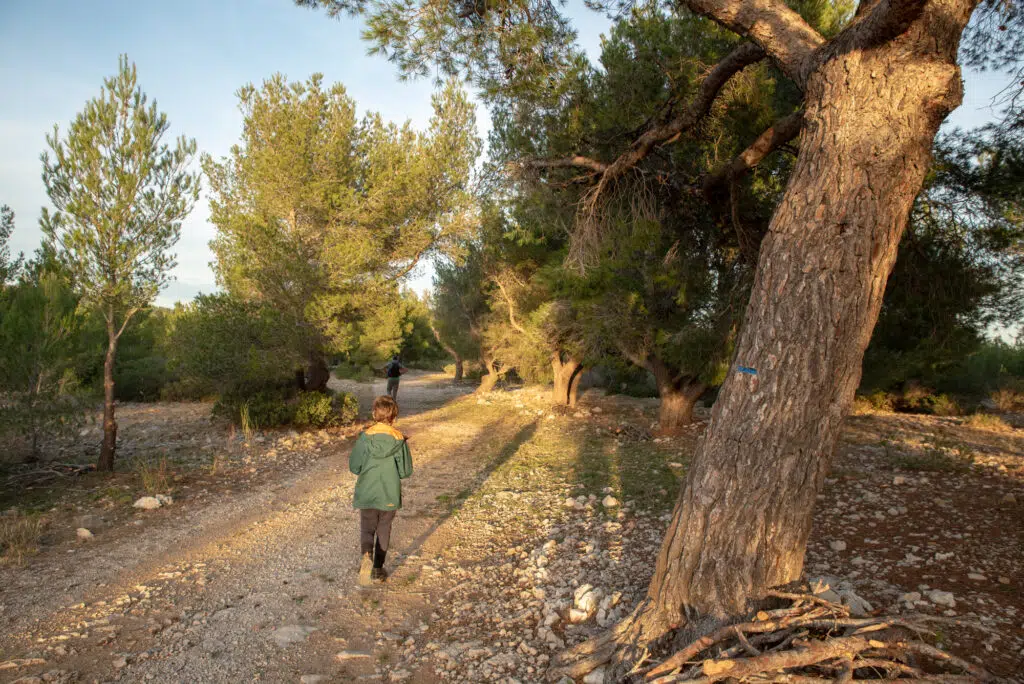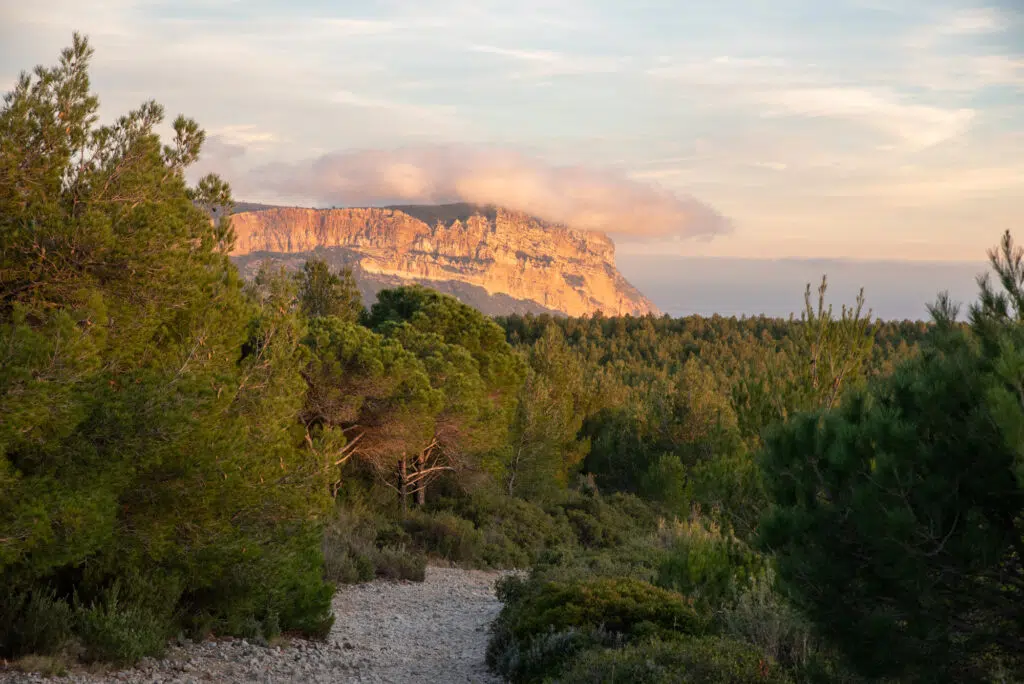 ---
Looking for more Provence travel inspiration? Don't forget to join our free Facebook group Provence Travel Planning!
---
Getting to Calanque d'En Vau via the Sea
Considering the two-hour hike to Calanque d'En Vau, taking to the sea is a valid option for making the trip quicker. Especially if you start at Port Miou.
Option #1 – Kayaking
Kayak Cassis offer half, full day, or weekend kayak rental from Port Miou. I'd recommend taking the day, so you can pull up at any of the beaches, take your time, and discover the intricacies of the cliff walls as you paddle.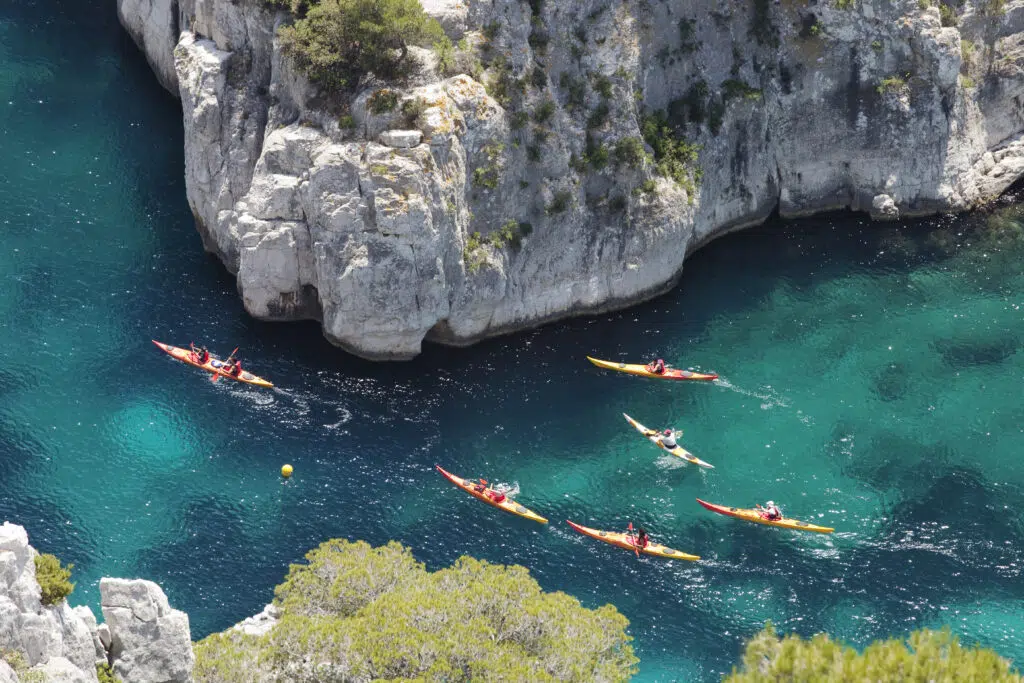 Alternatively, if you're not confident going it alone, you can book a guided kayak tour from Port Miou. Tours last 6 hours, and you'll learn all the local secrets as you go. Learn more and book here.
Option #2 – Boat Trip
If you're not lucky enough to have your own boat, there are plenty of services that will deliver you to Calanque d'En Vau via a scenic ride.
If you don't want to get your feet wet, sightseeing tours leave Cassis regularly. You can choose the length of the tour, and buy tickets at the wooden kiosk on the port. Booking in advance isn't neseccary.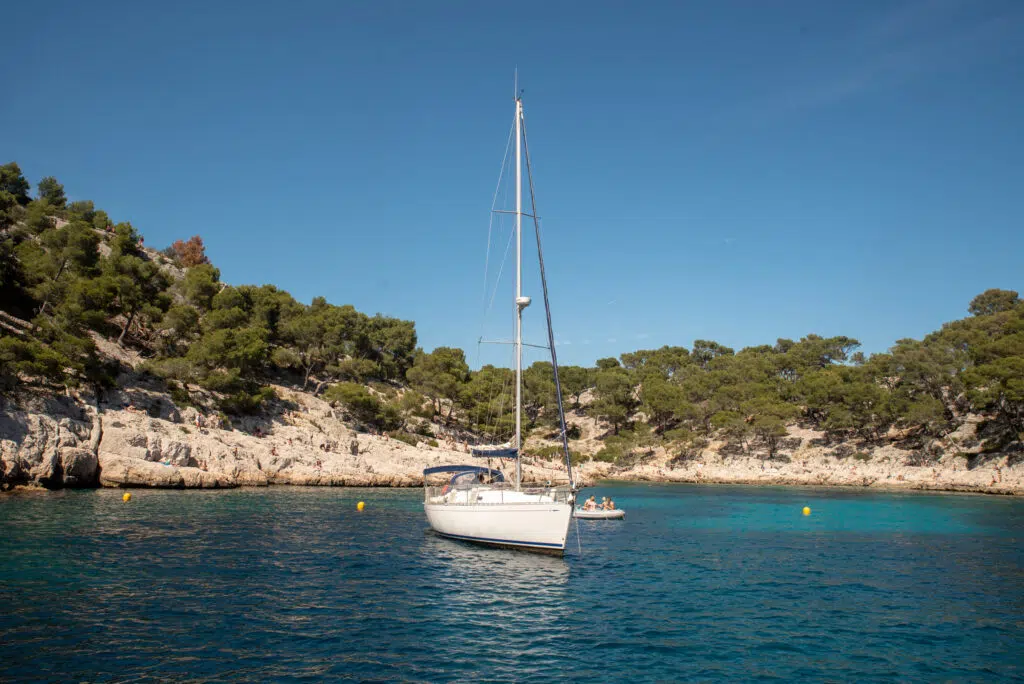 However, these tours don't let you off to swim or spend time at the Calanques, they're simply for sightseeing.
An alternative is to book a boat through a company such as LocBateau. Small boats can be rented without a license for as little as €129/half-day, or €199/day. You can also hire a boat with your own personal skipper, but this option starts in Marseille.
Do note, that boats aren't allowed the full way down Calanque d'En Vau, to make it safer for swimmers.
---
Best View Points Over Calanque d'En Vau
There are several marked trails within the National Park that will lead you to fantastic view points over Calanque d'En Vau. They all require a slight detour to your usual walking tracks.
Belvédère d'En Vau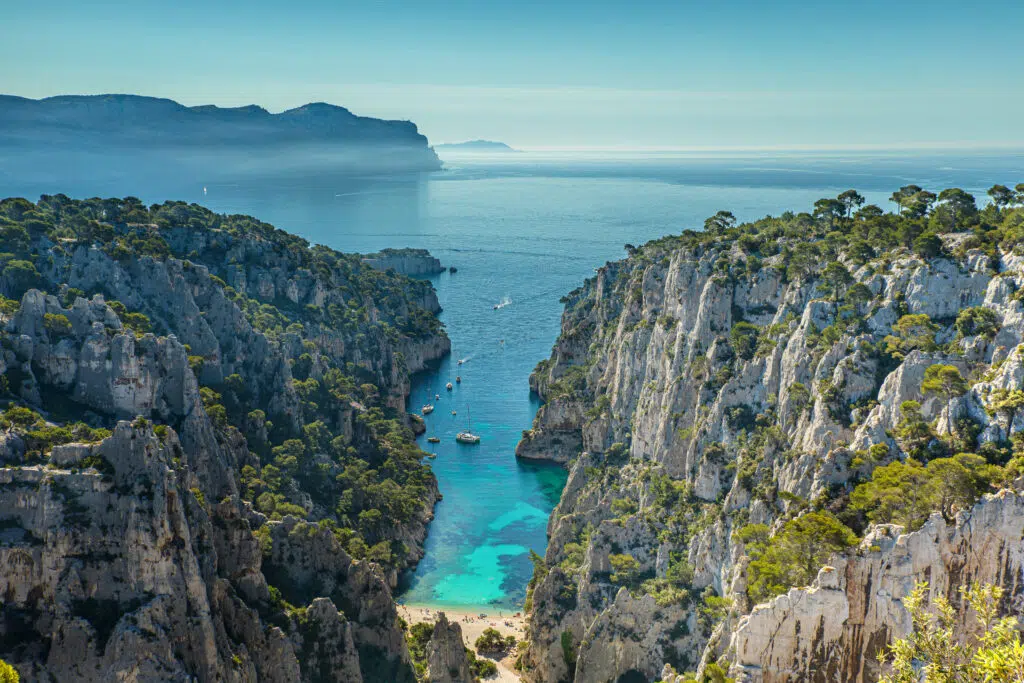 Near the entrance to the Calanque is a trail leading to Belvédère d'En Vau. You can either walk there separately or incorporate it into your hike if you're taking the Col de la Gineste route.
This viewpoint stands at 170m, and takes in both the Calanque d'En Vau and the inaccessible Calanque de l'Oule. It's a fantastic way to achieve a unique vantage point.
Pointe d'En Vau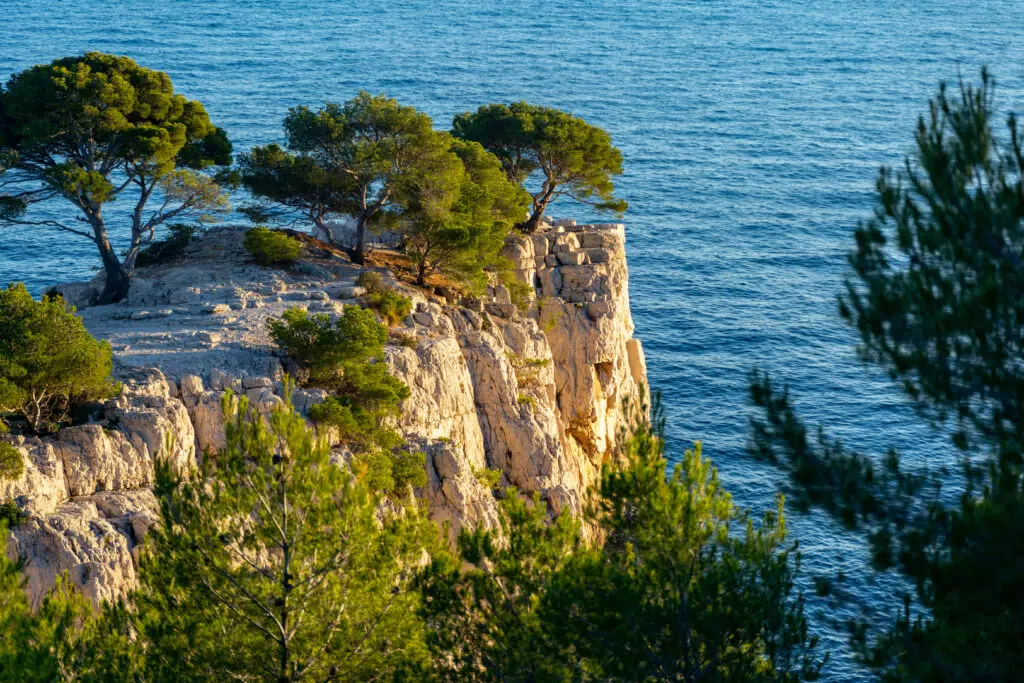 From Port Pin, you can veer left instead of following the trail straight up which will take you around the headland to Pointe d'En Vau.
Here you'll be rewarded with a beautiful view of the Port Pin calanque, and the entrance to Calanque d'En Vau. Follow the coastal trail down the calanque, and you'll eventually end up at viewpoint #3, with plenty of beautiful spots along the way.
Panorama Point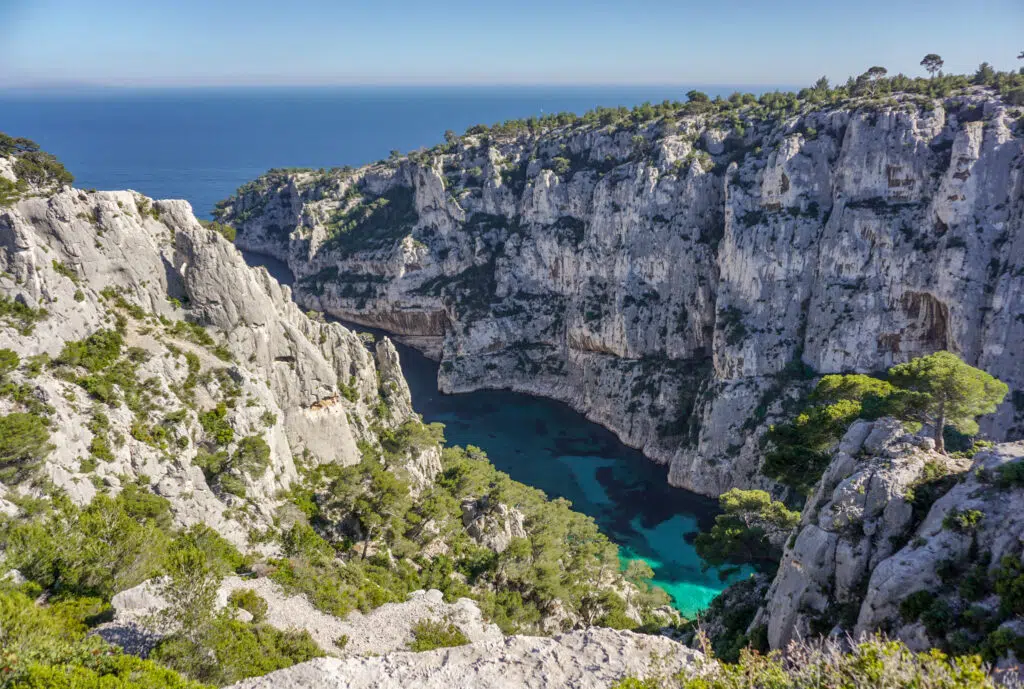 This viewpoint is a short detour from the hike from Port Pin to Calanque d'En Vau.
Before you tackle the final steep descent, take the blue path to your left that indicates a view point. The path cuts through the bush before revealing the amazing jagged cliffs that plunge down into the bright turquoise water.
This is my favourite viewpoint, and one that I always return to.
---
Things to Know Before Hiking to Calanque d'En Vau
In order to make the most of your time in the Calanques National Park, there are a few key things you should take note of before you go.
You'll need to take everything with you that you need for the day, as there are no facilities in this part of the park. There aren't any rubbish bins either, so be sure to bring everything back with you too.
Pack plenty of water, hiking is thirsty work, and there's nowhere to refill your bottle.
Wear appropriate footwear. While it's not uncommon to see some of the locals wearing flip flops etc, it's not advised! The rocks are very slippery in places and having a good grip on your shoes makes it a little easier to navigate.
Sanglier (wild boar) are sometimes seen in the park. Just remain calm and don't approach them, they're generally pretty timid around humans.
Due to the steep walls, the beach at Calanque d'En Vau is in shade in the early afternoon. It's preferable to get there early to enjoy the sunshine. Then you can walk back to Port Pin mid-afternoon as the sun hangs around this beach a lot longer.
Dogs are permitted but must be kept on a leash.
In the summer months, the park may be closed due to the risk of wildfires.
The beach is best enjoyed in the off-season and during the week. In the hottest months & on weekends and holidays, it can get very busy.
---
I hope you'll use this guide to visit Calanque d'En Vau on your next trip to Provence! It's most definitely one of the most incredible natural attractions in the area, and it's sure to leave a lasting impression.
Further Calanques related reading:
– Visiting the Calanques National Park – A Complete Guide
– Hiking Calanques de Cassis with Kids
– Hiking to Calanque de Sugiton in Marseille, France
Pin this for later!