The vibrant and edgy city of Marseille is often a visitor's first port of call when arriving in the South of France, and it welcomes them with an understated attractiveness. Glistening shorelines contrast with grungy backstreets to create a city full of surprise. And the Airbnbs in Marseille are no exception.
From stunning seaside villas to a cosy hideaway in the authentic Le Panier district, we've rounded up the top Marseille Airbnbs to save you time and trouble. And as locals, you can trust our recommendations on the best areas to stay in Marseille.
Are Hotels more your style? Be sure to read our post on the top hotels in Marseille too.
This article may contain affiliate links. See our full disclosure here.
---
Top Marseille Airbnbs for Every Taste & Budget
The best things to do in Marseille are centred around the Vieux Port and the central city, so it makes sense that most of the top Airbnbs in Marseille are located here too.
But if a quieter escape is more your style, never fear, our recommendations also include Marseille Airbnbs by the sea, or hidden away in the outer suburbs with easy access into the city.
MARSEILLE SEAFRONT CABANON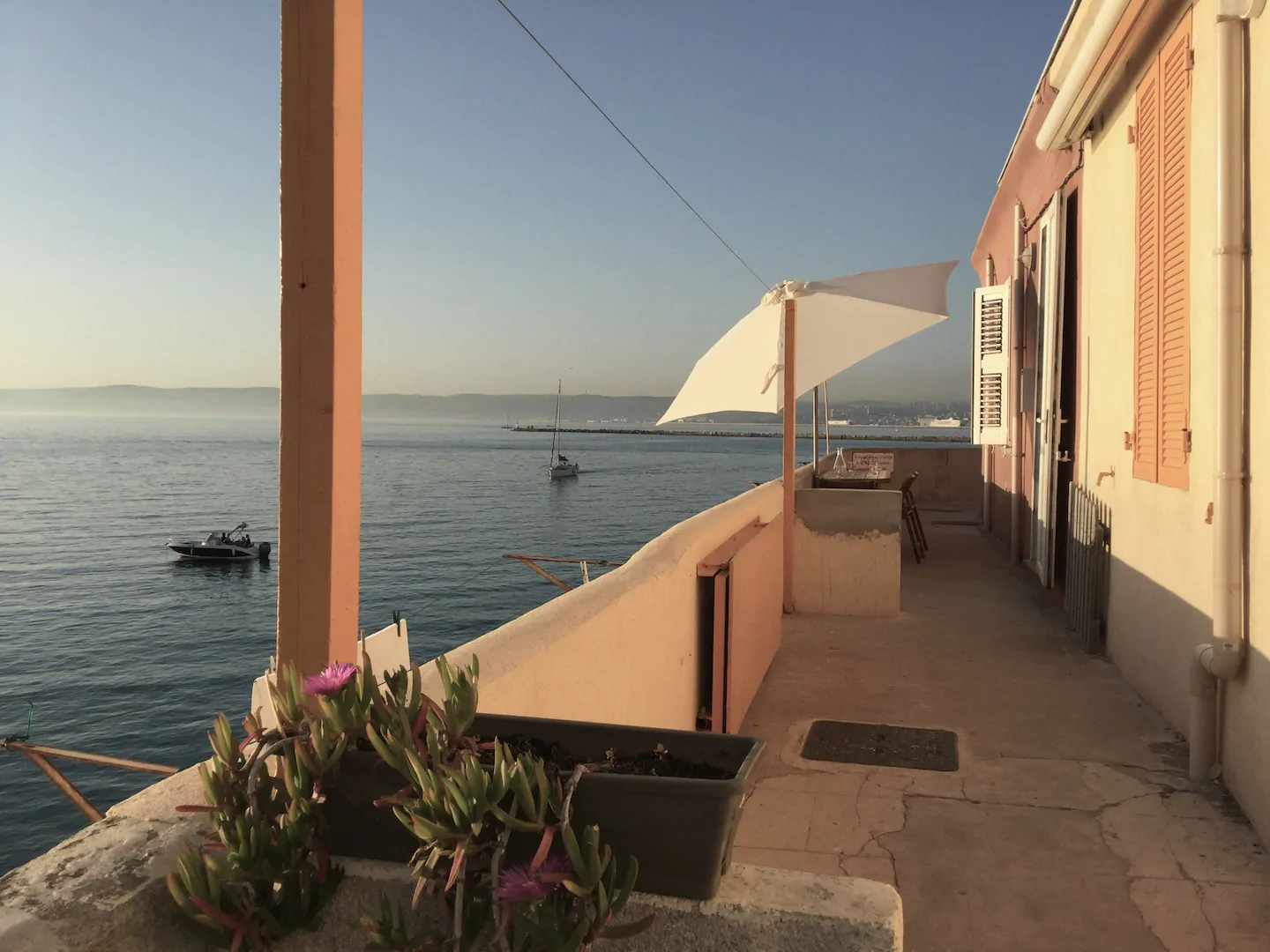 Ideally located between sea and city, this beautifully restored Marseille cabanon offers incredible views from every window.
The one-bedroom abode can house 4 guests and the indoor/outdoor living means there's enough room to spread out.
Enjoy breakfast on the seafront terrace before heading out to explore for the day. Then come back to grab your towels and take a refreshing dip in the sea at day's end. You won't find a better spot to enjoy the sunset in Marseille.
Key Features: Seafront location, laundry facilities, air-conditioning, full kitchen, beach equipment.
What the guests are saying: "Such a lovely space in a truly outstanding location. The view is to die for from any window, and Adrien is the kindest host."
View More Photos & Check Availability Here
---
MODERN AIRBNB MARSEILLE VIEUX PORT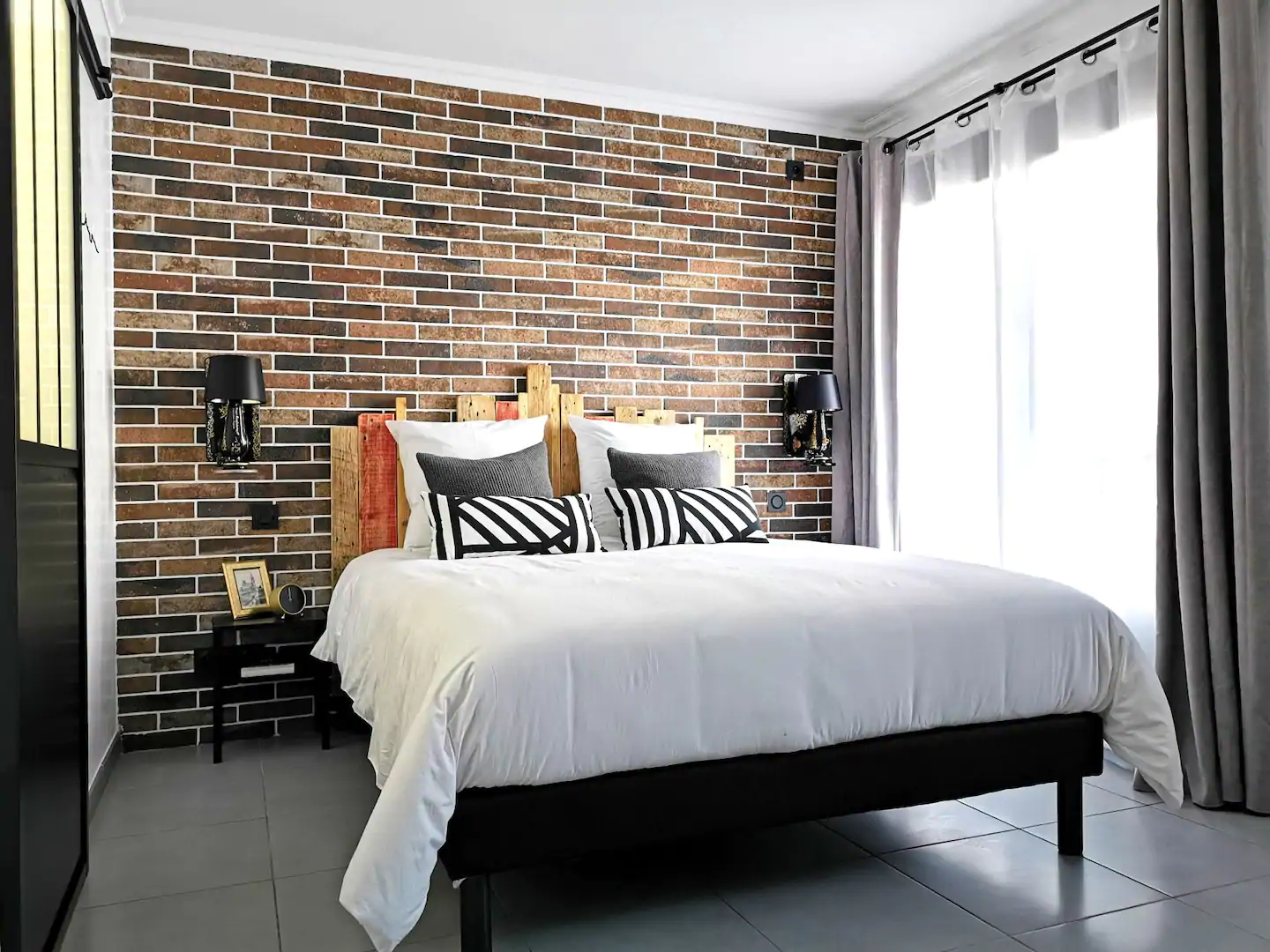 If being central to the action is high on your list of priorities, this 1-bed studio in the heart of Marseille's Vieux Port is sure to impress!
With hotel comfort and Airbnb conveniences, the industrial style studio has been thoughtfully decorated to appeal to discerning travellers.
Take advantage of the location to discover Marseille's bustling port, visit the daily fish markets, or take a ferry out to the Château d'If which awaits just off-shore.
Business travellers will be able to walk to their meetings and take advantage of the dedicated workspace in the apartment. This Marseille Airbnb is a winner on all fronts!
Key Features: Hotel quality bedding, kitchenette, air-conditioning, central location, elevator.
What the guests are saying: "Amazing location 30 seconds from the port, very modern interior and great amenities."
View More Photos & Check Availability Here
---
TOWNHOUSE WITH POOL & GARDEN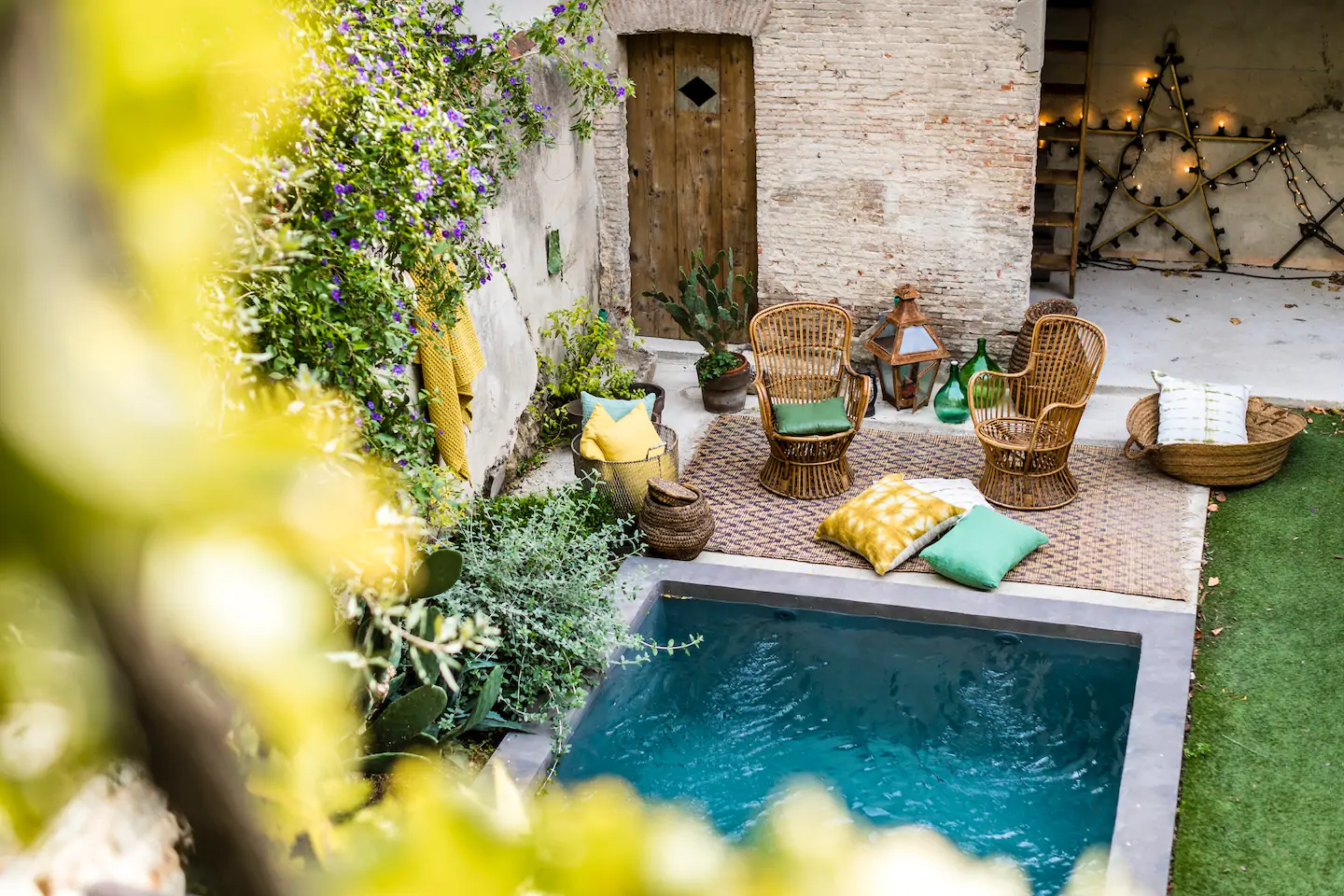 If you're travelling to Marseille as a family, or with a group, you absolutely cannot pass up the opportunity to stay at this bohemian-feeling apartment in Marseille.
Ideally located for both seaside escapades and city adventures, this Marseille Airbnb also very conveniently comes with free on-site parking. Not that you'll want to venture far from the comforts that greet you within!
Featuring 4 bedrooms (all with double beds), a private garden, pool, and a terrace with a view to the Notre-Dame de la Garde, you'll live like a local in this spacious house.
Equipped with everything you'll need for the duration of your stay, additional features include a movie projector, full kitchen, multiple living areas, and even an independent studio!
Key Features: 4 bedrooms, 3 bathrooms, pool, garden, free parking, baby equipment, BBQ and patio.
What the guests are saying: "This is the most wonderful space you can think of. An absolute dream of a "house" from which you can live like a true Marseillais."
View More Photos & Check Availability Here
---
LE PANIER AIRBNB WITH UNBEATABLE VIEWS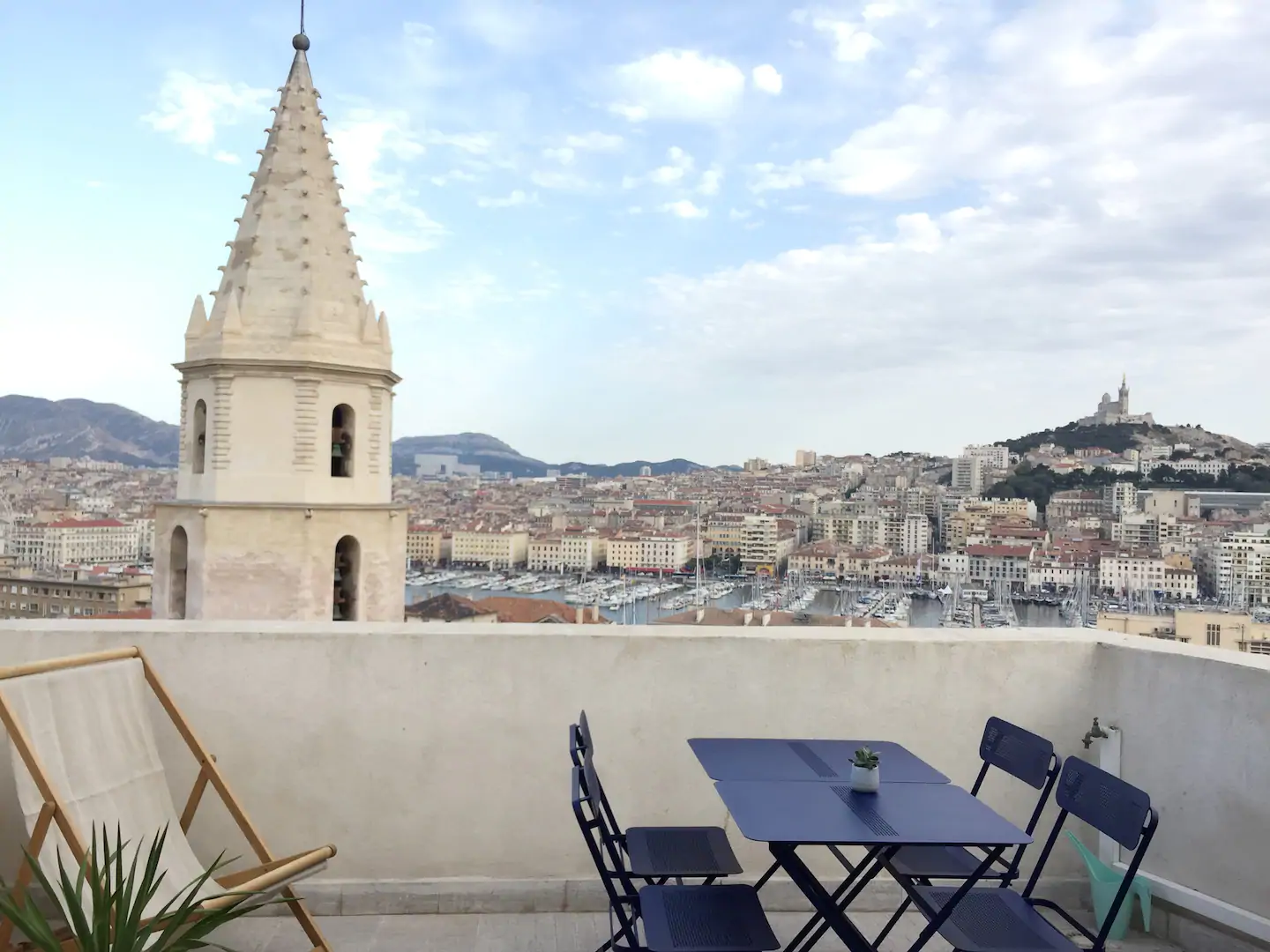 With simply decorated interiors, this 2 bedroom Airbnb in the historic Le Panier district is all about the views! Boastfully advertised as the most beautiful terrace in Marseille, it'd be hard to find a better vantage point for taking in France's second city.
Bathed in sunlight, and housed in a historic building in one of Marseille's most famous districts, this loft offers an authentic experience for those wanting to feel the pulse of the city.
Featuring a kitchenette and dining area, the apartment is compact, but the 12sqm terrace gives the illusion of spaciousness. It's also very affordable for a central stay.
Key Features: 2 bedrooms, large terrace, views, kitchenette, affordable, central location.
What the guests are saying: "Beautiful apartment! We stayed for a week and could have stayed far longer."
View More Photos & Check Availability Here
---
Looking for more Provence travel inspiration? Don't forget to join our free Facebook group Provence Travel Planning!
---
AIRBNB IN THE ICONIC VALLON DES AUFFES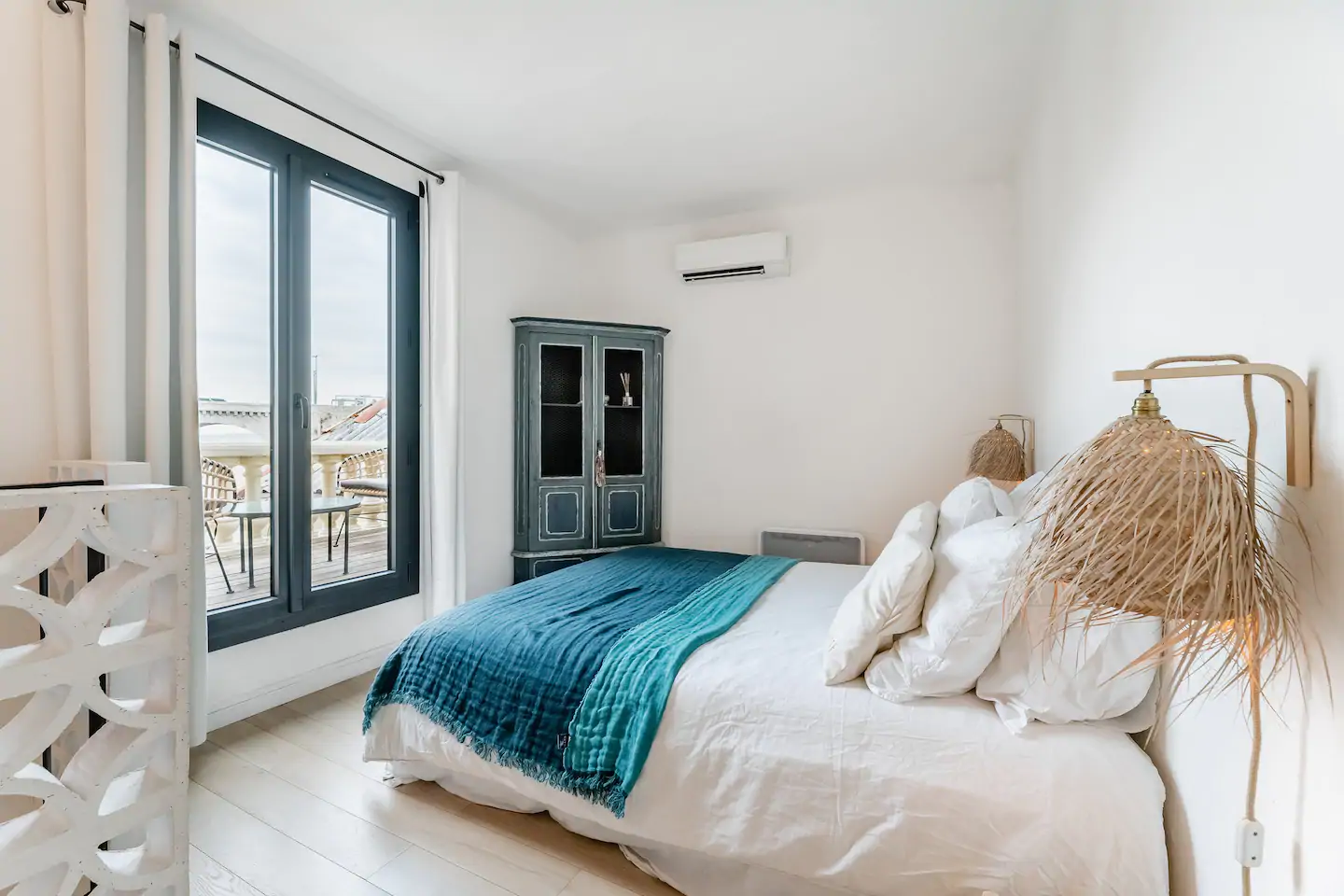 Positioned in a prime spot overlooking the iconic Vallon des Auffes, this cosy 1 bedroom Airbnb in Marseille will deliver the ideal conditions for a relaxing getaway.
Suitable for a couple, the private terrace is perfect for romantic dinners and sunset drinks. Inside, you'll find a light & bright bedroom with adjoining bathroom. Downstairs, an inviting living area awaits with a full kitchen so you won't have to venture out to eat.
However, if you do, be sure to book a table at Chez Fonfon which is just around the corner. It's renowned for having the best bouillabaisse (local fish stew) in Marseille!
Key Features: Spacious terrace, views, central location, walk to local swimming spot and beaches, beautiful interiors, air-conditioning.
What the guests are saying: "Beautiful home, beautiful view and great location. Everything was perfect."
View More Photos & Check Availability Here
---
LARGE & LIGHT AIRBNB IN LE VIEUX PORT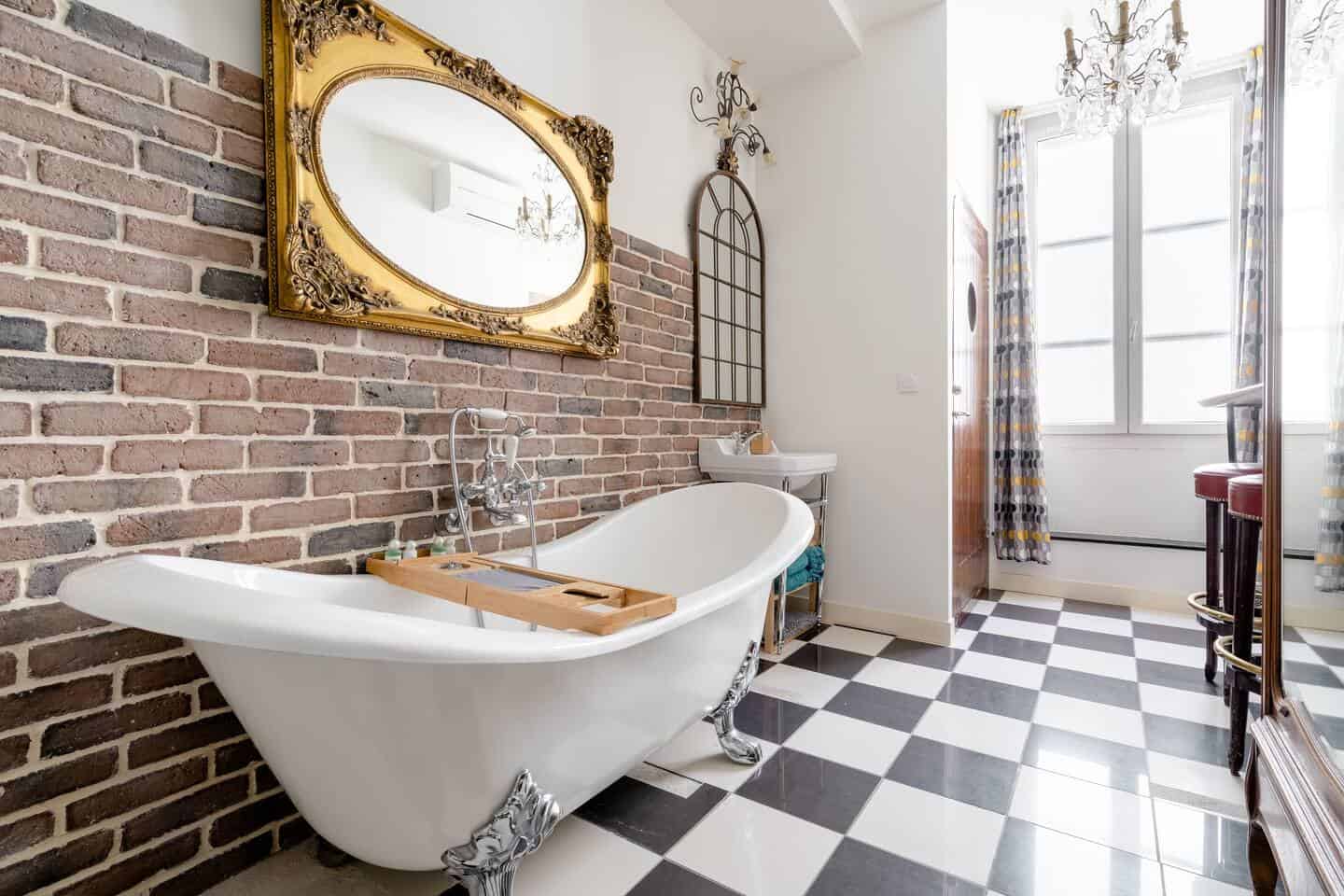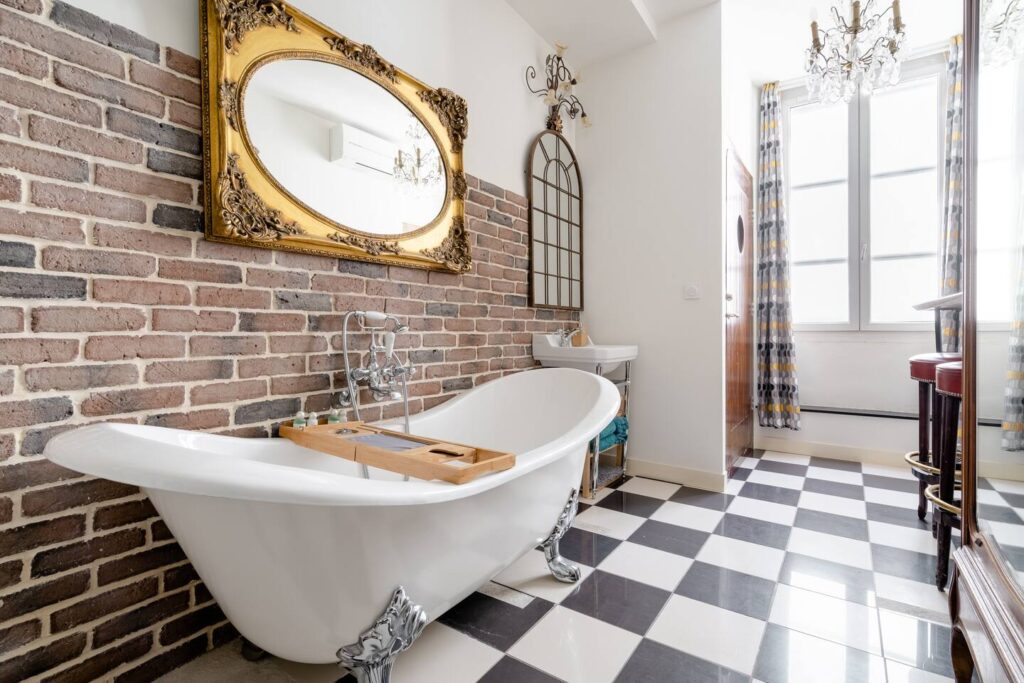 As an Airbnb plus property, you can be assured every attention has been given in this stunning 2 bedroom, 2 bathroom apartment in Marseille's Vieux Port.
Featuring details such as a claw foot bath, chandeliers, full kitchen, two separate dining areas, a study, and a petite but impossibly charming balcony, you'll never want to leave.
But when you do manage to pull yourself away, you'll find everything you want within easy walking distance. Treat yourself to a stay in this luxurious Marseille apartment which offers so much more than a typical hotel room for the same price.
Key Features: 2 spacious bedrooms, 2 full bathrooms, balcony, views, central location, hotel-like furnishings, air-conditioning.
What the guests are saying: "The character of the old world, with all the modern comforts of the new world, seamlessly merged together."
View More Photos & Check Availability Here
---
RUSTIC SEASIDE CABIN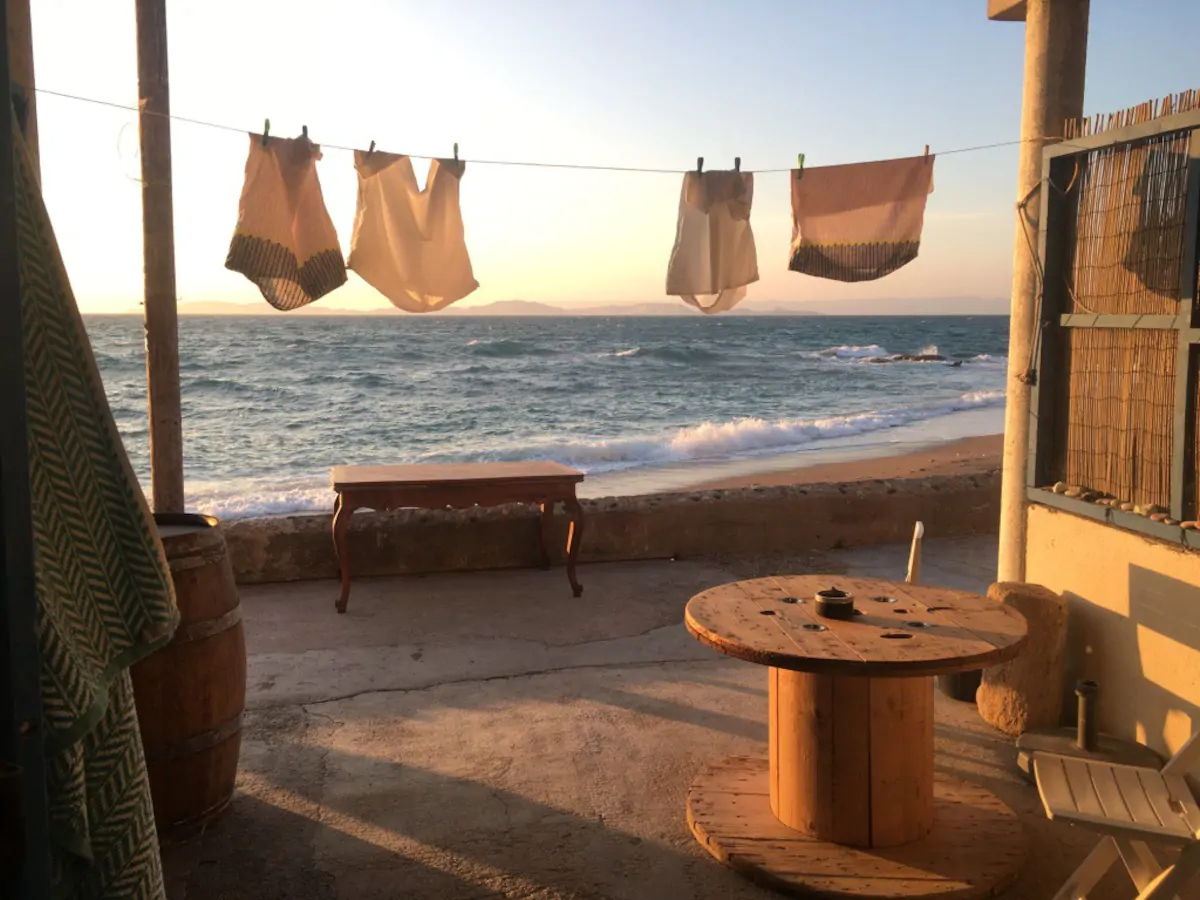 When you book this seaside accommdation in Marseille, you are literally staying on the beach. You can't get any closer!
The 2-bed hideaway is a converted fisherman's hut, and comes complete with a nautically themed interior. At only 20sqm, it's a cosy stay, but the sea before you provides an endless vista.
Located outside of the city centre, directly on Plage de l'Anse des Sablettes (you can read more about Marseille beaches, including this one, here), this is a retreat for those who enjoy the buzz of beach life, waking up with the gulls, and the simple pleasures of a spectacular setting in nature.
Key Features: Beachfront location, free parking nearby, kitchen and washing machine, BBQ.
What the guests are saying: "Charlotte's place is very fisherman's chic. It's a beautiful place to soak up the solitude and spend a few days by the sea..."
View More Photos & Check Availability Here
---
LARGE MODERN MARSEILLE AIRBNB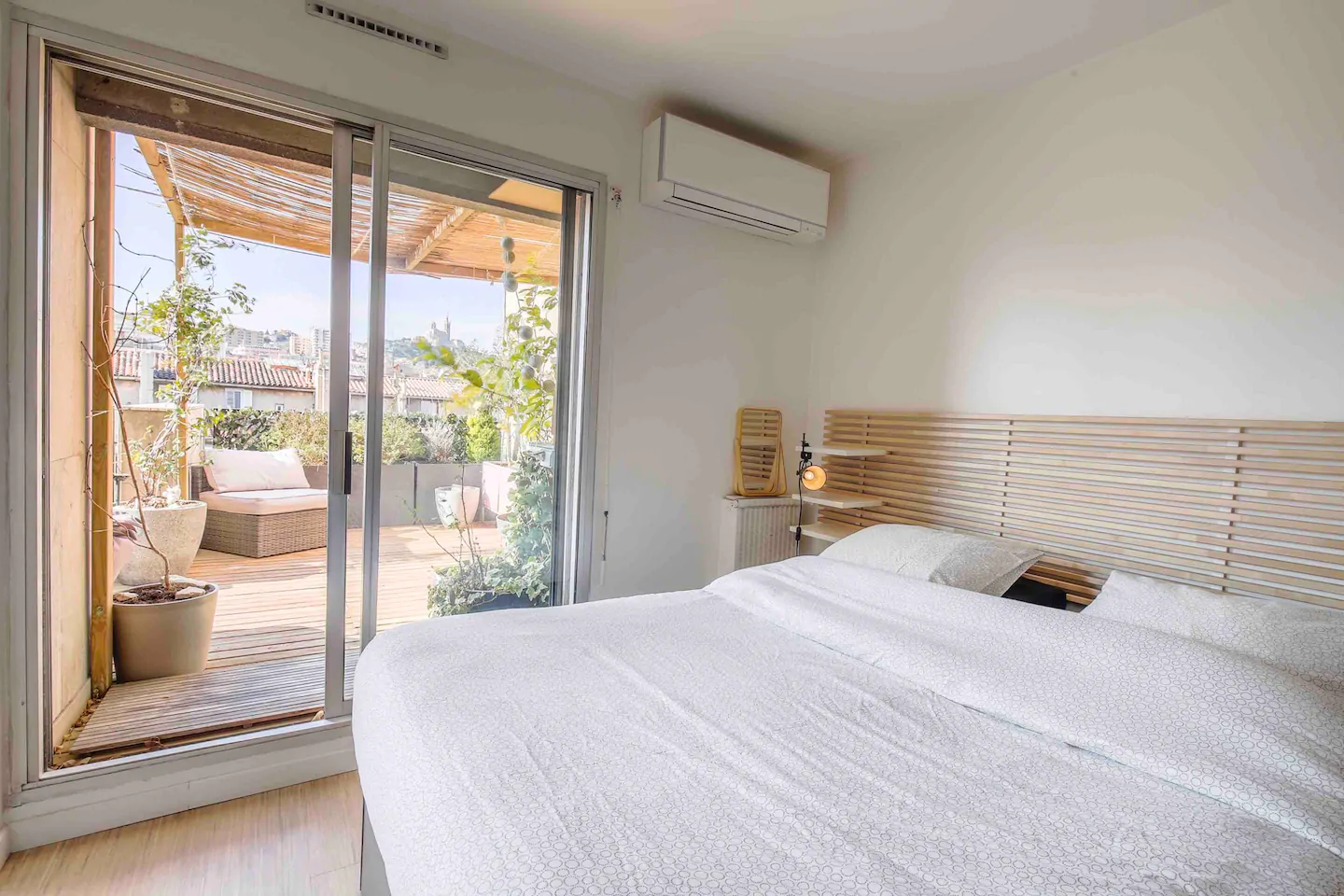 Large, light and airy describes this modern accommodation in Marseille. Close to transport links, and with parking available (at a modest fee per night), you'll be able to make the most of the city and its surroundings.
The 1 bedroom apartment sports a large terrace with views to the Notre-Dame de la Garde and beyond. With its stylish interior, modern fixtures, and welcoming environment, it's not hard to see why it has received impeccable reviews.
What's more, this host offers airport pickups, guided tours and boat trips, making your stay even more enjoyable and stress-free.
Key Features: Large terrace with views, modern interior, air-conditioning, full kitchen, parking available (fee applicable).
What the guests are saying: "Beautiful apartment in a perfect location. Everything was great."
View More Photos & Check Availability Here
---
SPACIOUS HOUSE WITH SEASIDE POOL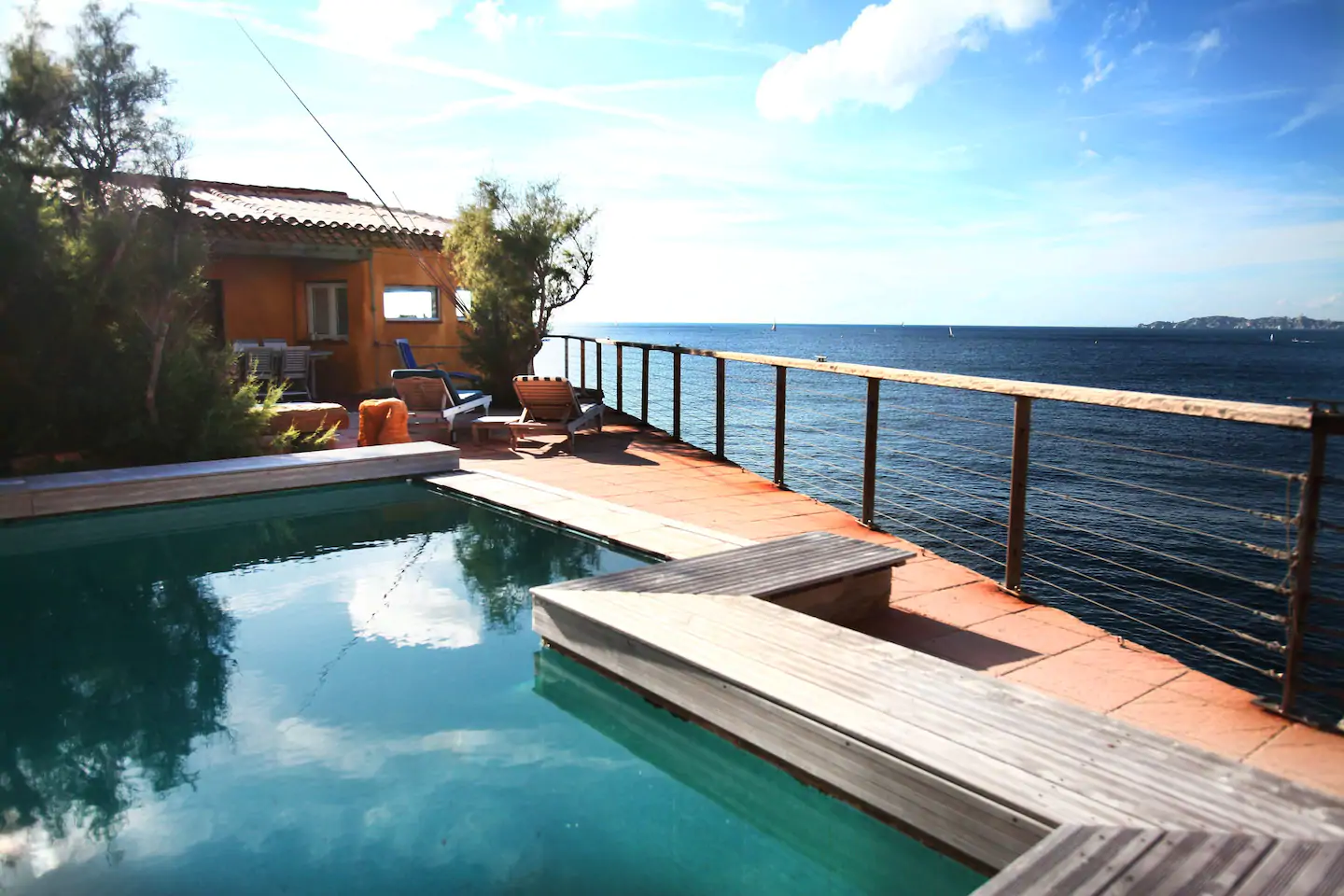 What this Marseille airbnb lacks in size, it more than makes up for with its sea views, Mediterranean garden and saltwater pool!
Located in the 8th arrondissement, it is situated on the craggy coast that connects Marseille to the 'end of the world' in Les Goudes. Perfect for those who want to relax in a calm environment after spending their days exploring the city, beaches, or nearby Calanques National Park.
In the evenings you'll enjoy a dip in the seafront pool, cooking pizzas in the built-in pizza oven and dining on the terrace. Don't let this unique property pass you by!
Key Features: 2 bedrooms, saltwater pool, seafront location, outdoor kitchen, large garden, beach gear, and free parking.
What the guests are saying: "Wow what a wonderful place to stay. So beautiful and restful with the best views in Marseille."
View More Photos & Check Availability Here
---
MODERN MARSEILLE AIRBNB WITH VIEWS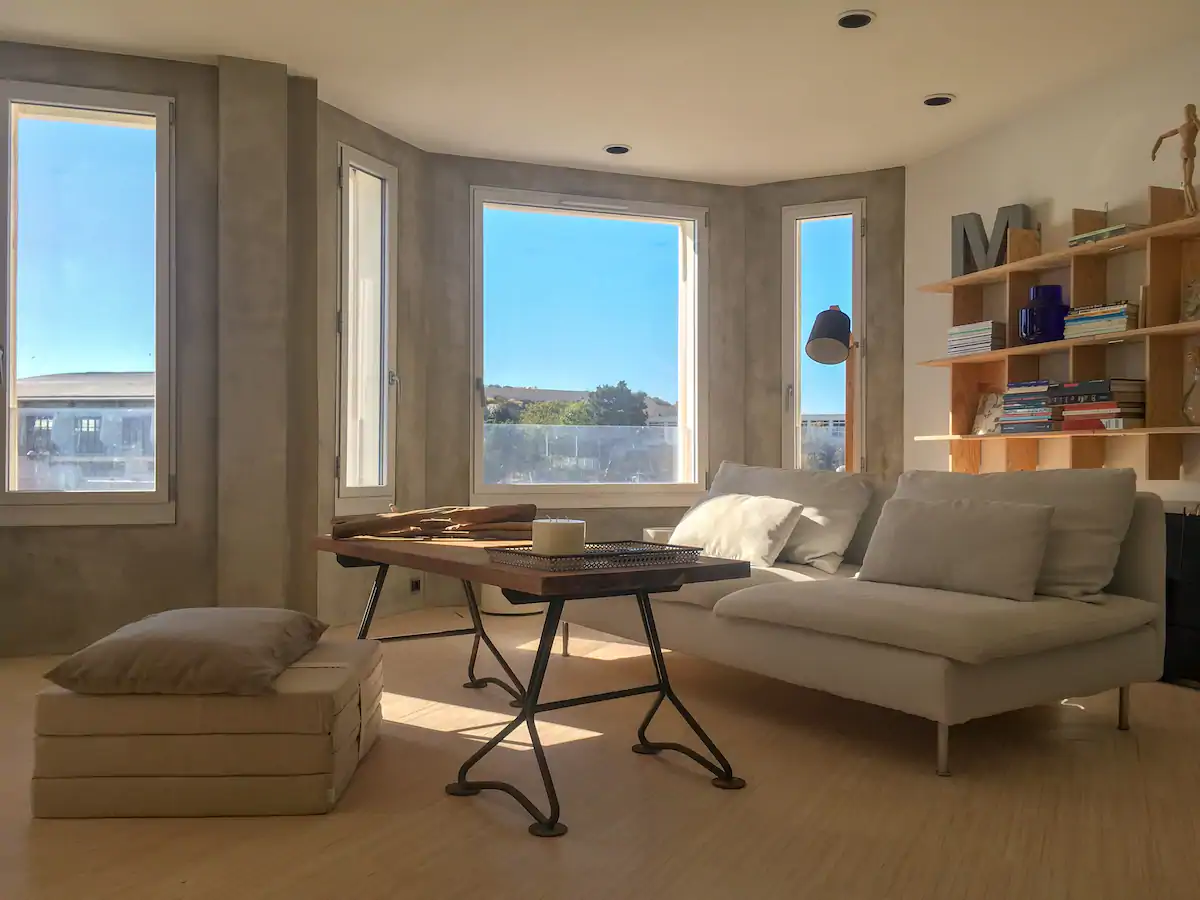 If you want a tranquil retreat to come home to after a day exploring Marseille, this one-bedroom apartment is the place for you.
Close to everything, and yet with a serene outlook over the beach and sea, it's ideal for rambling walks along the waterfront, city adventures, and day trips via the public transport links nearby.
Spacious and thoughtfully decorated, you'll feel at home immediately. Wake up to sea views from your bed, and end the day with an apéro on the beach.
Key Features: 1 bedroom, spacious layout, sea views, laundry facilities, elevator, full kitchen.
What the guests are saying: "Best place to stay in Marseille! Lovely apartment, with a magic view!"
View More Photos & Check Availability Here
---
MODERN APARTMENT IN THE OLD TOWN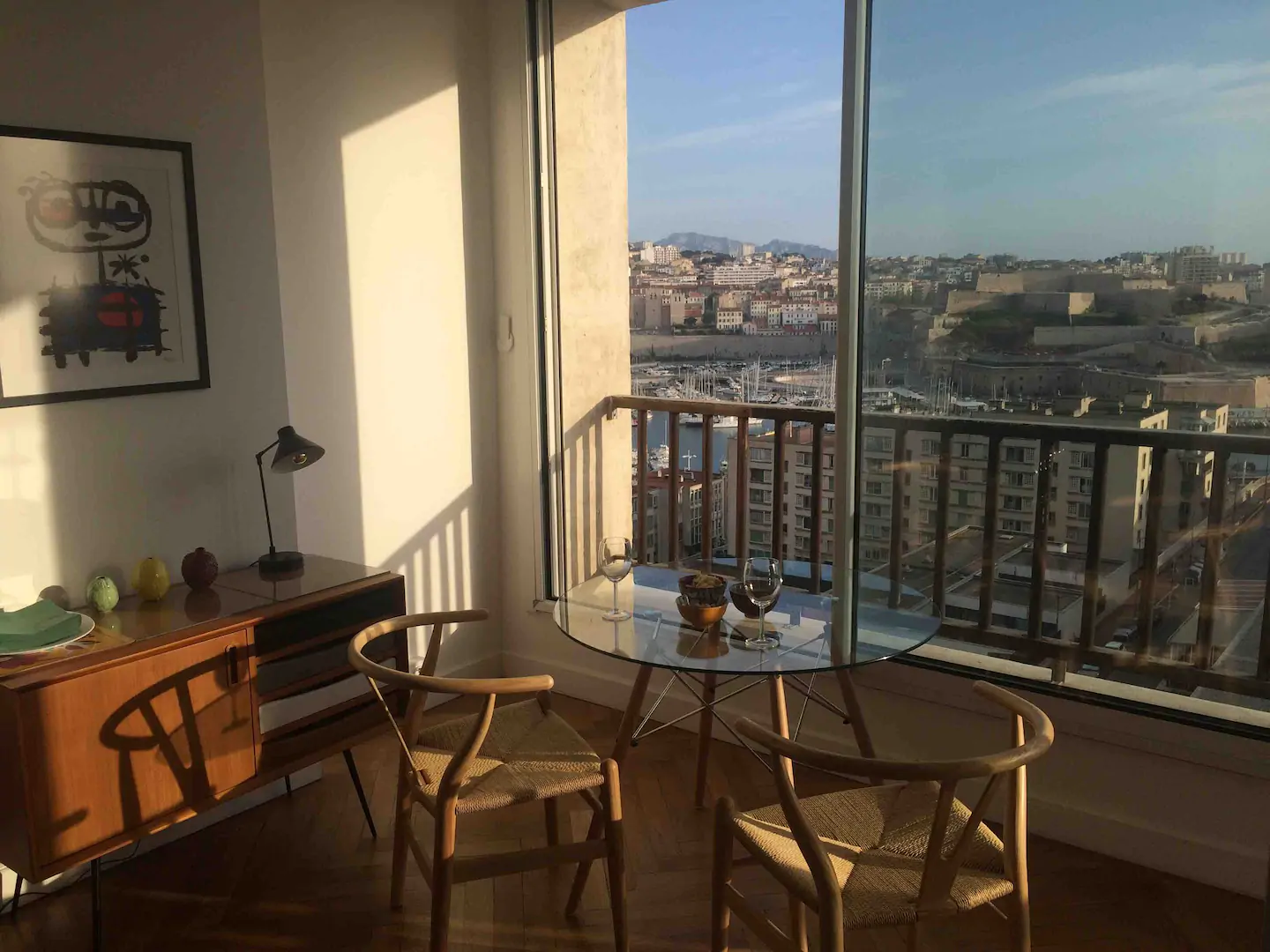 Ideally positioned to make the most of the Marseille cityscape, this newly renovated apartment has all the modern conveniences you need, while being decorated with an upmarket retro twist.
Enjoy the views from this 10th-floor abode (access with an elevator), then come down to ground level and you'll be immersed in the colourful cacophony that is Le Panier district. Marseille's oldest district, it's here you'll find the real flavour of the city among the vibrant streets.
At the end of the day, you can cook yourself a meal in the equipped kitchenette, throw open the window to take in the sights and sounds of the city below, and sink into a comfortable king-sized bed.
Key Features: City views, central location, kitchenette, parking on-site (paid), elevator.
What the guests are saying: "Highly recommended. Amazing view of Marseille, and a really stylish, cool, modern studio."
View More Photos & Check Availability Here
---
VILLA WITH JACUZZI ON THE WATERFRONT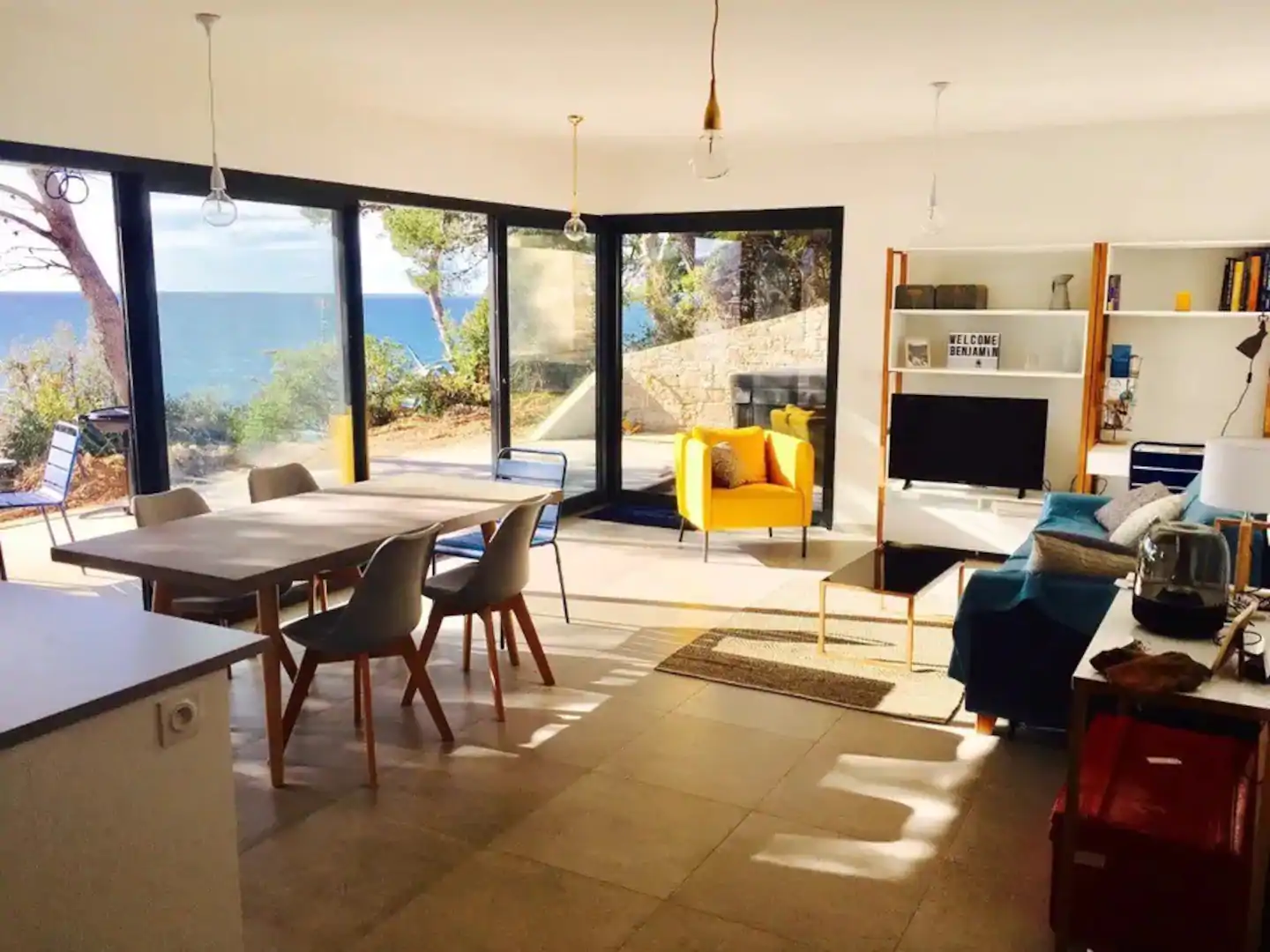 An excellent choice for families, this airbnb is situated in the hill above the main corniche in Marseille, close to transport links (bus), some of the best family-friendly beaches in town, as well as parks and playgrounds.
The modern villa comes equipped with everything you'll need to enjoy your stay, such as underfloor cooling, a jacuzzi, onsite parking, and four separate beds – so you can configure sleeping spaces to how they best fit you.
The full kitchen will be a joy to cook in, but if you want to eat out, you've got a choice of eateries available within a short distance. Alternatively, fire up the BBQ and enjoy dinner with a view!
Key Features: 2 bedrooms, 1.5 bathrooms, jacuzzi, BBQ, parking, air-conditioning, views, and modern appliances.
What the guests are saying: "This property will not disappoint. It is a beautiful home with a truly breath-taking view of the ocean and coastline."
View More Photos & Check Availability Here
---
CHARACTER FILLED AIRBNB IN VIEUX PORT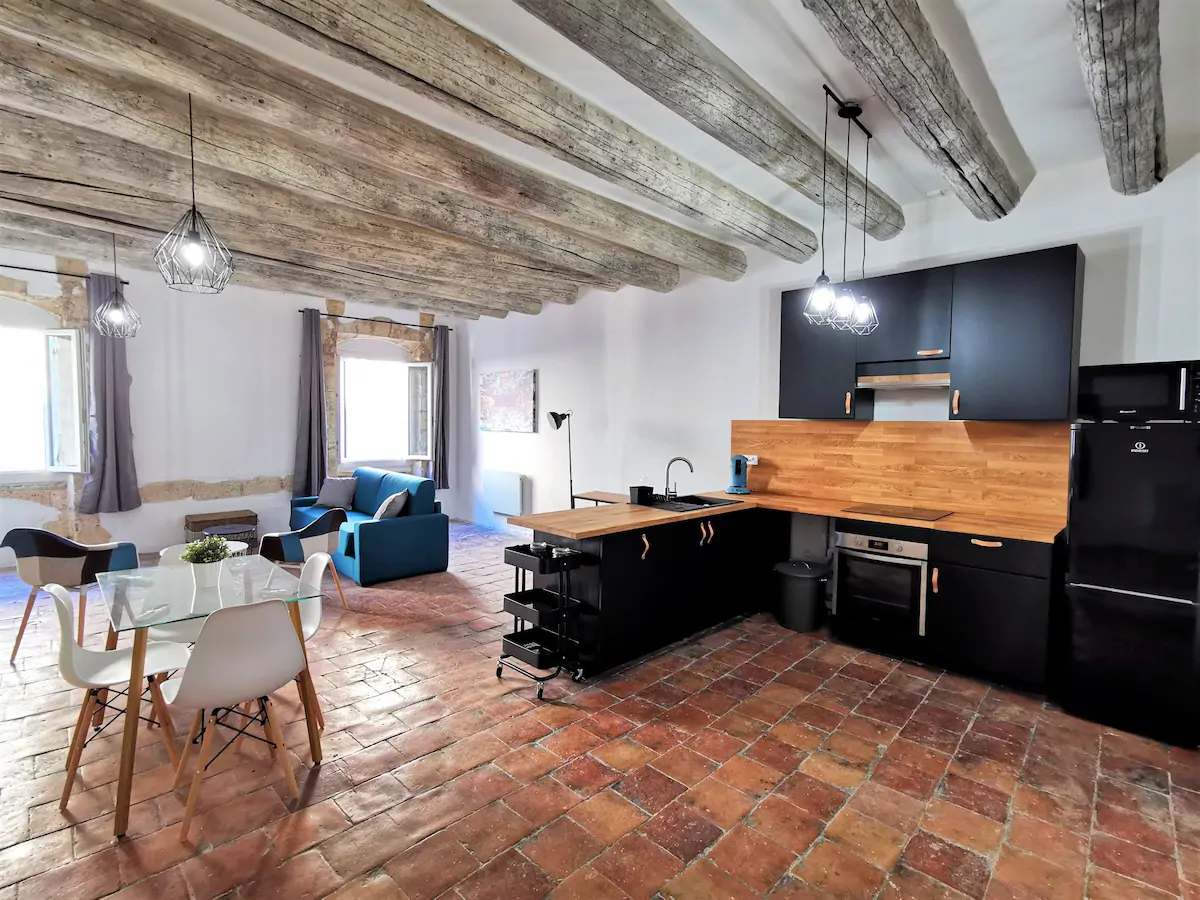 Super spacious for a 1-bed apartment, this contemporary airbnb in Marseille can very comfortably accommodate up to 4 guests. With design features including exposed beams and terracotta tiles, yet with modern appliances and furniture, this apartment merges the two styles effortlessly.
Settle in for a longer stay and you'll appreciate the Vieux Port location, the proximity to the city centre, and the transport links nearby.
Key Features: Character property, one bedroom + sofa bed in lounge, full kitchen, central location.
What the guests are saying: "Amazing flat and the location is perfect. Highly recommended."
View More Photos & Check Availability Here
---
VALLON DES AUFFES AIRBNB WITH PARKING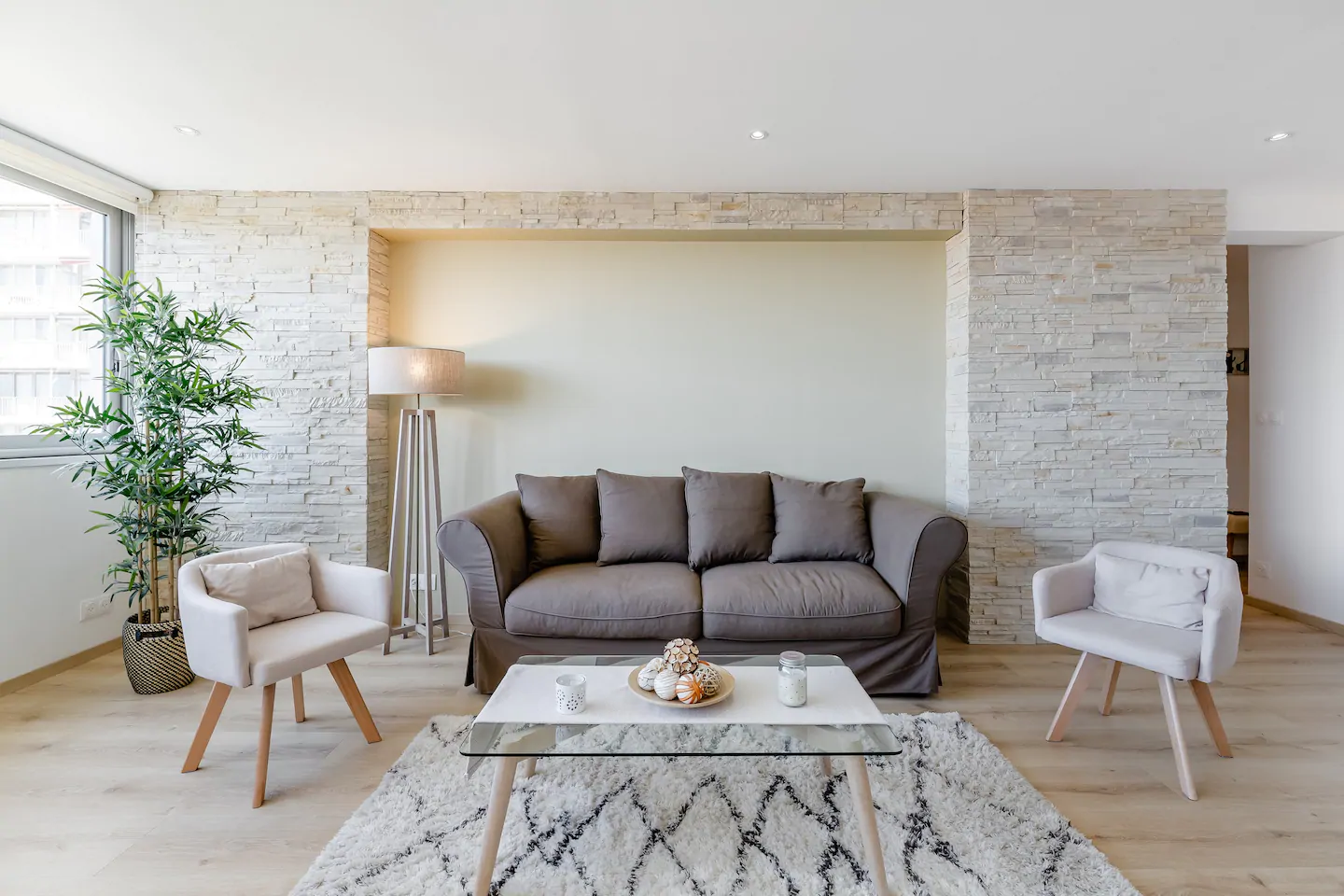 The Vallon des Auffes is a small fishing port known for its charming setting and authentic feel. Located just outside the city centre, it benefits from a more serene environment, yet you're just a stone's throw from some of the main sights in Marseille.
Located overlooking the port and surrounding areas, this modern apartment would make a stunning base for a couple, or small family looking for a comfortable place to stay in Marseille.
Walk to neighbouring beaches, restaurants and the old port, or take advantage of the free parking space to bring your car and explore further afield. There's everything you need to enjoy your stay in Marseille to the fullest!
Key Features: 1 bedroom + sofa bed, free parking space, full kitchen, central location, stunning views.
What the guests are saying: "The ideal place to base yourself to see everything you need, Provence, Les Calanques, Cassis, Marseille. And even a short stroll down to a lovely fishing village with nice restaurants and a swim area you can enjoy car, and care-free!"
View More Photos & Check Availability Here
---
"LITTLE MALMOUSQUE" ON THE SEA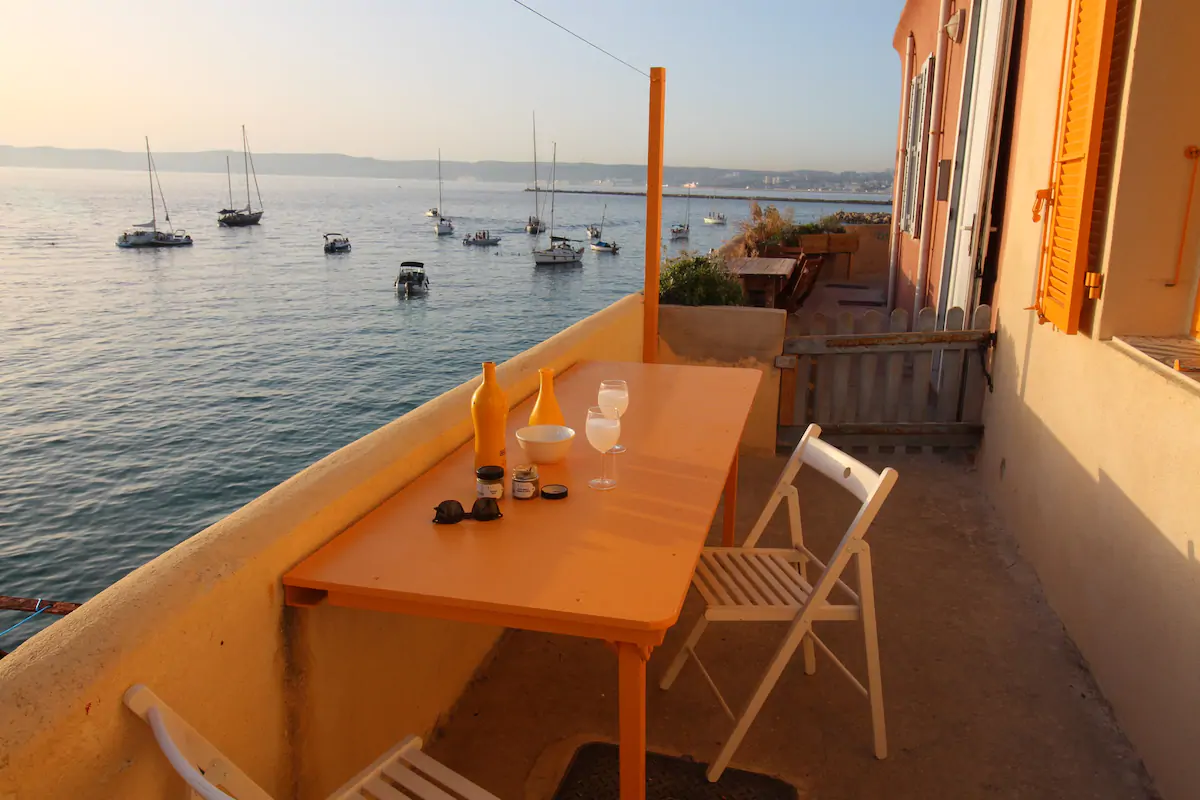 A rustic exterior belies the modern interior of this 1-bed studio on the waterfront. Recently renovated, it sports a functional kitchen, Provençal tiles throughout, a compact bathroom, and a cosy dining area.
But it's outside that the magic happens. Opening directly onto the azure blue mediterranean sea, you'll be lured out at first sight. Take advantage of the proximity to swim, sunbathe Marseillais-style on the rocks, and take a walk waterside.
Ideal for a single or couple, you'll find it's extremely affordable for such an enviable location.
Key Features: Great location, sea views, modern interior, baby equipment, kitchen, outdoor dining.
What the guests are saying: "Fantastic place!!! Amazing view, very cosy cabanon! And a great flexible host. A need to visit."
View More Photos & Check Availability Here
---
---
You can't go wrong when booking any of the above Airbnbs in Marseille. The hard part will be choosing which one to book! If however, your choice is unavailable, don't despair, there are plenty more lovely places to stay in Marseille, simply search the map below.
---
Pin this for later!