Fairy-tale castles dusted with snow, twinkling tree lights and the spicy scent of mulled wine greet you in Copenhagen at Christmas. Winter wonderlands await around every corner, with large doses of good cheer and the cosiness of hygge in quaint cafes. Rug up, sip hot chocolate and stroll the streets to browse through glittering shops, stop at outdoor skating rinks and pop into fascinating museums.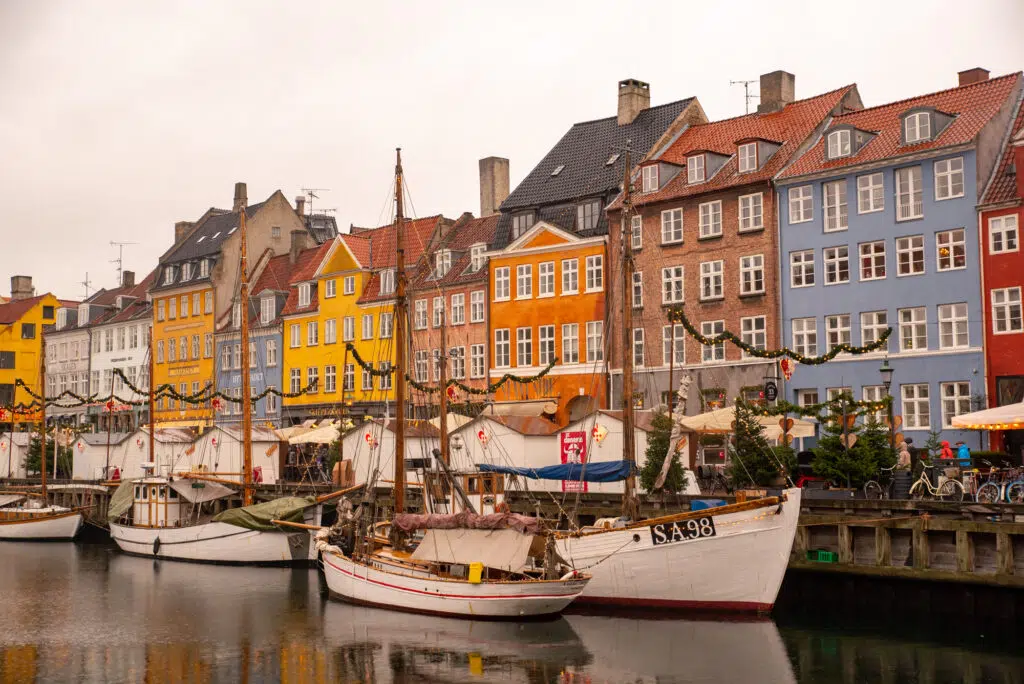 The whole month of December is a celebration in Denmark at Christmas. From extravagantly decorated buildings to scrumptious street stalls and glittering parades, festival vibes ring through the snowy air. At the top of most travel wish lists are visits to the best Christmas markets in Copenhagen. But that's not all, as you'll also stroll glamorous shopping streets to thrill even die-hard shopaholics.
Leave plenty of room in your suitcase, however, pack your festive spirit for a magical Copenhagen winter break.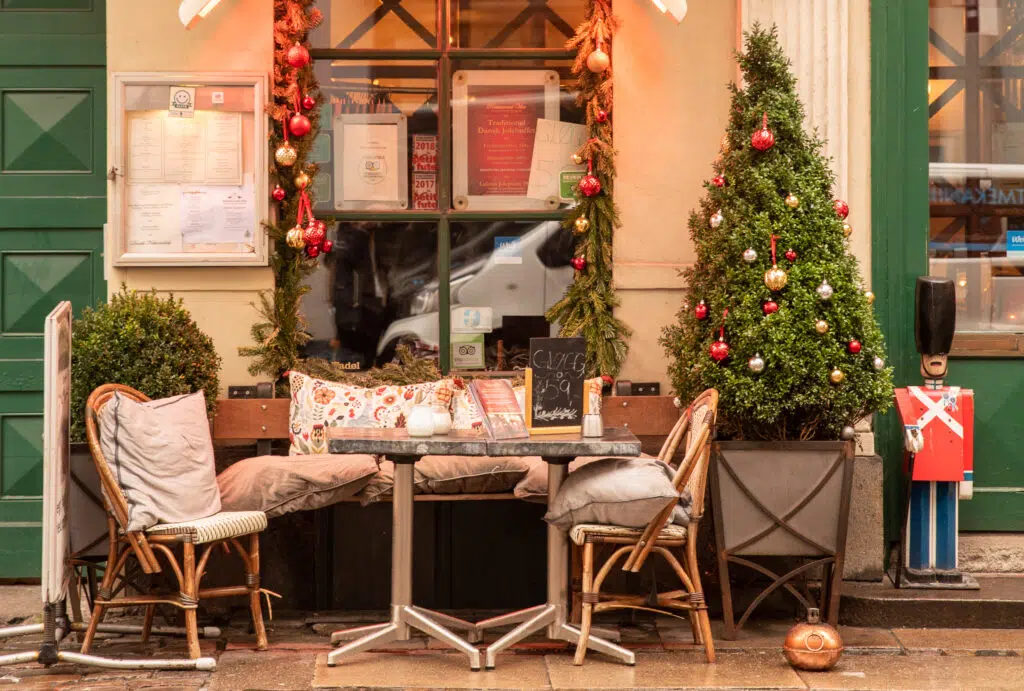 ---
Christmas Markets in Copenhagen
You'll find plenty of goodies to fill Santa stockings while joining in with the city's enchanting traditions at Copenhagen Christmas markets. Here's a sneak peek at some of the city's dazzling best.
Nyhavn Christmas Market
Follow your nose to baked treats along Copenhagen's most famous harbour at the Nyhavn Christmas Market. Rows of colourful buildings form a spectacular backdrop at any time of year, especially as Hans Christian Andersen once lived and wrote fairy tales in a few of them. Decked out with lights, lined with bursting stalls and vibrant with live music, Santa season adds a new level of magic.
Pick up a cup of mulled wine and meander along the cobbled pathways with your camera at the ready. Stuff your bags full of handcrafted cards, exquisite decorations and cosy hats. When you've explored all the stalls along the canal, find a perfect perch at a restaurant or cafe to soak it all up.
Tivoli Gardens Christmas Market
Danes love it when the Tivoli Christmas markets kick off the season and locals flock to the beloved amusement park to stock up on decorations at traditional stalls. Transformed by millions of lights and visited regularly by Santa, you'll step straight into a fairy tale at every turn.
Thousands of litres of gløgg, otherwise known as mulled wine, is enjoyed each year at the Tivoli alone. To go along with it, æbleskiver are consumed by the millions as everyone shops for Christmas gifts. Half pancake, half doughnut, the delicious little bites are dipped in jam and coated in icing sugar before they're devoured with relish.
Kongens Nytorv Christmas Market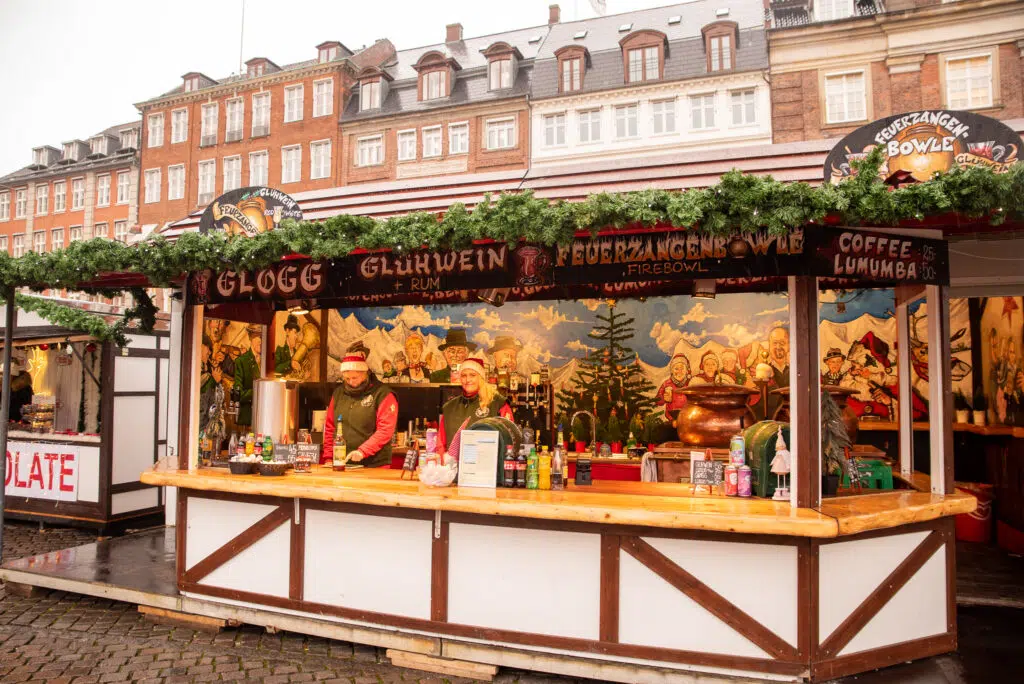 Located in the heart of the city centre, Kongens Nytorv, otherwise known as Kings New Square, was constructed in 1908. It's flanked by the Royal Theatre, the D'Angleterre Hotel and the Magasin department store which display some of the most spectacular Christmas lights in Copenhagen.
You'll smell the sausages and pastries long before you hit the quaint wooden stalls to buy gifts, apple punch and gorgeous baubles. Naturally, Santa makes appearances for photos at scheduled times, and you're never far from the sounds of enthusiastic Christmas carollers.
Højbro Plads Christmas Market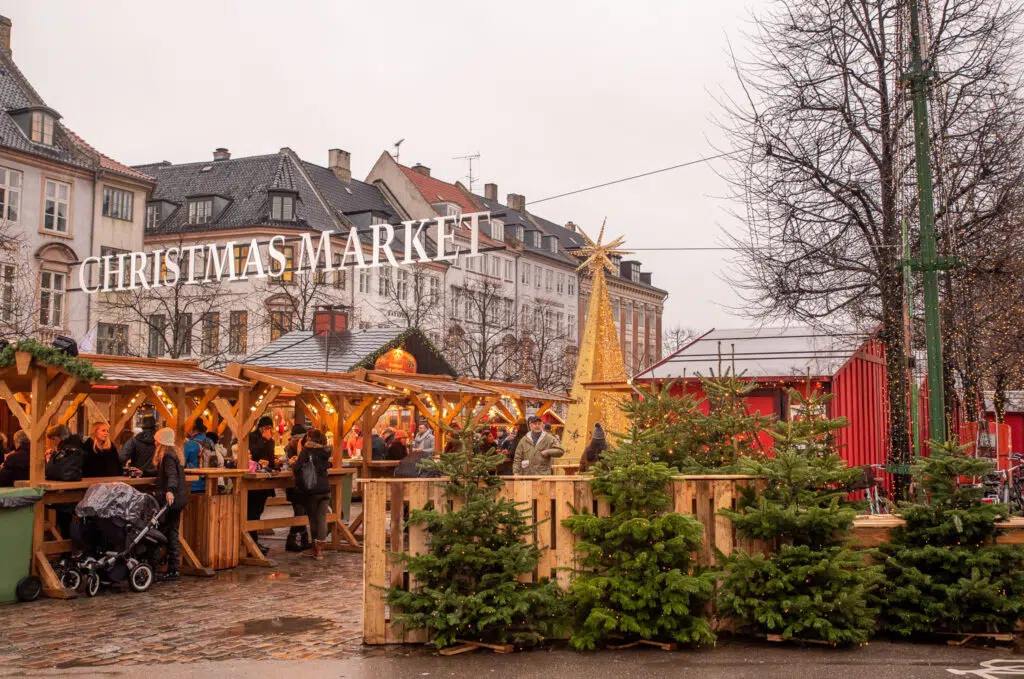 Featuring the equestrian statue of the founder of the city, Bishop Absalon, Højbro Plads square is transformed during Copenhagen Christmas holidays. Thousands of sparkling lights join Santa's sleigh and reindeer, while the smell of roasted almonds wafts through the air. You'll meet naughty pixies and Santa himself as you stuff your bags with goodies at this shopper's paradise.
Flids Christmas Market
When you're looking for unique craftsmanship, designer goods and creative, original gifts, Flids Christmas Market is calling your name. Located in the multicultural area of Nørrebro, local artisans and designers display their graphics, textiles, wood carvings, lighting designs and jewellery for your buying pleasure. There's a strong focus on sustainable items and future trends.
Christiania Christmas Market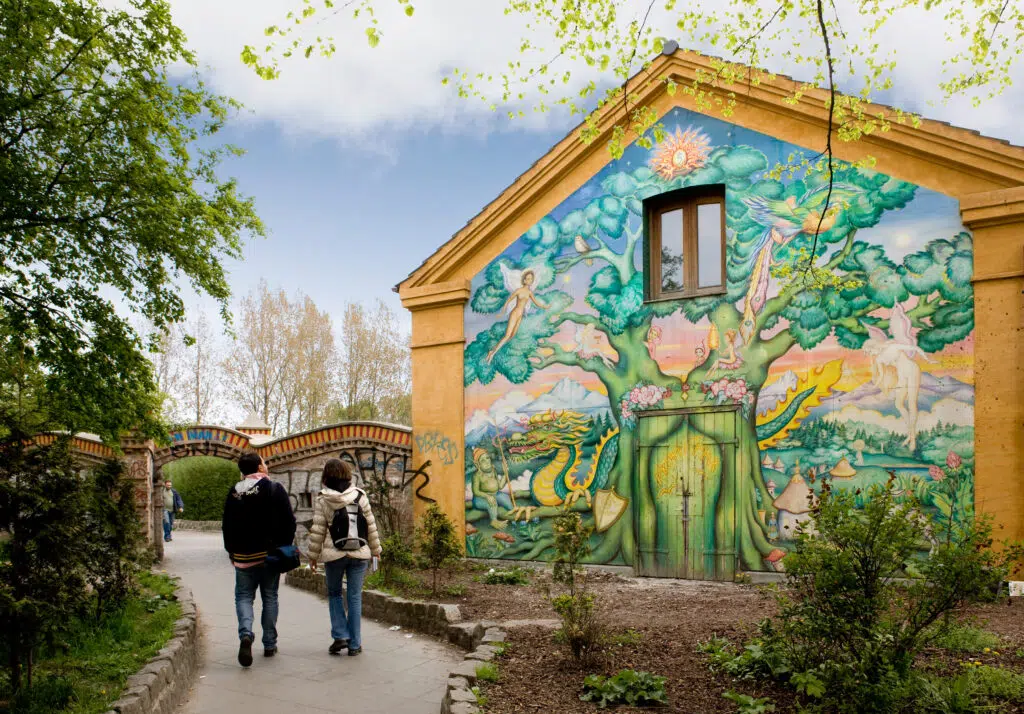 The famous free town (fun Copenhagen fact – this tiny town governs itself!), Christiania offers a one-of-a-kind Christmas market that highlights the alternative lifestyle of the community. To the tunes of live band performances, you'll shop for local crafts, homemade products, ceramics, paintings, clothes and jewellery. It's located in the Grey Hall and the ideal spot to find quirky gifts.
---
Other Things to do in Copenhagen at Christmas
Heading to Copenhagen for Christmas delivers a whole lot of seasonal cheer with fabulous activities to enjoy, inside and out.
Go Ice Skating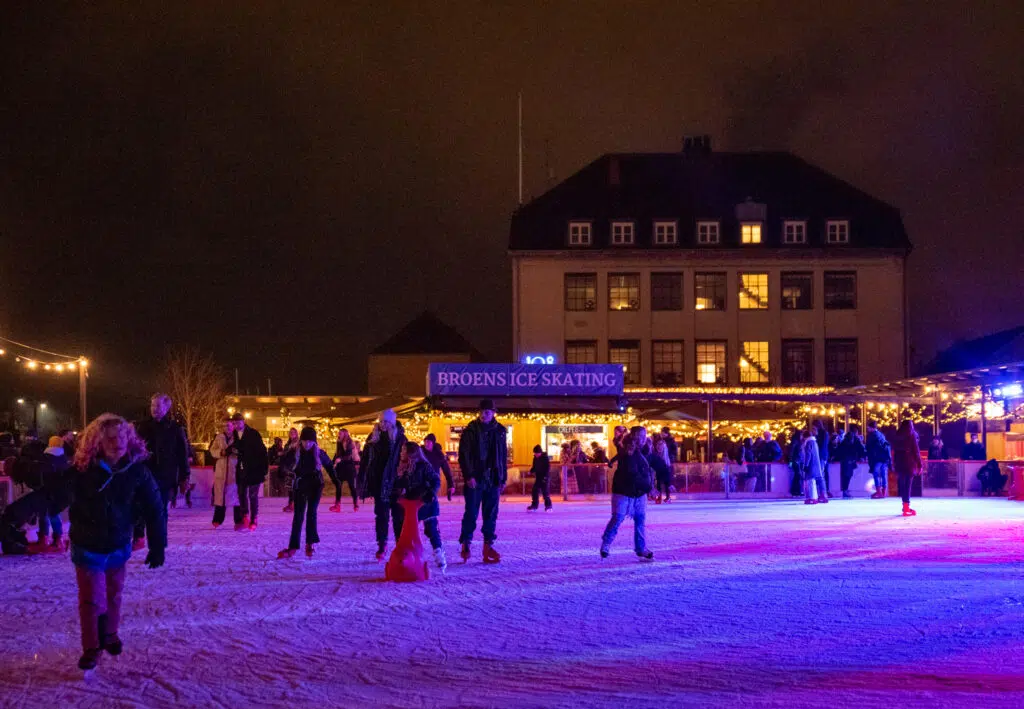 Rug up and warm up before you hit the exciting ice rinks for one of the most popular activities in Copenhagen. Every winter, ice skating is one of the all-time classic Christmas outings to enjoy on multiple rinks surrounded by gorgeous scenery. Many of them are free to enter, so you'll just need to rent your skates and buy hot chocolate.
Frederiksberg Runddel is a favourite among families, located at the entrance to Frederiksberg Garden. Tivoli's ice skating rink is one of the prettiest, especially at night when it's beautifully lit on the backdrop of the iconic Nimb Hotel. Skate along the harbourfront at Broen's Ice Rink, then fuel up at the scrumptious food stalls in Broens Street Kitchen.
Watch the Saint Lucia Kayak Parade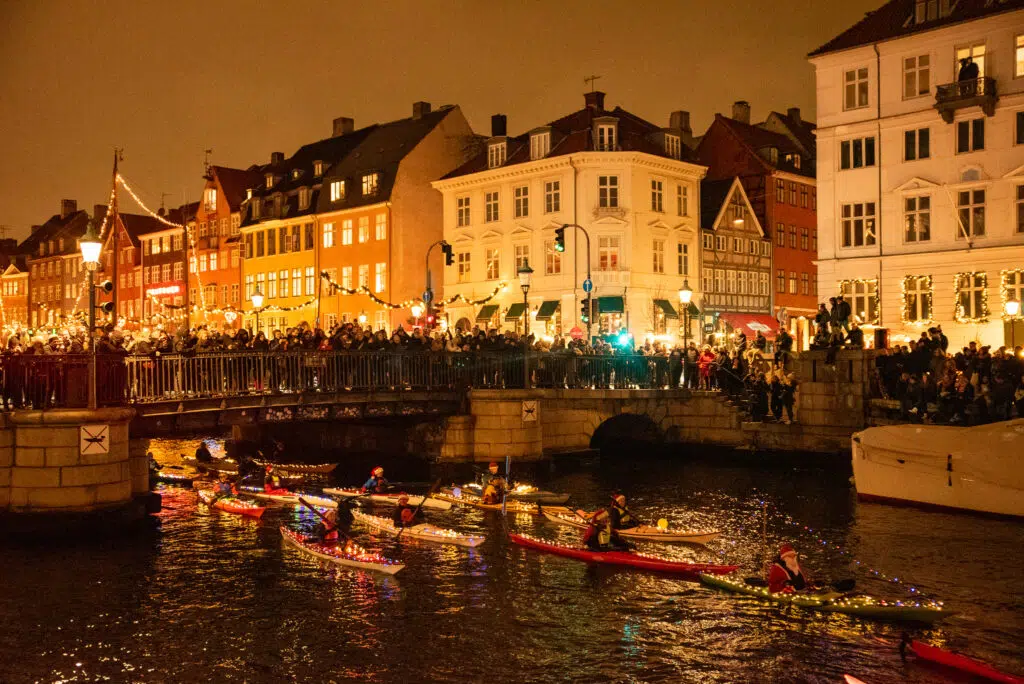 One of the most exciting things to do in Copenhagen at Christmas is attending the Saint Lucia Kayak Parade. The Danes adopted Santa Lucia Day from the Swedes and it's traditionally celebrated on December 13th with feasts and parades. In Copenhagen, hundreds of kayaks adorned with lights and decorations float through the canals while crowds watch and cheer from streets and bridges.
Hit the Shops
Christmas shopping in Copenhagen extends far beyond the city's wonderful markets. Make a beeline for Kronprinsensgade street to admire a mesmerising ceiling of Christmas lights as you shop. You'll find fashion designers such as Bruuns Bazaar, Acne, Stig P and Le Fix. For unique boutiques and vintage finds, head to Nørrebro and pound the pavements.
You'll need to wear your comfy shoes for a day on Europe's longest shopping street, Strøget. It runs straight through the centre of the city with major international brands tempting you step after step. And, there's more to explore on the atmospheric side streets. Other popular shopping streets include Jægersborggade and Købmagergade.
Experience the best of Hygge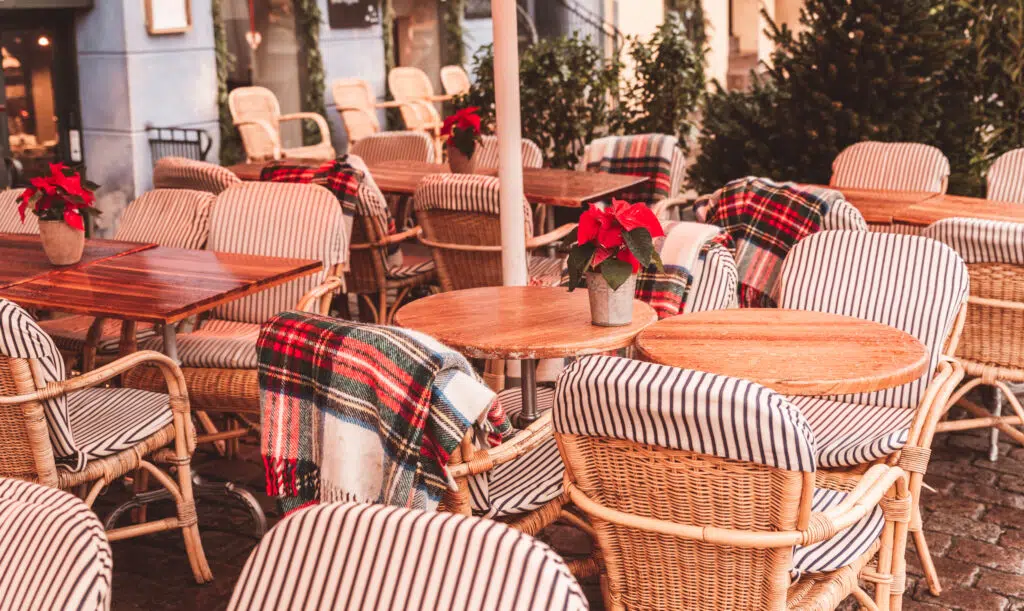 The true meaning of hygge is on fine display during Christmas in Denmark. Copenhagen is the capital of hygge, which is the art of creating cosiness and togetherness. It stems from taking pleasure in the simple things in life during long, cold winters.
The number one way to experience hygge is to cuddle up in charming cafes and it's hard not to stumble upon one no matter where you are. Settle in with the warmth and cheery, social vibes while you sip homemade mulled wine, hot chocolate and special Christmas coffee versions.
Visit Tivoli Gardens
Along with the Christmas market in Tivoli Gardens, the amusement park is a winter wonderland of snow-covered trees, millions of fairy lights and enchanting attractions. Events take place across the season, with live performances, parades, light shows and fireworks.
Among the most famous of Copenhagen Christmas trees, the Tivoli's is a star of the show with Swarovski crystal ornaments and a lavish tree lighting ceremony. From the Ferris wheel to the mini train and the carousel, classic rides receive magical Christmas makeovers. Stroll through the gardens to enter an array of captivating scenes straight from Santa's storybook.
Explore Museums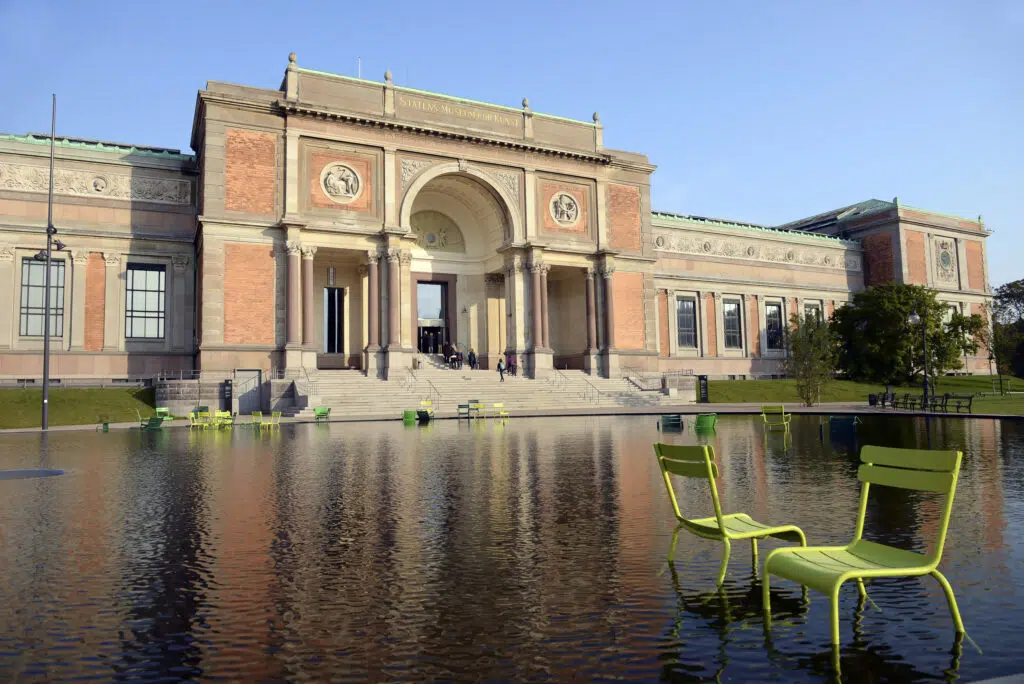 World-class museums and art galleries in Copenhagen provide fascinating refuges on particularly chilly days. Delve into the Viking Age at the Museum of Copenhagen, with interactive exhibits of the city's key sites through time. Nikolaj, Copenhagen Contemporary Art Centre, is located in a building that housed one of the city's oldest churches.
Visit the National Gallery of Denmark to see the country's largest collection of Danish and international art across seven centuries. Just north of Copenhagen, the gigantic Experimentarium showcases science and technology with educational entertainment, so it's great if you're travelling with the kids. Enter the Labyrinth of Light to play the laser harp and go on a sensory journey in the Tunnel of Senses.
Castle and Palace-Hop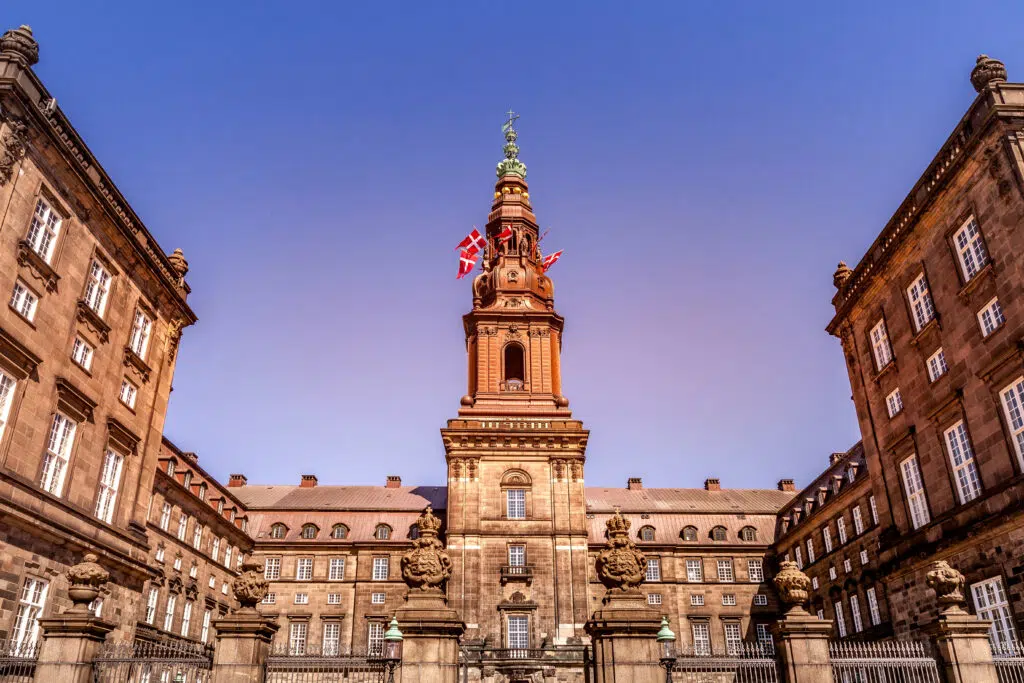 Experience a real-life Christmas fairy tale at Copenhagen's awe-inspiring castles and palaces, whether you explore inside or simply get that epic selfie out front. Christiansborg Palace once housed royalty and it's now the home of the Danish Parliament. Take a tour to see the Throne Room and incredible tapestries in the Great Hall.
You'll see the changing of the guard at Amalienborg Palace, along with a museum showcasing the private interiors of kings and queens. Built by Christian IV in the 17th century, Rosenborg Castle features the Knights' Hall with coronation thrones. Discover the king's private bathroom and an exquisite Venetian glass collection.
Indulge at Spas and Saunas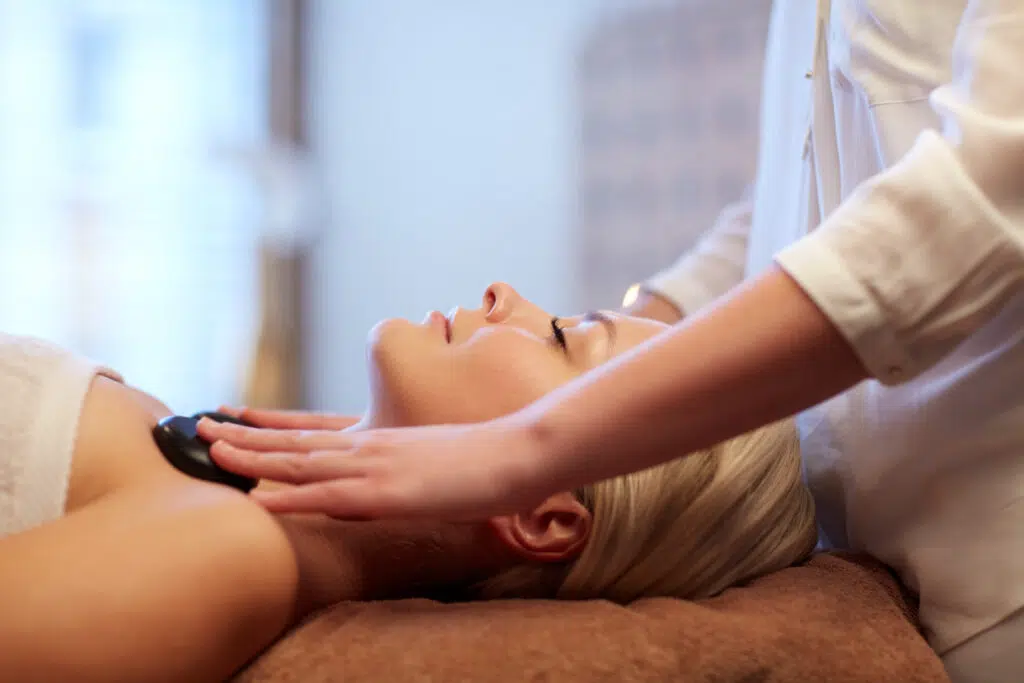 Fancy an icy-cold plunge into a pool before heating up in a sauna? Denmark in December is all about spa traditions and you're spoilt for choice with lavish venues in Copenhagen. Five-star hotels offer decadent spas for hot stone treatments and relaxing at beautifully adorned bath complexes. It's even possible to take sailing tours around the city while soaking in hot tubs and drinking in the sights.
Enjoy Danish Feasts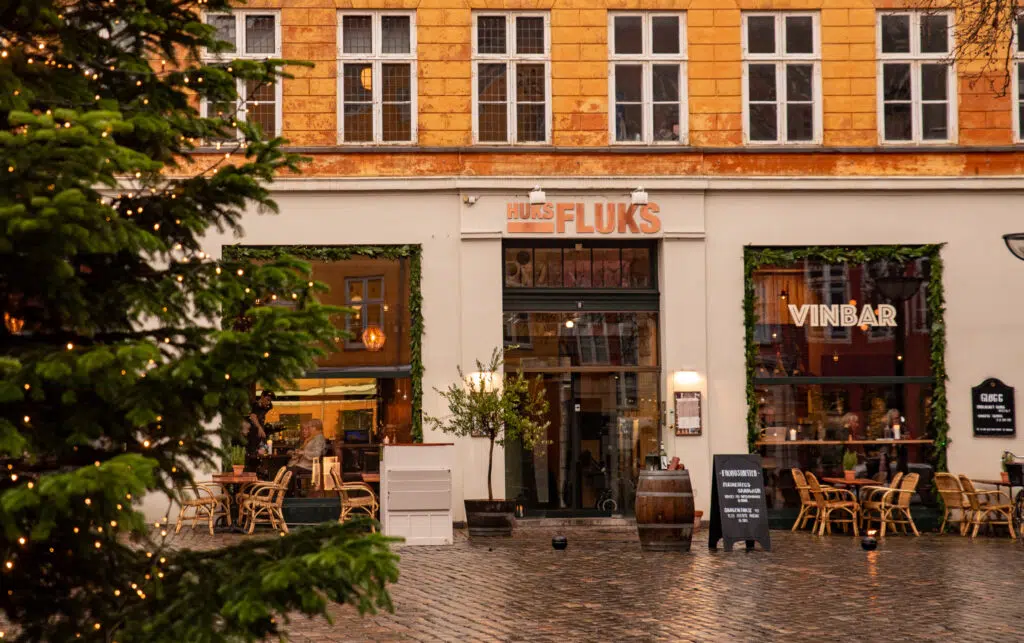 It's likely you'll fill up on mulled wine, roasted almonds and doughy delights at all Copenhagen Christmas events and markets. However, make sure you leave room for the city's delicious restaurants and cafes serving up Danish favourites in cosy environments.
Open-face sandwiches slathered with eggs, mayo and all sorts of toppings, smørrebrød is a must-try traditional treat. It's hard to walk past Danish hot dog stands and they're perfectly matched with Christmas beer (yes, it's a thing). To warm up your insides while you're eating pickled herring, have a shot of snaps with the locals.
Take a Day Trip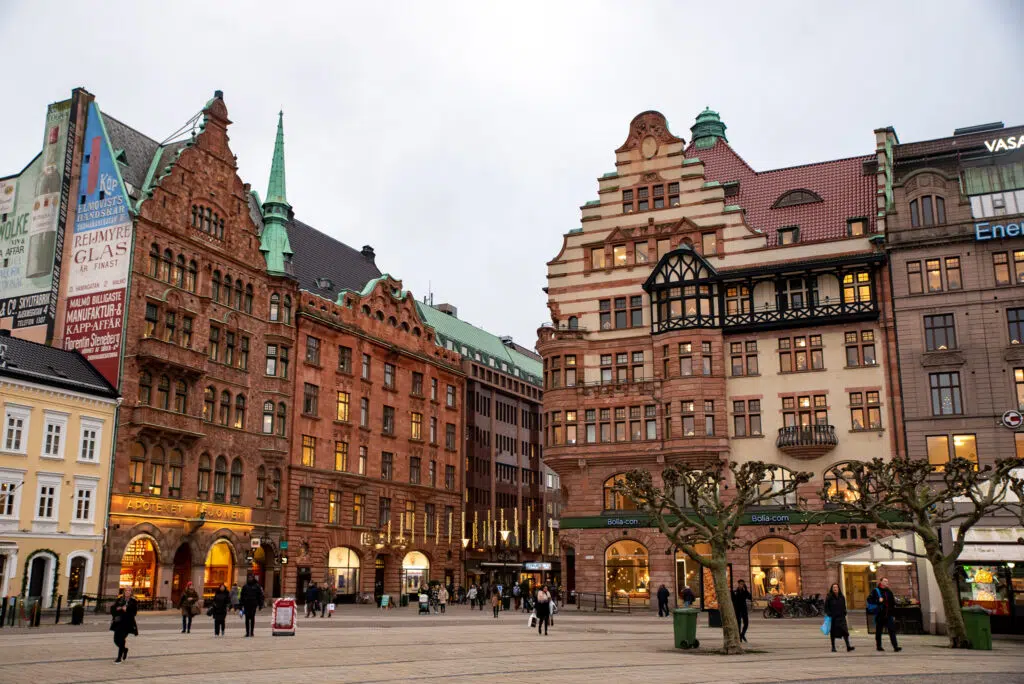 You'll find plenty of adventures in Copenhagen, however, there's so much more within easy day-trip distance! Take a short train ride to Kronborg Castle, made famous by Shakespeare as the home of Hamlet. You'll get to Denmark's third-largest city, Odense, in an hour. It's the character-filled birthplace of Hans Christian Andersen and a Chrismassy delight.
Castles don't get much more extravagant than Frederiksborg, which rests in the heart of three islands, a lake and lush gardens. If you can't get enough of Viking lore, head to Roskilde and the Viking Ship Museum. Admire five original Viking vessels and see reconstructions of prehistoric boats.
---
Things to know about spending Christmas in Copenhagen
Ready to pack your bags for Christmas time in Copenhagen? Here's what you need to know.
Copenhagen December weather
Unearth your thick winter coat, gloves and scarves for fluttering snow topping you and Copenhagen's magical architecture in December. High temperatures reach around 4°C and it falls below freezing at night. To warm up, mulled wine and cosy cafes are at your fingertips at all times.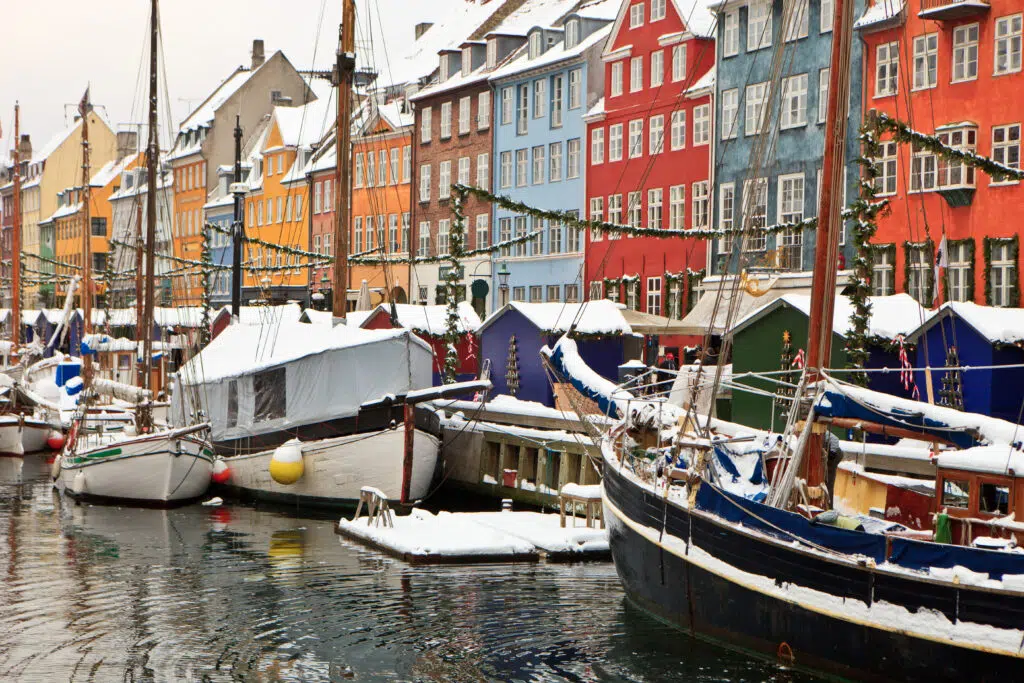 Christmas Day in Copenhagen
As with much of Europe, Denmark celebrates late into the night on Christmas Eve. If you're lucky enough to know a local family, you'll dance around the tree with Christmas carols and open presents that arrive with Santa in the company of naughty elves. Scrumptious feasts typically include roast pork with boiled cabbage and gravy, followed by rice pudding and washed down with beer and mulled wine.
While public transport runs and essentials remain open, much of Denmark shuts down from the 24th to the 26th while everyone celebrates with family and friends. In Copenhagen, this is the perfect time to wander the illuminated streets without the crowds!
Don't worry about food, as you'll find plenty of restaurants open in hotels and tourist areas for dining alongside fun events. Alternatively, stock up at gourmet food markets, like Torvehallerne, and create your own Christmas feasts. Check the schedules for large attractions on Christmas Day, as Tivoli Gardens and some ice skating rinks are typically open.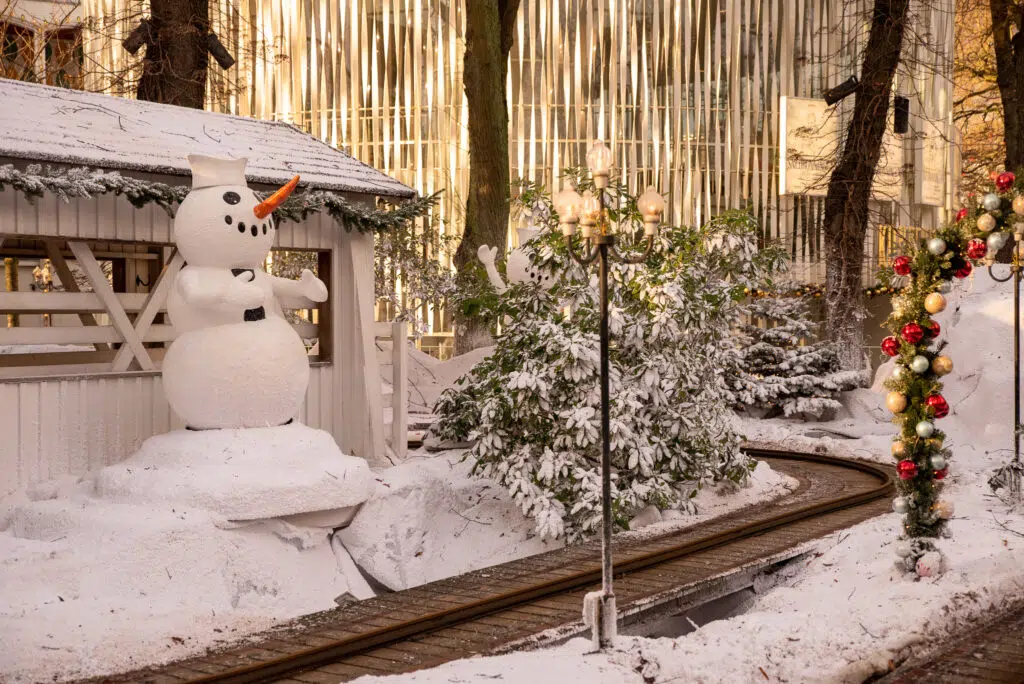 ---
---
Many travellers agree that the 'season to be jolly' is the best time to visit the captivating Danish capital. With some of the world's most dazzling Christmas markets, ice skating rinks and plenty of indoor action for culture vultures and foodies, Copenhagen holidays in December deliver all the seasonal cheer you could ask Santa for!