Searching for the best place to see tulips in Holland? Look no further than Lisse, a small town in the Netherlands, not far from Amsterdam. Lisse is home to the famous Keukenhof Gardens, also known as the 'Gardens of Europe', and is where you'll find the iconic Dutch tulip fields.
The Keukenhof Gardens cover 32 hectares and welcome around 1.5m visitors annually. Quite an impressive statistic seeing as these special gardens are only open for 8 weeks every year!
That's right, if you want to visit Keukenhof and the tulip fields of Lisse, you're going to have to plan ahead. With new guidelines and protocols to follow in light of the current situation, here's updated information on how to visit Keukenhof in 2022.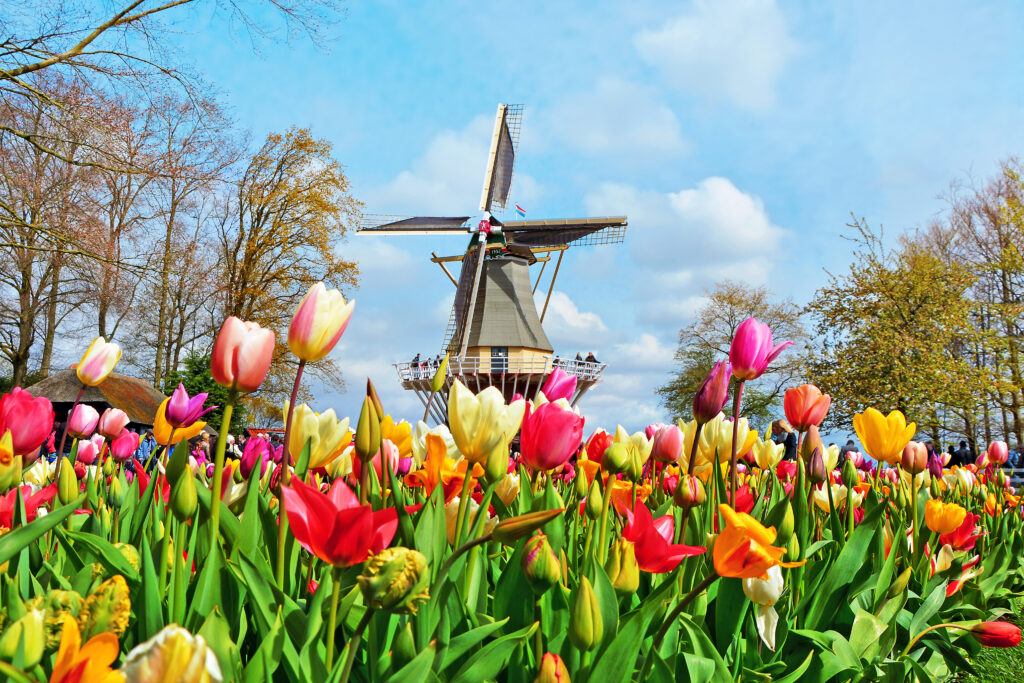 Given its reputation as the 'Garden of Europe' and the throngs of people who come to the Netherlands specifically for Keukenhof, it goes without saying that it's beneficial to do some due diligence before planning your visit – something I regrettably did not do before visiting Keukenhof. In this 'Ultimate Guide for Visiting Keukenhof,' I'll share mistakes I made and expectations I had, tips on saving money and transportation, as well as other pertinent information.
---
Before making any travel reservations, be sure to check the government restrictions currently implemented in the Netherlands. Be aware that things are subject to change with no notice and that most travel insurance companies do not cover COVID-19 for cancellations or treatment. Travel safely, wear a mask, socially distance, and follow all local regulations.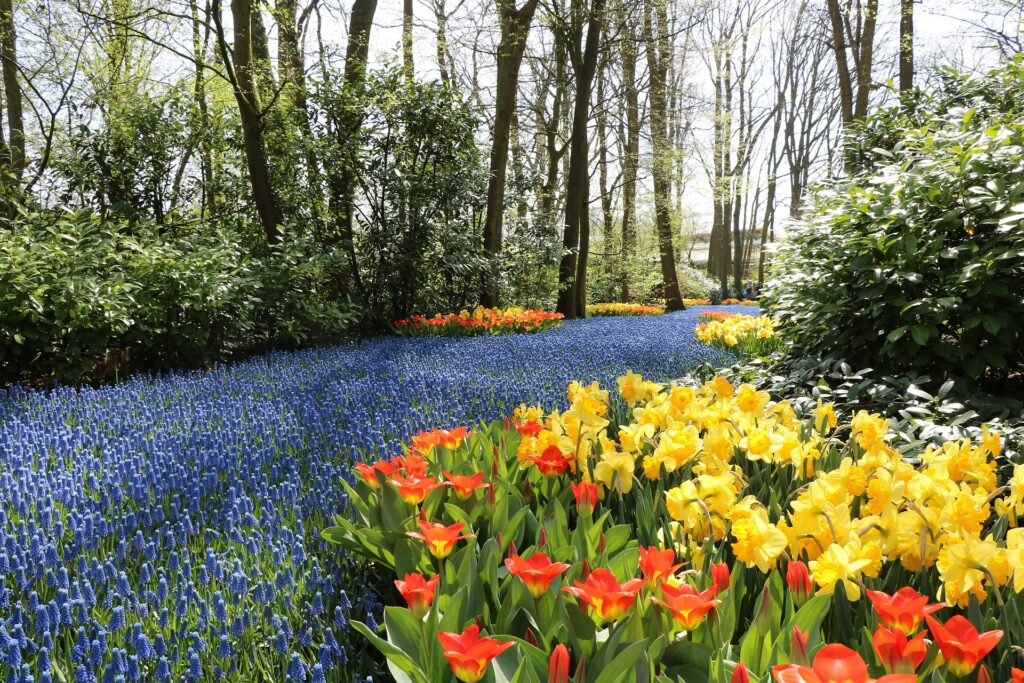 ---
Practical Information for Visiting Keukenhof
Spring is a season of new beginnings and new awakenings, and experiencing springtime tulips in the Netherlands should be on everyone's bucket list.
To visit Keukenhof, you'll have to visit the Netherlands between March through May to enjoy one of the most beautiful spring events around the world.
The official opening season for the 2022 period is 24 March – 15 May.
The hours of operation will remain the same as previous years, opening at 8:00 and closing at 19:30.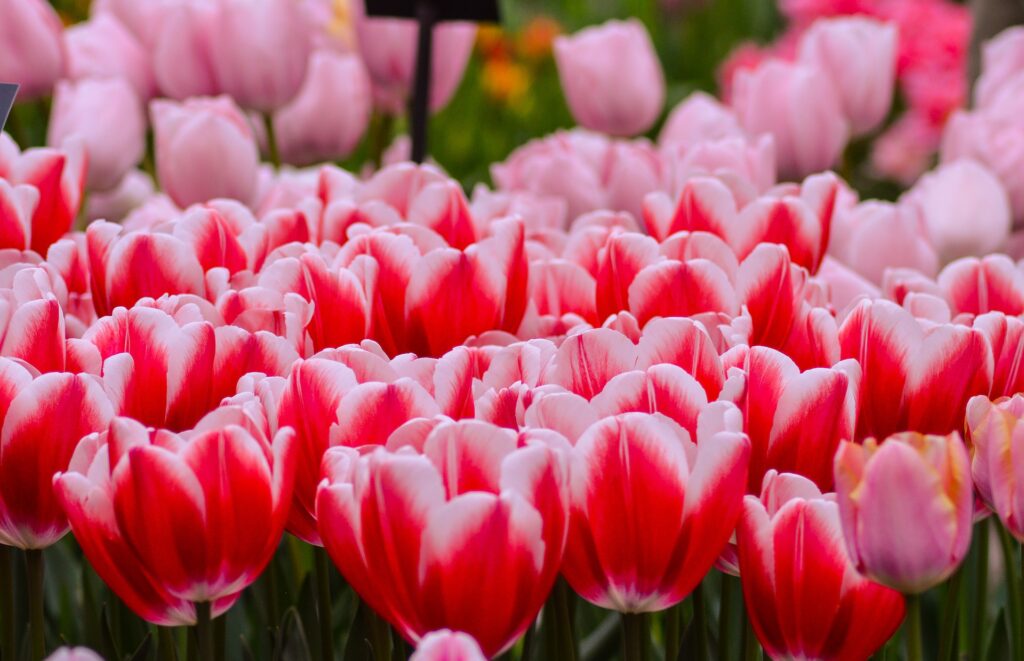 Keukenhof and the Current Health Situation
Keukenhof complies with the guidelines presented in the 'Veilig Samen Uit' [safe out together] conventions applicable to crowded daytime attractions in the Netherlands. The garden implements a reasonable system with regard to social distancing. They will provide you with clear information and hygiene guidelines to keep yourself and other visitors safe during your visit.
in 2022, Keukenhof will cap the number of visitors it receives per day. In order to prevent overly crowded times, timeslots will be implemented as well when pre-purchasing your ticket. If Keukenhof is no longer permitted to open, cancellations will be honored according to their website.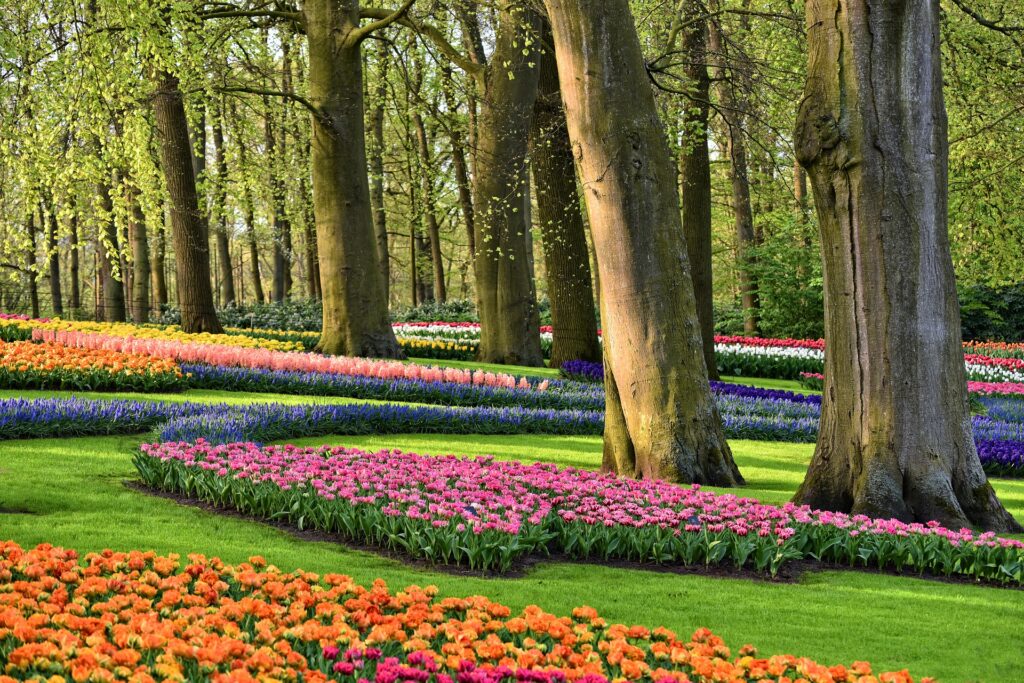 How to get to Keukenhof from Amsterdam
Depending on your personal preferences, there are a few different ways to get to Keukenhof from Amsterdam. Bus, organized tour, or car. Alternatively, you could opt to spend the night in Lisse and walk to the gardens to be there when they open, avoiding the masses. This may be the best option to visit Keukenhof, as it avoids public transportation and crowds.
Bus
From Amsterdam's city center, you can reach Keukenhof by bus, however, the route is not direct. This is the option I chose, and it was very straightforward despite not speaking Dutch.
From Amsterdam, you'll take a bus to Schipol Airport or Hoofddorp. From either of these places, you can get on the Keukenhof Express, which will take you straight to the gardens. If you opt for this route, definitely get the Combiticket (note – this option isn't currently available for the 2022 season).
Organized Tour
Starting at $80 USD, you can take an organized, guided tour to Keukenhof from Amsterdam to save any stress you may be feeling from taking public transportation. The entire tour takes about six hours and includes admission to the gardens. There is direct pick-up and drop-off at select Amsterdam hotels, otherwise, there is a communal meeting spot in the city center. This is a great option if you want a guided tour to ensure you see the highlights, learn about the flowers, experience the history of Keukenhof, and hear interesting stories from your guide.
Car
If you have your own vehicle or have rented a car, driving to Keukenhof is of course an option. Parking is available for €6,00. Driving is another great option to visit Keukenhof in 2021 in order to adhere to social distancing and other health precautions.
Admission
Adult admission is €18,50 in 2022. For children aged 4-17, the price is €9,00. Children under 3 are admitted free. If you are driving, you can also purchase your parking in advance. Or, if you're traveling with someone who won't be comfortable walking around the gardens, you can also book a wheelchair in advance of your visit.
---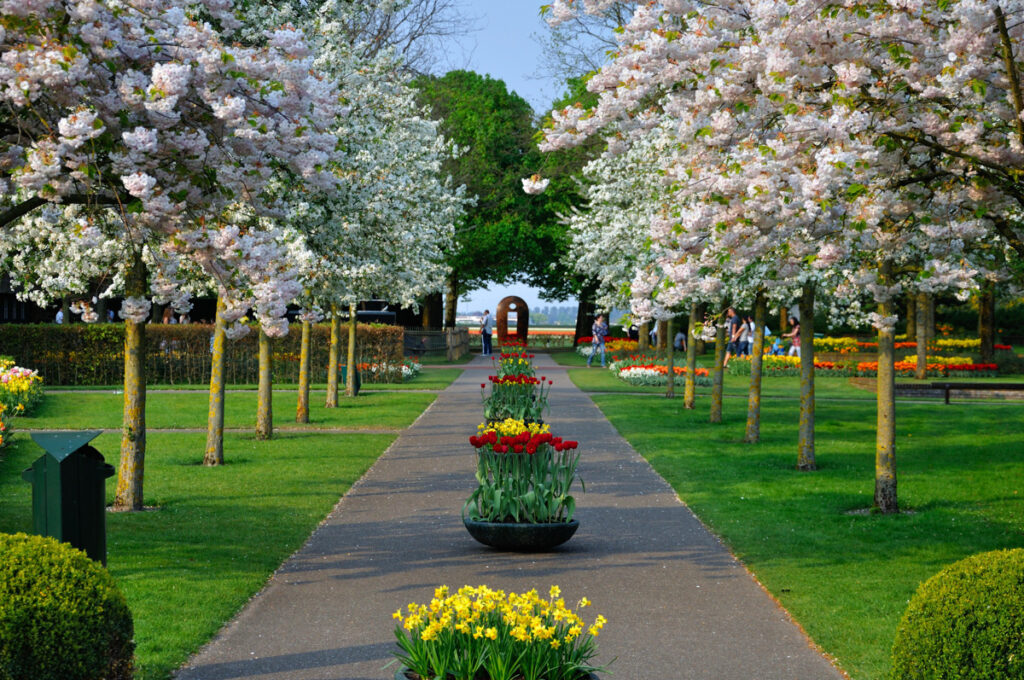 What to Expect at Keukenhof
To sum it up briefly, there are two main components of Keukenhof – the gardens and the pavilions. For both displays, prepare yourself for a sensory experience of vibrant color and pleasant, floral aromas. The gardens are arranged meticulously with complex detail, in complementary and contrasting color patterns. Throughout the gardens, you'll find benches and different art installations, mostly inspired by Dutch culture.
Each year, there are 7 million bulbs flowering at Keukenhof, arranged thoughtfully in 5 themed gardens – each with its own distinct ambiance.
In the pavilions, you'll find a nice reprieve from the sometimes chilly Dutch spring weather. There are rows and rows of various flower species lining the tables. The arrangements change throughout the season according to what is currently in bloom. You could visit in March and visit again in May and have two very contrasting experiences!
Related Reading: Visiting the Tulip Fields of Provence, France
---
Tips for Visiting Keukenhof
Don't Come Expecting to see the Iconic Dutch Tulip Fields
While the Keukenhof gardens are surely impressive in their own right, this isn't the place to see the sprawling tulip fields of the Netherlands. Of course, you will see plenty of tulips, but the colourful rows of bulbs are in the countryside surrounding the gardens. See below for how to visit the Lisse tulip fields.
Purchase Your Ticket Online and in Advance
With current restrictions in mind, know that you will purchase your ticket with arrival expected during a particular timeframe. If you aren't going to make your timeslot for whatever reason, unfortunately, these tickets will not be honored. However, you can modify ticket times up to seven days prior to arrival if you need to change your time in advance.
Best Time to Visit Keukenhof
Under normal circumstances, the best time to go would be Monday-Wednesday first thing in the morning, when Keukenhof opens at 8:00. However, with the new protocol in place, the park will never be overly crowded and you can assume crowds will be (more or less) evenly spread throughout the day. This is really great if you're not a morning person or are only visiting on the weekend!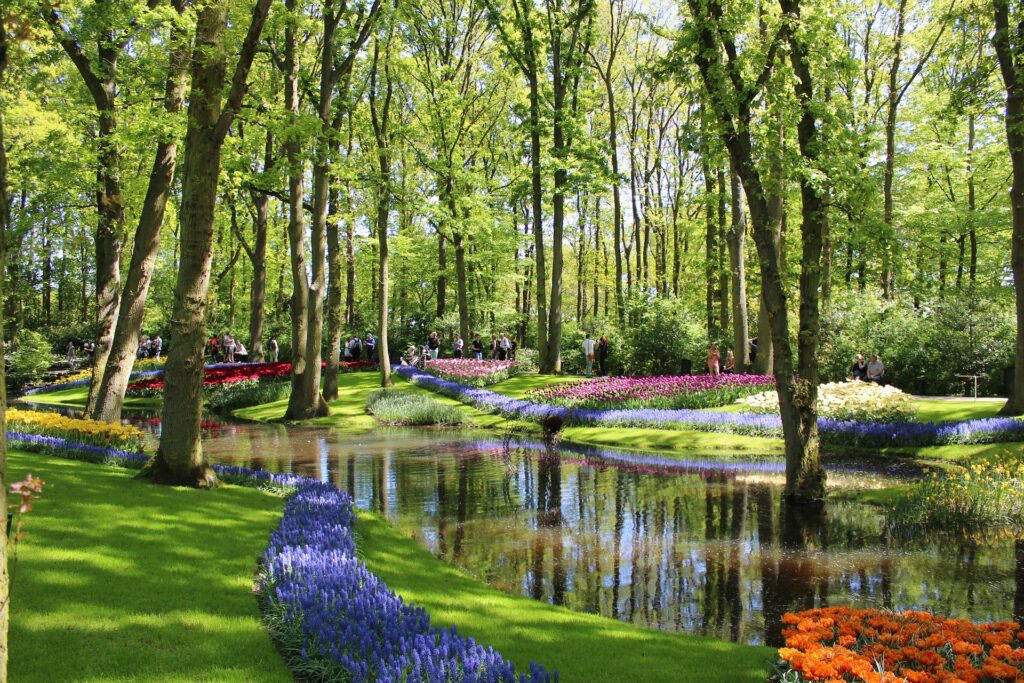 Be Sure to Grab a Map!
You can easily get lost in Keukenhof (remember the gardens encompass 32 hectares / 79 acres). Not only is the park gigantic, but the paths are convoluted and intertwining, making it easy to become spatially disoriented. The maps are most easily used if you're coming from Keukenhof's main entrance.
Know that Tulips Bloom at Different Times Each Year
While Keukenhof has a multitude of flowers blooming throughout the eight weeks it's open to the public, if you're determined to see tulips while in the Netherlands, check the flower reports beforehand. Starting in early March 2022, these reports will be available here.
In general, know that the early season is best for crocuses, daffodils, hyacinths, and early tulips. The large tulips and other flowers often bloom later in the season.
Can Dogs Visit Keukenhof?
Dogs are allowed at Keukenhof (one dog per person), however, they are not allowed in the pavilions or restaurants. Despite the fact that I travel with my dogs, I would not recommend bringing your pet given the crowds and commotion (although this is less of a problem with the current social distancing measures). Dogs must remain on a leash, and there are poop bags provided.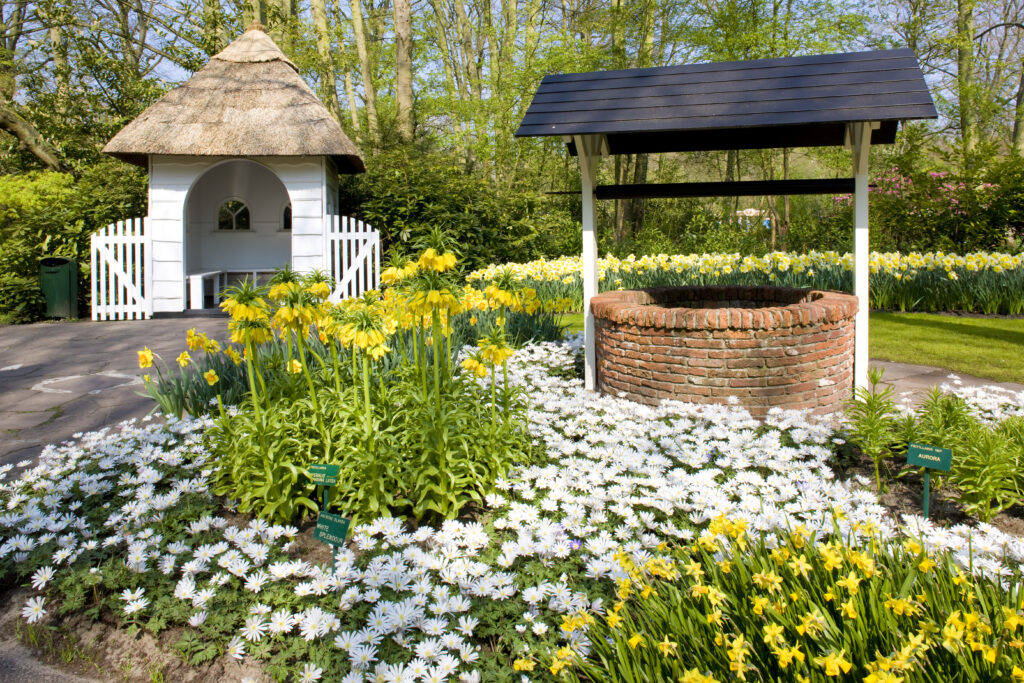 Eating at keukenhof
The garden is littered with cafés and restaurants, and surprisingly, the prices aren't too exorbitant. But you're also allowed to bring your own food & beverages, which may be a preferable option for families or those on a budget. There are plenty of places to picnic.
Keukenhof with Kids
In addition to exploring the winding garden paths and pavilions, there are a number of other family activities at Keukenhof to ensure the little ones don't get bored. There's a small petting zoo and a shaded play area in case the walking around gets to be too much. There's also a fun maze, and kids love taking the boat tour through the Lisse tulip fields, or zipping around in an electric car.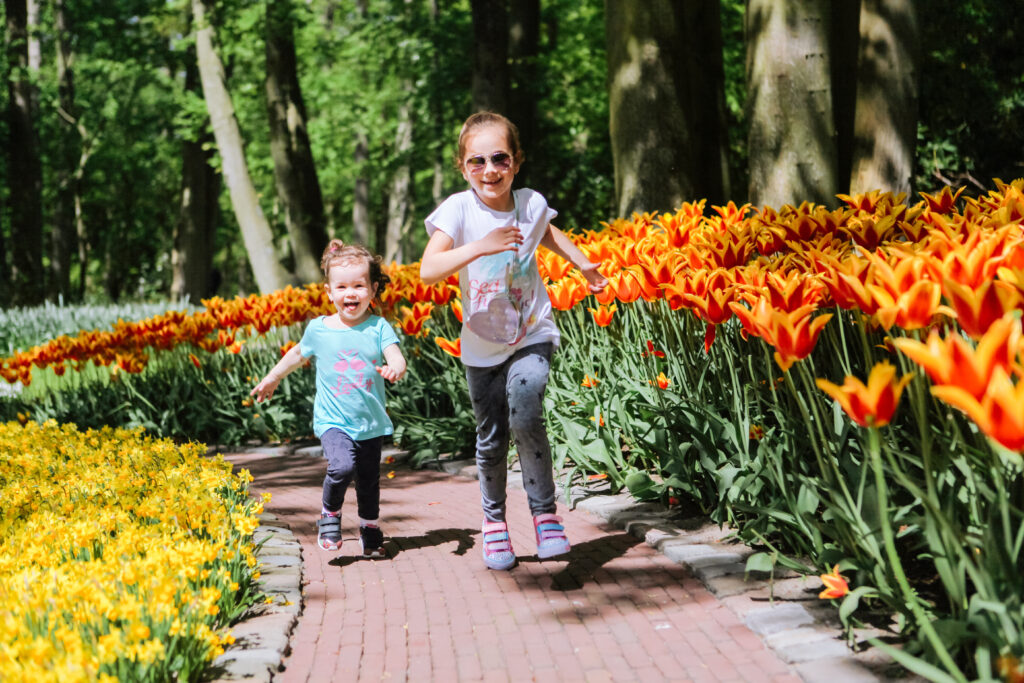 ---
Lisse Tulip Fields
I made the epic mistake of not doing my research in advance, and I went to Keukenhof expecting to see Holland's quintessential tulip fields. Alas, planning a visit to Keukenhof alone is not the way to do this. If you want to see the tulip fields, here's how you can do it in Lisse:
Rent a bicycle! This is one of the most affordable (not to mention classically Dutch) ways to experience the tulip fields. You can rent a bicycle for €15 per day, and some companies go so far as to provide you with cycling routes of varying distances. You can also rent cycles right from the Keukenhof Gardens in order to explore the surrounding tulip fields (you can't use the bikes in the gardens themselves).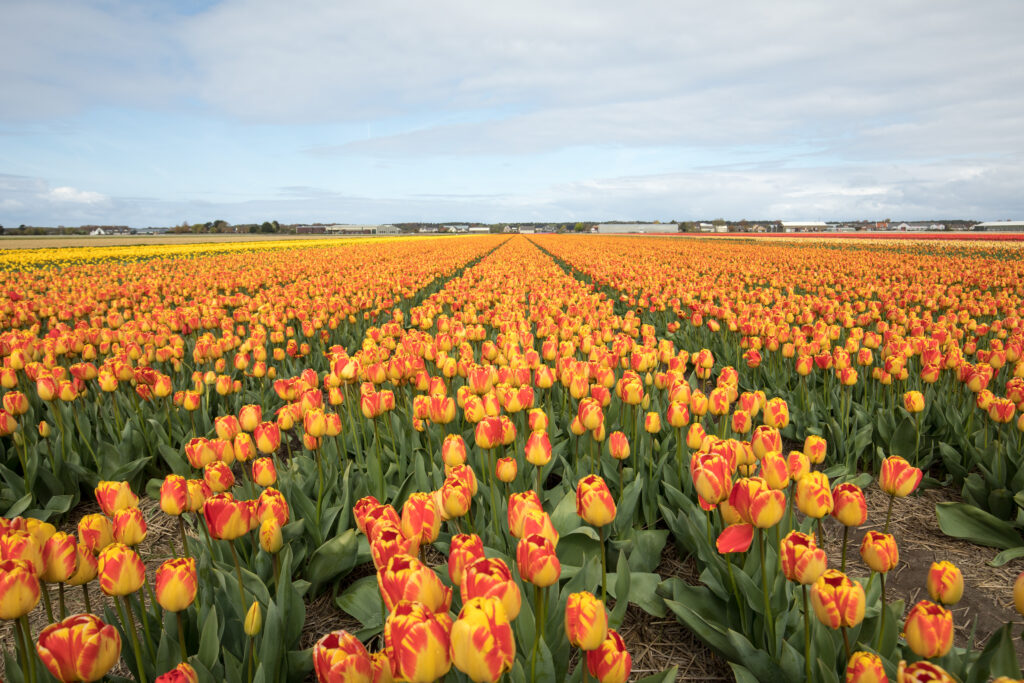 Another option is to take a canal cruise. This is €9 for a 45-minute boat ride, which may seem like a dream. However, considering you are slightly below eye level of the tulip fields, it doesn't provide the best vantage point or photo opportunities.
Finally, you can book an electric car tour, which has a predetermined route and comes complete with an audio guide, available in German, Dutch, or English. This is the most expensive option, at just under €100 for two people, but it's a lot of fun!
It's worth noting that you cannot walk through the paths in the tulip fields. This damages the bulbs and the fields are private property. Be sure to take your photos from the road!
---
Are you planning a trip to Keukenhof this year? Hopefully, this guide has provided you with all the information you need to make the most of tulip season in the Netherlands.