Universal Studios in Singapore is a great day out… But with a toddler in tow? Yep, even with the little ones along for the ride it can be a blast – with a little forward planning!
A little while ago we got our first taste of Singapore on a 2-day stopover between New Zealand and France. The first day was spent idly – imploring our (just turned) 3-year-old to have a nap in his travel cot (flying with a toddler meant very little sleep was had), eating pho (I still dream of Singaporean pho!), and enjoying the hotel pool.
After a well-deserved sleep, we were up and ready to explore on our second day in the vibrant city. The hardest part was making the decision between staying local – exploring the botanic gardens and Singapore flyer – or heading to nearby Sentosa Island for theme park fun at Universal Studios.
There are so many things to do with toddlers in Singapore, it wasn't an easy decision. But I'll let you guess what won the family vote!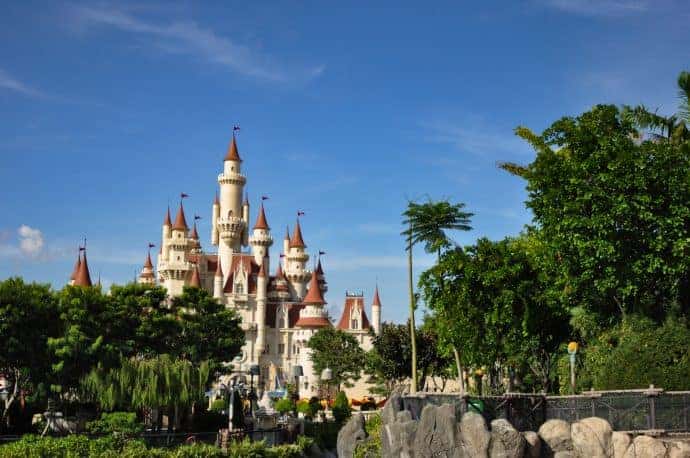 Universal Studios Singapore Overview
Opened in 2010, Universal Studios Singapore is an amusement park with seven distinctly themed zones – Hollywood, New York, Sci-fi City, Ancient Egypt, The Lost World (Jurassic Park), Far Far Away (Shrek) and Madagascar. Each zone offers street performers, rides, shows, eateries and souvenir stores that fit the themes perfectly. Stepping inside, excitement is in the air – it really is a Universe of its own!
Getting to Universal Studios Singapore
Although there are great public transport facilities in Singapore (the MRT and buses), we decided to go for a lazy jet-lagged option and headed for the taxi stand. Taxi fares are very reasonable in Singapore, but try to avoid rush hour so you're not paying to sit in traffic!
We weren't staying particularly close to Sentosa Island, but we were still on the 'right side' of the city, so our taxi fare was fairly cheap. We paid S$14.00 from our hotel on Scotts Road to Universal Studios during light-medium traffic. It'd pay to be mindful of this when booking your accommodation in Singapore.
It is perfectly legal for toddlers to travel without a car seat in Singapore, but if you'd like to book a taxi with a car seat, make sure you phone ahead.
Tip: Calculate the taxi fare from your hotel to Universal Studios, with this handy taxi fare calculator.
On the way back, we jumped on the Singapore Cable Car instead – not the quickest option to get back to the hotel, but by far the most scenic! We caught it at Sentosa Station and hopped off at Harbourfront Station, from there it was a quick cab ride back to the hotel.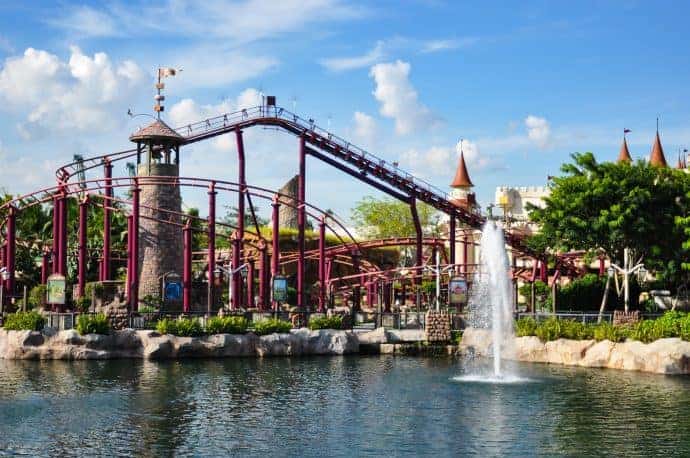 When to Visit Universal Studios Singapore
We visited Universal Studios Singapore on a weekday in early May and it was very quiet – we walked straight up to the ticketing booth and the longest wait time we endured for a ride was 10 minutes.
Other reviews mention long wait times on weekends and public holidays – if you can't avoid these peak times, consider buying an Express Pass. Express Pass holders have a separate queue and shorter wait times – so at S$30 per person, it may be worth it to save your sanity.
Admission / Price
Possibly the best thing about visiting Universal Studios Singapore with a toddler in tow – it's free (well for the toddler it is)!
Adult admission prices are S$76.00, Children aged 4-12 S$56.00, and Seniors S$38.00. Psst – it's cheaper to buy them here than at the gate, and it'll save you time when you get there – skip the queues!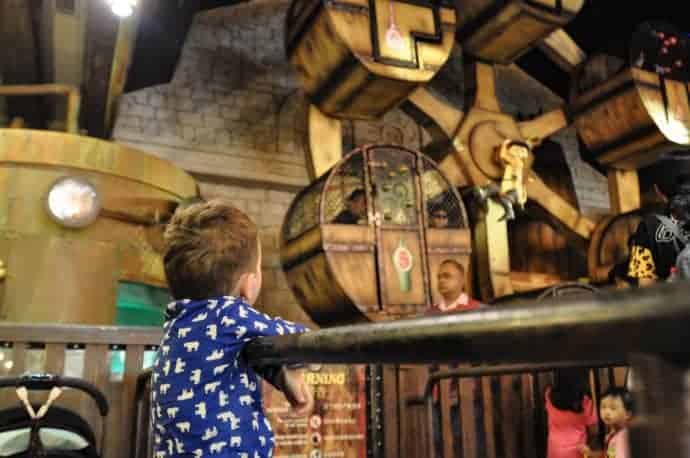 Best Attractions for Toddlers
Note: Our son had just turned 3 when we visited Universal Studios Singapore and this advice is based on our experience.
King Julien's Beach Party-Go-Round (Madagascar).
A fun take on a traditional carousel/merry-go-round, only slightly faster and louder. The ride-ons are in the form of characters from Madagascar. Let your child chose his favourite – is it Marty, Melman or Alex? This is a fairly tame attraction and you can stand alongside your toddler as they enjoy the ride, making it a safe choice for most ages.
Sesame Street Spaghetti Space Chase (New York).
My childhood memories of Sesame Street are of fuzzy loveable characters, so I had no reason to think this ride wouldn't be a suitable choice for a three-year-old.
However, it is very loud, with flashing lights and surprises in the form of sounds and bumps along the way. I can't say for sure that our son enjoyed this ride – but he did ok. I'd say warm your little one up to the idea before jumping straight into this one – especially if they've never been to a theme park before.
Magic Potion Spin (Far Far Away).
A mini indoor Ferris wheel situated inside 'Fairy Godmother's Potion Shop'. This charming little ride is suitable for all ages, although our son preferred to watch rather than partake!
A Crate Adventure (Madagascar).
Like the Sesame Street Spaghetti Space Chase, this attraction was a mixed bag for us. Based on the adventures of Melman and his comrades in the first Madagascar movie, the seven-minute river ride takes you through the dark hull of a ship. I would say it's ok for older toddlers, but skip it with the younger ones unless they're particularly brave!
Treasure Hunters Jeep Ride (Ancient Egypt).
Hop into a 4 person jeep for a ride through hippopotamus filled lakes, rickety bridges and a mummy-filled excavation site. The best part is that anyone can 'drive' the jeep – perfect for toddlers who like to take control! (As seen in the video below).
Tip: Check your child's height against the height requirements for all rides before you visit to avoid disappointment.
The Rockafellas Dance Show (New York).
These street performers have some serious talent! A unique mix of hip-hop and breakdancing moves will have an audience of all ages mesmerised.
Sesame Street Stage Show (New York).
Despite the name, these shows take place on the street curb in 'New York'. Gather around as Sesame Street characters come to life while singing and dancing along to familiar tunes. Stick around afterwards and you may get to meet your favourite character in person!
Sesame Street Show – When I grow up (Hollywood).
All the stars of Sesame Street come together to sing about what they want to be when they grow up – except Ernie can't decide! Appropriately short (approx 20 minutes), this was a fun show for our toddler.
Donkey 'Live' Show (Far Far Away).
A lot of the humour in this 'live' show (Donkey was actually an animated on-screen character with a real human side-kick) was more for the adults in the audience. But despite that, it was still good interactive fun for the little ones too.
Sci-Fi City
Seeing the giant transformers and watching the roller coasters in action was a lot of fun. But there weren't any toddler-friendly attractions.
The Lost World
Had some great life-like dinosaurs, but didn't have attractions that were particularly child-friendly so we didn't spend a huge amount of time in this area.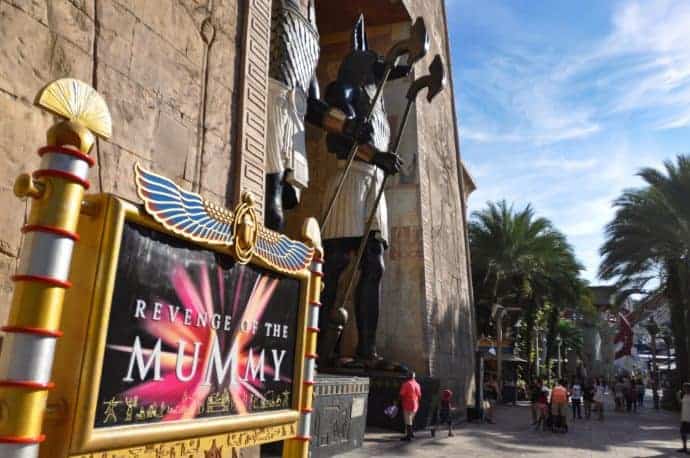 Eating at Universal Studios Singapore
After scouring the various eateries for something semi-healthy and picky-toddler-worthy (the struggle is real!), we ended up grabbing a veggie burger at Mel's Drive-in (Hollywood) in desperation. I've since found out there would have been better options, such as:
Oasis Spice Cafe (Ancient Egypt) – serving up Middle Eastern, Indian and

Malay food (with vegetarian options) this place would have been a winner if we'd managed to find it!

Discovery Food Court (The Lost World) – this eatery is advertised as providing 'authentic Singaporean food'. I'm not sure how authentic it is judging by what I've seen online, but they do offer a decent sounding vegetarian noodle dish that I'm hoping would have given my burger a run for its (overpriced) money!
Marty's Casa Del Wild Food Court (Madagascar) – the name doesn't give away the Southeast Asian flavour of the food served up in this food court. With Nasi Lemak, Briyani, and vegetarian dishes on offer, it would have been worth a look-in.
Last Words of Advice
It gets super hot in Singapore! Take plenty of water with you to save having to buy it in plastic bottles. Sunscreen and a hat is a must, and if you haven't bought a stroller with you – I'd highly recommend hiring one for the day.
Single and double strollers can be rented within Universal Studios Singapore – to the right once you've passed through the main gates. It costs S$15 for a single, or S$20 for a double stroller.
Finally, consider extending your stay in Singapore to at least a few days if possible. Visiting Universal Studios Singapore will eat up an entire day, and there are so many other great things to do in the city. 3 days in Singapore would be a minimum if you want to experience a few more of the amazing attractions on offer!
---
Have you visited Universal Studios Singapore with a toddler? Let me know how it went in the comments below.
Pin this for later!