Tbilisi is a place of much mystery and intrigue. It's one of those places you wish you knew more about, and yet it can seem a bit elusive in its allure. I recently had the chance to visit Tbilisi in winter, and I wasn't quite sure what to expect from the capital of this former Soviet republic.
What I experienced in Tbilisi was a city of juxtaposition. Sometimes tantalisingly so, and at other times the contrast was heartbreaking. It's a city that wants to position itself as a European capital with the credentials to match, but yet it offers so much more than just another weekend city break destination.
Come with me as I introduce you to this city that captured my imagination and has left me wanting to discover more of Georgia…
---
TBILISI TRAVEL GUIDE
Where is Tbilisi Georgia?
Georgia, the country that so often gets confused with the American state of the same name, is located next to Turkey, on the edge of the Black Sea. But it doesn't only share a border with Turkey. Russia, Armenia, and Azerbaijan all rub shoulders with Georgia and add to the country's ambiguous identity.
So is Georgia in Europe?
Technically, not really. But it does identify as such. And while you're visiting Tbilisi, you'll have no doubt that there's a very Eastern-European look and feel to the city.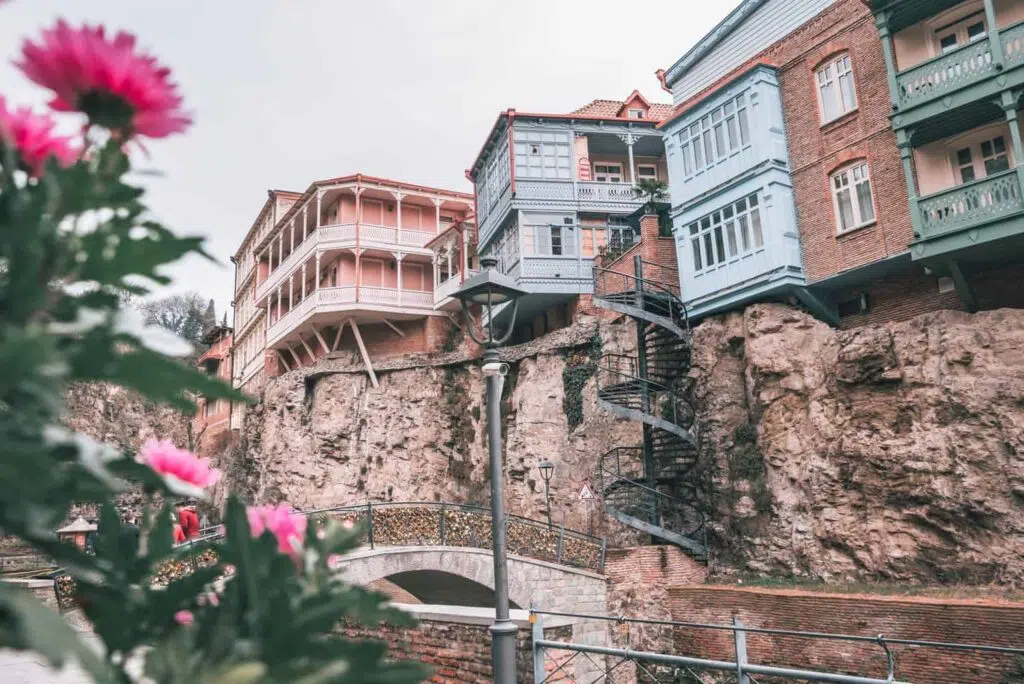 Best time to visit Tbilisi
Like most destinations in the northern hemisphere, Tbilisi is busier in the summertime. But does that make the summer the best time to visit?
There's no denying you could have a lovely time exploring the city in the warmer months. The botanical gardens would be in bloom, the amusement park would be bustling, the Tbilisi Sea (actually a lake despite the name) would offer a scenic respite from the heat… But I think Tbilisi really shines as a winter destination.
Imagine sinking into one of the famed sulphur baths after a tour of the old town or an afternoon sampling Georgia's divine wines. Or seeing the church steeples rising above a city blanketed in snow.
It's hard to name the best month to visit Tbilisi, Georgia, but December is a good bet if you want to combine the best the city has to offer while also enjoying the festive spirit of the city.
Is Tbilisi Cheap?
Surprisingly so! In fact, I'd go as far as saying it's one of the best destinations for budget travellers. Food & drink prices – even in high-end establishments – are very reasonable, transport costs are low, and it's possible to find affordable accommodation throughout the city.
What about safety?
Tbilisi, and Georgia, in general, is considered to be a very safe destination. But, as always, it pays to be vigilant, just as you would when travelling anywhere in the world.
Keep valuables close (or go a step further with a safe travel purse or pickpocket-proof clothing), stay aware of your surroundings, and keep a phone on you in case of an emergency.
---
TBILISI IN WINTER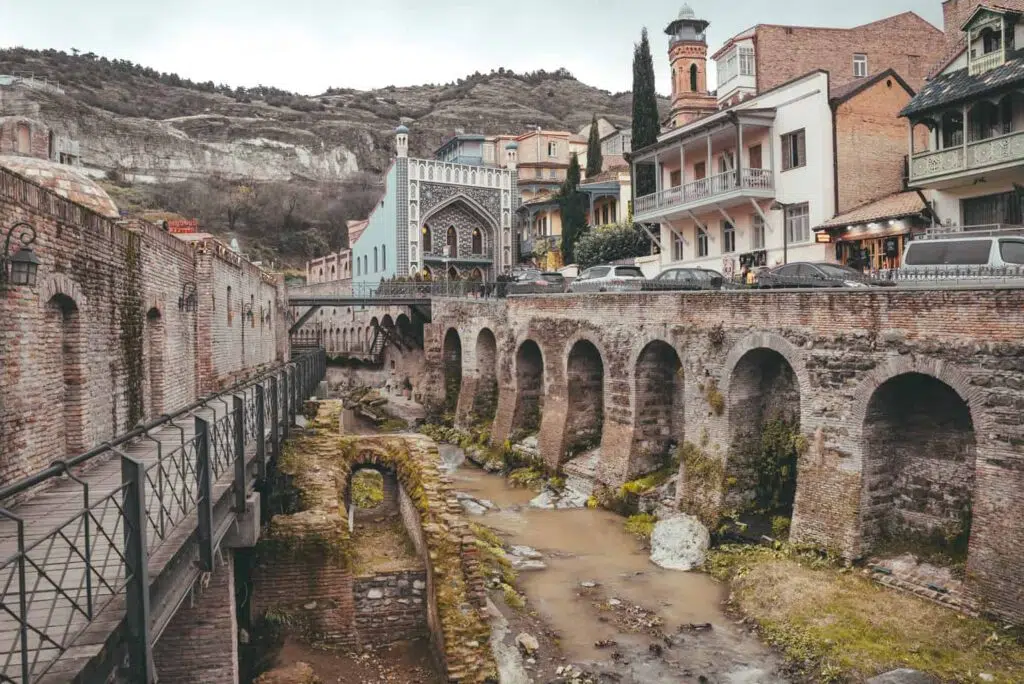 Tbilisi Winter Weather
Georgia in winter is going to be cold, no doubt about that. However, Tbilisi rarely gets below zero degrees (Celsius), has an average temperature of 5 degrees in December, and snowfall is common. But you're less likely to get wet weather in Tbilisi in winter than if you were to travel in the spring or autumn.
Daylight hours are fairly long in winter, with the shortest day of the year seeing around 9 hours of sunlight. So what can you expect in Tbilisi in winter? Fairly long, cool and dry days with the possibility of snowfall.
What to wear in Tbilisi Georgia in Winter
When travelling to Tbilisi in winter, you're not going to need to pack anything out of the ordinary. Just make sure you have the essentials on hand – like a warm jacket, gloves and a scarf – and plenty of layers.
Outside is cold, but unless you're going to the countryside, you won't need your ski jacket!
Georgia's dress code features a lot of black and dark tones. People dress smartly. And once you get inside, you can expect to be warm – hence the need for layers.
Tbilisi in December
Visiting Tbilisi in December may be cold, but there's plenty going on in the city to keep you warm. Unlike elsewhere at Christmas, you don't get the feeling that the city is 'wrapping up for the year'. Partly because Xmas is celebrated later in Georgia (more on that below) – so it's more like business as usual in the capital.
Travelling to Tbilisi in the quieter tourist season meant we got to sample life as it usually is (plus a few surprises like running into a Bollywood film in mid-production!). The bars and restaurants were humming with locals, we never had to queue for anything, and getting a slot at the sulphur baths was no trouble at the drop of a hat.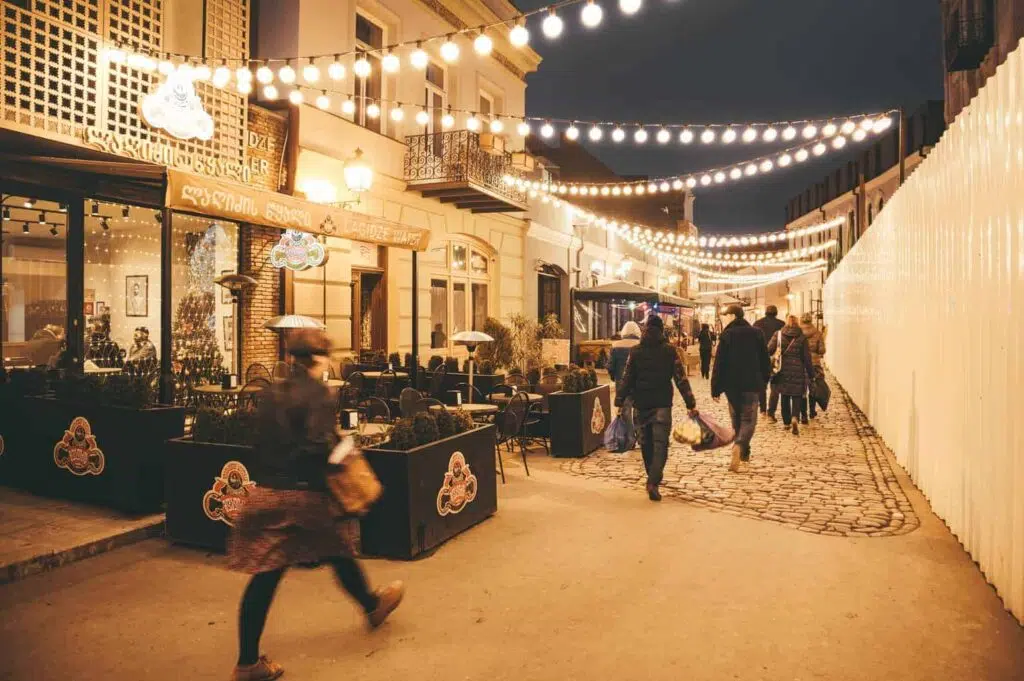 Tbilisi Sightseeing
There are so many things to do in Tbilisi, but here are a few ideas to get you started:
Visit Leghvtakhevi waterfall – Right in the heart of the old town, this beautiful waterfall is made even more dramatic by its surroundings. Walk up to the Botanical Gardens to see it from another angle.
Sulphur baths – No visit to Tbilisi would be complete without a soak in one of the traditional sulphur baths. Choose a lavish private spa experience, or opt for the communal pools – there's plenty of choice in the bath district.
Tour of the old town – A mixture of influences and a muddled history means the architecture in Tbilisi is a glorious medley of styles. Take a guided tour to really appreciate the antiquity on display.
Take the cable car to Narikala Fortress – A short but fun ride in the cable car will deliver you to the gates of the 4th-century fortress that overshadows Tbilisi. Take the cable car back down or walk the Narikala Tourist route which will deliver you back after a scenic stroll.
Ride the funicular to Mtatsminda Park – You can drive to this hilltop amusement park, but it's much more fun to ride the funicular! Then spend the day exploring the rides and attractions on offer at the top.
Go shopping – The shopping scene in Tbilisi is amazing. Yes, they've got your usual brands, but it's the independent designers and fun boutique stores that really caught my eye. Hit up the markets too for authentic antiques and souvenirs.
Sample the region's wines – As one of the oldest wine regions in the world, Georgia's vintages deserve to be appreciated. You could head outside of the city and visit the vineyards yourself, or you could make a beeline for a wine cellar and try many different varieties at once.
Eat your way through the city – the food in Tbilisi is incredible, and the prices are minuscule. So do yourself a favour and try out as many of the traditional Georgian dishes as you can!
Peek into elaborate entrance halls – Behind nondescript doors, you'll find the most fascinating entrance halls in Tbilisi. Hard to find unless you know exactly where to go, these grand halls are like pieces of art in their own right.
Seek out the street art – There's plenty of art displayed in Tbilisi's streets. Street art lovers' will be in their element wandering the alleyways and tunnels throughout the city to get a glimpse of the offbeat art on display.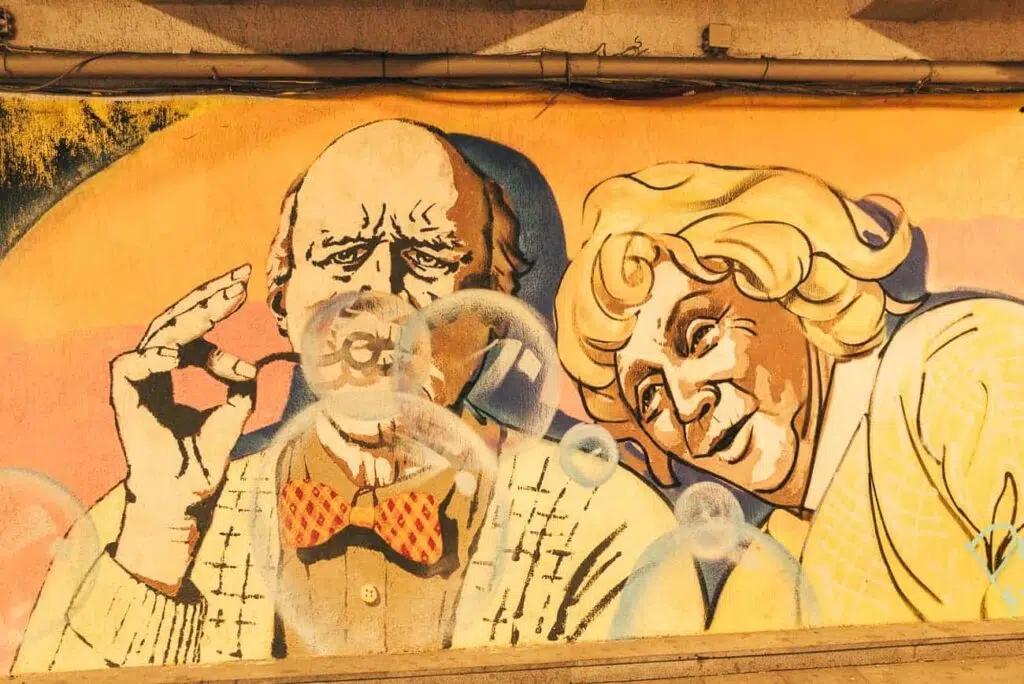 Best Day trips from Tbilisi Georgia
If you're staying in Tbilisi more than a few days, you should take the opportunity to take a day trip outside of the city to see more of what Georgia has to offer.
Here are a few ideas for day trips from Tbilisi that are less than 2 hours away. A disclaimer: I didn't have the chance to try out any of these trips during my time in Tbilisi, but researching them has aided my appetite to head back to Georgia!
Visit Kakheti wine region – with almost 3/4 of Georgia's wine grapes being grown in the region, Kakheti is a must-do if you want to find out what makes the country's wine so remarkable. Just a two-hour drive will have you in the heart of wine country where you can meet the winemakers and sample their wares.
Hit the ski field – one of the greatest advantages of visiting Tbilisi in winter is the ease at which you can access some of Georgia's finest ski fields. A couple hour's drive will see you in Gudauri where you can find world-class skiing in Georgia at a fraction of the cost, and if you're a beginner, you can take advantage of the English-language ski lessons too.
Find a UNESCO site on your doorstep – One of the closest day trip destinations from Tbilisi, Mtskheta is also one of the oldest cities in Europe! Over 3,000 years old, it's the perfect place to dig deeper into Georgia's history and visit some of the most monumental landmarks in the country.
Tbilisi Sea/Chronicles of Georgia Monument day trip – with the actual (Black) sea being around a five-hour drive away, Tbilisi locals have adopted a nearby lake as their seaside destination of choice. Obviously, the so-called Tbilisi Sea is more of a summer day trip destination; so if you're visiting in winter, take a peek at it before heading to the nearby Chronicles of Georgia Monument. It's ginormous in stature and hugely impressive. Plus, it offers a great viewpoint of the city.
Christmas in Tbilisi
Georgia is an Orthodox country and consequently celebrates Christmas on January 7th. But that's not to say you'll miss out on Christmas festivities if you visit Tbilisi in December. Quite the opposite. The Tbilisi town hall prides themselves on their festive decorations – and it shows! The lights spanning the main streets in town were incredible, and decorations hung from many a shop window.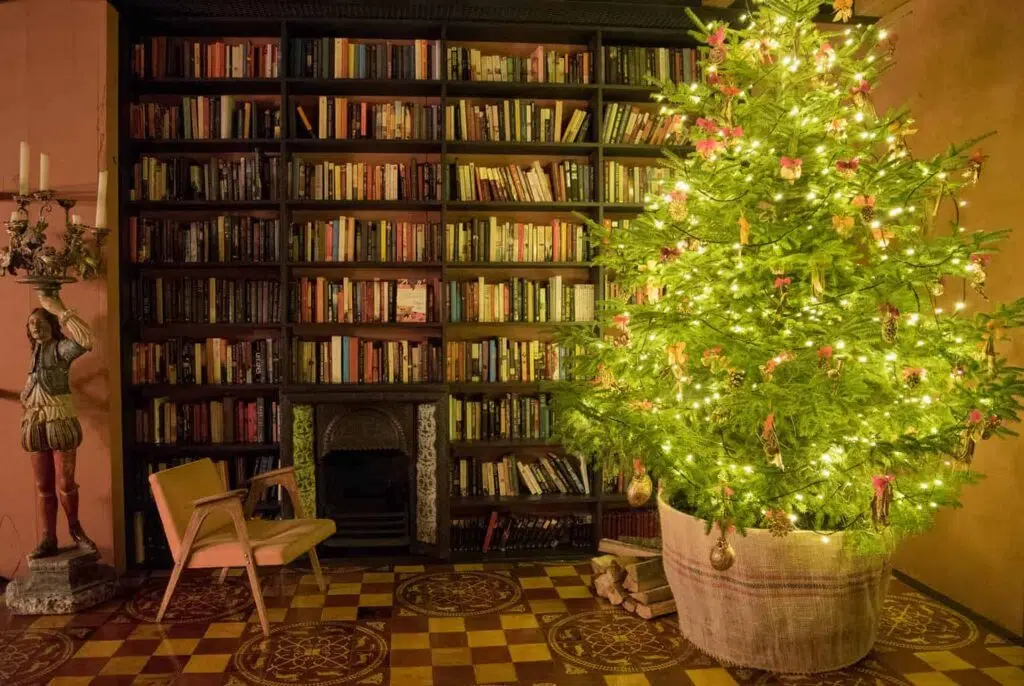 In saying that, the 'holiday season' officially starts later in the month. And as a consequence, we did miss out on seeing the famed Xmas tree (the largest in the country) being lit up on the 22nd December. Some of the Christmas markets were just starting to get underway as we were leaving also.
So if you want to make the most of the festive season, I'd recommend visiting closer to Christmas day. Or even extending your holidays by visiting closer to New Years, which is when the real party hits the town!
Best places to eat in Tbilisi
If I had to name my favourite thing about visiting Tbilisi, it would have to be the food. Oh my goodness, the food. I wasn't prepared for the flavours, the freshness, and the variety – even for a plant-eater like me. It blew all my preconceived notions of what food would be like in this former Soviet country (more potatoes anyone?) out of the water.
Another delightful surprise was the quality (and quantity!) of the restaurants on offer. From trendy Scandinavian-style cafés to basement brick-clad eateries with eclectic furnishings, and cosy candlelit diners, Tbilisi does the hospitality scene exceptionally well. I plan to write more about my culinary experiences in Tbilisi, but in the meantime, here are just a few of my favourites.
These places stood out for the quality and flavour of their food, but also for the ambience they offered.
Culinarium Khasheria
I've listed this one first as it was my absolute favourite place to eat in Tbilisi! Amazing fresh flavours, beautiful presentation, cosy atmosphere – Culinarium Khasheria had it all. I just wish I'd bought some of their green adjika while I was there as I've been craving it since I left Georgia. Pick me up some if you go?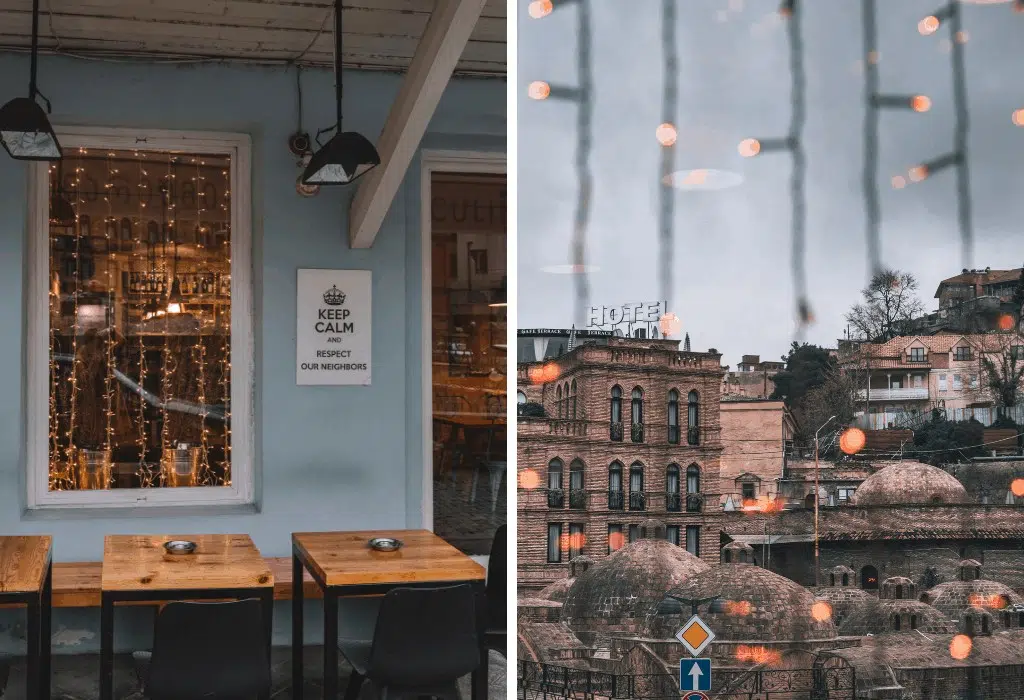 Shavi Lomi
Oozing with character, this quirky restaurant serves up Georgian-fusion food with a European flair (oh, and they have cute kitties to pat too!). Be sure to order the gobi to share – a large bowl full of typical Georgian dips and breads – it's absolutely divine.
Fabrika
Fabrika isn't really a restaurant, it's more of an everything-space. It packs a hostel, co-working space, art studios/shops and an eatery into a former sewing factory to create an energetic and creative meeting place.
I've included Fabrika in this list, as it deserves to be visited for the ambience. But a disclosure – we had lunch here and it was very average compared to some of the other places we visited. I've heard the dinner menu is better.
Zala
Cosy and intimate, Zala was designed to have a welcoming, homely vibe, and they succeeded. The only restaurant where the owner came out to check everything was ok, they take service one step further. The food was amazing (I had a flavoursome mushroom dish), but there were very few vegan options.
Stamba
Stamba Hotel is one of the coolest spaces in Tbilisi – and we saw a lot! The decor, the open kitchen, the retro café and leafy courtyard, everything in the ground-level entrance was well thought out and welcoming. Here you can eat Georgian favourites such as khachapuri, or opt for something more international – whichever way you go, you won't be disappointed!'
What to buy in Tbilisi
Shopping in Tbilisi is a treat. Sure, there are all the usual high street stores in the city centre, but dig a little deeper and you'll find beautiful boutiques selling everything from local couture to ceramics.
I'm not sure if it's a trend-setting, or trend-breaking theme running through the city, but there's some serious talent on offer. I only wish I'd had more time, and money, to explore the shops in more depth!
If you're looking for a more traditional souvenir to take home with you, look for the intricate cloisonné (enamel) jewellery that is typical of Georgia, or anything made of wool. Wool has been an important industry in Georgia for decades and the locals love turning this natural product into beautiful handmade garments.
Tbilisi Nightlife
Nighttime is when Tbilisi really comes to life. Even in winter, it's usual to see plenty of people about until the wee hours. The bars are busy but not crowded, and the restaurants are still serving late into the night.
There's a real mix of trendy industrial clubs, low key wine bars, and everything in between. And as with everything, drinking in Tbilisi won't bleed you dry!
---
ESSENTIAL INFORMATION FOR VISITING TBILISI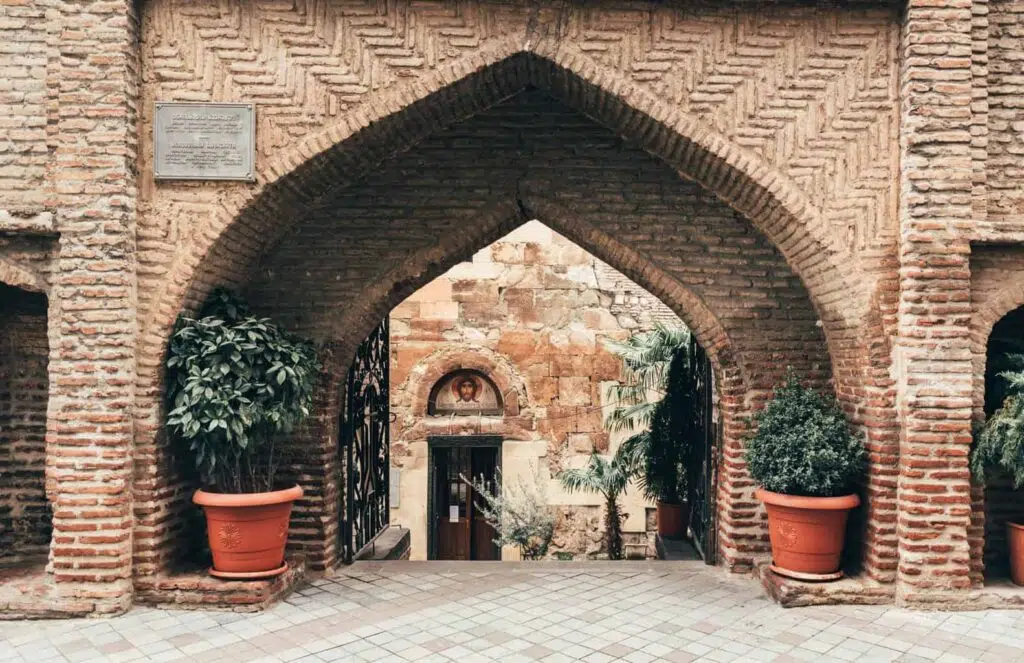 How to get to Tbilisi Georgia
Gone are the days of red-eye flights and connections in Istanbul – at least that is, if you live in the UK. Georgian Airways now fly direct from London to Tbilisi twice a week, making the journey a much more seamless experience.
If you're coming from elsewhere in Western Europe, you'll more likely have to change planes on the way. I flew with Turkish Airlines from Marseille through to Istanbul, had a quick stopover, and arrived in Tbilisi a little more than 6 hours after I left France. The experience of transiting wasn't bad at all, and the flights were very comfortable.
Best places to stay in Tbilisi
Ideally, staying central is the way to go when visiting Tbilisi. The capital city is remarkably walkable and you'll want to be close to the main attractions and activities.
I stayed in the Rooms Hotel which was ideal. Well located for the city centre, bars, restaurants and shops, yet two blocks away you have quiet residential streets – it was a great place to get acquainted with Tbilisi. The rooms were spacious and comfortable, and the breakfast spread was sublime!
How to get around Tbilisi
I normally love renting a car when I'm staying anywhere for a few days or more. But Tbilisi isn't somewhere I'd feel super comfortable doing so. Georgians have a somewhat unique driving style, and the road rules are indecipherable to an outsider.
Luckily, staying in the central city I had little need to drive anyway. If you do find yourself needing to get further afield, taxis are an affordable option. But by far the cheapest option is to jump on the public transport system. There is a metro system and plenty of buses to take you where you need to go. Travel outside of peak times to avoid the crowds.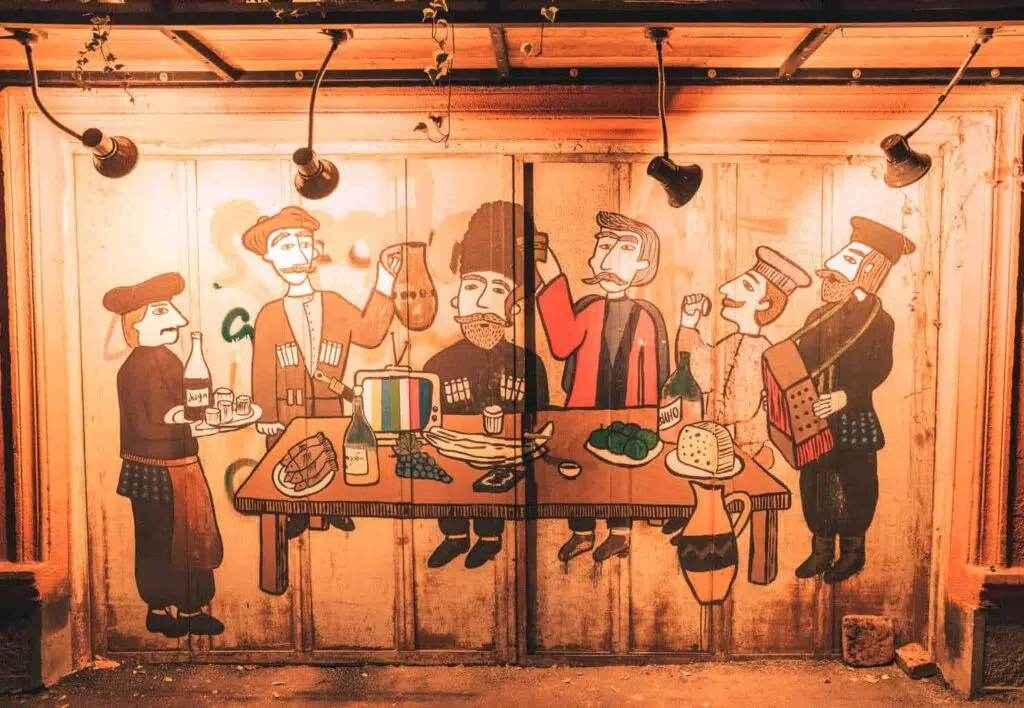 What currency do they use in Georgia?
The currency in Tbilisi is the Georgian Lari (GEL). A very approximate exchange calculation is as follows:
£1 = 3.5 GEL
€1 = 3 GEL
$1 = 2.5 GEL
Time Zone in Tbilisi
The time zone in Tbilisi Georgia is GMT+4. Coming from France, I found this time difference an easy one to get used to. If anything, it got me out of bed earlier to start the day exploring!
Public WiFi in Tbilisi
WiFi is available throughout Tbilisi city centre. Just look for the Tbilisi Loves You network and you can join for free. I found this super handy as my network provider was going to charge a fortune for roaming data in Georgia.
Language & Key Georgian phrases to help you get around
The Georgian language is a tricky one. Not just to speak, but to read also. Luckily, most people I encountered spoke English well so after an initial "Gamarjoba!" there was no need to blunder my way through.
You'll also find there are signs, menus and instructions in English as well as Georgian throughout the city. But as with anywhere you travel, it's always good to have a few key phrases on hand – for politeness and to show respect for the country you are visiting.
Here are a few words you can learn and use during your trip to Tbilisi:
Hello – Gamarjoba
Please – Gtkhovt
Thank You – Madloba
Goodbye – Nakh'vamdis
Excuse Me – Bodishi
---
---
Tbilisi, Georgia is an interesting and diverse holiday destination with a lot to offer visitors. It has a unique flavour that's somewhat eclectic in nature and yet it keeps you enthralled.
Whether Tbilisi is somewhere you've never thought of visiting before, or it's high on your bucket list, I hope this guide to visiting Tbilisi in winter has offered plenty of inspiration and useful advice.
Pin this for later…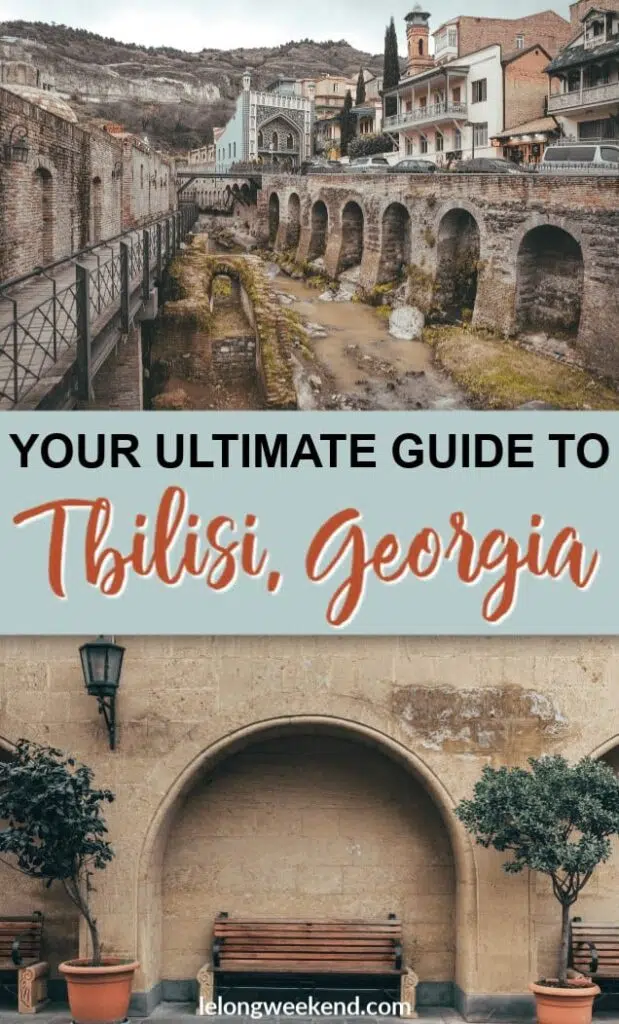 *My trip to Tbilisi, Georgia was hosted by the city hall. As always, all opinions expressed are my own.