If you're thinking about visiting Killarney for a holiday then you're already well on your way to a fantastic getaway! Killarney is home to the best of what Ireland has to offer – the beautiful rustic landscapes, buckets of old-world charm, and that famous Irish hospitality that leaves every visitor feeling like they're part of the family.
Luckily, there are many places to stay in Killarney. No matter your budget, or reason for visiting County Kerry, you'll find accommodation to suit your needs.
I was recently in Killarney to attended TBEX – the world's largest travel blogging conference. Over 600 content creators from around the world descended on the charming Irish town and we were well accommodated in Killarney's hotels, hostels, luxury lodges, holiday parks and bed & breakfasts.
While I chose to stay in luxury at The Brehon, I wanted to showcase the range of accommodation available in Killarney. So I asked others who attended TBEX to share their pick of the best places to stay in Killarney!
---
The Brehon Hotel
Nadine – Le Long Weekend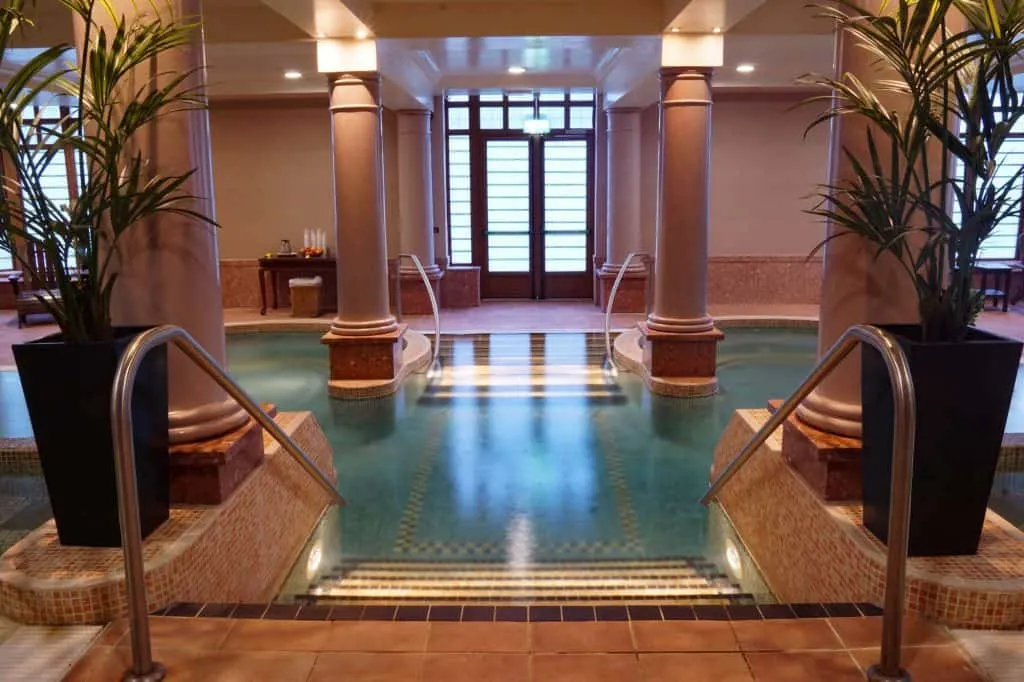 Located right next door to INEC Killarney (Ireland's National Event Centre), The Brehon maks an obvious choice for anyone attending events in Killarney. But it wasn't just the location that won me over.
The promise of 4-star luxury, an on-site spa and vegan-friendly restaurant sealed the deal! And I wasn't disappointed. From the minute you enter The Brehon you're cocooned in a cosy opulence that will make you never want to leave. From the ornate entrance to the warm greeting and the large luxurious rooms – no detail is left wanting at The Brehon.
I loved my corner suite overlooking the lush countryside, with Killarney National Park spreading out in the distance. I snuck away from the conference to indulge in the Angsana Spa with its warm lap pool, sauna, steam room and jacuzzis. And I dined on exquisite food in the Brehon Bar and Danú restaurant. The only surprise at The Brehon is why it isn't a 5-star!
---
The Killarney Royal
Sher – Sher She Goes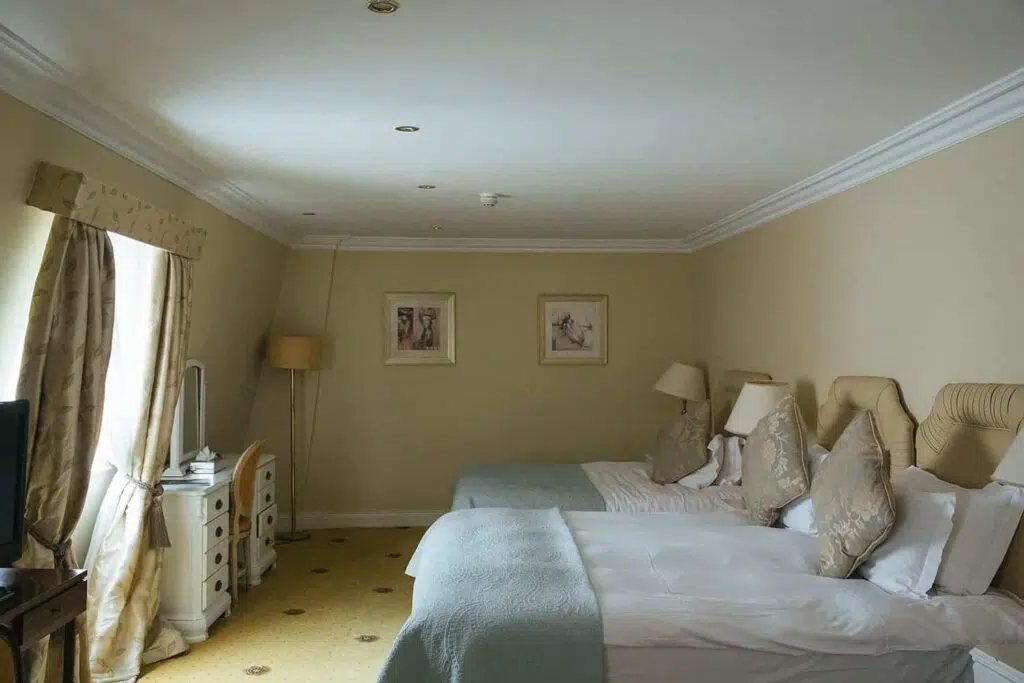 We stayed at the Killarney Royal, a charming, boutique hotel conveniently located in the centre of town. The hotel has been family owned for over 3 generations and was originally a townhouse, so all the rooms are slightly different and feature antique furnishing. We loved how spacious and luxurious our room was – easily the largest hotel room we stayed in during our trip to Ireland!
We happened to be in Killarney when Hurricane Ophelia hit and the staff at the Killarney Royal made us feel cosy and comfortable despite the natural disaster. Dinner in the hotel restaurant is delicious as well – their menu features lots of traditional Irish classics and some incredible dessert.
---
Black Sheep Hostel
Patrick – German Backpacker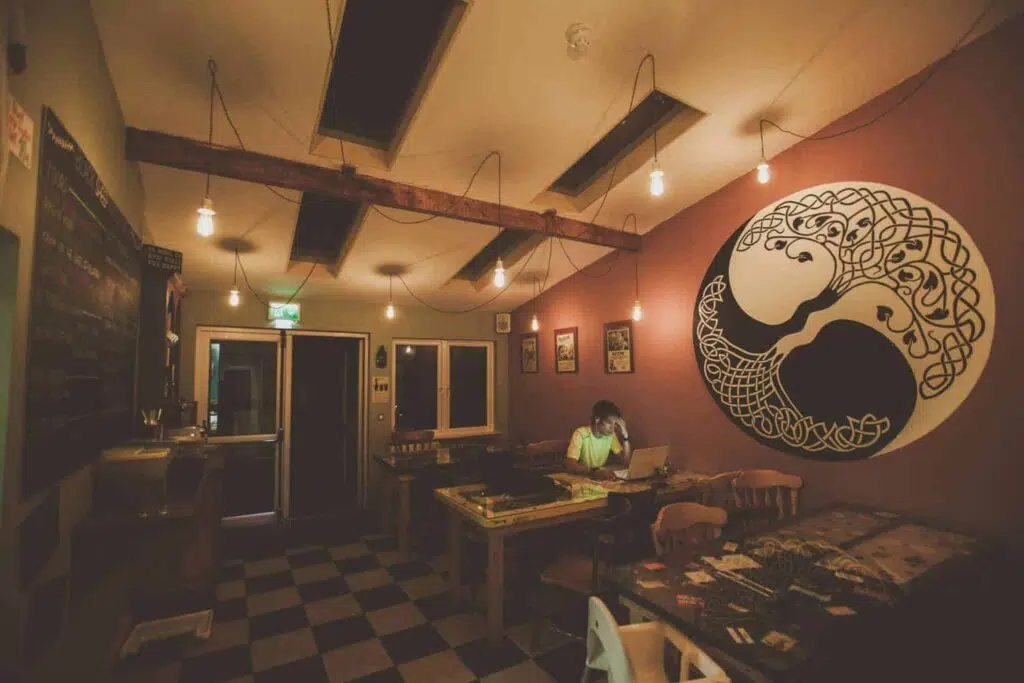 While visiting Killarney, I stayed at Black Sheep Hostel, located directly in the city centre. I certainly recommend this place and had a nice time there.
The dorms are clean and every bed comes with a personal light, plug and even a curtain to have some privacy and a night of good sleep. There are also lockers provided for every guest.
The spacious and well-equipped kitchen is great for cooking and in the mornings, a nice, complimentary breakfast is served to have a great start to the day. There's also a cosy common room to relax or to connect with other travellers.
Various day trips and activities can be organized through the hostel and in the evening, common dinners or other events are regularly organized. Overall, Black Sheep Hostel is a great place to stay while discovering beautiful Killarney.
---
Park Place Apartments
Christine – Food Wine Travel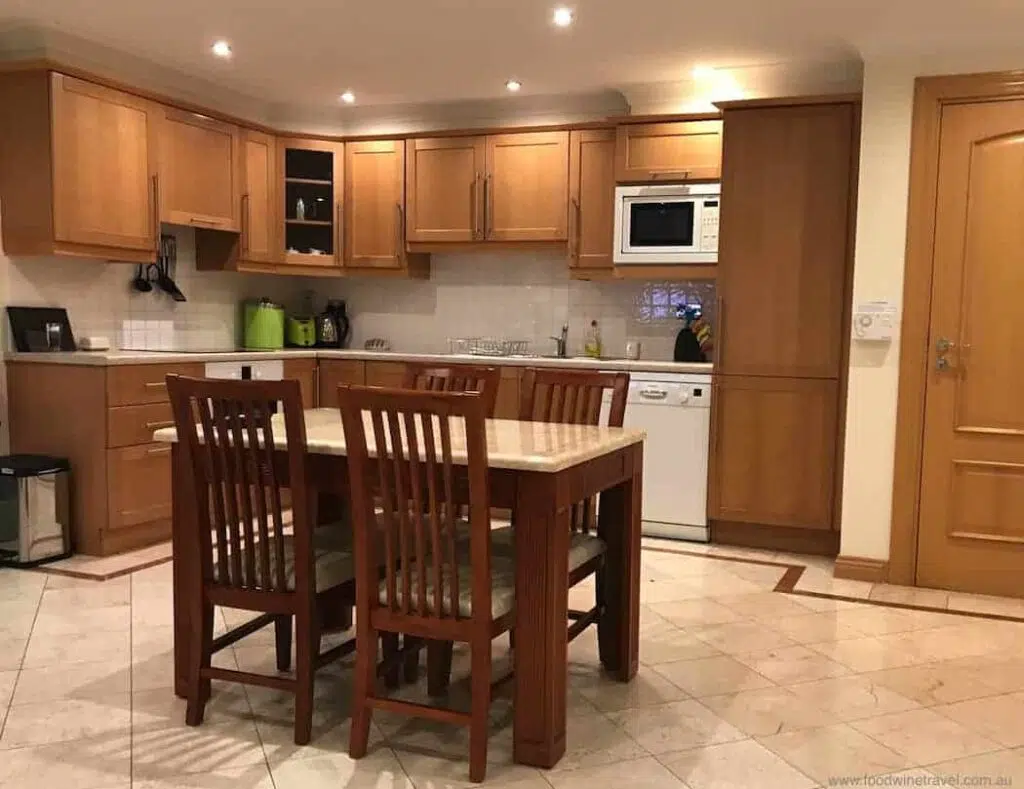 Location-wise, it would be hard to find more convenient accommodation in Killarney than Park Place Apartments. At the top end of the High Street, you can practically roll out the door of Killarney's fabulous pubs and into bed.
Our two-bedroom apartment was so spacious we could have moved in for six months. Sadly, we had only five nights in beautiful Killarney, barely enough time to turn on the TV or use any of the facilities in the fully equipped kitchen. But everything was there that we could possibly have wanted, from high-quality chef's knives to wine glasses, water jugs and a full-sized fridge.
The washing machine/clothes dryer got a good workout, and the central heating kept us deliciously warm. There was free wi-fi and free secure parking. Marble floors in the living area, two marble tiled bathrooms and huge bedrooms with lovely soft carpet underfoot added up to quite a luxurious feeling; 80 euros a night for this seemed very reasonable. We stayed at our own expense and felt pleased with our good fortune.
---
Killarney Park Hotel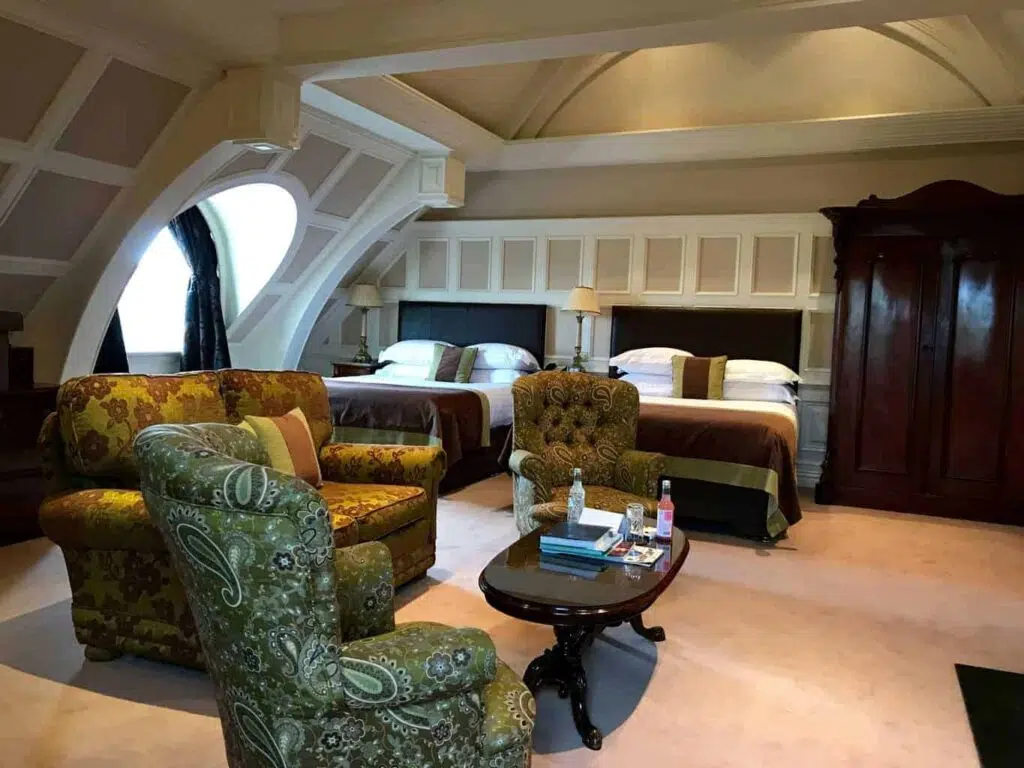 The Killarney Park Hotel offers old-world luxury in a spectacular location, steps from the quaint village centre. Vaulted ceilings, curved and panelled walls, and a large sitting area with fireplace gave our 3rd-floor suite extra charm. Upper rooms also enjoy beautiful views of the surrounding mountains.
Common areas are luxe but never stuffy, and guests can take advantage of an indoor pool, fitness centre, and spa. The location right in the centre of town is close to pubs, restaurants, and shops, but the hotel's private grounds are away from the crowds and noise. We certainly understand why TripAdvisor rates Killarney Park Hotel #1 for luxury hotels in Ireland.
---
Killarney Holiday Village
Melissa – The Family Voyage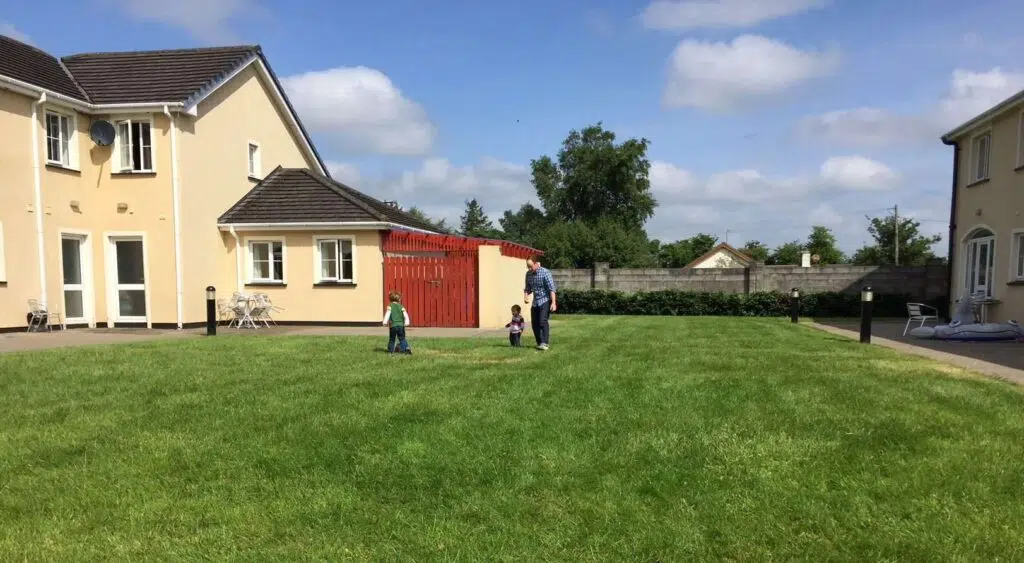 If you'll be visiting Killarney with a family or a group, there's no better place to stay than Killarney Holiday Village. While it's not right in the heart of town, it offers all the comforts of home in a very convenient location. Our townhouse had a whopping FOUR bedrooms and three bathrooms – certainly more than we needed! Even better, the home shares an enormous backyard with the neighbouring townhouses and comes equipped with a large kitchen featuring a washer and dryer.
Since the owners offer a discounted rate for staying a full week, we decided to use Killarney as our base for exploring all of southwest Ireland, including Kerry, Dingle even up to the Cliffs of Moher!). We wouldn't hesitate to recommend Killarney's Holiday Village to our family, friends and readers. (PS – if you're the adventurous type, the Village is located very close to this exhilarating bike ride through the Gap of Dunloe!
---
Luxquisite Property Lettings
Ashley – A Southern Gypsy
If you're looking for a unique kind of stay in Killarney, definitely check out Luxquisite Property Lettings. Myself and several others decided to stay in luxury and rent this exquisite home during our week in Killarney. You'll literally have everything you need and, in all honesty, probably get outsmarted by the house as it is considered a "smart home." At just the push of a button, the entire house turns on, the blinds and curtains open, the radio plays and much more.
The home is fully equipped with a laundry room, fireplace, full kitchen, five bedrooms, four bathrooms, a large patio area and more. Luxquisite is perfect for large families, a group of friends or just a couple who really likes a lot of space! Also, I easily walked into town as it's only a ten-minute walk straight down to the heart of Killarney.
---
Old Weir Lodge
Keri – Our Globetrotters
Situated on Muck Ross Road only a kilometre from the centre of town, Old Weir Lodge is an ideal guesthouse for couples or families alike. There are plenty of rooms on offer in all different shapes and sizes. For families, there are family rooms that sleep 4 (and their triple rooms can actually sleep 4 with a double bed and two singles), all with ensuite bathrooms to keep your privacy!
A hearty Irish breakfast is provided in the dining room daily, and tea/coffee making facilities are in your room, along with free wifi. You'll find the reception staff incredibly helpful and friendly in getting you around town, and this family-run business also operates boat tours from Ross Castle.
---
Killarney Inn
Hannah – HH Lifestyle Travel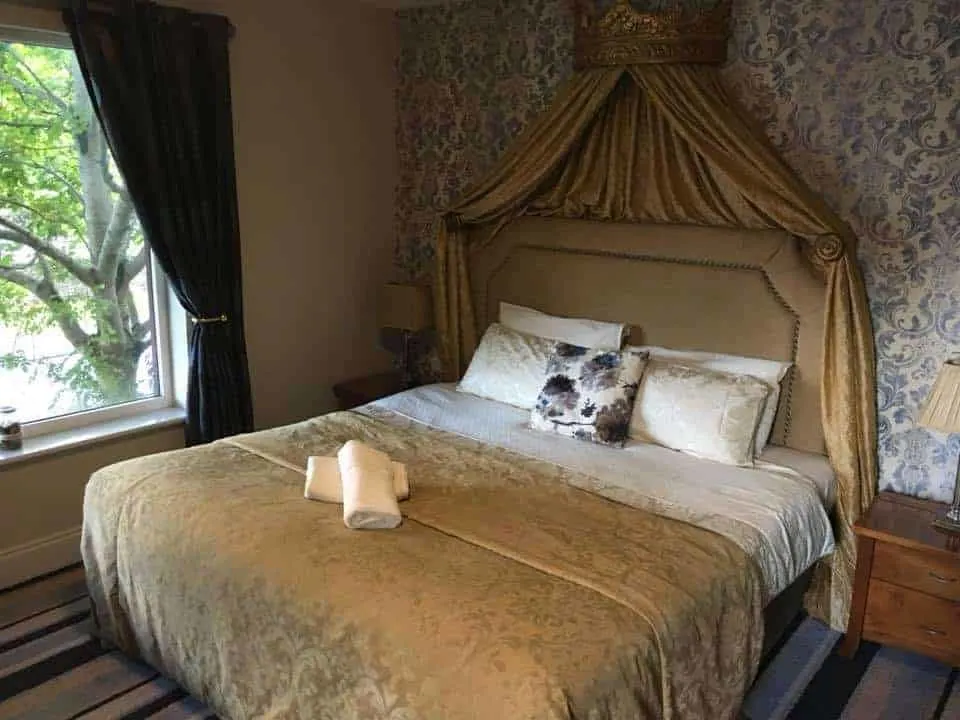 The Killarney Inn on Muckross Road is a great dog-friendly hotel in Killarney. It is a small hotel, over 3 floors; and has just had a refurbishment using opulent rich golds and reds. The bed in our room was huge, and we even had a small balcony. We stayed for 4 nights and really did appreciate the small dining area in our room, as well as the amount of spare space we had – Moose the dog appreciated the floor space too!
The breakfasts were hearty, and they also had a nice nook at the front of the hotel where you could sit and enjoy a whiskey before bed! Dog-friendly accommodation is limited in Ireland, so we were pleased to find a hotel like the Killarney Inn.
---
Castle Lodge Guesthouse
Vanda Mendonça – The Yogi Wanderer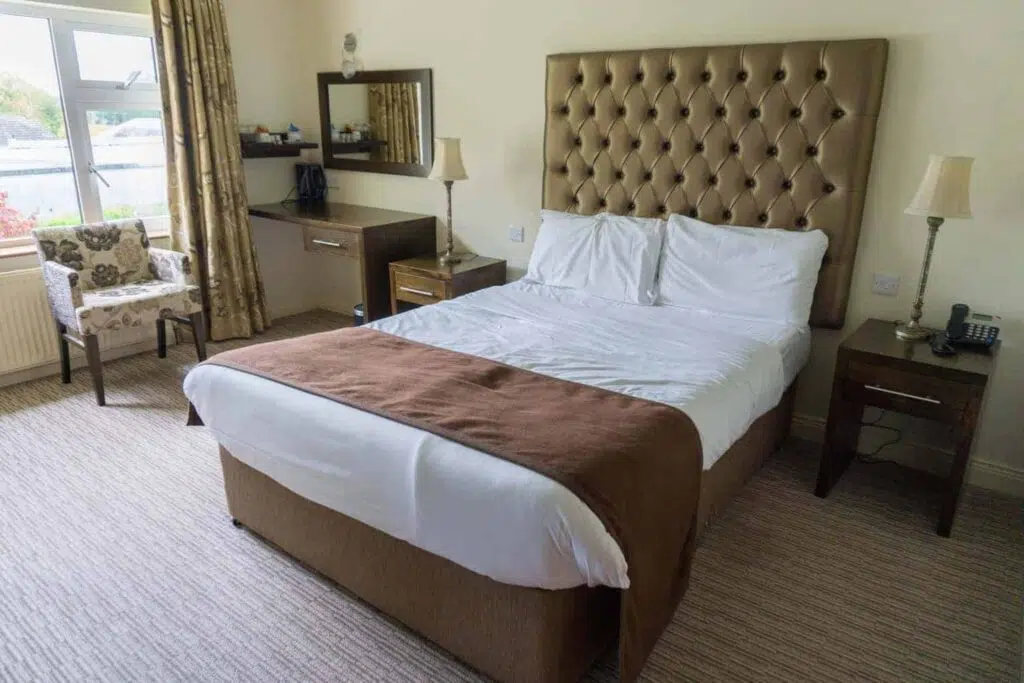 During my recent visit to Killarney for TBEX Ireland, I spent four nights at Castle Lodge, located just a short two-minute walk from the town centre. With a friendly and warm atmosphere that immediately made me feel at home – along with all the amenities and comfort of a hotel – this family-run guesthouse is a true gem!
All the common areas are beautifully decorated, and staff really go the extra mile to assist you with anything you need – early breakfast, taxis, etc. My room was very nice and spacious, with en-suite bathroom, and a great view over the mountains.
Breakfast is included in the room rate and consists of a cold buffet, or you can order a traditional Irish breakfast. I truly recommend staying at Castle Lodge Guesthouse if you're looking for good value for money for your stay in Killarney.
---
Brook Lodge
Thassia – Family Off Duty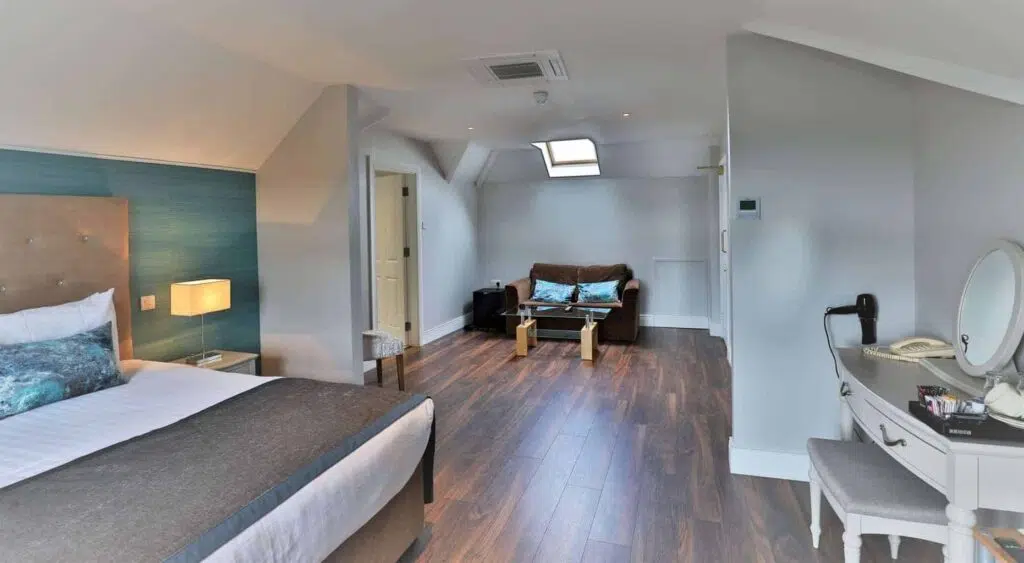 The big advantage of this hotel is being so central. It is really close to the downtown area. Just a short walking distance to many pubs, great restaurants, bars and a supermarket. The rooms are clean and spacious, with a good shower and comfortable beds. The staff were friendly and helpful. There is free parking space on site also which is a bonus!
In general Brook Lodge is a very good value for money and I would recommend it to anyone who wants to be in a convenient area in Killarney.
---
Flesk Lodge
Daniela – Ipanema travels to…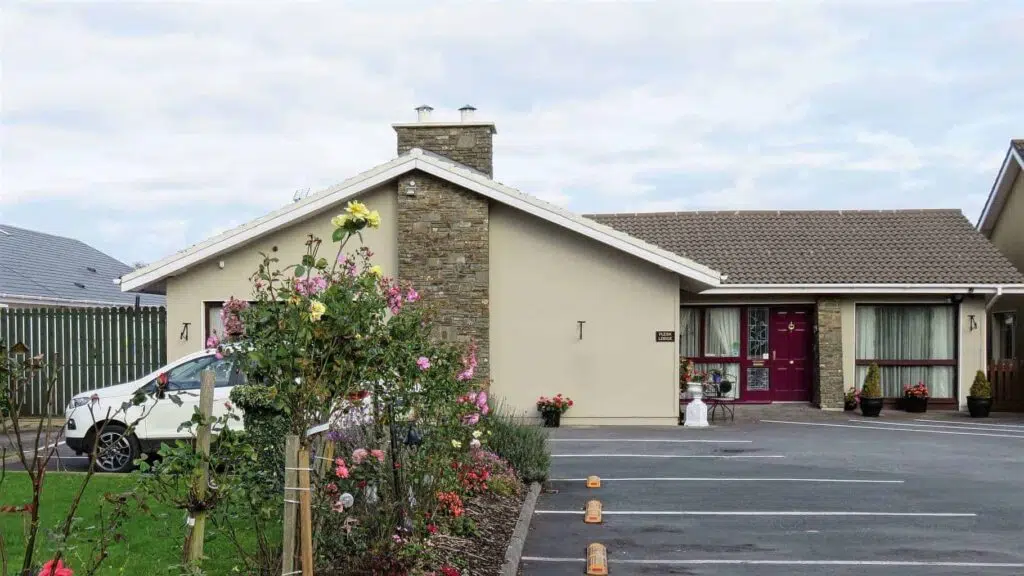 Flesk Lodge is a very neat and cosy B&B strategically located on Muckross Road in Killarney. In 10 minutes you are at the town centre and in less than 5 minutes at INEC (Ireland's National Event Centre) – very comfortable if you are attending an event there. The B&B has its own car parking in front – absolutely handy, if you are doing, for example, the Ring of Kerry road trip and are staying there for a couple of nights.
The Flesk Lodge is run by a couple in their 70's – very welcoming and warm people with nice stories to tell. The breakfast is prepared each morning from fresh local produce. If you are looking for a charming place to stay in Killarney with a well-kept rose garden in front, Flesk Lodge would be the right one.
---
With so many amazing places to stay in Killarney, you'll be spoiled for choice! Whether you're in Killarney for a family getaway, a business meeting, a spontaneous sojourn or a romantic weekend – you won't go wrong if you book at one of the above best places to stay in Killarney.