If there's a colour palette that defines the Algarve region of Portugal, it's golden cliffs against a turquoise sea. And nowhere is this contrast of hues more striking than at the Ponta da Piedade. A unique headland that's been carefully chiseled over the centuries by the delicate touch of a sea breeze, and the wild waves stirred up in the Atlantic Ocean.
From above, its beauty can be deceiving, but as you descend down into this hidden world, you'll find caves, sea grottos, and pillars that appear like earthy icebergs floating in the sea.
Taking a tour of this special place near Lagos is a must-do when visiting Portugal, so read on to find out how to best discover it for yourself.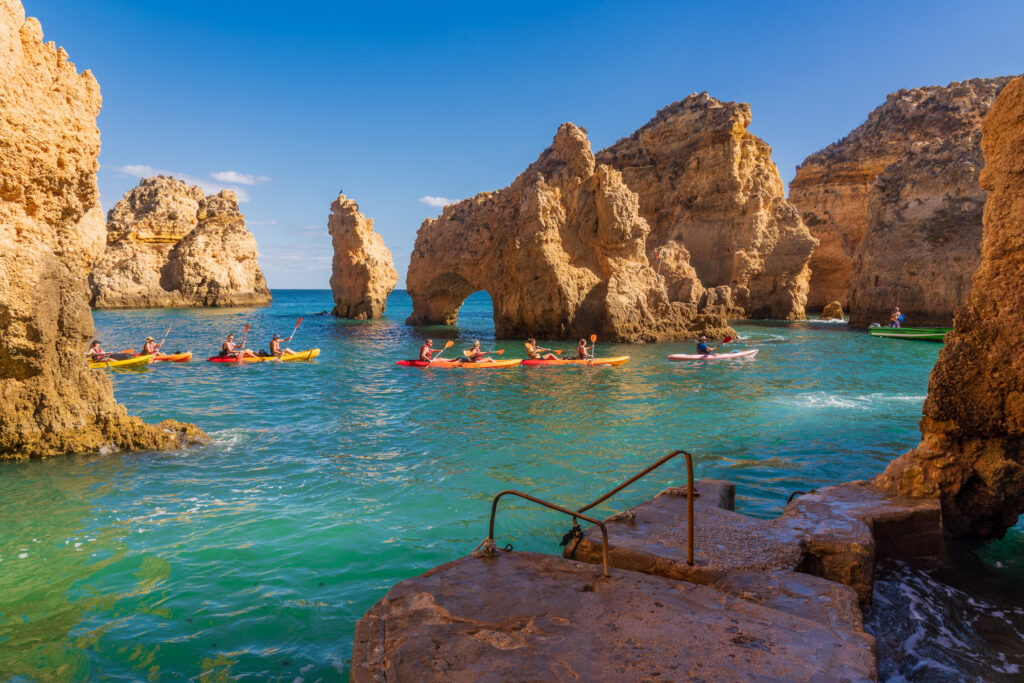 Read Also: Best Things to do in the Algarve, Portugal
---
How to get to Ponta da Piedade
Considering the popularity of this Portuguese landmark, finding your way there is not difficult, but there are a few key things to know.
Firstly, if you're staying in Lagos, you can walk along the coastal trail to reach the end of the peninsula. Or, if you're driving, just pop Ponta da Piedade into your GPS and follow your navigation until you get to the dedicated parking lot.
Parking is free, and the car park is large. But I imagine in the peak of the summer months it will still get full.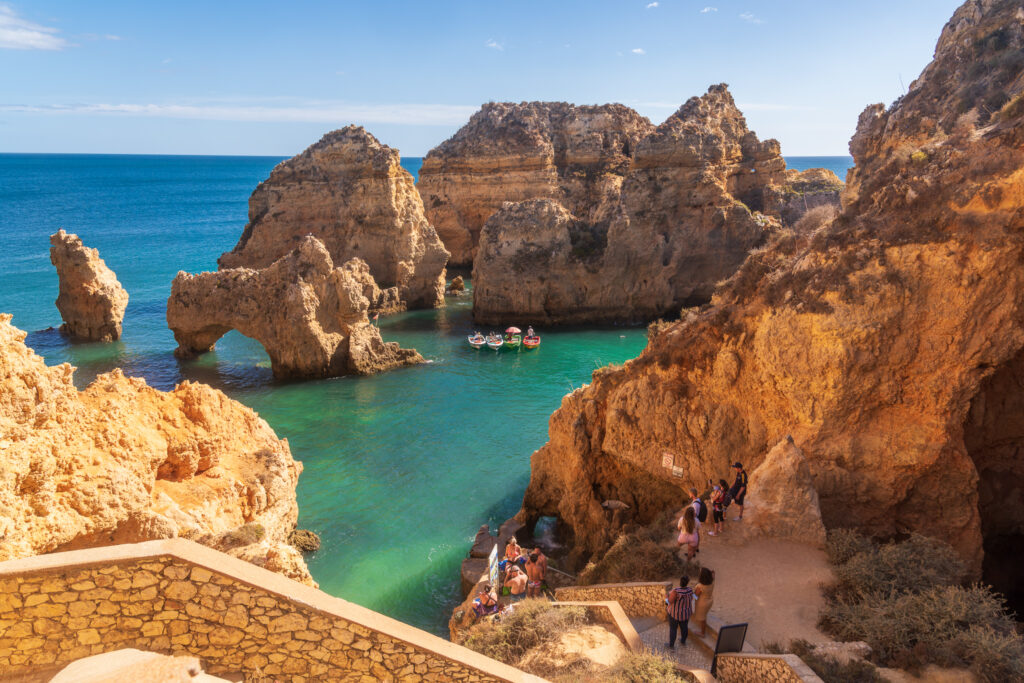 Next to the car parking, there is a small cluster of shops and restaurants, and at the end, a lighthouse. You need to follow the path between the two stores to find the walking track. Don't follow the path to the right of the lighthouse.
At first, there are no signs as you navigate the dirt tracks, but if you walk in the direction of the point, you'll soon find a lone ramshackle sign leading the way.
It's a very short walk, but once you reach the lookout point, it's all stairs from there on out! Follow them down to view the tiny "port" below, or simply admire the view from above.
Of course, your other option is to reach the Ponta da Piedade by sea. There are several tours originating from Lagos that will allow you to explore this area from the water. Although, ideally you'd get to take in both perspectives!
If you're interested in taking a boat tour, I've detailed the options below.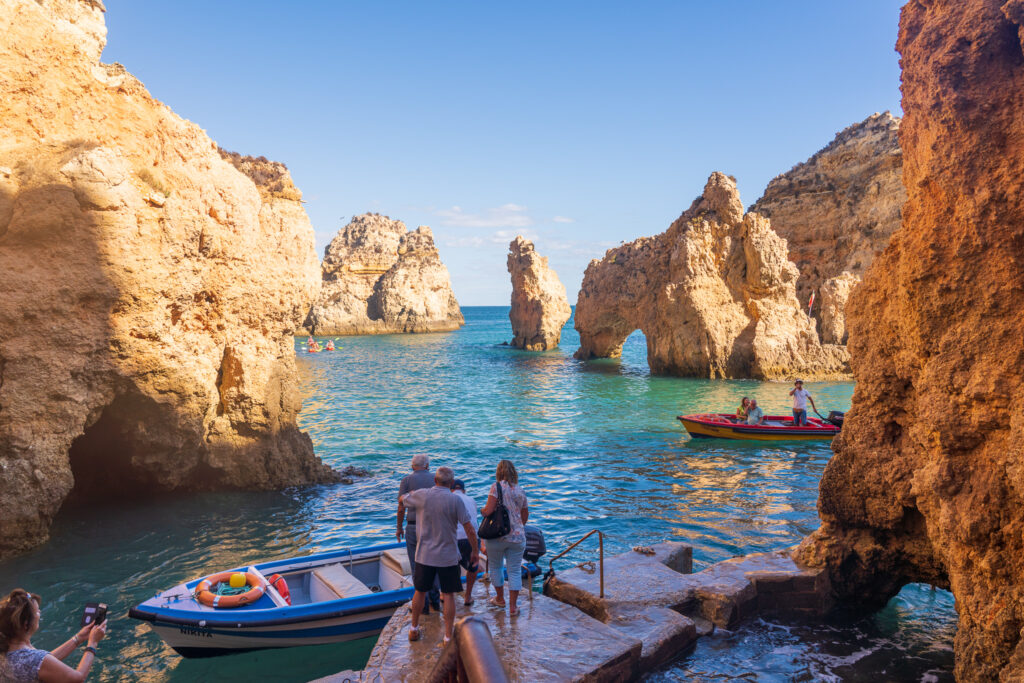 Boat Tours of Ponta da Piedade
Undoubtedly the best way to discover the secrets of this coastline is to take a tour by boat, or by kayak. You can either do this from Lagos or right within the Ponta da Piedade itself.
I hadn't booked a tour when I visited, but as it was 'off-season', it was easy enough to join in on a tour without a wait. Boat tours leave from the iconic Ponta de Piedade launching point at the bottom of the stairs (which you reach by following the directions above).
From here, they cost €20 per adult or €10 per child. But it's cheaper if you go as a group. I joined in with two lovely Portuguese ladies, and we paid €45 for our group of 3.
Unfortunately, our boat driver only spoke a few words of English, so the explanations of what we were seeing along the way were very basic, but it was enjoyable nonetheless. If you want a more educational trip, it's probably better to book an English language trip from Lagos.
We zipped around the pillars and caves for around 20 minutes, darting between bewildered-looking kayakers and ducking as we passed through low-hanging natural bridges, before being deposited back at the tiny port.
Tour Options from Lagos
Boat tours of the Ponta da Piedade are an affordable outing, with options starting at just €20 for a 75-minute journey. If you're interested in a slightly different experience, there are also sailboat tours, or catamaran cruises that include time for swimming (when it's warm enough). And if you want a more active experience, the kayak tours look like a lot of fun too!
For the kayak tours, you'll be transported into the Ponta da Piedade area by boat before boarding your kayak to explore further. So don't worry if your fitness isn't the best.
Below you'll find some of the most popular tour options from Algarve. I booked all my own tours (except the impromptu Ponta da Piedade boat tour) through Get Your Guide while I was in the Algarve, and I love how streamlined and easy the experience is.
---
Other activities in and around Ponta da Piedade
You can easily spend a day in Ponta da Piedade by combining your tour of the sea caves with a walk and a trip to one of the stunning nearby beaches.
Walks near Ponta da Piedade
From the central car park, you can embark on walks on either side of the headland. The most frequented of which, is the Ponta da Piedade boardwalk.
To make this short walk, head to the lighthouse, and take the path to the right as you're approaching. The wheelchair-friendly boardwalk takes you along the coast, past beautiful coves and dramatic cliffs, before revealing the stunning view over the Praia do Canavial beach.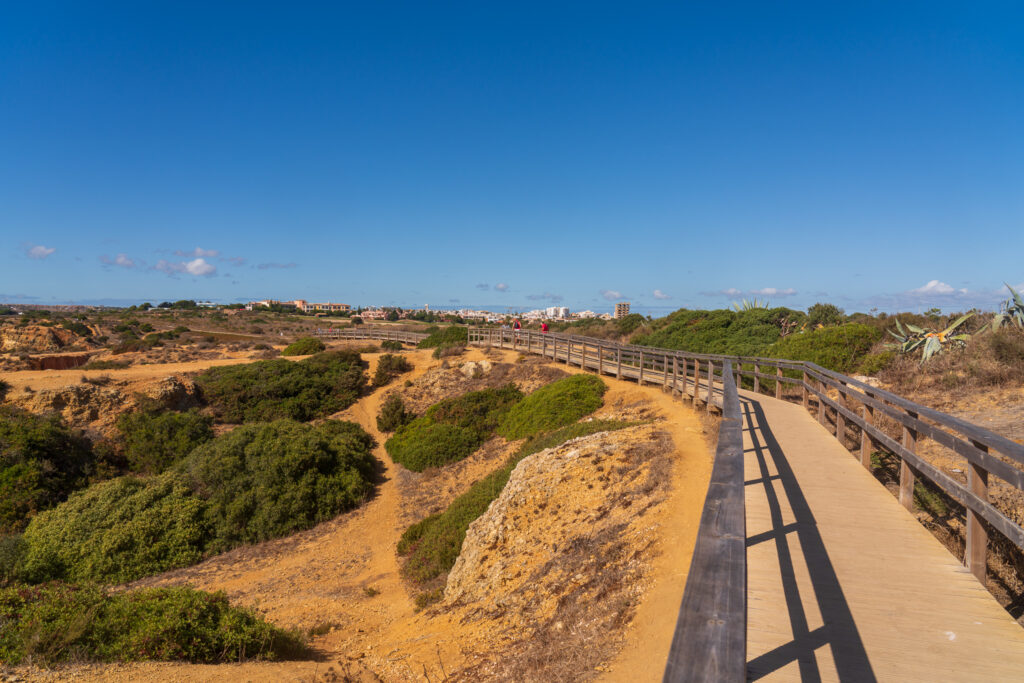 In the other direction, back towards Lagos, the walking path isn't so obvious, and it's important to pay careful attention to where you tread, as there are steep dropoffs with little warning. The cliffs are also unstable, so take care not to teeter too close to the edge, especially where the earth below has been eaten away by the elements.
This coastal path takes you past hidden beaches that are only accessible by sea (or by scaling the steep cliffs), deep caverns, and spectacular viewpoints. And that's all before you reach the incredible Praia do Camilo.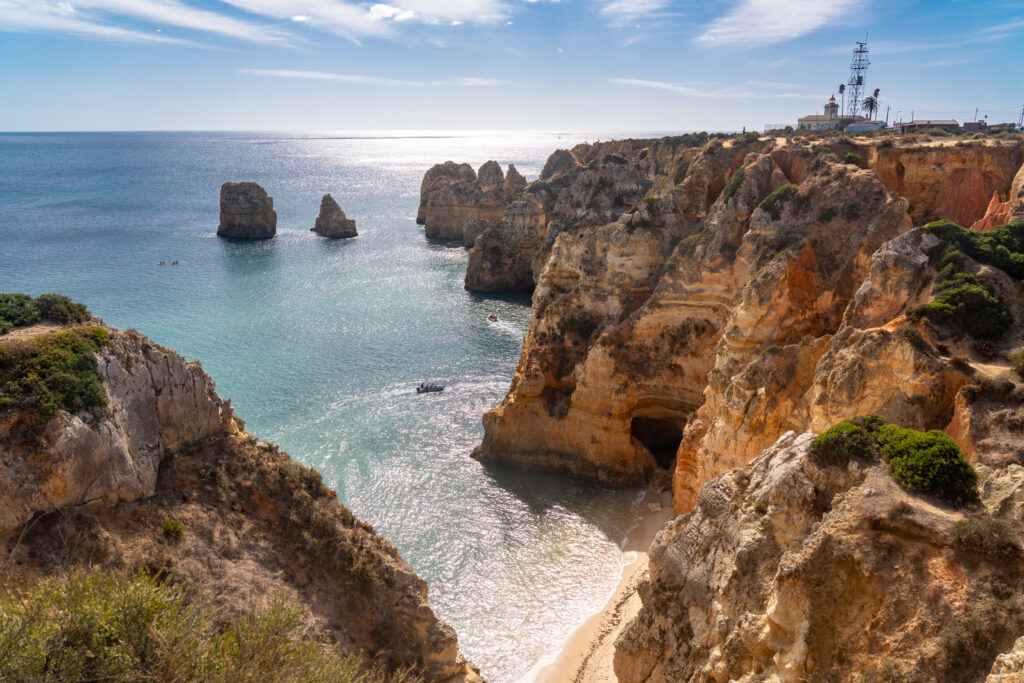 Related Reading: Walking the Seven Hanging Valleys Trail in the Algarve
Beaches near Ponta da Piedade
The coastline around Ponta da Piedade is dotted with picture-perfect beaches. Not all are accessible, but those that are, deliver hours of idyllic seaside fun.
Praia do Camilo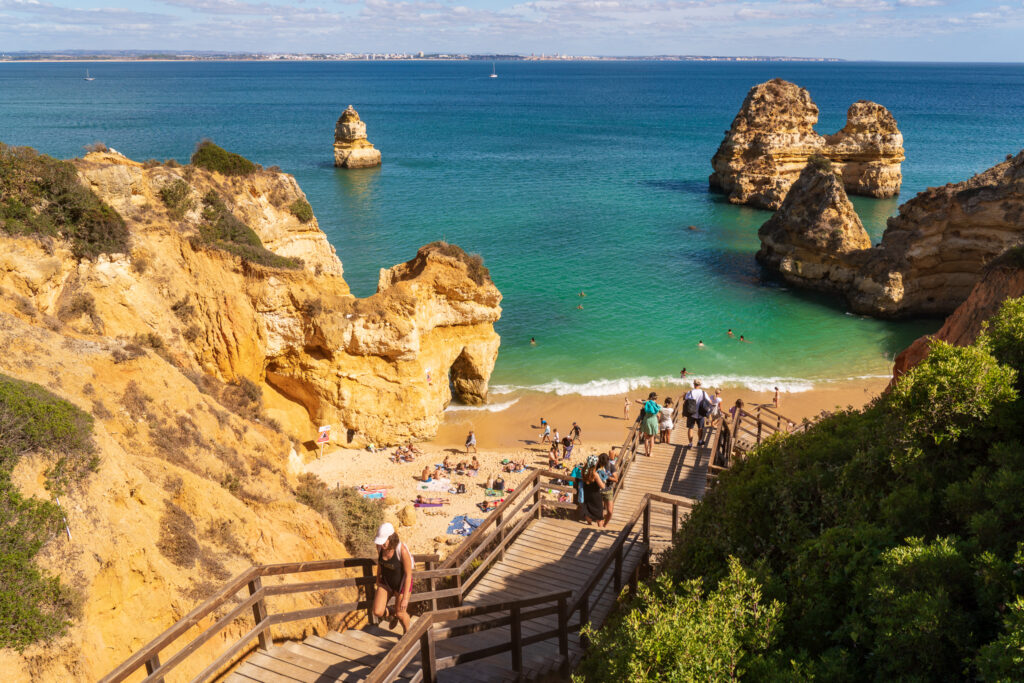 Named one of the most beautiful beaches in the Algarve, this popular beach is accessed via a picturesque staircase leading down to the water. Reach the bottom and you'll be welcomed by a perfect cove of golden sand.
If you're looking for a more peaceful patch to lay your towel on, simply head through the tunnel in the rock to the left of the beach and you'll find a second, more secluded cove.
Praia de Dona Ana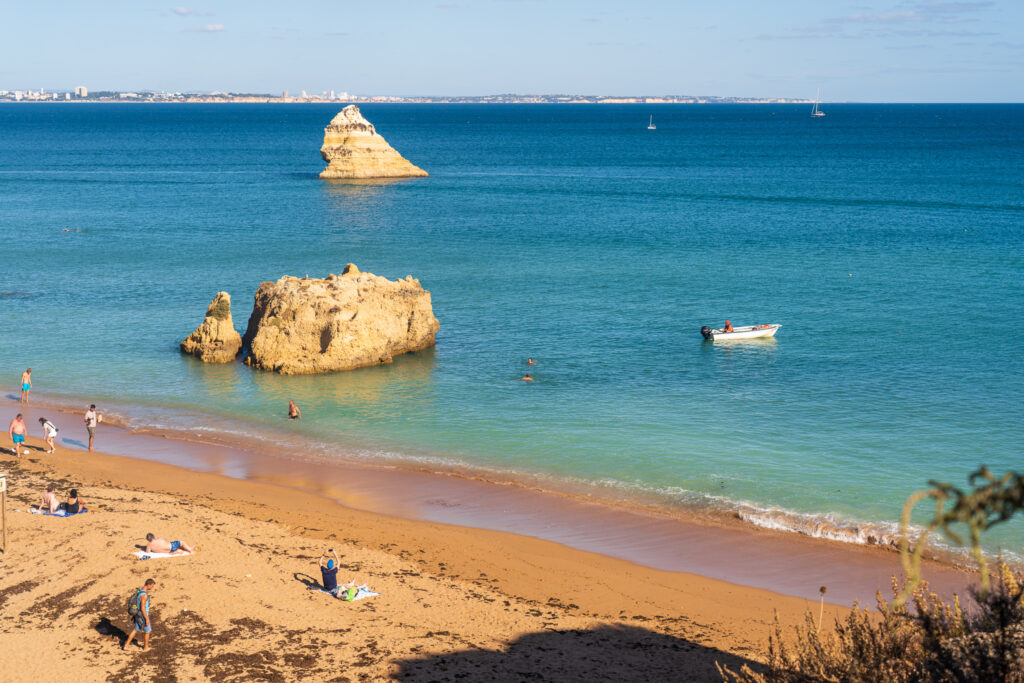 A larger, family-friendly beach, Dona Ana is also accessed via a long wooden stairway, but the entrance is slightly less dramatic than that at Camilo beach. However, it's a good choice with kids as there's more space to run around and play on the sand, and there are more facilities nearby should you need an emergency sunscreen top-up, bottle of water, or bite to eat.
Grab a bite to eat at Camilo
Although there's a restaurant near the car park at Ponta da Piedade, it's more of the "cheap and cheerful" variety, than a place where you can sample the authentic food of the area.
If you're a little more discerning, head along to the cliffs behind Praia do Camilo where you'll find the aptly named Camilo restaurant. Here, you can enjoy the regional flavors, prepared fresh, while you enjoy uninterrupted views of the coastline.
Just be warned, that it gets very busy, so it's best to book in advance.
---
Key things to remember when visiting Ponta da Piedade
As tempting as it may be to get that perfect Instagram shot, remember that the cliffs around the Ponta da Piedade are unstable, and could give way unexpectedly. Take care not to get too close to the edge, and be aware of what lays beneath your feet.
You can't really swim around the cliffs at the Ponta da Piedade. For one, the boat traffic is heavy, and you risk getting into a collision. When we were on our boat tour, there was one swimmer bobbing about offshore and it was incredibly hard to see him until we were almost on top of him! Be aware, and swim nearby at the surrounding beaches instead.
I'd reccommend visiting in the shoulder seasons, to avoid the crowds of summer. But if it's unavoidable, be sure to book your boat tour in advance so you don't miss out.
---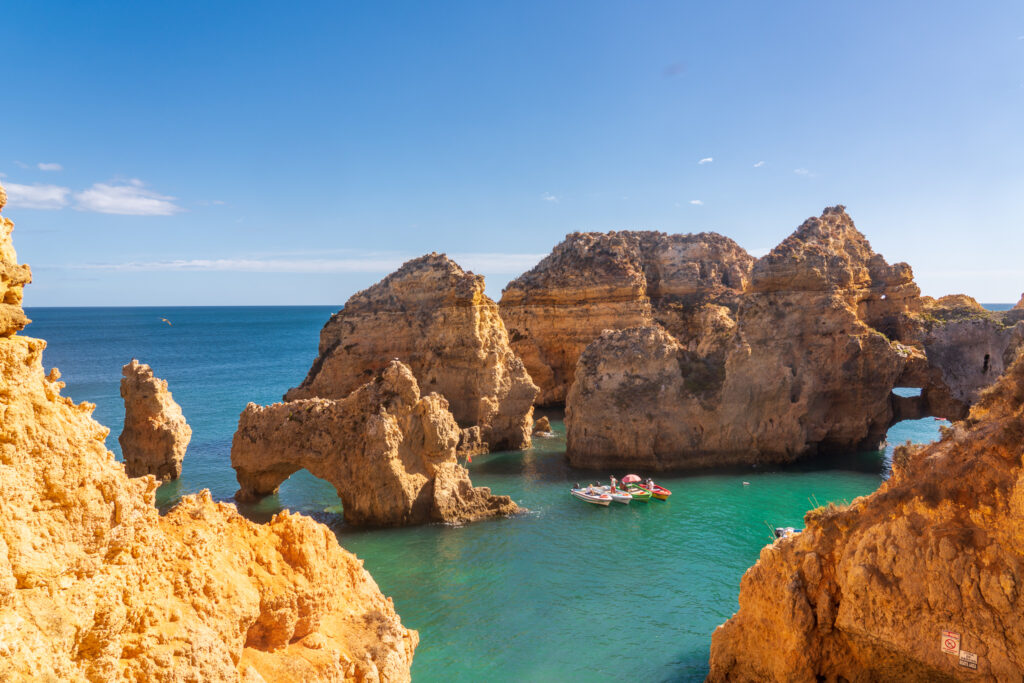 Visiting the Ponta da Piedade is a fun day trip from Lagos, and a unique experience to have when visiting the Algarve in Portugal. Explore the otherworldly sea caves and grottos, kayak between towering pillars, or walk one of the most spectacular areas of coastline in the country – there's something for everyone to enjoy!