Portugal sits on the Iberian Peninsula, flanked by the Atlantic Ocean to the west and Spain to the east. It's a country known for its lilting Fado music, delicious food and fascinating history. It was the last country in Europe that explorers would see before they embarked on sailboats to the New World, and many ships would pass the beautiful Algarve beaches that we see today before heading out on their voyages.
The Algarve region covers the entire southern shores of Portugal. Just 2.5 hours south of the capital Lisbon, it's a popular tourist destination with lush golf courses and some of the most beautiful secluded sandy beaches in the world. Endless sandbanks sit aside saltwater lagoons and hidden coves lie beneath towering limestone cliffs beckoning tourists and locals alike to enjoy a relaxing seaside day out.
Whether you're visiting the Algarve solo, as a couple, or as a family with young children, you will be astounded at the region's natural beauty, the friendliness of its people and the captivating local culture. If you're planning a visit soon, enjoy our guide to the most beautiful beaches of the Algarve, Portugal below.
Read also: Best things to do in the Algarve
Cacela Velha Beach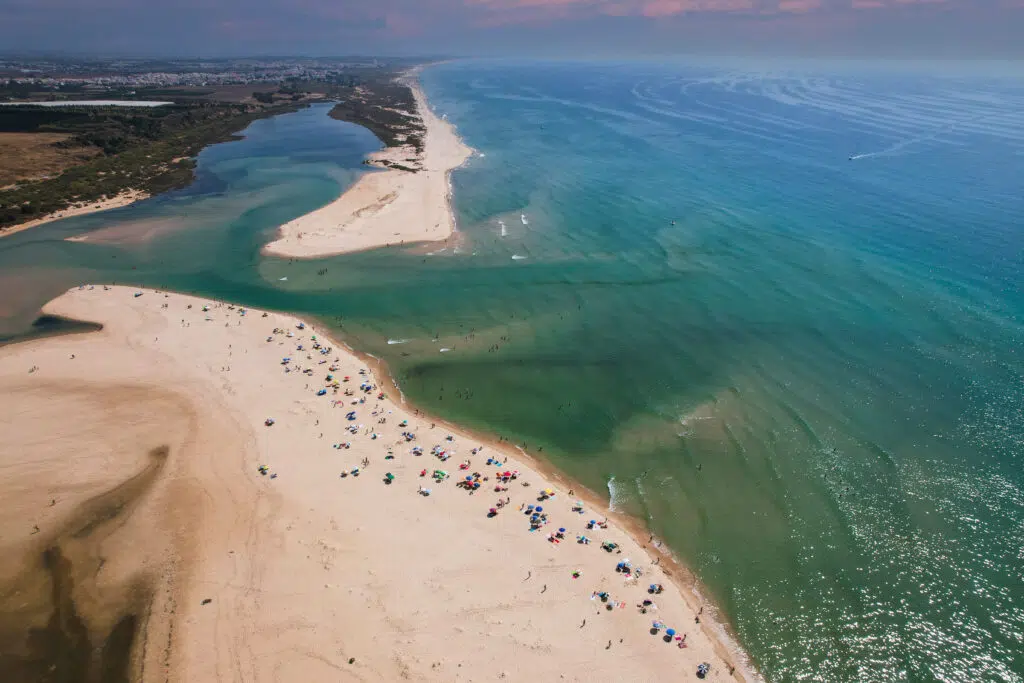 The pretty Algarvian fishing village of Cacela Velha used to be a stop-off point for Greek and Phoenician navigators searching for new lands, and beneath the village, is possibly the most peaceful beach in the Algarve. Wander into the village first, discover its interesting fishing heritage and admire traditional Algarvian painted houses in white and blue as you meander through the quiet streets.
Then venture to one of the best beaches near Faro, located on a small peninsula at the eastern edge of the Rio Formosa Natural Park. The national park attracts many birdwatchers, as over 20,000 migrating birds flock here on their journey between Europe and Africa. It is home to rare species including the flamingo, Purple Swamphen and has the largest number of seahorses in the entire world!
The beach's soft golden sandbank stretches for 1.7 kilometres, between Fábrica Beach to the west and Manta Rota to the east. It's a beach that never looks exactly the same, as the landscape shifts and changes with the flow of the tides.
The only way to reach Cacela Velha beach is to walk along the sand during low tide or to travel via boat across the lagoon, however, on arrival you'll discover that the shallow waters are ideal for families with small children.
Although there are no cafes, toilet facilities or lifeguards populating this beach, it's a great place if you are searching for a quiet spot to sunbathe, picnic, snorkel or swim.
Praia do Barril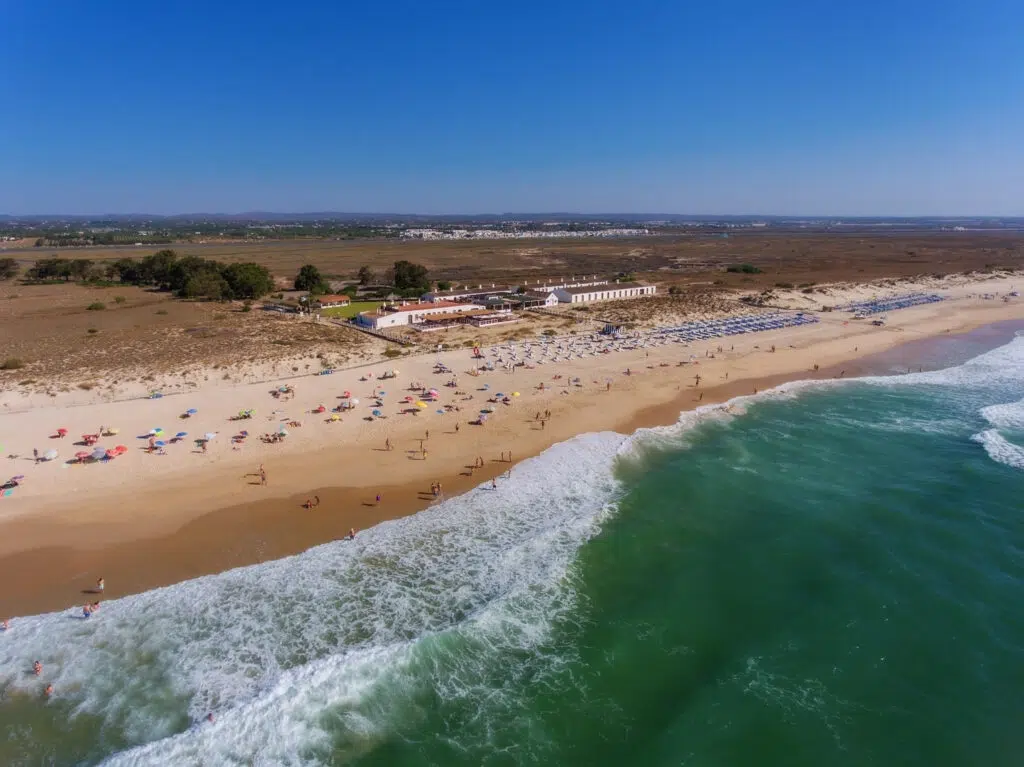 Close to the historic and typically Portuguese town of Tavira on the eastern Algarve is beautiful Praia do Barril Beach.
One of the top Algarve beaches, it boasts pristine white sands and crystalline turquoise waters which are calm and safe for swimming. Spend some time exploring Tavira, with its historic centre, Moorish churches, cobbled streets and tiled houses and take a break to sample Portuguese fare in Cabanas on the waterfront at some point during your day.
The Praia do Barril experience begins with a short mini train ride (great for kids) that transports beach-goers along the 1-kilometre sandbank.
On arrival, the saltwater lagoons of Ilha de Tavira and sand dunes welcome you to a beach that was once part of a small tuna fishing community. Some remnants of the beach's former life can still be seen at 'The Anchor Cemetery', where dozens of rusty anchors are embedded into the sand, creating a memorial to its maritime heritage.
Although this beach is suitable for families with young children, the far side of Praia do Barril Beach also has one of the best unofficial naturist beaches in the Algarve set along a secluded area.
During summer months the beach is supervised by lifeguards and snack bars and beach shops are open, plus, sunshades and parasols can be hired for the day.
Praia da Rocha Baixinha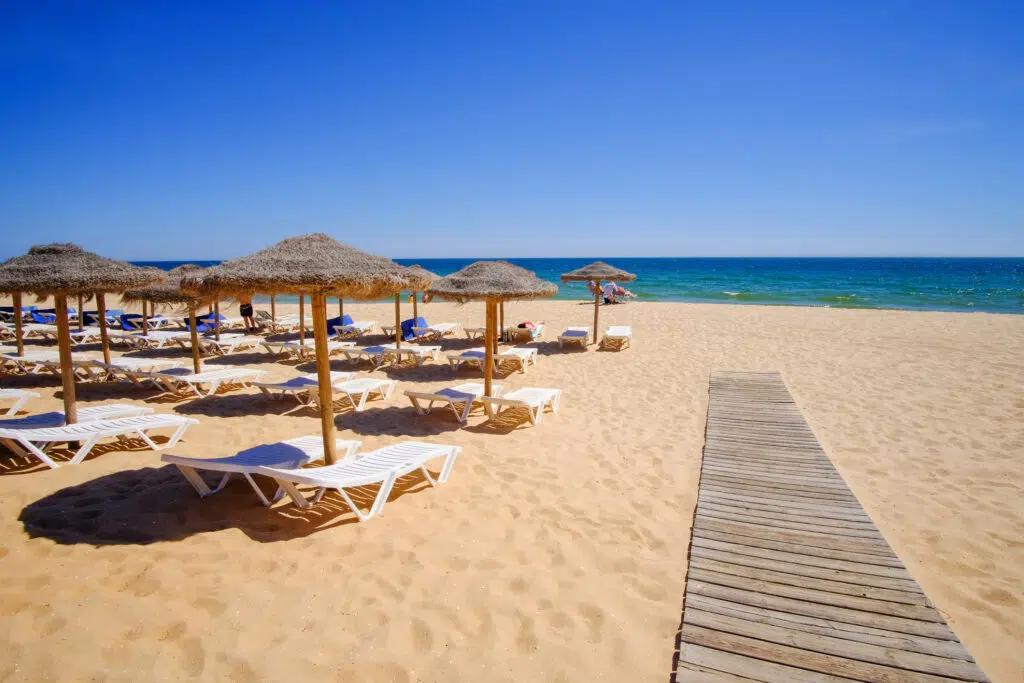 Close to the glamorous marina of Vilamoura, Praia da Rocha Baixinha (Low Rock Beach) stretches for over a kilometre and is a favourite spot of A-listers visiting the Algarve. Several bars and restaurants are within easy reach, and the beach is a veritable fun fest with beautiful sunsets and effervescent beach parties after dark.
This is a beach of two parts. To the west, Rocha Baixinha-Poente boasts a backdrop of golden cliffs and rock formations, while to the east, Rocha Baixinha-Nascente is backed by an endless stream of undulating sand dunes. The sand on the beach is white and sugary, perfect for a romantic stroll, and a boardwalk at the entrance leads to beach bars serving fresh seafood.
If partaking in water sports is high on your list of beach activities, Praia da Rocha Baixinha has plenty to choose from, ranging from kayaking and jet skiing to paddle boarding and kitesurfing.
This beach Is also a popular hotspot for photographers, who find it the perfect location to capture the sunset during the magical golden hour.
Praia do Barranco das Belharucas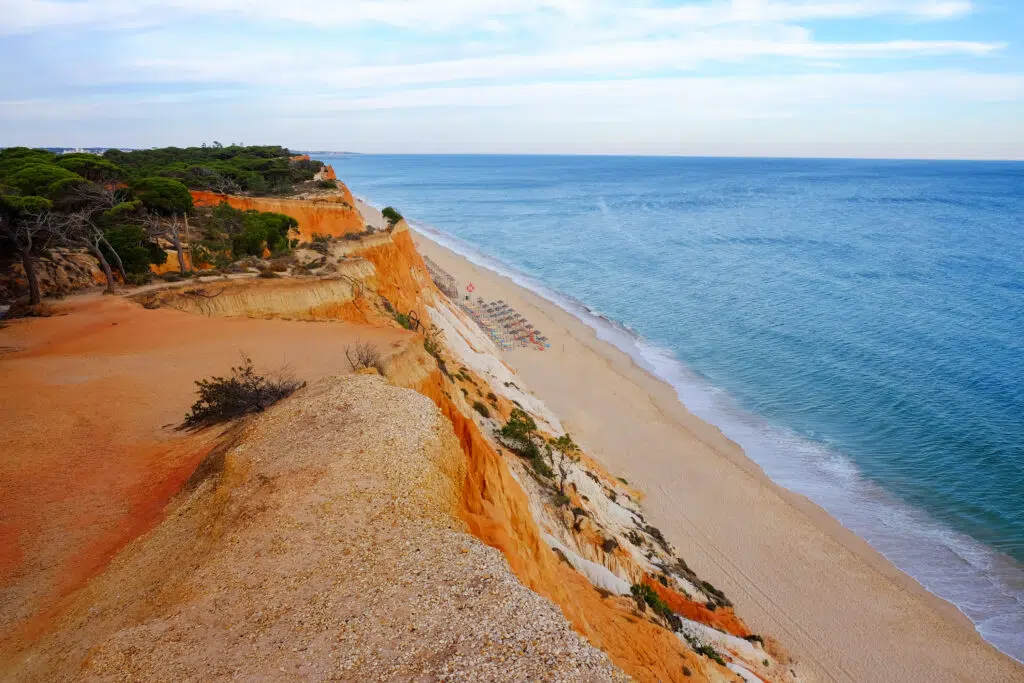 Also near the upscale coastal resort of Vilamoura, Praia do Barranco das Belarucas mesmerises with a multi-coloured seascape of cobalt blue, emerald green and ochre. Tall rugged cliffs are layered with limestone, clay and sand, while lush forests punctuate the summit presenting a stunning backdrop to this beach.
Although a difficult place to reach on foot, the beautiful, wind-protected beach is definitely worth the walk. To access it, you can stroll through a fragrant pine forest along steep rugged paths, therefore, suitable footwear (not flip flops) is a must.
It's a fine area for bird-watchers, as 'Belharucas' (European bee-eaters) who gave their name to the beach and are said to nest here, plus, there are several water sports activities and a golf course nearby. Local landmark Torre da Medronheira is a 25-minute walk away – a 16th-century stone watchtower built to guard the coastline and warn locals against approaching corsairs.
Praia do Barranco das Belarucas is also a wonderful place for swimming, as the cove location also means it is protected from ocean currents. It's an interesting place for children too, as it's often possible to see fish in the natural water pools that form on the beach between tides.
In high season, this beach can be busy (but never crowded), however, during winter it's a great place to walk or watch skilled anglers attempting to snag their catch of the day.
Praia de São Rafael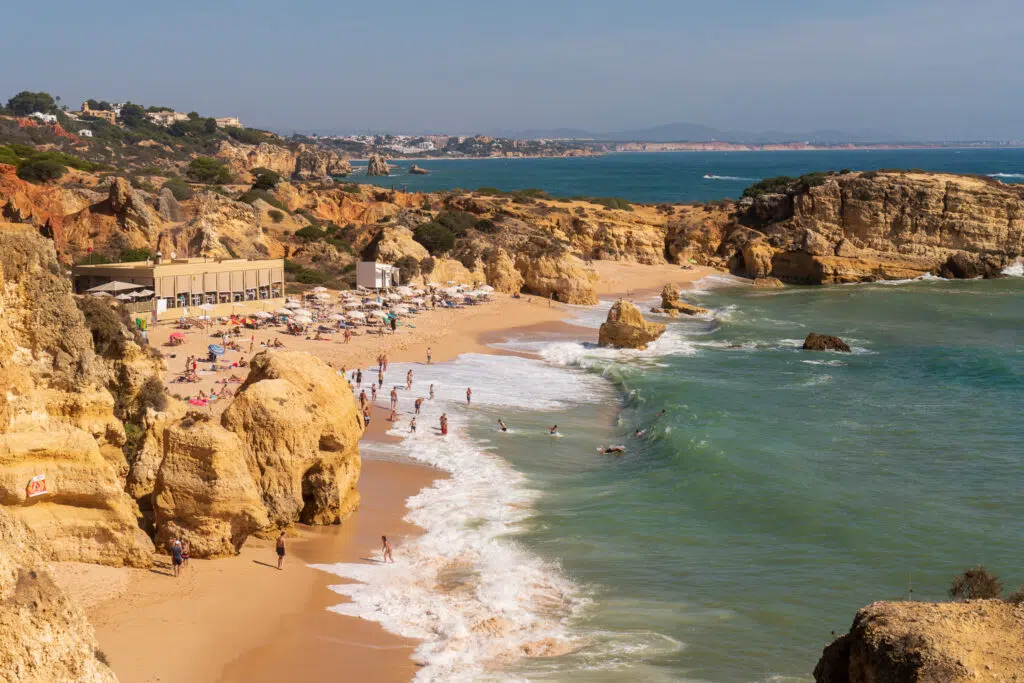 Praia de São Rafael sits between rugged cliffs and small rocks emerging from crystal-clear waters.
This secluded beach is a short drive from Albufeira Marina with its pastel-coloured apartment buildings, lively bars and restaurants. It's one of the best places to spend a windy, yet sunny afternoon, as the red/orange rock formations protect the sands from western and northerly winds.
It's possible to swim in the sea or enjoy a spot of snorkelling, kayaking or paddleboarding. Explore the hidden grottoes, or alternatively, sit back, relax and enjoy a lunch feast at the beach restaurant while admiring the views.
When the tide is low, walk to the small private beach tucked away behind the rocks to the right with a small cascading waterfall at the far end. Also, head to the top of the cliffs with your camera at sunset before returning to the buzzing Algarve resort of Albufeira.
Praia da Coelha & Praia da Maré das Porcas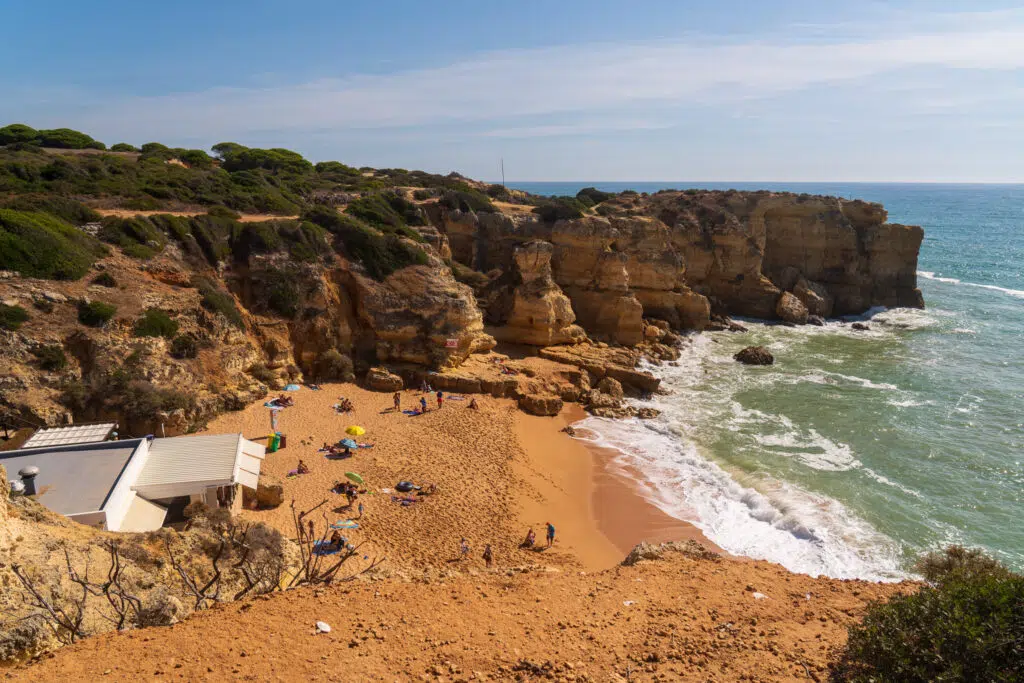 These two beaches are the smallest (and some may say, prettiest) in the municipality of Albufeira in the central Algarve. Praia da Coelha's cove is surrounded by golden cliffs of limestone and rocks submerged in the shallow waters. It's a popular destination for snorkelling and offers a sheltered hideaway in which to spend a sunny afternoon with a picnic.
Nearby Praia da Maré das Porcas is only really frequented by locals in the know. Located east of Praia da Coelha, this beach is characterised by a narrow sandbank that almost disappears during the high tide.
If you find yourself on either beach at lunch or dinner time, there's a small restaurant on the cliffs where you can enjoy traditional Algarvian cuisine or a fruity cocktail by the sea, alternatively, take a tour out onto the ocean waves to see frolicking dolphins or venture inland after sunbathing for a quad bike tour of the countryside.
Praia do Castelo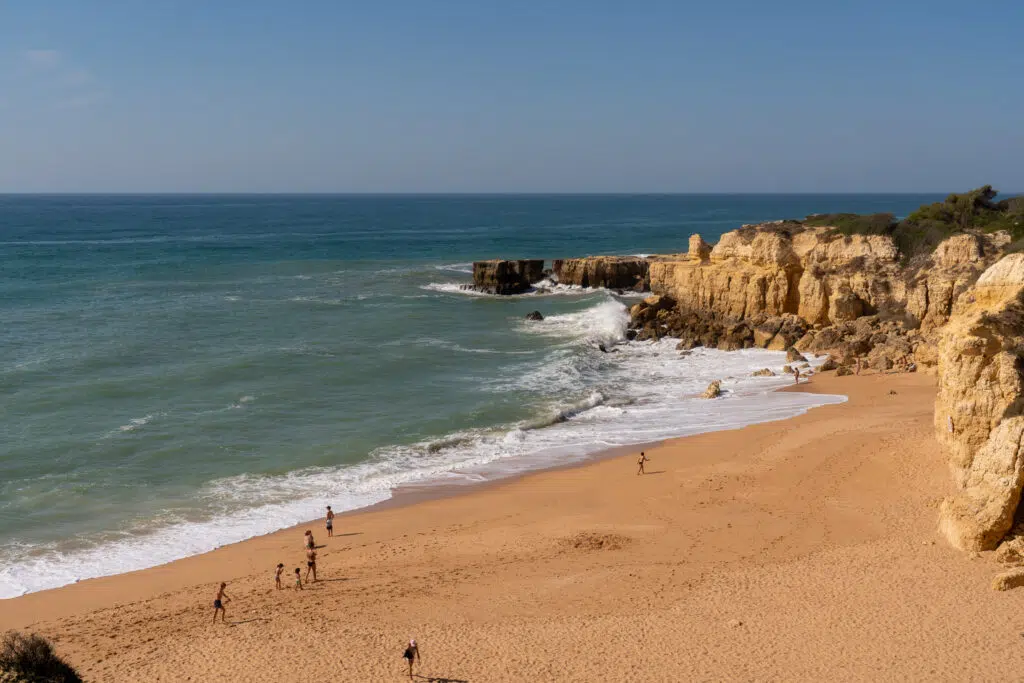 This small, golden sandy beach near Albufeira is sheltered by rugged cliffs and verdant landscapes. The beach was named after the scenic seascape which resembles the battlements of a castle. Praia do Castelo (or Castle Beach) is a firm favourite of both locals and visitors and a great choice if you wish to kick back and relax in relative privacy between the hidden coves.
During the 16th century, a watchtower stood above the beach on the cliffs, with the intention of protecting local villages against invasions by pirates, and at the entrance, you can still see its remains today. Snorkelling is popular too, although there are sharp rocks in the water, so wear your water shoes or be careful around the rugged cliffs.
Above Praia do Castelo sits a pine forest scattered with colourful indigenous plants aside walking trails along the clifftop.
Also, if you feel hungry, a beach bar offers a simple menu of local dishes created with fresh, seasonal ingredients.
Praia da Cova Redonda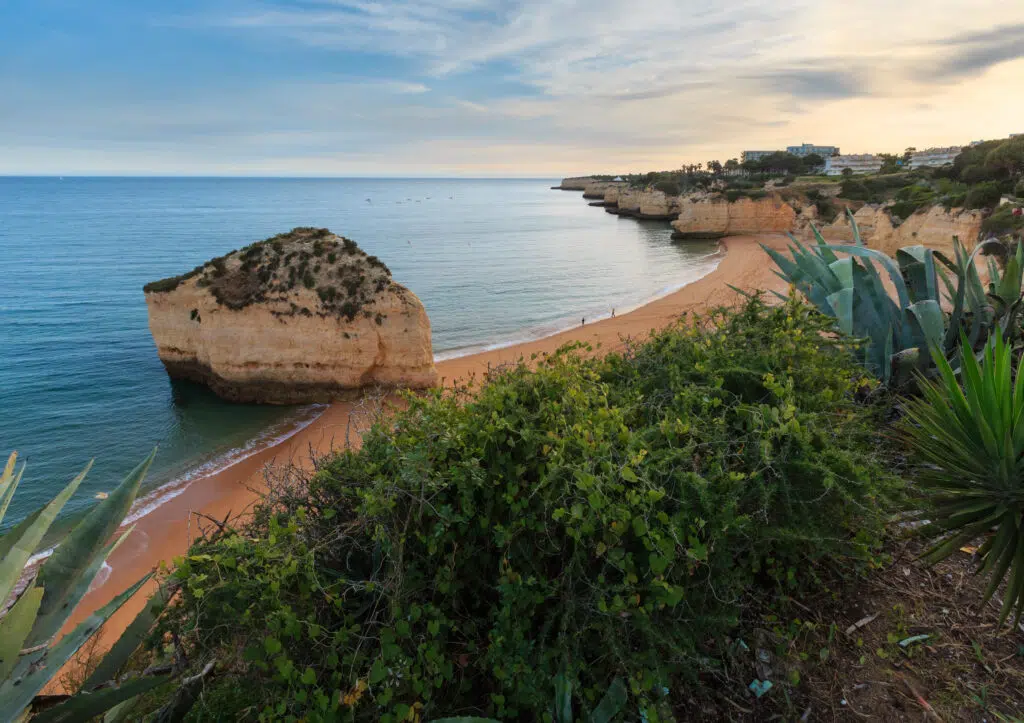 One of the top beaches in the Algarve, Praia da Cova Redonda is a long stretch of golden sandy beach within a series of smaller coves near Armação de Pêra in the central Algarve. The beach is easily recognisable due to its landmark, an isolated rock formation resembling a whale emerging from the water which is home to local bird species.
The sandy beach, which has a rouge-coloured tint, sits in a sheltered area between rocky cliffs with hotels and apartments above. During the summer months, families with young children will enjoy the calm, lapping Atlantic waters in this bay, and as it's safe and shallow for swimming, parents never have to worry.
In high season lifeguards patrol the beach and massage tents are erected so that sun worshippers can enjoy a pampering session in the great outdoors. There's also a small kiosk selling drinks and snacks if you get a little hungry.
Praia de Nossa Senhora da Rocha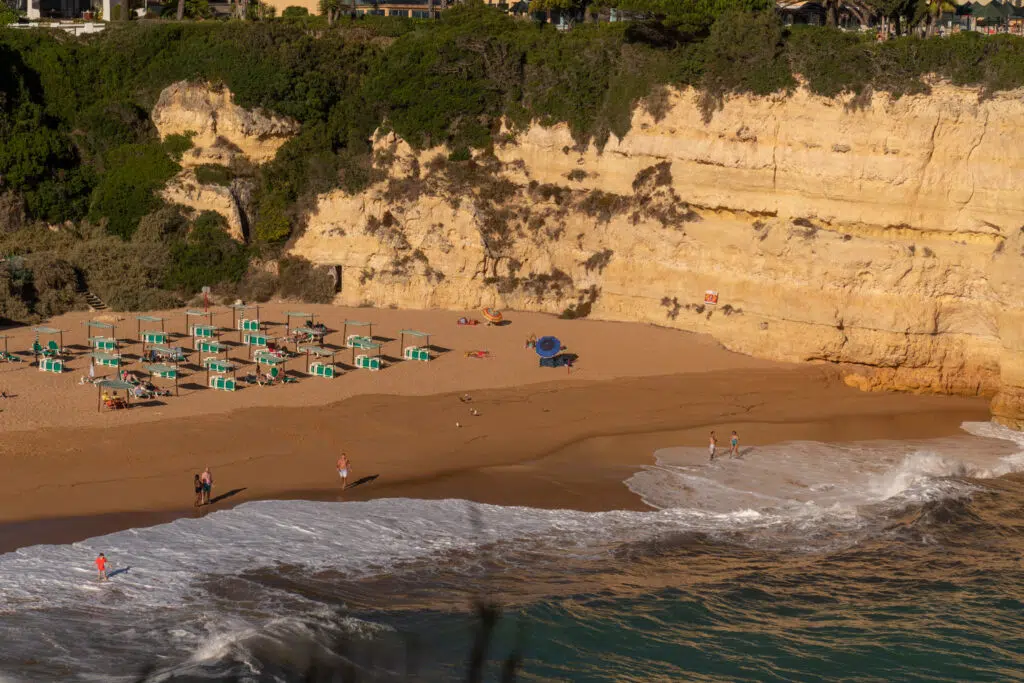 Praia da Nossa Senhora da Rocha near Lagoa is one of the most beautiful and best-known of the Algarve beaches.
The beach's name means 'Our Lady of the Rock', and to the right, high upon the clifftop as you look out to sea, sits a pretty whitewashed chapel. Although documents date the chapel to the 14th century, excavations and artefacts discovered recently lean more towards it originating between the 8th and 12th centuries, during the Visigoth and Muslim occupations of the region.
The cape where the small chapel sits separates Nossa Senhora da Rocha beach from Praia Nova, but thanks to a tunnel carved through the rock, you can wander from one side to the other. Enjoy a walk on the sand or hire a boat and explore the myriad caves along this interesting stretch of coastline.
Praia Nova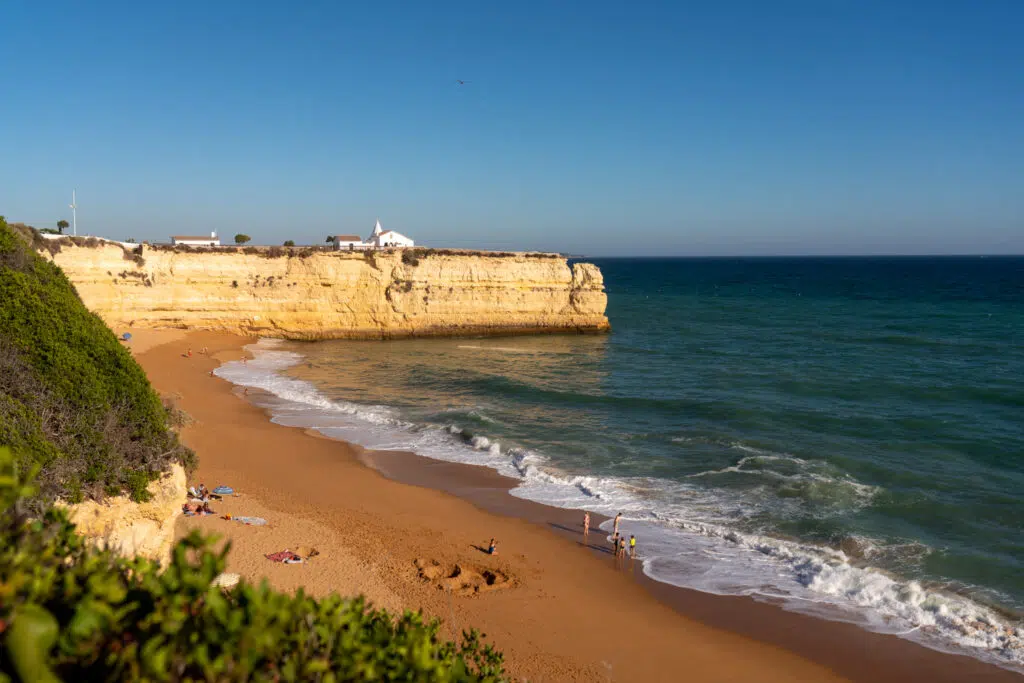 Praia Nova is located west of Praia da Nossa Senhora da Rocha near the charming town of Porches, known for its hand-painted pottery and Algarvian wine.
Despite having a population of only a few thousand people, Porches boasts excellent restaurants and superb Instagram opportunities from Chapel of Nossa Senhora da Rocha, which sits on the cliff promontory, jutting out into the ocean.
Access to Praia Nova or New Beach can be a little difficult, through a cliffside tunnel leading from Praia de Senhora da Rocha, but this is what makes it special, as there are days when you can have this stretch of sand almost to yourself.
The beach is backed by towering rock formations, which keep it sheltered, and as the sandbank extends for 300 metres, there are plenty of areas for sunbathing. The calm and clear waters, along with the rocky ocean bed, also transform the area into an intriguing exploration site for snorkellers of all ages.
Praia de Albandeira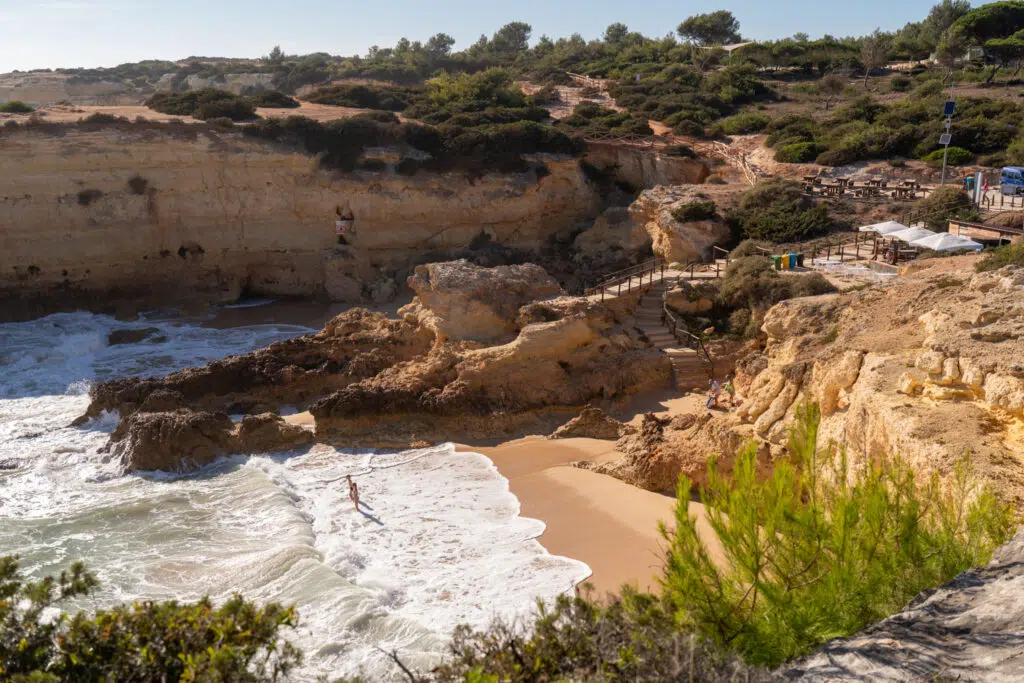 Praia de Albandeira is a lesser-known secluded beach near the typical Portuguese town of Lagoa. Its natural beauty, punctuated by cliffs and natural sea arches make this beautiful place a photographer's dream.
This beach is one of the region's best-kept secrets, so it never feels too busy. The small beach, at just 80 metres long, is a romantic setting in which to enjoy a picnic, or relax and soak up the sun's rays, before enjoying a cooling dip or cocktail at the clifftop restaurant as the sun sets over the Atlantic Ocean.
With calm waters, perfect for swimming, diving and snorkelling, this beach is a must-visit for solo travellers and couples, and families with young children love the fact that the natural pools fill with water during high tide, giving them a fun, safe place to splash around.
Praia da Malhada do Baraço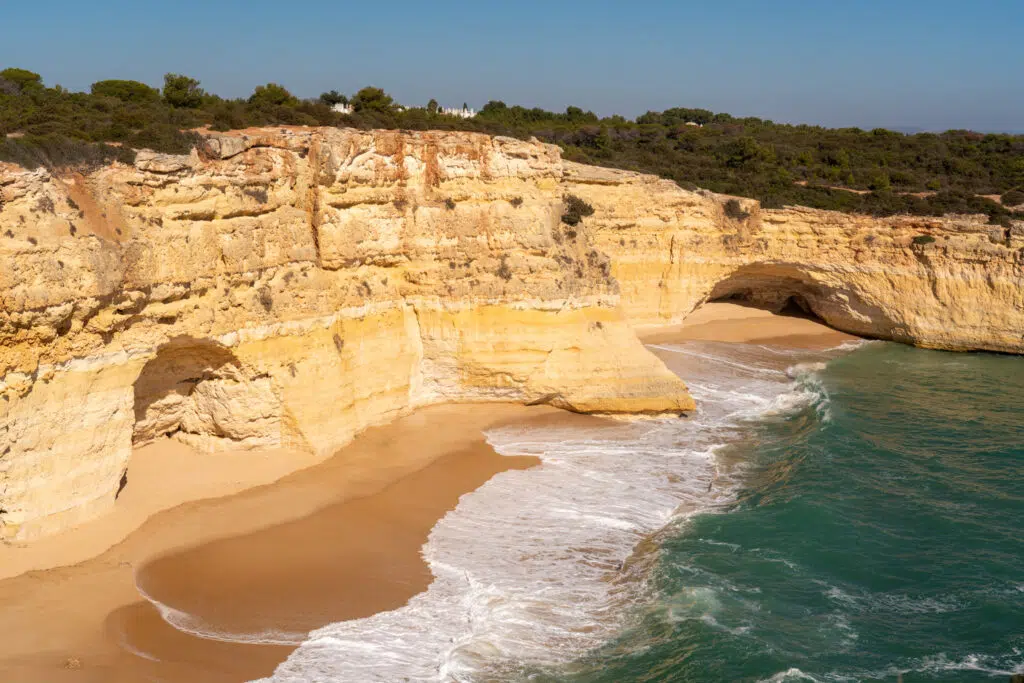 The golden sandy beach of Praia da Malhada do Baraço is only accessible via the sea which only adds to its mystery and allure. Located close to the bustling resort town of Carvoeiro in the central Algarve, intrepid visitors tend to arrive by boat or kayaks hired from neighbouring beaches.
You can spend a leisurely day snorkelling, exploring caves and rock formations, or swimming in clear turquoise waters without any distractions. It's a great place for yoga and meditation too, due to its peaceful nature and secluded areas.
As access to this beach is limited, Praia da Malhada do Baraço is usually quiet, especially out of peak season. However, there are no bars or restaurant facilities, therefore, pack well for the day, bring food and water and any snorkelling gear or towels you may need.
Marinha Beach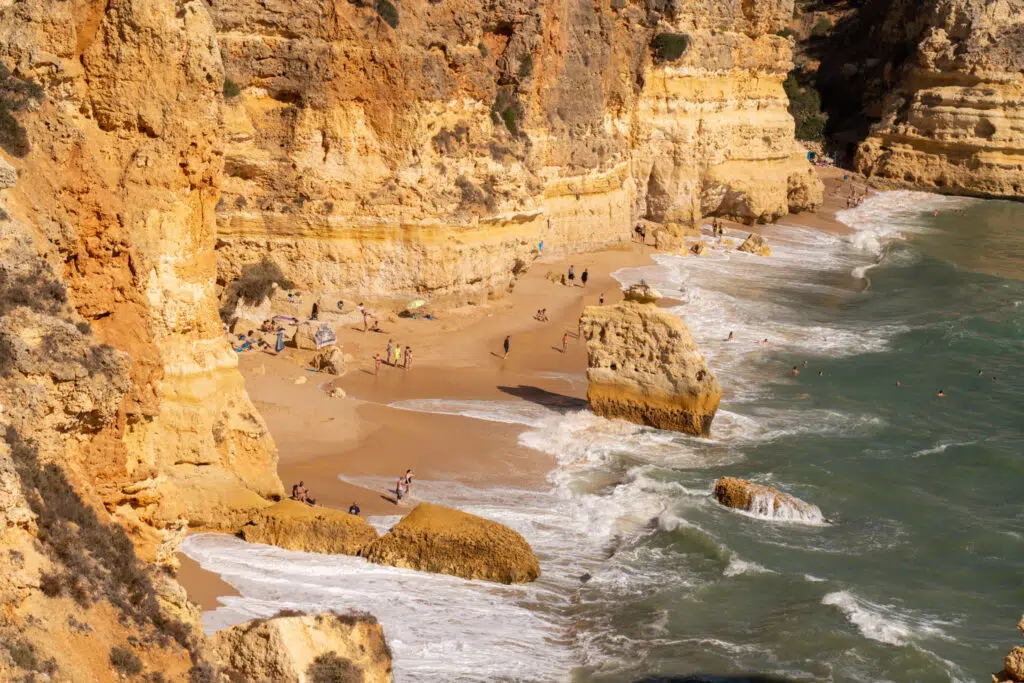 One of the best beaches of Algarve, this breath-taking landscape of tall golden cliffs and translucent, azure waters (when it's still) surrounding Marinha Beach attracts artists, photographers and visitors from all around the world.
The natural arches and rugged shoreline once gained this beach the title of the "Most Beautiful Beach in the World" by CNN, and Conde Naste Traveller.
During low tide, walk along the beach, exploring jagged cliffs and admire the formation of the dual arched, "M" shaped rock rising out of the Atlantic Ocean to greet you.
Praia da Marinha is the ideal spot for snorkelling and scuba diving, however, as this is one of the Algarve's most popular natural landmarks, it attracts a lot of tourists and can become quite crowded in summer. It's also the jumping-off point for the Seven Hanging Valleys trail.
Praia da Corredoura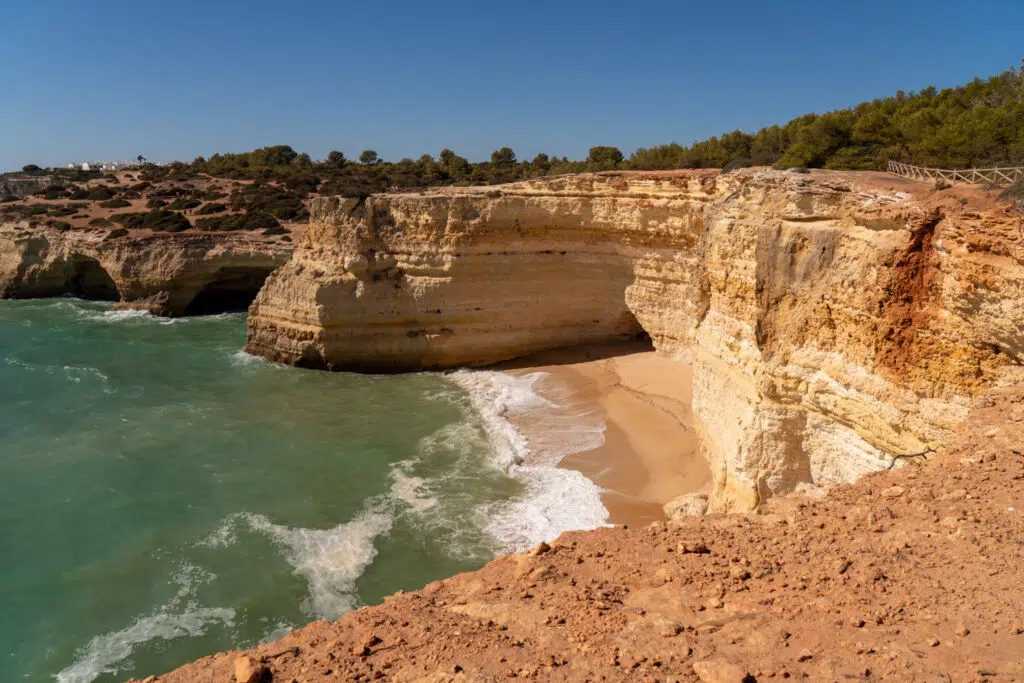 Praia da Corredoura can only be described as a blissful paradise, with crystalline waters, sugary golden sands sheltered by cliffs and only seagulls for company. The secluded beach is only accessible from the water, via boat, paddleboard or kayak, hired from nearby Marinha or Benagil beaches.
As access is difficult, you won't find many families with children here, it's primarily solo travellers and couples. The beach remains almost deserted even throughout the summer, and if you long to escape the hordes of peak season tourists, it's the perfect space for relaxation.
There are no beach concessions where food and drinks can be purchased, therefore, arrive fully prepared for the day with lunch and water to enjoy this peaceful oasis on the Algarve.
Benagil Beach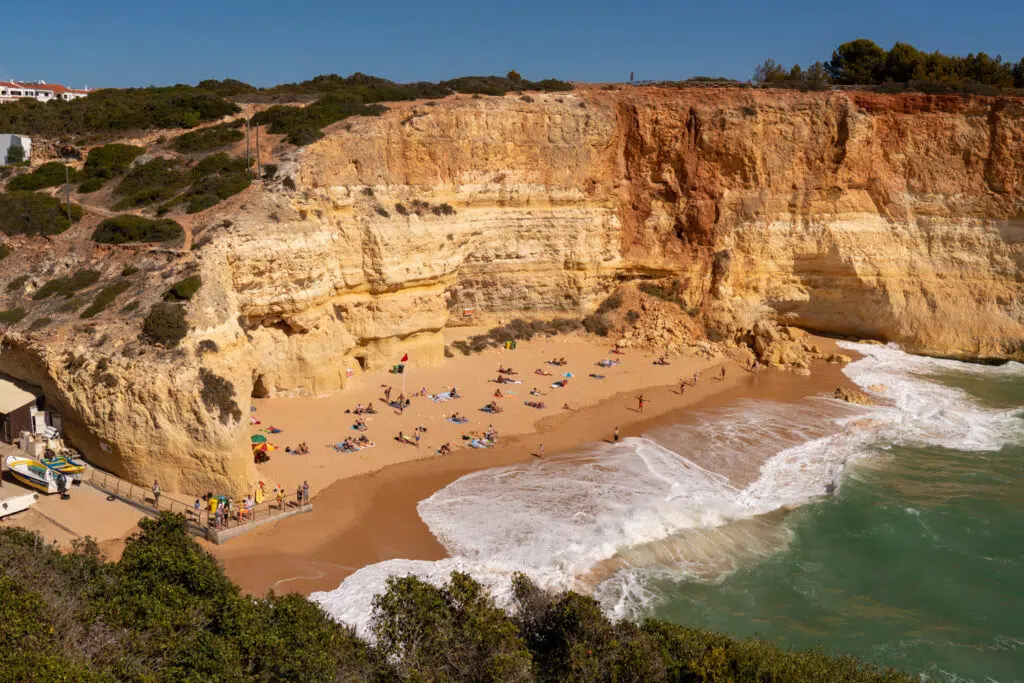 Benagil Beach near Lagoa is one of the top Algarve beaches, and the small fishing hamlet of the same name, welcomes visitors from all around the world. The clifftops offer scope for hiking and photography, or you can hop on a bike and explore cycling routes or even learn how to dive nearby.
This beach attracts abundant tourists, courtesy of its famous landmark – Algar de Benagil. The natural, dome-shaped cave is said to date back 20 million years and is often referred to as 'Benagil Cathedral'. It has been noted as one of the best caves to visit in the Algarve.
The geological marvel has its own private beach inside, with an open roof and caverns from which to access from the sea. The layered tones of orange and gold colours contrasting with the turquoise water make this a photographer's dream come true.
The best way to reach the natural wonder is by boat or kayak on a guided tour. Along the coastline, in Portimao and Lagoa, tour companies operate day trips to the popular tourist spot.
There's just one thing to mention, and that is because of the sheer volume of daily boat excursions, it's not advised to swim into the cave.
Praia do Carvalho
In days gone by, Praia do Carvalho was a haven for pirates and smugglers who unloaded their forbidden cargo onto Portuguese lands here on the beach. The pirates carved a hidden path to make their task much easier, and these days, the same path is used to access this, one of the top beaches in the Algarve.
The access can be tricky, however, locals and tourists staying in nearby Carvoeiro often venture here to enjoy secluded and sheltered soft golden sands and to escape the crowds. The beach is characterised by a tall, solitary jagged rock in the sea directly in front of the beach, and you may see teenagers cliff jumping here as it's a popular spot.
If you do plan to walk to the beach, be sure to wear appropriate footwear as the trail can be rough, and pack plenty of food and water for the day as there are no restaurants or cafes on the beach.
Praia de Carvoeiro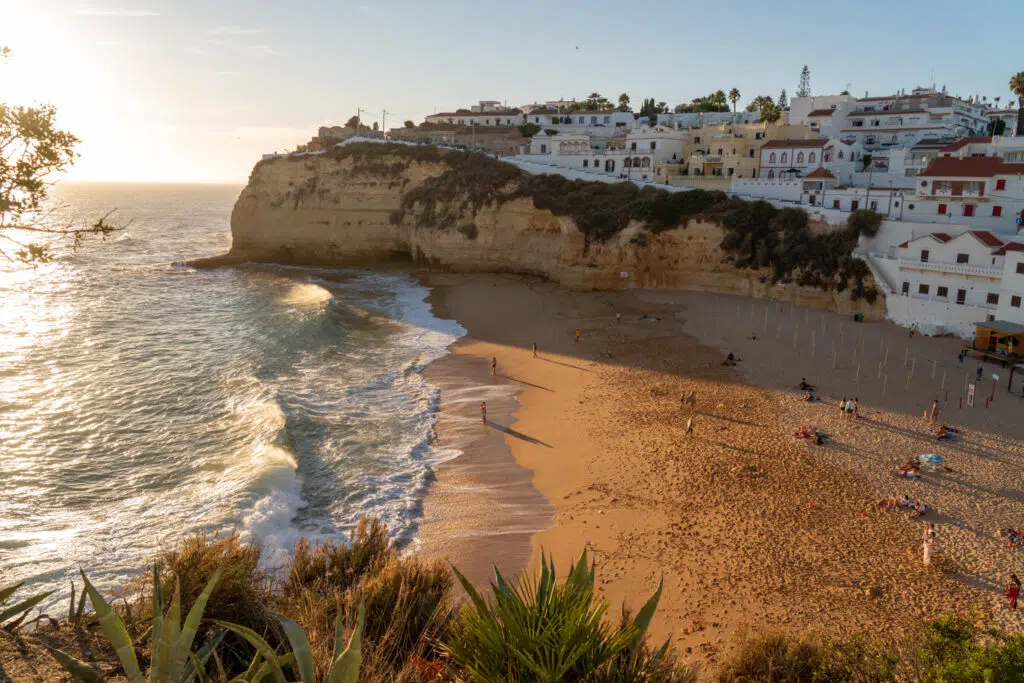 The golden sand of Praia do Carvoeiro sits beneath a cliff, below a backdrop of white-washed houses. This beach has been a safe haven since Roman times and many came to shelter here, building houses around the beach until a small fishing village emerged.
Today, Carvoeiro is a popular resort that hasn't lost any of its Algarvian charm, with great shops, produce markets and some fine restaurants serving traditional cuisine.
The popular beach can be accessed easily from the town, making it a superb choice for families with young children and those with mobility issues. The town's fishing heritage is evident here too, as wooden row boats painted in bright colours, draped in woven nets, are often pulled onto the sand after fishermen bring in their early morning catch to sell to local restaurants.
Combine your beach day with a scenic stroll, along a sturdy wooden walkway known as Carvoeiro Boardwalk. It winds its way atop the cliffs from Nossa Senhora da Encarnacio Fort to the Algar Seco rock formation, boasting fantastic views of the coastline.
If you plan to stay firmly ensconced on the beach, you can explore nearby caves and grottos, enjoy a boat trip, or simply spend the day swimming, snorkelling and soaking up the sun.
Bars, restaurants and supermarkets are all within easy reach of Carvoeiro Beach for convenience, and public showers are available nearby.
Praia de Dona Ana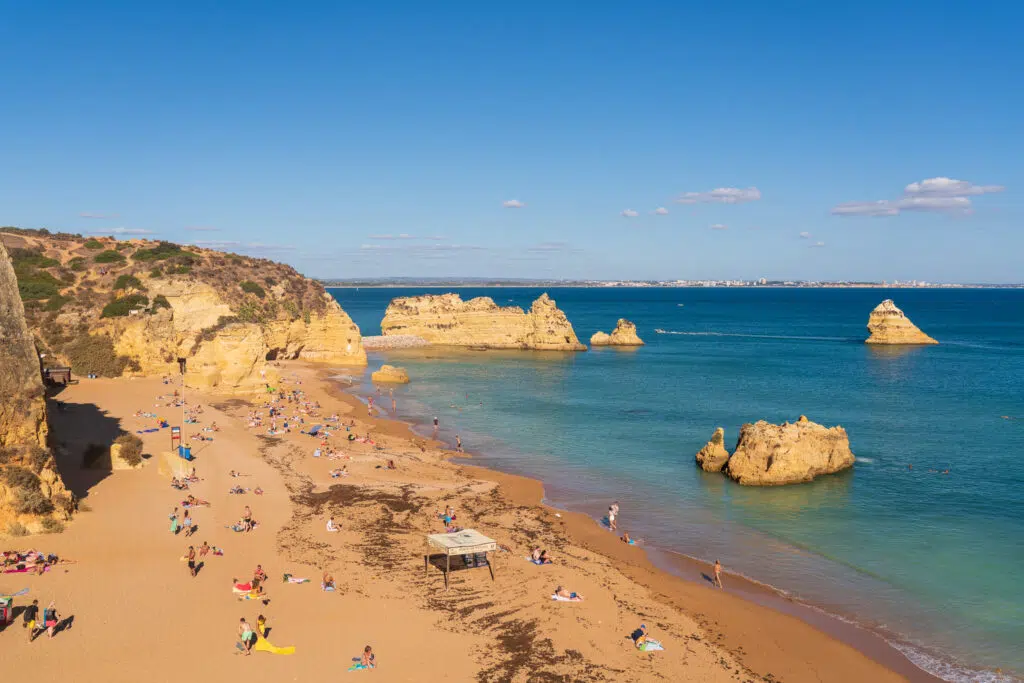 Praia de Dona Ana is often referred to as one of the best beaches in the world, and it's definitely one of the best beaches near Lagos! The beach is said to be named after a nun who escaped unharmed to the beach through hidden tunnels during World War I.
The beach can be accessed from Lagos in 20 minutes on foot or via tourist train or bus. A combination of powdery golden sands, rocky sea beds and crystal-clear waters make it a sun-worshippers and snorkeller's paradise.
Its high cliffs and panoramic views attract Portuguese locals and visitors year-round for romantic walks along the beach, and within a short distance, the rugged cape of Ponta da Piedade beckons with its spectacular views along the coastline. From this vantage point, exposed cliffs shimmer in gold as the sunlight catches them, and turquoise waters lap the rocks below, creating a picture-perfect scenario.
Boat trips in former fishing boats are available to explore the coastline further, or you can climb the stairs to the summit of the cliff and walk along scenic coastal footpaths.
If you're only here for a long weekend, take some time to discover Lagos too – a fascinating city, built inside Moorish fortress walls with over 2,000 years of history and rich seafaring heritage.
Praia do Camilo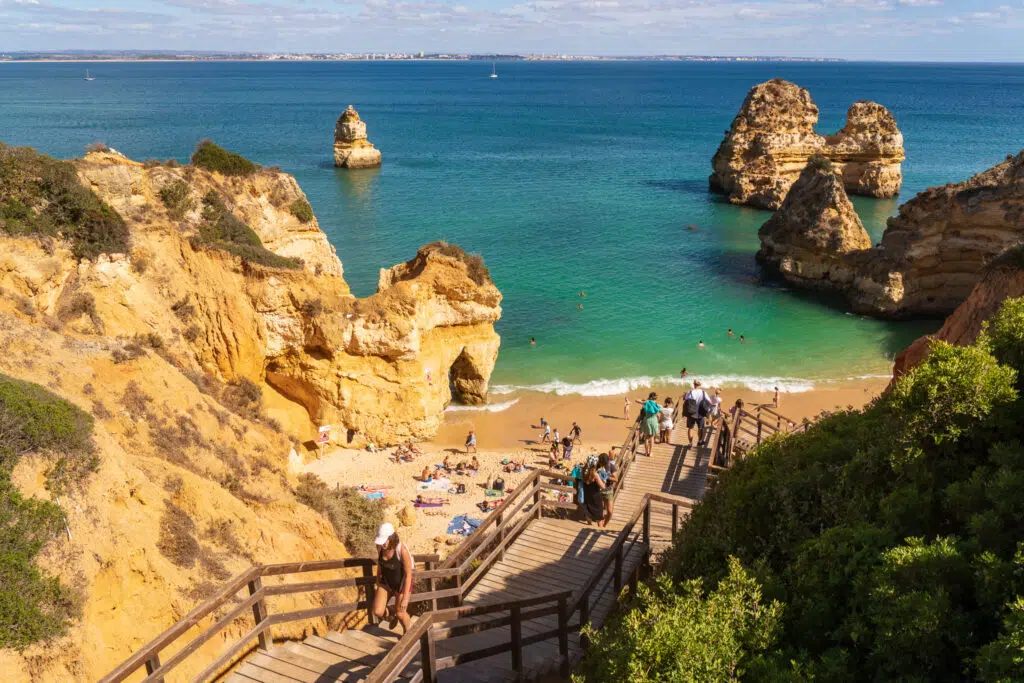 Praia do Camilo is another of the many attractive beaches near Lagos, where a 200-step wooden walkway contours the shoreline and transports you to golden sands. To give you an idea of its popularity, this beach is often named as one of the best things to do in Lagos.
As access isn't very easy, the beach is primarily frequented by locals and tourists who enjoy swimming, snorkelling and kayaking. If you do plan to visit Praia do Camilo, check the tides before embarking on your journey, especially during the summer months. The sandbank disappears on a high tide, and if the beach is crowded, it may be difficult to find a sunny spot for the day.
When your day at the beach is complete, venture into Lagos to explore the cobbled streets of the historic centre, the city's 17th-century fort, Santo Antonio Church, and enjoy a drink in a quaint café by the marina.
Praia do Beliche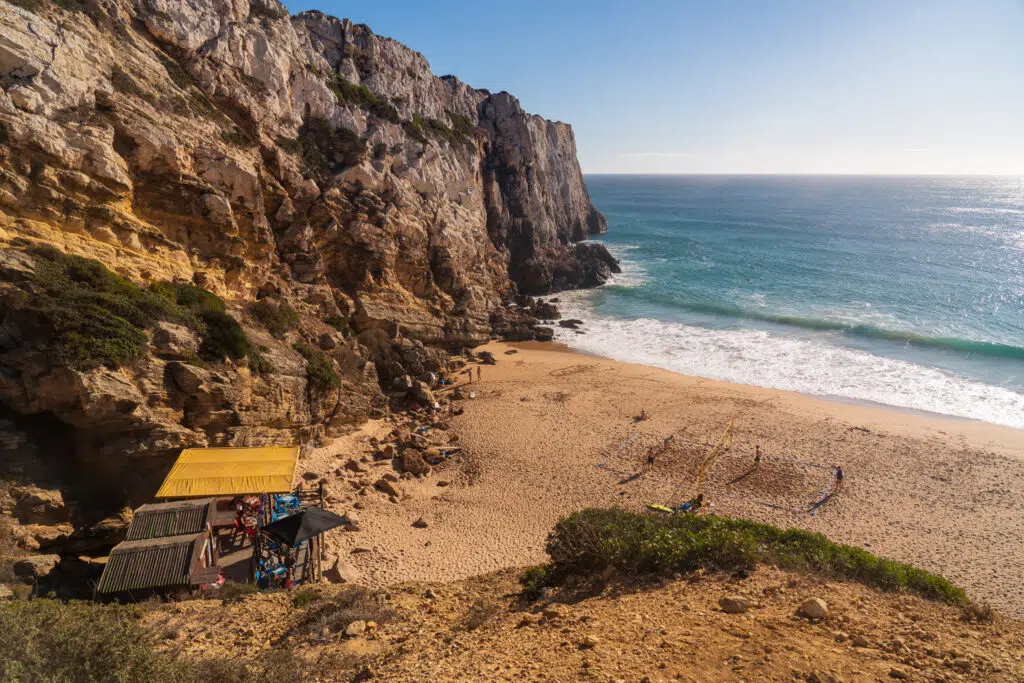 Praia do Beliche is a stunning sandy beach situated in the western Algarve with a fascinating history.
Located between the pretty seaside town of Sagres and the Cape of St. Vincent, Europe's most south-westerly point, this coved beach is protected from the Atlantic winds.
Before you venture to the beach, to gain perspective, visit the cape – a sacred headland, once home to Henry the Navigator's school for explorers and a 15th-century monastery. The 24-metre high lighthouse that sits here today captivates as waves crash against the rocks, and standing here, on the edge of the world, you are struck by the realisation that there is nothing but ocean for thousands of kilometres.
Praia do Beliche is part of this story. During the 15th century, Portuguese caravels departed from here to explore the seas, searching for new territories. Nearby, you can visit the ancient ruins of a fortress built to protect Praia do Beliche and the village.
During the summer months, lifeguards patrol the beach, and there's a small restaurant available for food and drinks. Over the winter, the cove attracts surfers and bodyboarders, making this secluded beach a year-round destination in the Algarve.
---
The Algarve coast in Portugal welcomes visitors at any time of the year. Every season has its own benefits, and as the region has a relatively temperate climate, particularly in the eastern and central regions away from the open expanse of the Atlantic, you will find beautiful Algarve beaches on which to have relaxing days during your holiday.
During summer, enjoy seafront alfresco dining, snorkelling, and swimming in warm waters, and during low season or winter months, indulge in romantic walks barefoot in the sand, photograph magnificent sunsets, and go birdwatching, or enjoy surfing, golf and other watersports. Whatever you are seeking with regards to R&R, the best Algarve beaches tick all the boxes, and you won't be disappointed.