Aix-en-Provence is a foodie's haven, with entire streets devoted to small trattorias, delicatessens, cafés and bars. It's no surprise then, that the Aix-en-Provence markets are a gourmet experience. They're a place to indulge all five senses, and a joy to wander, working up an appetite between breakfast and lunch or as a place to socialise on balmy summer evenings.
Sustenance aside, Provence markets are also awash with linens, clothing, antiques, and fragrant rows of Marseille soap. And don't forget to stock up on fresh flowers at the daily market, where you can browse peonies and potted plants in the shadow of the stately town hall.
Every day is market day in Aix-en-Provence – read our insider's guide on where, what, and how to shop, below…
---
The 3 Main Markets in Aix-en-Provence
Although the markets in Aix-en-Provence all seem to spill into one another, there are distinct differences between the various market areas. Antiques, crafts, food and flowers all have their place within the historic heart of the city.
Let me introduce you to the three main Aix-en-Provence markets.
Daily Aix-en-Provence Farmer's Market
The daily food market in Aix-en-Provence is situated in Place Richelme, a beautiful square near to the Town Hall. Surrounded by restaurants and bars, it's the perfect starting place to have a coffee and croissant before browsing all the divine local produce.
A good bet is Le Pain Quotidien, one of the few places in town that does an anglo-style brunch or, if you're after something lighter, wonderful open sandwiches (tartines in French).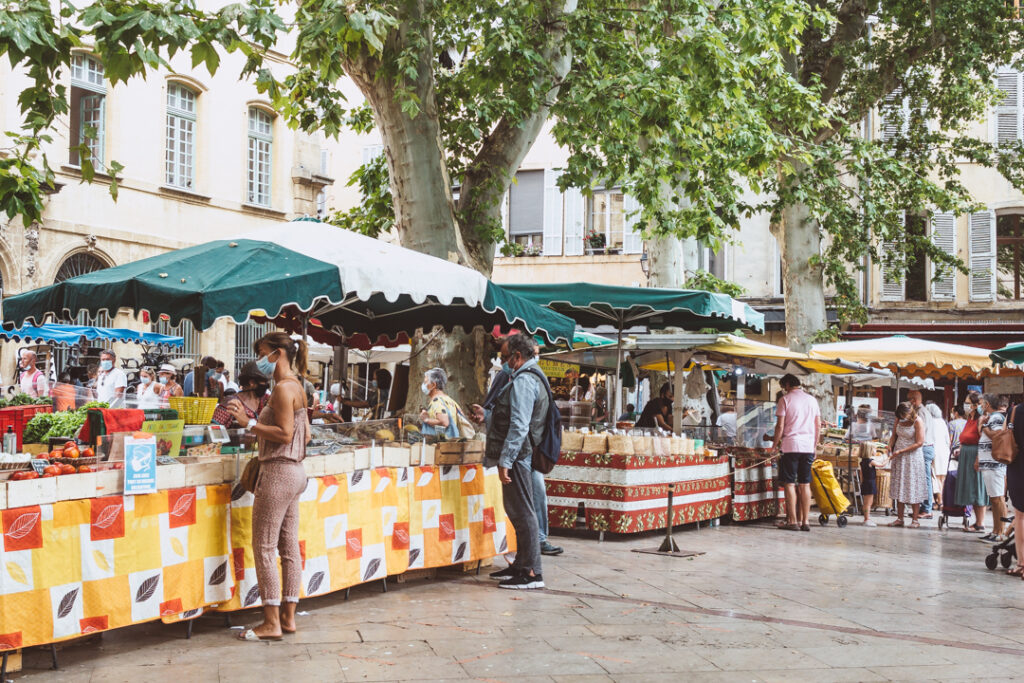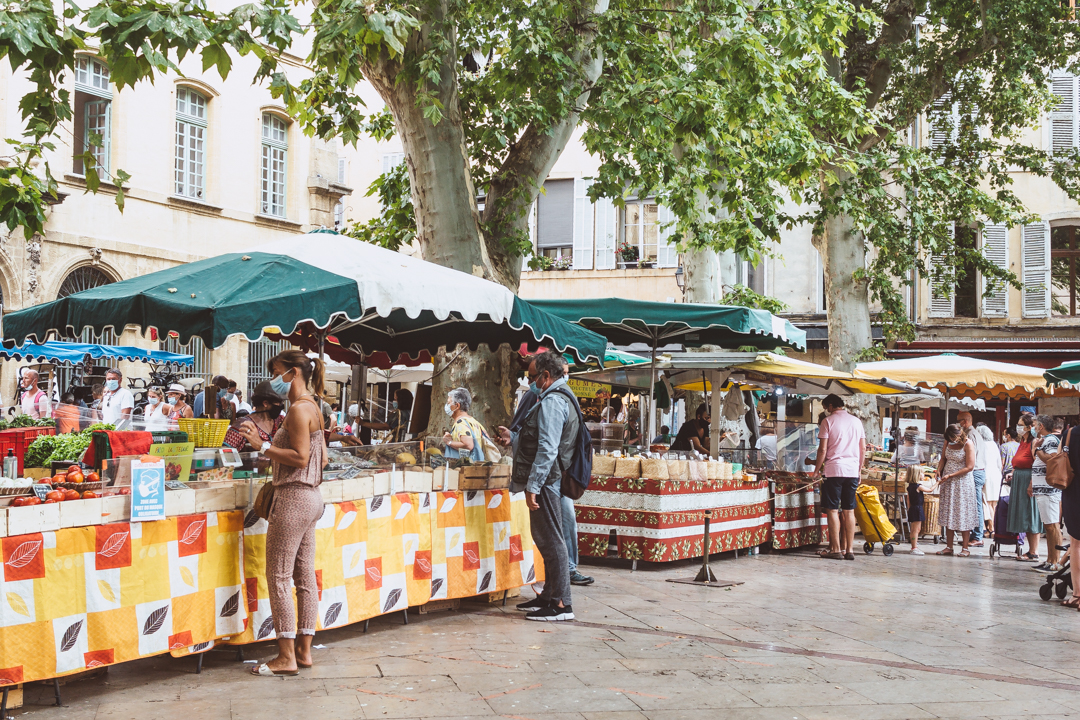 Open 365 days per year, even on Christmas day, from 8am to 1pm, this is a market for the locals, but with an eye always geared towards tourist.
The town hall offers market tours in English with local guides who will accompany you to meander the stalls. They provide local history and gossip about the wonderful produce and well-known tradespeople.
This market is the first stop for many visitors and it's a trip which can easily last the morning, perusing the treats and taking pictures of all the delicious items.
Don't be afraid to ask to taste a little piece of cheese or bread, to try before you buy. Match them with delicious sticky delights from the local honey stall, or maybe some local jams.
Depending on the season, you'll find tradespeople selling every kind of mushrooms, every colour of tomato, seasonal apples with cider and juice, or punnets and punnets of strawberries, piled high, and sold as quickly as they can be replenished.
Finish off your shopping trip with a drink from Le Brûlerie, which grinds fresh coffee beans to make each cup of coffee and has a myriad of teas on offer. Then head off down the cobbled streets into Old Town to explore the cathedrals and fountains.
---
Thrice Weekly, "Everything" Market
The big market days in Aix-en-Provence are Tuesdays, Thursdays and Saturdays. This is when the daily market opens its doors to even more street sellers from the region, widening the remit. It stretches out through the neighbouring streets and snakes down the iconic boulevard, Cours Mirabeau.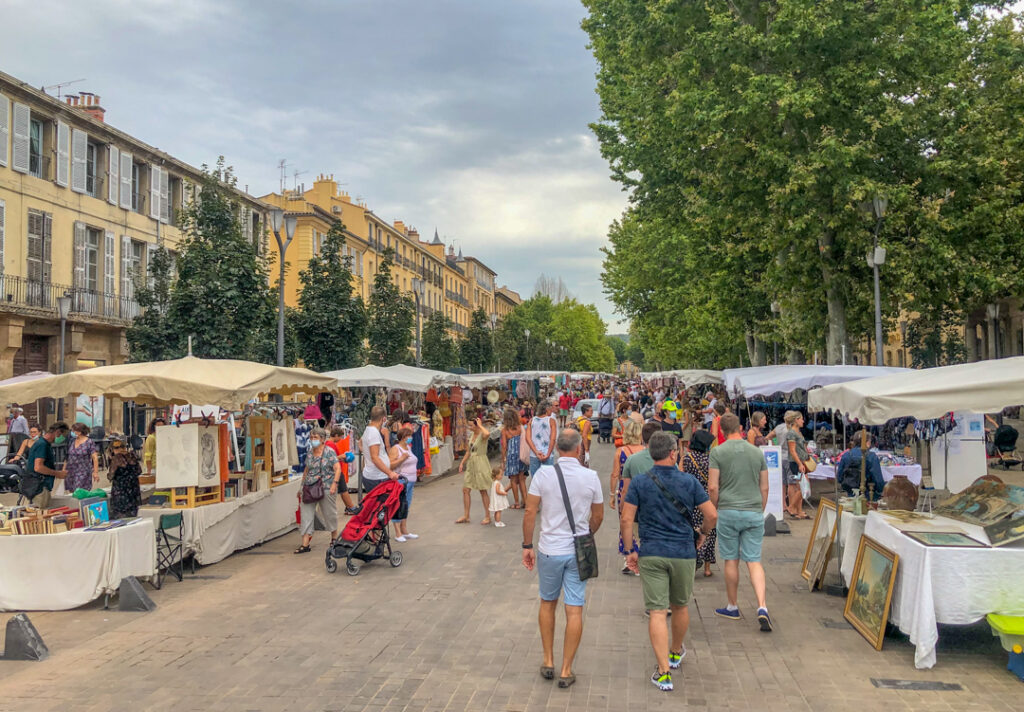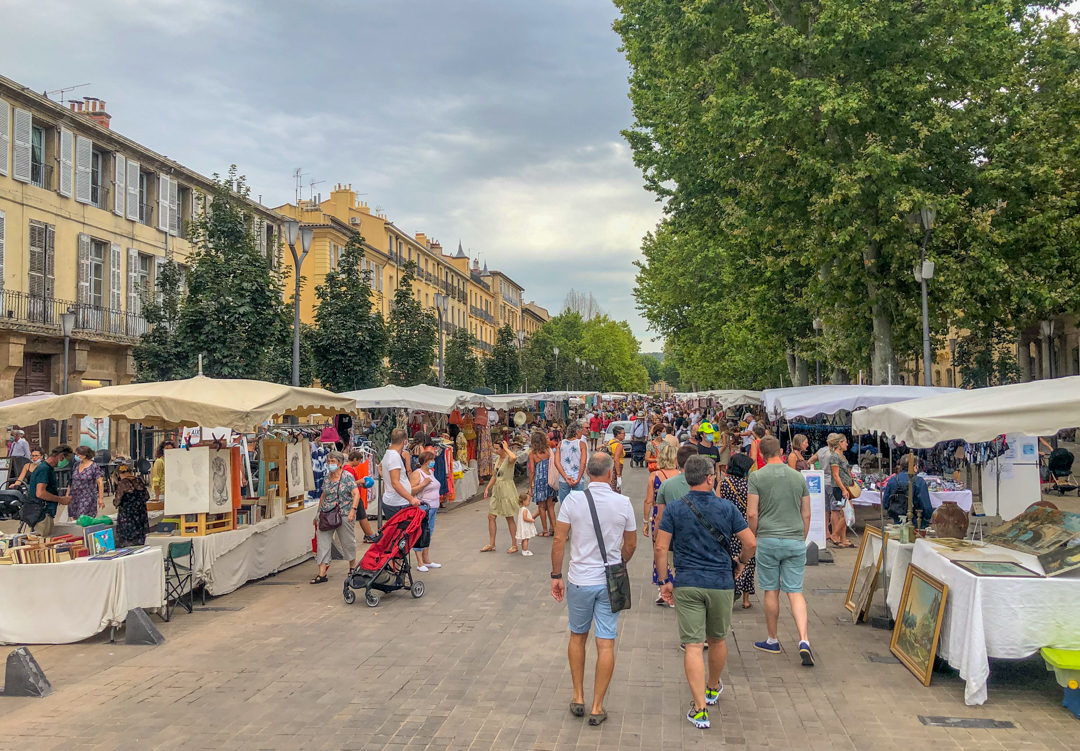 In front of the impressive law courts, additional food sellers set up in Place des Prêcheurs. Here you'll find a wider range of produce, with many stalls selling pre-prepared meals and others packed with different coloured herbs and spices.
It's a perfect opportunity to try olives infused with chillies or garlic, and discover some local rosé wine, from expert wineries too small to export their products abroad.
Recently renovated, the market showcases the magnificent church, Eglise de la Madeleine and Roman ruins discovered during the recent pedestrianisation.
At the adjoining Place du Verdun (another great place to grab a coffee), the market moves into its arts and crafts section, giving way to local designers selling everything from pottery and handmade wicker baskets, to anything scented with local lavender.
It's here that you can find lots of Provençal soap for a fraction of the price you'll find in the surrounding high-end shops.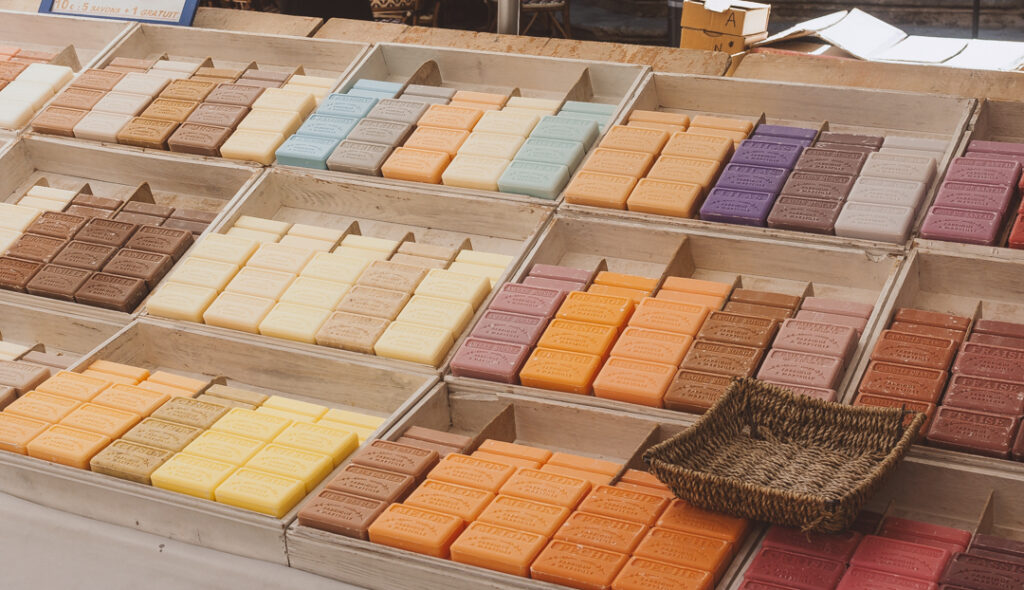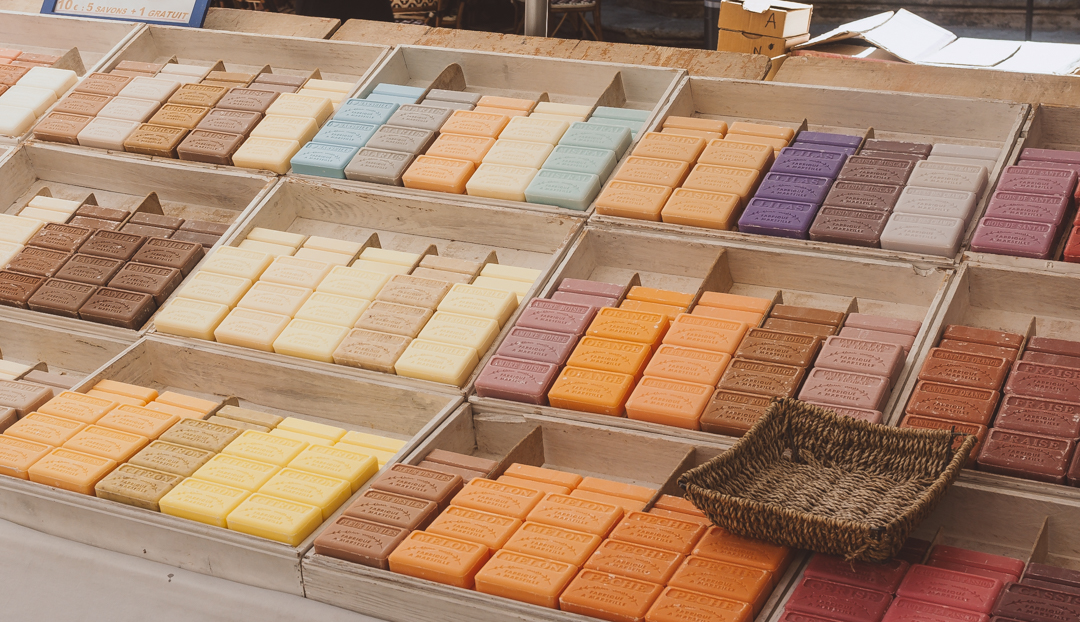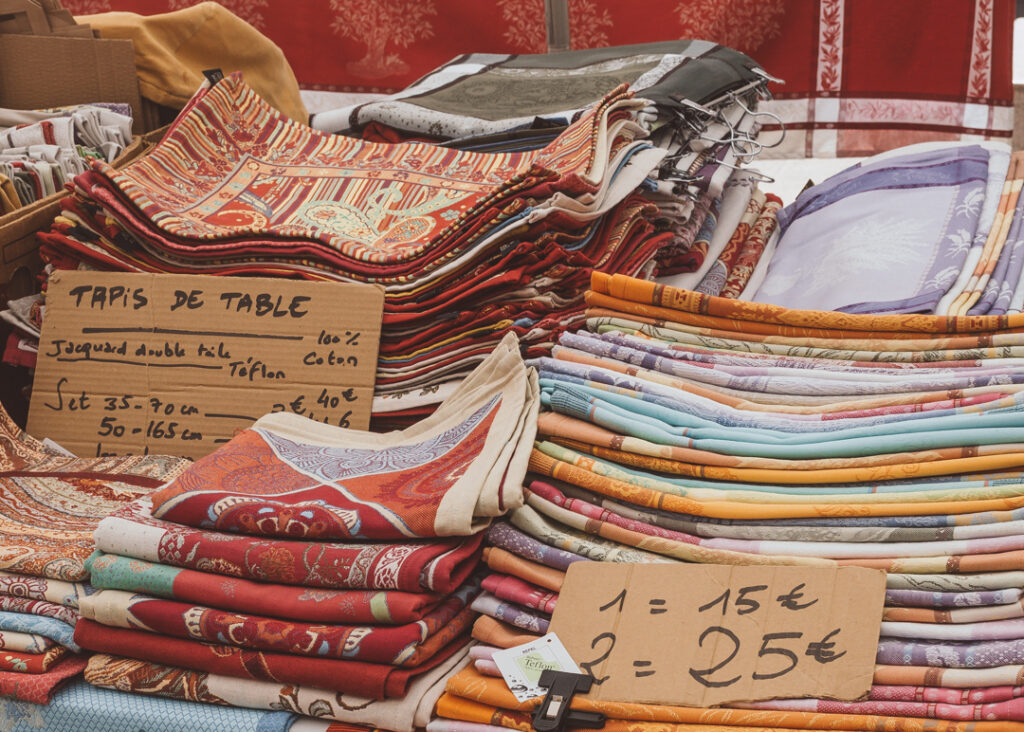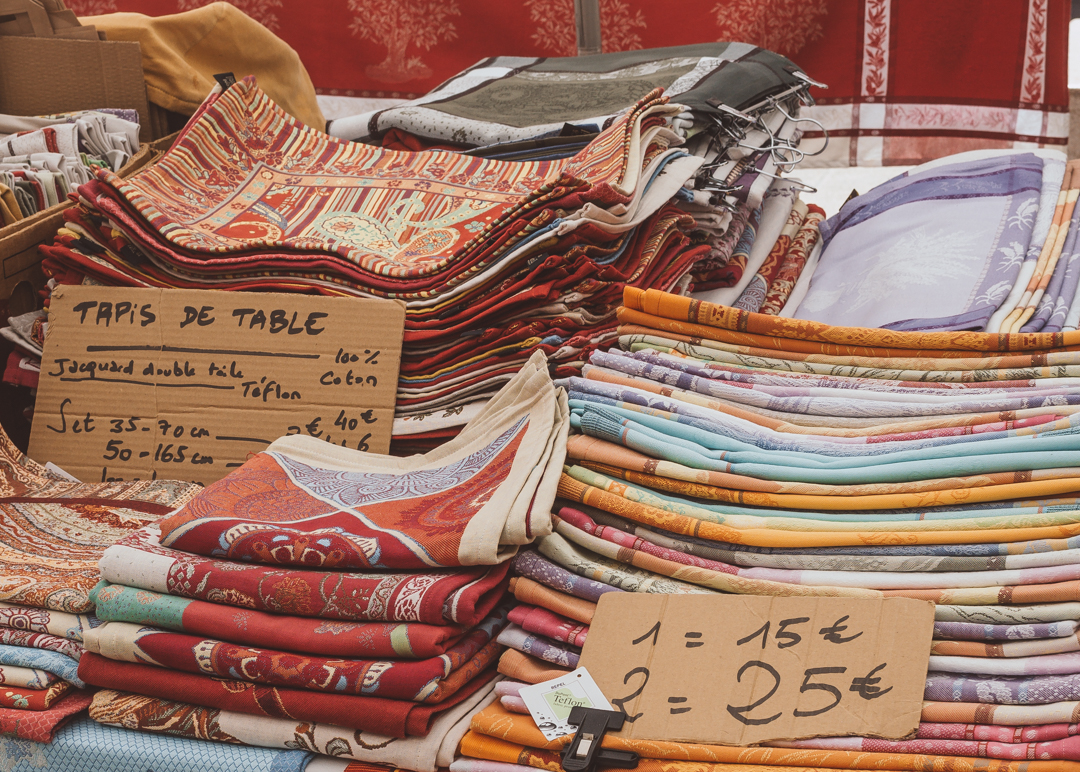 As the market hits the top of the iconic Cours Mirabeau, where writer Emile Zola used to meet painter Paul Cézanne after school, the stalls change yet again. This time selling textiles – Provençal tablecloths, and depending on the season, summer dresses or winter scarves and coats.
It's a great opportunity to buy panama hats, straw boaters or the iconic French beret, as well as every kind of shoe, belt and bags. Stallholders will happily bargain if you're buying more than one item.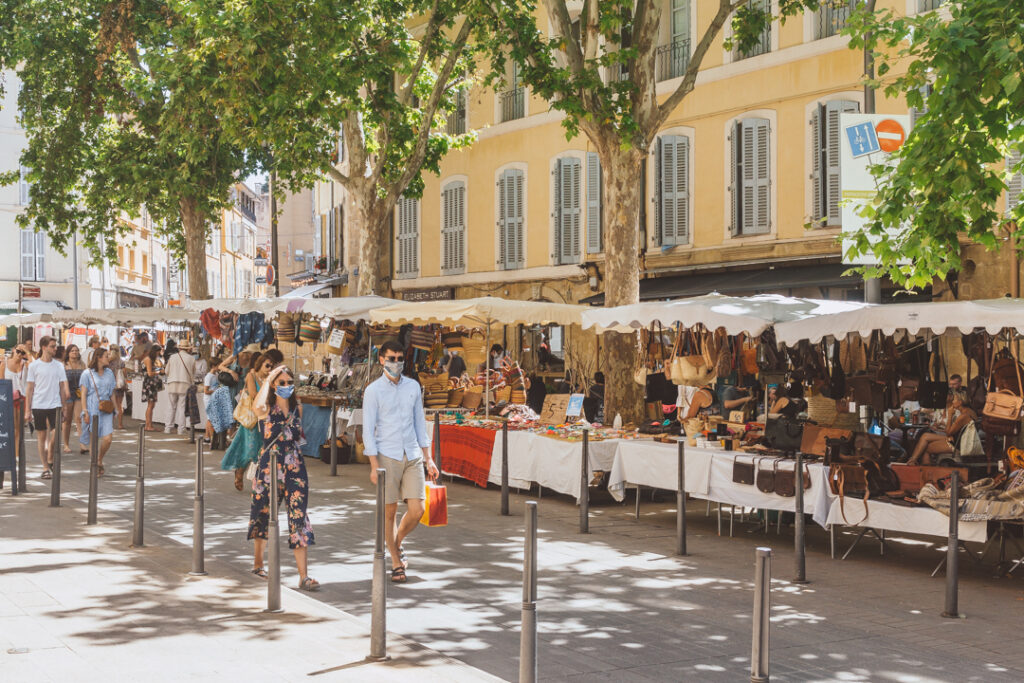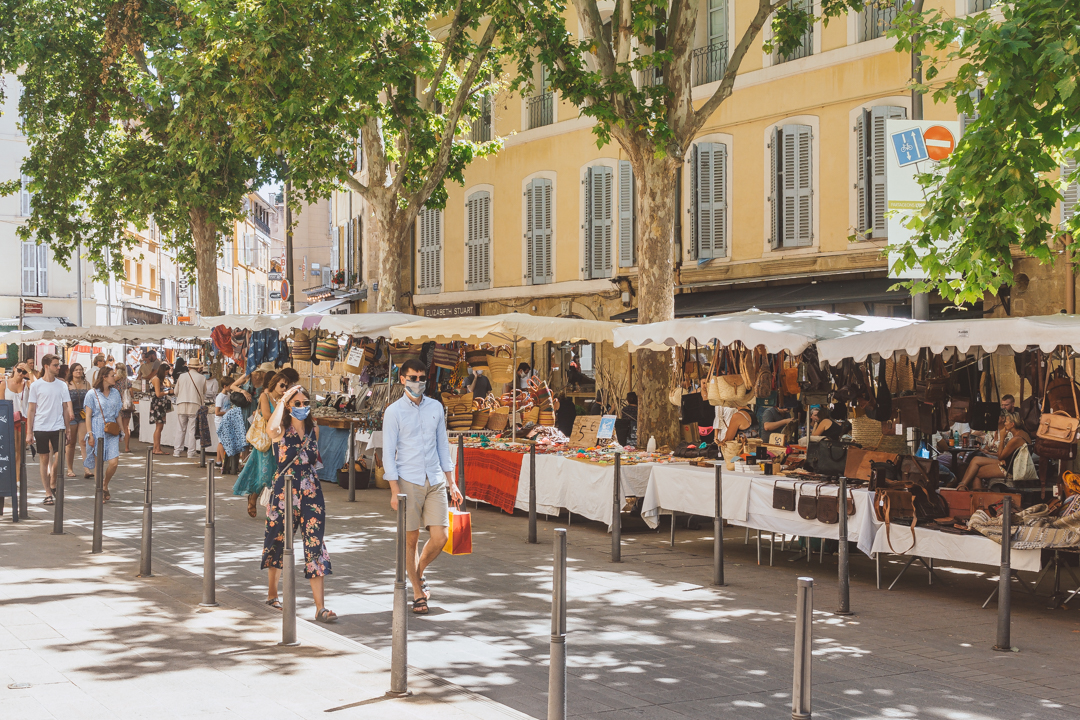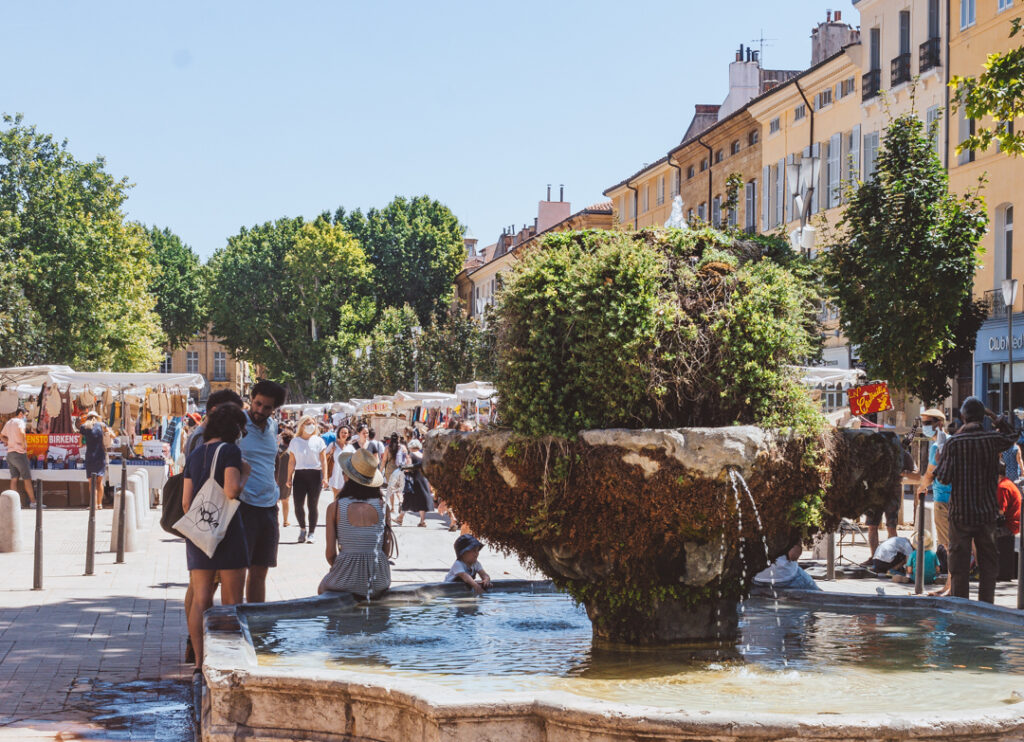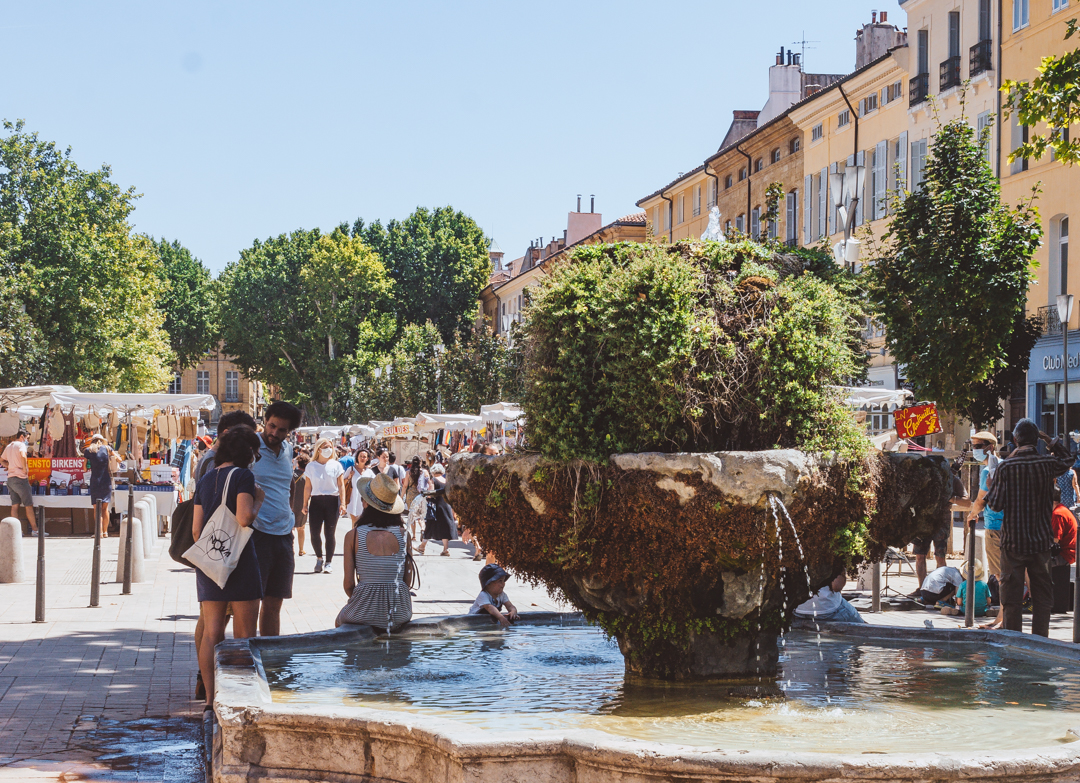 Finally, at the western end of Cours Mirabeau, by the large Rotonde fountain (the most well-known of all its fountains), the vibe turns distinctly flea market. Traders offer second-hand books, alongside antique chairs and furniture.
The entire market begins officially at 8.30am and ends at 1pm.
---
Looking for more Provence travel inspiration? Don't forget to join our free Facebook group Provence Travel Planning!
---
Aix-en-Provence Flower Market
The flower market takes place in the beautiful Place de l'Hôtel de Ville every day of the week except the first Sunday of the month (when it's the turn of the second-hand book market). It's one of Aix-en-Provence's most beautiful squares, made even prettier each morning with pots and pots of delightful, multicoloured flowers.
Sit at one of the two cafés marveling at the majestic Town Hall, where the mayor works and where administrative city life takes place, listening for the chimes of the large clock tower. It is under this celebrated arch that GIs rode their tanks to liberate the town at the end of World War II.
Watch the kids running around the fountain, and locals reading their paper, taking a break from their morning stroll or running errands at the post office.
This is picture-postcard France, celebrating the small moments in life which haven't much changed in the past 100 years, surrounded by so many plants that the fragrance fills the air.
---
Other Aix-en-Provence Market Days
In addition to the regular markets listed above, Aix-en-Provence also hosts seasonal markets throughout the year. The main two being the summer evening market, and the festive Christmas market.
Summer evening market
In the balmy summer evenings, it's a delight once the sun goes down to meander along the Cours Mirabeau in the cooler night air.
This is the place to find artisanal jewellery and handwoven shawls – showcasing the best of local savoir faire. Or maybe a leather bag, sandals or iron brooch; handmade crafts that will be worn many times before they even make it back home.
Buy an after-dinner ice-cream and stroll among the market stalls as the stars come out.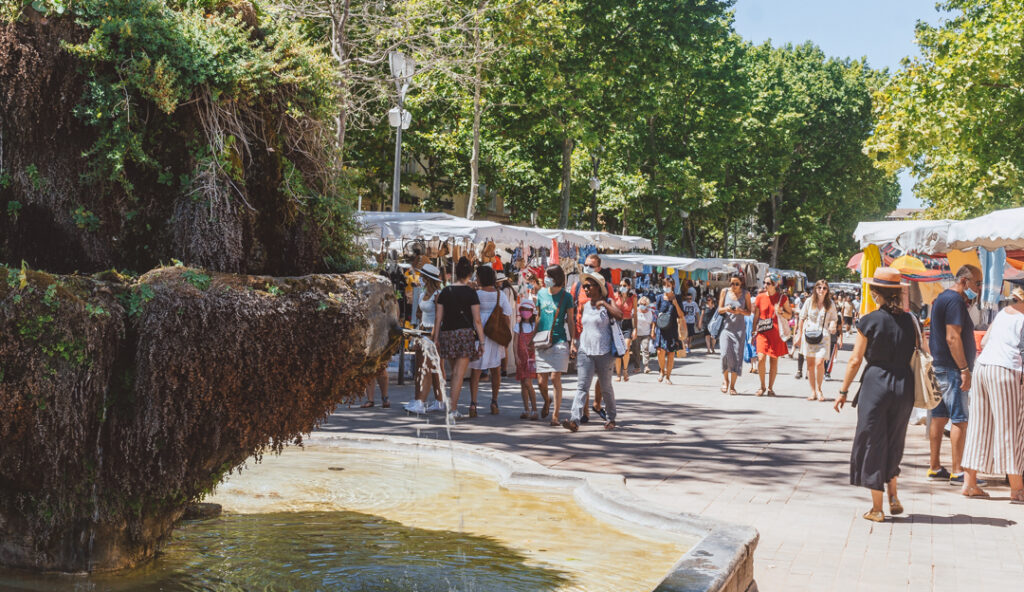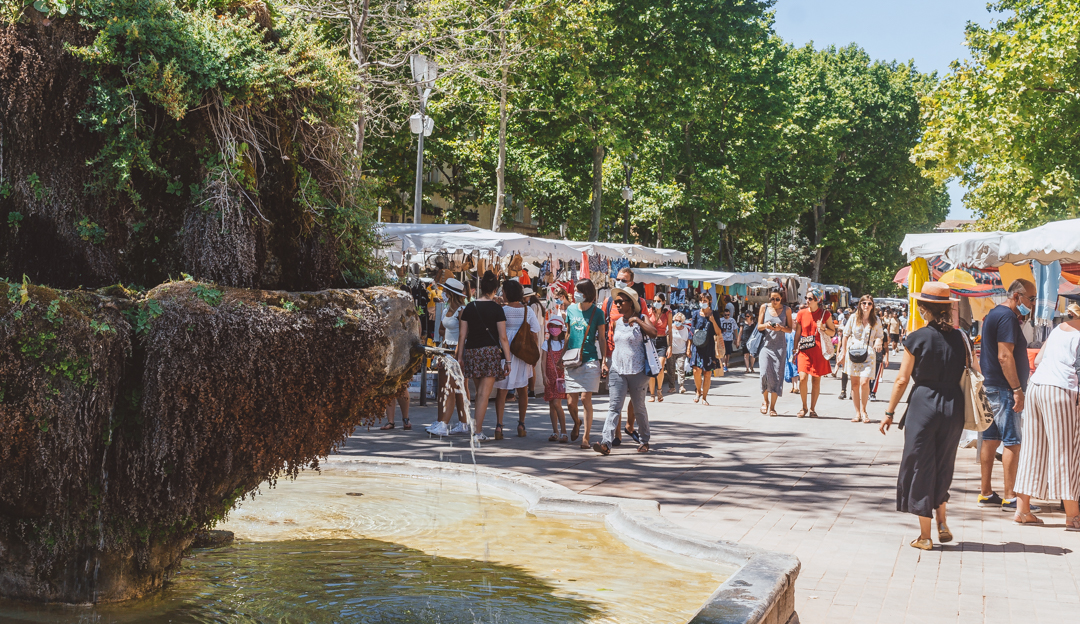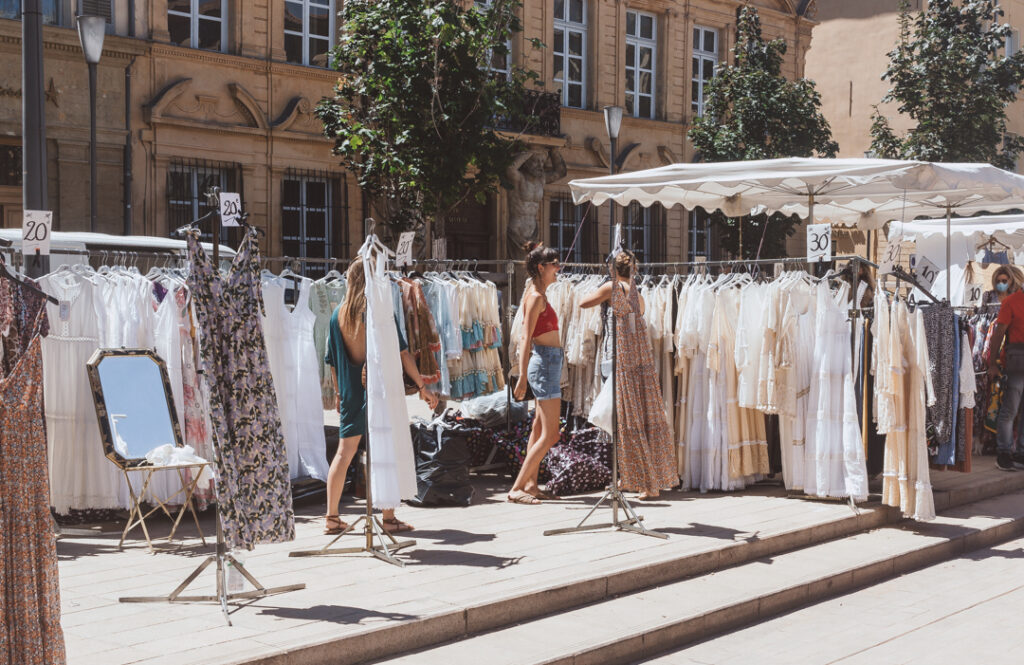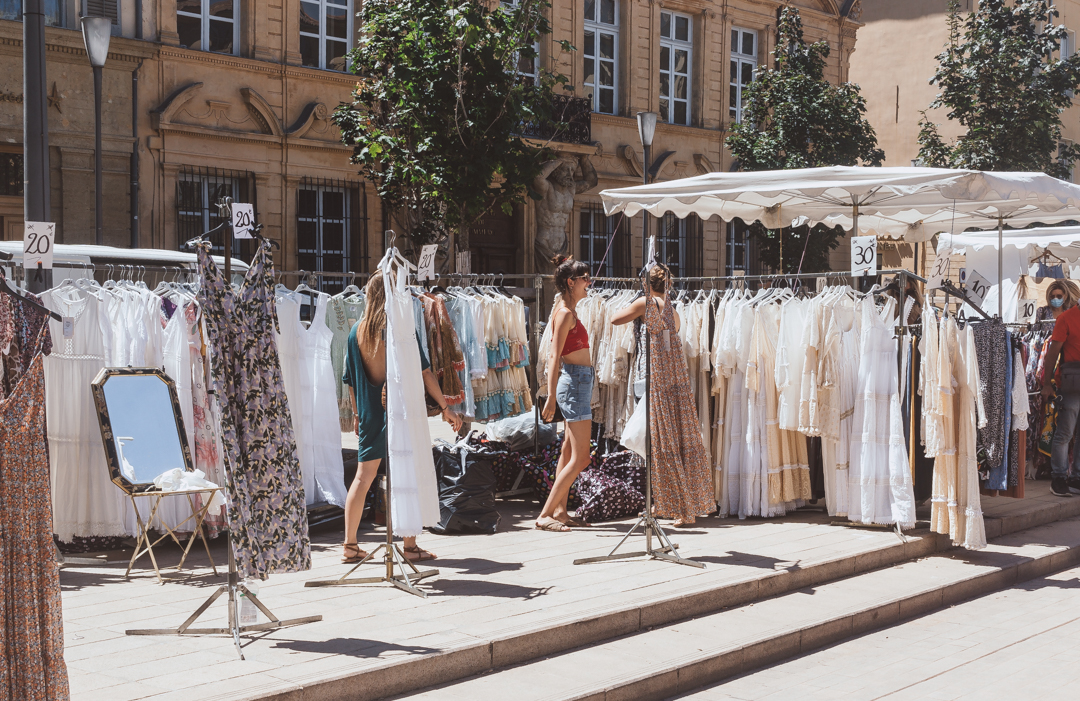 Dates vary depending on the year, but generally, the summer market days in Aix-en-Provence run from around early July, to late August, Monday to Saturday from 5pm until midnight.
On Sundays, the market runs from 9am until midnight (times often change for Bastille Day on 14th July, when the market might not run if the fireworks take place).
Christmas Market
At the end of every November (dates vary year on year), the Cours Mirabeau, takes on a Christmassy vibe, as 50 log cabins are erected over the course of a couple of days to become the new hub of local life.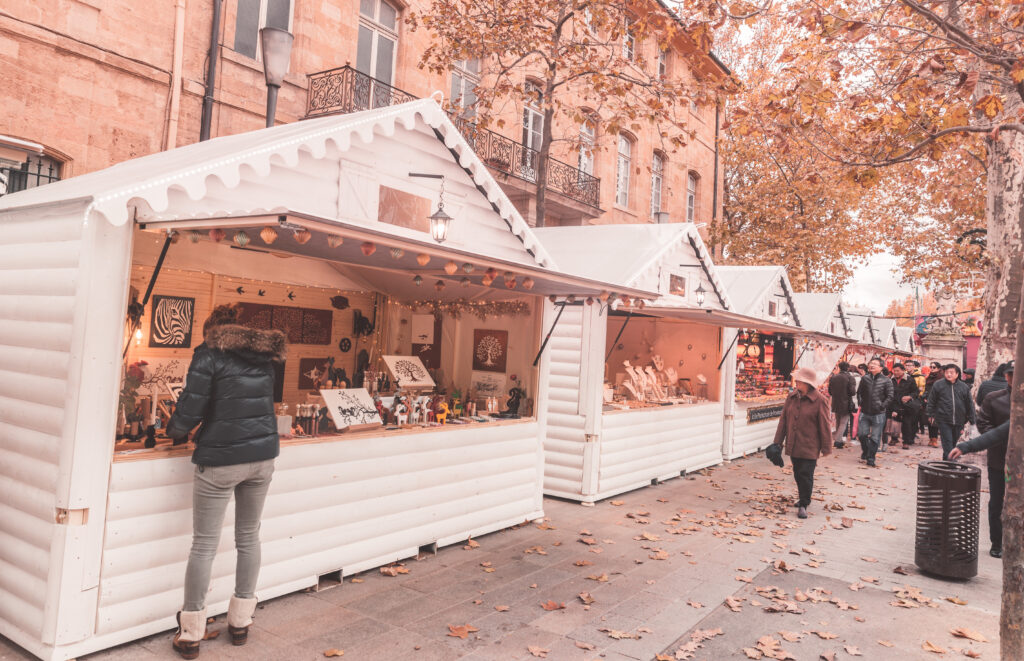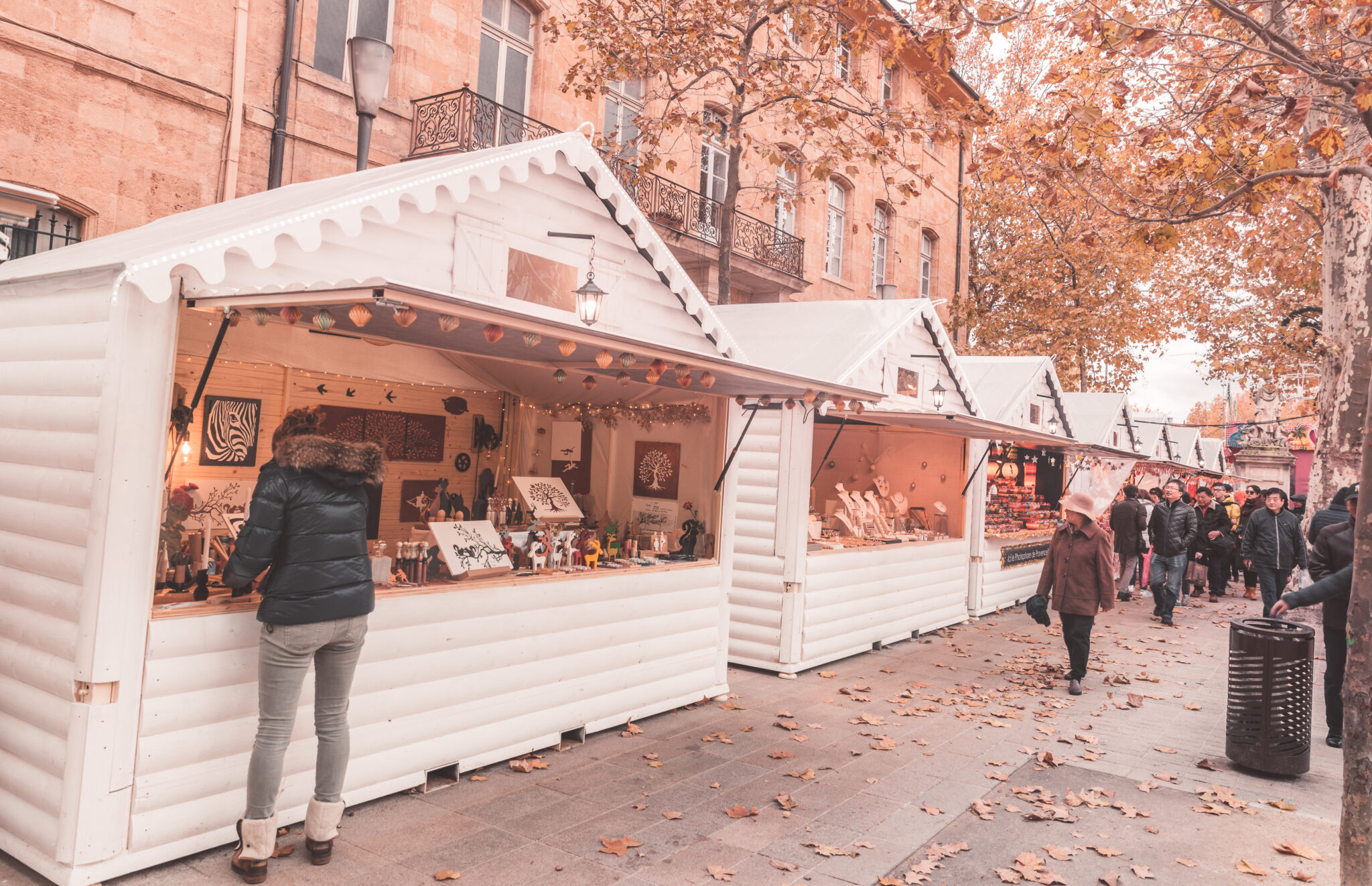 At the eastern end, near the statue of King Roy Réné, who led the town in the 15th century, are the ceramic potters, lace makers, embroiderers and painters, selling individual artwork which make great presents.
Visit the chocolate man, who designs intricate tool sets, cheese boards and sewing baskets, made entirely from chocolate. And take ten minutes to watch the local magician who returns year after year to terrorize the local kids with the way he cuts his arm or chops off his finger.
If you buy one of his tricks, he will teach them to you too; a perfect way to impress friends upon your return.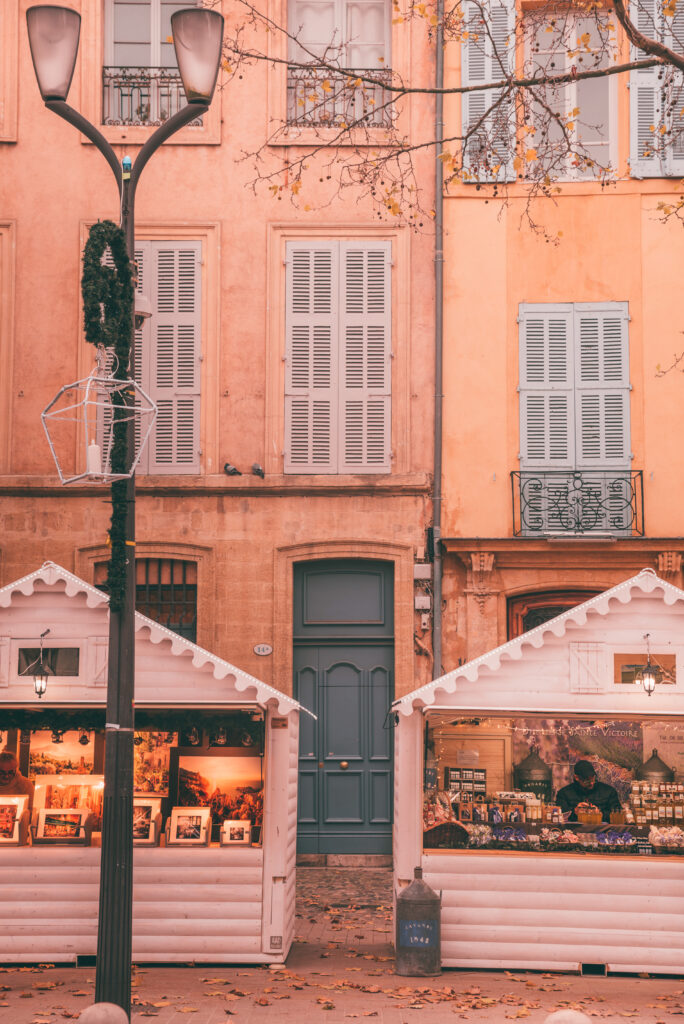 Head to the western end, near the famous Rotonde fountain to reach the food and drink section, with candy floss and toffee apples (called une pomme d'amour – a love apple).
This is where parents meet up, paying for the kids to go on the bumper cars and swings, while they chat and sip cups of mulled wine, nibbling on the local speciality, pain d'épice or spiced bread.
The final stop is the Santon village, the local equivalent of a nativity scene.
Santons (roughly translated as little saints) are a Provençal tradition – small terracotta figures made from local clay and hand-painted, organized into a mini replica of a medieval town with shepherds and village life.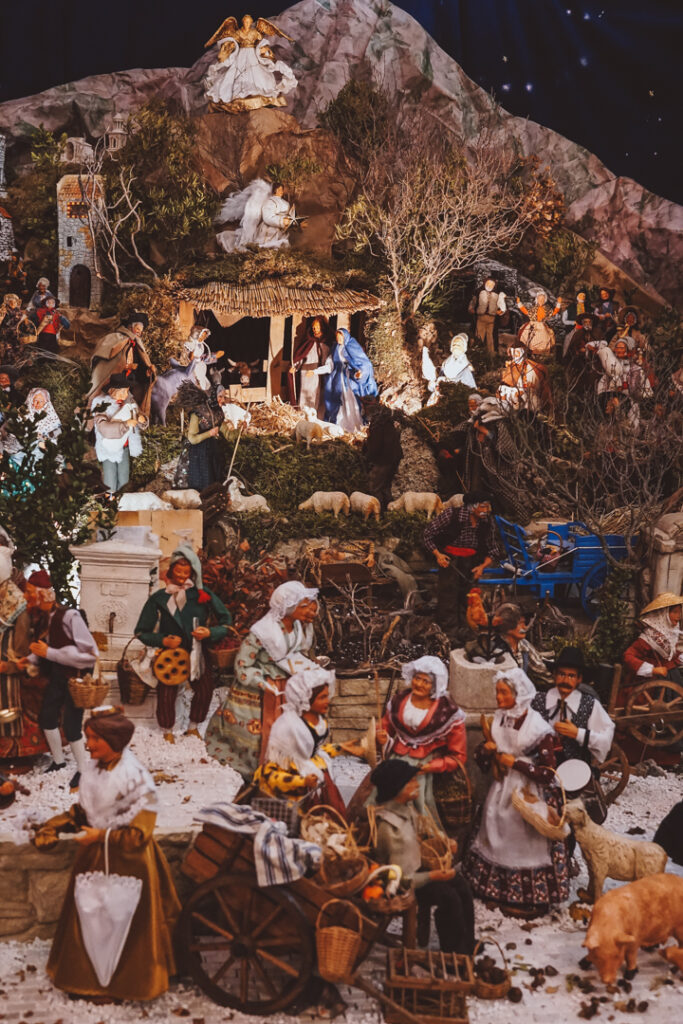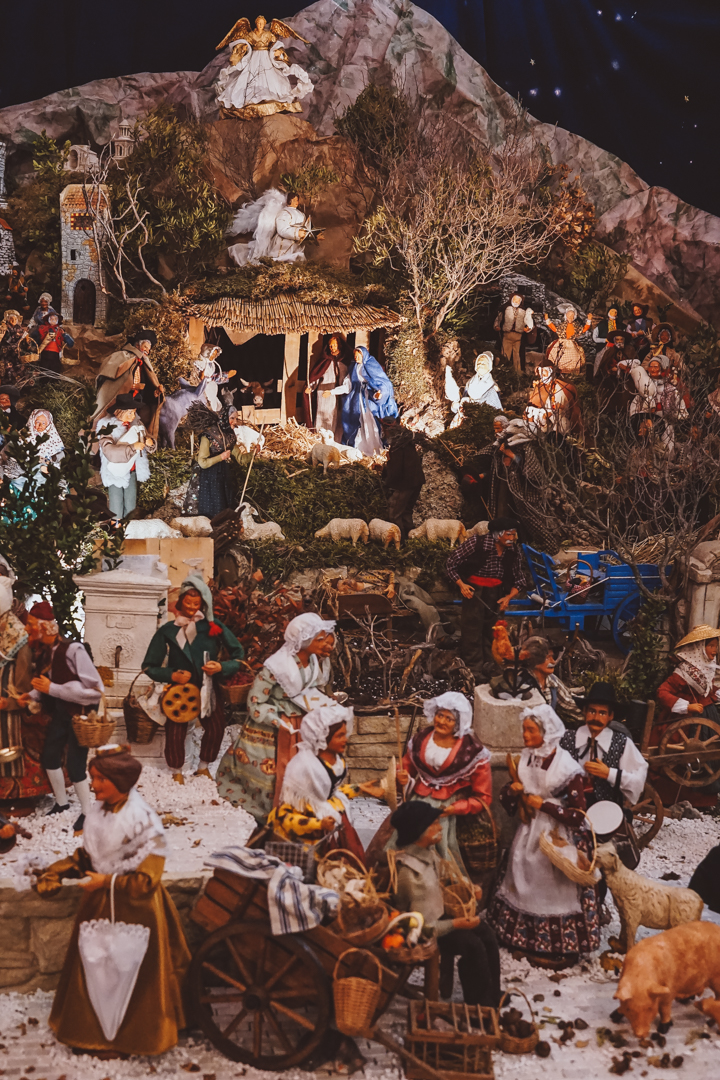 They were first made in the 18th century as a way of defying the government, who during the French revolution closed down churches and banned nativity scenes. By making small nativity figures, locals were able to celebrate Christmas in their own homes regardless.
Local stallholders sell a variety of santons, enabling you to take a little piece of Provençal Christmas home.
The market is open every day except Christmas Day, from 9.30am to 7.30pm.
Tips for shopping at the Aix-en-Provence markets
The artisanal markets offer mostly local produce, and while they often sell similar items to those you'll find in the local shops, the prices are often much more reasonable.
Prices are fixed at the daily market in terms of buying fruit, vegetables and other produce but there is room at the thrice-weekly market to bargain, particularly for books, furniture, clothes and anything you might want to buy in bulk, such as tablecloths, fabrics, linens and blankets.
To avoid queuing for cash dispensers, it's best to plan ahead and bring enough cash with you, but take care – Aix-en-Provence market days can be a pickpocket's paradise, particularly when people are ogling the food and crafts and not watching their purses.
---
---
The city is a wonderful place to visit at any time but Aix-en-Provence market days really stand out – when the ancient squares, cobbled streets and grandiose buildings provide a stunning backdrop in which to feed the taste buds and satisfy consumer whims.
Pin this for later!