Guest Post by Jade Laurenza
What do you think of when you hear 'Champagne'? New Year's Eve? Elegance? Status? Champagne has long been one of my favorite libations. I love the varying degrees of effervescence experienced with different vintages or bottles produced by the various Champagne houses. And how better to experience all this classic drink has to offer than by joining a champagne tour in Reims, the Champagne capital of France!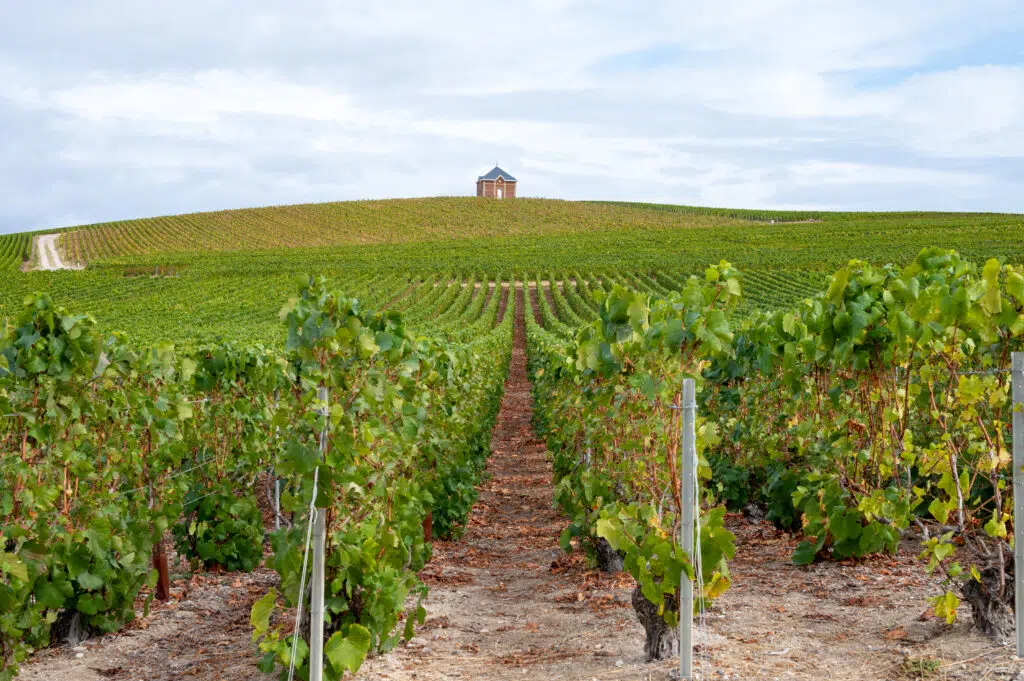 What Makes Champagne so Special?
Did you know that in order for a sparkling wine to be called 'champagne' it has to be produced in the Champagne region of France?
That's why you'll see Prosecco in Italy or Cava from Spain – never Champagne. And while the uninitiated may think they're all just bubbly wines, they can have quite different production methods too.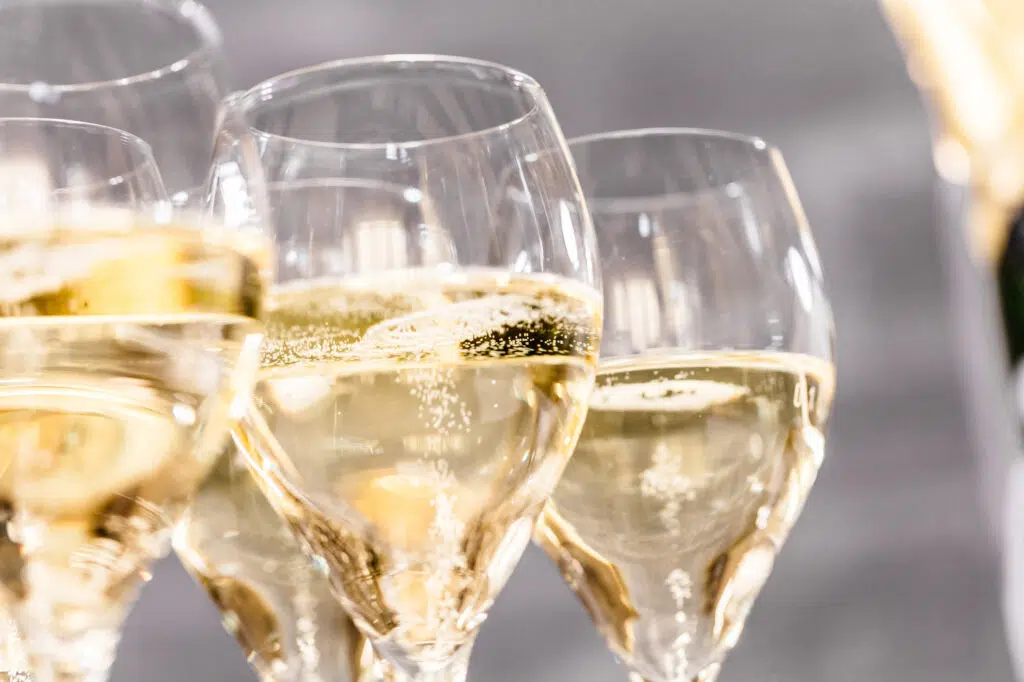 The Champagne region was initially a producer of still wine and provided Paris with a lot of their finest creations. It's undoubtedly one of the top (if not the top) wine regions in France. Located under an hour by train from Paris, this area makes for one of the easiest day trips from the capital.
=> Book your day trip from Paris here.
There has been an upswing in tourism since 2015 when UNESCO designated the entire region a World Heritage Site. The most popular destinations in the area are Reims and Épernay, both of which boast some of the world's most elite wine producers.
The Méthode Champenoise
Despite what you may have heard, Dom Perignon didn't invent the process of making champagne. He did make many contributions, however. Invented by Benedictine Monks, the oldest effervescent wine was created in the early 1500s.
The creation of sparkling wine was a sheer accident! It happened when someone bottled the wine prior to the end of its initial fermentation. Six years before Dom Perignon was to enter the Abbey of Hautvillers, an English scientist beat him to the punch. The man had documented the addition of sugar to a finished wine to create a second fermentation.
The méthode champenoise, as it is now referred to, involves two cycles of fermentation – once before bottling and once after. The second fermentation is what produces carbon dioxide and ethanol, two essential components of champagne.
Champagne grapes must grow in the Champagne region of France (which is why sparkling wines produced elsewhere cannot be called Champagne). But the region isn't the only thing that truly makes a Champagne. Other Champagne appellation controls involve specific vineyard practices, using specific grape-pressing regimes unique to the region.
---
Why Reims?
Along with Épernay, Reims is one of the two main cities in the Champagne region of France. When you are planning your Champagne tour and tasting, it's best to compare these two cities to decide which you'd like to visit. They are both home to renowned Champagne Houses and have plenty to offer.
When researching for this day trip, I knew I wasn't going to be spending the night, so I'd have to choose between the two in order to have a substantial amount of sightseeing time in addition to the Champagne tour. I ultimately chose Reims because of its extensive World War II history and many historical sites to discover.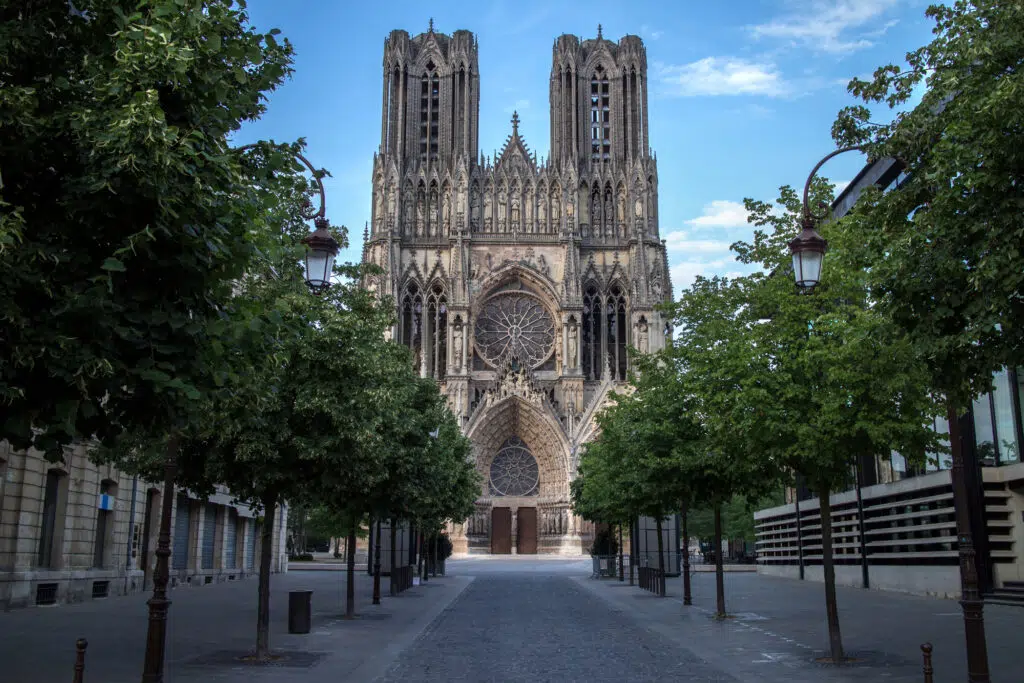 Champagne Tours in Reims
Which Champagne Houses Should you Visit in Reims?
Taittinger: Taittinger boasts the only UNESCO World Heritage caves in Reims! Out of the Champagne Houses on this list, I opted for Taittinger after extensive research.
Veuve Clicquot: One of the largest and most famous Champagne houses in the world, and an international symbol of status. It does have higher prices for Champagne tours than other Champagne houses in Reims.
Charles Heidsieck: Renowned for their Blanc des Millénaires, come here for fewer crowds and slightly lower prices.
Ruinart: If you love art and history, this is for you. Ruinart has the oldest cellars, which date all the way back to 1729. Not to mention, really cool bottles that were inspired by the original Champagne bottles.
La Champagne Pommery: Visit the cellars and enjoy rotating art exhibitions! La Champagne Pommery utilizes its amazing cellar space to display several styles of art. Pommery was the first to commercialize Brut Champagne.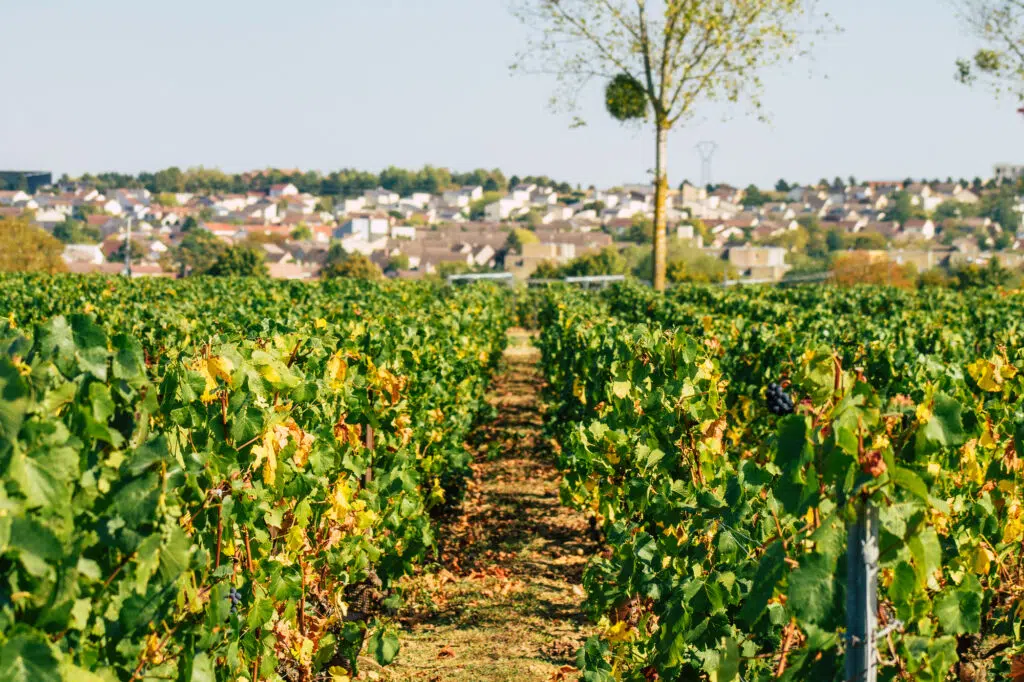 ---
Taittinger Champagne Tour
After doing a little research, I decided to tour Taittinger house. I only opted to do one tour, but it would have been nice to see some of the other houses to see how their production varies, and how different their cellars are.
Ultimately, I chose Taittinger in particular because of the 4th century Gallo-Roman chalk mines (aka crayères). In the 13th century, the crayères became the cellars of the Saint-Nicaise Abbey.
Book your tour from Reims to Taittinger here.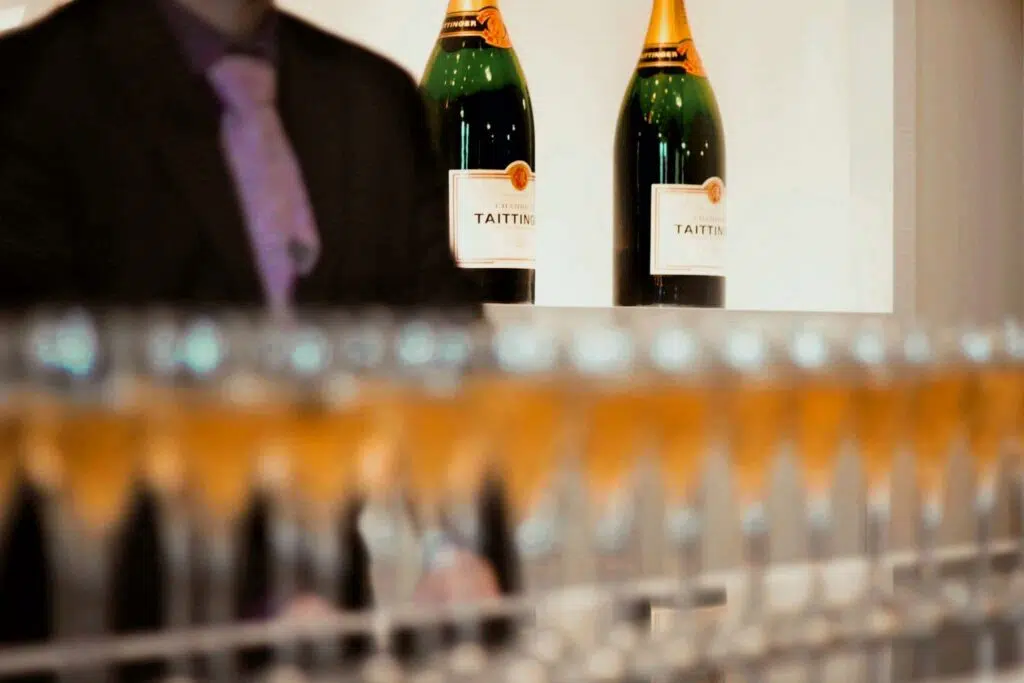 History of Taittinger Champagne House in Reims
The mines are also a UNESCO World Heritage Site and were originally sources of extracted chalk blocks – be sure to touch the chalk walls when you make the descent to the mines!
The Abbey was demolished during the French Revolution, but you can still see some remains just under the earth. To get to the cellars, you have to descend 18 meters (just under 60 feet). Consider this fair warning if you get anxiety in spaces such as this!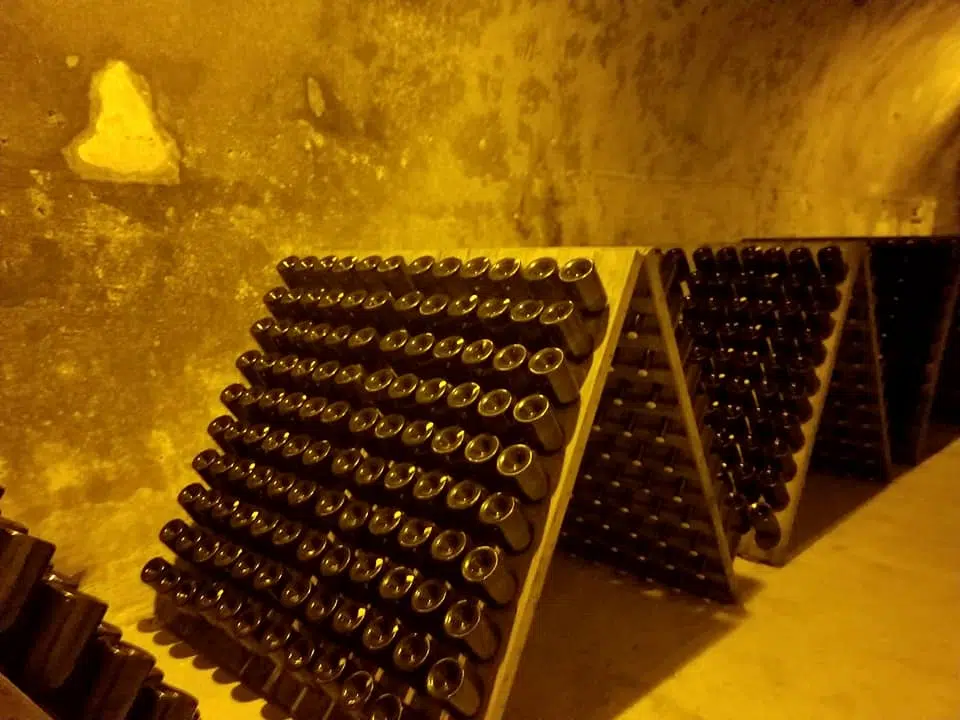 Champagne Taittinger became a producer of sparkling wine in 1932. They created an innovative style influenced by Chardonnay, one of the three primary grapes used in the production of Champagne (the other two are Pinot Noir and Meunier). The Chardonnay definitely lends elegance and freshness to the glass.
Today, Champagne Taittinger boasts a 288-hectare vineyard that covers 34 different crus – this covers about 50% of their grape needs. They supplement their own vineyard with the purchase of grapes carefully selected and obtained through long-term contracts with independent winemakers and multiple co-ops.
In 1932, the site of the Saint-Nicaise hill became the seat of Champagne Taittinger. To go 18 meters underground is to relive the 18 centuries of history that have seen this place.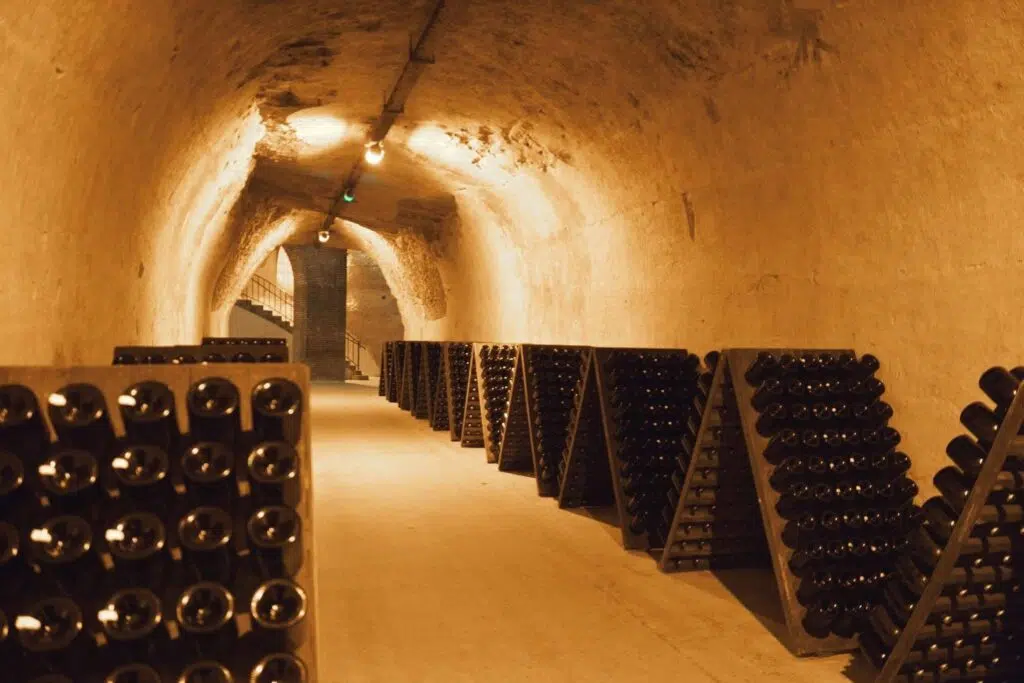 Taittinger: Champagne Tours and Tastings
Taittinger offers a number of different champagne tour options including without tasting, with tasting (one, two, or three glasses), and a number of tastings featuring more exclusive bottles.
Overall, the tour lasts about an hour and includes a viewing of a film about the Taittinger house, a guided tour of the cellars accompanied by a description of the process of champagne production, as well as the tasting.
I think we chose a great house to visit. Our host was funny and welcoming, as was everyone else that I'd encountered. In short, I'd highly recommend Taittinger House for a champagne tasting in Reims.
---
What to Wear on a Champagne Tour in Reims
I felt a little under-dressed in black leggings, a colored t-shirt, and a jean jacket, I didn't get the memo! Granted, I live in yoga pants. So wearing anything else is sort of like dressing up to me. Still, I would have preferred to dress a little nicer, particularly when I noticed what everyone else was wearing. The best thing is to dress comfortably, however. The cellars are far below the ground, damp, and cold.
---
Is Champagne Cheaper in Reims?
Purchasing Champagne from Reims isn't necessarily less expensive than purchasing elsewhere. The only real contributing factor is that Champagne in France is duty-free. One way to save on your Champagne purchase is to buy it in bulk. Most Champagne houses in Reims (and Épernay) will allow you to purchase cases and ship them to your home, anywhere in the world. This is the best way to save on Champagne when making purchases in Reims.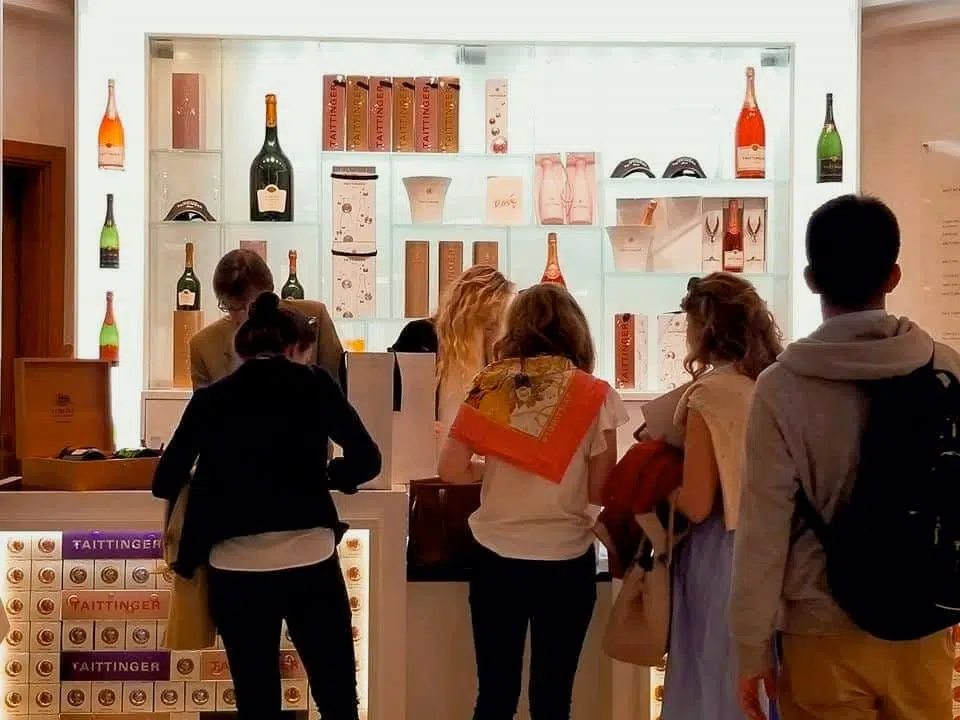 ---
Other Things to do in Reims
Reims is an incredible city with three UNESCO World Heritage Sites (Palais du Tau, Notre Dame de Reims, and the former Abbey of St. Remi)! Not to mention its extensive WWII history – did you know that Reims is the city where Germany signed surrender during the second world war?
The Musée de la Reddition is my personal favorite place to visit in the city. But there are plenty of things to do in Reims to keep you busy for a few days if you need a break from Paris.