With the ever-popular Paris, incredible historic sites, majestic chateaux, and world-famous fashion, it's not often that we think of France in terms of island escapes. So, you might be surprised to discover just how many islands off the coast of France there are to discover.
These beach-fringed jewels rest within the Atlantic Ocean and the Mediterranean Sea, each offering unique personalities and landscapes.
Choose from car-free havens of rolling moorland, sleepy fishing villages surrounded by windswept cliffs, and historic settlements on a backdrop of sparkling bays and lush forests. Authentic traditions are on display throughout, from oyster farming to wine-making.
Islands or not, this is France, so you're still guaranteed the gourmet experience of the mainland. However, exciting twists add to the unique flavours of these offshore havens.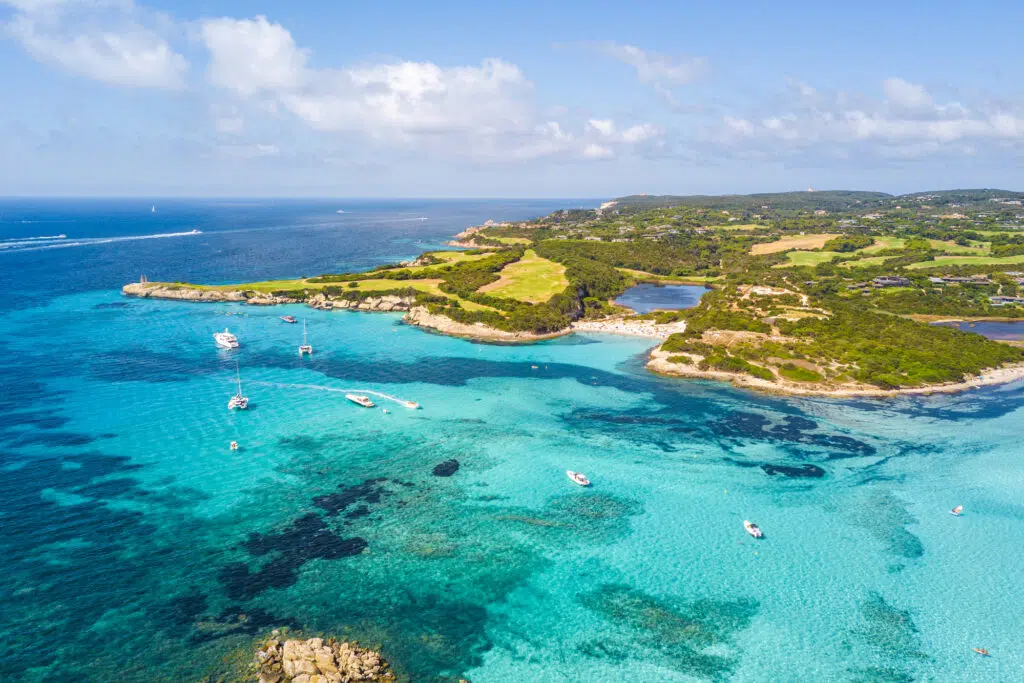 ---
Map of the French Islands
Chances are, wherever you are on your next French sojourn, there's a fabulous island nearby to explore. Here's a map to help you choose the best French islands for your next holiday.
---
French Mediterranean Islands
The islands in the south of France are among the most famous, with beautiful Corsica leading the way. Golden beaches, forested hinterland, local vibes and hillside villages await in the midst of dazzling Mediterranean blues.
CORSICA ISLAND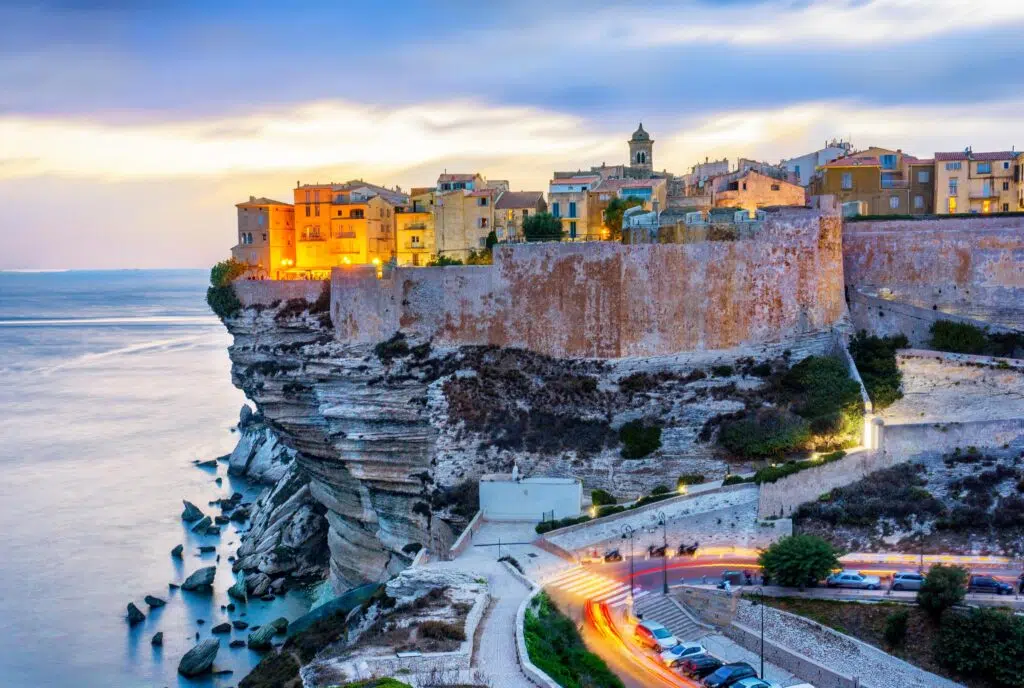 Corsica is the largest island in France and one of the most diverse. There's a trendy dining and nightlife scene here, with top chefs churning out gourmet creations. However, its magic seeps from idyllic half-moon bays, verdant valleys, charming hilltop villages and the Corsican way of life that's unique to the island. You'll find it within local delicacies, like azimu (fish stew) and the sounds of polyphonic songs.
Adventure-seekers are well catered for, with everything from snorkelling and boat trips to hiking and canyoning. Visit Napoleon's birthplace and the capital, Ajaccio. Discover prehistoric, carved stone faces of the Bronze Age at Filitosa and the UNESCO-listed Calanques de Piana.
Laze on the picture-perfect shoreline of Saleccia, one of the most stunning French island beaches. And you can't leave without touring the vineyards that surround much of the island, some of which cling to terraces above the sea. However, no matter where you go you'll get the chance to sample the island's renowned wines.
Related Reading: Corsica Travel Guide / Best Places to Stay in Corsica
ÎLES D'HYÈRES
Located just off the French Riviera, the Hyeres Islands, otherwise known as 'The Golden Isles', are three nature-filled gems dotted with national parks, breathtaking beaches, vineyards and abundant wildlife.
Île de Porquerolles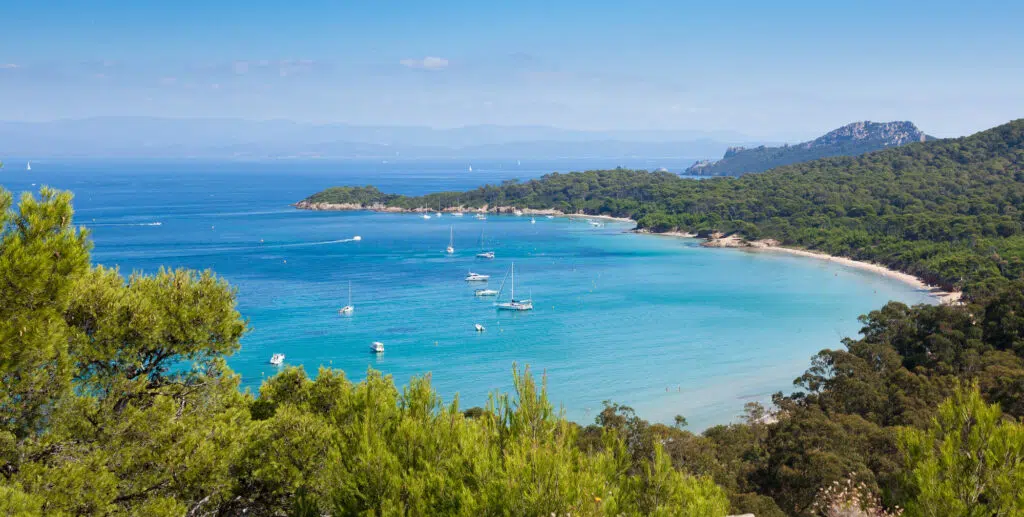 Old world charm rests alongside limestone cliffs, pine trees and fine sand beaches on Porquerolles Island. A French island ferry will get you there from La Tour Fondue port near the town of Hyères. Once owned by a wealthy local man – who bought the island as a gift for his wife and planted an abundance of vineyards – it's now protected from major development with national park status.
Peddle power is the way to get around here, as this French island is a no-car zone. Cycle or walk along trails leading to heavenly beaches, such as plage Notre Dame with its blue lagoon bay surrounded by pine forest. Head inland and you'll find vineyards, olive groves and shady paths lined by eucalyptus trees. There are only a few hotels on the island and it pays to stay, as the unspoiled beauty truly reveals itself once the day visitors depart each afternoon.
Port Cros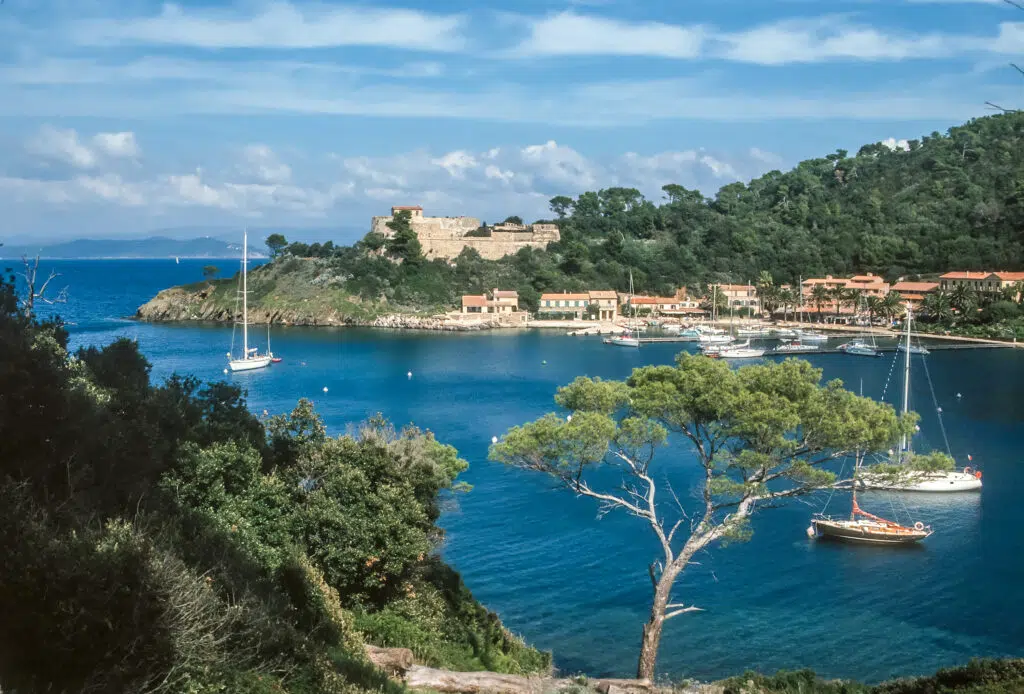 Of the islands off France, Port Cros is among the most secluded and just happens to be one of the country's smallest national parks. The diminutive beauty offers a tiny village with only a few handfuls of locals and a smattering of restaurants and houses. No roads or cars interrupt the spectacular natural surroundings, which include hundreds of plant and bird species such as the Yelkouan Puffin and the shag. You might even see the Lepidoptera, Europe's largest butterfly.
Three marked trails run along the coast with panoramic sea views and lead you to five historic forts. As the first national sea park in Europe and the Mediterranean, the preserved underwater world is a paradise for diving and snorkelling, with numbered observation markers to take you to the best spots. To get to Port Cros, hop on a ferry from Saint-Pierre Marine in Hyères.
Île du Levant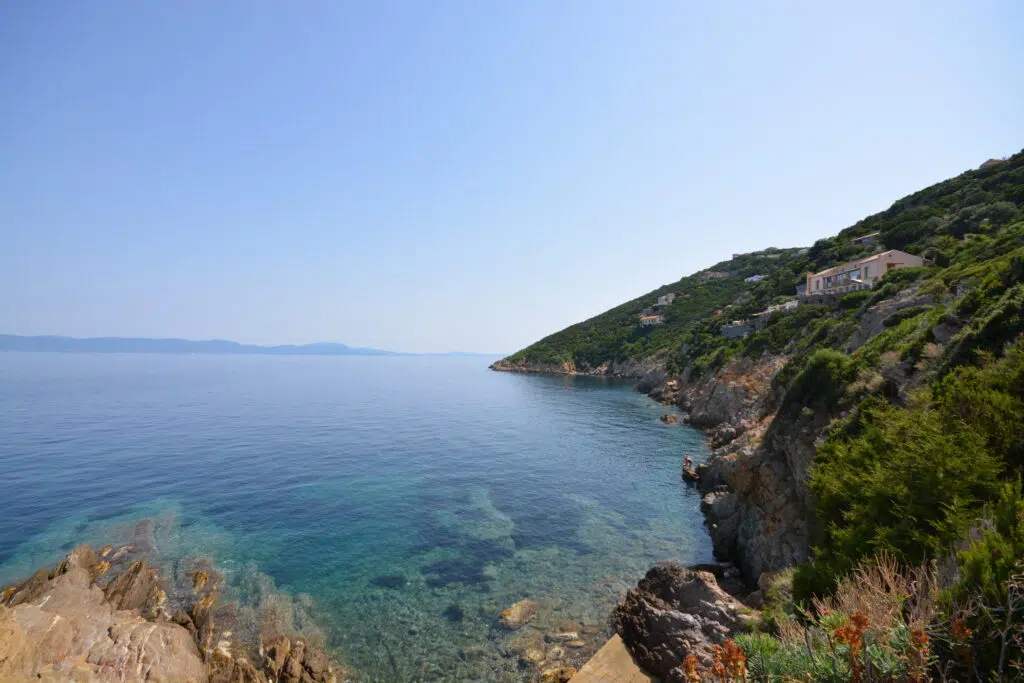 As far as nudist beaches in France go, Levant Island offers one of the most liberating experiences. A naturist centre was opened on the island in 1931. Nudity is permitted nearly everywhere apart from public places around the port and the village square, which contains a few shops, accommodation and restaurants. In fact, nudity is mandatory on Grottes Beach, a sparkling cove sheltered by large rocks. So, be prepared to lose the bikini for a relaxing day here.
This all makes for a strange contrast to the island's history as a penitential colony for children in the 1800s, and to the fact that one side of the island is a military base. Quaint restaurants offer seaside views for a snack between hikes and swims, and you can stay on the island in a range of hotels and B&Bs.
ÎLES DE LÉRINS
French Riviera islands are just a quick boat ride away from all the glitz and glamour in Cannes. However, they're worlds away from the hustle and bustle. On the Lerins Islands, life's much more about the great outdoors, peppered with fascinating glimpses of history.
Île St Marguerite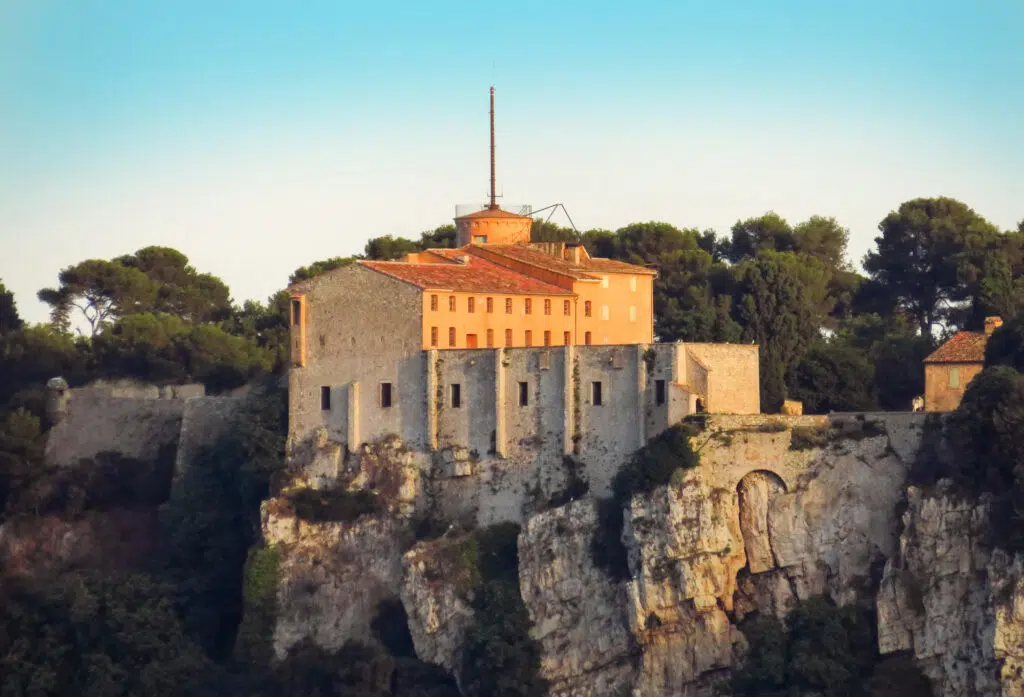 St Marguerite Island is a national and natural treasure, with over a hundred hectares of eucalyptus and pine trees, it's a sanctuary for migratory birds and has a rich marine environment. However, its claim to fame stems from the 17th-century Fort Royal, the fabled prison of the unidentified Man in the Iron Mask. Legend has it that he was the twin brother of King Louis XIV.
The museum inside showcases history from the Ligurians, Romans and local shipwreck loot, along with panoramic views from the terrace. There are a few restaurants and snack bars open from about April to October, so get a treat and wander off to the rocky beaches. Scented pathways lead you through eucalyptus trees with the cacophony of birds to keep you company. Most people visit St Marguerite Island on a day trip from Cannes Old Port, via a boat ride of just 15 minutes.
Île St Honorat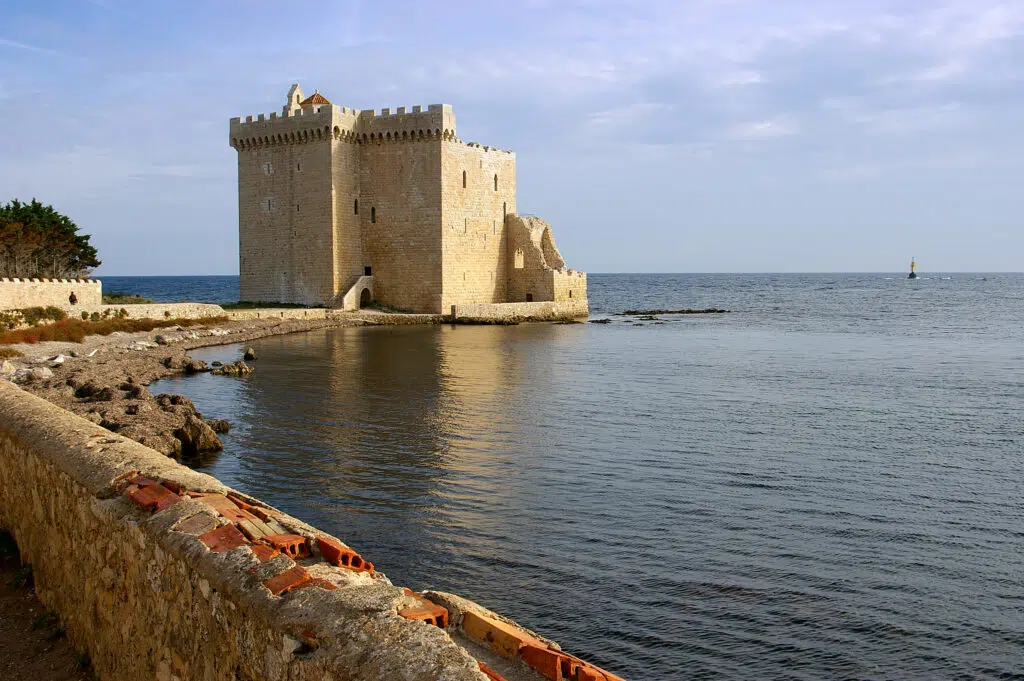 Time flows to the rhythm of the monastery of monks, called Lérins Abbey, on Saint Honorat Island. The Cistercian community has been known to inhabit the island since the Middle Ages, after the arrival of Saint-Honorat, who became the bishop of Arles. Today, it's a peaceful haven for extended retreats or day trips into unspoilt nature.
Paths guide you through aleppo and umbrella pines on the edge of the sparkling sea, on this French Mediterranean island. There are plenty of monuments to discover, including the monastery tower, the Chapelle Saint-Sauveur and Napoleonic furnaces. Have a delicious lunch in the restaurant by the pier, overlooking the dazzling Bay of Cannes.
Brittany Islands & Islands in the Gulf of Morbihan
The Brittany coast is sprinkled with islands that speak to the nature-lover in you, with crystal-clear lagoons, unique indigenous flowers, coastal paths and protected reserves. Then, there's the Gulf of Morbihan in southern Brittany, a natural harbour perfect for sailing, with islets that beg to be explored.
ÎLE AUX MOINES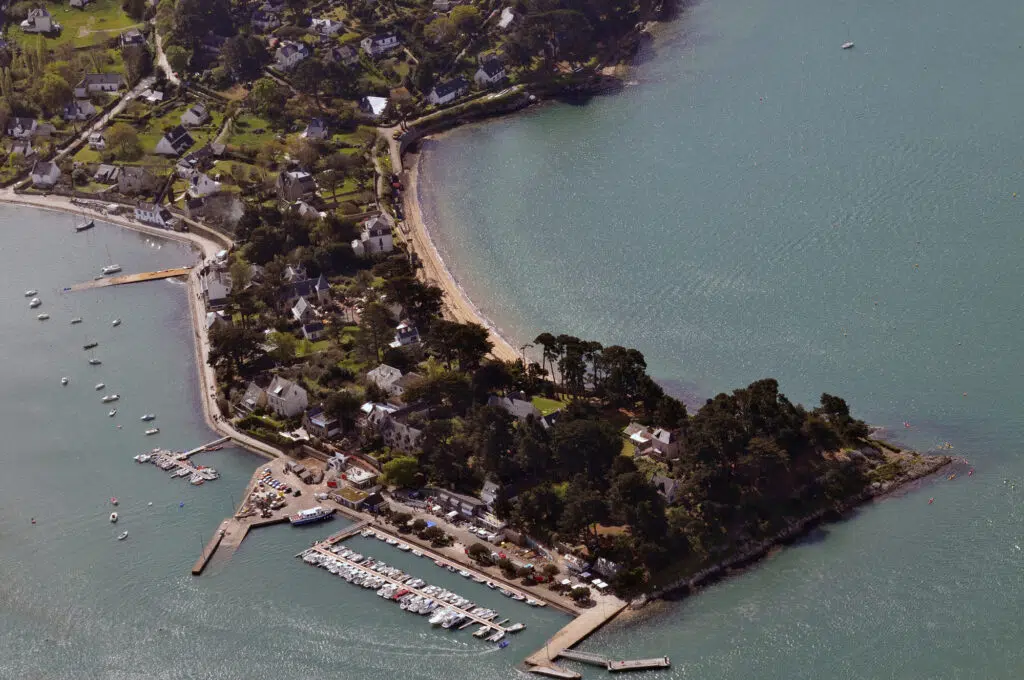 Referred to as the 'Pearl of the Gulf of Morbihan' and a French island version of the spectacular Greek Isles, Île aux Moines is a strolling and cycling paradise. White fishermen's houses, narrow laneways and flowering landscapes rest on a backdrop of the bright blue sea. Birds seem to love it just as much as holiday-makers, and the aptly named 'wood of love' joins other trails with fairytale names.
Whether you're sailing, strolling or cycling around this dreamy landscape, there's more romance to look forward to in the oyster fishing area. Feast on the delicacies and sip white wine while you watch the world go by, as slowly as it should. To reach this island off Brittany, take a quick boat trip from Port Blanc in Baden and various other ports around the bay.
ÎLE D'ARZ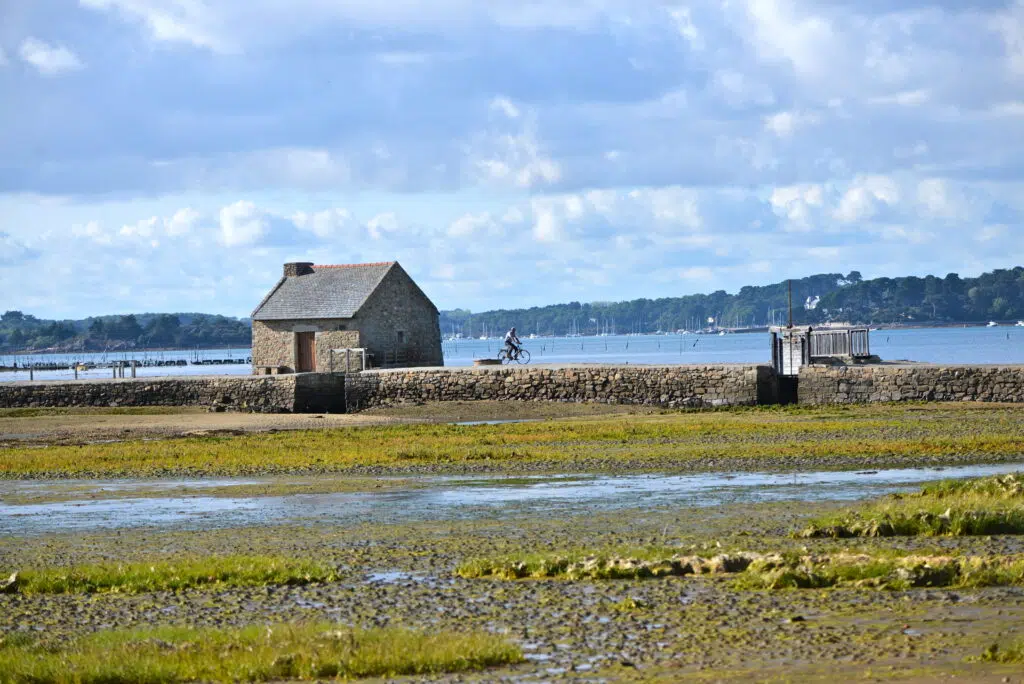 The Island of Arz has a long and varied history involving Celts, Romans, Venetians and Bretons. Deep-sea fishermen are at the heart of its industry in the Gulf of Morbihan, resulting in its affectionate nickname, 'the captain's island'. Today, a sailing school ensures the tradition is alive and well for keen trainees, and quaint, white fishermen's houses decorate the scene.
Just 18 kilometres of coastline is easy to explore on foot or by bike, with beaches waiting for a refreshing dip. Plus, apparently, it's an absolute tradition to circle the entire island at least once, though you'd be able to do it a couple of times in a day. Discover maritime history with a visit to the Moulin de Berno, a tide mill that was restored to display the traditional methods of grinding grain in the middle ages.
GLÉNAN ISLANDS
Of the Brittany islands, the Glénan Islands are most often compared to a Tahitian paradise. Looking at a Brittany islands map, this string of islets rests off the south coast of Finistère. They're only accessible in summer and an incredible lagoon in the centre of the archipelago is ringed with beaches of blinding white sand.
The main island of Saint Nicolas is a popular hub for daytrippers, with an international diving school, a nature reserve and a few restaurants for chilled-out dining. From here, you can walk to Bananec Island at low tide, which is home to the sailing school. A sailing trip is the best way to see the surrounds, including the lighthouse on Penfret Island and the fort on Cigogne.
BELLE ÎLE EN MER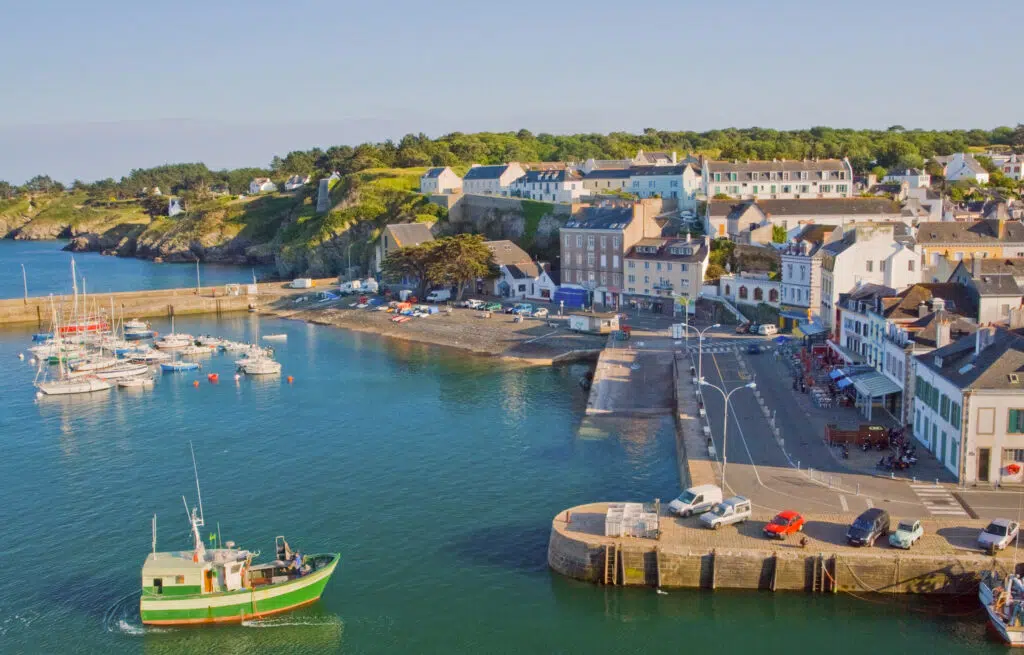 The largest island off Brittany, Belle Île is the 'beautiful isle', which has much to do with its 60 spectacular beaches. It lies 15 kilometres off the coast in the Gulf of Morbihan and the main town is Le Palais, which is where you'll arrive from Quiberon, La Turballe or Vannes. To explore, a gorgeous coastal path runs around the entire island, along with fun bike routes to follow.
Visit the rock needles of Port-Coton to find the inspiration that Monet took advantage of, when he painted them numerous times. There are about 100 charming, whitewashed villages to discover and sandy bays to rest and swim at every turn. When it's time for an adventure of the thrill-seeking kind, you'll find horse-riding, diving and great surfing. Or, go for a round of golf before settling in at Sauzon's marina to watch the boating action.
ÎLE DE BRÉHAT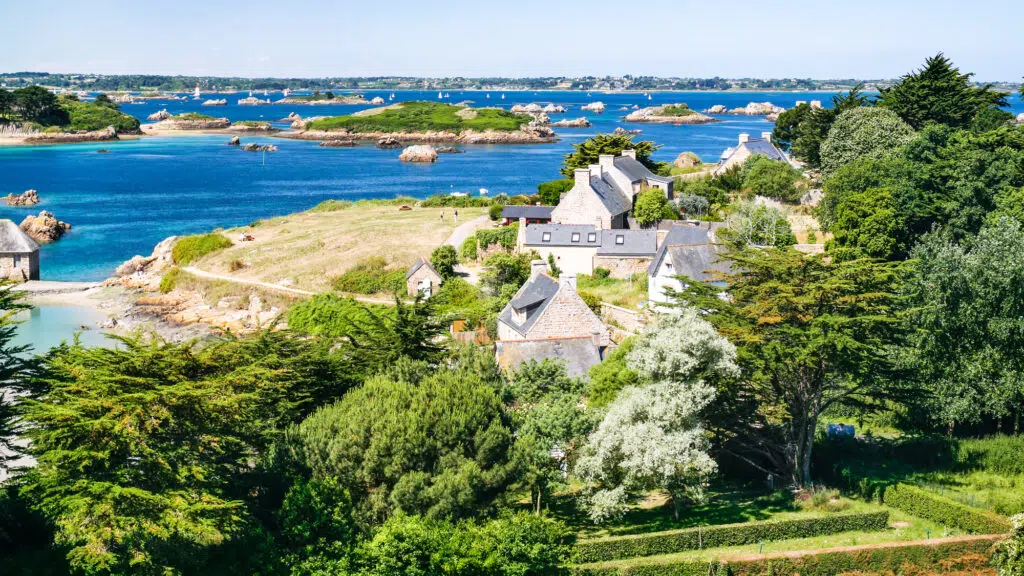 With two car-free islands joined by a bridge at low tide, Brehat Island is a joy to explore. The main square adds the bustling vibe to the natural beauty of this coastal haven, with plenty of hotels, cafes, restaurants and markets. Amble on foot or by bike along pathways spliced with palm and eucalyptus trees, geraniums and puffins for company.
Verreries de Bréhat is a glassworks where you can watch the blowers at work and see particularly artistic goodies on display. Visit the 17th-century Birlot tidal mill and the two lighthouses of Paon and Rosedo. To get out on and in the water, neighbouring islets and reefs let you explore till your heart's content, whether you choose sailing, diving or kayaking. To get there, catch a French island ferry from Pointe de l'Arcouest.
USHANT ISLAND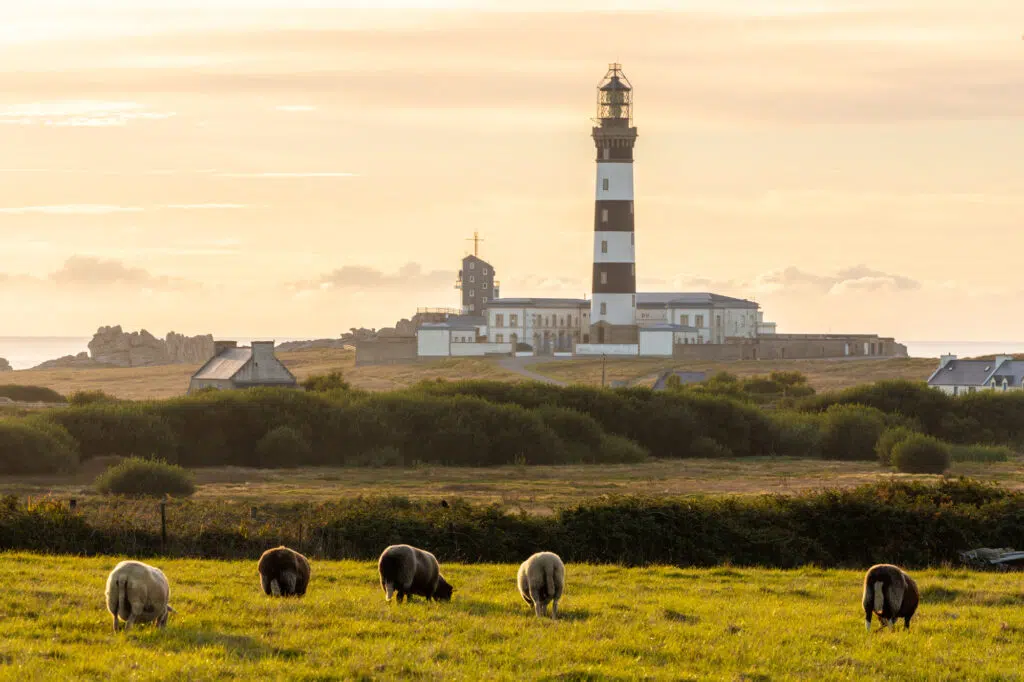 In terms of places to see in France, 'Île de Ouessant' is the most westerly. Pointe de Pern holds great significance in maritime history and even the rocks surrounding it are protected icons. It's also considered the prime entrance to the English Channel and sees over 50,000 ships pass by each year.
So, if you love lighthouses, you'll discover quite a few here, with the main one omitting one of the most powerful beams in the world. You may even recognise them from the famous photos by Jean Guichard.
Less than a thousand people inhabit the main village of Lampaul, with its haunting cemetery of unidentified sailors, and lovely beaches. Outnumbering the residents are the island's black sheep, which are among the world's smallest breeds.
ÎLE DE BATZ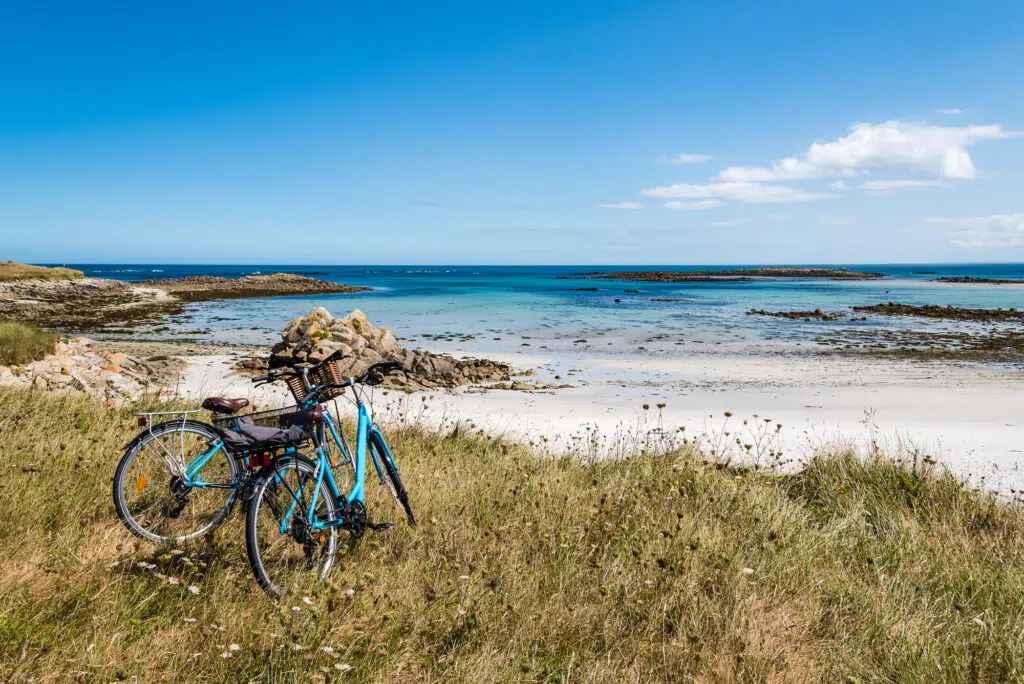 Batz Island is a delightful blend of tropical gardens, history and coastal panoramas. A leisurely atmosphere is attributed to hardly any cars and just one small town complete with quaint stone buildings, a few shops, hotels and restaurants. Beyond the town, you'll find very few facilities and it's possible to hike the coastal paths in half a day. Bike trails criss-cross the island, so you can beach-hop with ease.
Grève Blanche is the top spot for sunny days by the sea, with its dazzling white sand and softly lapping waves. Visit 'Serpent's Hole', a rugged area of granite boulders and myths. Legend has it that Saint Pol threw a naughty dragon into the waves here.
Remains from the Bronze Age are on show at a burial ground, along with the ruins of the church of Sainte-Anne, which is on the site of a 6th-century monastic community founded by the first bishop of Leon.
ÎLE DE GROIX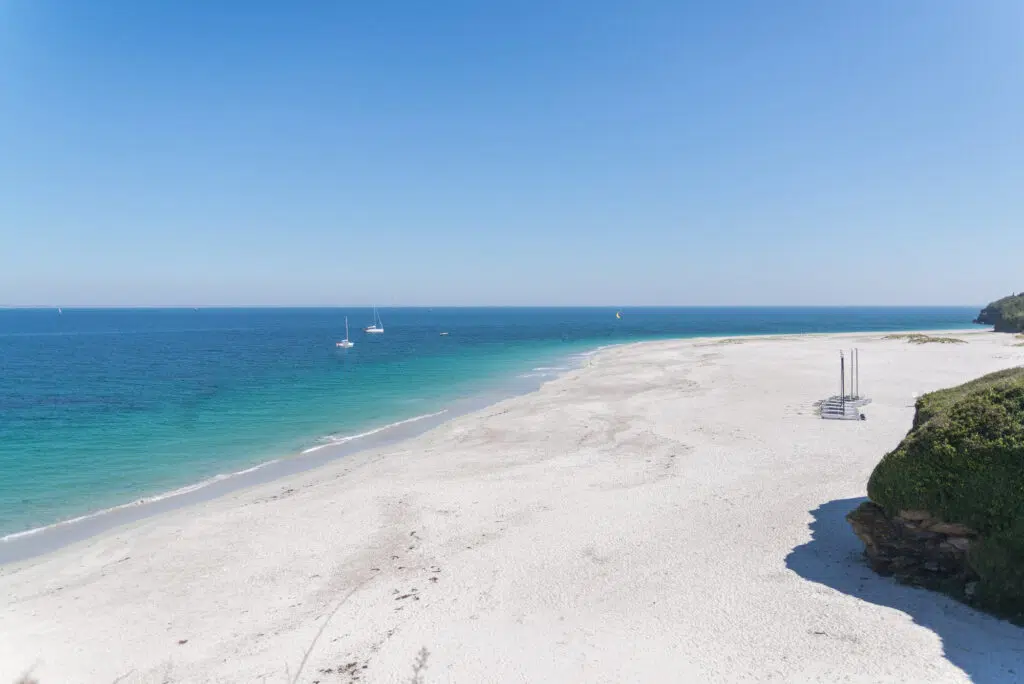 The second-largest island off the Brittany coast, Groix Island was once a main centre for tuna fishing and showcases its history at the Ecomusée. You'll catch a ferry from Lorient to arrive at Port Tudy, the main village filled with colourful houses, a church topped with a tuna statue and markets to sample the succulent local produce. Along with tuna, Groix Island is famous for Pointe des Chats, which is home to more than 60 different minerals.
Get ready for an epic cycling adventure here, with approximately 40 kilometres of bike paths weaving across the island. A picturesque landscape of diversity includes rolling moorland, towering cliffs, sweeping beaches and secluded coves for picnics. In the east of the island, Plage des Grands Sables is known as one of the only convex beaches in Europe. If you're a keen bird watcher, visit Pointe de Pen Men to spy on colonies of marine species.
ÎLE DE SEIN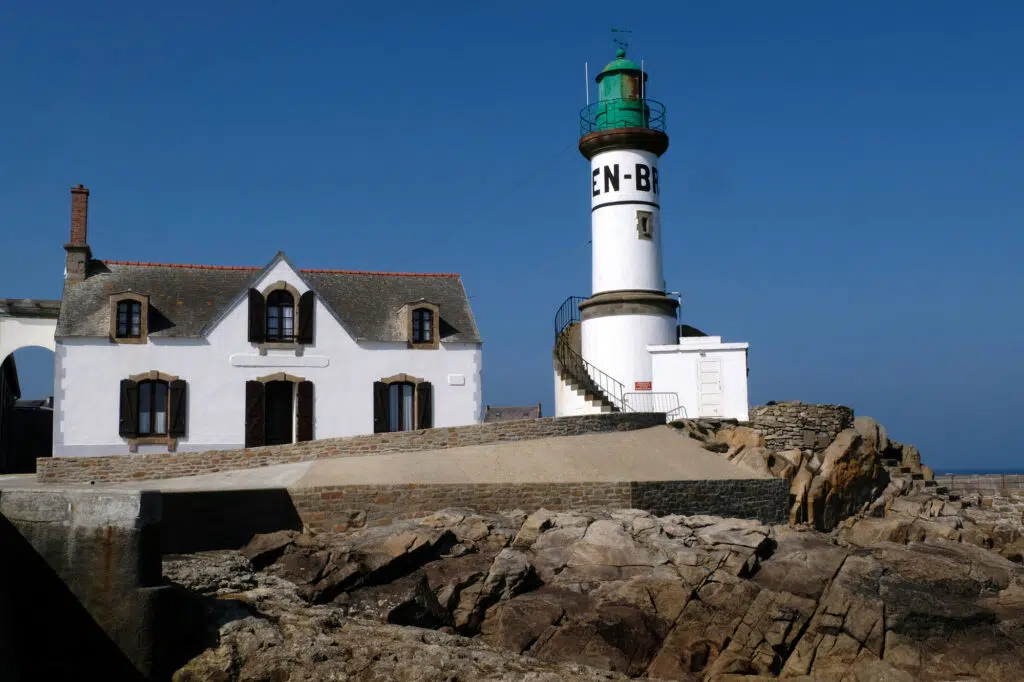 Of all the islands near France, Île de Sein is among the most unique. It is, for one, completely flat, with the highest point reaching just 20 feet above sea level. The first inhabitants were castaways, due to perilous reefs in the region and the consequent shipwrecks. To get here, you'll catch a boat from Audierne and walk around in a jiffy, as it's only about two kilometres long and 500 metres at its widest.
Discover the Men Brial lighthouse, with an exhibition of sea rescues attributed to the locals. The Free French Monument is another icon, built by General de Gaulle in 1960 as an ode to islanders who accompanied him into exile during World War II. Myths and legends abound here too, including that of the nine virgins who were known for their ability to control the weather.
Normandy Islands
There's a wealth of famous places to see in France and the Normandy Islands are home to one of the most spectacular. As a contrast, remote, rugged landscapes let you truly get you off the beaten path in this region of natural wonders.
MONT SAINT-MICHEL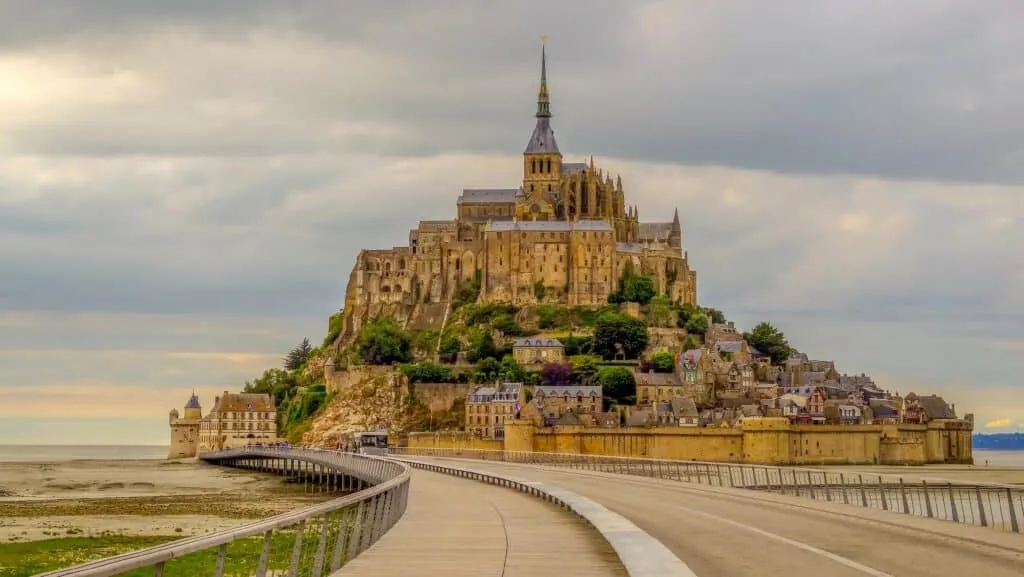 A France attraction that captures the hearts and imaginations of all who see it, Mont Saint-Michel is truly unforgettable. The UNESCO-listed site rises above the bay with its magnificent, ancient abbey at the peak of a clustered village that tumbles towards the sea below. If there ever was a Camelot, this is pretty close to what it may have looked like. Vast sandbanks usually surround it, therefore it's only an island when the tides are high.
As the story goes, it's all to do with Archangel Michael. In the 8th century, a bishop claimed that the angel told him to have a church built on top of the island. Throughout time, it has continued as a Christian pilgrimage site with evermore beautiful buildings added. There are hotels on the island, if you want to make the most of the atmosphere with fewer daytrippers. You won't go hungry either, as the island specialises in omelettes and mouth-watering butter cookies.
CHAUSEY ISLANDS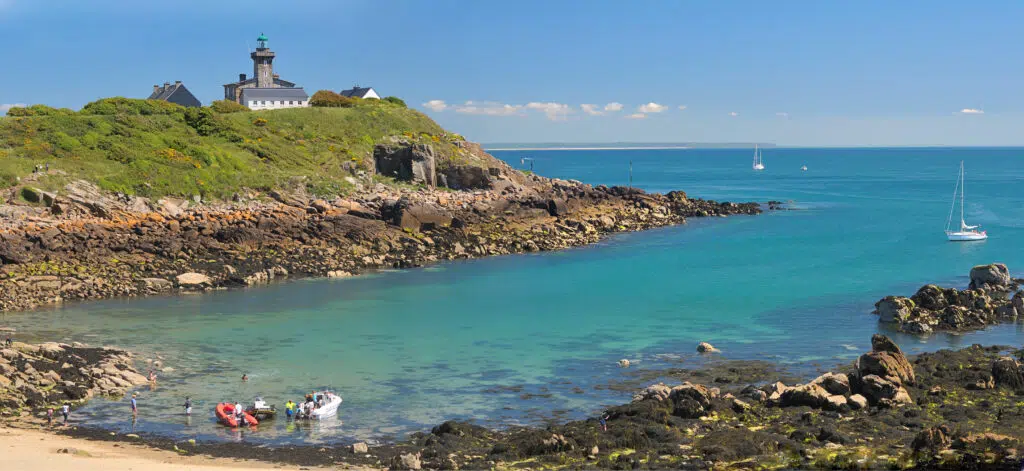 While many of the best islands in France are well-known (at least to the locals), the Chausey archipelago remains a secret of sorts. At low tide, 365 islets are visible, until they disappear to just 52 at high tide, so this landscape is the epitome of 'ever-changing'. The Grand Ile is accessible from Granville, with a hotel, restaurants and stunning sandy beaches.
History abounds on this fishermen's paradise. The landing strip was built in the First World War by German prisoners held in the preserved fort, which was commissioned by Napoleon III. The lighthouse has been going strong since 1847 and the towers of Badry and Lambert highlight a feud between locals in the 19th century. Of six beaches on the island, three are dedicated to tourists and swimming in the dolphin-filled waters.
Loire Islands
The Loire region is much more famous for opulent aristocratic estates sprinkled throughout its sweeping countryside, than it is for islands around France. However, while you're there, you'll find a slice of the Mediterranean in the Atlantic, along with wild landscapes offshore.
ÎLE DE NOIRMOUTIER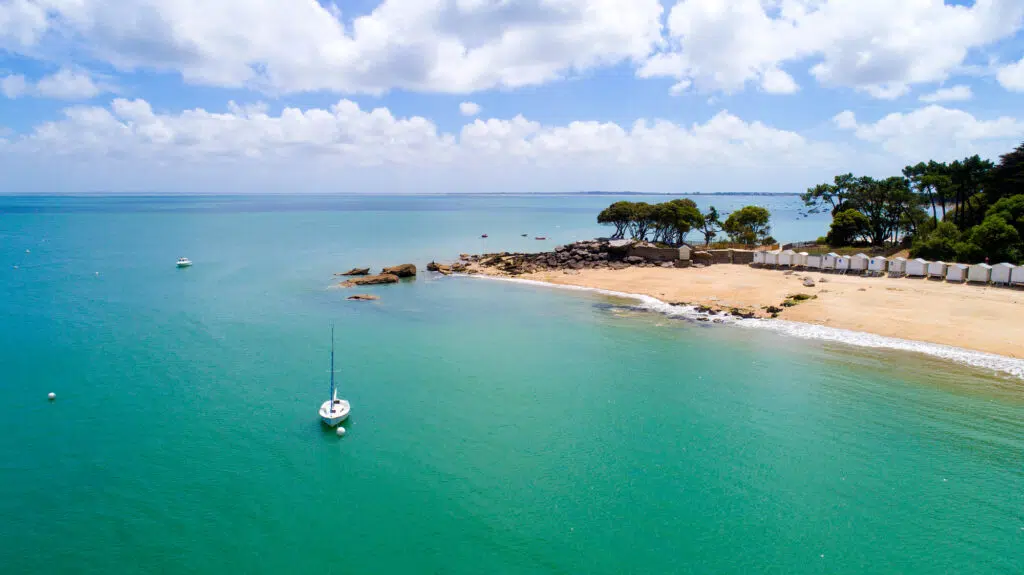 Whitewashed buildings with blue shutters give Noirmoutier a Mediterranean flair, in the midst of pine trees and sheltered beaches. At low tide, the Passage du Gois emerges from its watery home from Beauvoir-sur-Mer, an attraction in itself as a 'submarine pathway' to the island. Seaside living takes centre stage, where locals dig for clams in rock pools, quaint beach huts line sandy stretches, and oysters and line-caught fish reign in family-run restaurants.
After time in the sun, cultural pursuits await. Visit the 12-century Noirmoutier Castle, which is home to a museum filled with English pottery and model boats. The Church of St. Philbert contains an 11th-century crypt of the patron. Salt marshes, oak woods and a nature reserve for migratory birds offer plenty of hiking opportunities. Don't be surprised if you find a new appreciation for the humble potato here, as the island's unique 'Bonnette' is a culinary treat served with garlic and parsley.
ÎLE D'YEU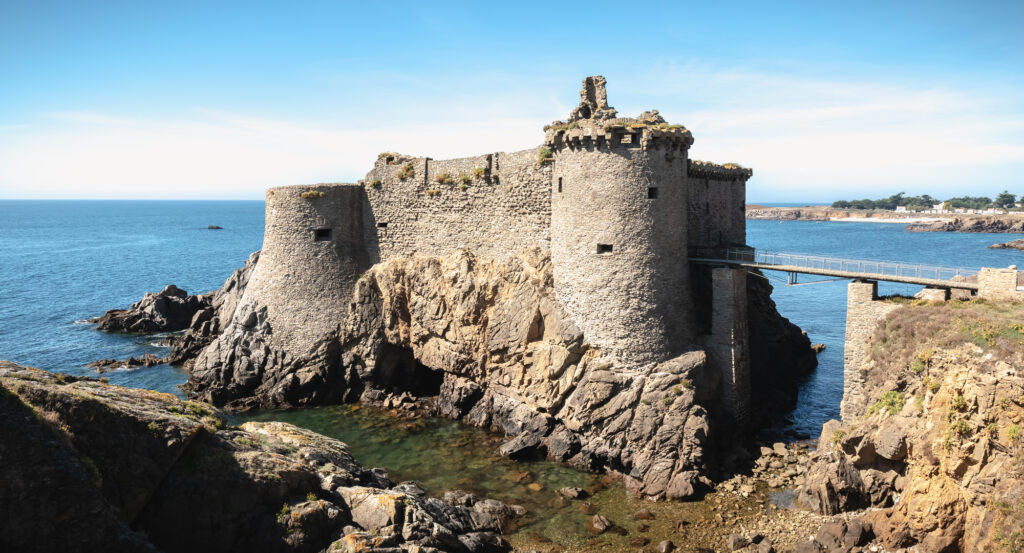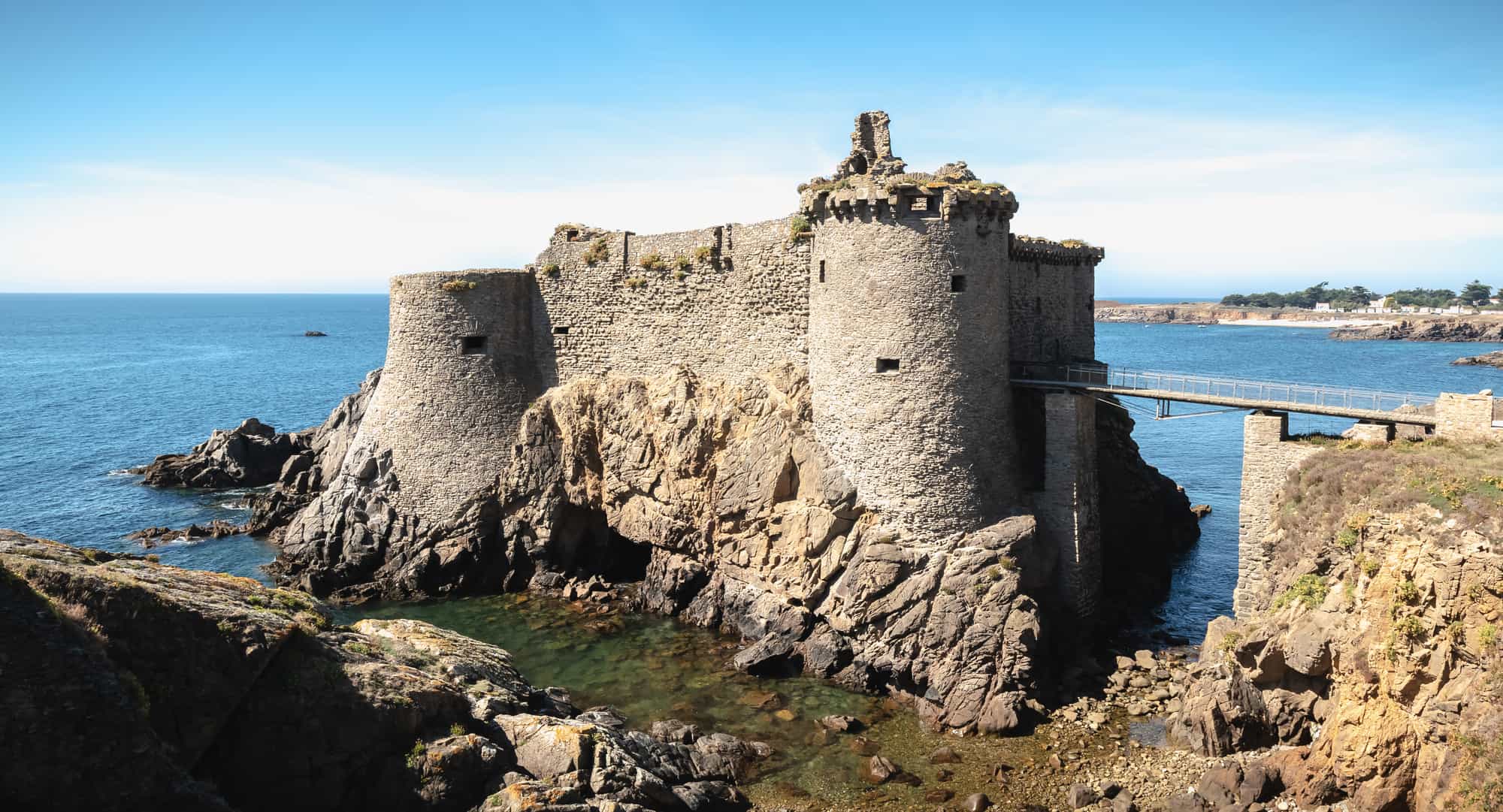 With authentic fishing traditions, a wild coastline and rolling dunes, Yeu Island is a natural delight, located off Saint-Gilles-Croix-de-Vie. It's also dotted with atmospheric relics highlighting its seafaring history. Pont-Joinville is the main village and fishing port, and you'll still see the catch of the day unloaded at the docks by local fishermen.
The Old Castle watches over the sea, a 14-century medieval fortress built to defend the island from the English, the Spanish, and pirates. It's the southern part of the island that offers the most dramatic scenery, with rugged cliffs hiding sandy inlets sprinkled with fishermen's huts. Sign-posted routes along the coast and through the interior guide the way to land-based explorations. Meanwhile, the sea provides a holiday itinerary of sailing, kayaking, diving, surfing and simply sitting back to take in the ebb and flow of nature.
Aquitaine Islands
The French Atlantic islands are beloved by Parisians in summer, where seaside chic blends with laid-back pursuits and an abundance of natural landscapes to explore. With delightful villages swathed in hollyhocks, fresh seafood on the menu and history on display, these picturesque isles are simply made for pleasure.
ÎLE DE RE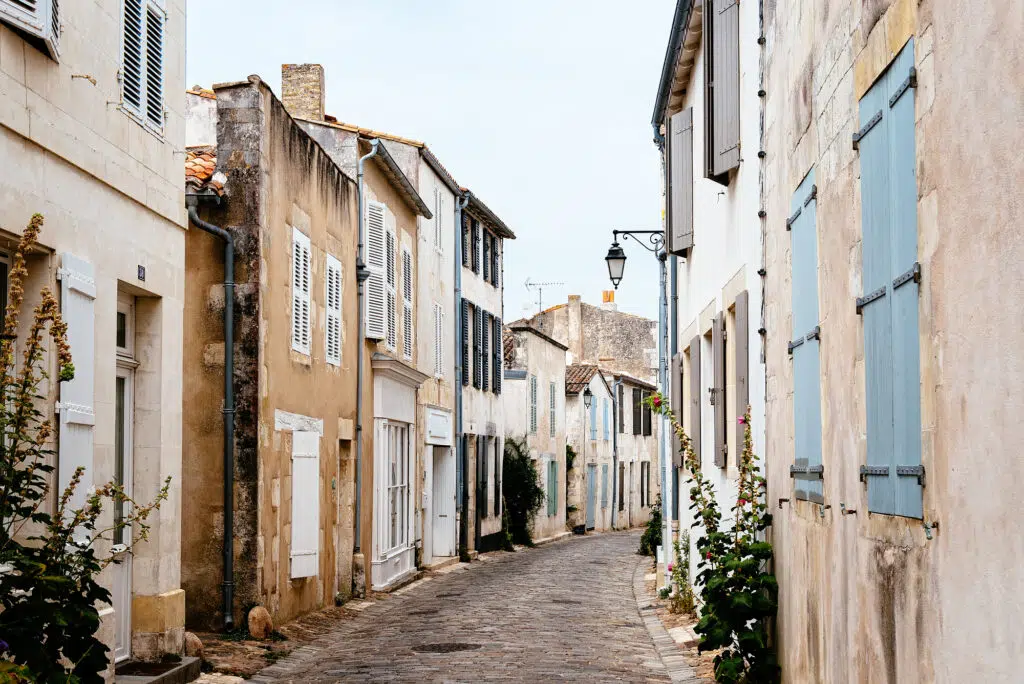 Of all the French islands in Europe, Île de Re is certainly one of the favourites, as far as holiday playgrounds go. One of its incredibly charming aspects is that everyone gets around by bike, as the island encompasses 100 kilometres of fantastic cycle paths. You can hire everything from electric bikes to trailers for the kids, complete with baskets to stash your seafood for picnics. Saint-Martin-de-Ré is a bustling, UNESCO-listed hub, with grand, weathered buildings, cobbled streets and shutters painted in pastel hues.
As you peddle around the island, you'll ride along the fortified walls and cross through postcard-perfect vineyards, pine forests and fields of flowers. Discover more historic delights in the village of La Flotte, classified as one of the most beautiful in France. Stroll through the markets, visit Sainte-Catherine's church and savour an ice cream while watching boats come and go on the harbour.
ÎLE D'OLERON
Oleron Island is the largest of the Atlantic islands off the coast of France. Rich maritime, religious and military history stands out against a backdrop of soaring pine forests, pristine beaches, chalky cliffs, vineyards and Atlantic coast views. Along with tourism based on eco and family-friendly pursuits, oyster farming and fishing set the tone for industry. Fort Royer offers a fascinating glimpse at the multi-coloured cabins of old, that characterise the fishing ports.
Renowned sites to discover include the citadel of the Château d'Oléron and the 11th-century Romanesque Church of St Georges d'Oléron, which is the island's oldest monument. Get your camera ready for a visit to the black and white striped lighthouse at Chassiron and the historic Fountain Windmill. Though there's much to explore, this is a place for swimming and sandcastle-making across a string of pretty beaches. When the surf's up, you'll find waves at Les Allassins and Saint-Trojan.
Read our Oleron Island itinerary here.
ÎLE D'AIX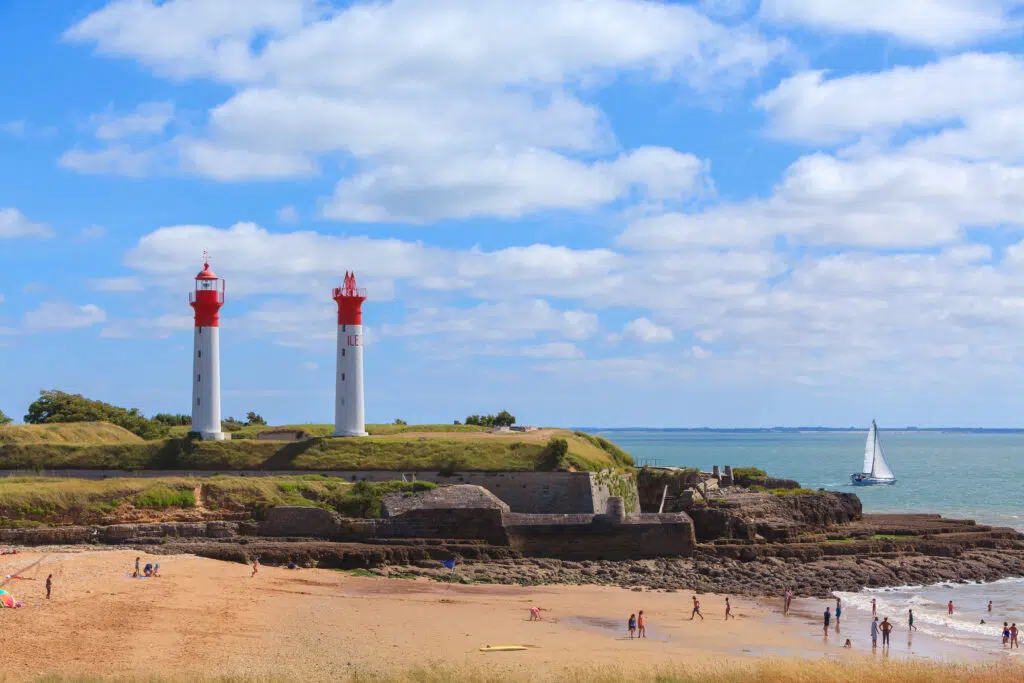 Napoleon spent his last days on French soil within the idyllic surrounds of Aix Island, from the 12th to the 15th of July in 1815, before he was sent into exile. Today, the tiny island is given over to walkers and cyclists, with a small population of year-round residents permanently enjoying the slow-paced lifestyle by the sea. At just three kilometres long and 0.6 kilometres wide, you can tour the whole island in a couple of leisurely hours.
Despite its size, wild landscapes of forest, marshes, vineyards, coves and cliffs combine for an adventure into nature. Visit the Napoleon Museum and the African Museum, which holds a large collection of zoological items. This is a place to truly take advantage of uncrowded beaches for leisurely swims, or walk along the vibrant Grande Plage for dazzling views of Fort Vauban, deck chair rentals and restaurants.
---
Key things to know about visiting the French Islands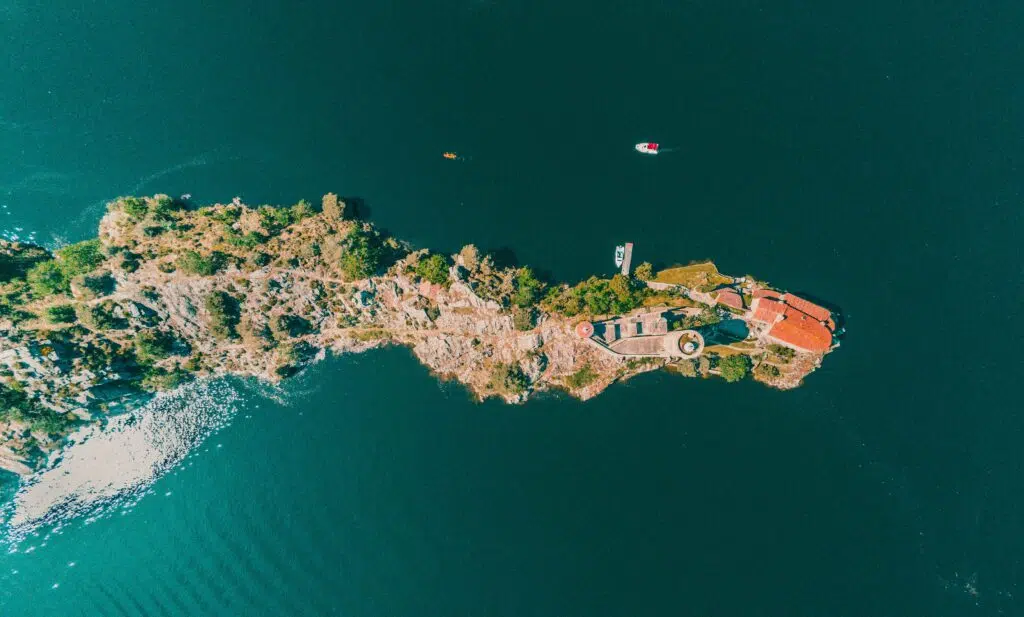 For balmy swimming weather, the best time to visit French island beaches is summer, if you don't mind joining a happy bunch of holiday-makers flocking to the sea from all over the country and beyond. However, with so much more to do, late spring and early autumn are lovely times for exploration with fewer friends. If you do choose a time outside of the summer season, it's important to check accessibility, as some islands do shut down to tourists, in terms of ferries and facilities.
---
From the string of gems dotting the Brittany coast to Mediterranean islands off the south of France, there's a staggering variety of choice no matter what time of year you visit.
Though you'll find plenty of fashionable resorts to indulge in all things 'French', perhaps the most unique aspect of the country's islands is their steadfast hold on tradition and history. A true slice of authenticity awaits the traveller who branches off from the mainland to discover the fabulous islands in France.
Pin this for later!