Ponsonby is a fashionable suburb with a first-class dining scene. Located within walking distance of Auckland central, it's one of the most popular suburbs to live in Auckland for young (wealthy) professionals.
Ponsonby Road is where the action is, with popular eateries, boutiques and bars lining the length of this main strip. Beyond the busyness, you'll find quiet streets flanked with beautiful victorian villas and manicured gardens.
Where is Ponsonby, Auckland?
Situated to the west of the central city, Ponsonby is an inner-city suburb just 2km from the Central Business District. Its raised position benefits the eastern end of the suburb with spectacular views over the city.
Things to do in Ponsonby, Auckland
There's no doubt the best things to do in Ponsonby revolve around eating, drinking and shopping (more on that below)… But there is more to this glamourous neighbourhood, including some free activities for the cash-strapped.
Grab some R&R in Western Park
One of the most beautiful parks in Auckland, Western Park offers something for everyone, whether you're there to work out, entertain the kids, take a walk, or simply read a book on a park bench.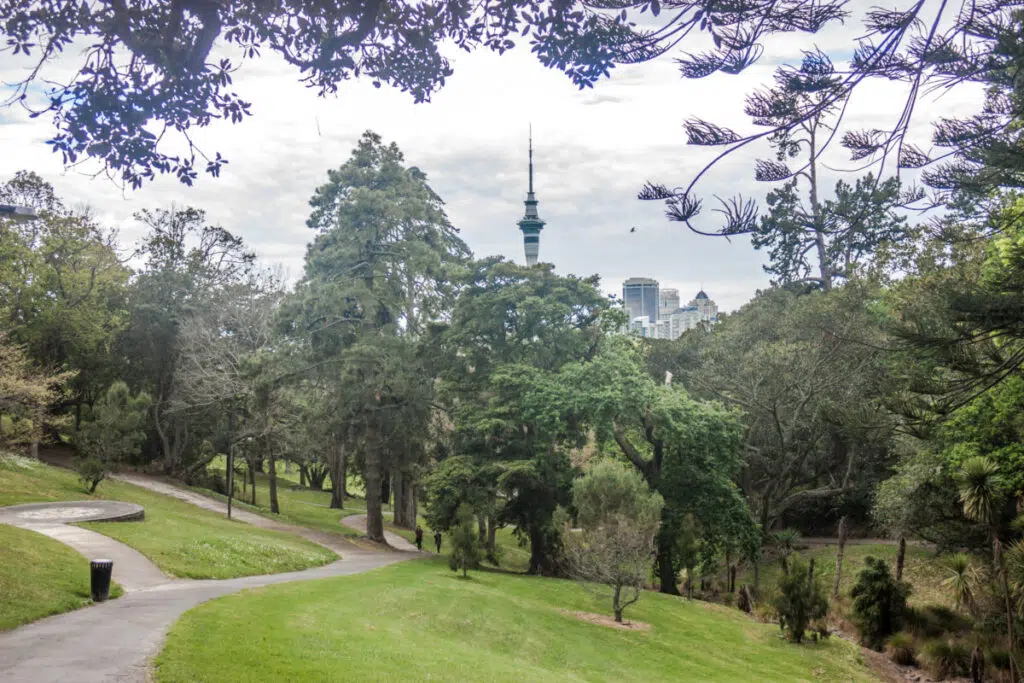 Located at the southern end of Ponsonby Road, the park starts fairly level, before descending downhill towards the city. At the top end, you'll find locals on their lunch break, walking their dogs and playing with their kids.
You'll also notice the odd presence of what appears to be old buildings poking up from the ground. These are in fact part of an art installation, TIP, offered to the park in 1999 – but they're now an iconic sight in Auckland.
Follow the Western Park Path further into the park and you'll find a newly refurbished playground (with the highest & longest slide in Auckland!), exercise equipment, sports courts, free toilets, and water fountains.
As one of Auckland's oldest parks, it's also an excellent place to get acquainted with the country's native trees and plants.
Hit up a Yoga Class at Eastwest Yoga
From Vinyasa to Hot Yoga, Eastwest offers classes for all ability levels. Led by a team of passionate instructors, you'll leave feeling refreshed and energized.
Visit the Kelmarna Gardens
A city farm on the border of Ponsonby and Herne Bay, the Kelmarna Gardens is a space to get involved in the community and learn about sustainable living. The gardens are open every day and free to visit. Book into one of their educational workshops for a fun day of learning.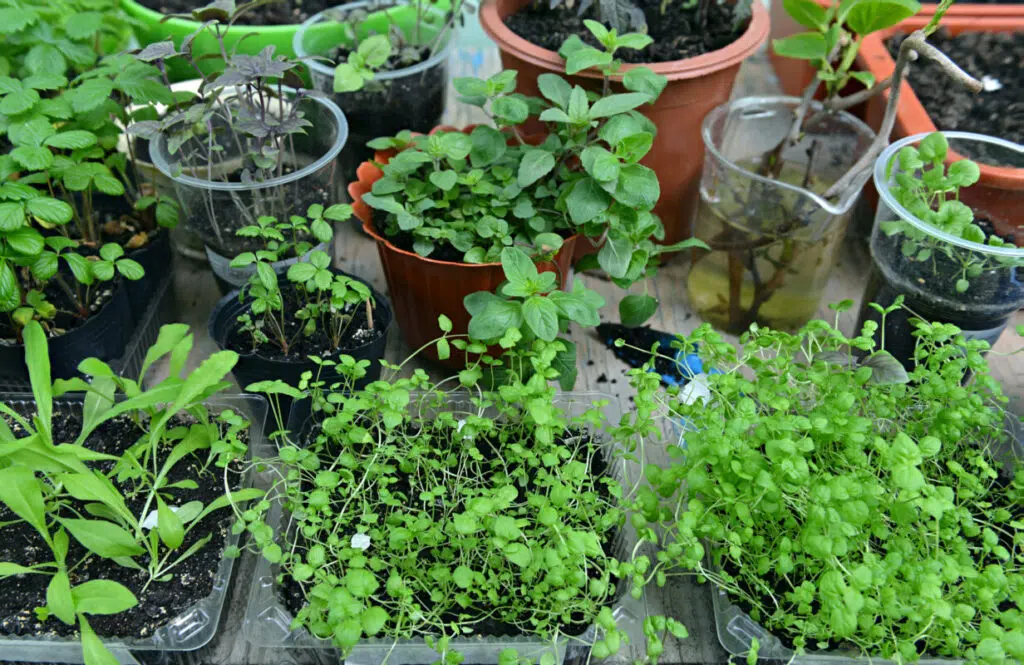 Immerse Yourself in Art at Studio One – Toi Tū
A creative space located next to Western Park, there's always something new to see at Studio One – Toi Tū. You can keep up to date with their latest exhibitions on their Facebook page, or even become the artist yourself by taking part in their art classes in a variety of disciplines.
Book a Makeover at Mecca
Want a special look for a night out, or to learn about the tricks of the trade from trained makeup experts? Head into Mecca Cosmetica on Ponsonby Road. They'll treat you to a makeover & have you feeling fab in a flash. And the best bit? The booking fee comes off the price of any cosmetics you buy on the day!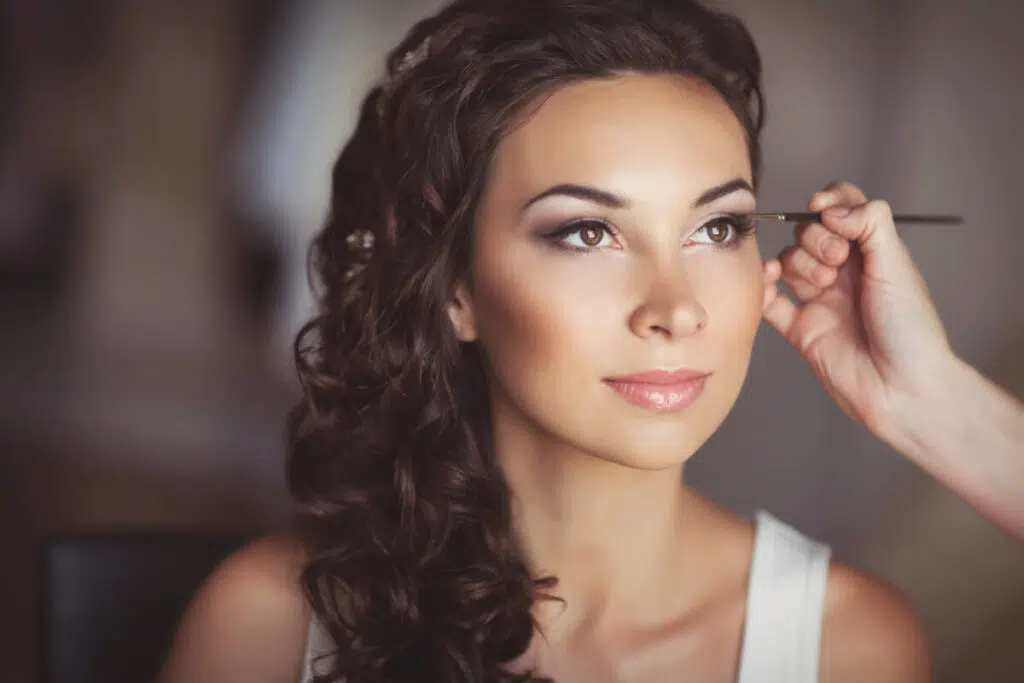 Take the kids to Tole Reserve
A small park in inner-Ponsonby, at Tole Reserve you'll find a playground, scooter track, community book swap and a skateboard ramp.
Get Inked at Two Hands Tattoo
Home to one of Auckland's most established tattoo parlours, Two Hands Tattoo creates masterpieces that last. Specialising in traditional American & Japanese designs, their artists are among the best in the biz.
---
Places to Eat in Ponsonby, Auckland
The dining scene in Ponsonby is second to none in Auckland, with exciting new Ponsonby eateries holding their own alongside established favourites. There are too many notable places to eat in Ponsonby to mention them all, but here are a few of our top picks
Best Ponsonby Restaurants
The best restaurants in Ponsonby feature an impressive lineup of cuisines and styles. If you're wondering where to eat in Ponsonby tonight, you can't go wrong with these local favourites.
AUGUSTUS BISTRO
Located in one of Ponsonby's most iconic buildings, Augustus Bistro serves up Italian-inspired fare in a welcoming and intimate environment. A popular place for both events and weddings, or a lunch with friends, this Ponsonby Road bistro caters to all dietary requirements including having gluten/dairy-free choices and a separate (delicious-looking) vegan menu.
PREGO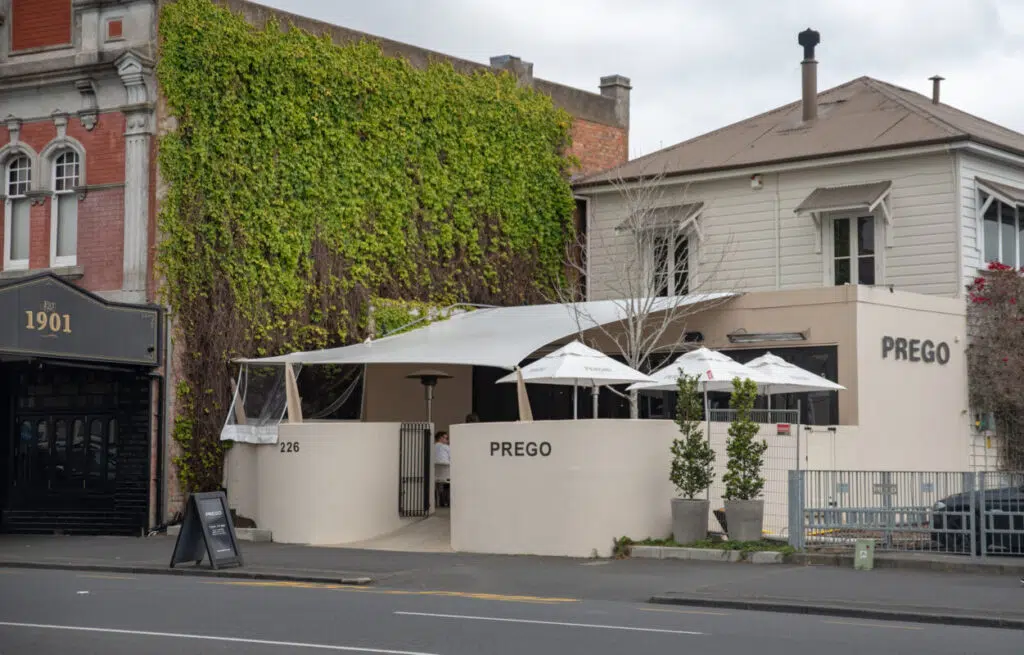 A Ponsonby idol, Prego has long held a reputation for being one of the best places to eat in Auckland. Unfortunately, that sometimes translates to long wait times for a table (you can't book in advance), but hang around – their fine-dining Italian dishes are worth the wait. They do have a separate vegan menu, but it's a little lacking in inspiration, so head elsewhere if that's your vibe.
SAAN
Serving authentic Thai food in Ponsonby, Saan will take your tastebuds on an adventure with their inventive and colourful dishes. The kind of place you'll be dreaming about long after you leave (trust me, I still do!), you won't regret your decision to dine here. This Ponsonby Road restaurant has a vegetarian menu that is naturally vegan-friendly, and their fun cocktail menu deserves to be trialled.
S.P.Q.R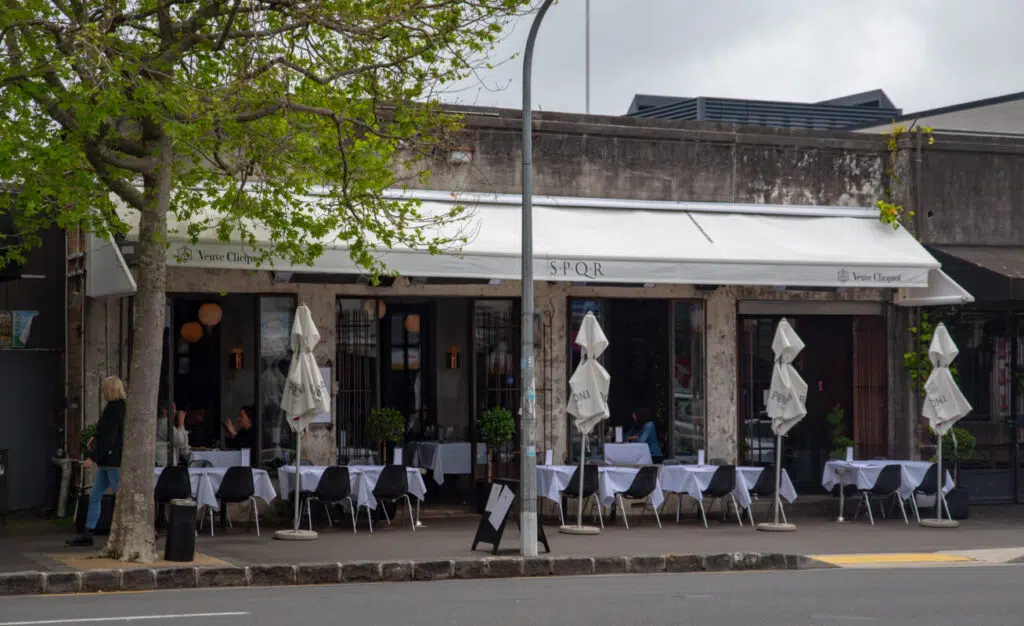 The Italian theme runs strong in Ponsonby, and SPQR was one of the original restaurants to bring thin-crust pizzas and perfectly cooked pappardelle to the locals. The fact that it's still as popular as ever proves this is one Ponsonby icon you won't regret patronising.
Best Ponsonby Cafes
Looking for more low key bites, or a Sunday brunch spot? Cafes in Ponsonby offer fabulous coffee and sumptuous cakes.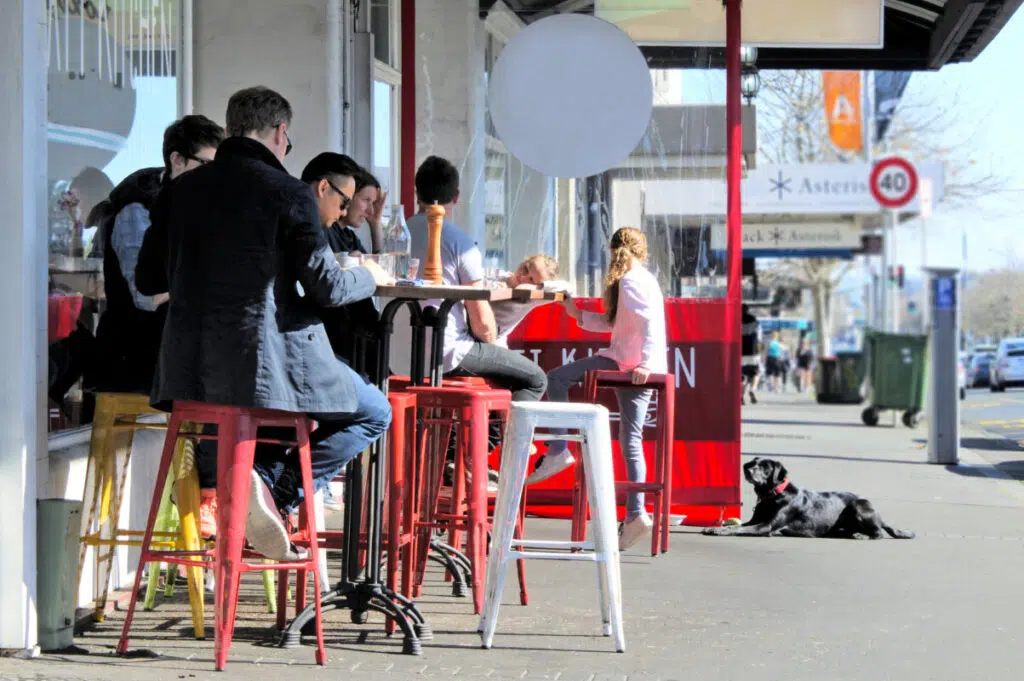 LITTLE BIRD KITCHEN
Plant-based food never looked so good! Little Bird Kitchen specialises in raw sweet treats that are gluten, dairy, soy & sugar-free. But don't let that put you off! Their creations are amazingly tasty and bursting with flavour, just like their Bruch, lunch and dinner menus.
ARCHIE CAFE
For a great smashed avocado on toast and barista brewed coffee, head to this Ponsonby cafe. Archie is located inside the Good Company Villa in central Ponsonby, you can enjoy your brunch inside, or in their petite patio area.
IL FORNO
For a classic kiwi cafe experience, look no further than Il Forno. They serve up all your local favourites like cream doughnuts and buttery scones, alongside international treats such as macaroons and panettone. And what's even better is that everything is made fresh on site.
Ponsonby Food Court – Ponsonby Central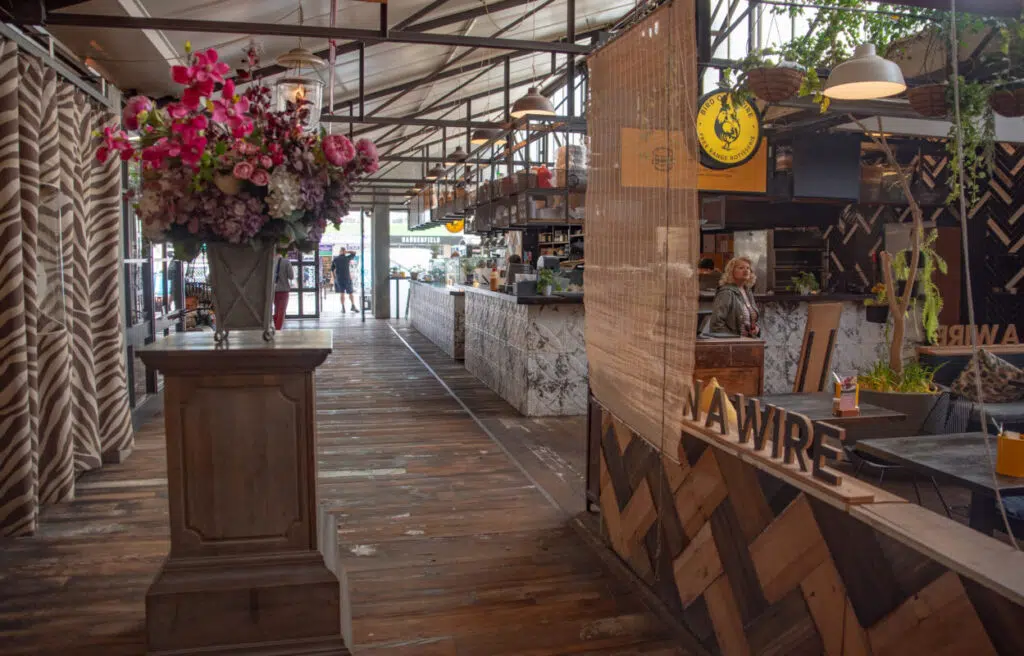 Neither a restaurant nor a cafe, Ponsonby Central deserves a mention as a unique and fun place to eat in Ponsonby. Inside the industrial-style building, you'll find everything from Korean BBQ to French Crêpes, not to mention a damn good cocktail too. So assemble your friends and meet up here for an afternoon of eating, drinking, and did I mention shopping too?!
Best Ponsonby Bars
As the sun goes down, the Ponsonby nightlife heats up. Aucklanders in-the-know head to Ponsonby to drink, mingle and dance the night away. Here is our pick of the best bars in Ponsonby to do just that.
CHAPEL BAR & BISTRO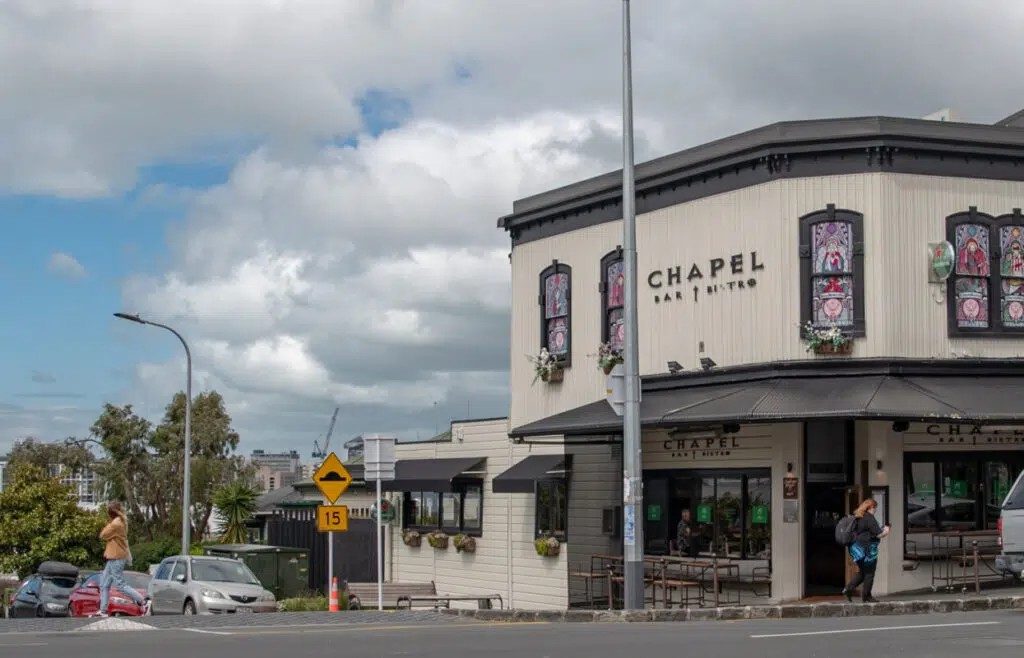 A Ponsonby institution, Chapel Bar & Bistro has been a happening spot in Ponsonby Road for as long as we can remember. Featuring live music and an extensive drinks list, you can enjoy the lively atmosphere of this Ponsonby Road bistro for hours.
VODKA ROOM
Bringing a taste of Russia to Auckland, the Vodka room specialises in Eurasian cuisine and – you guessed it – vodka! They serve up an impressive selection of the stuff, served just how you like it. The Russian theme extends to the decor, with plush furnishings and sparkling chandeliers inviting you to settle in and stay a while..
FREEMAN & GREY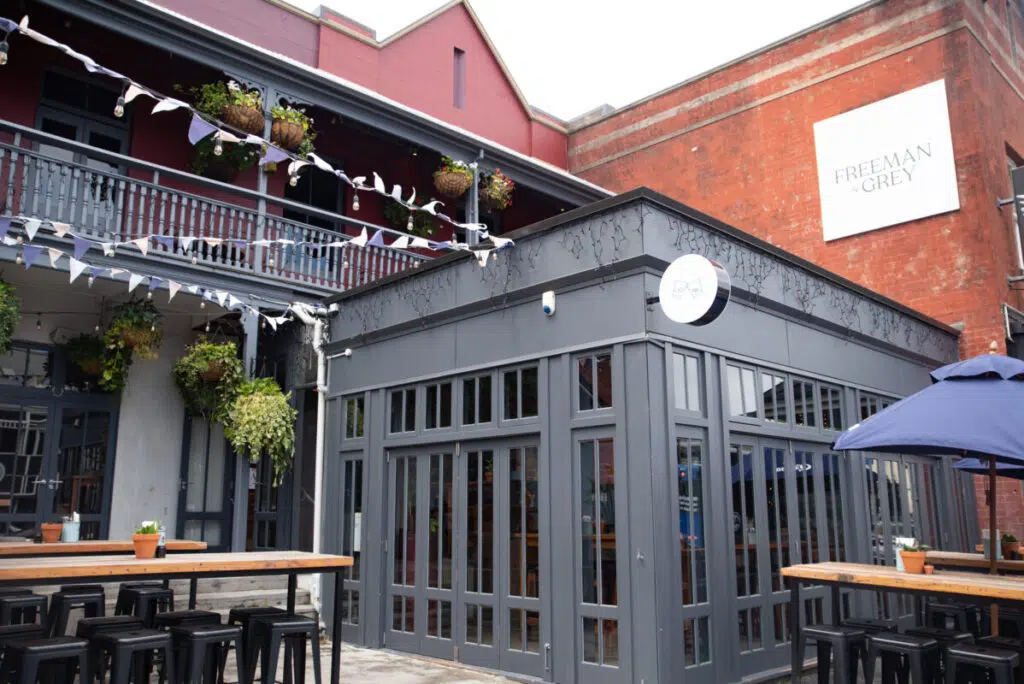 Easy-going and unpretentious, this bar & restaurant on Ponsonby Road offers a rustic atmosphere and good kiwi grub. Come sundown, it transforms into a busy bar, but it still manages to feel like a good friend's party rather than just another soulless bar…
---
Where to Shop in Ponsonby, Auckland
From fun new clothing designers and international pop-ups to homegrown markets, Ponsonby offers a shopping experience like none other.
Ponsonby Road Boutiques
The shopping in Ponsonby is among the best in Auckland with big-name designers rubbing shoulders with small local brands. But the High Street this is not – you won't find run-of-the-mill stores here which makes the experience all the more refreshing.
ELLE + RILEY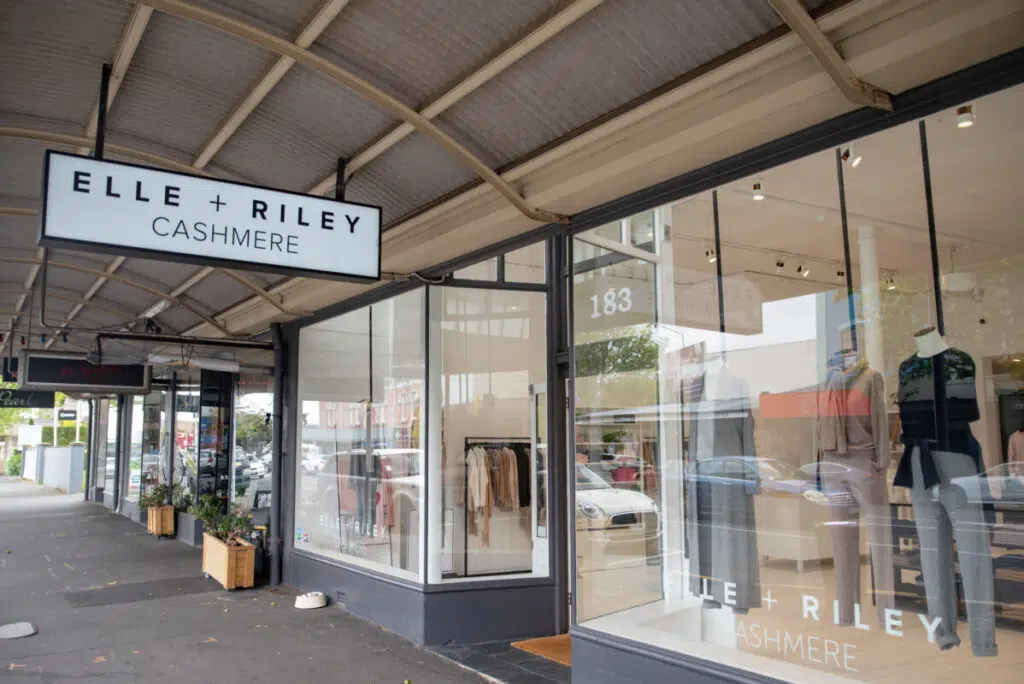 New Zealand designed and inspired, Elle + Riley produce fine cashmere clothes for every occasion. Apart from their gorgeous fashionable creations, what makes this brand really stand out is their commitment to ensuring the entire production process is sustainable and ethical – including the treatment of the Mongolian goats.
FLOTSAM & JETSAM
For everything quirky & unique, look no further than Flotsam & Jetsam. Their Ponsonby store is a real treasure trove of new & used finds – that you didn't know you needed, but have to have. Trust us, this is one Ponsonby boutique worthy of a good rummage. Find it at 84 Ponsonby Road.
JULIETTE HOGAN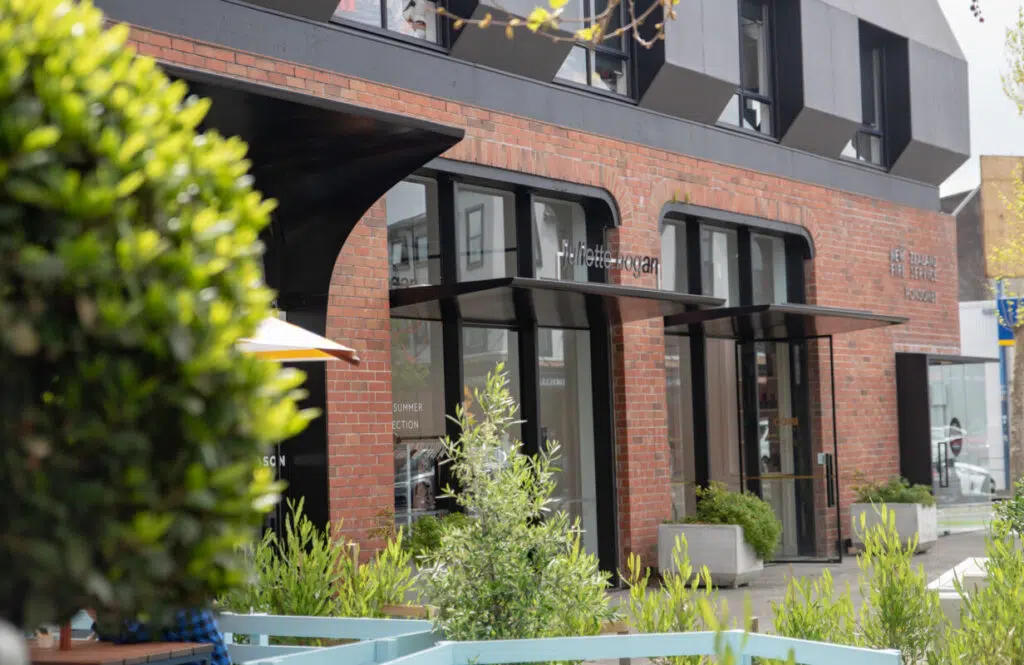 A brand that embodies the kiwi style, Juliette Hogan creates clothing that is both classic and casual. Using only the finest materials, Juliette has won the hearts of many New Zealanders and her collections continue to be as popular as ever. Discover it for yourself at 182 Ponsonby Road.
Food Shopping in Ponsonby
For cheap eats in Ponsonby, there are many healthy (and not-so-healthy) fast food joints and snack bars along Ponsonby Road. But if you're planning on staying in Ponsonby a little while you'll want to know where to stock up on all your favourites…
Supermarkets in Ponsonby
The main supermarket in Ponsonby is the big Countdown off Williamson Ave (opposite Western Park). It's not the largest supermarket, but it should have everything you'll need for a short stay.
For a bigger selection, there's another, larger, Countdown supermarket at 271 Richmond Road in Grey Lynn. Or a large New World at the bottom of College Hill, towards Auckland City.
Farmer's Markets in Ponsonby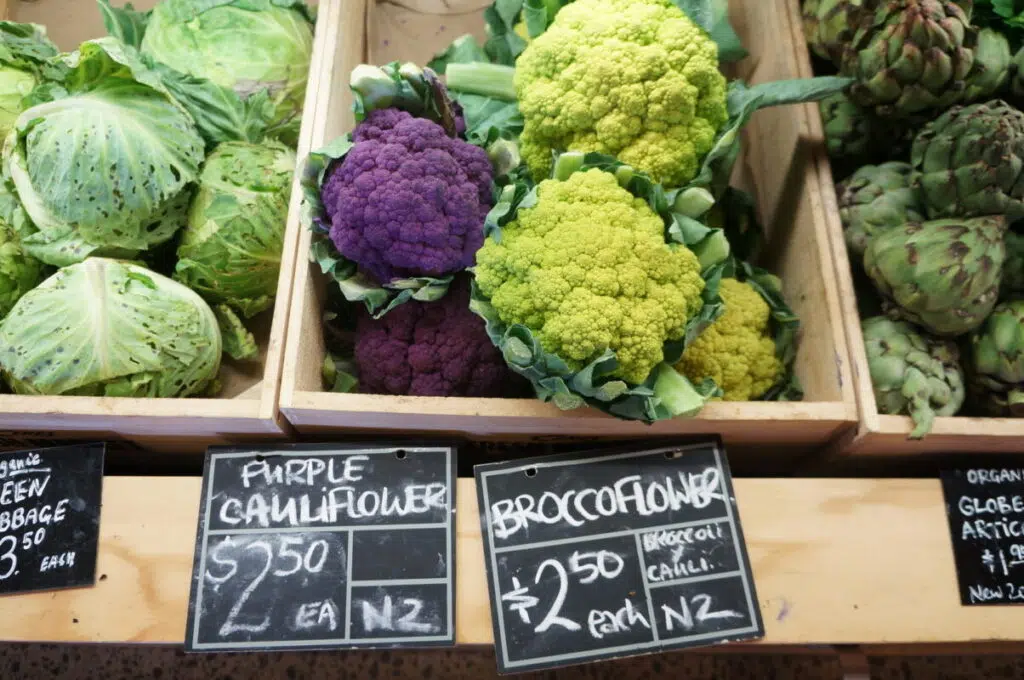 Ponsonby doesn't have its own farmers market, but it piggybacks the weekly one in neighbouring Grey Lynn. The market provides a friendly place to buy your locally grown fruit & vegetables, freshly baked bread and other local specialities. The market is held every Sunday morning from 8.30 to Noon, at 510 Richmond Road.
Organic / Wholefoods / Zero Waste Store in Ponsonby
Head along to the GoodFor Wholefoods Refillery on Ponsonby Road to stock up on all your essentials – from plastic-free baking supplies to loose-leaf tea blends and organic grains.
---
Ponsonby is an exciting suburb with plenty to do, see, and eat. Know of a great local spot that we've missed? Let us know in the comments below!