Known as one of the party capitals of the world, Ibiza's sundrenched charm encompasses much more than its dazzling nightlife scene. From the village-dotted countryside, to dream-worthy beaches, choosing the best place to stay in Ibiza is half the fun. History also decorates the natural beauty, especially along the winding, cobbled streets of the enchanting old town, Dalt Vila.
When you emerge from some of the world's top nightclubs, there's plenty of things to do in Ibiza. Zip across the turquoise waters on wakeboards and jet skis, and discover the magical underwater world on scuba diving tours. Hike along coastal paths and meander through fragrant orange groves. No matter what you choose to do, get set to fall under the beguiling spell of Spain's 'White Island'.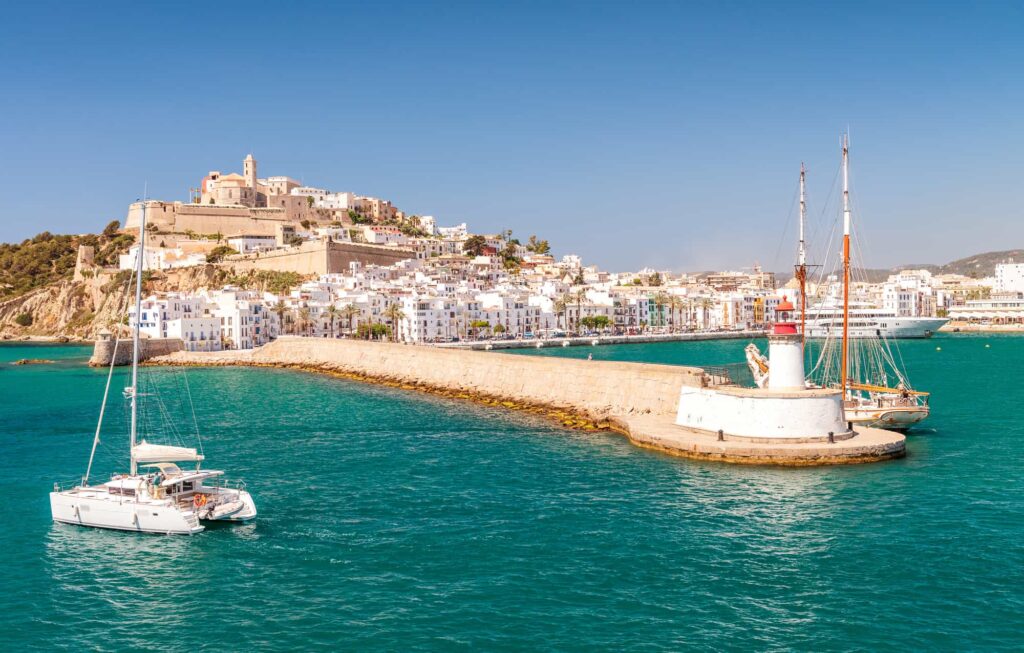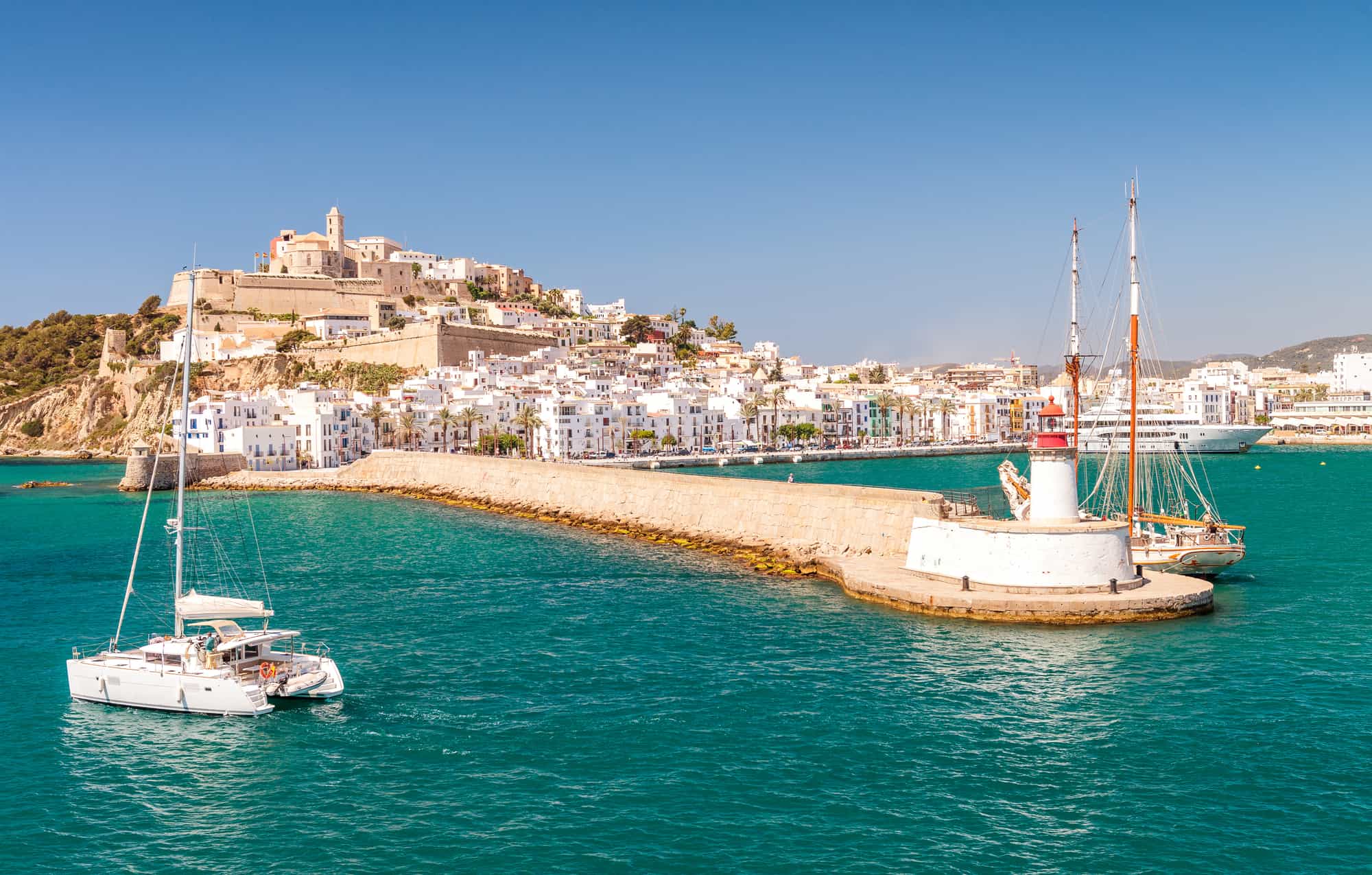 This article may contain affiliate links. See our full disclosure here.
---
Getting Around Ibiza
Ibiza is the third smallest Balearic Island in Spain, with Mallorca being the largest, followed by Menorca. Formentera is the smallest. With this in mind, you may not be surprised to learn that you can drive almost anywhere on the island within 30 mins – 1hr.
This makes it great for exploring and making day trips around the island, and it also means you'll always be close to the action, or a peaceful cove – depending on what takes your fancy.
Transport Options Around Ibiza
There are several ways to get around Ibiza, let's look at the more popular options below.
Private Car Hire
Although not the cheapest option for exploring Ibiza, those wanting maximum flexibility will love having their own car to discover the island's beaches, towns and villages.
There are several companies offering private car hire in Ibiza. I always use RentalCars.com to compare prices and find the best deal. You can pick up your hire car from the airport, Ibiza Town, or a few other locations around the island.
Bus Service
The bus from the airport into Ibiza Town is easy to use, fast and cheap. It only costs €3.50, and takes around 20 minutes. If you're staying central, this is a fantastic option.
To get around the island, there are regular buses to other parts of the island such as Portinatx, Cala San Vicente, Sant Antoni de Portmany, and more. You can find the timetable here.
In the high season, there's also the Discobus that transports partygoers to the best clubs on the island.
Private Shuttles / Taxi
Given the size and short journey times in Ibiza, hiring a private shuttle or taxi to get around is a viable option, especially if you're travelling as part of a group, or as a family. You can prebook your transport here (advised if travelling to/from the airport), or ask your hotel in Ibiza to arrange this for you.
Water Taxi
If you're staying in one of the larger coastal resorts (such as Playa D'en Bossa or San Antonio), water taxis can be a great option for exploring nearby beaches. They typically run all day in the summer season and cost around €3-4 per journey.
---
Where to Stay in Ibiza for the Best Nightlife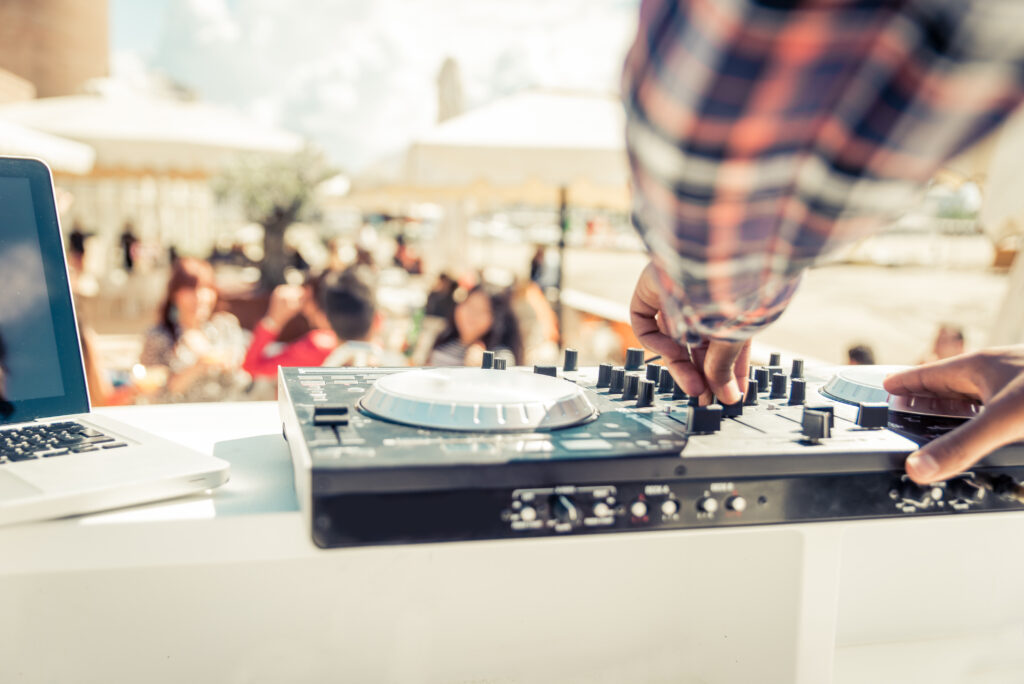 Looking for the best place to stay in Ibiza for partying? You can keep your dancing shoes on night and day in Playa d'en Bossa. It's the home of iconic, open-air superclubs, like Ushuaïa and Hï.
You'll walk from bars to clubs and back again to the sounds of celebrity DJs during the summer season. Whether you're lazing or dancing on white sand, this Ibiza party town stretches along the sparkling Mediterranean for the best of all holiday worlds.
Where to Stay in Playa d'en Bossa:
– Dorado Ibiza for beachfront views, an adults-only vibe, and an onsite nightclub.
– Los Escondidos for affordable self-contained accommodation suitable for groups.
– This 4 bedroom villa, steps away from the nightclubs, that sleeps 10.
Where to Stay in Ibiza for Couples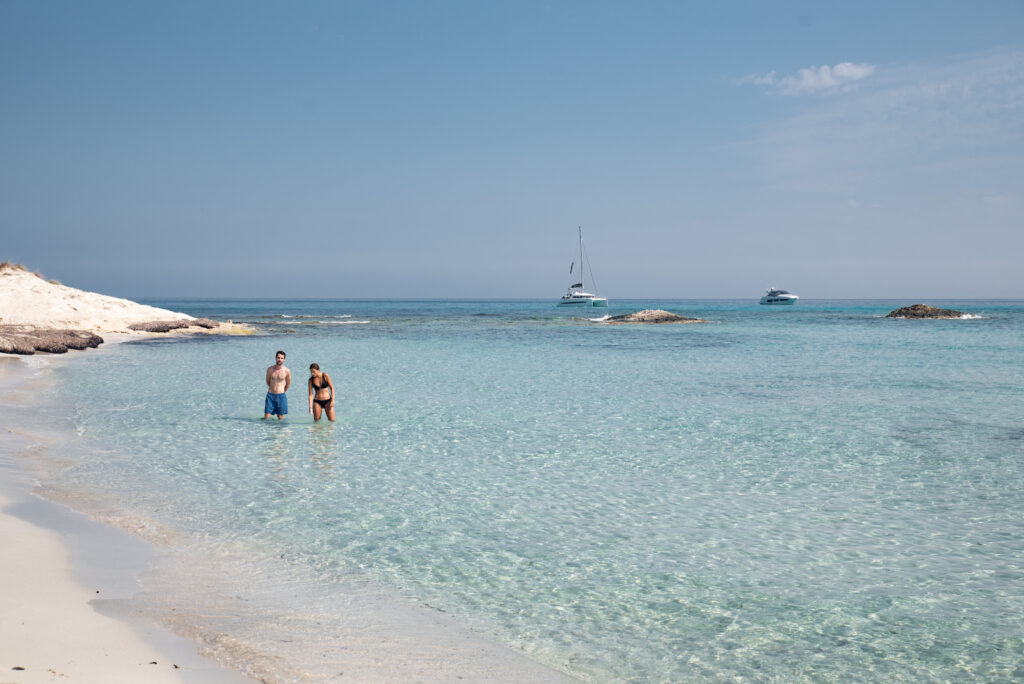 With a secluded and sophisticated vibe, Cala San Vicente is one of the best places to stay in Ibiza for couples. Surrounded by lush cliffs and mountains, you'll find plenty of unspoilt nature for romantic strolling. Palm trees dot the beachfront promenade, along with restaurants featuring ocean views.
Go horse riding along the shore, snorkel in azure water or simply chill out on golden arcs of sand.
Where to Stay in Cala San Vicente:
– Grupotel Cala San Vicente for beachfront bliss and all-inclusive stays.
– Villa Can Sans for a romantic 1 bedroom villa with a private pool and spectacular view.
– This 6 bedroom cliffside house with pool, expansive views, and room to spread out.
Best Place to Stay in Ibiza for Families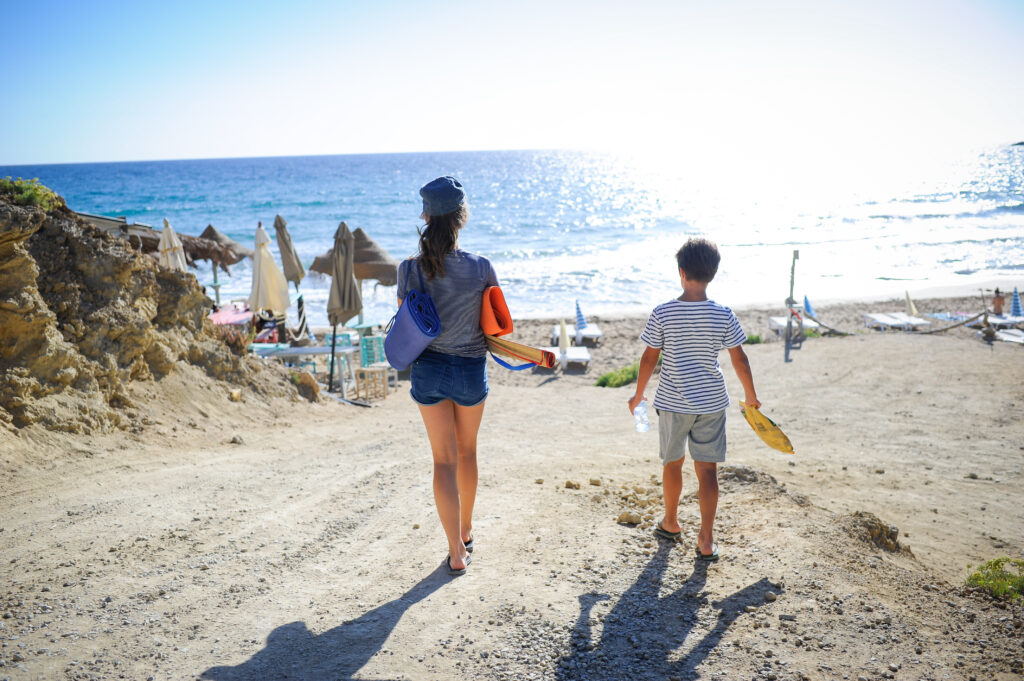 For fun in the sun with the kids, take your buckets and spades to Santa Eularia des Riu. In terms of where to stay in Ibiza with family, the island's third-largest resort boasts calm seas, water sports and a picturesque promenade for easy strolling. You'll find buzzing bars for your sunset cocktails.
However, Santa Eulalia's laidback vibe is world's away from the island's nightclub strips. From the marina, it's easy to catch ferries to nearby beaches, Ibiza Town and the island of Formentera for family day trips.
Where to Stay in Santa Eularia des Riu:
– Casa Luis Apartments for family fun in three swimming pools, self-contained apartments & an affordable stay
– Insotel Fenicia Prestige Suites & Spa for those who don't want to forgo luxury on their family holiday in Ibiza.
– This 2 bedroom apartment with balcony overlooking the sea, sleeps 5.
Best Place to Stay in Ibiza for Beaches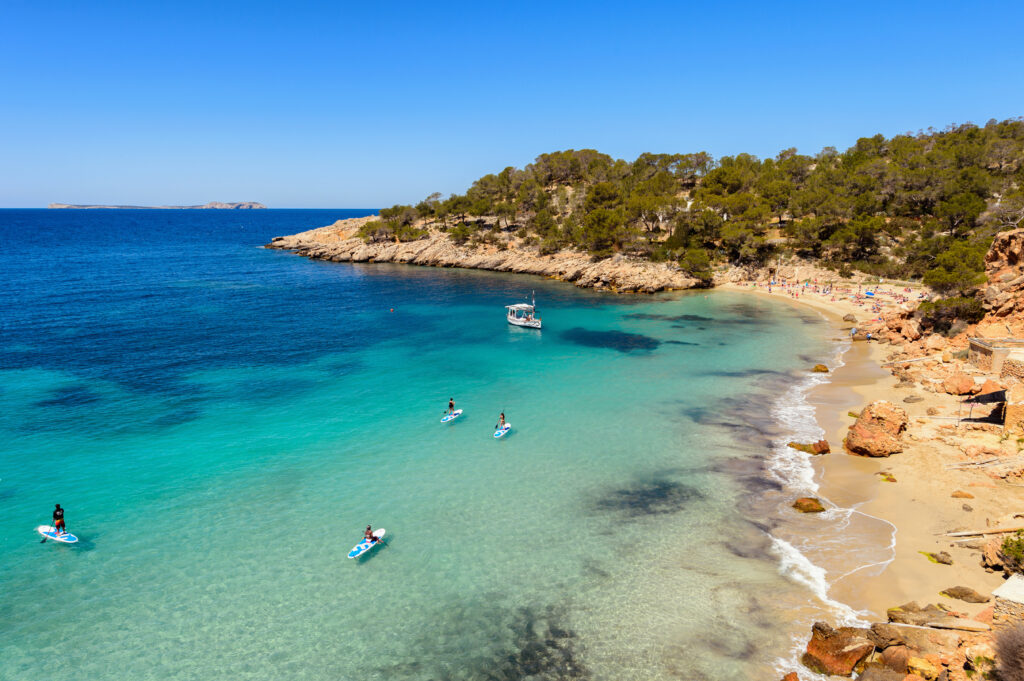 In an island known for supermodel beaches, it's easy to find the best beach hotels in Ibiza to suit you. Portinatx offers no less than three sandy stretches, with S'Arenal Gros, S'Arenal Petit and Playa Porto. Tranquil, aqua water laps the sand and rocky headlands are perfect for snorkelling.
Spend your days lazing on sunbeds, kayaking around the coast and sipping sangria at beach bars.
Where to Stay in Portinatx:
– Six Senses Ibiza offers a stylish retreat in a sustainable environment. Featuring a farmer's market, yoga lessons and guided hikes, you'll never want to leave.
– Hostal La Cigüeña offers a more budget-friendly option on the beach, with a fitness centre and pool.
– This 3 bedroom villa with pool and sea views, a short walk from the beach.
---
---
Best Areas to Stay in Ibiza, Spain
In terms of which area to stay in Ibiza, you're absolutely spoilt for choice. From buzzing beach towns to cobbled streets and peaceful countryside retreats, settle in or hop around for a taste of each diverse area.
IBIZA TOWN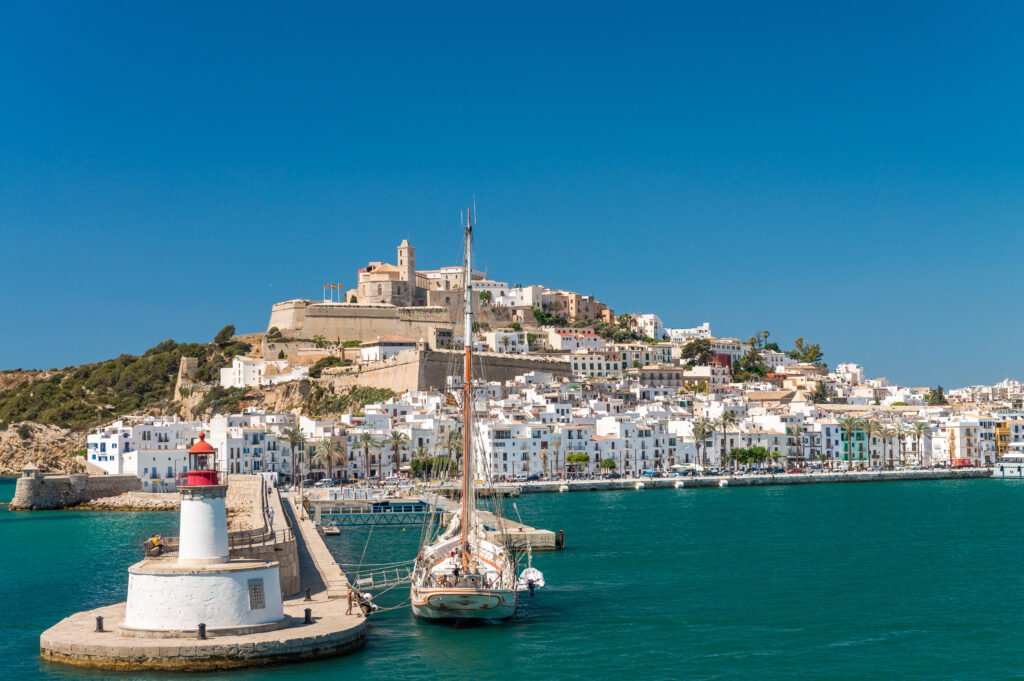 Otherwise known as Eivissa, Ibiza Town is the capital and the largest city on the island. This is the best place to stay in Ibiza for a little bit of everything fabulous. Starting with the legendary nightlife, it's home to the world-famous Pacha nightclub, cosmopolitan bars and a wealth of atmospheric restaurants. Many of the hotspots stretch along marinas filled with superyachts and celebrity spotting is the norm.
Get your camera ready for historic treats in Dalt Vila, the fortified old town perched atop a hill overlooking the sea. Wind your way up through cobbled lanes lined with art galleries, quaint boutiques and cafes. The UNESCO World Heritage Site boasts a cathedral and battlements that are beautifully floodlit at night.
Ibiza holidays aren't complete without shopping for quirky crafts, designer clothes and novelty souvenirs. You'll find glamorous buys around Marina Botafoch and pop-up market stalls with bohemian treasures along the bustling streets. To top it off, you're never far from some of the best beaches in Ibiza, including Playa de Ses Figueretes, Playa Talamanca and Playa d'en Bossa.
Best Hotels in Ibiza Town:
– Mirador de Dalt Vila-Relais & Chateaux to stay in the heart of the old town in a traditional property.
– Eurostars Ibiza for modern comfort, sea views and spacious suites.
– Hotel La Torre del Canonigo for luxury surroundings, a rooftop pool, and a private terrace.
Best Vacation Rentals in Ibiza Town:
– This beautiful and bright 3 bedroom house with sea views and roof terrace in a quiet location just steps away from the centre.
– This nautical-themed 2 bedroom penthouse overlooking the port with a private terrace.
– This modern loft apartment that's perfect for a couple, in the heart of town.
TALAMANCA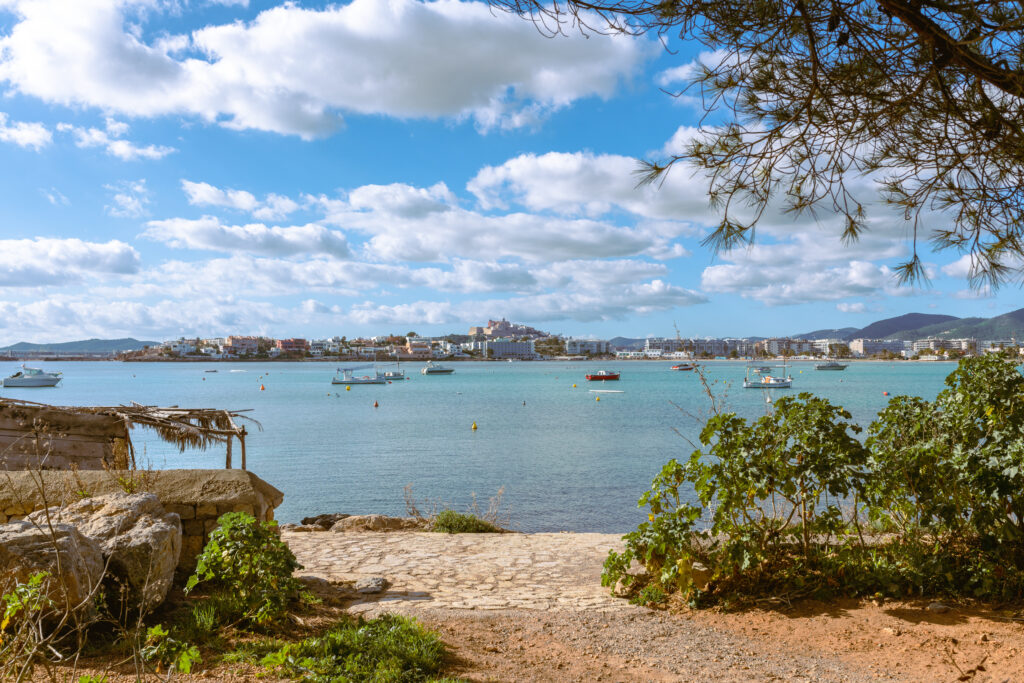 The pretty bay of Talamanca is flanked by a curve of white sand and a long, wooden promenade. Just a stroll from Ibiza Town, it attracts families, couples and party-goers alike, with shallow, aqua water that's impossible to resist. Ibiza hotels, gorgeous restaurants and breezy bars share spectacular views of the ocean and Ibiza Old Town.
Best Places to Stay in Talamanca:
– Nobu Hotel Ibiza Bay for sumptuous surroundings on the seafront.
– Lux Isla for an affordable retreat close to everything.
– This self-contained, sea view 1 bedroom apartment that sleeps four.
– This 3 bedroom villa with a pool, that's perfect for groups or a family.
PLAYA D'EN BOSSA / SANT JORDI DE SES SALINES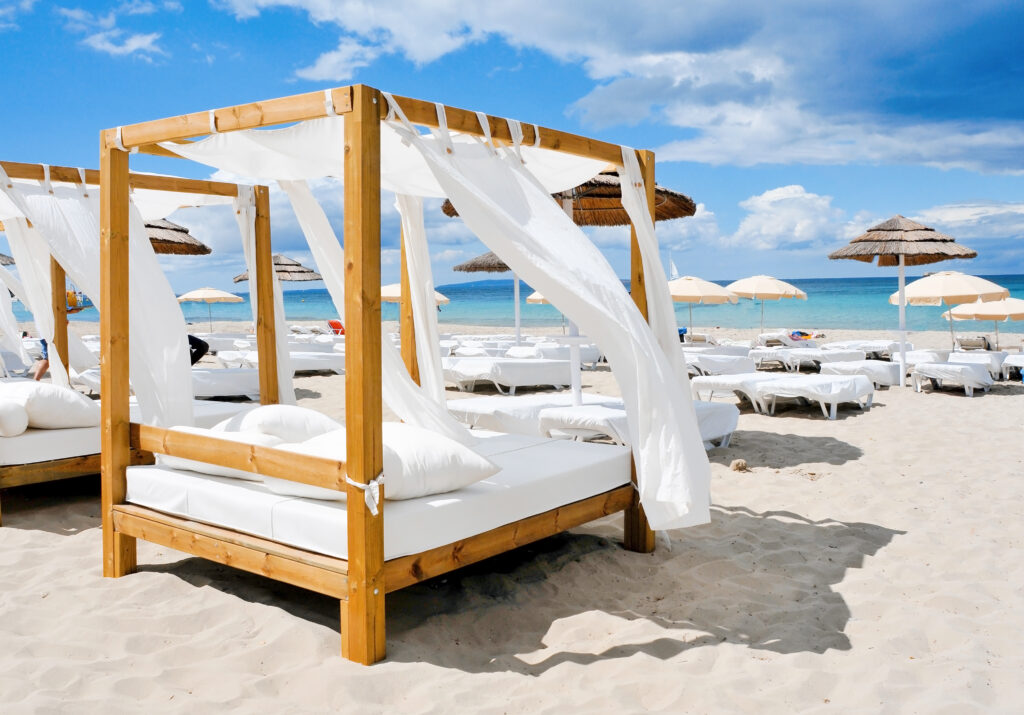 With the best party hotels in Ibiza and a three-kilometre stretch of sand, Playa d'en Bossa ranks as one of the island's most popular resorts. DJs spin chilled-out beats by day and the action heats up in the early afternoon. Simply stroll along the beachfront for fantastic restaurants, bars and clubs.
For a romantic vibe and a slice of history close to the nightlife, stay in the nearby village of Sant Jordi de Ses Salines.
Best Places to Stay in Playa d'en Bossa:
– Dorado Ibiza for adults-only fun, seaside location and rock & roll theme.
– Hotel Garbi Ibiza & Spa for the beach bar, onsite spa, and proximity to nightclubs.
– This 4 bedroom villa, that's the ideal base for a group of friends (sleeps 10).
– This modern 2 bedroom beach apartment that's situated in a quiet spot away from the clubs.
ES CUBELLS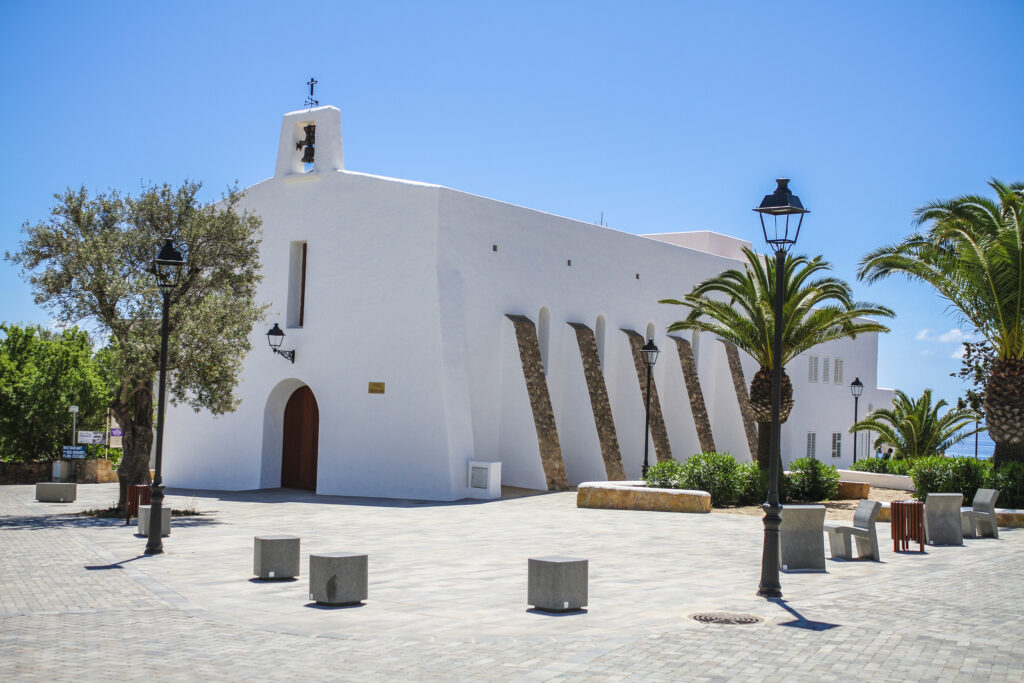 Among the quiet areas of Ibiza, Es Cubells offers a glimpse at traditional homes, scenic farmland and orange groves. The charming village is surrounded by luxury villas and panoramic views across to the island of Formentera. Visit the whitewashed church, snorkel in secluded coves and soak up the peaceful vibes of village life.
You won't find any resorts or hotels here, it's all about authentic stays in stunning hilltop villas. If you're looking for a quiet family getaway in Ibiza, this could be the place for you.
Where to Stay in Es Cubells:
– Villa Perla features 4 bedrooms, multiple outdoor areas, sea views and a large infinity pool.
– Villa Es Cubells 204 offers modest accommodation for a large family. The 3 bedroom property has a pool and garden to enjoy.
– This 5 bedroom villa overlooks the sea and offers accommodation for up to 12 people in an authentic environment.
– This 6 bedroom, 6 bathroom villa benefits from incredible views, an infinity pool, and a secluded location.
CALA VADELLA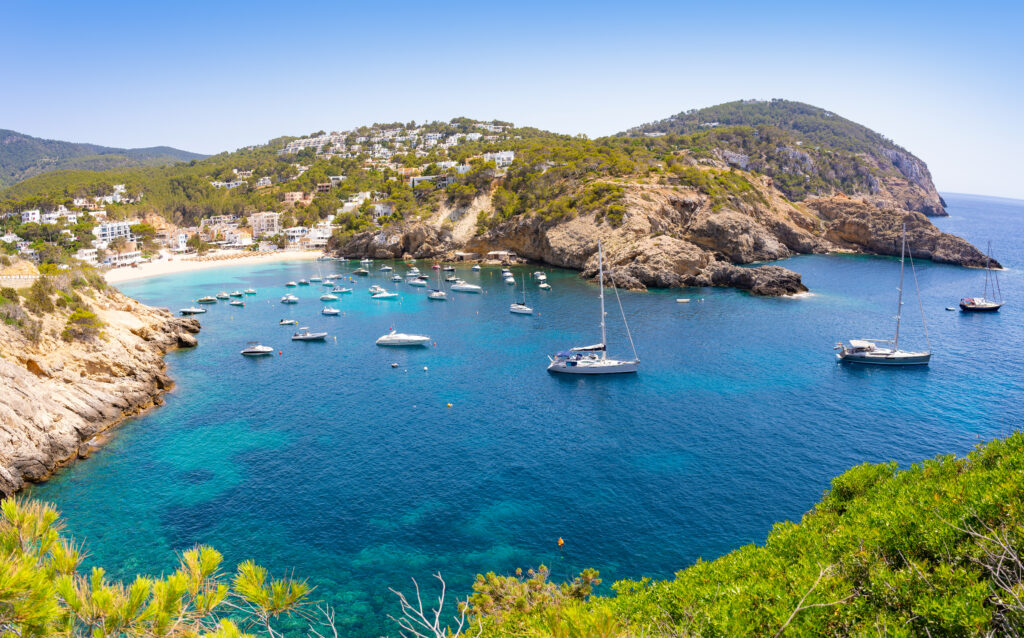 If you're wondering where to stay in Ibiza with a family that's far from the party scene, settle in at lovely Cala Vadella. Framed by pine trees, the sheltered, shallow bay is perfect for safe splashing.
Hire sunbeds for lazy days on the wide arc of sand and let the kids loose with a range of water sports. Family-friendly restaurants and hotels line the water and you'll find shady walking trails through the lush hills.
Best Places to Stay in Cala Vadella:
– Can Xica offers an authentic homestay environment with private beach access and a lovely garden to relax in.
– Hotel Village is a quiet boutique hotel overlooking the sea.
– This affordable 2 bedroom villa with a direct view over Playa Cala Vadella.
– This charming 1 bedroom house with impeccable design, 1km from the beach.
CALA TARIDA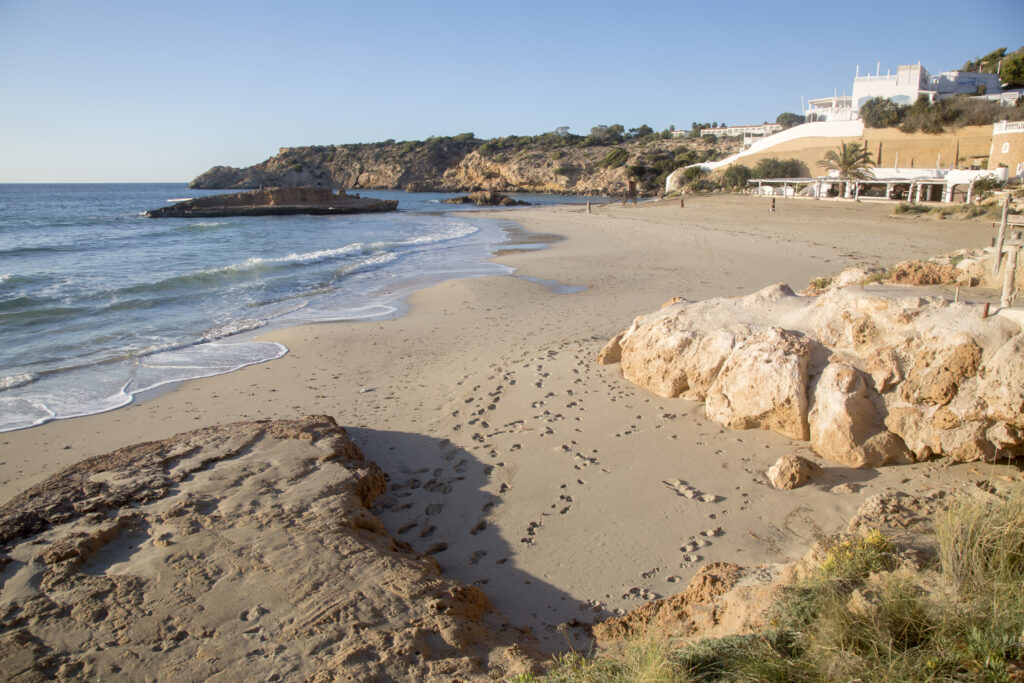 The soft white sands of Cala Tarida drift into water that shimmers with a range of blues and greens. Located on the west coast in a quiet part of Ibiza, the petite resort is popular with families playing volleyball on the sand and dining in beachfront restaurants. If you're looking for epic sunsets, this is one of the top spots on the island.
Best Places to Stay near Cala Tarida:
– 7Pines Resort Ibiza for an elegant setting overlooking Es Vedrà Island.
– Hostal Cala Moli for an understated setting with direct access to a small private beach.
– This 2 bedroom modern apartment with private terrace and shared pool access.
– This beautifully decorated 3 bedroom villa with pool, that's just 3 minutes walk from the sand.
PORT D'ES TORRENT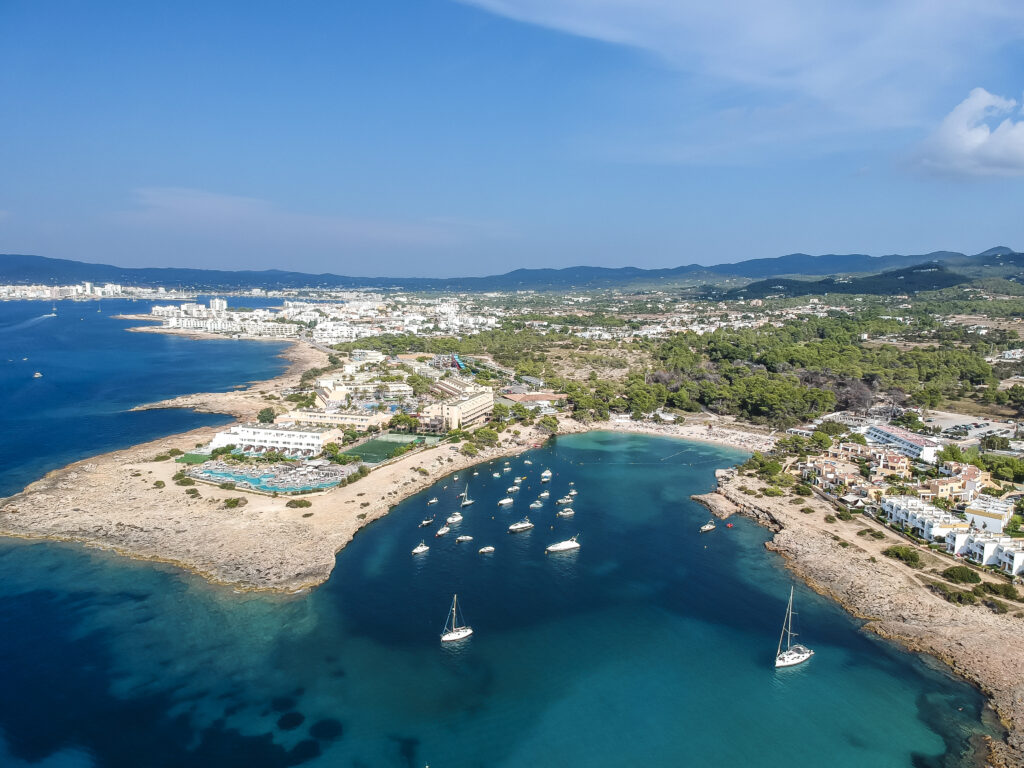 Close to San Antonio, which is one of the top party places in Ibiza, Port d'Es Torrent is a little-known gem and a peaceful haven. Serene, transparent water rests on a backdrop of pine trees and rocks perfect for snorkelling around.
The golden-sand beach is rarely overcrowded, restaurants are just steps from the sea and water sports keep you active by day.
Best Places to Stay in Port d'Es Torrent:
– Hotel Boutique Ses Pitreras for a designer boutique setting just meters from the beach.
– Torrent Bay by Intercorp Group for self-contained rooms and hotel amenities.
– This family-friendly 1 bedroom apartment with shared pool and playground.
– This stunning 4 bedroom villa with pool located 100m from the beach.
SANT ANTONI DE PORTMANY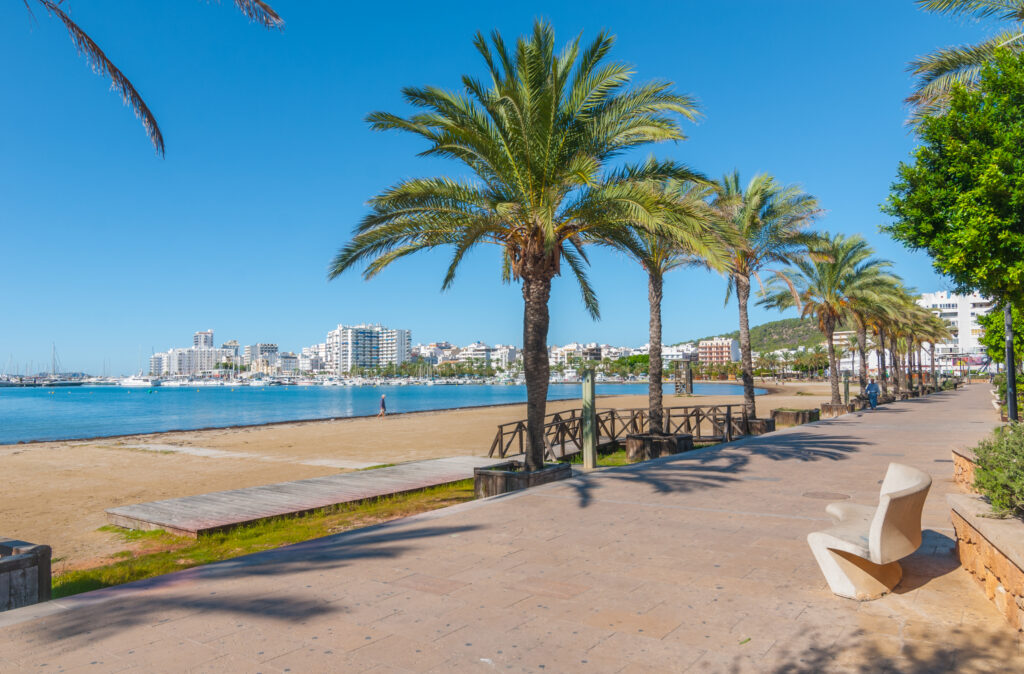 Home to the famous Sunset Strip and Cafe del Mar, San Antonio is an Ibiza party area that's famous for chill-out bars and a dynamic seafront promenade. It's the place to be when the sun sinks into the horizon, and don't expect to leave until it comes up again.
During the day, take in the views of San Antonio Bay, catch ferries from the marina to explore and soak up the rays on nearby beaches.
Best Places to Stay in Sant Antoni de Portmany:
– Hotel Sa Clau by Mambo offers stylish accommodation close to the clubs, beach and key attractions.
– Sol Bahía Ibiza Suites is ideal for people who appreciate a little more room to spread out, self-catering options, and a beachfront location.
– This modern and bright 1 bedroom apartment with a sea view and home comforts.
– This beautiful 4 bedroom villa with pool & tennis court situated within walking distance of San Antonio's top sights.
CALA GRACIO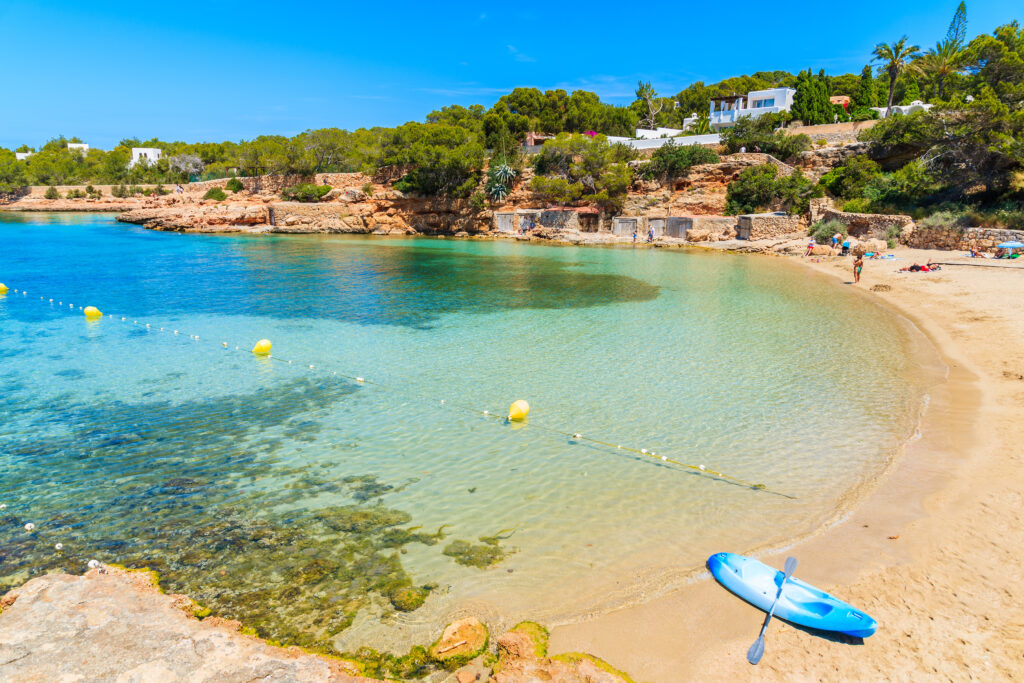 A leisurely walk from the partying crowds at San Antonio takes you to Cala Gracio. The calm, crystal clear water of the cove is ideal for swimming with children.
Pine trees provide shade and walking trails, while casual beach bars keep you fuelled up for fun in the sun. Stroll along the coast and you'll find the serene stretch of Cala Gracioneta.
Best Places to Stay Near Cala Gracio:
– Cubanito Ibiza offers a fun Cuban-style stay just 400m meters from the beach.
– OKU Ibiza is a stylish and luxurious full service hotel that's prefect for romantic getaways.
– This charming little 1 bedroom bungalow set right by the beach offers a tranquil escape from the crowds.
– This traditional 3 bedroom cottage with pool and sea views, in a countryside setting.
PORT DE SANT MIQUEL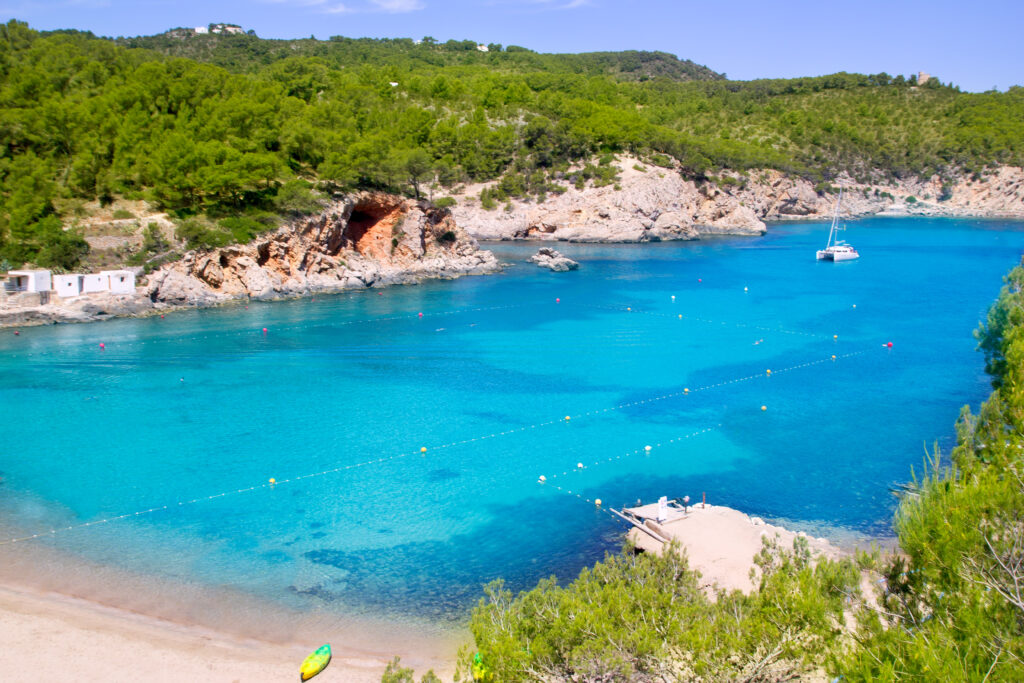 For north Ibiza hotels by the sea, unpack your bags in the former fishing village of Port de Sant Miquel. Pine-studded cliffs surround a deep blue bay that's ideal for water skiing and windsurfing.
Stroll through the resort to browse among quaint boutique stores and hop from bar to bar along the sand. Once a haven for pirates, the dripstone caves of Cuevas Can Marca are nearby.
Best Places to Stay in Port de Sant Miquel:
– Siau Ibiza Hotel is a beautifully decorated 5-star hotel just 200m from the beach.
– Hotel Rural Can Maries offers a farm-stay environment for a more authentic Ibiza experience.
– This cute 2 bedroom cottage with garden is perfect for families and affordable!
– This 4 bedroom villa with pool and jacuzzi offers a rural retreat among the olive groves.
PORTINATX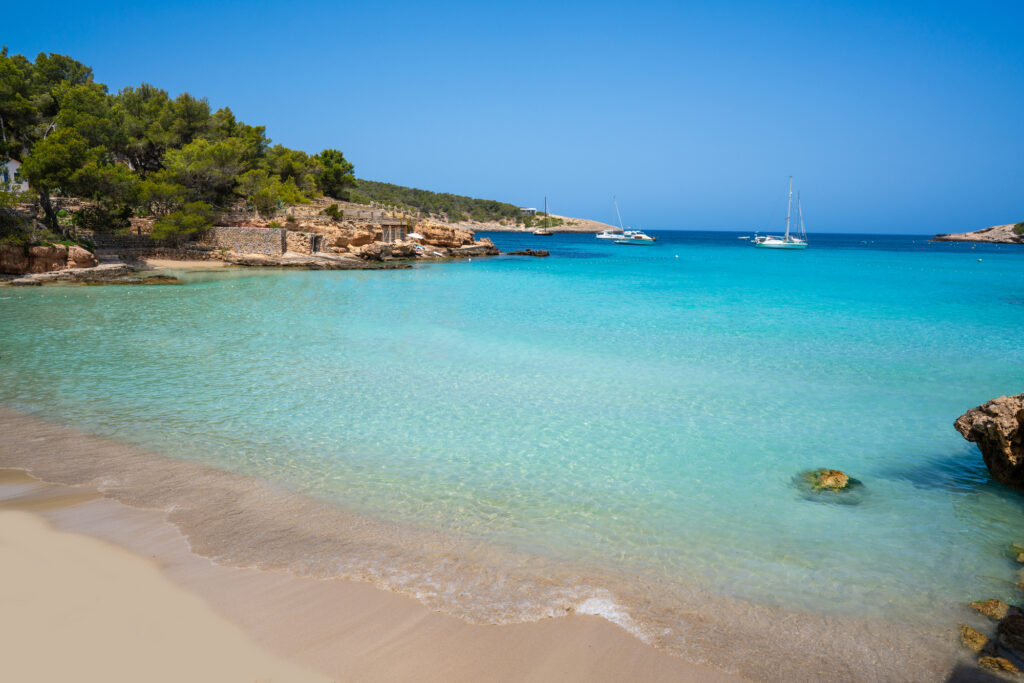 There's something for everyone at Portinatx, with three gorgeous beaches and Ibiza resorts to suit families, couples, groups and all budgets. Spend your days taking in sweeping views from the lighthouse and cycling around the scenic countryside.
Though the overall vibe is peaceful, there's plenty of lively nightlife to enjoy when the sun goes down on this north coast resort.
Best Places to Stay in Portinatx:
– Grupotel Ibiza Beach Resort is situated right on the beach and offers a quiet, adults-only environment.
– Six Senses Ibiza is the ideal escape for those looking for the perfect bland of luxury and authenticity.
– This rustic 1 bedroom cottage is located in a rural environment, perfect for quiet holidays in Ibiza.
– This bright 3 bedroom villa features a pool, sea views, and plenty of space for up to 6 guests to spread out.
CALA SAN VINCENTE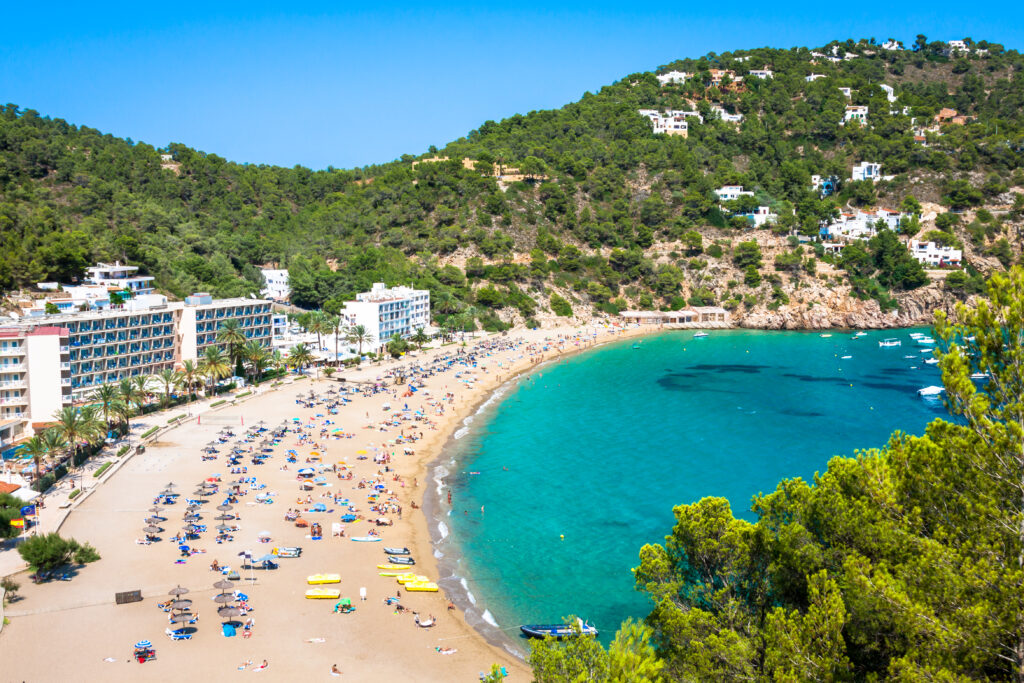 Walk to the top of the cliff to get a bird's eye view of the dazzling azure waters of Cala San Vicente. This relaxing hideaway features Ibiza holiday resorts stretched around a crescent-moon shaped beach.
A palm-lined promenade is blissfully traffic-free and you're spoilt for choice with cafes, beach bars and restaurants facing the sea.
Best Places to Stay in Cala Sant Vincente:
– Sister hotels Grupotel Cala San Vicente and Grupotel Imperio Playa both offer beachside accommodation and all-inclusive options.
– This 1 bedroom cottage has everything you need for a relaxing stay in Ibiza, including a pool, BBQ, and outdoor dining areas.
– This 6 bed/6 bath villa with stunning views, multiple terraces, pool, and BBQ
ES FIGUERAL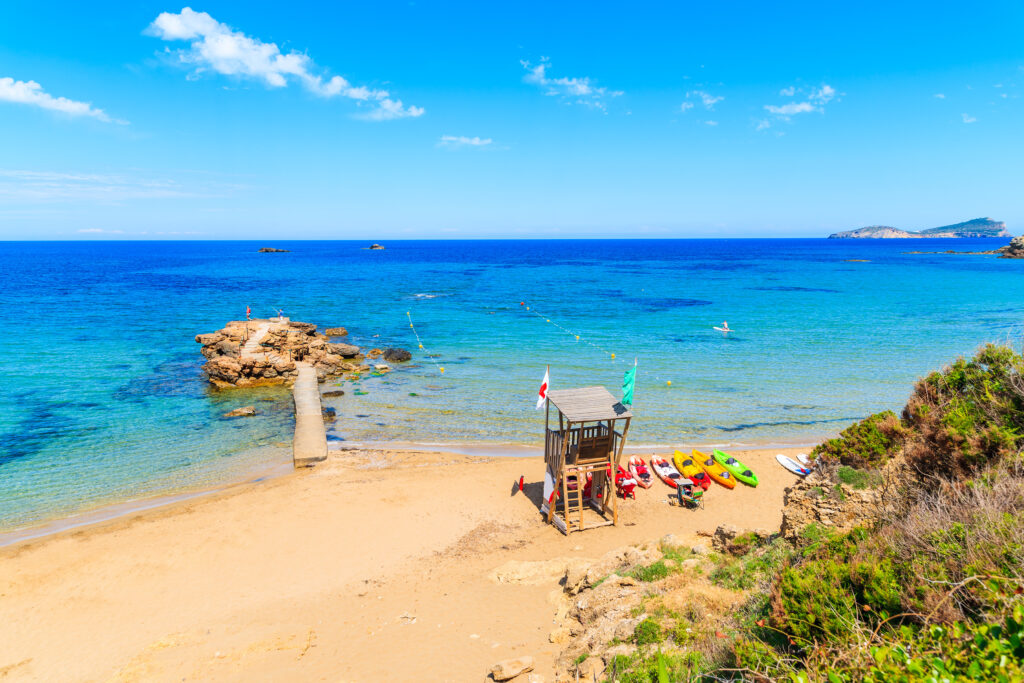 If you love to step off soft sands for snorkelling in crystal clear water, base your Ibiza vacation in Es Figueral. Rocky inlets create underwater magic and water sports help you explore from above.
Tree-dotted hills frame the sand and you won't have a problem finding a free sunbed on this long, golden stretch. Enjoy views out to Tago Mago island off the coast and pop down the road to explore Santa Eulalia.
Best Places to Stay in Es Figueral:
– Both Invisa Hotel Club Cala Verde and Invisa Hotel Club Cala Blanca provide family-friendly accommodation near the beach.
– Agroturismo Can Talaias San Carlos offers a more laid-back approach, in beautiful, authentic surroundings.
– This beautifully rustic 5 bedroom house is just 5 minutes from the beach and sleeps up to 10 people.
– This stunning 3 bedroom villa with pool would make the ideal base for one family.
CALA LLENYA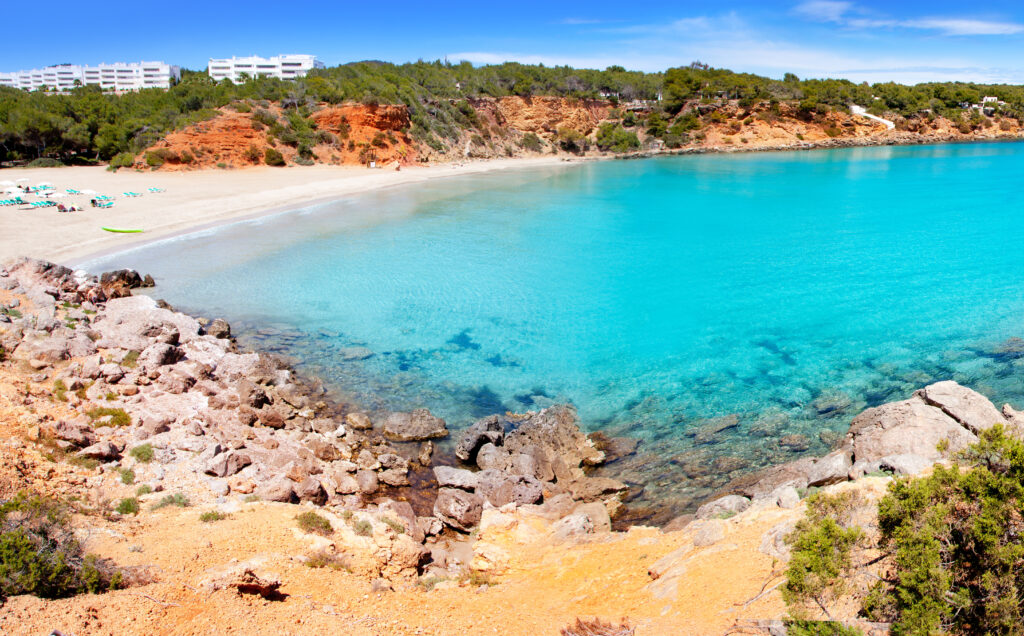 A lush valley of pine trees and clear, shallow water makes Cala Llenya a popular spot for family picnics. Or, settle in at beach bars for scrumptious paella.
Take a windsurfing lesson to drift across the glassy ocean surface, snorkel with marine life straight from the sand and get active with beach volleyball.
Best Places to Stay in Cala Llenya:
– Club Cala Azul offers simple, modern rooms near the beach. There are plenty of children's activities available on-site.
– Cala Llenya Resort also offers a family-friendly accommodation in Ibiza, with a kid's club, swimming pool, and playground.
– This simple 2 bedroom cottage makes a peaceful place to retire to in the evenings after a days' exploring.
– This unique 4 bedroom villa offers a luxurious stay at an affordable price point.
ES CANAR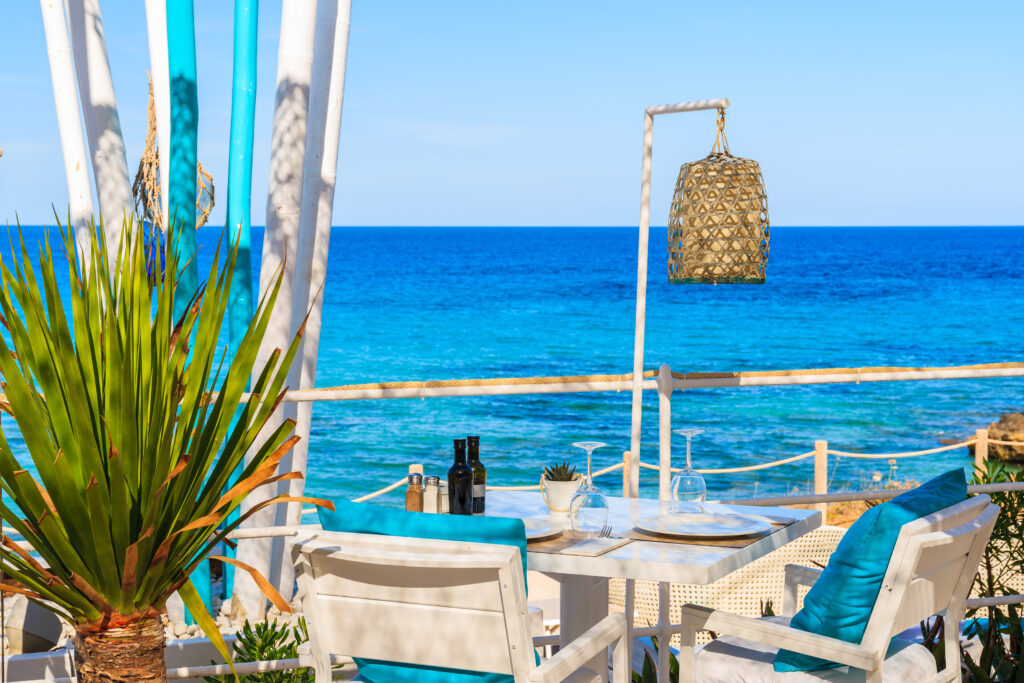 With a range of great hotels in Ibiza for all budgets, Es Canar is an all-rounder for a holiday by the sea. A pine-lined strip of golden sand features beach bars for cocktail-sipping after parasailing and windsurfing.
Along with the main beach, a short stroll takes you to the peaceful shores of Cala Nova and Cala Martina. A dive school helps you explore abundant marine life and you'll find plenty of pubs and restaurants for a feast afterwards.
Best Places to Stay in Es Canar:
– Hotel Anfora Ibiza is located just 100m from Es Canar beach, and within a quick walk of the Punta Arabi Hippy Market.
– Bless Hotel Ibiza offers luxury sea view rooms, direct beach access, a Michelin-starred restaurant and a beautiful infinity pool.
– This rustic 1 bedroom cottage set in the countryside but close to beaches, markets and beautiful walks.
– This 3 bedroom house with pool, just 200m from the beach at Sargamassa and close to the hippy market.
SANTA EULARIA DES RIU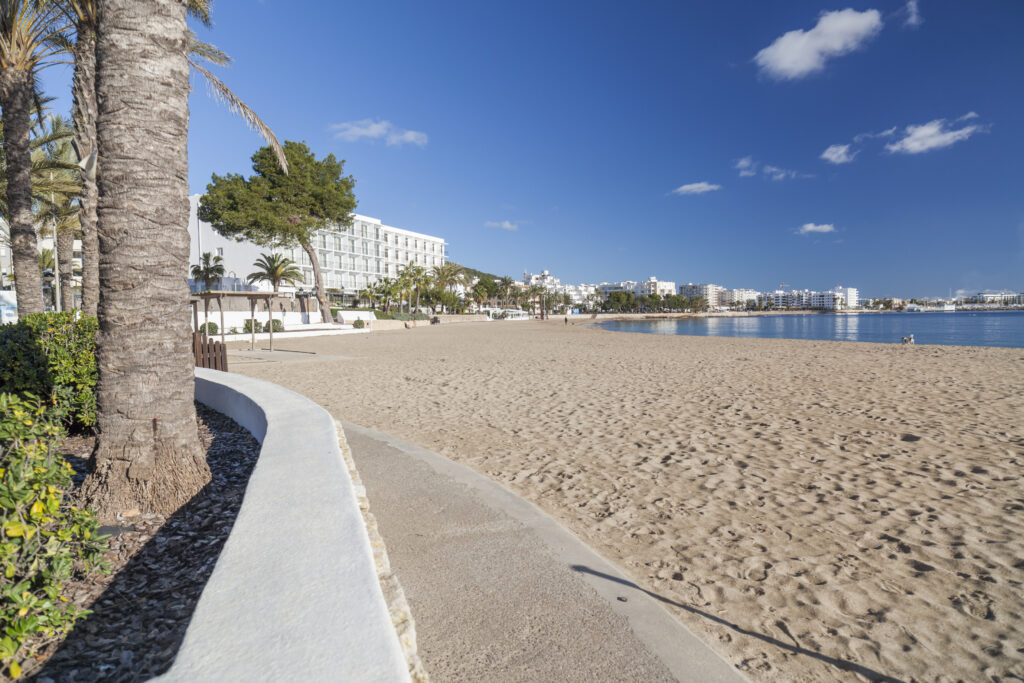 Whether you're looking for luxury Ibiza holidays, a couple's escape or family-friendly fun, Santa Eularia des Riu delivers. The main action takes place on the seafront promenade, complete with palm trees and landscaped gardens.
Home to a famous 'restaurant street' and some of the island's top restaurants, Santa Eularia is a foodie's delight. Shopaholics don't miss out, with everything from designer boutiques to shoe shops and souvenir markets.
Best Places to Stay in Santa Eularia des Riu:
– La Bohemia del Rio Hostal Boutique provides Instagram worthy accommodation for adults, a short walk from the seafront promenade.
– Aguas de Ibiza Grand Luxe Hotel offers luxury design and a rooftop pool with a view.
– Casa Blai is ideal for family vacations in Ibiza. Featuring 3 bedrooms, 4 bathrooms, a pool, jacuzzi and outdoor kitchen, you'll be hard-pressed to leave!
– This expansive 5 bedroom property with a pool and garden is ideal for large groups.
CALA LLONGA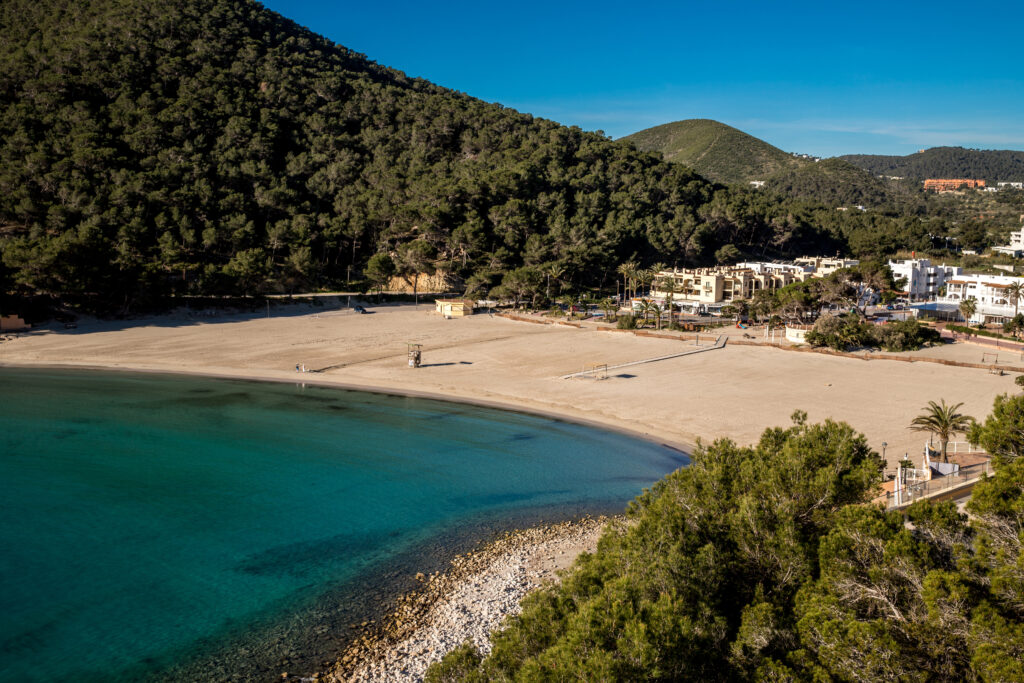 In terms of where to stay in Ibiza with kids, Cala Llonga offers the shallow, safe swimming water you're looking for. Simply choose a sunbed, settle in and watch the kids explore the sea with pedalos or play on amusement rides by the beach.
Fabulous restaurants are geared towards families too, with cafes and snack bars around every corner.
Best Places to Stay in Cala Llonga:
– The Olive Boutique Suites and Spa provide stunning self-contained accommodation options with exquisite interior design.
– Cala Llonga Resort is a family-friendly option with beachfront views and multiple swimming pools.
– This 4 bedroom villa with pool, air conditioning, and Bali inspired interiors is perfect for two families, or a group of friends.
– This 5 bedroom hilltop villa with pool sleeps 11 guests and is close to everything while benefitting from a quiet countryside location.
CENTRAL IBIZA
Lovely vineyards, olive groves and lemon orchards decorate Ibiza's charming interior. World's away from the island's thumping party scene, here you'll eat homegrown produce, cycle along peaceful country laneways and see farmers tending herds.
Among whitewashed churches and rural homes, the pace of life is deliciously slow and ideal for those looking for relaxing places to stay in Ibiza.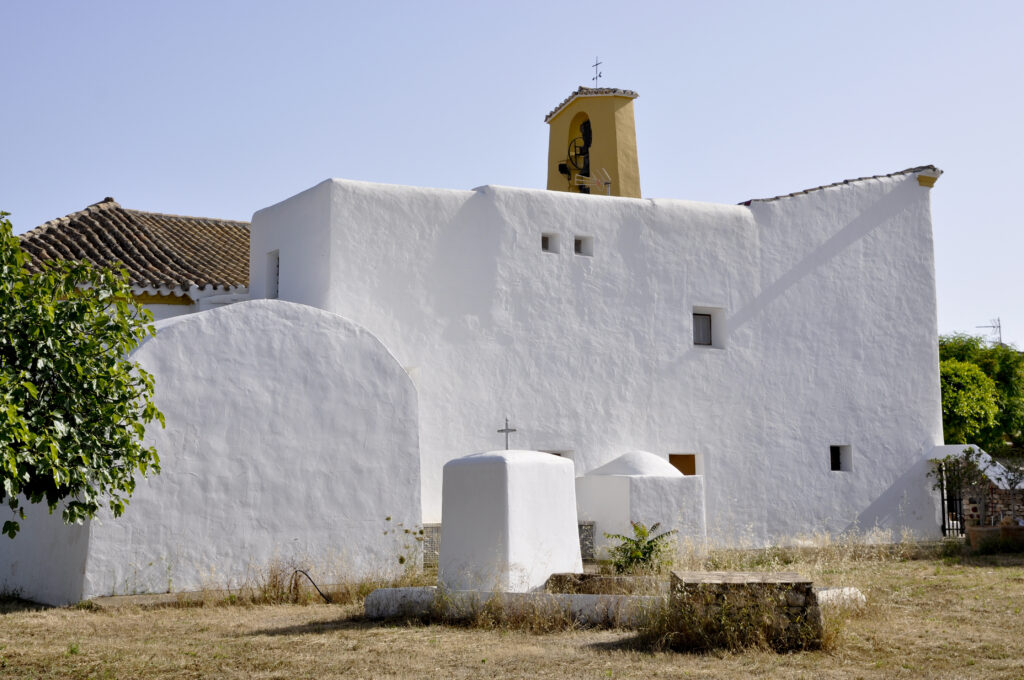 If you're a wine lover, explore the vineyards around the tiny village of San Mateu d'Albarca, then pop into town for a drink at the local bar and a picture of the pretty church. Once a famous hippy village, San Carlos is a bohemian favourite with the main street lined by yoga studios, health food stores and vintage shops.
At the heart of the island, Santa Gertrudis is a hip destination surrounded by tradition and plenty of galleries, craft shops and atmospheric cafes. Are you a keen hiker? Sa Talaiassa is Ibiza's highest peak and you can trek to the top from a signposted trail that starts from the village of Sant Josep.
Best Places to Stay in Central Ibiza:
– Ca Na Xica Hotel & Spa offers a countryside escape in luxurious surroundings.
– Finca Legado Ibiza allows you to relax into the quiet side of Ibiza island life.
– This 3 bedroom villa with pool and garden with fruit trees, near San Rafael.
– This 2 bedroom modern house with pool in a tranquil setting in the heart of the island.
---
---
Ibiza is a small island and it's easy to get around, whether you hire a car, or take a bus, taxi or boat. Therefore, you'll enjoy all the different sides of this stunning island with ease. Base yourself in a party town to walk from club to club, a family-friendly beach resort for non-stop fun in the sun or the countryside to soak up island traditions. Ibiza's irresistible charm follows you, no matter where you choose to stay.
Still not decided on where to stay in Ibiza? Use the map below to browse & book!