Imagine stepping out of your holiday villa onto sugar-soft sand and drifting towards the turquoise sea. The Balearic Island of Mallorca may be famous for its world-class beaches, but it has so much more to offer the inquisitive visitor.
Many of the best places in Mallorca to stay rest on backdrops of rugged coastline, stone villages and limestone cliffs straight from a postcard. Along with natural beauty, including the World Heritage-listed Tramuntana Mountains, a Mallorca holiday charms the senses with cultural attractions, chic boutiques and a scrumptious dining scene.
Whether you're jetting off on a fun family holiday, taking a relaxing escape or searching for the perfect honeymoon destination, you'll find a picturesque base that's just right for you.
This article may contain affiliate links. See our full disclosure here.
---
Best Places to Stay in Mallorca for Your Travel Type
Choosing where to stay in Mallorca is an important step in making the most of your limited time on the island. Read our suggestions for the best places to stay by vacation type below, or scroll down for a more detailed look at Mallorca's towns, villages and resorts.
BEST PLACES TO STAY IN MALLORCA FOR COUPLES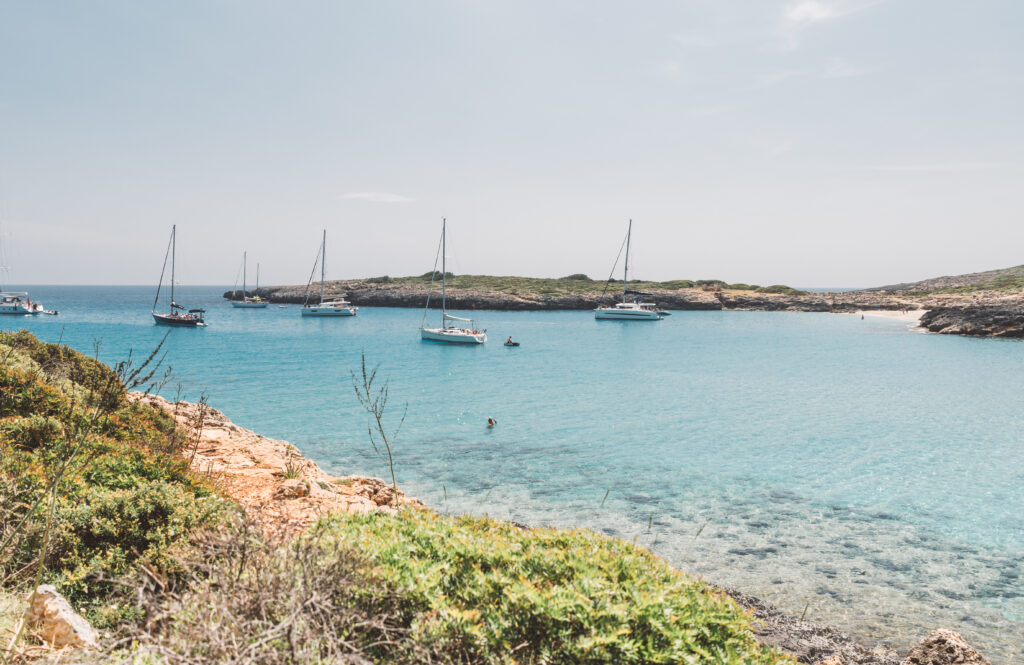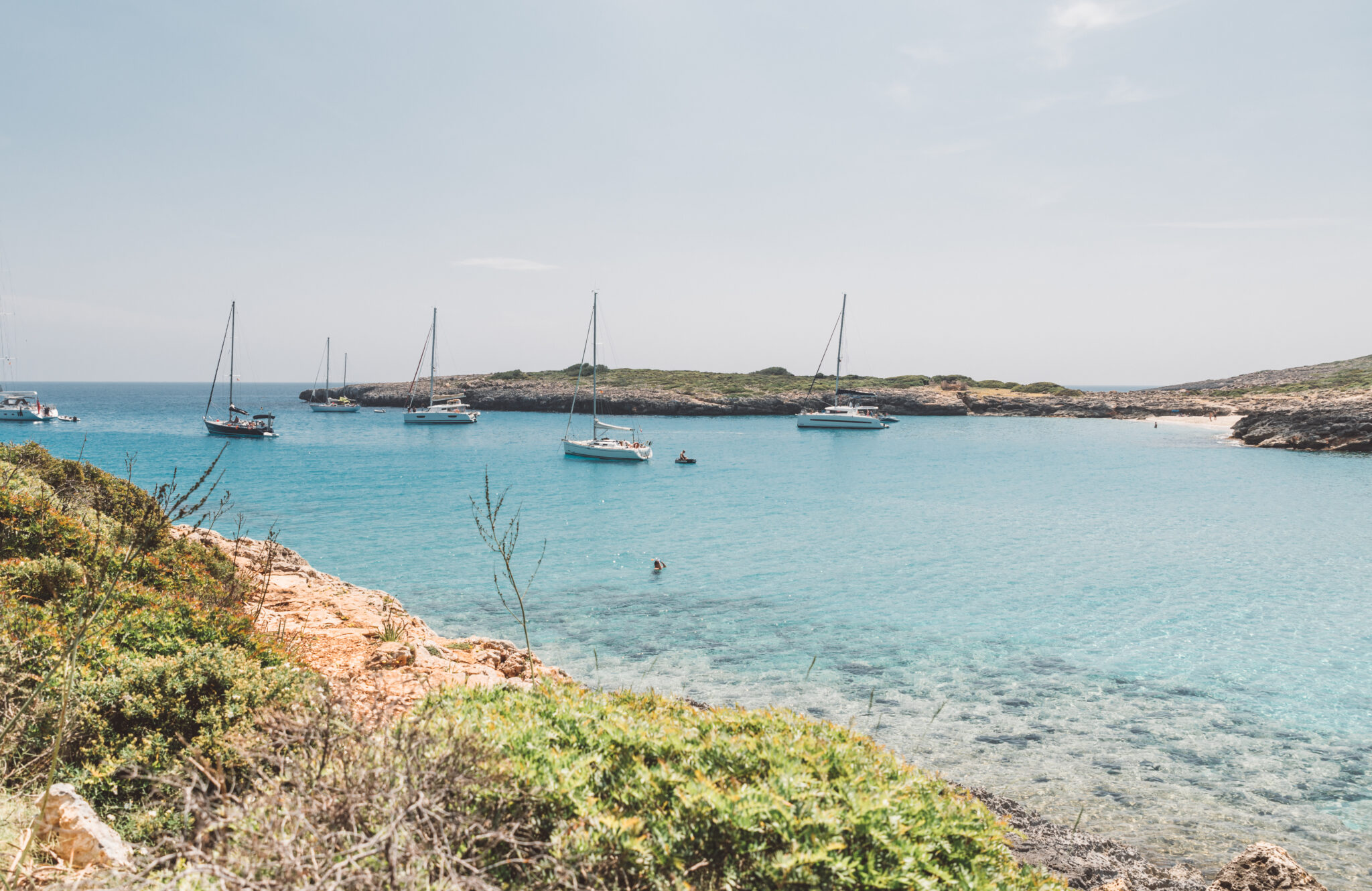 Romance is a given in Portocolom, so much so that it attracts artistic residents who never want to leave. Stroll hand in hand along Cala Marcal and dine with the sunset at S'Arenal beach.
Though the atmosphere is firmly one of retreat and relaxation, there's plenty to do. Sample wines at local vineyards, swim in secluded coves and kayak across serene seas.
Romantic places to stay in Portocolom:
– The Agroturisme Ca'n Gaia offers an intimate experience in a sublime setting, just back from the coast.
– This modern one-bedroom, self-contained apartment will allow you the privacy you seek.
---
WHERE TO STAY IN MALLORCA WITH FAMILY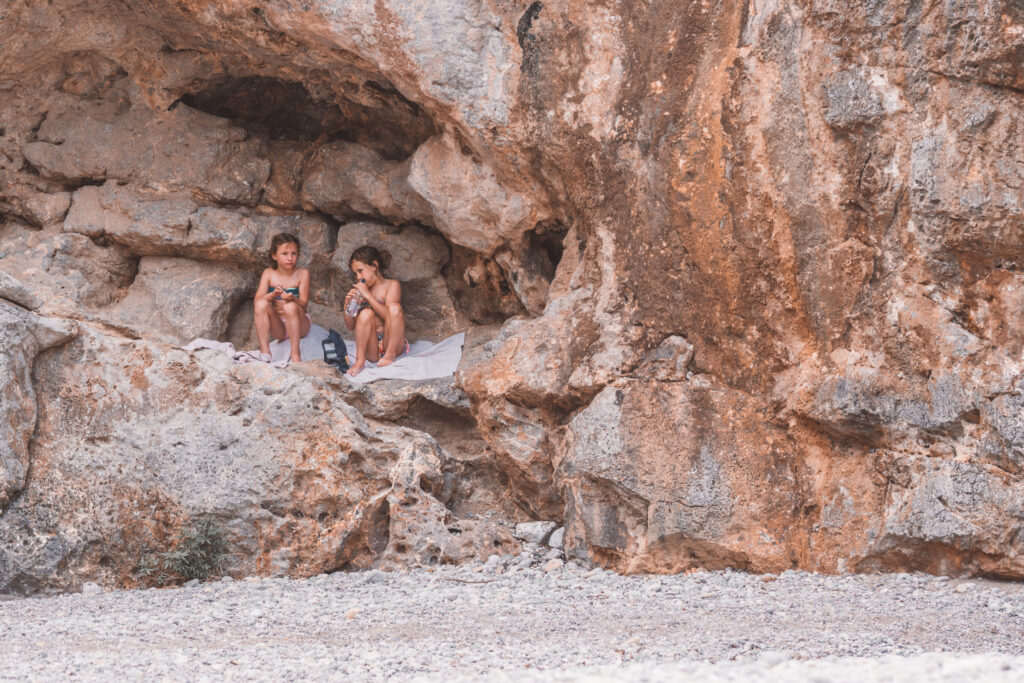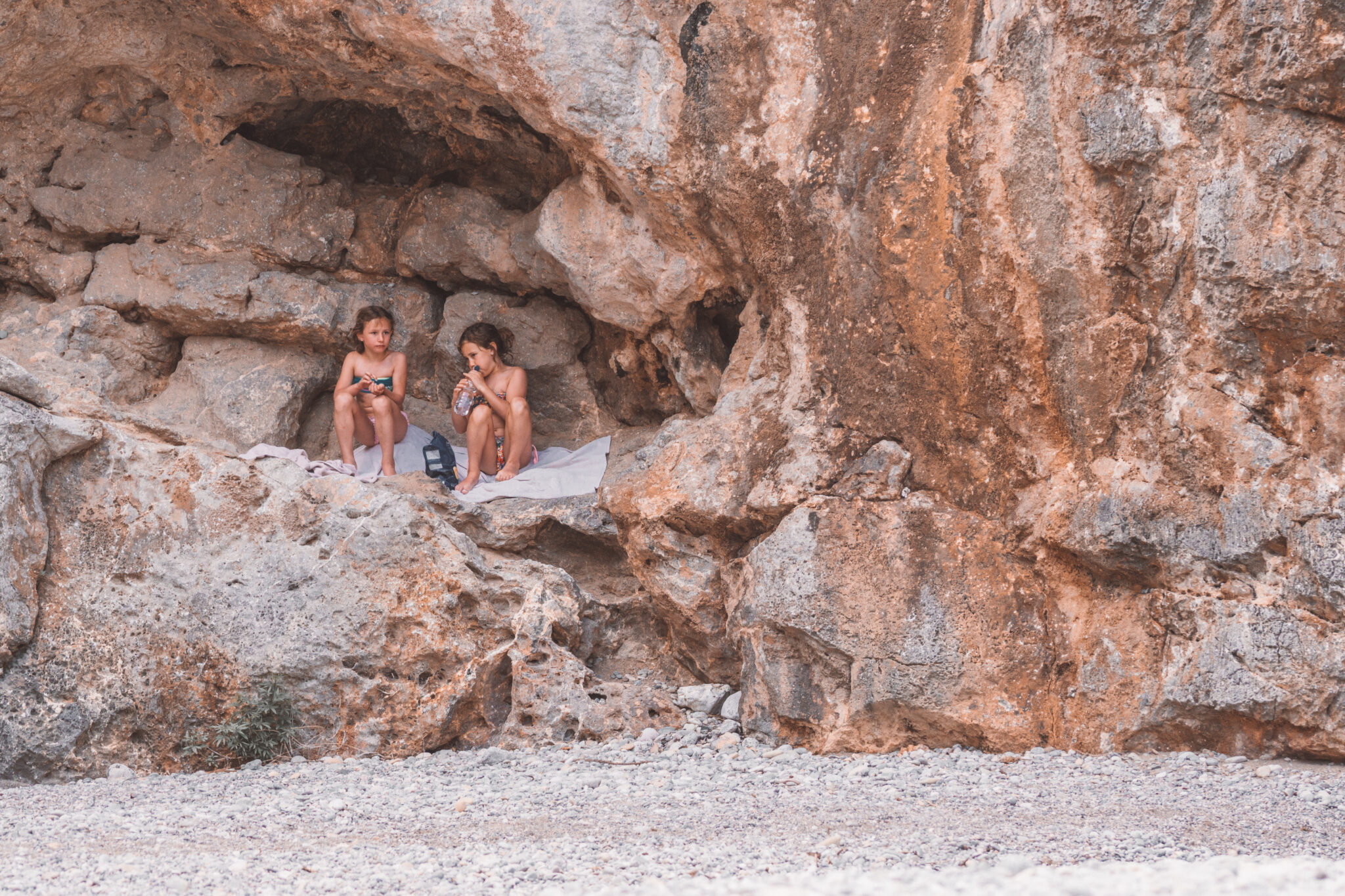 For families, the Bay of Alcudia provides the perfect base for activities to suit all ages. Choose to stay in Port d'Alcudia or within the charming history of Alcudia town. From cheap places to stay in Mallorca to five-star hotels, you'll find plenty of accommodation options to suit you.
Have fun in the sun on the golden sands of Playa de Alcudia, play golf, challenge yourselves to go-karting, hit the water slides and take the tourist train with the little ones.
Family accommodation in Alcudia:
– The Iberostar Ciudad Blanca offers family rooms complete with kitchenettes and loads of fun activities for the kids to enjoy.
– This 3-bedroom house near the beach is big enough for a family of 6 and comes complete with a beautiful pool & garden.
---
WHERE TO STAY IN MALLORCA FOR BEACHES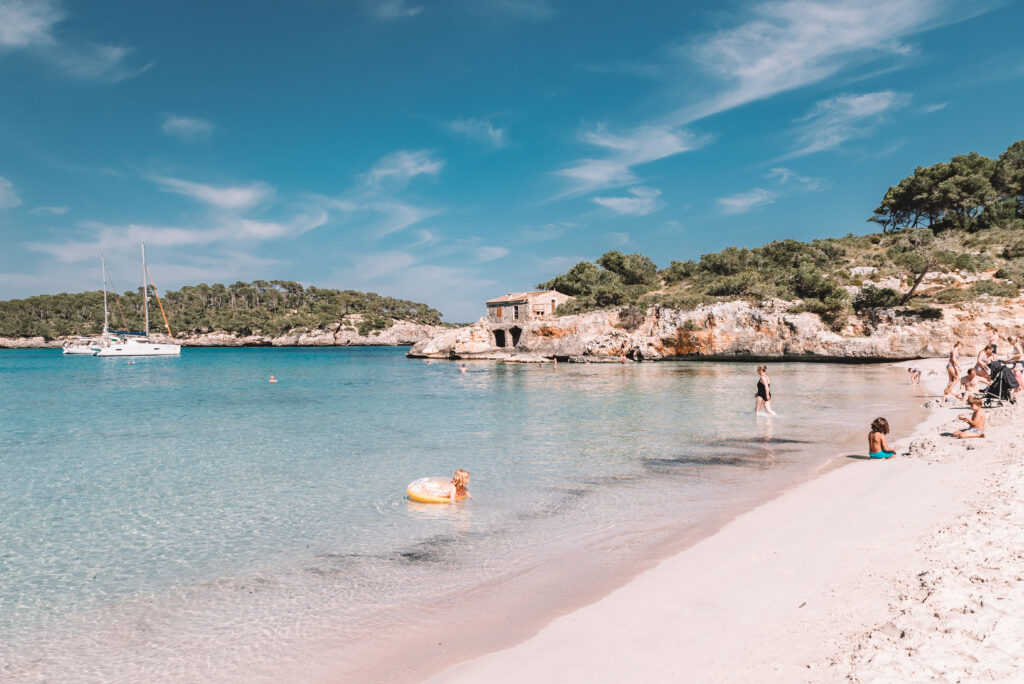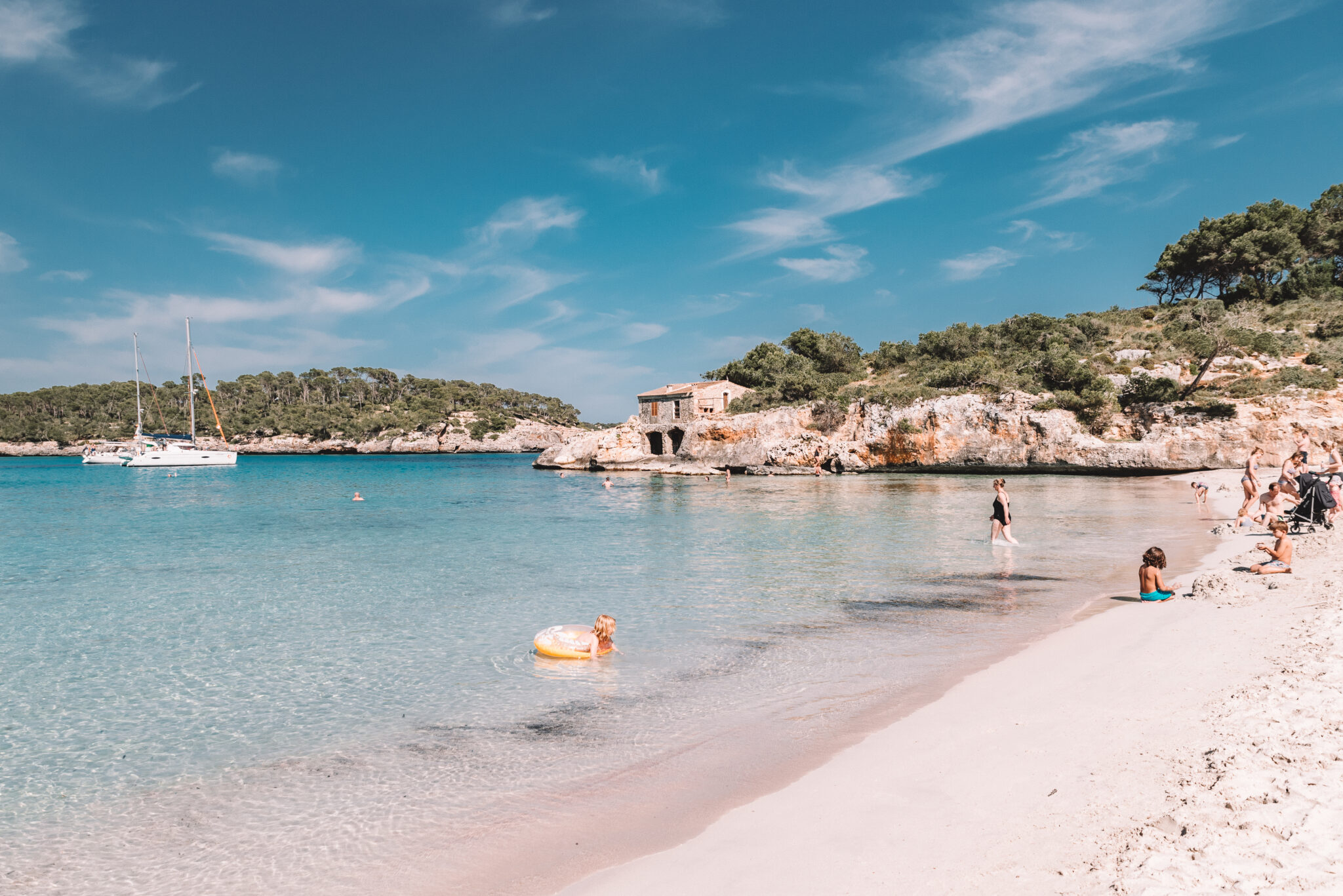 Eastern Mallorca is a supermodel when it comes to pristine beaches. Stay in the resort of Cala d'Or for no less than seven picture-perfect beaches, with sublime turquoise seas lapping against stunning coves.
The largest stretches, Cala Gran and Cala Llonga, are hubs for water sports, sun lounges and sailing. There's even a tourist road train to make paradise cove-hopping extra easy.
From here, escape into the Mondragó Natural Park for serene scenes and tranquil coves away from the hustle and bustle.
Where to Stay in Cala d'Or:
– Couples will love the Hotel Cala d'Or right on the beachfront, while the Hostal Mistral is perfect for those on a budget.
– Travelling with friends or family? Why not rent this 2 bedroom bungalow with direct access to the beach!
---
WHERE TO STAY IN MALLORCA FOR NIGHTLIFE
Magaluf is the buzzing hub of nightlife on the island and it all starts when the sun's still high in the sky. To start your night by day, check out glamorous beach clubs and sip cocktails by the sea.
This is the home of mega nightclubs for after dark, along with enough bars to keep you hopping for weeks. The main areas included BCM Square and Punta Ballena, however, many hotels will also host colourful pool parties day or night.
Where to stay in Magaluf:
– For the best beach views head to Bahia Principe Sunlight Coral Playa where you can spend your days by the pool, and walk into the centre of town at night.
– This 5 bedroom villa would be the perfect base for a group of friends to enjoy, and it comes complete with a pool and games room.
---
WHERE TO STAY ON MALLORCA FOR NATURE-LOVERS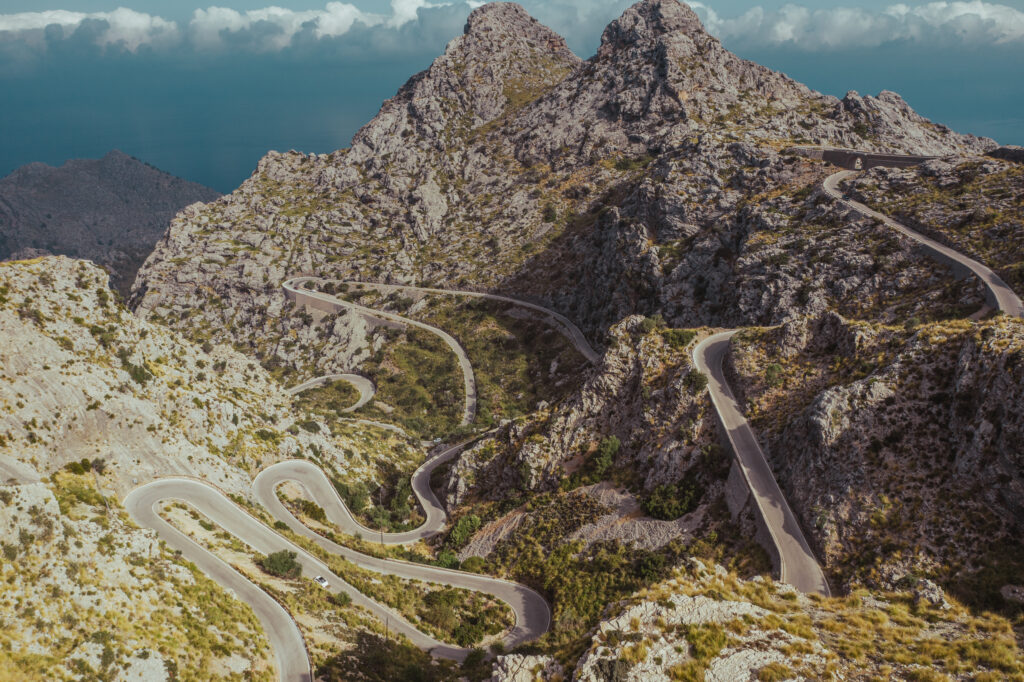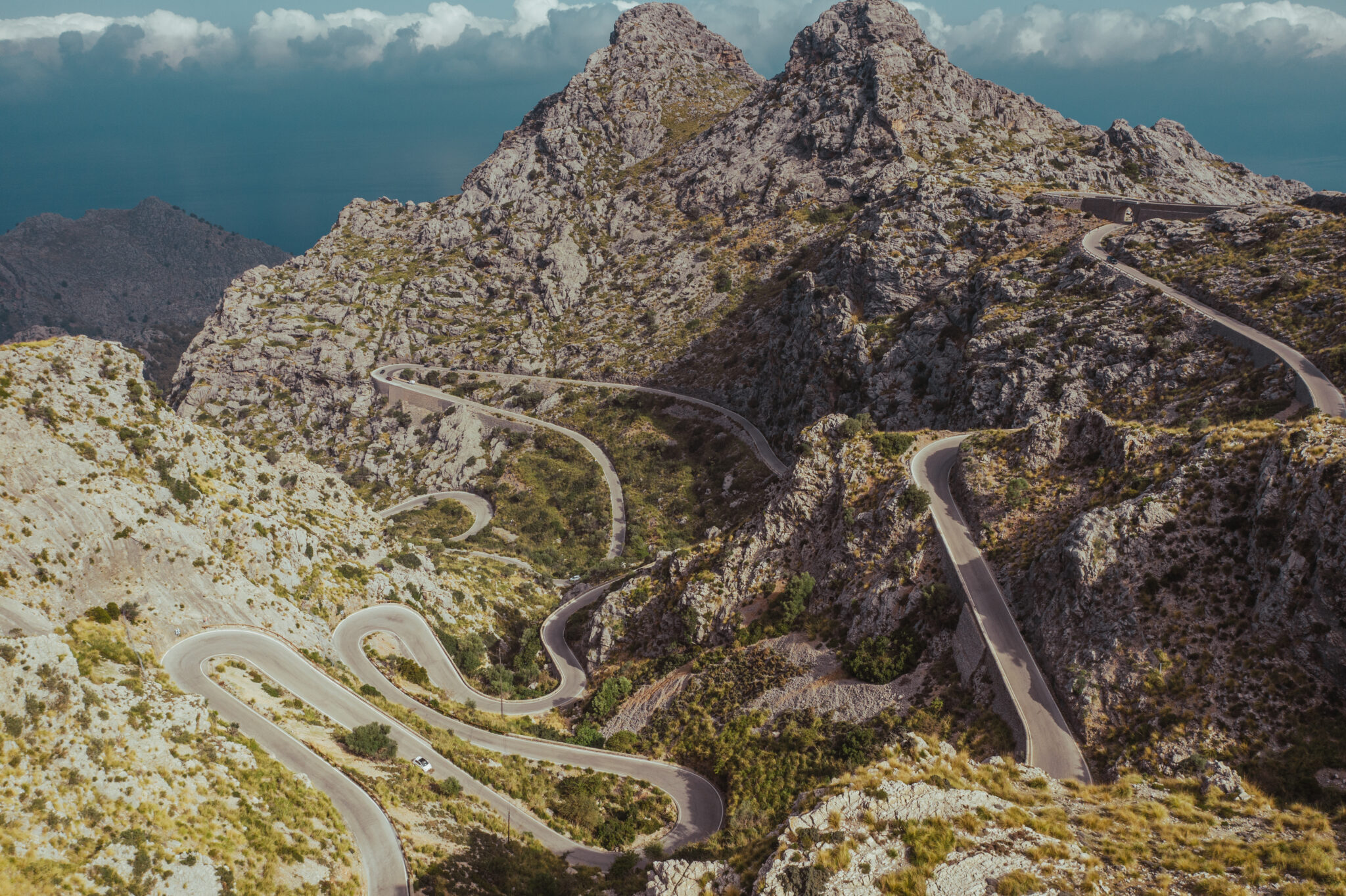 Surrounded by the Tramuntana Mountains and within close distance of coastal paths, the charming town of Sóller is the perfect stepping off point for hiking and cycling in nature.
Dedicated trails start within town and lead through scenes ranging from orange groves to clifftop lanes, mountain villages and lush valleys. Cycle across almost car-free roads and stay in remote wilderness on the outskirts of town.
Where to stay in Sóller:
– In the heart of Sóller, Ca'n Abril offers couples and families an authentic stay.
– For a bit more space to spread out after a day of cycling, this 2 bedroom house with pool fits the bill!
---
Best area to stay in Mallorca, Spain
From the lush, remote interior to vibrant beach resorts and secluded pockets of peace, it's easy to choose areas of Mallorca to perfectly suit your holiday style. Consider what you love to do best and settle in at hotels, villas and resorts to suit every budget. Regardless of where you choose to base yourself, it's easy to get around and explore the rest of the island.
PALMA DE MALLORCA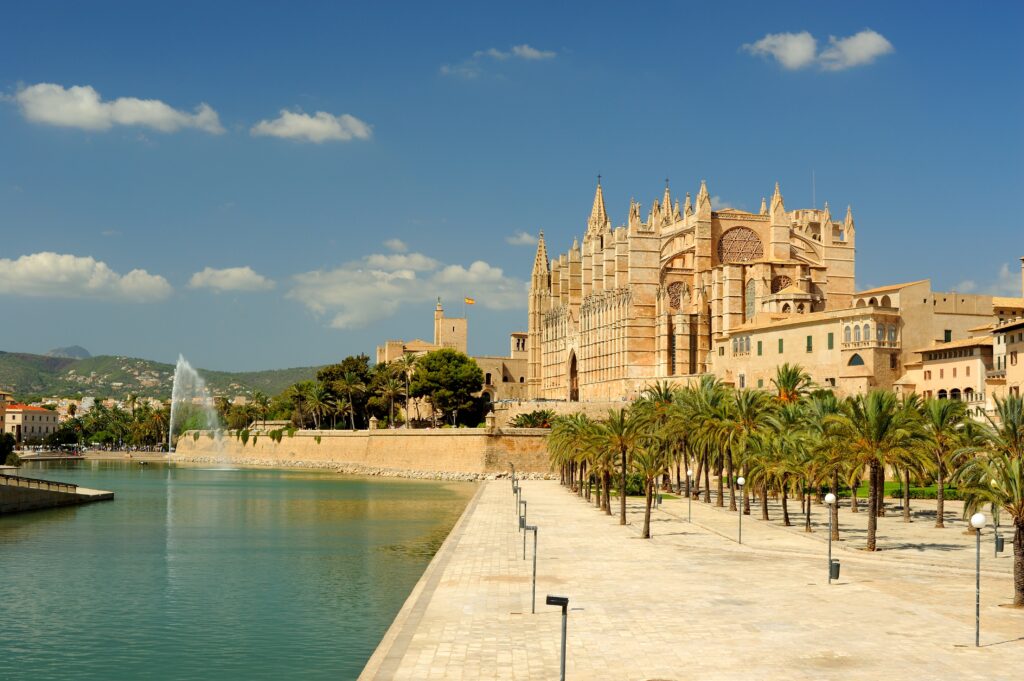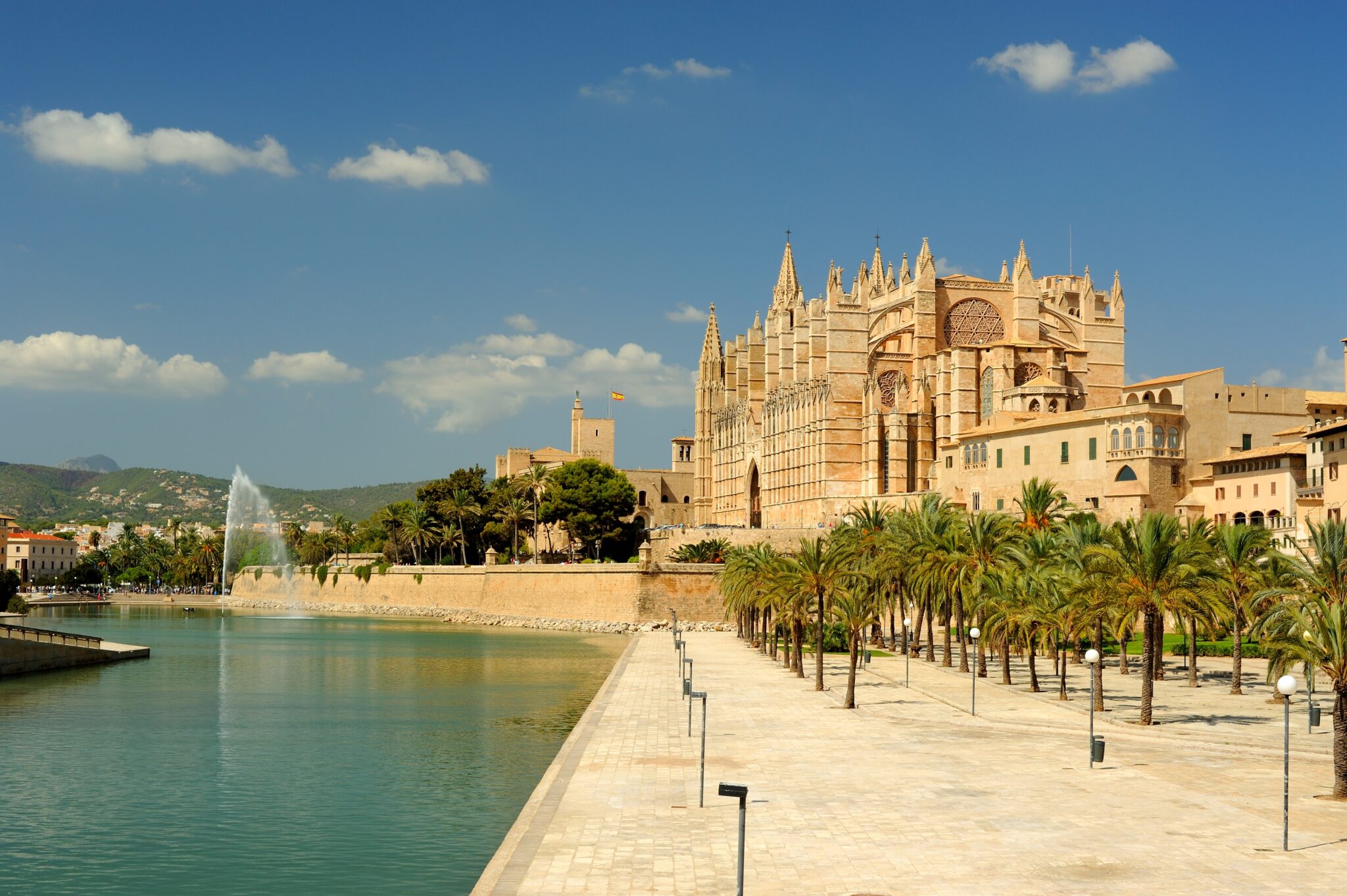 As the capital of the Balearic Islands, your options for places to stay in Palma de Mallorca are wide open. It's home to the island's airport, so a quick 20-minute drive will see you happily ensconced at your accommodation. Choose from diverse neighbourhoods like the historic Old Town, trendy Santa Catalina or the golden stretches of sand at Playa de Palma.
No matter which neighbourhood you pick, the best places to stay in Palma are within a hop, skip and a jump of promenades, museums, boutiques, art galleries, cafes and nightclubs. In the heart of the city, use the incredible Gothic Cathedral as a guide to get happily lost among medieval streets, bustling squares and colourful markets.
Best Hotels in Palma de Mallorca:
– Hotel Cort for an authentic stay in the heart of the old town.
– Nakar Hotel for modern luxuries and a sublime rooftop pool.
– Es Princep for sea views and an upmarket beach vibe.
– Hotel Bosch Boutique for spacious suites (including family rooms) in a central location.
Best Vacation Rentals in Palma de Mallorca:
– This spacious & beautifully decorated 1 bedroom apartment in the old town.
– This 3 bedroom house that's perfect for families or groups.
– This 2 bedroom apartment with incredible views and a spacious terrace.
---
BAY OF PALMA
You'll get glimpses of the sparkling Bay of Palma from the labyrinth of lanes in the Old Town. Along its shores, the coastline shines with flashy yachts and fabulous beach resorts.
Hire a bike or stroll along the Paseo Maritimo for a full exploration. No matter where you choose to stay in the area, you'll find everything you need for couples, families, groups of friends or solo travellers.
CALA MAJOR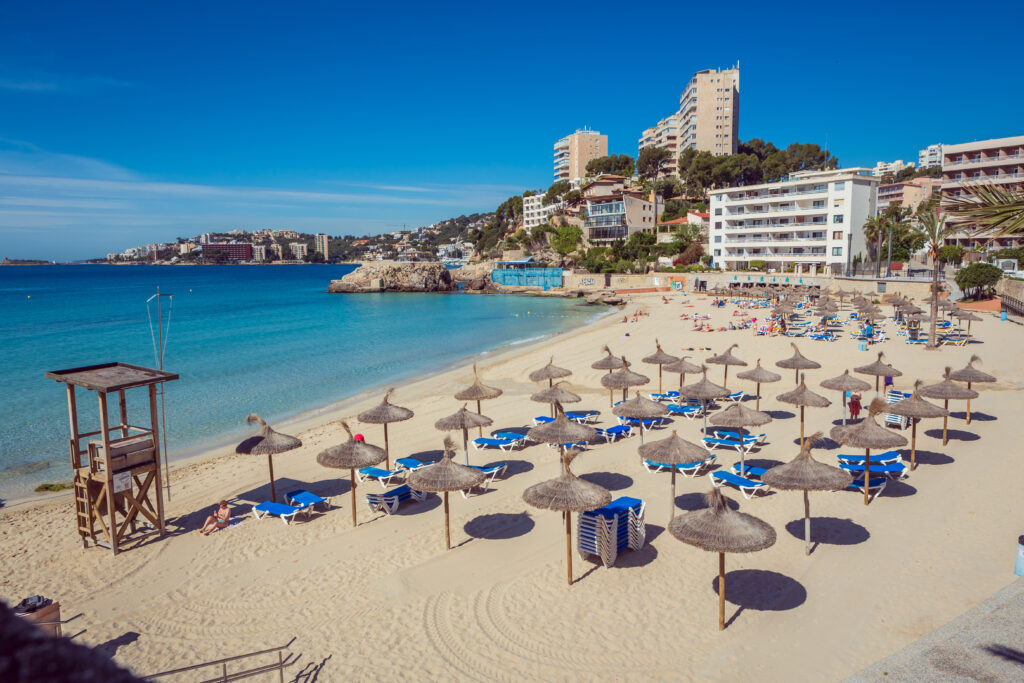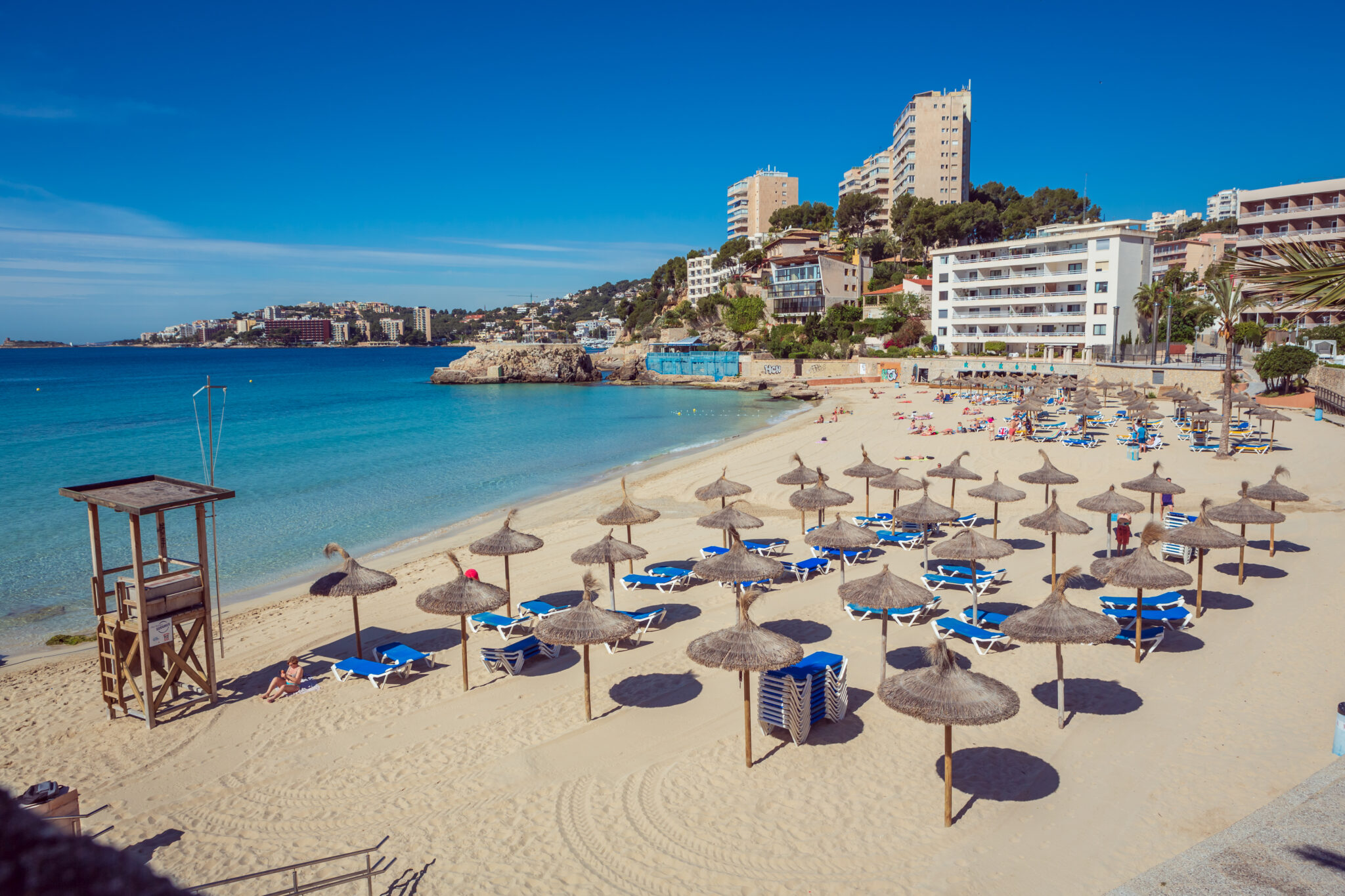 One of the island's oldest holiday resorts, Cala Major is a family favourite that's in the perfect spot for quick history trips into the city. However, with beach clubs, bars and shops aplenty, you only need to walk a few steps off the sand to find what you need.
Along with endless hours of fun in the sun and sea, Cala Major hosts the summer holiday home of the Spanish royal family, Marivent Palace, and the Joan Miro Museum.
Best Places to Stay in Cala Major:
– Nixe Palace for outstanding sea views and modern amenities.
– Eurostars Marivent for family rooms and friendly service.
– This bright 1 bedroom apartment with large terrace.
– This 2 bedroom bungalow with pool, and stunning view.
SES ILLETES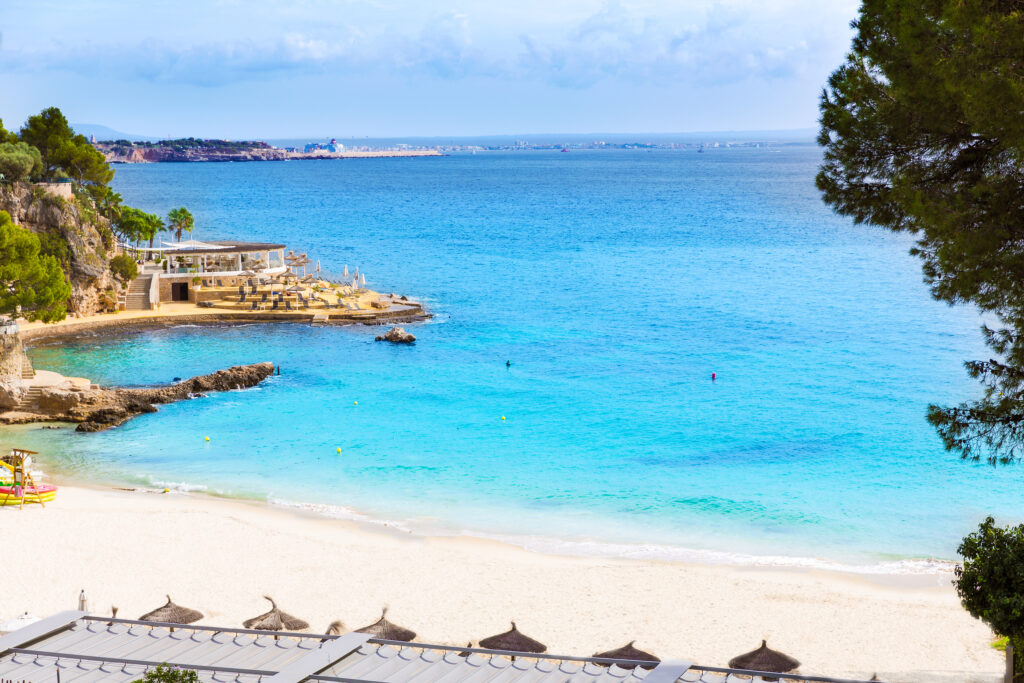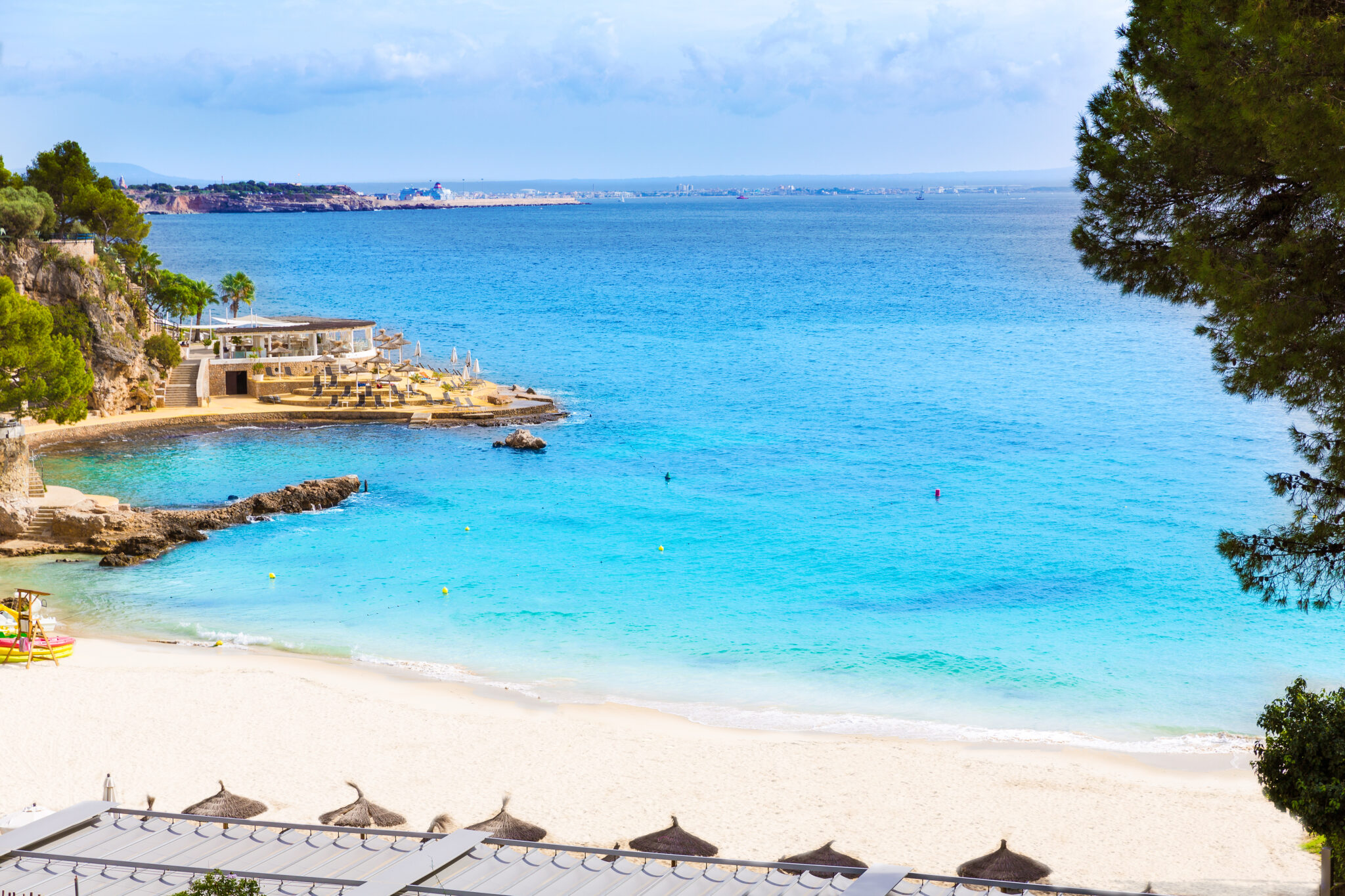 This sophisticated resort allows you to splurge on the finer things in life. Along with incredibly clear blue water, the main beach of Playa de Illetes features high-end restaurants for delectable dining with a view.
Splash in the shallow waters of Cala Xinxell and sip cocktails from a bar at Cala Comtessa. Ses Illetes is a romantic choice for honeymoons and it's perfect if you'd like to spoil yourself with a little luxury.
Best Places to Stay in Ses Illetes:
– Hotel de Mar Gran Meliá for an adults-only stay with direct beach access and several pool areas.
– Roc Illetas for an affordable stay with a sea view terrace (family rooms available).
– This 5 bedroom house with pool and spacious interior.
– This beautiful 2 bedroom apartment with views and pool access.

PORTALS NOUS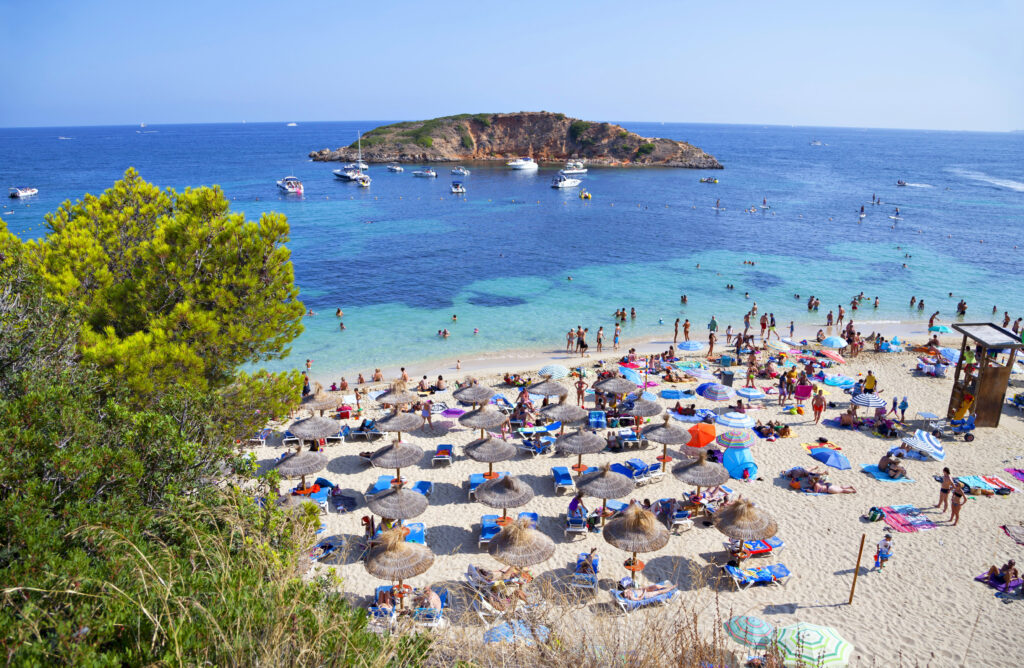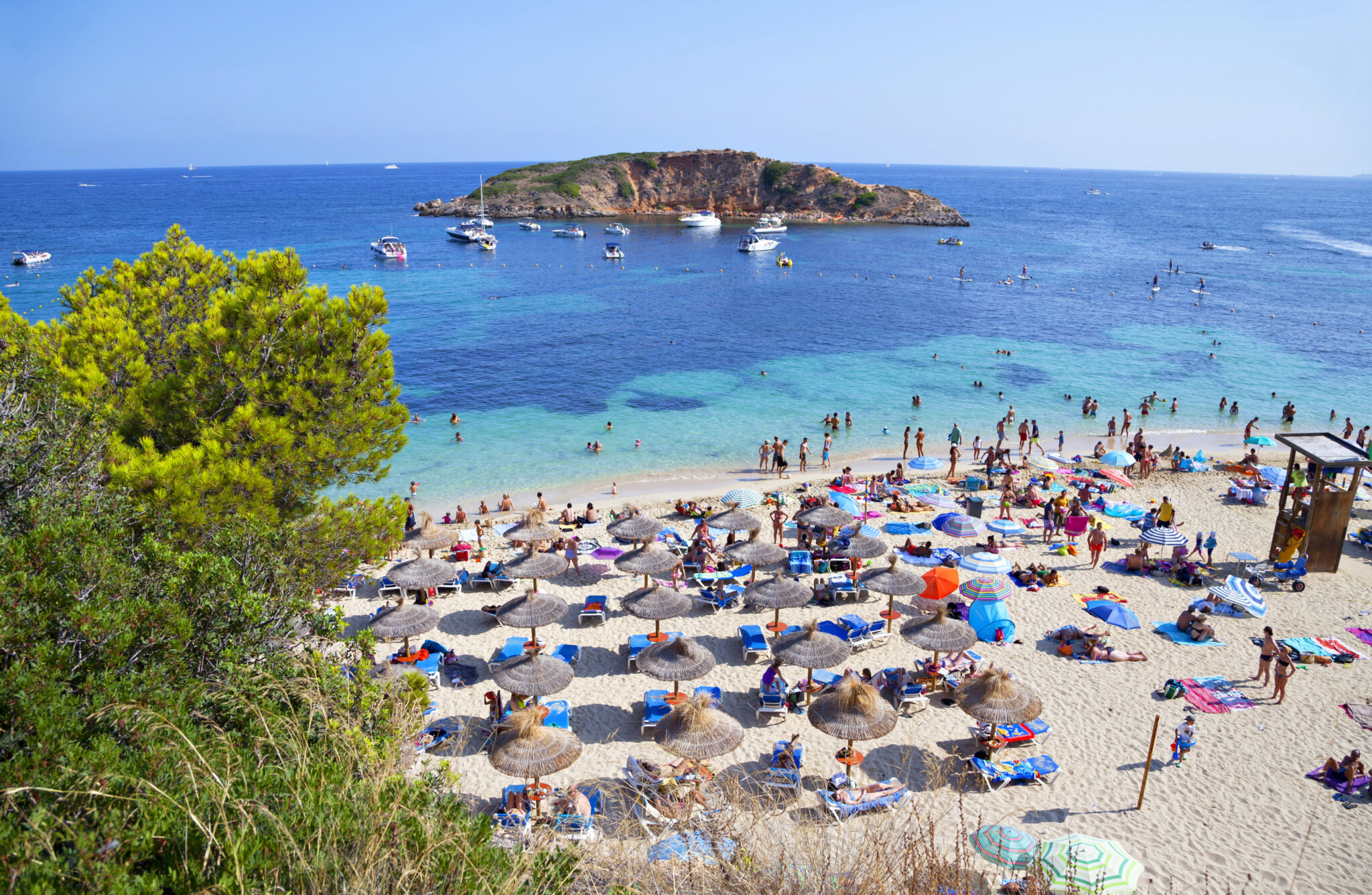 A residential vibe surrounds the lovely beachside town of Portals Nous. If you love golf, you'll find courses nearby and the main street offers boutiques, a supermarket and restaurants.
Spend your time lazing on the beaches of Cala Portals Nous and Cala Bendinat, before strolling to the glitzy marina to dine on a backdrop of mega yachts.
Best Places to Stay in Portals Nous:
– The St. Regis Mardavall Mallorca Resort for unabashed luxury in an exquisite setting.
– Tacande Portals for a more affordable stay without sacrificing on comfort.
– This 2 bedroom sea view apartment with terrace.
– This large 3 bedroom villa with pool.
PALMA NOVA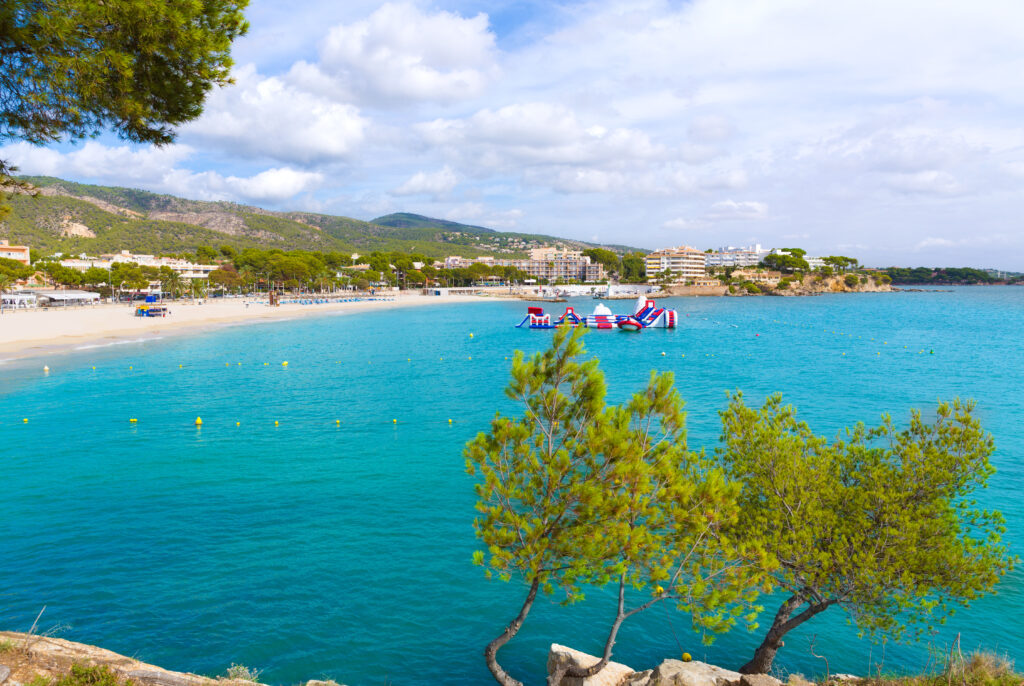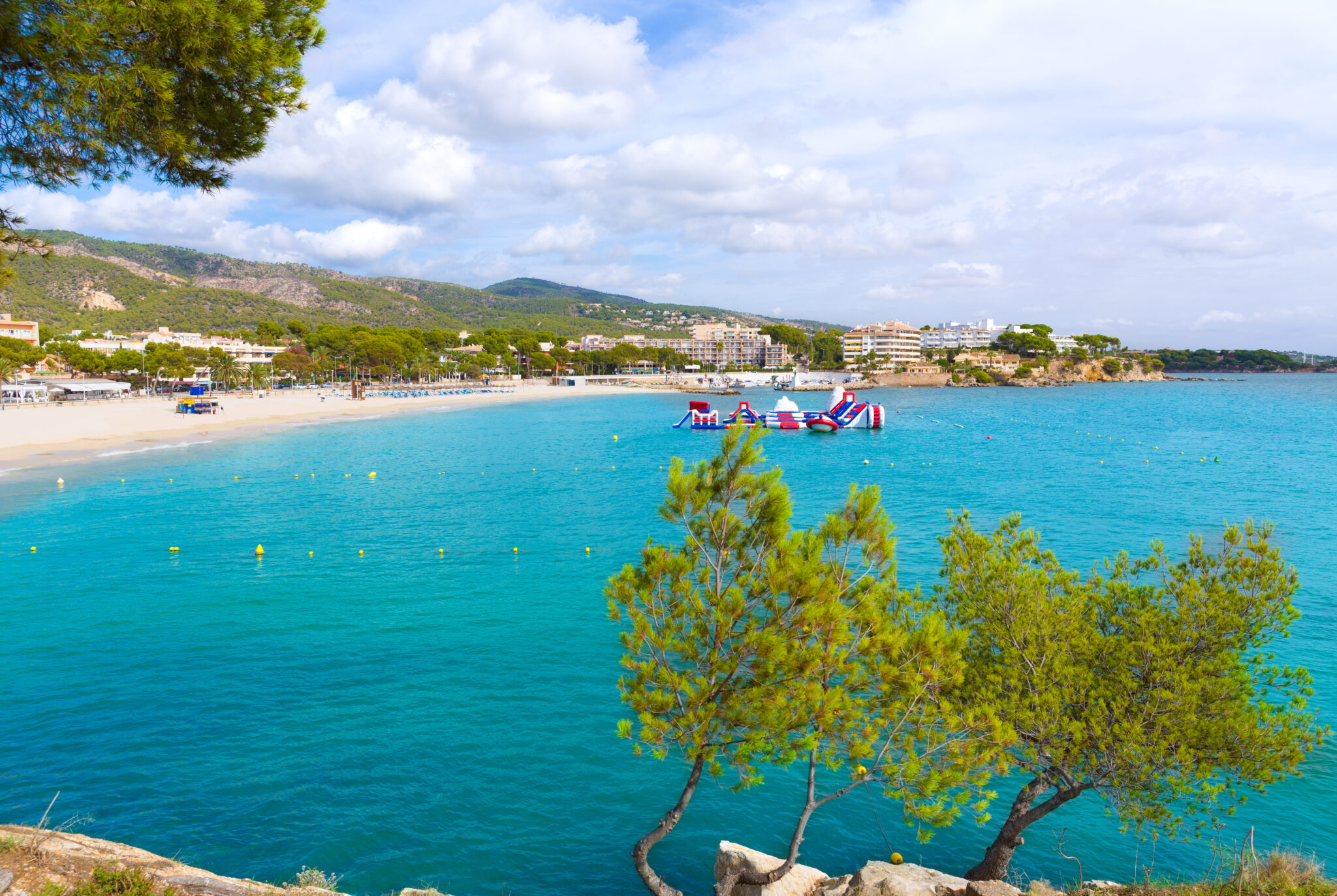 The three beautiful beaches of Son Matias, Na Nadala and Es Carregador greet you in the seaside resort of Palma Nova, making it one of the best towns to stay in Mallorca.
This family-friendly destination offers an energetic promenade, water sports, boat trips, water parks and golf. The relaxed vibe at night includes charming restaurants and bars in the town centre, so there's a little bit of something for every age group.
Best Places to Stay in Palma Nova:
– Aparthotel Ponent Mar for the conveniences of apartment living with the luxuries of a 4-star hotel.
– Fergus Style Palmanova for an adults-only retreat right on the beachfront.
– This modern 1 bedroom apartment with sea view.
– This expansive 5 bedroom property with pool.

MAGALUF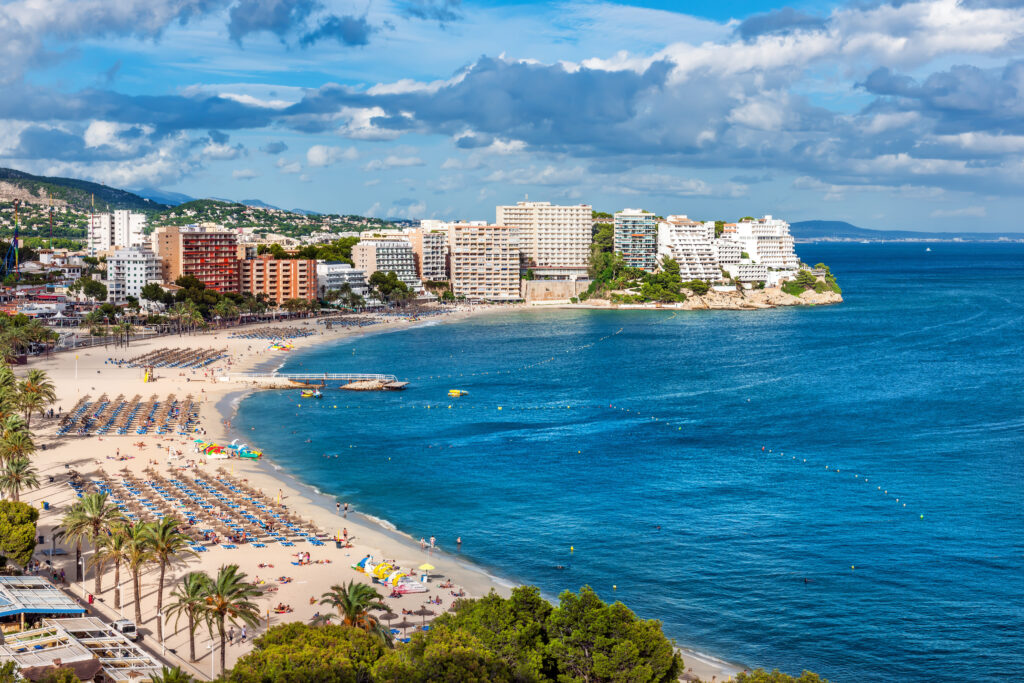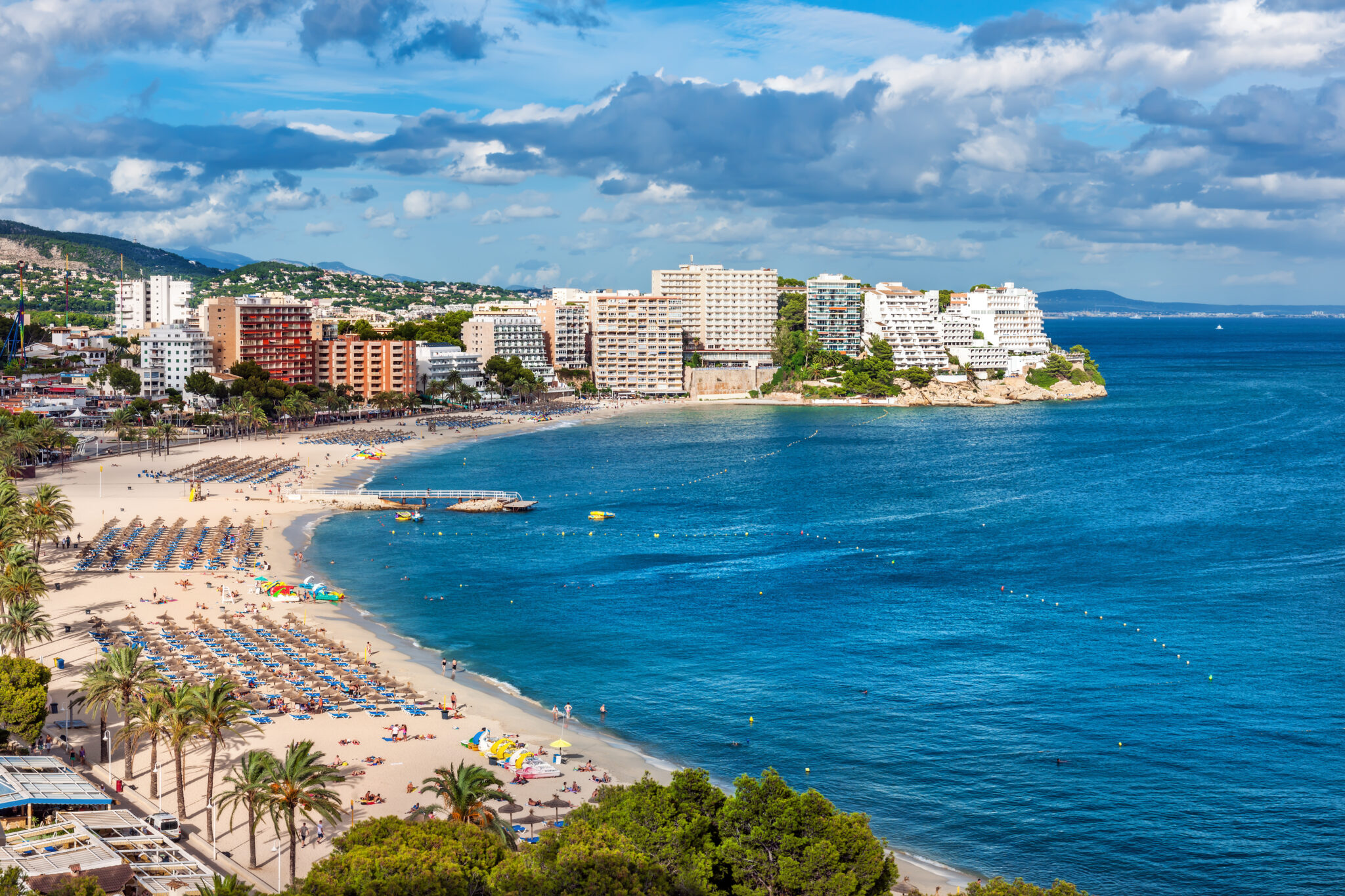 Magaluf is a fantastic base for short breaks in Mallorca, especially if you're a night owl who loves to hit the dance floor. You can walk between here and Palma Nova, for the best of both worlds.
Fun beach clubs dot the golden sands and pool parties rage day and night. There are plenty of attractions for families too, such as the House of Katmandu, banana boat rides and go-karting.
Best Places to Stay in Magaluf:
– Hotel Meliá Calviá Beach for sumptuous sea view rooms, beachfront location and stunning pool area.
– Bahia Principle Sunlight Coral Playa for the best views and beachy vibes.
– This 2 bedroom beachfront apartment within a resort complex.
– This 5 bedroom villa with pool and games room.
---
SOUTH-EAST MALLORCA
For some of the best quiet resorts in Mallorca, head to the pristine south-east. It's world's away from the tourist hubs and authenticity is found in fishing villages and local festivals.
COLÒNIA DE SANT JORDI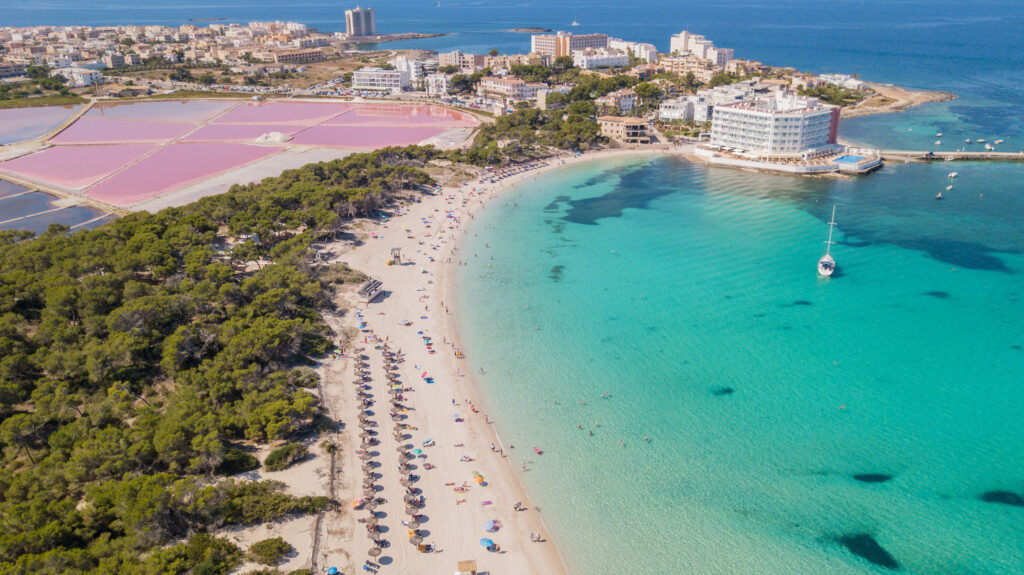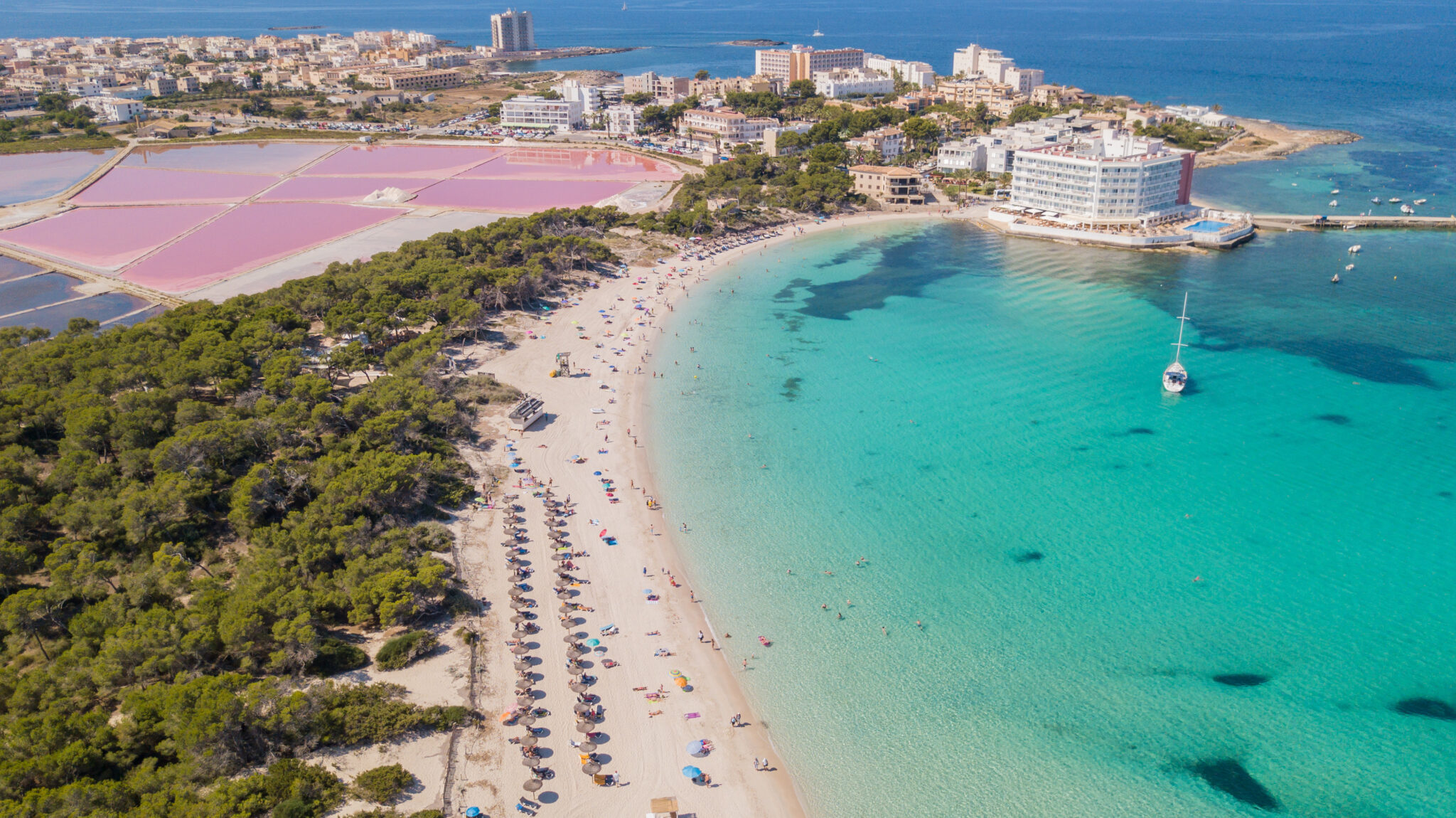 Colònia de Sant Jordi is near the impossibly pretty and unspoiled Es Trenc beach. A charming old fishing harbour joins a restaurant-lined promenade and the town's beach, Platja d'Es Port. Within a short walk of town, you'll find the crystalline waters of Es Carbo beach.
This is a great base for exploring the Ses Salines d'es Trenc (salt mine) and the islands of the National Maritime Park of Cabrera.
Best Places to Stay in Colònia de Sant Jordi:
– Hotel Villa Chiquita offers a fully inclusive stay on the beachfront, in elegant style.
– Hotel Honucai offers a slightly more low-key, but still stylish stay in front of the port.
– This deluxe 3 bedroom apartment next to the beach.
– This amazing 2 bedroom house with large garden and pool area.
TORRENT DE CALA PI / SA RÀPITA / VALLGORNERA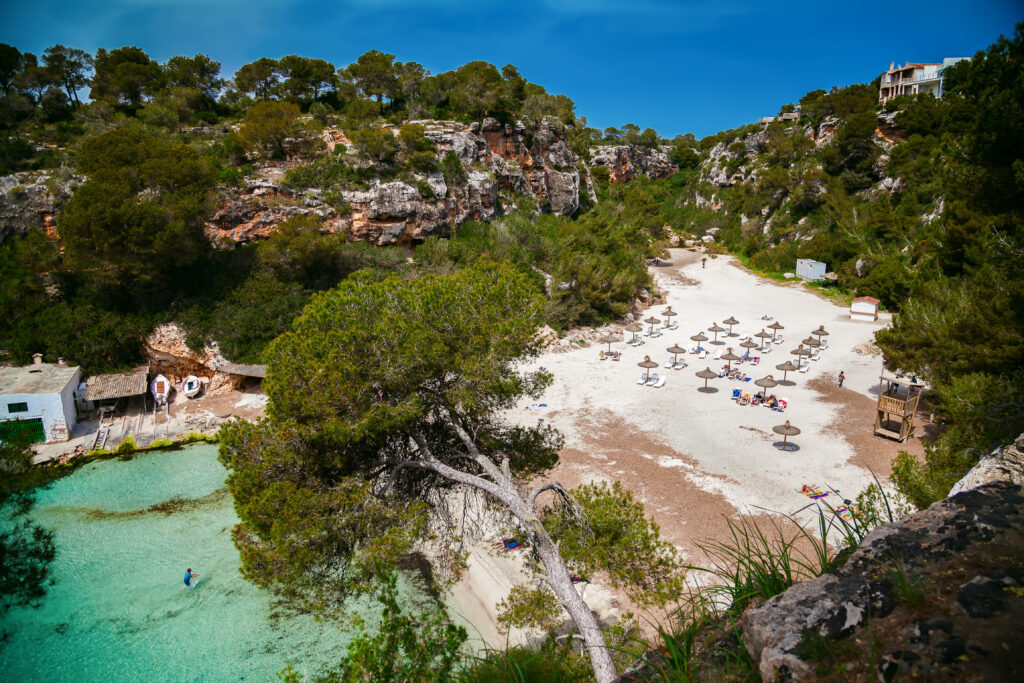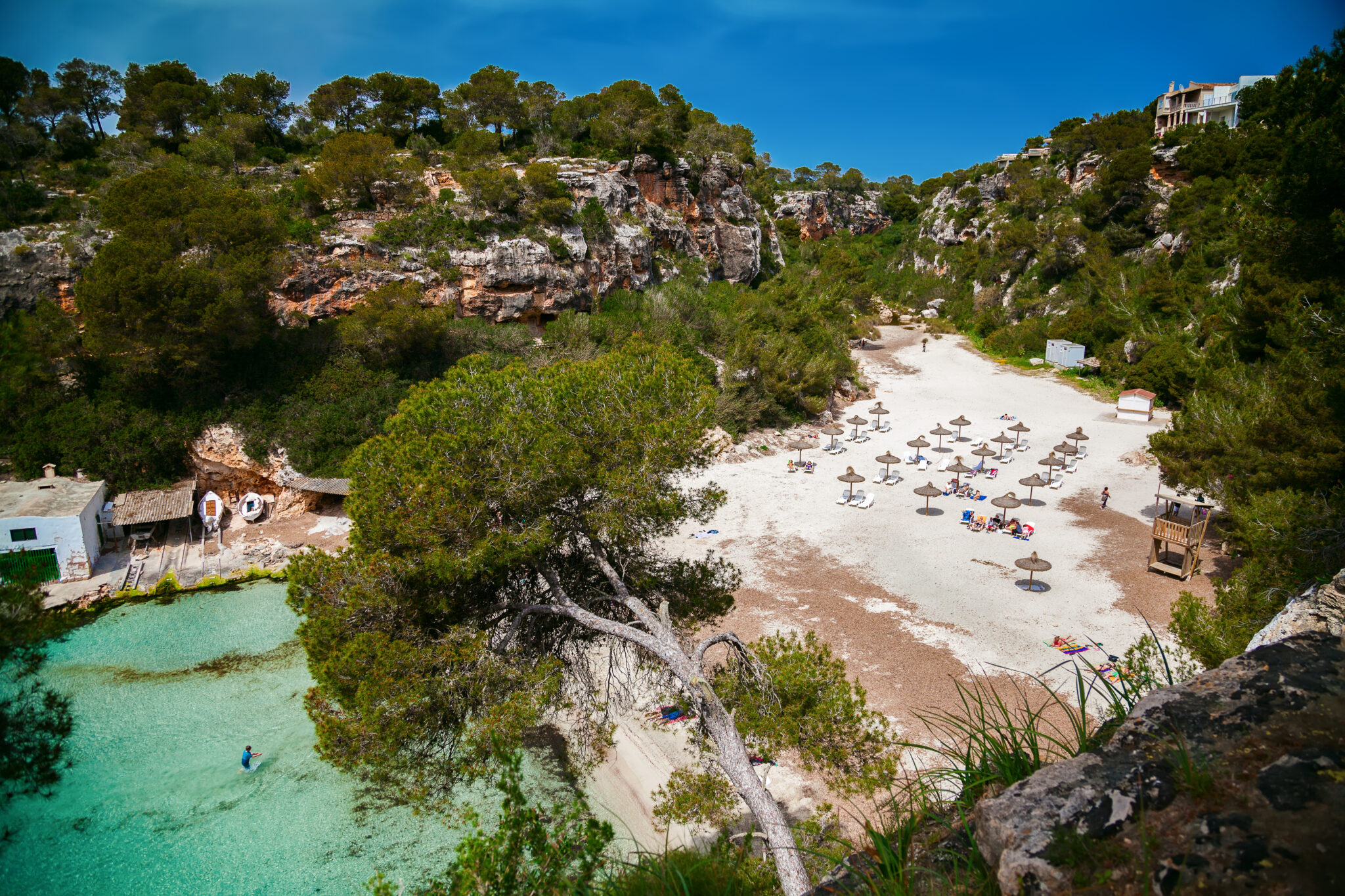 With a history as a stronghold against pirates, Sa Ràpita is an intriguing destination for quiet holidays in Mallorca. It's likely you'll have a lot of space to yourself as you walk along the beautiful coastline, as its much less frequented by visitors to the island.
Nearby, you'll find the residential areas of Vallgornera and Cala Pi, with romantic villas, chilled out restaurants, and the stunning Playa de Cala Pi to enjoy in peace.
Best Places to Stay near Cala Pi & Sa Ràpita:
– The Aparthotel Ona Cala Pi Club is located right by the Cala Pi beach, so you can enjoy sunset strolls after dinner.
– Located inland, the Finca Es Llobets offers an authentic stay in a countryside setting.
– This 2 bedroom apartment with a terrace directly overlooking the beach at Cala Pi.
– Larger groups will enjoy this large and bright 3 bedroom villa with an infinity pool and spectacular views.
---
EAST MALLORCA
Rocky walls hide secluded coves splashed by turquoise seas, and medieval towns bless the land in east Mallorca. You'll find both tourist hubs and wild stretches of nature here, along with some of the island's most spectacular beaches.
CAPDEPERA & COASTAL SURROUNDS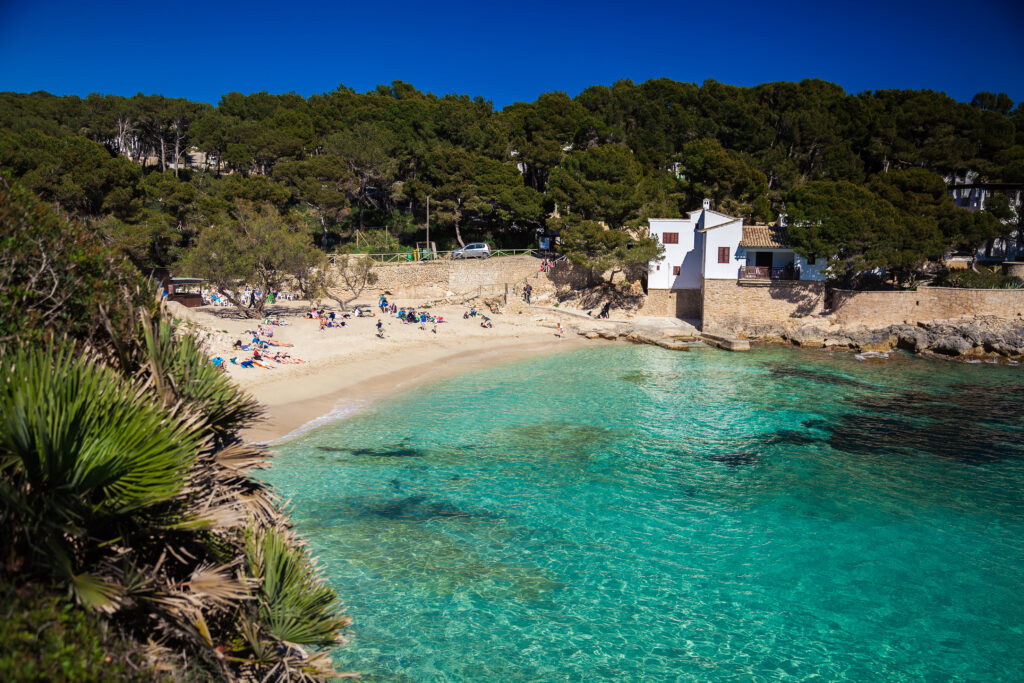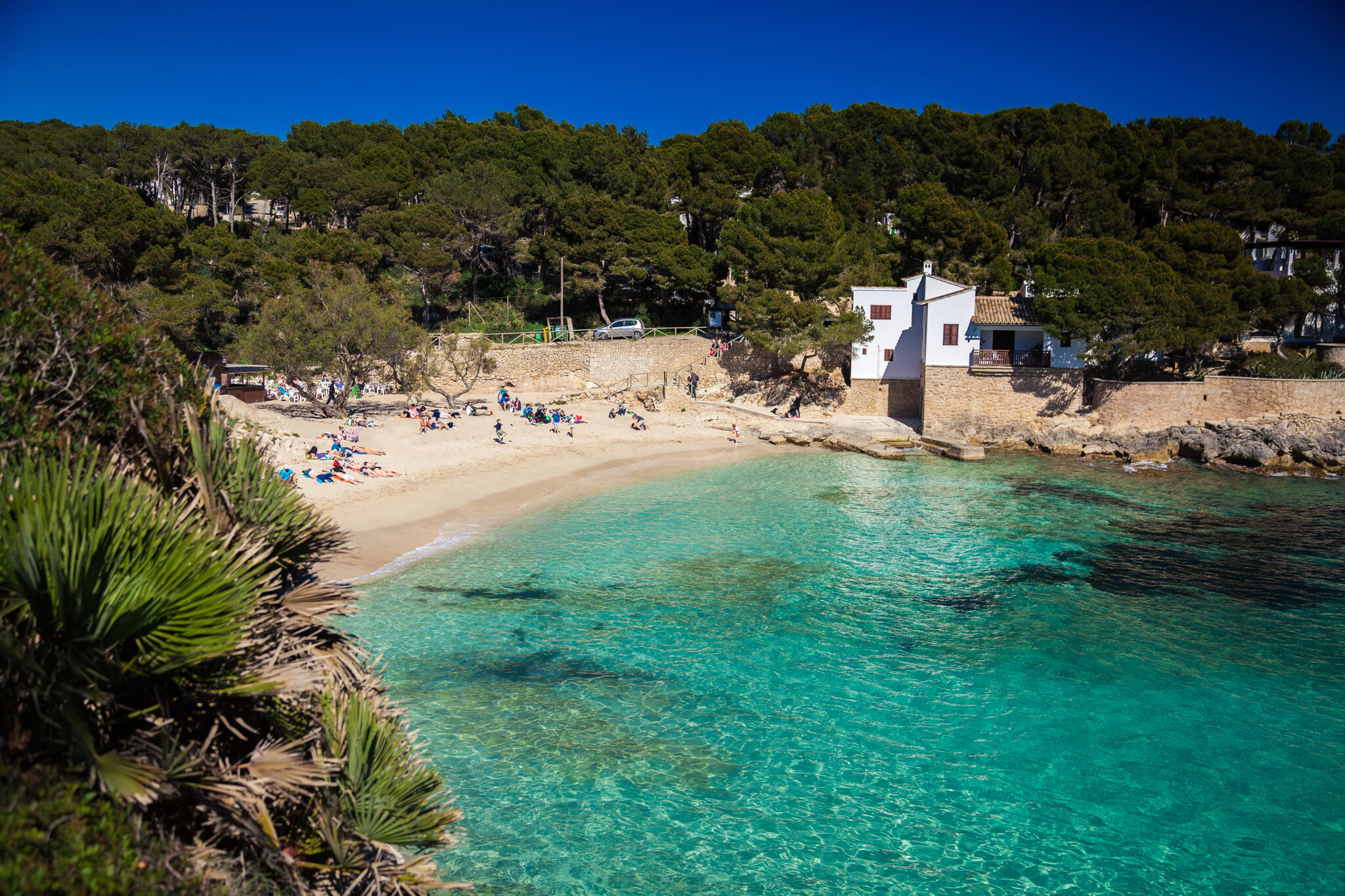 History lovers are in for a treat in Capdepera. The atmospheric village is home to a 14th-century castle, and the Medieval Market takes you back in time. It's the perfect setting for a more authentic experience of Mallorca.
In the old town, narrow streets meander among historic manor houses. When it's time to hit the water, gorgeous coastal scenes await nearby. Choose from Cala Mesquida, Cala Agulla and Cala Gat to experience the finest beaches in the area.
Best Places to Stay in Capdepera:
– Hotel Creu de Tau Art & Spa is a luxury stay in the old town. Relax poolside with a view of the castle.
– The exquisite Predi Son Jaumell Hotel Rural is a countryside estate with a luxury feel. Clean lines perfectly complement the rustic touches.
– This beautiful 1 bedroom loft with terrace in the old town.
– This renovated 3 bedroom villa just 30m from the sea.

SON SERVERA & COASTAL SURROUNDS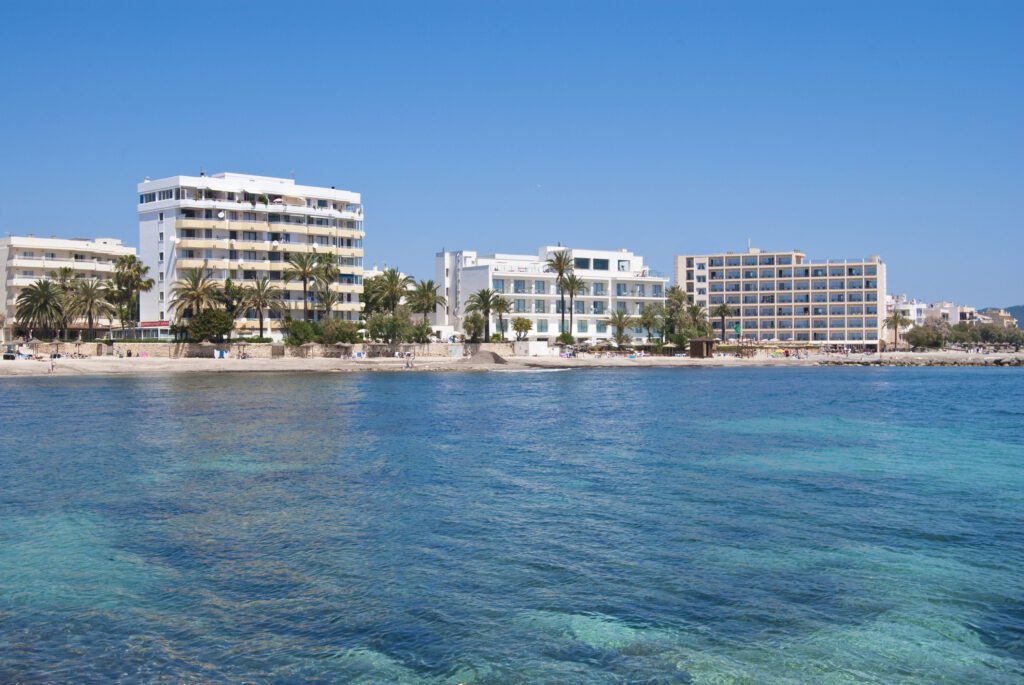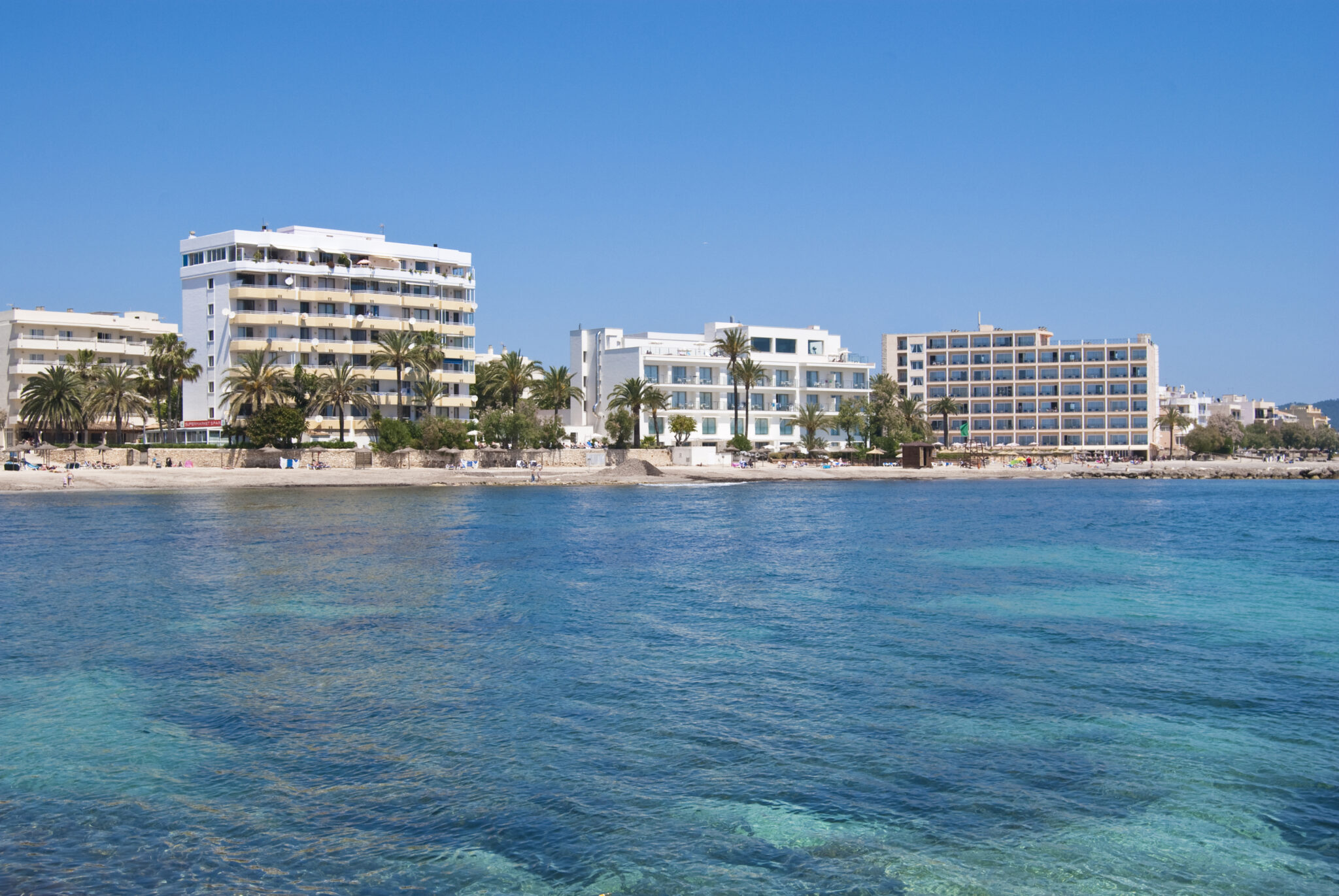 If your ideal activities in Mallorca include golf, strolls around an enchanting village and trips to the sea, Son Servera makes a perfect base. The sleepy town boasts panoramic hillside views, an open-air, Neo-Gothic church and local festivals throughout the year.
Close by, you'll find the beach resorts of Cala Bona and Cala Millor, along with natural and historical wonders at Sa Punta de n'Amer.
Best Places to Stay in Son Servera and nearby:
– The Son Gener Hotel Spa is set in an 18th-century farmhouse and offers a spa & wellness centre among other luxuries.
– Hipotels Bahia Cala Millor offers 4-star accommodation on the beach at Cala Millor at an affordable price point.
– You'll adore coming home to this affordable 2 bedroom apartment with terrace in Son Servera after a day of exploring.
– This 3 bedroom house with garden and pool sits halfway between Son Servera and the coast.
PORTO CRISTO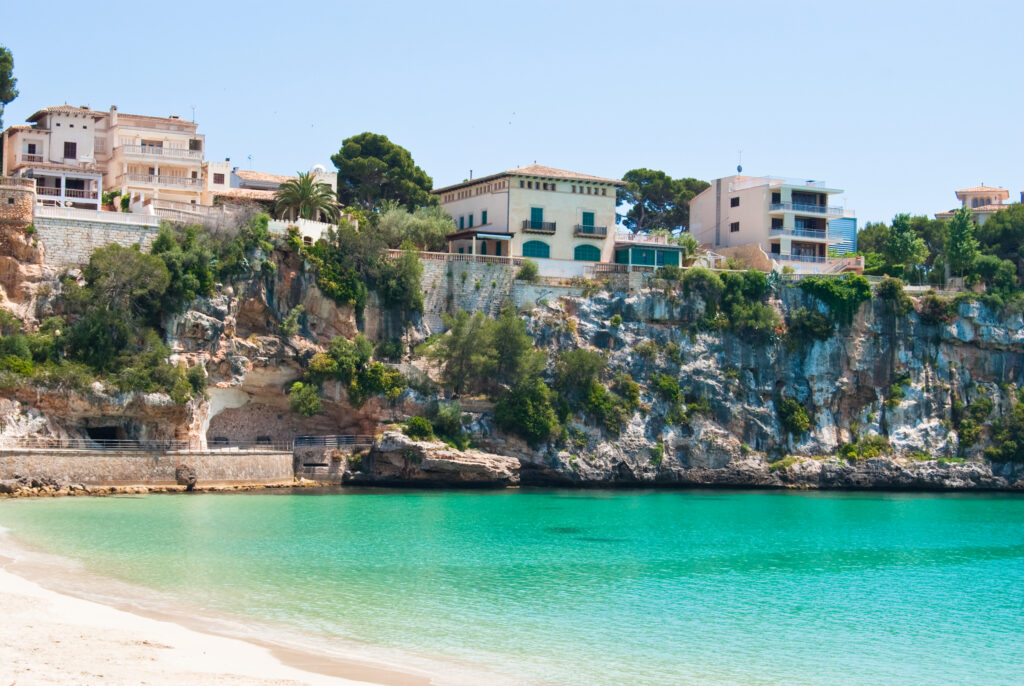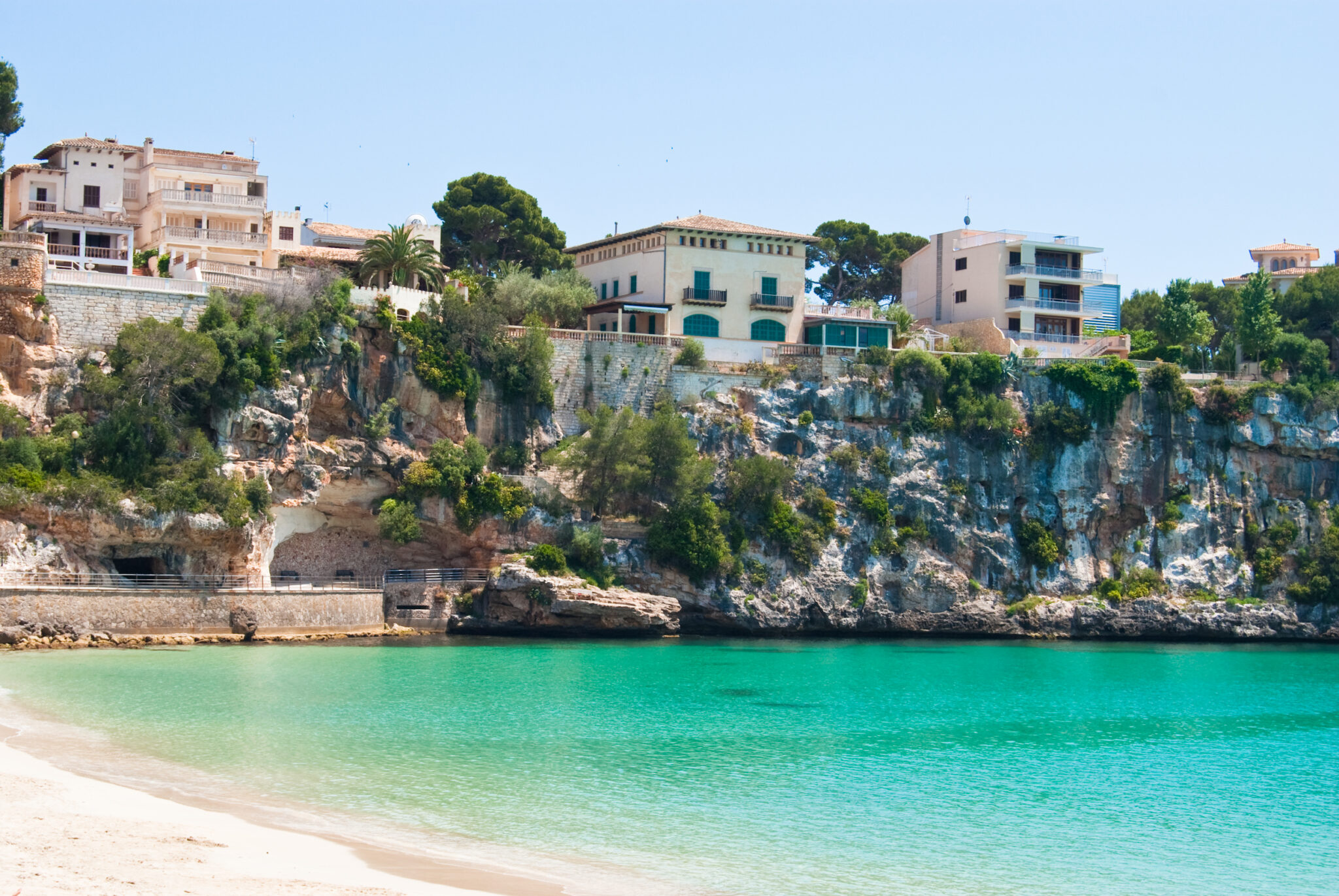 With its bright turquoise water, sheltered bay, ancient stone houses and prehistoric sites, Porto Cristo offers beachside bliss with a dash of history.
The fishing village features the Dragon Caves, which house Lake Martel, and the ancient watchtower of Torre des Falcons. Within a 20-minute drive are the dreamy stretches of sand at Cala Romantica, Cala Varques and Cala Murada.
Where to Stay in Porto Cristo:
– The stunning Hotel Rural Son Mas is housed in a 17th-century building that has been lovingly renovated to provide stylish accommodation in Mallorca, while staying true to its heritage.
– The adults-only Sol i Vida Hotel has a more contemporary feel, and a lavish outdoor pool area.
– Enjoy the loveliest pool in Mallorca when you stay in this 3-bedroom finca in Porto Cristo. You'll also love the attention to detail and bohemian style.
– This spacious 3 bedroom penthouse apartment on the seafront is sure to impress even the discerning of guests.
CALES DE MALLORCA / CALA TROPICANA / CALA MURADA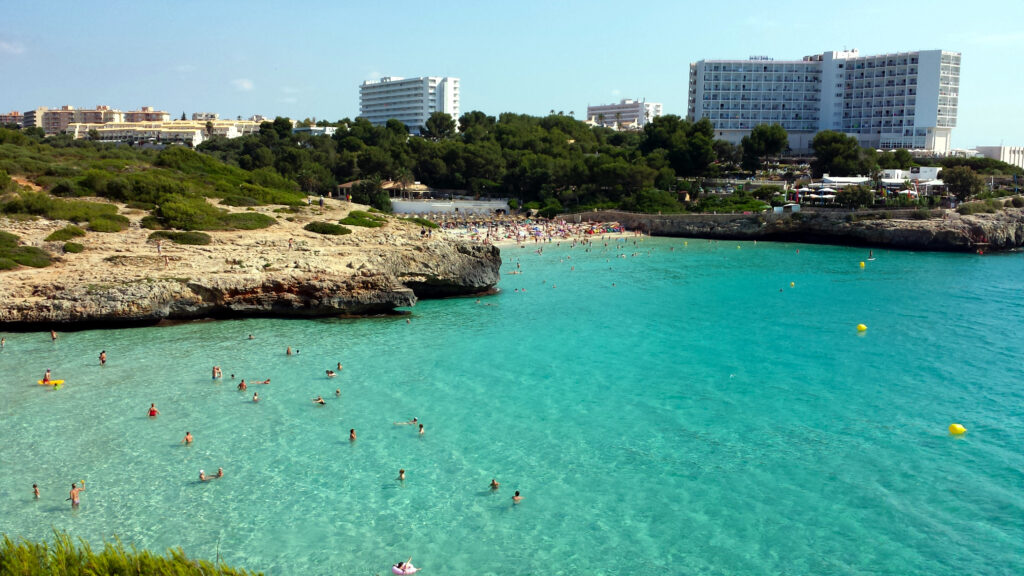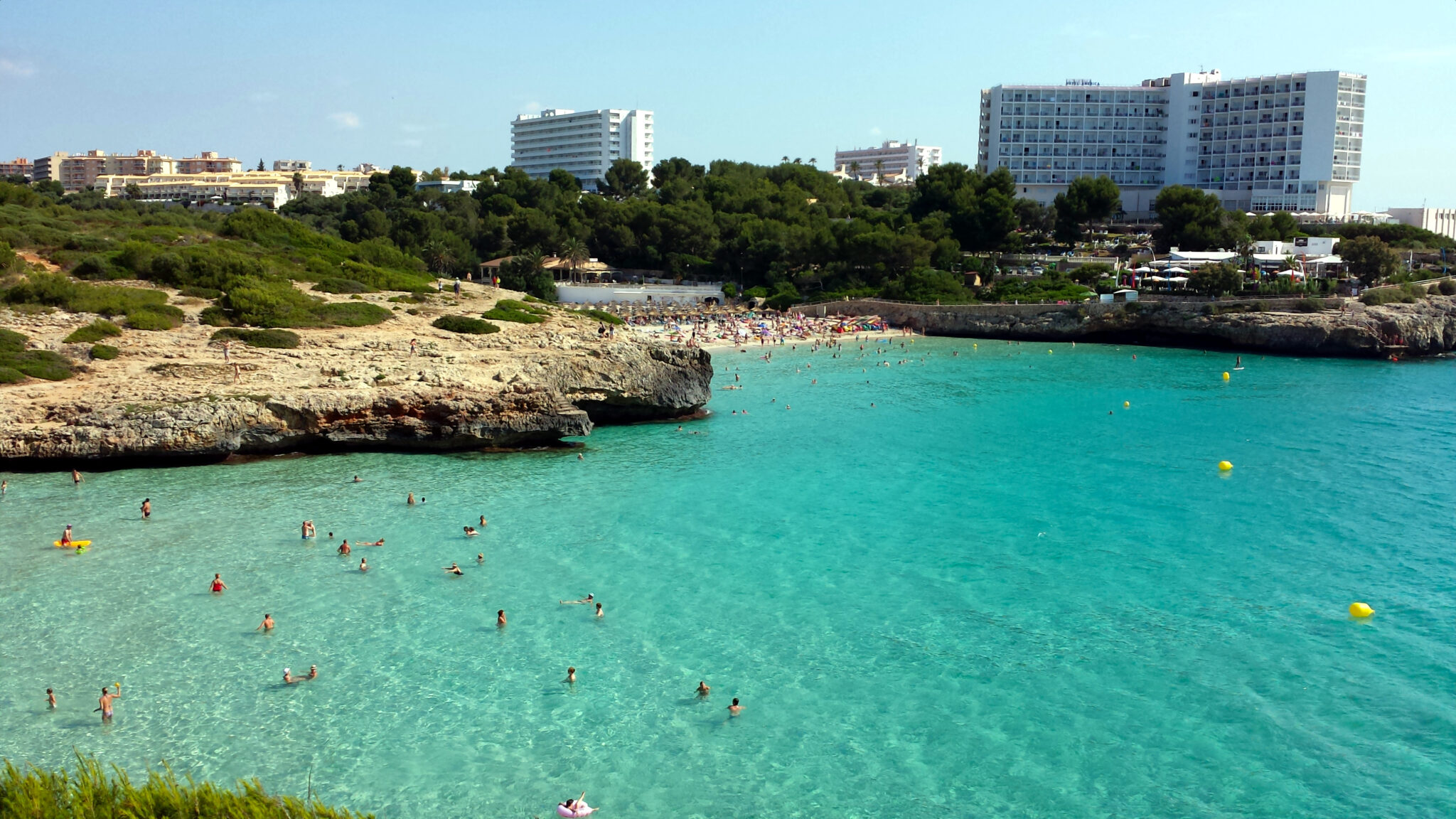 For beach hotels in Mallorca, these resorts deliver the paradise vibe you're looking for. The family-friendly beach at Cales de Mallorca, Cala Domingos, is the perfect spot to laze all day on sunbeds and watch the kids as they splash about on the shore.
Swim between Cala Tropicana and Cala Domingo through rock caves and play volleyball on the sand. The local favourite of Cala Murada is a lovely spot for snorkelling in the gentle sea.
Where to Stay in Cales de Mallorca and Surrounds:
– The ICON Valparaiso by Petit Palace offers sea view rooms decorated in earthy tones. Book an escape at this Mallorca hotel and you'll
never want to leave.
– HSM Apartamentos Calas Park is located just 300m from Cala Domingos and offers affordable self-contained accommodation in a seafront setting.
– This 4 bedroom villa with pool is situated away from the crowds, allowing for a tranquil escape.
– This 2 bedroom contemporary villa allows enough space for two couples to comfortably do their own thing. You'll fall in love with the pool and bright modern interior.
PORTOCOLOM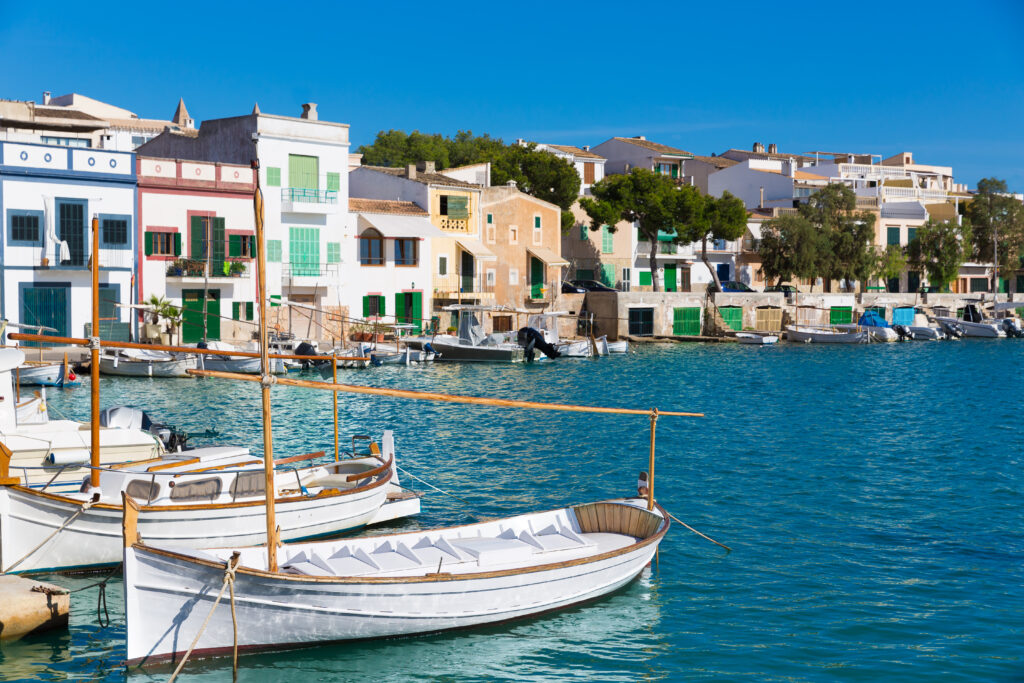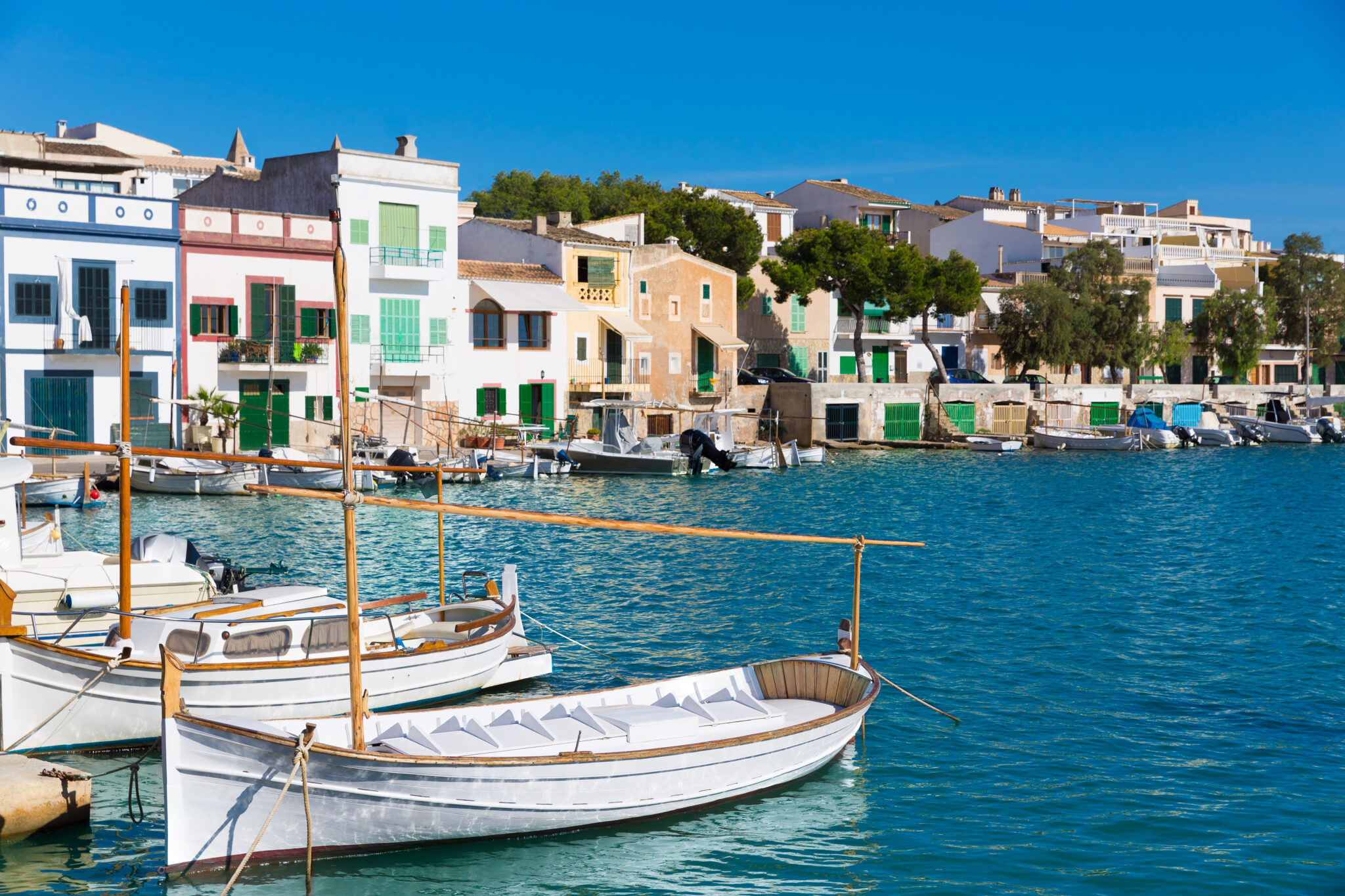 This fishing port sits pretty amid pastel-coloured houses and boats bobbing on the sparkling water. The blue flag beach of Cala Marcal stretches along the south of the town, encased by greenery-covered rocks on either side.
Kayak, dive or snorkel through the caves, and visit the nearby wine region. For history buffs, Portocolom is home to the Naveta, a prehistoric burial site.
Best Places to Stay in Portocolom:
– Agroturisme Ca'n Gaia is a gorgeous property set back from the bustle of the beaches. The interiors are authentic and comfort is ensured.
– The family-friendly Hotel Club Cala Marsal offers everything you need to enjoy your vacation in Mallorca. It's ideal for those who prefer a resort-style stay.
– This 1 bedroom apartment is centrally located so you'll never need to use the car.
– You can't beat the location of this 2 bedroom condo with pool. Situated right on the waterfront, it's just a short walk from the beautiful Cala Marçal.
CALA D'OR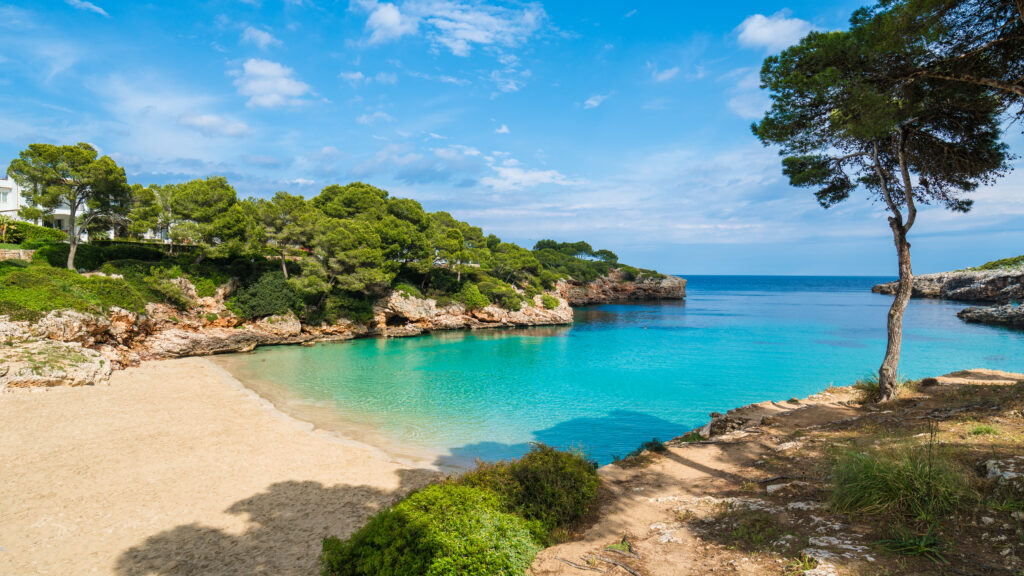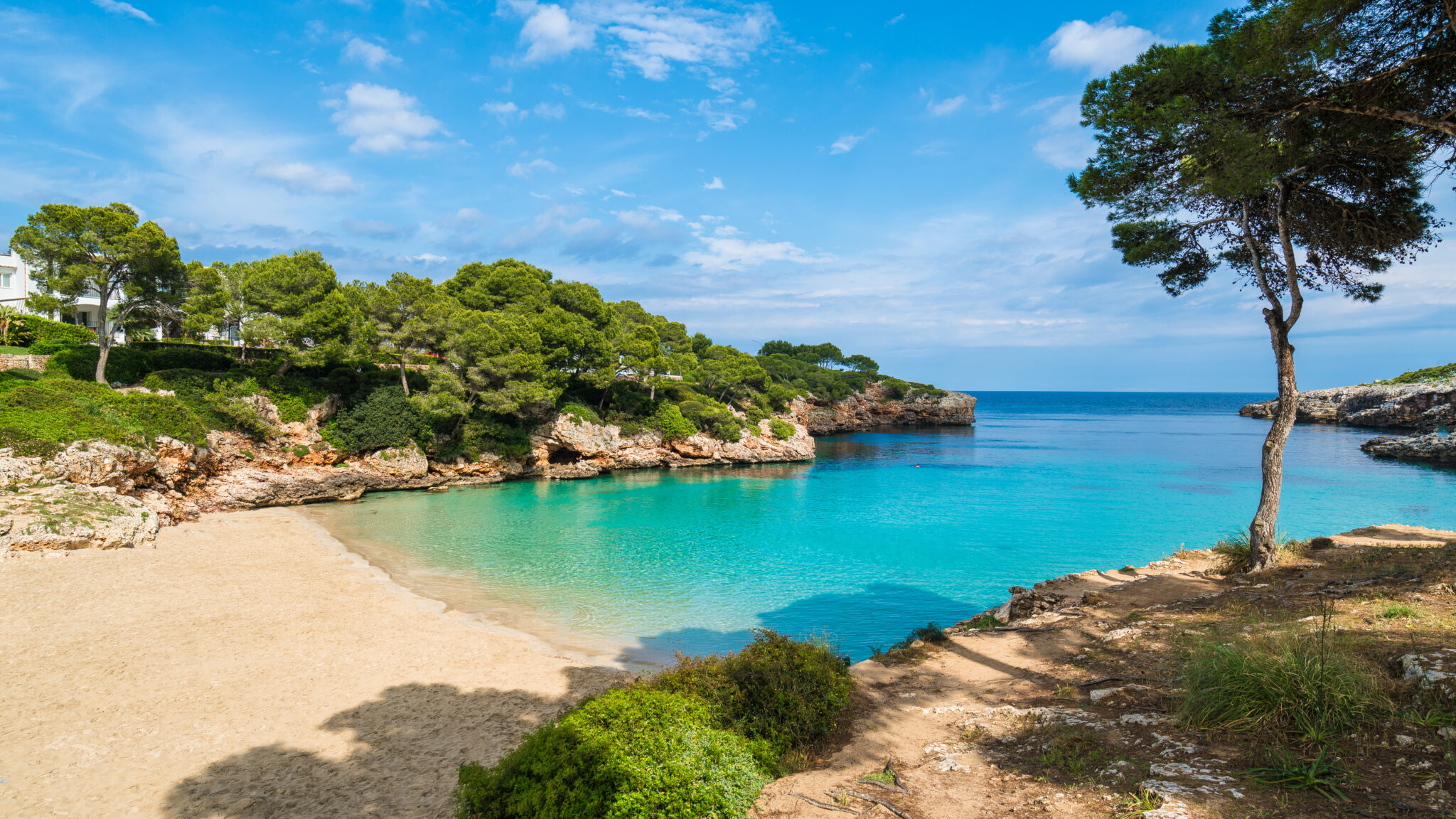 'Golden Bay' is a vibrant, family-friendly resort dotted with the gorgeous coves of Cala Ferrera, Cala Serena, Cala Gran and Cala Esmeralda. A mini train connects the beaches, so it's easy to explore with little ones.
There's not much you can't do here, when it comes to fun in the sun. Sail, dive and sip cocktails at beachfront bars as the sun goes down.
Where to Stay in Cala D'Or:
– Set back just minutes away from the coast, yet with a quiet country feel, the Agroturismo Finca Sa Tanca provides an authentic stay.
– The AluaSoul Mallorca Resort directly overlooks the gorgeous cove of Cala De Egos, meaning you're only steps away from the sand.
– This amazing 2 bedroom bungalow has direct access to the beach of Cala Gran and a large outdoor dining area that overlooks the beach.
– This large beachfront 5 bedroom villa with pool has enough room for two or three families to holiday together!
PORTOPETRO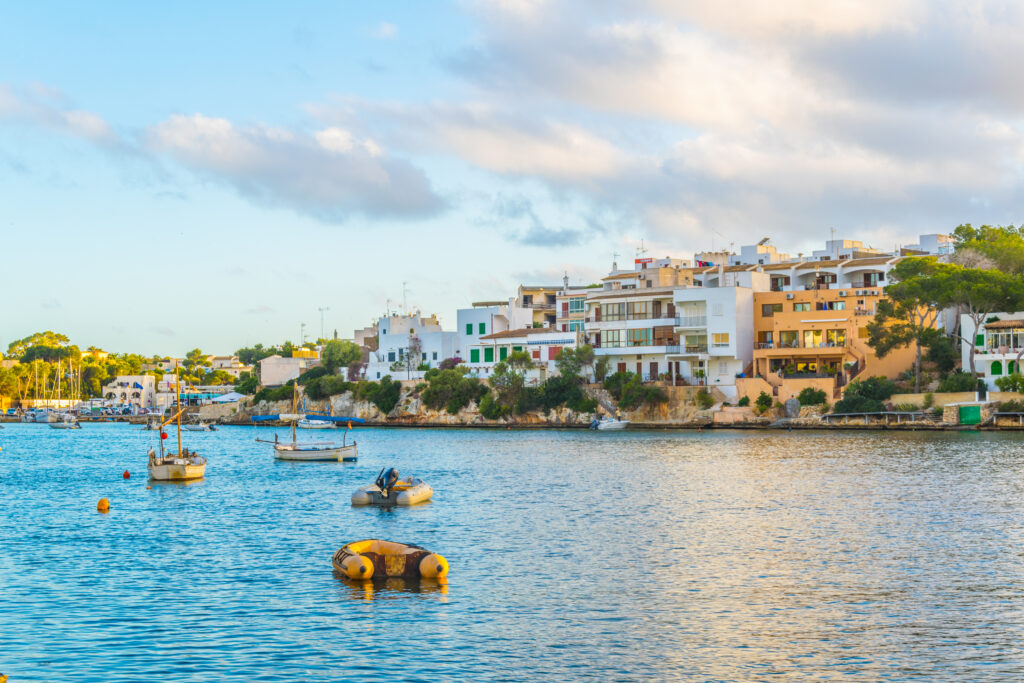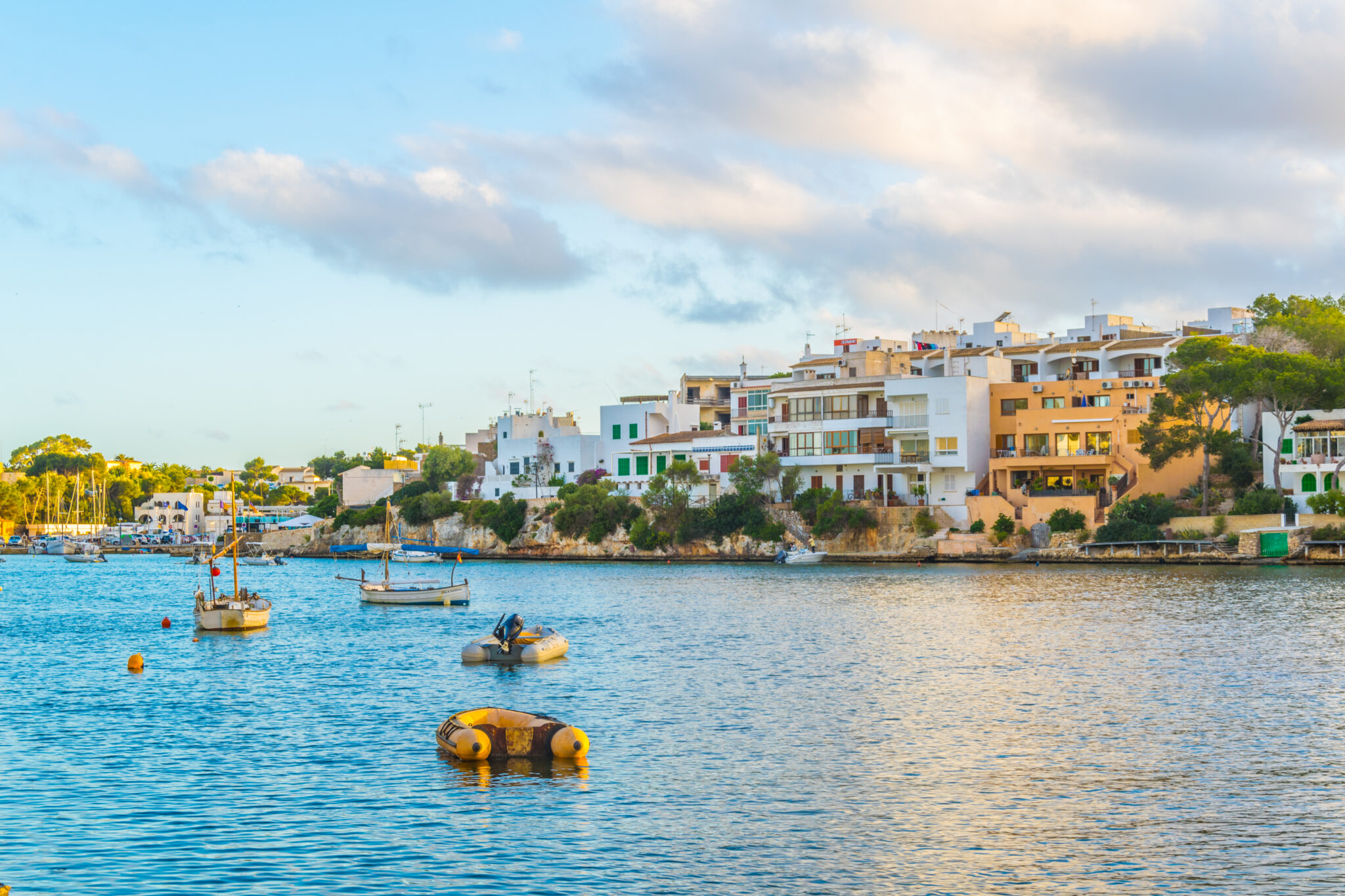 Located in the district of Santanyí, this traditional village is one of the best spots in Mallorca to escape the busy summer beach crowds, while still staying near the beach. Hikers will love the pine forests and dunes of Cala Mondrago Natural Park, which is within walking distance of the town.
There are two small coves just on the edge of the village, and it's just a hop, skip and a jump to some of the most beautiful beaches in Mallorca, such as S'Amarador Beach and Cala Mondrago.
Best Places to Stay in PortoPetro:
– Blau PortoPetro Beach Resort overlooks the Caló dets Homes Morts beach and benefits from uninterrupted views over the sea. Stay here for the full resort experience.
– Located within the Mondrago National Park, Hotel Playa Mondrago offers a more budget-friendly stay without compromising on location or service.
– This two bedroom seafront penthouse benefits from harbour views and a prime location to appreciate the village life.
– This stunning 3 bedroom house with pool is the ideal place to enjoy island life, while benefitting from home comforts.
CALA FIGUERA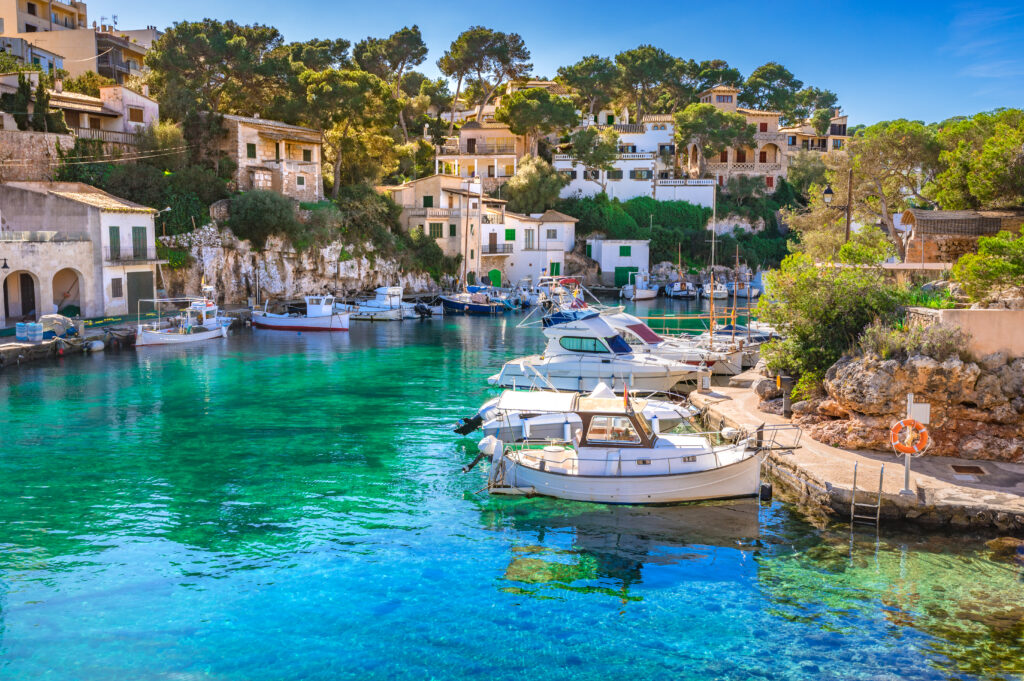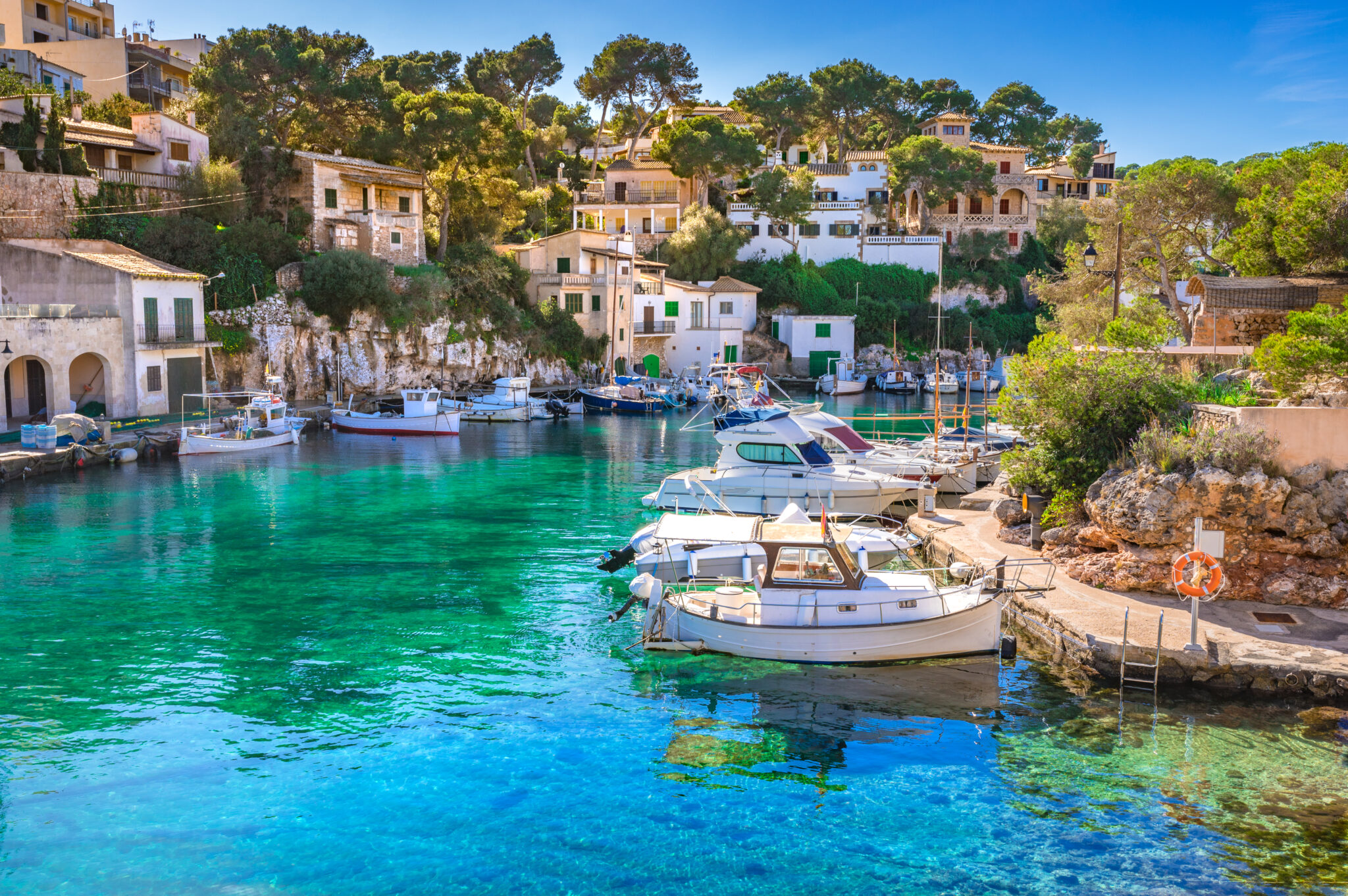 A real life working fishing village, Cala Figuera offers a traditional atmosphere, right down to fishermen mending their nets along the postcard-perfect harbour.
Meander along the path around the harbour for clifftop views, snorkel in ridiculously clear water and sample the abundant catch of the day from delicious seafood restaurants.
Where to Stay in Cala Figuera:
– Hotel Villa Sirena is perched on the craggy coastline. And while its interiors may be a little dated, you'll be too distracted by the view to notice!
– Hotel Rocamar also offers a low-key stay and beautiful views. Stay here for the stunning pool & secluded atmosphere.
– Stay in this traditional fisherman's cottage on the water's edge, and you'll be able to swim steps from where you sleep.
– This beautifully restored stone cottage is set back from the beach, in pure harmony with nature.

CALA SANTANYÍ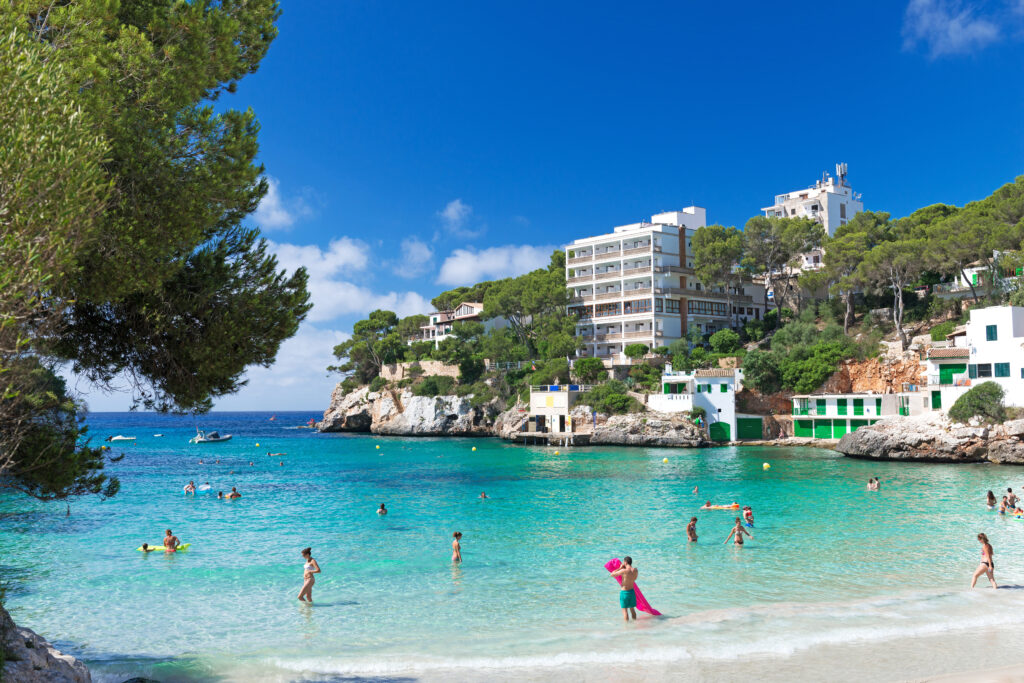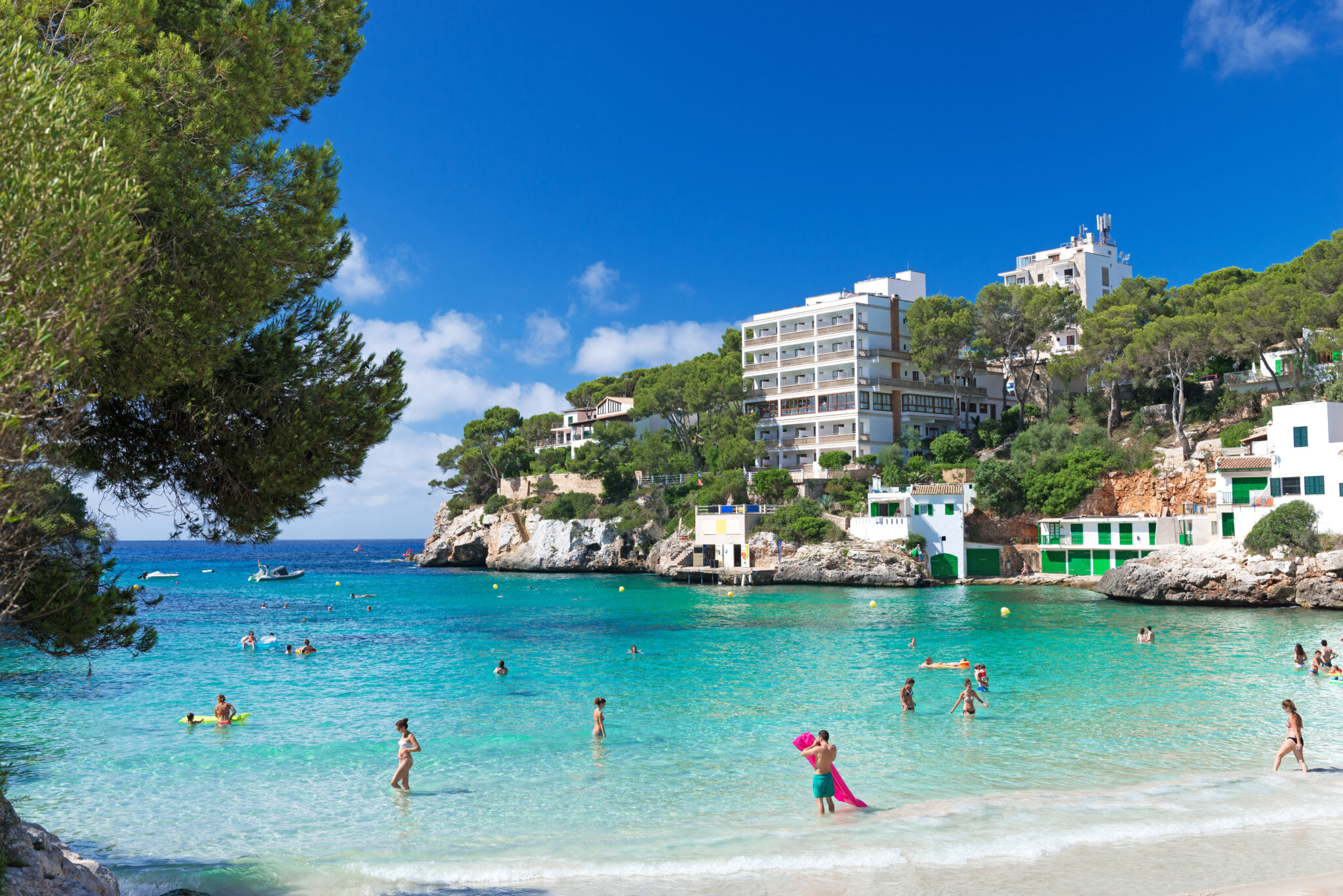 If you're looking for Mallorca hotels on the beach, this low-key resort boasts a sublime cove on a backdrop of pine forests and cliffs. The shallow waters lapping fine sand are a haven for children and a local dive school gives you the chance to see underwater magic.
This isn't a place for nightlife, but it's only a short drive to the cobbled streets and delightful restaurants of Santanyí village.
Best places to stay in Cala Santanyí:
– Hotel Apartamentos Cala Santanyi offers a variety of accommodation types, directly on the beach.
– Likewise, Apartmentos Drac provides self-catering accommodation just minutes walk from the beach and eateries.
– This stunning 2 bedroom house with sea views and a pool is perfect for those who appreciate modern design and clean lines.
– This sea view 4 bedroom villa has expansive terraces ideal for soaking up the sun. When you get too hot, the sea is just steps away for a swim.
---
NORTH MALLORCA
Stunning bays, soaring clifftops and adventure activities characterise northern Mallorca. Alcudia hosts a ferry terminal for fun island-hopping to Ibiza and beyond.
CALA SANT VICENÇ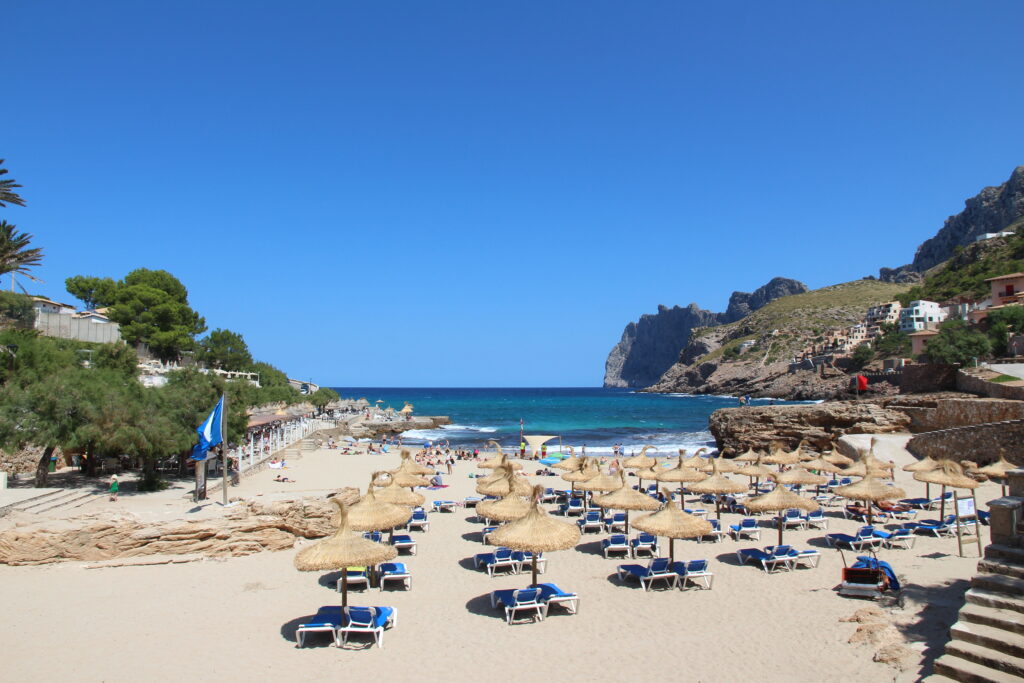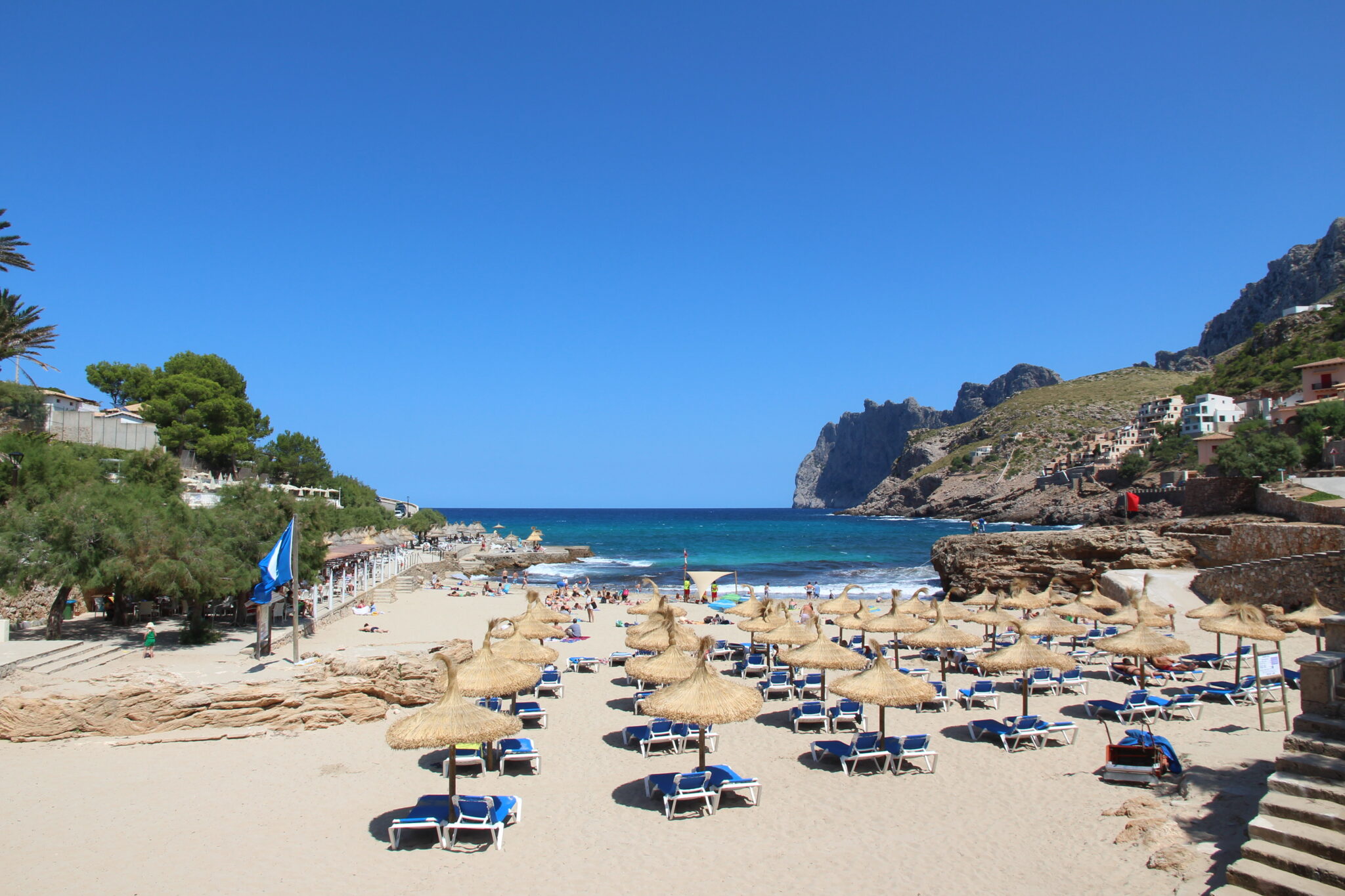 A small resort surrounded by dramatic cliffs and serene bays, Cala Sant Vicenç is the spot for tranquil holidays in north Mallorca. Relax on the beaches of Cala Barques and Cala Molins, and keep fit by hiking around the steep hillsides.
Scuba diving is a top activity and bird watchers are treated to peregrine falcons and nightingales.
Where to Stay in Cala Sant Vicenç:
– Boutique Hotel La Moraleja is perfect for those planning cycling holidays in Mallorca. Hit the trails by day and unwind here at night.
– Hoposa Niu is more for those in search of a relaxing beach getaway. With a gorgeous pool area, and a wonderful restaurant, there's everything you need in one spot.
– This 3 bedroom apartment is ideally located and has been decorated tastefully. Stay with a group of friends, or family.
– This 2 bedroom apartment is perched on the cliffs above the bay, awarding spectacular views. Everything is within walking distance and there's a communal pool on offer too.
POLLENÇA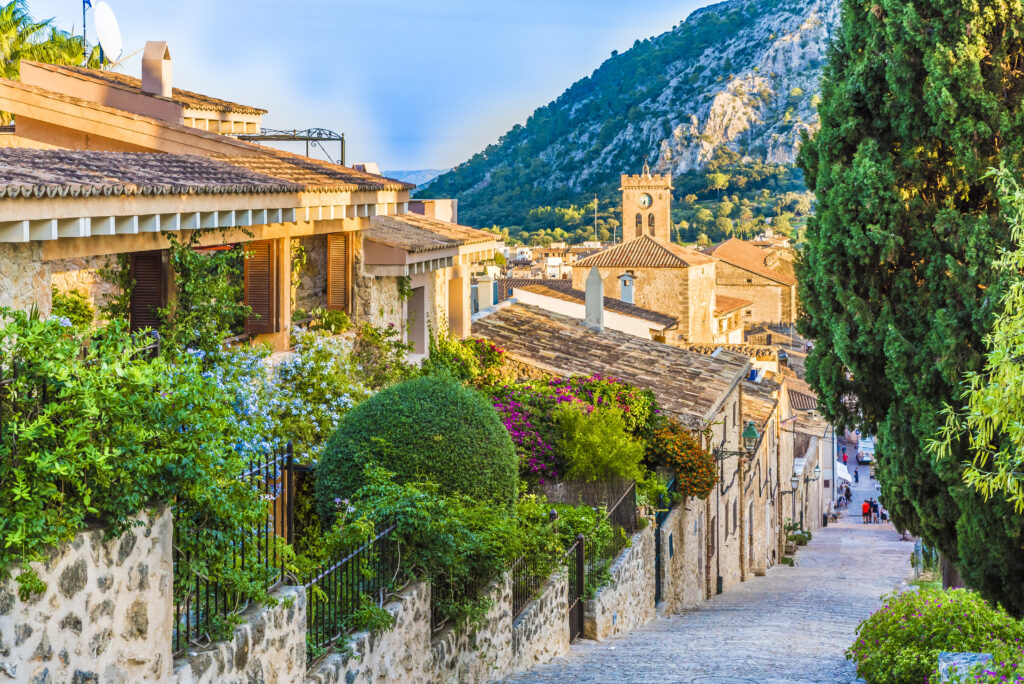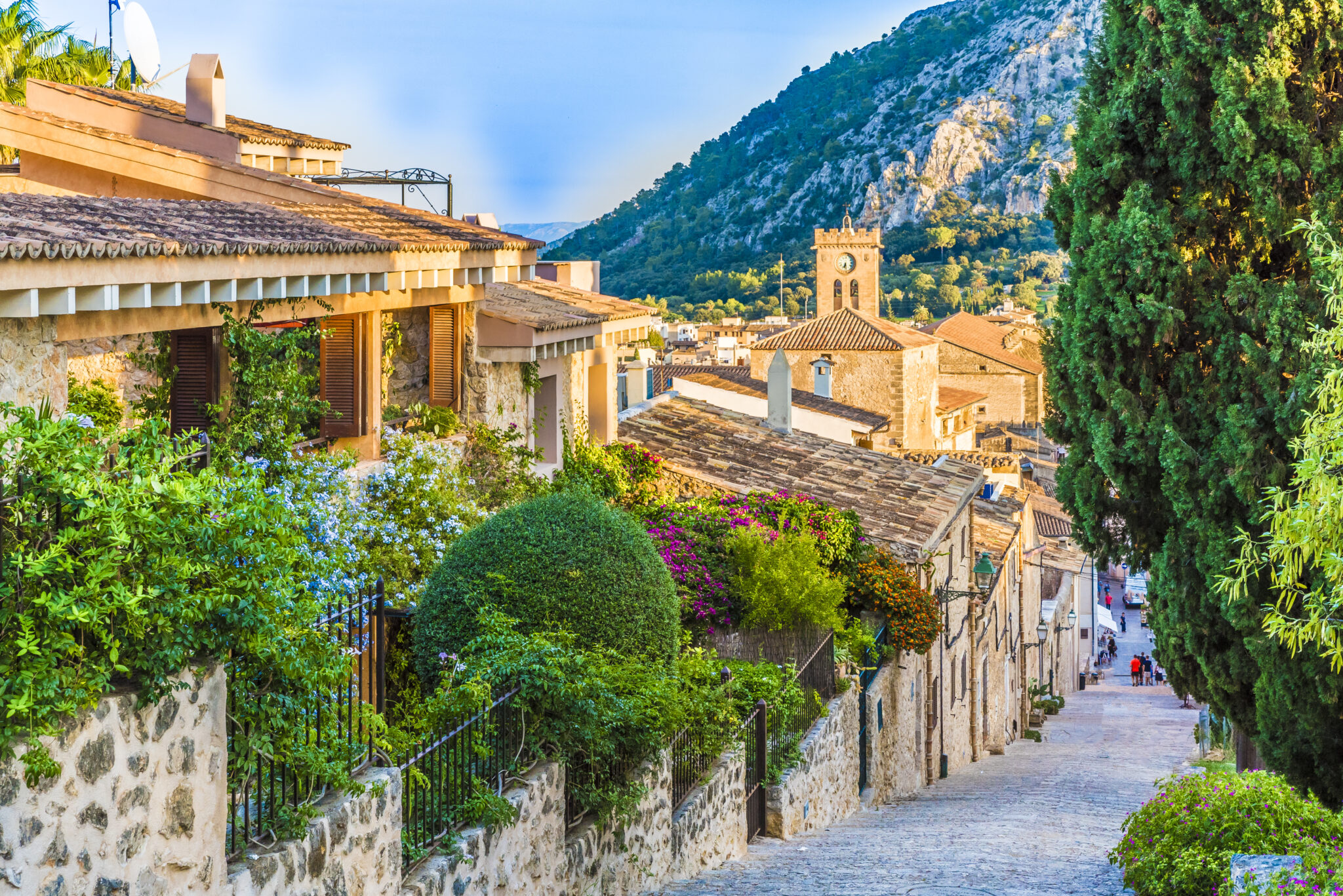 A favourite of artists and writers, ancient Pollença brims with historic charm. This is a place to linger in cafes and bars, and explore narrow laneways filled with arts and crafts.
Just outside of town, you can climb the 330-metre high Puig for sweeping views and a hilltop chapel. Beaches are nearby in Port de Pollenç, however, stay here to immerse in the cultural side of Mallorca.
Best Places to Stay in Pollença:
– Treat yourself to a stay in the 5-star Son Brull Hotel & Spa and enjoy the in-room spa bath and designer fixtures. Outside tells another story as the hotel is located in a historic building. And the hotel's sumptuous gardens perfectly marry the two worlds.
– Mon Boutique Hotel is located in the heart of Pollença and offers a sumptuous stay at a surprisingly affordable price point.
– Feel at home in this 3 bedroom country house just outside the old town. Enjoy the expansive garden, pool and outdoor kitchen.
– This beautifully modern townhouse in central Pollença offers comfort in all seasons. Explore the old town and enjoy the sunset from your private rooftop terrace with jacuzzi.
PORT DE POLLENÇA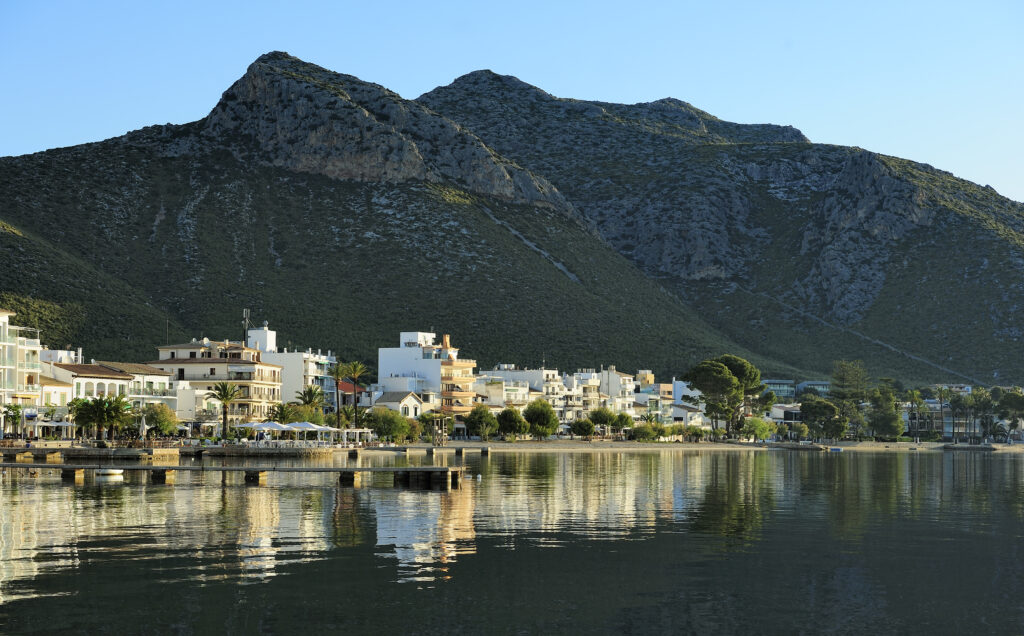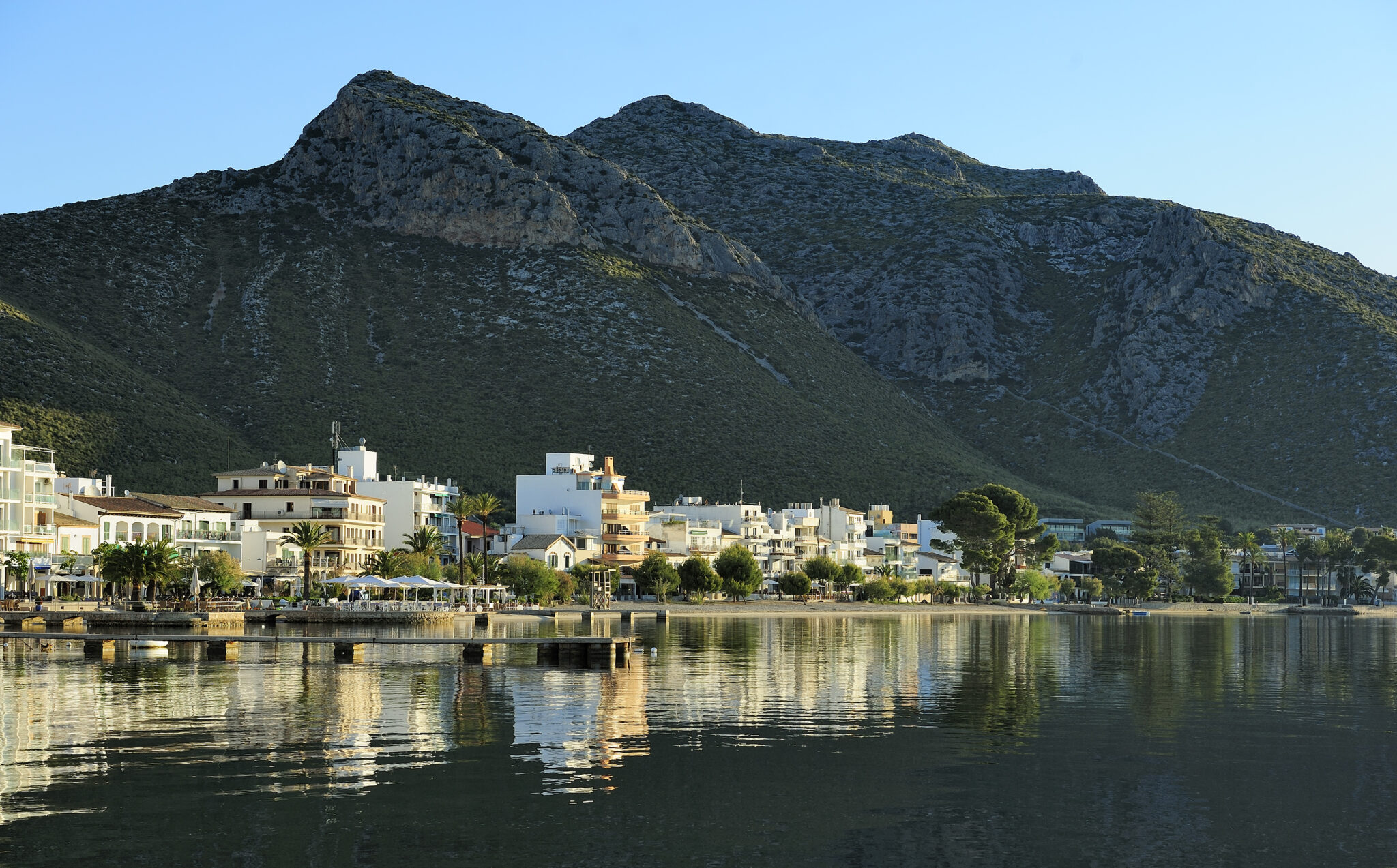 Formerly a fishing village, this coastal town is a top pick if you're looking for where to stay in Mallorca with family. Spend lazy days on Port de Pollença beach while the kids enjoy water sports, or soak up the tranquility of the Pine Walk promenade.
There's a flat cycle path that meanders around the sparkling bay and boat trips are available to explore secluded coves for snorkelling.
Where to Stay in Port de Pollença:
– Hoposa Bahia is situated right on the sand at Port de Pollença. Eat breakfast on the sunbaked deck, then slip onto a lounger for a siesta.
– The family-friendly Hoposa Hotel & Apartments is perfect for those who want the convenience of an apartment, and the facilities of a resort. Kids will love the play areas and pools, and their parents will appreciate the stylish interiors.
– This impossibly charming 2 bedroom villa with pool is ideal for those who seek peace after a day at the beach. Relax into island life and enjoy the authentic surroundings.
– This seafront 3 bedroom apartment is ideally located close to everything. You'll love the views from the terrace, and the modern, fully-equipped interior.
ALCUDIA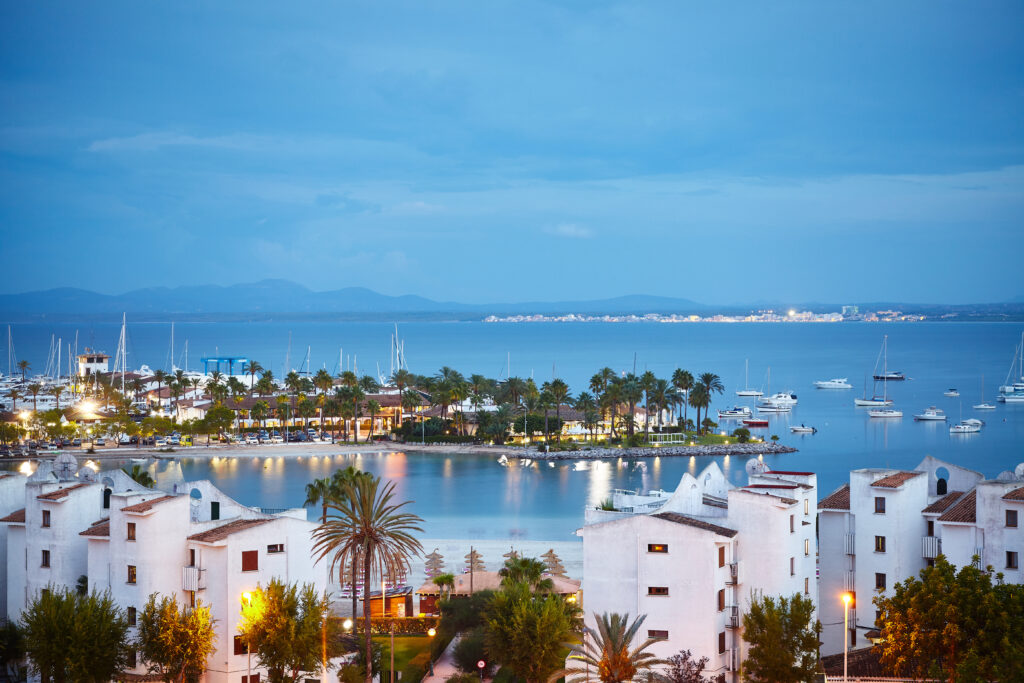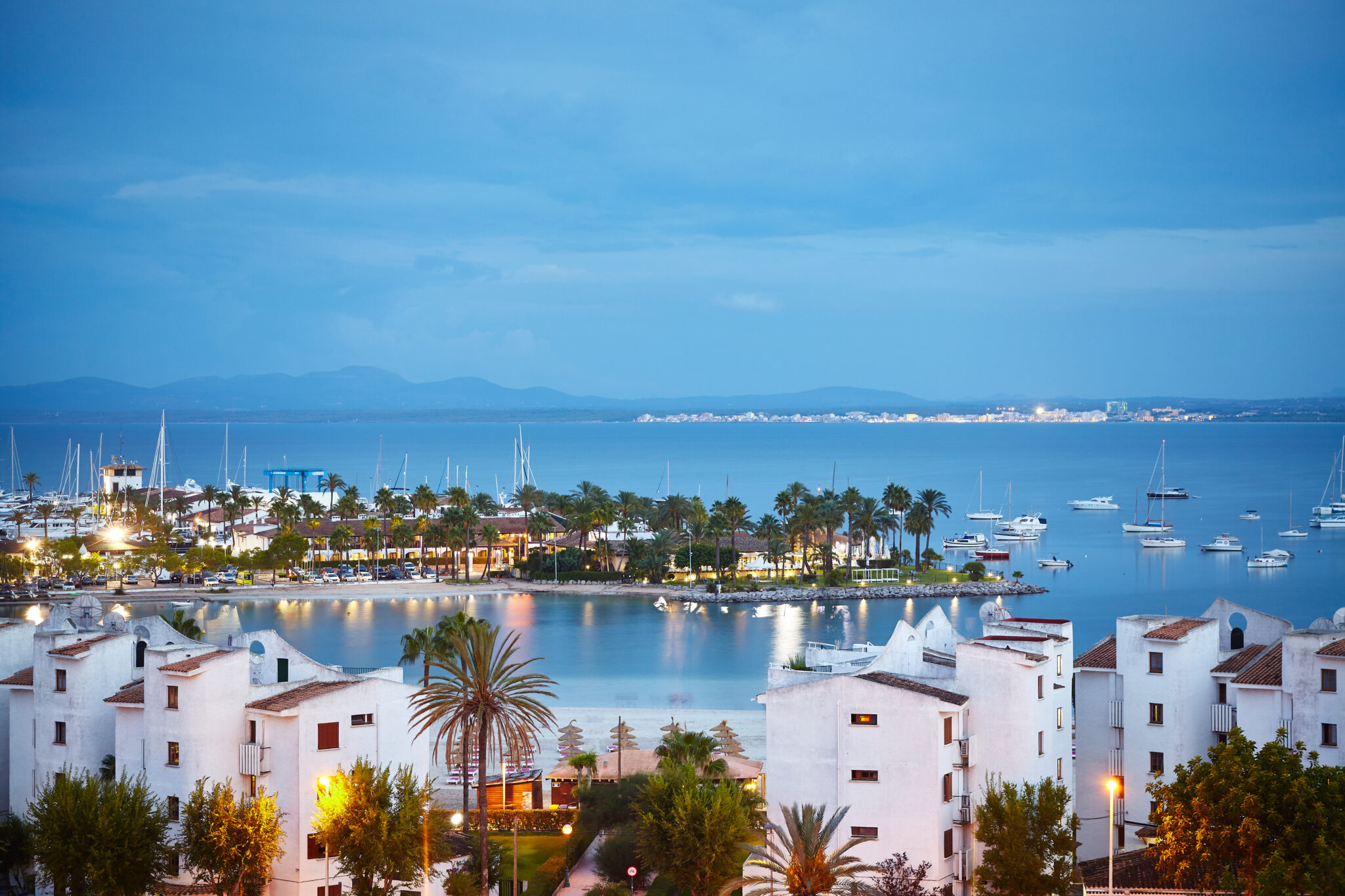 For those who love a bustling, tourist vibe, stay near the medieval town of Alcudia and the surrounding coast. The restored city walls encircle atmospheric, narrow streets, traditional fiestas, quaint restaurants and historic landmarks.
Port d'Alcudia is a haven of golden beaches and sparkling seas, complete with an elegant marina. From island-hopping to windsurfing and sailing, there's plenty to do both on and off land.
Where to Stay in Alcudia:
– The Forum Boutique Hotel & Spa makes a romantic escape for two. Enjoy an in-room hot tube and private balcony in the deluxe rooms.
– The exquisite Hotel Can Mostatxins is located in a historic building in the old town. But venture inside and you'll find modern comforts on offer.
– Travelling as part of a large group? Why not book this 6-bedroom villa between the old town and the port. There's room enough for everyone to spread out in the large Mediterranean garden, and the pool is the icing on the cake!
– This 2 bedroom apartment next to the beach is ideal for smaller groups or families. Bright & airy, it's perfectly placed for sun worshippers.
CA'N PICAFORT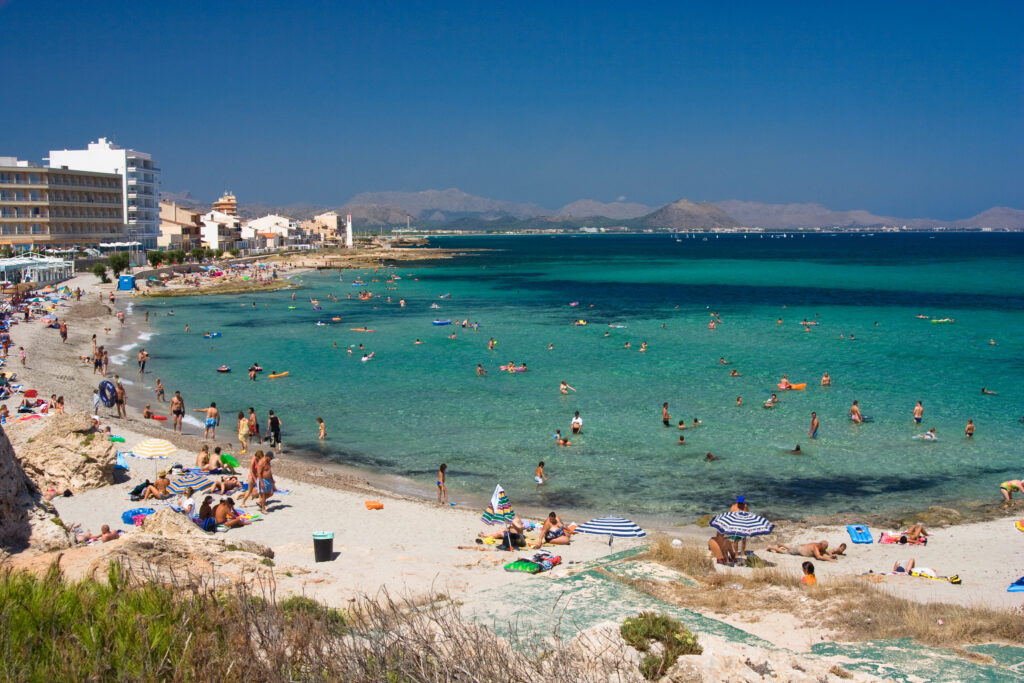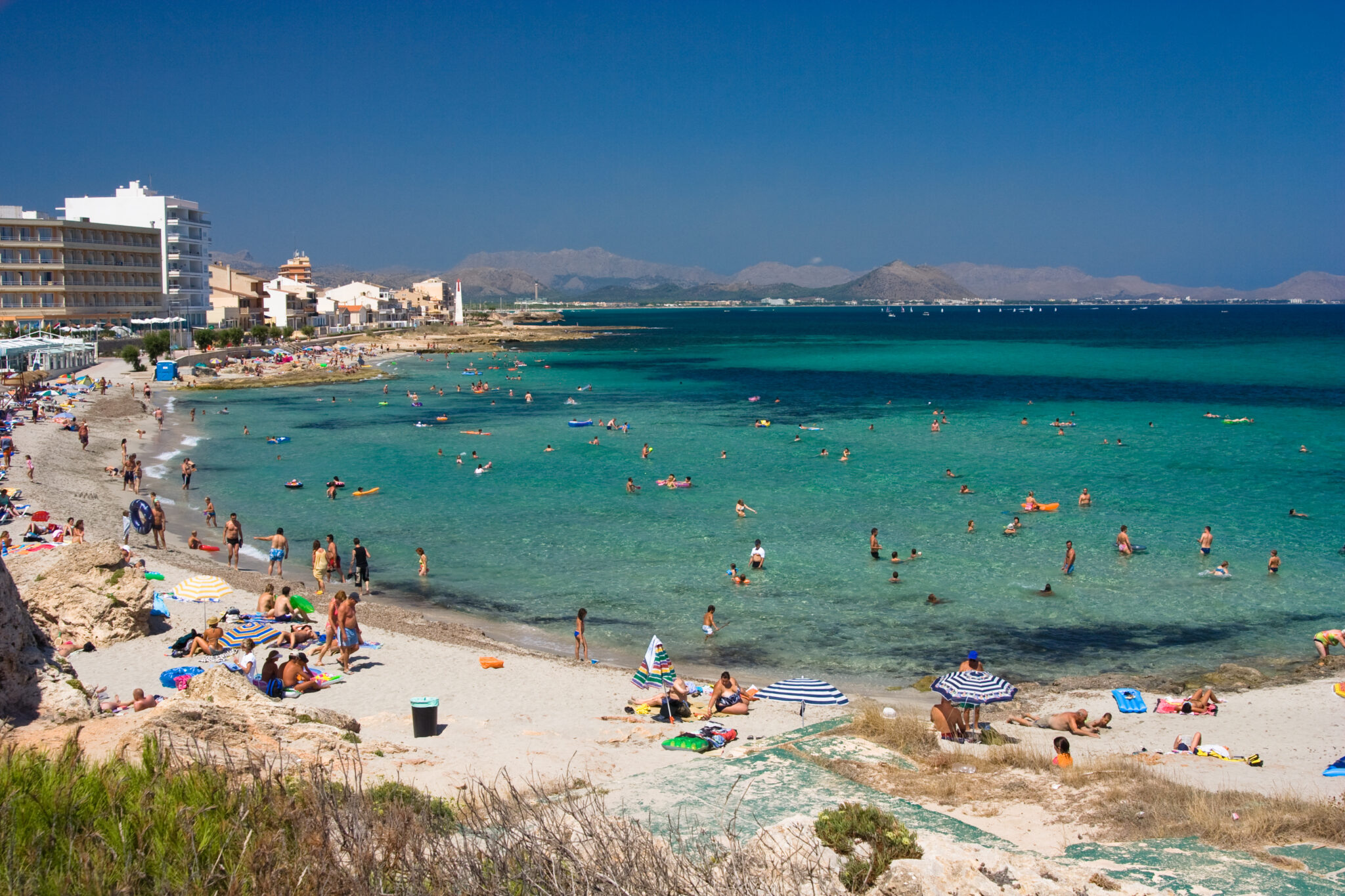 At the eastern end of the Bay of Alcudia, Ca'n Picafort is an energetic resort that suits everyone looking for a fun beach holiday. Sun lounges stretch across the soft sand and shops, restaurants, supermarkets and tour operators line the seafront promenade. For night owls, colourful bars ensure there are plenty of spots for sunset cocktail sipping.
Best Places to Stay in Ca'n Picafort:
– Hotel Ferrer Concord is located beachside and benefits from spectacular views. The beach theme continues inside where you'll find a vintage ice cream truck and retro-inspired bar.
– Hostal Blanca is ideal for those who want a comfortable stay in Mallorca on a budget. The casual but chic atmosphere will welcome you after a day exploring the island.
– This 1 bedroom beach house makes a great base for a couple wanting privacy and autonomy for their stay in Mallorca.
– This large and modern 4 bedroom house with pool is located within minutes of the beach. It's spacious enough to host two families with ease.
---
WEST MALLORCA
Olive groves, pine forests and the Serra de Tramuntana mountain range join breathtaking beaches in west Mallorca. That's not all though, it's also home to quaint, hilltop villages and dynamic resorts. Find out where to stay in West Mallorca below!
SANTA PONSA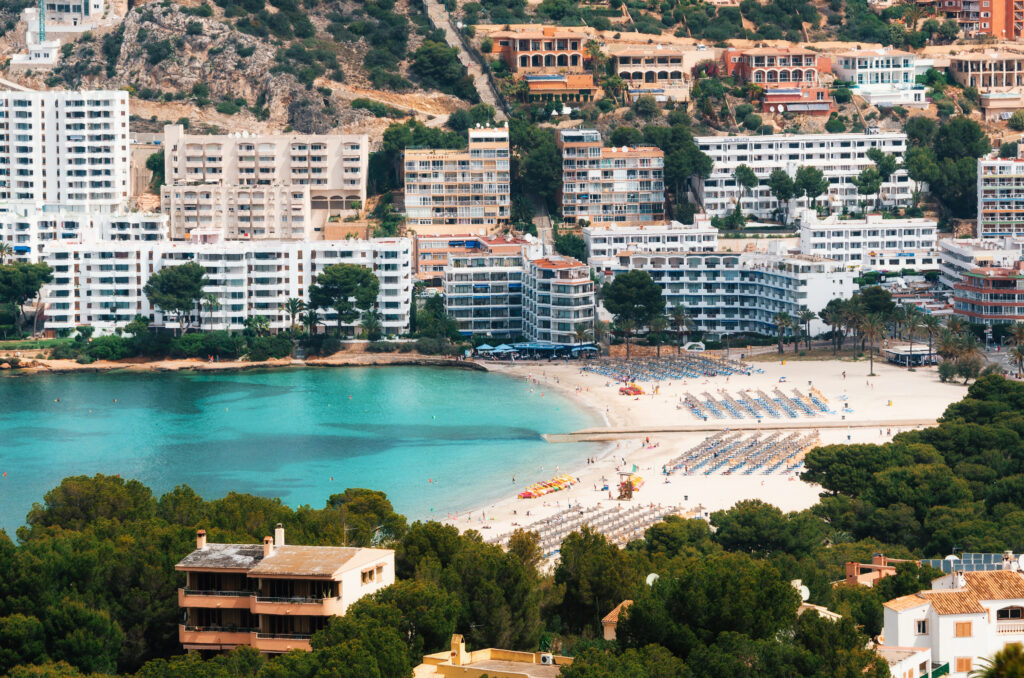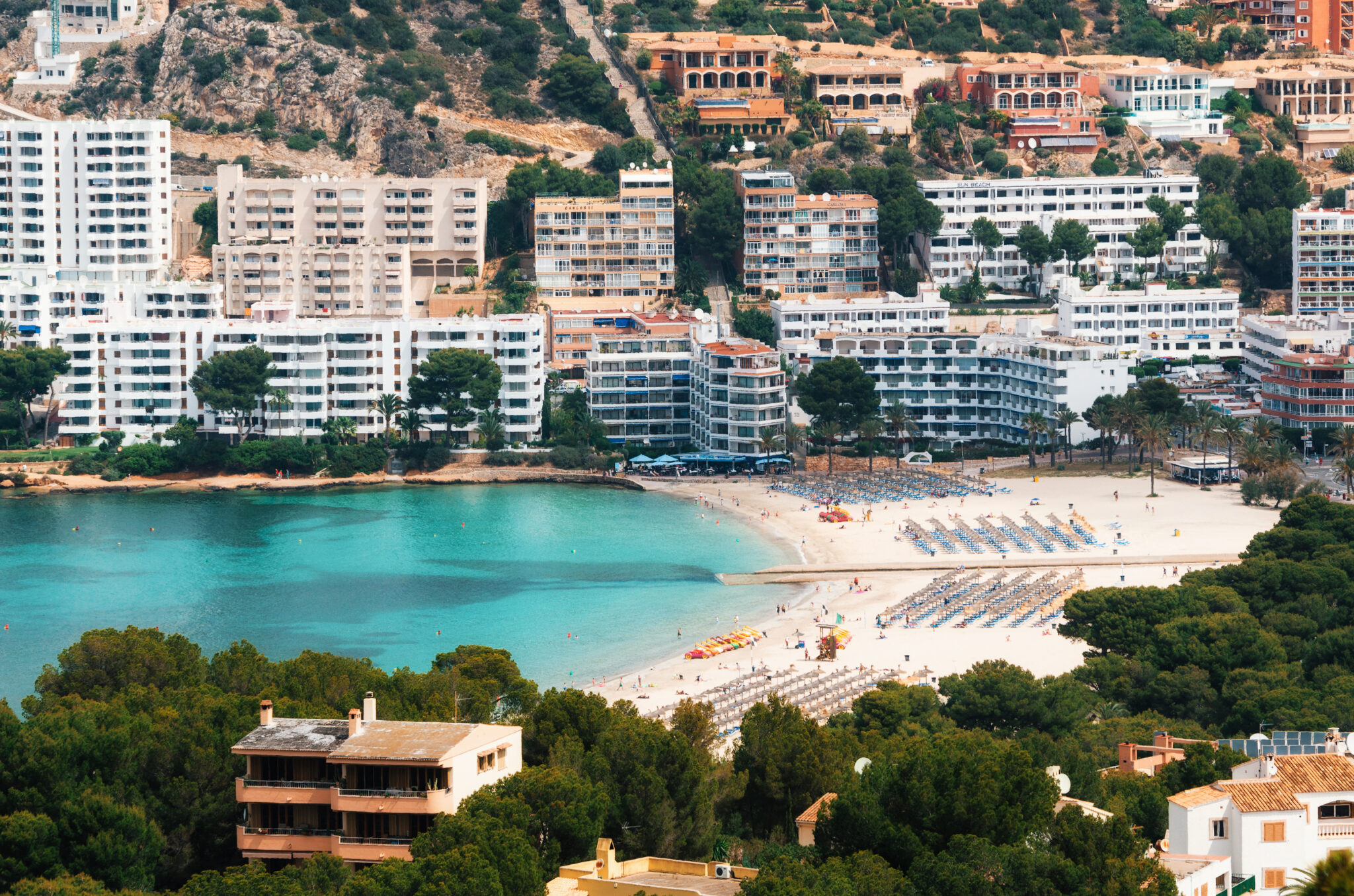 Set on a backdrop of lush cliffs peppered with some of the best hotels in Mallorca on the beach, it's little wonder that Santa Ponsa has been a favourite with tourists for decades.
This is a friendly resort with something for everyone, including a pretty promenade, marinas, a golf course, a tennis club and an adventure playground.
Best Places to Stay in Santa Ponsa:
– Iberostar Jardin del Sol Suites offers a dreamy escape from everyday life. Indulge in a sea view suite and take advantage of the infinity pool and seaside loungers.
– On the other side of the inlet, Playas del Rey offers cheap & cheerful accommodation with private terraces and a compact pool area.
– This great 3 bedroom apartment benefits from sea views, modern fixtures and a communal pool.
– This 3 bedroom villa with pool offers a simplistic but comfortable stay. You'll love the private setting.
PEGUERA / CALA FORNELLS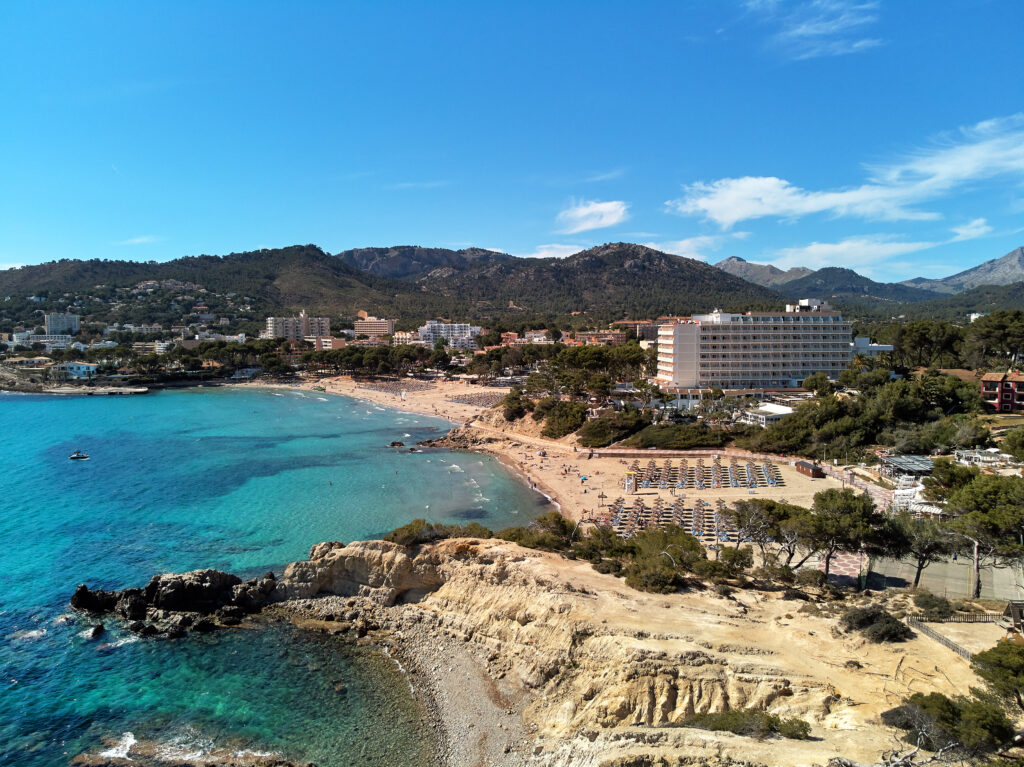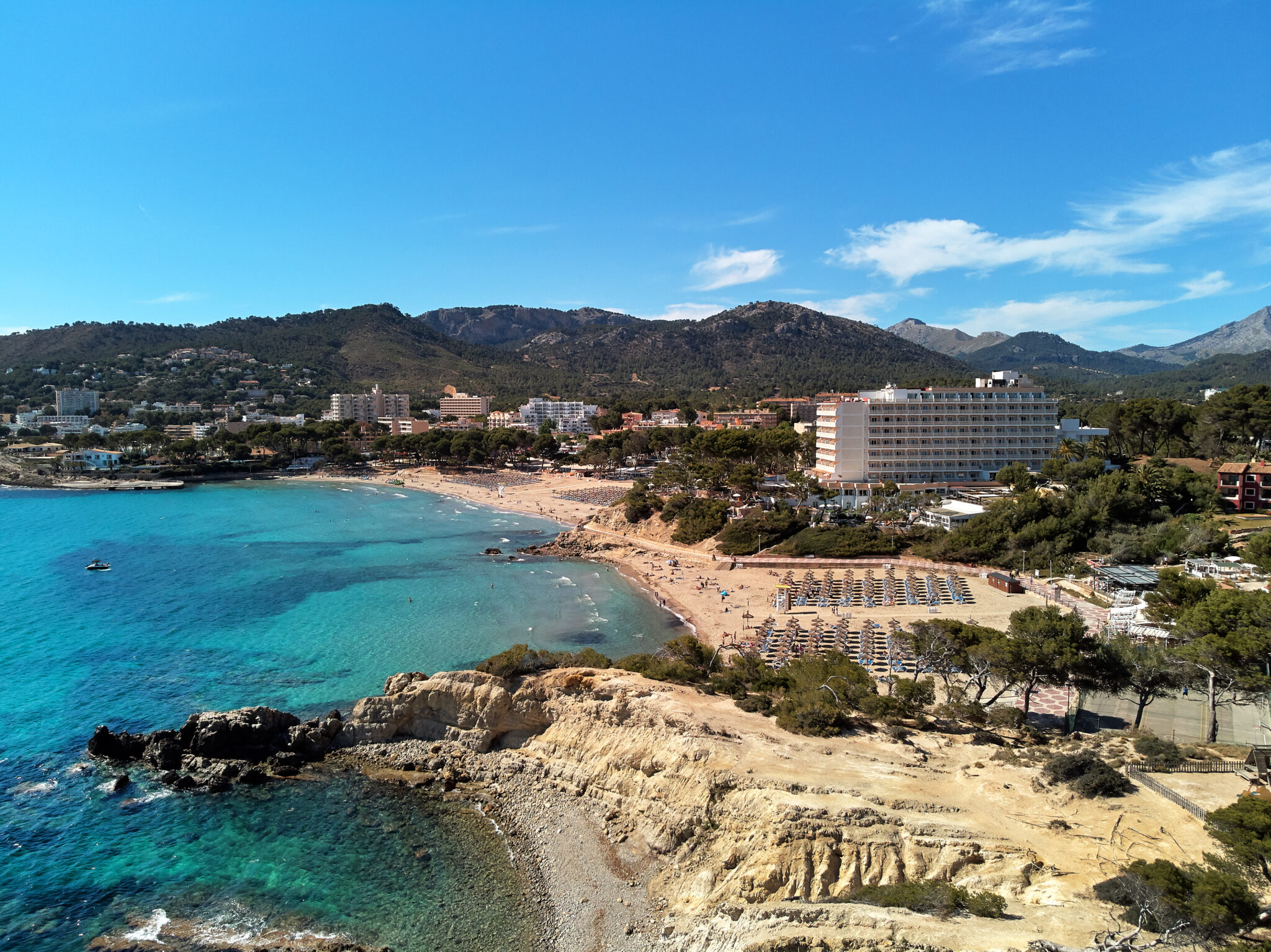 With hotels and villas peppering a hillside that overlooks the idyllic beach, Peguera is a lovely choice for families, groups and couples alike. Three main beaches and a restaurant-lined main street offer all the leisure you could hope for.
For a quiet escape, stay in the nearby area of Cala Fornells. Here, a quaint village feel combines with an enchanting cove decorated by pine trees.
Best Places to Stay in Peguera & Cala Fornells:
– Paguera Treff Boutique Hotel is in a prime position for beach views and people watching. you'll love the rooftop pool and clean, modern rooms.
– Hotel Cala Fornells benefits from a more tranquil spot on an exclusive feeling coastline. Enjoy your private terrace overlooking the sea and make use of the hotel's expansive array of amenities.
– This bright 2 bedroom apartment has hotel worthy views from its private terrace.
– Looking for more space? This 3 bedroom renovated villa is close to everything, yet delivers a private and more homely stay.
CAMP DE MAR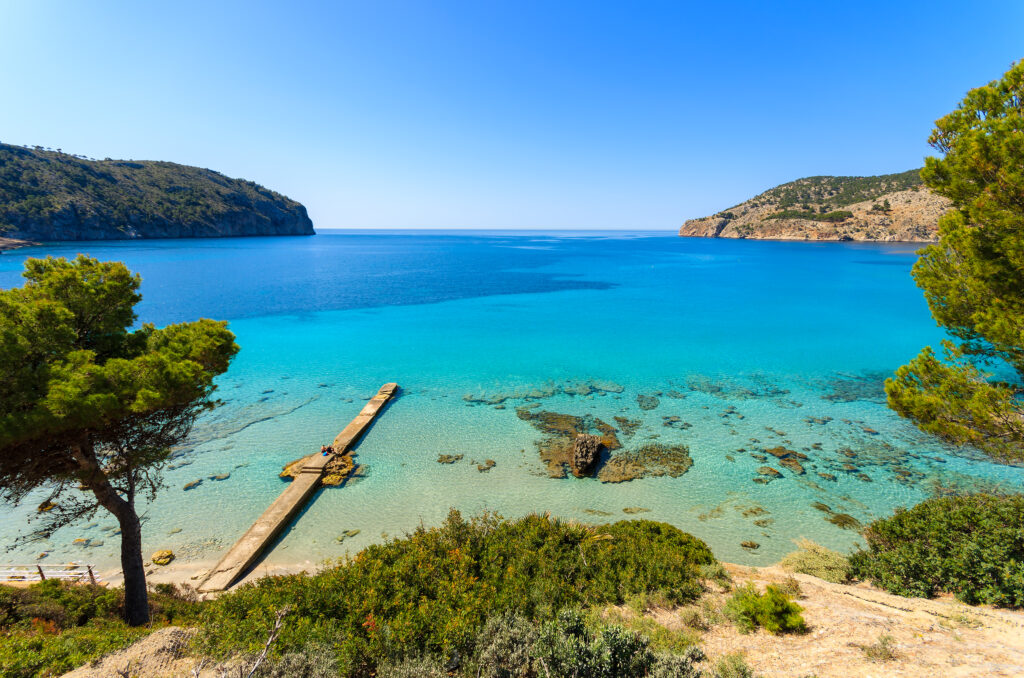 Rocky coves and gorgeously aqua-tinged, calm waters set the scene in the resort of Camp de Mar. Just off the coast, you'll find a seafood restaurant sitting pretty on a small rock that's accessed by the jetty.
From the jetty, it's possible to take boat trips to the island of Sa Dragonera Natural Park.
Where to Stay in Camp de Mar:
– Steigenberger Hotel Resort offers an exclusive feel in a country club setting. Cyclists will love the dedicated workshop, and golfers will enjoy the on-site course.
– The Alua Gran Camp de Mar has a more family-friendly vibe, with a multitude of activities on offer. Located right next to the beach, you'll love the views.
– This 3 bedroom property is ideal for several couples to enjoy, as all bedrooms have large beds, and there are 3 bathrooms. There's also a pool and several terraces to enjoy.
– Those looking for peace, or travelling as a group, will adore this sophisticated 4 bedroom villa overlooking the sea. It comes with a private pool and wraparound terrace to appreciate the view.
PORT D'ANDRATX
Among the most popular places in Mallorca is elegant Port d'Andratx, which is a favourite of the yachting set and celebrities. Despite the luxury vibe, the stunning harbour still hosts local fishermen, highlighting its history as a small fishing port.
Visit the cosmopolitan Club de Vela marina and head inland to the ancient town of Andratx, which is nestled in the foothills of the Tramuntana Mountains.
Where to Stay in Port d'Andratx:
– The Aparthotel Le Pérgola combines pared-back design with modern amenities. Ideal for a cycling holiday in Mallorca, or for families.
– Mon Port Hotel & Spa has a more refined approach and offers 4-star accommodation in a traditional setting.
– This stunning 1 bedroom apartment is perfect for a romantic getaway in Mallorca. Wake up to the sound and sight of the sea from your bed.
– Larger groups will love this 4 bedroom modern villa with contemporary design, breathtaking views, and an incredible infinity pool!
SANT ELM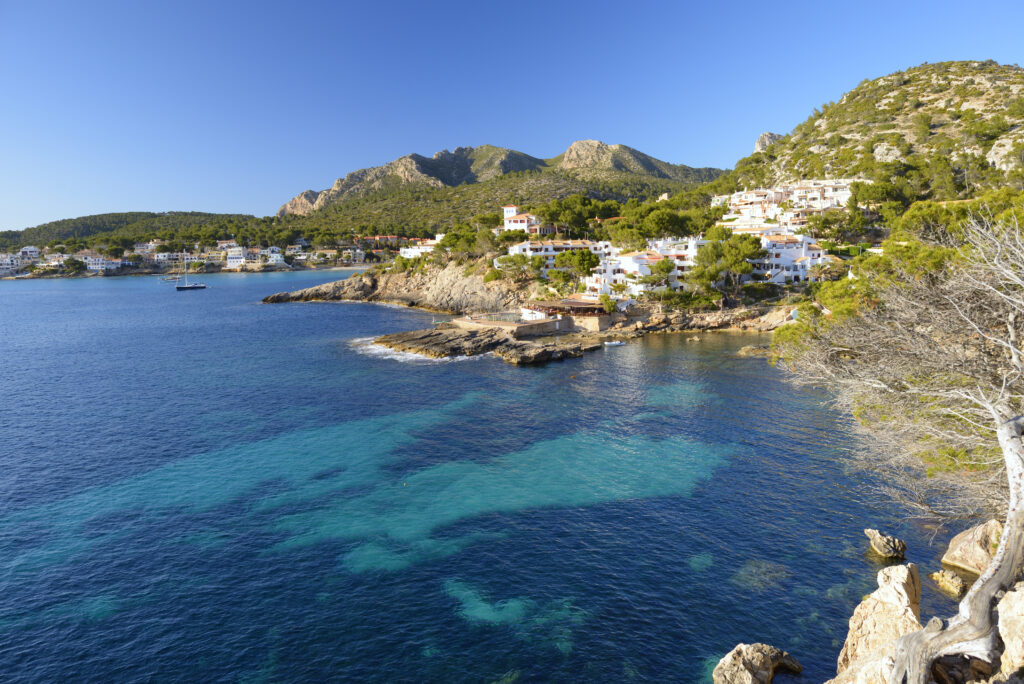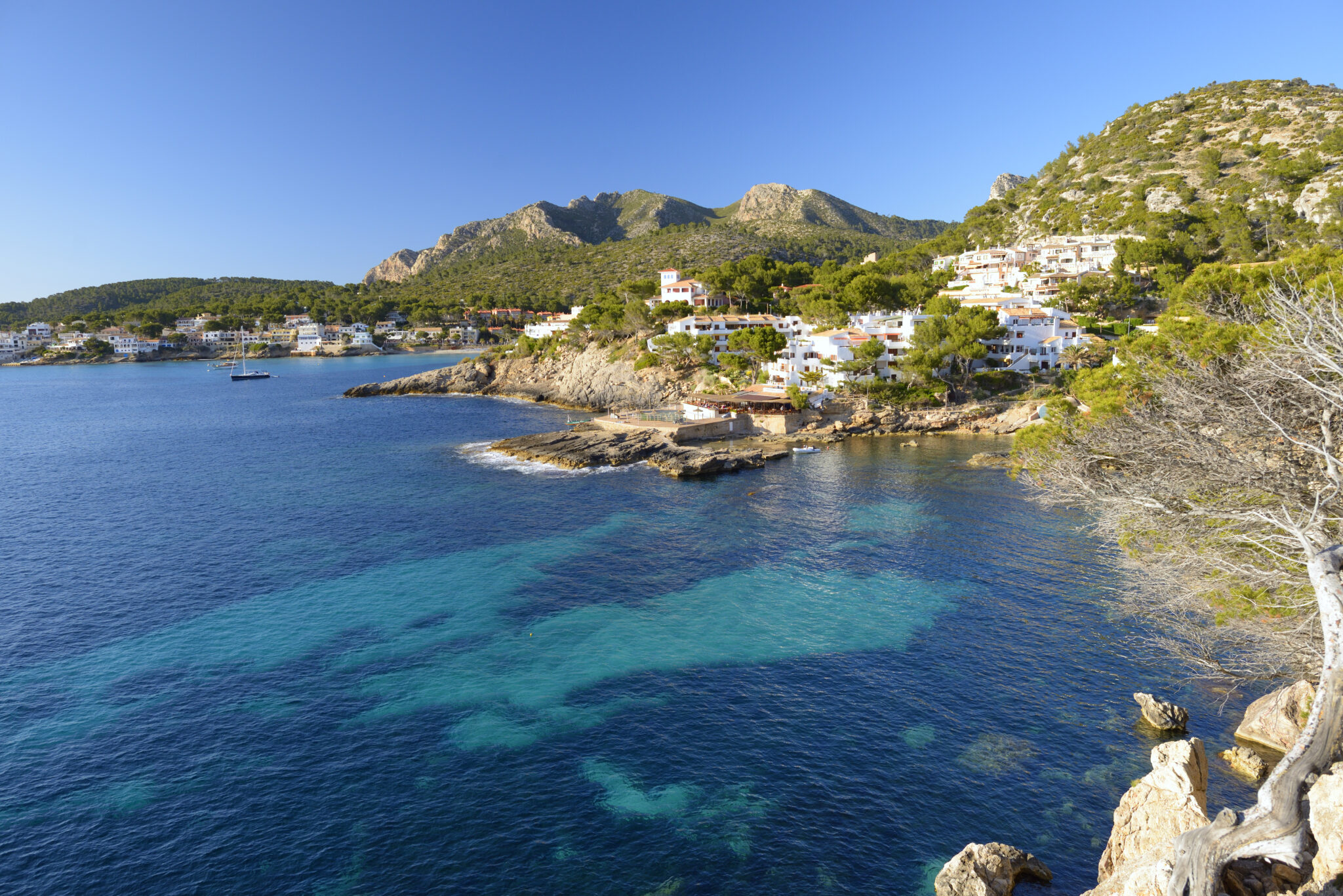 If you love hiking, base yourself in the pretty coastal village of Sant Elm, which is in easy striking distance of the Tramuntana Mountains. Once a quiet fishing village, it still retains a traditional vibe and it's one of the best places to stay for cycling in Mallorca. Seafood restaurants overlook the sea for picturesque dining, and coastal walks beckon.
Best Places to Stay in Sant Elm:
– For simple accommodation beachside, look no further than the Universal Aquamarin & Aquavilla. Families are well catered for and each room has a balcony.
– Nearby, the partner hotel Universal Aparthotel Don Camilo offers self-contained accommodation in a leafy setting.
– This beautiful 3 bedroom house will ensure you have the best time in Mallorca. Leave your worries behind as you relax on the sundrenched terrace overlooking the sea.
– Book this 4 bedroom beach house and you'll never want to leave! The newly built villa on the water's edge has been luxuriously furnished.
BANYALBUFAR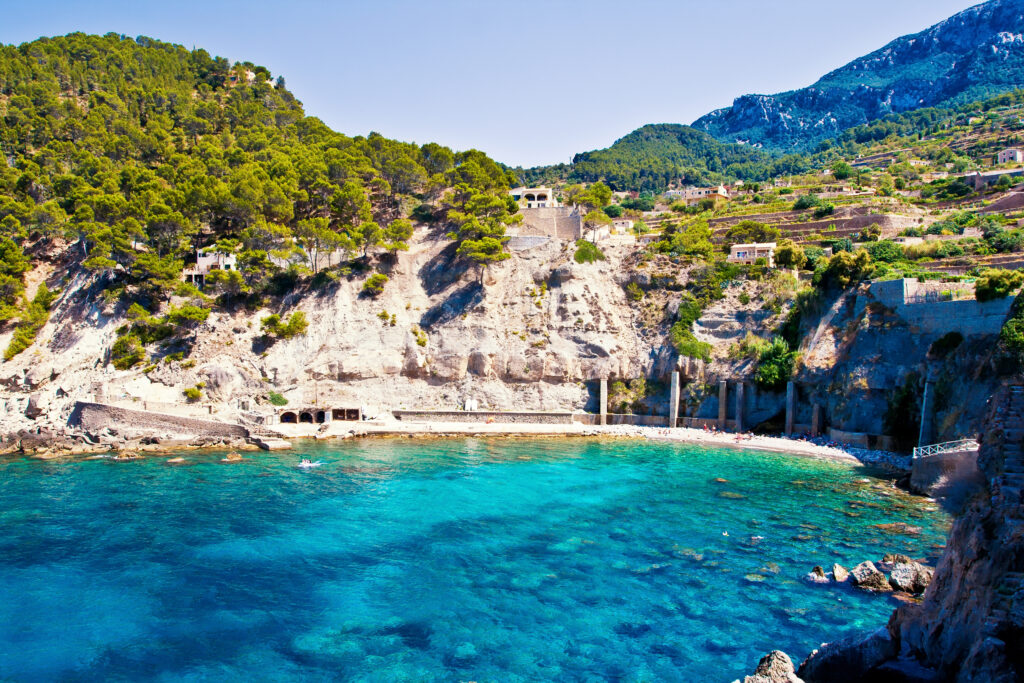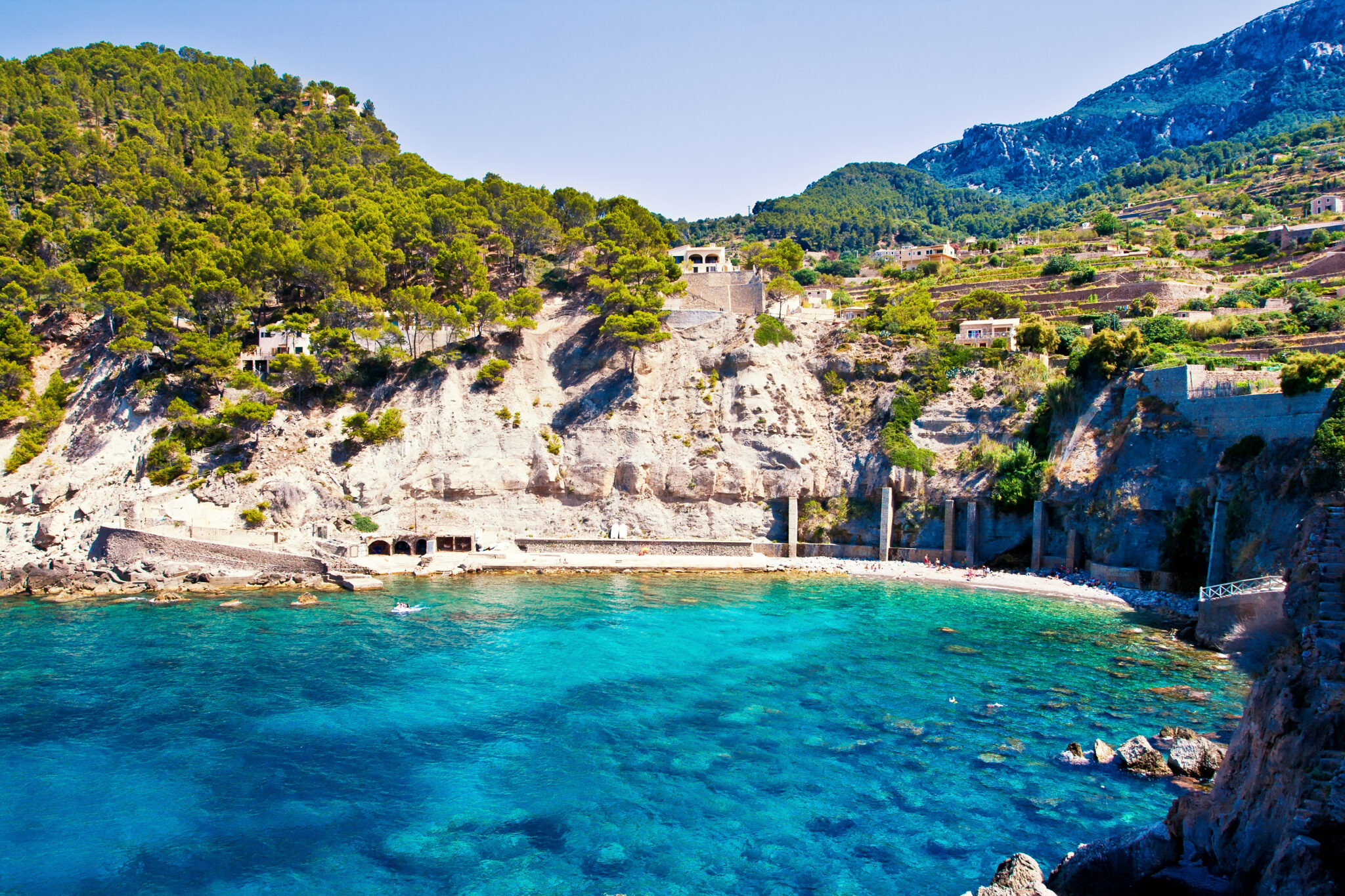 Dramatic coastal cliffs on the edge of the Tramuntana Mountains characterise the authentic village of Banyalbufar. Terraced hillsides tumble into the sea, and serene coves provide scenic swimming and lazing on pebbled shores.
It's all about the simple life here, with historical landmarks and old-world charm, rather than overt tourist facilities.
Best Places to Stay in Banyalbufar:
– Son Borguny Hotel is located in a charming 15th-century building and is decorated in a traditional style. It offers a casual atmosphere with world-class views and service.
– If having a pool is essential, the Hotel Sa Coma delivers. It also has a tennis court and each room has a private balcony.
– This amazing seafront property is perfect for holidays in nature. With 4 bedrooms, there's more than enough space to spread out.
– A cliffside 2 bedroom house benefits from direct access to the sea. The perfect spot for a relaxing family vacation.
VALLDEMOSSA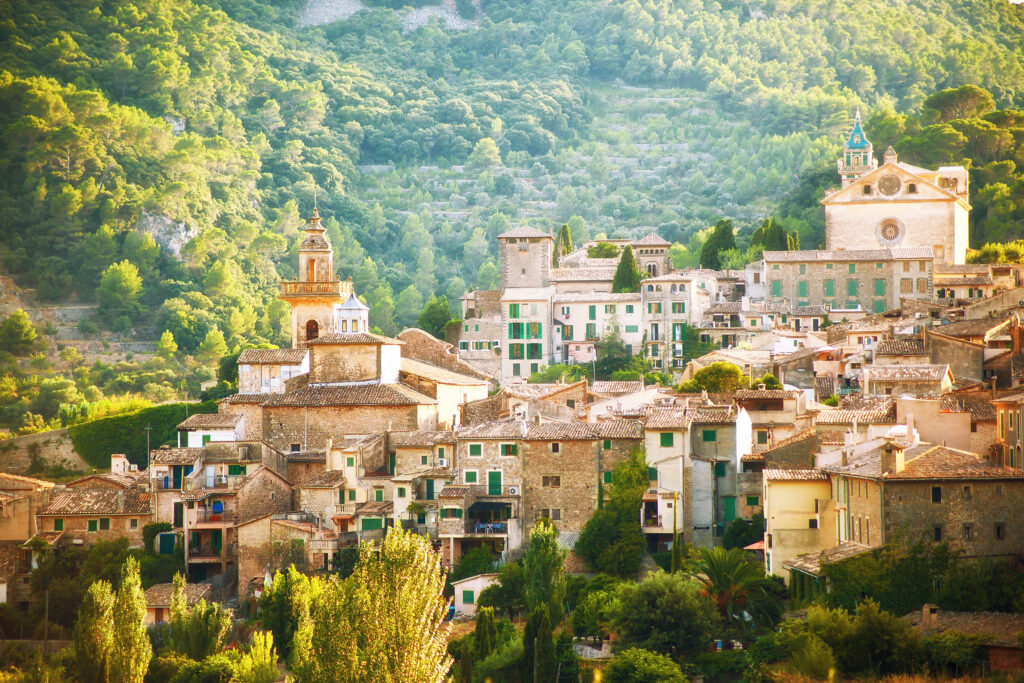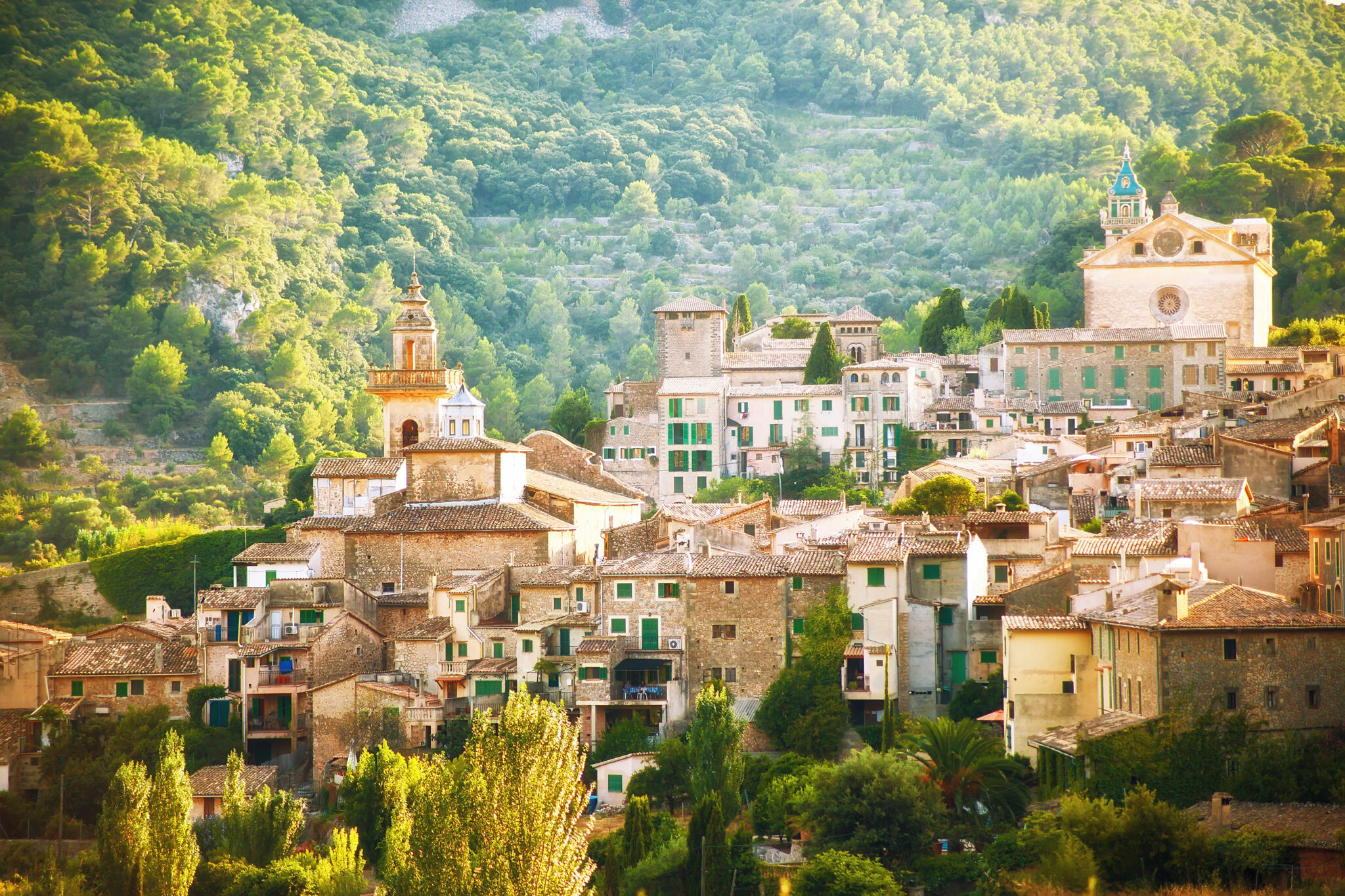 Culture-vultures and history buffs will love this village, nestled amid the Tramuntana Mountains. Ancient stone houses join art galleries and cafes, surrounded by a countryside that's sprinkled with hiking trails.
In the region, it's easy to visit the Royal Carthusian Monastery, where the composer, Chopin, once spent the winter. To delve into history, stop by the Centre Cultural Costa Nord de Valldemossa.
Where to Stay in Valldemossa:
– Mirabó de Valldemossa is an exquisite boutique hotel with simple rustic rooms and an exceptional terraced garden with pool.
– At the other end of the spectrum, Hotel Continental Valldemossa has a more classic hotel feel, with plush furnishings, uninterrupted views, expansive terraces and a grand pool.
– This beautifully decorated 3 bedroom townhouse is situated within walking distance of the town centre. Outside, you'll love the private walled patio to enjoy meals al fresco.
– This exquisite property can provide accommodation for up to 9 guests in 5 bedrooms. The garden is an oasis with its private pool, and the interiors have been lovingly & traditionally decorated.
SÓLLER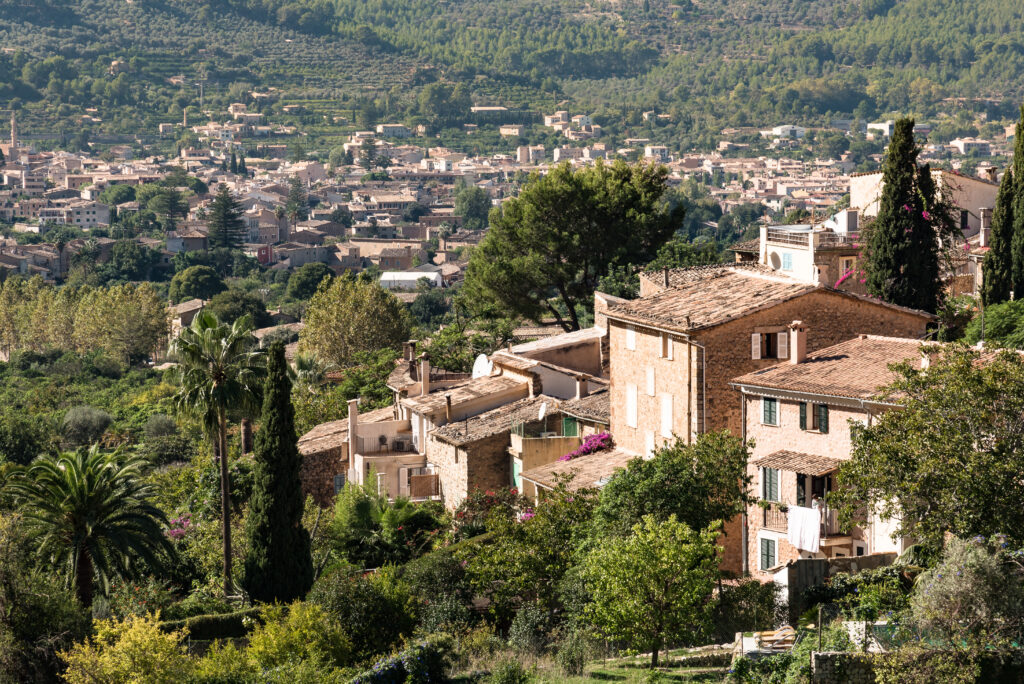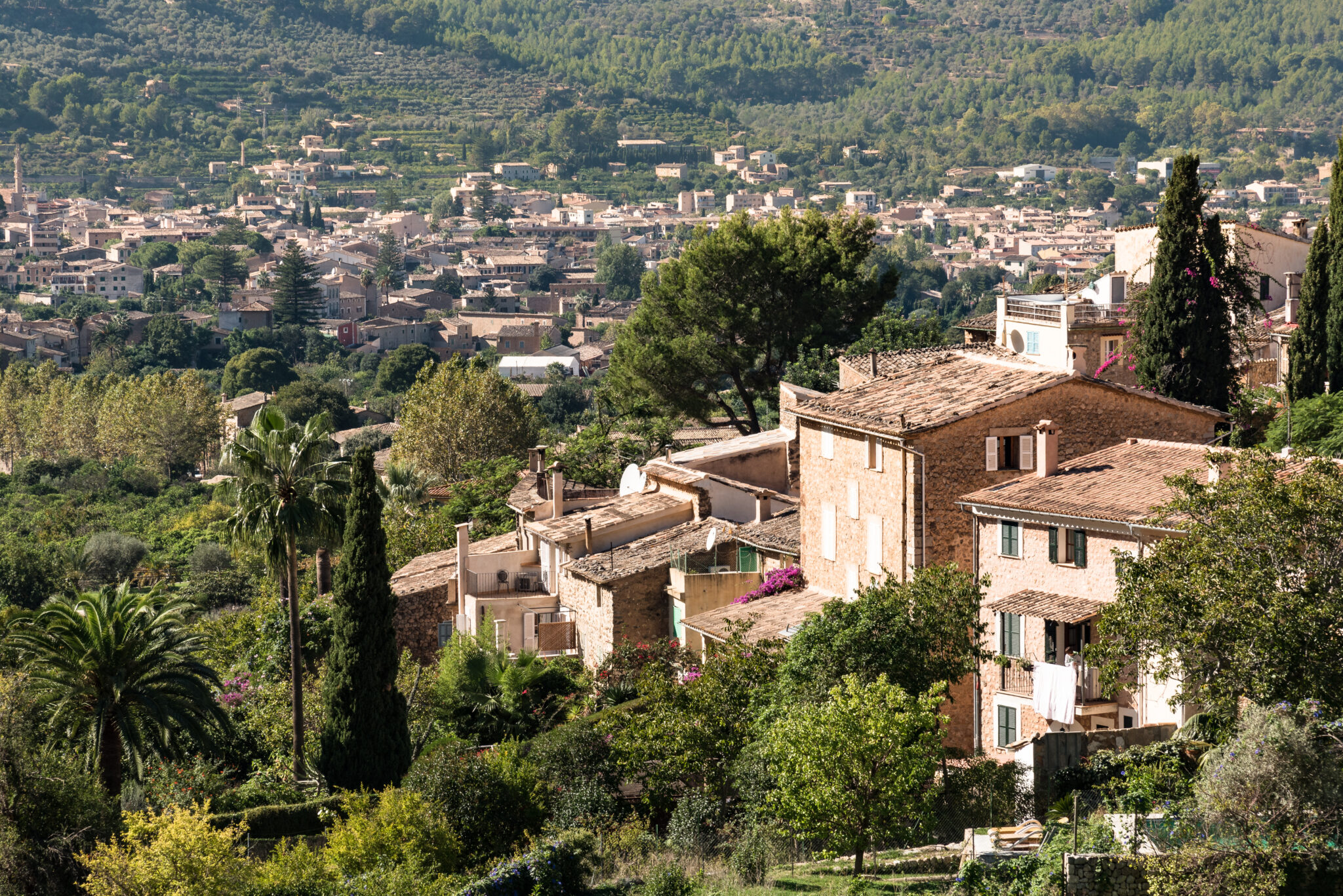 This cultural town is set within a verdant valley and orange groves. Narrow streets converge on the main square, Plaça Constitució, for lazy days sipping coffee and people-watching.
Spend time in the Museum of Natural Sciences and the Sóller Botanical Gardens. A stay here means the best of both worlds, with a vintage tram that runs from town to the nearby Port de Sóller. It's also an easy commute to Palma de Mallorca via the Soller Train.
Best Places to Stay in Sóller:
– Hotel Ca'l Bisbe is just minutes' walk from the centre of Sóller. The dignified estate offers a large pool, rooms with private balconies, and a fantastic restaurant.
– Hotel Can Roses has a variety of rooms available including family rooms. You'll appreciate the attention to detail in this property and the Balinese-style furnishings.
– This 2 bedroom cottage comes complete with unbelievable mountain views and its own swimming pool! Understandably, it's incredibly popular, so don't wait to book.
– This beautifully renovated 2 bedroom house offers a more sophisticated stay. Upstairs, you'll find a sunny terrace with an outdoor fireplace and plunge pool.
PORT DE SÓLLER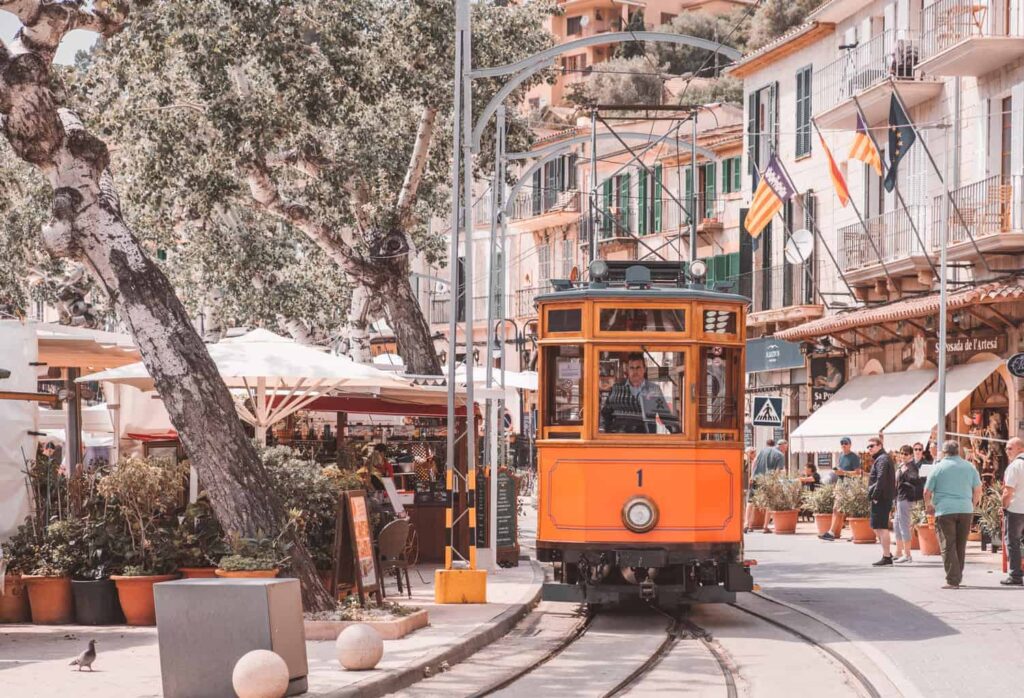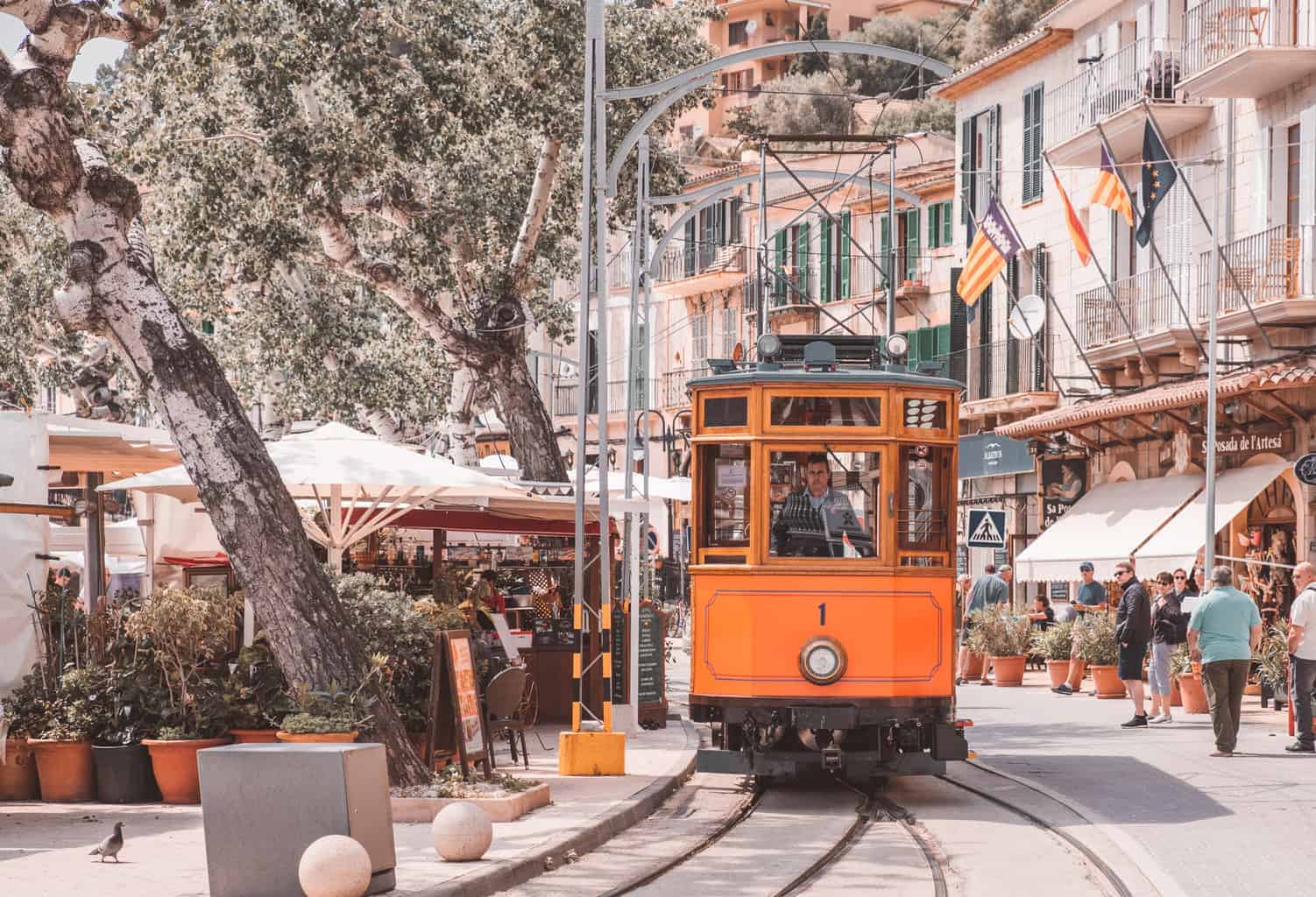 With mountain scenery and sweeping sea views, this west coast village is the top spot to watch Mallorcan sunsets. The action in Port de Sóller centres along the beachfront promenade, which features boutiques, seafood restaurants and contemporary cocktail bars.
Pop into the Sóller Marine Museum, admire the Sant Ramon de Penyafort church and walk to the 17th-century Torre Picada.
Where to Stay in Port de Sóller:
– A millennial's dream, Bikini Island & Mountain hits the vibe just right for an island escape. The breakfast buffet excels at catering to a variety of diets and the decor will delight!
– For a more sophisticated stay, look to Hotel Esplendido. The sea views, Scandinavian-inspired rooms, and amenities of offer are sure to impress.
– This beautiful, modern 2 bedroom apartment has a stunning balcony to enjoy eating al fresco. Inside, you'll find all the creature comforts.
– A traditional 2 bedroom abode, this vacation rental is perfect for families who like to unwind on the sunny terrace in the evenings.
---
CENTRAL MALLORCA
Vineyards, olive groves and traditional villages greet you in Mallorca's central heart. You're still just a drive from the coast, however, this is world's away from the island's tourist hubs. Pack your hiking boots for glorious trails and get set to discover historic crafts like glass-blowing and shoemaking.
Architecture buffs will notice picturesque remnants from Moorish, Roman and Christian influences. Get off the tourist trail in the serene villages of Algaida and Montuiri. Santa Eugenia is crossed with idyllic country walking lanes and local bars filled with local farmers.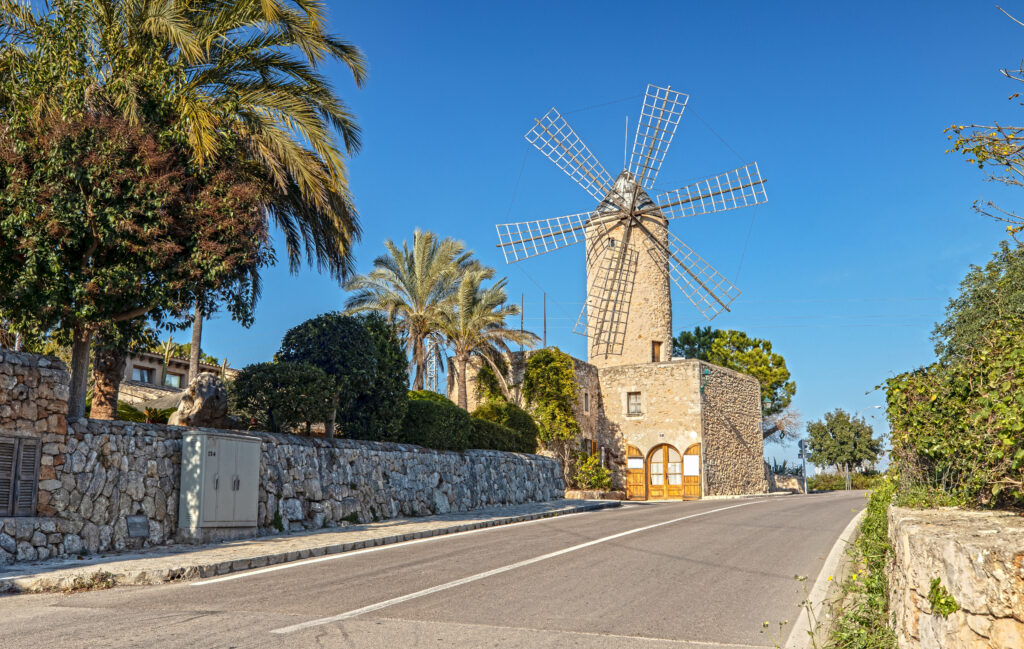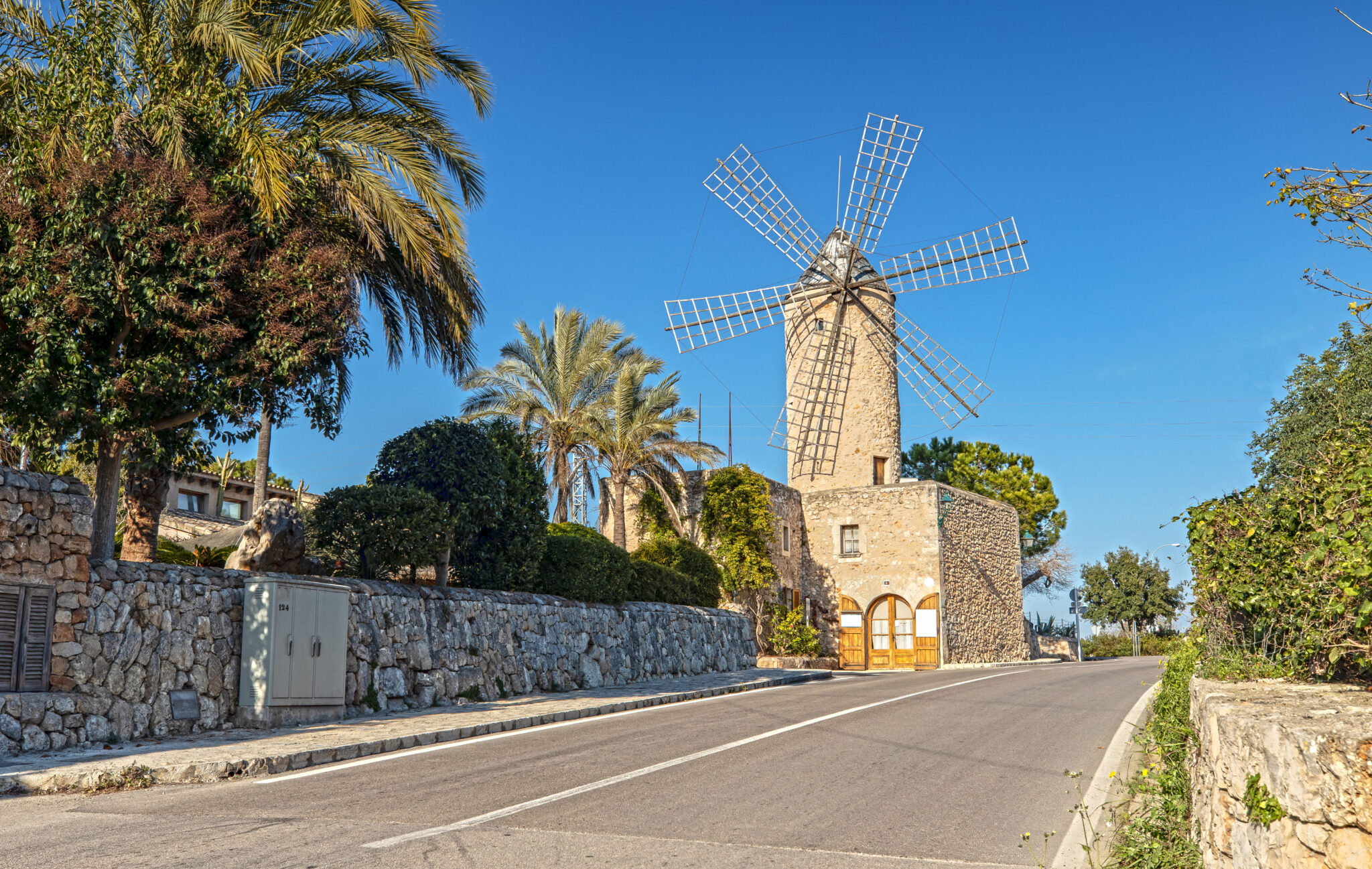 Geographically located at the very centre of Mallorca, the rural town of Sineu boasts beautiful architecture, with its parish church and a hospital that dates back to 1240. The town usually rests within a serene atmosphere, however, the weekly market brings an energetic vibe with local shoppers.
On a backdrop of stone windmills, the medieval town of Montuiri hosts a Gothic church and grand Moorish buildings. Nearby, you'll find the prehistoric site of Son Fornes and the Son Company cave houses. When you spend part of your holiday inland, you'll truly immerse in the traditional spirit of Mallorca.
Check out these central Mallorca hotels:

– The Hotel Son Trobat Wellness & Spa is the ideal retreat in Mallorca for those who want to get away from it all. Located in the northeastern corner of the island, it offers a refined elegance amidst a tranquil garden.

– The Can Cota Boutique Hotel is located in the ancient village of Selva in northwestern Mallorca. The perfect base for cyclists, there's a sumptuous infinity pool to sink into after a long ride.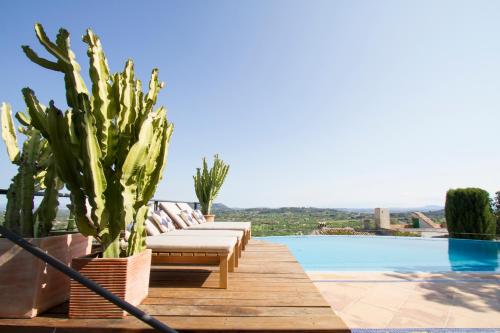 – Finca Serena is an exceptional property near Sineu in the middle of the island. The adults-only hotel is in a Mediterranean setting, among vineyards and olive groves. The muted interiors are straight out of a magazine & it'd make the ideal location for a wedding or celebration.

– L'Hermitage Hotel & Spa is set within a 16th-century monastery, and this history is evident inside and out. Relax in the stunning gardens, or on your private terrace and revel in the tranquillity.
---
Still haven't found what you're looking for? Browse places to stay in Mallorca Below!
Pin this for later!