Dangling off the coast of Ibiza, Formentera offers a stark contrast to its hedonistic sibling. Known as a hipster hangout, it's the place to go to enjoy island life in its purest form. And it goes without saying that Formentera beaches are key to its appeal as an easygoing isle.
The smallest of Spain's Balearic Islands, Formentera is a rare jewel in the Mediterranean. While other islands can sometimes wear the tired look of overtourism, Formentera, although getting more popular, has maintained a more laid-back approach. Come here expecting languid days spent beachside with just a book and a tattered sun umbrella for company.
Wondering which pristine playa to seek out first? We've scoured the island in search of the best beaches in Formentera, so you can find your favourite faster.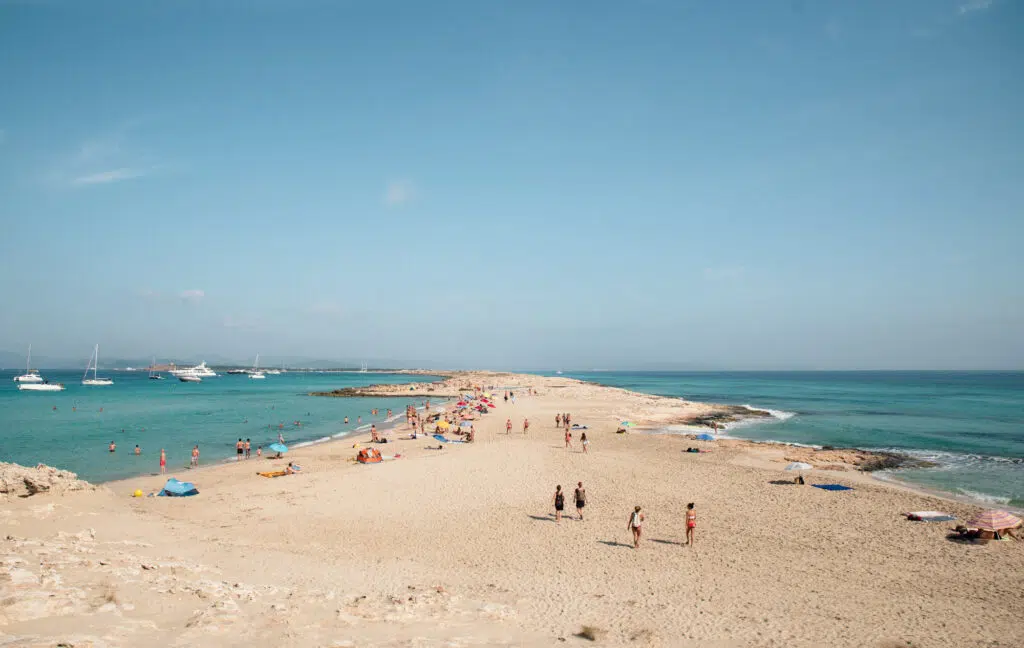 Related Reading: Best Things to do in Formentera
---
Formentera Beaches Map
There's a high concentration of stunning beaches in the north of Formentera, meaning easy access for day-trippers and visitors from nearby Ibiza. But if you're looking for a little more seclusion, you'll find it in the South East of the island.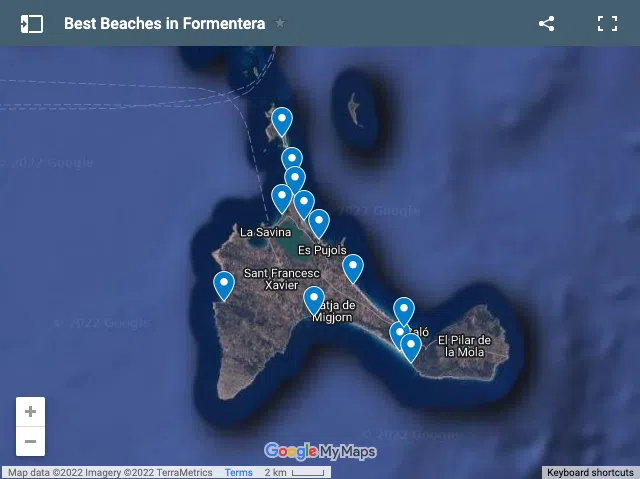 ---
The Big 3 – Main Formentera Beaches
The three largest, and most frequented beaches in Formentera are Ses Illetes and Llevant beaches in the north, and Platja de Migjorn in the South. Although popular, these beaches still have something special to offer, and their sheer size means there is plenty to uncover if you're willing to walk.. Let's discover them below.
PLATJA DE SES ILLETES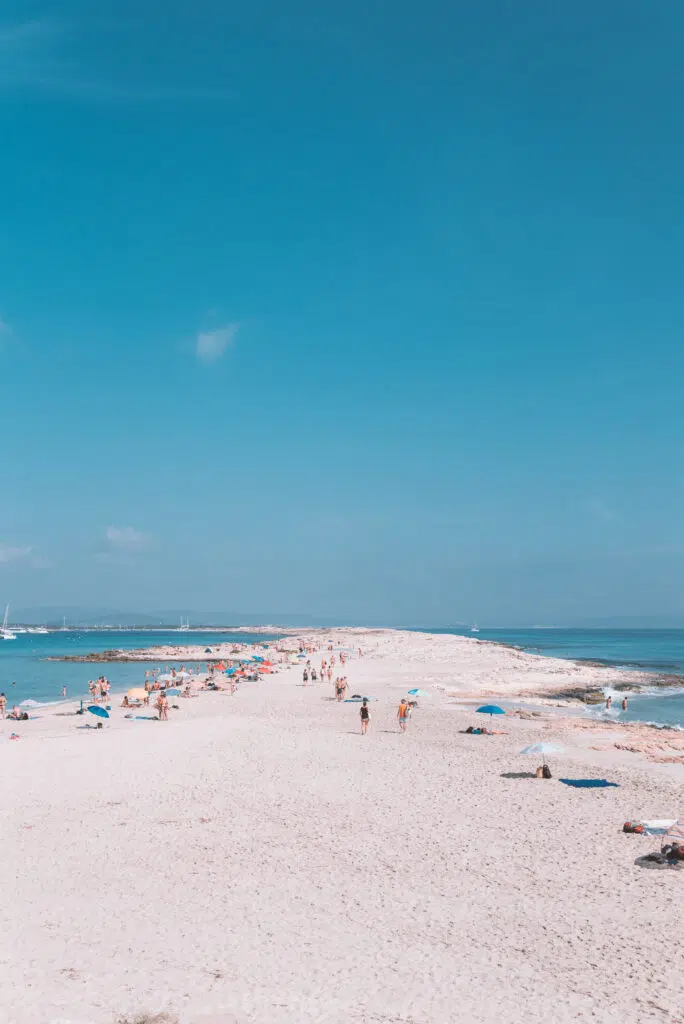 If I'm honest, it was the sight of Platja de Ses Illetes that first sparked my curiosity about Formentera. The thought of lounging on a seemingly infinite beach, one that reaches uninterrupted into the azure blue Mediterranean Sea.. Do beach holidays get any more alluring?!
Well, the expectation more than lived up to the reality on this serene shoreline…
Illetes beach is the chosen destination of many day-trippers to Formentera due to its proximity to the port, so it does get busy. But the further up this 1.5km stretch of coast you wander, the fewer people are present. And even in the height of summer, it's still possible to find space to splay out.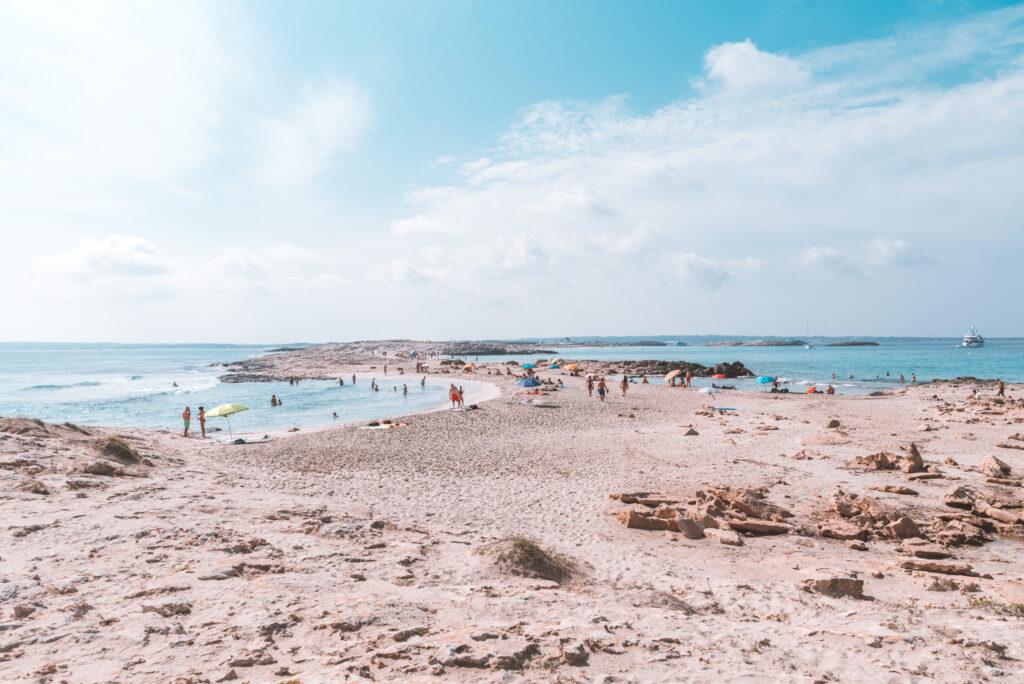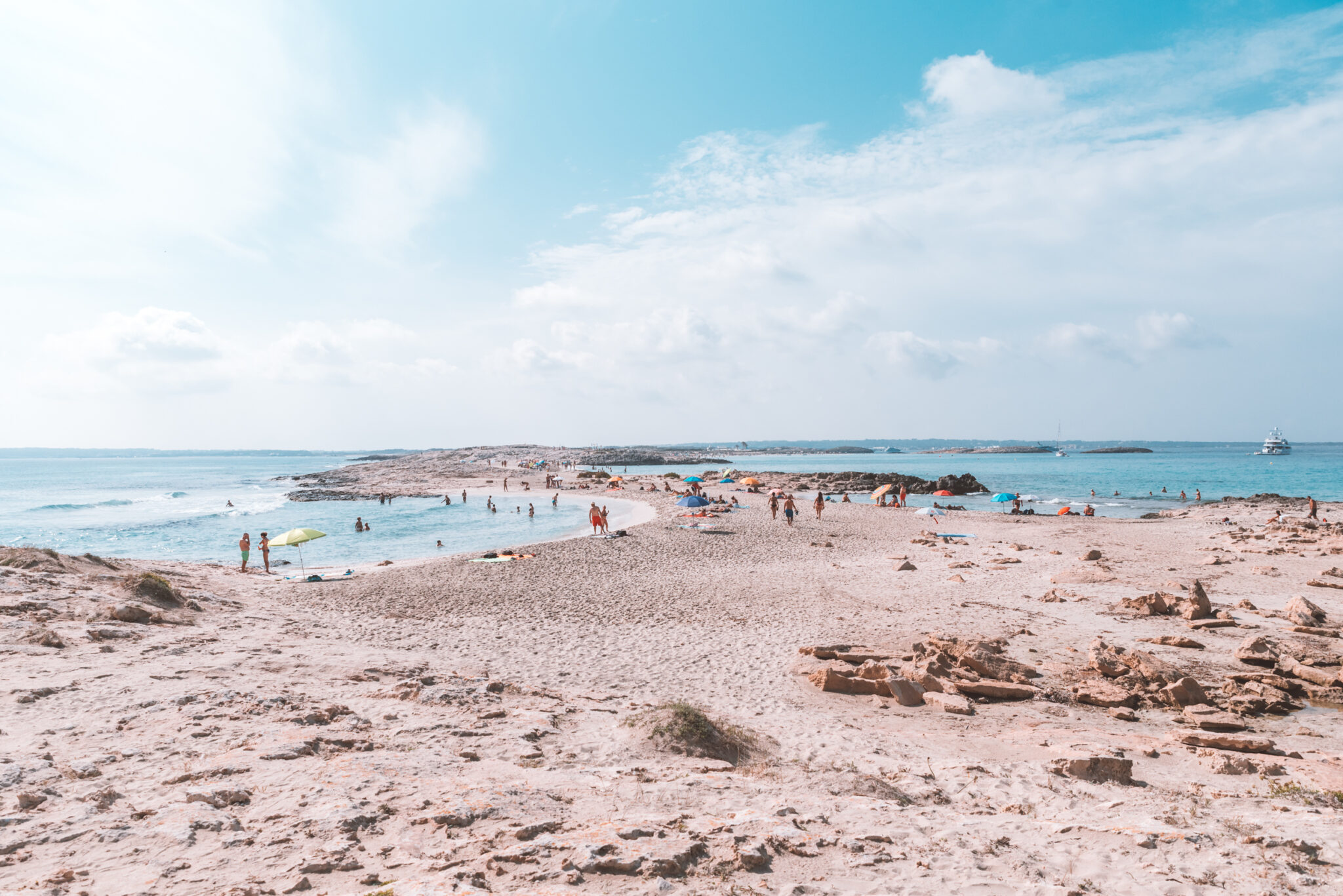 The entire northern peninsular is one giant sandbank, interrupted only occasionally by rocky banks and tussock topped dunes. There are few places like it, which is why it's been repeatedly voted as one of the best beaches in the world!
At the southern end of the beach, you'll find a couple of beachside restaurants. But be warned that they take full advantage of their isolated position to hike up prices. And other than the hawkers selling cut pineapples and fruit salad, there's nowhere else to eat, so bring your picnic if you plan on spending the day.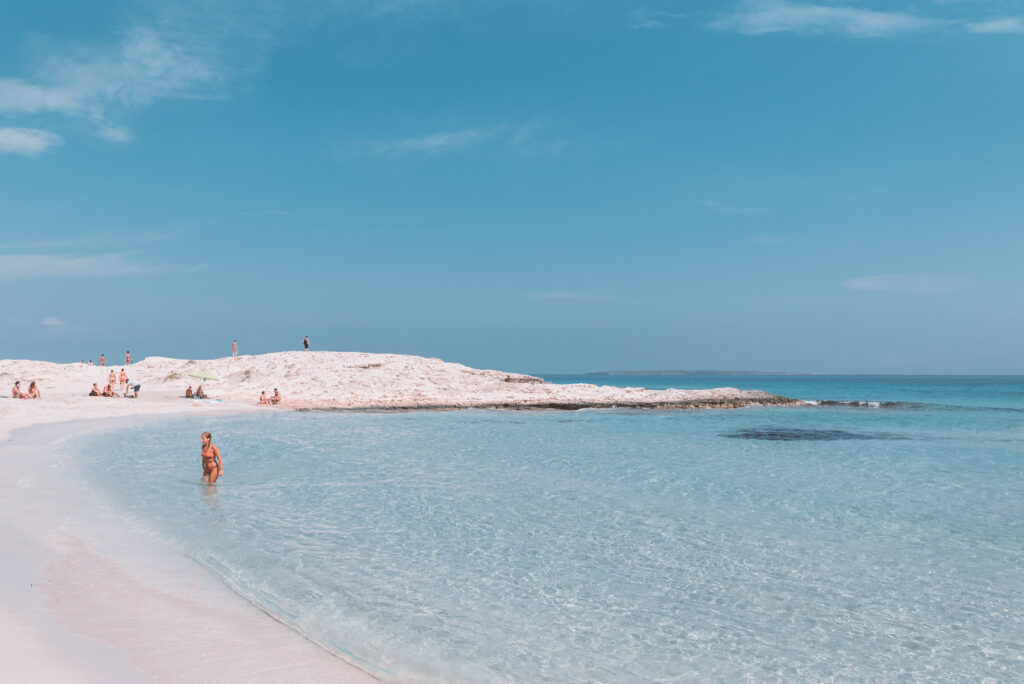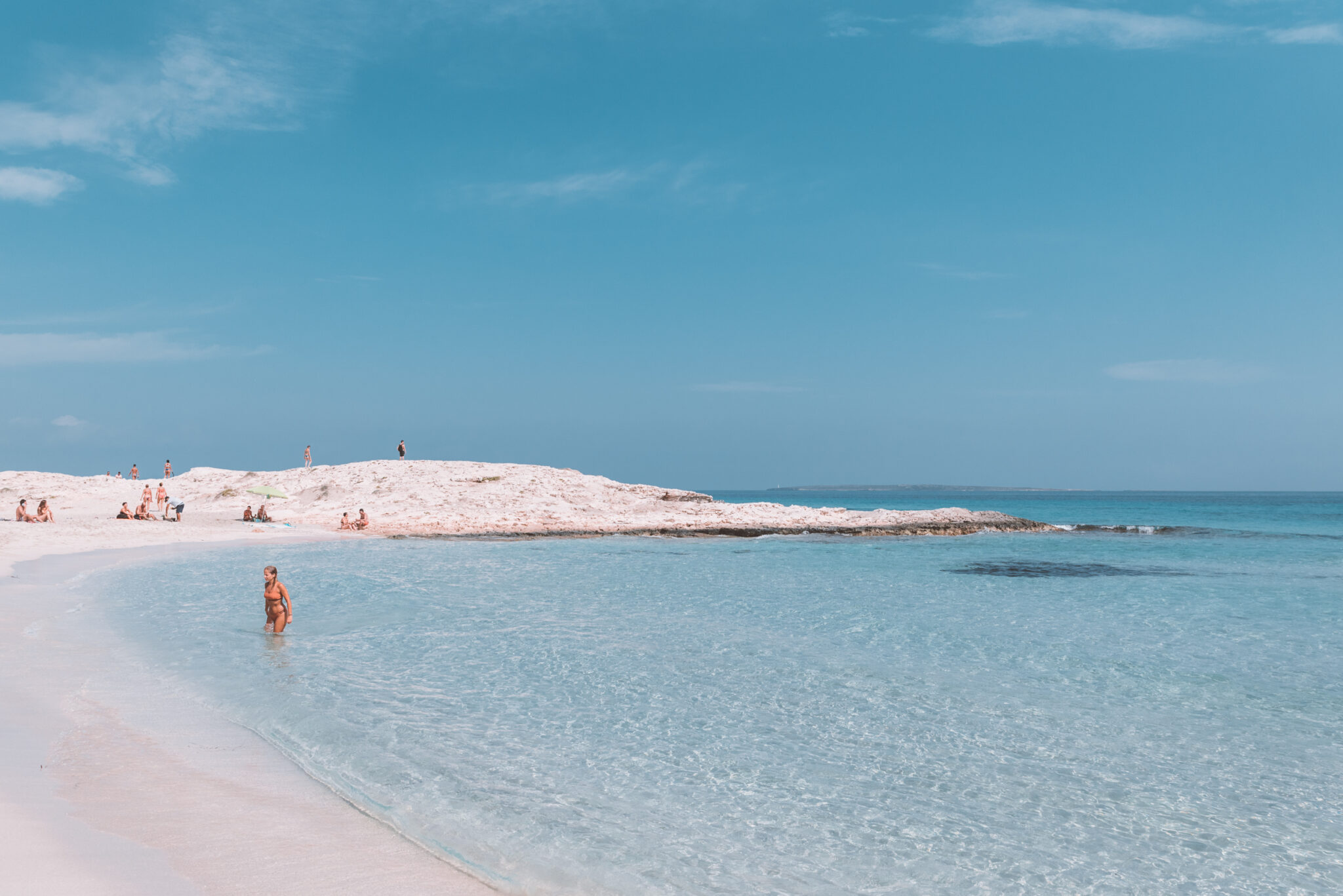 Vehicle access to Platja de Ses Illetes is limited, and costs between €4-6 for a car (depending on the month), so arrive early if you want to nab a coveted parking spot. I got there at 10.30am and there was already a queue to enter the parking area.
Tip – access to the beach parking area is free if you're driving an electric vehicle. I hired a Renault Zoe from Europcar via Discover Car Hire.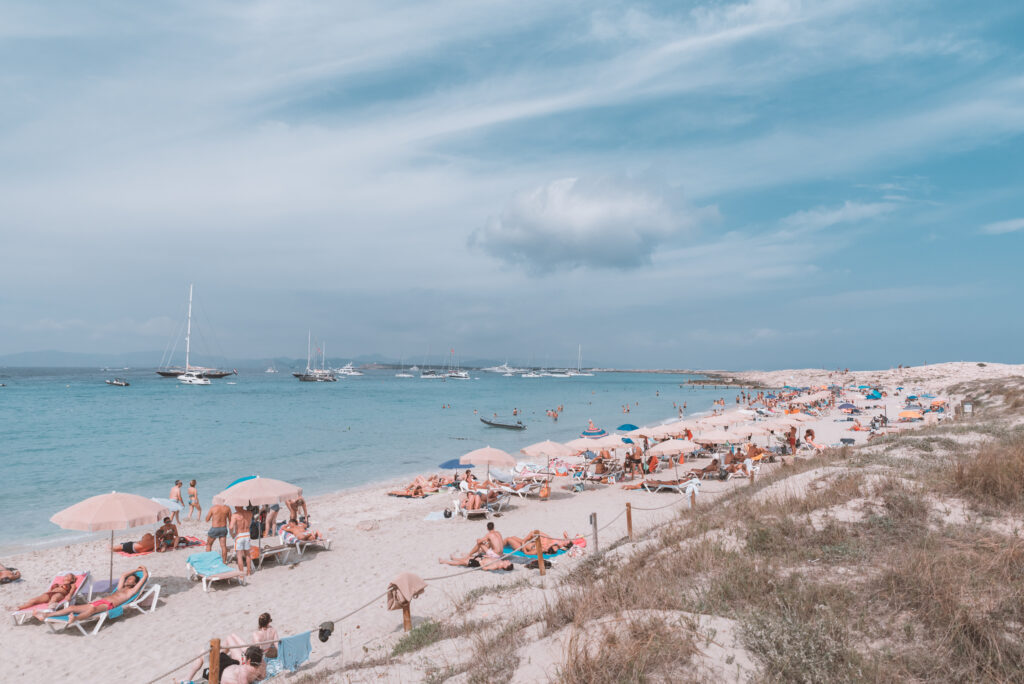 Once you've found your parking spot, be prepared to walk for a while to reach the quieter coves. The beaches on the western side, by the Juan y Andrea restaurant and Es Ministre beach bar, are very busy but more family-friendly if you want amenities close by. Otherwise, walk down the cape as far as you desire.
At the very end, after a short walk through a more rugged landscape, you'll find a small slither of sand called Es Pas. In summer you'll find a couple of bored-looking lifeguards stationed here – presumably to help anyone who has trouble crossing the shallow body of water to Espalmador Island.
You can see the private island hanging tantalisingly close to the shore, but it's not really advised to cross over as the sea here can be rough and the sea bed uneven. Instead, take a ferry service from the main port in Formentera.
PLATJA DE LLEVANT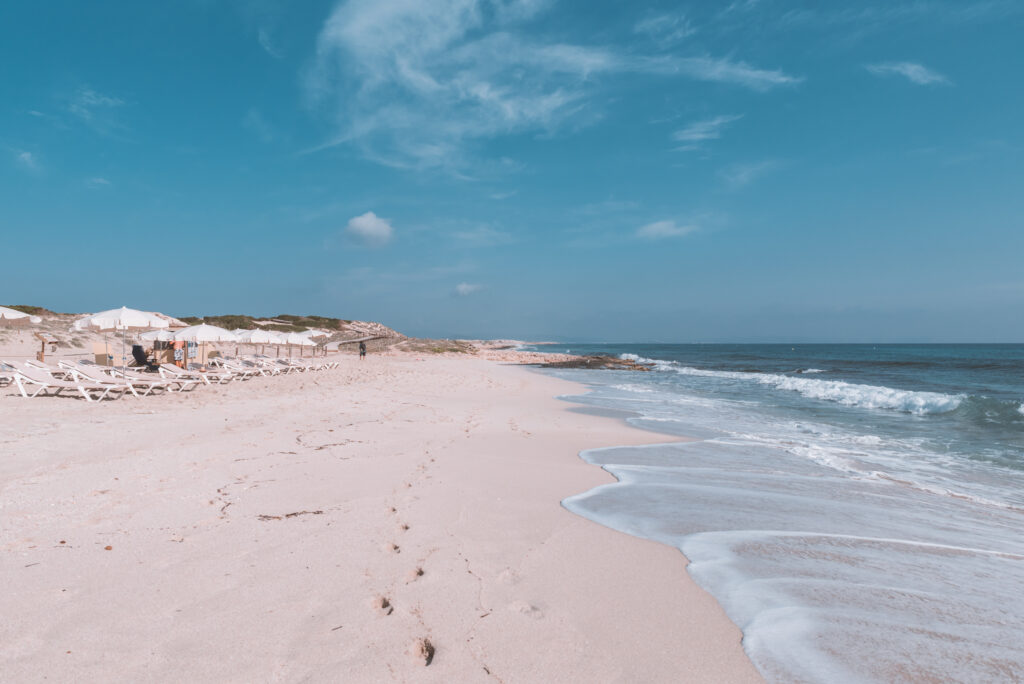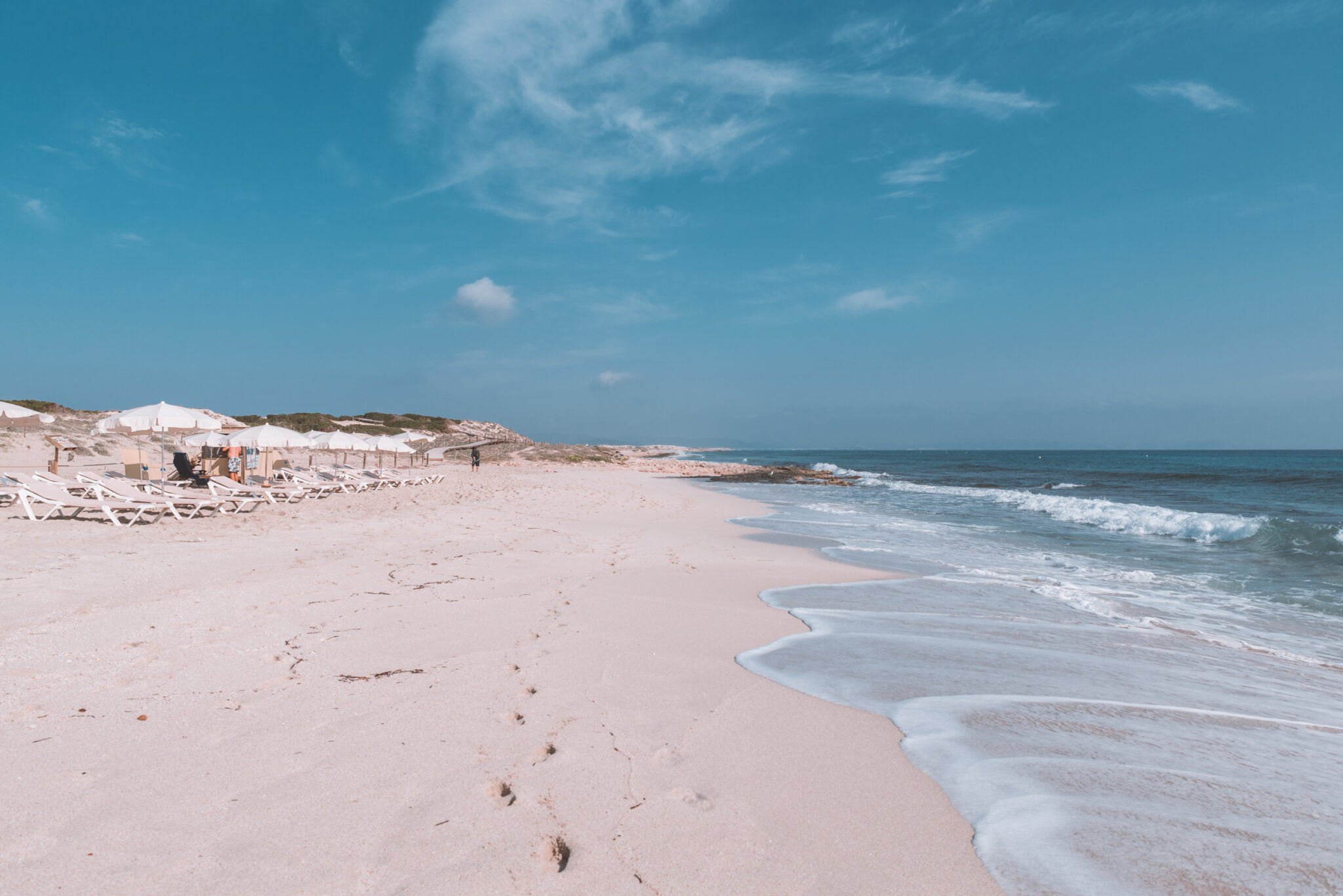 If you want a break from the beautiful but busy Ses Illetes, Platja de Llevant is the place to go. Whereas the beaches on the eastern side benefit from calm bays, Llevant is known as a surfing hot spot for its more active seas.
Even on a rather still day in September, the sea here was more choppy than over at Illetes beach, and therefore the swimmers were more scarce too. It's this slightly more wild and discreet feel that makes this a favourite nudist beach in Formentera.
Although the sand here may look soft enough to saunter on barefoot – you'll benefit from a pair of sandshoes as hidden rocks can wreak havoc with exposed soles!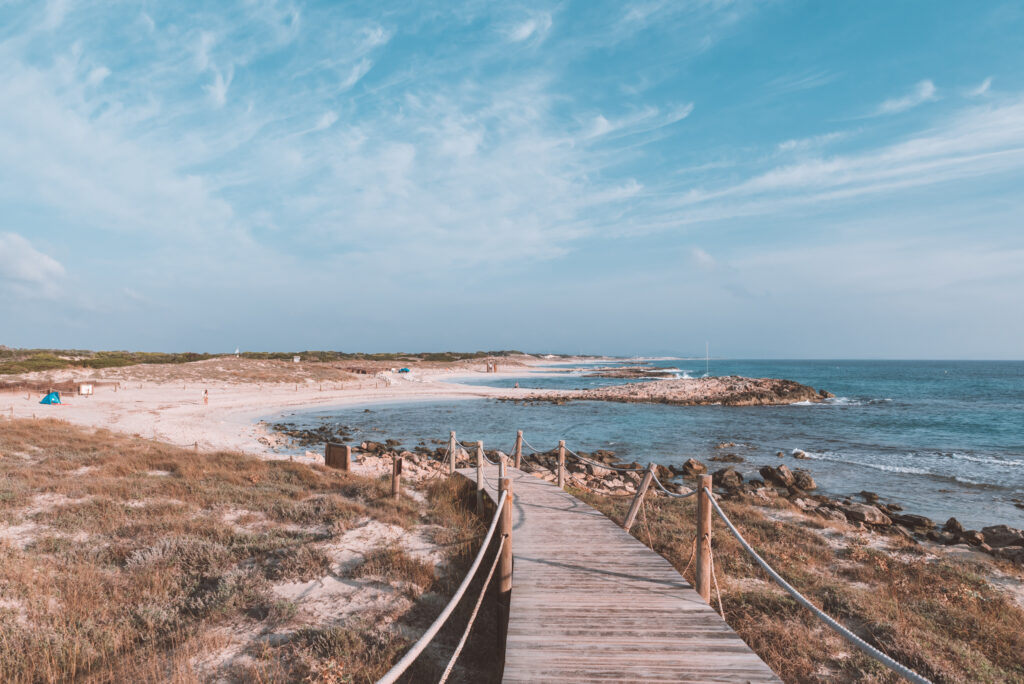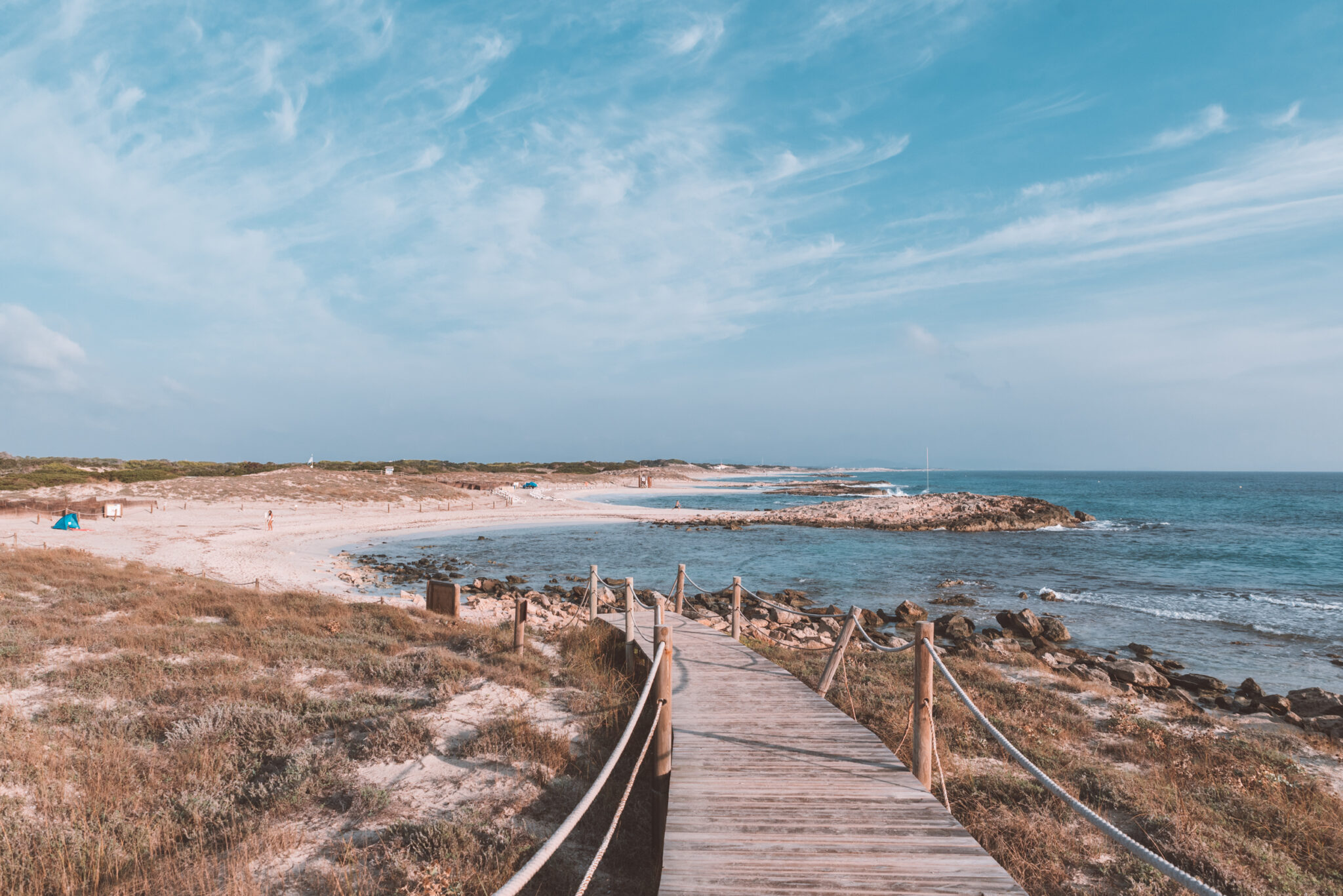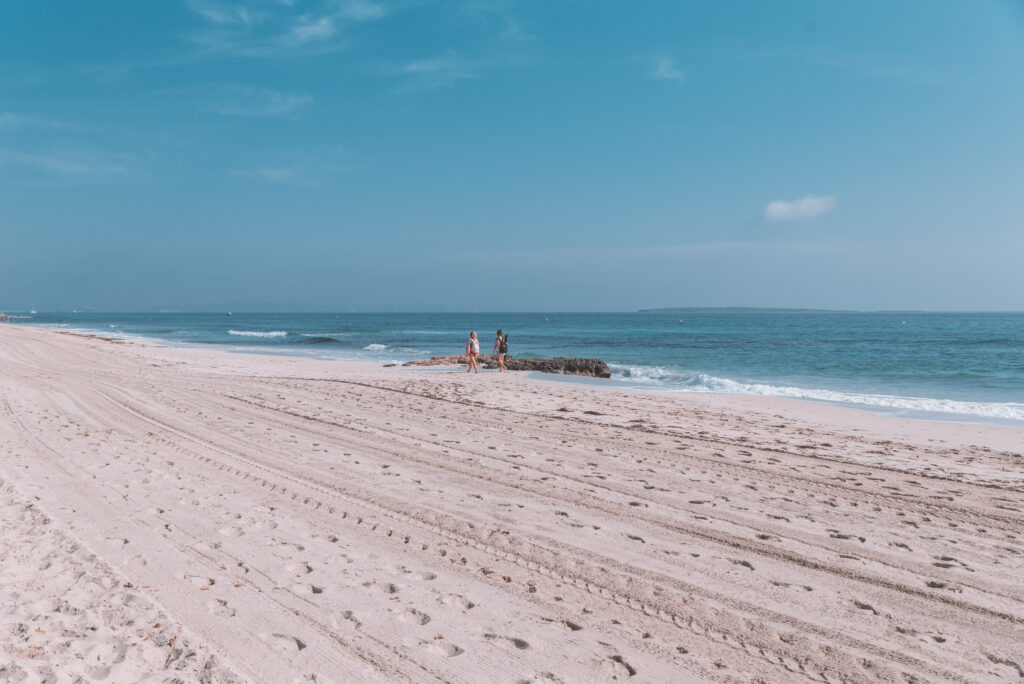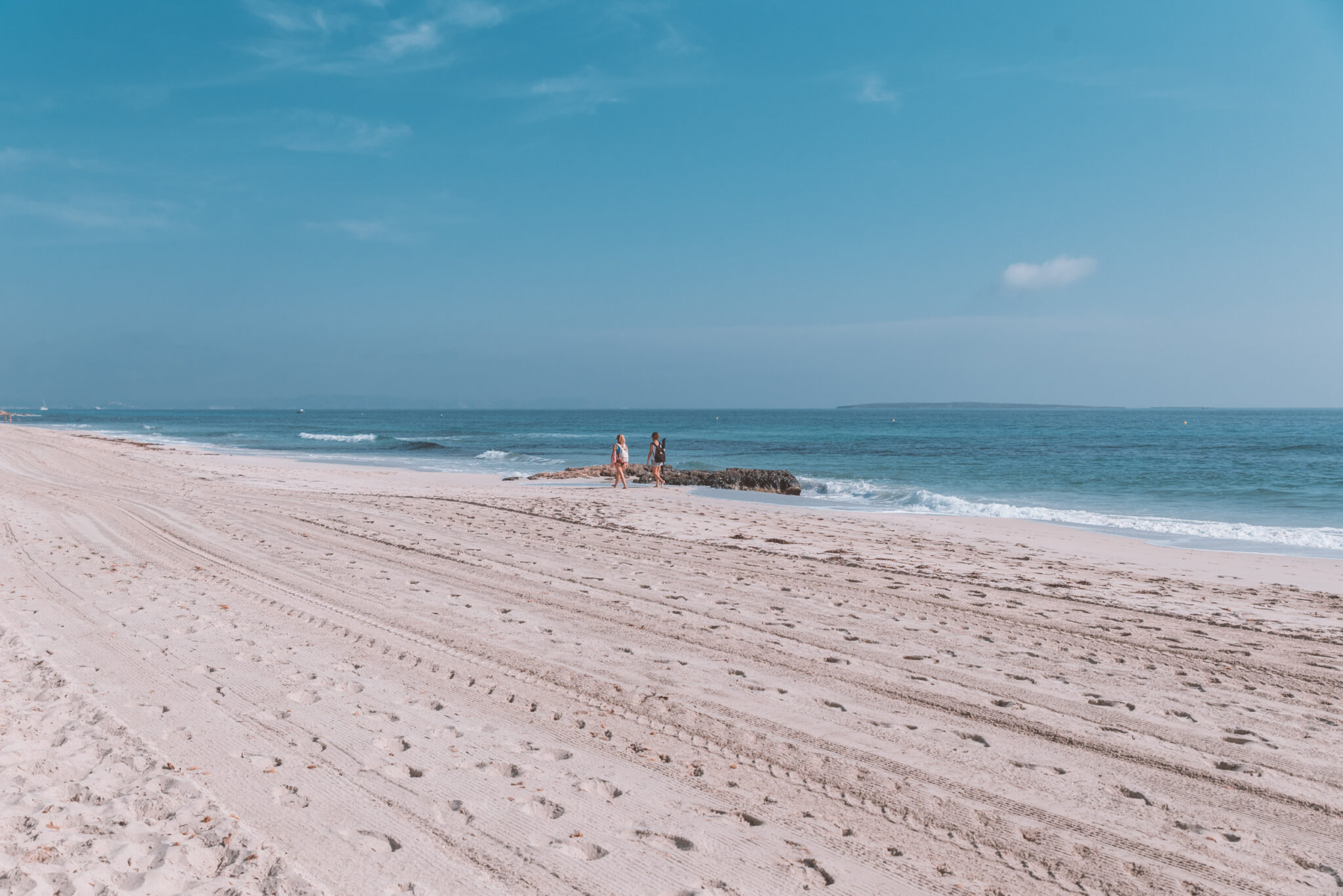 Portions of the beach are reserved for sun loungers (that you can hire for a fee), but there is still plenty of space for those who want to find solitude.
Many people who visit Llevant beach head to the northern end, which is accessed the same way as Platja de Ses Illetes (through a restricted 'toll' road). But Llevant actually extends a lot further south than Illetes and there is a small parking lot at Vapor Manolito (beach bar) where you can leave your car and enjoy the more sheltered coves that the southern end has to offer.
PLATJA DE MIGJORN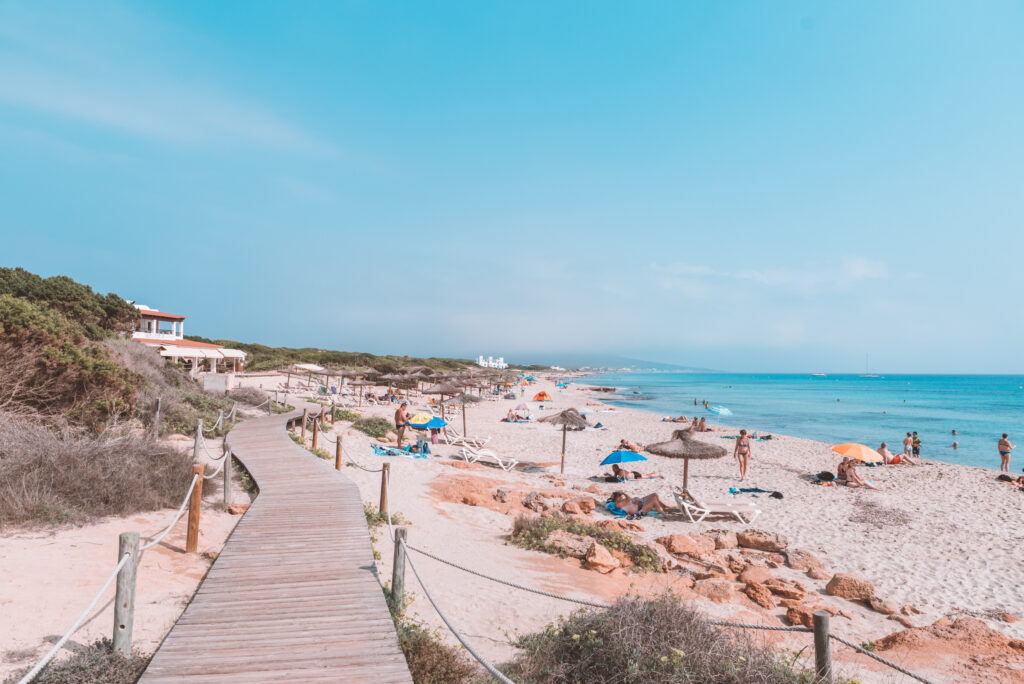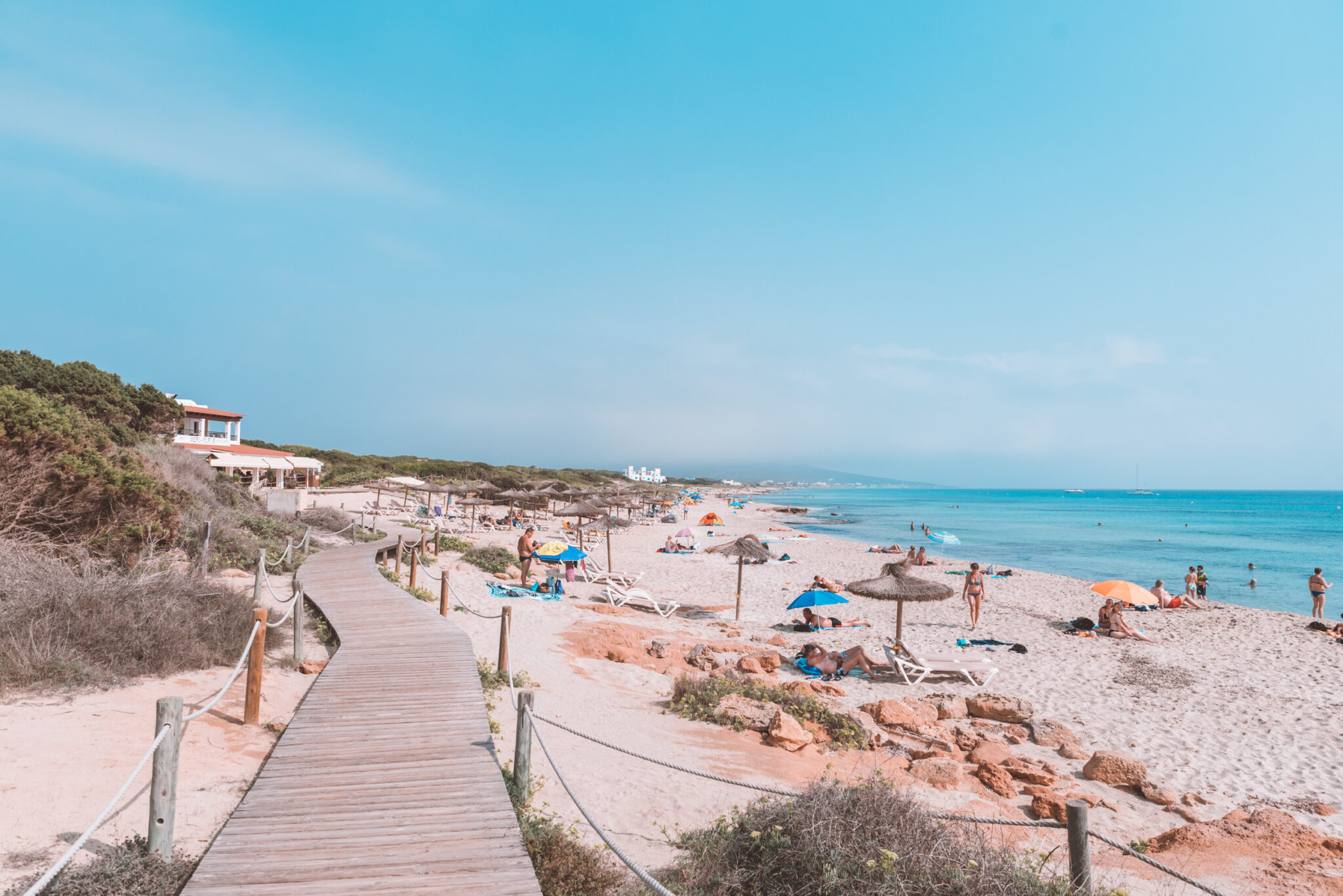 Platja de Migjorn spans much of the southern coast of the island and encompasses over 5km of sandy coves and sheltered nooks. No one area of the beach is exceedingly beautiful (if I'm to be particularly picky), but it offers accessible swimming and endless hours of beach-hopping pleasure.
Benefitting from being on the other side of the island to where the ferries dock, Platja de Migjorn is frequented more by locals and those staying on the island, rather than day-trippers.
Here you'll find fine alabaster sand, crystalline water, and calm bays – making it a good choice for families. Although do be warned that swimsuits are largely optional, and most beachgoers here prefer to go without.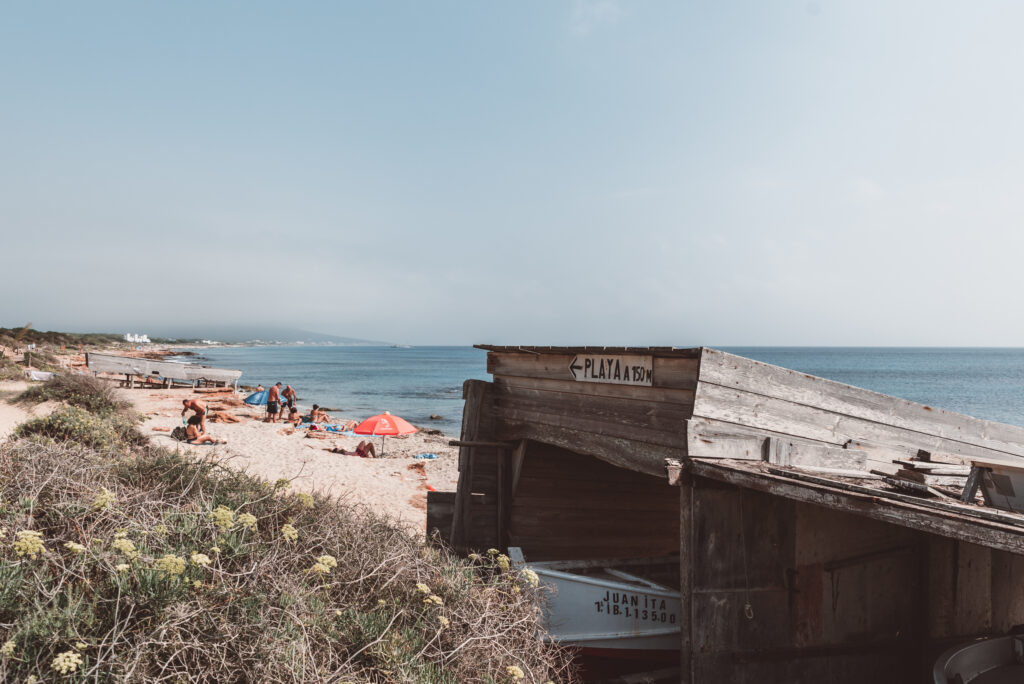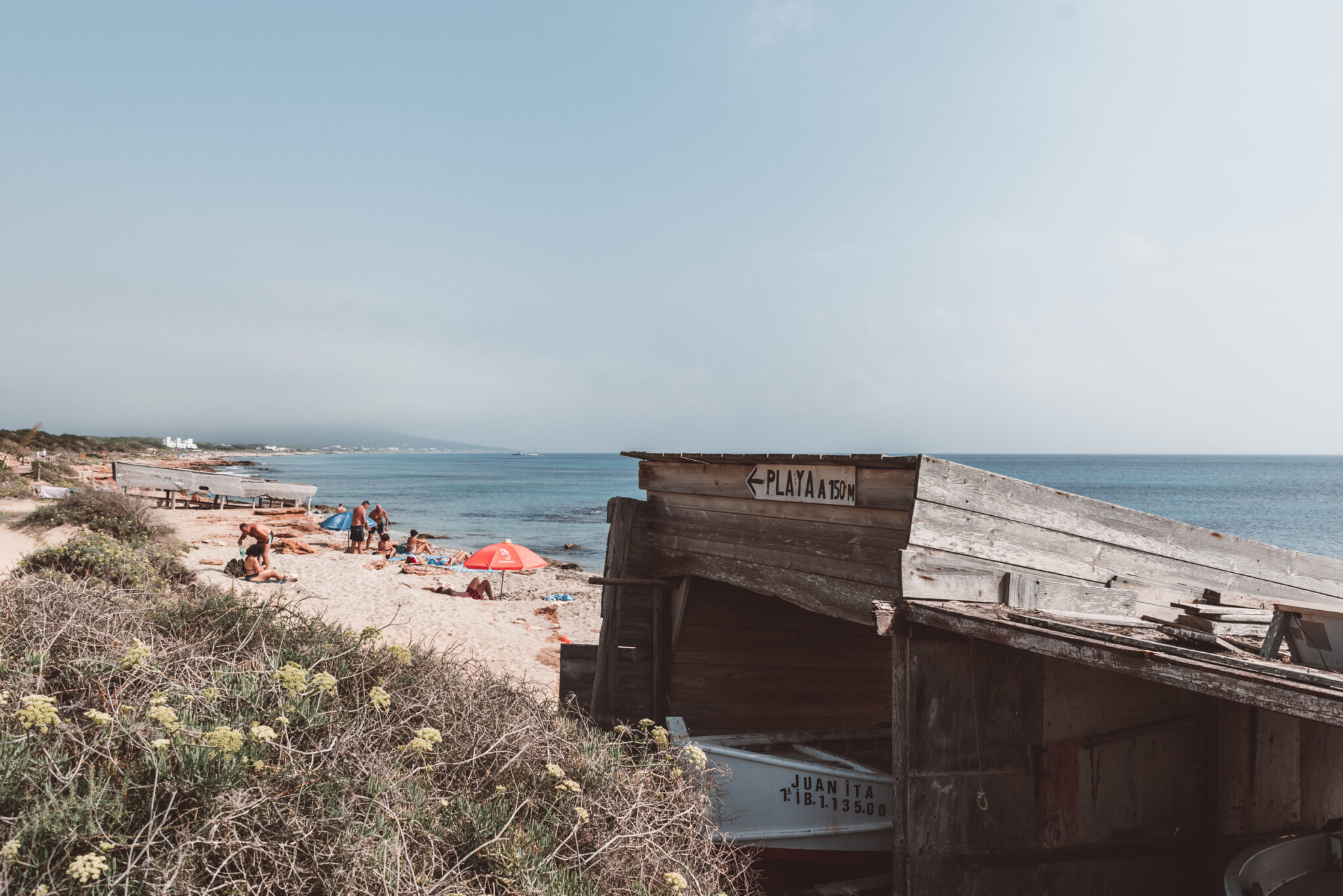 You'll share the well maintained wooden boardwalk with sun-seeking geckos as you wander down the length of the beach. Due to its length, and fairly undeveloped nature, there's a little more room here to scout out a secluded spot.
Although, if you'd rather 'pay to play' under the pre-prepared sun umbrellas & lay on comfortable loungers, you'll find plenty of them for hire too.
Never far from refreshment, beach bars are sprinkled in the surrounding dunes, poised to serve cold beers and simple snacks. Ranging from established beachfront bistros to temporary wooden shacks, you can bar hop your way down the beach should you wish.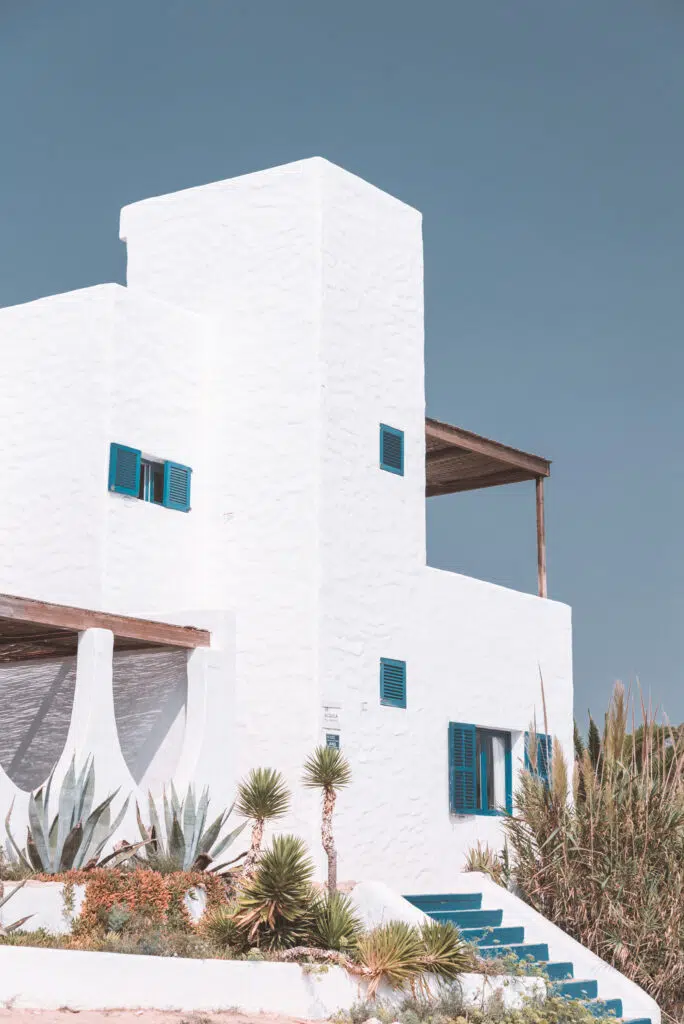 There are several ways to access the beach, though parking is normally street-side or in small beachside lots. I parked behind the Insotel Hotel where there's a large lot that's not exclusively for guests. From here you can walk down a dusty path that runs alongside the hotel to reach the beach.
Alternatively, there's another decent-sized parking lot next to the Blue Bar, and smaller ones at the Es Codol Foradat and Vogamarí restaurants.
– PLATJA ES ARENALS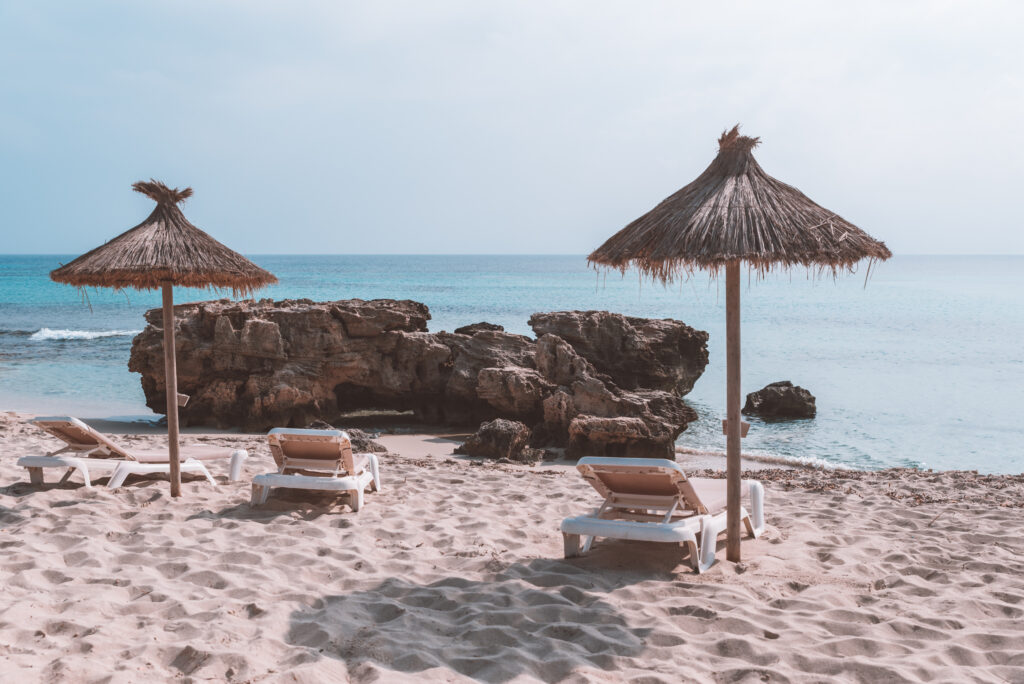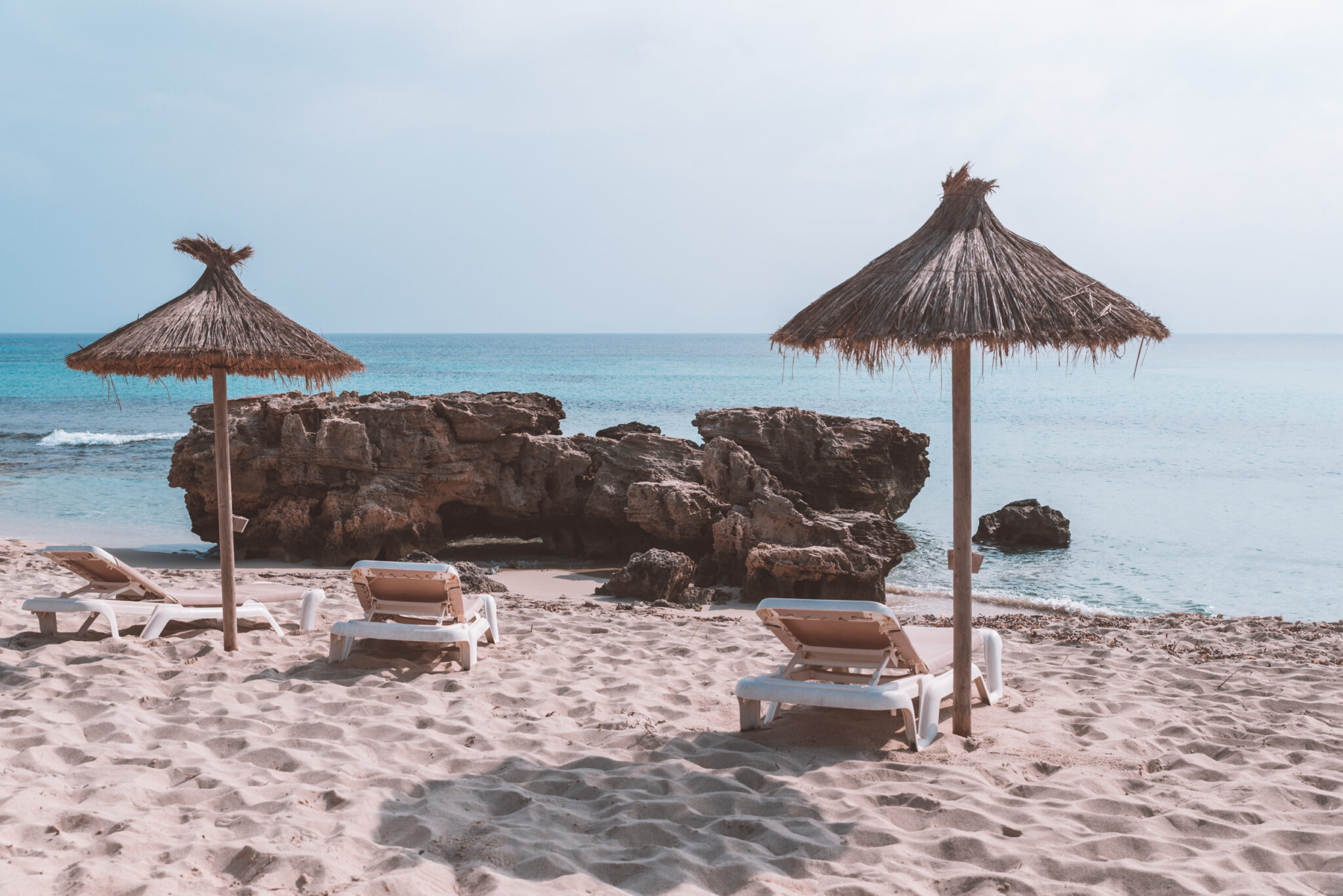 Located at the South Eastern end of Platja de Migjorn, Platja es Arenals is a favourite among families for its sheltered position and optimum swimming conditions.
The wide cove provides ample real estate for loungers, but there's plenty of space to spread out and play sports too. Speaking of sports, here you'll find a wealth of the water variety on offer – including windsurfing and paddleboarding. Snorkelling isn't the best as there are very few rocks in this part of the beach.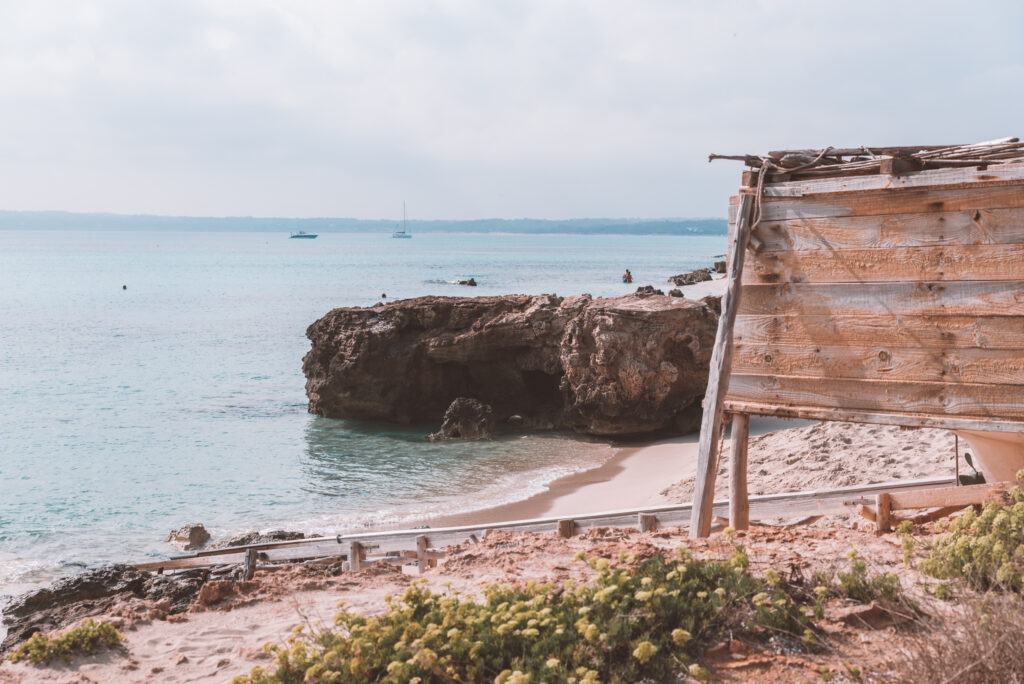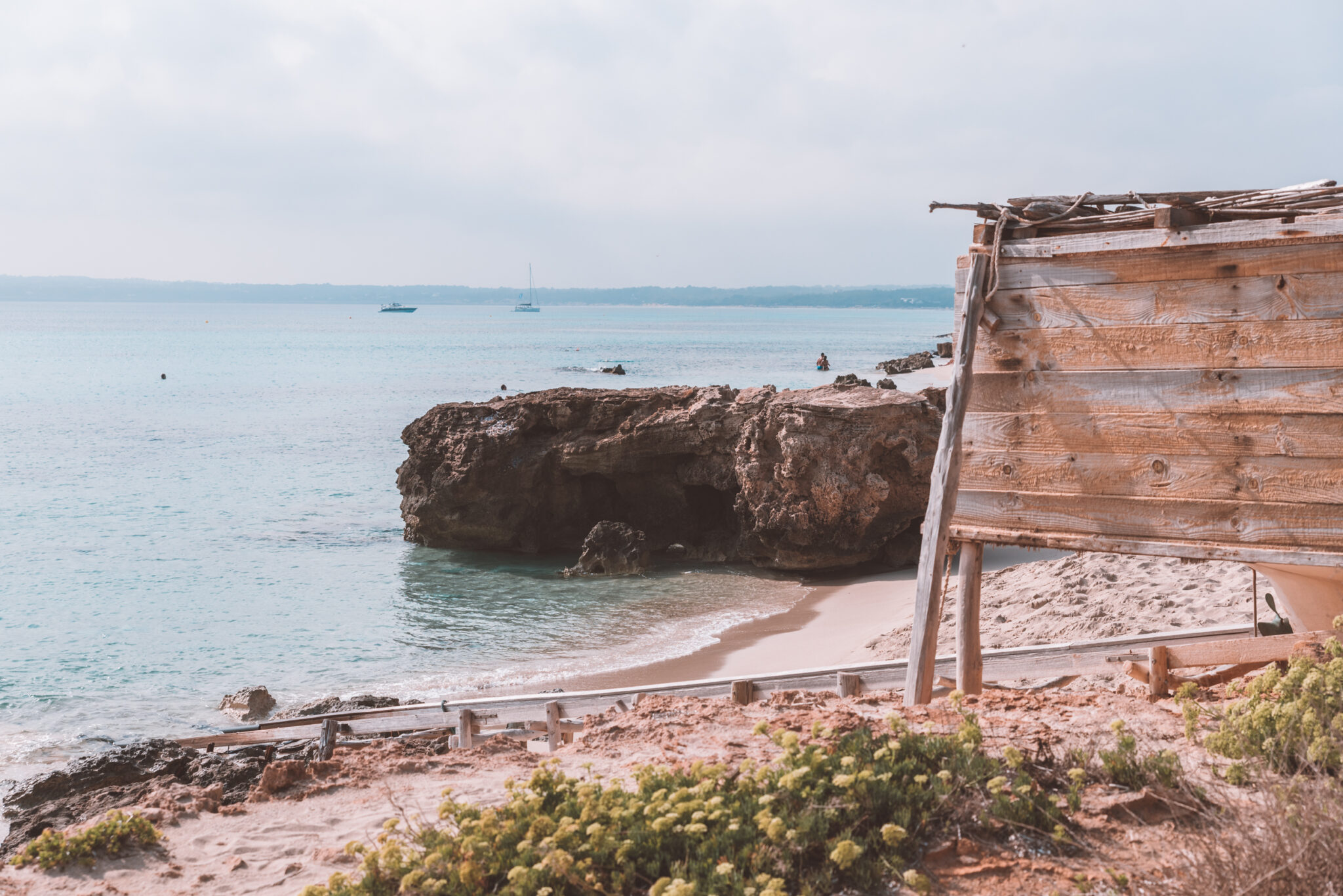 Due to its more family-friendly vibe, swimsuits are more common here, but still optional.
Walk down the beach to Calo des Mort, grab lunch at one of the restaurants or beach bars, and enjoy the scenic surroundings.
There's a free (albeit not overly large) parking lot right by the beach. To get there, aim for the Es Arenals Restaurant, and it's on your right just after Hostal Maysi – you can't miss it.
– CALO DES MORT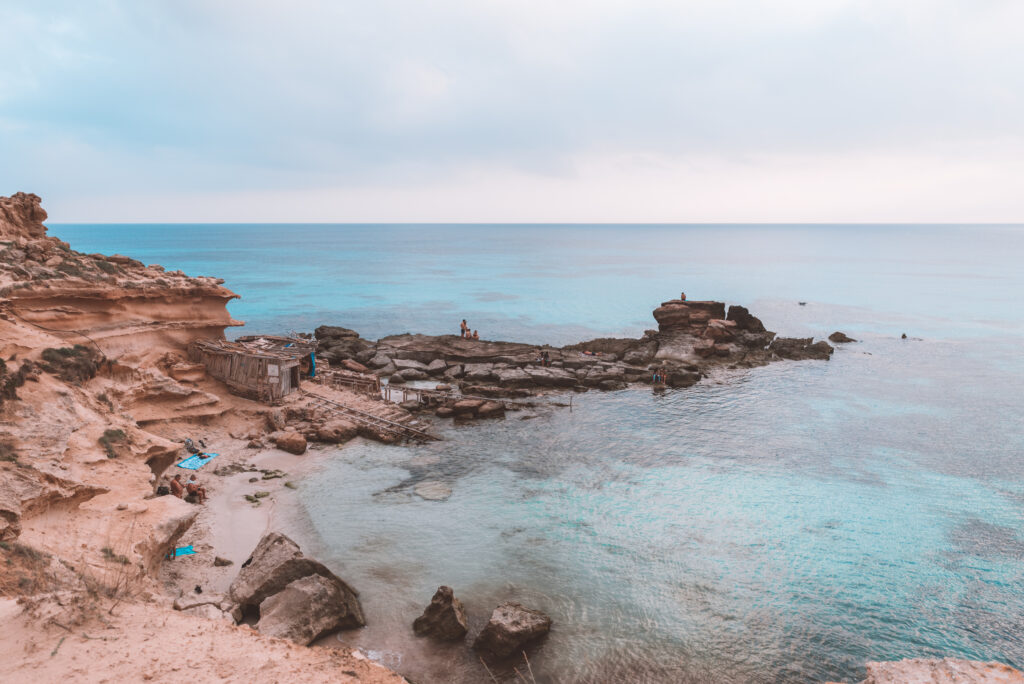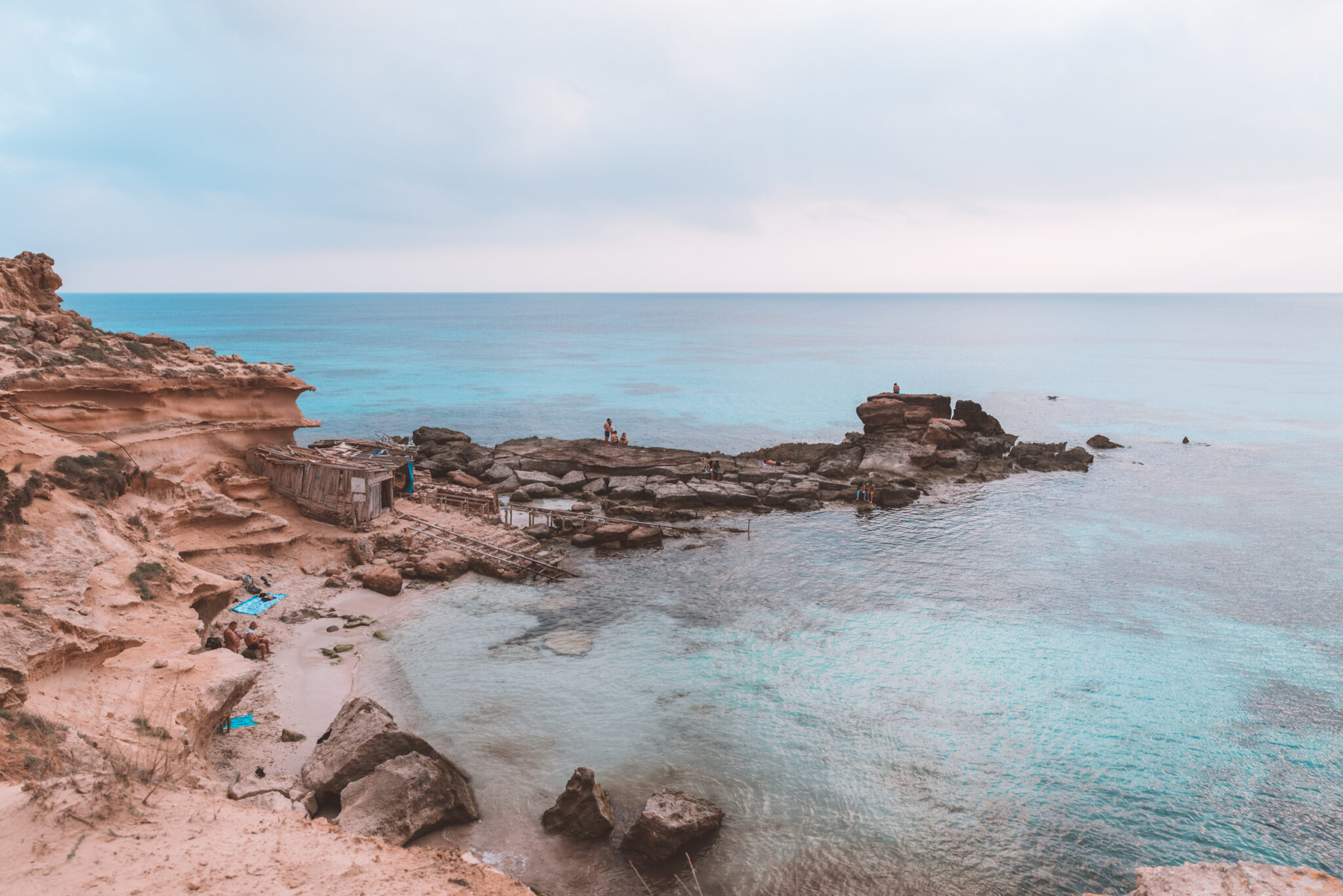 Probably the most Instagrammed beach in all of Formentera, Calo des Mort has a reputation that far exceeds the size of its petite cove. But there's a good reason for its Insta-fame and that's the stunning combo of jagged cliff faces that frame the bay, crumbling fishermen's huts, and the most beautifully clear water you've ever laid eyes on.
Due to the protected shape of the bay, the water here is calm and perfect for snorkelling. The surrounding rocks provide refuge for schools of fish, so pack your snorkel and you'll be in your element.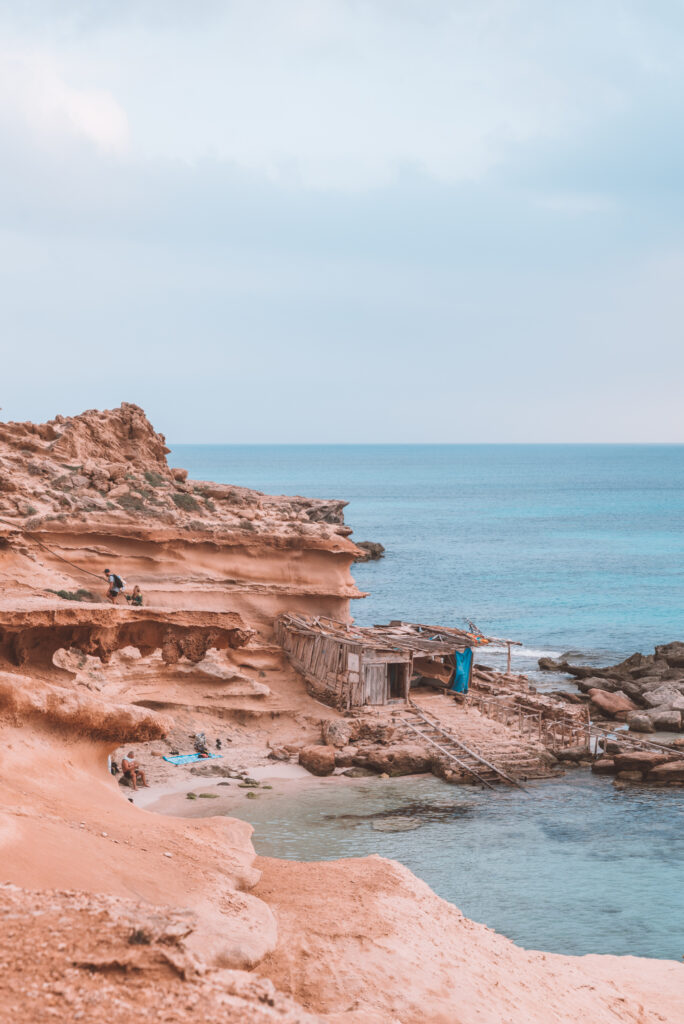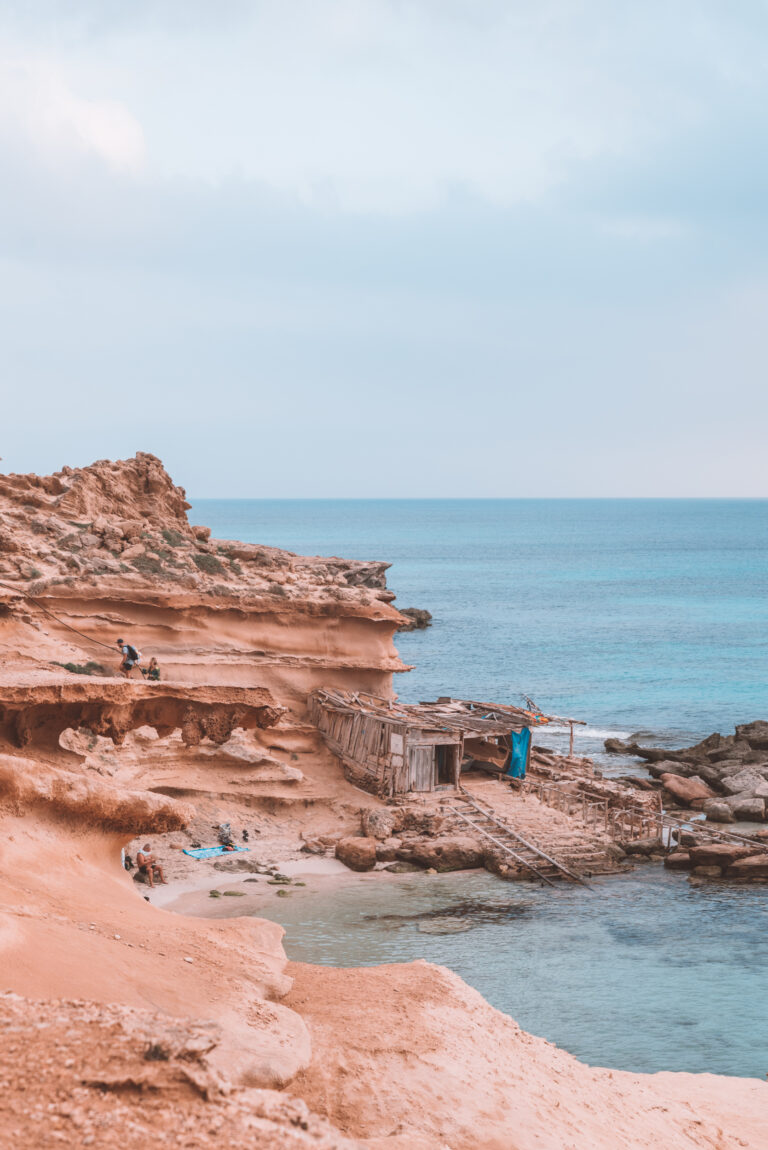 Though it lacks space on the sand, you'll find beach-goers draped over every spare rock in the summer months, so come early or be prepared to miss out.
There are portable toilets nearby, and a small beach bar over the cove for that sunset drink on the way home.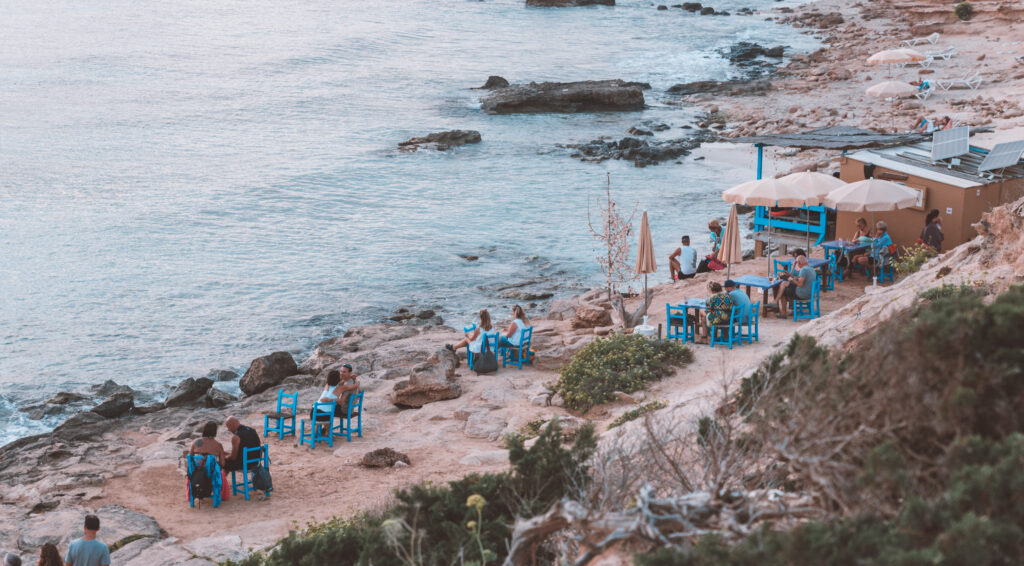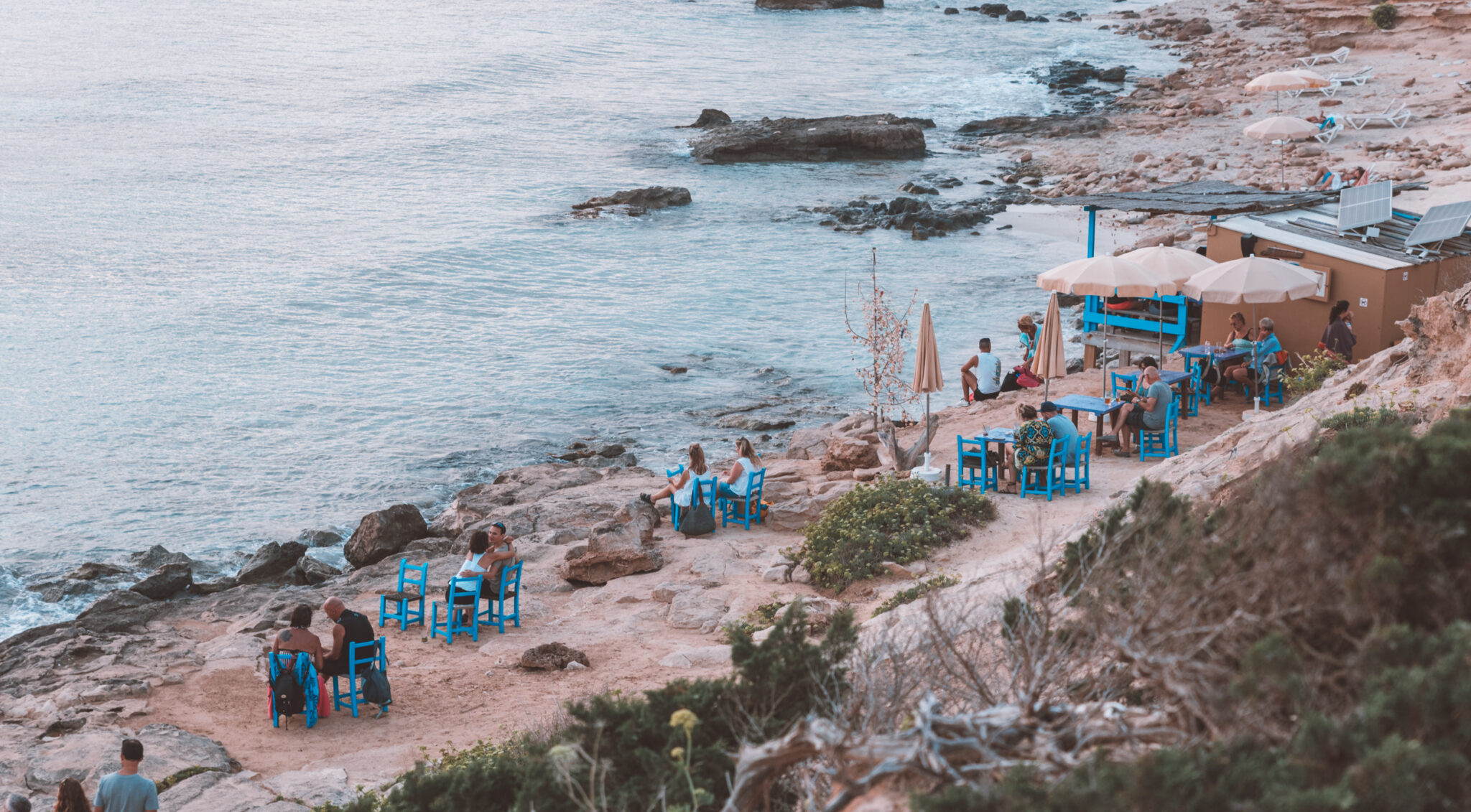 There's a path that will take you further around the island to the more wild and remote Es Ram beach. It's a little tricky to navigate though, so take decent shoes to walk in. Once you arrive, there's not so much of a beach to sunbathe on, but the sea is calm and clear for swimming & snorkelling.
To get to Calo des Mort, drive down Carrer Maryland and there is parking on the side of the street. From here you can walk the last 200-300m via the coast. I did see a smaller parking lot closer to the beach, but to reach it you'd have to drive down a long dirt road which isn't always advisable in a rental car.
---
Lesser-Frequented Formentera Beaches
Looking for somewhere different? The following beaches all offer something special, whether that be their unusual surroundings, their rugged charm, or their accessibility for those with special needs.
SES PLATJETES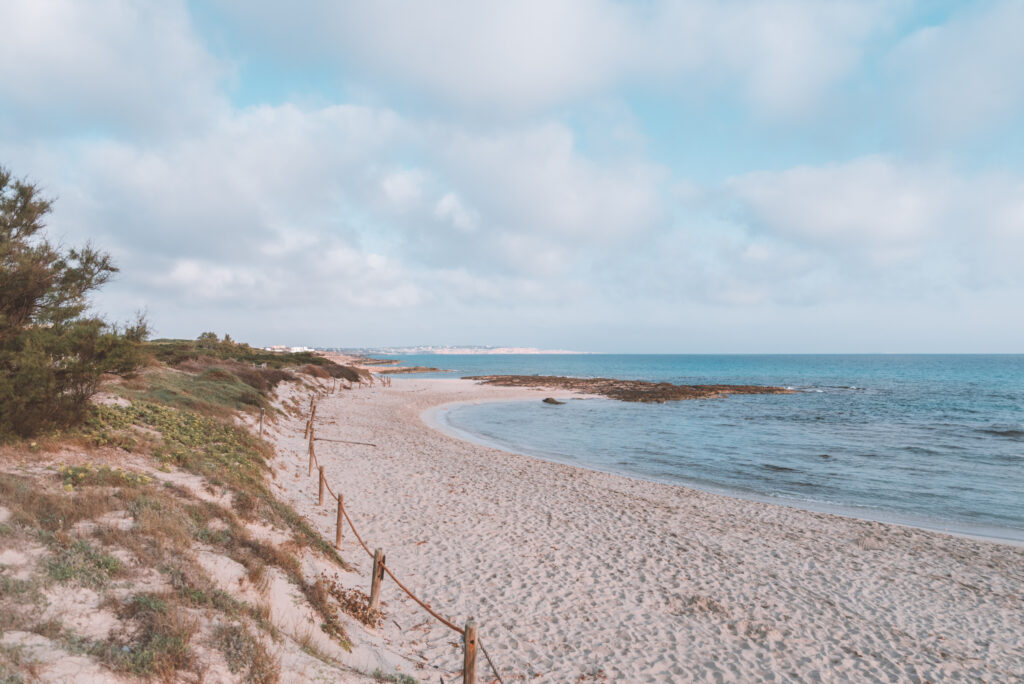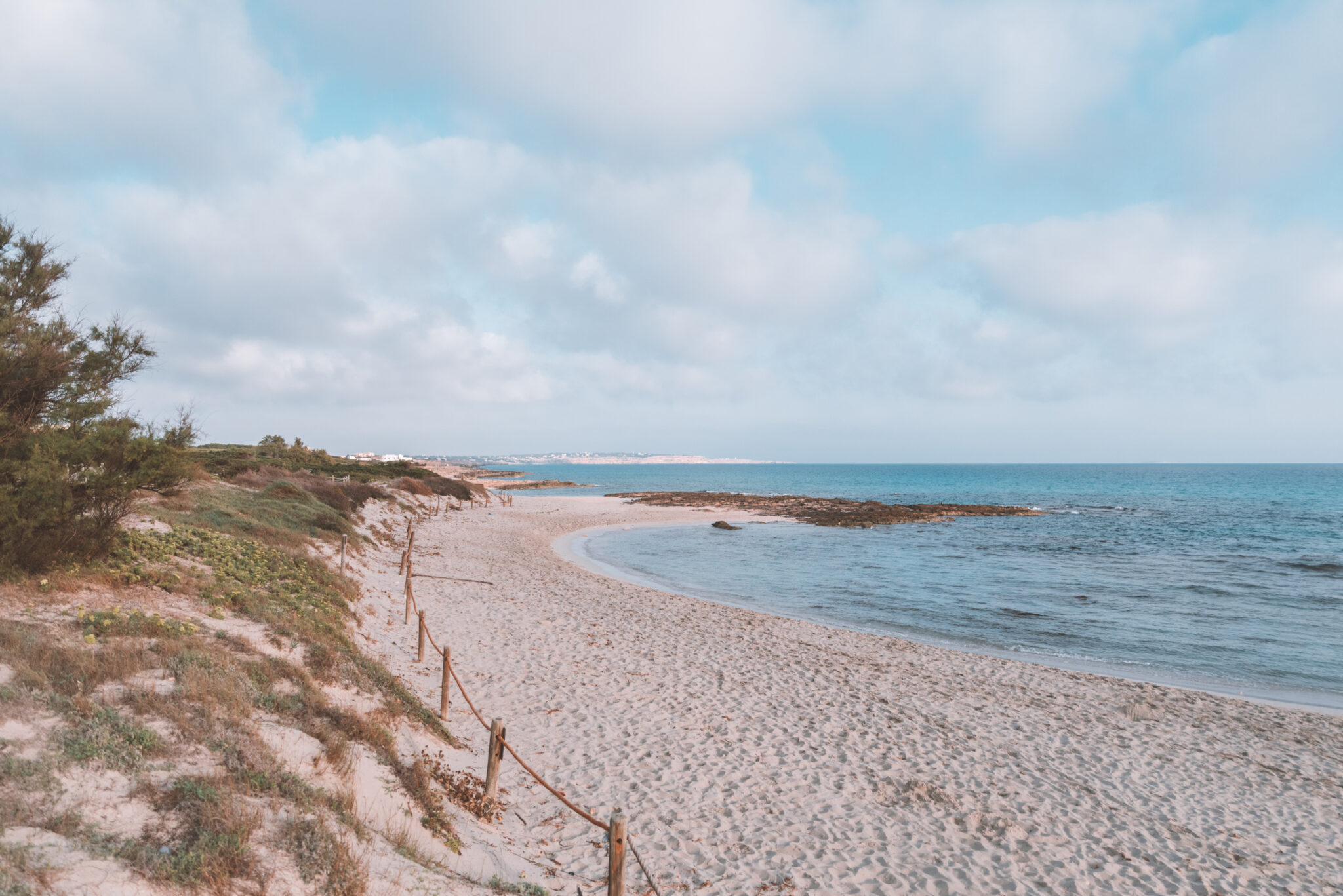 Situated in a quiet nook, just down from the fishing village of Es Caló, Ses Platjetes is a series of three little half-moon bays backed by dunes and a wooden boardwalk. It's quiet here, and perfect for those who want to relax in nature.
The sea is calm for swimming and a cluster of little rock pools at the beach edge makes for a great toddler's play area. The entire beach area is only 600m long, but the sandy bays are fairly deep.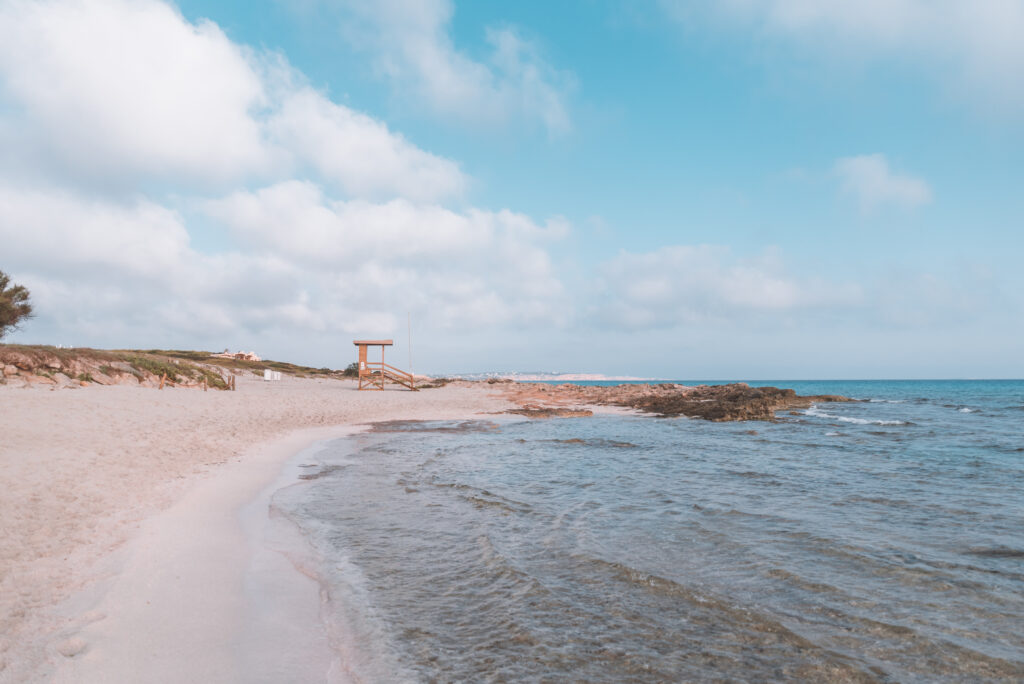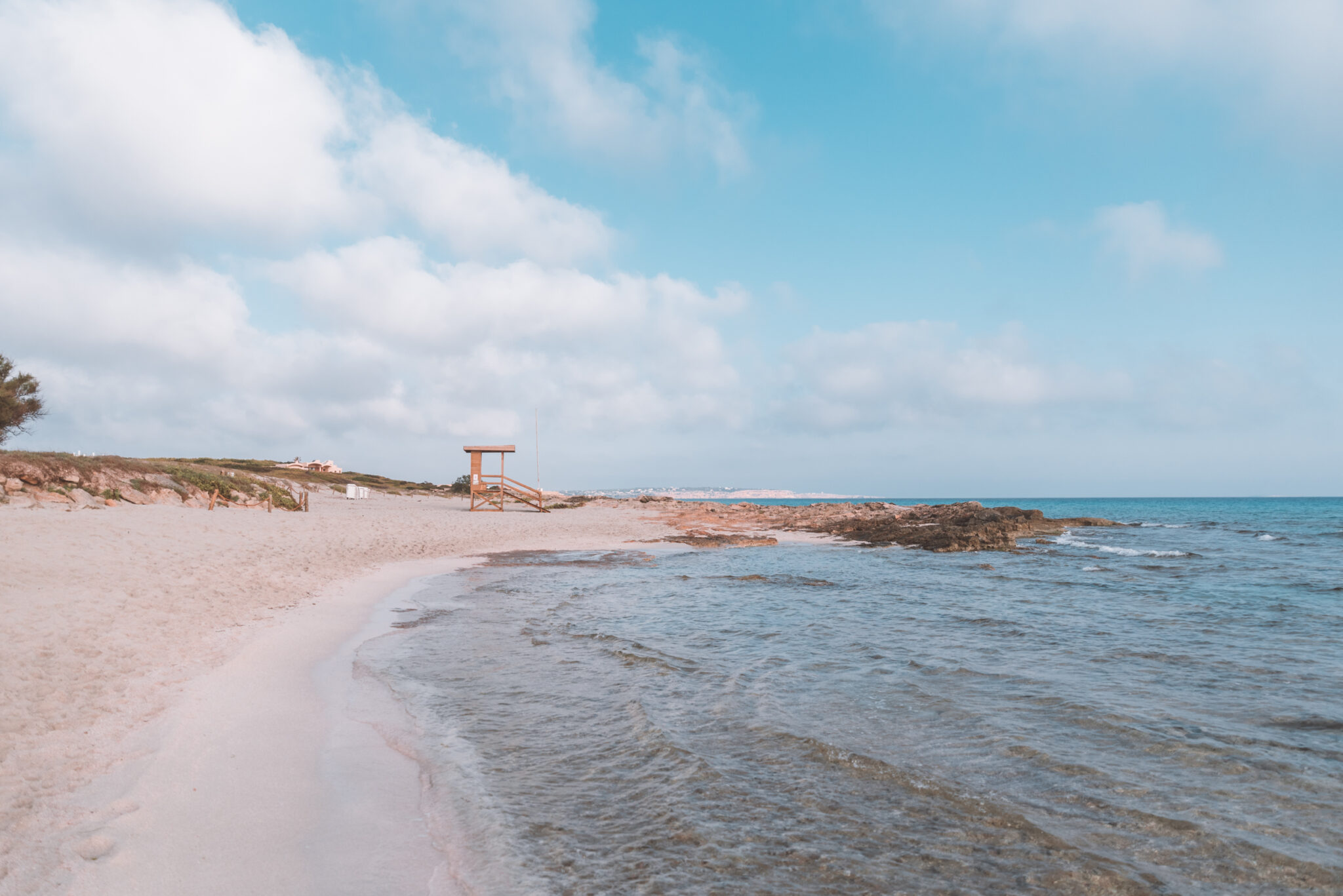 Es Caló would make a good base to stay for a family holiday in Formentera as it's big enough to have the amenities you need while still feeling secluded and authentic – unlike most resort towns.
To get here, simply drive to Es Caló and park at the small parking lot on Carrer dels Pescadors.
CALA EN BASTER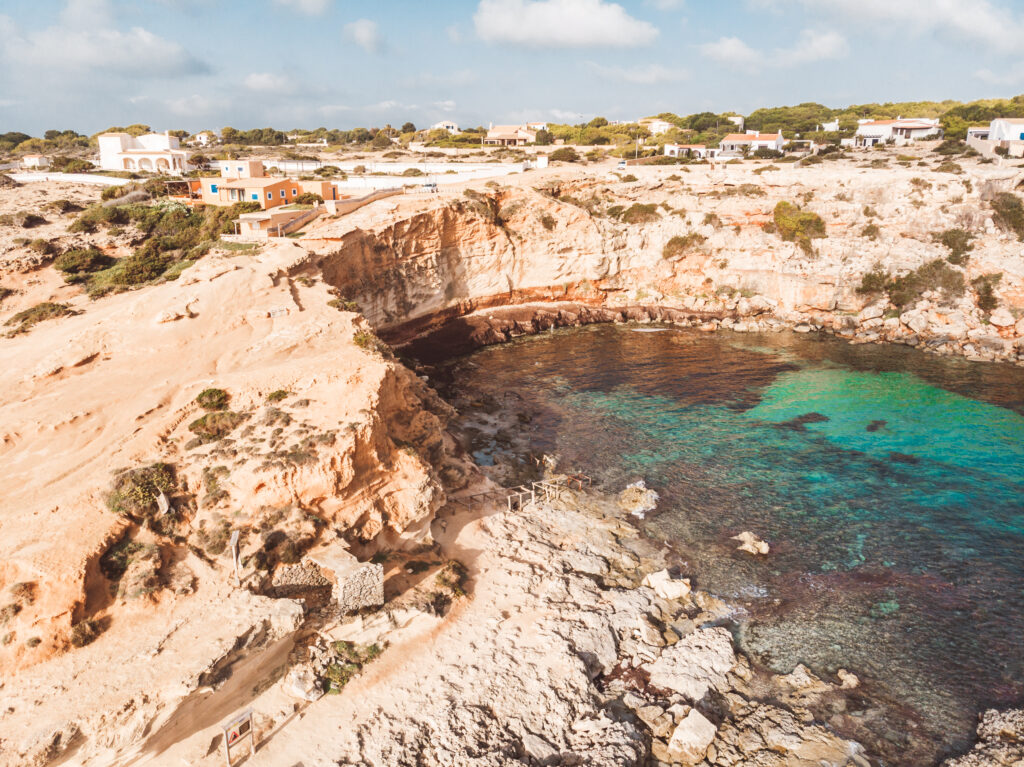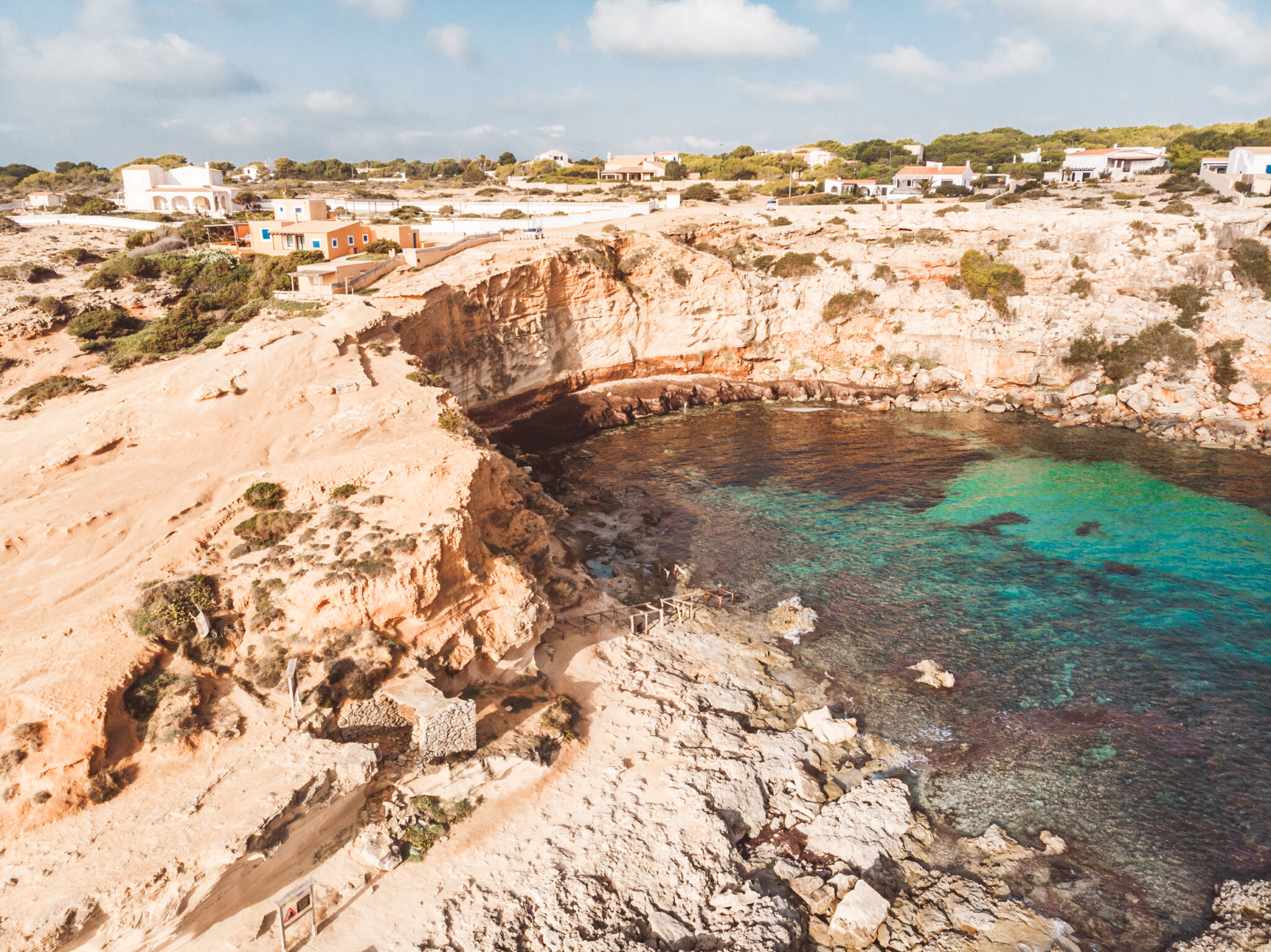 While it's not the ideal place to experience a traditional beach scene, Cala en Baster offers dramatic scenery and a quiet place to take a dip – for the daring!
The unique setting creates a stark contrast to other Formentera beaches and its distinctly rugged feel seems to repel most tourists.
But despite its unforgiving surroundings, Cala en Baster's deep bay makes it perfect for snorkelling, and naturists will find the privacy they seek.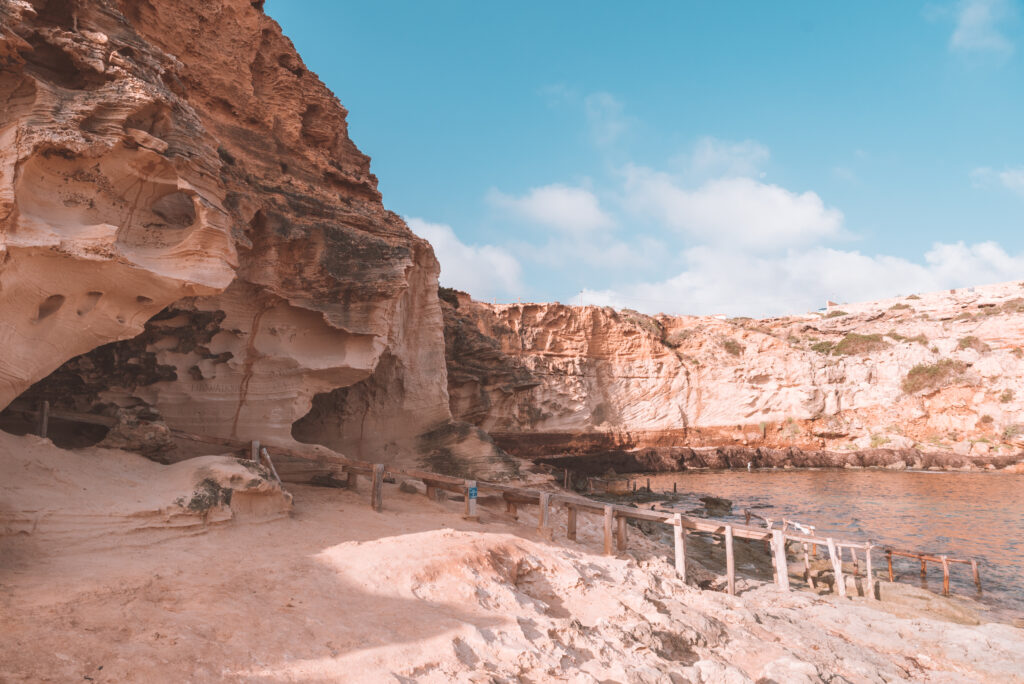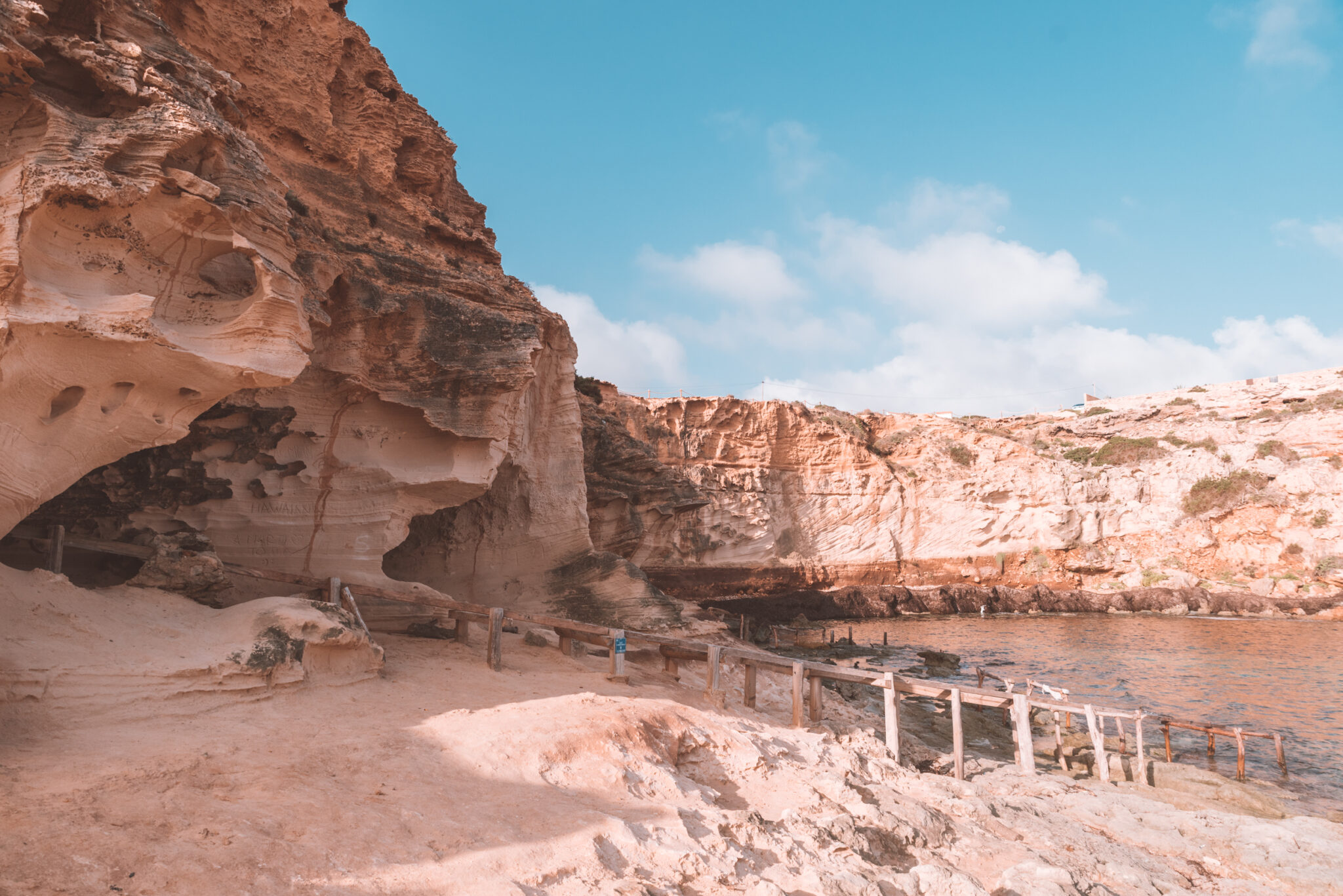 To get there, you can head down Carretera a Cala en Baster and park in the (very limited) spots at the end of the road. From here, follow the ridge of the cliff to your right which will lead you down to the water's edge. Alternatively, you can walk to Cala en Baster from nearby Playa de Tramuntana.
PLATJA ES PUJOLS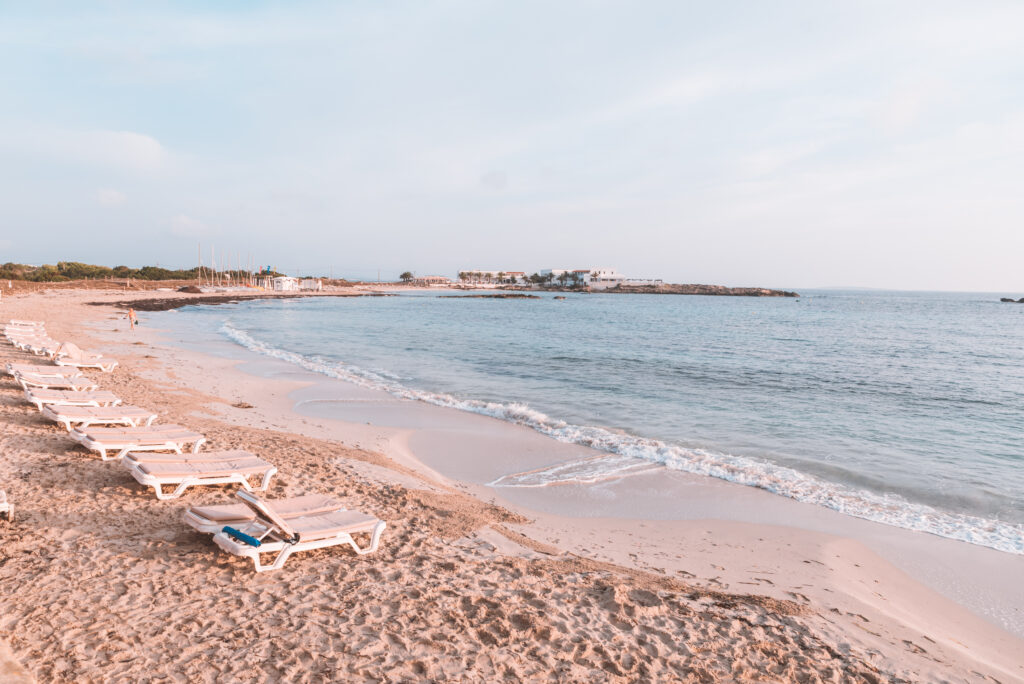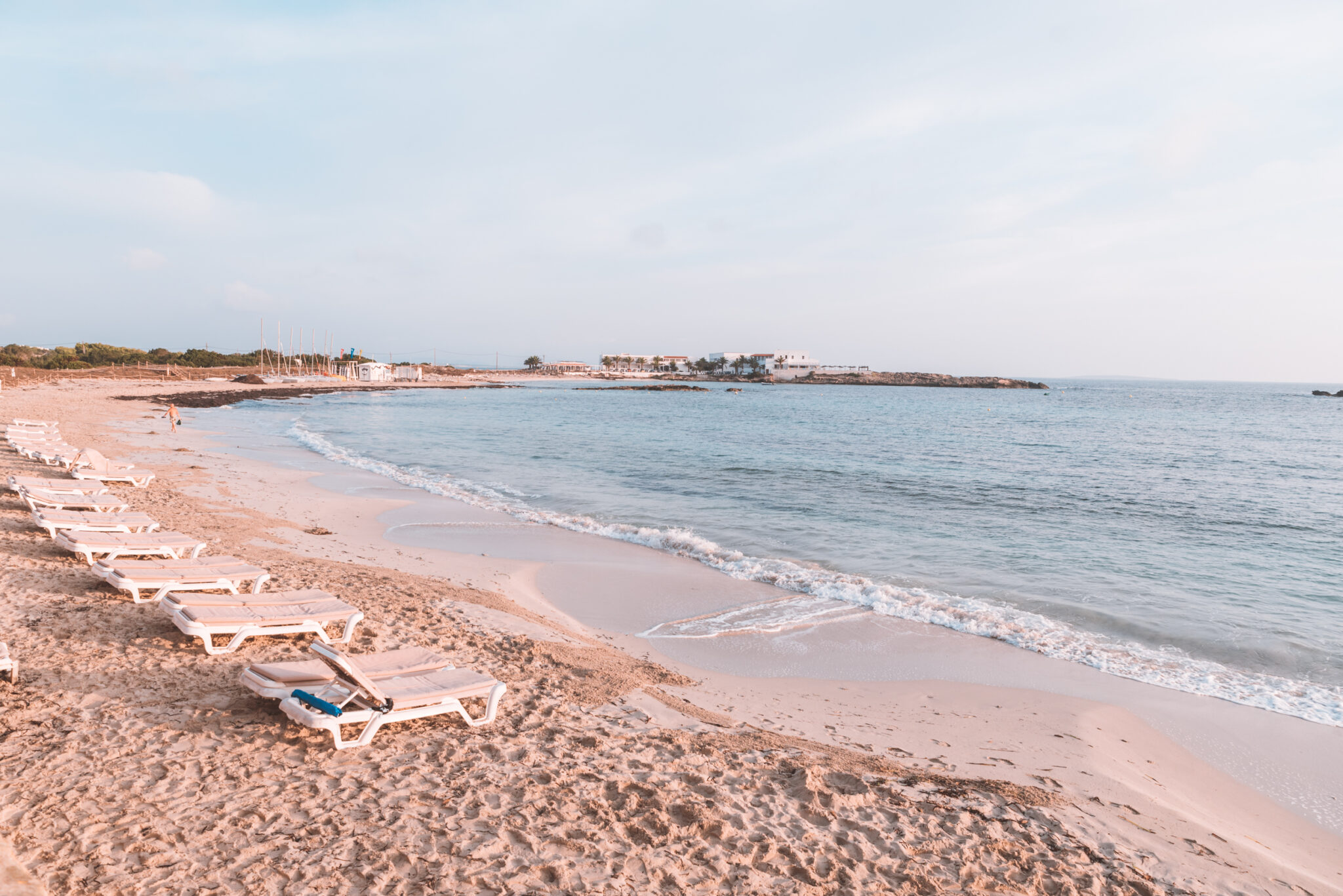 One for those who like their beaches easily accessible and with plenty to do, Es Pujols is a resort town in Formentera and its main beach gets very busy in the summer months. You can indulge in watersports, shopping, eating & drinking, without having to venture far from the shore.
While I didn't particularly enjoy this beach for its ambience, it earns its place as one of the best beaches in Formentera as it's the only beach (that I'm aware of) with a wheelchair ramp allowing disabled beach-goers easy access to the water.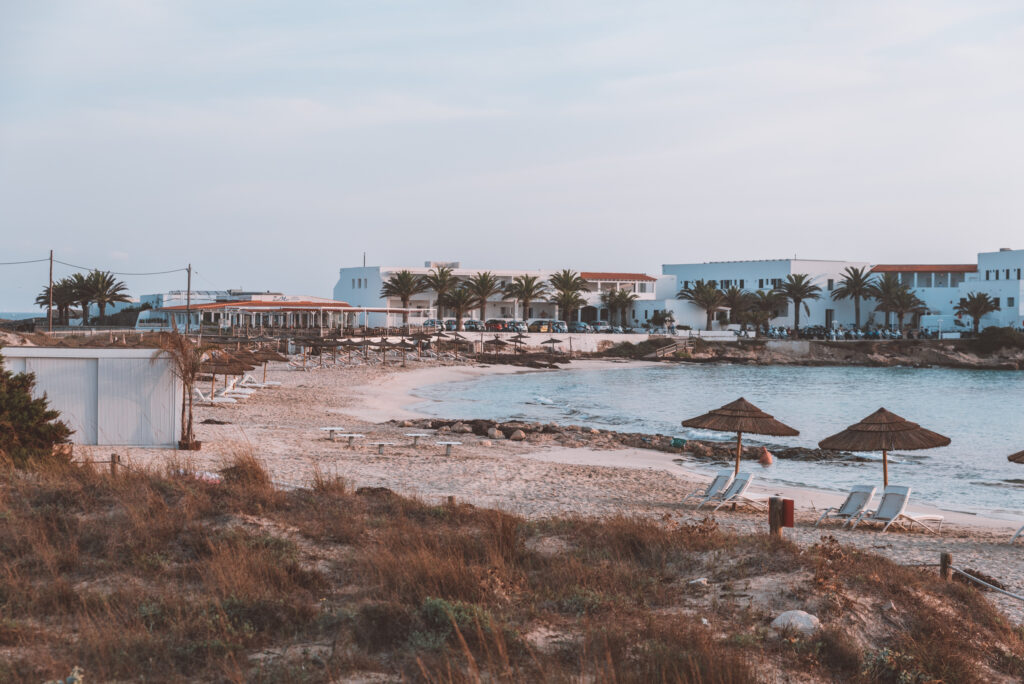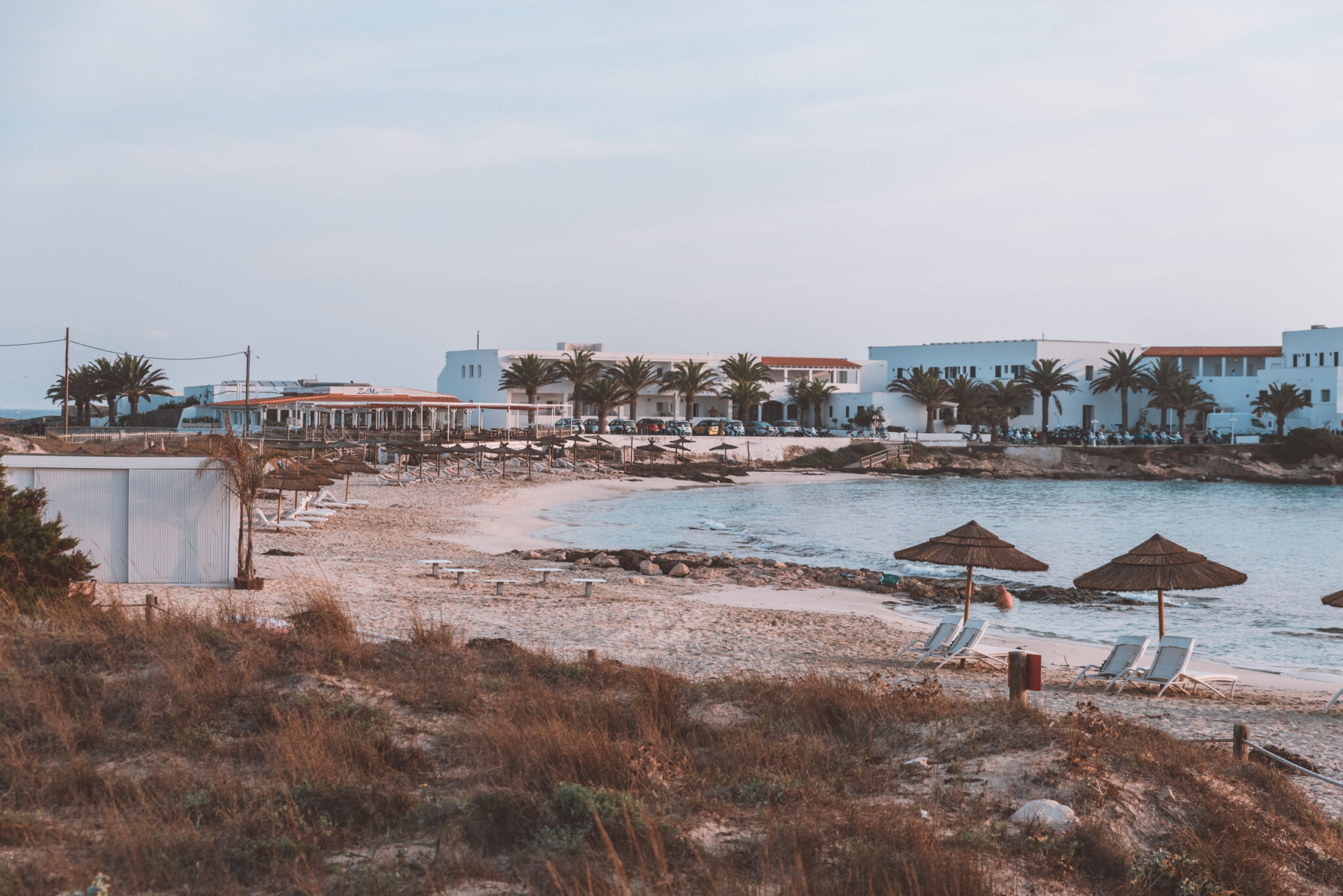 It's also worthy of a look if you're looking for somewhere to stay with young kids. You'll be able to pack up and return to your hotel room in a jiffy at nap time, while still being able to enjoy the atmosphere of this lively beachside setting.
The resort town of Es Pujols is located in northern Formentera, not far from the port at La Savina. To reach the beach, simply drive down towards Hotel Roca Bella where you'll find a small dirt car park to your left (before you reach the hotel). Further parking is plentiful in the streets surrounding the beach, just watch out for no parking zones.
PLAYA DES TRUCADORS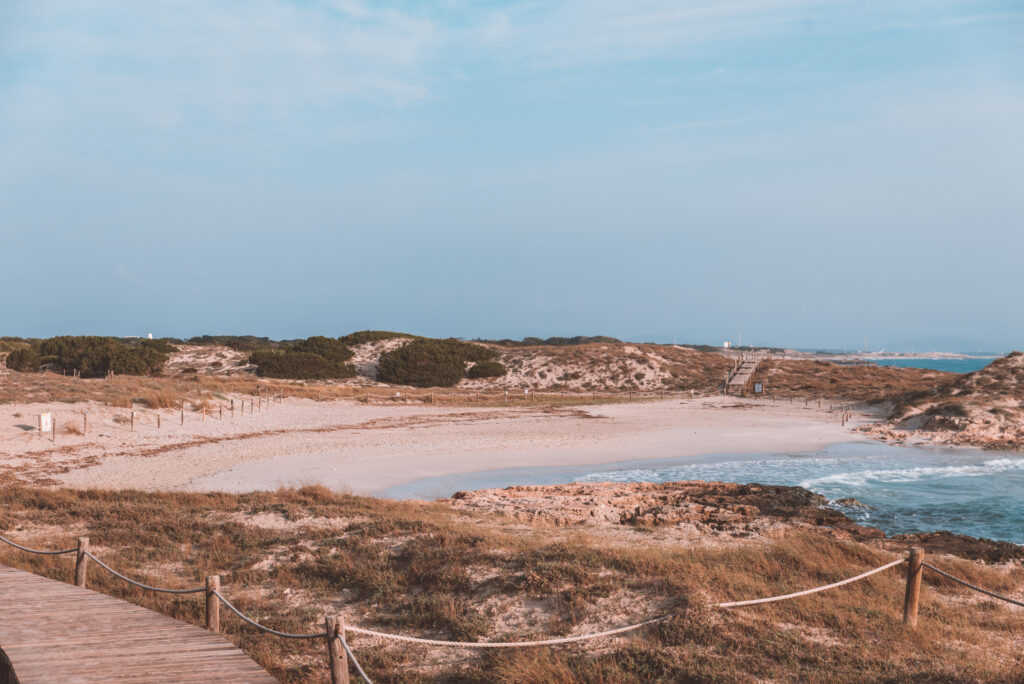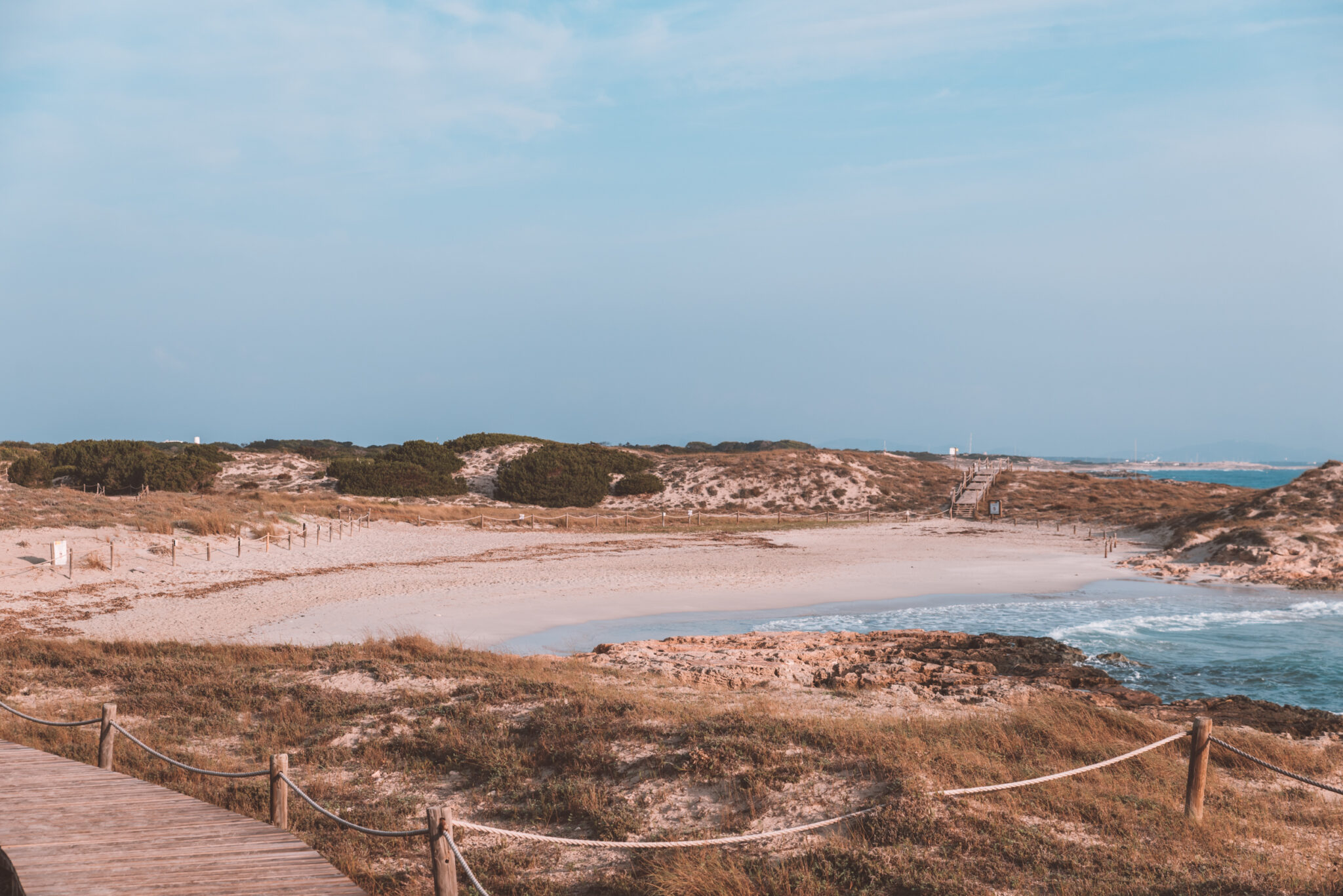 With the ever-popular Llevant beach to the north, and the resort town of Pujols in the South, Playa des Trucadors is a bit of a hidden gem in Formentera. Surrounded by grassy dunes and sheltered by slightly raised headlands, it's a calm respite from the hordes that congregate elsewhere.
When I stumbled across it, I'd been aiming for Ses Canyes, but the beach there was rocky, crowded and uninviting, so I ventured further north. Unbelievably just a few mins walk away, following a well-maintained walkway, Trucadors beach appeared before me – completely deserted!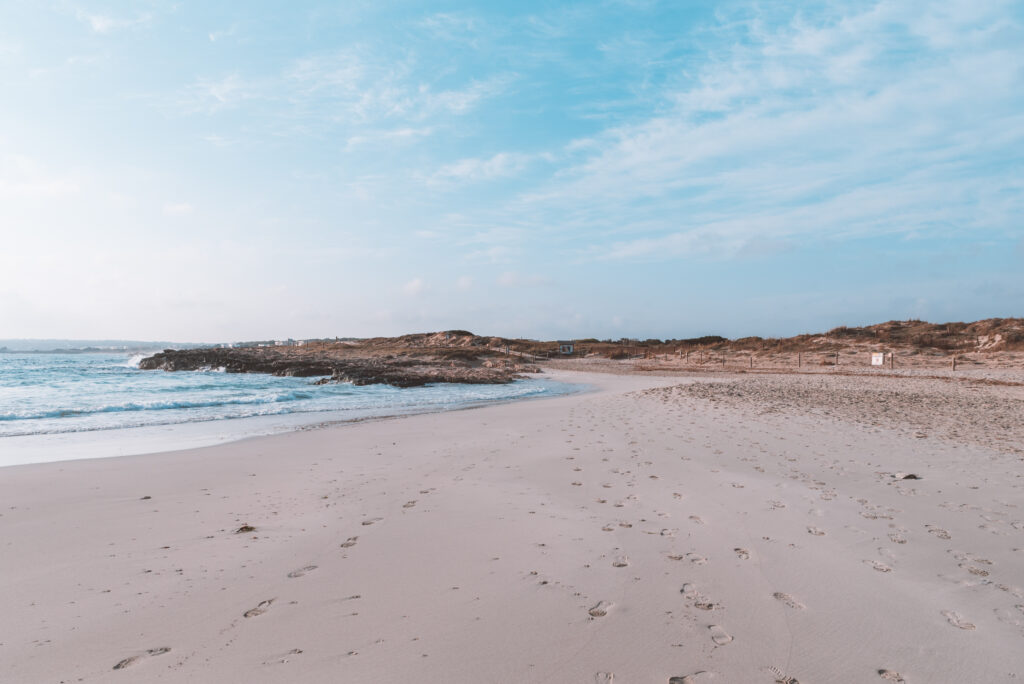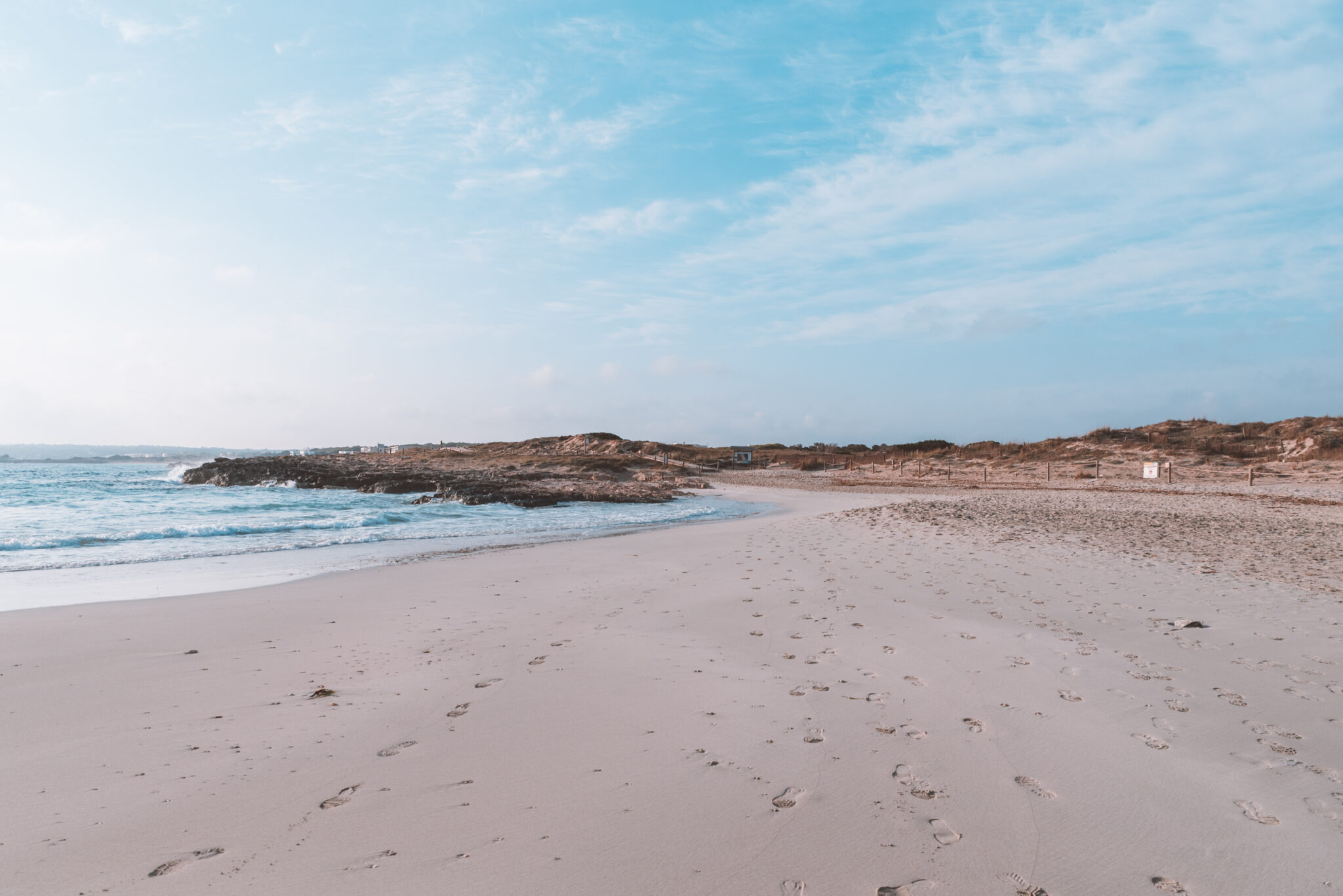 The land surrounding this secluded beach is a protected area, so is free of any habitation. And it's an important area for the island's fauna & flora – so stick to the delegated pathways when exploring the beach and beyond.
To reach Playa des Trucadors you can park at the Vapor Manolito and walk south, or park at the Hostal Sa Roqueta and walk north. It's roughly equal distance from both. Just be warned that if you type Trucadors Beach into Google it will also show you a beach further north – which is part of the Llevant strip.
ES CAVALL D'EN BORRAS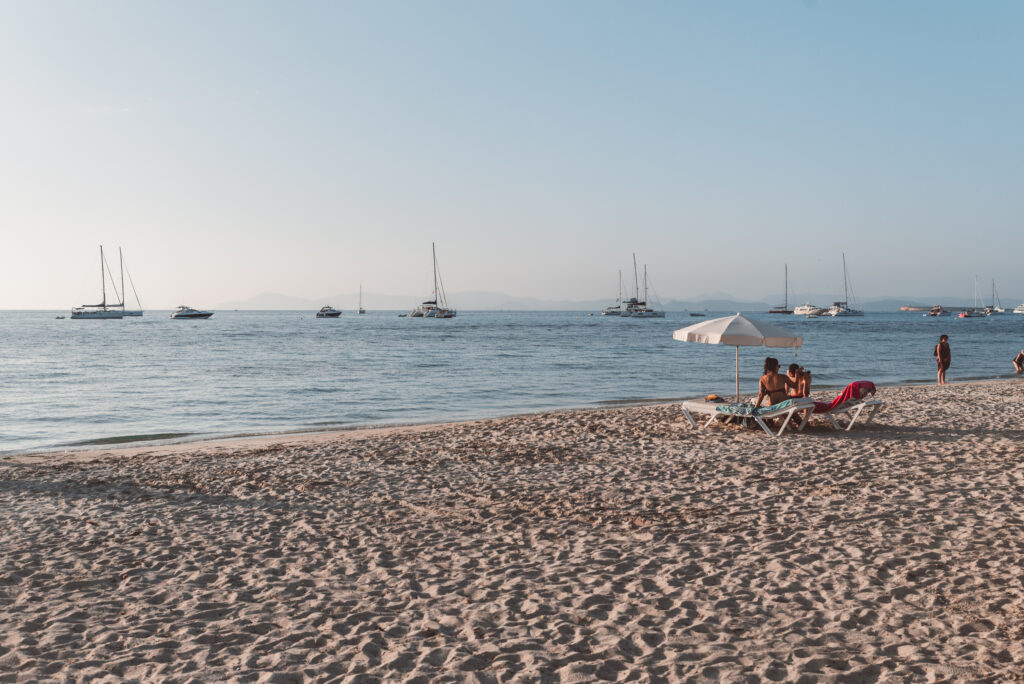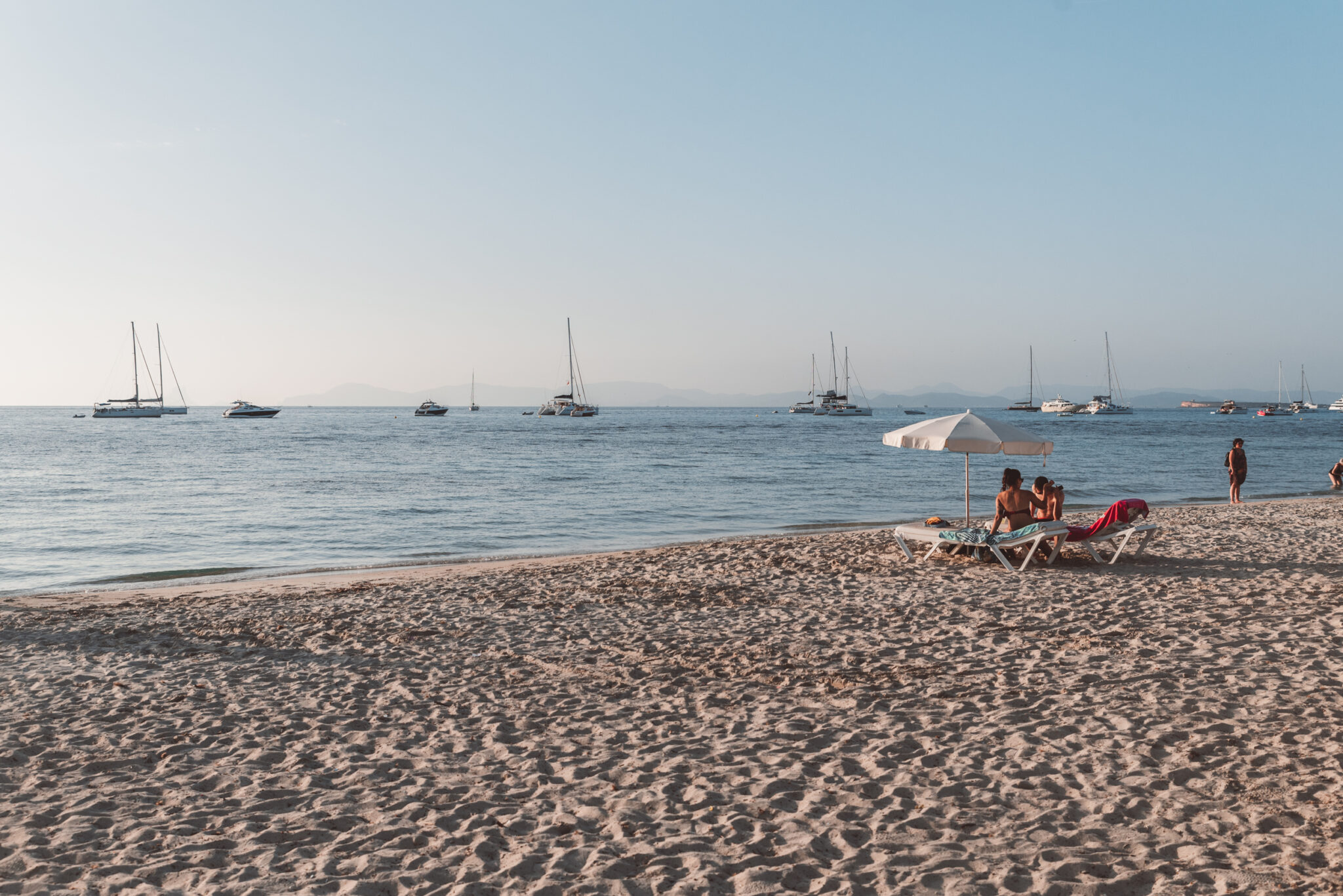 The closest beach to the ferry terminal at La Savina, Es Cavall D'en Borras is the first port of call for many visitors to the island, and judging by the busy beach bars, perhaps the final one too!
It's a lively stretch of sand, popular with a younger crowd who congregate here for selfies at sunset. You can hire a lounger, or simply stroll past the rows of umbrellas to where you'll find the more casual beach-goers congregate.
At dusk, the Beso Beach bar is the place to be for a post-dip drink.
To get to Es Cavall D'en Borras, you can park at the large car park just off the main road that circles the lagoon. Be careful though, as it can get very muddy and difficult to navigate, even in dry weather.
CALA SAONA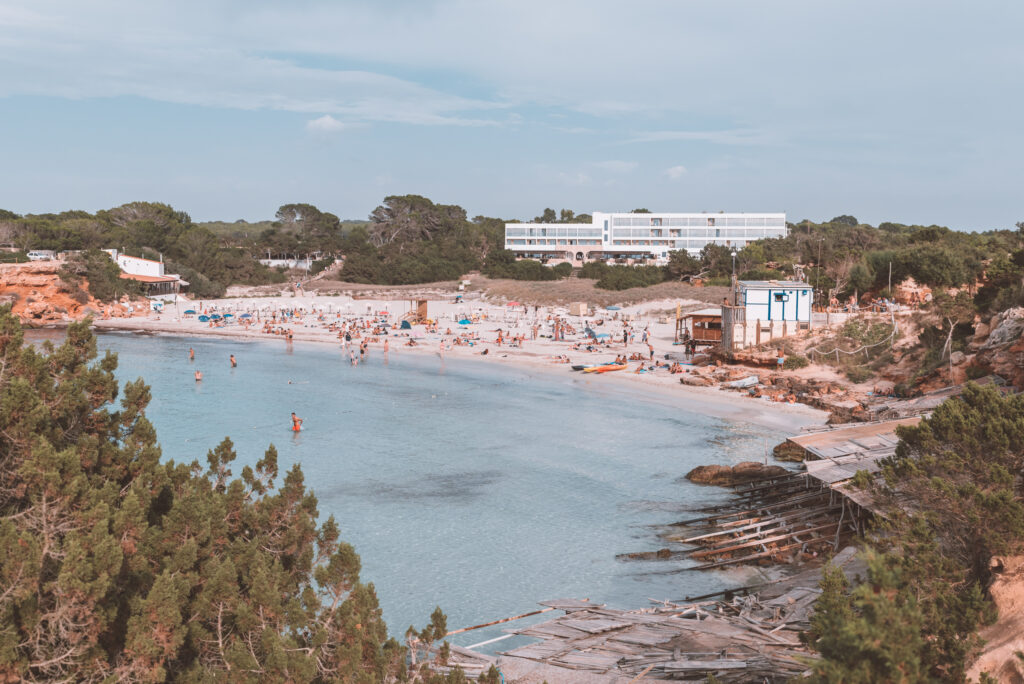 Compared to other Formentera beaches, Cala Saona is a bit of an outlier being tucked away on the western coast. Its remote position shouldn't deter you from visiting though, as it is most definitely one of the most beautiful beaches in Formentera.
The large cove is deep and long, making it an anomaly on the island. And the water is clear, with a shallow entrance and sheltered environment, making it a favourite among families.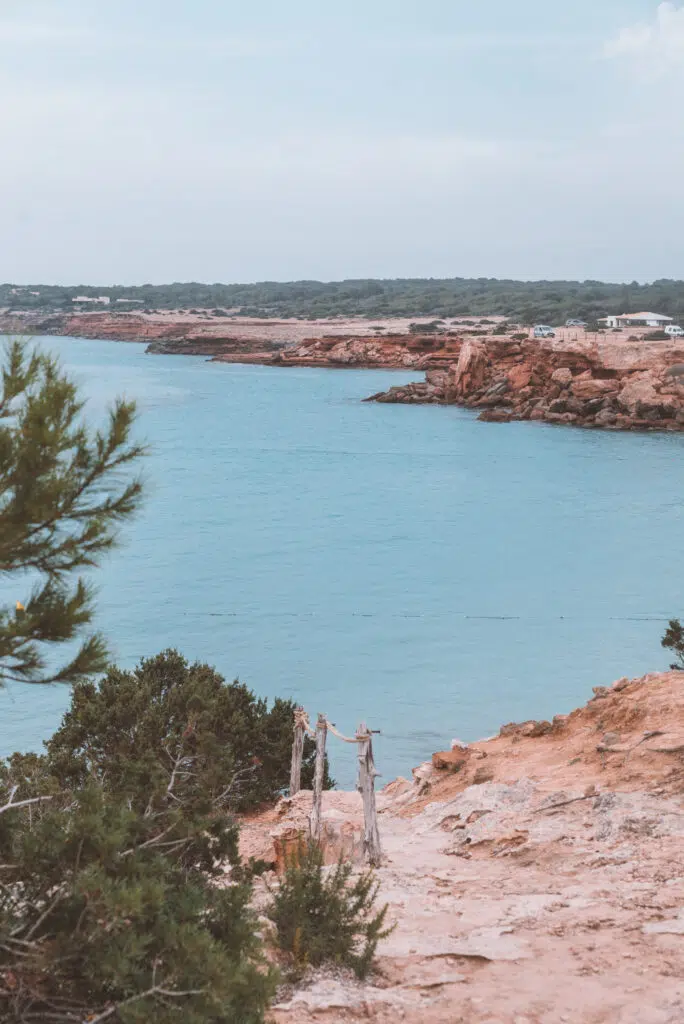 The surrounding area is very rural feeling and the addition of a luxurious looking hotel (the only one in the area) doesn't detract from its appeal. A rustic looking beach shack will offer you a refreshment by the sea, and there are a couple of casual restaurants nearby should you go in search of more sustenance.
Walk up to the surrounding cliffs for the best views of the bay and beyond. And settle in for some of the best sunset scenes on the island.
Cala Saona has a large free car park opposite the hotel. Simply follow the Carretera a Cala Saona towards the beach until the end and you'll find it.
S'ESPALMADOR ISLAND BEACHES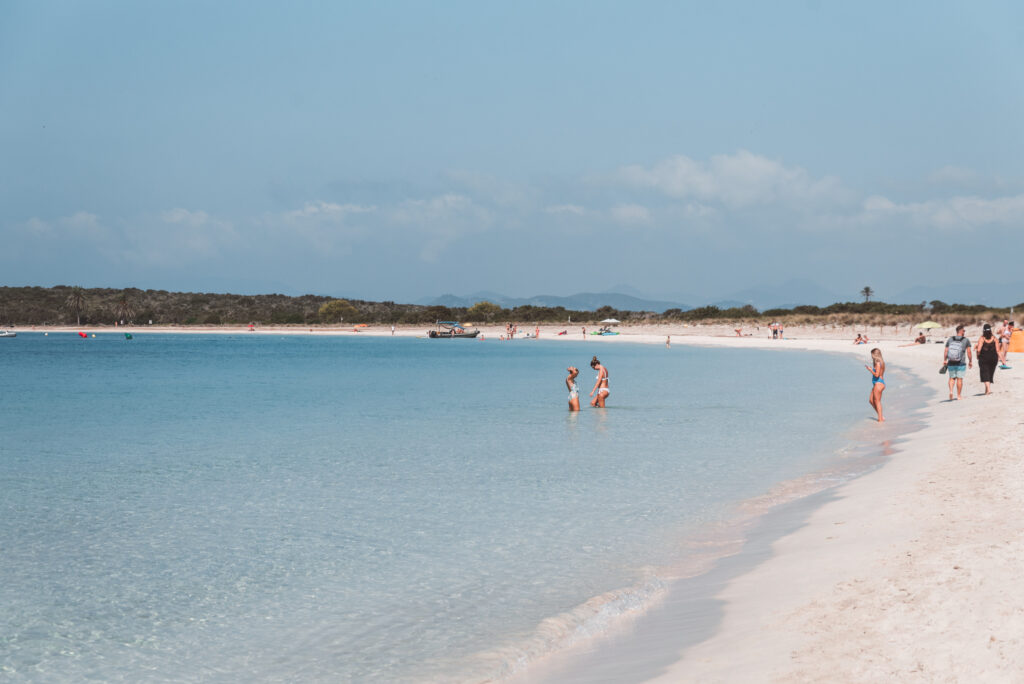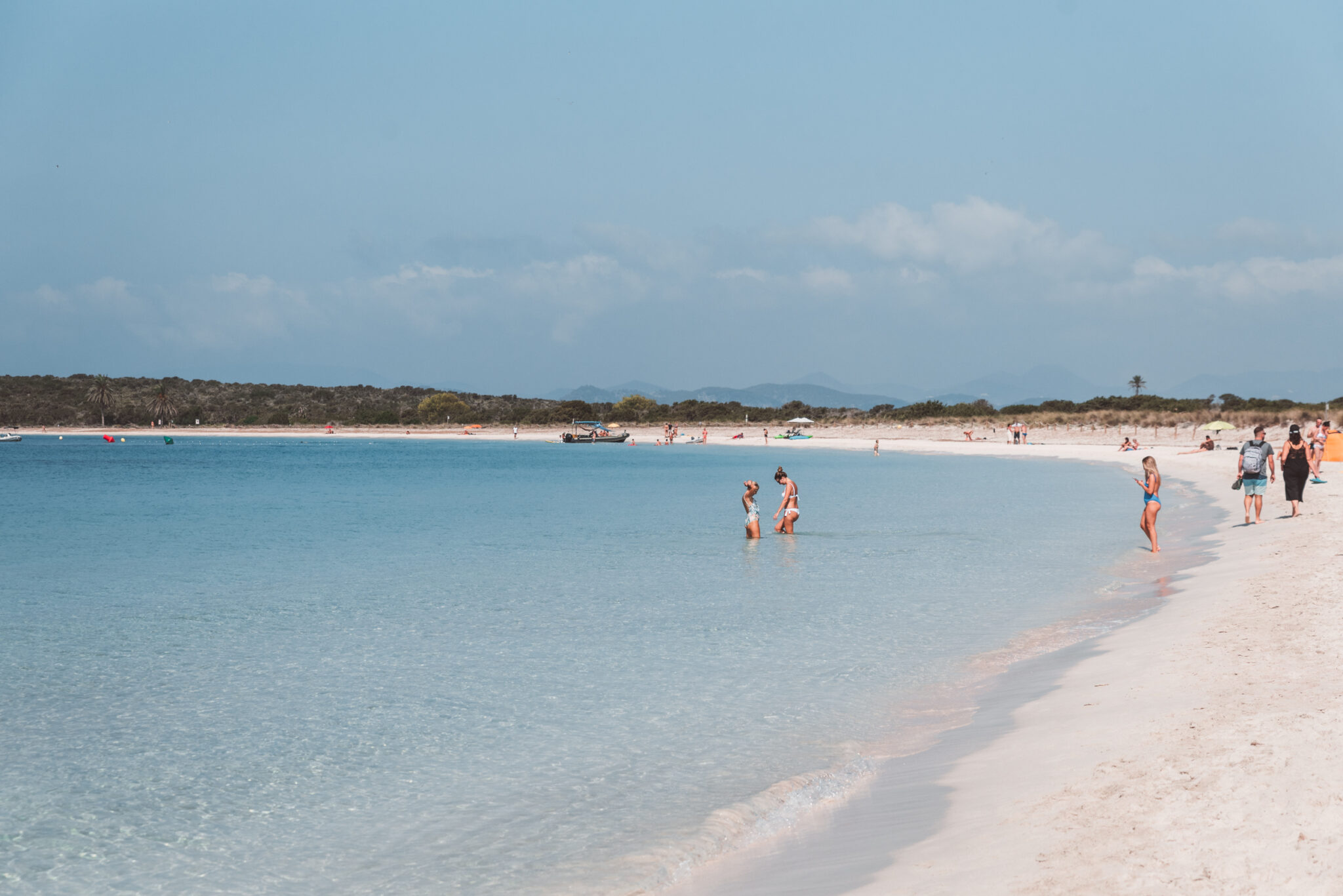 Just off the northernmost tip of Formentera, you'll find the uninhabited S'Espalmador island. Privately owned, yet open to the public (for now), it offers a chance to get truly off the grid.
There are no services on S'Espalmador, so its untouched beaches take centre stage.
Platja de S'Alga is the main beach and the one you'll arrive to if travelling by ferry from Formentera. The sea is deliciously calm here, and although luxury yachts crowd the entrance to the bay, the overall scene is unmistakably paradisiacal.
Most visitors to the island set up on this beach for the day, to swim, sunbathe and experience a taste of true luxury.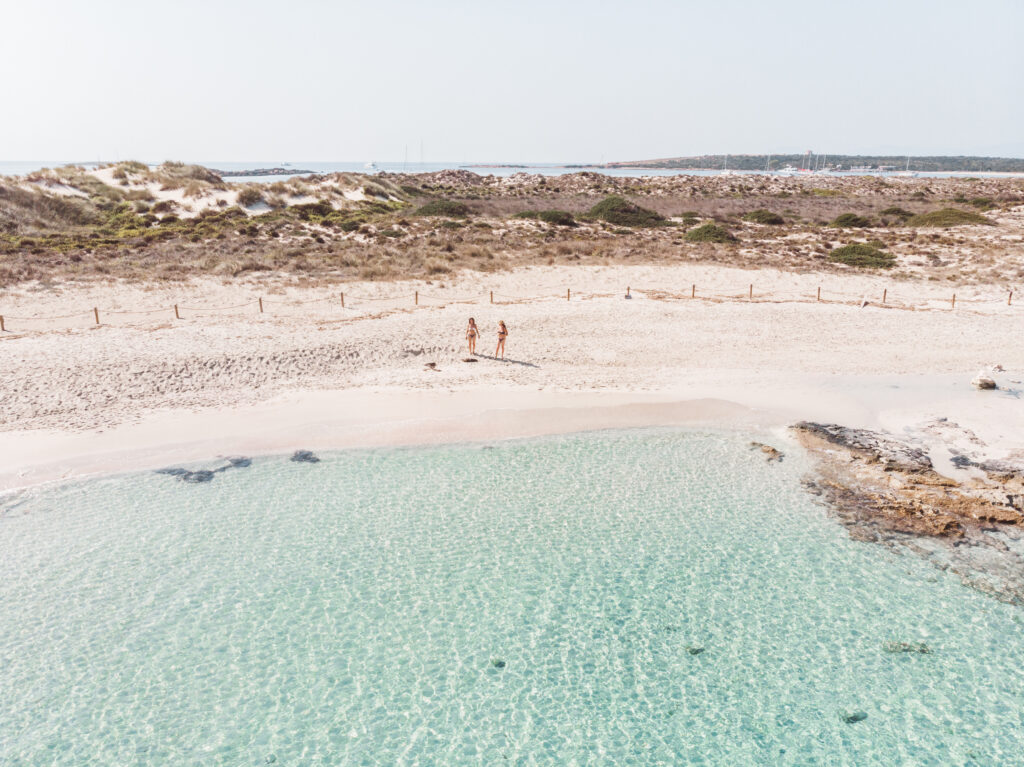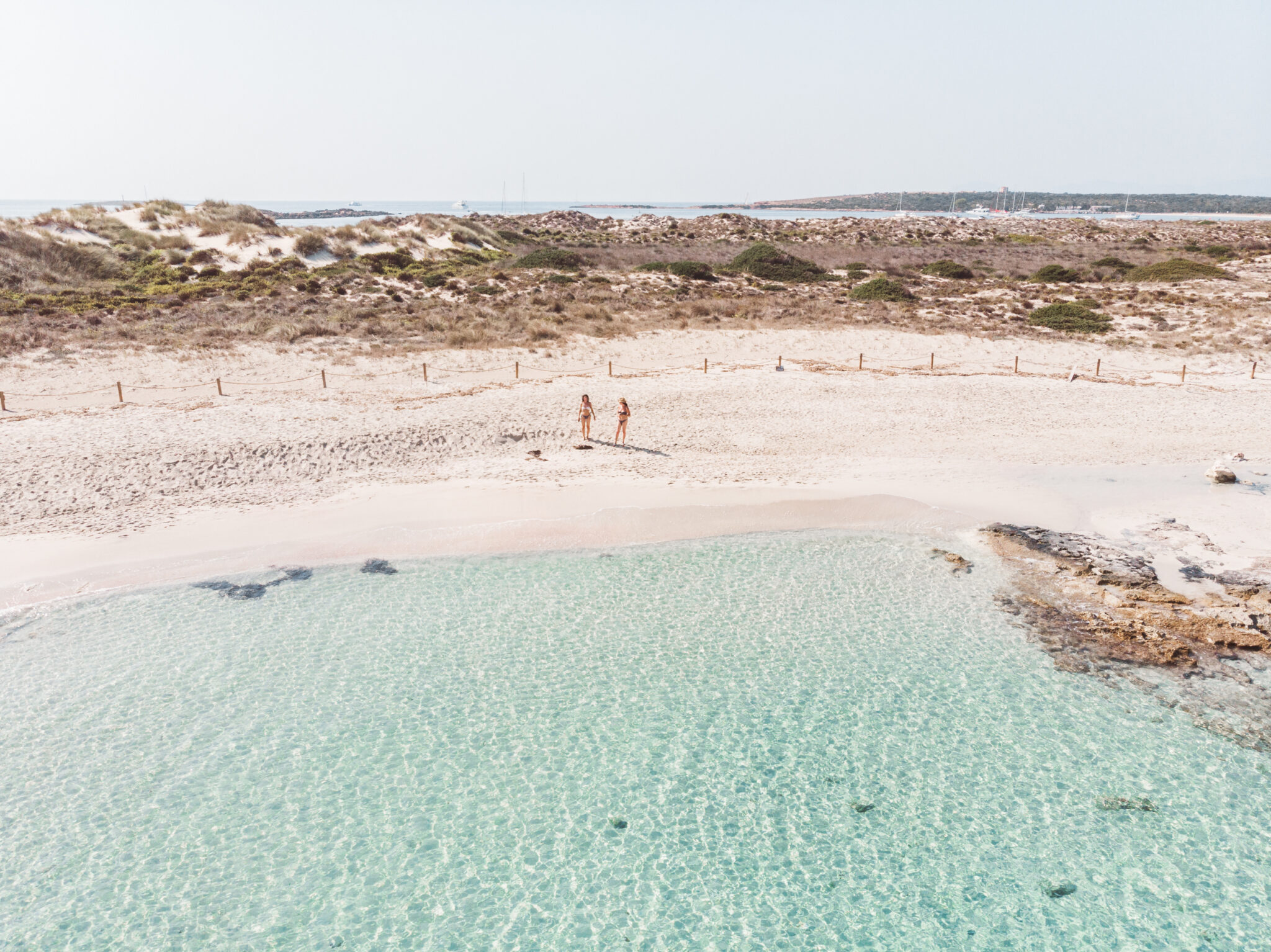 Further north on the island you'll find Platja de la Torreta and Cala de Bocs. I tried to reach the former via traversing the island, but there are no clear paths so I'm uncertain if it's possible. I'd instead suggest, if you have time, walking the circumference of the island to reach these more secluded coves.
You can read more about this idyllic island, and learn how to get there from Formentera, in the following article: Espalmador Island – A Hidden Oasis in Spain's Balearic Islands.
A Note on Nudist Beaches in Formentera
Bathing in the buff is a common sight on this Balearic Island. From what I can tell, nudity is tolerated on every beach in Formentera, although if you're looking for more like-minded naturists, head to the eastern, or southern stretches of coastline.
In particular, Migjorn and Llevant beaches were particularly nudist-friendly, while Saona, Illetes & Playa Arenals beaches were the least.
---
---
While it's true you'll never be far from a beach in Formentera, sometimes it's worth doing a little research before your trip to make sure you don't miss out on the best! Whether you're after a secret swimming spot or a luxurious and lively seaside retreat, Formentera beaches will deliver both in spades.
Pin this for later!