Saleccia and Loto are arguably two of Corsica's most beautiful beaches. But visiting their pristine shores is easier said than done, especially when the weather isn't on your side!
Located on the outer edges of the Desert des Agriates, reaching these two beaches in northern Corsica requires a boat, a four-wheel drive, or a long walk under the unrelenting Mediterranean sun.
When we visited the aptly named island of beauty in early May, we were planning on taking a taxi-boat to Saleccia. The weather had other plans, however, and the sea was declared too choppy to sail. Scrambling for another option – and not relishing the thought of trekking the 7-hour return journey with a reluctant preschooler in tow, we came across our knight in mud-splattered armour – Saleccia Off-Road.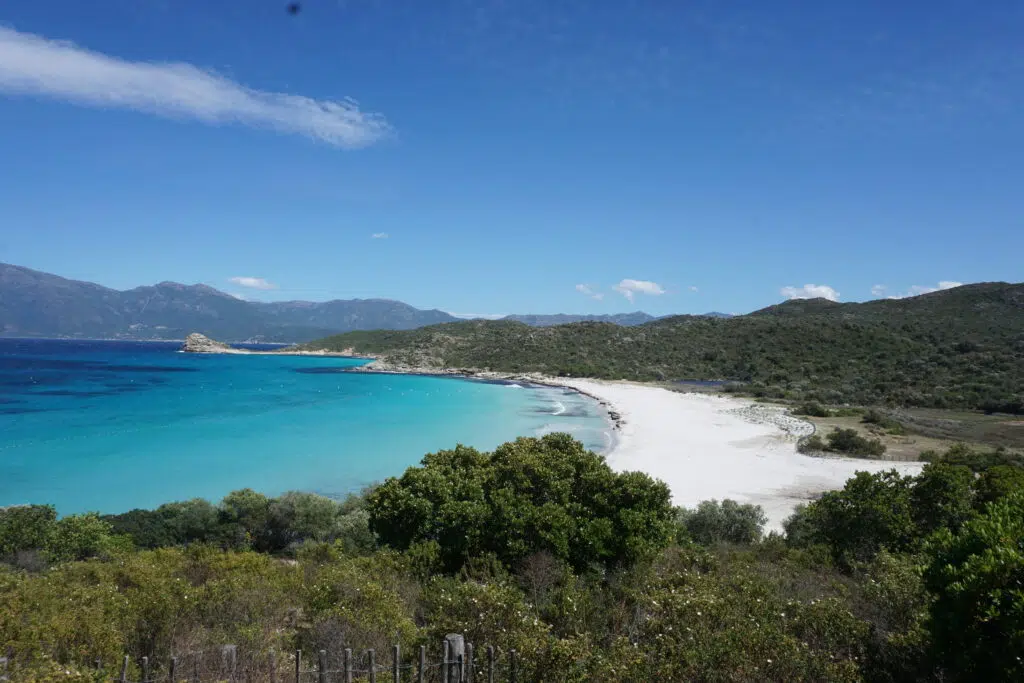 Related Reading: Where to Stay in Corsica
---
Driving to Saleccia and Loto
Firstly, let's get some housekeeping out of the way. In case you're thinking "surely I can drive there myself?", stop right there. We were naive foolish enough to think we could do just that. But a mere 5 minutes into our hair-raising journey we realised this track was too much for our humble family station wagon to traverse.
We cursed our short-sightedness at not bringing the somewhat sturdier Subaru XV. But in hindsight, even that would have fallen prey to the jagged ditches we would meet on the way.
As we later learned (after enquiring about a strategically positioned tow truck near the track), many before us had fallen victim to the journey. Being towed out will set you back a wince-inducing €1,000 and you can forget about your insurance company reimbursing you. Most don't cover you after you've left the tarmac – unless you've added a specific cover for off-roading.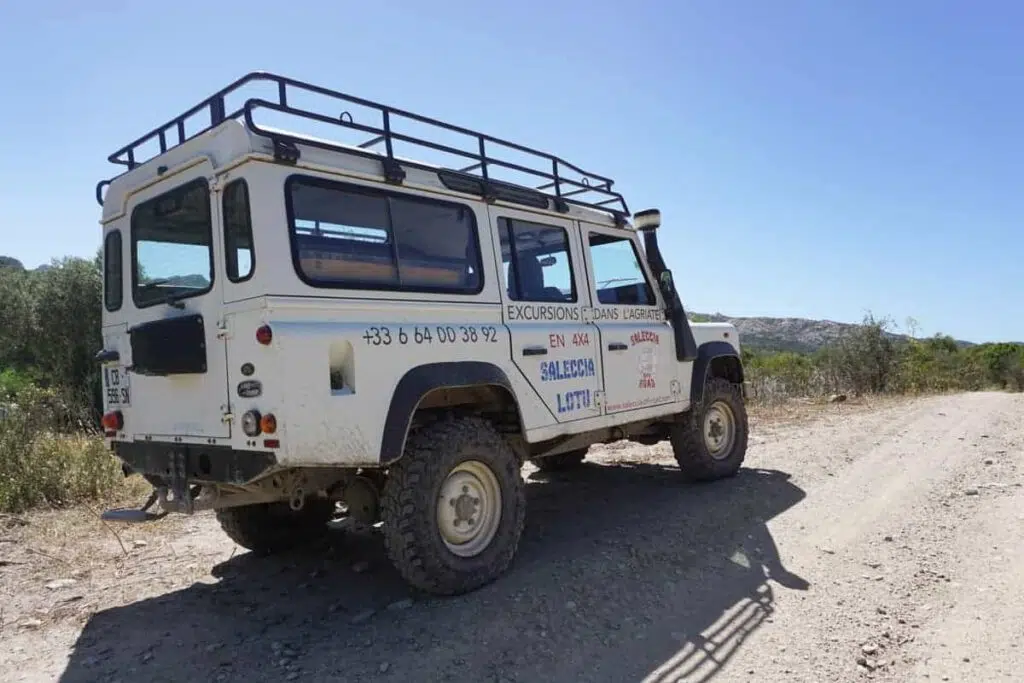 Tour with Saleccia Off-Road
We booked our tour with Saleccia Off Road with the end in sight – we just wanted a way to get to the beach. But the drive itself ended up being one of the highlights of our trip to Corsica! Not only did we get to see an area that few tourists trek, we learnt a lot about the history and heritage of the desert – and Corsica as a whole – during the journey.
Our Guide
Our driver could be the happiest tour guide I've ever met. A local Corsican, he proudly showed off his homeland with unwavering enthusiasm – at odds with the countless times he must have driven this track before.
Arthur (4) & I settled ourselves in the back of the 4×4 while my husband Julien sat in the front. And although I initially baulked at the lack of seatbelts (you can take the girl out of New Zealand…), I needn't have worried. The unforgiving track doesn't allow you to speed and our driver was obviously a pro at driving off-road. We later found out it's not only what he does for a job – he does it for fun too!
The Journey
Setting off down the track, Arthur bobbed around in the back – his delighted giggles prompting a smile from our driver. I wasn't sure whether he was going to love it or hate it, so his obvious enjoyment at a) sitting forward-facing, and b) "driving in a car with BIG tyres and a BIG engine", made us all the more relaxed.
The desert track weaved a path through the thick tousled bush on either side. Unlike the freestyle off-roading I'd recently done in the Falklands, this track was well-worn, the ash white path creating a stark contrast against the lush green vegetation. It was also tough, narrow, and jarring – reaffirming why we wouldn't want to attempt this ourselves!
The 13km journey takes an hour to complete, but it felt much less. Most probably because of the narrative that accompanied it. We paused to make out the mountain shaped like a Komodo dragon, stopped quickly at a freshwater pond complete with lilypads, reached out the window to grab a handful of fragrant Myrte, and got startled by a snake slithering lazily out of our way.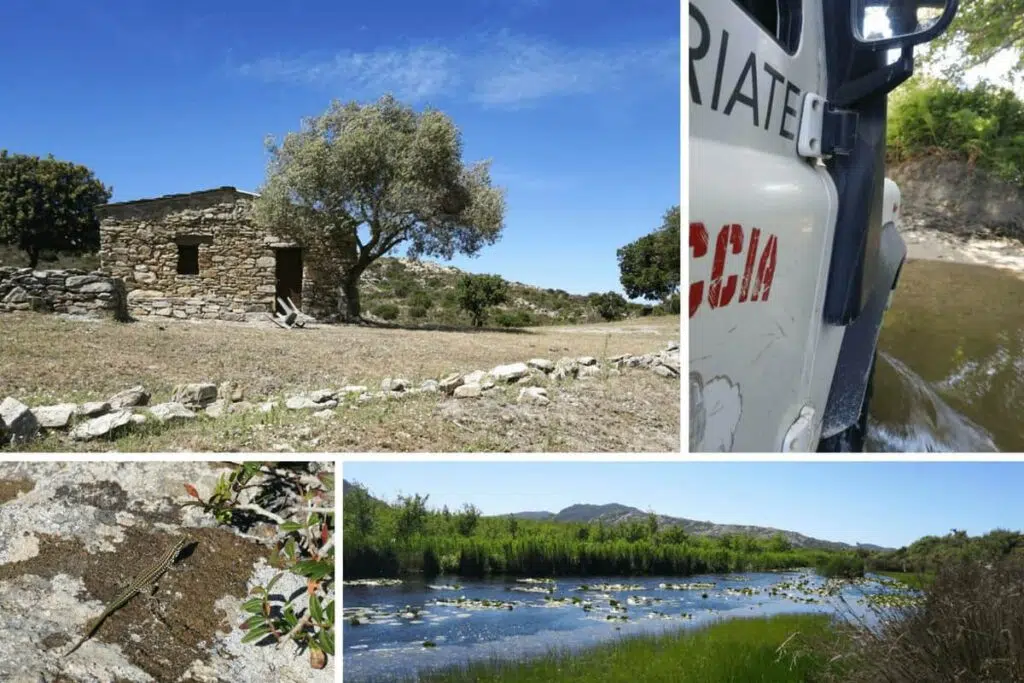 The Desert
Hearing the word desert doesn't usually evoke images of lush green vegetation, thriving wildlife, and freshwater ponds. But Corsica's desert is not your normal desert. So-called not because it's a barren dry land, but rather because when the Arabs invaded Corsica they drove all the farmers out of the area and into the surrounding mountainside.
This once cultivated land slowly regained its wilderness to become the desert that meets you today. Now the area's importance is officially recognised and its heritage protected. It remains deserted – aside from one lone shepherd's hut and a herd of cows idly grazing among the bush.
Saleccia and Loto Beaches
As much as we enjoyed the drive, we were equally as happy to finally reach these elusive beaches. Our guide dropped us off at the more sheltered Loto Beach where we made sandcastles in the fine white sand, tentatively dipped our toes into the gentle waves and walked the length of the deserted pier.
We eventually and somewhat reluctantly, pried ourselves away to walk the coastal trail that connects Loto Beach to Saleccia Beach. Arriving in Saleccia just over an hour later, the long stretch of white sand invited us to explore further. At 5 pm our chariot arrived to pick us up and deposit us safely back to our car at Casta.
Read more about these spectacular beaches here: A Guide to Saleccia and Loto – Corsica's Hidden Beaches
Benefits of taking a 4×4 tour to Saleccia & Loto
You may be tempted to take the fast route and grab a ferry or taxi-boat to get you to Saleccia & Loto. Here's why I think you'll be missing out!
It's cheaper (in the high season). An hour's 4×4 tour of the Desert des Agriates to Saleccia beach will cost you €20 for an adult and €12 for a child. The 20-min boat ride will set you back €30 each (children cost the same as adults) during the peak months of July & August.
You have time to enjoy both Saleccia & Loto beaches. Get dropped off at one beach, and picked up from the other – can't do that if you've brought your own vehicle!
Learn about what makes this area of Corsica special. Knowledgeable guides will do more than just drop you off at the beach, you get to know the island from the inside out – from someone who lives and breathes the Corsican spirit.
Combine your 4×4 experience with mountain biking, camping or a boat trip! Saleccia Off-Road isn't a one-trick pony. They offer adventures for every aptitude. Check out the combos on offer here.
---
We thoroughly enjoyed discovering Corsica's wild side. It was a pleasure to be guided by a local who was clearly passionate about the island's heritage, we got to enjoy two of Corsica's best beaches in (almost) solitude, and we found a fabulous family-friendly activity! If you're looking for something unique to do in Corsica, I'd highly recommend a tour with Saleccia Off-Road.
P.S If you're looking for other amazing and unique things to do in Corsica, read my post on Cruising to Corsica's Calanques de Piana with Corse Emotion!
Pin this for later!