France has a particular reputation when it comes to coffee. There's a certain something about sitting on a French café terrace with a delicate demitasse of espresso perched between pinched fingers…
But after living here the for the last few years I've come to realise it's generally not the coffee itself that has earned France the credit for its café noir, it's the French coffee culture.
Drinking coffee in France is an institution, with its own set of etiquette nuances and expectations. No one is going to think less of you if you don't get these right on your first visit, but if you want to come across more gallic than gullible then there are a few things you'd do well to know about ordering coffee in France.
---
The Different Types of French Coffee
While you're unlikely to find coffee bean connoisseurs and skilled baristas serving in French cafes, don't let the absence of latte art and freshly ground java put you off – French café culture is all about the experience…
French coffee is typically served short and black, to be sipped with cool nonchalance, sitting at a terrace watching the world go by.
Here, coffee culture is less about the quality of the bean, and more about the pleasure of a moment of calm in a busy day; reading a book or a newspaper, people-watching, or catching up with a friend as you take that caffeine hit.
French cafes rarely offer a menu, so here's our handy guide to the different types of coffee on offer in establishments across the country.
Café: If you're looking for a way to order an espresso in French, simply ask for 'un café'. You'll get a classic espresso: short, dark and punchy, usually served with a small glass of water in case you work up a thirst. This is by far the most popular type of coffee in France.
Café allongé: The closest thing to an Americano in France is a café allongé, a single espresso topped up with hot water. In most cafes and restaurants, this is much more common than filter coffee (café filtré), and is a good option for those seeking an American-style filter coffee.
Café noisette: Named for its characteristic hazelnut colour, the café noisette is a single espresso with a dash of hot, foamy milk. This coffee is similar to an Italian macchiato, although the noisette coffee is sometimes made with the milk served separately, allowing the drinker to mix it to their own taste.
Café crème: A café crème is espresso topped with a more substantial amount of foamed milk. If you want to order a cappuccino in French, try asking for a café crème. You'll end up with a milky coffee, something akin to a latte.
Café au lait: Strictly speaking, this should refer to filtered or pressed coffee served with warm milk. However, in practice, many French cafes make café au lait with espresso, rendering it more or less the same as a café crème.
---
How To Order Coffee In France
Café protocol can be confusing for visitors to France, particularly those hailing from Anglophone countries where the coffee-drinking culture is quite different.
When entering a French coffee shop (or any establishment in France) it's important to say a friendly 'bonjour' and greet your waiter. Placing an order without saying hello first may be considered rude. If you're seeking a swift caffeine hit, you can order your coffee at the bar, and drink it standing up, Italian style.
The cost of an espresso consumed in this way can be significantly less than the same coffee ordered at a table or on the terrace. As a result, never order a café at the bar and then take it to a table – this is a major faux pas. If you prefer to sit at a table or on the terrace, simply take a seat and place your order with the waiter.
Some cafés reserve tables for diners, so don't sit down at a table that has already been laid with cutlery and glasses unless you plan on ordering food.
When ordering, simply ask for coffee by saying 'un café, s'il vous plaît', substituting café with your drink of choice (for example, to order a coffee with milk in French you would say 'un café au lait, s'il vous plait'). It's usually possible to ask for a decaf beverage (déca) or for extra water if you prefer a longer coffee (avec un peu plus d'eau).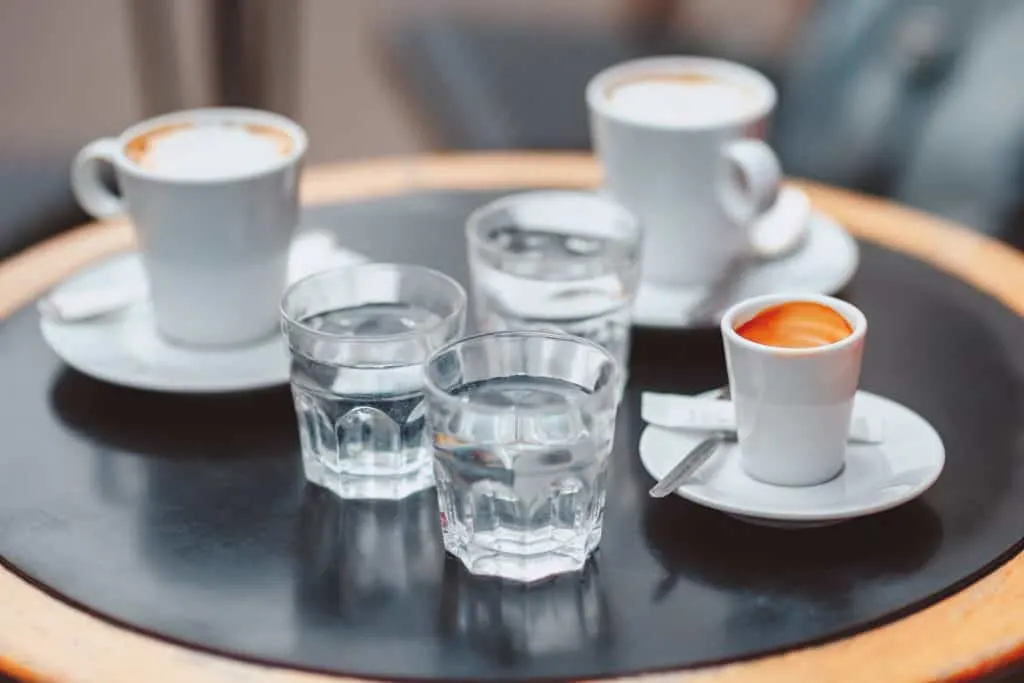 Visiting France as a vegan can sometimes be challenging, although an increasing number of cafés and restaurants are offering vegan options. If you would like to order soy milk in French, simply ask for 'lait de soja' (pronounced with a hard 'j'). Soy milk and other nut milks are widely available in larger coffee chains such as Starbucks, but are still relatively hard to find in traditional French cafés outside Paris.
Finally, to ask for the bill, it's usual to ask 'l'addition s'il vous plaît'. It's not unusual for waiters in French cafés to bring you the bill along with your coffee, but don't feel you need to rush off or pay up right away. Sometimes the waiter may ask you to settle the bill if their shift has come to an end, but again, don't take this as a sign you need to leave.
One of the best aspects of French coffee culture is the fact that it's possible to linger for hours over an espresso, without ever feeling pressed to clear the table.
French Coffee Culture
One of the most distinctive features of French café culture is the expectation that different types of coffee should be consumed at different times during the day.
Typically, milky coffees are consumed only in the morning, perhaps with a hearty breakfast of croissants or tartine (a slice of bread smothered with a tasty topping). Espresso is never consumed with food and instead is usually drunk after a meal, or on its own in the afternoon.
It's very rare to find a traditional French café offering takeout options, so if you're looking for a takeaway drink, it's best to stick to the big coffee chains such as Starbucks.
Non-coffee drinking visitors will always find a beverage to their taste as French café culture is as much about taking a moment for contemplation or socialising as it is about the coffee itself.
Most cafés also offer a range of herbal infusions (infusion) or teas (thé). These are rarely detailed on the French café menu, so ask your waiter "qu'est-ce que vous avez comme infusion/thé?" to hear the list. All cafes will also offer a range of soft drinks, or hot chocolate (chocolat chaud).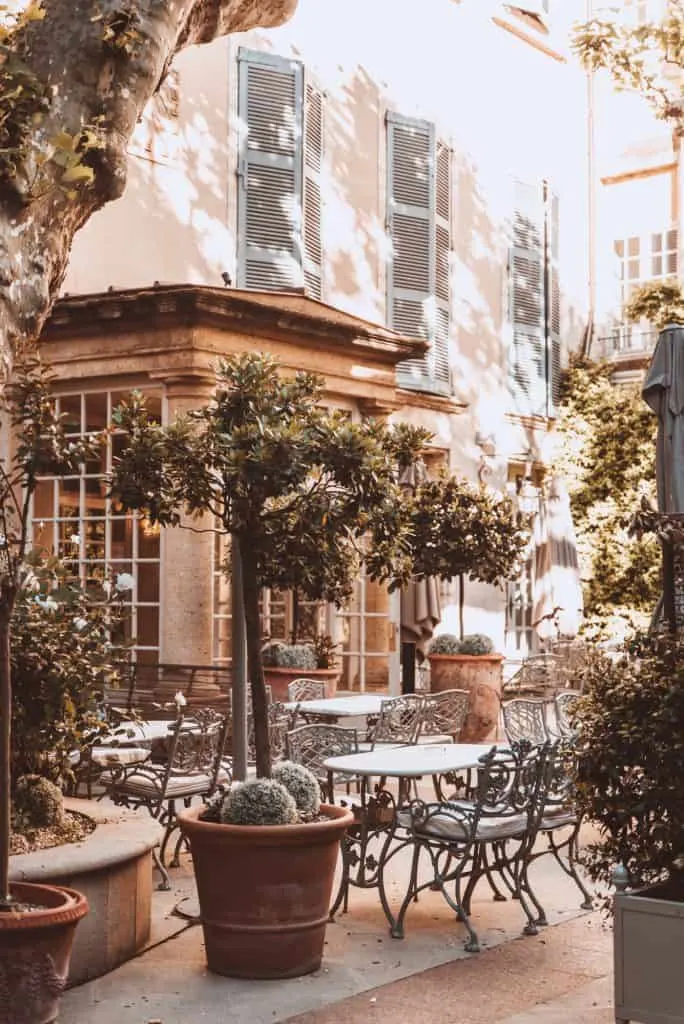 Where To Drink Coffee in France
Coffee is a ubiquitous beverage throughout France, and drinkers will find it in all types of establishments. In bistros and restaurants, it's very common to order coffee after a meal. However, if you are looking for a place to catch an afternoon coffee fix, head to a café or brasserie.
Traditionally, brasseries take their name from the fact that they are linked to breweries and therefore serve beer and other alcoholic drinks as well. However, today, the difference between brasseries and cafes is somewhat blurred, as both tend to serve coffee, alcohol and simple meals throughout the day, although brasseries usually have a more extensive food menu.
Cafes are also often combined with a tabac, selling cigarettes and lottery tickets, and are relaxed, laid-back establishments attracting a local, regular clientele. Both brasseries and cafés offer excellent venues for a pit stop in a busy day of sightseeing and an opportunity to unwind. Whatever your choice, you rarely need to go far to find a coffee fix in most French cities and towns.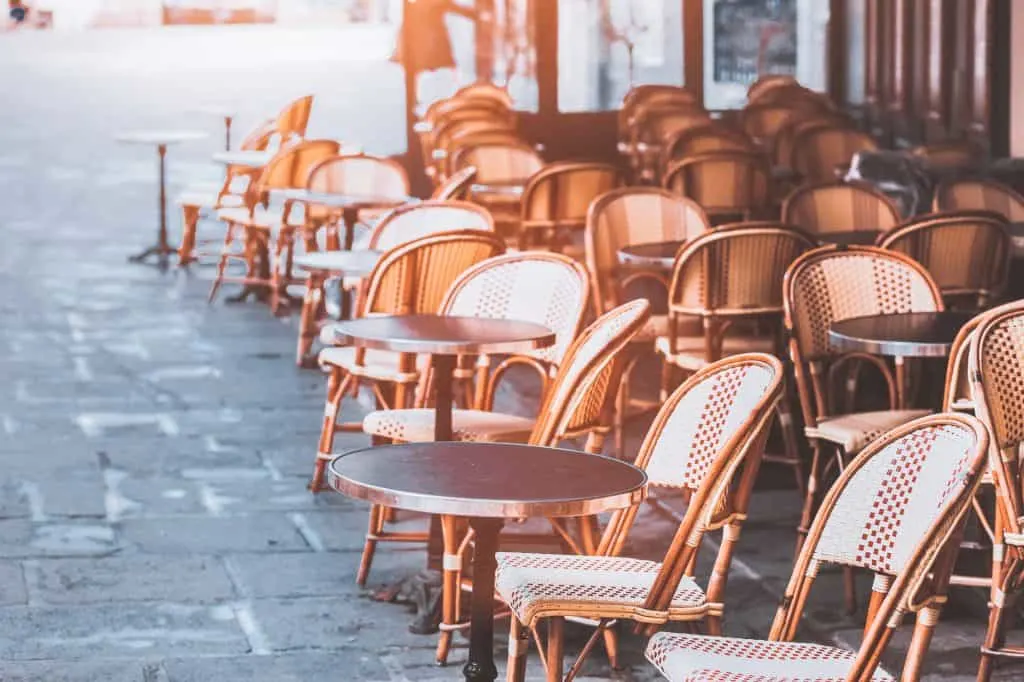 How Much is a Cup of Coffee in France?
In general, expect to pay around €2 for a simple café in most parts of France, and a little more if you ask for a milk coffee. If you drink your coffee standing at the bar, you can expect to pay a little less.
Specialist coffees may vary significantly in price depending on the location, and cafés in touristy areas often offer coffees catered to the tastes of foreign visitors – offering lattes, flat whites and iced coffees.
Beware that these cafes often charge exorbitant prices and should generally be avoided if possible. Instead, throw yourself into French café culture and go local – you won't be disappointed now that you know what to expect!
---
---
Drinking coffee in France may be vastly different to how you'd drink your brew of choice back home, but I'd encourage you to slow down, savour the moment, and do as the French do…
Pin this for later!