The largest of the Dodecanese Islands is gift wrapped in a sandy coastline kissed by crystalline seas. Whether you're travelling with the kids in tow, escaping for romance or looking for a party, Rhodes beaches deliver backdrops to suit every mood. To top it off, gorgeous beach resorts, like Lindos and Faliraki, ensure you'll step straight from your hotel onto the sand.
If you can drag yourself out of the water, beach holidays in Rhodes also serve up atmospheric ancient ruins, lush pine forests and charming villages brimming with tradition. Foodies make the most of fresh, Mediterranean cuisine with succulent vegetables and renowned local wines.
Ready to kick off your shoes and feel that sand between your toes? Here's a sneak peek at the most beautiful beaches in Rhodes.
---
Rhodes Beaches Map
The calm and sheltered beaches are typically found on the east coast of Rhodes. With the west coast beaches more often being wild, windy and wavy. This is a good place to find more secluded beaches in Rhodes though, especially the further away from Rhodes City you travel.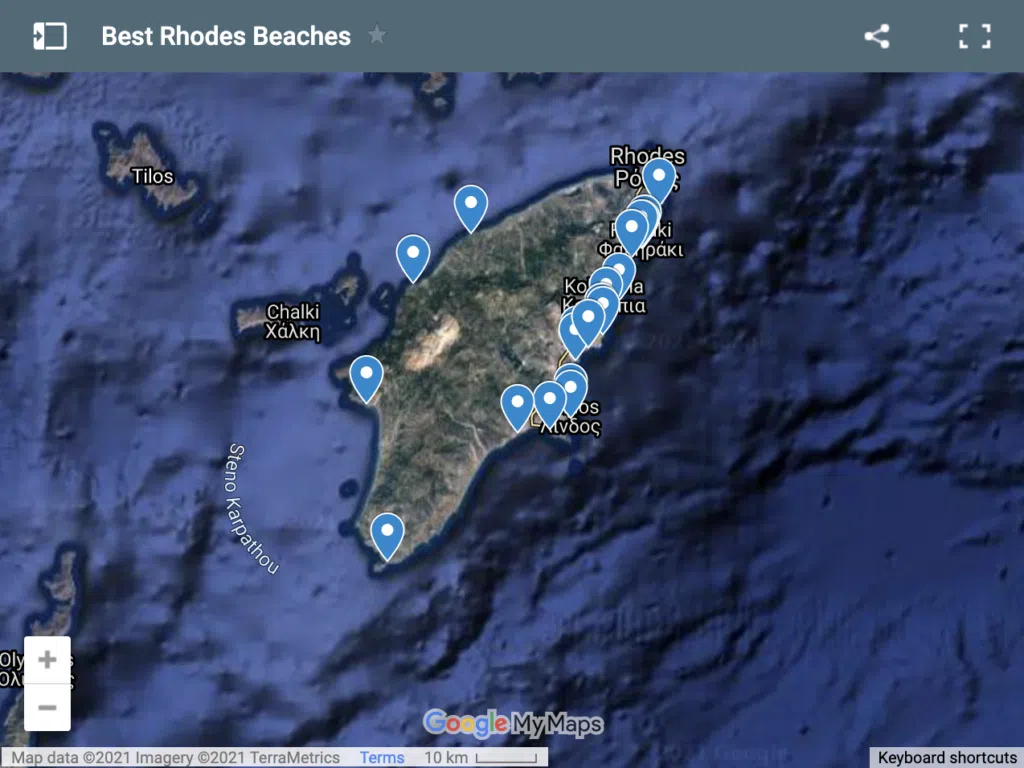 Rhodes East Coast Beaches
The east coast of Rhodes is where you'll find calm bays, perfect coves and sheltered swathes of sand. It's also where the majority of the resorts in Rhodes are found. But it's still possible to find a quiet nook to nestle into for the day. Let's get started!
KALLITHEA BEACH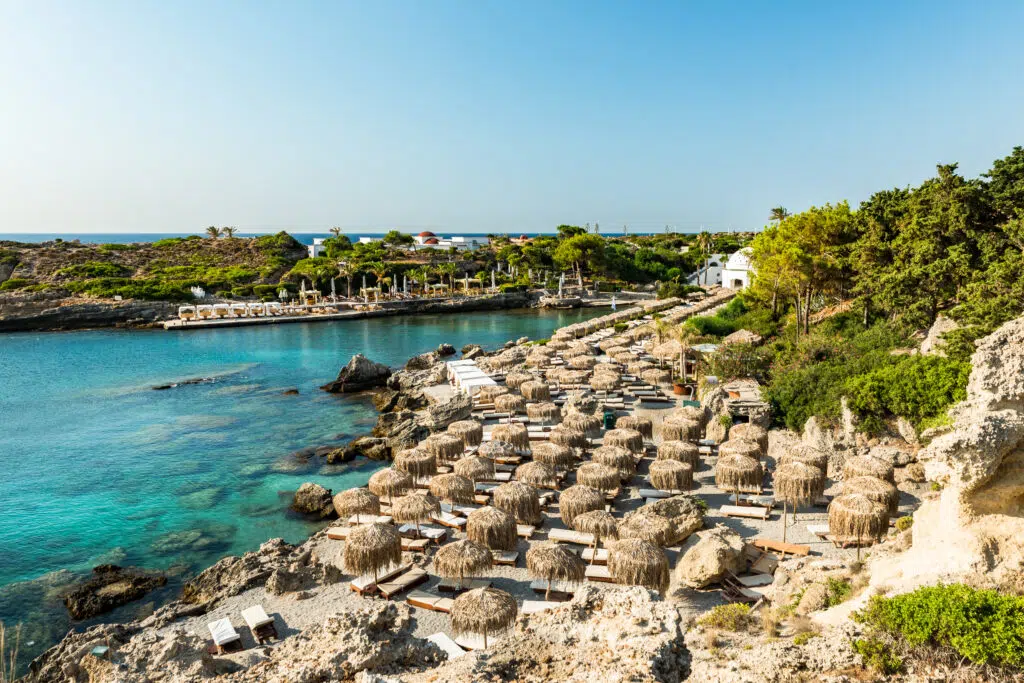 Just eight kilometres from Rhodes Town, Kallithea found fame due to medicinal hot springs and a spa complex built by the Italians in 1928. These days, Kallithea Springs is a renovated leisure centre fronting an emerald-hued cove, with a cafe and terraces backed by lush gardens and mosaics.
Among a range of picturesque coves loved by the locals, Kallithea Beach is the ideal place to relax on a sunbed, snorkel around the rocky headland, and swim in a picturesque sheltered cove.
Things to know when visiting Kallithea Beach in Rhodes:
– Entrance to Kallithea Springs costs €5 per adult, with children under 12 going free.
– Arrive early if you want a sunbed (extra charge).
– There is an onsite cafe for refreshments.
– Toilet facilities are available.
– Free parking directly behind the beach.
– Another beach, Kokkini, is right next door if you're looking for (pebbly) sand and a more casual vibe.
– Water shoes are recommended at both beaches.
MANDOMATA BEACH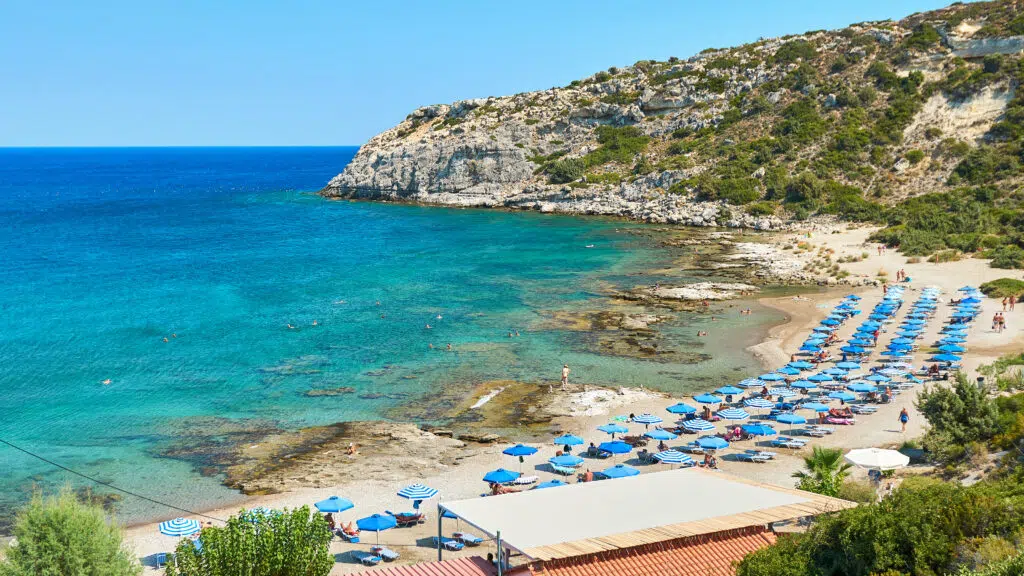 Looking for nudist beaches in Rhodes? Leave your bikini at home for a visit to Mandomata Beach, the island's only official naturist beach.
It's wedged between Anthony Quinn Bay and Faliraki Beach, with rocky marine worlds in the turquoise water and lush trees backing the sunbed-lined arc of sand. You'll also find shower facilities and a taverna for snacks.
Things to know about visiting Mandomata Beach:
– Not suitable for children/families.
– Sunbeds are available for hire.
– Toilet facilities.
– LGBT friendly.
– Free parking behind the beach.
ANTHONY QUINN BAY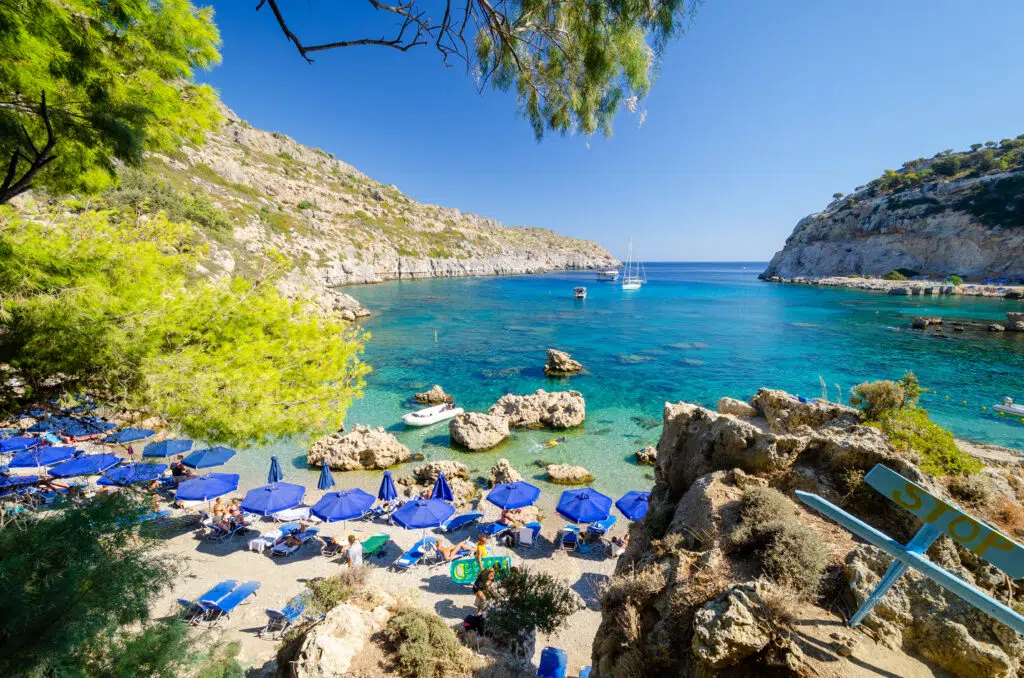 The actor, Anthony Quinn, fell in love with this beach while filming the movie, The Guns of Navarone. Now, it is among the top beaches in Rhodes for snorkelling, lazing like a movie star in dazzling surrounds, and dropping anchor with your luxury yacht. Pine trees lend a delightful green tinge to transparent water and rocks provide idyllic sun-soaking platforms.
Get there early to nab a sunbed in the summer season and head to the canteen for refreshments. This is a beach for everyone, however, if you're with the little ones take some reef shoes to navigate the rocky seabed.
Things to know when visiting Anthony Quinn Bay:
– Can get very busy in summer. Arrive early to claim a sunbed.
– Water shoes are recommended.
– Pedal boats and water toys are available for hire.
– Toilet facilities
– Free parking behind the beach.
LADIKO BAY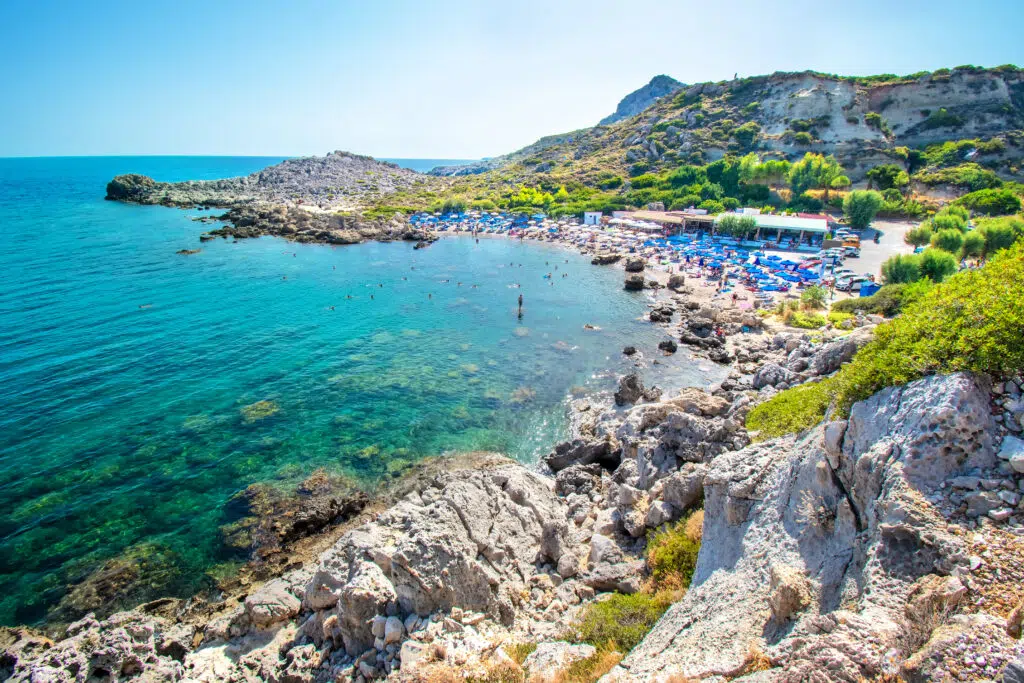 The small but perfectly formed cove of Ladiko Bay is located next to Anthony Quinn Bay, with a strip of sunbed-dotted sand and a peaceful vibe surrounded by rocky hills.
The crystal clear water and marine life attract dive tours stopping offshore to explore, so you'll find some of the best snorkelling in Rhodes here. When hunger strikes, enjoy fresh food with ocean views at the taverna.
Things to know when visiting Ladiko Beach:
– Take your water shoes and snorkelling mask.
– Sun loungers are available.
– Toilet, changing and shower facilities are available.
– Free parking behind the beach.
TRAGANOU BEACH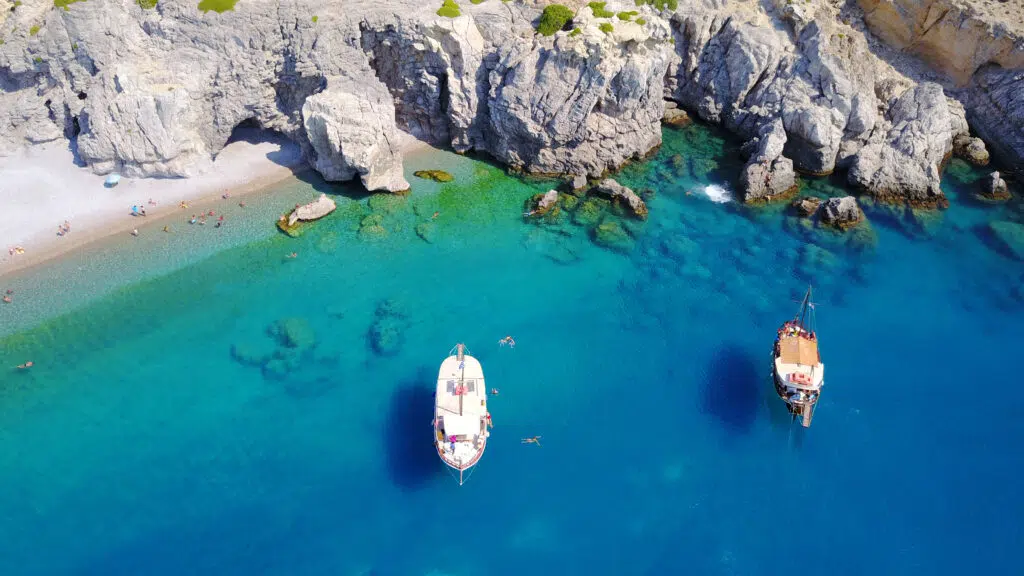 Dotted with intriguing caves and rock formations that provide exciting snorkelling, Traganou Beach is an unspoiled beauty for fun in the sun. Wander along the pebbly shore to discover the nooks and crannies in the cliffs and chill out on sunbeds after swimming in calm, clear water.
There's a small fish taverna for succulent seafood between beachy adventures. If you're taking a boat trip around the coast, Traganou Beach is a stop on most of the itineraries.
Things to know when visiting Traganou Beach:
– Sunbeds are available, but plenty of free space for families too.
– Pedal boats/pedalos available and watersports on offer.
– Toilets and showers available.
– Plenty of free parking behind the beach.
KOLYMBIA BEACH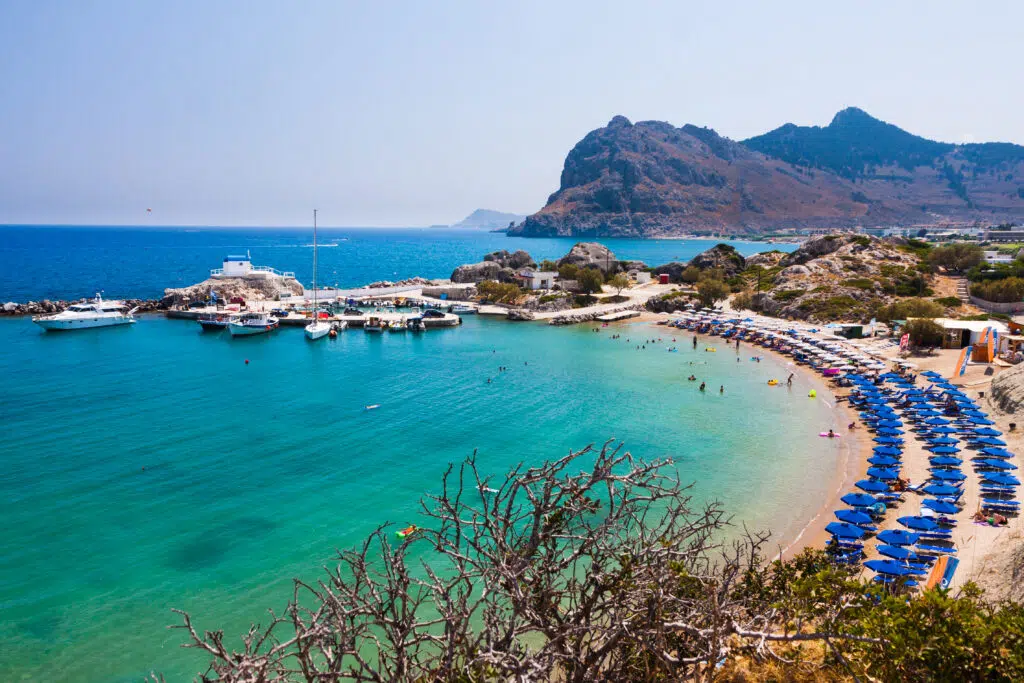 Situated halfway between Rhodes Town and Lindos, Kolymbia is one of the best beaches in Rhodes for families. The main beach is surrounded by lovely resorts, and it's a breeze to step out of your room and stroll to the fine sand. The kids will love splashing in the calm, shallow water of the bay while you relax with your holiday read on a sunbed.
There's plenty of room for sandcastles and restaurants are just a hop, skip and a jump away. Off the beach, hire a bike to ride along Efkalipto Street, a shady avenue lined with eucalyptus trees.
Next door, you'll find a smaller, a little more secluded cove adorned with a whitewashed chapel and a tiny port. Head here for a more intimate beach experience, or if you fancy taking a boat excursion to nearby coves and otherwise inaccessible beaches.
Things to know when visiting Kolymbia Beaches:
– Boats are available for hire from the small harbour.
– Toilets and showers available.
– Pedalos and watersports on offer.
– Sun loungers for hire.
– Free parking is available.
– Walking trails around the headland.
TSAMBIKA BEACH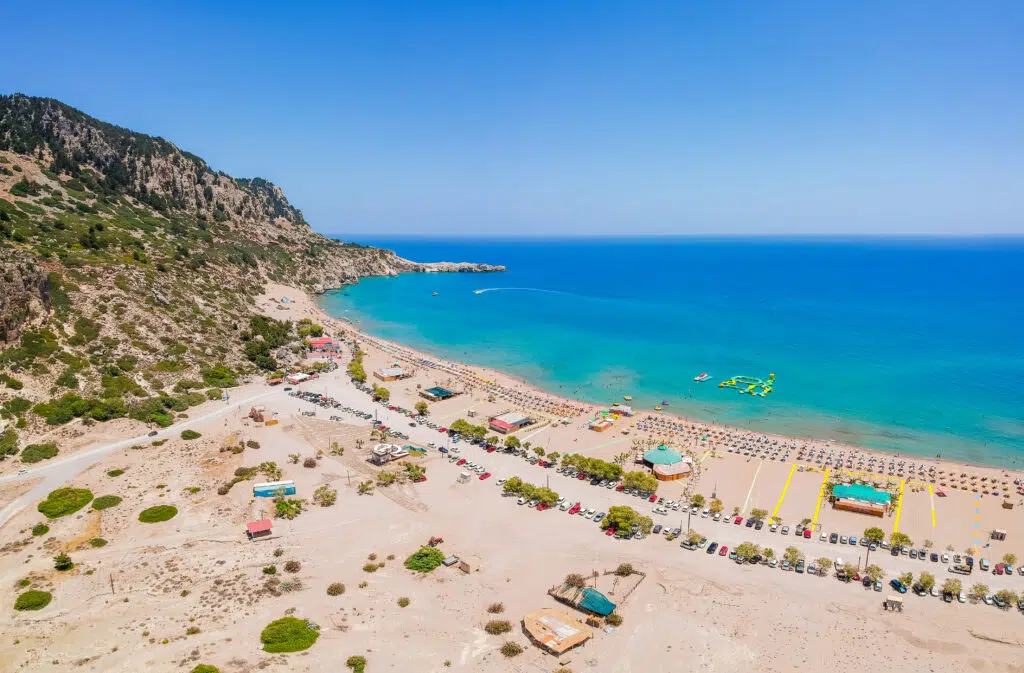 Two rocky headlands ensure the turquoise water at Tsambika Beach is perfect for peaceful floating. The Blue Flag stretch features water sports for kids and big kids alike, including an inflatable obstacle course.
A smattering of casual tavernas, cafes and beach bars line the golden sand. Visit the Monastery of Tsambika, which overlooks the coast with panoramic views and a miracle-working icon of the Virgin Mary. There's no resort or town directly by Tsambika, so it's more of a destination beach in itself.
Things to know when visiting Tsambika beach in Rhodes:
– Plenty of free parking available right by the beach.
– Watersports and water toys available for hire.
– Inflatable obstacle course in the sea!
– Showers, changing rooms and toilets available.
– Not a rocky beach, but you could still be more comfortable in water shoes if you have sensitive feet!
STEGNA BEACH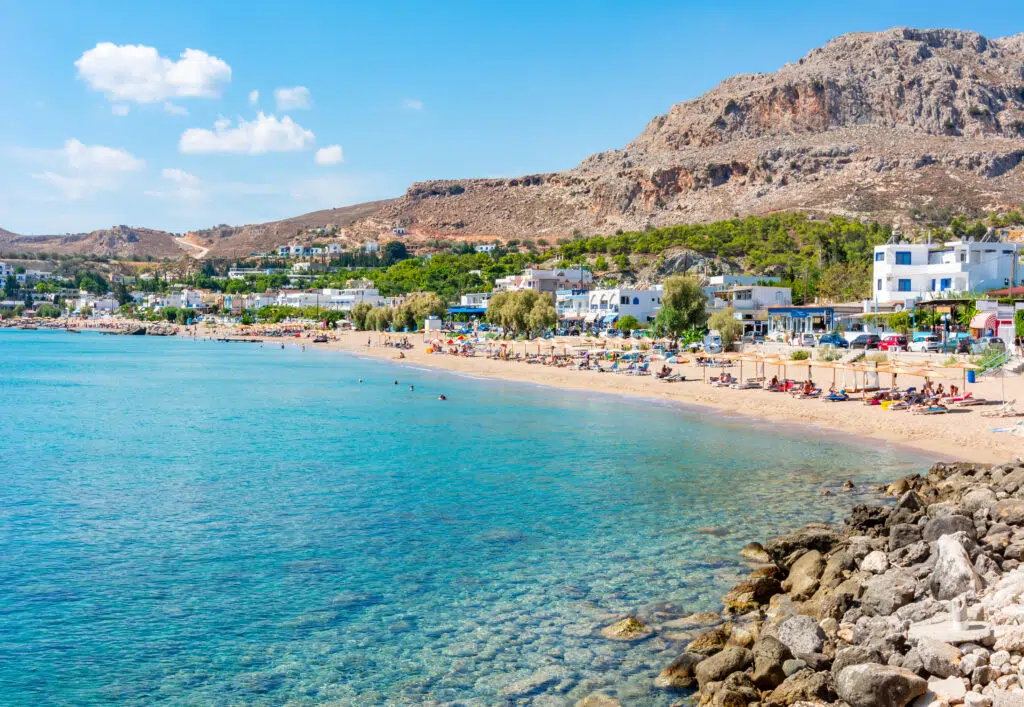 Among a wealth of sandy beaches in Rhodes, Stegna Beach is a favourite with local families. With friendly tavernas, banana boat rides and water skiing, there's plenty to do. However, a relaxing vibe combines with fragrant lemon groves and rustic architecture.
Just a couple of kilometres inland, the traditional town of Archangelos offers a glimpse at Rhodian life, with narrow laneways, whitewashed houses and colourful doors. Visit the 19th-century Church of the Archangel Michael and pick up some local liquid gold from the olive oil factory.
Things to know about visiting Stegna Beach:
– It's best to park in the small (free) lot just as you enter Stegna. There is parking along the main road behind the beach, but it gets a bit chaotic, both with cars and pedestrians.
– Pedal boats and watersports available.
– Plenty of beachfront bars to choose from.
– Sun loungers are available to hire.
– There aren't any public toilets as far as I could tell, but if eating in the bars/restos you can use the facilities.
SECRET STEGNA (GRANDE BLUE) BEACH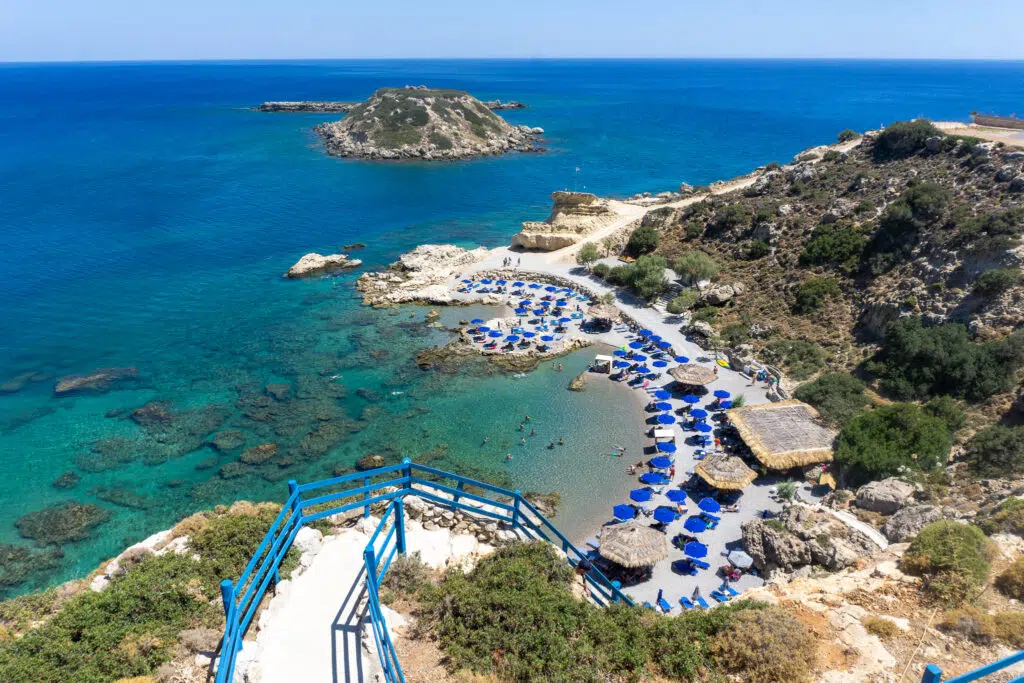 Around the corner from Stegna beach is a hidden paradise tucked out of plain sight. Adorned with loungers and parasols, and with an island-style beach bar taking prime position, this is just the place for a chilled afternoon away from the crowds.
Accessed via a steep stairwell etched into the cliffside, it offers some of the best snorkeling in Rhodes, with swarms of fish and other sea creatures hiding among the rocky seabed. For lunch with a view, head to the top of the stairs where you'll find the friendly and relaxed cafe, Grande Blue, serving delicious Greek food all day long.
Things to know about visiting Secret Stegna Beach:
– Parking is at the top of the hill near the Grande Blue cafe, and is free but is limited. To get there, there's a steep road to climb from the end of Stegna Beach.
– Sun loungers are available, and there is little room to bathe around them. People also bathe on the rocks around the cove.
– There are toilets on the beach, so you don't have to climb the stairs every time nature calls.
– Water shoes and a snorkel are recommended.
AGIA AGATHI BEACH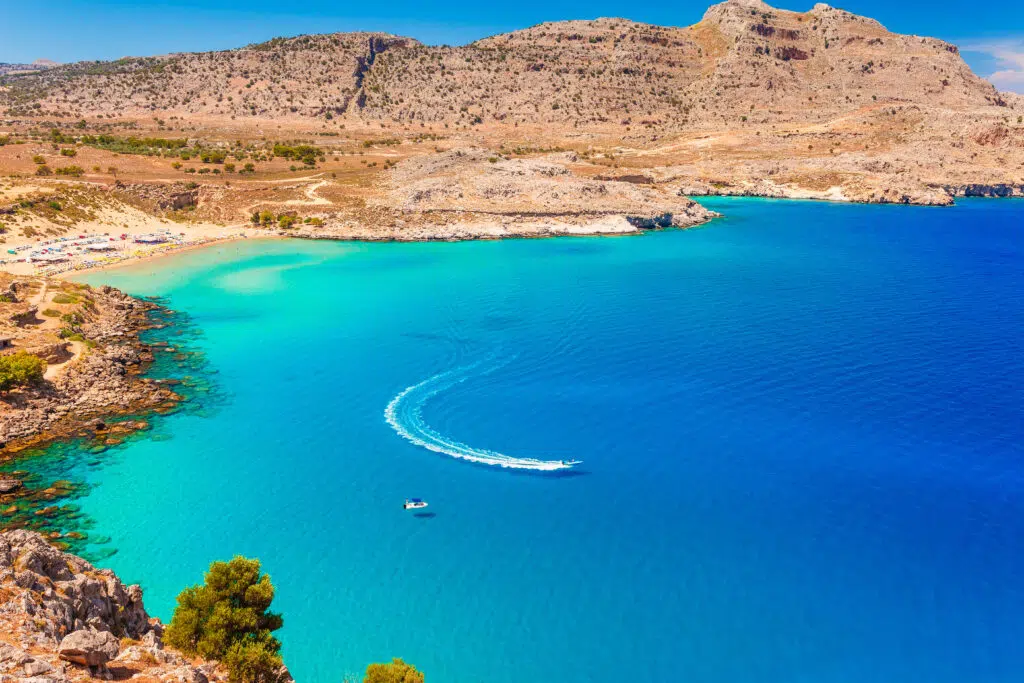 Pop into the medieval Castle of Feraklos on your way to the golden sands of Agia Agathi Beach. This east coast stunner is one of the nicest beaches in Rhodes for swimming on a natural backdrop away from the vibrant resorts.
Bring your snorkelling gear to make the most of extraordinarily clear water and fish-filled rock pools. You'll find sunbeds and a few canteens for snacks on the beach and hiking trails around the cliffs.
Things to know when visiting Agia Agathi Beach:
– One of the best quiet beaches in Rhodes, if you want to get away from the bustle.
– Plenty of free parking just behind the beach.
– Paid sun loungers claim most of the space along the front of the beach in summer.
– Visit the monastery on the hill overlooking the beach, it's etched into the hill and very rustic.
– Toilets are available.
HARAKI BEACH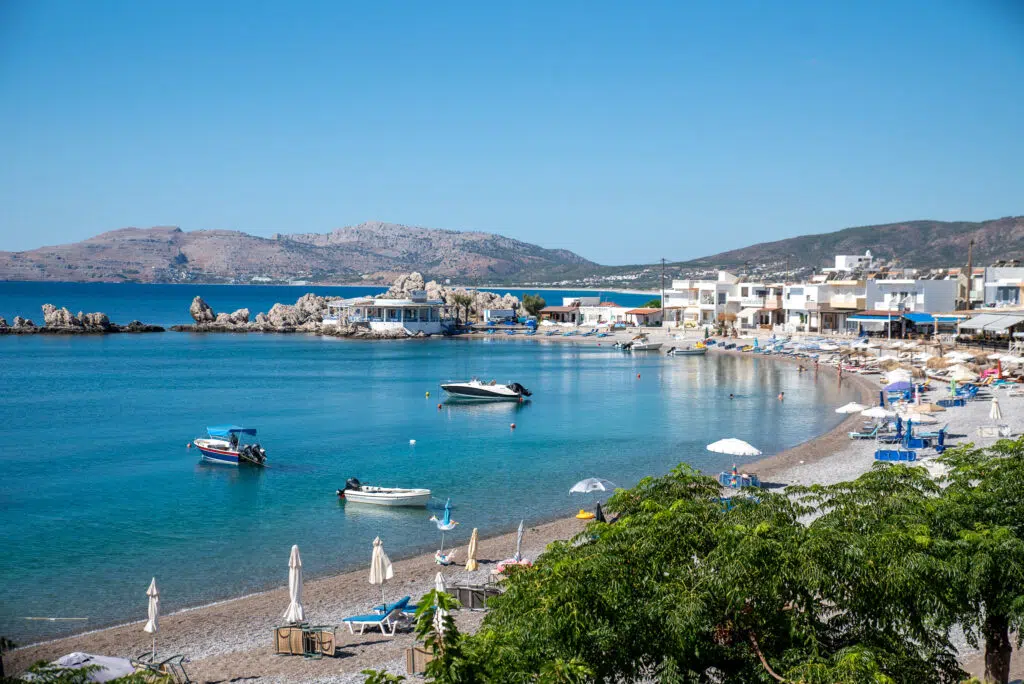 Hop from Agia Agathi Beach to nearby Charaki (Haraki), a semi-circular bay of sparkling water, umbrella-dotted pebbly sand and low-rise guesthouses along the beach. A family-friendly atmosphere attracts both locals and visitors, with an oceanfront promenade for restaurants, cafes and mini-markets.
There's plenty to explore in the surrounding area, but life's all about searching for seashells and snoozing on sunbeds here. Charaki was our base on our most recent visit to Rhodes, and it couldn't have been more perfect for a relaxing holiday!
Things to know about visiting Haraki Beach:
– There are areas of the beach where sun loungers are available for hire (cheaper than elsewhere), and other areas where there is free bathing.
– Boats are anchored to the shore in some places, so you need to be aware of the ropes.
– Showers on the beach. Toilets are available in restaurants.
– There is a free parking lot at the entrance to the village/beach, by Tommy's Taverna.
– Although sandy in places, the pebbles get very hot under foot, so water shoes or sandals are advised.
LINDOS BEACH/ PALLOS BEACH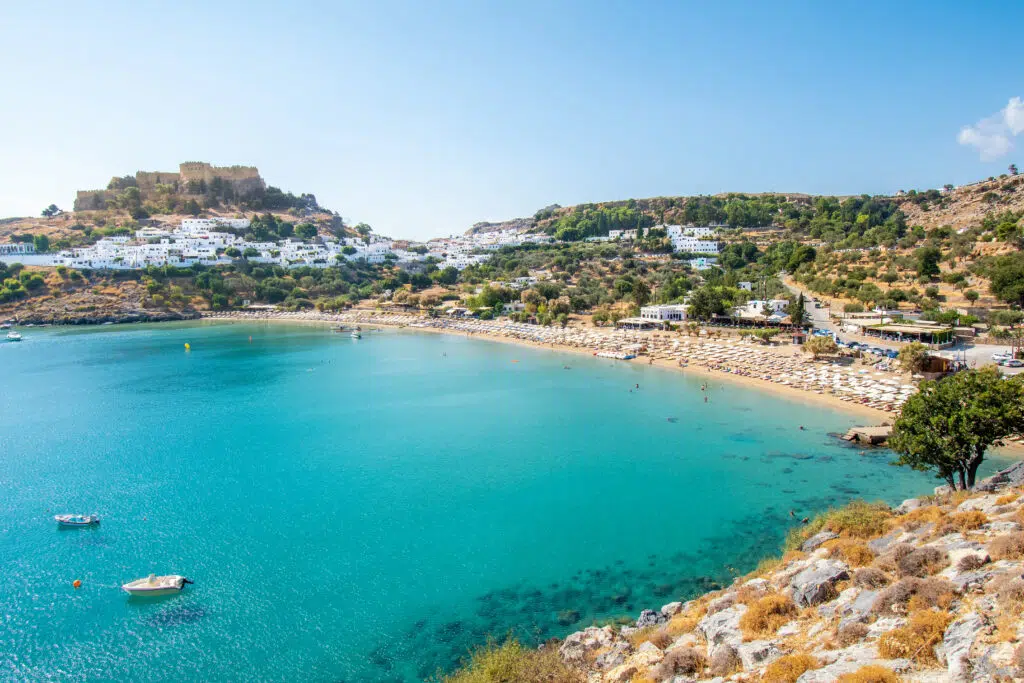 Sharing a beautiful blue bay, Lindos and Pallos are among the best places in Rhodes for sunny beach days blended with a history fix. The Acropolis of Lindos towers over the coast, with the 4th-century Temple of Athena and a collonaded Hellenistic walkway.
Hire a sunbed and enjoy views of yachts bobbing in the water, splash in calm conditions that are ideal for children, and dine at sundrenched terraces overlooking the ocean. Lindos is one of the most beautiful beaches in the Mediterranean, and a visit here shouldn't be rushed.
Pallos Beach is quieter than the main beach of Lindos and kayaks help you explore the coastline. In town, you'll find churches, monuments, and rooftop bars.
Things to know when visiting Lindos / Pallos Beaches:
– There are several free parking lots in Lindos. If you don't want to tackle the steep road that gets very hectic in summer, park at the top parking lot, on the main road, and walk down.
– Pedal boats and standup paddleboards can be hired on the beach.
– Semi-submarine rides are available by Pallos Beach.
– The majority of the beach is covered in sun loungers which you can hire.
– There are toilets, showers and changing rooms available.
AGIOS PAVLOS BEACH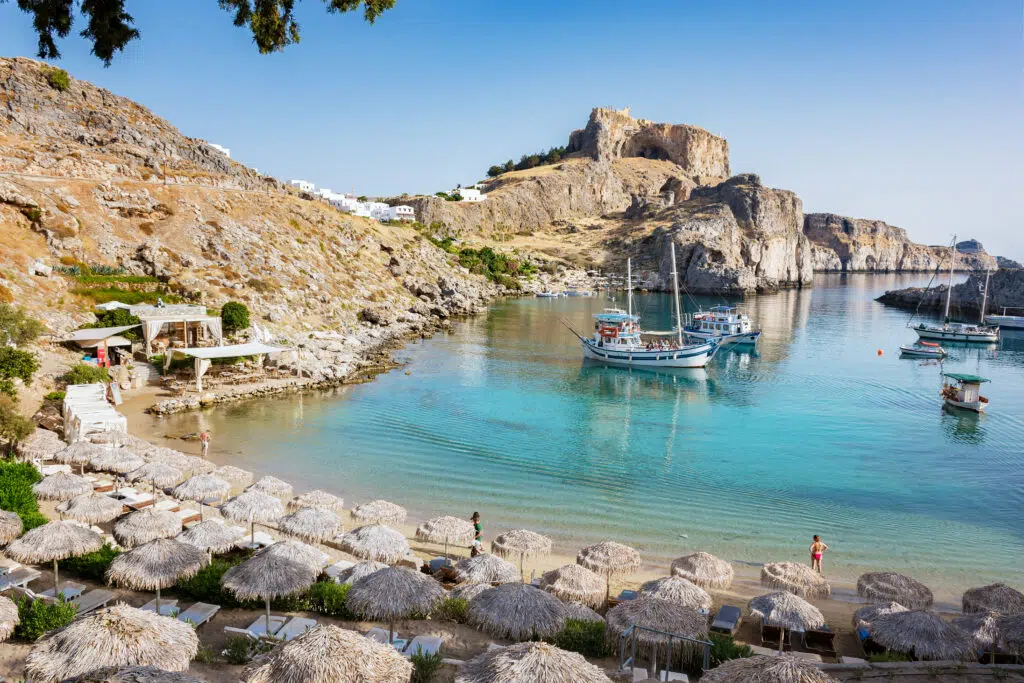 Dive off the rocks into the crystalline water of St. Paul's Bay at Agios Pavlos Beach, one of the most loved beaches on Rhodes. It's within walking distance of Lindos and tucked between scenic rocky outcrops.
Choose from rows of sunbeds with umbrellas and tuck into fresh Greek food at the taverna. The snorkelling is fantastic in lagoon-like water.
Things to know about visiting Agios Pavlos Beach:
– There are several large, free car parks near Agios Pavlos beach. The closest is right behind the beach and has an electric vehicle charging station.
– There is a small charge to use the toilets.
– Sun loungers for hire.
– Another beach, St Pauls Bay beach, is on the other side of the bay if you feel like a change of scenery, or if either one is too busy.
– Do need to be aware of boat traffic.
PEFKI BEACH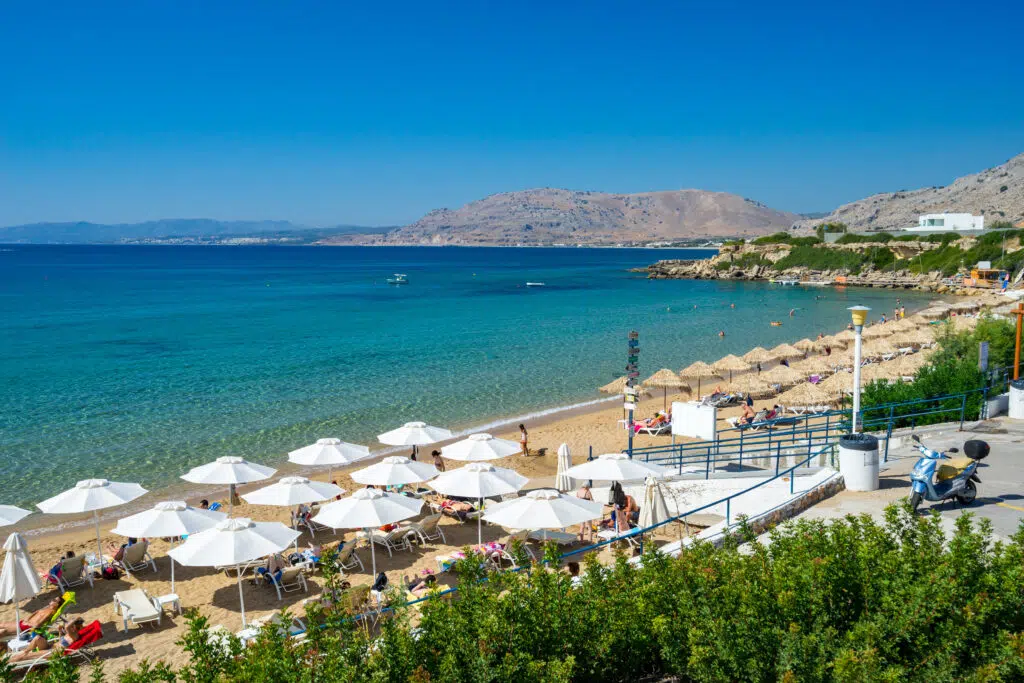 For a low-key beach break in Rhodes, Pefki is a laidback resort stretching along a string of beaches at the foot of pine tree-topped hills. Many of the hotels offer direct beach access and the main road is lined with restaurants, bars, shops and tour companies.
Choose a section of beach with sunbeds sprawling across the soft, golden sand. One of the best sandy beaches in Rhodes, the main section is wide and leads to narrow strips beneath the hills and lovely rocky coves. When you're waterlogged, take your taste buds to seafront tavernas to feast on local specialties.
Things to know before visiting Pefki Beach in Rhodes:
– A good choice for families.
– A free parking lot next to the western end of the beach (near Flyers restaurant).
– Wander down to Kavos Beach if you're after a more secluded slice of sand.
– Shower and toilet facilities are available.
– Sun loungers for hire.
GLYSTRA BEACH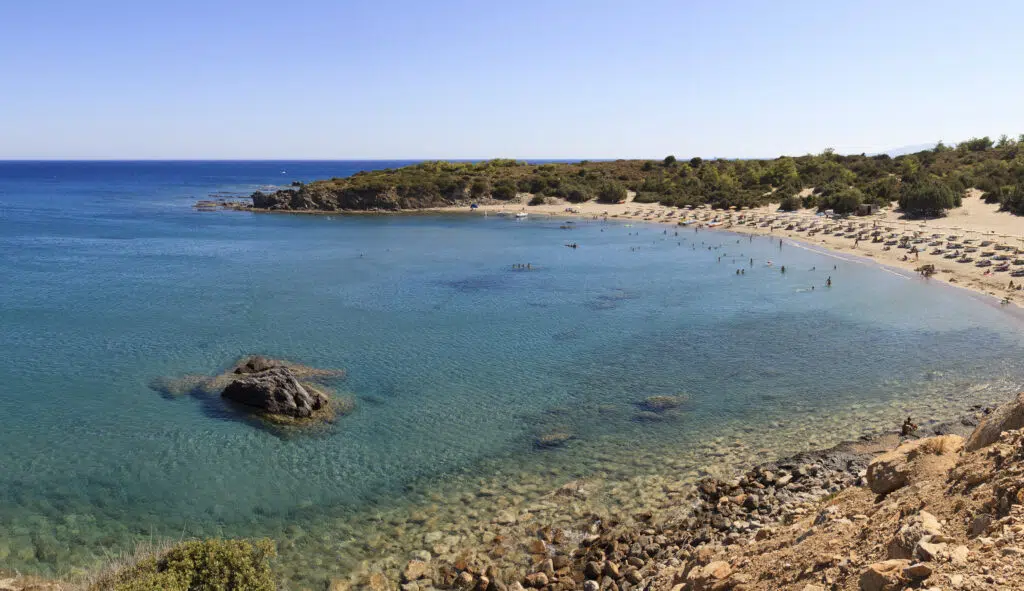 Local families love to gather on Glystra Beach, located near pretty Lardos village and Katafigio Agrias Zois Xortis nature reserve. You'll enjoy sunbeds, umbrellas and pedalo rides, otherwise, there's no development or motorised water sports to interrupt the peace.
Get some snacks from the nearby restaurant and spread out on soft sand backed by shady trees. Then spend the day enjoying this low-key beach surrounded by nature.
Things to know when visiting Glystra Beach:
– Free parking directly behind the beach as you arrive. Overflow parking is a short walk away along the main road.
– Unfortunately, there does currently seem to be some construction going on behind the beach. It remains to be seen what impact this has on the immediate environment.
– Sun loungers and security boxes are available for hire.
– Basic toilet facilities available.
PRASONISI BEACH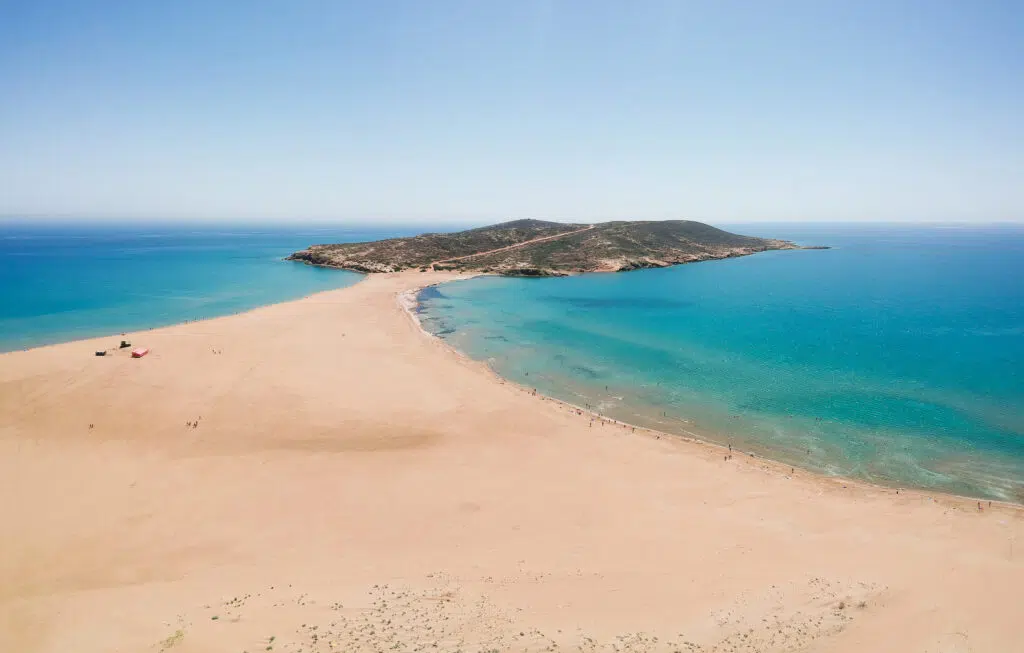 Windy on one side and sheltered on the other, Prasonisi is one of the best beaches on Rhodes Island for kiteboarding and windsurfing. A wide strip of soft, undulating sand connects the mainland to a small island. You'll find sunbeds and umbrellas on the calm side for pure relaxation.
When it's watery thrills you're after, July and August are the top months. Water sports centres fit you out with wetsuits, equipment, and lessons if you're a beginner. Pack some snacks so you don't have to move far, however, there's a small, purpose-built area with a handful of tavernas and supermarkets.
Things to know when visiting Prasonisi Beach:
– Plenty of free parking at the back of the beach.
– Kite & windsurfing schools & hire on-site.
– Loads of space for games in the sand, without having to worry about getting in anyone's way.
– Limited rubbish bins, so be prepared to take your litter home with you.
– No public toilet facilities other than those at the taverns.
BONUS – RED SAND BEACH (Accessible by boat)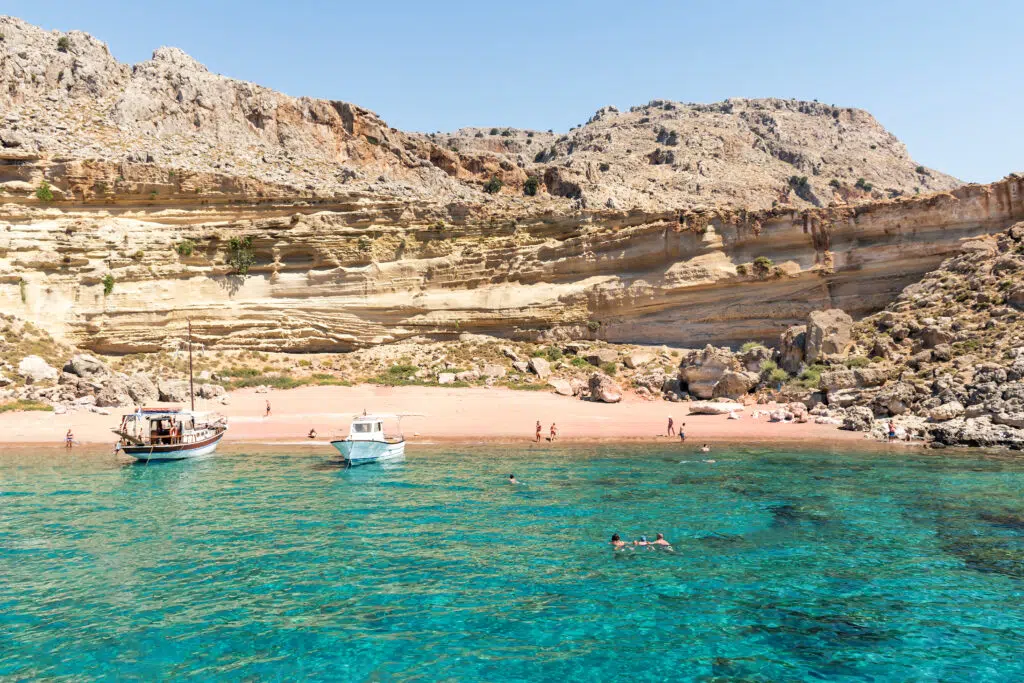 The secluded Red Sand Beach near Charaki is best left for when you're touring the island by boat, or if you're kayaking along the coast. A few intrepid travellers report having accessed it via road, but as our rental contract specifically excluded travelling off-road, I decided not to risk it. If you do choose to drive or walk there, you'll also be faced with a 4m rope climb down a steep cliff to reach the beach.
Instead, book a self-drive boat from a place such as Happy Boats in Charaki, or take a tour to discover this delightful red sand beach backed by towering cliffs in a truly rural setting.
Things to know before visiting Red Sand Beach:
– You'll need sea transportation to get there.
– There are no facilities on the beach.
---
Best Beaches in Rhodes' West Coast
The west coast Rhodes beaches are more wild and rugged. Hidden between limestone cliffs, and often at the end of rustic roads, they can take a little more effort to get to.. But you'll be well rewarded with quieter coves and spectacular scenery.
Do keep in mind that the sea can get rough on the west coast beaches when it's windy in Rhodes, so save these to discover on calm days.
FOURNI BEACH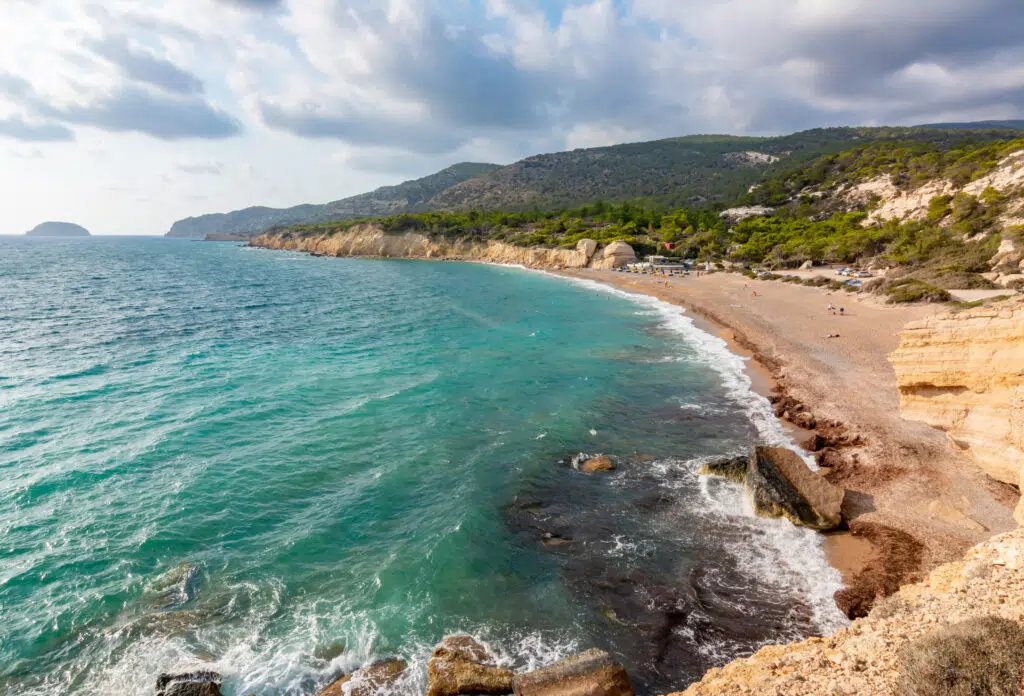 A wild, rugged beauty near striking Monolithos Castle, Fourni Beach is a secluded paradise of coves, caves and smooth pebbles. Choose a spot on the rocky beach to enjoy splashing in the waves, find rock platforms to swim from or perch beneath a shady sea cave and take it all in.
There's a small cafe for snacks and drinks, along with a few tavernas in the tiny town of Monolithos.
Things to know about visiting Fourni Beach:
– Plenty of free parking right behind the beach.
– The road to get there can be a bit rough, but manageable (although do be aware of your rental agreement limitations).
– There are toilets available.
– A few sunbeds for hire in the peak season.
KOPRIA BEACH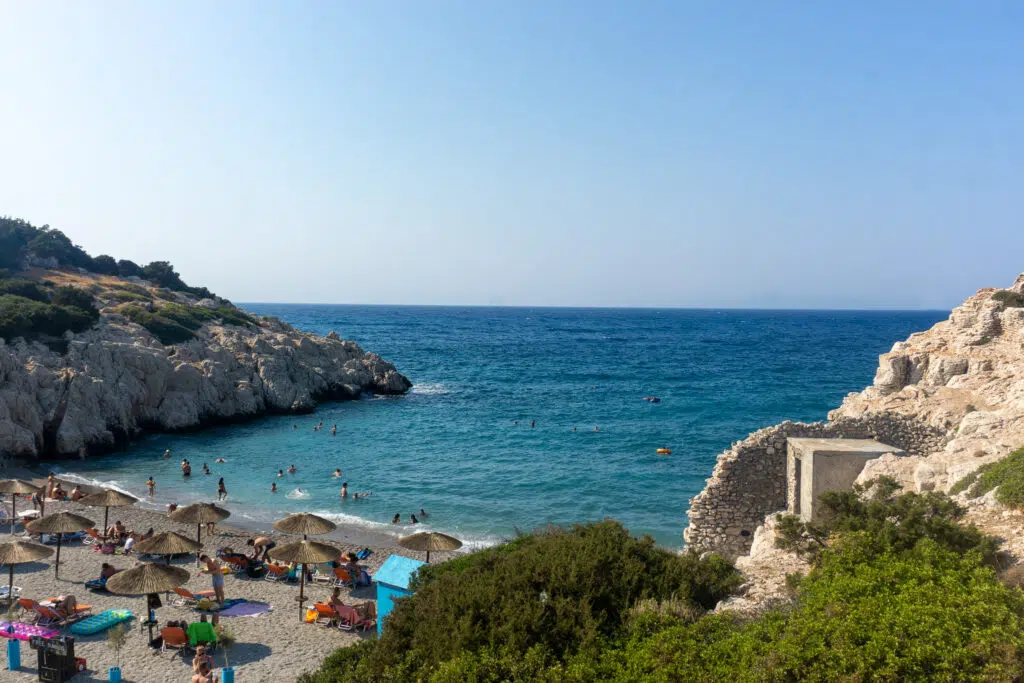 Craggy, white rock formations frame the hidden gem of Kopria Beach, with crystal clear water that changes from aqua to deep blue. There's nothing to interrupt nature, other than a few sunbeds in the summer season, and a beachside bistro tucked discreetly into the hillside, so bring what you need for a day of relaxing on the strip of white pebbly sand.
You'll need a car to get there, and it's close to Mandriko and Skala Kamirou. A favourite with local families, you'll find kids fearlessly jumping off the cliffs into the sea below.
Things to know about visiting Kopria Beach:
– Sun loungers and umbrellas are provided for free!
– There are toilet facilities tucked under the taverna, at the back of the beach.
– The taverna is cheap and cheerful, a great place for a snack or full meal with true Greek hospitality.
– There is limited parking (free) behind the beach. If arriving on a summer afternoon, you can drive a little way up the dirt road behind the beach where you'll find a few more spaces.
KAMIROS BEACH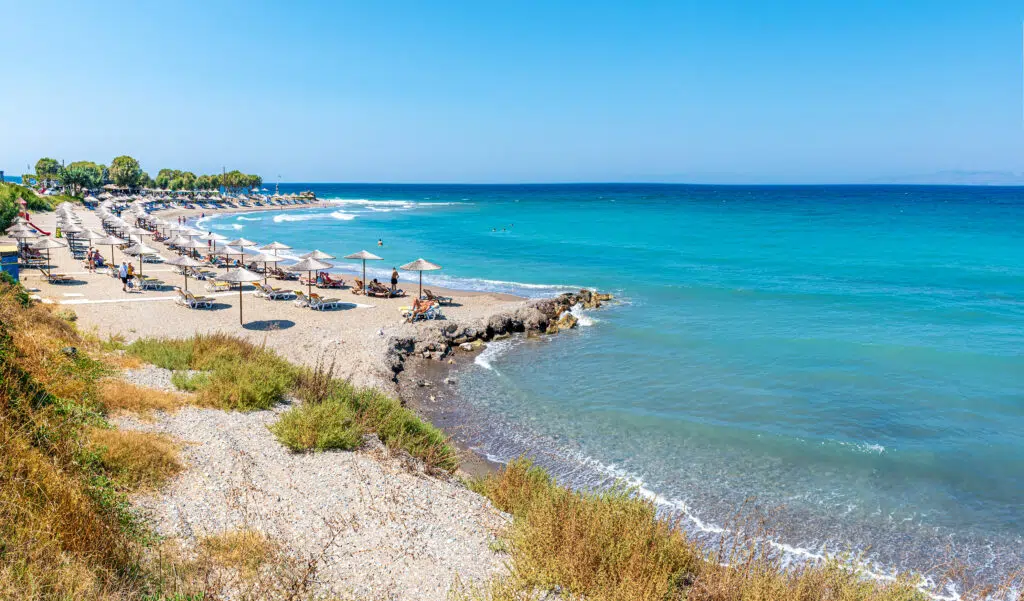 Take a lovely, 45-minute drive from Rhodes Town through traditional villages to the golden sands of Kamiros Beach. Settle in under a thatched parasol and enjoy the crowd-free peace, then follow your nose to grilled goodies at the taverna right on the beach.
While you're there, explore the archaeological site of ancient Kamiros, which features temple ruins and sweeping ocean views.
Things to know when visiting Kamiros Beach:
– A beautiful place to enjoy sunset.
– There's a limited amount of parking next to the main road. Take care when entering and leaving. More parking is available at the back of the Porto Antico taverna.
– Toilets and showers available.
– Sun loungers available for hire.
---
---
Whether you settle in at a fabulous seaside resort or hop across the entire island, the best beaches in Rhodes are a sun worshipper's dream. Simply close your eyes, point at your Rhodes beaches map and pick a new sandy paradise to explore every day of your Greek Island holiday.
Related reading: Rhodes to Symi Day Trip; Things to do in Rhodes, Greece