It's easy to be lulled into holiday bliss in Paros, with the sparkling Aegean Sea, whitewashed villages and ancient ruins to explore. Linger longer to enjoy Paros day trips where you'll hop between idyllic Greek islands and launch into exhilarating outdoor adventures.
Choose Antiparos just minutes away by boat or Santorini via fast ferries that whisk you there in a couple of hours. Much like saganaki and Greek salad, that's just for starters. Across Paros, tours ensure you make the most of the island's attractions with locals guiding the way and without the need for a car.
Whether you're kayaking to serene coves or hiking to hilltop monasteries, a smorgasbord of fun awaits day trippers in Paros.
Antiparos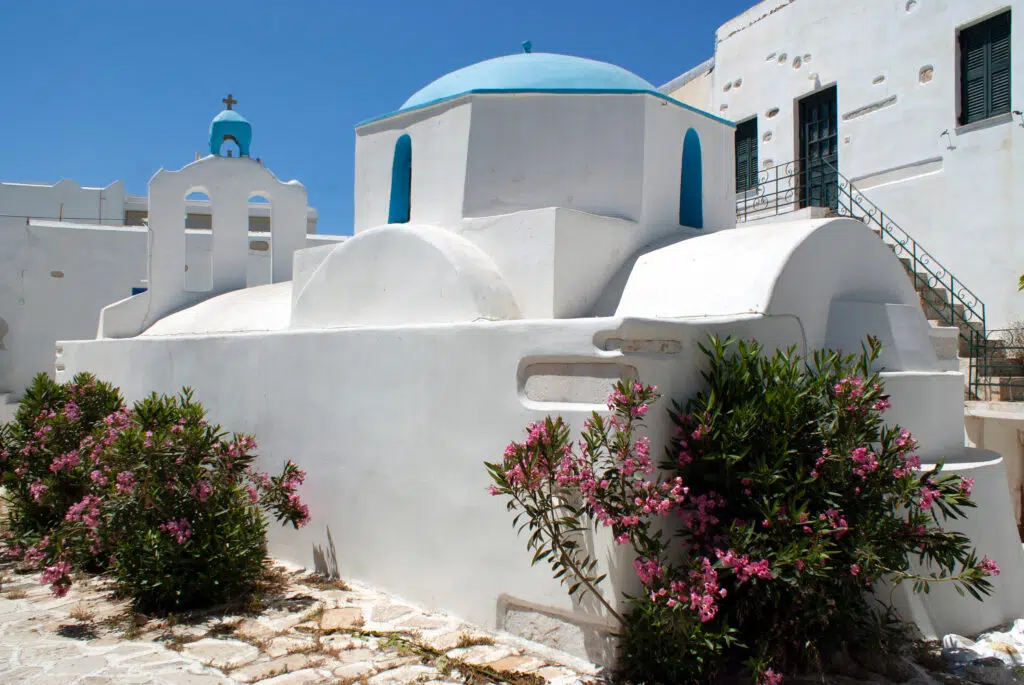 A Paros to Antiparos day trip starts with a ferry trip that's less than 10 minutes from the small port at Pounda near Parikia. Hop off and walk straight into town, with a stop at the white, blue-domed church of Agia Marina for postcard photos.
Built around the ruins of a 15th-century Venetian castle, petite Chora (town) is a picturesque maze of alleys with pink and purple bougainvillaea draped across the quintessential whitewashed buildings. Cycle or stroll along the stone-paved main street, popping in and out of quaint souvenir shops and tavernas.
Delve into history at the Historical and Folklore Museum of Antiparos, which features intriguing maps and artefacts. The breathtaking ocean views, stalagmites and stalactites of Antiparos Cave are a 'must see', especially a stalactite that's thought to be around 45 million years old. It's a quick bus trip from town and you'll need comfy shoes to navigate more than 400 steps.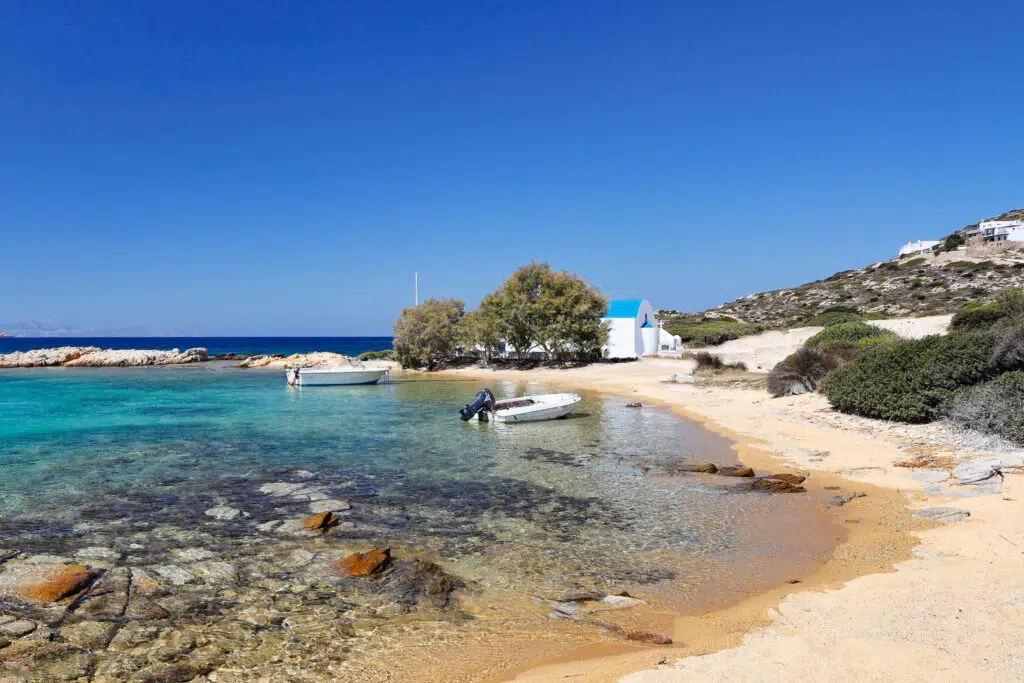 While there's plenty to see and do on Antiparos, you might simply wish to soak up the laid-back vibes on one of its most beautiful beaches. Agios Georgios is a string of sandy stretches separated by rocks; some with sunbeds and watersports, while others offer unmatched tranquillity and peace.
Take a local boat over to the uninhabited island of Despotiko, where excavations still unearth ancient remnants. Within walking distance of town, Sifneiko Beach is the spot to sip wine as the sun melts spectacularly into the sea.
How to get to Antiparos from Paros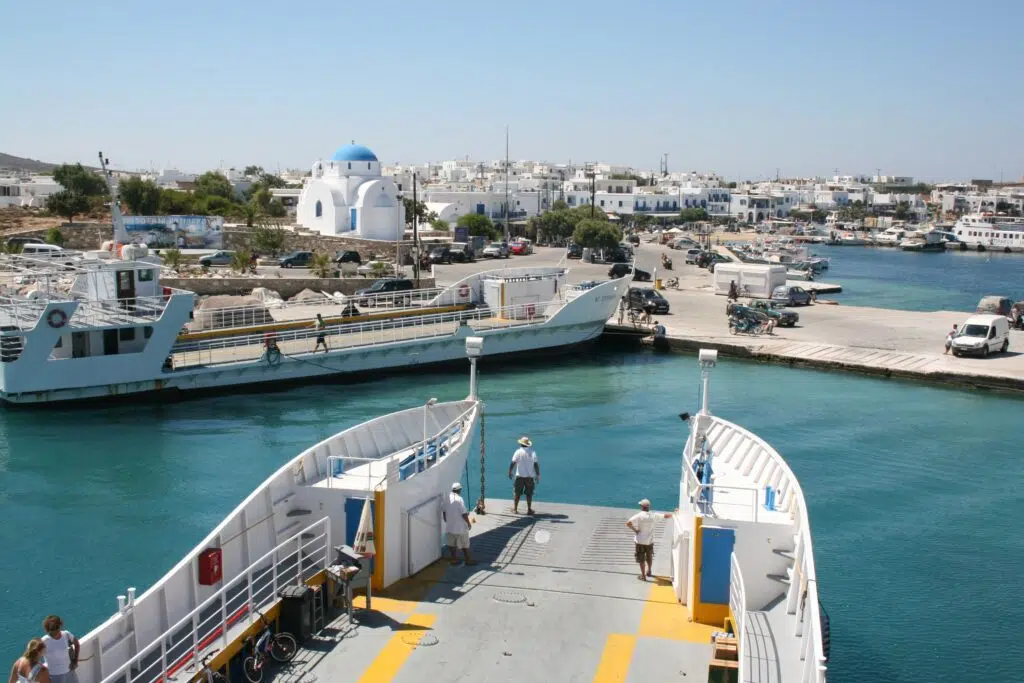 This is one of the easier day trip options to navigate on your own. Simply drive, grab a taxi, or jump on a bus transfer to the port at Pounda (Pounta) where there's plenty of free parking. Here you can board the ferry and purchase your ticket on the spot for just €1.50 each way.
The ferry takes just 7 minutes and runs every day, at 20/30-minute intervals. You can see the current timetable here.
It's also possible to take your car onboard for €7.30, although do check with your rental company to make sure they allow this.
If you're staying in Parikia, there's also a passenger-only ferry that operates during the summer season. It costs €7 each way and takes around 30 minutes to reach Antiparos. You can find the ferry schedules for this service here.
Those preferring an organized tour of Antiparos can book this full-day sailing trip which includes lunch & snacks.
Naxos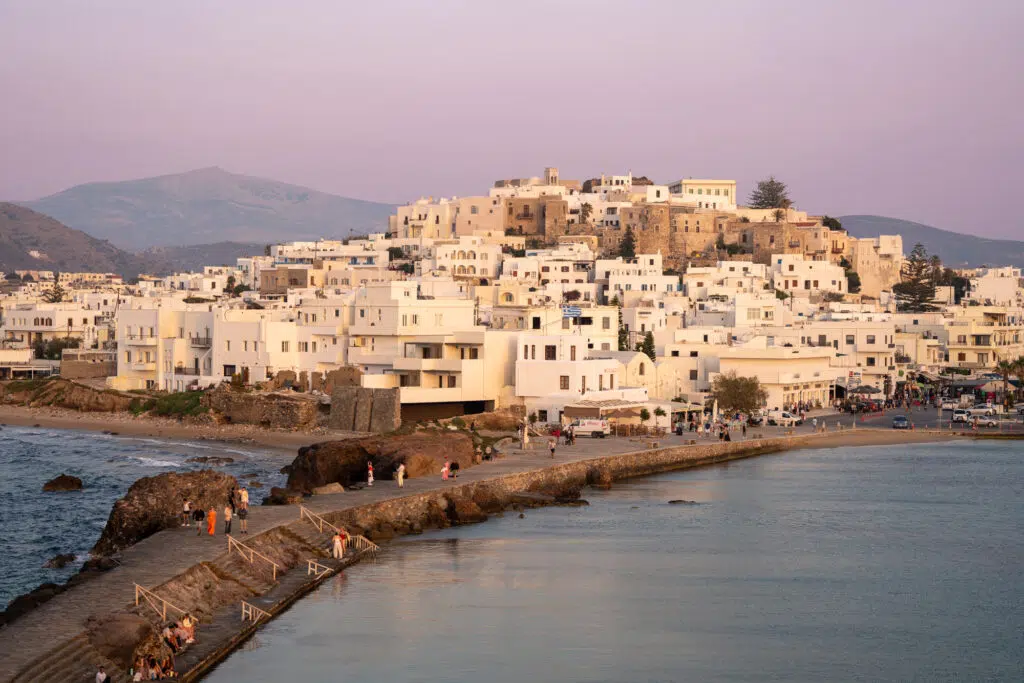 Zip over to Naxos island in about half an hour by ferry from Parikia and get set to explore the largest island in the Cyclades. And don't forget your appetite. Along with enchanting mountain villages, ravishing beaches and myth-wrapped ruins, the most fertile of the Cyclades islands produces wine and cheese to die for (head to Saint Anna Winery for the most memorable experience!).
Explore the labyrinth of alleyways in the old town, Chora, for an atmospheric setting to shop. Along the way, admire palaces from the Venetian Period and see the Della Rocca-Barozzi Tower. The 13th-century Castle of Naxos (Kastro) features a pedestrian area within the walls, where a maze of lanes hosts art galleries and souvenir shops. Visit the white Catholic Cathedral and the Archaeological Museum with marble statues and jewellery.
Read more about the best things to do in Naxos here.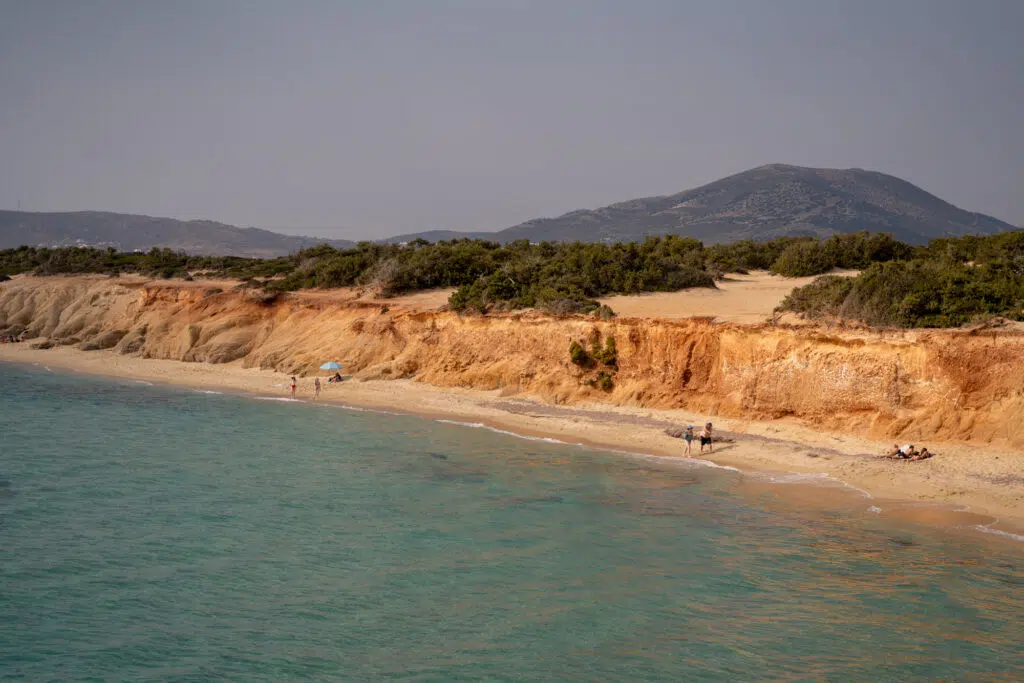 Time for a refreshing dip while exploring Chora? Stroll to family-friendly Agios Georgios Beach. Or catch a bus to Plaka Beach, the island's longest and golden sand haven.
With aquamarine coves on backdrops of cedar forests and dunes, the Aliko Nature Reserve is the place to get off the beaten path. Myths of Zeus await at Zas Cave, if you feel like a hike up Mt Zas – the highest peak in the Cyclades. You can't miss Portara at the harbour, the marble gate of the unfinished Temple of Apollo.
How to get to Naxos from Paros
The best way to travel to Naxos from Paros is via ferry that departs from Parikia. During the summer season (and some of the shoulder season), it's easy to jump on a ferry in the morning to Naxos, and another back to Paros at the end of the day (ferries run until late at night typically).
Fast ferries only take around 25 minutes, whereas slower ferries can double this.
Search ferry routes and book your tickets on Ferryhopper to see all the ferries running and select the best prices.
Mykonos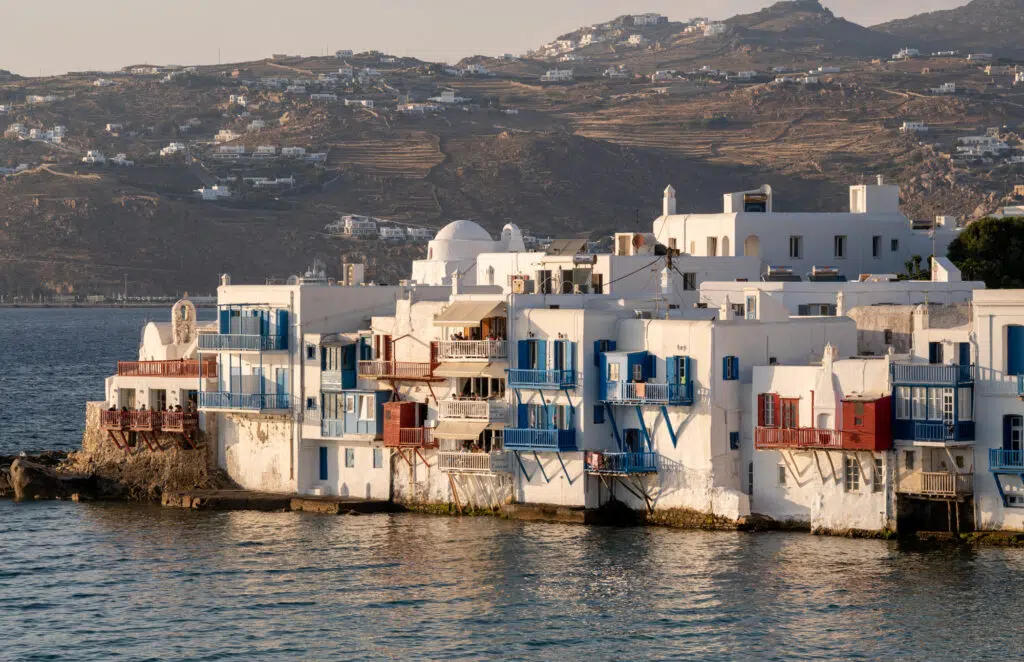 Island hopping in the Cyclades leads to Mykonos when you love the glamorous Greek island party scene. However, among warren-like lanes in quaint villages and cubic buildings with colourful wooden balconies, tradition speaks just as loudly.
Ferries to Mykonos take around an hour, and some boat tours stop at Delos. The mythological birthplace of Apollo is a UNESCO-listed home of fascinating archaeological sites and stunning beaches.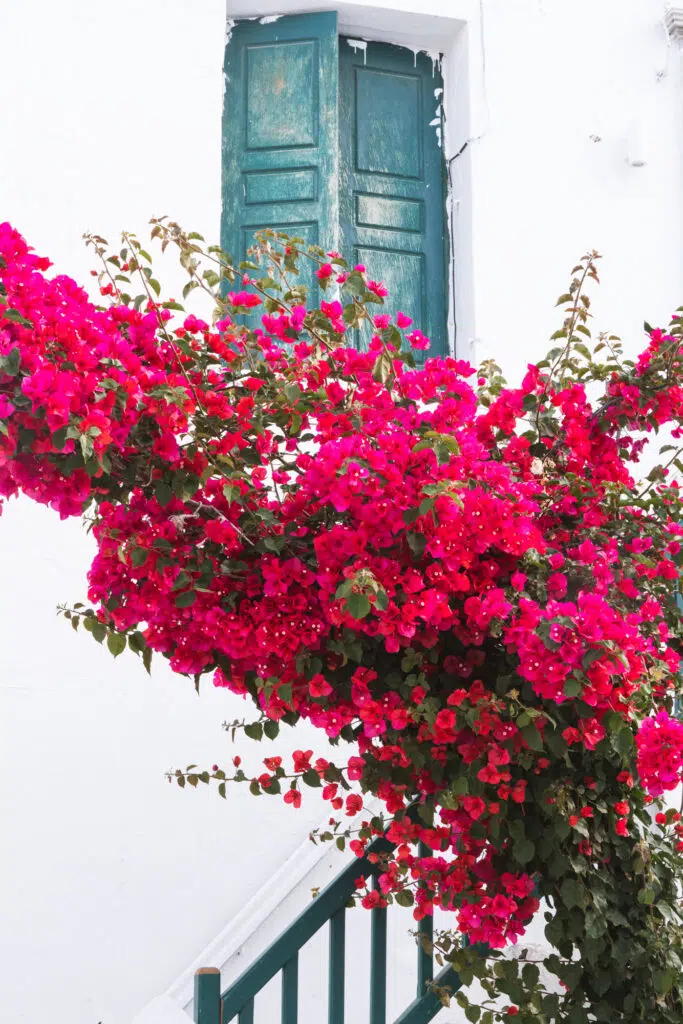 For that postcard photo of Mykonos, choose a restaurant perched atop the water in Little Venice with views of the famous windmills. Visit Panagia Paraportiani to see the white jumble of churches constructed together.
The charming, stone-paved streets of Mykonos Town host high-end fashion boutiques and art galleries, and you'll find more retail therapy at beachside Nammos Village. It's located at popular Psarou Beach, lined with sunbeds and chic beach bars steps from tranquil water.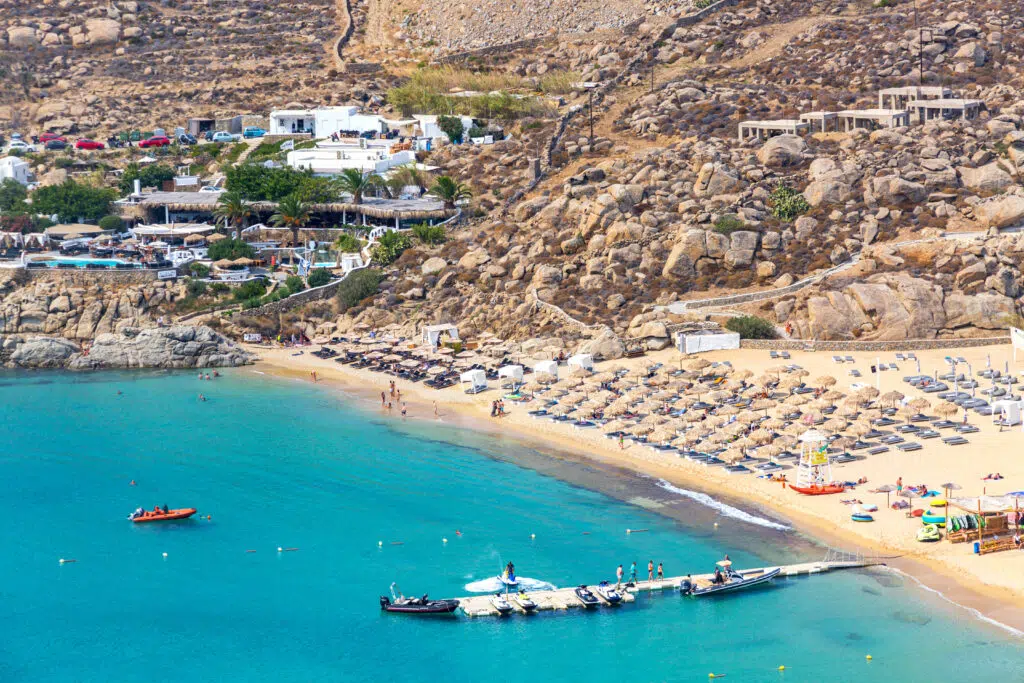 Graced by world-class DJs in swanky beach clubs, Paradise Beach has been a hotspot since the hippie era. Check out neighbouring Super Paradise Beach and Paraga Beach while launching into watersports at each.
Swaths of golden sand and shallow, crystalline water make Platis Gialos a favourite of families, with taverna-lined Ornos Beach competing for your attention. Regular local bus connections make it easy to hop between sandy paradises.
How to get to Mykonos from Paros
To get from Paros to Mykonos, you have two very viable options – ferry or tour. During the peak season, it's possible to take a ferry in the morning to Mykonos, and a late afternoon ferry back to Paros. Travel time between the islands is 45m on the fast ferry, and up to an hour on the others.
Search and book the best tickets on Ferryhopper here.
For a full-day boat trip from Paros to Mykonos, most options also include the UNESCO island of Delos as well. You'll have ample time to wander around the archaeological site on the small island, before being whisked over to Mykonos. Once you arrive in Mykonos, three hours is just enough time to enjoy the main town, wander the alleys of Little Venice, browse the shops, and perhaps stop for lunch.
Serifos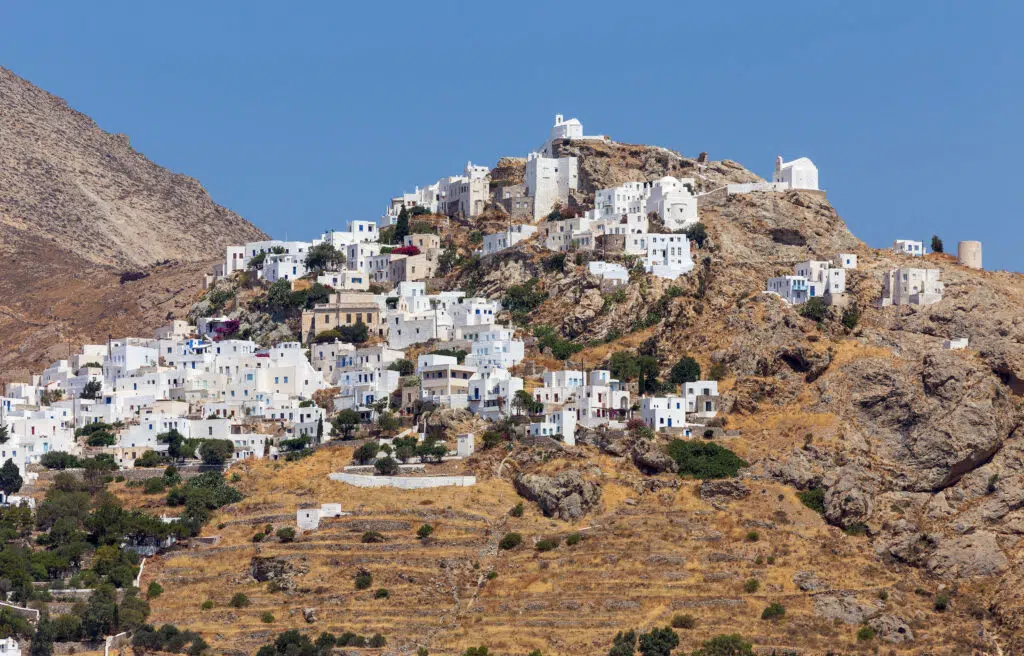 Sugarcube houses with blue shutters create a stunning vista perched on the hill of Chora in Serifos. Explore as you climb the stairs up to the Venetian castle, where dazzling sunrises and sunsets are unforgettable. Ferries take around two hours from Paros and transport you into a traditional vibe that's not overwhelmed by the trappings of tourism.
Make a beeline for the main square for views of Agios Athanasios church over coffee before ducking into the whitewashed laneways. Step back in time at the Archaeological Museum of Serifos, then set out to see historical sites scattered across the island.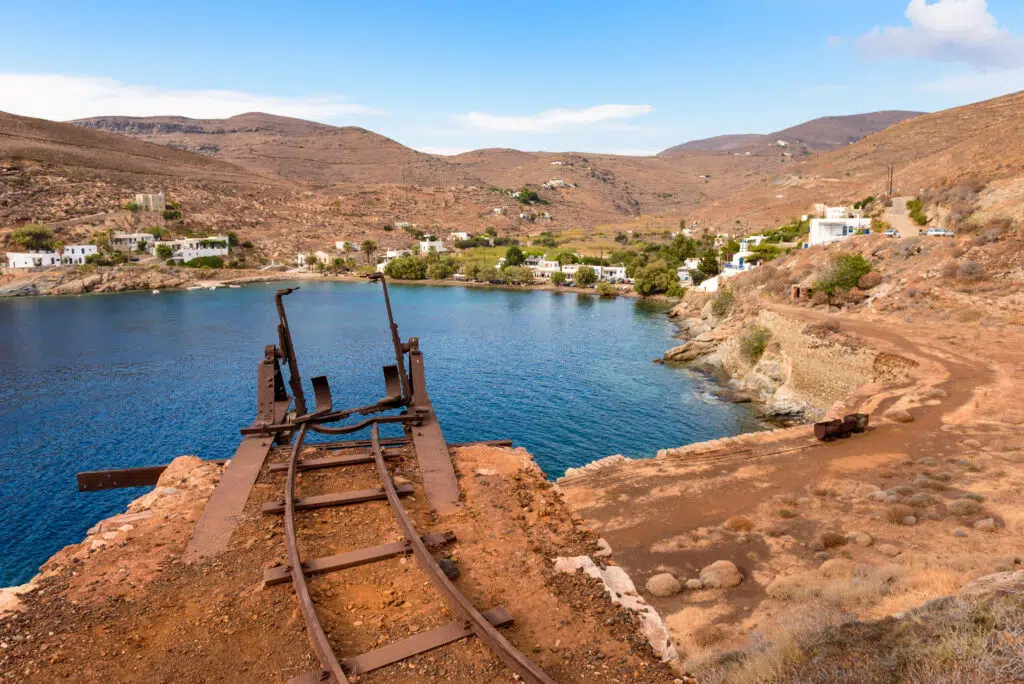 The Old Mines in Megalo Livadi were open during the Roman and Venetian eras. At the ruins of Grias Castle, see remnants of defence walls with sweeping Aegean views.
Pack your hiking boots for exploring lovely trails, one of which leads from Chora down to the sea at Livadi. Pick a sunbed or taverna to settle in with the turquoise views or take a water taxi to other beaches.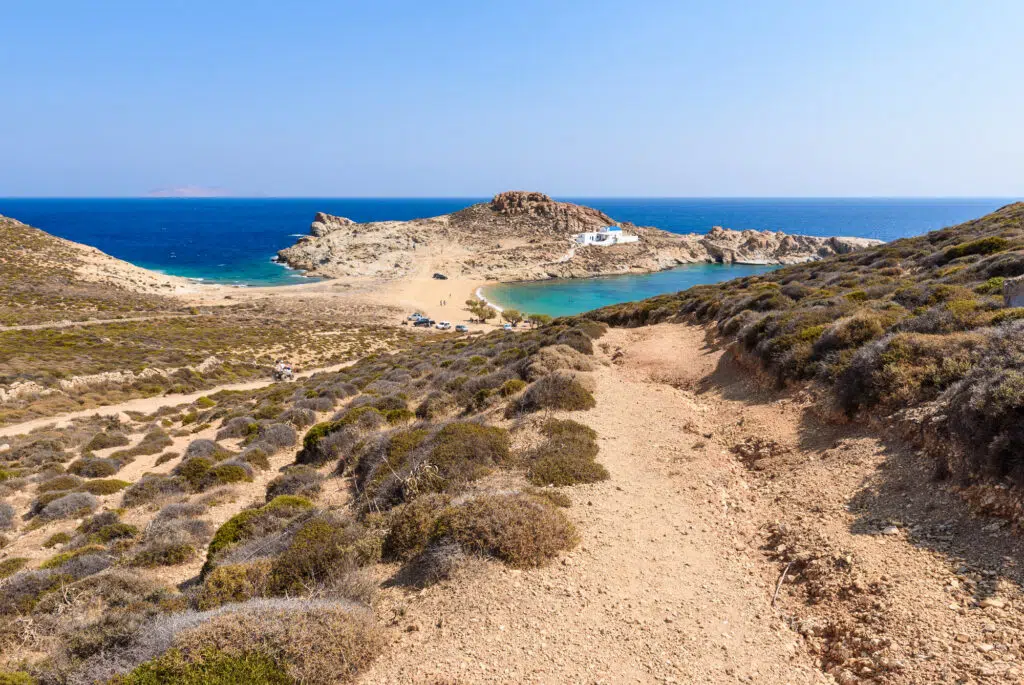 Agios Sostis is a photogenic scene, with two coves and rocks for snorkelling overlooked by a church of the same name. Nearby Lia Beach is a serene stretch flanked by cliffs and lagoon-like water perfect for lazy floating.
How to get to Serifos from Paros
Planning a day trip to Serifos isn't going to be a last-minute decision, as ferries are far more limited, however, it is possible.
During the summer season, ferries depart Paros island in the morning and sail to Serifos in under 2hrs. They then return in the early evening on the same day, typically allowing you around 6hrs to explore Serifos.
Search and book your Serifos tickets here.
Santorini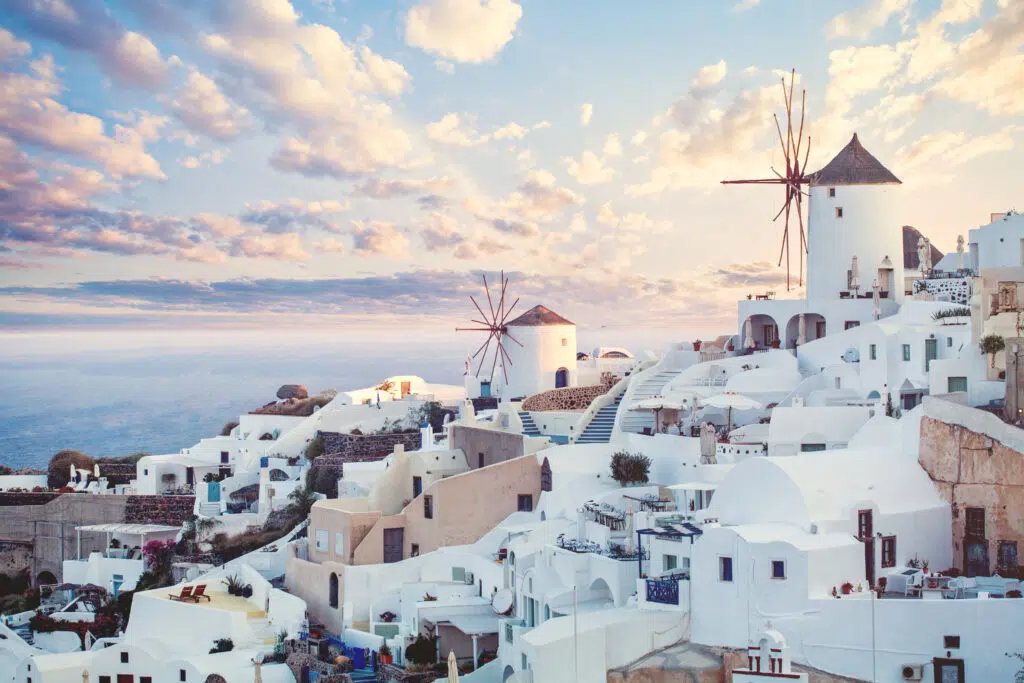 Boat trips from Paros include one of the world's most romantic destinations, Santorini. The island of breathtaking sunsets from whitewashed villages atop volcanic cliffs is generally less than a two-hour ferry ride from Paros.
Oia is the jewel in the crown, with windmills and alleyways to explore with stops at wine bars to sample the local drops. Shop at charming art galleries and visit the Maritime Museum housed in a 19th-century mansion.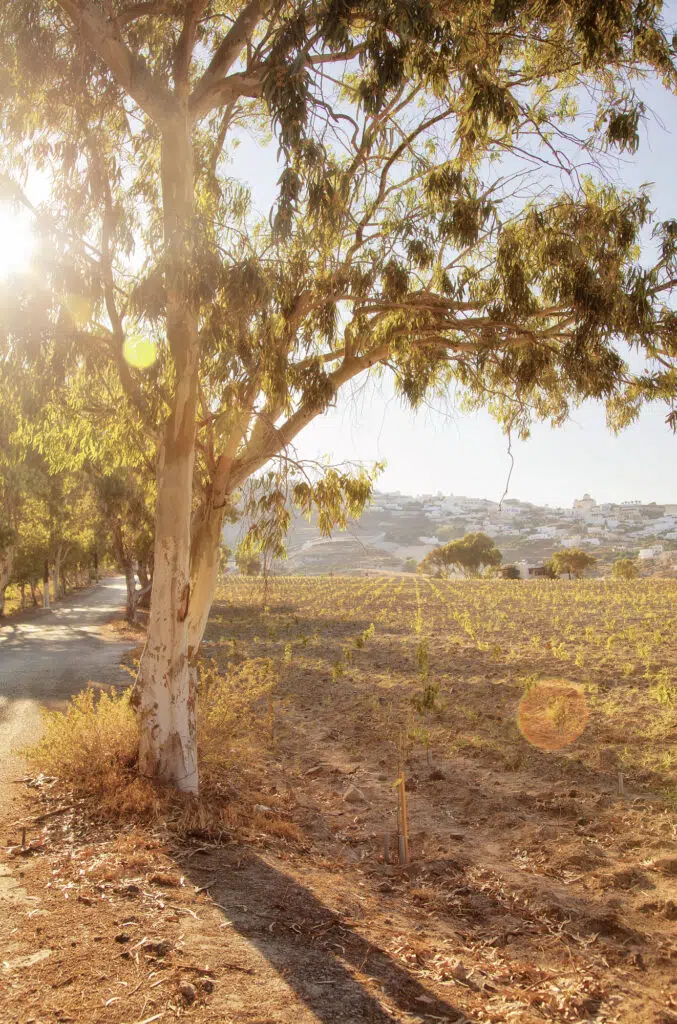 When you're feeling active, paddle around the caldera on a kayaking tour and snorkel through sea caves. Hike the trail around the lunar-like scenes of the Nea Kameni crater or set out on the famous Fira to Oia path, which takes around three hours.
In Fira, discover the capital's stunning restaurants perched on cliff edges and weave your way around cobbled streets lined with boutiques. Hopping around Santorini's villages is an enchanting option, from the 16th-century castle in Pyrgos to Megalochori's vineyards.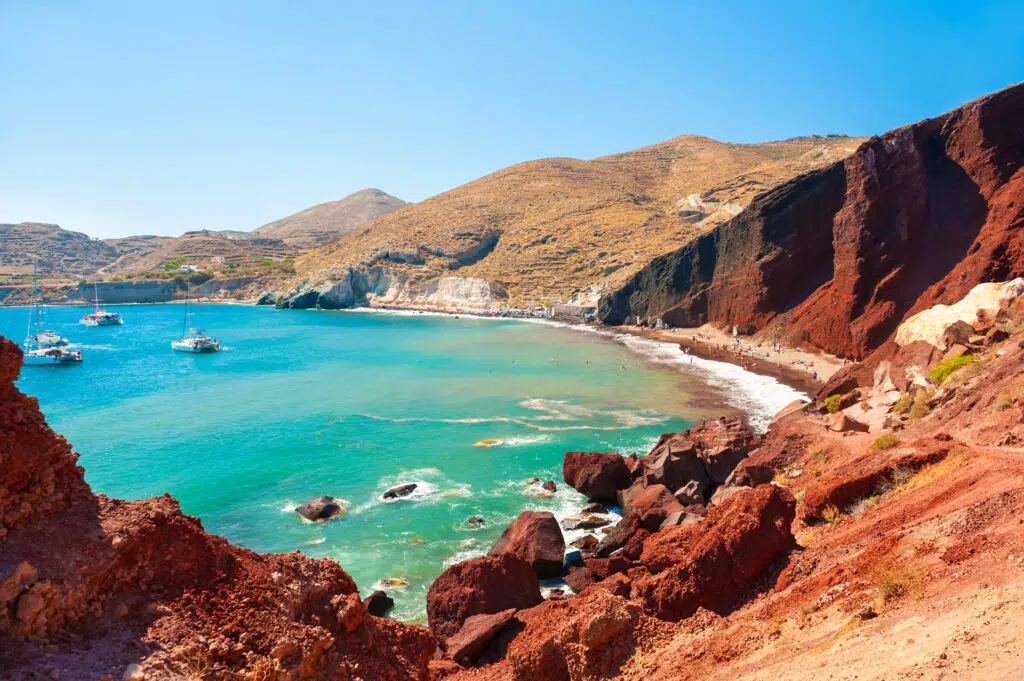 Cerulean waters contrast with red-hued cliffs at Red Beach, making it almost impossible to choose between diving in or going snap-happy. Hang out with sunbeds and watersports on the black sands of Kamari, Perivolas and Perissa beaches, then visit nearby Ancient Thera. At Vlychada Beach, explore the white rock face that's sculptured artistically by the wind.
How to get to Santorini from Paros
Planning a Paros to Santorini day trip can be done alone or as part of a guided tour. Ferries depart multiple times daily in the peak season, and the journey takes as little as 1hr 20mins. Do book in advance though, as this is a popular route.
Search and book ferries to Santorini here.
Alternatively, a more relaxed option might be to book a full day tour. This way you don't have to be worried about getting stranded on Santorini, and won't be at the mercy of delayed ferries. This tour includes transport to/from the island of Santorini, as well as bus tickets to travel between towns once you arrive.
Small Cyclades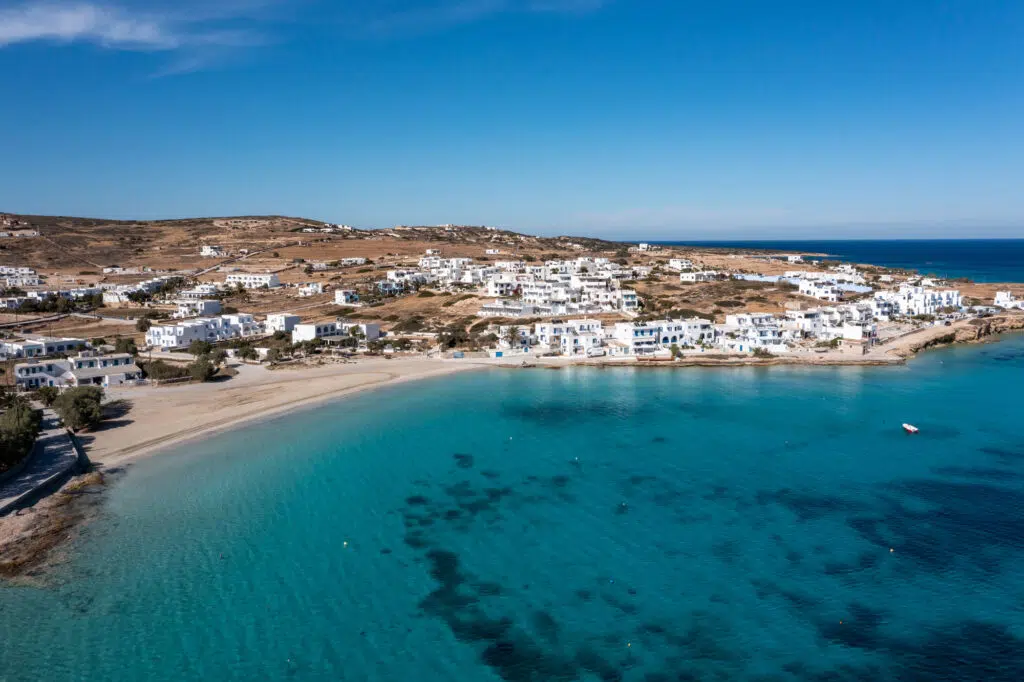 You might not have heard of the Small Cyclades, with four inhabited islands near Paros to explore. The smallest, and arguably most popular, is Koufonisia. Divided into two, Ano Koufonisi and Kato Koufonisi are encircled by dreamy golden beaches and azure waters. Cycle or walk along coastal trails between beaches, including Fanos and Finikas, which is a short stroll from Chora. In town, follow your nose to quaint tavernas.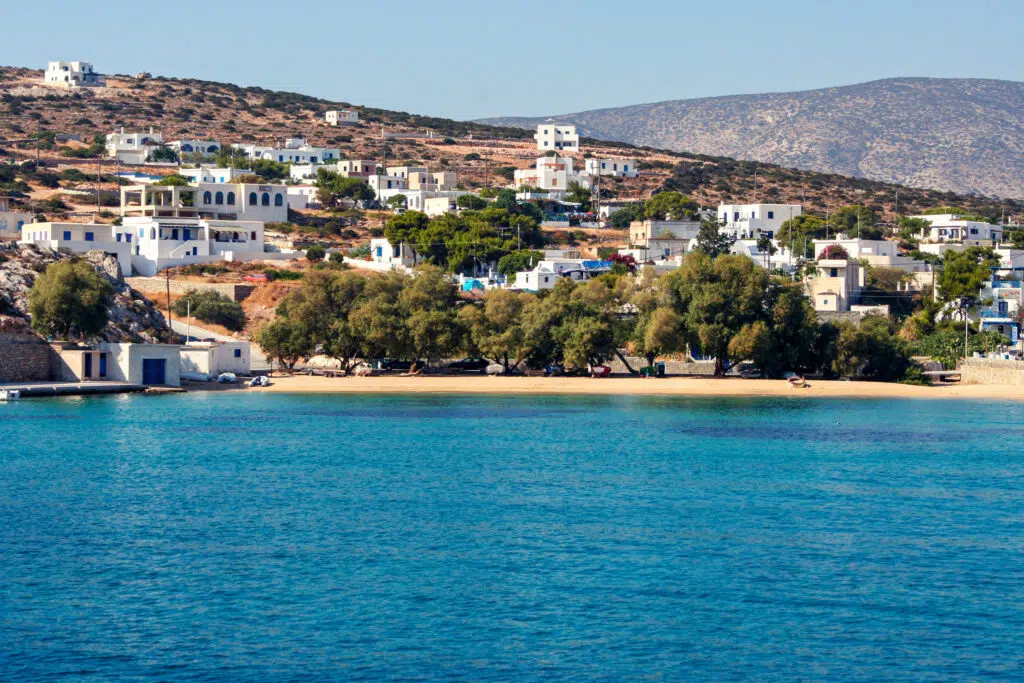 Searching for seclusion in paradise? Choose Iraklia, the largest but least established island. Here, it's all about lingering over delicious meals, sinking into serenity at the beach, and hiking tranquil trails.
You'll arrive in the village of Agios Georgios, with the Chapel of St George and a white sand stretch. Named after Dionysus, the northernmost island of Donousa is another hiking heaven, where trails lead to ancient ruins and beautiful beaches. Take boat tours from Stavros village to discover remote sea caves.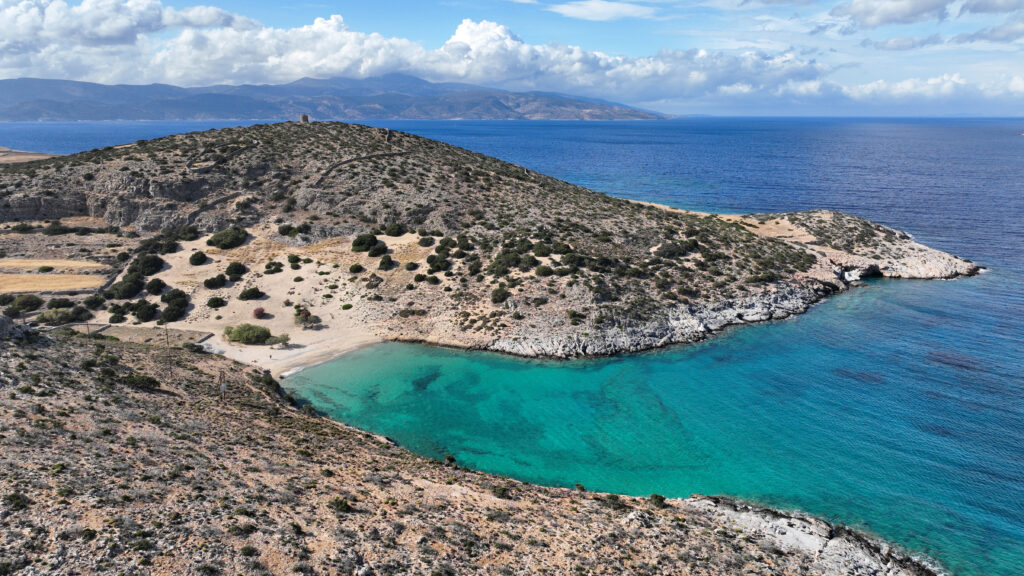 Aegean beaches live up to their reputation on Schinoussa, with views across to Iraklia and tamarisk trees dotting white sand. From Chora, meander to Aligaria and Tsigouri beaches, and stay for a while at seaside tavernas for octopus and orzo casserole.
In Chora, visit the Folklore Museum of Schinoussa. The Gorge of Harakas is the spot for climbing fans and a network of hiking trails lead to wild beaches.
How to get to the Small Cyclades from Paros
To reach these small Cycladic islands from Paros, your best option is to book a full-day tour or private transport. You may find options near the ferry port in Parikia, or you can book a private tour online with Seacret Cruises.
---
Alternative Day Trips Within Paros
The gorgeous Greek island of Paros captivates with day trip tours ensuring you make the most of it. From guided aquatic adventures to hiking trails and trips to historical highlights, you're spoilt for choice with tours to suit everyone.
Related Reading: Best Things to do in Paros, Greece
Enjoy a Sea Kayaking Tour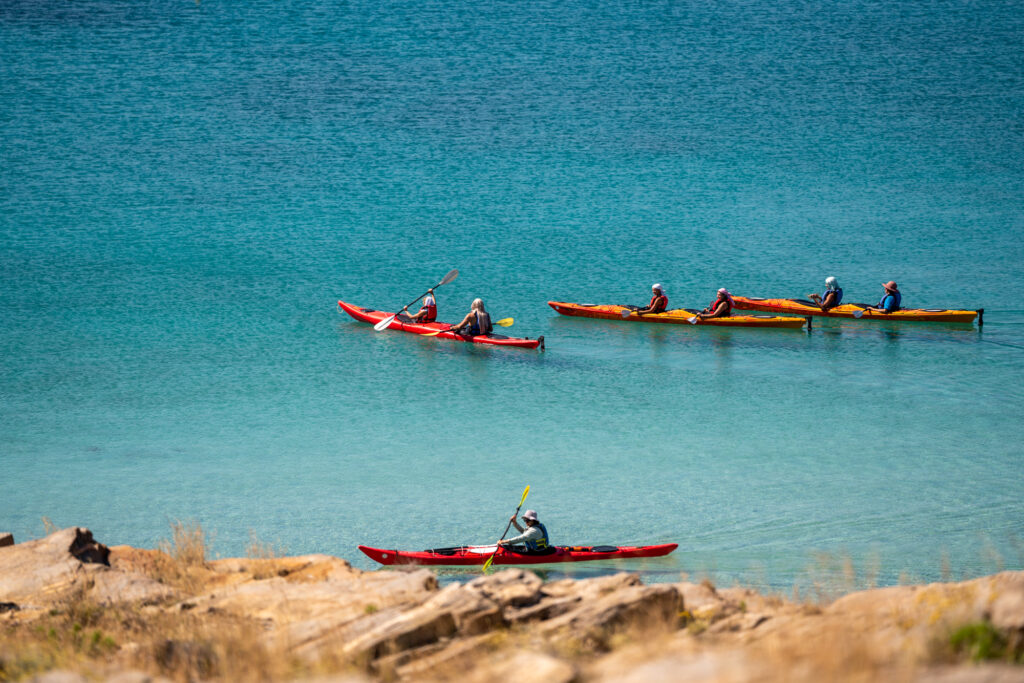 Paddling around the coastline across crystal clear waters offers a dazzling perspective of sandy bays lined with whitewashed villages. If you're staying in Naoussa, Agioi Anargyroi and Piperi beaches are within walking distance of the village's picturesque alleyways and restaurants.
To venture further, join a kayaking tour of Naoussa Bay with local guides to give you insights into the culture, history and marine environment in Paros. Typically, tours depart in the morning or afternoon in time for sunset on the water.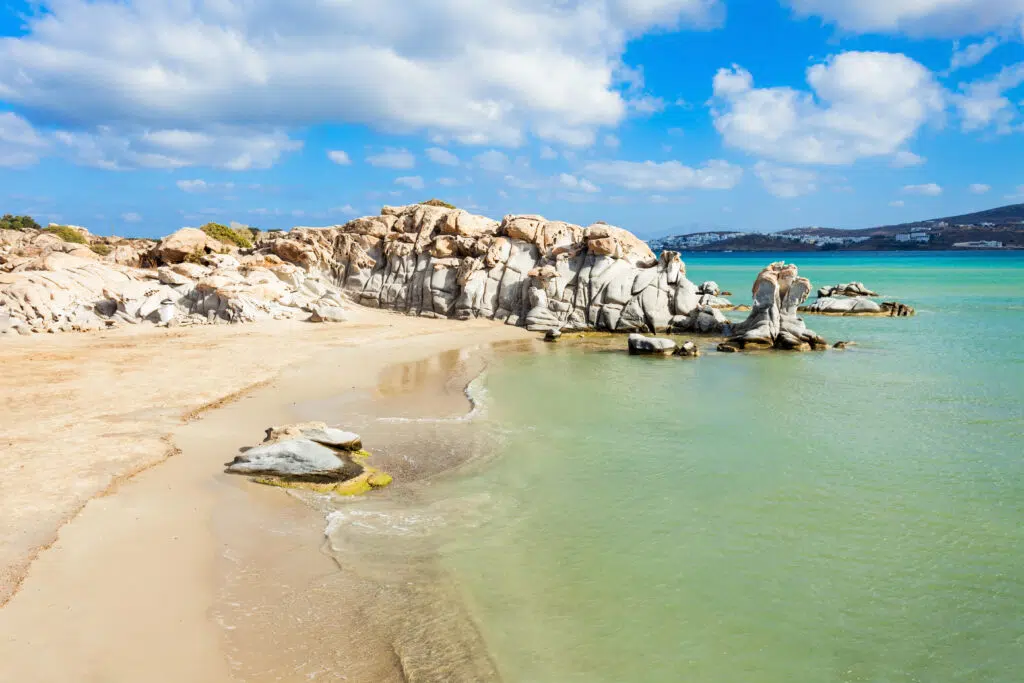 You'll paddle along the sea cliffs with plenty of time to stop and admire surreal rock formations. Tours detour to remote beaches and islets in the bay. A highlight is Kolymbithres Beach, where huge granite boulders and turquoise coves provide spectacular snorkelling overlooked by the ruins of an ancient acropolis.
Day trips typically include lunch enjoyed on a remote sandy stretch. Elsewhere, join tours around the St Ioannis peninsular, Antiparos and more.
Book your kayaking tour in Naoussa Bay here.
Walk the Byzantine Trail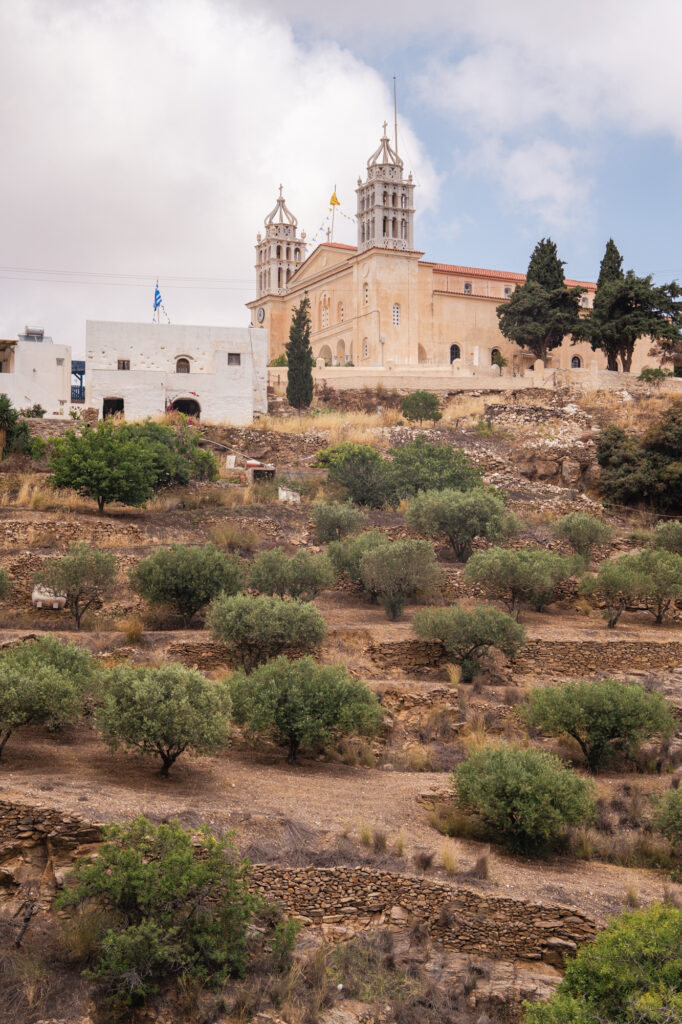 Whether you take the local bus from Parikia or stay in Lefkes, traversing the Byzantine Trail is a 'must-do' in Paros. It starts from the traditional village of Cycladic architecture and enchanting laneways, and stretches to Prodromos.
The fabled trail is the island's oldest and paved with Parian marble. Trace the steps of the Byzantine Empire through olive groves and vineyards for about an hour and a half.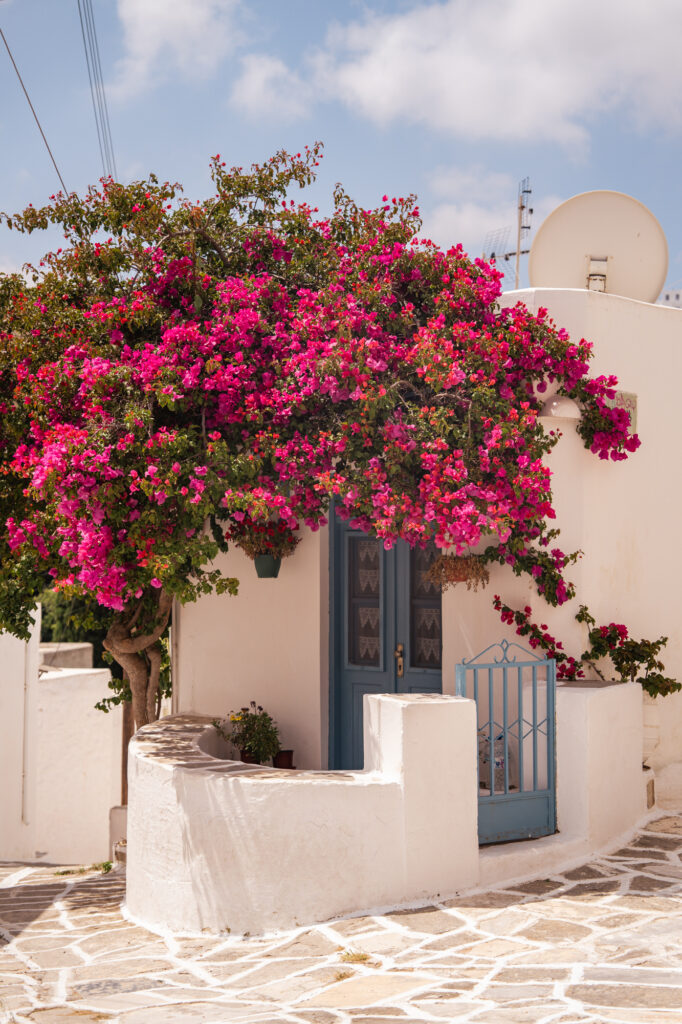 But, first, sip coffee in squares framed by the blue shutters and wooden balconies of buildings topped with pink bougainvillaea. A sign marks the start of the route at the edge of town, and it's largely downhill from Lefkes. Along the way, get your camera ready for awe-inspiring views across the sea to Naxos, and soak up the scent of Mediterranean herbs.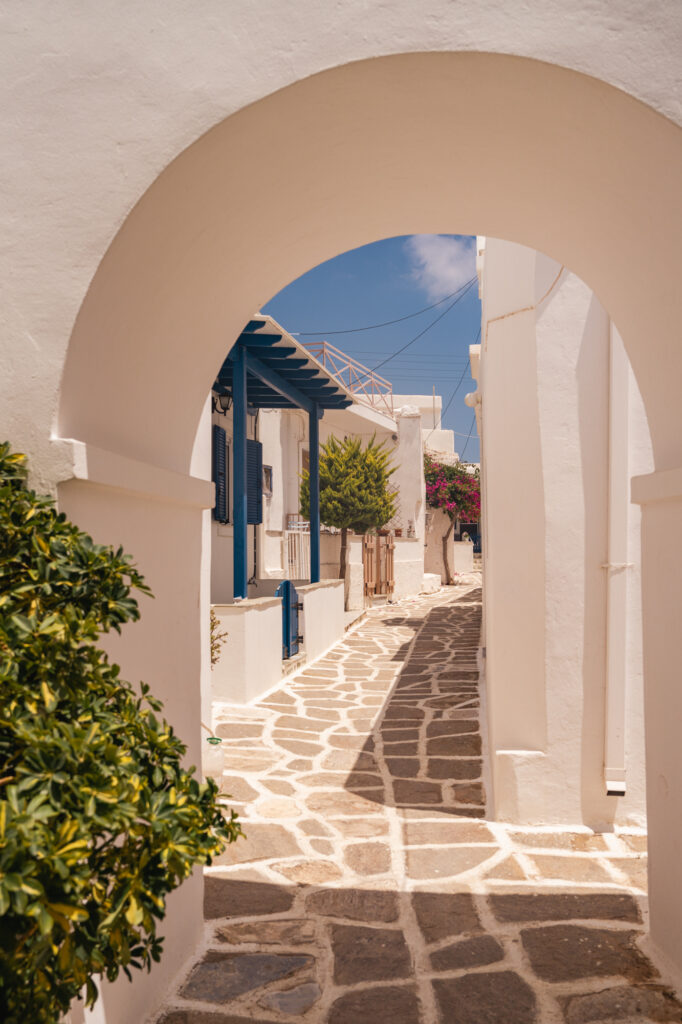 Arriving in Prodromos, rest your legs at a taverna with a cold drink and saganaki. Wander around the lovely village of fairytale houses and tiny chapels before the return trip.
Alternatively, keep going to Marpissa for more Cycladic village charm and a bus back to Lefkes. While it's easy to walk the trail yourself, guided tours are available through hotels and tour groups.
Take a Bus Tour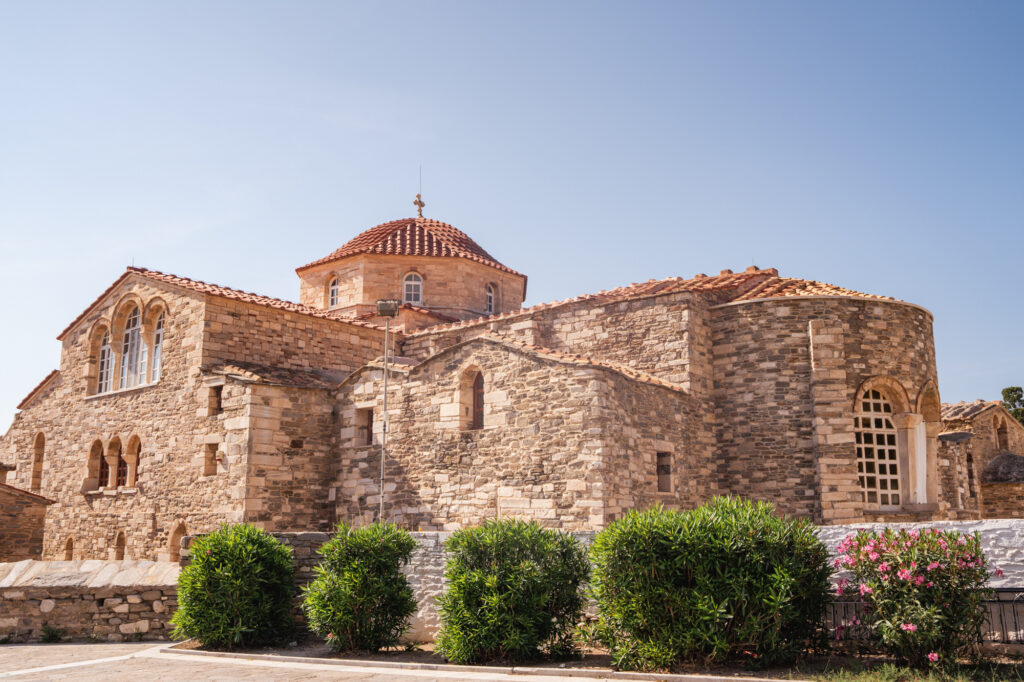 You won't miss out on the top highlights of Paros and Antiparos with exciting bus tours. This bus tour starts in Parikia where a local guide will show you the sights, including the Monastery of Panagia Ekatontapiliani and the Frankish Castle.
Then, it's 'all aboard' for a quick ferry ride over to Antiparos, with magnificent coastal views on the way. Explore the 15th-century castle and meander through the enchanting, whitewashed streets of Chora.
On your return to Paros, soak up the scenery of pretty villages, such as Alyki and Drios, while travelling to Piso Livadi for lunch by the sea and a refreshing dip.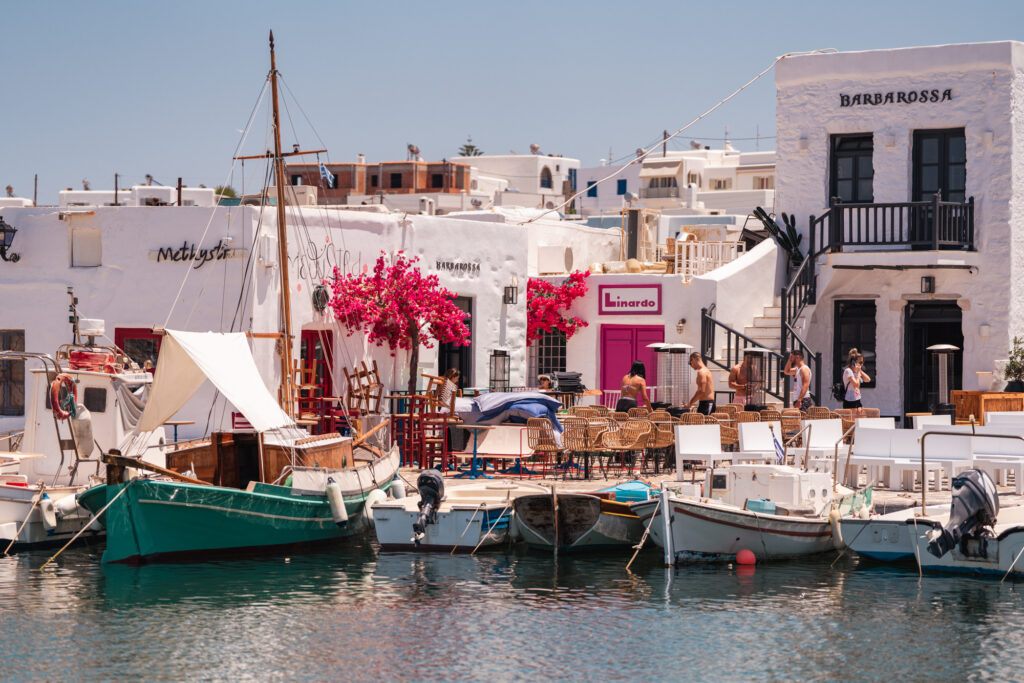 Heading inland, you'll immerse in views of olive groves before falling in love with traditional Lefkes village, the ancient capital dotted with boutiques and cafes. Leisurely afternoons typically take place by the colourful fishing boats at the Old Port of Naoussa before returning to Parikia.
Hike and Swim in Paros Park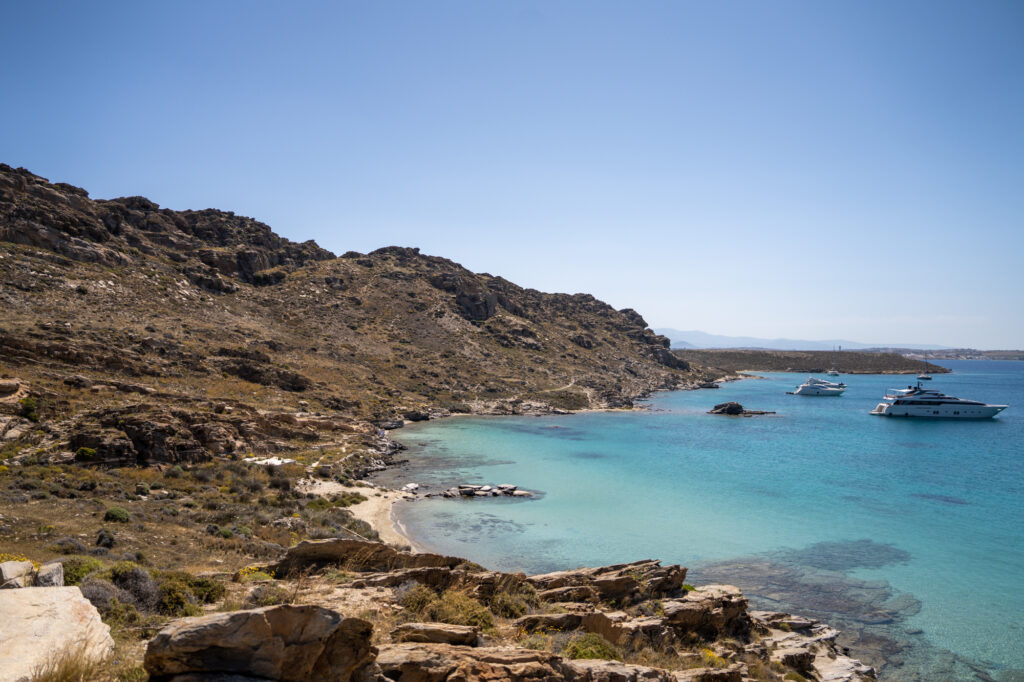 When you're in the mood for outdoor adventures on the land and in the sea, plan for a day with the coves, trails and cultural events at Paros Park. Covering an 800-acre rocky peninsula, the park is easily reached by boat from Naoussa port or taxi.
There's a restaurant to fuel up for adventure, however, you'll also find spectacular spots for picnics too. So, stock up on Greek pastries beforehand and hit the hiking trails.
Approximately seven kilometres of trails form a signposted network leading to gasp-worthy views of distant islands amid dramatic rock formations. See the ruins of the monastery of Ai Giannis and the 19th-century stone lighthouse.
Three main beaches beckon for refreshing dips, with the more built-up Monastiri beach providing sunbeds and water sports. During the summer months, check the schedule for regular live music shows, theatre performances and outdoor cinema events.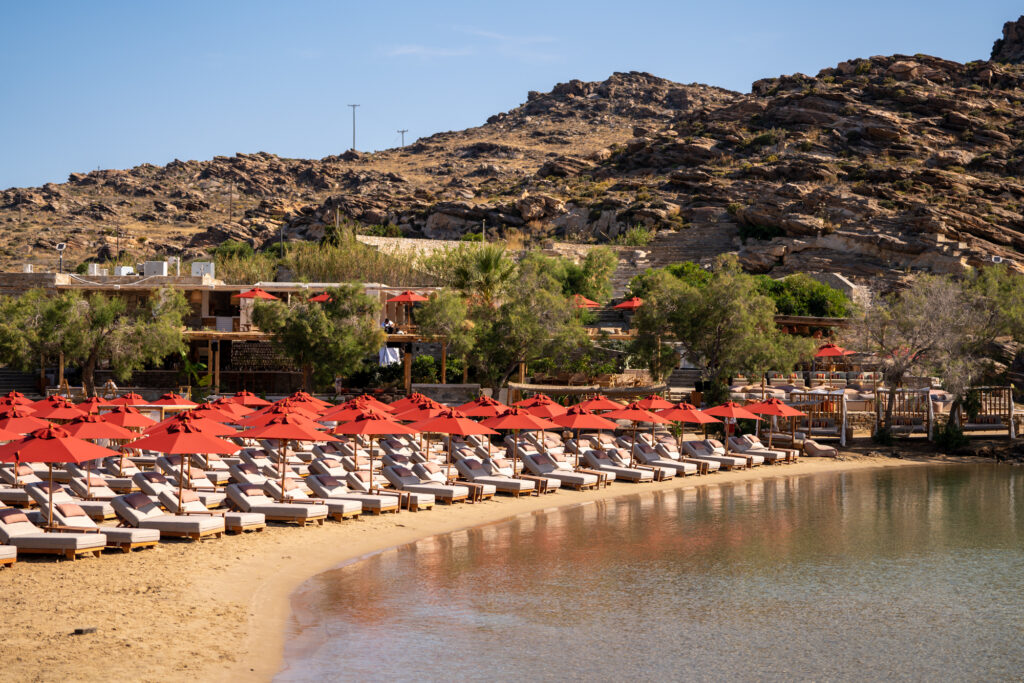 ---
A day trip from Paros whisks you away to some of the world's most famous Greek Islands, including Santorini and Mykonos. Get off the beaten path across the Small Cyclades or delve into Greek myths in Naxos.
Alternatively, you might decide to settle in at Parikia or Naoussa with tours, water taxis and local buses on the doorstep for day-tripping into memorable Paros holiday moments.