From strolling atmospheric cobbled streets to lazing on dreamy beaches and experiencing heart-pumping adventures, visiting Rhodes Island in Greece is an experience you won't easily forget. As the largest of the dazzling Dodecanese Islands, you'll certainly never run out of things to do on Rhodes!
Wander through past civilisations at ancient archaeological sites and dive into magical underwater worlds. Picture-perfect villages offer a glimpse at tradition, wooded valleys are crossed with hiking trails and wineries serve up delicious local drops. On the flip side, you'll find chic marinas and trendy boutiques, along with scrumptious dining scenes to suit everyone's taste buds.
Here's a tantalising rundown of what to do in Rhodes.
---
Discover Rhodes Town
A delightful centre of pedestrianised streets and historic wonders, things to do in Rhodes Town encompass large doses of everything interesting. The modern, Mediterranean resort of the New Town features buzzing nightlife, cosmopolitan shops and waterfront bars. Then, there's the intriguing maze of winding lanes in one of the best-preserved medieval cities in Europe.
Explore UNESCO-listed Rhodes' Old Town from above, along the 500-year-old walls and walk through 7,000 years of history at the Rhodes' Archaeological Museum. Take a tour of the Palace of the Grand Master, built in the 14th century by the Knights Hospitaller. The cobbled street of the Knights features majestic Gothic arches and you'll see panoramic views from the top of the Byzantine Roloi Clock Tower.
Mandraki Harbour is a stone's throw away, with fishing boats, mega yachts and restaurants on a backdrop of historic monuments. When it's time for a swim, take a refreshing dip at Elli Beach and chill out on the sunbeds. Get your iconic snap of the Acropolis of Rhodes on the slopes of Monte Smith and head to Cyprus Square for some of the best shops in Rhodes.
Beach-hop Across Rhodes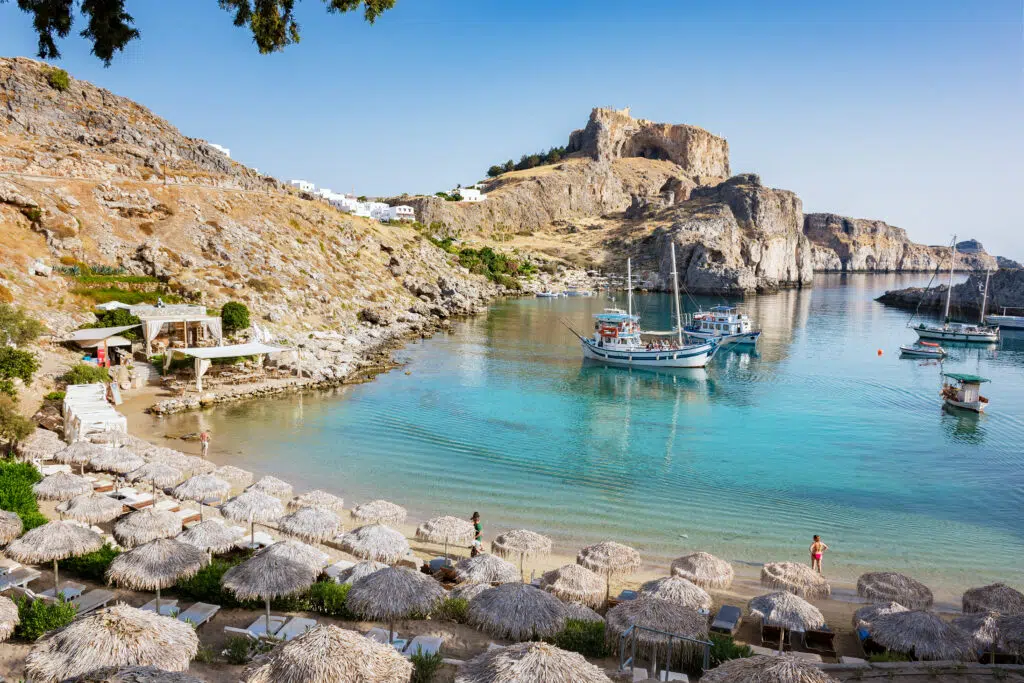 Challenge yourself to finding the best beaches in Rhodes and know that you can't really go wrong! Anthony Quinn Bay is among the most famous and a favourite mooring spot for luxury yachts. Take your gear for some of the best snorkelling in Rhodes here, along with neighbouring Ladiko Bay with crystal clear water and a beachside taverna.
Visit the leisure centre of Kallithea Springs and hop around sparkling coves and petite inlets framed by sculptured rocks. If you can't get enough of poking around in caves and rocky seabeds, discover the unspoiled beauty of Traganou Beach and Kopria Beach. Pack a picnic with local bread and wine to eat by rare cedar trees at the hidden gem of Mavros Kavos Beach.
Travelling with the kids? You're spoilt for choice with Blue Flag beaches featuring water sports, shallow seas and all the facilities you need. Protected by headlands, Tsambika Beach is a white sand stretch dotted with sunbeds and shady umbrellas. In Kolymbia, you'll step out of family-friendly hotels and onto sand lapped by turquoise waters. Pine trees provide a lush, green backdrop for the lagoon-like water of Pefki Beach.
Dive into Water Sports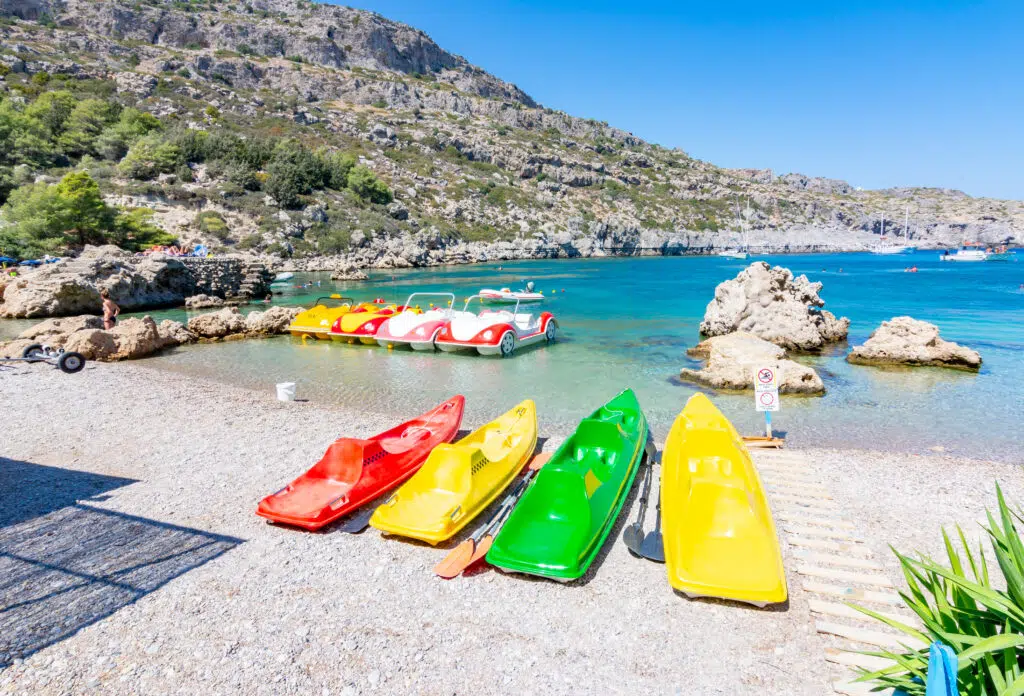 In terms of the best things to do on Rhodes, water sports fans are in for a thrilling treat! Windsurfing and kitesurfing are big news and there's no better place than Prasonisi. Water sports centres flank the sandy strip that features a calm side for swimming and waves for jumping on the other. You'll also find consistent, breezy conditions along the coast between Ixia and Ialyssos.
For family-friendly, watery activities in Rhodes, kids and big kids alike love banana boat rides, jet skis and pedal boats. You'll find an abundance of fun at Faliraki, Afandou, Kiotari and Tsambika. Like a slower pace? Try stand-up paddleboarding or hire a kayak for a relaxing paddle around the coast. Self-drive boats are available, along with plenty of boat tours for fishing, snorkelling and sunset cruising.
Whether you're a pro diver or want to get PADI certified in paradise, you'll scuba dive with turtles, dolphins, caves and caverns. Take a tour to check out the Mediterranean Reef in St Paul's Bay, the cave of Cleobulus Tomb and the Giannoula shipwreck. With its calm, transparent water and colourful sea life, Kolymbia offers the ideal launching point for beginners.
Visit Charming Villages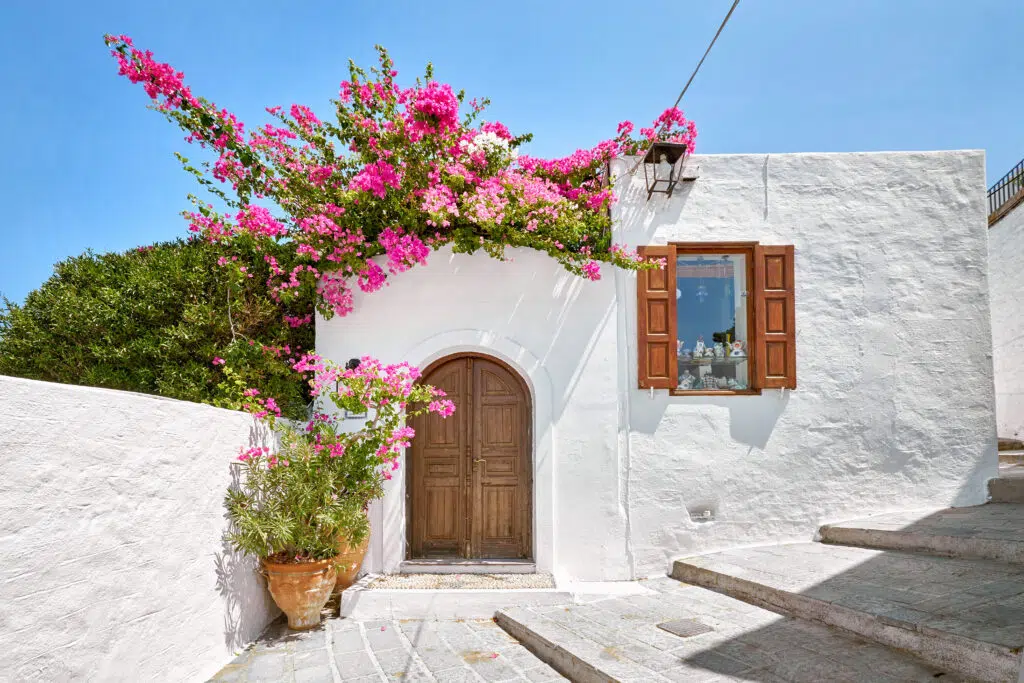 Among the best places in Rhodes are the island's enchanting coastal and countryside villages. Surrounded by fruit groves and olive trees, Afandou is one of the oldest. It's renowned for local carpet-making and features a permanent folk art exhibition. In Koskinou, you'll stroll among a rainbow of colours painted on house doors and balconies, along with quaint churches.
Set in the foothills of Profitis Ilias mountain, Dimilia and neighbouring Eleousa are surrounded by lush landscapes and chilled-out vibes. Meander through tiny lanes decorated with flowers and visit the spring and church of Foundoukli. Dominated by the church of Archangel Michael, Archangelos offers a glimpse at food and artisan traditions.
If you love that small coastal town, surfing vibe, head to Kattavia near Prasonisi Beach. Peaceful Gennadi offers a similar atmosphere, with a Blue Flag beach, bars by the sand and eco-friendly architecture. Stroll among whitewashed buildings dripping with bougainvillaea in seaside Theologos, with a charming centre built in old Rhodian style.
Hike Through History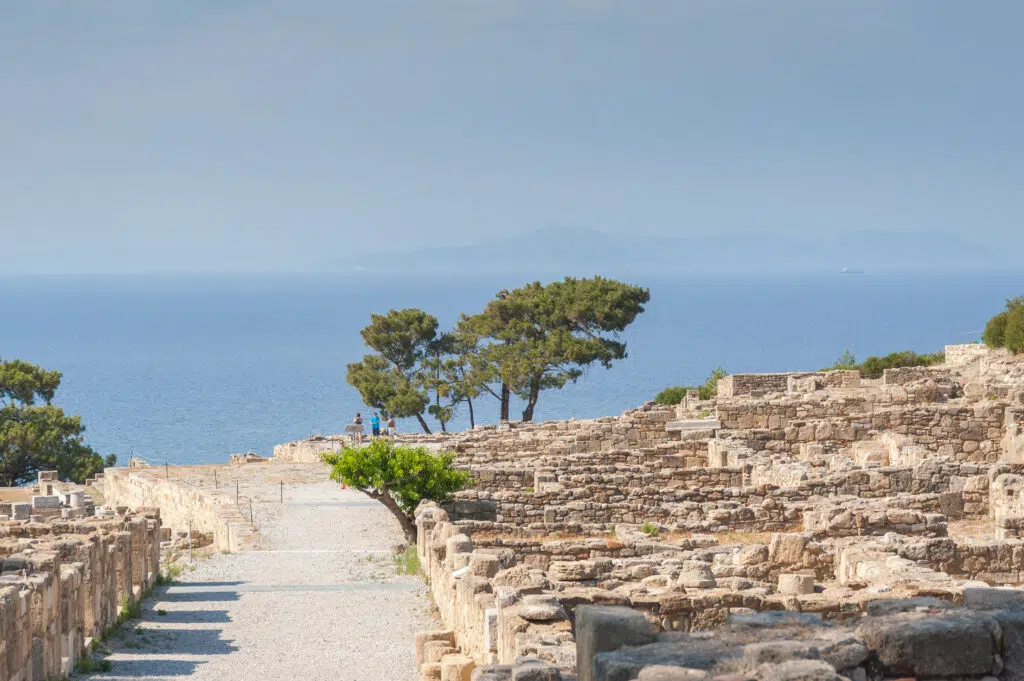 From ancient ruins to fascinating myths of Zeus, the best of Rhodes includes awe-inspiring history. Along with the historic things to see in Rhodes Town, iconic landmarks dot the island. The majestic Acropolis of Lindos soars above its popular namesake town and you'll enjoy views of it while swimming on the picture-perfect beach. Hike the trail to the circular Tomb of Kleoboulos, passing old stone windmills on the way.
Wear your comfy shoes for the steep climb up to Monolithos Castle for dazzling sunset views among the ruined fortifications. A Byzantine church, Tsambika Monastery is perched high on a rocky hill with sweeping views that'll knock your socks off. You'll traverse around 350 steps to get to it, but the visual rewards are worth it!
If you love trekking through ruins with vast ocean views, visit the ancient city of Kamiros, founded by the Dorians in prehistoric times. Located on the island's highest point, Attavyros, you'll reach the Temple of Zeus on a hike through cypress trees. Get your camera ready for fantastic shots of the Byzantine Filerimos Castle and Monastery on a backdrop of deep green pine trees and ocean panoramas.
Get Back to Nature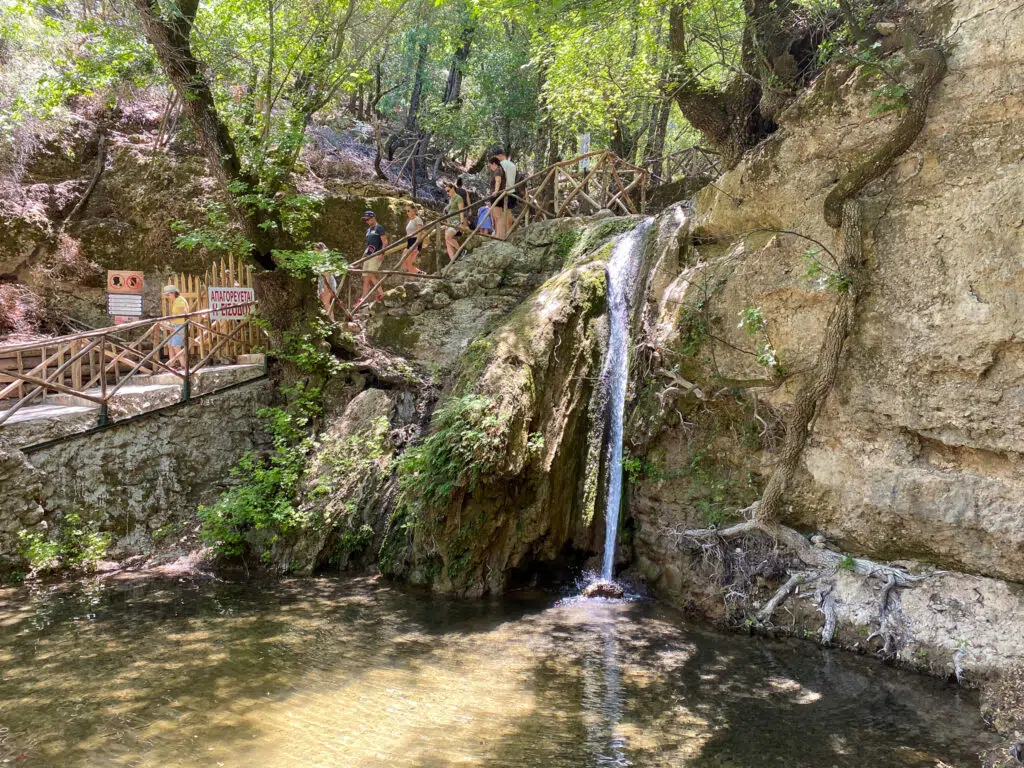 There's a natural wonder around every corner on this Greek island, no matter if you're on the coast or exploring inland. The best time to visit Rhodes' Butterfly Valley is between June and September when thousands of butterflies swarm the valley to breed. However, it's spectacular at any time, with picturesque bridges, cascading waterfalls and ponds to discover via paved paths through dense forests. Pop into the Natural History Museum of Rhodes which is located by the lower car park.
A must-see in Rhodes for nature lovers, the Seven Springs is located between Lindos and Faliraki. Follow footpaths and bridges over waterways through the oasis of springs tumbling into a lake for refreshing dips. To escape the tourist path, visit Fasouli Springs near Faliraki in Psinthos village. You'll walk through shady woods alongside babbling, naturally occurring springs.
For a cool, green retreat near the centre of Rhodes Town, immerse in the impeccable landscapes of Rodini Park. Forested walkways follow tinkling streams and majestic peacocks roam freely across the grounds. A small zoo houses the rare Rhodian deer. If coastal walks are more your thing, breathe in the fresh, salty air on stunning paths between beaches across the island.
Follow Foodie Trails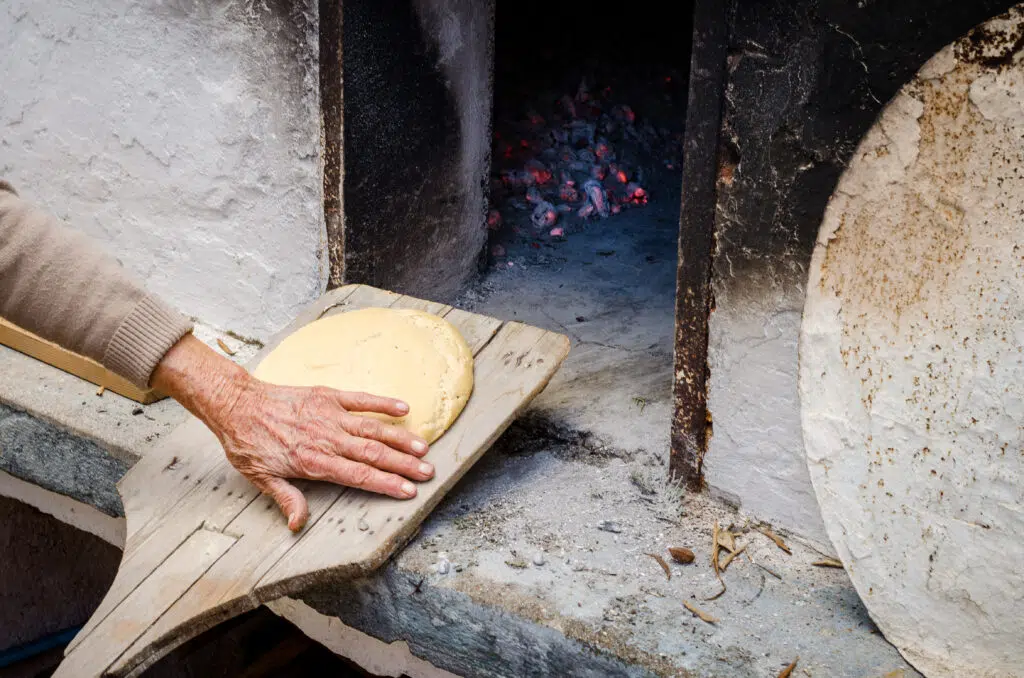 The best food in Rhodes is created using succulent, fresh produce from the land and the sea. As for the best wine in Rhodes, the village of Embonas rests at the heart of grape-growing country. If you're there at harvest time, you'll see baskets brimming with raisins basking in the sunshine.
Otherwise, simply pop into local tavernas to try the local 'chima' house wine, along with delicious olive oil, honey and bread. To vineyard-hop, follow the paths around the foot of Mount Attavyros. No matter which traditional village you visit across the island, homemade bread, local cheeses and sweets await at quaint cafes. Naturally, fresher-than-fresh seafood is the star of the show on coastal menus.
One of the top things to do in Rhodes' Old Town is to eat your way around bakeries, restaurants and tavernas to try Greek classics with the island's twist. For self-catering, take your basket to Laiki Market and fill it up with colourful fruits, veggies and homemade Greek treats.
Find Things to do in Rhodes with Kids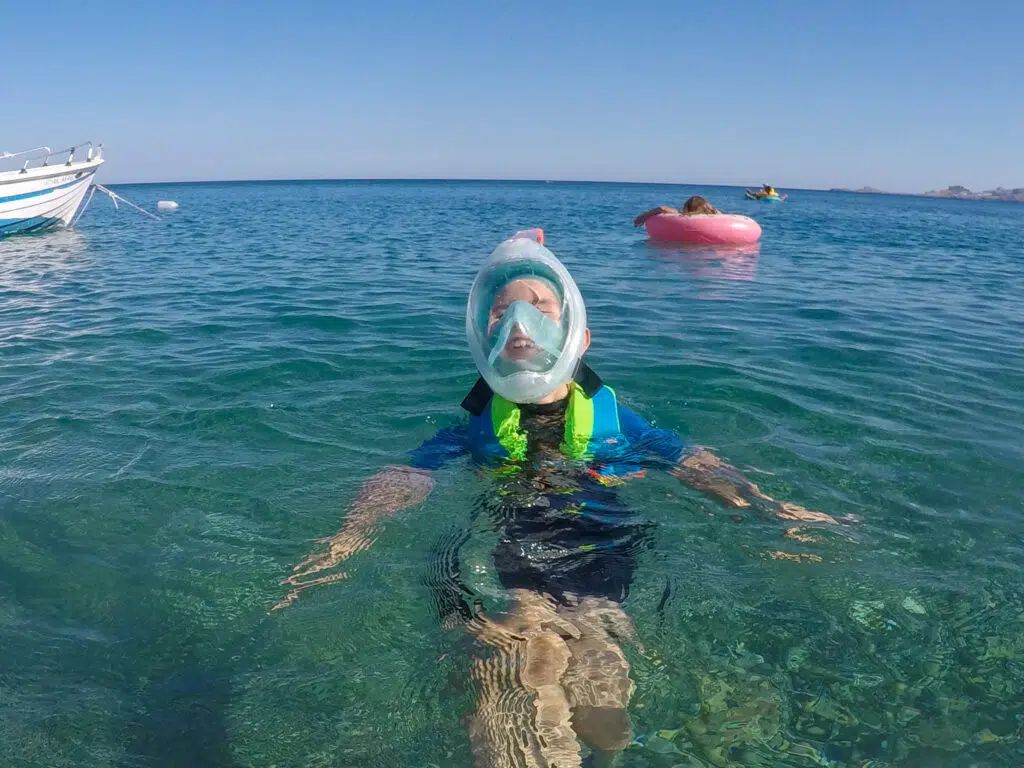 With vibrant beach towns, like Faliraki and Ialyssos close to Rhodes Town, there's plenty of things to do in Rhodes for families. Beaches provide all-day fun, both in and out of the water. So be sure to pack your swimming gear & snorkels! For a break from the sun and historic sites, learn about the island at Throne of Helios 9D cinema with sensory special effects.
The Poseidon Submarine cruise departs from Mandraki Harbour, with lower deck windows to watch divers feed fish beneath the sea. If you're looking for heart-pumping thrills, brave the Red Bull Jet speed boat for a wild ride over the waves. Off the water, near Archipoli village, the Rhodes Toy Museum is framed by pine forests and exhibits old-school toys like battery-operated cars and pinball machines.
Boasting the best water park in Rhodes, Faliraki is the place for zipping down slides. Dare to ride the Free Fall and Kamikaze slides, splash in the wave pool and chill out on tubes down the lazy river. For an exciting way to explore traditional villages and countryside landscapes, take a Jeep safari tour to bump along off-road trails.
Enjoy Nightlife in Rhodes
Whether you feel like sunset cocktails with chilled-out tunes or letting your hair down at neon-lit clubs, the best nightlife in Rhodes serves up something for everyone. The party's always pumping along Orfanidou Street in Rhodes Town, which is aptly nicknamed, 'Bar Street'. For romantic cobbled streets and cosy bars, find your perfect wine-sipping perch in the Old Town.
You're guaranteed a great night out in Faliraki, featuring its own bar street, nightclubs with live DJ sets, elegant cocktail bars and friendly pubs just steps from the sand. From luxury rooftop restaurants to trendy bars, the action heats up in Lindos after dark.
Neighbouring Pefkos offers plenty of casual restaurants that welcome families with kids, and breezy beach bars line the resorts of Kiotari and Gennadi. No matter where you stay, you're never far from a lively, local taverna for shots of ouzo with the locals.
Set Sail Around the Dodecanese Islands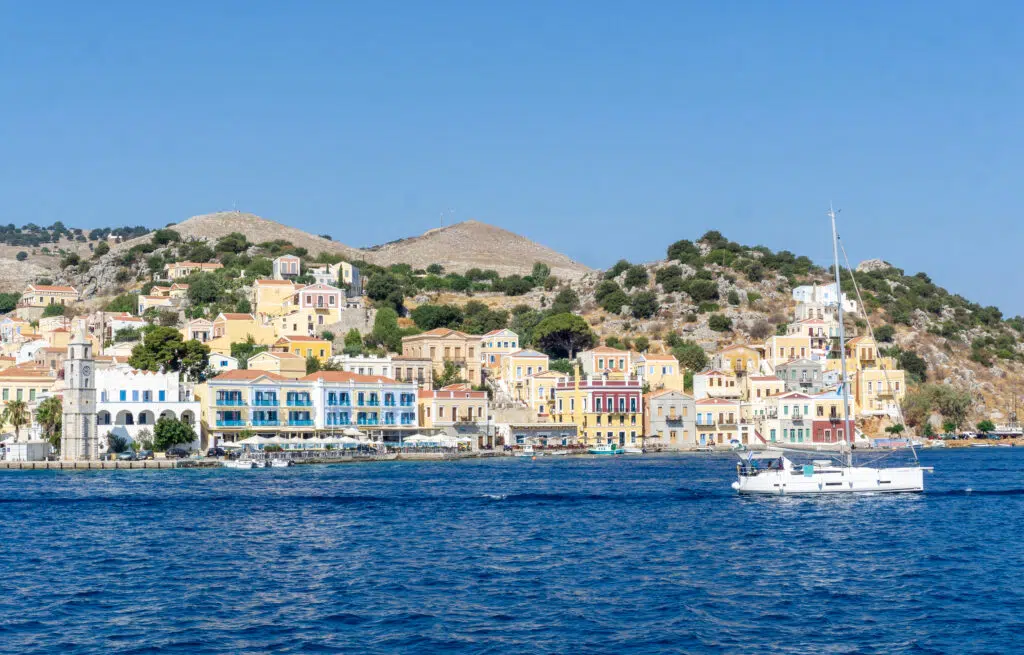 The Dodecanese are a chain made for easy island-hopping, with daily ferry services to get you around from Rhodes. Within day-trip distance, petite Symi Island greets you with a Neoclassical harbour decorated by pastel-hued Venetian buildings lining the hillside. Stop to enjoy the view at cafes and bars, then climb the steps of Kali Strata for a bird's eye view. Dive into the turquoise water at St Nicholas Beach and visit the monastery of the Archangel Michael Panormitis.
Lesser-known Halki is also within easy day-trip distance of Rhodes. Here, Italian mansions surround the harbour and fishermen bob around in bright boats. A scenic village surrounds the port and the atmosphere is pure relaxation. Set off to explore secluded beaches, the church of Agios Nikolaos and cute-as-a-button restaurants along the waterfront.
Further afield, it only takes around three hours to get to the island of Kos, just in case you want to continue your Greek Island-hopping adventure!
---
---
Fun things to do in Rhodes greet you at every turn on this diverse Greek island. From beach-hopping across sun-kissed white sands to thrilling the kids at water parks and stepping back in time through ancient history, there's something to suit everyone. Just don't be surprised if you're planning a return trip before you even leave!