The largest of the stunning Cyclades Islands is crisscrossed with breathtaking hiking trails, decorated with Venetian mansions and dripping with delicious local produce. However, it's the best beaches in Naxos that capture your ocean-loving heart, with crystalline waters and golden sand. For a bird's eye view of the coastline, climb to the summit of Mount Zas, with 360-degree views of the coastline and the fabled Cave of Zeus along the way.
From idyllic seaside tavernas for nibbling olives washed down with ouzo to secluded coves and stretches made for windsurfing, Naxos delivers a beachy scene to suit everyone.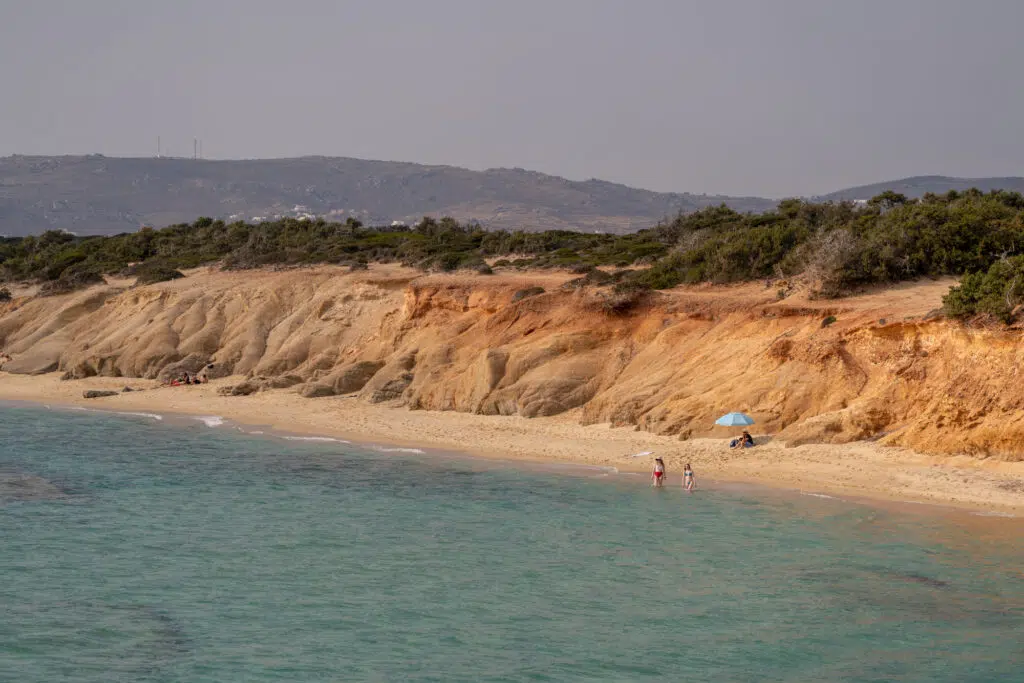 A quick note on Naxos Beaches
If the oversubscribed Italian lido-style beach isn't your thing, you'll be right at home in Naxos. Away from the main town, Chora, expect quiet shores and unpretentious bathing. This is an island lined by gorgeous sandy coves that are, for the most part, easily accessible and instantly loveable.
Related Reading: Best Things to do in Naxos
---
West Naxos Beaches
With whitewashed Cycladic architecture tumbling down from the historic castle towards the sparkling Aegean, Chora (Old Town) rests at the heart of the west coast as the main port. It's flanked by many of the top beaches in Naxos, particularly along the southwestern coast (spoiler alert – Hawaii Beach was my favourite!).
AGIO GEORGIOS BEACH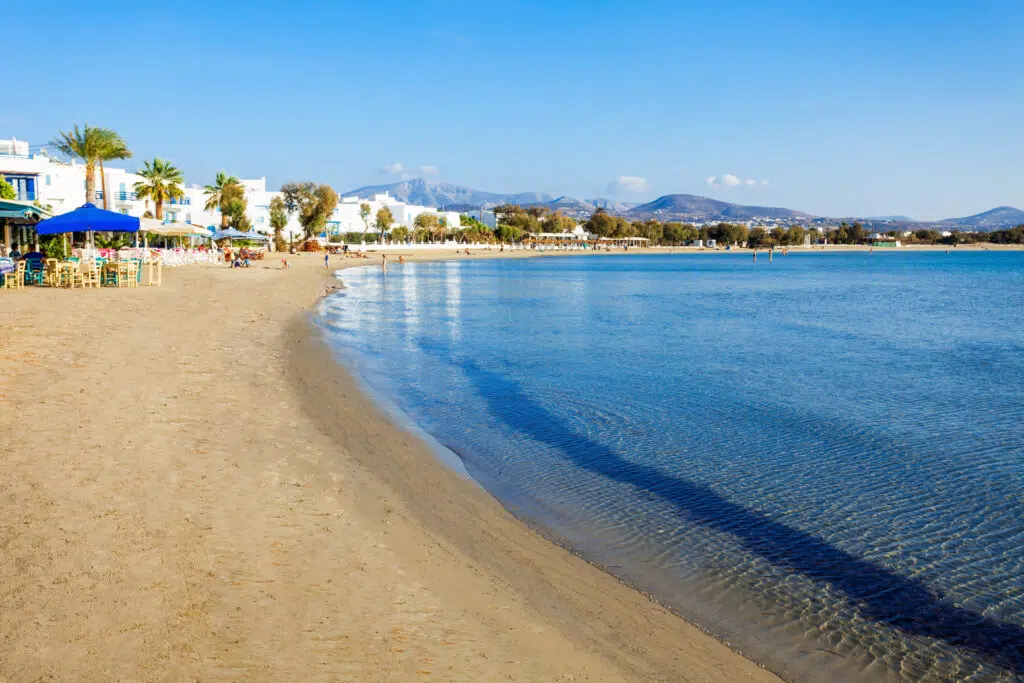 You're within steps of Agios Georgios Beach from Chora and the beach promenade ensures you'll get your steps up for long walks. The sand is golden, the water is transparent, blue and calm, and sunbeds dot the long beach curved around the bay.
Take a windsurfing lesson in the right conditions and pop in and out of different cafes lining the beach when you feel peckish. It's a popular and often crowded beach, but ideal when you love to go back and forth from the sea to historic sites, shops, restaurants and your hotel.
Practical info:
If you're staying in Naxos town, this is the ideal beach for easy access. If you're staying elsewhere on the island, you'll have to park a few minutes walk away at the free public parking lot. Combine it with a trip to the old town if you wish, but I wouldn't venture in just to visit this beach.
AGIO PROKOPIOS BEACH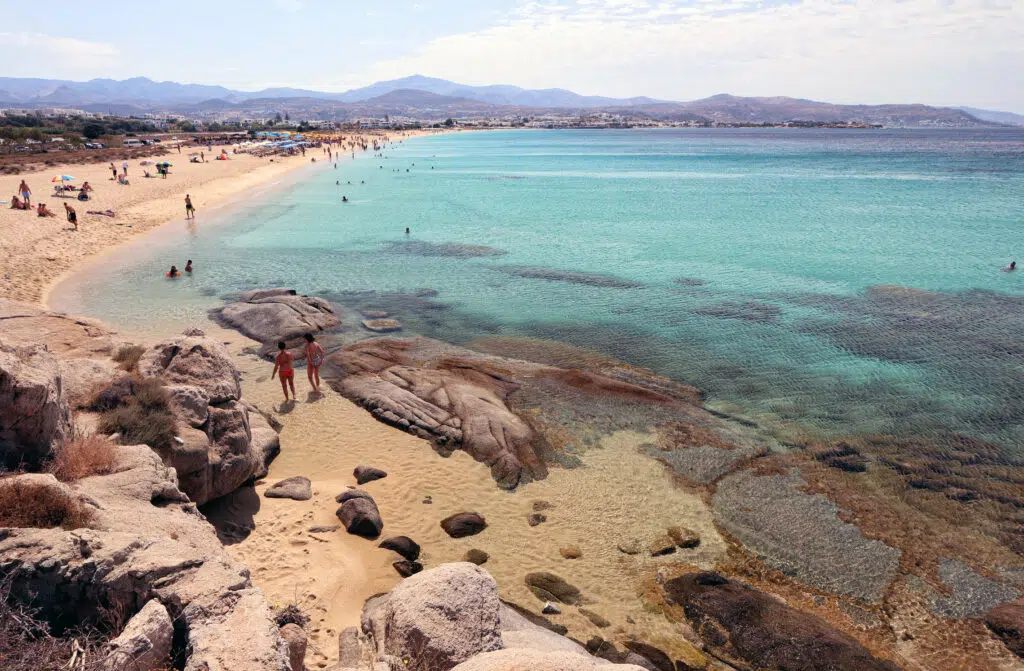 If the main aim of your holiday is to laze on soft sand with a choice of sunbeds and spots for seaside cocktails, Agio Prokopios Beach might be calling your name. It's just a 10 or 15-minute drive or bus ride from Chora and basically caters for any type of beach lover.
Head to the north end for a quiet vibe and family-run restaurants. The further south you go, the more boho beach bars and people you'll find. The small town of the same name features accommodation options and everything you need to settle in for a while.
Practical info:
If you're staying in Chora, the drive is straightforward (just mind the traffic at peak hours), and once you arrive, there's a fairly large car parking area at the northwestern end of the beach.
AGIA ANNA BEACH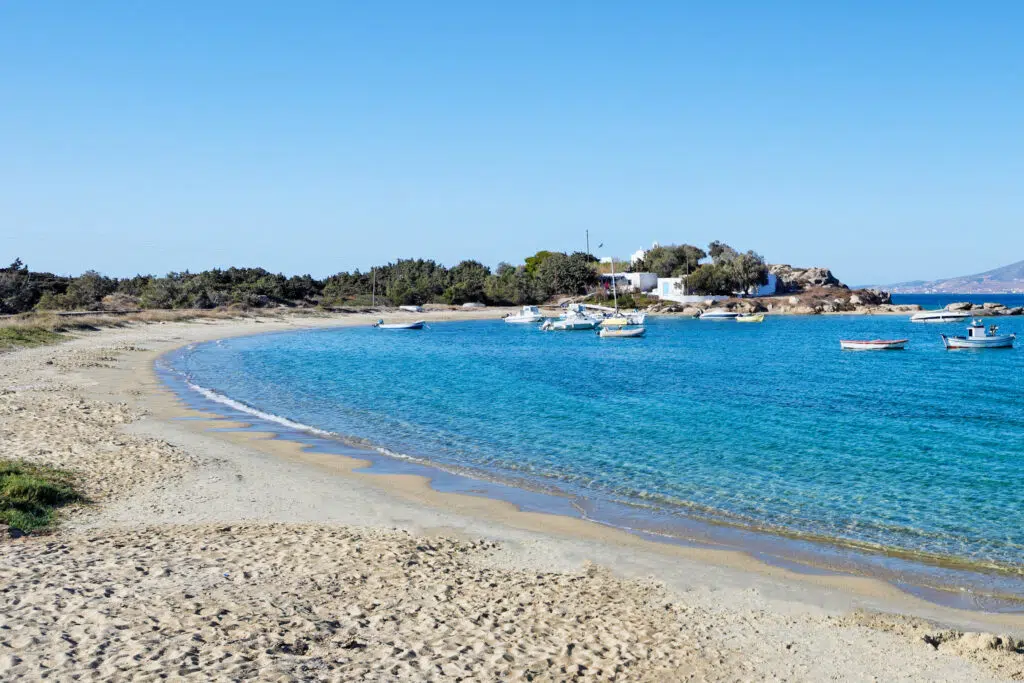 Walk from Agio Prokopios to charming Agia Anna Beach to the south. This slice of Aegean bliss features a protected bay of azure water lapping soft sand just like its neighbour. Snap pictures of the quaint fishing port with bobbing wooden boats and pick a perch at a sunbed or beach bar table with your feet in the sand.
Between the neighbouring beaches, with plenty of atmospheric hotels and restaurants to choose from, you could happily linger for days that turn into weeks.
Practical info:
This is the place to go if you want sunbeds and service. Therefore, it's not the best beach in Naxos for families. If driving here, there's a car park a block back from the beach, around the middle of the cove.
PLAKA BEACH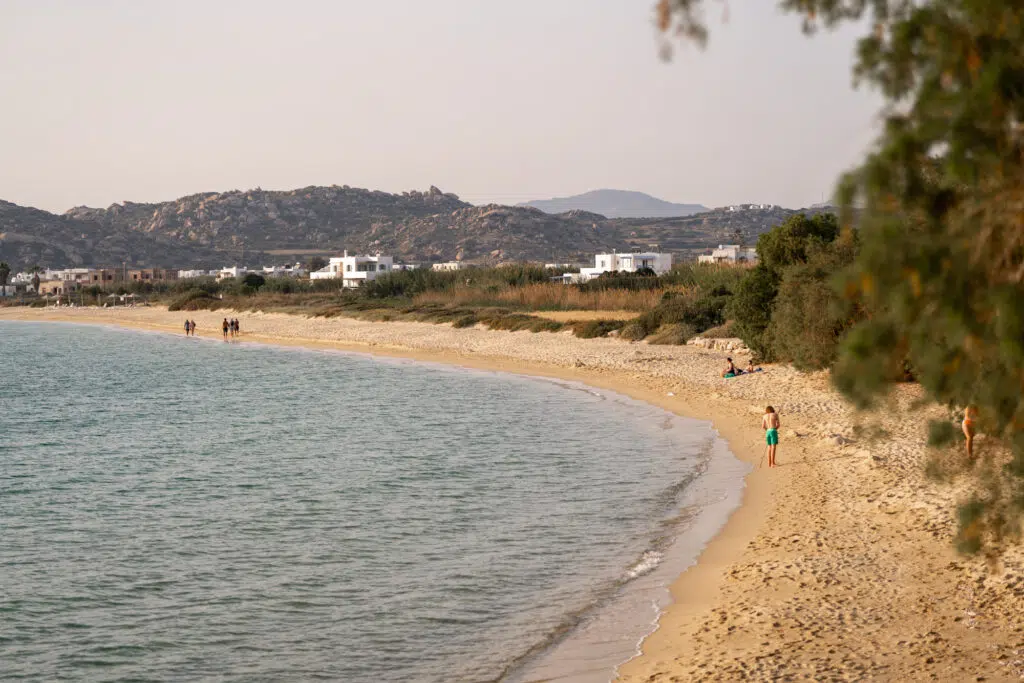 Not only is it recognised among the best beaches of Naxos, Plaka often ranks as one of the most beautiful in Greece. Explore around four kilometres of sand on leisurely strolls to find the perfect patch for your towel.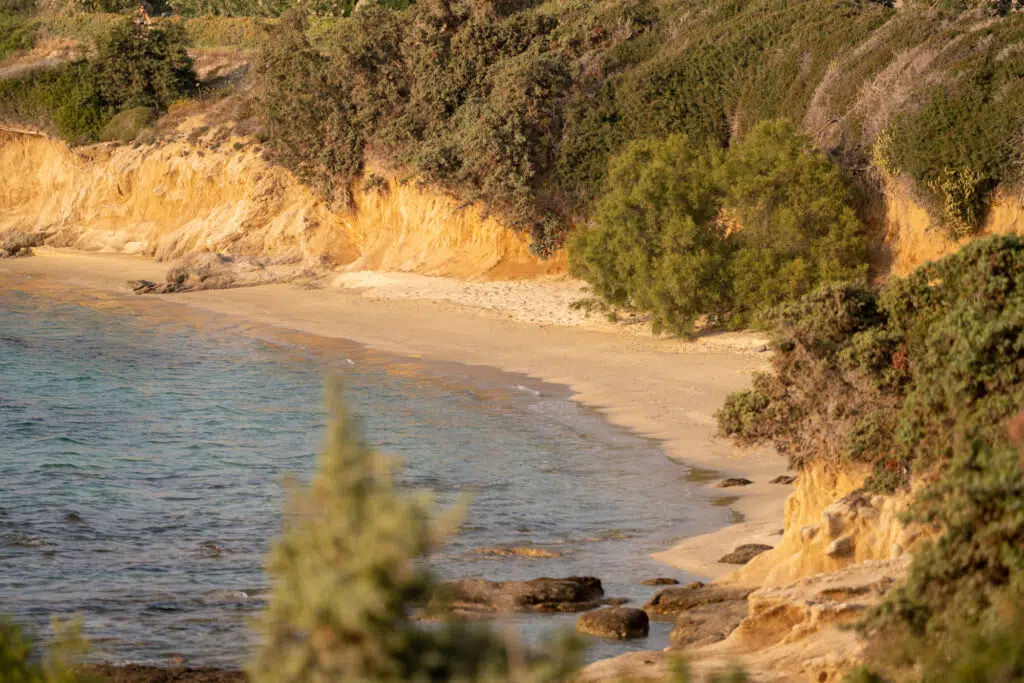 The north end joins Maragas Beach and it's the liveliest section of beach bars with a smattering of hotels. If you love chic but casual beach clubs, you'll be in your element. Sip cocktails in beach cabanas and eat lemony Naxos potatoes with sun-dried mackerel at a variety of venues dotted along the beach.
Practical info:
There are several small car parks along the length of Plaka Beach. If you're seeking solitude from the crowds, wander down to the southern end of the beach which is less built up. You'll even find a small private cove here for blissful beach days.
MIKRI VIGLA & ORKOS BEACH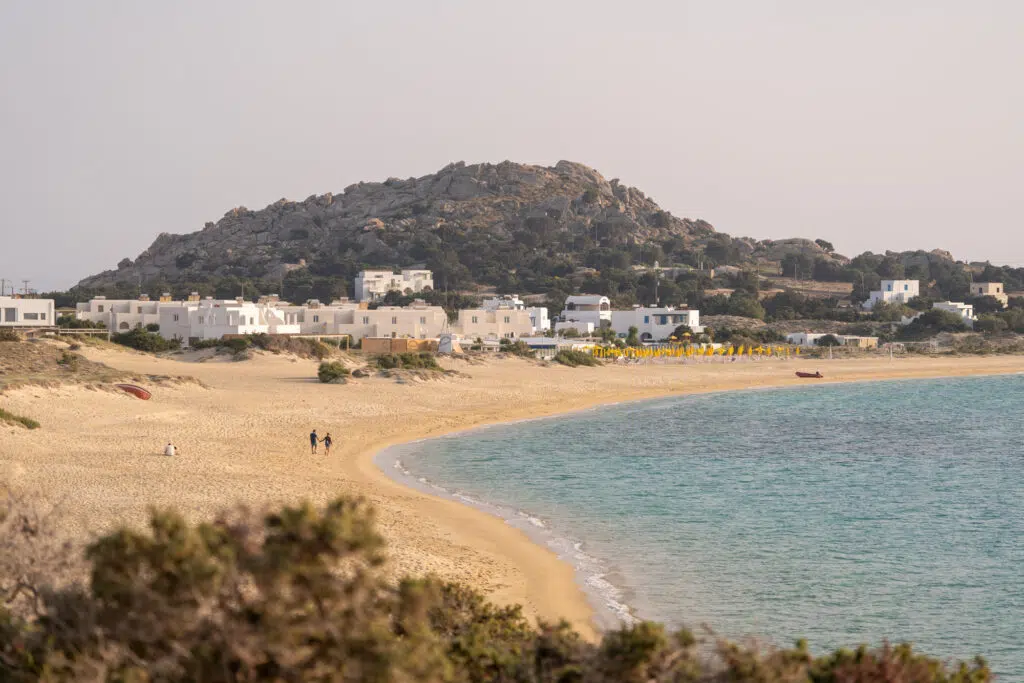 Orkos Beach follows Plaka, but it's a stunning change of scenery. A string of picturesque coves separated by rocks that stretch into the water provide lovely hidden beaches in Naxos on a backdrop of cedar trees.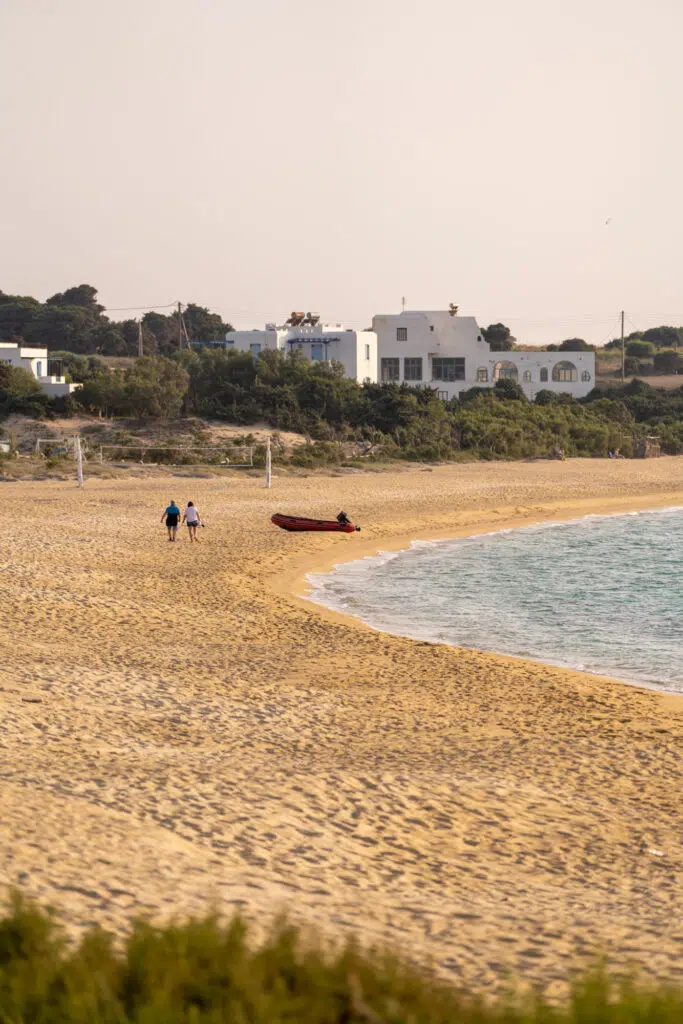 Keep going and you'll arrive at Mikri Vigla, where Cycladic houses frame a seaside resort fronting a wide, sandy beach split by a hill. This is a top spot for kite and windsurfing across crystalline turquoise water, and equipment is available to rent. It's also just a hop, skip and a jump to hotels and tavernas, making it one of the best resorts in Naxos for a peaceful family holiday with plenty to do.
Practical info:
Mikri Vigla is a surfer-vibe kind of town, with sand-strewn roads to match. It's low-key, down to earth, and has parking of the unmarked variety.
KASTRAKI BEACH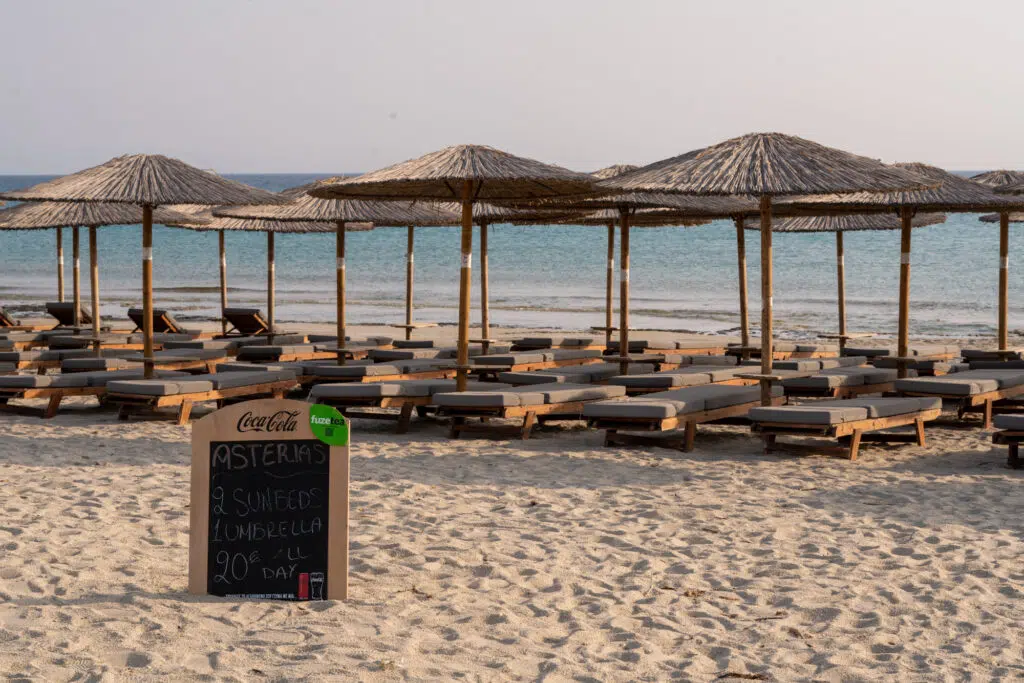 Mikri Vigla's neighbour, Kastraki is another postcard-perfect holiday retreat with vast swaths of light beige sand stretching for around three kilometres. Take your book and a picnic and you'll easily find quiet spots to relax and stroll along the sand without beach crowds.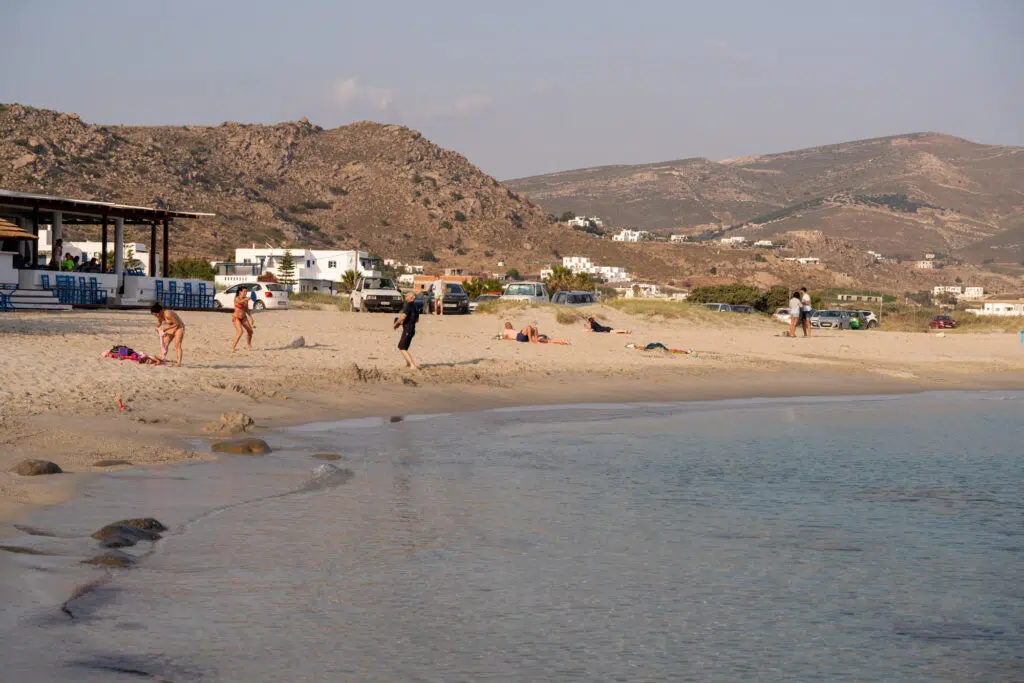 There's nothing much else but cedar trees and sparkling seas. You'll find a few sunbeds in high season and accommodation options are nearby. There are also a few relaxed eateries on and off the sand, so you won't have to venture far for sustenance.
Practical info:
There's a large car park behind Kastraki Beach, making it perfect for fuss-free beach days. The road getting in/out is a little bumpy, but pretty decent overall.
PARALIA GLYFADA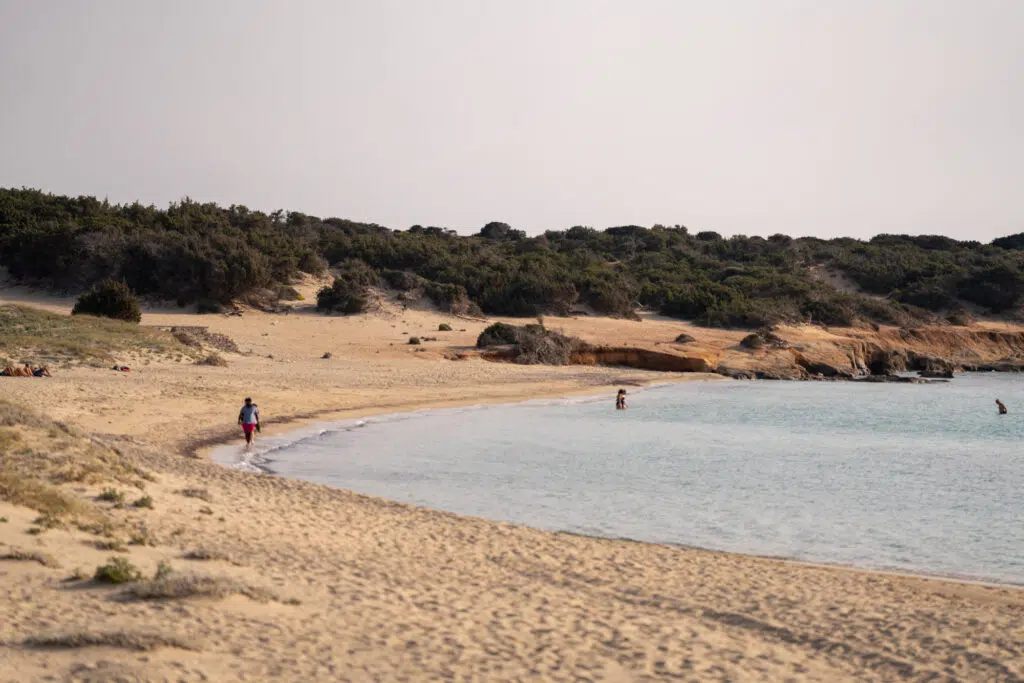 Rolling sand dunes join tall cedar forests as the backdrop for the long, wide expanse of sand at Glyfada. Head straight to the kitesurfing club if windy conditions compel you out for a ride along the southwestern coastline. Otherwise, you'll find plenty of space to spread out as much as you like, without the tourist trappings.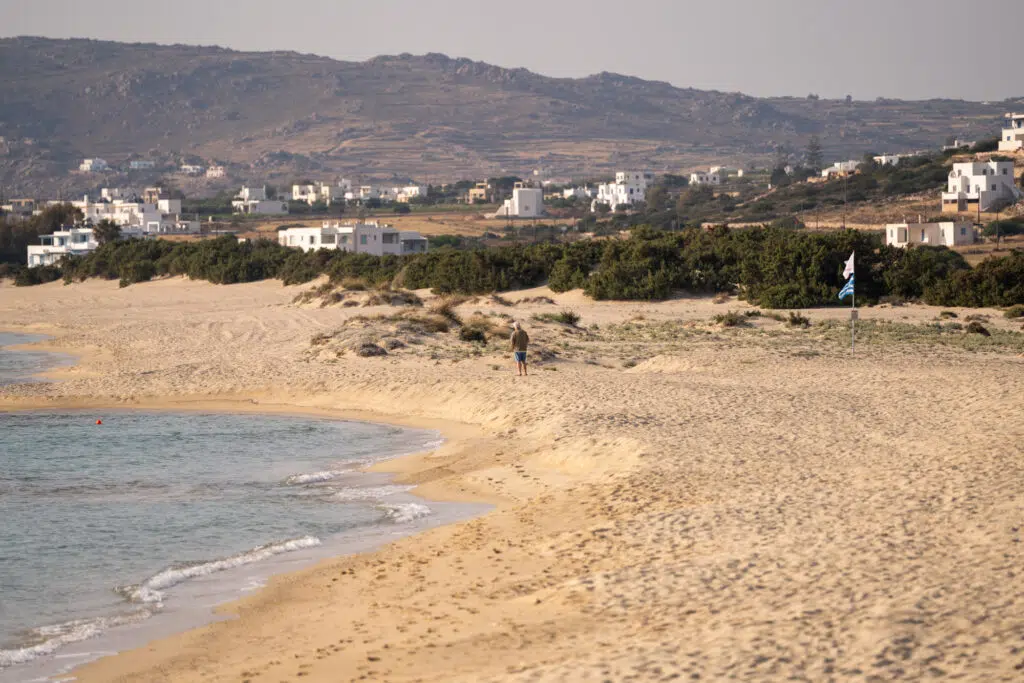 There are some gorgeous villas overlooking the ocean high up on Osekolos Hill, along with restaurants serving scrumptious local food near the sea.
Practical info:
If you stop to visit Alyko Beach and the street art, you can simply walk through the cedar forest to Glyfada next door. If you want to bring a car, there are parking lots at both ends of the beach.
ALYKO BEACH AND HAWAII BEACH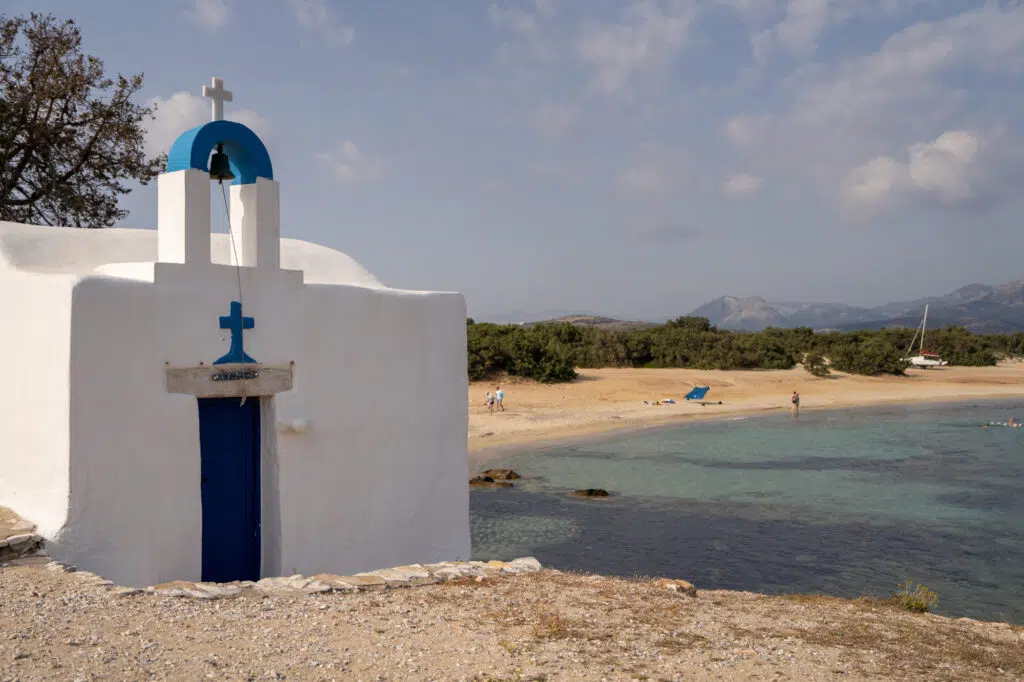 Alyko is among the best beaches on Naxos for nature lovers, located on a peninsula. The name extends to a protected nature reserve with a lush cedar forest and rolling dunes lining photogenic coves and white sand beaches. However, there is one manmade quirk – an abandoned hotel now covered in colourful art that's brilliant for photos.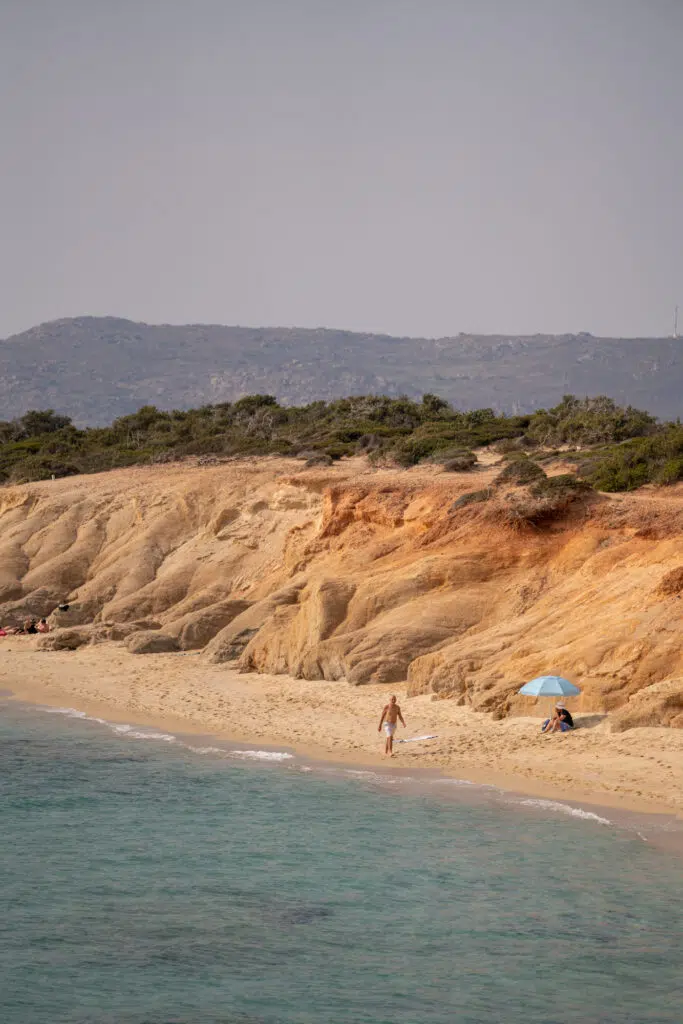 Alyko Beach itself is set in a small, sheltered bay overlooked by a tiny whitewashed church. The turquoise water is ideal for snorkelling with rocky outcrops and brilliant visibility. Just as wild and pretty is nearby Hawaii Beach, with vanilla-coloured sand and no facilities to interrupt nature. Pack hiking shoes to explore the dense forest beyond.
Practical info:
Beware if you're driving to Alyko from Pyrgaki Beach, as I did. There's a stretch of road here that's almost entirely covered in sand, making driving difficult if you're not used to it! Once you reach Alyko, there's plenty of side-of-the-road parking on the way down to the abandoned hotel.
PYRGAKI BEACH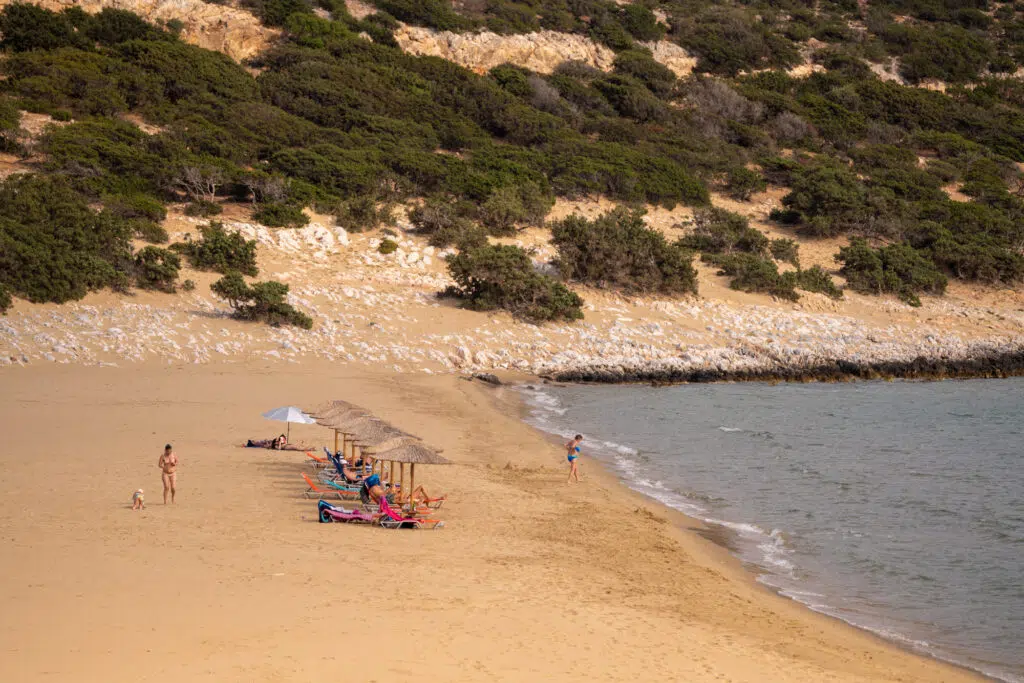 Pyrgaki is a place to chill out at just a few tavernas and hotels when you're not soaking up the sun on the sand. The wide, golden arc shelters shallow water for peaceful floating or splashing with the kids in a cove-like environment.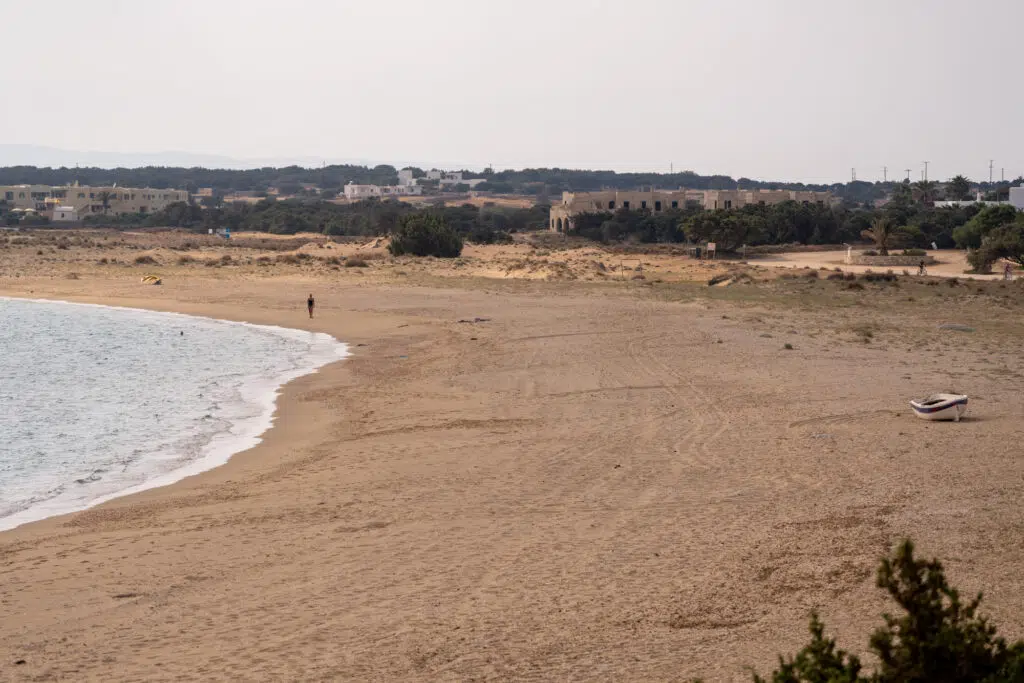 On one end, there are a smattering of sunbeds to rent for the day, but not enough to be "in the way" if you prefer bathing unencumbered. On the other, cedar trees dot the surrounding dunes, so you might find a little shade in the absence of sunbeds and umbrellas.
Practical info:
This tranquil spot is a breath of fresh air if you're used to overcrowded European beaches. The road to reach it is straightforward, and there is ample parking behind the dunes.
Heading to Paros too? Be sure to read our guide to the Best Beaches in Paros.
---
North Naxos Beaches
The north of Naxos is peppered with historic sites and a fertile interior of orchards, with sparkling bays and rugged beaches to choose from. Some of my favourite beaches in Naxos were in the North – discover them below!
APOLLONOS BEACH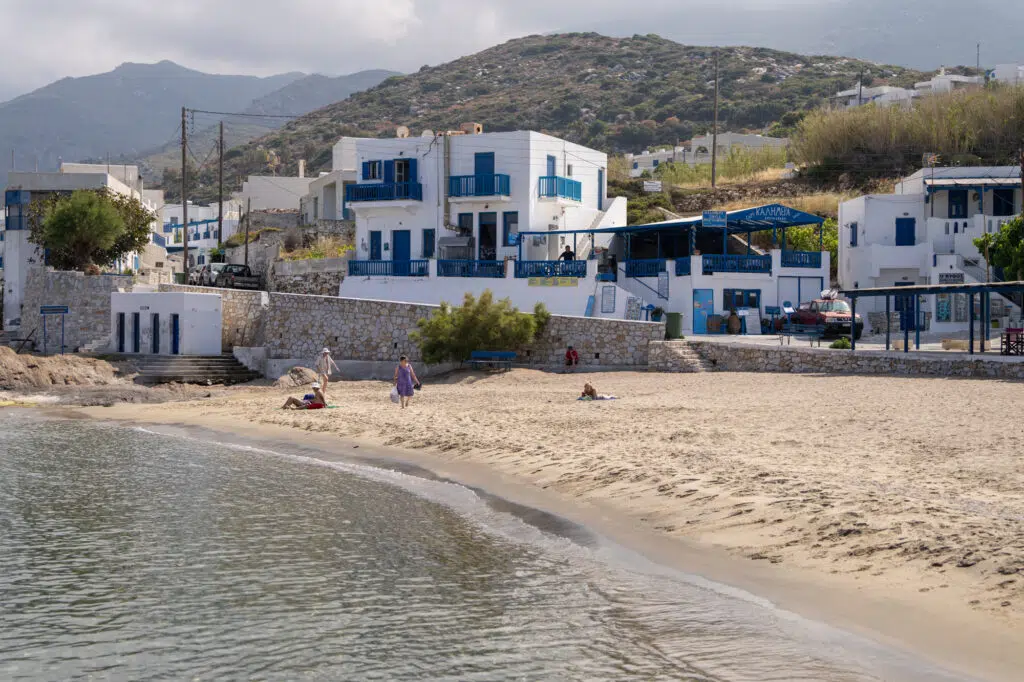 Named after Apollo the god of music and dance, Apollonas was once used to export marble. It's home to the Kouros of Apollonas in an ancient quarry, a huge half-finished marble statue that's thought to date back to the 8th century.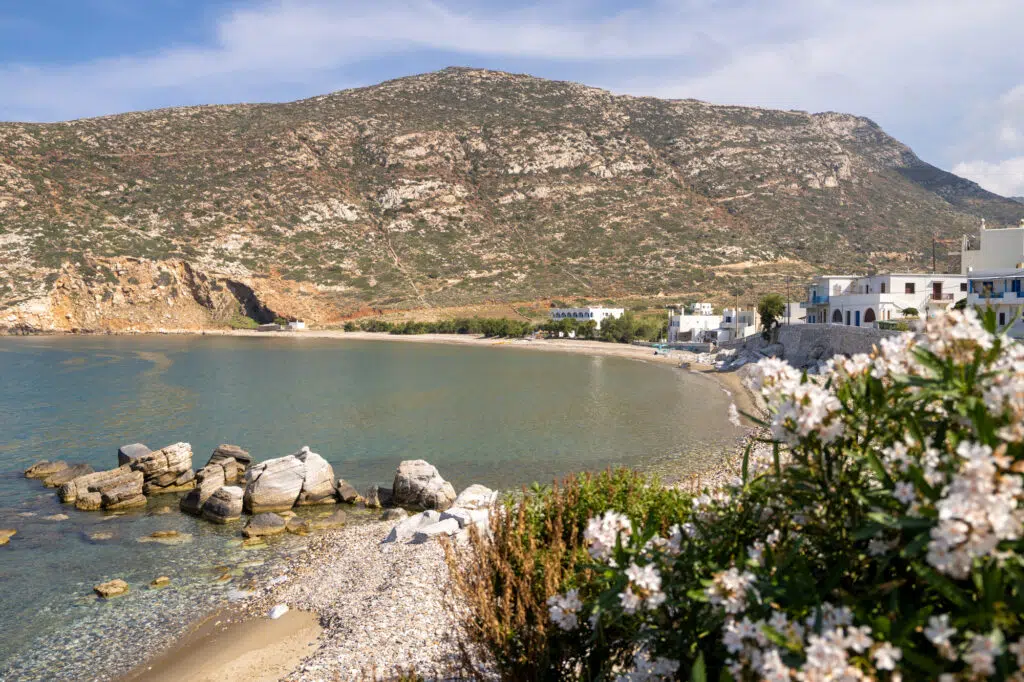 On the beach, a sheltered bay invites you to swim in bluer-than-blue water with views of the whitewashed buildings and their blue shutters and doors. Head to the cluster of tavernas just steps from the sand when hunger strikes, or choose one of the hotels in this Naxos beach resort to stay a little longer.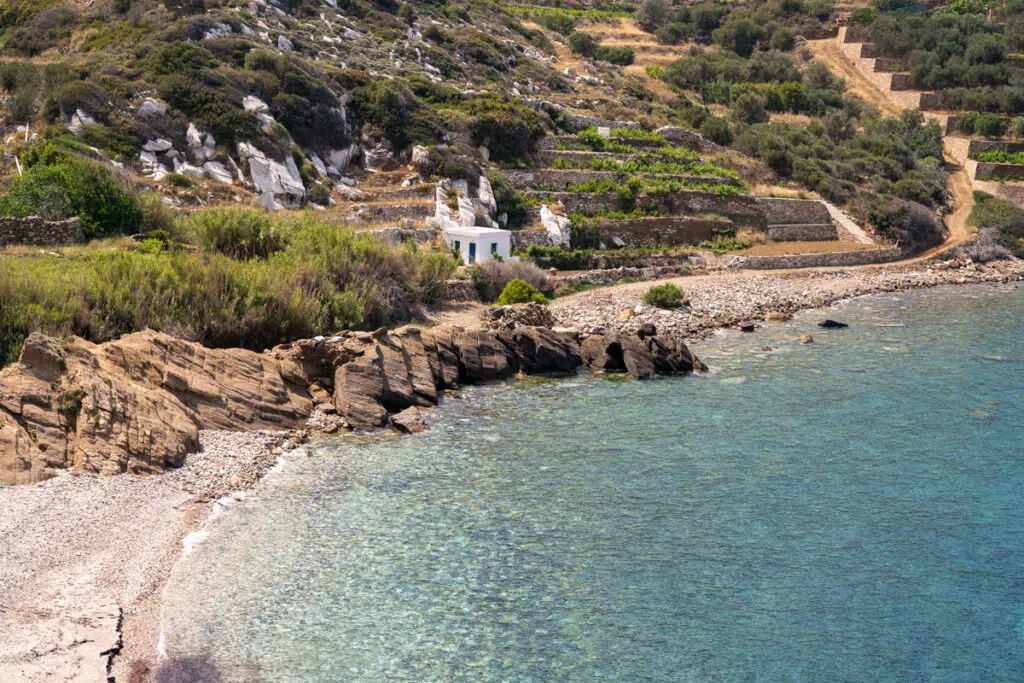 You're unlikely to have to fight the crowds here (although tour buses do stop in from time to time), but if secluded coves are your thing, head around the coast and you'll find a lovely slice of seashore all to yourself (pictured above).
Practical info:
Apollonas is fairly remote, but the road to get there is uneventful – even the tour buses manage it! Once you reach the small town, parking is limited, so it's probably wise to grab the first one you see.
AVRAAM BEACH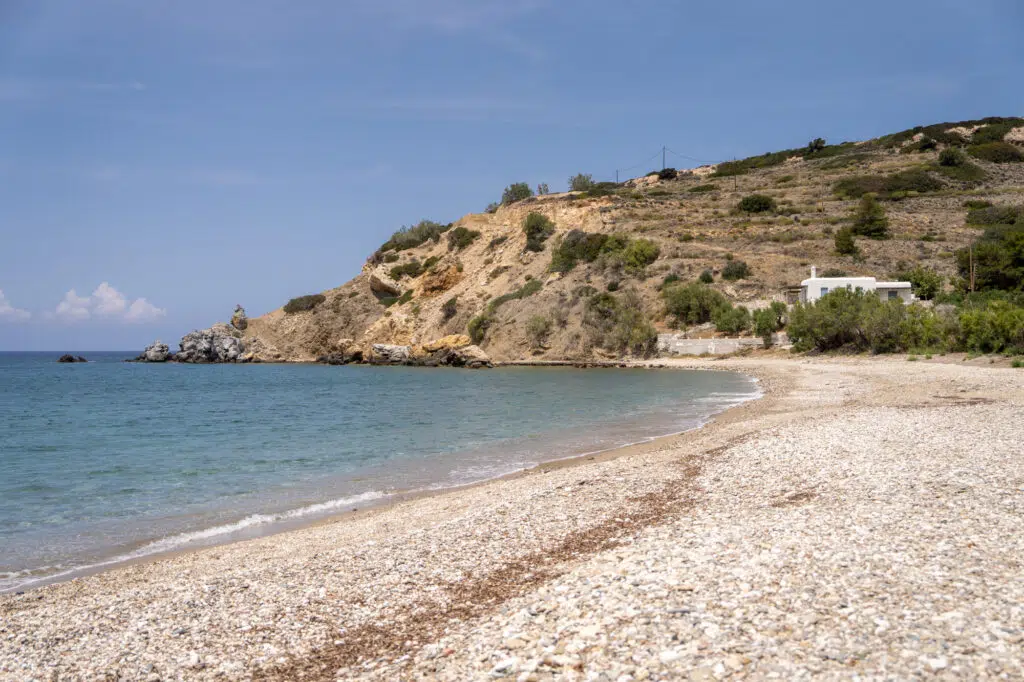 Prepare to spend most of your time in the vivid turquoise water of Avraam Beach, a quiet haven that's lovely for snorkelling. This isn't a tourist beach (the only facilities being a low-key taverna), so you'll need to bring what you need, but that's the beauty of it. When I visited on the last day of May, I was the only soul around..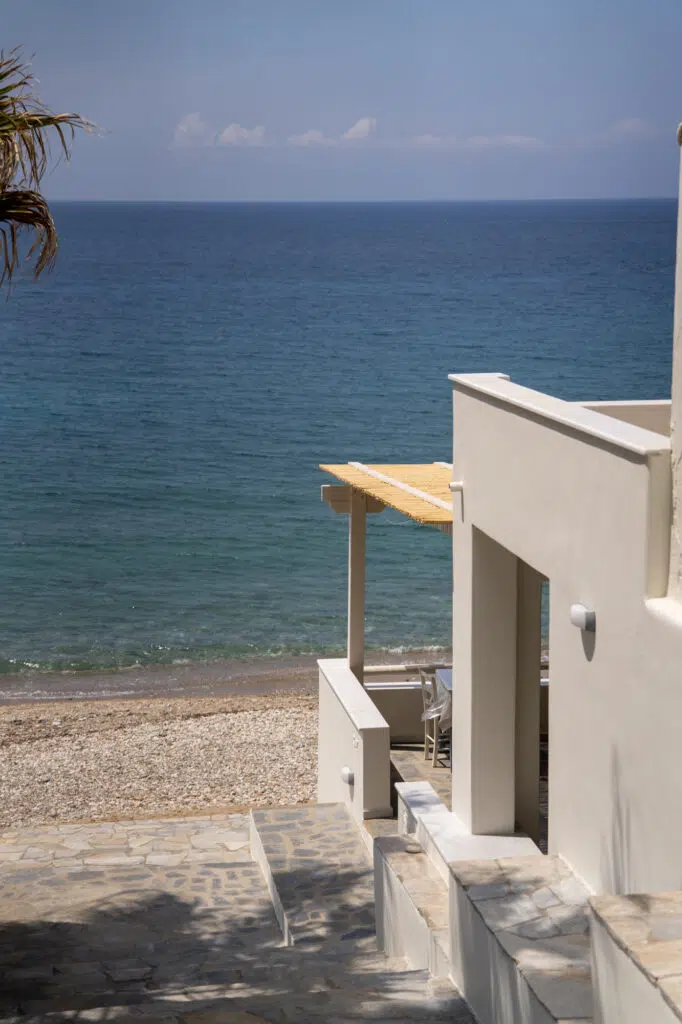 Half the fun is in getting there on a scenic drive across the cliffs, along with gazing out at the islands in the distance from the northerly vantage point. Settle in under the shade of a well-positioned tree, and while the day away.
Practical info:
The last 500m or so of the road to get here is rather narrow, but it's not a busy stretch, and there are places to pull over and let another car pass if need be. Near the beach, parking is very limited, so get there early to snag your spot.
AMITIS BEACH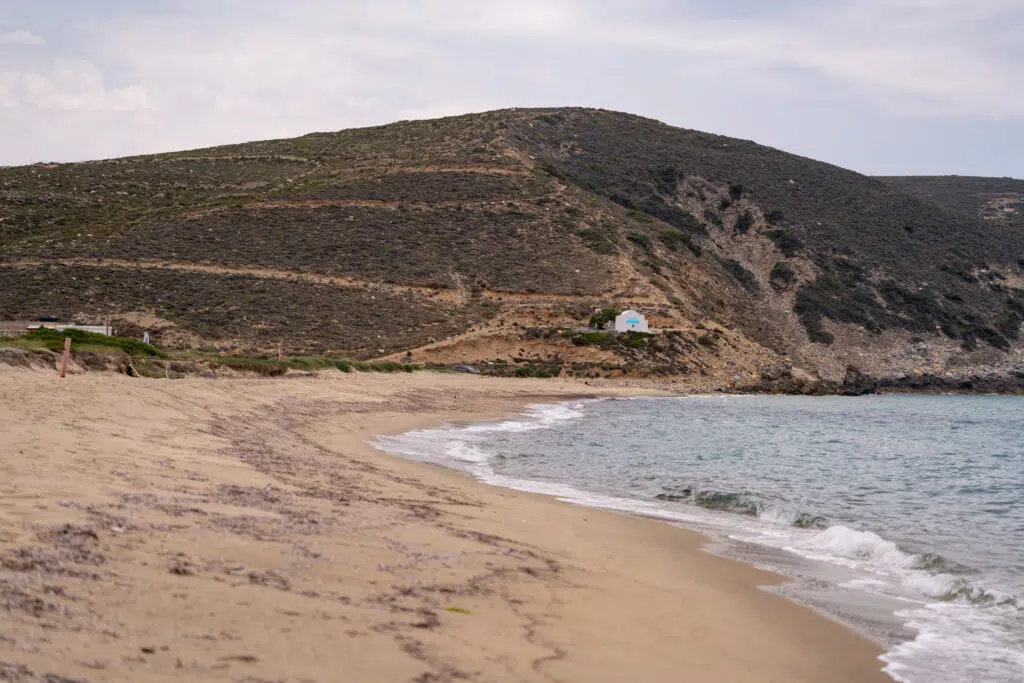 Drive through the farming village of Eggares to get to Amitis Beach and you'll see lovely white churches and restored olive presses. With only a few houses and tavernas in the general area, wild Amitis is often relatively free of people. When the wind picks up, kitesurfers come for the waves.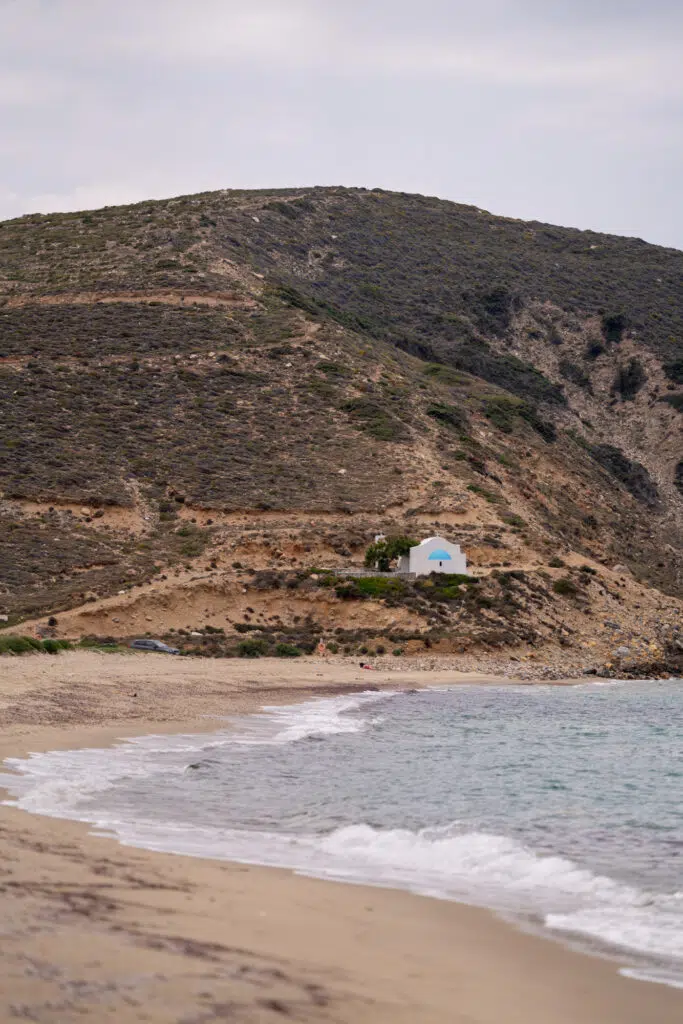 It's a long stretch for peaceful strolls, with a whitewashed church on a hill overlooking the cove. Work up an appetite and visit the nearby village of Galini, renowned for scrumptious local produce and wine.
Practical info:
Getting to this Naxos beach is fairly straightforward. You can approach via the church (western) end, or the eastern end, with the former being rather narrow, and the latter being a gravel road. Both ends have enough parking, but the eastern parking lot is larger.
LIONAS BEACH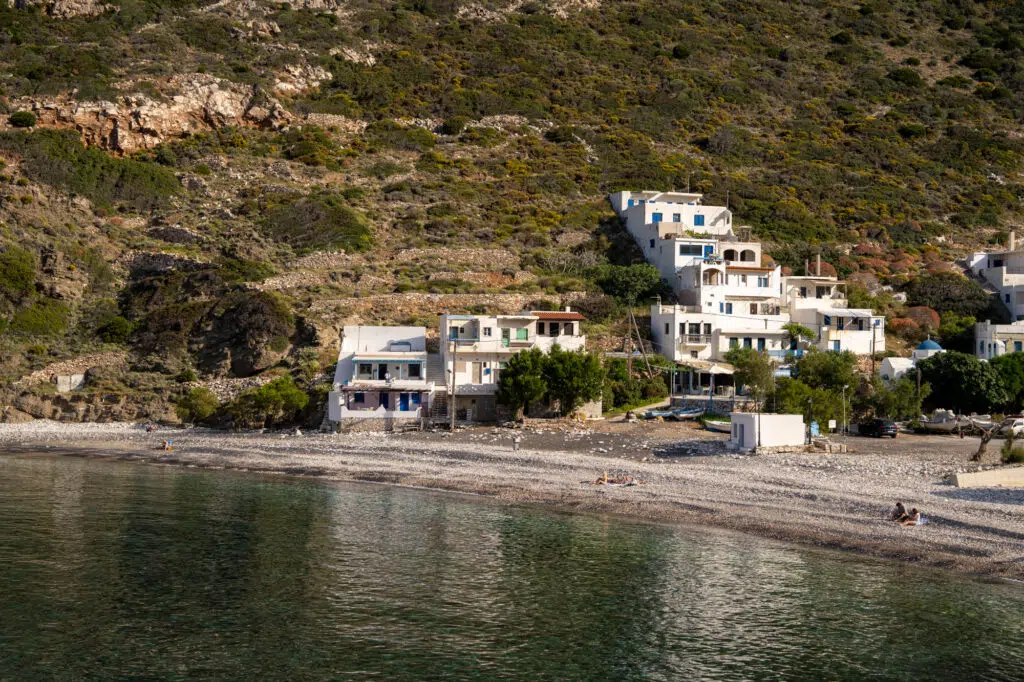 Scenic mountain routes get you to Lionas Beach, crossing through villages and the spectacular countryside. Soaring cliffs rise on either side of the small, pebbly beach, with transparent water that transforms from blues to greens due to the leafy background.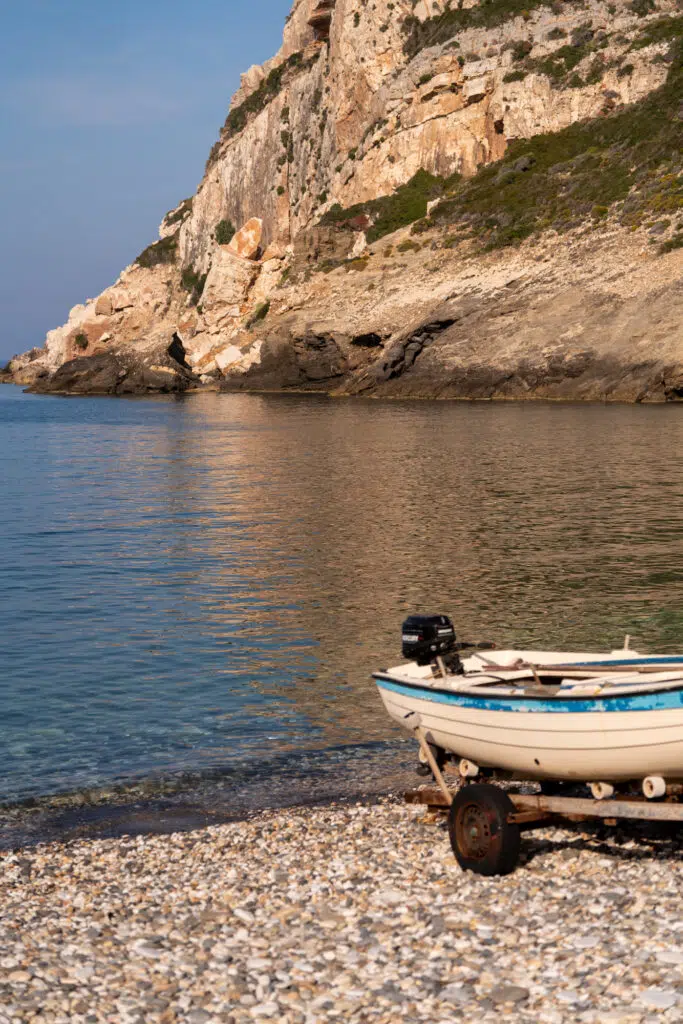 Charm oozes from traditional tavernas unspoilt by tourism and beckoning with tasty treats after a snooze and a swim on the pebbled shore. You really feel like you've reached the end of the world when you're in this lovely spot.
Practical info:
The road to get to Lionas Beach is very steep and winding, but it's in fairly good condition, and wide enough for two cars to pass safely. At the bottom, you'll find a fairly large car park.
---
South Naxos Beaches
Get off the beaten path at the southern tip of Naxos, where seclusion is easy to find on beaches among quaint villages and mountain backdrops.
AGIASSOS BEACH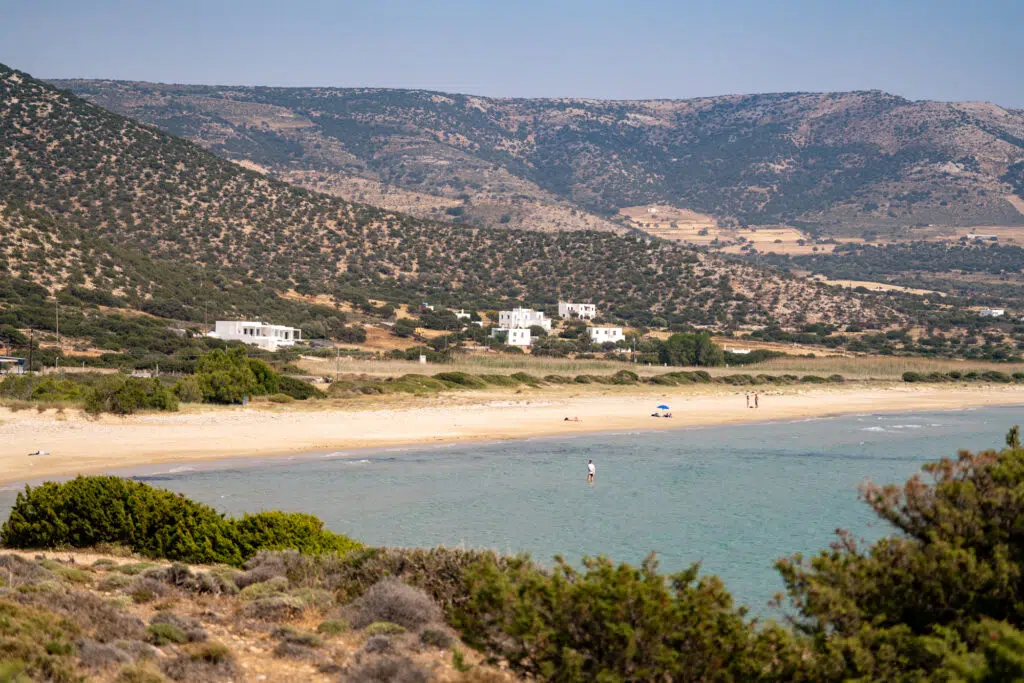 The most southern beach on the western coast, Agiassos Beach spans the bay of the same name. Stay for peace and serenity among a few villas and hotels peppering the base of tree-studded hills. The beach itself is golden, long and unspoiled, with shallow water that's a favourite with families that tend to return year after year.
A handful of tavernas and mini-markets ensure you don't have to think or do much at all but eat, laze and swim.
Practical info:
Getting to Agiassos Beach is a breeze, and it's only a 30ish minute drive from the main town, making it much more accessible than the more remote Naxos beaches. Park near the northern end of the beach.
KALANTOS BEACH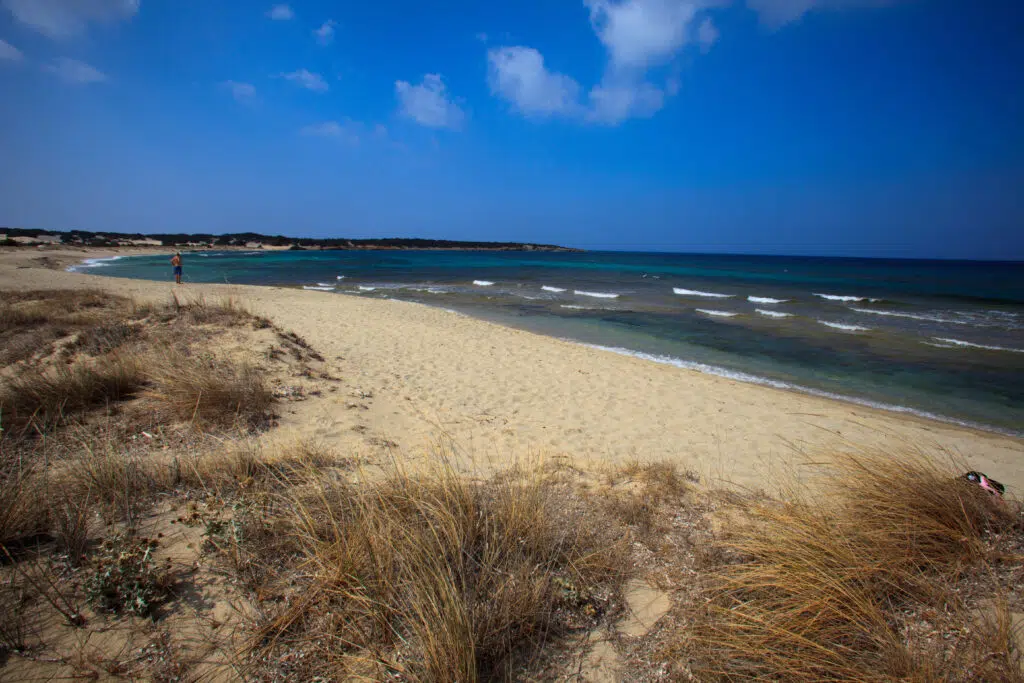 For a remote escape that's still reachable by car, Kalantos Beach is among the best places in Naxos. It's located on the southernmost tip in a crescent-shaped bay far away from the tourist-filled resorts. It's also possible to visit on boat tours, with a stone pier at one end of the beach. A couple of seasonal tavernas and a hotel near the beach let you linger longer, should you wish.
Practical info:
This is one of the most remote beaches in Naxos, so getting here requires patience. The road is superbly scenic, and well-paved until the last half a kilometre or so.
PANORMOS BEACH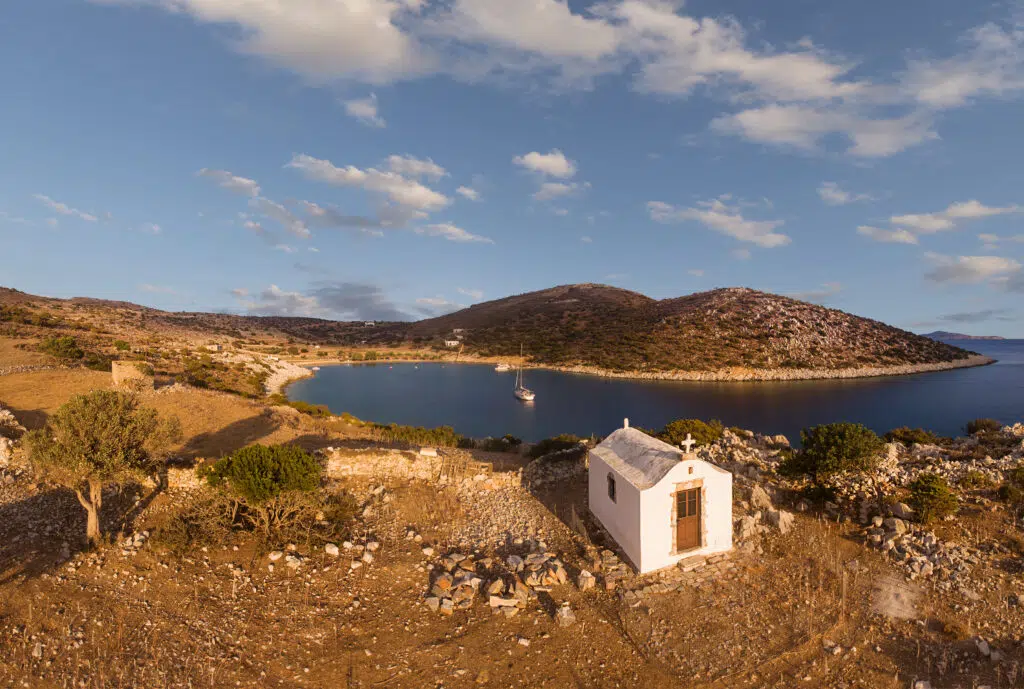 The secluded cove of Panormos is a southeastern beauty that's mostly off the beaten track. Palm trees provide shade along the pebble and sand beach lapped by crystal-clear water. Small remnants of an ancient acropolis rest above the beach and you can wander among the ruins.
There's a seasonal cafe with beach views and some boat tours leave from here to explore other southern beaches only accessible by boat.
Practical info:
If you embark on a tour of east Naxos beaches, this is the last stop on the road after Klido Beach. The road is paved until the last half km, and there's limited parking, but you'll likely only be sharing it with a couple of cars at most anyway…
---
East Naxos Beaches
Moutsouna village, with the island's only natural harbour, is the largest village on the east coast of Naxos. Surrounding it are quaint villages and plenty of opportunities for relaxing beach-hopping away from the more touristy areas of the west coast.
MOUTSOUNA BEACH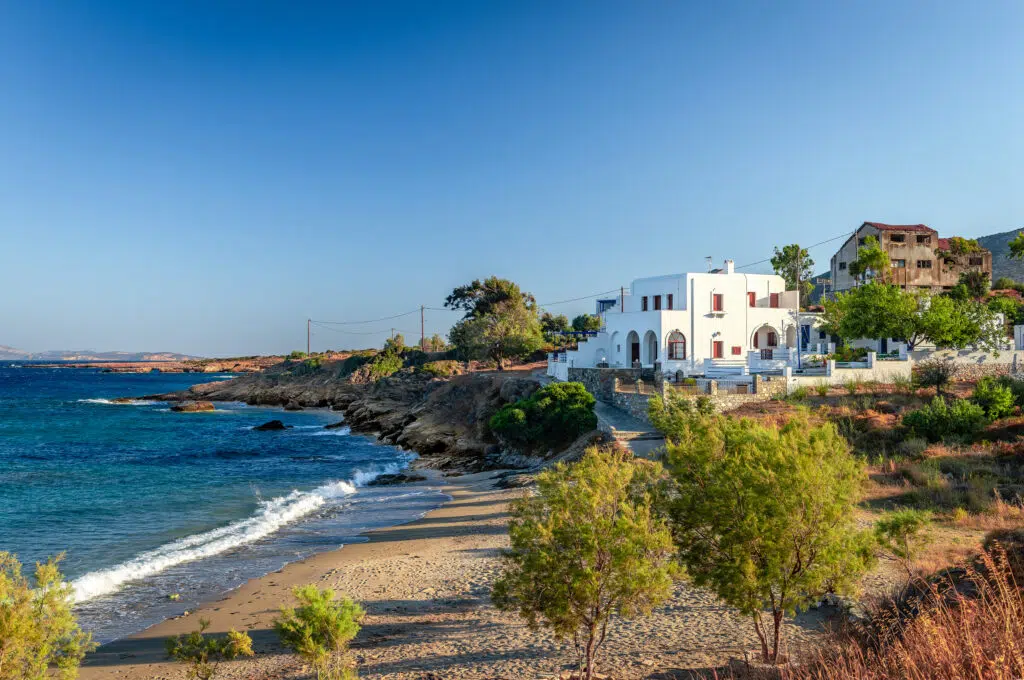 If you love the idea of adventures away from high-season crowds, Moutsouna is an enchanting base with a few accommodation options and seaside tavernas for lively fresh seafood meals with the locals.
Traditional wooden fishing boats moor at the rock jetty, and you'll see tower and crane remnants from a time when the harbour was used to transport emery stones from the mines. Two neighbouring beaches of golden sand drift into dreamy water, so choose your favourite vantage point and glide on in.
Practical info:
The road to Moutsouna is long but varied. If coming from Naxos town, expect around an hour of driving, but you can easily punctuate that with interesting stops along the way. There's limited parking in Moutsouna, but you'll find the easiest spots on the side of the road, just before you reach the cluster of buildings by the beach.
KLIDO BAY BEACH
Greyish sand offsets the turquoise water and red-hued, low-lying cliffs beautifully at Klidos Beach. This is a wild, rugged stretch of coast with rocky peninsulas and a few whitewashed buildings scattered about. Bring what you need for a relaxing day of swimming and walking around an area that's far off the normal tourist trail.
PSILI AMMOS BEACH
Its name translates to 'fine sand' and that's what you'll find at picturesque Psili Ammos Beach near the tiny village of Kanaki. This serene swimming spot is framed by shady trees and it's an idyllic spot for building sandcastles with the kids. You won't find any sunbeds, so bring all your own gear for a peaceful day of sun, sand and sea with views out to the island of Donoussa.
LIGARIDA BEACH
A charming bay with the incredibly clear water Naxos is known for, Ligaridia Beach is a favourite of locals. However, it's not likely you'll find many people on the pebbly shore as it's not on the bus route from Chora. Take your snorkelling gear to explore the rocky outcrops and photograph the small stone chapel with the water in the background.
---
---
Though there's everything you expect from a Greek Island paradise, the scenery constantly changes and surprises in Naxos. The best Naxos beaches deliver all the dream holiday scenes, from sunbeds steps from beach bars to sparkling coves with pristine arcs of white sand. But, you'll also stumble upon rugged stretches of seclusion and windswept cliffs for a beach-hopping holiday that's as adventurous or lazy as you want it to be.