Pink bougainvillaea cascades from the rooftops in whitewashed villages and ocean views take you by surprise at the end of enchanting laneways in Paros. Don't be surprised if you fall in love with the Cyclades island the second you arrive, let alone after you sip the local wine paired with Aegean views. Considering what to do in Paros is as easy as choosing which beach to laze on, and as thrilling as launching on adventure activities.
Hire a car to take leisurely drives to fishing villages and historic landmarks. Buses are available to whisk you around to beaches and it's always fun to get out on the water with boat rides. Otherwise, sink into the spellbinding atmosphere of Greek island living by simply meandering around and soaking it all up.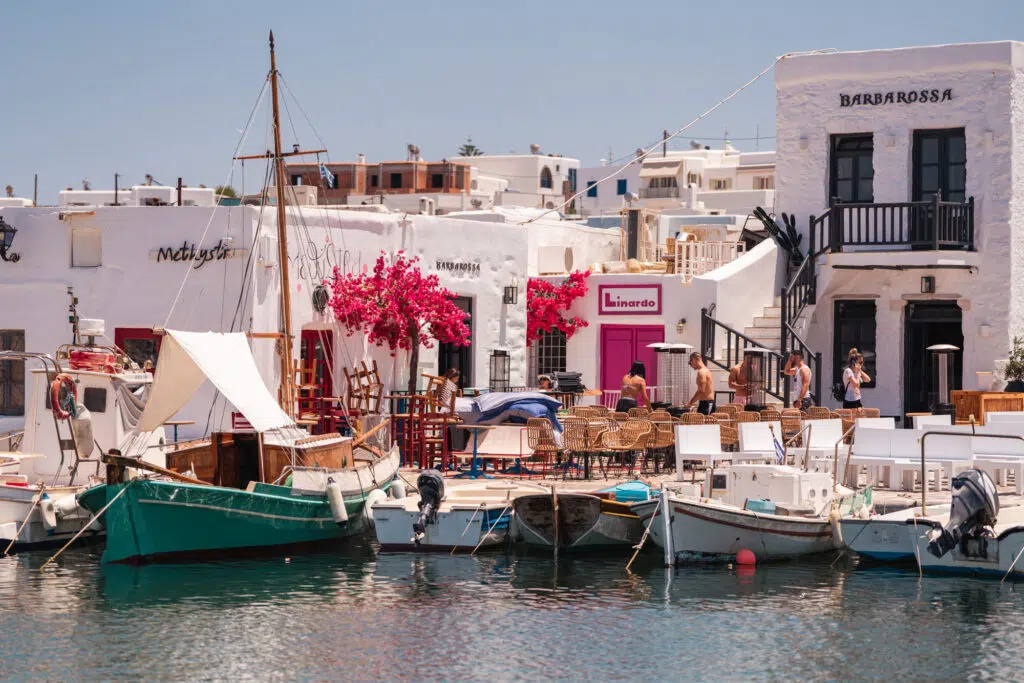 Why is Paros Worth Visiting?
Once famous for white marble quarries, Paros attracted the celebrated sculptors and painters of ancient Greece. These days, creative inspiration awaits around every photogenic corner. But, you don't have to be artistic to agree that Paros is worth visiting. The versatility of the island is renowned.
Find romantic pockets, thumping nightlife venues and family-friendly beach resorts. Adventure seekers are spoilt for choice and beach bums are perfectly welcome to do nothing at all. Best of all, unlike the more famous Greek Islands, it's easy to get off the beaten path and immerse in authentic traditions. Close your eyes and point to choose from some of the top things to see in Paros.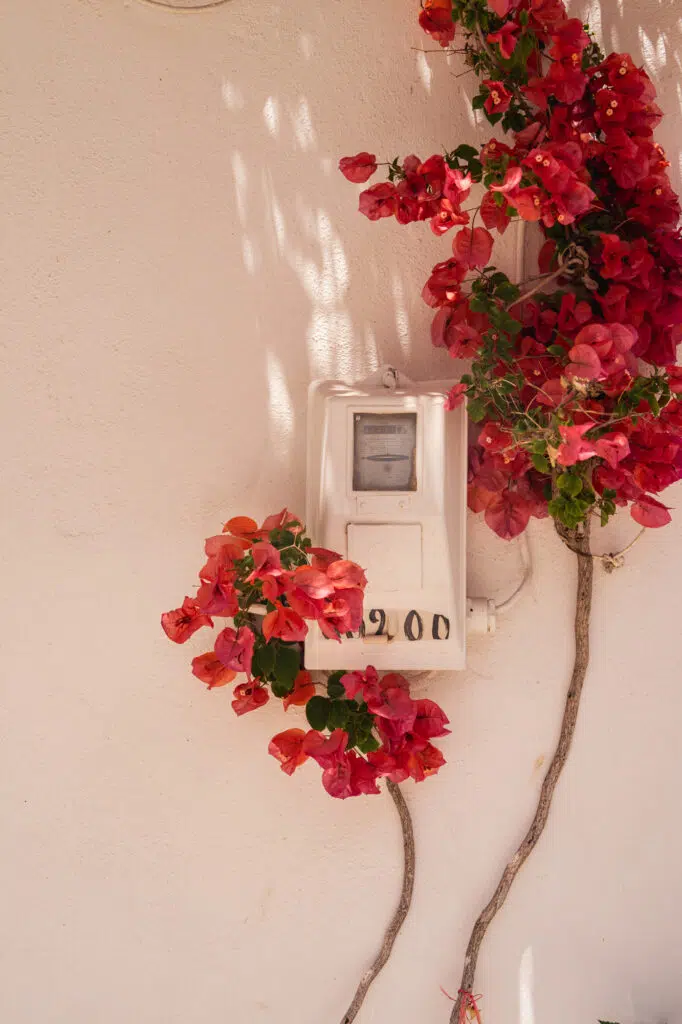 Best Places to Stay in Paros
Paros is a small island and one that can be traversed in about half an hour. So choosing where to stay in Paros can be based on aesthetics as much as practicality – knowing you'll be able to explore the island from any base.
Below, I've laid out a few accommodation options that I think are well-placed for a beautiful stay in Paros (including where I stayed!).
Parian Lithos Residence is located on the beachfront in beautiful Naousa. Accommodation includes family rooms and everyone will love the rooftop pool and sunning deck.
Mythic Paros is an adults-only retreat on the western side of the island. This 5-star hotel features a beautiful infinity pool, sea-view rooms with a balcony to enjoy the sunset, and a fitness centre.
Tarsa Studios is where I stayed in Paros. Located in the charming little village of Drios, it's the ideal escape for people who appreciate tranquillity. With sea-view studios, or larger apartments available, this accommodation can cater for singles, couples, friends, or families.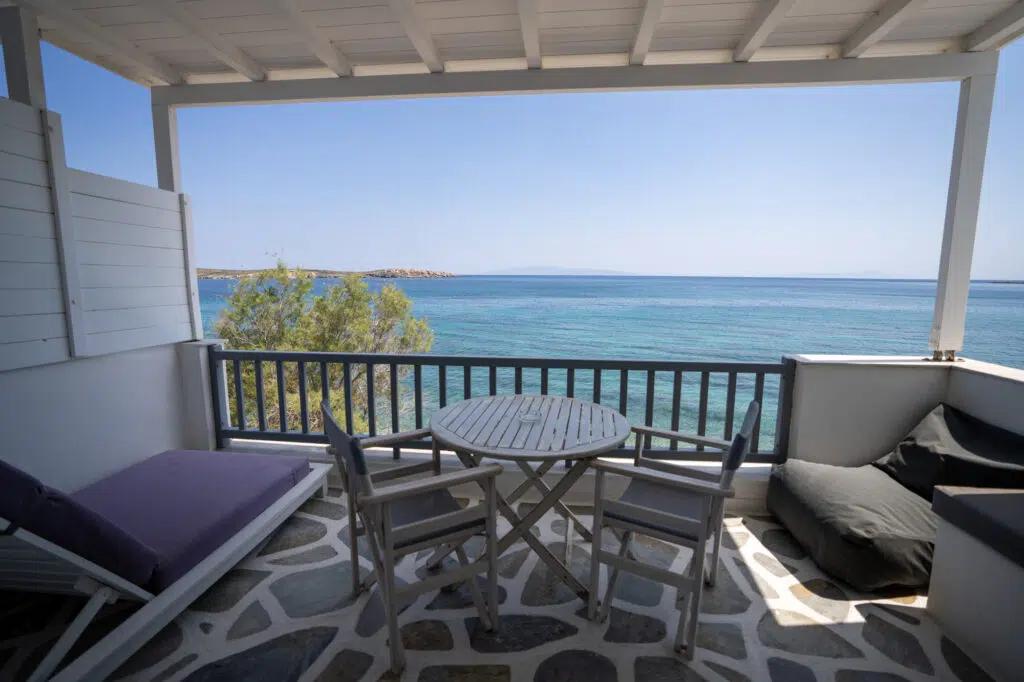 ---
Top Things to do in Paros
Convinced a Paros getaway is for you? Let's look at the most wonderful things to do in this island paradise…
Hit the Best Beaches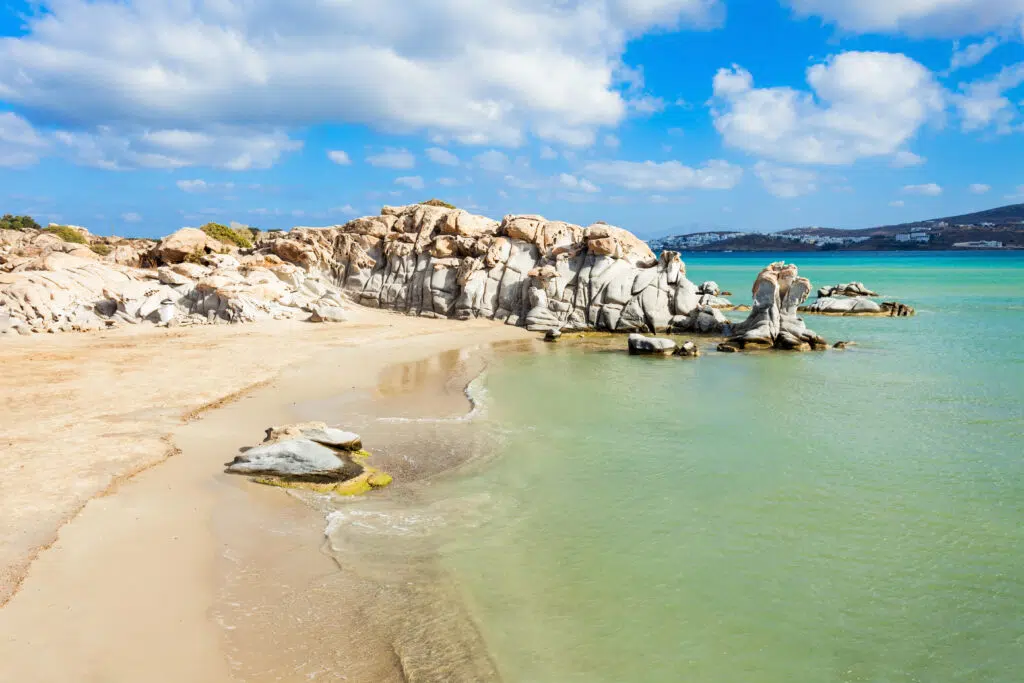 The best beaches in Paros present different scenes to suit every mood. Kolymbithres Beach is a postcard stretch of granite rock formations framed by incredibly clear blue water.
Windsurfers flock to Chrissi Akti, where water sports operators help beginner kite surfers zip across the glassy ocean. Vast swaths of golden sand dotted with sunbeds accommodate sun worshippers.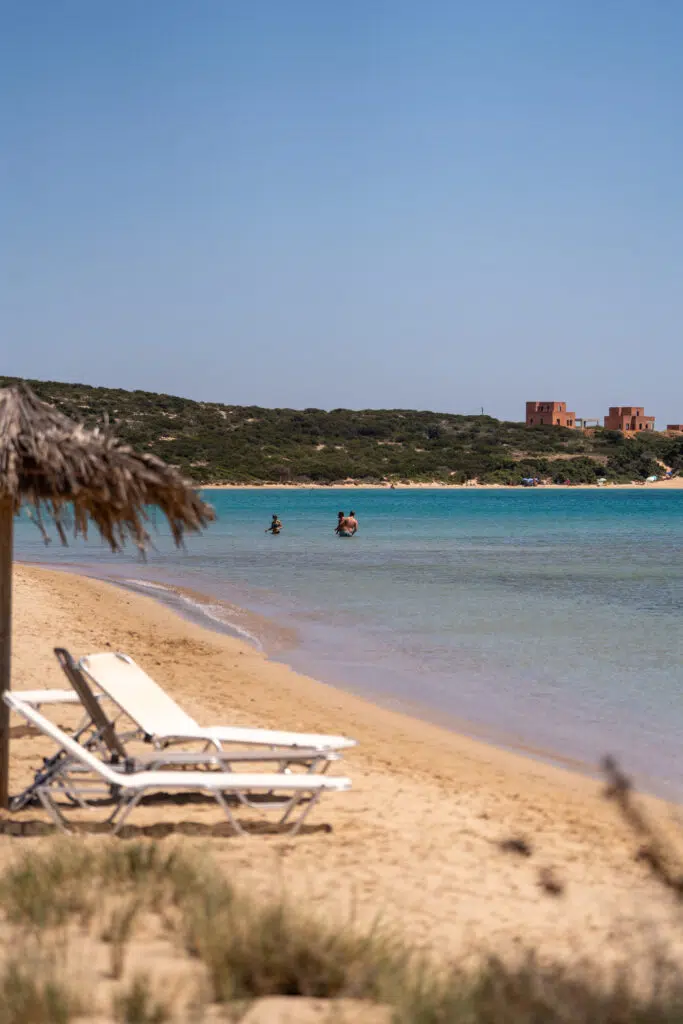 As the host of the yearly Windsurfing World Championship, Pounda Kite Beach is another action-packed option. Ideal shallow water stretches between Paros and Antiparos, where the channel ensures excellent wind conditions.
Float in the crystalline bay of Santa Maria Beach between drinks at bars and seafood at tavernas. Stroll over to Mikri Santa Maria or the nudist-friendly Largeri Beach. For serenity, visit Kalogeros Beach with your snorkelling gear and make a DIY facial with clay-based sand and seawater.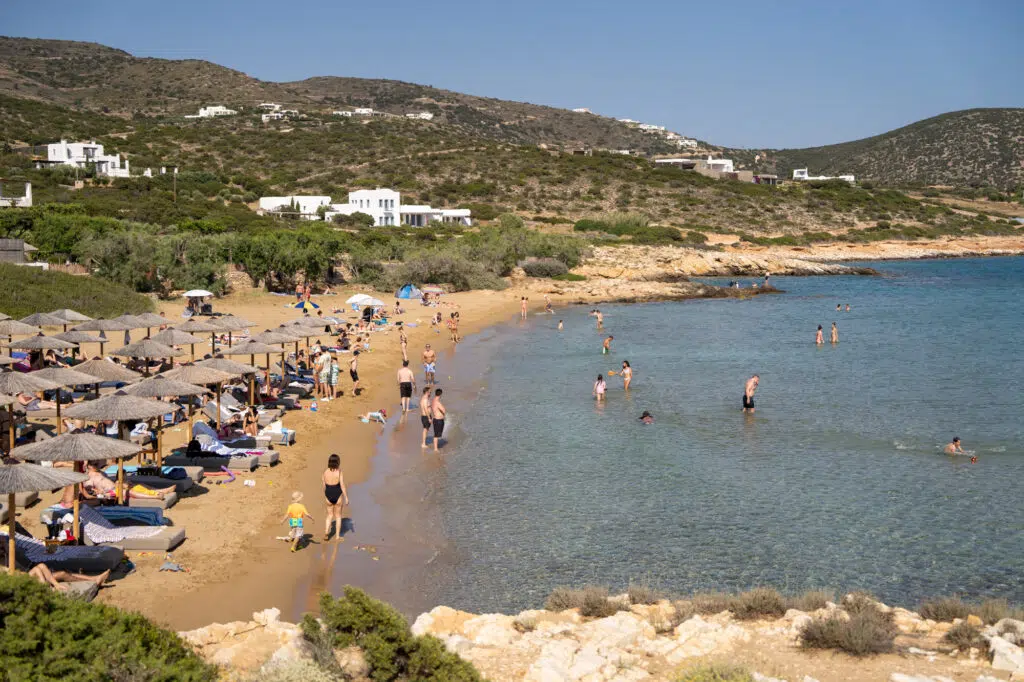 Pine trees frame Faragas Beach, with transparent green-tinged water to match. Hire a kayak or a stand-up paddle board to explore the sparkling coves.
The more secluded strips of Tripiti and Glyga are nearby. With fishing village surrounds, Aliki Beach and neighbouring Piso Aliki Beach are gorgeous spots for sunset drinks and dinner at Tavernas.
Partake in Water Sports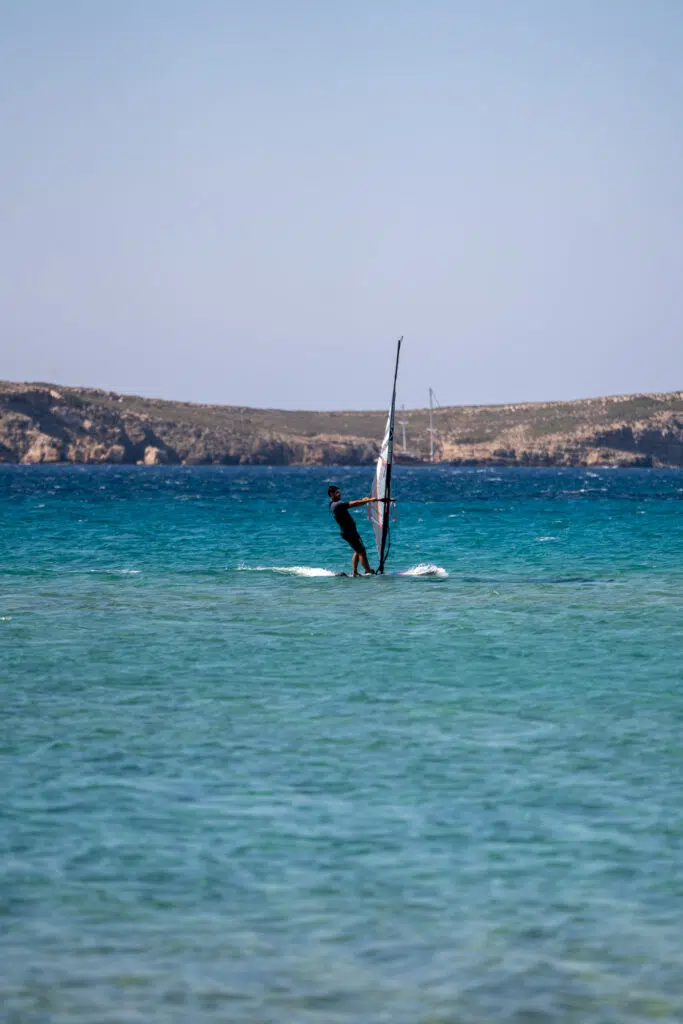 When you love zooming around with watercraft, you're in luck as water sports are among the top things to do in Paros. Wake up with the sun and work off last night's feast while SUPing across mirror-like water just steps from your hotel.
Pack some snacks and hop in a kayak to paddle around the coastline in search of secluded coves. Or join a kayak tour to Paros Park.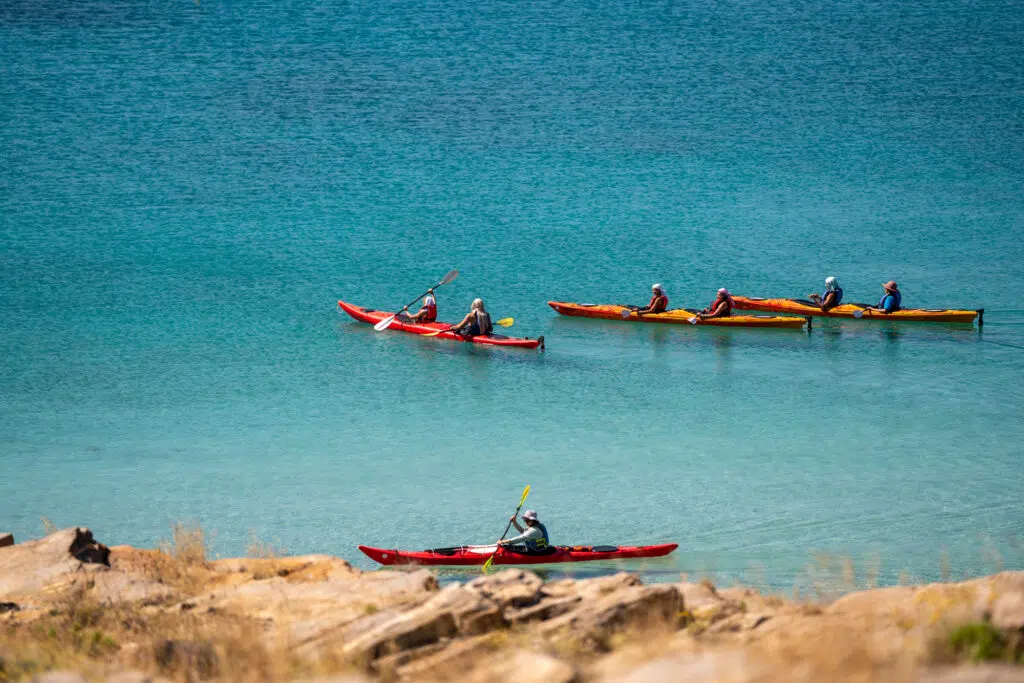 If you've always wanted to learn how to kite or windsurf, it's hard to beat the conditions on Paros that attract the professionals, too. You'll have plenty of time to relax with a book while the kids are screaming around on banana boat and tube rides. WaterSkiZone at Kolymbithres Beach features thrills from wakeboarding to barefoot skiing and pedalo rides.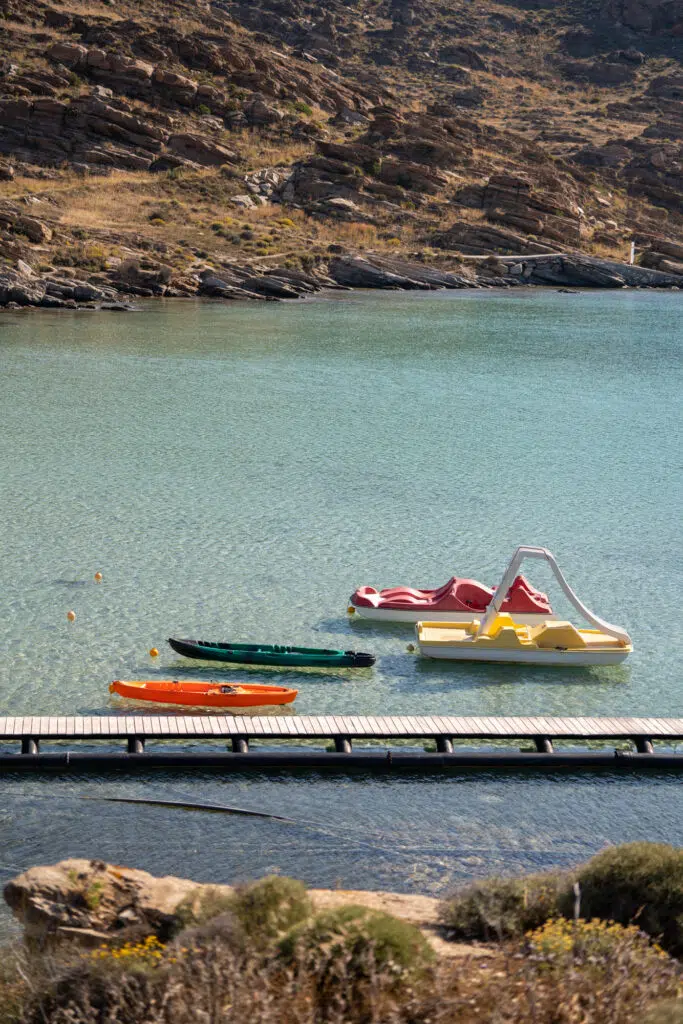 Delve underwater with the help of dive centres at beaches such as Santa Maria and Chrissi Akti. Panderonisi Cave is suitable for all certification levels and boasts enchanting stalactites.
Explore the MS Samina wreck and see rays of light create spectacular colours in Bubble Reef. If you'd rather stick with snorkelling, take your gear to almost any beach and explore rocky marine homes.
Hit the Hiking Trails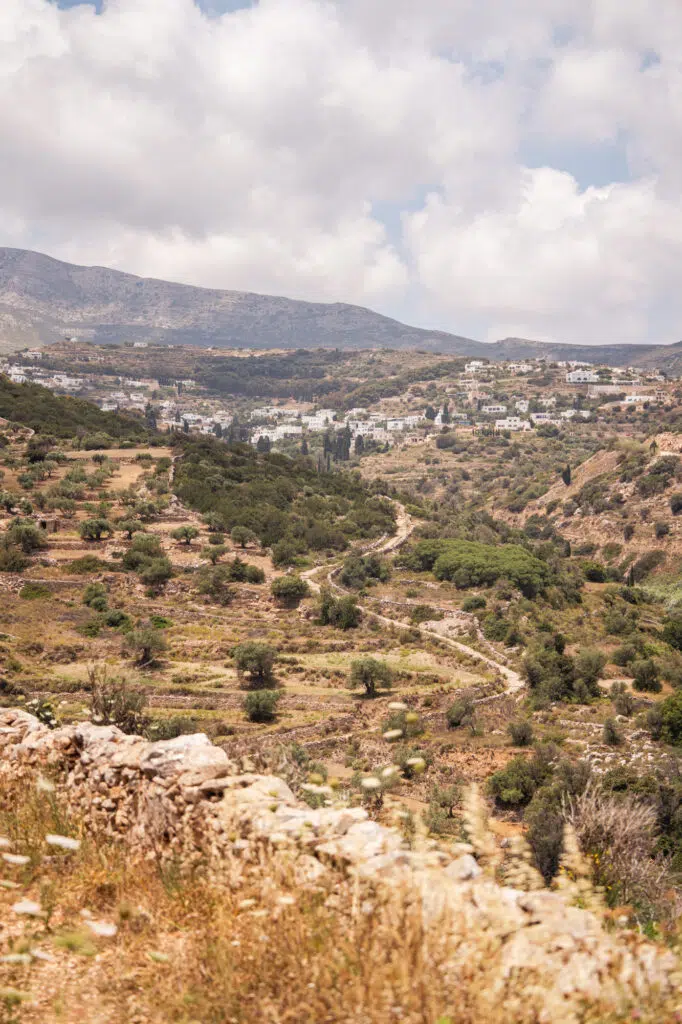 Choose from kilometres of dedicated hiking trails across Paros that weave through the countryside dotted with farmhouses or lead to sweeping views along the coast. The most famous and the oldest is the Byzantine Road, with a history that dates back to 1,000 AD.
Set aside two or three hours for a leisurely stroll through the island's interior from Lefkes to the beach at Piso Livadi. Stop to sigh over fields of wildflowers and olive terraces on your way to the village of Prodromos for a halfway snack.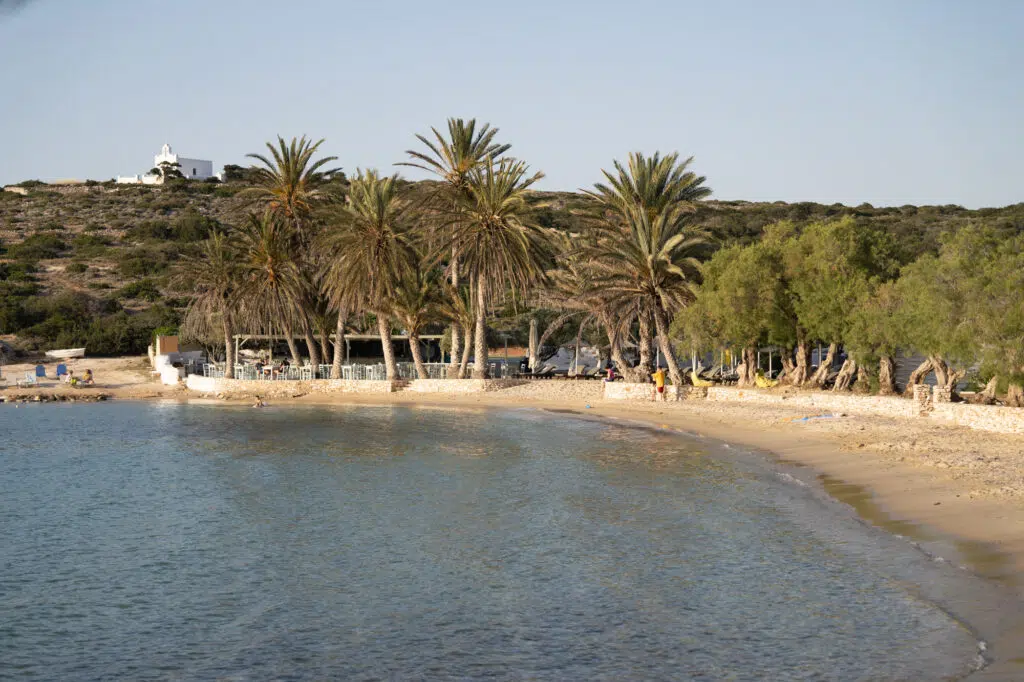 Take the coastal trail around Parikia Bay from the port for sea views almost the entire way. From Livadia Beach, a path leads to Krios Beach where crystalline water invites you to jump in.
Continue onto Marcello Beach and then towards Agios Fokas church. With its blue dome, whitewashed exterior and ocean backdrop, it's easy to see why it's a popular spot for photoshoots and weddings. For more hiking trails, spend a day at Paros Park nature reserve.
Sample Paros Wines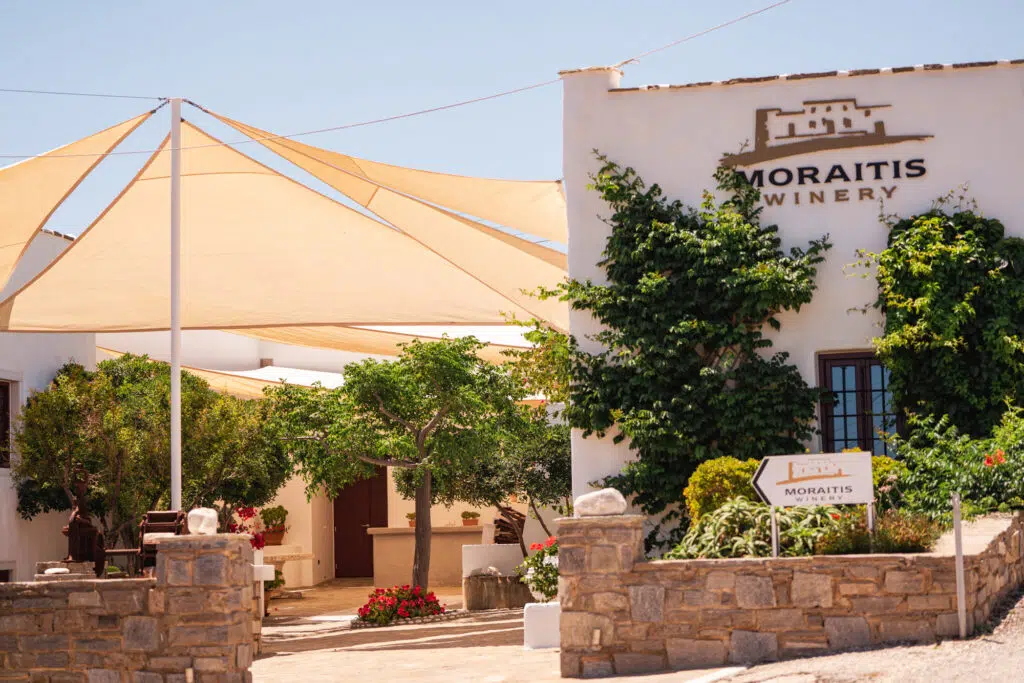 Along with Santorini, Paros is celebrated for unique wine and you'll enjoy red Mandilaria and white Monemvasia as you sip your way around the best restaurants in Paros.
Founded in 1910 by Manolis Moraitis, the family-run Moraitis Winery blends rare varieties with tradition and innovation. Try the results with cheese platters at the cellar door.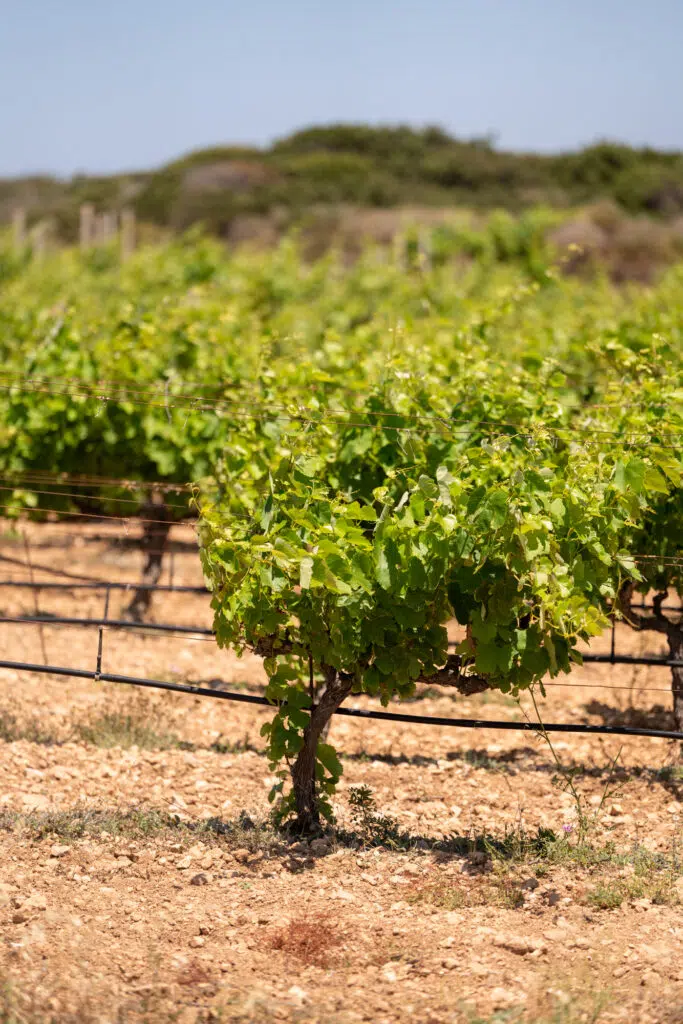 Constantinos Roussos continued the family tradition of viticulture and opened Asteras Paros Winery in 2017. Visit and learn about the process of sorting, transporting and pressing the best quality grapes, with huge doses of love and passion thrown in by the producers.
The wineries are open by appointment and tour companies are available for tasting tours. Prefer beer? Take your taste buds to the brewery of 56 Isles Beer.
Delve into Fascinating Museums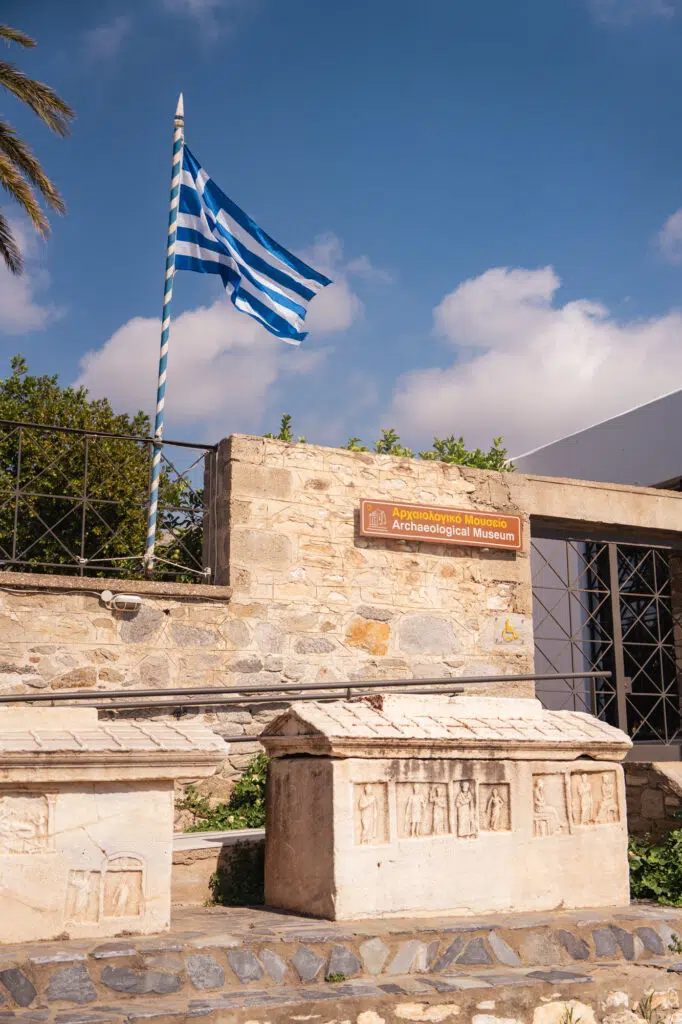 Step back in time to learn about the island of Paros, Greece at fascinating museums. The Archaeological Museum of Paros in Parikia is a treasure trove of antiquities from Neolithic to early Christian times.
Admire Cycladic figurines and the marble Mermaid Gorgo statue, with the legend of petrifying those who looked in her eyes.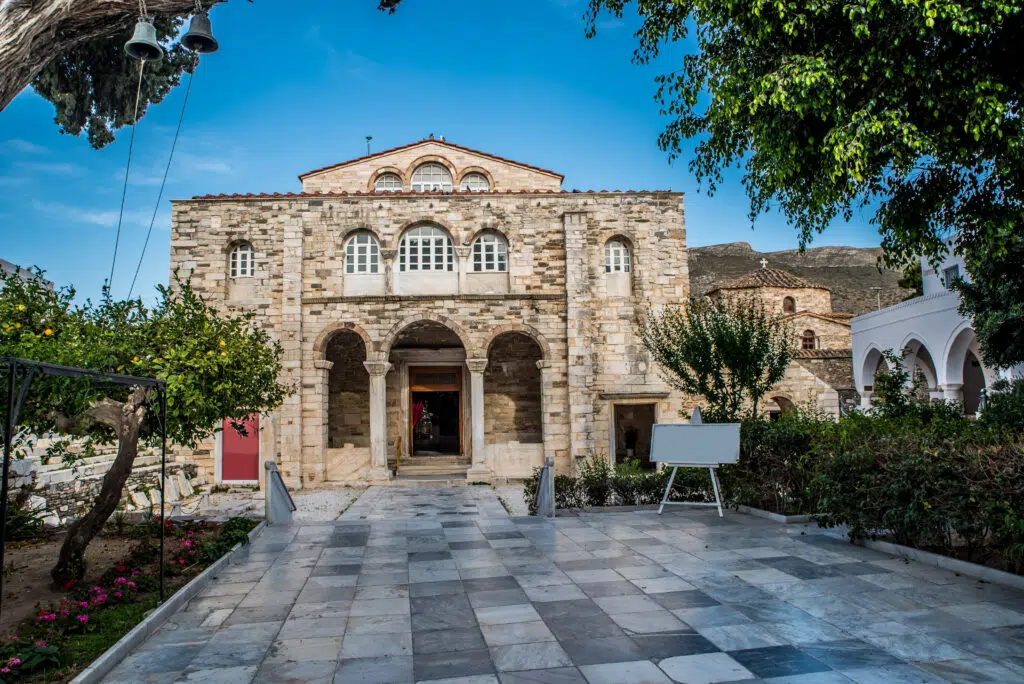 At the outside exhibit, you'll see mosaics from the 'Church of 100 Doors'. Head to the Ekatontapiliani Church to discover the legend of the 100 doors and the Byzantine Museum within.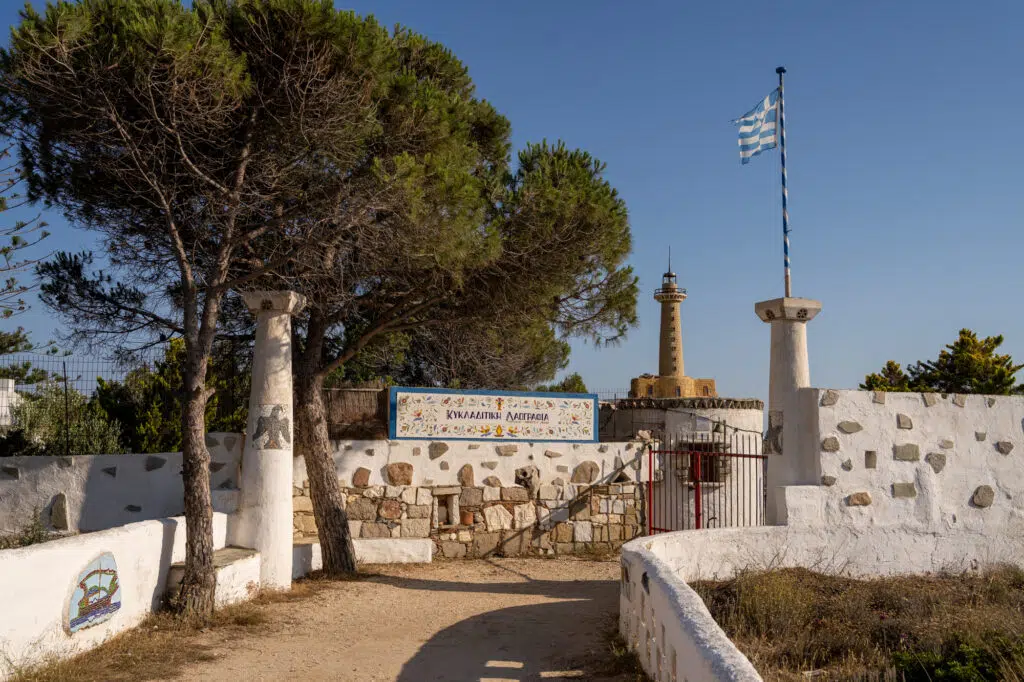 The charming village of Marpissa hosts the Sculpture Museum of Nikos Perantinos. The late, celebrated artist won the Excellence of Fine Arts of the Academy of Athens award in 1991. Wander around Parian marble and bronze sculptures and discover his early drawings.
For intricate miniature models of sailing boats and traditional buildings, see the work of Benetos Skiadas at the Skorpios Folklore Museum in Aliki.
Discover Historic Landmarks
If you're a bit of a history buff, it's easy to fill your itinerary with the best things to see in Paros. Take selfies of yourself with the Venetian Fortress of Naoussa in the background. Located in the old port, it was once used as a lookout for pirates and wartime enemies. You'll reach the semi-submerged ruins via a pathway from town.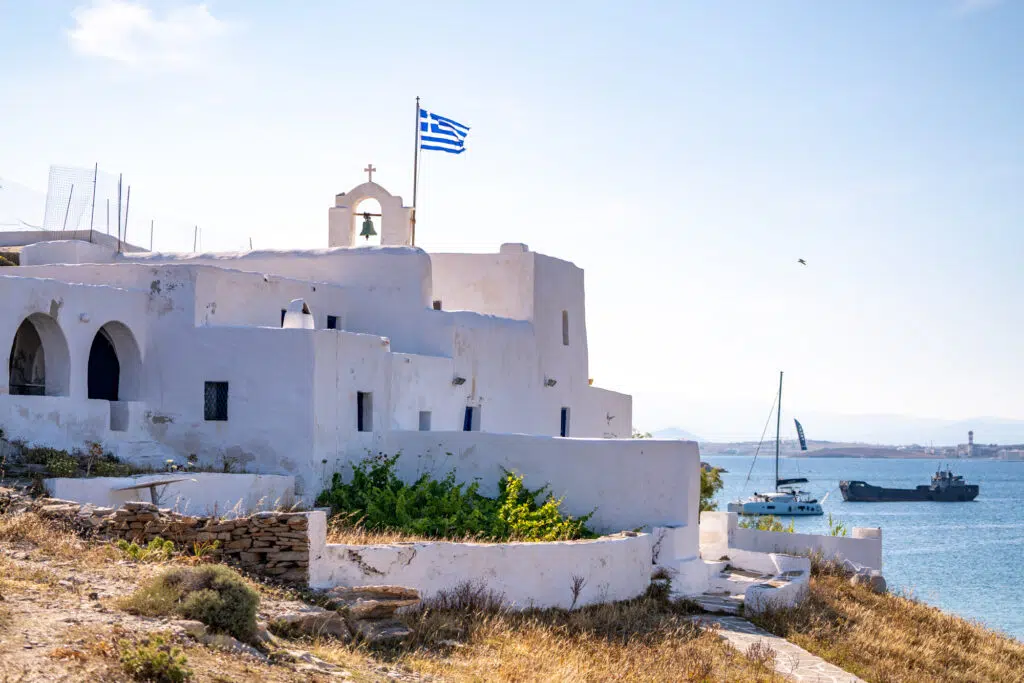 No doubt you've seen the dreamy images of whitewashed, blue-topped churches. The Agios Ioannis Detis church is one, complete with a backdrop of sparkling ocean blues in Monastiri. Agios Konstantinos provides another classic photo opportunity, with arched columns framed by ocean panoramas.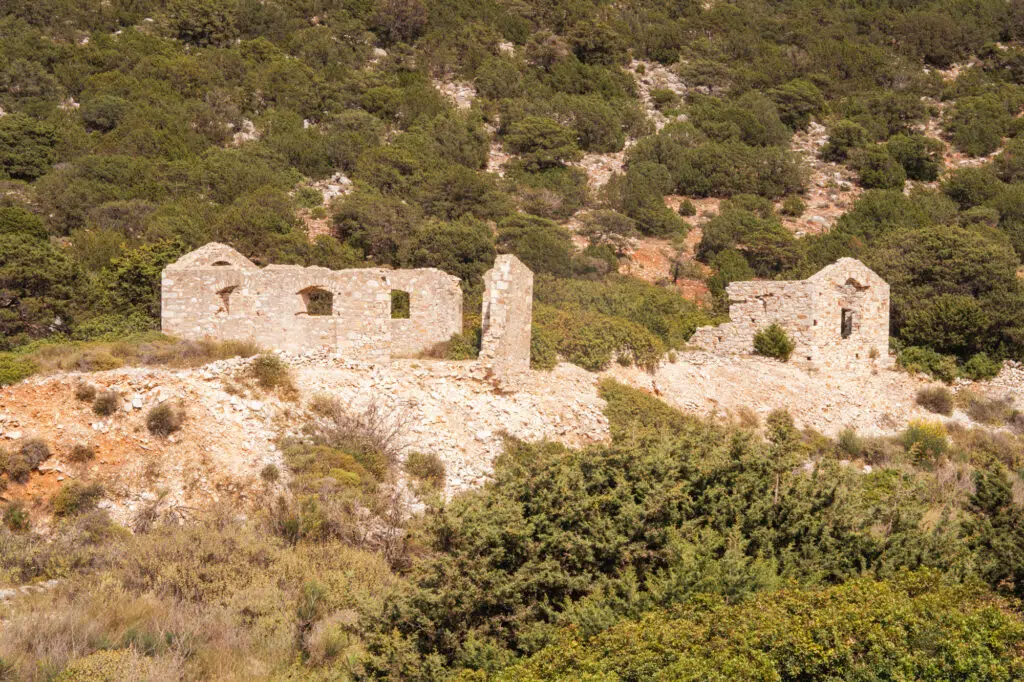 The Asklepion of Paros is dedicated to the god of healing and legend has it that devotees would sleep in the temple awaiting cures. It's perched on Agia Anna Hill with the ancient ruins of a wall and a fountain basin.
Visit the Paros Marathi Marble Quarries to see the deserted buildings of mining companies and a quarry that dates back to the 3rd century BC.
Spend Time in Parikia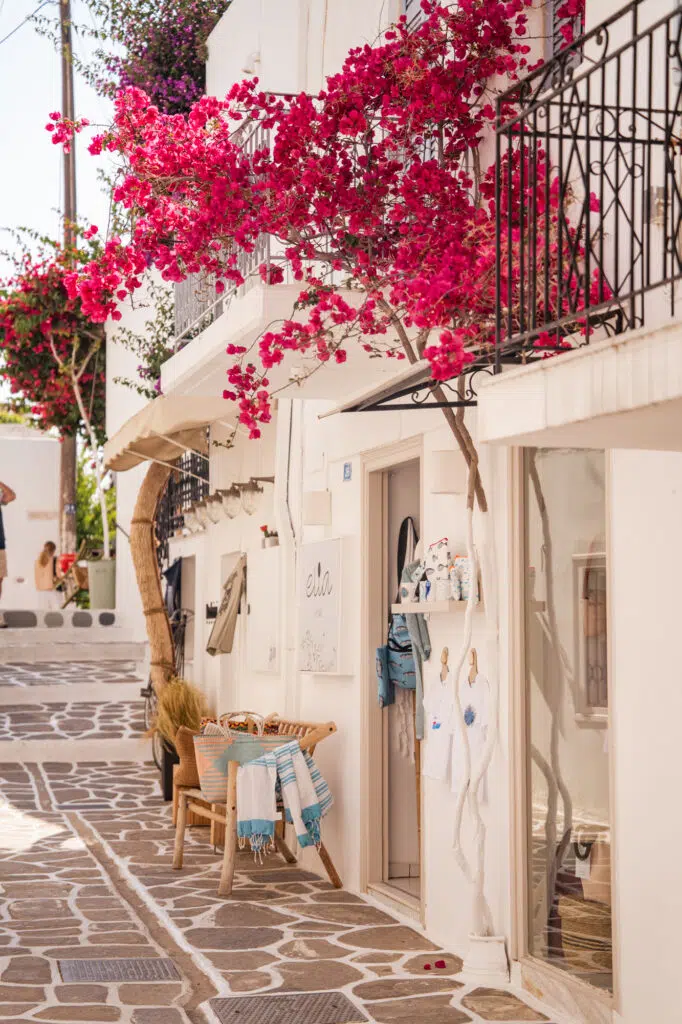 One of the best places to go in Paros is the one you'll arrive in. Parikia is a whitewashed picture of Greek architecture with a lively vibe surrounding the port.
As it's only around a 30-minute drive to many of the top attractions, the capital makes for a great base – especially if you love meandering across cobblestones lined with bougainvillaea-draped buildings. You'll do this in the old town, with enchanting alleyways to get lost in.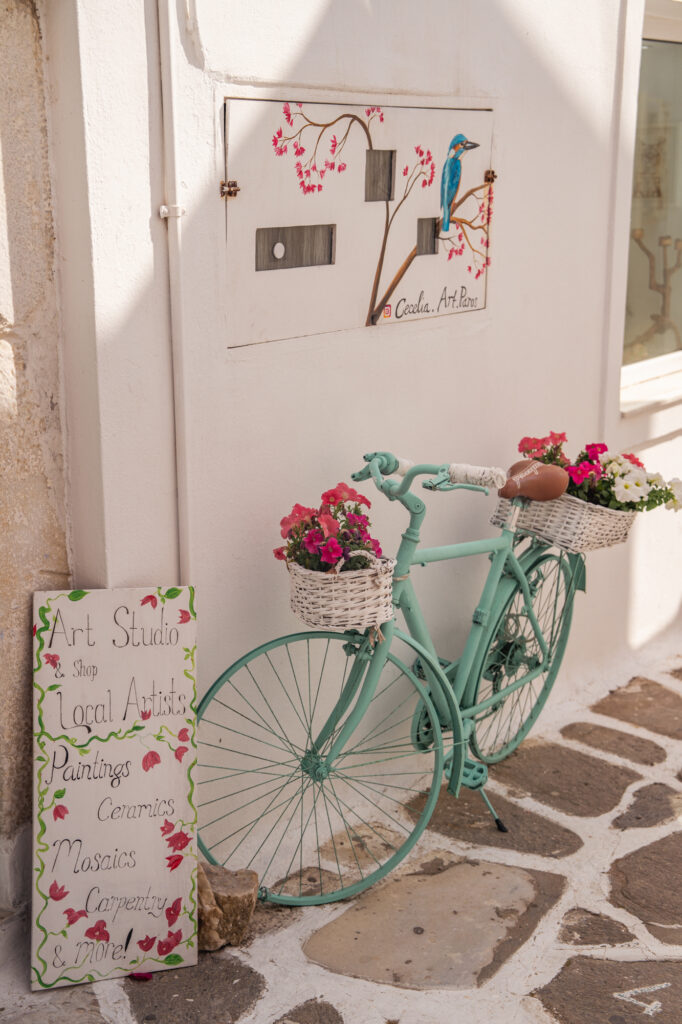 See the Frankish Castle built in the 1200s by the Venetians, and expect to give your camera a workout at the Bay of Parikia Windmill. If you're itching to hit the shops, you'll find them scattered about everywhere. Along with classic Greek souvenirs, buy handmade items and modern brands at boutiques.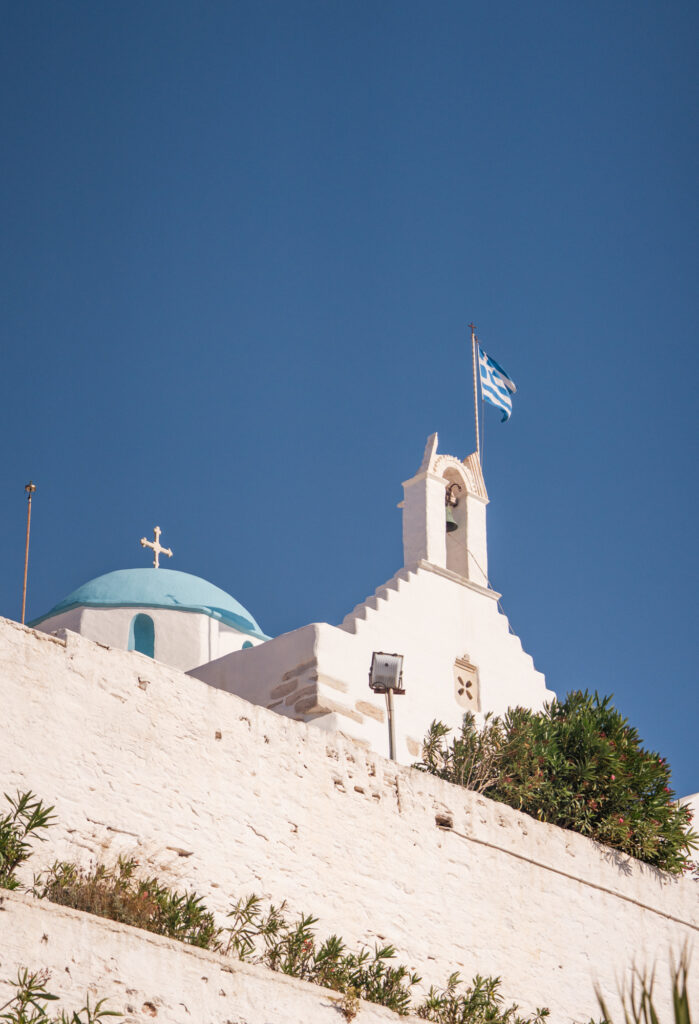 Hit the sand at Livadia Beach with sunbeds and umbrellas to join volley courts and water sports. Parasporos Beach is nestled in the harbour just a quick drive from town, so you'll enjoy the crystal clear waters without so many summer tourists. Strolling along Parikia's wide promenade is the thing to do at sunset, before dining and drinking the night away.
Explore Naoussa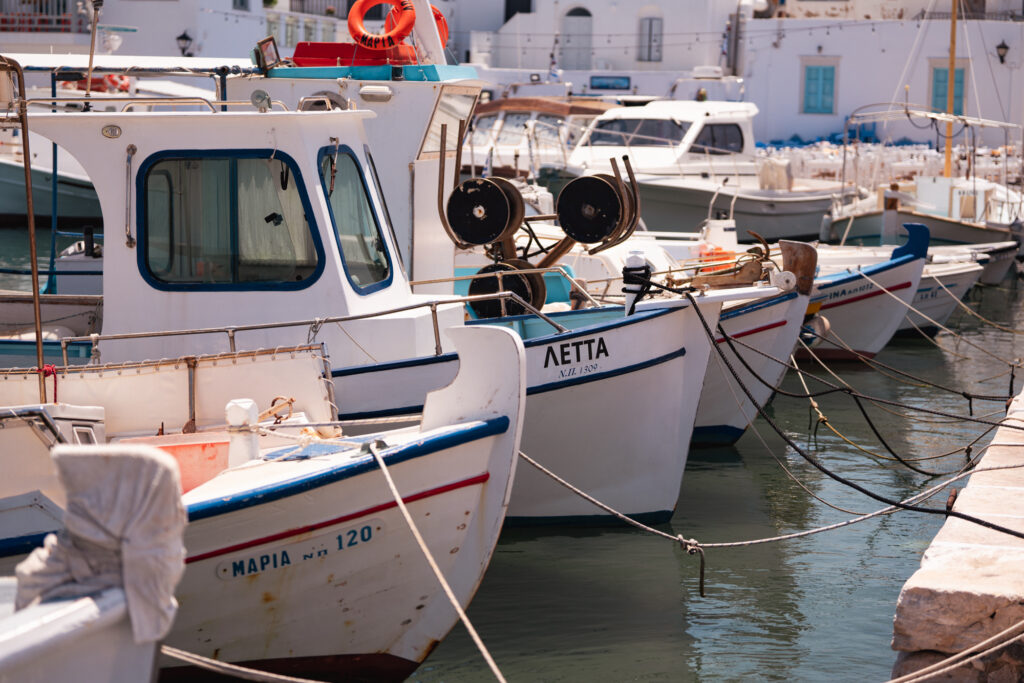 With chic cafes and stylish bars, some say Naoussa resembles Mykonos a couple of decades ago, but without the party-hard vibe. The island's second-largest town keeps you happy day and night with international restaurants, tavernas and upmarket boutiques.
So, if people-watching over seafood dishes, and hitting the shops is your idea of a great holiday, this is the base for you. Cool down at the sandy beaches of Piperi, Piperaki and Agioi Anargyroi just a short walk from town.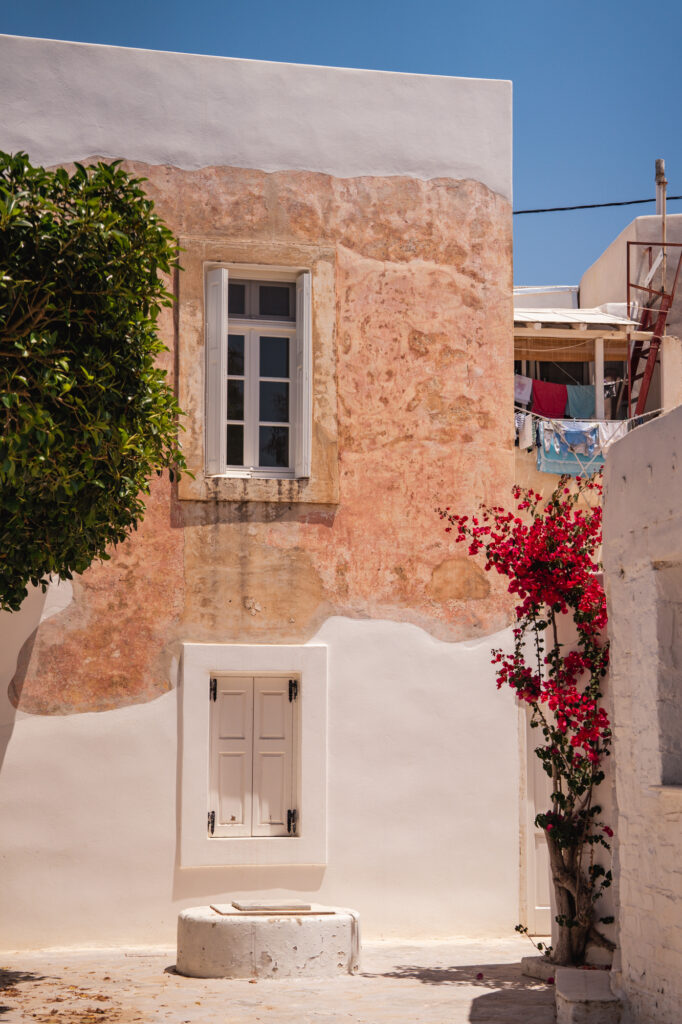 Within the sophisticated atmosphere is the Old Port resting on a natural bay filled with picturesque bobbing boats. There's a vibrant esplanade lined with cafe terraces, however, it's the Venetian castle ruins that set the historic scene.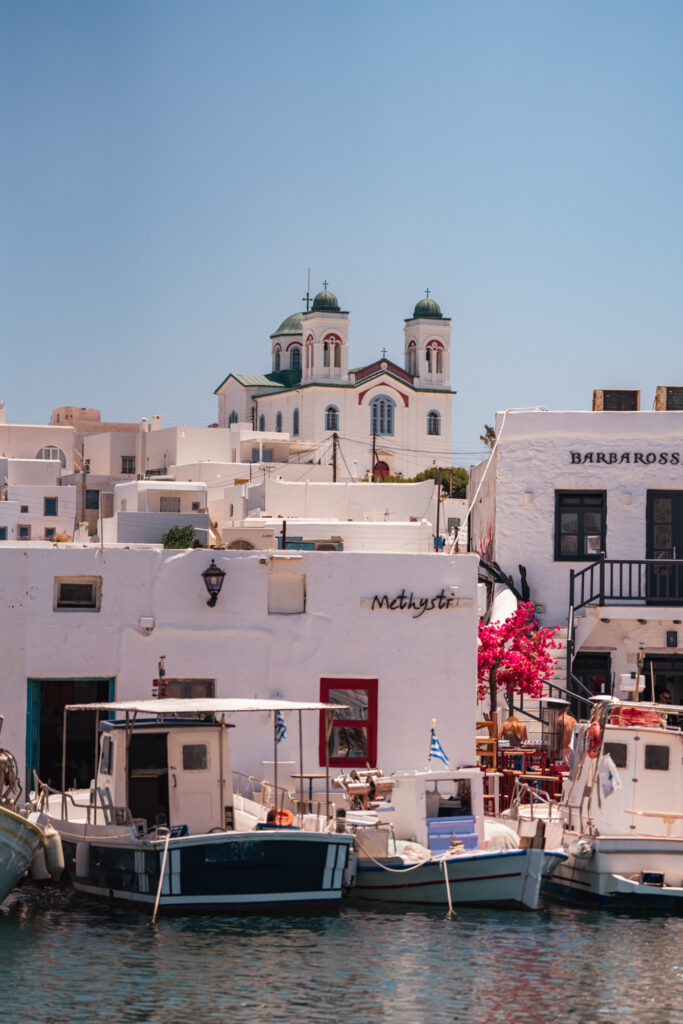 If you're in the mood for photography, make a beeline for the whitewashed, blue-domed Church of Saint Athanasius. Two fabulous views await at the Agioi Anargyroi Church, of the pretty church itself and the panoramas across town from its elevated position.
From town, it's about a 10-minute walk to Moraitis Winery for tastings.
Delve into Lefkes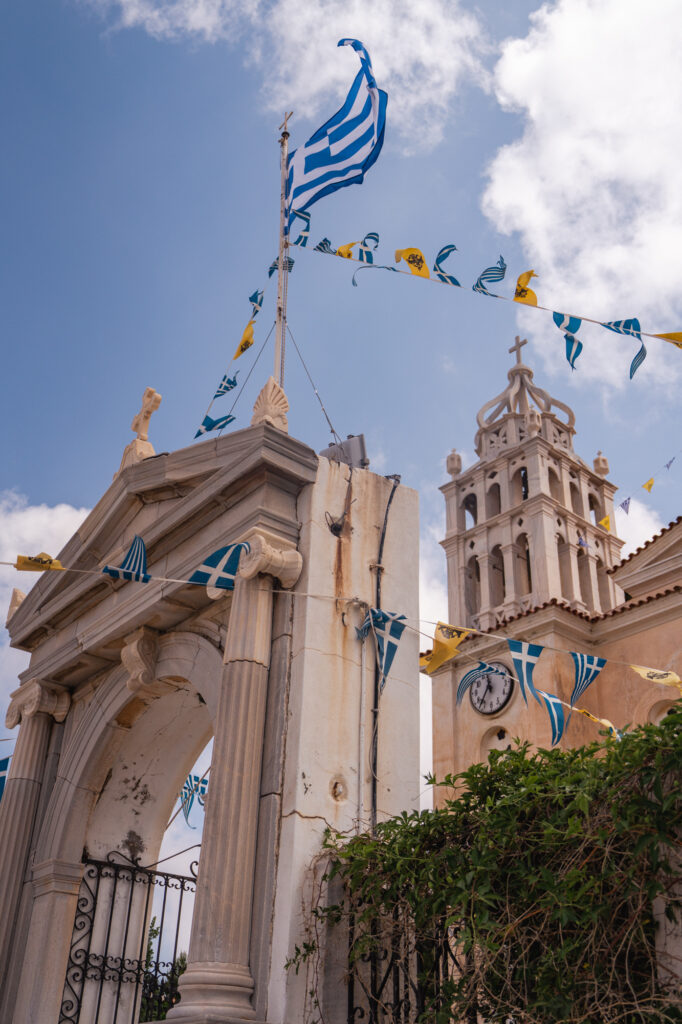 Located in the heart of the island on a hilltop, Lefkes is among the best places to visit in Paros. This is where you'll find the traditional postcard images of your dreams, with flower-filled, whitewashed alleyways, blue-painted window shutters and cute-as-a-button cafes.
When you wander around the village, expect surprise views across the countryside and out to sea. Hike along the historic Byzantine Road from here – the stone pathway leading to Prodromos village and the ocean at Piso Livadi.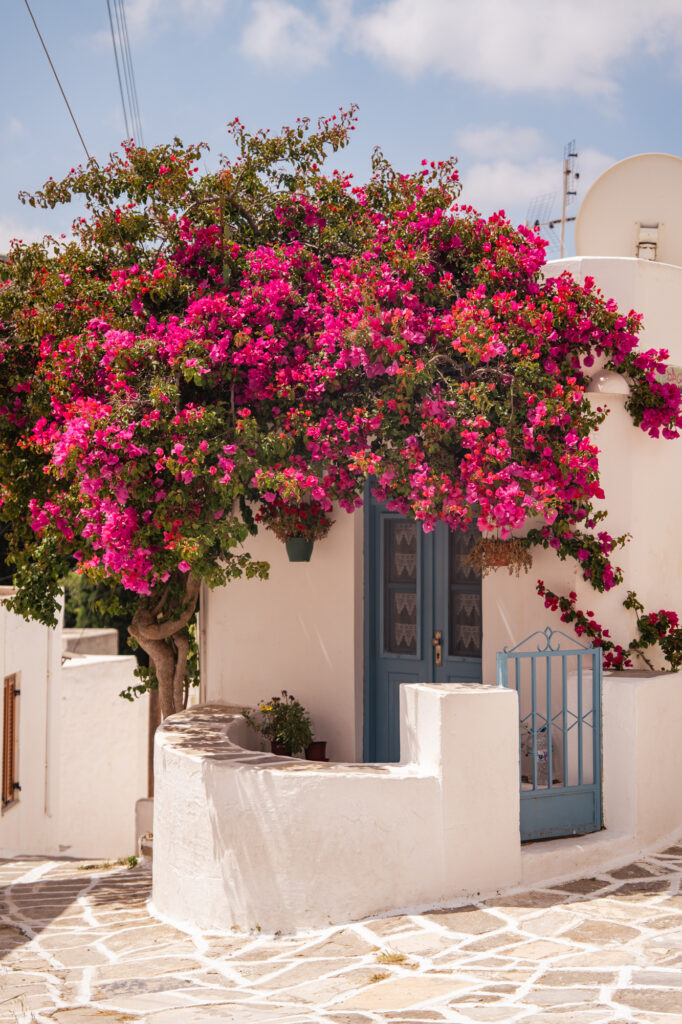 Dominating the village is the Agia Triada Church, built in 1830 and one of the largest churches on the island. The beautiful bell towers are the highlight. As you're strolling around the alleyways, pop in and out of charming souvenir shops.
It's likely you'll find some interesting treasures such as handmade jewellery and crafts. When hunger strikes, choose a wooden table in a quaint square and take your time to savour dining as the locals do.
Other Charming Villages to Discover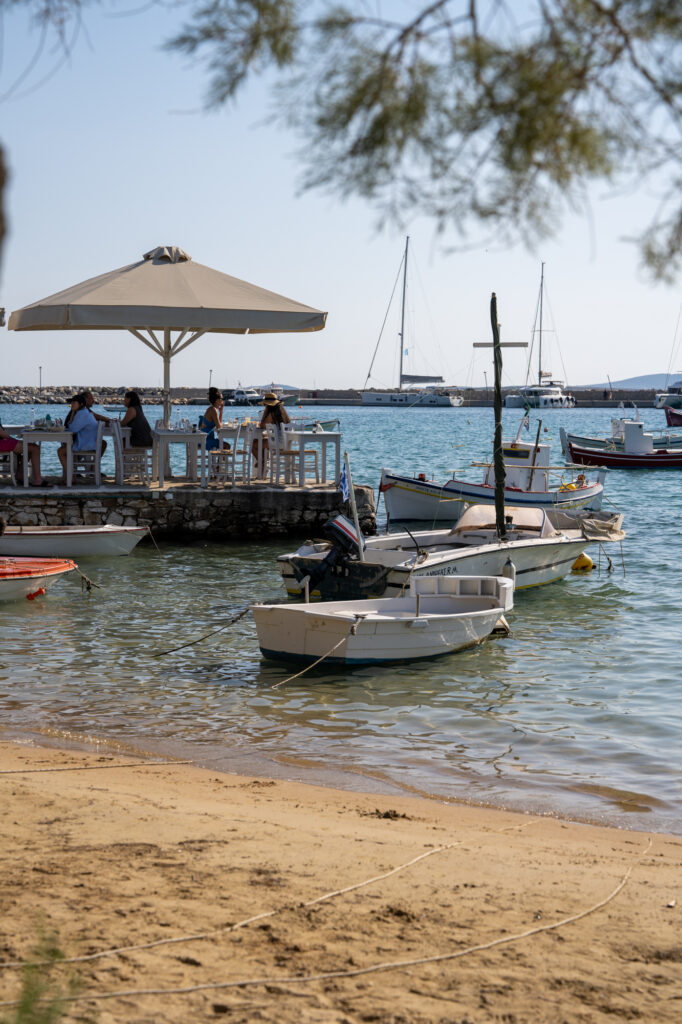 Whether you visit by boat trip, or drive across the island, the allure of the island's traditional villages is unmistakable. Aliki is a family favourite with three tranquil beaches and casual tavernas where owners grow their own vegetables. Along with sheltered water for safe splashing, there's a playground for kids and the Museum of Cycladic Folklore.
The historic fishing village of Piso Livadi is a popular destination with tourists now, with its busy marina for day cruises and ferries. However, you'll dine in restaurants owned by local fishermen and take photos of traditional boats.
Marpissa stretches across the hill above Piso Livadi, with the ruins of a castle and the Monastery of Agios Antonios to explore, along with the Byzantine Art Museum.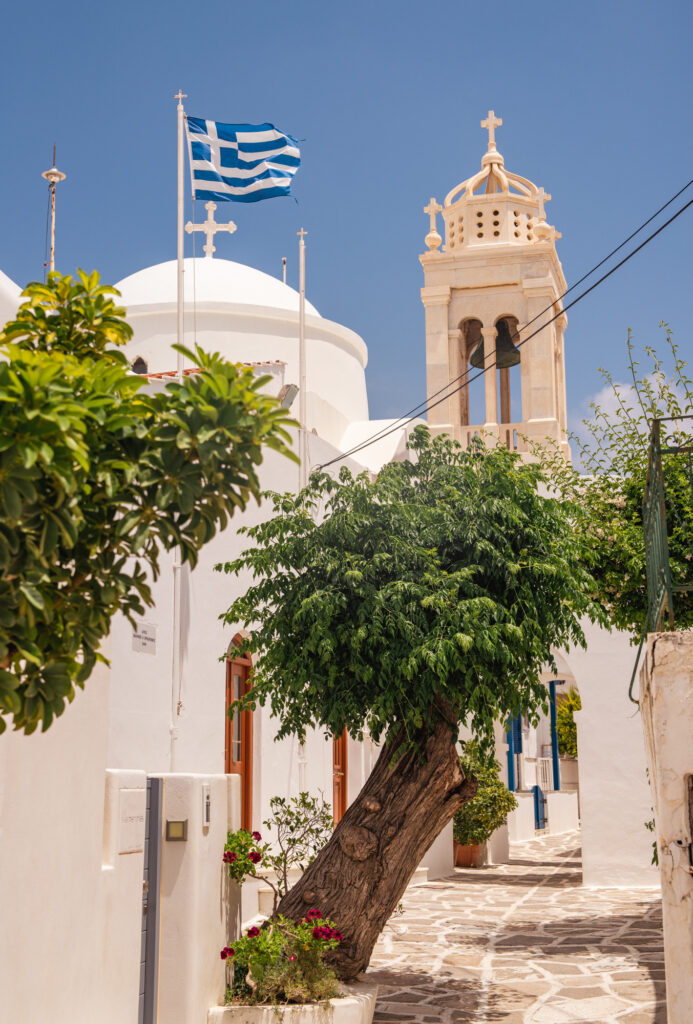 For Cycladic cube houses of white and blue, along with pretty chapels, stroll around Prodromos and Marmara. Get off the beaten path at inland Kostos, the birthplace of writer Athanasios Parios with a monument dedicated to him.
Trek Through Paros Park
Many fun outdoor things to do on Paros take place in Paros Park. Sprawling across 800 acres, the park encompasses the ravishing Monastiri Beach dotted with rows of sunbeds, along with spectacular rocky landscapes. You'll see them on walking trails that weave across the peninsula for seven kilometres.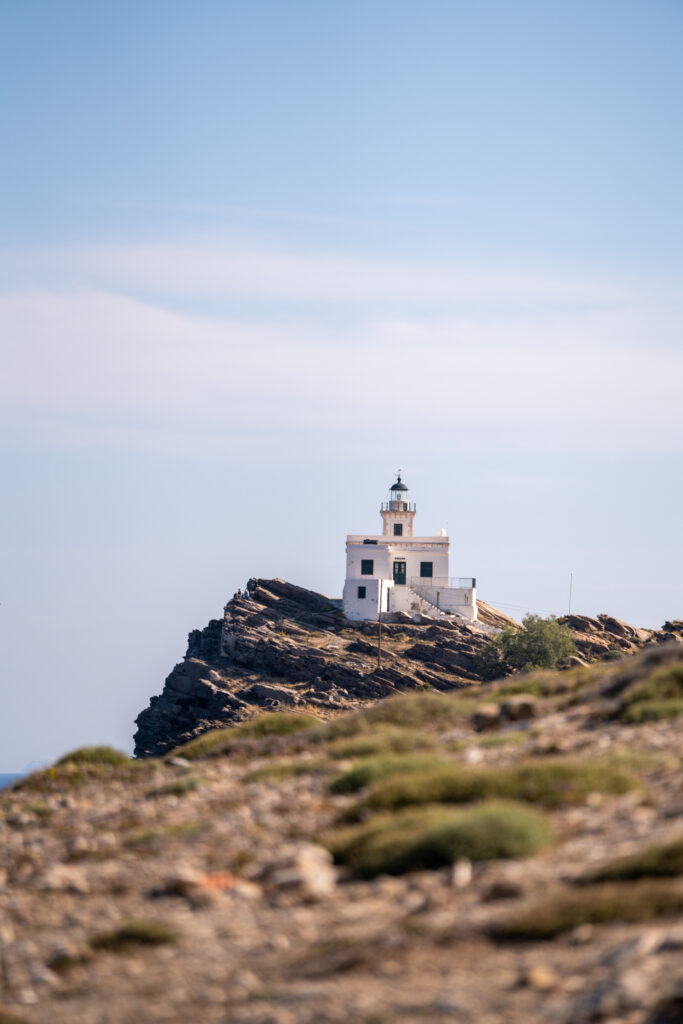 Don your comfy hiking shoes to discover secluded bays and rock formations. Stop at the monastery of Ai Yannis and the 18th-century Russian gun batteries of Cape Tourkos. The northernmost point boasts a 19th-century lighthouse.
Along the way, catch your breath at lookout points over the Aegean and spot Naxos and Mykonos in the distance. The routes are marked and maps are available to highlight the attractions.
Go Cycling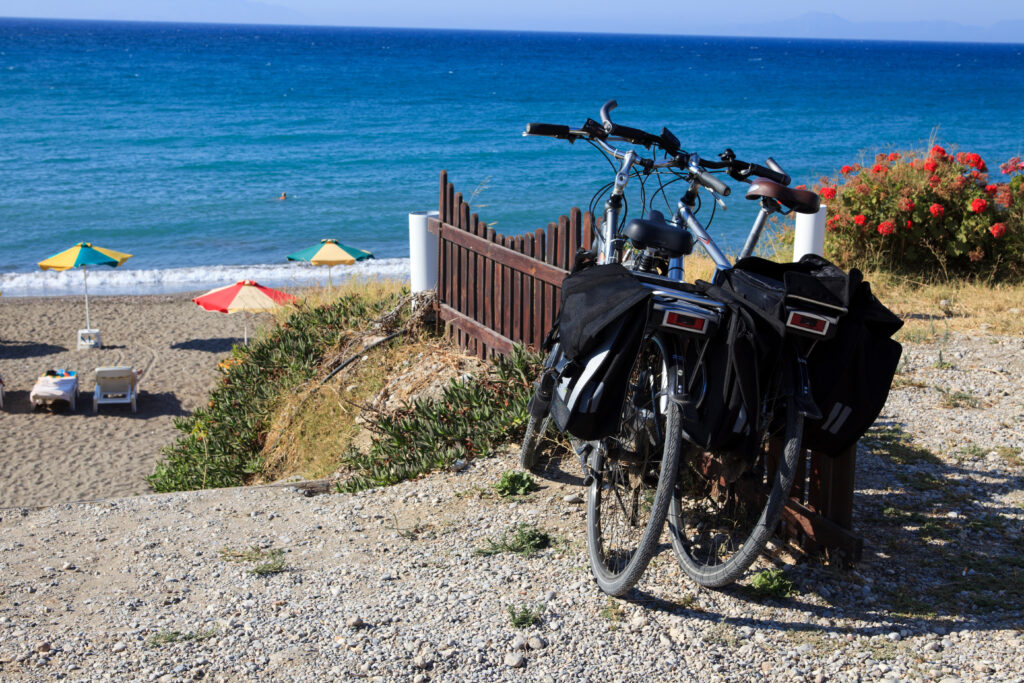 It's easy to find Paros hidden gems with the freedom of exploring on two wheels. Choose your favourite mode of cycling by hiring mountain bikes, road bikes or electric bikes. Cycle around the main road as a guide or pick up a map of routes to organise your trip. For example, it's around 12 kilometres between Naoussa and Parikia on an asphalt road, with stops for swims at Piperi and Livadia beaches at either end.
On a shorter ride, enjoy the panoramic views of Naoussa Bay from Naoussa to Santa Maria. From here, there's a coastal road to Ambelas village. The road from Naoussa to Piso Livadi is around 13 kilometres and features Marmara and Marpissa villages along the way. Get off-road on your mountain bike along inland dirt roads and hiking trails.
Visit Butterfly Valley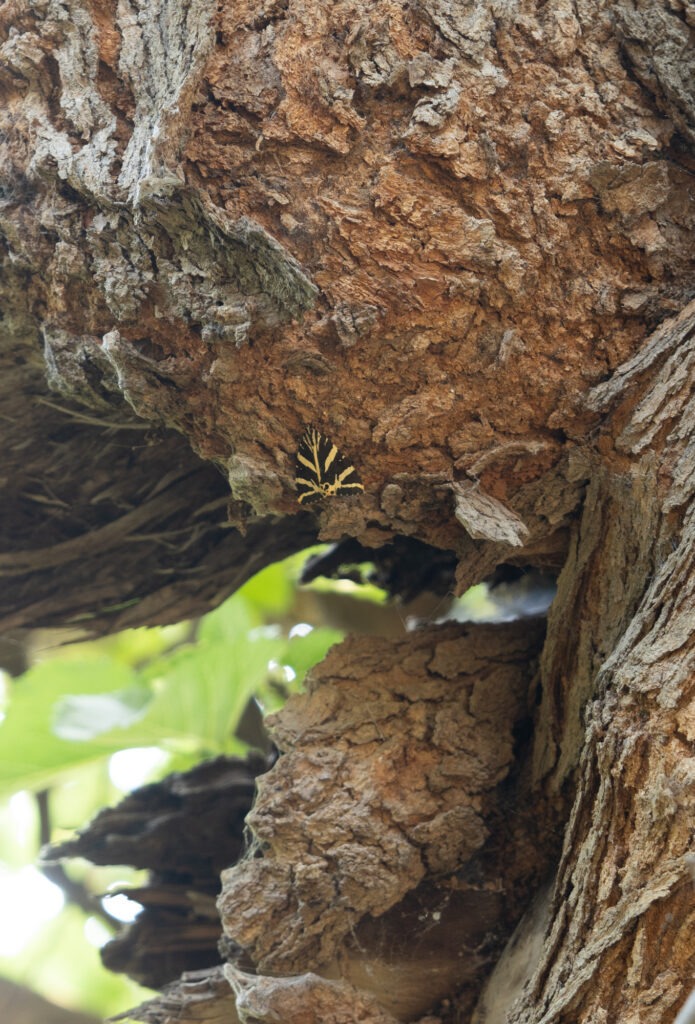 It's called Butterflies Nature Reserve, but this isn't the home of the winged creatures you're expecting. Instead, a must-see in Paros is the resident Jersey Tiger Moth. The brown and yellow beauties arrive in June and stay until September, filling the valley with the magical sight as the females get ready to lay their eggs.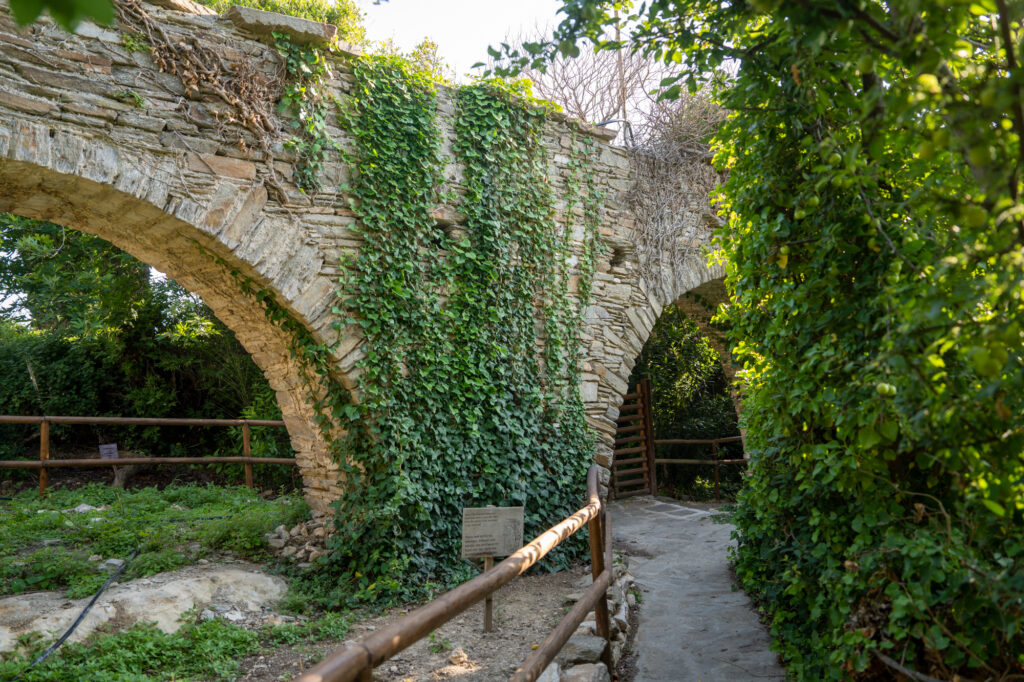 Meander around the pathways among orchards and cypresses. Though they're somewhat camouflaged, you'll spot the moths in shady areas resting in almost total stillness on the trees and bushes. When it's not moth season, the park is a green, shady oasis for a relaxing visit in nature.
Follow Foodie Trails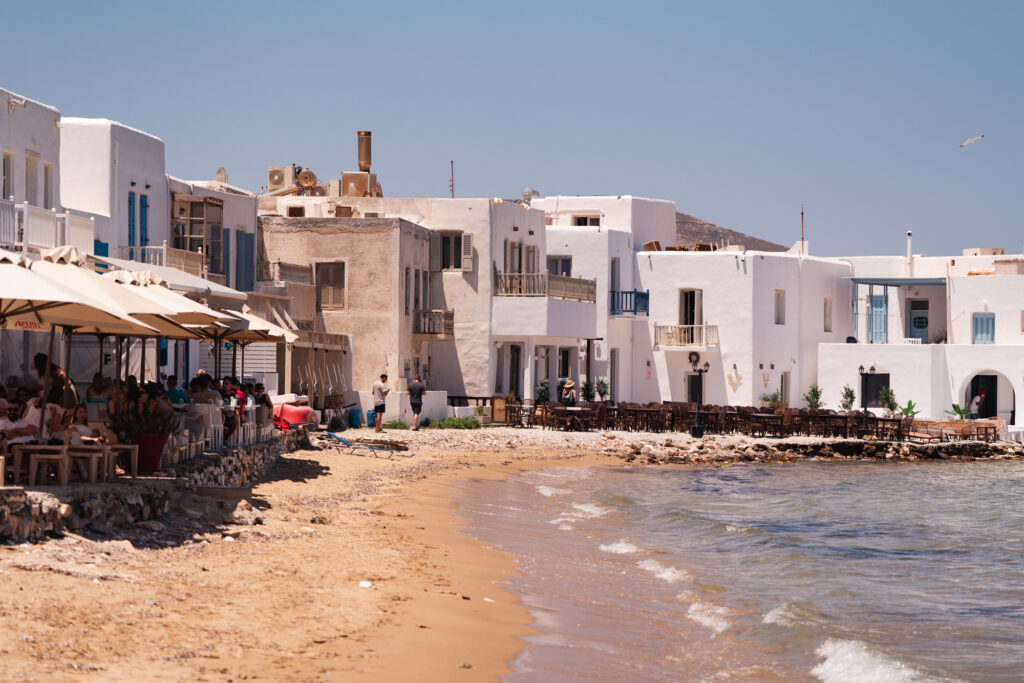 Everywhere you go is a foodie trail in Paros, where the tables are set with the seasonal offerings of the land and the sea. From grilled octopus to sun-dried mackerel, it's seafood that takes centre stage and competes for attention with the hearty Greek comfort foods we all know and love.
However, the gastronomic scene has expanded far beyond tradition, and you'll find plenty of swish restaurants serving contemporary haute cuisine.
Take your taste buds to the restaurants and bars along the seafront of Parikia and you're spoilt for choice, with everything from Greek mezedes to sushi. In Naoussa, you'll see the mackerel and octopus drying on the decks of boats and try delicious fish pasta with harbour views. Fine dining is on the menus here too, with Greek traditions transformed by innovative twists at trendy restaurants.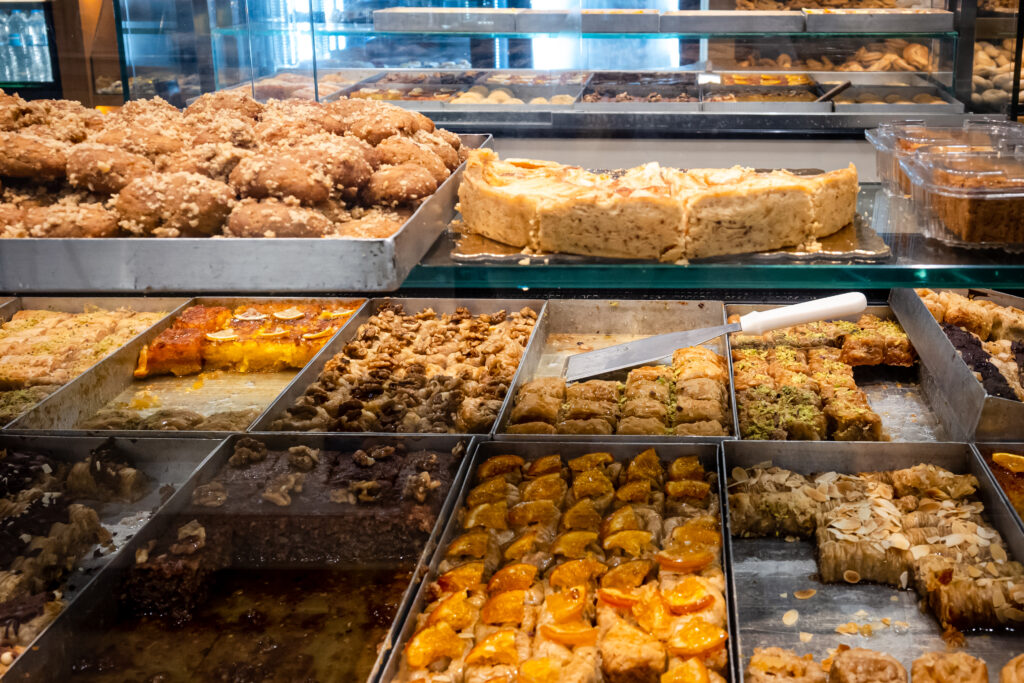 In the charming villages of Lefkes and Prodromos, look for bakeries and cafes serving cheese pies and pastries drizzled with Paros thyme honey. Quaint restaurants serve up Greek salad and chickpea soup, or cuttlefish cooked with herbs from the garden. Along the way, stock up on jams made from local fruit and dessert wines to take back with you.
Festival Fun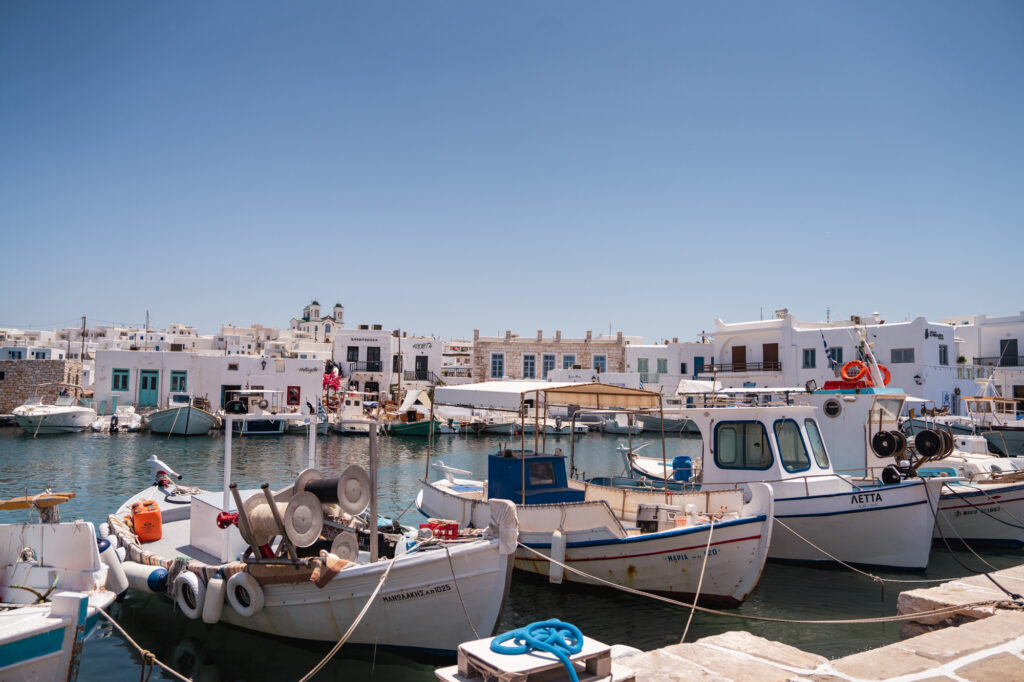 Time your trip with a festival to launch into the colourful traditions of Paros. Summer is, of course, festival season and you'll find food, wine and music galore across the island. The Pirates Festival is a big one in August, celebrating the victory over the Turkish Pirate Barbarossa in 1537. Join in with the theatre of traditional clothes and masks with music and fireworks in Naoussa.
Lefkes hosts the Festival of Karavolas, a folk festival that honours the local love of karavolas snails! There's plenty of dancing in traditional costumes to the tunes of local musicians.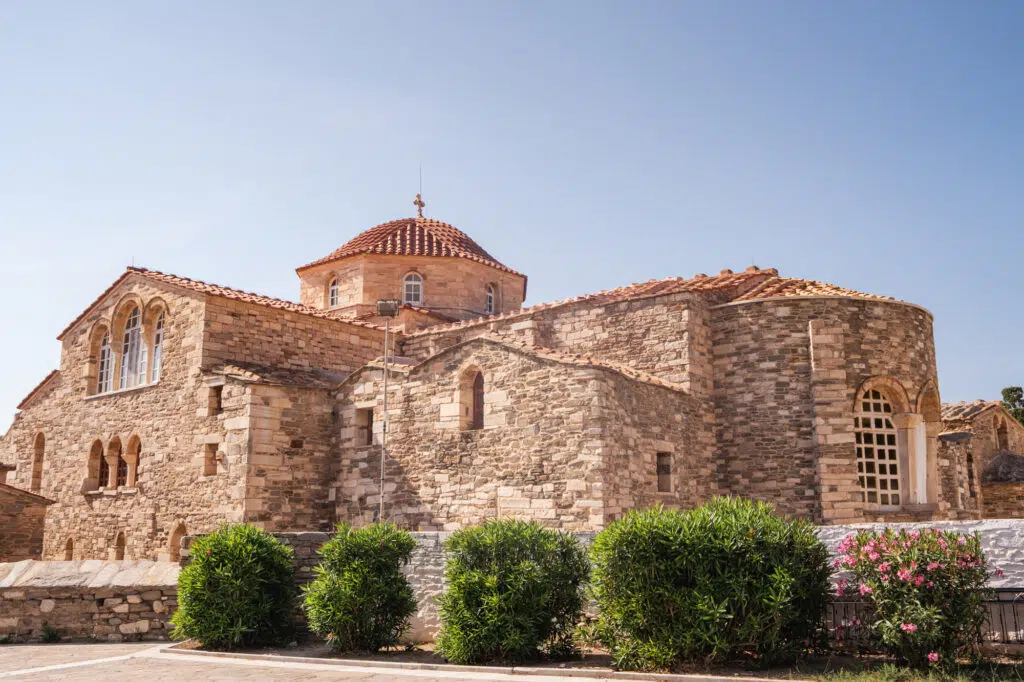 August 15th sees the celebration of the Monastery of Panagia Ekatontapiliani with a religious festival. Formal services take place, followed by a parade through Parikia and night-time dancing framed by sparklers lighting up the sky. Other cultural events include the Fish Festival in Naoussa and the Festival at the Park with concerts from June to September.
Day Trips from Paros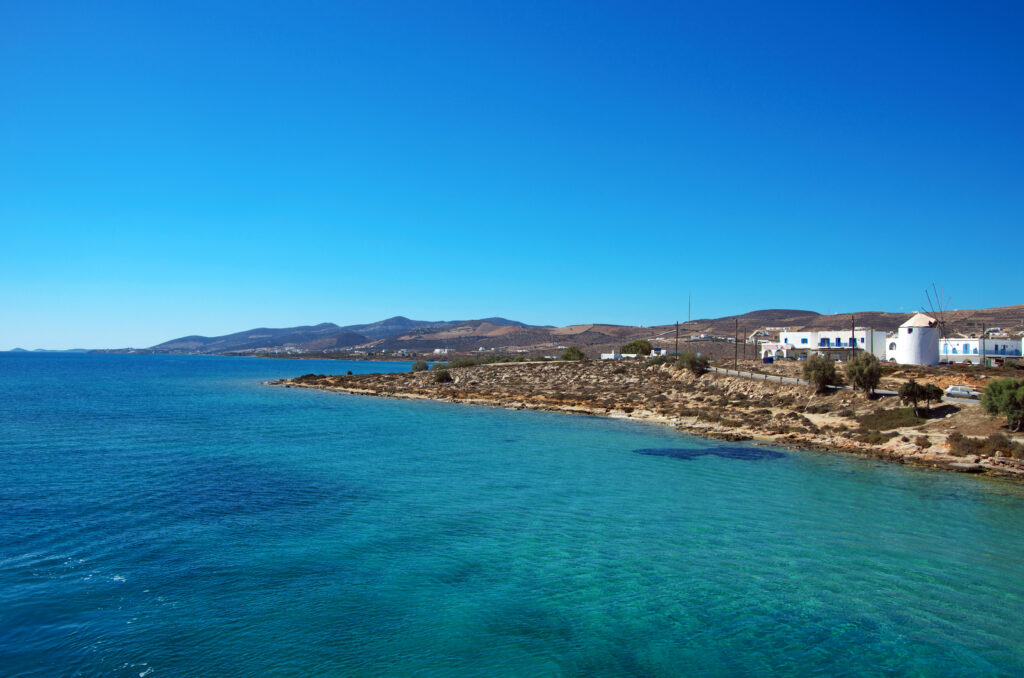 In the centre of the Cyclades, Paros is a dream destination for taking a day trip to other Greek islands. The closest is Antiparos, with quick boat trips over from Pounda Beach or Parikia. Arrive in town and you'll see the ruins of the 15th-century castle as you stroll around the stone-paved streets dripping with bougainvillaea.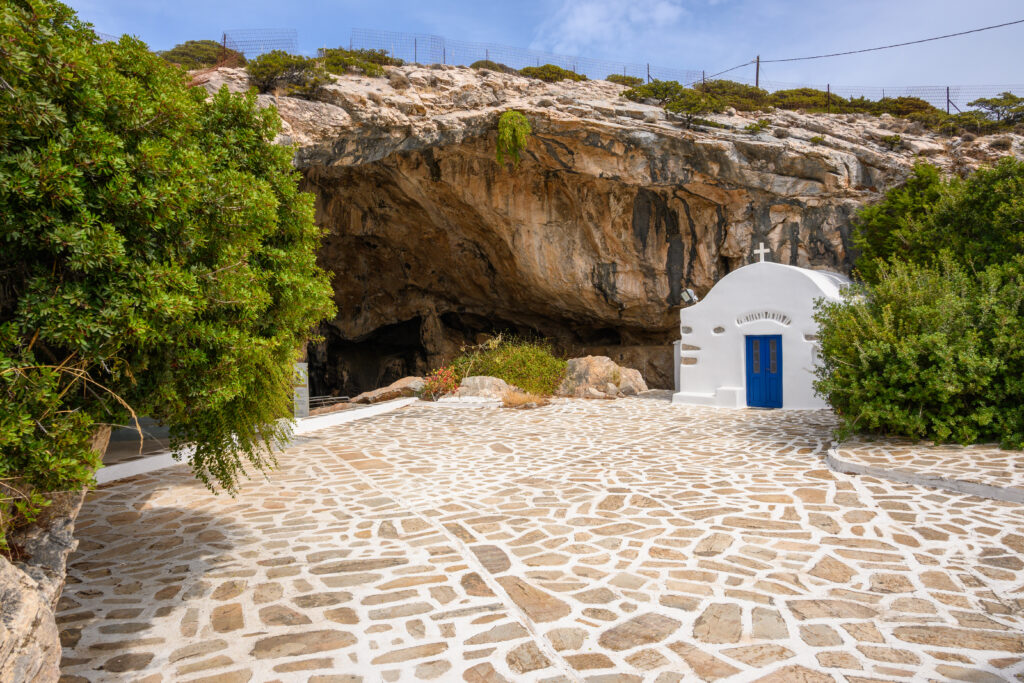 Tick off a bucket list sight with one of the oldest stalagmites in Europe at the Cave of Antiparos on Agios Ioannis Hill. Three chambers showcase incredible stalagmites and stalactites with legends to match. Gorgeous beaches await, along with tavernas and beach clubs, all within an easy walk of the port.
Agios Georgios Beach is a stunning stretch of fine white sand drifting into a sheltered bay that's ideal for kayaking and snorkelling.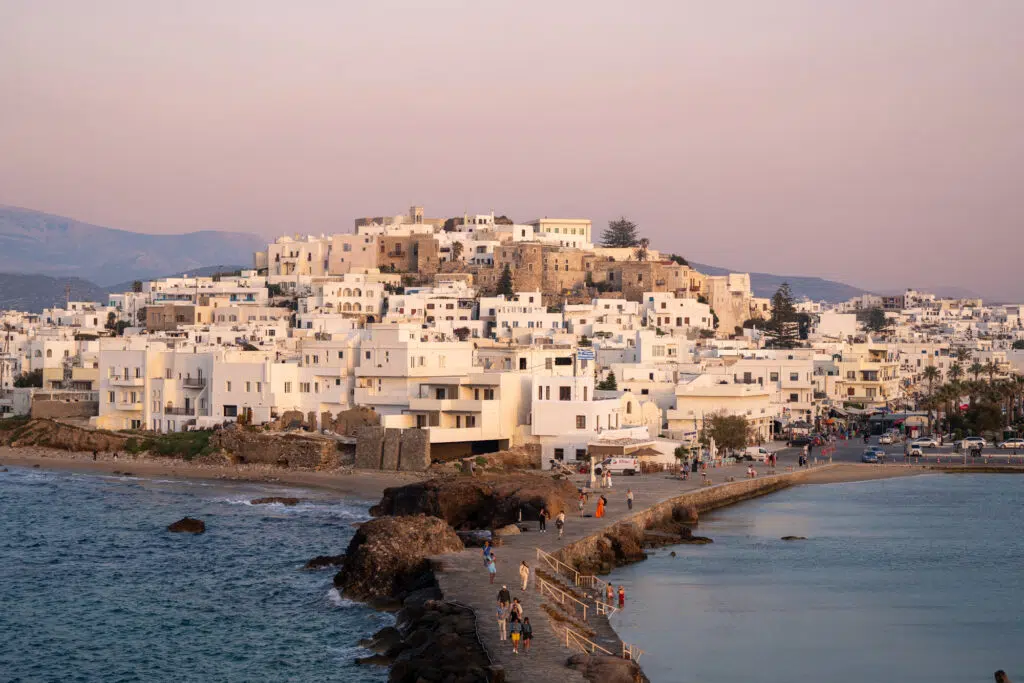 Naxos is the largest Cycladic island and it's under an hour away by ferry. Sunseekers head straight to Plaka Beach, the longest stretch of golden sand with a strip of beach clubs and tavernas at the northern end.
A 'must see' is the Portara, the dramatic marble gate of the Apollo Temple. If you're running out of time, there's plenty to do just near the ferry port, with souvenir shops and boutiques amid the action of fishermen hauling in the catch of the day.
---
Getting to Paros
Paros has a domestic airport that is serviced by two airlines; Olympic, and Sky Express. The main route is to Athens, but you can also find seasonal flights to Thessaloniki and Heraklion.
The most common way to get to Paros is via ferry. I recommend using Ferryhopper to search for, and book ferries between the Greek Islands. It makes the process very easy and you can even track your incoming ferry on the day of departure.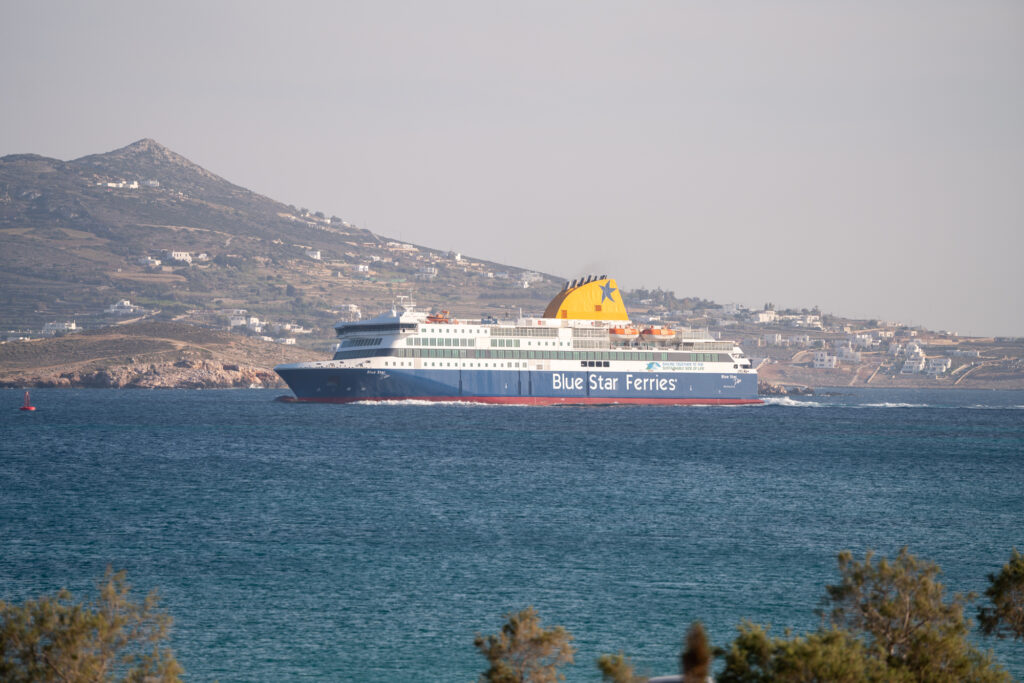 Getting Around Paros
As with all the Greek Islands, I'd recommend booking some kind of transport to explore the island, rather than trying to rely on buses or taxis. Driving in Paros is easy, the roads are generally in good condition, and as you can see above, there is lots to do and see around the island! I never had to pay for parking anywhere I went either.
Compare and choose your rental car here. Most of the rental car companies have an office near the port of Parikia, or they'll arrange to meet you there (or from the airport).
When to visit Paros
Although summer is undoubtedly a popular time to visit, that also makes it the busiest time to visit. I went to Paros in early June and it was perfect. Bustling, but not busy. No problems finding car parks or sun loungers, and the sea wasn't too cold for swimming.
Another reason to avoid the high season is the Meltimi winds. Like Naxos, Paros is exposed to these northerly winds, which although great for windsurfing, aren't ideal for much else.
So, either aim for late Spring, or early Autumn/Fall to get the best weather conditions.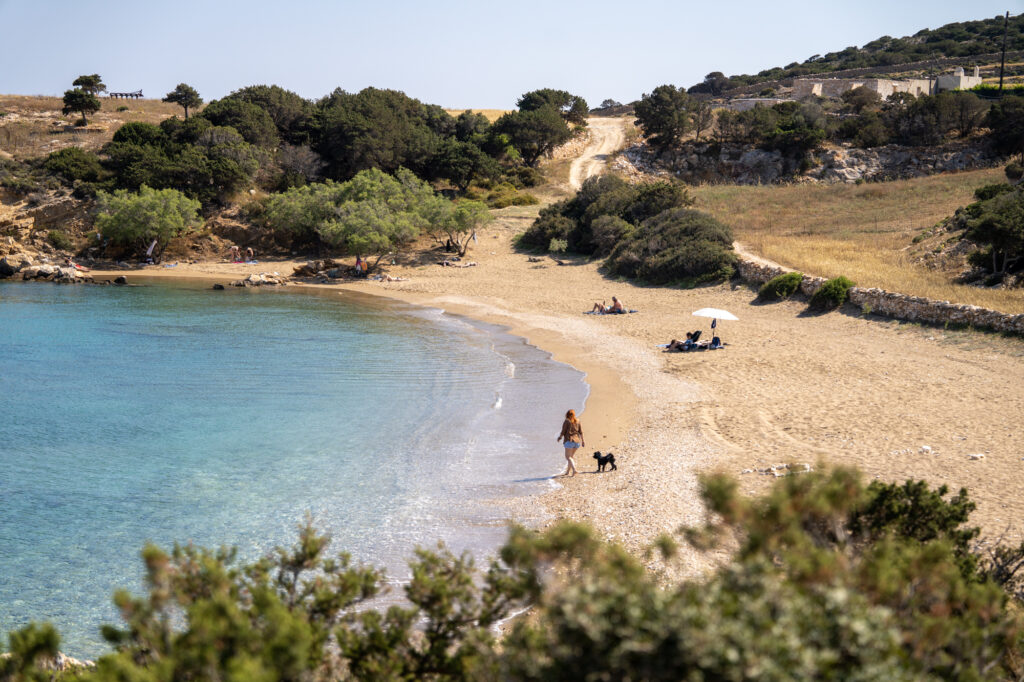 How Long to Spend on Paros
Paros is a fairly compact island, and without having to drive far, you can fit a lot of sightseeing into a day. Therefore, I'd say 3 days is enough to get a good taster of the island, but ideally 4-5 days would be more comfortable.
Of course, you could stay longer and have a fabulous time, but if you're island hopping around the Cyclades, Paros makes an excellent addition for a few days.
---
The best things to do in Paros Island take place on backdrops straight from island paradise dreams. All you have to do is choose which scene suits you on any given day. Rise with the sun to stroll along beautiful beaches before coffee at a cafe on the cobblestones. Launch into water sports or travel back in time at ancient sites. When the sun sets over the sea, simply sink into the leisurely bliss of Greek island magic on Paros.