Growing up in New Zealand, I was lucky enough to be living a stone's throw from the beach my entire childhood. Later, I'd move to Auckland where I was surrounded by fantastic beaches once more. It's no wonder then, that the beaches of New Zealand are close to my heart.
There are few other places in the world where you can be completely alone in nature – free to enjoy the powerful sound of the waves crashing against an untarnished shoreline, and the feel of the fresh sea air hitting your lungs. Fewer still where you can grab a spade and dig your very own thermal hot pool in the sand!
My most recent trip home reminded me of just how blessed New Zealand is when it comes to its spectacular shoreline. So I decided to share some of my favourite hideouts, and I also asked other NZ-loving travel bloggers to share their pick of the best beaches in New Zealand. Enjoy!
---
Map of New Zealand's Best Beaches
Click on the markers below to find the names of New Zealand's best beaches.
---
BEST BEACHES IN NEW ZEALAND'S NORTH ISLAND
The beaches on New Zealand's North Island are among some of the most famous in the world. Hot Water Beach is renowned for its natural hot springs, and Ohope Beach is often cited as NZ's most loved beach. But there are plenty of hidden gems among their ranks too. Find our pick of the best beaches in New Zealand's North Island below.
WAINUI (& OKITU) BEACH, GISBORNE
Gisborne is blessed with an amazing coastline, so it's hard to choose just one spot to feature among New Zealand's best beaches. For low key beach days and easily accessible walks, head to Waikanae Beach in town. For a secluded surfing spot, you can't go past Sponge Bay. And for an epic right-hand point break head to Makorori Point.
But there's one beach that combines all the best bits beautifully together. The Gisborne beach I'm referring to? None other than the iconic Wainui Beach.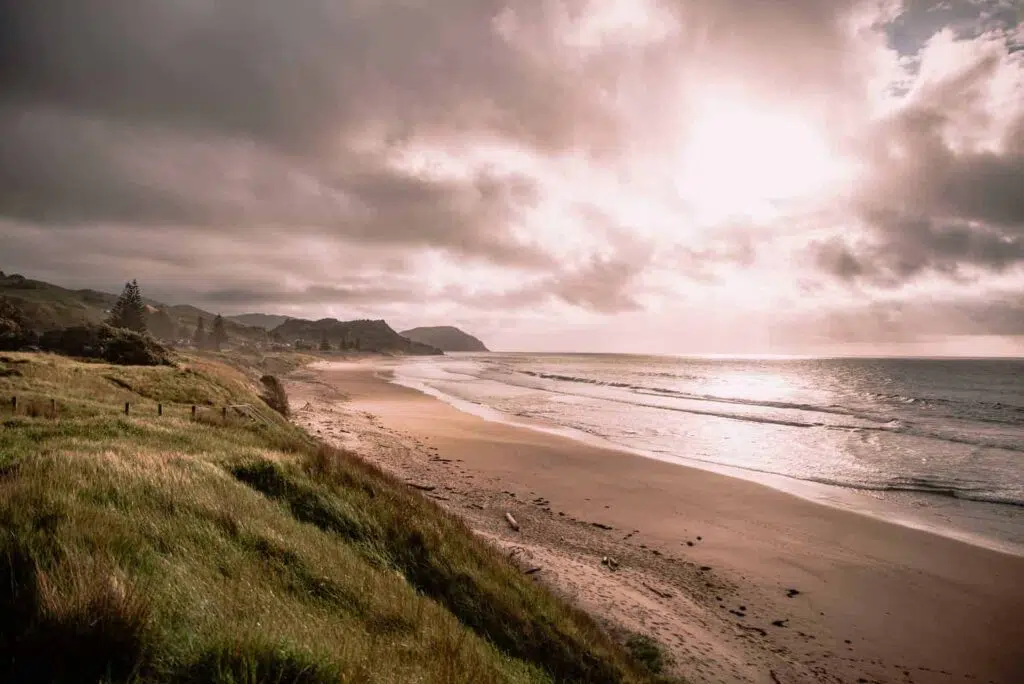 Wainui Beach is a long stretch of pure gold coastline that stretches out from the Wainui settlement at one end, right through to the Makarori headland. The northern end (pictured) is actually called Okitu Beach but it's often referred to as Wainui as the two are only separated by the trickling Te Rimu Stream.
The Wainui end of the beach is a popular spot during the summer months, with several houses having direct access to the shoreline. The other end, at Okitu, is quieter and backed by grass-clad dunes, offering a more serene experience.
FITZROY BEACH, NEW PLYMOUTH
New Plymouth often gets overlooked as a beach destination in New Zealand, but this west coast town offers several family-friendly beaches to enjoy. Fitzroy beach is the most popular, due to its easily accessible location and semi-rural feel. But another favourite with our family is Back Beach, which is a little more wild and secluded – it's also the perfect place for sand dune climbing competitions!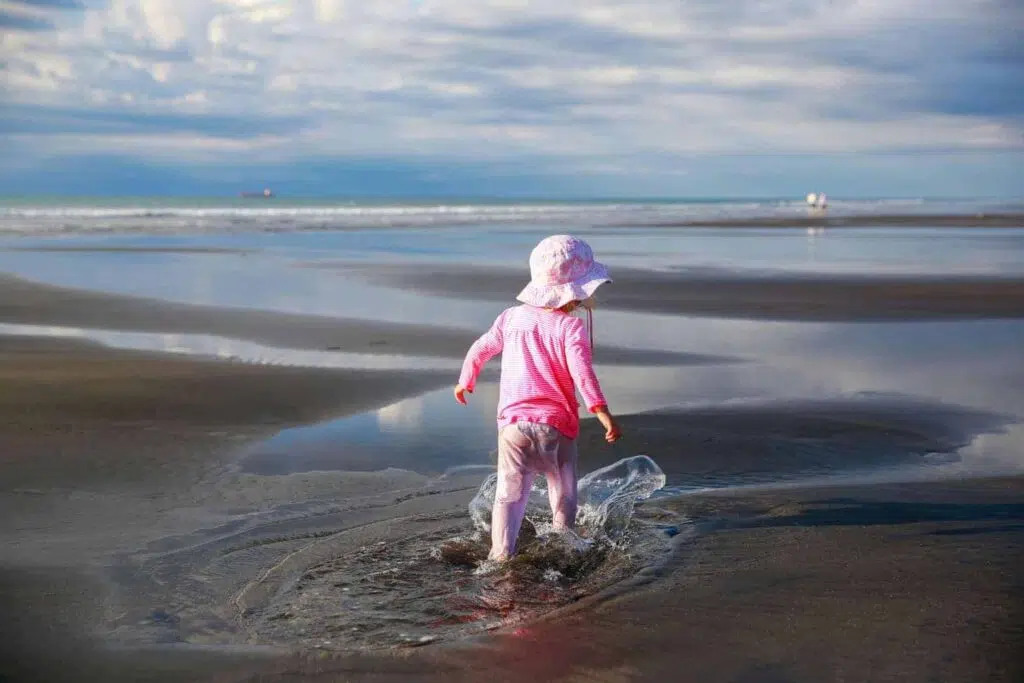 Fitzroy Beach is widely regarded as one of the best surf spots in New Zealand. But you don't need to be a keen surfer to enjoy this long stretch of fine black sand. Kids and adults alike will love spending the day building sandcastles, swimming, and bodyboarding in the waves.
In the summer school holidays, the beach is patrolled and safe swimming spots are clearly marked. Do take note of these and swim between the flags – as rips are frequent in this part of the world!
On the town end of the beach, you'll find the large East End reserve which is a popular spot for local events and shows. On other days it's the perfect place to set up your picnic rug and enjoy a beachside game of rugby or cricket!
OCEAN BEACH, HAWKES BAY
By Cat of Walk my World
Hawkes Bay is better known for its wineries than for its beaches, but that makes them even more special as you won't have to fight for a spot to lay your towel here! Ocean Beach is a huge sweeping stretch of beautiful pristine sand backed by picturesque mountains, giving it a wild and rugged feel.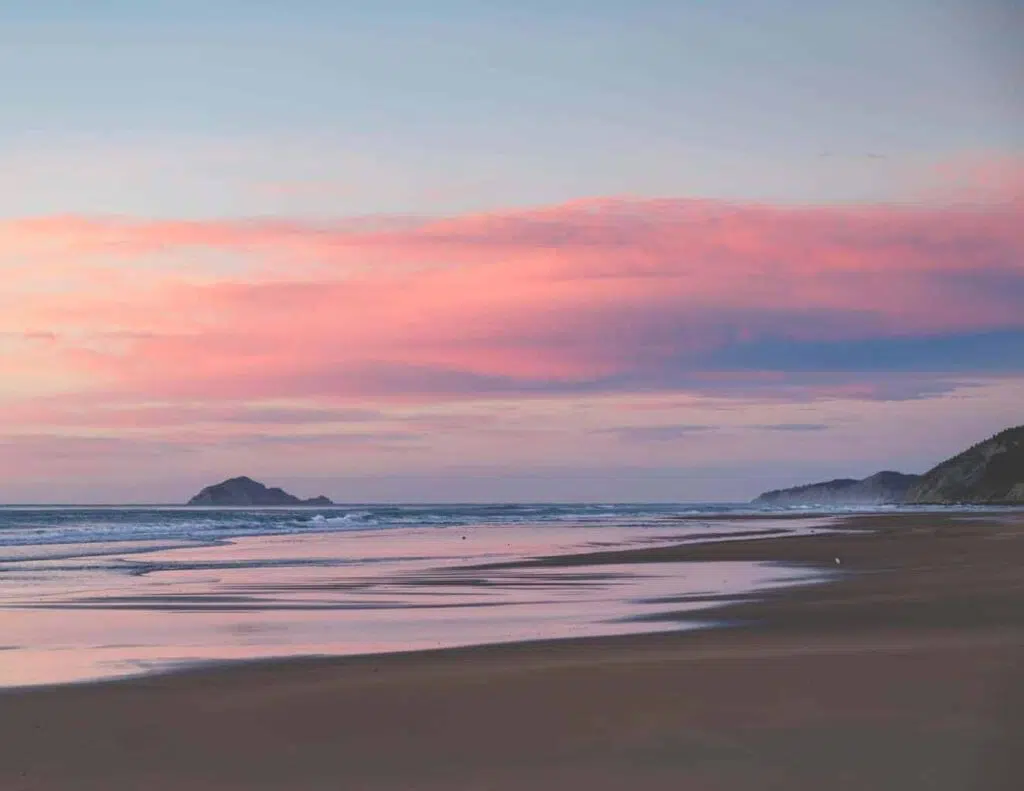 It's not a busy beach but if you want an extra special experience then head there for sunrise, when you're almost guaranteed to have it all to yourself. The soft pastel colours in the sky and silvery tint to the ocean make it a photographer's dream.
It's a popular spot for surfers, but if that's not your thing there are also two walking tracks which you can take – one to Waimarama beach and one to Whakapau Bluff. You can drive to Ocean Beach in just over 20 minutes from Havelock North or just under half an hour from Hastings.
TE WERAHI BEACH, CAPE REINGA
By Hannah of Hannah Henderson Travel
Te Werahi isn't a beach that gets overcrowded in Summer. This beautiful swathe of beach and sand dune is situated on Cape Maria van Diemen, the bay above Ninety Mile Beach, and just below Cape Reinga.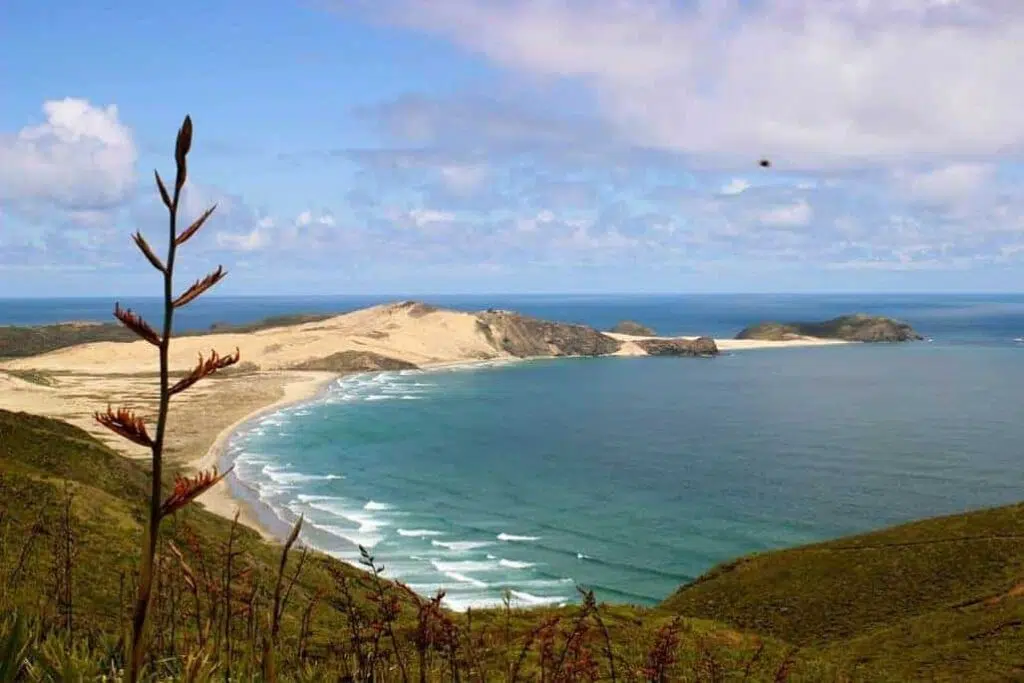 Te Werahi is part of the Cape Reinga Coastal hiking trail, and you will need to walk for 2km (30 minutes) to reach it. The walk isn't particularly taxing, but it adds a level of adventure to visiting Te Werahi – bring a picnic and enjoy the remoteness, there are no coffee shops here!
There is parking off State Highway 1 on the road to Cape Reinga. Like many of the beaches in New Zealand, Te Werahi offers stunning scenery and a chance to see the wild Tasman Sea just before it meets the Pacific Ocean at Cape Reinga. If you want a beach all to yourself, this wild part of New Zealand is for you.
Related reading: How to Travel New Zealand on a Budget
MANGAWHAI BEACHES, NORTHLAND
By Alex of Discover Aotearoa
Mangawhai is a little town off the beaten track, only approximately 90 minutes north of Auckland. It sits between two beautiful, very opposite beaches.
The beach slightly south of Mangawhai is a little harder to reach. Before you enter the town from Auckland, you need to turn right. There are a few turn-offs, but only one brings you to the beach. Once on the beach, you have many kilometres you can walk. Turning left and walking past the golf course along the rough shore, you will eventually end up in the most beautiful sand dunes.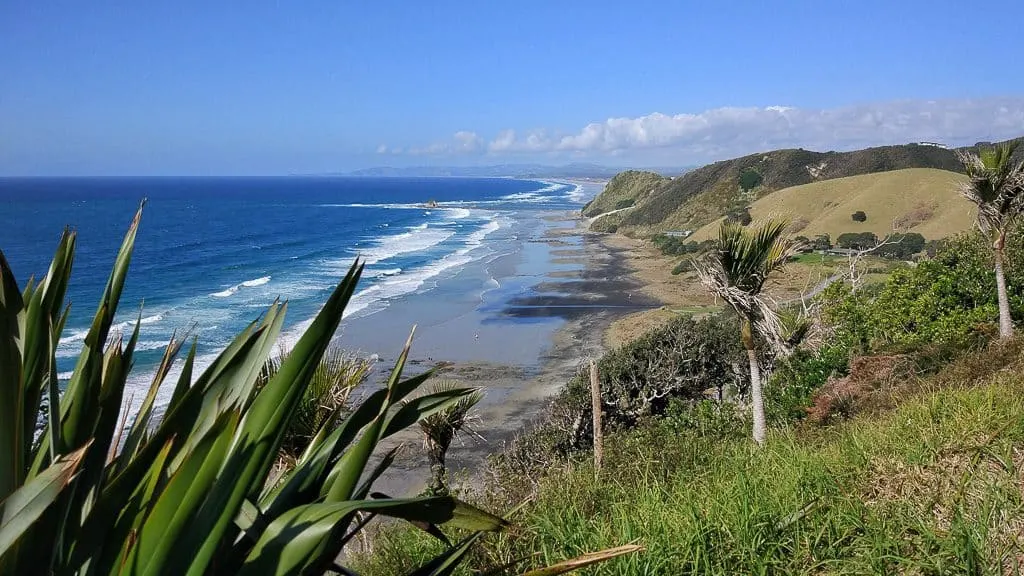 The other beach in Mangawhai is very popular with surfers and dog owners. And it's the home of one of the most beautiful short walks in New Zealand, Mangawhai Cliff Walk. It's only possible walk the complete track about 2 hours either side of low tide. The first part takes you high above the water and boasts with stunning views, while the second part follows the rocky shoreline. All in all this beautiful loop walk will take you about 2 – 3 hours.
OHOPE BEACH, BAY OF PLENTY
By John of The Wanderlust Pilgrim
Nestled in the sunny Bay of Plenty region on the North Island, Ohope Beach has been voted "New Zealand's Most Loved Beach."
Stretching along 11 kilometres of beautiful New Zealand coastline, Ohope Beach offers opportunities to walk, surf, swim, and stand-up paddleboard. Two nearby walks include Tauwhare Pa and the well known Nga Tapuwae o Toi track.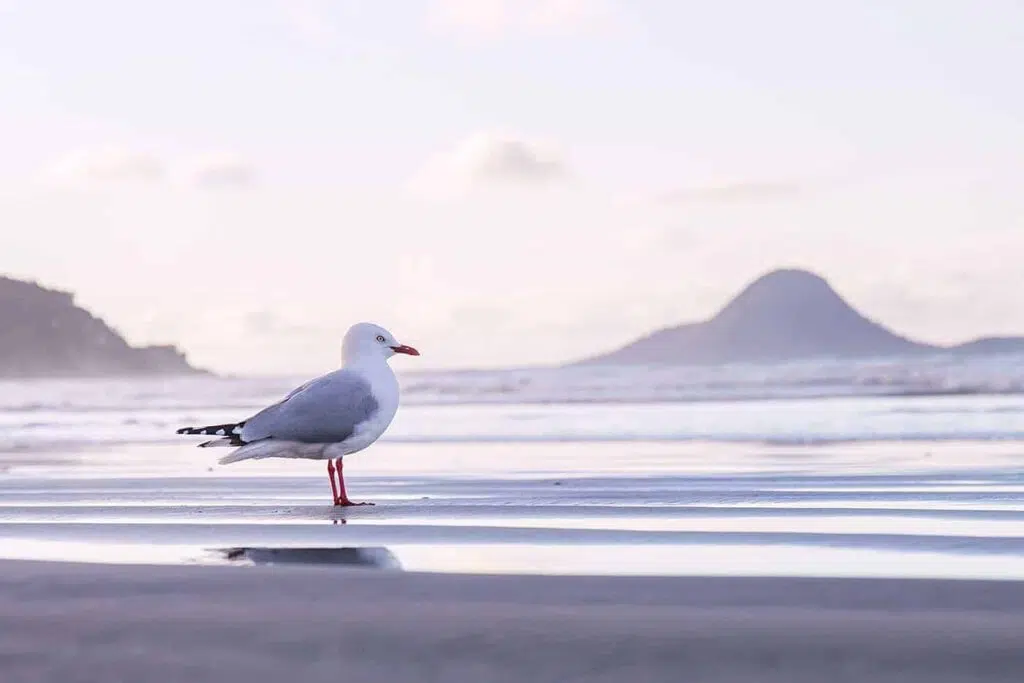 Take "Toi's Track" for breathtaking views of Whale Island, a protected wildlife sanctuary, and White Island, an active marine volcano. Visitors are able to visit these beautiful, otherworldly gems by booking a tour with local operators. This track will also lead to Otarawairere Bay, a secluded and peaceful beach surrounded by the bright red blooms of Pohutakawa trees.
After a day at the beach, head towards the shops near West End. Grab a coffee at the hip Moxi Cafe, try some Mexican food at Cadera Restaurant, or check out some of the wares of local artists at 4Artsake Gallery. Whether slipping into a wetsuit, soaking in the sunshine, or exploring some of the Māori wood carvings resting in the sand, you'll feel like you've entered a small slice of paradise at Ohope Beach.
KUAOTUNU BEACH, COROMANDEL
By Lindsay of Carpe Diem Our Way
Kuaotunu Beach on New Zealand's North Island is one of my favourite beaches for many reasons. Firstly, when we visited there was almost no one on it and my kids could run around freely! Secondly, there was a super interesting creek running into the water giving them somewhere else to play. Thirdly, there are a couple of great places to eat right next to the beach – check out Luke's Kitchen for a fabulous lunch. Lastly, it was a great swimming beach as the waves were not as powerful as some of the other beaches in the region!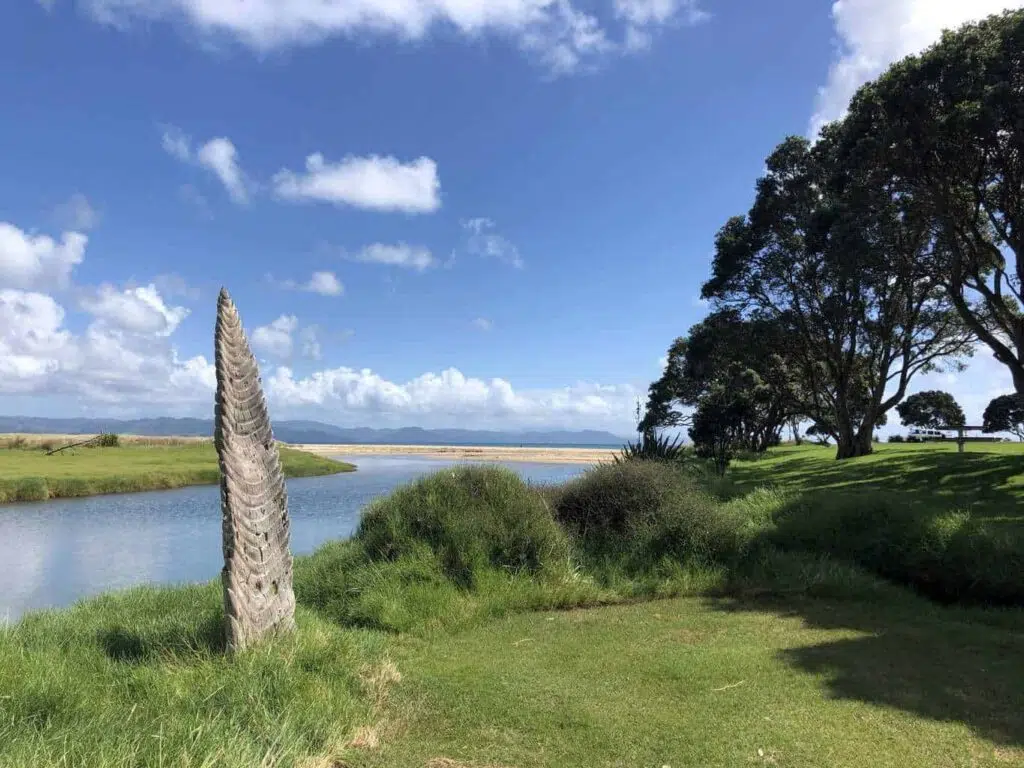 Kuaotunu Beach is an isolated spot but not impossible to find! It is past Coromandel Town and over the range, close to Whitianga, and you'll need to turn off the main road to access this great spot. Plug Kuaotunu into your GPS and you should be able to find it without too much trouble.

TĀWHARANUI BEACH, AUCKLAND
By Kylie of Our Overseas Adventures
Tāwharanui Beach located 90 minutes north of Auckland, is a stunning, white sand paradise with great swimming, surfing and rockpools, that's also home to a marine reserve, and an eco-sanctuary. It's a great place to visit any time of the year, but particularly in the early summer when the pōhutukawa flowers are in full bloom.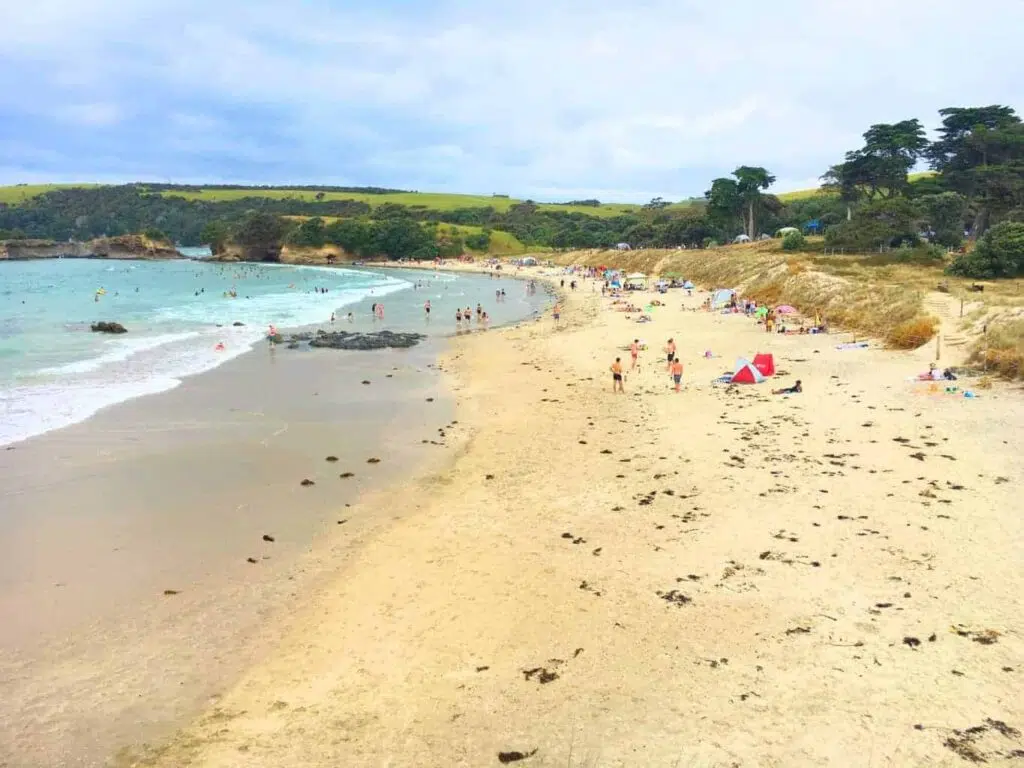 The beach is part of the Tāwharanui Regional Park which is managed by the local council, and when you enter you need to go through a specially constructed predator-proof fence which prevents pests from entering. The results of this are a fabulous wild bird population unique to New Zealand – including Kiwi and Bellbirds.
If the beach and birds weren't enough, there is also a marine reserve located at Tāwharanui with over 50 species of fish and lobster, and if you're lucky you might even spot dolphins and orca. To visit, turn off State Highway One at Warkworth and it's about another 20 minutes. Bring everything you need as there are no shops, cafes or restaurants at Tāwharanui – it's part of the charm! But there is a campground if you want to stay on for longer.
ORIENTAL BAY, WELLINGTON
By Nicole of Travelgal Nicole
Wellington is the capital of New Zealand and is often an overlooked destination in New Zealand. It's called the coolest little capital for lots of reasons and even has some beautiful beaches to relax on when the weather is good. My favourite beach is Oriental Bay Beach, right in the heart of Wellington.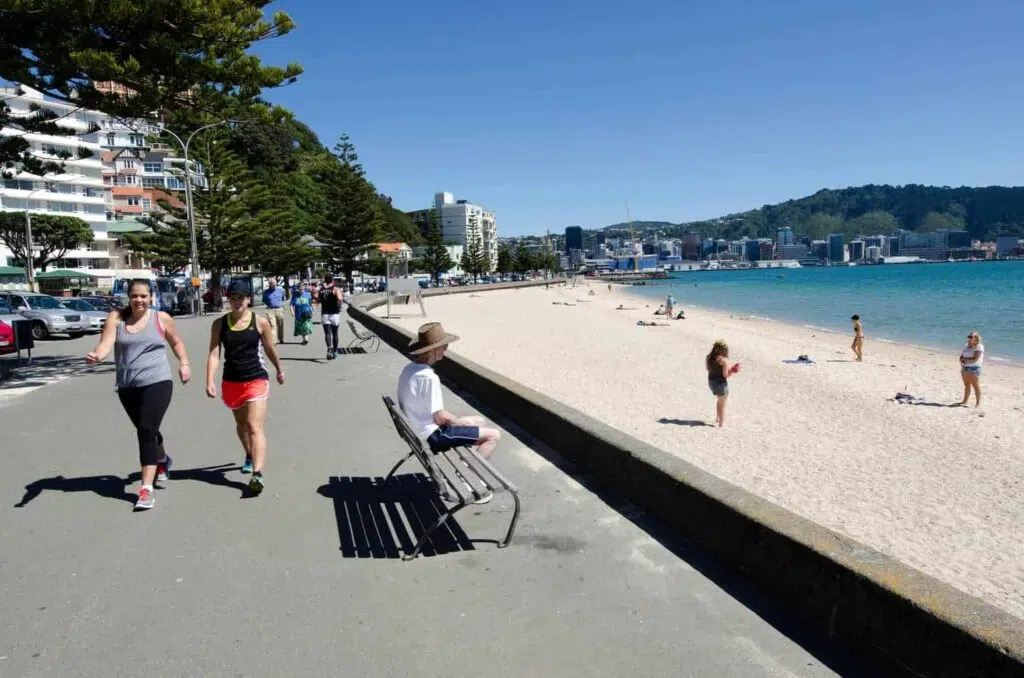 You really can't beat Wellington on a good day. This is the motto Wellingtonians live by and on those wonderful no wind days you will find people walking, running, biking along the Parade and even kayaking and swimming around the famous fountain in the ocean. It's a great place to enjoy a coffee, people watch or have fish and chips or an ice cream on the beach.
We've spotted a few whales in the harbour as well. Usually, there are some orcas that come through each summer but this winter we had a southern right whale that you could see playing in the water – a spectacular sight!
HOT WATER BEACH, COROMANDEL
By Nicky of Go Live Young
The Coromandel Peninsula juts into the Pacific Ocean and has some of the North Island's best beaches. It's a popular destination for Aucklanders as it's just a two-hour drive from the city.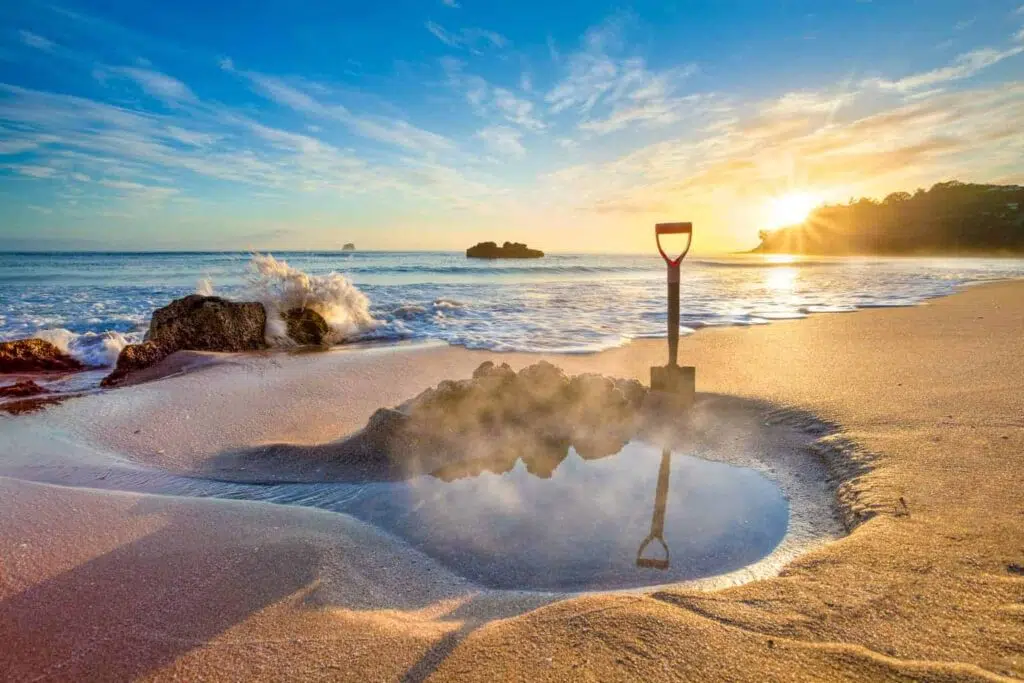 Hot Water Beach is somewhat unique. For two hours either side of low tide, you can dig yourself a hole in the beach which fills up with hot water bubbling through from the sand – you're very own spa pool! All you need is a spade and a bit of muscle power. It's a popular beach at low tide as families, kids and couples are all digging their own spa pool and relaxing in the natural springs.
The beach also boasts some great cafes and art galleries and is just a five-minute drive to another Coromandel 'must-do', Cathedral Cove.
OCEAN BEACH, KAWHIA
By Sarah of ASocialNomad
Ocean Beach, Kawhia is one of New Zealand's best-kept secrets. It's 90 kilometres south of Hamilton and you're not going to find it by accident! If you want a hot water beach that's easy to get to then head to the Coromandel. But if you want a black sand hot water beach entirely to yourself, then come here to Kawhia.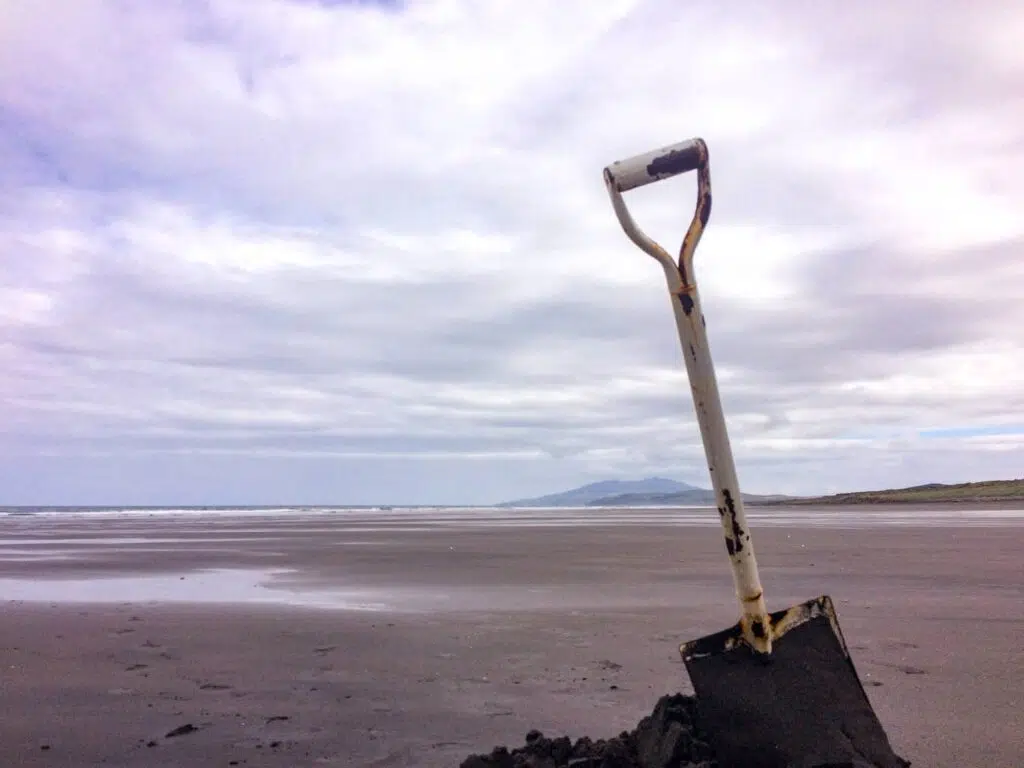 If the weather is good, the drive here is marvellous. You'll need to head to the beach at low tide, and the smell of rotten eggs (sulphur) will guide you. Then you'll get geothermal heated water bubbling up through the sand allowing you to create your own natural spa.
We had the entire beach to ourselves, we could see for miles, and with the shovel borrowed from our campsite in Kawhia, we dug ourselves a perfect natural eco-friendly spa bath. The smell wasn't too strong, and when the water got a little cold we just dug a bit more and heated it all up again! It's a stunning beach, made even more so by its undiscovered nature.
PIHA BEACH, AUCKLAND
By Claire of Backpacking Bella
Around 45 minutes' drive south-west of Auckland lies Piha, one of the best surf spots in New Zealand. There is no public transport to this tiny laid-back village set on a wild and windswept black iron-sand beach, but it's easy to see why so many people escape here from the city.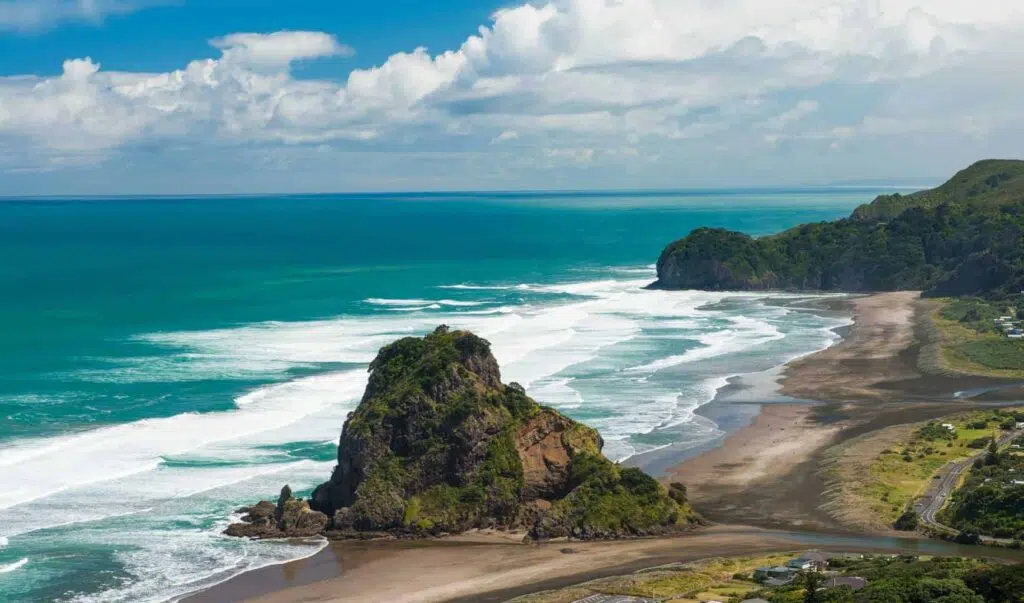 The setting for the popular New Zealand reality television show, Piha Rescue, the dramatic scenery includes the iconic Lion Rock. You can climb this ancient volcanic landmark – known in Māori as Te Piha – and enjoy spectacular views in all directions.
After exploring this Auckland beach, take a break at Piha Café, a rustic and cool little place that serves some of the best eggs benedict around, as well as incredible chocolate brownies. If it's a clear day, grab one of the wooden tables outdoors and take in the view of this atmospheric beach.
WAIKANAE BEACH, WAIKANAE
By Jub of Tiki Touring Kiwi
Waikanae Beach (on the Kapiti Coast) isn't the kind of beach where you'll find people sunbathing by the dozen, there seems to be an ever-present sea breeze in the afternoon.
But come sunset, you need to be at Waikanae Beach. What makes the sunset so beautiful here is that it dips behind Kapiti Island (approx 5km out to sea) for most of the year, creating the perfect frame. The island allows the rays to streak out into the evening sky, and the South Island is visible on the horizon on a clear night also. It's a sunset that never gets old.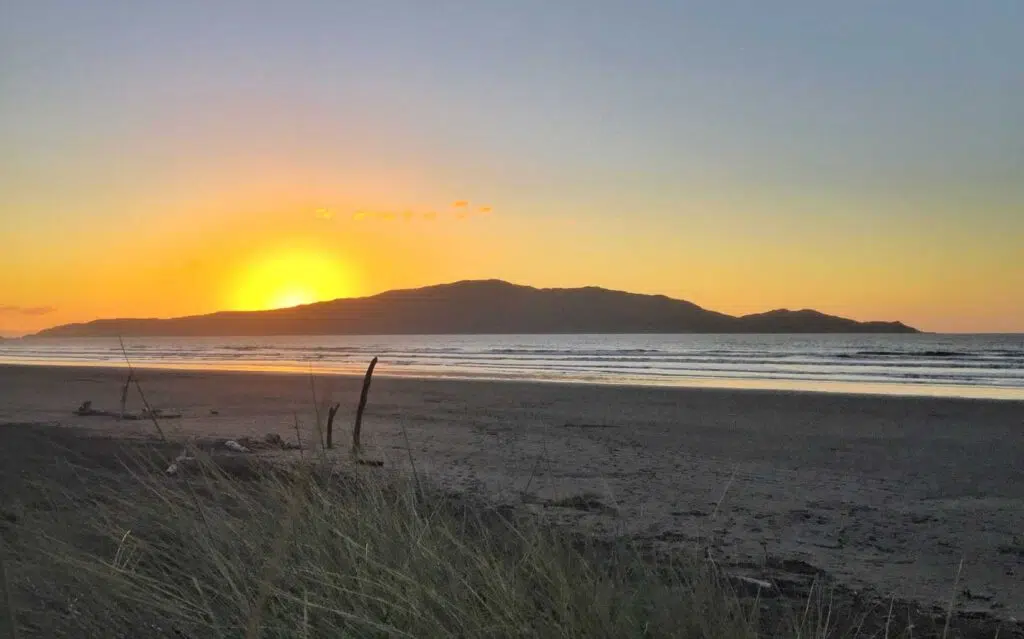 With the train line now running to Waikanae, it's easy to access from Wellington. Spend a day trip from Wellington visiting Kapiti Island in the morning, visiting galleries in the afternoon, and ending the day with the sunset and dinner at Long Beach.
PAPAMOA BEACH, TAURANGA
By Delphine of LesterLost
New Zealand is known for the beauty of its landscape and, as a frequent traveller to the land of the long white cloud, I can confirm it doesn't disappoint. A lot of New Zealand is coastal and reasonably untouched. When I visited the North Island, I stayed in the Tauranga area. Located on the edge of the Bay of Plenty, Tauranga is quite spread out and I did find it a little industrial in places.
However, I was fascinated by a sizeable hill in the distance, Mount Maunganui, also known locally as "The Mount". The small beachside town of Mount Maunganui is quite different from Tauranga, with its beach town feel and relaxed cafes. And further down the coast from Mount Maunganui lies a long stretch of coastal sand called Papamoa Beach.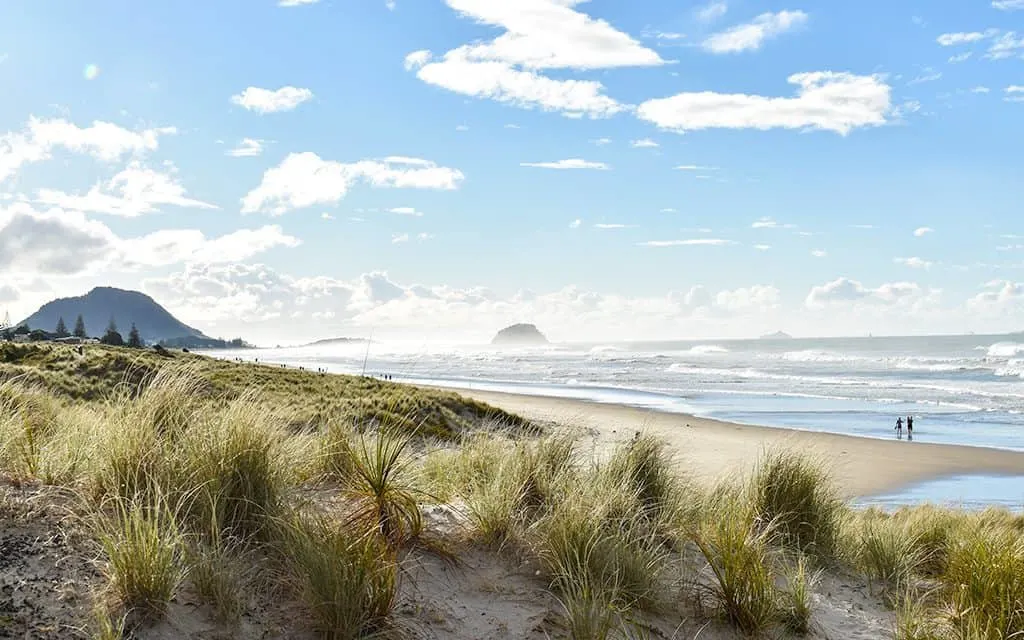 Papamoa Beach is pristine, with beautiful sand dunes, and goes on for miles. It's accessed by little sand paths in between clusters of homes, and you can easily park on street behind the beach. Papamoa Beach is the ideal escape from the busy roads of Tauranga and I loved watching the sun go down on Mount Maunganui. From surfing to kite flying, and of course a casual beach stroll, Papamoa Beach will satisfy any kind of beach going.
*Editor's note: Papamoa is also home to one of the best nude beaches in New Zealand – but you don't have to worry about stumbling across scantily clad sunbathers, the small permitted area is well signposted!
PORT WAIKATO BEACH, WAIKATO
By Sam of Travelling Sam
New Zealand is synonymous with beautiful countryside, stunning views, and most importantly, some of the most famous beaches in the world. The rugged coastline is full of amazing features from elephant rocks right through to natural hot springs. And while some of the more famous beaches in New Zealand have felt the touch of tourism, the secret is finding out the hidden gems that the locals keep quiet about. One of these is the shy but stunning Port Waikato beach.
It is located in North West Waikato, just over an hour and a half drive from Auckland. On the way here you can savour a taste of real local life. Surrounded by working farms and the mighty Waikato River, Port Waikato has a dramatic volcanic black sand beach that glitters in the shining sun. This is amplified in the receding tide making the entire beach appear as of it was made of tinted glass as it reflects the NZ sun. Whether your aim is to relax, explore or create new memories, this place should be on your list!
---
BEST BEACHES IN NEW ZEALAND'S SOUTH ISLAND
The South Island of New Zealand is a place of diverse landscapes and incredible natural beauty. From the idyllic sun-drenched bays of the Abel Tasman National Park to the wild and remote beaches of the Catlins, the best beaches in New Zealand's South Island are showstoppers!
TAYLORS MISTAKE, CHRISTCHURCH
Despite many visits to Christchurch, Taylors Mistake is a recent discovery for me. And I suspect it's this low-key reputation that keeps it a special retreat for locals and visitors-in-the-know. Situated just over the hill from the ever-popular Sumner Beach, Taylors Mistake has all the trappings of a traditional Kiwi holiday hangout, while being super easy to get to from the city.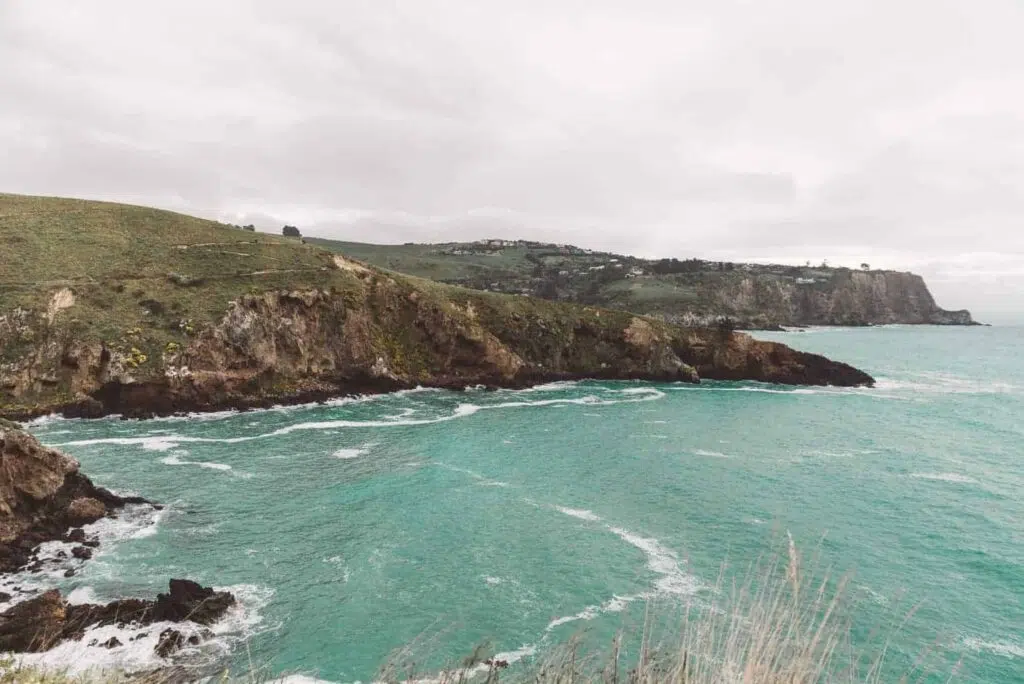 The Māori name for the beach, Te Onepoto, means 'little beach', and measuring in at around 400m, it's an accurate name for this short but surprisingly deep beach. The sheltered bay makes this the perfect spot to seek shelter when the wind is battering the more exposed northern beaches, and it's also a popular surfing spot.
Taylors Mistake is also one of the launching points for one of Christchurch's more popular walks, the Godley Head Walk. It's a 3-hour loop, or you can simply walk part of the way, drop into a pebbled cove for a breather and then continue back to the beach the same way you came.
WANAKA LAKEFRONT, WANAKA
World-famous for That Wanaka Tree, this sublime stretch of pebbled shoreline has more to offer than photo opportunities. Sit back and soak up the gorgeous lake views from the most central beach in Wanaka. A short stroll from the shops will deliver you to the Wanaka Lakefront where you can relax in this treasured part of Central Otago.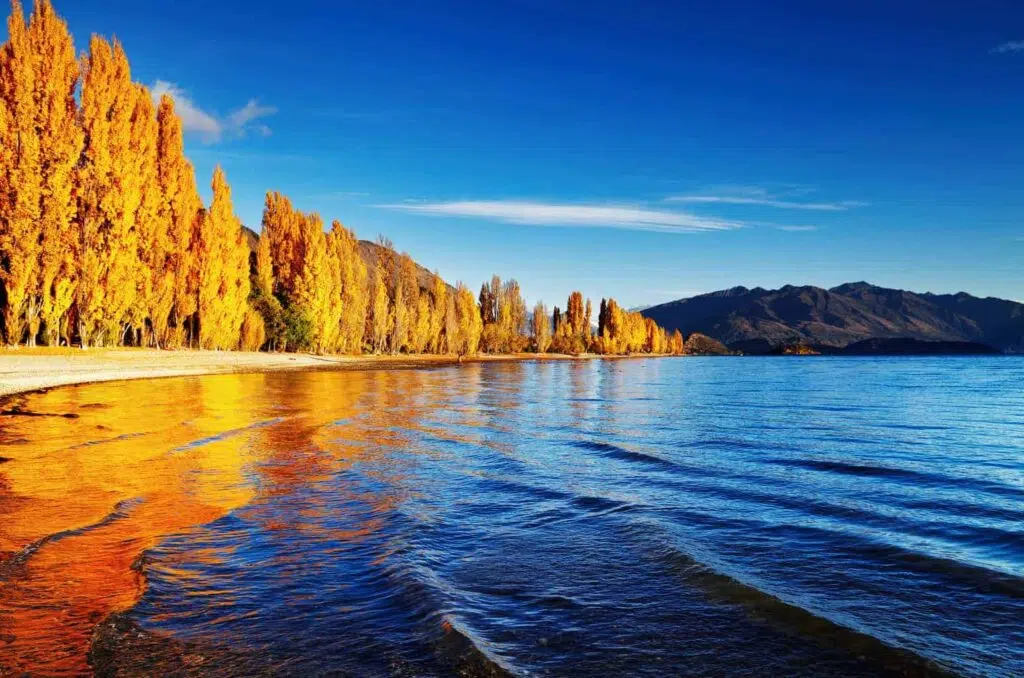 A firm family favourite, I still try to visit Wanaka as often as I can when I return to New Zealand. Unlike Queenstown, which is also stunning, Wanaka has managed to retain more of the laid-back charm of yesteryear, while handling the ever-increasing numbers of visitors with aplomb.
For kids, there's a great little playground right near the water's edge, and for big kids, there are kayaks and paddleboards available right on the beach. Hire one for an hour or two and explore some more of the lake's amazing beaches at leisure.
ST CLAIR & ST KILDA BEACH, DUNEDIN
Dunedin's most famous beach duo – St Clair and St Kilda beaches run in succession along the southern shores of my former hometown in New Zealand's South Island. Together, they offer some of the best surfing in New Zealand. This popular pastime sees surfers and bodyboarders flock to the beaches at all times of the year. But the sheer size of this stretch of sand means it's never overcrowded here.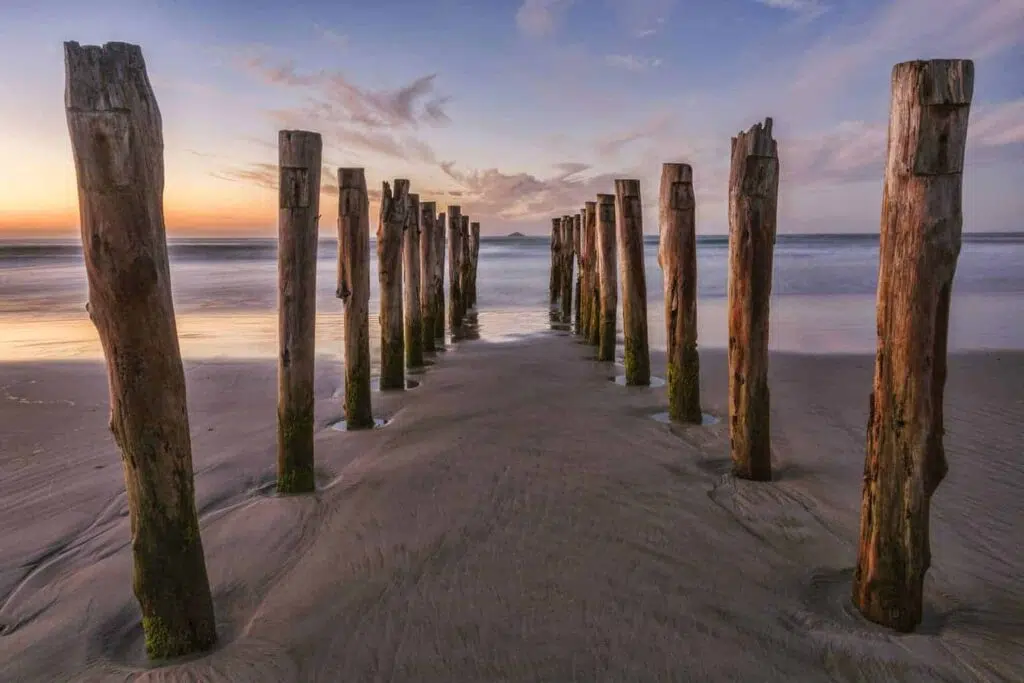 At the St Clair end, the beach is bordered by a raised promenade which was once fairly rudimentary, but has undergone an upgrade in recent times and is now a pleasant place for a stroll and a spot of coffee. The iconic St Clair Hot Salt Water Pool sits at the end of the beach and is an underrated, but in my opinion, must-do activity while in Dunedin.
Down the beach towards St Kilda, you'll be rewarded with more sand (the St Clair side can be scarce at high tide), and a more rural experience at the far end where the dunes get higher, and the dwellings further recessed. Take the kids to the Marlow Park Playground near the middle of the two beaches, and ride the Ocean Beach Railway for a truly unique experience!
TORRENT BAY, ABEL TASMAN NATIONAL PARK
By Gábor of Surfing the Planet
You will find one of the most beautiful coastal areas in New Zealand in the Abel Tasman National Park, situated in the Northwest tip of the South Island. This area reminded us of the Costa Brava, close to Barcelona, with its landscape where the rocky coast and sandy beaches alternate each other. Such a wonderful combination!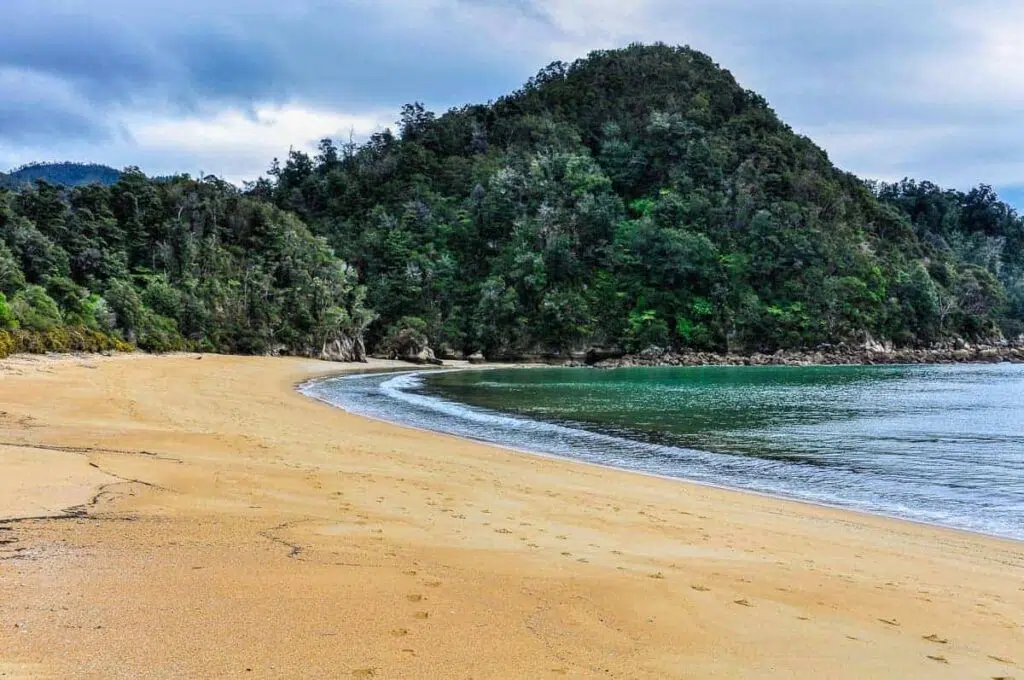 There are many beaches in this area, and you can get a boat from the Southern end of the national park to your desired place and then you can walk back from there. One of our favourite areas is Torrent Bay, special for its large tidal lagoon. At low tide, you can cross the beach on foot, whereas at high tide you need to take a detour through a large suspension bridge. At low tide, it's a perfect place for sunbathing, and it's protected from the waves, so it's usually great for swimming too.
The views of Torrent Bay and Bark Bay situated nearby are simply picture perfect. If you want to spend more time in the area, you can rent a holiday home in Torrent Bay or stay at the protected camping site in Bark Bay.
QUEENSTOWN BAY, CENTRAL OTAGO
By Sam and Natalia of Something of Freedom
Queenstown Bay beach is one of the must-see places in New Zealand. The beach is in the centre of the town, meaning it's easy to get to and hard to miss during your stay!
What makes Queenstown Bay beach so special is the incredible nature surrounding it. The beach is found at the shores of the beautiful Lake Wakatipu – a vast glacial lake covering almost 300 square kilometres, making it the third-largest lake in the country!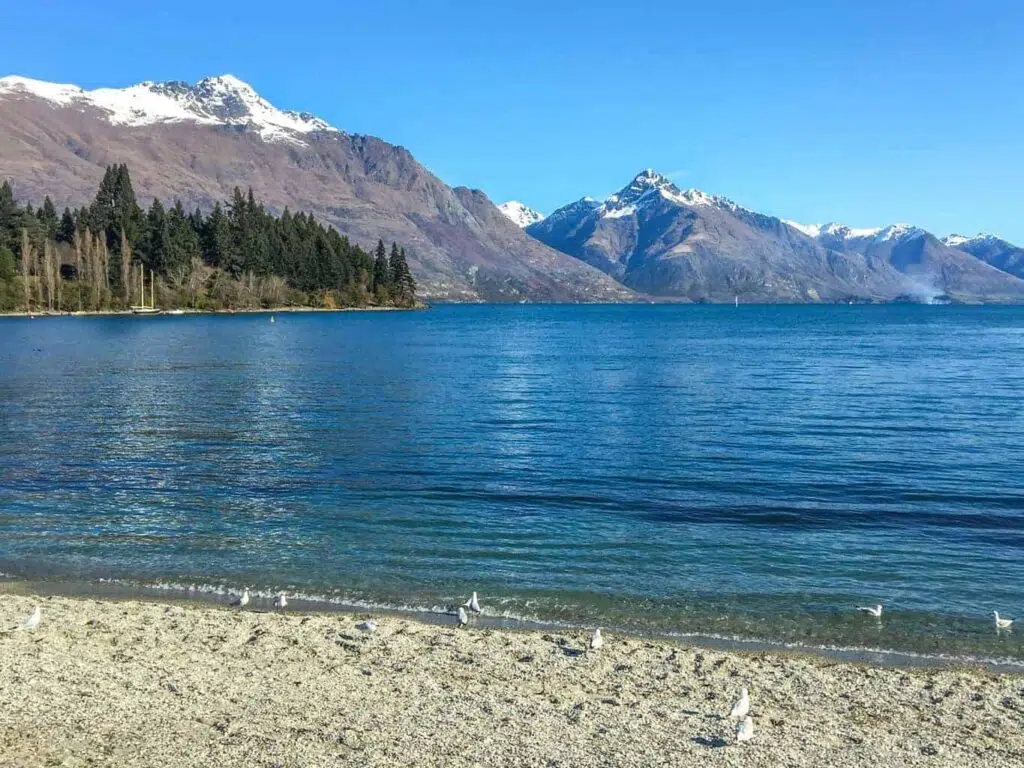 From Queenstown Bay beach, the backdrop to Lake Wakatipu is the towering Remarkables mountain range. These stunning peaks make for an incredible view from the beach, especially during winter months when the mountains are snow-capped!
With such an incredible view, it's a great beach to visit at any time of day. Later in the day, it's common to find travellers and locals enjoying a few drinks on the beach as night falls over Queenstown. It's hard to find a more picturesque spot to pass time with friends or just sit and watch the world go by!
TAUTUKU BAY, THE CATLINS
By Jon at See the South Island
The rugged Catlins coast features several stunning beaches, a handful of waterfalls and some great viewpoints. One of the best places to visit in the Catlins is Tautuku Bay, a wide expanse of white sand backed by trees.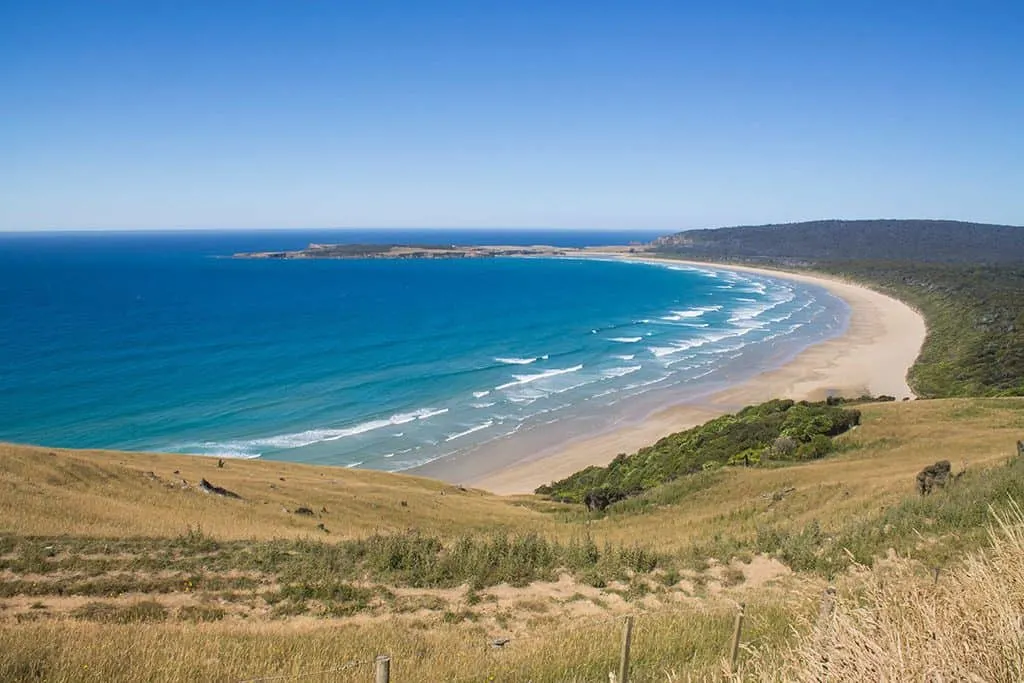 The best place to see Tautuku Bay is from the viewpoint above the beach (Florence Hill Lookout). It's one of my favourite coastal viewpoints in New Zealand – you can't beat that perfect ratio of white sand, clear blue water and bright green trees.
It's also worth going down to beach level where you can walk along the sand and then explore the area behind the beach, which features a small lake and a boardwalk through a salt marsh. Dunedin is the gateway to the Catlins — you can easily do a day trip and see the highlights but it's worth spending a night or two in the area if you have the time.
WHARARIKI BEACH, TASMAN
By Yen of Swing Abroad
Wharariki Beach is one of the most famous beaches in the world. You'll be familiar with this beach if you're a Windows user, as there's a popular wallpaper featuring this beach with a woman running along it.
Wharariki Beach is located at the northern end of South Island near Golden Bay. It's a remote beach which can only be accessed by your own vehicle and requires some walking across the sand dunes. The huge arch-like rock has been attracting locals and tourists for decades. It's a popular spot for photographers as well.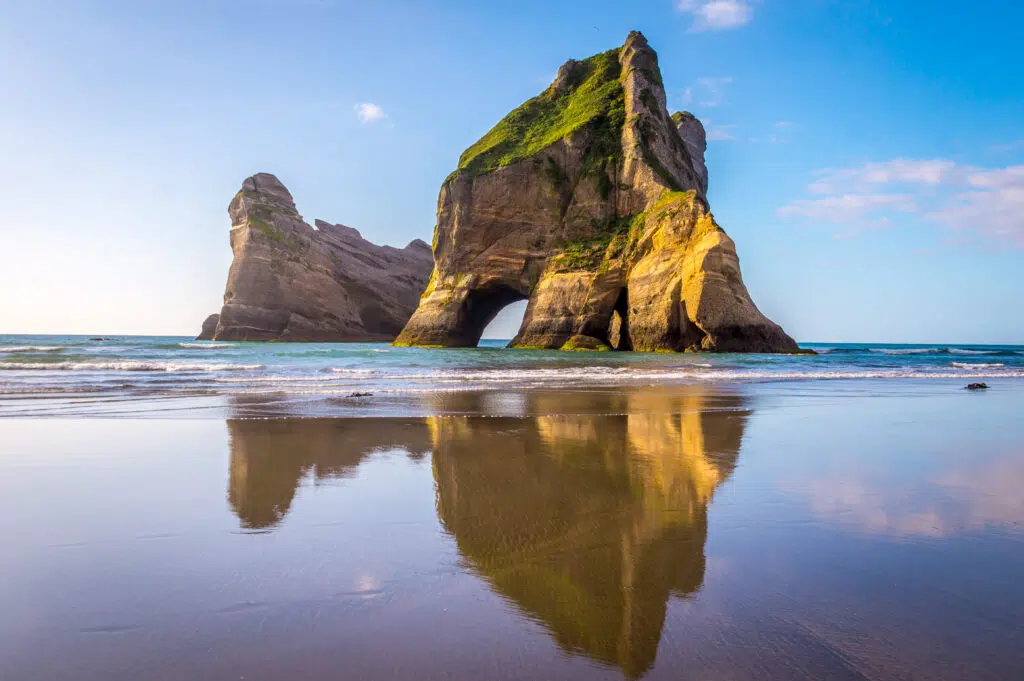 Did I mention the sand dune is full of fun too? Bring a board for some of the best sand surfing out there. You'll enjoy sweating while filling the air with laughter! While visiting this beach, be sure to check the tide. Large parts of the rocks can only be accessed during low tide period.
ALLANS BEACH, OTAGO
By Suewan of RTW Families
Allans beach in Otago is one of the most incredible beaches we've ever been to. It is well known for being a sea lion haven. We had never seen sea lions in the wild before so we were really excited to head there. The beach is well signposted, however, there is a very small car park and then you have to climb over some gates and walk about 100 metres through a field to get to there.
At the very entrance to the beach, there are some signs advising you about how to behave around the sea lions. Really useful info for tourists like ourselves! There were only about 3 or 4 other people there when we went and we came across at least a dozen sea lions. Mostly we saw the adults lounging around on the beach, soaking up the sunshine. We did also see some baby sea lions playing in the sea and chasing waves! It is a beautiful, secluded place and I would recommend anyone heading to the South Island to visit Allans Beach.
KOEKOHE BEACH, MOERAKI
By Thais of World Trip Diaries
Among the many, many stunning beaches of NZ, there's one that's so cool. It's Koekohe Beach, in Moeraki, with its amazing Moeraki Boulders. It's a beach with around 50 perfectly round boulders, the biggest measuring around 2 meters (6,5 ft) in diameter! You can climb on them, and get some pretty cool photos. Some are broken, so you can also see how they look on the inside. They take millions of years to form, and they're one unique sight on a beach.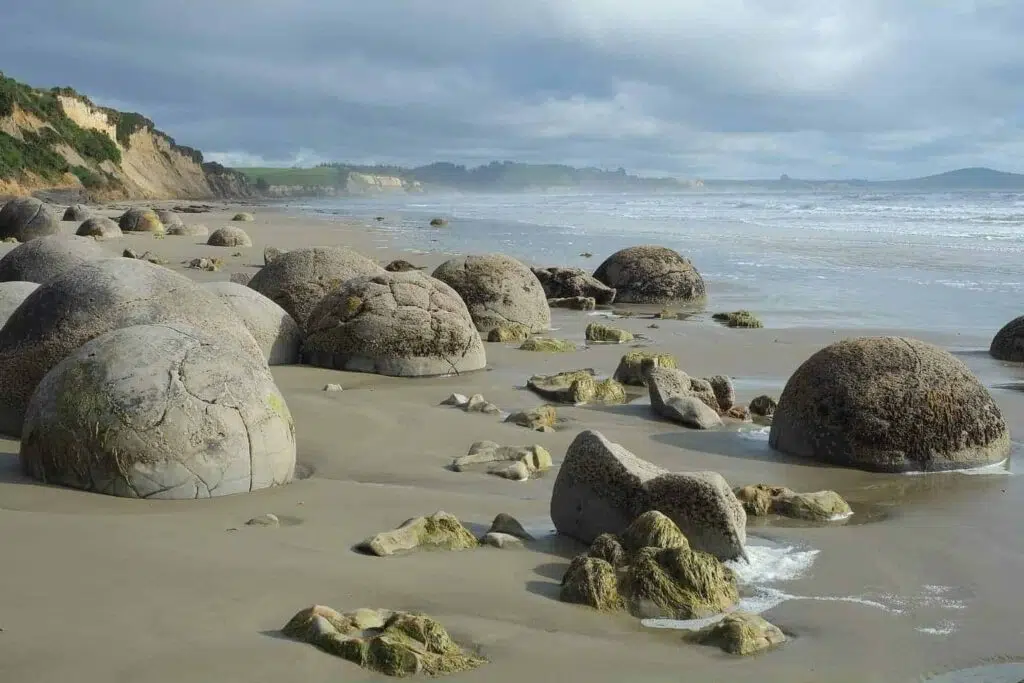 While 50 boulders aren't too many, it's well worth the stop. They're all close together and you may need to walk for a few moments before you reach them (around 5 minutes from the free parking, and a nice staircase from the café). The beach is clean, beautiful, and it offers amazing views only NZ's South Island has. It's close to Moeraki and Hampden – just drive on SH1. It's around halfway between Dunedin and Timaru, an easy drive.
OHAU POINT, KAIKOURA
By Alana of Family Bites Travel
Some beaches are all about the sugar-white sands and blue-hue waters. Whereas, other shorelines are rocky with glorious clifftops. Enter, Ohau Point, Kaikoura. The main selling point of Kaikoura peninsular is the impressive array of sea life along this beautiful cliff coastline.
An entire colony of seals calls Ohau Point home. The seal species found here are the aptly named the New Zealand Fur Seal. These seals give birth between November and December. You can either walk along the Kaikoura Peninsular Walkway or drive along the road to see the colony. Following the recent earthquake, care must be given to where you access the beach. By all accounts, the coastline roads are still being repaired, but it is still possible to locate the seal colony.
If looking at cute seals gets tiresome. The waters off Kaikoura are home to year-round populations of sperm whales and dusky dolphins, among other whales and bird species. Kaikoura is one place you can swim with wild dolphins. We swam with no less than 500 dolphins. It was nothing short of magical. Kaikoura Peninsular and Ohau Point should definitely be on your list of places to explore in New Zealand!
---
---
Whether you're after the best surfing spots in the country, a perfect golden cove, or a dramatic cliff-backed beach, New Zealand has something for everyone up its sleeve.
So, the next time you're heading out for some fun in the sun, why not add one of the best beaches in New Zealand to your itinerary!
Pin this for later!