Nothing beats going out for a lovely meal – no cooking and, best of all, no dishes! It's a great way to celebrate a birthday or to catch up with friends. But if you're taking the kids out too, it's preferable to know which places are best suited to diners of all ages. We've rounded up the best family restaurants Christchurch has to offer, to save you the guesswork.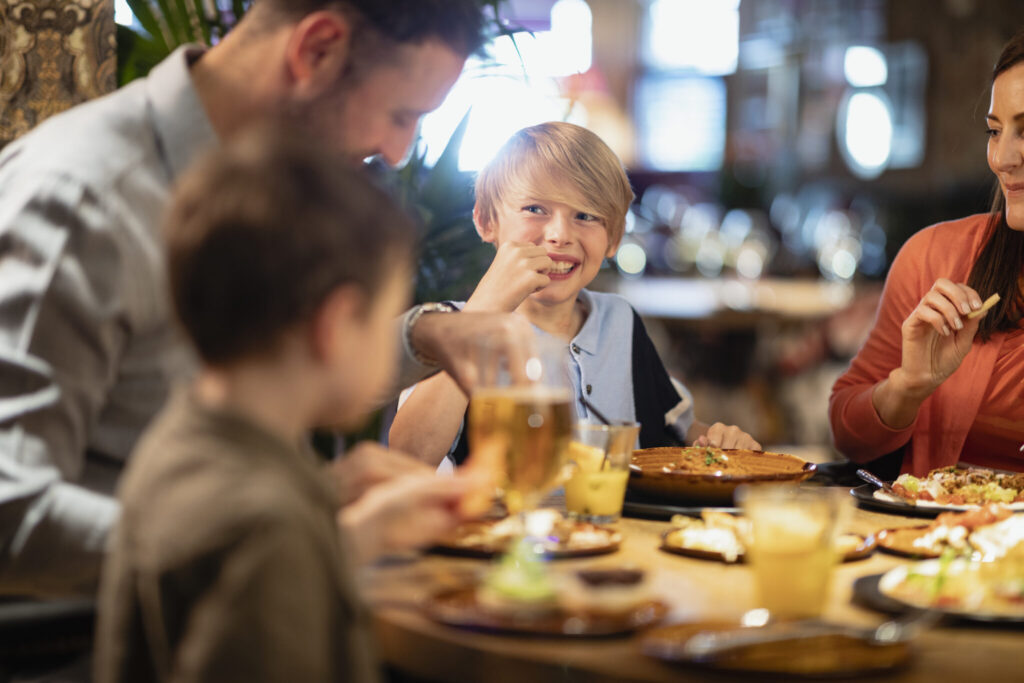 ---
Top Restaurants in Christchurch for Families
There are many good restaurants in Christchurch that are designed with kids in mind. No matter the age of your children, from toddler to teen, we've got them covered with our list of the best kid-friendly restaurants in Christchurch.
Drexels
Rotherham St, Riccarton, Christchurch
At Drexels, the cooked breakfasts are big and the pancakes are stacked American-style. The kids will love this dedicated breakfast restaurant and parents will love the free filter coffee refills.
Let them know your child's birthday and they will send a voucher for the child to dine free in their birthday month. Be aware that you may have to wait in the foyer to be seated if it's busy. Book early to avoid disappointment, especially for weekends and holidays.
Burger Burger
10 Welles Street, Christchurch
Burger Burger serves up delicious gourmet burgers 7 days a week in a fun environment. If you're looking for good restaurants in Christchurch for children, you can't go past Burger Burger. Sit in the huge dining area or seek shade outside under the umbrellas.
Kids will love the mini burger meals, curly fries, and ice creams by the scoop. Children are served first and then they can run off to the play kitchen or the sandpit while adults can chat in peace.
Lone Star
26 Manchester St, Christchurch
Lone Star is a Western-themed restaurant that serves delicious hearty lunches and dinners – and it's been a favourite with kiwi kids for decades. With restaurants in the central city, as well as Papanui and Riccarton, you shouldn't have to travel far to find one.
For kids, try the children's menu with a free drink and dessert. With loads of options available, even fussy eaters will find something that tickles their fancy. Have a look through the yummy desserts like the pavlova or legendary Longhorn Cheesecake. The service is great and staff often bring colouring pages to the table for children. Gluten and dairy-free options are available and kids dine free on their birthday.
Little High Eatery
255 St. Asaph street, Christchurch
Little High has the convenience of a food court but the feel of a laneway in Europe. It is a covered marketplace and is open all day every day. With trendy faves like Bacon Bros Burgers to international delights like Sushi Soldier, woodfired pizza, dumplings, or Venezuelan barbequed meals, there is something for every taste here – including many vegetarian and vegan options. Find a spot at the indoor or outdoor tables and enjoy the buzzy atmosphere on offer.
Winnie Bagoes Ferrymead
40 Welles Street, Christchurch
Open for dinner each day and lunch at the weekends, Winnie Bagoes' specialty is its delicious gourmet pizzas. And which kids don't love pizza?!
The menu is full of interesting flavours like Sweet Satay chicken and Souvlaki lamb. Start off with the Italian flatbread – a hit with pesto, parmesan, olives, and herbs. Kids will love the puzzles and colouring-in sheets, pizza-centric kid's menu, and an ice cream sundae for dessert. With long wooden tables and benches, the restaurant has a great casual feel – making it one of our favourite family restaurants in Christchurch.
If you're outside of the city, you can find two more Winnie Bagoes restaurants in Ferrymead and Rangiora
Madam Kwong
155 Blenheim Road, Christchurch
A huge Chinese restaurant set over two stories, dining at Madam Kwong is a great family experience. Order from the massive range of dishes on the menu, like Chinese barbeque or sizzling plates and clay pots.
Kids will love picking from the trolleys which offer a tempting selection of dim sum, like freshly steamed buns (bao) and wontons. The restaurant is fully licensed, but BYO is available for wine – making it an affordable family restaurant in Christchurch.
C1 Espresso
185 High Street, Christchurch Central City
A Christchurch institution, and totally unique eating experience, C1 Espresso delivers food to your table via pneumatic tubes that run around the ceilings. Children and adults will love figuring out how it works as the tubes of food whoosh by your heads. The fun but simple menu has something for everyone, and the mini burgers (vegan burgers are available too) and curly fries are a hit with the whole family. The kid's meals even come with a little surprise inside!
The quirky restaurant features lots of fun elements, and kids will love discovering all of its secrets. Find the secret door to the bathroom (psst – it's disguised as a bookcase) and pour yourself a glass of water from a sewing machine!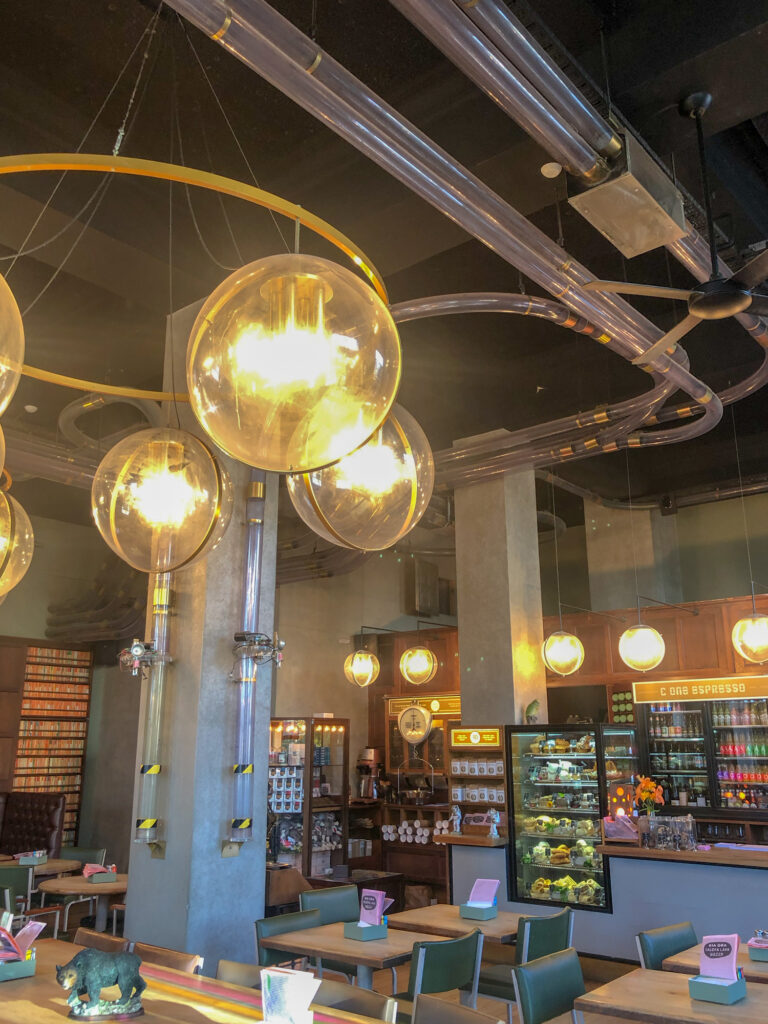 Cashmere Club
50 Colombo St, Somerfield, Christchurch
The Cashmere Club serves up good grub for members and non-members alike. Sit at the outside tables and the kids can play on the playground while you take your time over that second glass of wine. The kid's menu comes with all the classic favourites and even a few more adventurous options. On Sunday, kids (under 12 years old) eat free when accompanied by a paying adult!
Welles Street
44 Welles Street, South Town, Christchurch Central
A large renovated warehouse in up-and-coming Welles Street, this inner-city restaurant is reminiscent of the beer halls of Europe. With long tables and dishes made to share, there is a festive family atmosphere at Welles Street.
Kids will rave about their signature tortillas and soft-serve sundaes. Even with the huge bar and range of craft beers, the pool table and retro arcade game help make this one of the nicest kid-friendly restaurants in Christchurch NZ.
Ilex Cafe
Christchurch Botanic Gardens, Christchurch
Set within the botanic gardens, the beautiful building that houses Ilex Cafe rises up like white sails among a sea of green. Serving brunch and lunch seven days a week, this Christchurch cafe offers yummy meals with fresh seasonal ingredients.
Plenty of highchairs are available for younger patrons and the menu features simple child-friendly options as well as more sophisticated meals for the grown-ups. Get a spot by the huge windows and watch the kids run around on the grass after they've gobbled up their lunch. Afterward, be sure to take a trip to the adventure playground or if it's a rainy day, to the Canterbury Museum.
The Raspberry Cafe
40 Rhodes Rd, Selwyn
The Raspberry Cafe is one of the best family restaurants Christchurch has to offer on a sunny day. It's well worth the short drive from the city to relax outside in the marquee or on the lawn among the trees. Kids can run around in safe surroundings or play in the jungle gym too.
The children's menu includes the 'grazer's delight' platter, with fruit, crackers, cheese, cold meat, dried fruit, a sweet treat, and a sandwich topped with a spread of your choice. For the parents, they also serve great coffee! Check out the cabinet full of freshly baked doughnuts and cakes, or order something from the pared-back lunch menu. You can even pick up some fresh raspberries when you leave (when in season!).
Cafe Raeward
800 Harewood Road, Harewood, Christchurch
Cafe Raeward is a lovely family-friendly cafe among the northwest suburbs of Christchurch. Let the kids play on the playground outside under the shade sail while you grab a sunny spot by the window and order breakfast or lunch to linger over.
The Eggs Benedict is delicious and the coffee is top-notch. There's a small range of dairy-free, gluten-free, vegetarian, and vegan options too. And kids will love the delights on offer in the cabinet. You can even do your grocery shopping while you're there too, at Raeward Fresh market, which sells the finest and freshest products in town.
Qubed Coffee Lounge
1 Hamill road Longhurst, Christchurch
An unassuming little place in one of the new subdivisions in Christchurch, Qubed is a cafe serving a sumptuous brunch and lunch menu. Their food is yummy and the coffee is delicious, but what makes this Christchurch cafe stand out is the huge 'super shakes' covered in cream and sweet toppings that kids just love!
Try one of the outside tables, where there is a playground for kids to explore. Dogs can even come along on their leash too.
---
We hope you've enjoyed this round-up of our favourite family restaurants in Christchurch! Know of any we've missed? Leave us a note in the comments below…