If there's one thing I miss most about our former home of Hamilton, New Zealand, it's the plethora of family-friendly attractions on offer!
Memories of weekends spent splashing in the shallow pools at Parana park, steaming around on model trains, or playing peek-a-boo with peacocks at the Hamilton gardens – there was never a shortage of activities to keep little bodies moving and inquisitive minds busy.
Blessed with stunning natural scenery, great accessibility and steady sunshine hours, Hamilton is an excellent family holiday destination. Here's an insider's guide to the top things to do with kids in Hamilton (many of which are free – perfect for those travelling New Zealand on a budget!).
---
Family Friendly Activities in Hamilton
Head to Hamilton to tick a few of these must-do activities off your list this summer, and keep the little ones happy during the school holidays!
Hamilton Gardens & Discovery Trail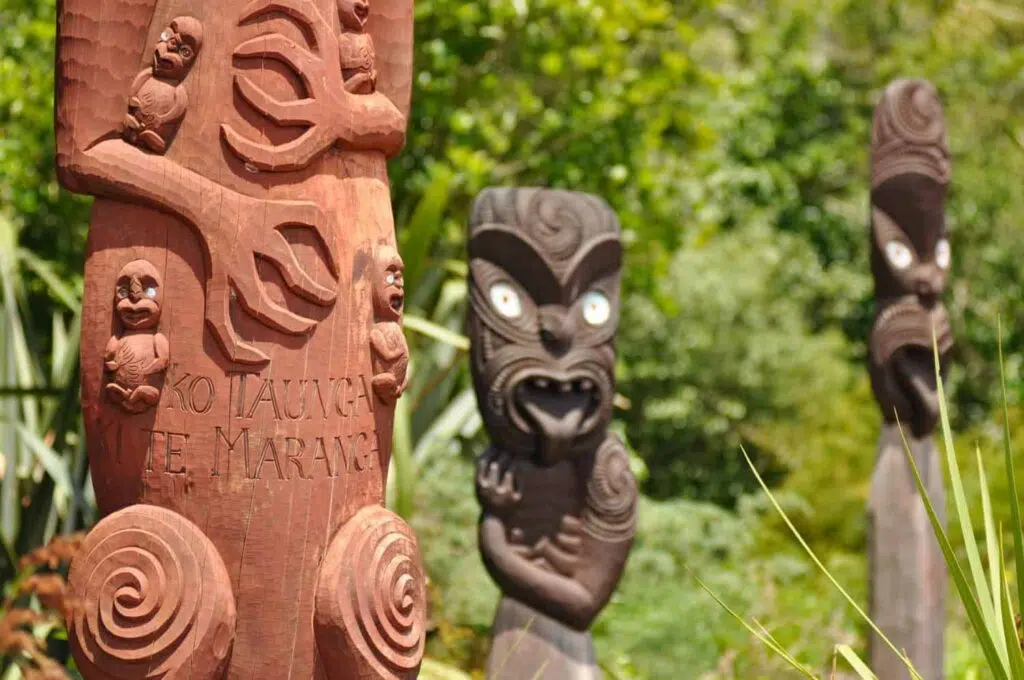 Hamilton's most famous attraction, the Hamilton Gardens, transport you to a different civilisation at every turn, inspiring imaginations in both young & old. It's an easy day trip from Auckland, and provides a fun day out for the whole family.
Have a picnic under a vine canopy while overlooking the Italian renaissance garden, learn about sustainable gardening methods in the backyard garden, and breathe in the scintillating scents of the perfume garden.
The multi-award-winning gardens are organised into five collections – Paradise, Productive, Fantasy, Cultivar and Landscape – providing hours of discovery and delight!
To keep the kids intrigued, and for a more interactive visit, there are dedicated kid's activity sheets available, including a discovery trail & garden Bingo. Download a copy from the Hamilton Gardens website, or pick one up from the information centre when you arrive at the gardens.
The Hamilton gardens even have their very own destination playground (see more on destination playgrounds below) with shaded play areas, log bridges, tunnel slides and elevated playhouses – among much more!
Facilities: Parking, café, baby changing rooms, toilets, gift shop, information centre.
Cost: Free entry.
Location: Hungerford Crescent, SH1 (Off Cobham Drive), Hamilton.
Hours: The collection gardens are open from 7.30 am to 5.30 pm in the winter, and 8 pm in the summer. The café and information centre are open from 9 am.
Destination Playgrounds in Hamilton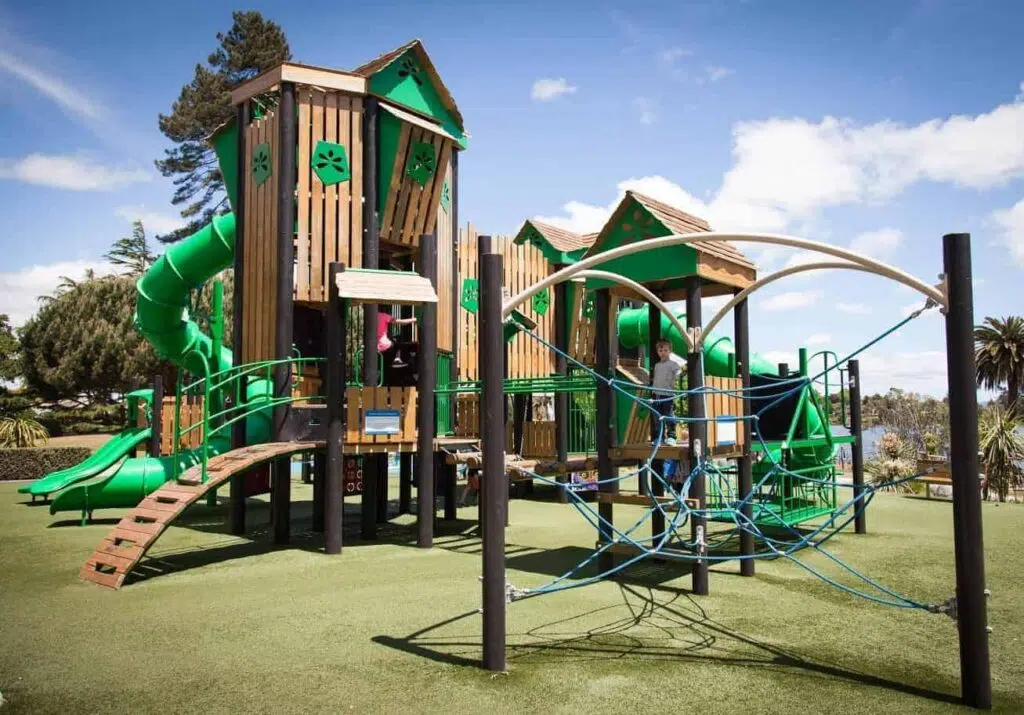 Living up to their name – Hamilton's 'destination playgrounds' are indeed a destination in their own right. There are currently seven such playgrounds dotted around Hamilton, with another eight planned to pop up by 2030.
Featuring towering climbing frames, dedicated water play areas, modern merry-go-rounds, in-ground trampolines and flying foxes – they are much more than your typical corner street 'swing & slide' variety!
Each playground offers a unique experience – in tune with its natural surroundings. They are designed to be educational, challenging and fun for children of all ages. Toddlers are provided with their own safe haven for exploring, while bigger kids will be kept happy for hours.
Facilities: Parking, toilets, seating, water fountains and shade.
Cost: Free entry.
Location: Parana Park, Tauhara Park, Claudelands Park, Hamilton Lake Domain, Minogue Park, Dominion Park and Hamilton Gardens.
Hours: Open always.
Taitua Arboretum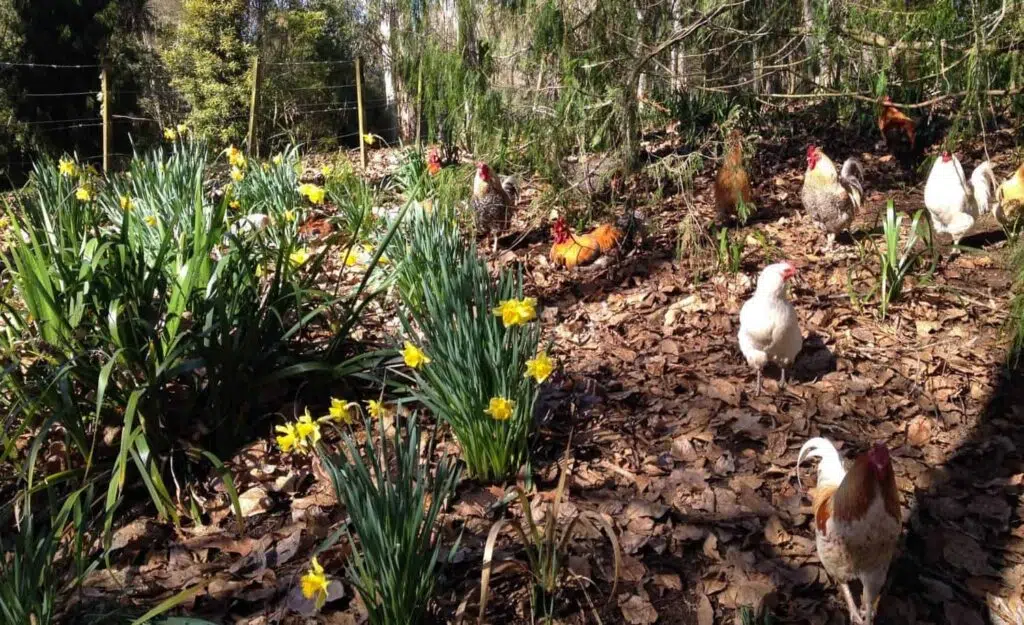 The perfect antidote to a busy week – the Taitua Arboretum provides outdoor family fun on the outskirts of Hamilton. The arboretum is home to an established display of native plants and trees – spanning over 22 hectares. Chose a track and walk through the enchanting landscape – past ponds, over bridges and through a towering tree canopy.
The little ones will be delighted with the chickens running freely through the foliage. Take some grains or birdseed to feed the ducks, and offer handfuls of grass to the curious cows grazing over the fence.
Facilities: Parking, toilets, shaded seating areas, picnic tables.
Cost: Free entry.
Location: Taitua Rd, Temple View, Hamilton.
Hours: 8 am – 5 pm Daily
Waterworld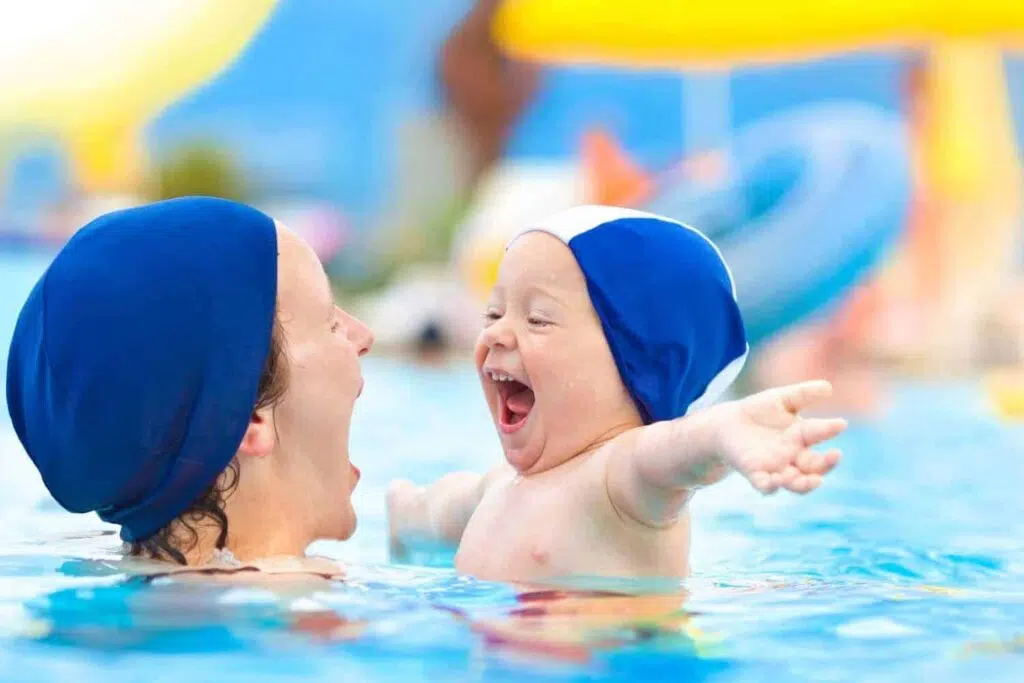 There's nothing that spells summer holiday fun quite like a splash in the pool – and Hamilton has a top-notch facility waiting for you these holidays. Indoors, Waterworld offers a 25m and 50m pool, as well as a dive pool, toddler pool, hydrotherapy pool, and hydroslide, that can be enjoyed all year round.
But where it really shines is the outdoor area, where you'll find the open-air Lido pool with slides, kids splash pad (water play)*, large playground, BBQ's and picnic tables, all set into a park-like backdrop. Arrive early in the morning and set yourself up for the day!
*Outdoor pool and splash pad only open during summer.
Facilities: Parking, café, toilets, changing areas, showers, lockers, picnic tables, BBQ's.
Cost: $6 Adults, $3 Kids (5-15), Free for under 5's. Additional charges apply for the hydroslide, hydrotherapy pool and BBQ hire. Reduced rates available for seniors, disabled users, and spectators.
Location: Garnett Ave, Forest Lake, Hamilton.
Hours: Open from 6 am weekdays, 7 am on Saturday and 9 am on Sunday's and public holidays, until 9 pm every night.
Hamilton Model Engineers – Miniature Railway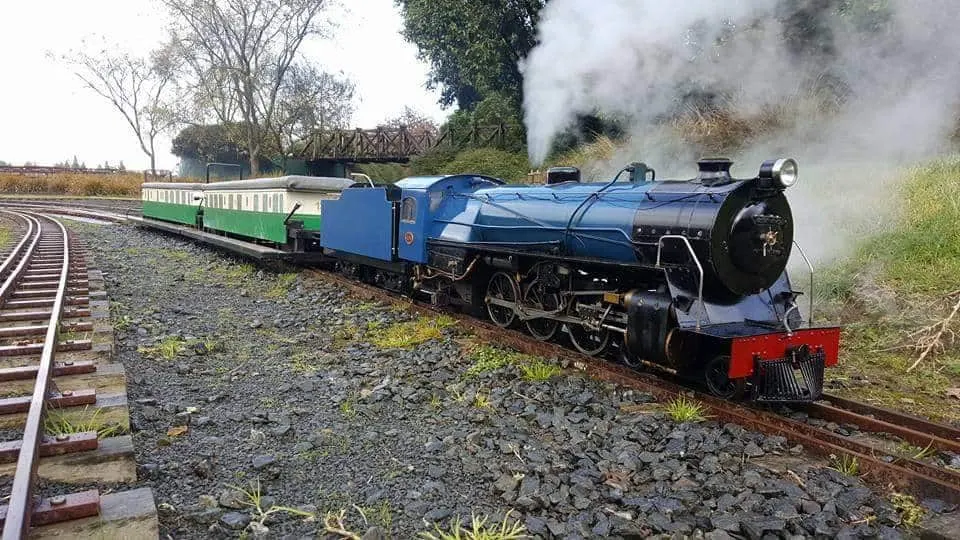 Venture into Minogue Park on a Sunday and you'll find a dedicated group of model train enthusiasts firing up their engines ready for a day of ferrying around excited passengers. With two separate tracks winding through tunnels and over bridges, young train fans will be in their element riding the impressive replica mini trains.
The railway can be found behind Waterworld and not far from the Minogue Park destination playground – meaning there is plenty to do in the area before and after your excursion. Pack a picnic rug and soak in the festive atmosphere that surrounds the railway.
Be sure to grab a concession card – one ride will never be enough!
Facilities: Parking, picnic tables, cold drinks for sale.
Cost: $2 per fare (children aged 2 and under are free). $15 for 10 fare concession or $75 for a 60 fare party pack.
Location: Tui Ave, Forest Lake, Hamilton
Hours: Open every Sunday 10.30 am – 3 pm (closed 12-12.30 for lunch). Note that the trains can't run if the weather is bad – so it's best to check their Facebook page for updates on the day.
Hamilton Zoo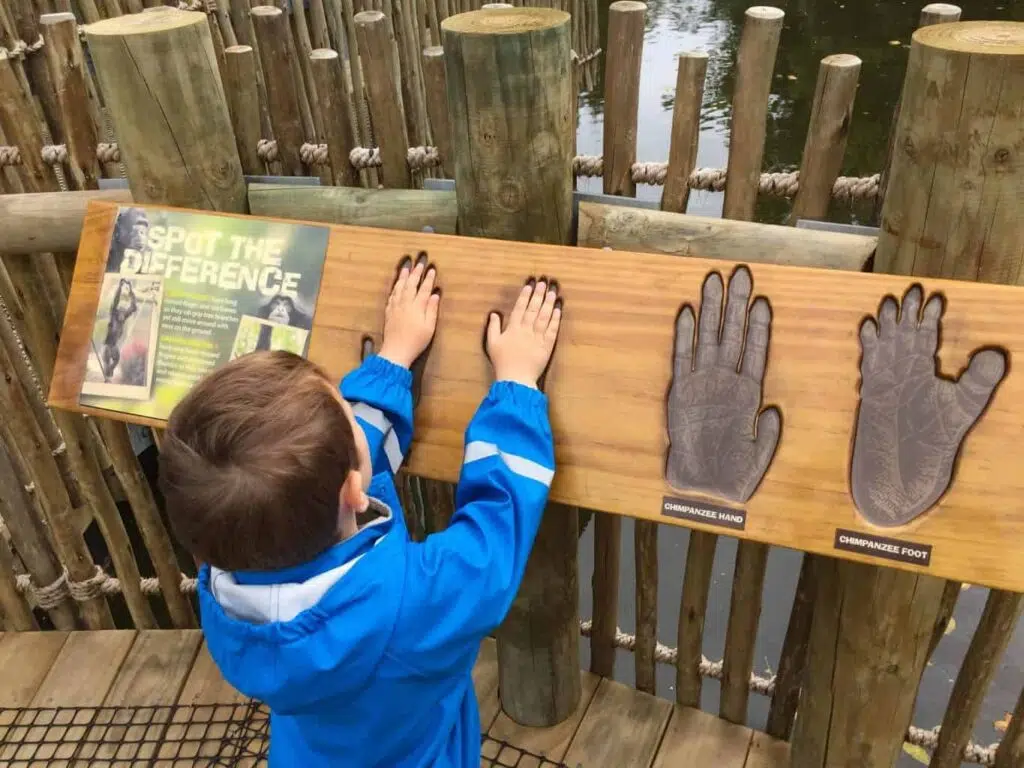 The Hamilton Zoo is a standout attraction for families. Set in over 25 hectares of land, the animals here have plenty of room to exhibit their natural behaviours, much to the delight of visiting children and adults alike!
Watch Giraffes mingling with zebras, ostriches and blackbucks in the large savannah. And take a walk through the free-flight aviary to meet the cheeky native kaka while being serenaded by bird song.
Five Sumatran tigers reside at Hamilton Zoo, and depending on the time of day, you might see males Oz or Kembali or females Mencari, Sali and Kirana in their large natural enclosures. Choose cool days or early mornings to get the most out of your tiger viewing. – Dave Smart, Visitor Experience Manager
Free 'meet the keeper' talks are held at various times during the day and are a great way for kids to learn more about the animals. Our favourite is the Giraffe talk. The keeper lures the Giraffes closer by brandishing carrots – their dark tongues reaching through the fence for a tasty treat!
The emphasis is largely on education, with signs informing visitors of key animal facts and of the threats these animals face in the wild. The Hamilton Zoo are also active advocates against palm-oil production and wildlife trafficking.
Facilities: Parking, café, toilets, picnic tables, gift shop, playground, water fountains.
Cost: $23 Adults, $11 Kids (3-15), Free for under 3's, or grab a family pass for $66. Reduced rates available for seniors, students, and beneficiaries.
Location: 183 Brymer Road, RD9, Hamilton.
Hours: Open every day from 9 am – 5 pm. But get there early as last admissions are at 3.30 pm!
River Walks & Cycleways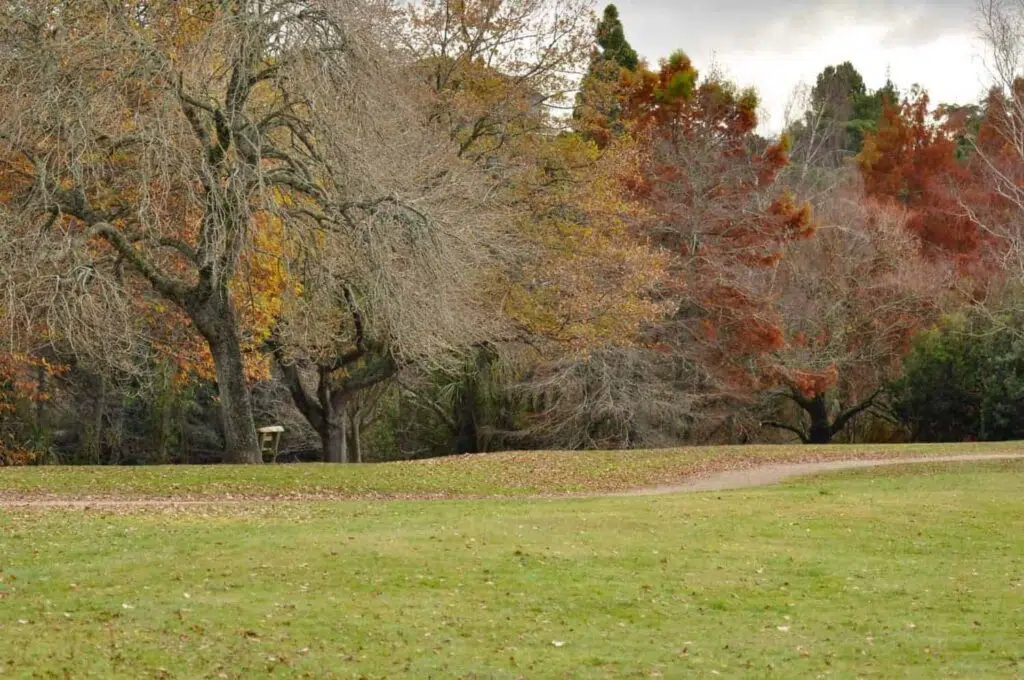 The longest river in New Zealand – the mighty Waikato River – flows right through Hamilton and provides a stunning contrast to the otherwise fairly flat landscape.
A dedicated walking track/cycleway runs alongside the river, to make the most of the scenic vantage point. Grab your walking shoes or hop on your bike for a family journey through parks, past riverside homes and over bridges. The track is fairly easy to navigate – but around the city centre, there are a few small hills to traverse which may be challenging for little legs pushing pedals.
The track runs the length of Hamilton on the city side, but it is not continuous on the Eastern banks. Our favourite family route is in the north of Hamilton, from Pukete Road to the Horotiu Bridge. This part of the Te Awa River Ride has a small beach in the middle – perfect for a rest stop or picnic lunch.
Facilities: Free dedicated parking lots at various points (see map link below), toilets, picnic tables.
Cost: Free.
Location: Te Awa River Ride Map. Hamilton City Cycleways Map.
Hours: Open Always.
Punnet Café & The Strawberry Farm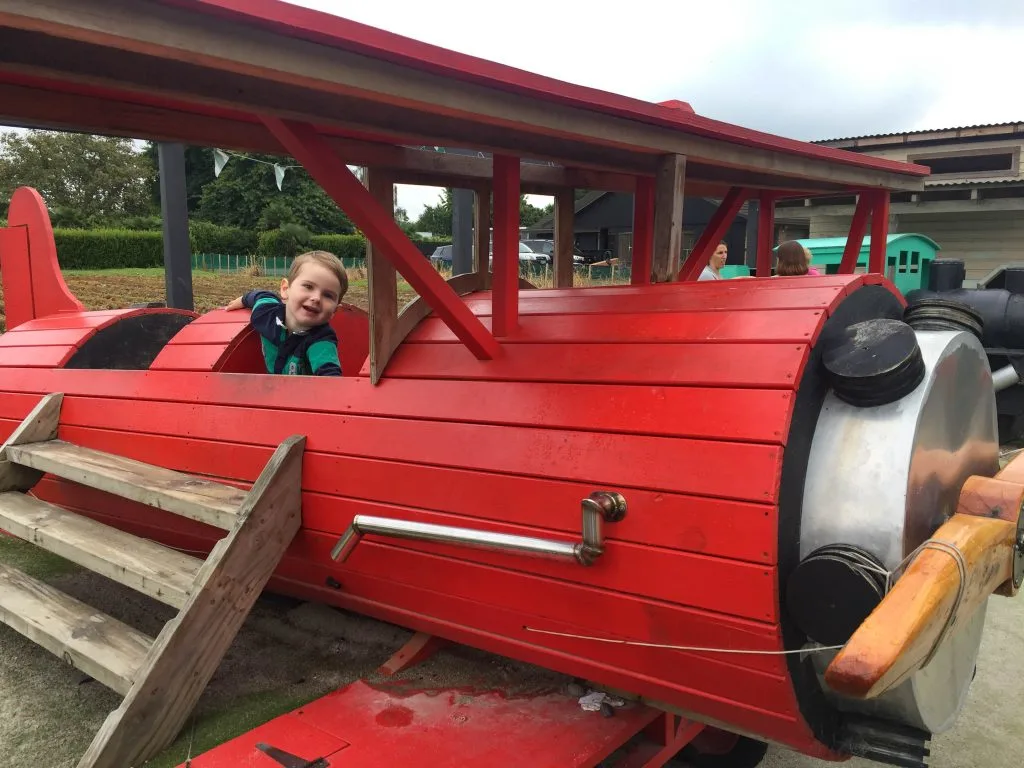 Not only does Punnet Café have great food (including fantastic vegan options) and a family-friendly menu, they also have a noteworthy play area. Set yourself up at an outdoor table and you can enjoy your lunch while the little ones have fun on the playground. There's something for all ages – older kids love the trampoline, while toddlers can play with trucks in the sandpit.
During the summer months, you can 'pick your own' strawberries at the on-site strawberry farm. Children love this hands-on fun – sampling the juicy fresh fruit as they go. For the adults, there's also a gorgeous store next to the café – The Country Providore – selling beautiful homeware, delicious local delicacies and of course strawberry ice-cream!
Facilities: Parking, café, playground, store, toilets, high chairs.
Cost: Café prices vary. PYO strawberries charged by the kilo (plus entry fee).
Location: 337 Newell Rd, Hamilton.
Hours: Open from 8 am every day. Closes at 3.30 pm weekdays & 4 pm weekends. PYO strawberries open weekends weather dependant – ring 07 859 1380 beforehand to confirm.
The Waikato Museum & Exscite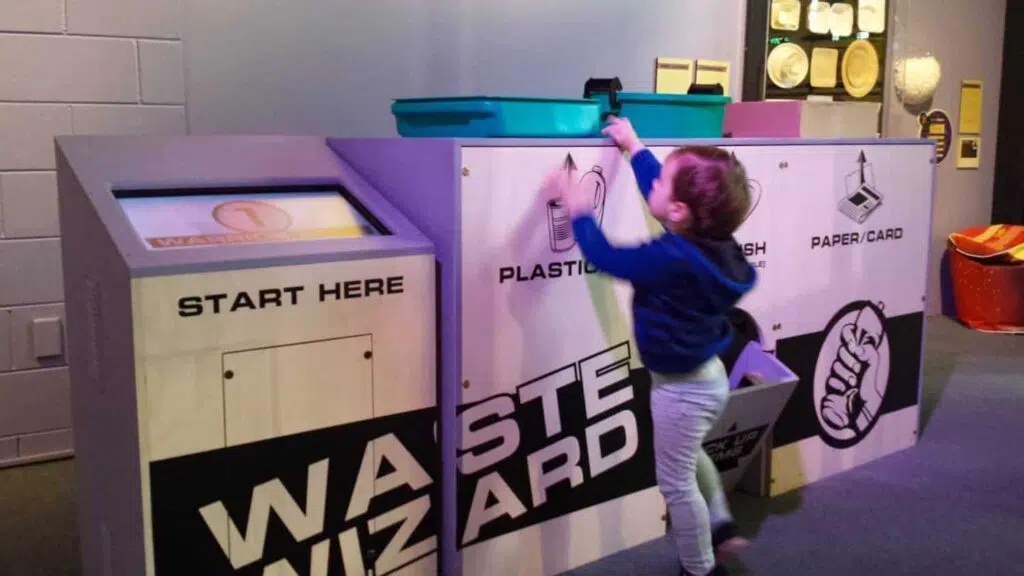 The Waikato Museum at the southern end of the central business district is well worth a visit. Alongside the exhibitions showcasing local/international history and art, is a fantastic dedicated learning and discovery area for children, called Exscite.
Exscite is all about having fun with science in an interactive environment. The grain factory is always a firm favourite. Kids work together to move grain around the moving parts of the factory – excitement building as they watch cause and effect in motion. Giant Lego blocks provide creative fun, while musical pipes and virtual painting games inspire the budding artist.
The museum also holds workshops and events during the school holidays, so keep an eye on their website for updates.
Facilities: Parking (paid), toilets, small souvenir/gift shop.
Cost: Entry to the museum is free. Exscite costs $5 for Adults, $8 for Kids (4-14), Free for 3 & under. There are also family passes available for single trips – or, if you're living in Hamilton, grab a concession – your kids will want to come back more than once!
Location: 1 Grantham Street, Hamilton.
Hours: Open 10 am – 5 pm daily.
Hamilton Events
Hamilton holds a number of child-friendly events throughout the year. From popular annual events such as Balloons over Waikato, to the weekly (in summer) Gourmet in the Gardens, to hosting international childhood favourites like The Wiggles.
You can find a full schedule of events on the Hamilton & Waikato tourism website.
Pin this for later!