A city that's best known for its old English charm and golden Port Hills, Christchurch is a destination with so much to offer. And although some of the main attractions such as the historic tram and punting on the Avon will carry a charge, there are many more free things to do in Christchurch too!
In a city brimming with museums, markets, parks and gardens – it's easy to fill your days without emptying your wallet…
---
Top Things To Do in Christchurch For Free
Some of Christchurch's most famous attractions are totally free of charge! Pack up the family and head out for a full day of fun enjoying these free activities in Christchurch.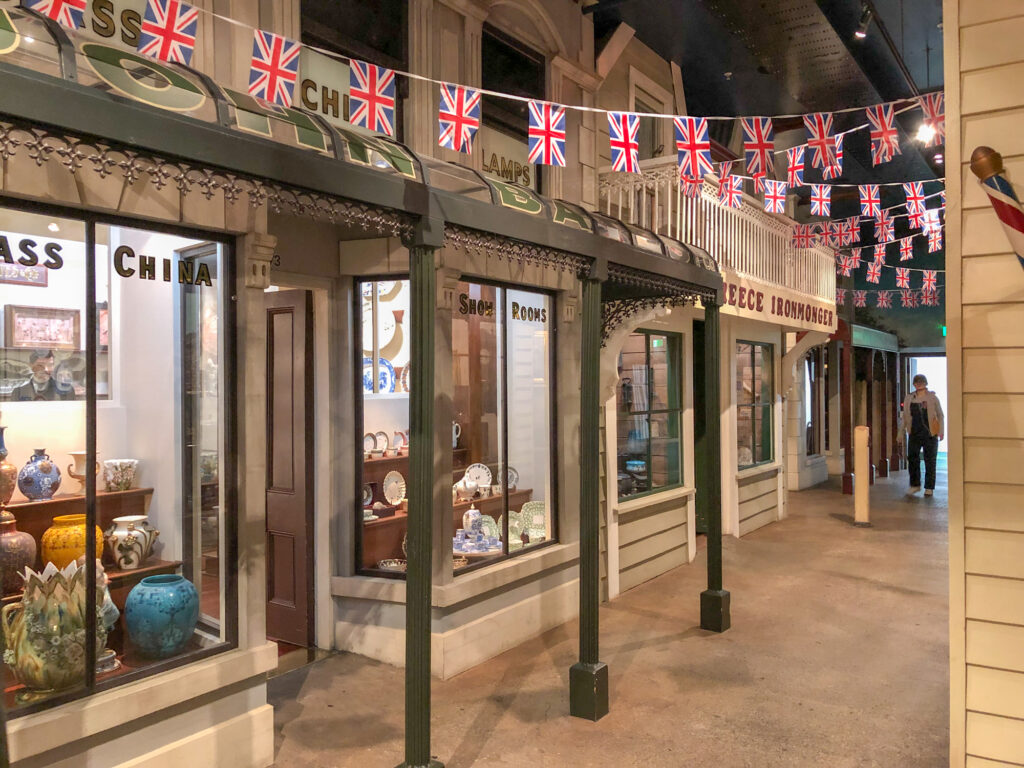 Visit Victoria Park
Victoria Park was opened in 1897 and sits above Christchurch in the Port Hills. It is the perfect spot for a picnic or fish and chip dinner on the huge lawn overlooking the city. There are mountain biking trails, a playground with a big slide, and plenty of popular walks. Start here and walk up to the sign of the Kiwi, listening to the native birds in the trees as you wander.
Take a Pause at Turanga Library
Christchurch's re-built central library, Tūranga, is a delight for kids with its spiral slide and lego pits. The Discovery Wall is a huge touch screen giving information about the history and landmarks of the city.
Take the lift right to the top to see the roof gardens on the balconies looking out to the North and South of the city. There are two cafes available and plenty of quiet spots too should you just want to read a book in peace.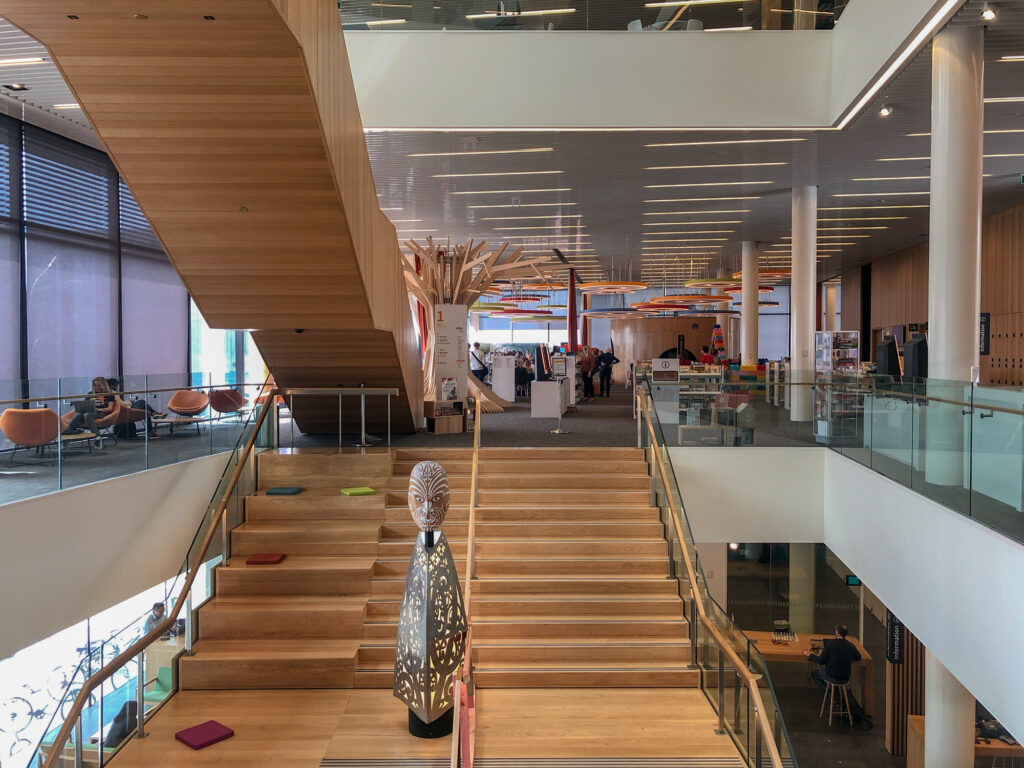 Dive into History at the Canterbury Museum
Explore the history of the region at the Canterbury Museum, with collections from early New Zealand through to Antarctic explorers and Fred and Myrtle's paua shell house. Kids will love the hands-on exhibitions, the old-fashioned 19th-century street, and the Discovery Centre on level 3. Entry to the museum is free but a small donation is appreciated.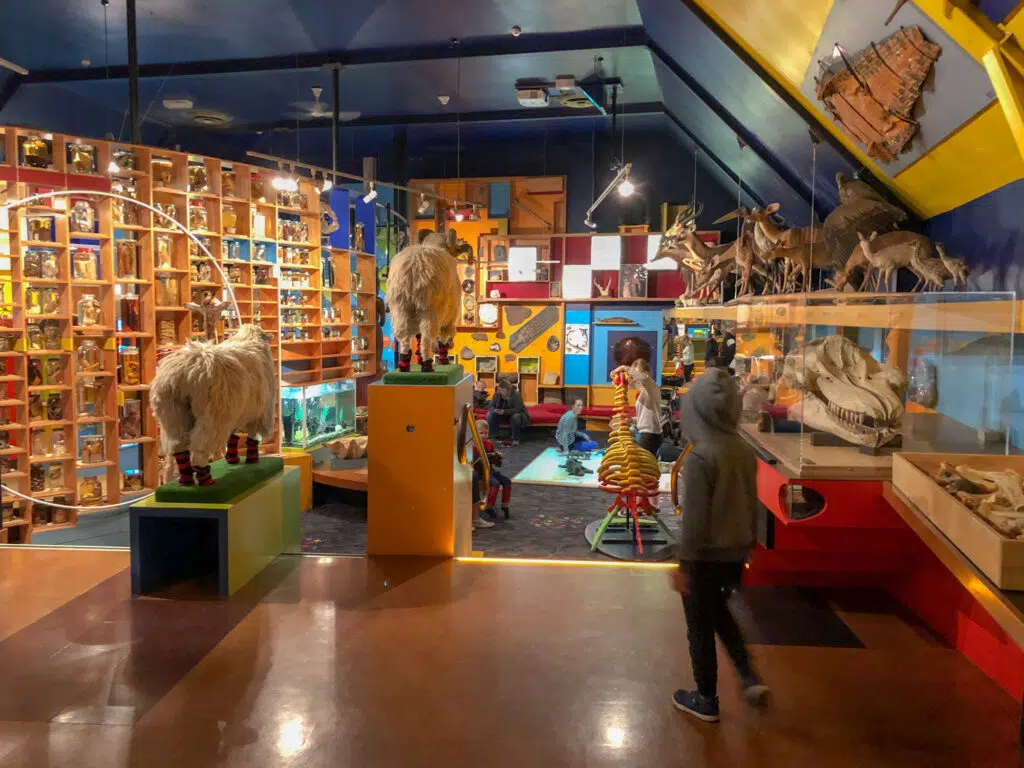 Street Art Spotting in the City
Since the earthquakes of 2010-2011, the inner city has become home to a range of street artworks, designed to enliven the concrete spaces. From a native wax-eye to Alice in Wonderland, walk around the colourful murals and graffiti in the city to get a different view of Christchurch.
You can simply follow your nose around the city and play a game of trying to spot these colourful murals, or check out this website beforehand and map out a route. A self-guided tour takes roughly 2 hours.
Hit up Sumner Beach
Sumner Beach is where the locals flock to on a nice day for a coffee or a fish and chip dinner. Stroll along the esplanade with the dog and a spot of people-watching. Kids will love exploring through the dark of Cave Rock. Walk down to Scarborough playground, splash in the paddling pool, and get an ice cream before it's time to head home.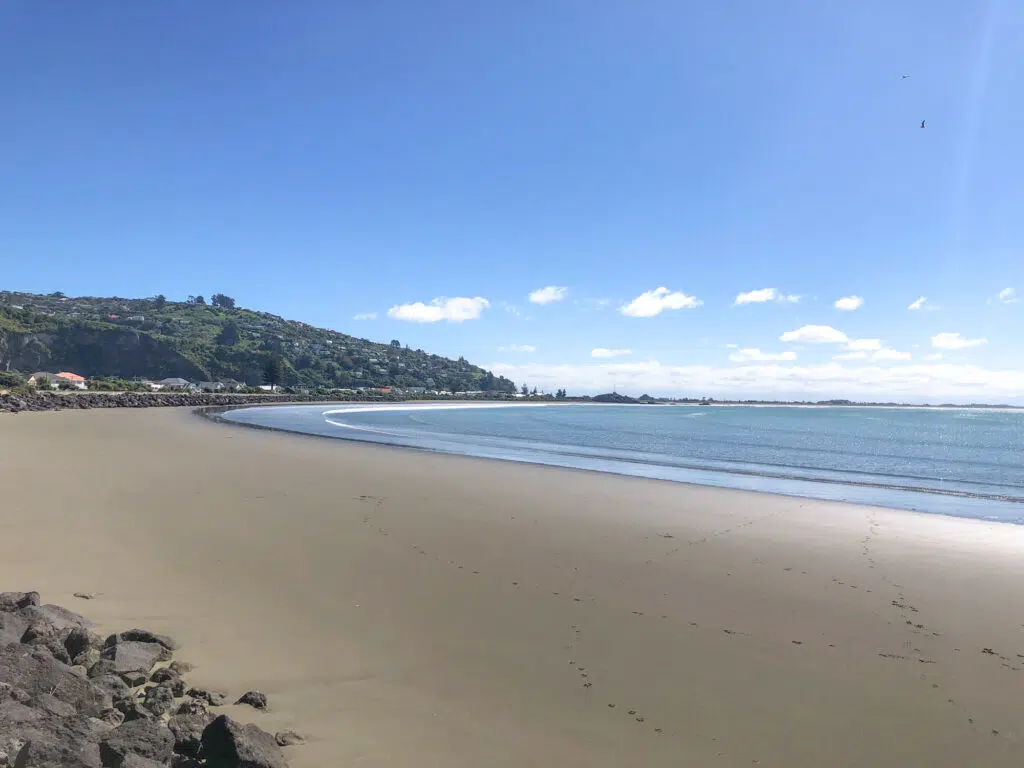 Christchurch Art Gallery
With free admission and ever-changing exhibits, there are so many reasons to keep visiting the Christchurch Art Gallery. There are art collections from New Zealand and international artists, activities for children to connect with art, and a beautiful gift shop filled with unique treasures. You can even join in a free guided tour of the gallery.
---
Free Gardens in Christchurch
Christchurch Gardens are among the best in the country and offer much more than a serene walk through nature. With playgrounds, themed areas, and glasshouses they are a fun free activity in Christchurch.
Botanical Gardens
The Christchurch Botanical Gardens are a haven of green in the city. A visit to the Gardens is one of the best things to do in Christchurch for free. There are mature trees to climb, a huge playground for the kids, and plenty of picnic spots and art installations for adults to appreciate. Explore the many gardens like the rose garden and conservatories filled with sub-tropical plants. As the gardens are right next door to the Canterbury Museum, you can combine both activities for a full day out.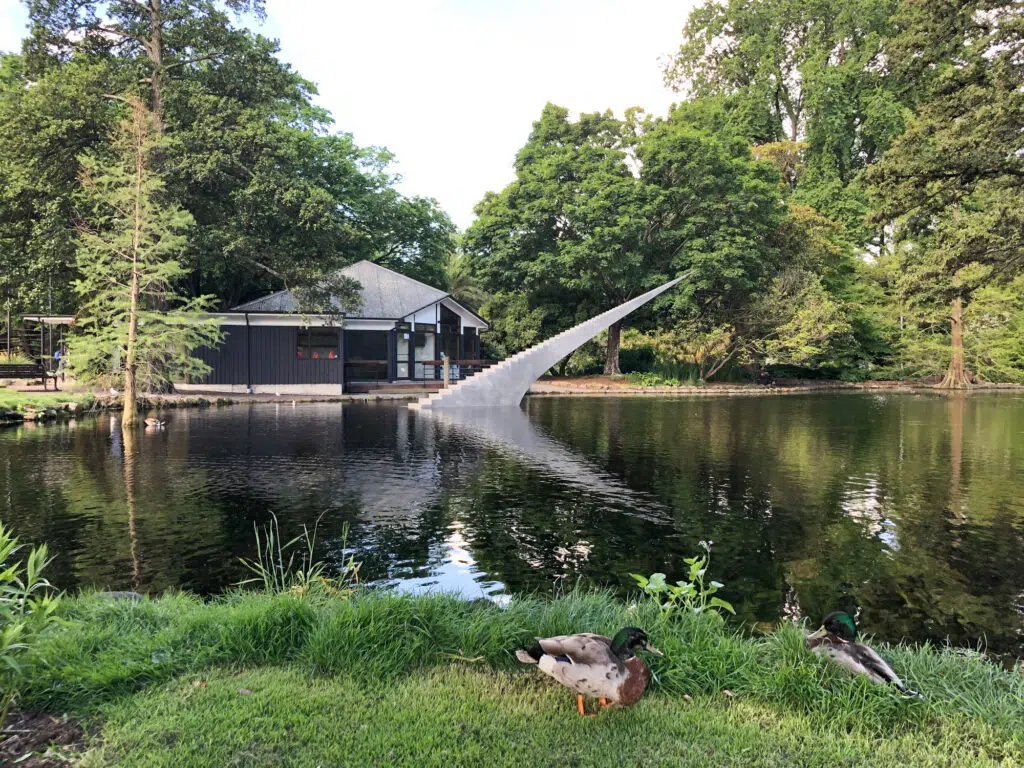 Mona Vale Gardens
Less popular but no less lovely, Mona Vale Gardens are 5.5 hectares of immaculate gardens located just west of the city. A historic homestead from 1897 now houses a cafe. Walk along the river or relax on the sloping lawns. Don't miss the rose garden and the fern house.
---
The Top Markets in Christchurch
Christchurch knows how to do markets well. Much more than a place to grab your fresh produce, these markets provide entertainment, shopping, and a great place to catch up with friends.
Christchurch Farmers Market
Every Saturday morning, the vendors bring their wares and set up for the Christchurch Farmers Market. Check out the whitebait patties from Ocean Divine, pastries from Grizzly Baked Goods, or locally made cereals from Mumma Bear. The lush surroundings of Deans Bush make this the perfect place for a long browse – even if you are pinching your pennies.
Riccarton Sunday Market
The Riccarton Market is a Sunday morning institution in Christchurch and New Zealand's largest outdoor market. Stalls sell second-hand goods, books, and clothes as well as a wide range of food – both ready-made and raw. Enjoy the great atmosphere while listening to music from local artists. Free parking is available onsite.
---
Best Free Things to Do In Christchurch With Kids
Finding things to do in Christchurch with kids is easy, but when you've got little ones to entertain, it's not always cheap! Luckily there are a whole host of free family-friendly activities in Christchurch & surrounds, let's discover some of them below.
Margaret Mahy Playground
The largest playground in the Southern Hemisphere, the Margaret Mahy playground opened at the end of 2015 and quickly became a family favourite in the city. Highlights are the flying fox, sandpit area, slides, and a huge net to climb.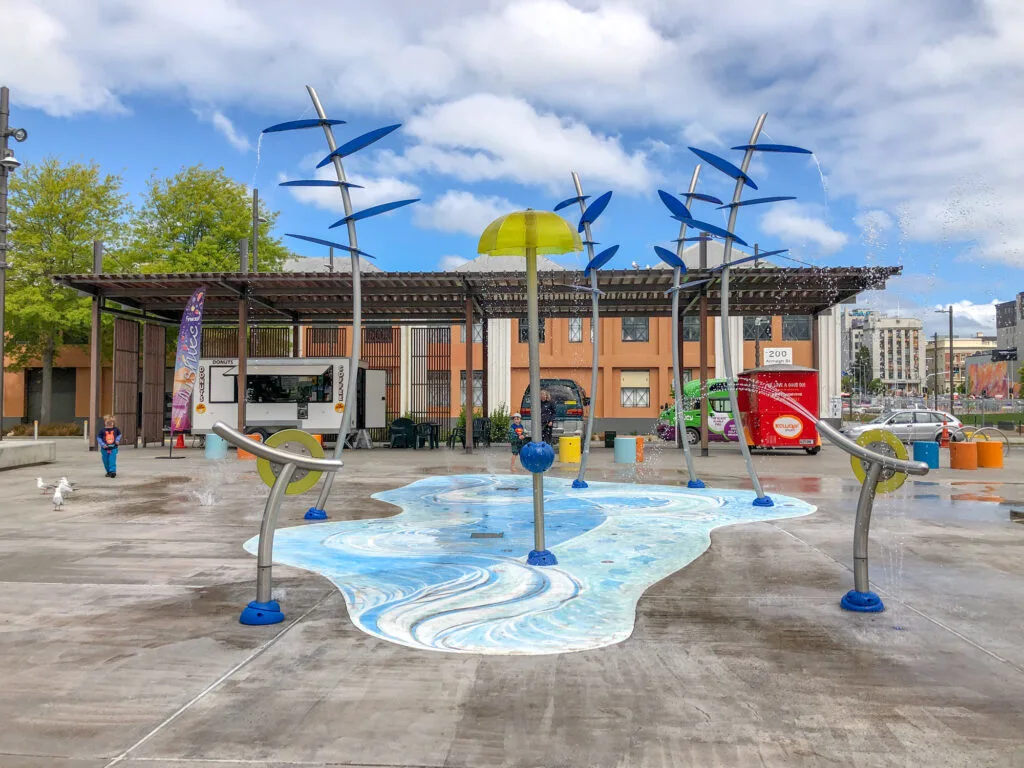 The hands-on water play area is always popular so take a towel along to wrap up in afterwards. It can get busy on the weekends so try to go early or late to beat the rush. There are a couple of food trucks on hand should you get hungry and lovely cafes within a short walk away too.
Knights Stream Park
Knights Stream Park is a dream for children learning to scoot, skate or ride a bike. With a skate park and paths laid out as roads with intersections and signs, this place provides hours of free fun in a quiet suburb. There are shaded tables for that inevitable snack time too.
The Groynes
The Groynes is a large recreation park in North Christchurch with walks, plenty of quiet picnic spots, and adventure playgrounds. As well as a huge dog park, the area boasts two orienteering courses to keep little ones occupied. On the lake, you can hire a pedal boat or go fishing – making it the perfect place for a family day out.
Godley Heads Walk
Older or more active kids can walk or bike the Godley Heads trail. Take in the beautiful views over the harbour and spot Scott's Cabin and the World War 2 battery. The walk is an easy 3-hour loop around the heads from Taylor's Mistake beach – combine it with an afternoon of sandcastle building!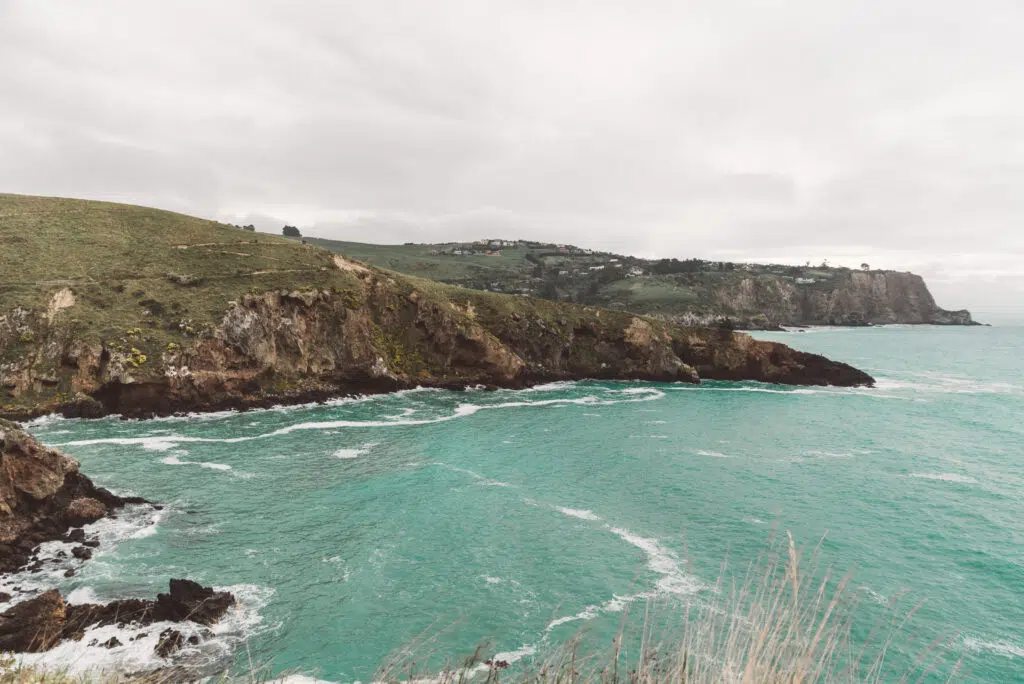 Air Force Museum
The Air Force Museum is a great place to spend the day – even if it's wet outside. It is the national museum for the Royal New Zealand Air Force and displays real aircraft that children can discover for themselves.
Children will love climbing in the gun turret and the Bleriot airplane, as well as having a go on the flight simulator. There is a cafe on-site for hungry little ones and a gift shop with heaps of airplane toys and books.
---
Free Things to Do in Canterbury
Further out of the city, a short drive gets you to many hidden gems around the Port Hills, the coast and the golden plains. So pack up a picnic and take the family to one of these top free things to do in Canterbury.
Castle Hill
In the Canterbury high country, Castle Hill is a stunning basin of limestone outcroppings that is free to explore. It is an area popular for rock climbing and bouldering. If you are feeling brave, you can even go through the 360 metres of cave at Cave Stream Scenic Reserve. Dogs are not allowed in the area.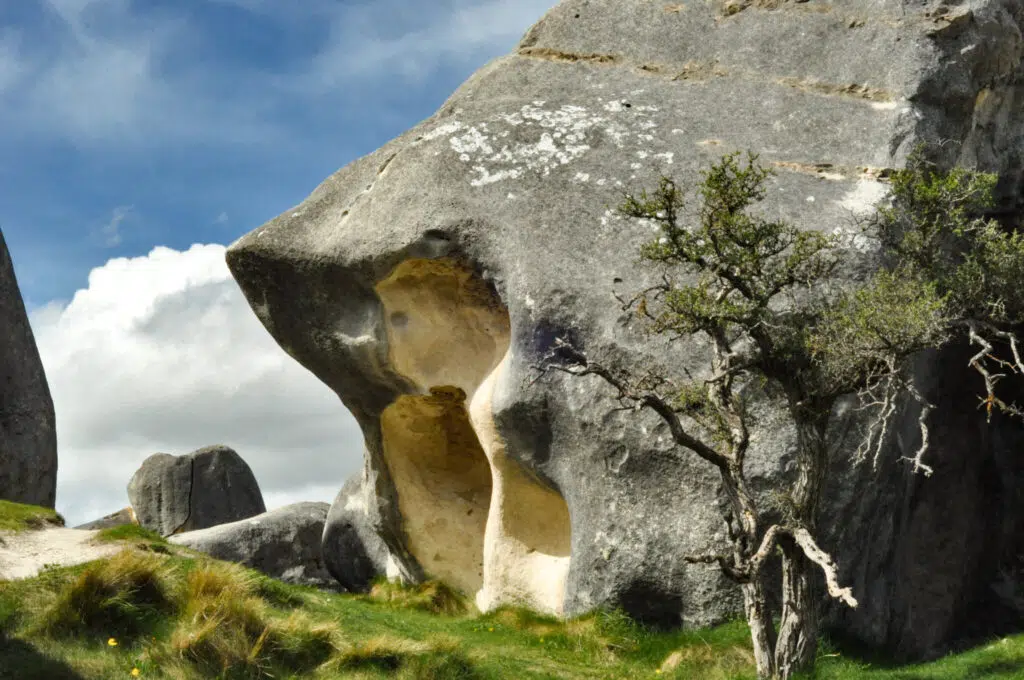 Spencer Park
One of the best free things to do in Canterbury with the family, Spencer Park is a short drive from Christchurch. The kids will adore the natural playground incorporating water play, sand, and diggers. Take a short walk to the beach or Brooklands Lagoon.
---
With so many free things to do in Christchurch, you're sure to find something to suit your mood.