Every year the anticipation builds as the lavender fields of Provence start to gain their telltale purple glow. From around mid-June to mid-August the region is awash with the sight and smell of lavender – it's truly a spectacle not to be missed.
Among the best lavender fields in Provence are those in the Valensole Plateau. It's here you'll find endless stretches of fragrant rows peppered by stone huts and token trees.
The Valensole lavender fields are probably the most visited in all of Provence – and subsequently the most photographed. But finding the most photogenic fields takes time, and that's where I'm here to help.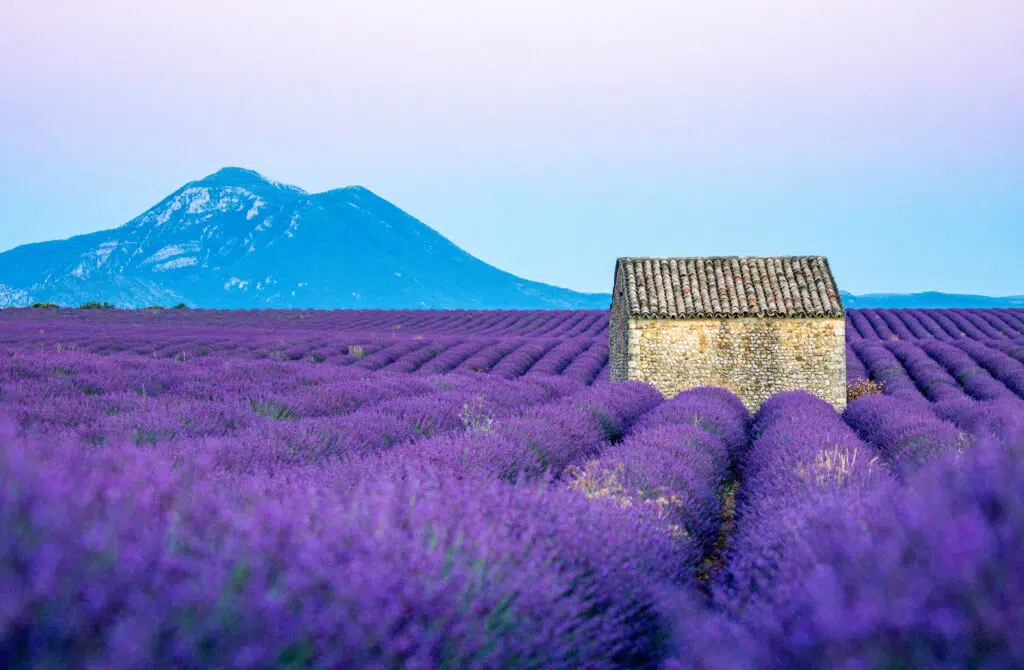 As a local, I visit the fields around the region every year to check which ones are particularly pretty. Crops get shifted around, sunflowers are swapped out for sage, the landscape is constantly changing. So it's important to have the most up-to-date information to make the most of your time. Especially if you only have a day or so in the region.
I've put together this suggested Valensole lavender route based on my own itinerary.
---
Provence Lavender Fields
For a more comprehensive post about all things Provence lavender – please see this article. In it, we explain the best time to visit the lavender fields of Provence and the differences between the various lavender regions.
Related: Visiting the Luberon Lavender Fields of Provence, France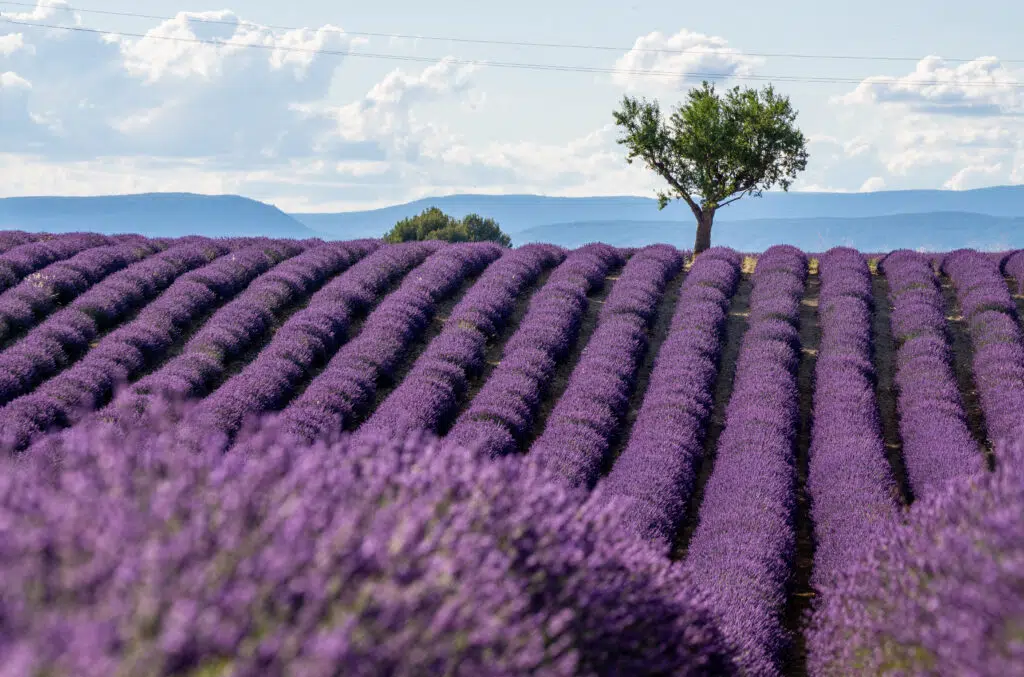 Valensole Lavender Fields Itinerary
The following Provence lavender route starts near one of the most – if not the most – iconic Provence lavender fields.
Lavandes Angelvin is a lavender distillery near the village of Valensole. As it's on one of the major roads into the region (the D6) it's often the first stop for visitors touring the Valensole lavender fields. Our itinerary begins shortly before Lavandes Angelvin, taking in a few stunning lavender & sunflower fields along the way.
If you're coming from Aix-en-Provence, the Luberon, or Avignon – your first stop after exiting the A51 motorway at Manosque will be field #1 near Les Grandes Marges.
Let's get started!
Map of lavender fields in Valensole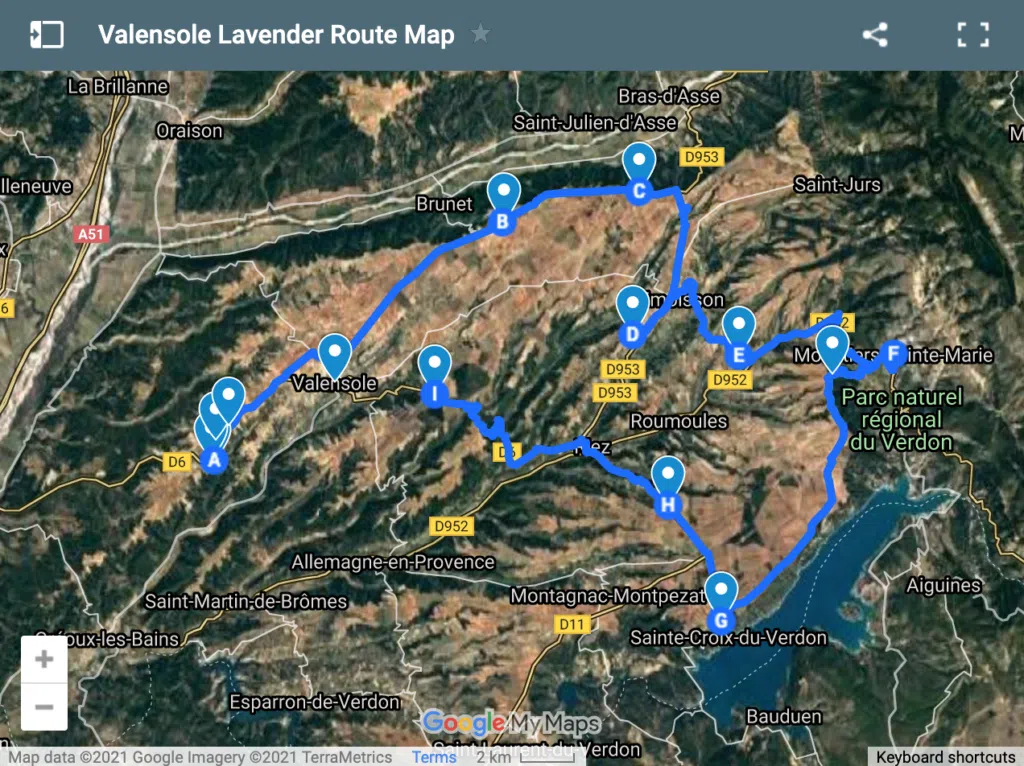 ---
Field #1 – Beautiful Sloping Lavender Field
GPS: 43.81263, 5.93159
If coming from Manosque direction, you'll spot this lavender field easily on your right-hand side. It's the first substantial field you'll see along the Route de Manosque.
You can pull off into the little side road that loops back beside the field. There's enough space to park cars on the grassy verge beside the gravel road.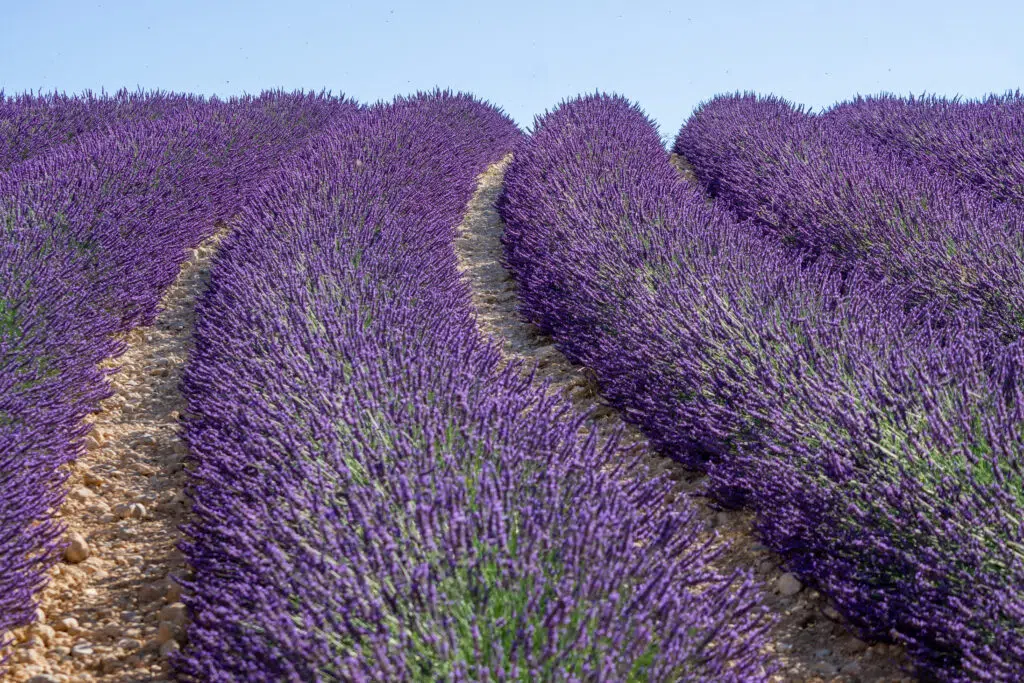 From your parking spot, you can head to the end of the field where I've placed the marker. Here you'll find a lovely gentle slope and a clear background for photos – such as in the photo above.
Or, you can continue driving/walking down the road until you reach the other end of the field. It's here you will find a more dramatic incline which would be perfect for portrait shots.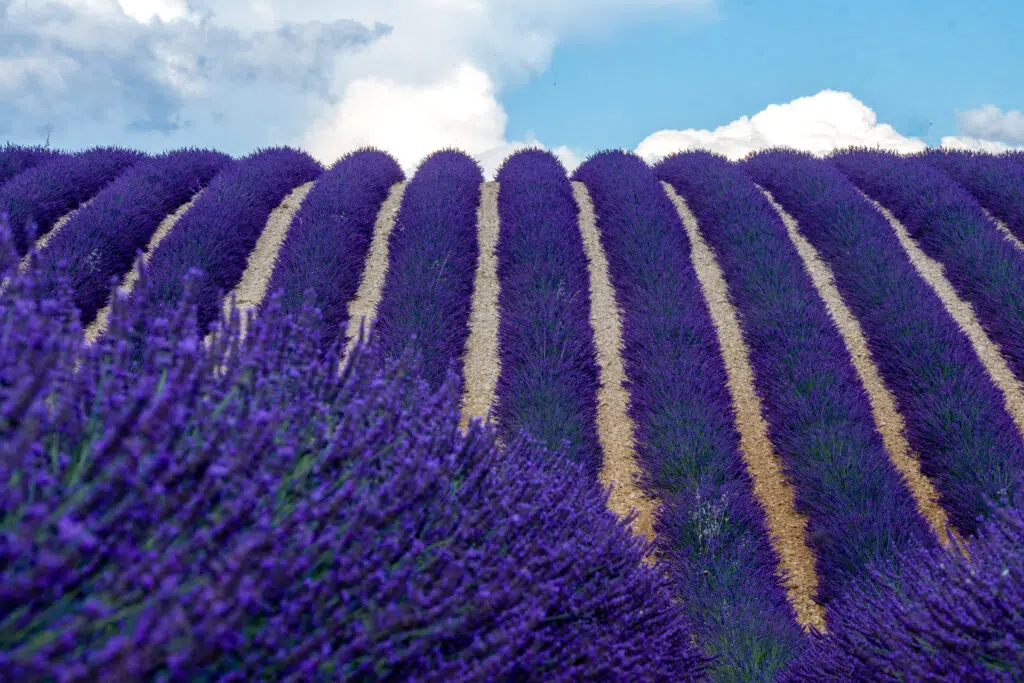 Sunflower Field + Lavender & Olive Trees
GPS: 43.81347, 5.93079
2023 Update – the sunflower field is not here this year, but you can find them a little further up the road next to Terraroma.
Just opposite the Valensole lavender field above, you'll find a gorgeous sunflower field. Leave your car where it is, and carefully cross the road. The sunflowers weren't all open when I visited around the 8th July, but there were enough open to create a spectacle still.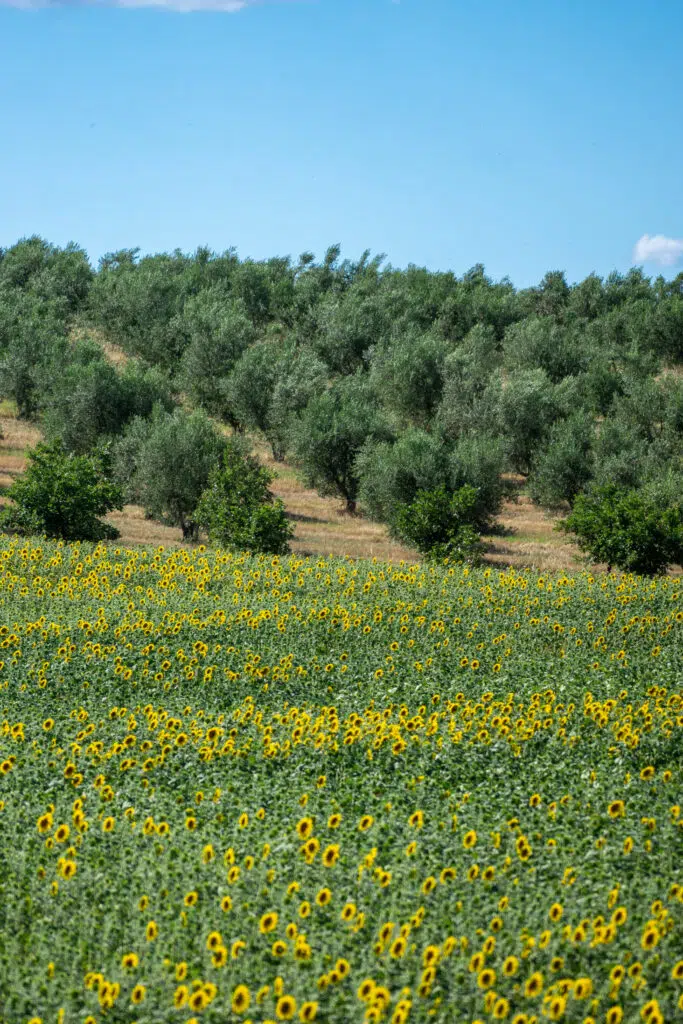 In one direction, lavender frames the sunflower fields, in the other direction you have an ancient olive grove as a backdrop.
Once you're done taking photos here, pop up to Les Grandes Marges, where you can sample the produce being grown, buy some olive oil to take home, enjoy an ice cream, or pick up some lavender products.
Field #2 – Terraroma
GPS: 43.8191, 5.93266
These stunning fields at Terraroma are a more recent development, as this area was covered in sunflowers the first time I visited Valensole!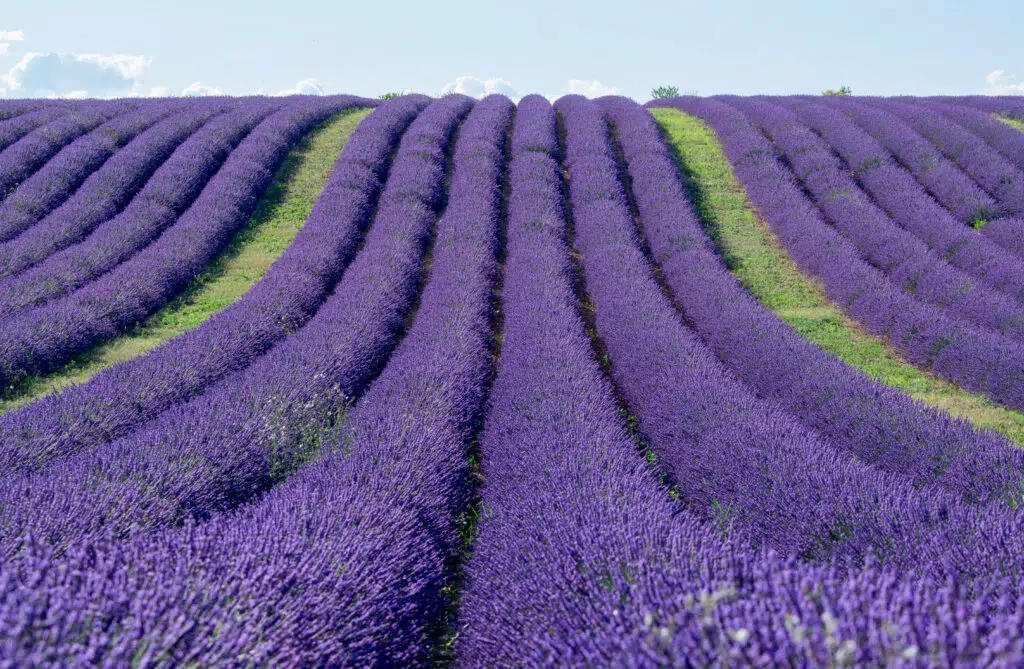 The rolling hills here are prime for photos, and there's plenty of space for everyone to get their shot. In a stroke of clever marketing, there's a rather large Hollywood-style Terraroma sign smack bang in the middle of the field, but it's easy enough to work around it with angles, cropping, or just walking towards the far end of the field if you don't want it in your shot.
The Terraroma distillery is across the road, where you'll park. So pop in and pick up some honey, essential oils, or a bunch of dried lavender for your photoshoot while you're there!
From here, the fields merge into your next lavender spot, Lavandes Angelvin.
Field #3 – Lavandes Angelvin
GPS: 43.82374, 5.93828
If you've visited Terraroma next door, you can just walk across to these fields.
If you're coming by car, there's a small car park on your right as you approach. Park your car there and pick up some tasty treats from the roadside stall selling lavender-infused goodies.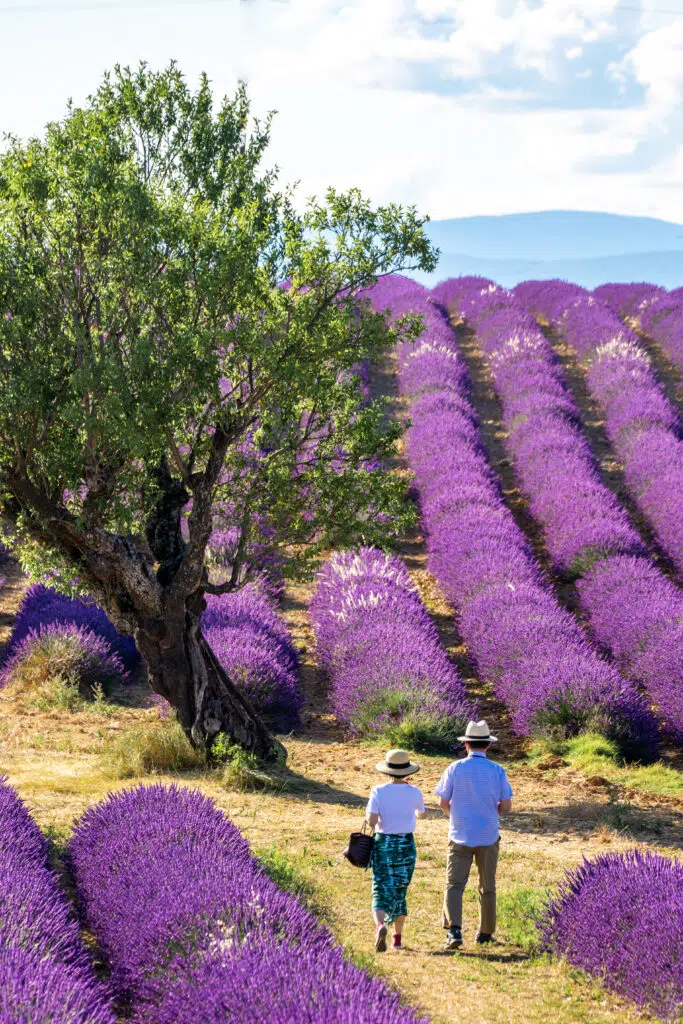 Opposite this car park is where you'll find the most photographed lavender field in Provence, with its iconic trees. You can go straight in for the 'money-shot' (I'd recommend carefully walking down one of the centre rows to get a photo without the hills in the background), or approach side-on for a different perspective.
The fields here are expansive, so if you have the time, walk away from the crowds and play around with different compositions.
Pit Stop – Valensole Village
GPS: 43.837623, 5.987164
You can bypass Valensole and go straight through to your second lavender field, or pop into the bucolic village for an al fresco lunch or lavender flavoured ice cream on your way. It's a petite village, so a quick stop won't take up too much of your time.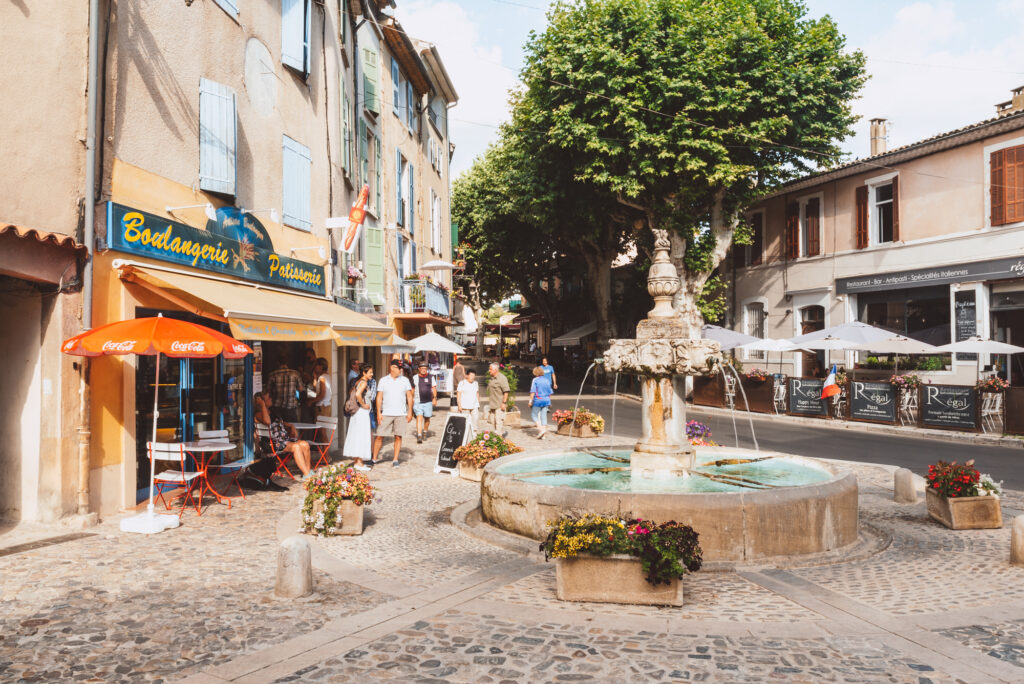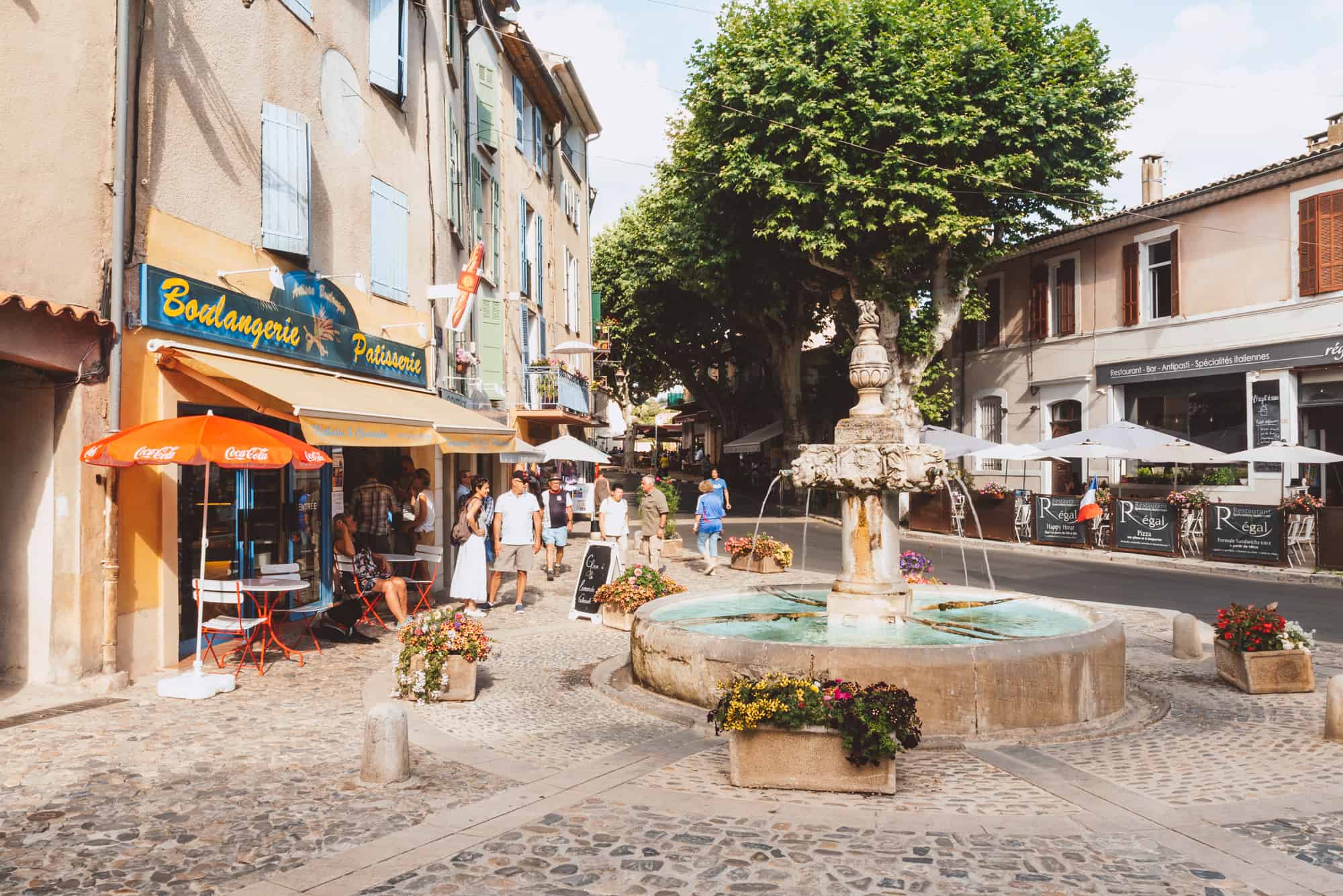 Park on Avenue Segond, or at the car park named "Parking Valensole" and wander down through Boulevard Frédéric Mistral. Here you'll find boutiques, the very pretty town hall, a lovely fountain and an ancient washhouse.
Field #4 – Gently Sloping Lavender Field
GPS: 43.88628, 6.05534
On the right-hand side of the road, as you drive away from Valensole and towards Puimoisson, you'll find this expansive lavender field with a gentle incline at one end.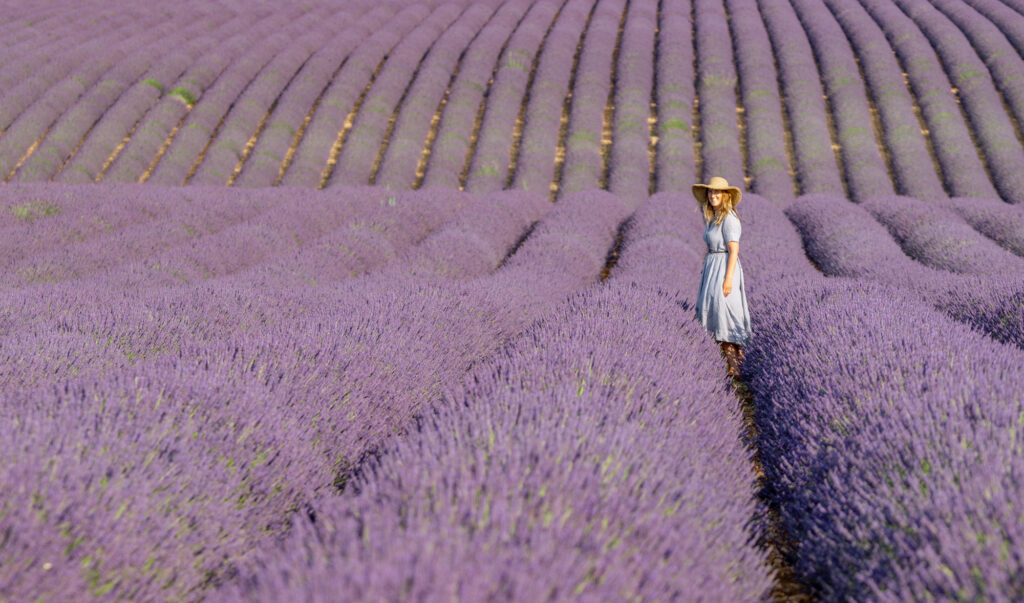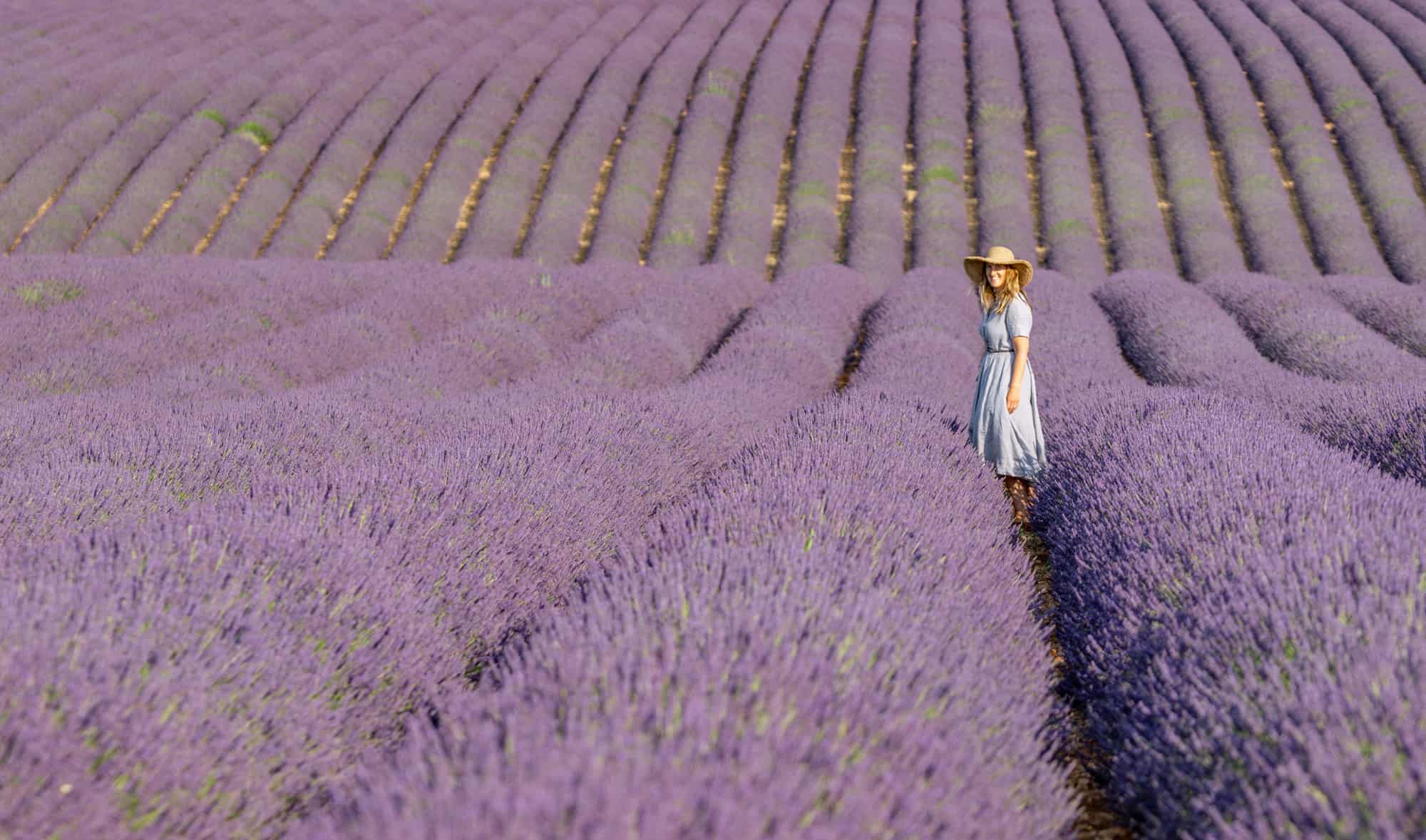 The above image was taken at the closest end of this field as you approach from Valensole. It's where the slope is the most pronounced. The fields here carry on for some time though.
For some reason, this lavender field in Valensole is quieter than most (from my experience in past years), so it's a good one to take portraits or family photographs – without having to worry about anyone getting in your shot.
Field #5 – Stone hut lavender field
GPS: 43.89574, 6.11351
Welcome to my favourite lavender field in Provence! You may not notice the little stone hut when you first pull over. But it's there, hiding just past a little dip in the lavender.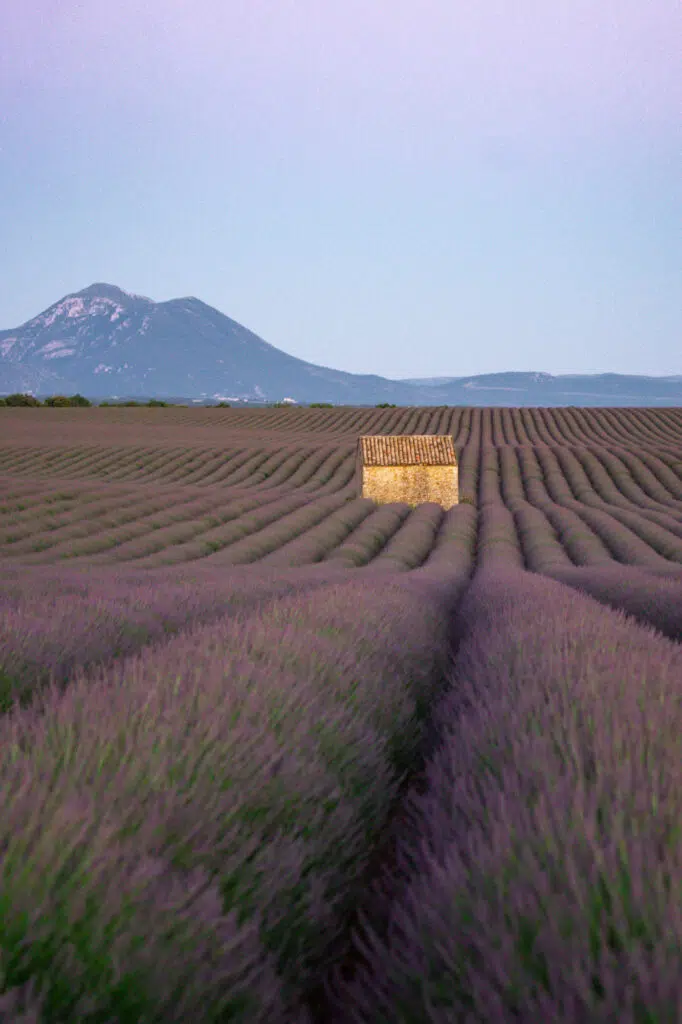 The two photos above were taken a year apart. The photo on the left was taken at the very beginning of the lavender season. The photo on the right was taken near the end of the season (mid-July). You can see the lavender gets a lot more purple as the season continues!
You do need to walk down through the lavender rows to get a good shot of the hut. So please take care not to damage the lavender as you trod.
Field #6 – Lavender field with small stone hut
GPS: 43.85181, 6.11049
We were driving past this field a couple of years ago when I spotted a tiny stone hut in the distance. When I pulled up a dirt driveway and found a small gaggle of photographers, I knew I'd found a winning spot.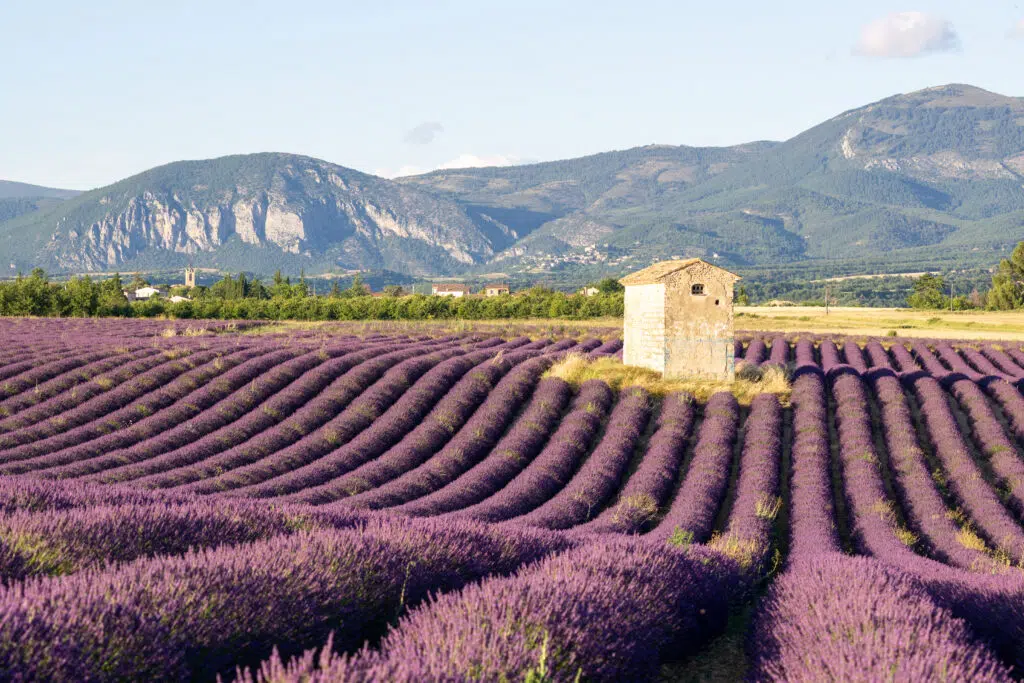 This year I was alone in that same field just as the sun was going down. As it does, it sinks behind a hill and the front half of this field becomes black in the shadows. Therefore it's not one to visit after around 8.30 pm at night.
Field #7 – Quiet lavender field among the trees
GPS: 43.84535, 6.15548
Continue on towards Moustiers-Sainte-Marie and you'll find this vibrant field surrounded by luscious green vegetation. Again, it's the natural swell of the earth that makes this one of the best lavender fields in Valensole.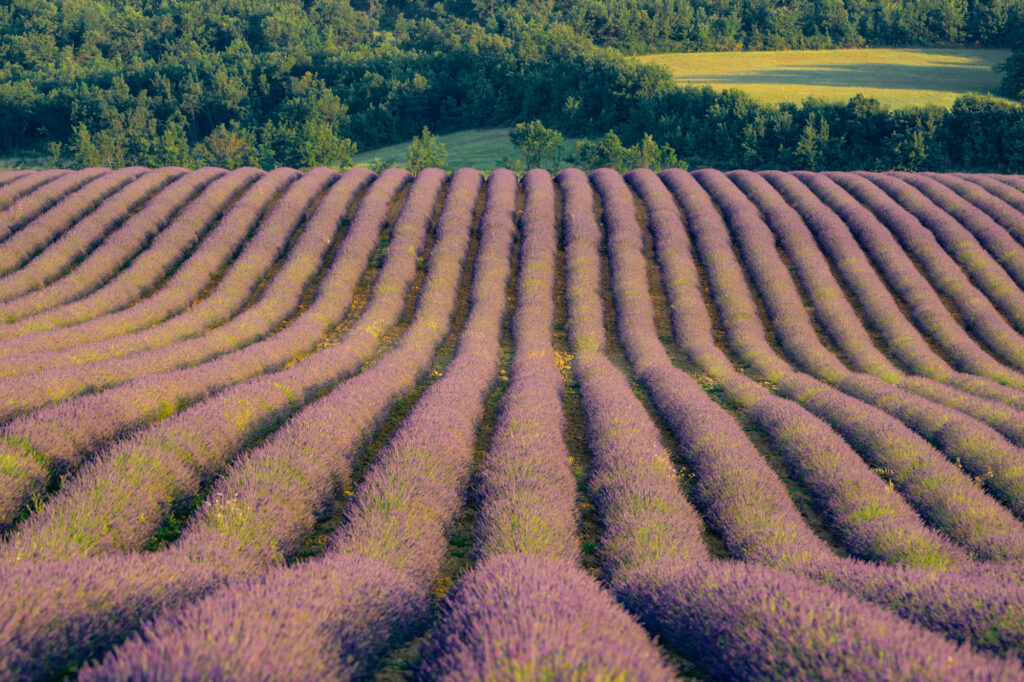 This has always proven to be a very quiet field that's less frequented by photographers. So it's a good place to go to seek a little more solitude.
There's a small dirt area opposite the field where you can pull your car over safely.
Pit Stop – Moustiers-Sainte-Marie
GPS: 43.845889, 6.222695 (for parking lot)
The charming cliffside village of Moustiers-Sainte-Marie wholeheartedly deserves a visit if you have the time. In fact, if you were splitting this Valensole lavender fields itinerary into two days, then this would make the perfect place to call it a day.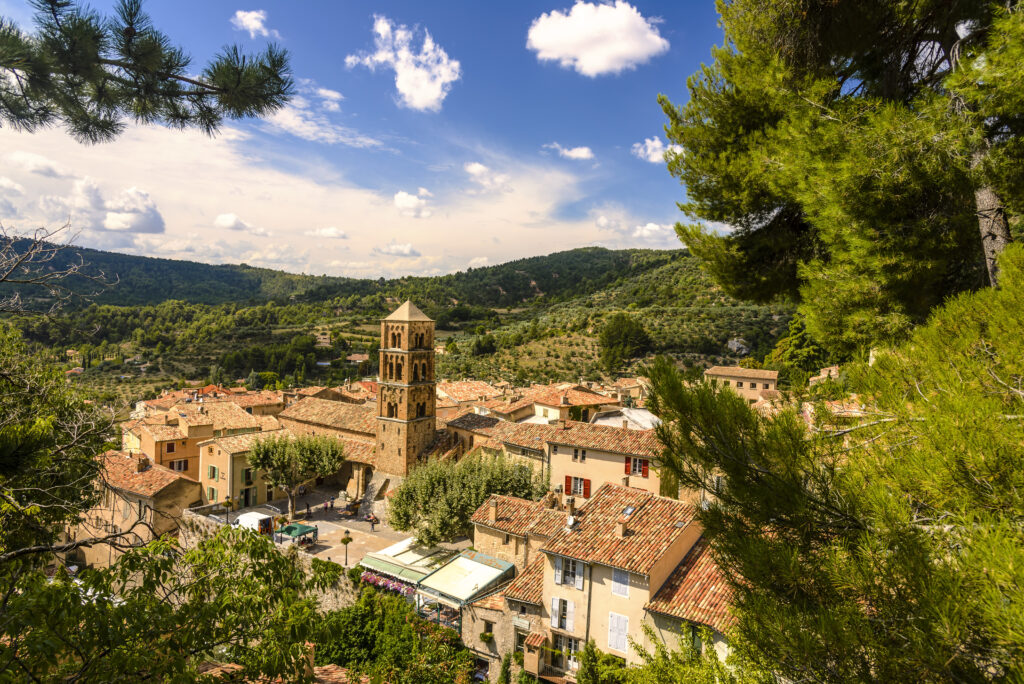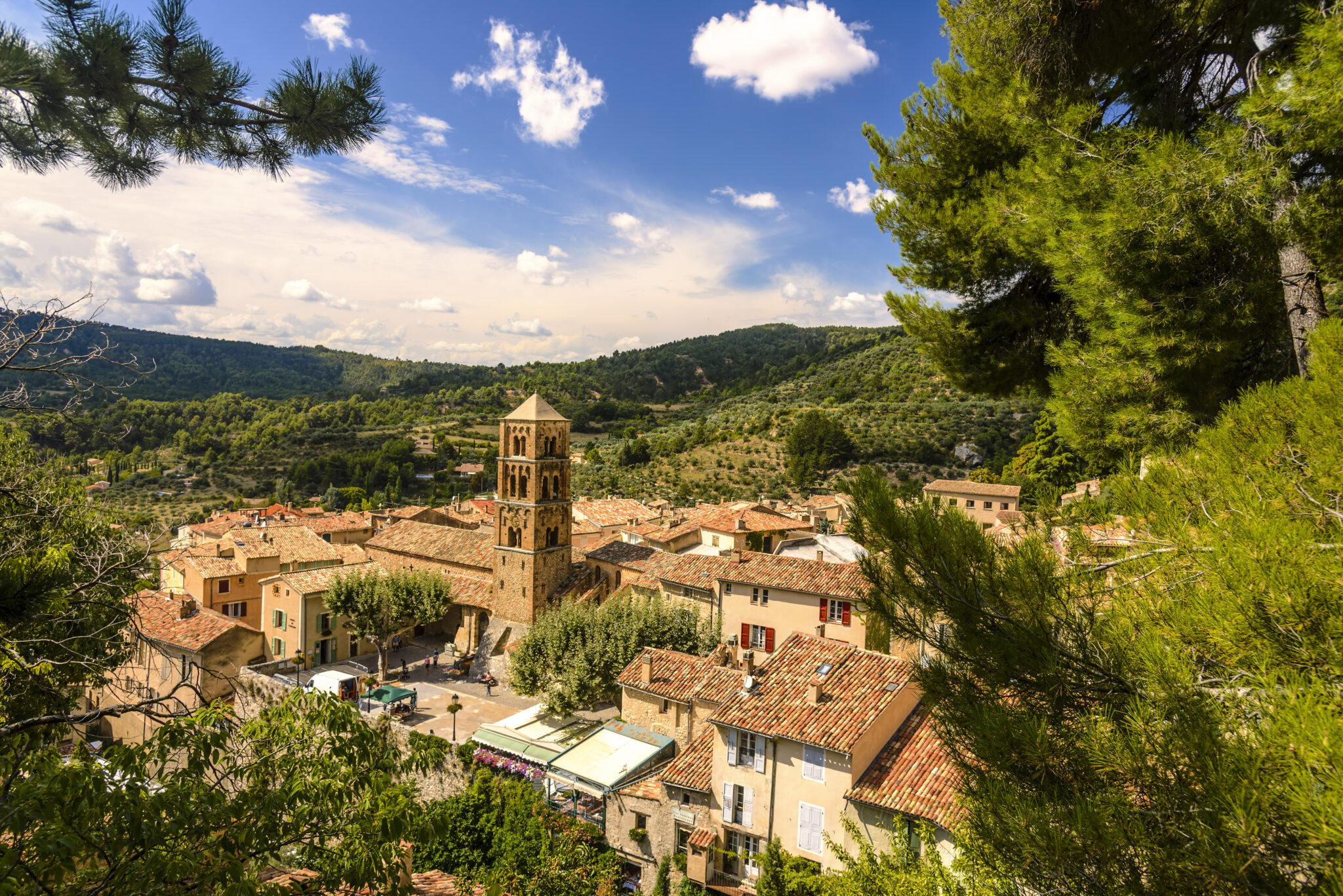 Explore the cobbled lanes of the old town, climb an ancient pathway up to the Notre Dame de Beauvoir Chapel, and delight in the elevated views across the Valensole Plateau as you shelter under giant cypress trees.
Stock up on faïence ceramics, the traditional earthenware the village is known for, and reward your sightseeing with some local Provence rosé on a cafe terrace.
Photo Stop – Viewpoint of Moustiers-Sainte-Marie
GPS: 43.83946, 6.19557
As you climb the Route de Sainte-Croix away from Moustiers-Sainte-Marie keep your eye out for advantageous viewpoints.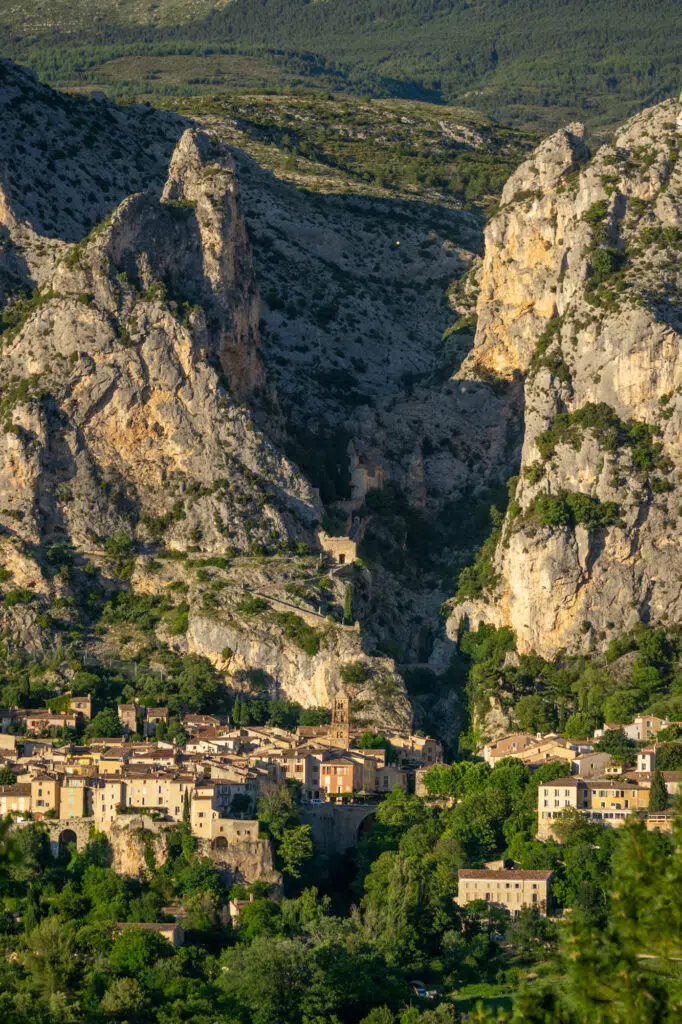 There are a few places where you can safely park your car to take in the gorgeous view of the village. And it's an excellent way to appreciate the geography surrounding the town.
Keep an eye out for the Star of Moustiers shimmering in the sun as it lays suspended between the towering cliffs (can you spot it in the photos above?). The original meaning of the star has gotten lost throughout history, but it's a symbol synonymous with the village none-the-less.
Pit Stop – Orientation Table over Sainte-Croix du Verdon
GPS: 43.76375, 6.14816
As you drive along Route de Moustiers towards Sainte-Croix du Verdon, you'll pass many beautiful sights. There are plenty of lavender fields along this route, but I didn't include them separately as you can discover them for yourself as you drive along.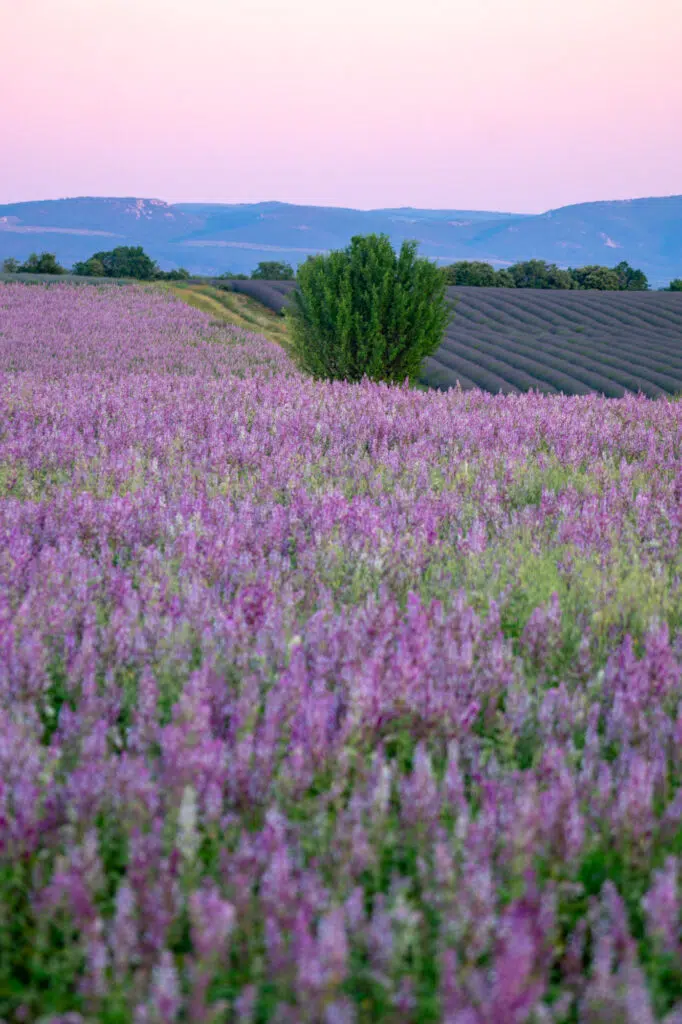 These lavender fields are interspersed with fields of flowering sage which is a stunning pale purple. And on the other side of the road, keep your eye out for breathtaking views over the Lac de Sainte-Croix.
Nearing the end of this road, at the point marked G on the map above, you'll find a parking spot next to a lookout point. Here, there's an orientation table to get your bearings, and picnic tables to enjoy a rest.
Field #8 – Expansive lavender fields near Riez
GPS: 43.79952, 6.1253
This isn't necessarily the prettiest lavender field on the Valensole plateau, but it's a good place to get creative and practice your lavender photography. Do note that there are a few unsightly pylons partially obstructing the view over the mountains. But there are many ways to work around that.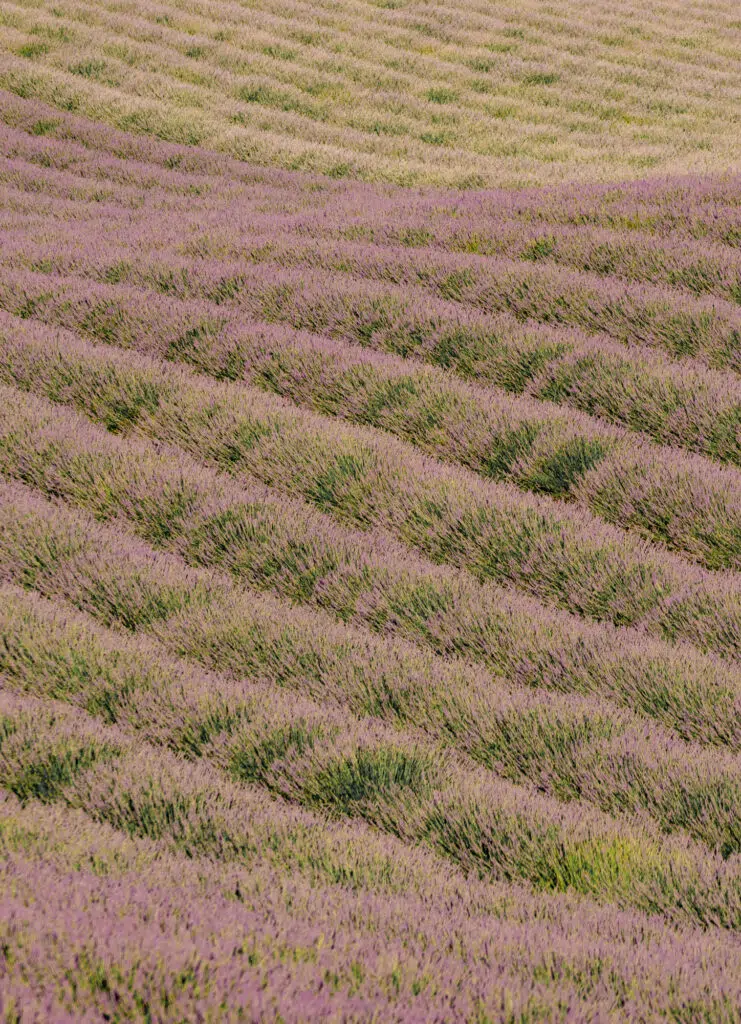 By changing up your angle, focusing on one of the old stone buildings set within the fields, or zooming in, you can still create wonderful photographs. And I've never seen another soul wandering around these fields!
There's a large gravel area to pull over and park next to a bushy area. You'll need to duck behind this group of trees to access the lavender fields.
Field #9 – Rolling hills of lavender
GPS: 43.8334, 6.02605
Your final stop on this Provence lavender route is a real treat. Don't just stay on the side of the road, there are some wonderful trees and a distant hut to help frame your photographs if you wander around a bit.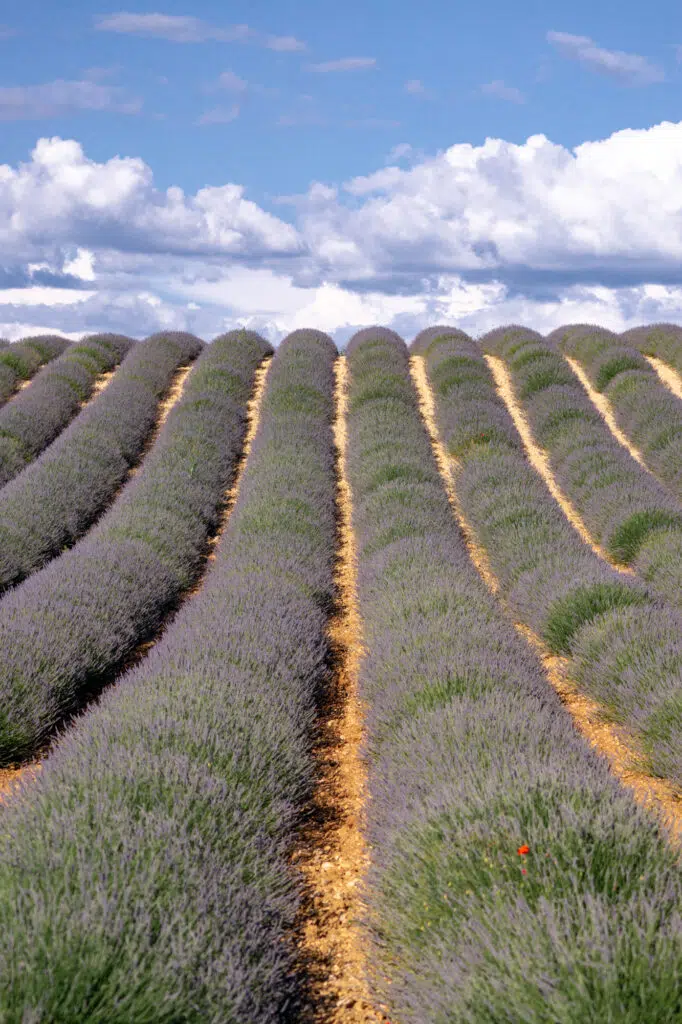 Above you'll see the difference between early lavender (mid-June) vs late lavender (early July). The later you can come in the season, the fuller and more consistent the lavender will be.
The first part of the field (when approaching from Riez) is where you'll find the highest slopes (left picture). So be sure to stop by there too – it's a great one for portraits against a backdrop of lavender.
Fini.
That concludes our tour of the Valensole lavender fields! This isn't an exhaustive list, as I believe it's best to leave a little room for discoveries along the way… But I do believe it gives the first-time visitor a fantastic overview of the area.
If you plan on completing this route in one day, I'd suggest starting early so you'll have time to take in the villages and views as you go.
But, if you are on a short time frame, it's possible to complete this lavender route (and have time for photographs) within 4 hours. You just won't have adequate time to add on the village visits.
Tips to make the most of your Plateau de Valensole lavender tour
The lavender around the Valensole plateau normally blooms between mid-June to mid-July, but it can change year on year. Your best bet is to come in the first week of July for the best blooms. The farmers generally start harvesting in the third week of July – but I have seen it being cut earlier!
Read more about the Provence lavender season here.
Remember that the lavender fields are in constant motion. Fields that look beautiful one year, may be neglected and overgrown the next, or even replaced with another crop!
When you're in the lavender fields, there isn't any shelter, so be sure to wear a hat and sunscreen.
Bring plenty of water, and a picnic to enjoy. Even if you're planning on visiting the villages on this Valensole lavender fields itinerary, you'll struggle to find somewhere to eat outside of regular meal times.
The best time for photographs is early morning or early evening.
The Valensole lavender festival takes place around the 3rd Sunday of July each year.
Check out this post for other lavender routes in Provence.
If you have longer in the area, be sure to take a trip to the Verdon Gorge too!
To keep up to date on the current year's lavender situation, be sure to join our Facebook group here.
Pin this for later!