Iceland captured my imagination from the moment I set eyes on its unique and brooding landscapes. This place takes nature to the next level. Waterfalls tumble over rugged terrain. Endless lava fields hint at hidden volcanoes; these subterranean peaks skulk beneath glaciers whose ice breaks off in great chunks and drifts across sheltered lagoons. Breathtaking fjords lined with snow-capped mountains add yet more drama, while pretty churches and isolated turf houses contribute a sense of scale.
Iceland's swathes of black sand rival any along the world's greatest coastlines. But preparing to head down to the beach here means donning waterproofs and wellies – even in summer, the temperature rarely noses above 20°C. You'll still need to pack your swimsuit though, as the country's signature geothermal baths are a real treat, especially on a dark night when the Northern Lights dance overhead.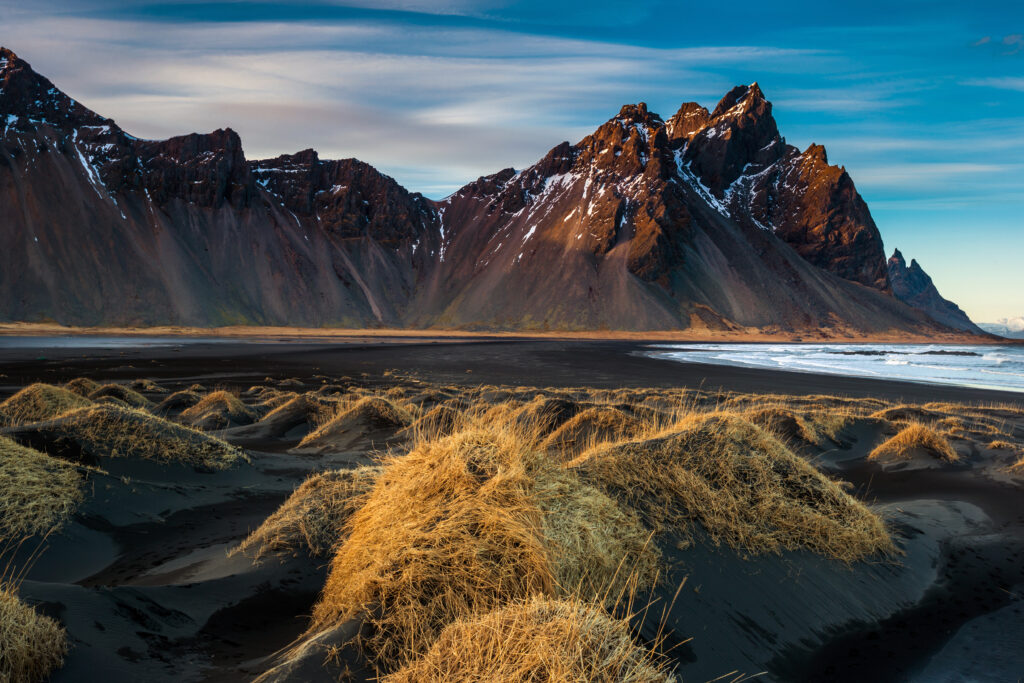 ---
The Best Way to Get Around Iceland
Public transport is perfectly adequate if you choose to base yourself in Reykjavik and are content to take the bus or an organised tour to tourist favourites such as the Blue Lagoon and the Golden Circle. Iceland's south coast is another well-trodden route and tours are easy to come by. This is, after all, where you'll find its most famous waterfalls, Skógafoss and Seljalandsfoss, and dazzling Jökulsárlón lagoon where seals bask on icebergs that have calved from the Breiðamerkurjökull glacier.
However, to reach these hidden gems of Iceland you're going to need to book tours. Or, better still, arrange your own transport; this often works out less expensive, particularly if you can muster a full car-load. Having your own set of wheels means you can set your own pace, visiting popular places early or late in the day when the crowds have thinned.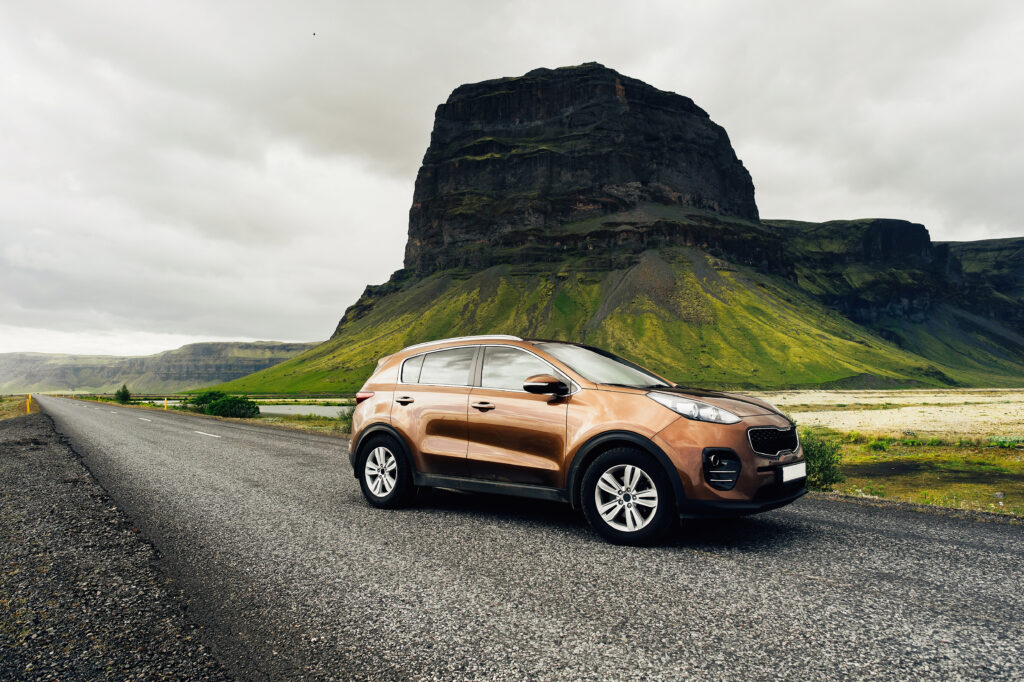 Most of the off the beaten track places in this article can be reached safely in a 2WD car. Nevertheless, on gravel and in wintry conditions, having the increased traction of a 4×4 takes a lot of the stress out of the driving, so this may also be a consideration. You'll also need to factor in the wind. Low-sided vehicles will feel more stable, though you can always stop and wait it out until the gusts subside, particularly if you're planning to head over a mountain pass.
Browse rental car options here.
---
Iceland Off the Beaten Path
When planning a visit to Iceland, you'll need to balance the benefits of travelling during the summer with the drawbacks of sharing its top attractions with more people and paying more for accommodation. But having more daylight to play with, particularly when combined with the increased likelihood of half-decent weather, makes a summer trip a tempting prospect.
You won't have to be in Iceland very long before you fall in love with the place, as so many visitors do. But popularity brings its own challenges, and many of the country's most famous sights can get crowded. Instead of travelling in low season, seek out the places that other visitors might not be aware of and you might just achieve the best of both worlds. Explore Iceland off the beaten track as you check out these ten hidden gems.
Hornstrandir Nature Reserve
The Westfjords region is the best-kept secret of Iceland – after all, it is the country at its most remote. Even at the height of summer it receives relatively few visitors. Base yourself in Ísafjörður, the main town, from where you can book a boat trip to Hornstrandir Nature Reserve. The last residents moved out of Hornstrandir in the 1950s when it became too hard to make a living, but what they left behind is wild and beautiful.
Hornstrandir is also home to Iceland's largest population of Arctic foxes. Free from predators, they can be surprisingly tame and unafraid of human contact. One thing you might not expect, however, is that their coat isn't white. Instead, their fur is a grey-blue shade which is more easily camouflaged among the rocks that litter the beaches and meadows of this nature reserve.
Rauðasandur Beach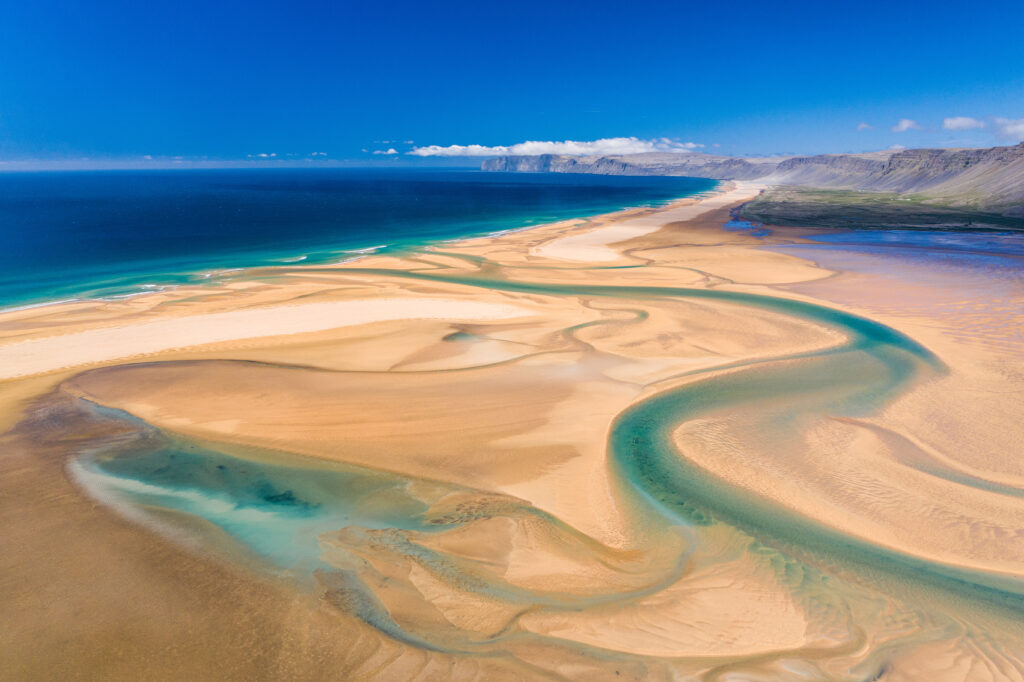 Further south in the Westfjords is one of Iceland's most unusual beaches. In place of the more common black volcanic sand, here, you'll find than six miles of ridiculously photogenic beach. The colours vary according to the light and the tide, from brown to orange to red. On a sunny day, when the water is a bright blue, it's as far as you can get from the image of the Icelandic coastline you'll have in your mind's eye.
From the beach, you might spot seals, and on the sand, it's sometimes possible to see crabs and jellyfish. There's a cute black church too, called Saurbæjarkirkja, and the ruins of Sjöundá turf farm. It's a challenging drive, the last stretch on a winding, narrow strip of gravel called Rauðasandsvegur but time your trip for a sunset low tide, and it will be the highlight of your trip.
Stuðlagil Canyon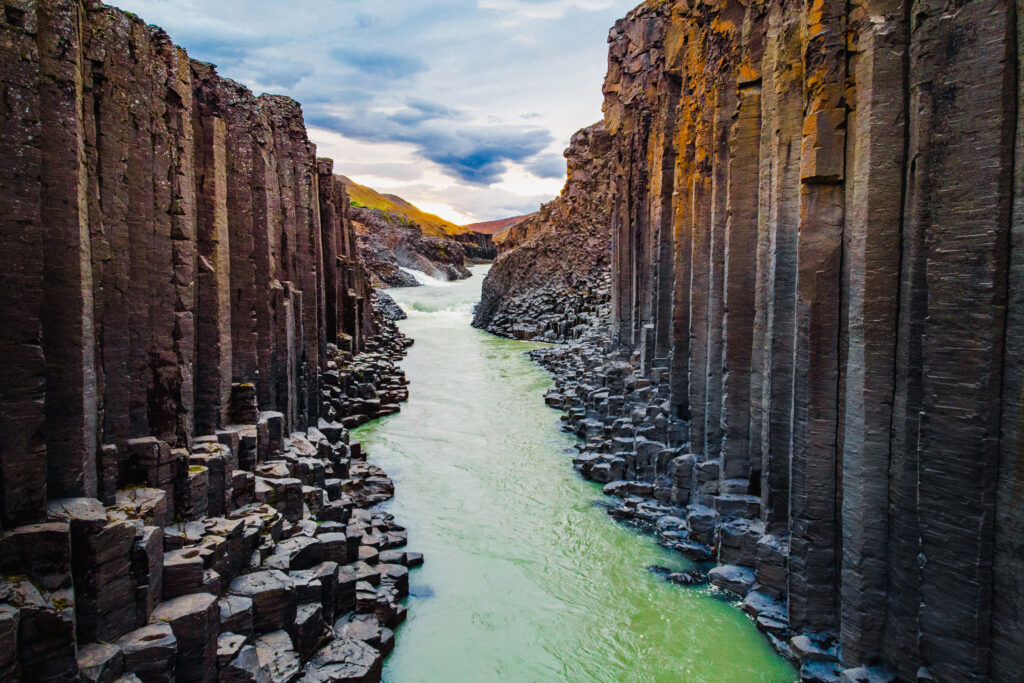 Visiting this extraordinary canyon in East Iceland was unheard of until a few years ago – back then it literally was a hidden gem. However, when a reservoir was constructed further upstream on the Jökulsá á Brú River, falling water levels revealed a striking gorge. It's lined with weathered hexagonal basalt columns that frame a vivid turquoise river. Grab a selfie and try to convince everyone back home that you haven't boosted the colours.
There are two ways to see this previously secret Iceland valley. The easiest is to follow a gravel road and some sturdy steps down to a viewing platform that's been built on the north side of the river. However, if you can handle a six-mile round trip hike – most people can, as it's fairly flat – then it's worth crossing the bridge to the other side. You'll be able to get a much closer look at the rocks and scramble right down to the water's edge.
Siglufjörður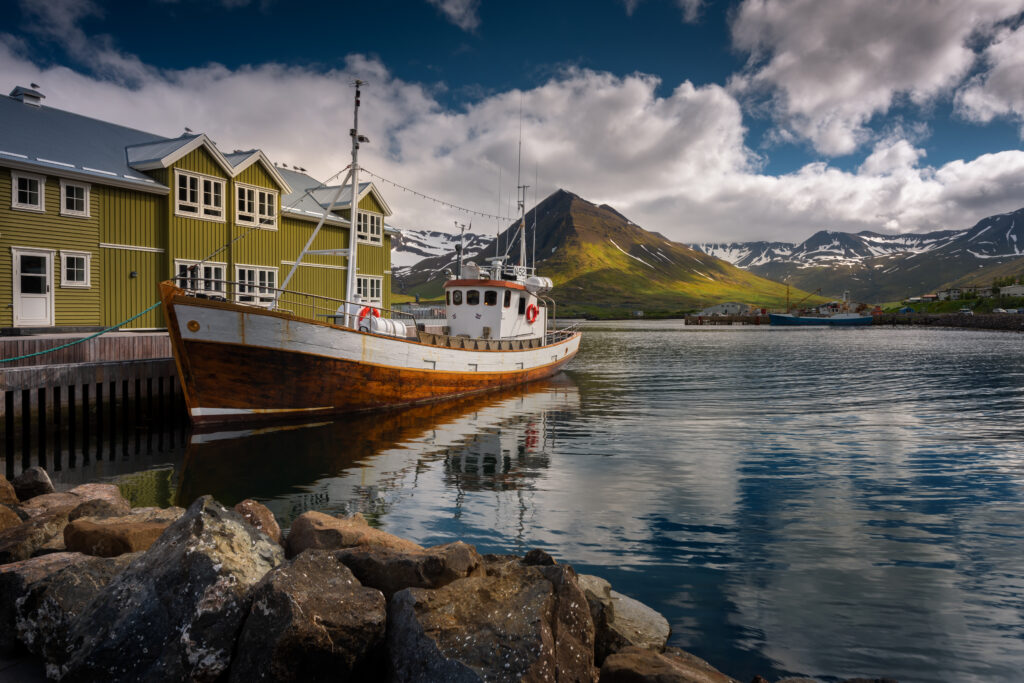 Siglufjörður is one of the most interesting places in Iceland. In the mid 20th century, this sleepy corner of North Iceland was a thriving port. Its quayside was a bustling centre for the herring industry which at its peak employed thousands of people. Boats would tie up and unload their sizeable catch, which would be processed in warehouses across the street and packaged for export. But then, almost overnight, the herring left and everything closed down.
Today, those warehouses and the living accommodation of those who worked here have been transformed into a museum. If you have even a fleeting interest in social history, this place offers a fascinating insight into how a settlement's fortunes can change so quickly. More recently, Siglufjörður featured in the Icelandic drama series Trapped; if you've watched it on Netflix you'll recognise the town's waterfront hotel.
Ingólfshöfði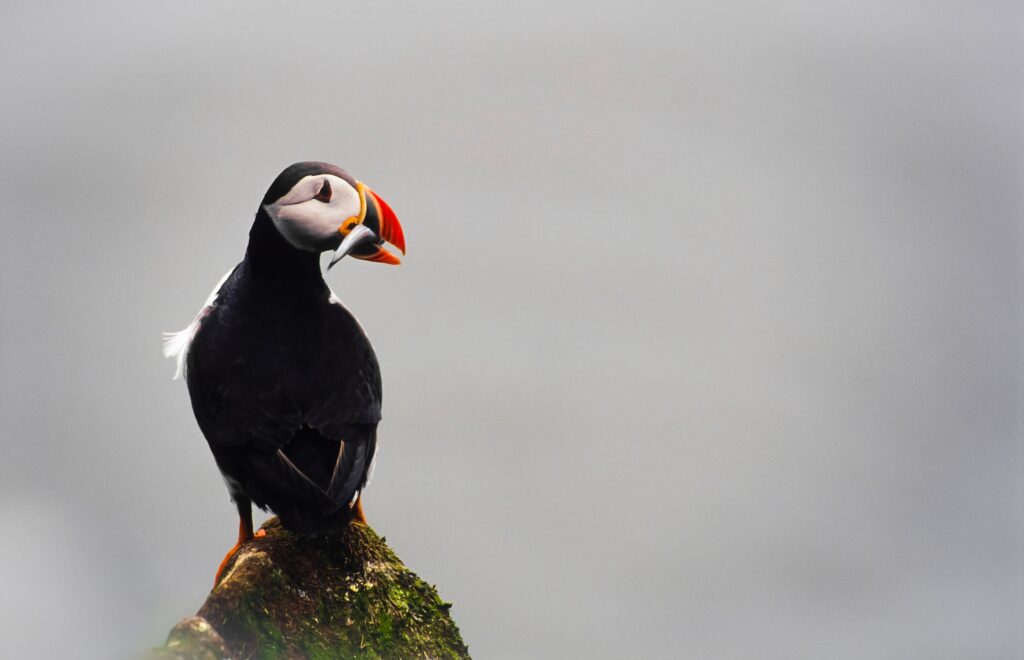 South Iceland is firmly on the beaten tourist trail. It takes a little more effort, therefore, to find a hidden gem, but Ingólfshöfði is one such place. You'll need to take a tour reach it: to access to this remote headland you must cross a flooded causeway that's too hazardous to tackle by car. Instead, visitors to this isolated spot travel in a tractor-drawn cart which makes light work of several miles of soggy sand.
At the other side, a steep but mercifully short hike up a sand dune leads to grassy meadows. From the top, the views back across to the mainland are remarkable – on a clear day you can see Öræfajökull glacier. But most people are far more interested in the nature reserve itself, especially the comical puffins that nest in burrows here during the summer. They're not the only birds to breed here, joined by fulmar, razorbill and great skuas.
Hvitserkur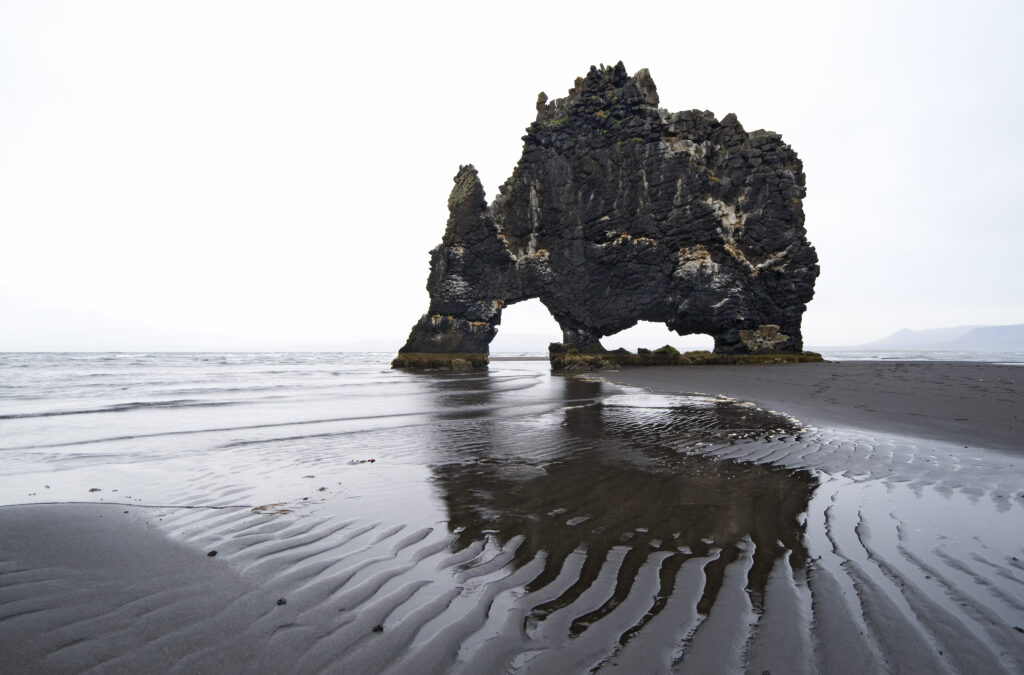 Hidden places in Iceland take many forms and this one is a curiously shaped lump of rock that lies just offshore in the north west of Iceland. This unusual basalt sea stack is nicknamed "the troll". So the legend goes, the troll wanted to rid the Þingeyraklaustur convent of its bells, but was caught by the sunrise and was turned to stone.
When you look at it, instead of a troll, you might see a resemblance to an elephant, rhino, or bison drinking from the water. Translating the rock's name also provides a clue as to why people drive all the way up here. It translates as white (hvit) and long shirt (serkur), a reference to the bird drippings left by the fulmar that use it as their perch. To reach it, you'll need to loop the Vatnsnes' peninsula on gravel roads, but this is also a great place to spot seals when you fancy a break from driving.
Háifoss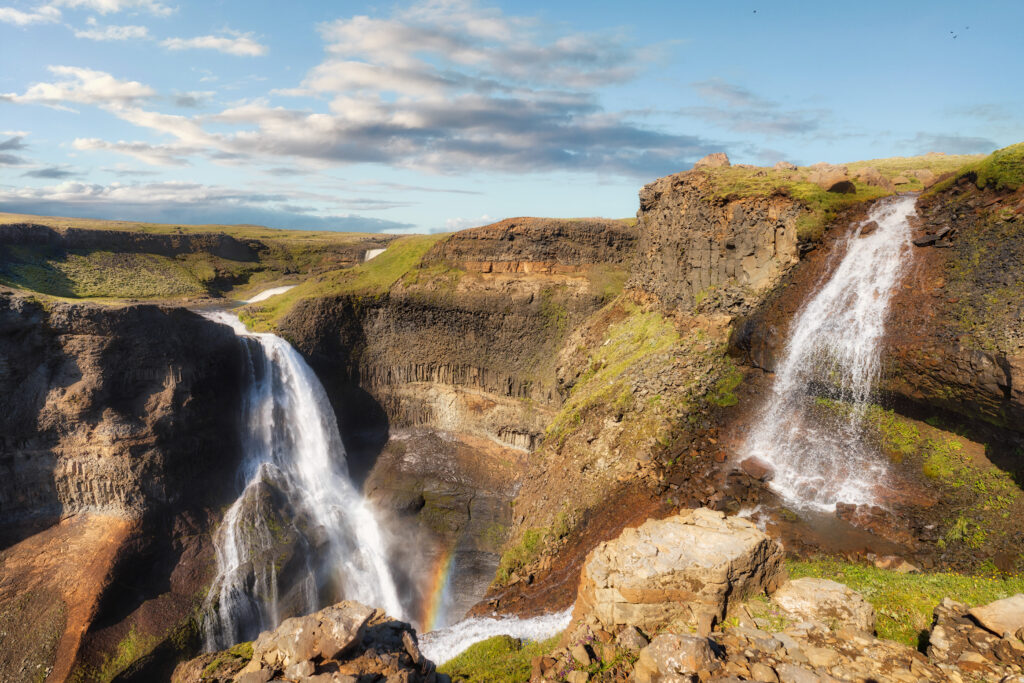 Iceland boasts hundreds, maybe even thousands of waterfalls. Many of them, such as Gullfoss, a highlight of the Golden Circle, or the Diamond Circle's Dettifoss are easily accessible and because of this receive a steady stream of visitors. You'll have to work a little harder to find a significant cascade that you don't have to share, not least walking a bit further from where you leave your car, but it's worth the effort.
One such waterfall is Háifoss, or "Tall Falls". Situated on the Fossá River, it's Iceland's fourth highest waterfall, after Morsárfoss, Glymur, and Hengifoss. To reach it, you'll need to follow a hiking trail about 2.5 miles from the car park; to get really close to the waterfall, you'll have to be prepared to get wet. A drier but no less spectacular option is to walk to a viewpoint at the top of the canyon for a panoramic view that takes in not only Háifoss but also its neighbour Granni.
Icelandic Museum of Sorcery and Witchcraft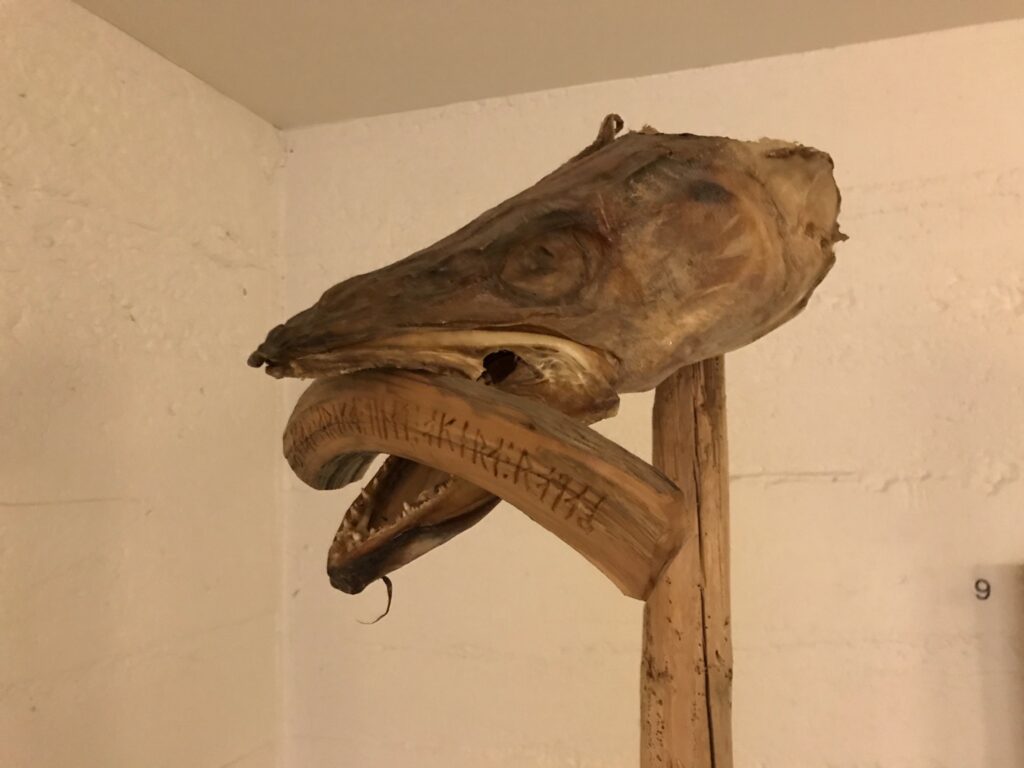 Countless quirky little museums can be found all over the country. Among these offbeat Iceland attractions is a place in Hólmavík which tells the story of sorcery and witchcraft. Some of its collection is especially gruesome, including a pair of nábrók, or necropants, made from the skin of a deceased man, thought to bring the wearer great wealth (though probably not many friends). Also compelling are exhibits which explain some of the spells that were used centuries ago.
One, designed to control the weather, involved taking the head of a local fish called a ling and shoving a bloodied stave into its open mouth. If the ritual worked, the wind would blow from the direction the mouth faced. Doing so wasn't without risk, however. If local fishing boats were foundered in a storm, the person setting the spell would have been exiled or prosecuted.
Landmannalaugar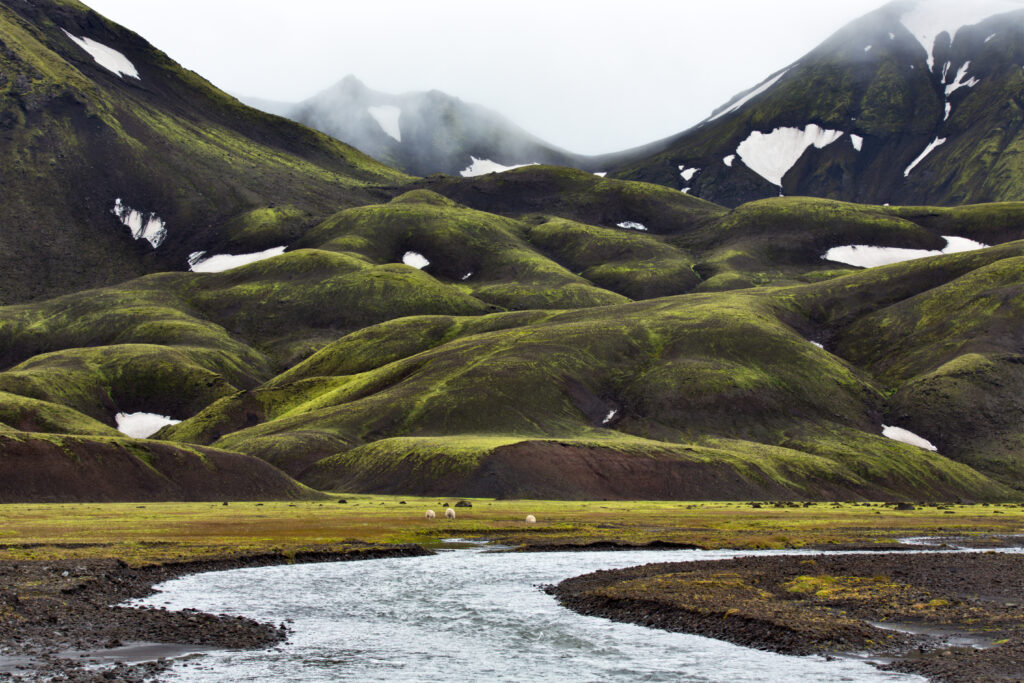 Landmannalaugar forms part of the Icelandic highland interior, much of which is impossible to reach in winter after the F-roads close for the season. Even if you aren't a geologist, you can't fail to be won over by the impressive array of colours that characterise the landscape here. In contrast to the black rock of the Laugahraun lava field, Landmannalaugar's rhyolite mountains dazzle in shades of green, blue, pink, red, and yellow.
In summer, it's a beautiful place to hike, but it's also one of the best off the beaten track areas in Iceland to soak in a natural hot spring – the area's nickname is the "People's Pools". In the past, those crossing Iceland on foot would have stopped here to bathe and rest; today, many tourists are here on a day trip. Rustic and low-key, a dip in these geothermally heated baths is the perfect contrast to the mushrooming supply of more developed options such as the Blue Lagoon, Mývatn Nature Baths or GeoSea.
Þórsmörk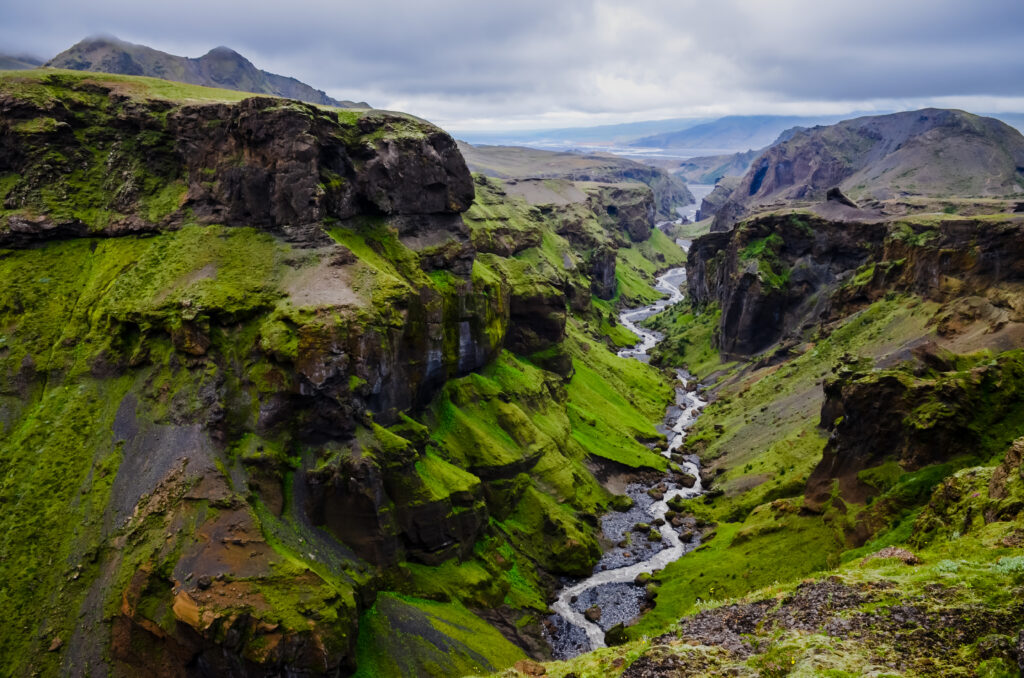 Of all Iceland's hidden gems, you might say this is the one that's hidden in plain sight. Experienced hikers can reach Þórsmörk from the trail that begins at the top of Skógafoss. You'll pass more than twenty other waterfalls as you head inland as well as a couple of glaciers, Mýrdalsjökull and Eyjafjallajökull (yes, that one!) and the volcanic craters, Magni and Móði.
It's a heady mix that encapsulates everything that's good about Iceland: exposed rock, birch forest, braided river channels, vertiginous canyons and lime green moss that pops against the black volcanic soil. Even if you aren't fit enough to walk the entire 15 mile length of the trail, knowing you've laid eyes on even a fraction of what's arguably the country's most jaw-dropping scenery will be some comfort.
---
No matter which of these hidden gems you visit during your time in Iceland, one thing's certain: you'll be back for more. This country gets under your skin like no other, and you won't be home for long before you start dreaming of your next trip. Who knows what you'll discover?
Written by Julia Hammond
Julia Hammond is an accomplished travel writer who believes the only limits to your horizons are the ones you set yourself. Though she's notched up visits to 120 countries, she's just as happy exploring closer to home with Edison, her goofy golden. Julia has a special fondness for Iceland as it's where she got married.