The vibrant Costa Brava in the Northeast of Spain is the perfect place to immerse yourself in true Mediterranean culture. Stretching from Portbou on the French border down to the seaside town of Blanes, this stunning coastline is cherished for its rich culture, beautiful natural landscape, and wonderful gastronomy.
Home to countless beautiful towns and charming villages, from the enchanting village of Cadaqués which inspired the work of Salvador Dalí, to the lively seaside town of Blanes, the diversity of this region is invigorating. Also known as the 'wild' or 'rugged' coast; the Costa Brava is a place for exploration and adventure.
I have been inspired by the warmth and beauty of this colourful coastline, so I would like to share my recommendations for some of the most beautiful Costa Brava towns and villages. Whether you are planning a road trip or looking for your perfect destination to relax for a few days, this guide will help you to plan your trip to this beautiful region in Spain.
---
LLANCA & PLATJA DE GRIFEU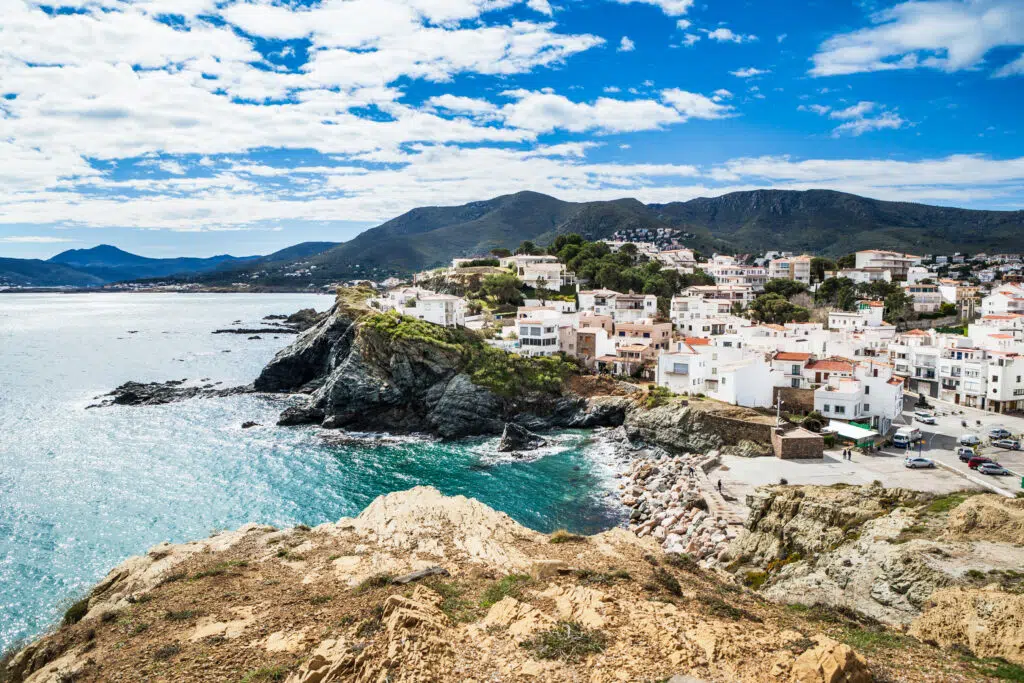 Beginning in the north, just 15km from the French border, we find the historically rich harbour town of Llanca and its idyllic surrounding beaches.
Llanca is a small town set back from the rocky coast, making it one of the more peaceful places in Costa Brava, Spain. The town itself is rich in historical attractions, having existed since 218 BC; it was originally a safe haven where people fled to avoid the raids of Saracen pirates. This illudes to Llanca's unique location, high above sea level and slightly inland, Llanca is effectively 'hidden' from the coastline.
To soak up the history you can visit the 'Arbol de la Libertad' or 'Tree of Liberty' on Plaza Mayor, which was planted in 1870 in honour of the town's commitment to democracy.
The special thing about Llanca is its idyllic beaches which lie just a stone's throw outside the town. Platja de Grifeu sits in a secluded cove; a little piece of paradise and wilderness tucked between the mountains and the ocean.
Close by you can find even more secluded spots such as Platja Sant Jordi. This small stretch of coastline is a place to truly explore some of the more hidden beaches in Costa Brava, with its rural character inspiring a sense of adventure.
CADAQUÉS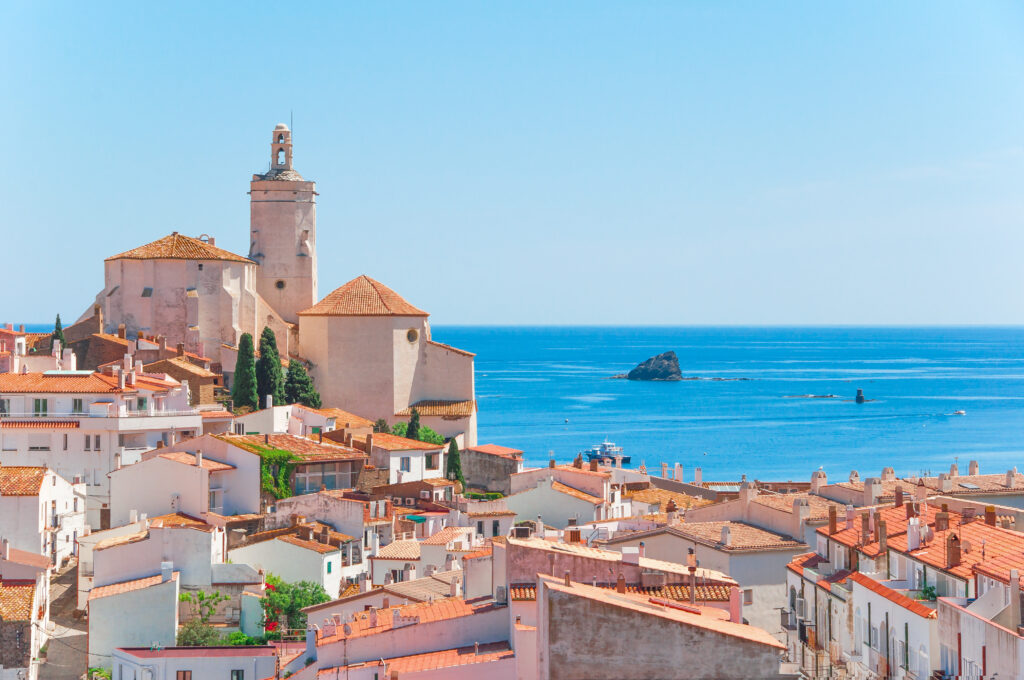 A little further south you reach the magnificent coastal village of Cadaqués. The picturesque white houses of Cadaqués rest among luscious natural surroundings and glow above the blue, shimmering waters of the Mediterranean Sea. It is no wonder that the famous artist Salvador Dali was inspired by this idyllic postcard-like village, during his summer holidays here as a child.
Due to its artistic and cultural significance, Cadaqués is one of the cultural hotspots when it comes to Costa Brava towns and villages, especially during the summer.
Festivals and cultural events take place here throughout the year, including Cadaqués' main summer festival, a week-long celebration of song and festivities which coincides with the Catalonian National day on September 11th.
During such events you can feel the lively atmosphere among the quaint streets, alluding to Cadaqués' charming combination of serenity, elegance and a vibrant bohemian feel. This unique combination makes Cadaqués one of the most sought-after places in Costa Brava, Spain.
ROSES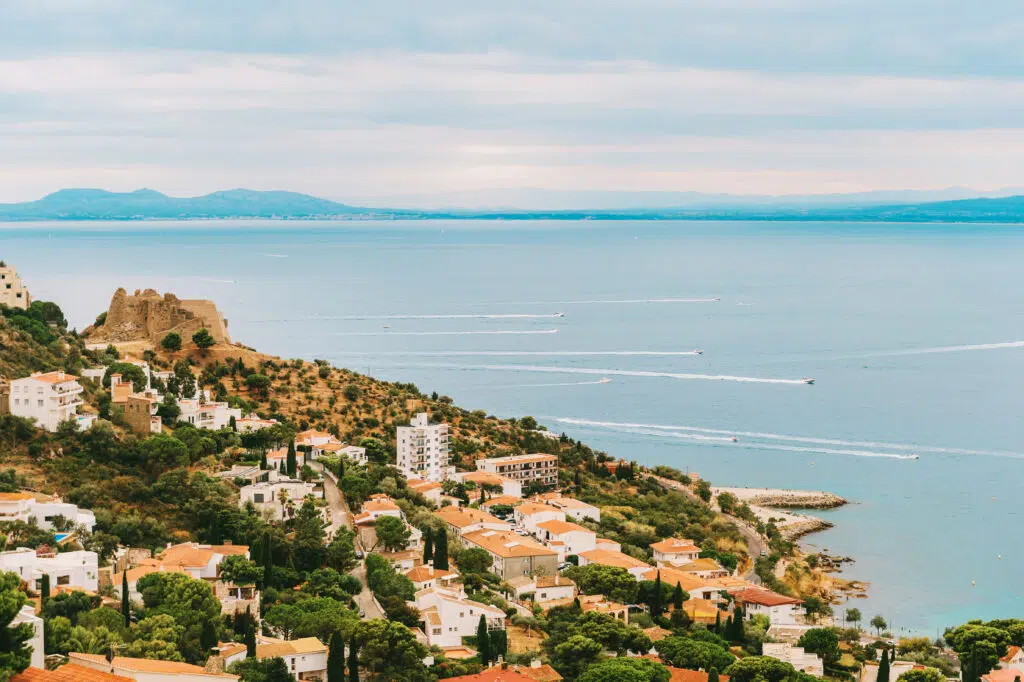 The busy fishing town of Roses makes my list due to its stunning beaches and unique location. Roses is one of the only Costa Brava beach resorts facing west, giving the town a unique and sheltered view over the Gulf of Roses, where visitors can enjoy beautiful sunsets over the water.
Roses is renowned for its wonderfully clean beaches of golden sand, with clear and shallow waters making it a favoured destination for families. The best beaches in Roses are popular, especially during summertime, but you can head a little further out to some tranquil bays such as Platja Palangres or Canyelles Petites – which are well worth the trek.
The town of Roses has a modern and bustling feel with plenty of restaurants, bars and sports facilities geared up for visitors; so if you are looking for an active holiday with plenty of things to do in the Costa Brava, Roses may be for you.
The shallow waters are popular for water sports and there is a range of waterparks, golf courses and horse-riding facilities nearby. Roses is located among the natural landscape of northern Costa Brava, with vast parkland and animal sanctuaries nearby; perfect opportunities to escape the bustle of the town and embrace nature.
BESALÚ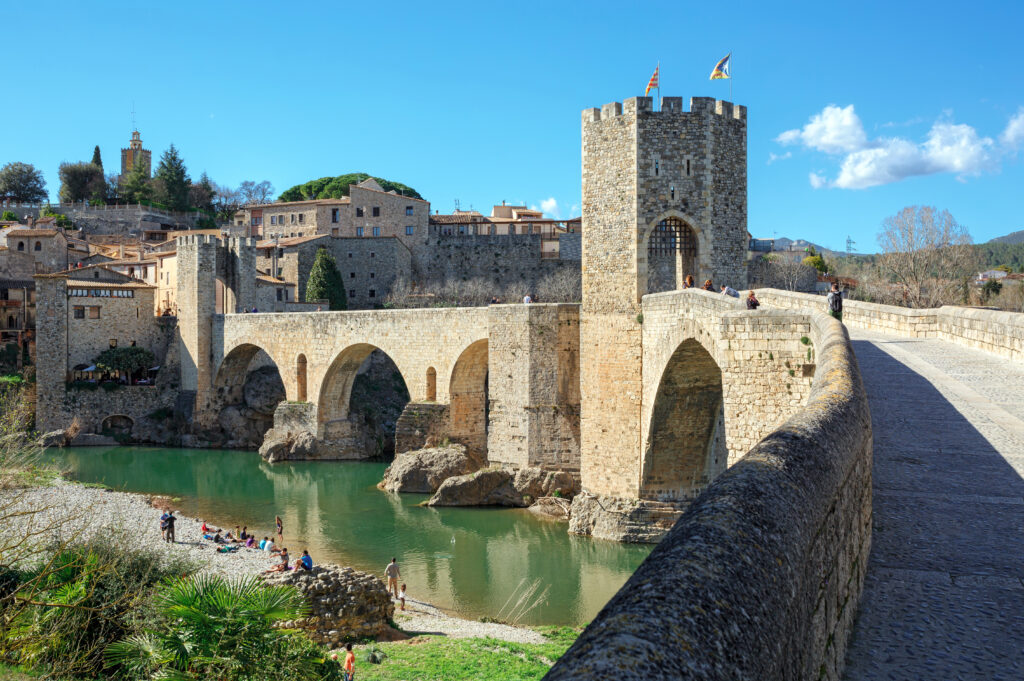 Heading a little inland we come to the historic gem of Besalú, one of the most impressive and well-preserved medieval towns in Costa Brava.
Besalú has been declared a National Historic and Artistic Ensemble due to its rare architectural value, and once you step foot amongst its ancient streets you will see why. Full to the brim with narrow cobbled streets, stone arches, and breath-taking medieval churches, Besalú is any history lover's dream.
One of the most striking landmarks is the Pont Vell (Old Bridge) which arches proudly across the Fluvia River and surrounding lush grassland. The bridge was originally built in the 11th century as a defensive fortification, which is evident from its striking towers which guard the entrance to the town.
Besalú is an important town in Jewish history; other landmarks are the Jewish baths and the Synagogue, which are intertwined with the monasteries and churches. Soak up the history while you explore the fairytale-like streets, browse the local craft shops or relax in one of the many inviting terraces in this special town.
GIRONA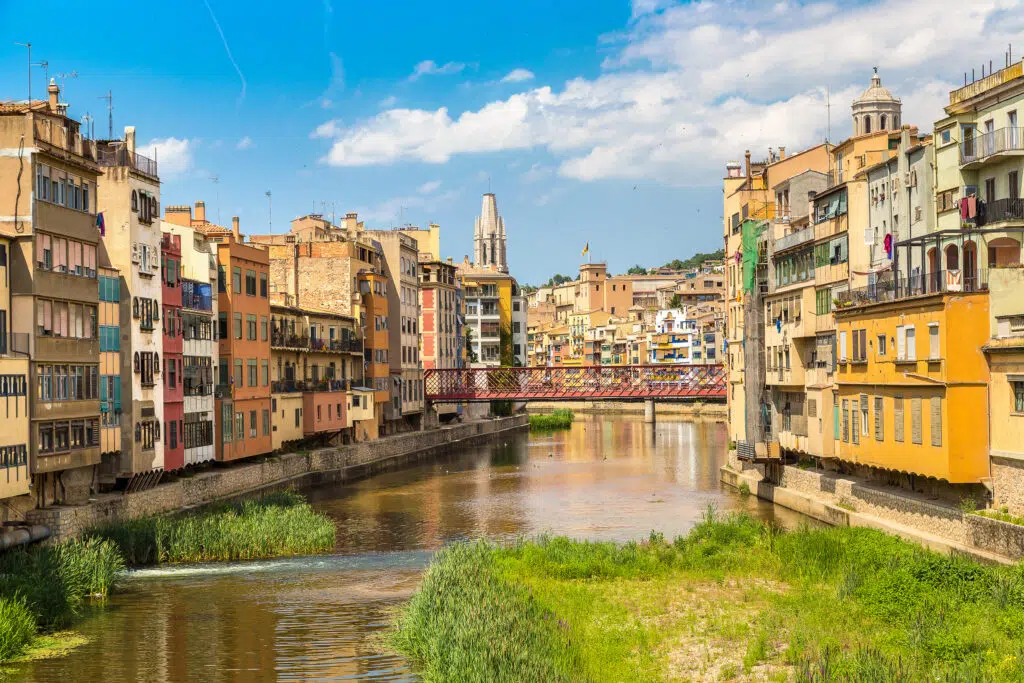 A quick day trip from Barcelona, you will find the enchanting historic town of Girona. While Girona is on the verge of being a small city, I had to mention it in this guide as I found it to be one of the most friendly and endearing places in Costa Brava, Spain.
A town rich in history and culture, Girona makes for an inspiring cultural break away from the sandy beaches. The town boasts ancient, sloped castle walls which arch over brilliant views, making it easy to pass the day here exploring.
The impressive Cathedral de Santa Maria and Cathedral square are a sight to be admired, with an awe-inspiring baroque staircase leading up to the Cathedral doors. You may recognise this and other parts of the town from 'Kings Landing' and 'Bravos' in the popular TV show Game of Thrones. Other unique sights are the distinctive multi-coloured houses and quirky bridges which cross the Oynar River.
After a day of sightseeing, I recommend treating yourself to some of the delicious food served among this town's vibrant streets and friendly eateries. Girona is well connected, with a local airport and within driving distance to some of the most beautiful Costa Brava towns and villages, making it a good base to start your trip.
L'ESCALA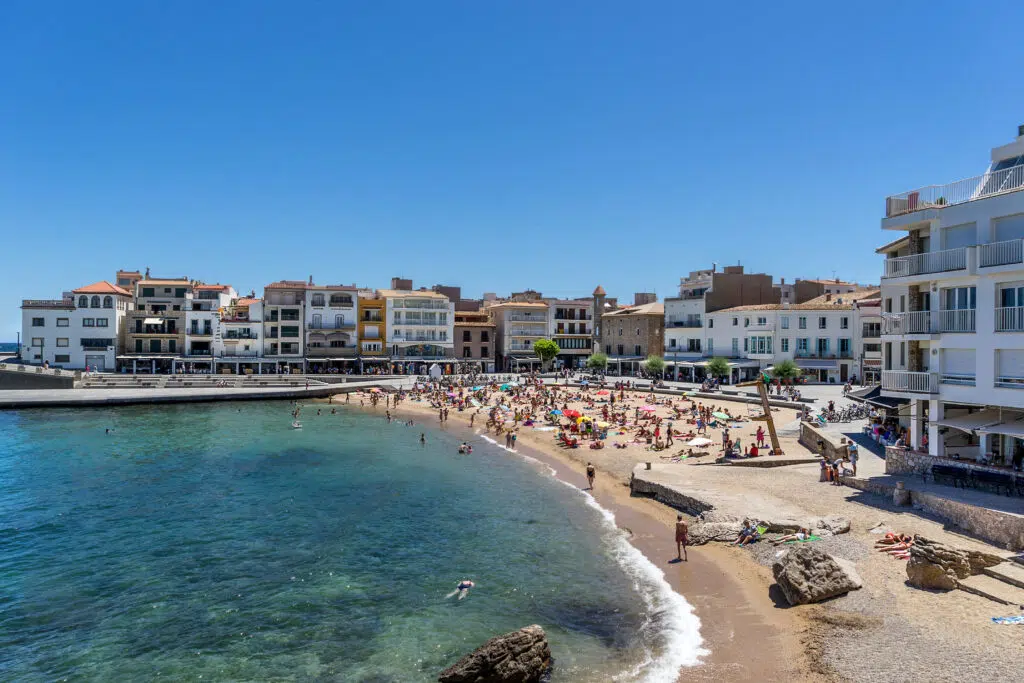 The traditional fishing village of L'Escala sits a little further down the coast, across the other side of the beautiful Bay of Roses. L'Escala is treasured for its idyllic, sandy beaches and long, scenic walks along the coastline to hidden coves with crystal clear waters.
This is another ideal spot for exploration and discovering the gems of the Costa Brava, and thankfully L'Escala has been less touched by tourism compared to other Costa Brava beach resorts.
As well as its beaches, L'Escala is famous throughout Spain for its anchovies. You can sit and enjoy a tapa of this delicious local delicacy at one of the many beachside terraces. There is even an Anchovy Gastronomic Festival, demonstrating the town's pride in its local cuisine.
Ancient ruins and medieval buildings sit beautifully alongside L'Escala's serene beaches, making this town a perfect combination of history, gastronomy and relaxation. When it comes to Costa Brava villages, you cannot get much more authentic than L'Escala.
PALS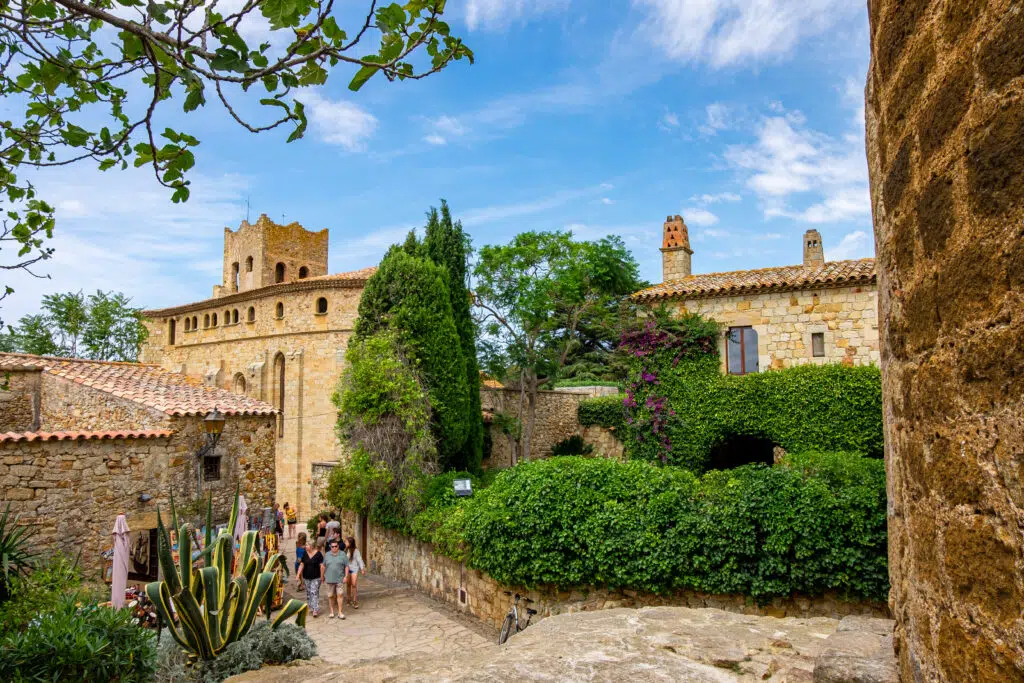 Pals is a contender for one of the most magical medieval towns in Costa Brava, thanks to its Gothic period old town which has been lovingly restored to its former grandeur. As you approach Pals from afar, the town draws you in with the enchanting silhouette of its castle walls, churches, and the Torre de les Hores tower, a proud symbol of the town.
As you wander through the narrow medieval streets of El Pedro (the historic quarter), you will be surprised and enchanted by the warmth of the golden colours emitted by the sandstone. You are transported through history as you pass the Old Town Square, the Visigoth Tombs and the Torre de les Horres tower.
The town sits at the top of Puig Aspre and boasts magnificent views of the L'Emporada Plain and Medes Isles, which can be savoured at the Viewpoint of Josep Pla. Adding to the town's charm is its unique location sitting amongst the rice paddies and dunes in the surrounding area, which I recommend exploring to soak up the true character of this area.
While Pals is tucked a little inland, it is home to some of the longest and most untouched beaches in Costa Brava, which can be reached in a short drive from the town.
BEGUR & SA TUNA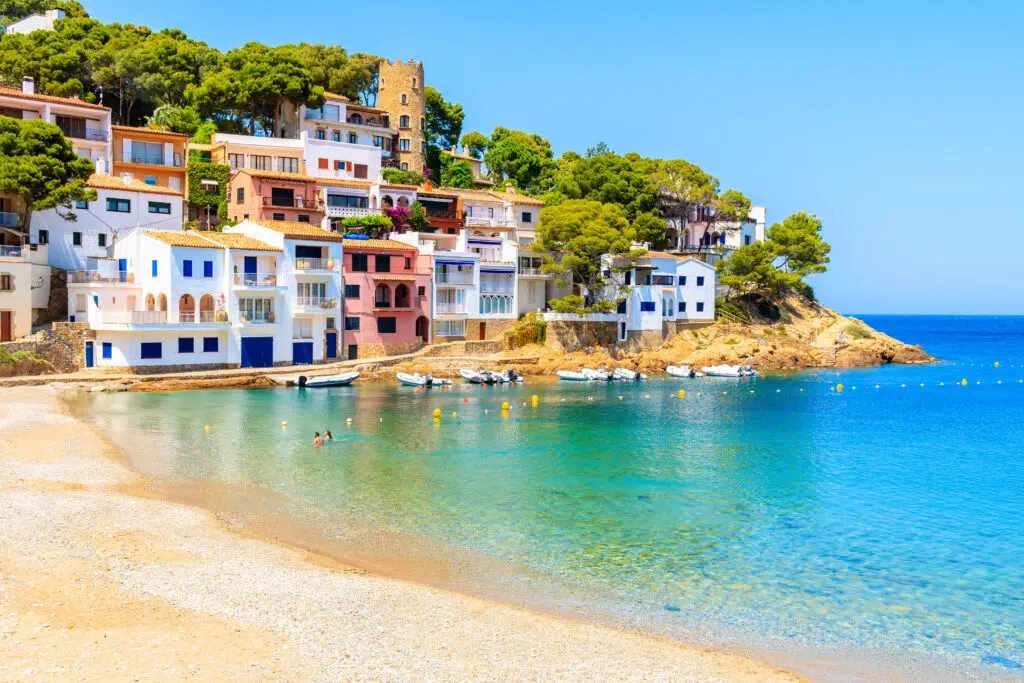 The authentic village of Begur sits overlooking the coast, but far enough away that it has been spared the tarnish of tourism. Its pretty streets have been trodden since medieval times, and many relics of this era still stand today.
A grand castle sits at the village's helm and is an excellent place to take in the panoramic views. Below, you'll find a maze of pedestrian-only lanes that weave past stone houses and bougainvillaea smothered facades.
For a modest-sized town, there is a myriad of restaurants to choose from, should you get peckish after your exploration. Choose Hotel Aigua Blava for the best views, or Casa Juanita for the freshest seafood cooked simply, but authentically.
A short distance from the hilltop town (you can walk it if you're feeling energetic), lies the tiny village of Sa Tuna. Despite its size, it hosts one of the most beautiful coves in Costa Brava, and a quick stroll through the few narrow streets is a delight for the senses.
After a refreshing dip, pop your walking shoes back on and follow the coastal paths of Camí de Ronda to discover little beaches tucked away out of plain sight.
CALELLA DE PALAFRUGELL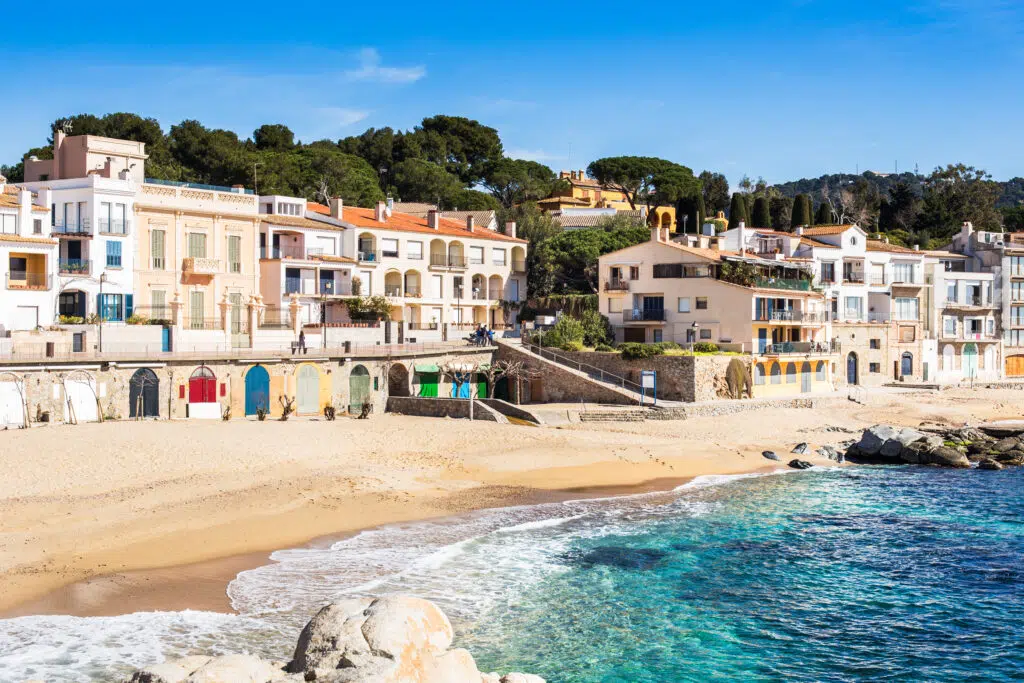 The picturesque old fishing village of Calella de Palafrugal is a cultural and gastronomical delight when it comes to Costa Brava villages. With its narrow streets, slanted rooftops and white porched houses facing the sea, this village offers all the authentic charm of a traditional small village, and the rich gastronomy to go with it.
Calella de Palafrugal is renowned for its excellent seafood restaurants and cosy taverns serving up the fresh catch of the day right on the seafront. The local markets running throughout the week offer local fresh fish and meats, an ode to the town's pride in its local cuisine.
The town's beautiful beaches boast crystal clear, shallow waters with pebbles underfoot, making this a popular snorkelling destination and good for families too.
Beyond its rich food and charming bays, Calella de Palafrugell is also famous for its local music festivals, notably the Cap Roig Festival, a popular music and dance festival taking place in the town's Cap Roig Castle and Gardens in the last week of July.
TOSSA DE MAR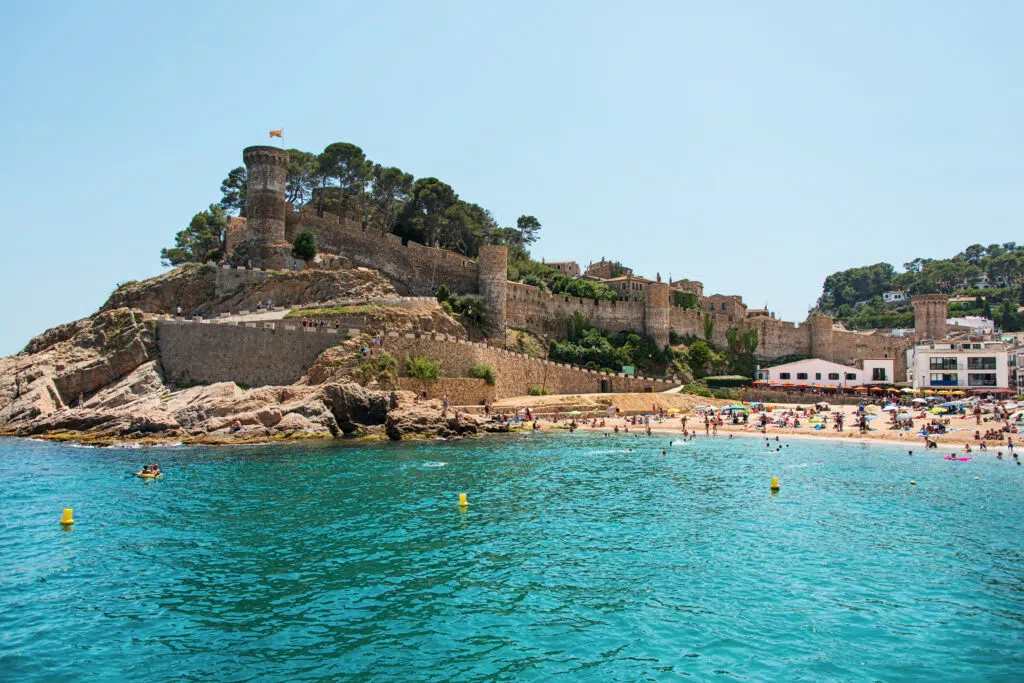 The cosy and quaint medieval coastal town of Tossa de Mar is unique for its magnificent ancient castle, which sits almost directly on its shore. This makes for a unique experience as one of the few beaches in Costa Brava where you can relax by the sea, with spectacular views of the town's historic centre.
For such a small and charming town, it boasts a breathtakingly wide and pearly white beach, with pure blue waters. Stepping into the old town, you can't help feeling enchanted by its rich history and architecture which dates back to Roman and Iberian times.
The striking medieval castle overlooking the sea, its winding city walls, inviting cobblestone alleys and the beautiful lighthouse will all leave you in awe of this surprising coastal town.
A little further out of the town you will come across Roman ruins (Els Ametllers), a further glimpse of the town's deep history. Tossa de Mar sits just north of the bustling Lloret de Mar, which is a popular tourist spot, but I would choose the alternative Tossa de Mar for its untouched historical charm and wonder.
BLANES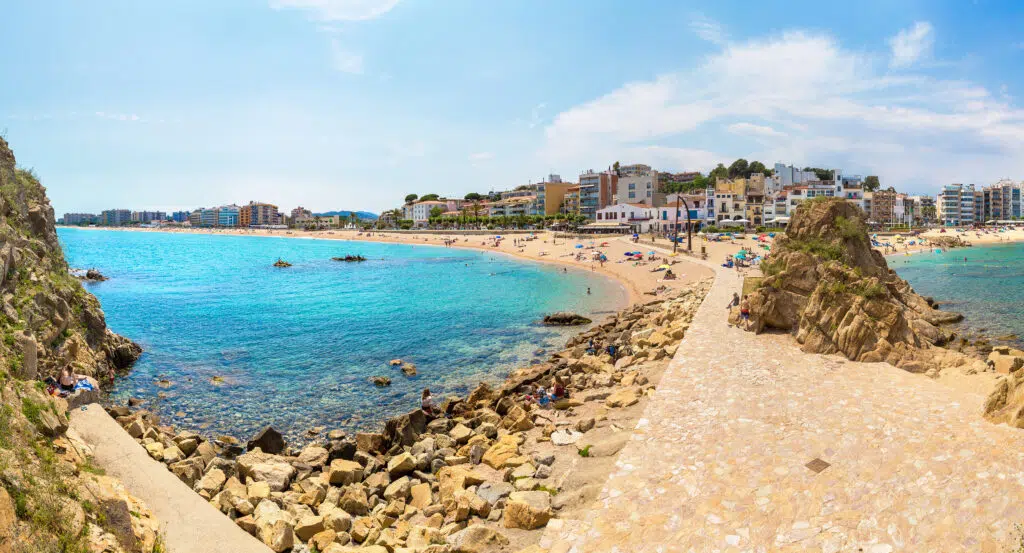 Known as the gateway to the Costa Brava, we arrive at the vibrant coastal town of Blanes. This is a town that embraces old and new in harmony; while it is one of the more popular tourist areas, the centre of Blanes still maintains the feel of an ancient Catalan seaside town.
Here locals and tourists mingle among the lively streets, shop at the local markets, and enjoy tapas and beer at the delicious local restaurants – one of my favourite things to do in Costa Brava.
The truly breathtaking thing about Blanes is its endless array of long, wide and golden sandy beaches, which boast plenty of space for tourists and locals alike. The active fishing harbour works to keep locals employed in the town; a refreshing comparison to some other Costa Brava towns where many locals have moved away.
Beyond this, Blanes marks the spot where the so-named 'wild coast' of the Costa Brava really begins. Until this point, beaches are notably flat and smooth, but just north of Blanes the rugged coast becomes much more adventurous. For this reason, Blanes makes an excellent spot from which to begin (or end) your exploration of the adventurous Costa Brava.
---
The Costa Brava is a coastal region of stunning natural beauty and cultural vibrancy, which is to be explored, savoured and enjoyed. This guide gives you a taste of some of the most beautiful spots along this special coastline, but believe me, there is so much more to discover. I hope I have inspired you to visit some of the best towns in Costa Brava, and to discover this colourful and surprising coastal area for yourself.