When it comes to thinking about where to stay in Puglia, you're spoiled for choice. Italy's heel is dotted with charming holiday homes which allow you to sample the authentic spirit of the region. And many of the best places to stay in Puglia are available to book on Airbnb.
Whether you're after a beach holiday, an agriturismo retreat, a trullo experience, or you want a large house big enough to fit all the family – you'll find it all right here.
To save you trawling through thousands of listings, we've rounded up 15 trulli special Puglia Airbnbs where you can sleep in style, no matter what your budget. Browse them below.
Further reading: Best Beaches in Puglia, Best Towns in Puglia
This article may contain affiliate links. See our full disclosure here.
---
Top Airbnbs in Puglia for Your Perfect Escape
Puglia was Italy's hidden secret for decades. But even though tourism has started to increase in recent years, it's still a very affordable place to go on holiday.
While the below list encompasses everything from budget stays to luxury villas, you'll be surprised to see how far your accommodation budget will stretch in this region of Italy – especially when booking a Puglia Airbnb.
FAMILY ACCOMMODATION WITH A POOL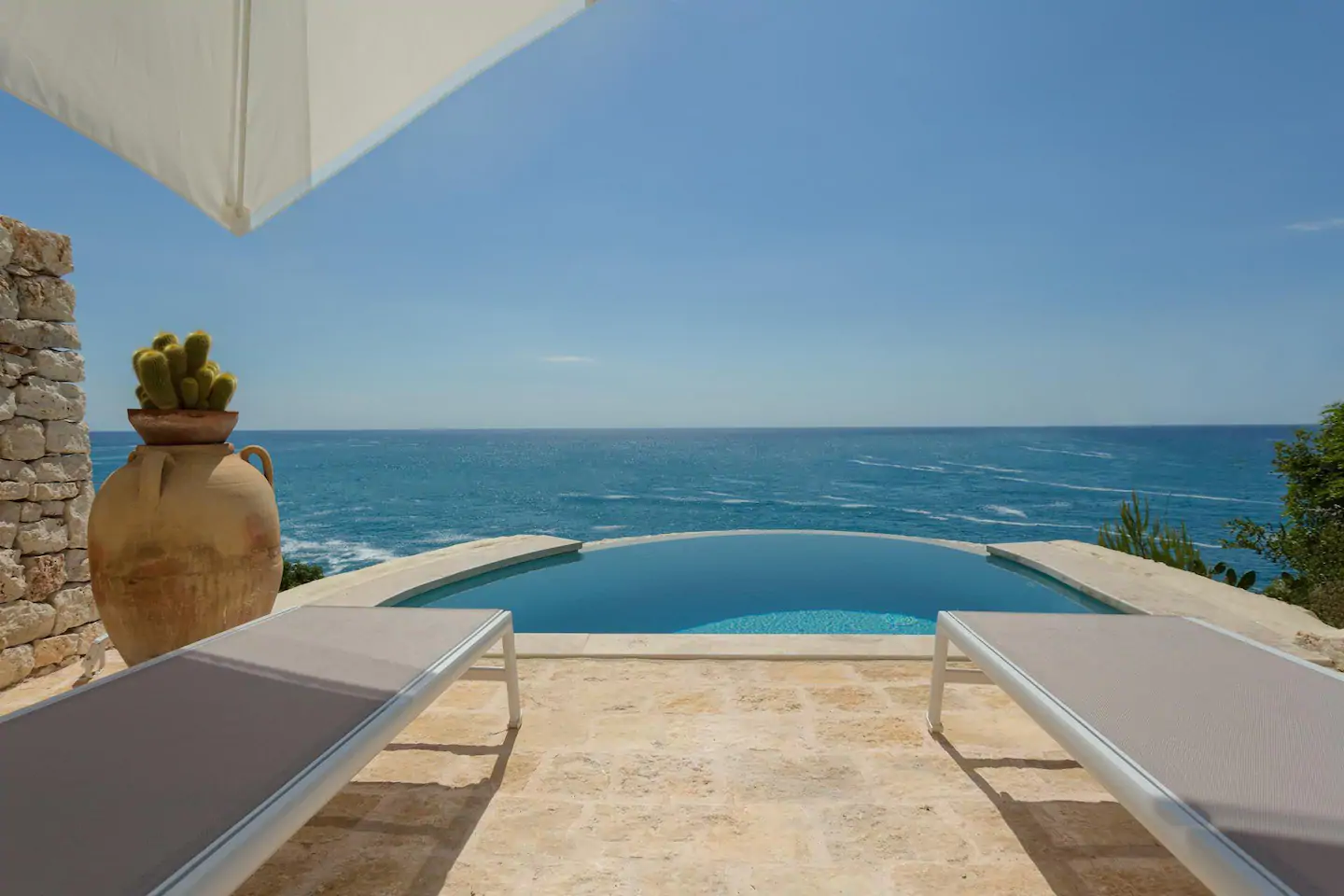 Discover a slice of Santorini in Puglia with this incredible Airbnb with an infinity pool overlooking the sea.
Villa Infinity is located a short walk from Castro on the Salento Coast, and just 70m from the nearest beach.
Families will love the convenient layout and clean, modern interior. And the exterior will wow everyone with its unbeatable views, multiple seating areas and traditional stonework surrounds.
Key Features: 2 bedrooms (one with double bed / another with bunks), Fireplace, Private patio and Pool.
What the guests are saying: "The outside area is really special, especially with that sea view and pool."
View More Photos & Check Availability Here
---
TRADITIONAL TOWNHOUSE IN THE WHITE CITY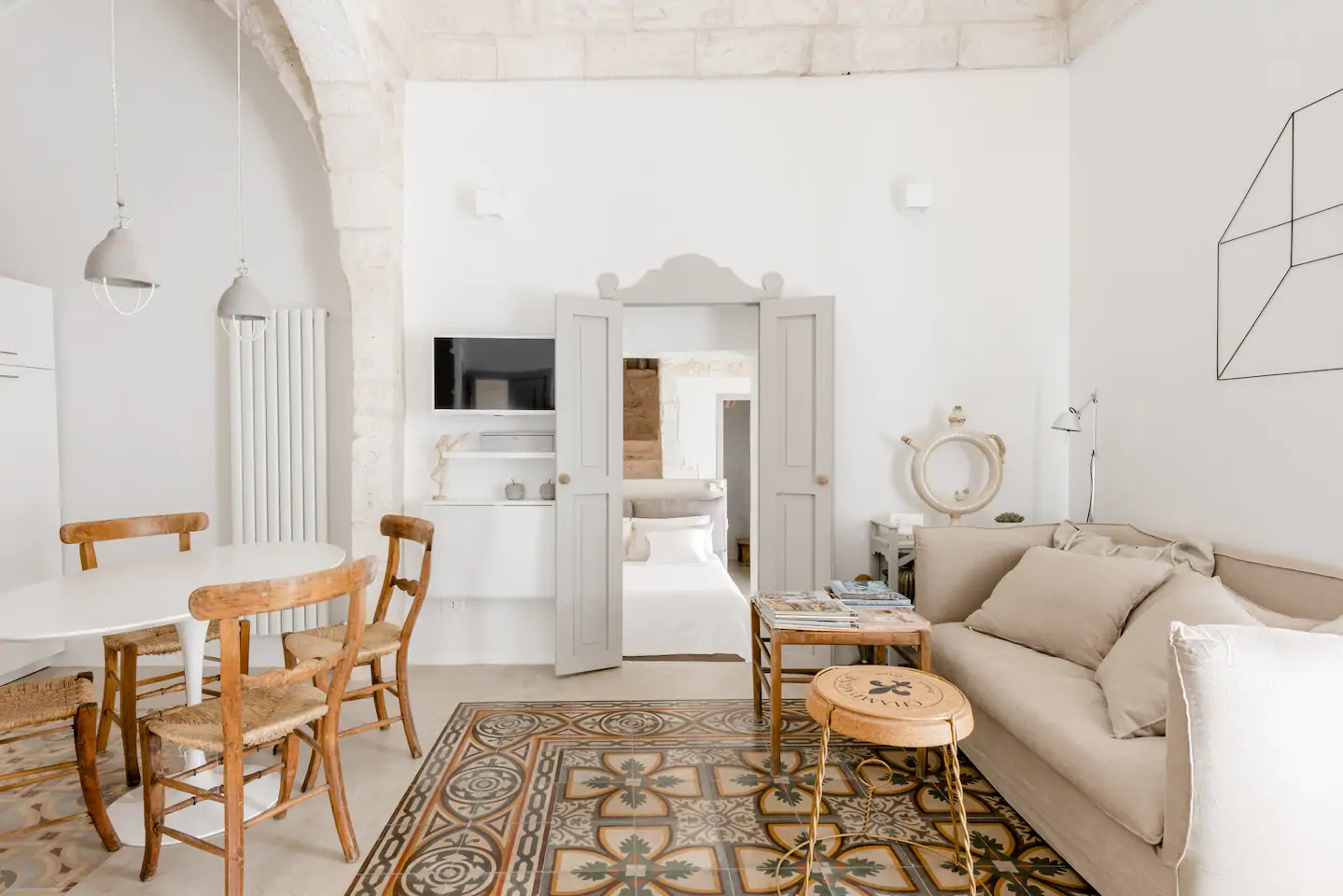 Located in the old town of Ostuni, you'll be delighted by this period property that has been lovingly refurbished and tastefully decorated.
This 2 bedroom, 2 bathroom house features a large outdoor patio, complete with outdoor kitchen and lounging area. Sit overlooking the whitewashed walls of Ostuni as you enjoy a wine in the evening, or roll out your yoga mat and start the day off right.
Key Features: Full kitchen, Two ensuite rooms, Air conditioning, Baby facilities, Free parking.
What the guests are saying: "One of the most beautiful and unique Airbnbs we've ever stayed in!"
View More Photos and Check Availability Here
Don't need quite so much space? Carla (the host) also has a similar style 'tiny house' available in Ostuni. Check it out here.
---
SELF-CONTAINED TRULLO WITH POOL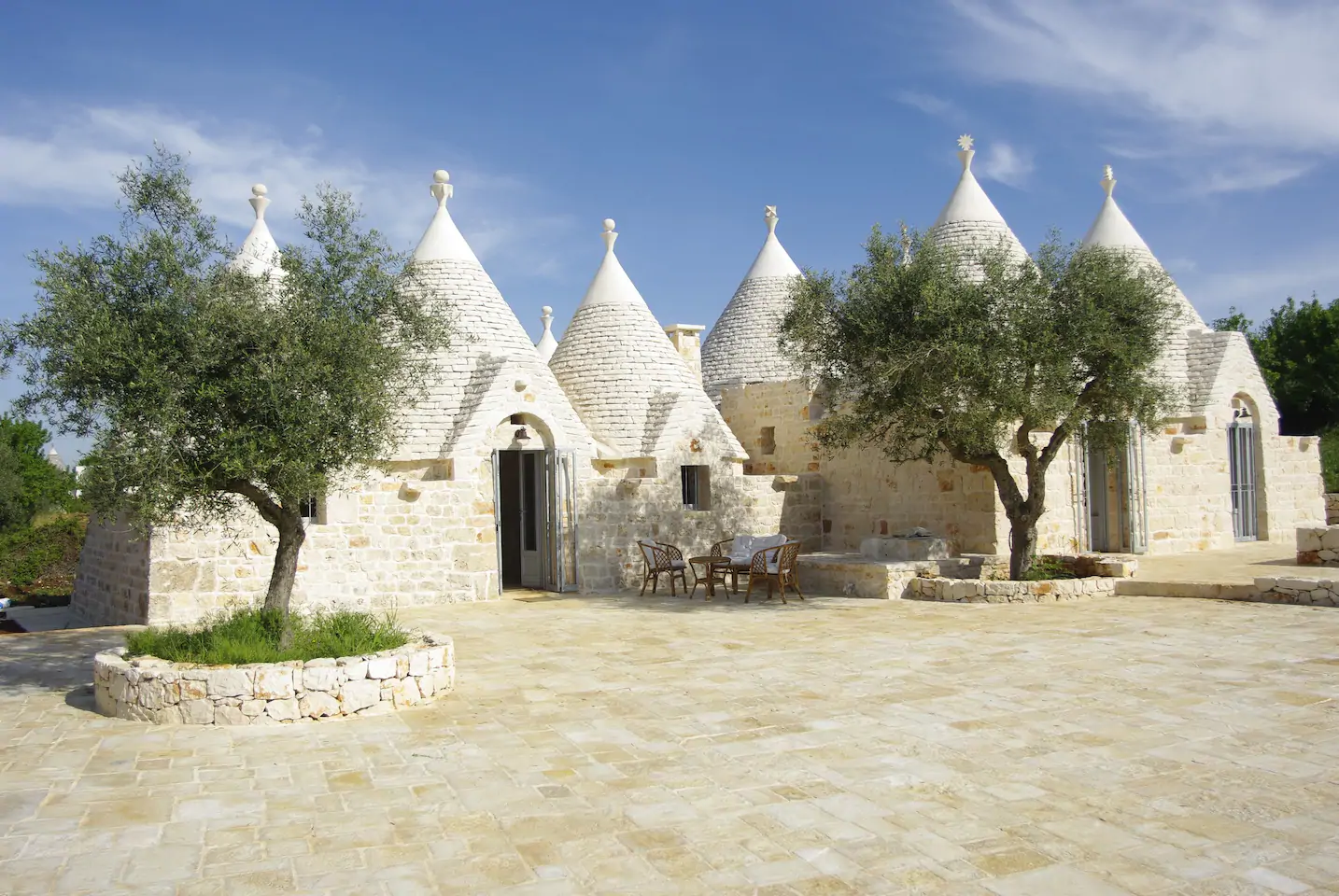 This magnificent trullo to rent in Puglia is located midway between Ostuni and Alberobello. It has been tastefully restored and renovated into three separate, self-contained apartments featuring one bedroom and bathroom each.
The trullo houses are ideally positioned to make the most of the agrarian landscape, the nearby towns, and the two coasts.
The three apartments share a generously sized pool and garden, where each guest can find their own space to relax in.
Key Features: Queen bed & sofa bed, BBQ facilities, Pool, Garden, Modern appliances.
What the guests are saying: "Truly magical. It is like a fairytale. Check it out!"
View More Photos and Check Availability Here
---
SEAVIEW AIRBNB IN POLIGNANO A MARE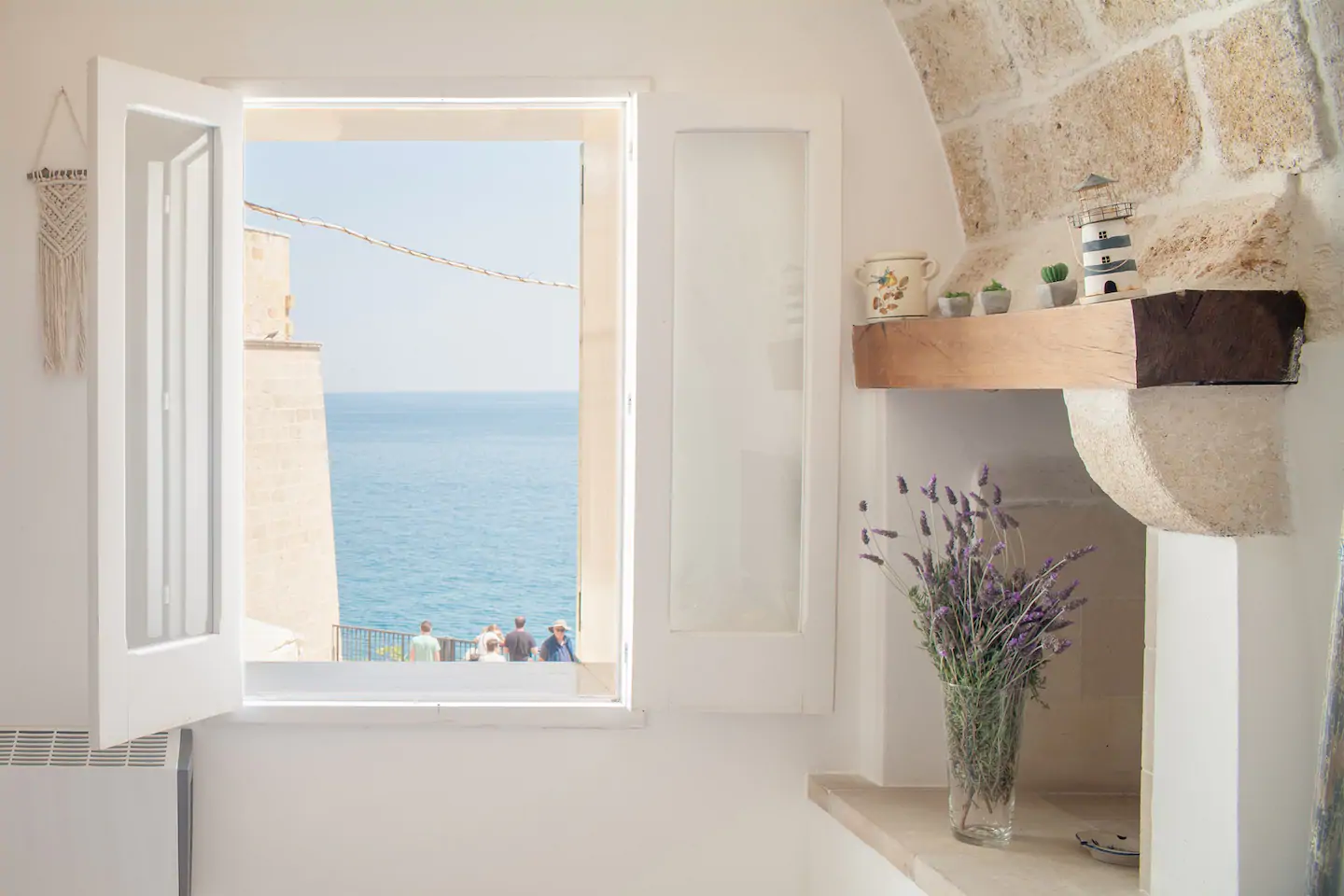 Home to one of the most beautiful beaches in Puglia, Polignano a Mare is a charming and authentic old town perched right on the edge of the Adriatic.
Terrazza sul Mare takes full advantage of this position, with expansive views over the sea. Situated right in the heart of the old town, you'll benefit from its proximity to restaurants, cafes and shopping.
Ideal for a romantic getaway, you'll also love the rooftop terrace, sheltered breakfast nook, and beautifully restored interior.
Key Features: Rooftop terrace, Unbeatable views, Air-conditioning, Fireplace, Sofa bed in lounge.
What the guests are saying: "The little house is very cozy and stylish and the balcony and the roof terrace are really amazing!"
View More Photos & Check Availability Here
---
LARGE AIRY AIRBNB WITH POOL IN LECCE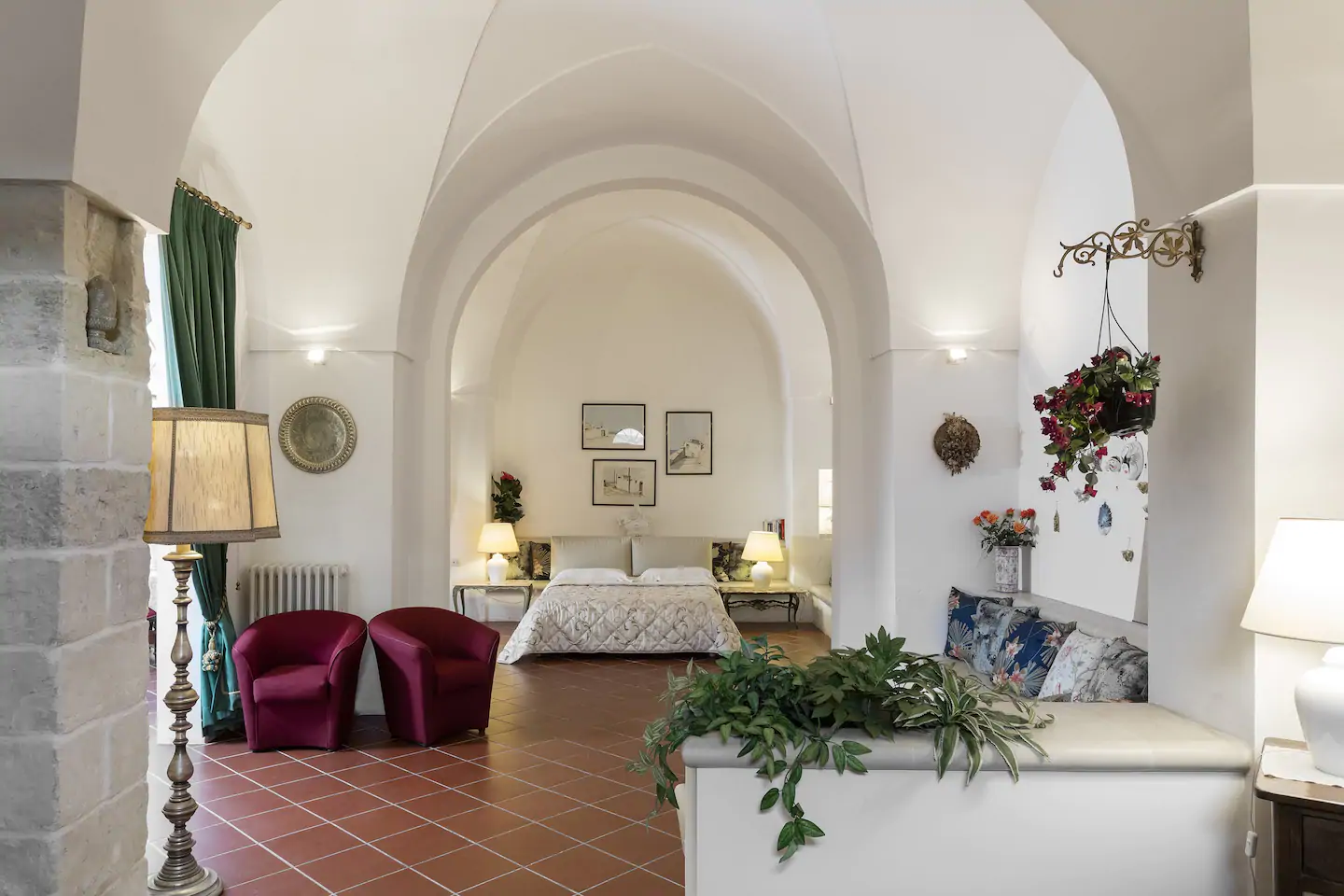 This large and light one bedroomed Airbnb in Lecce is sprawled over 120sqm. Experience a luxury lifestyle for a surprisingly affordable nightly rate.
Located just outside the old city walls, this loft comes with a private pool and parking, making it the most convenient and enjoyable way to visit Salento's capital city in the summer.
Explore the baroque architecture of Lecce and appreciate the city's proximity to both the Adriatic and Ionian coasts. Lecce makes the ideal central place to stay in Puglia.
Key Features: Private pool, Garden, Parking, Bicycles, Pets permitted, Bright & spacious.
What the guests are saying: "What a wonderful house! This apartment is even more beautiful than it appears in the photos."
View More Photos & Check Availability Here
---
FAMILY SIZED TRULLO WITH POOL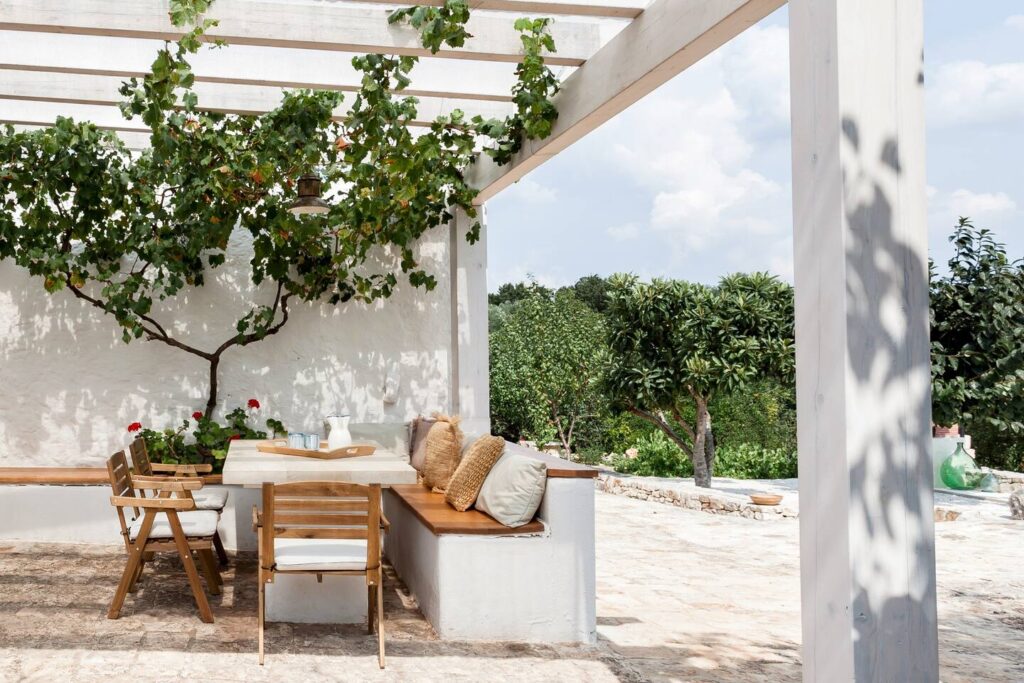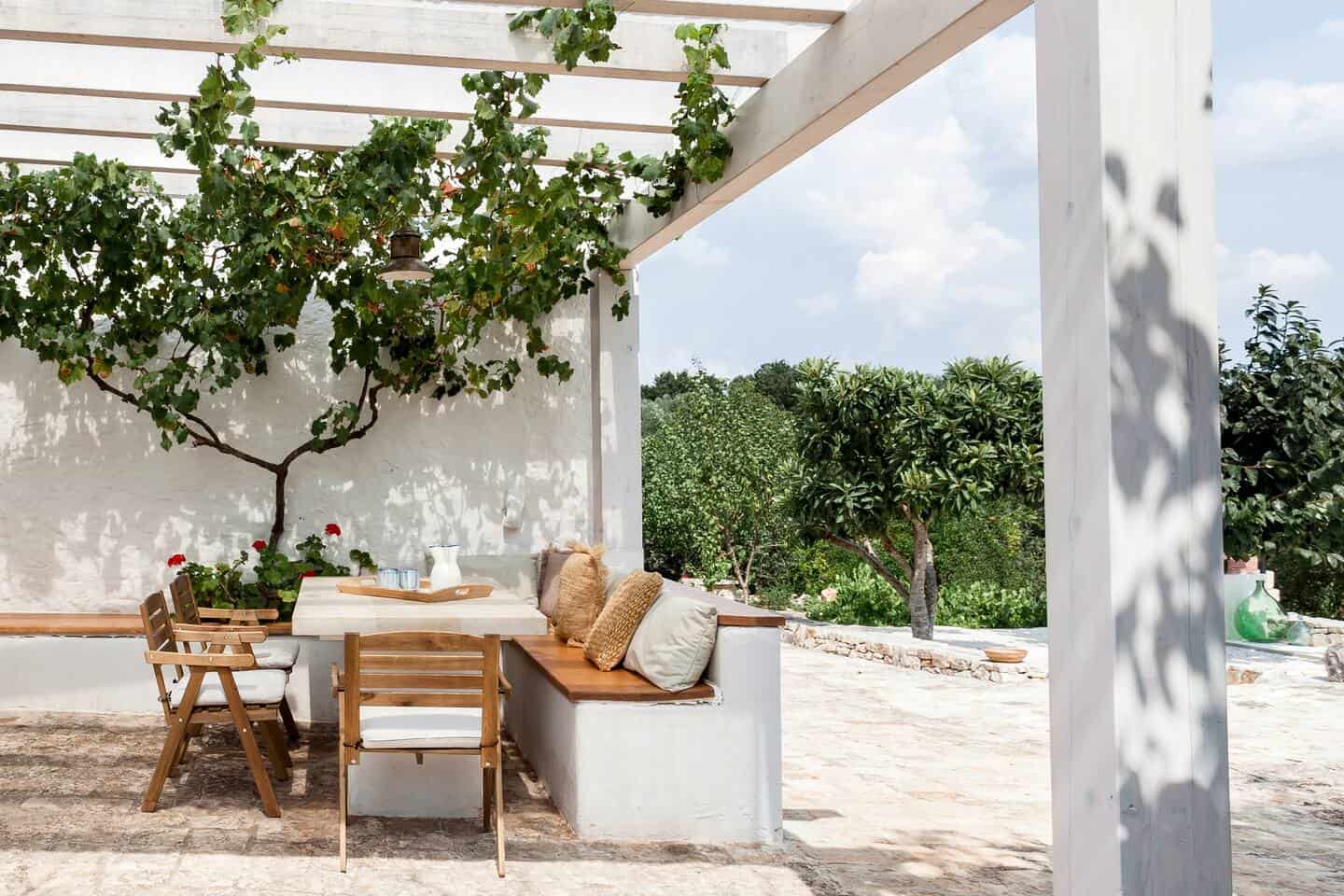 Love the look of trulli but need enough space to spread out? Trullo a ll'éra is your answer! Featuring 3 bedrooms and 4 beds, this stunning accommodation in Puglia is large enough for up to 6 guests to enjoy.
Trullo a ll'éra is set among olive trees, vineyards and other trulli in the bucolic Apulian countryside. Yet it's perfectly located for exploring both coasts, Alberobello (trulli town) and Ostuni. It's also only a short drive from Brindisi and Bari airports.
Experience all the charm of a traditional trullo while enjoying the modern comforts on offer.
Key Features: Pool, 3 bedrooms, BBQ area, Large outdoor spaces, Private setting, Fruit trees.
What the guests are saying: "Beautiful trullo house! We loved every day and would love to come back soon!"
View More Photos and Check Availability Here
---
PRIME POSITION AIRBNB IN GALLIPOLI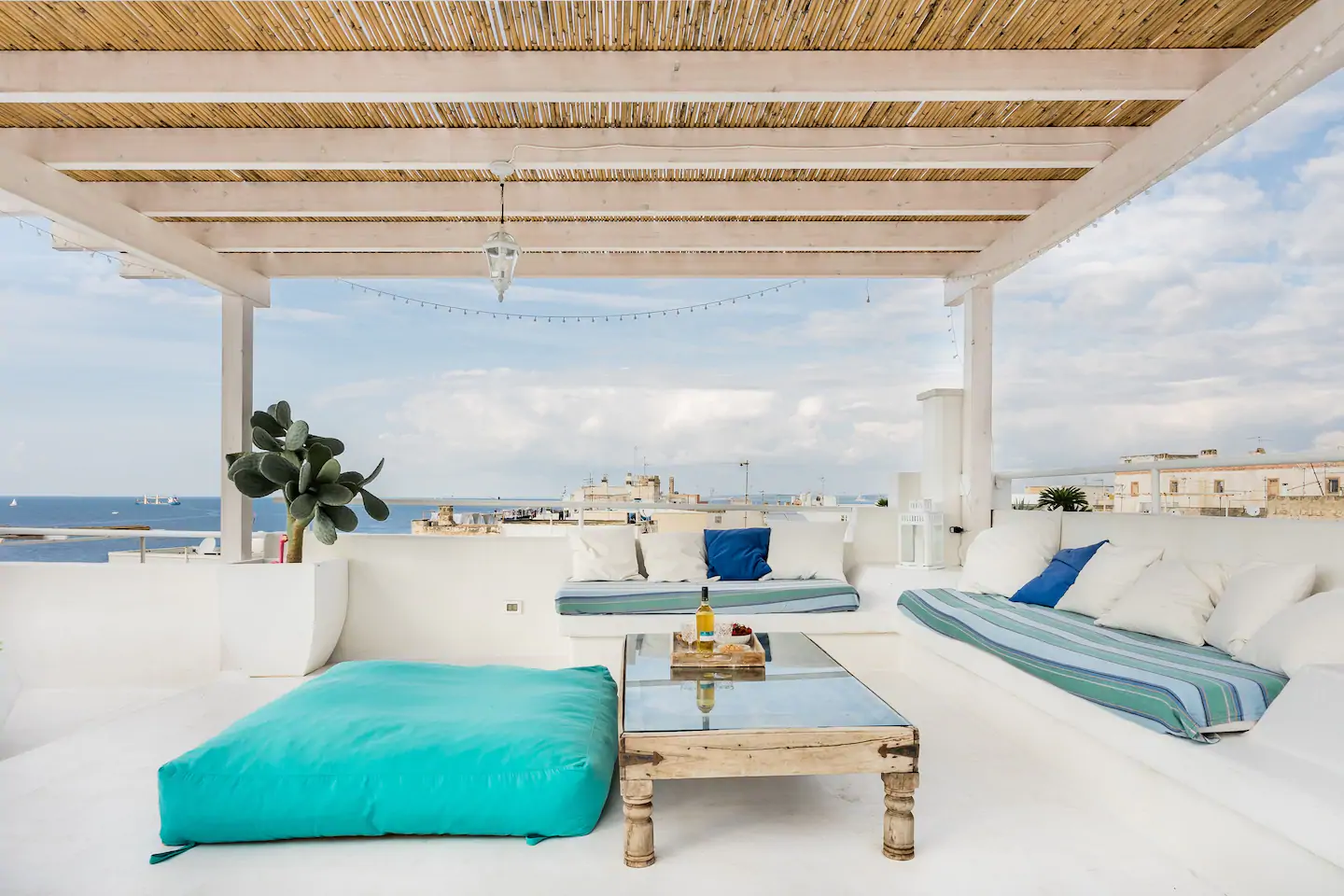 Dine overlooking the rooftops on the spacious terrace of this Gallipoli Airbnb. A truly delightful property, every detail has been well thought out to ensure you have the best experience possible.
Casa Coco is for families or friends who appreciate staying in as much as going out. You'll benefit from the prime position to watch the sunset and easy access to all the highlights of Gallipoli's historic centre.
With two large bedrooms (master with memory foam mattress), and multiple living areas, there's enough room for everyone to do their own thing.
Key Features: Indoor fireplace, Kids games & books, Rooftop terrace, Outdoor kitchen & dining, Uninterrupted views.
What the guests are saying: "This is the most magical place I have ever stayed at through Airbnb. Everything was perfect."
View More Photos & Check Availability Here
---
TRADITIONAL MASSERIA AIRBNB IN PUGLIA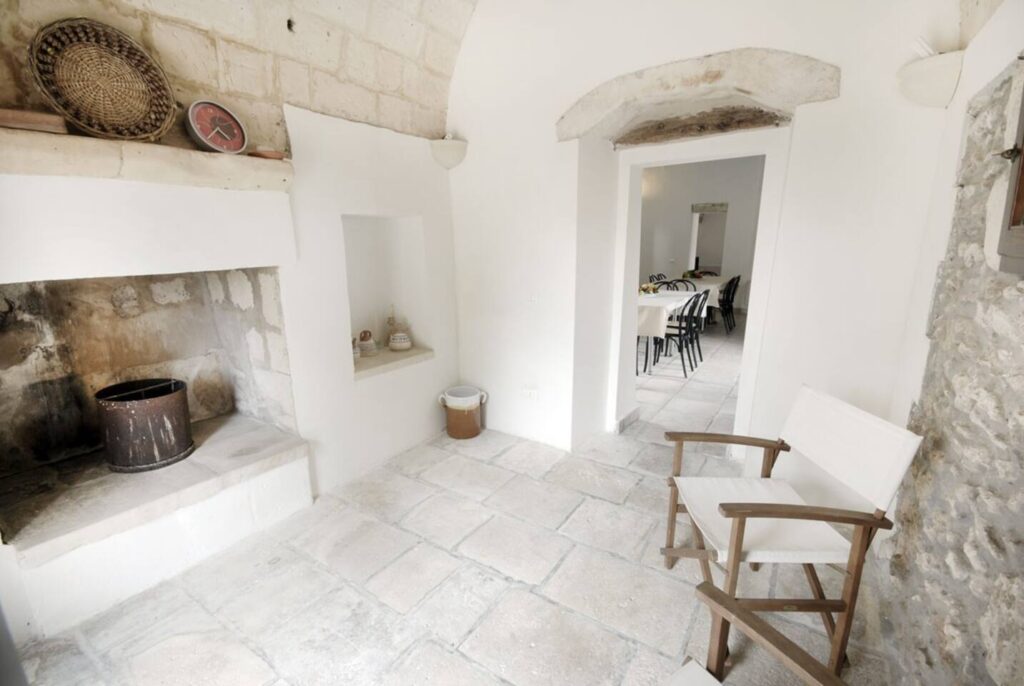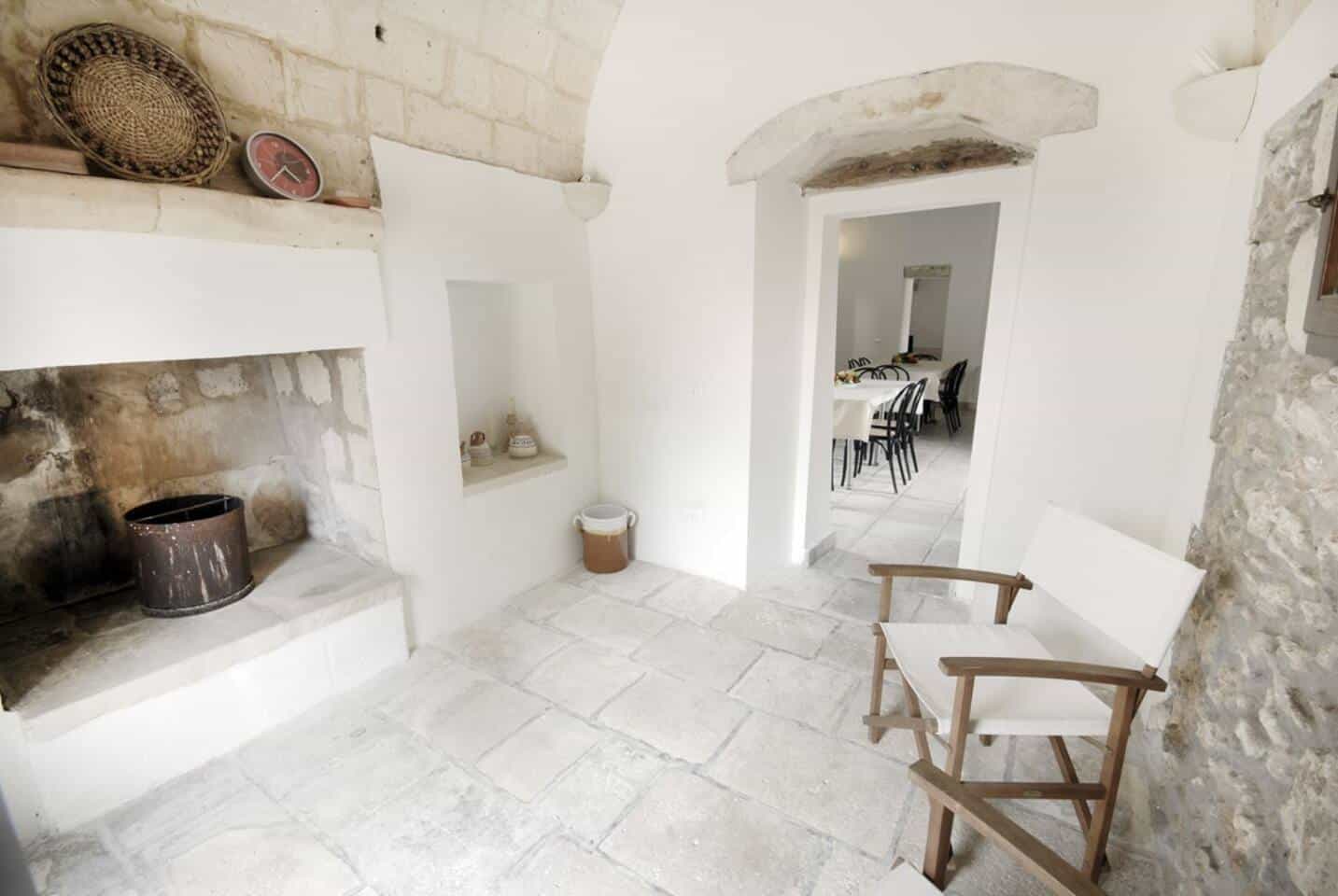 Escape to the countryside and experience a rural retreat with this traditional farmhouse Airbnb in Puglia.
Masseria Berzario offers a rustic environment, perfect for unwinding in nature. Relax surrounded by olive trees, and enjoy the typical Italian hospitality.
With a selection of rooms and a separate studio available, there's something to suit everyone. And the location is ideal for discovering southern Puglia at your own pace.
Key Features: Breakfast included, Air-Conditioning, Fireplace, Free WiFi
What the guests are saying: "From the amazing completely fresh breakfast produce to the location, everything is perfect!"
View More Photos & Check Availability Here
---
ROMANTIC HIDEAWAY IN OSTUNI OLD TOWN
Period features meet contemporary design in this 2 bedroom townhouse in Ostuni, the White City. Fitting for those who appreciate the finer details on offer, this one, unfortunately, isn't suitable for young children.
Il Sogno delle Benedettine is located in the historical centre of Ostuni, meaning everything you need is at your fingertips. Although if you want to explore further, you'll find it well located for that too.
Relax in the master suite complete with fireplace and plunge pool. Is there any better way to unwind after a day of sightseeing?
Key Features: Indoor fireplace, Indoor heated pool, Air-conditioning, 2 bedrooms (one with sofa bed).
What the guests are saying: "Everything about this place was perfect. Great location, easy communication and beautiful property."
View More Photos and Check Availability Here
---
AUTHENTIC FARMSTAY EXPERIENCE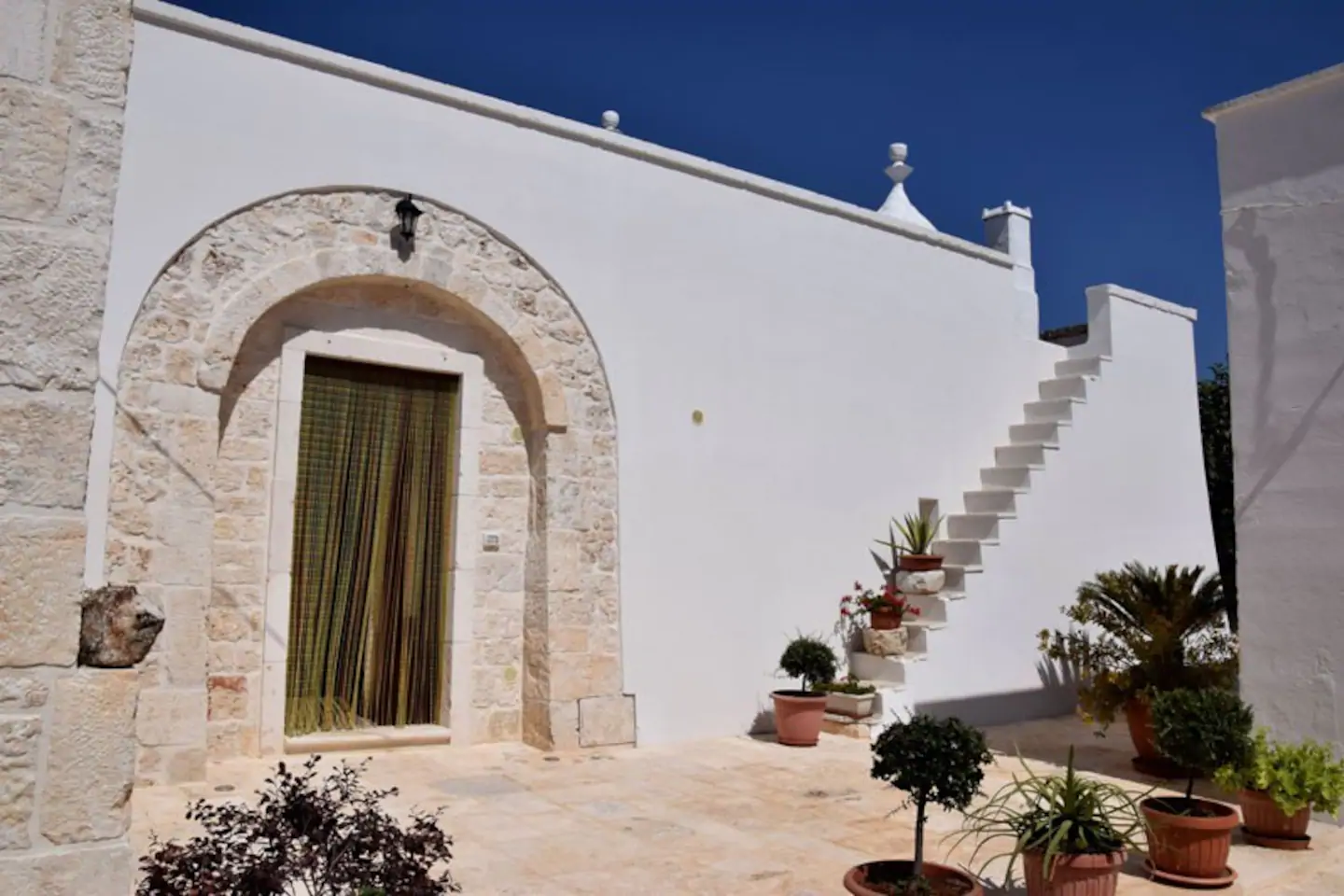 An authentic farm stay in central Puglia, you'll get to experience the fruits of the earth at this charming Airbnb. Sample the homemade produce, visit the farm animals and enjoy the tranquil garden setting.
Argese is a typical stone house situated in the countryside, surrounded by trulli and quiet country roads. Self-contained, and large enough for a family of 4, you'll enjoy the modern conveniences and very affordable nightly rate.
Use it as a base to explore all areas of Puglia, or simply enjoy the slower pace of life.
Key Features: 5 beds available in 2 rooms, Quiet garden setting, Farm experiences, Pets permitted.
What the guests are saying: "We have used Airbnb for over five years and this experience easily ranked as one of our best."
View More Photos and Check Availability Here
---
DOME HOUSE AIRBNB NEAR BARI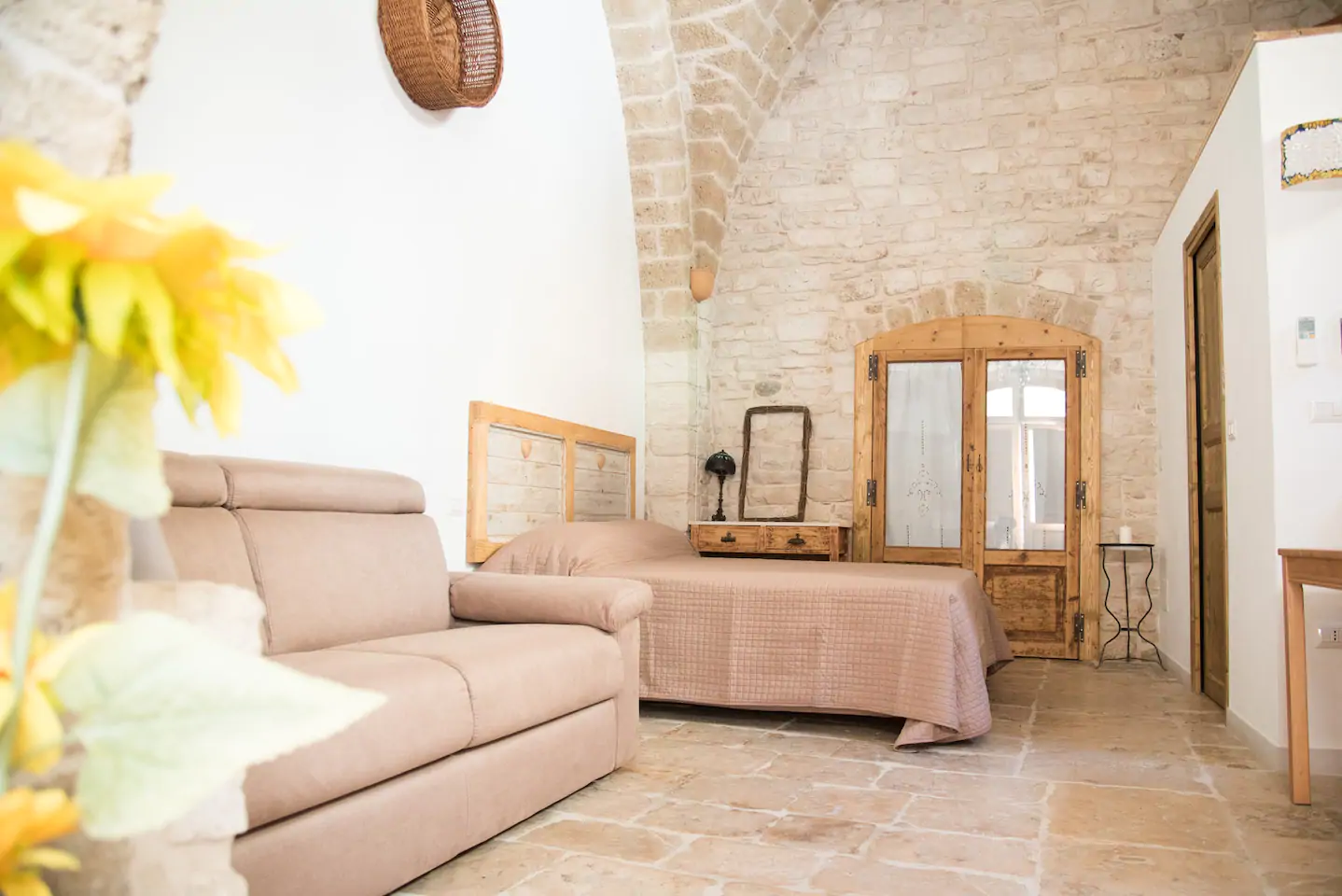 Step off your flight into Bari, and you'll be walking through the door of this dome house well within the hour! Situated in the seaside town of Giovinazzo, it's perfect for those who are just popping into Puglia for a weekend break and don't want to waste time in transit!
Piazza Duomo features cross vaults, beautiful stonework, and a mediaeval style. It's a comfortable and welcoming place to rest after a day exploring the coastal town and nearby beaches.
Key Features: Very affordable, Air-Conditioning, Double bed & Sofa bed, Easy access from Bari
What the guests are saying: "We really enjoyed our stay – the apartment is perfectly located and has everything you need."
View More Photos & Check Availability Here
---
ROOFTOP APARTMENT IN MONOPOLI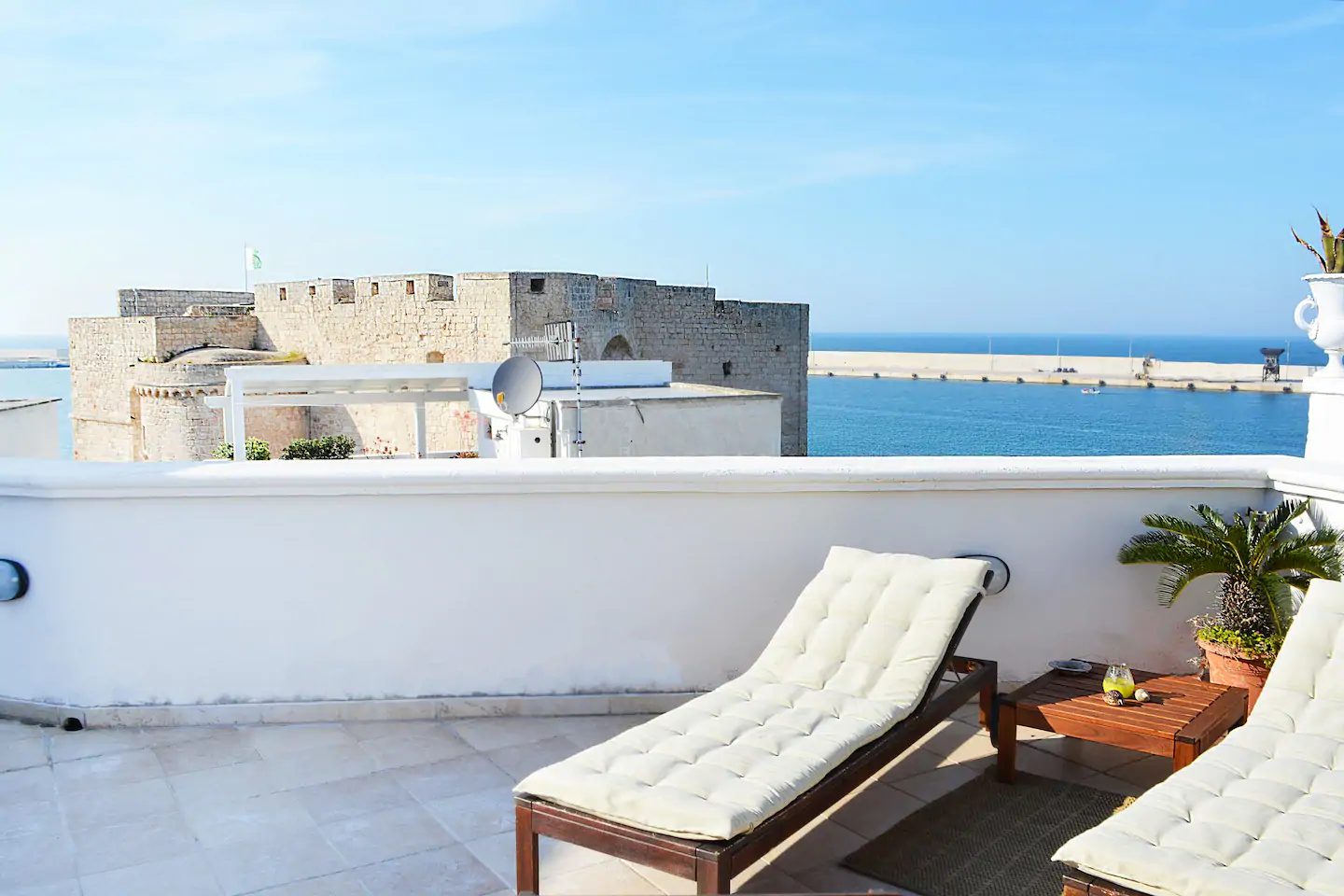 Stay in the heart of Monopoli and spend your days exploring the picturesque streets and pretty seaside walks.
Vico Castello benefits from a view directly onto the castle and harbour from its private rooftop terrace. Inside, you'll find a spacious and tastefully decorated 1 bedroom apartment, with a sofa bed for extra guests.
The romantic master bedroom will afford you a relaxing stay and a complimentary breakfast will make sure you start your day off right.
Key Features: Prime waterfront location, private rooftop terrace, BBQ, Air-conditioning, outdoor kitchenette.
What the guests are saying: "The position of this property is perfect, the views are wonderful, the property is so bright modern open and spacious, it can't fail to impress"
View More Photos & Check Availability Here
---
AFFORDABLE COUNTRY HOUSE NEAR NARDÒ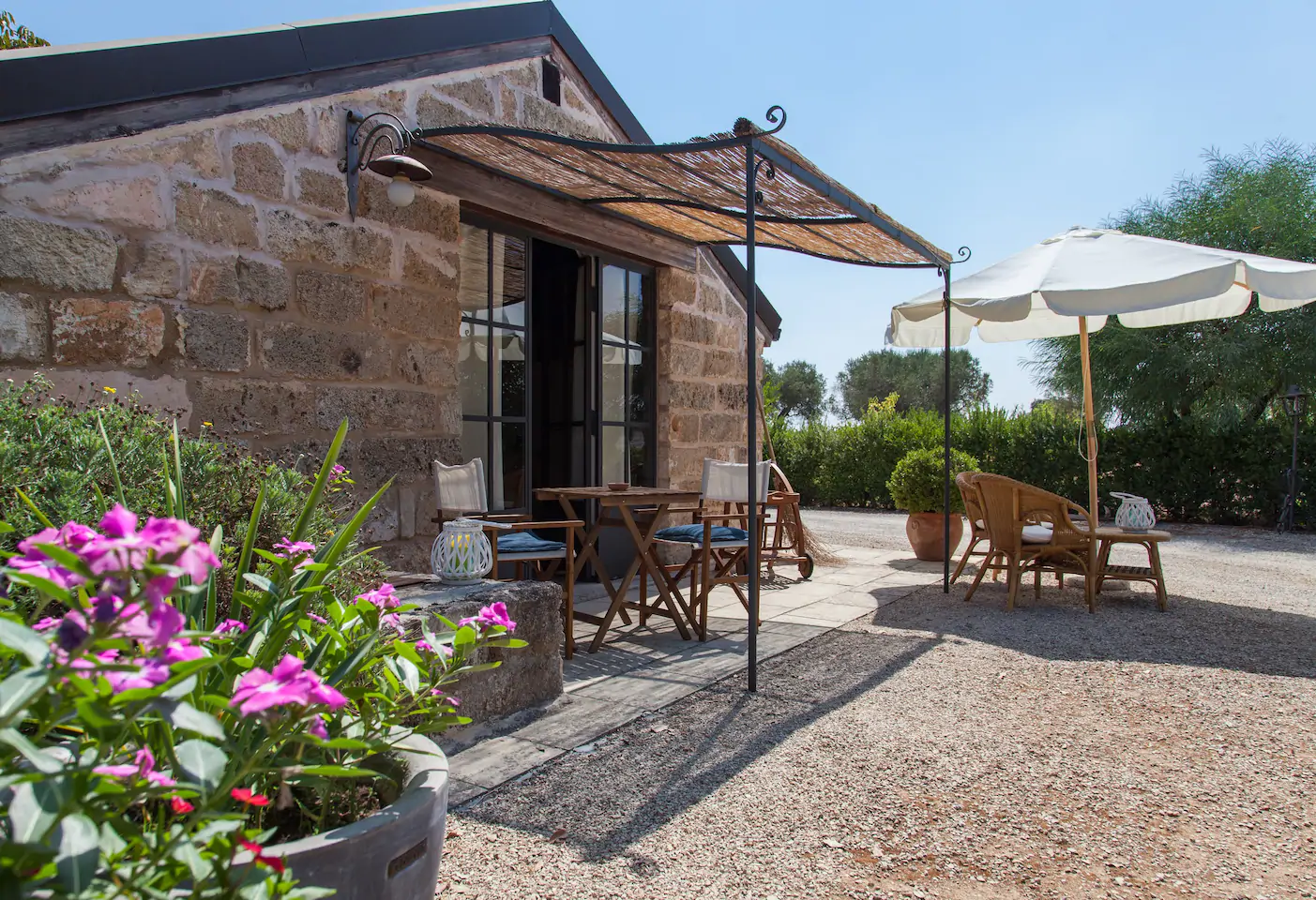 Ideally situated near Nardò, Lecce, Gallipoli and beautiful coastal villages, this self-contained country house is an excellent choice for a couple or small family who want to relax in a peaceful environment at the end of the day.
Set in the Salento countryside, Casetta il Salice benefits from a large garden, gorgeous patio area and simple, rustic interior. There's everything you need on hand to enjoy a quiet country holiday.
Key Features: Spacious self-contained accommodation, Complimentary breakfast, Child-friendly, Large garden setting.
What the guests are saying: "Mariella & Sergio's little house is the perfect base for visiting the Salento region."
View More Photos and Check Availability Here
---
RELAX IN NATURE NEAR THE COAST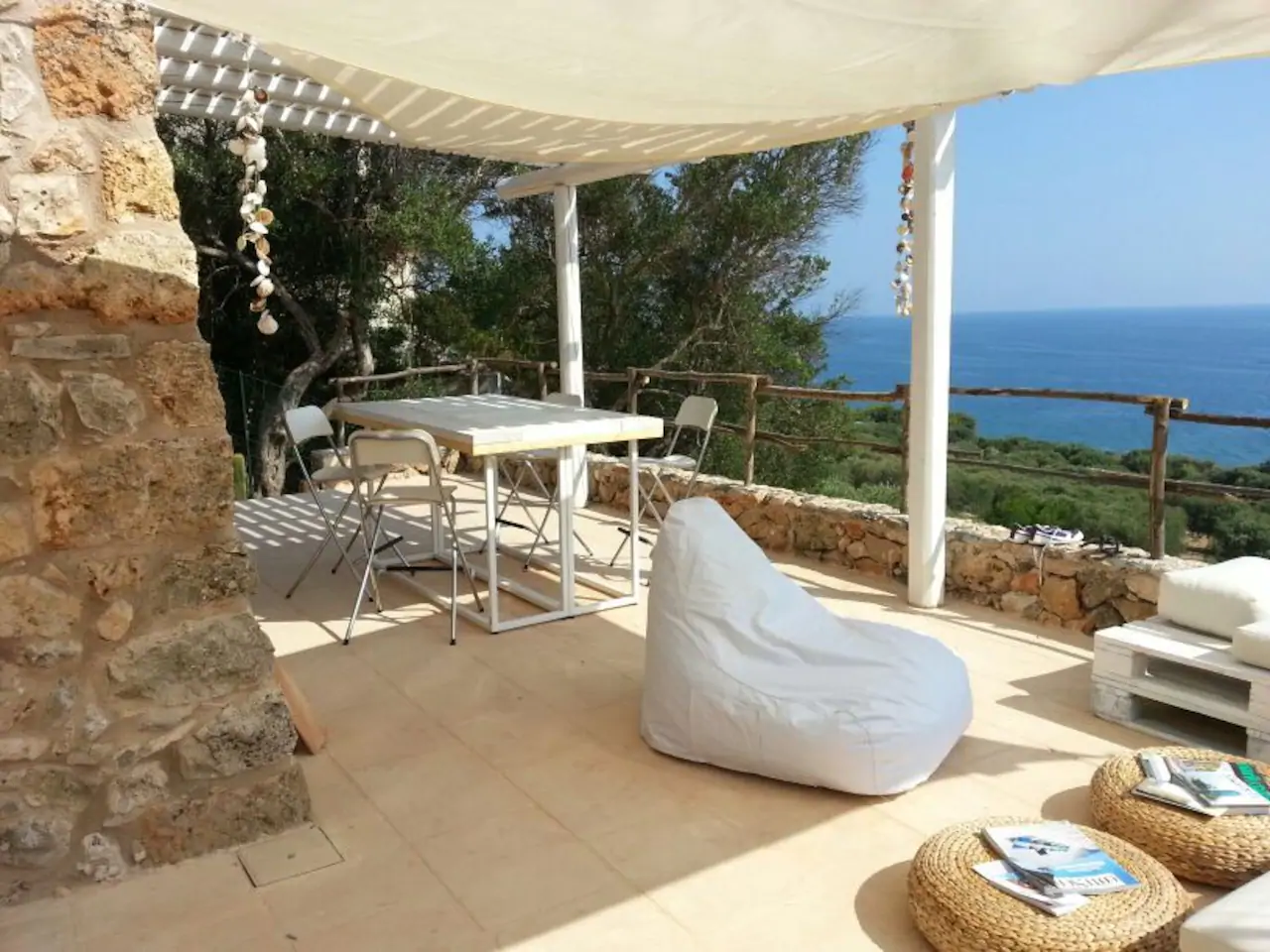 Experience the best of both worlds in this rustic Puglia Airbnb on the coast. Situated between Marina San Gregorio and Torre Vado, you're just minutes away from the idyllic beaches at the Maldives Salento.
La Torre di Merlino is a quiet retreat for those looking to escape the crowds and enjoy nature. Here, you can relax and enjoy the gardens, the sea views and the simple yet stylish surroundings.
When you're ready to explore further, you're just a quick drive from the beaches, villages and restaurants nearby.
Key Features: 2 Bedrooms with double beds, Large outdoor patio, Air-conditioning, Sea Views.
What the guests are saying: "Words cannot express how wonderful our stay was. The view is just magical and the surroundings are so beautiful and peaceful."
View More Photos & Check Availability Here
---
MASSERIA WITH A MODERN TWIST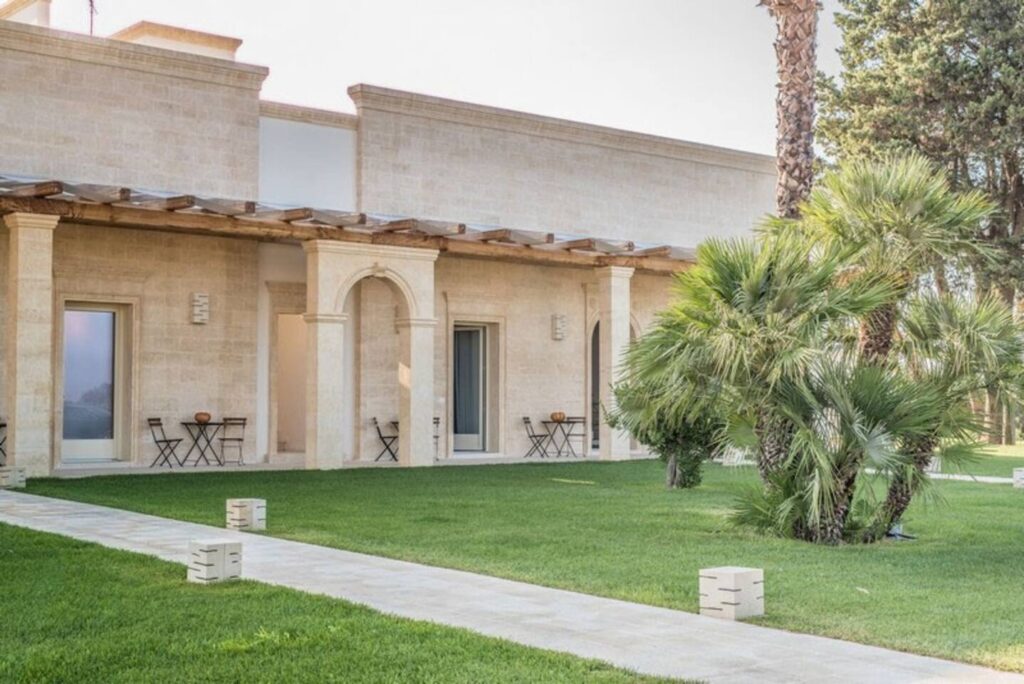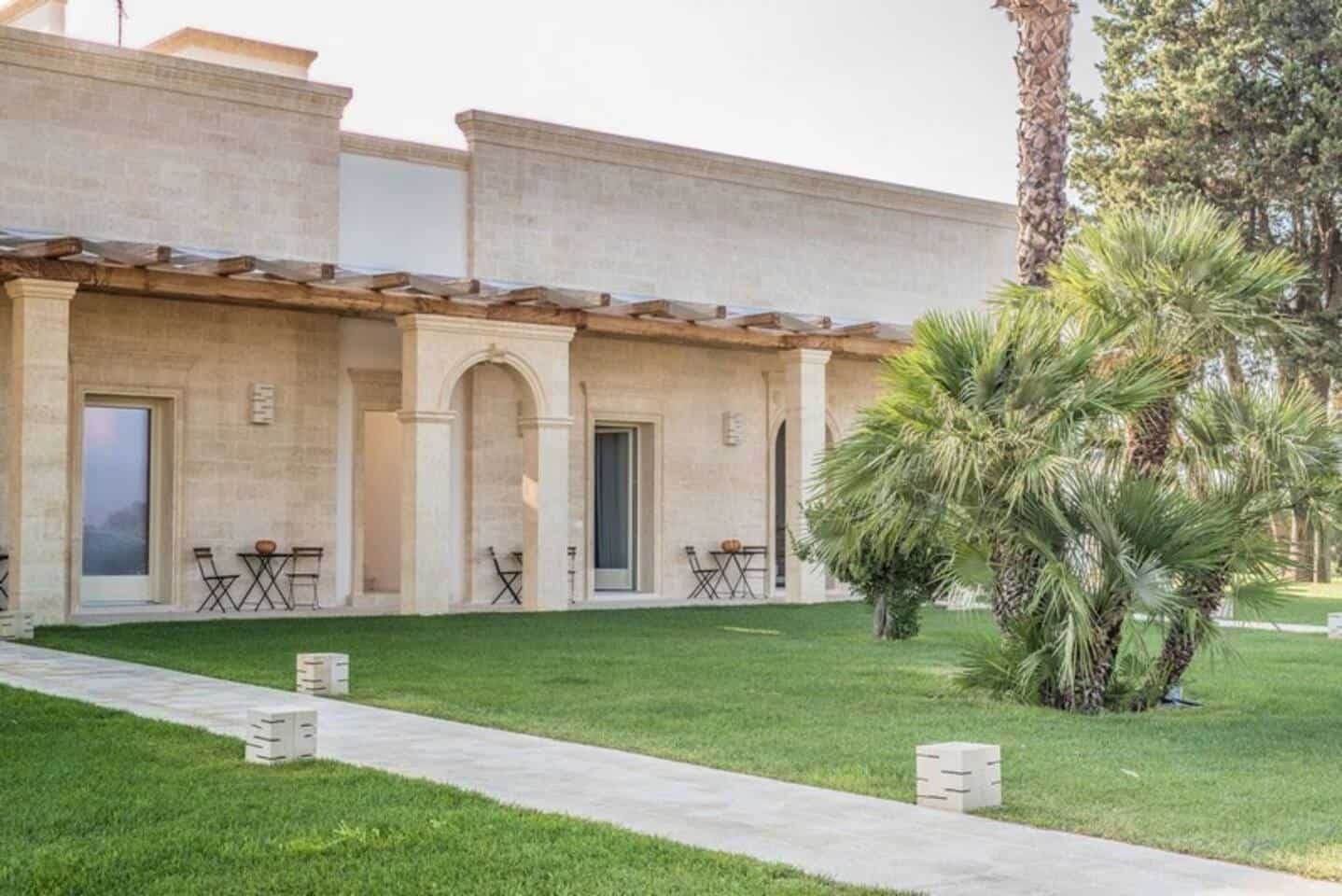 For those who like to combine home comforts with traditional styling, this modernised Masseria may be just the ticket.
Located a quick drive from the airport at Brindisi, you can fly into Puglia and be relaxing by the pool in no time!
Masseria Elysium would be the perfect place to host a family reunion or intimate wedding in Puglia, where each guest can stay in their own luxurious room.
Key Features: Bicycles available, Pool, Hot tub, Breakfast provided, Onsite restaurant.
What the guests are saying: "The location is gorgeous, the room was great and breakfast was delicious!"
View More Photos and Check Availability Here
---
Found your ideal Airbnb in Puglia? If your top choice is already booked, never fear, there are plenty more amazing places to stay in Puglia. Browse them below.
Pin this for later!