The heel to Italy's boot is decorated with atmospheric castles, sun-baked beaches and postcard-perfect villages. While it's often overshadowed by the fame of Tuscany and the Amalfi Coast, Italy's Puglia region offers all the magic ingredients the country is known for and so much more. A slow-living vibe blends with scenic olive groves, rolling fields blanketed with wildflowers and all the local cheese, pasta and wine your waistband can handle.
In terms of where to stay in Puglia, take your pick from whitewashed villages perched high above the sea, old quarters lined with cobblestones and palaces, and countryside havens amid lush vineyards. Settle in and explore via day trips or hop around for a taste of each area. From swimming in astonishing natural pools to exploring underground cave systems and taking selfies with medieval castles, get set to fall in love with Puglia.
---
---
---
---
Best Areas to Stay in Puglia
The best places in Puglia are framed by sweeping coastal panoramas and impossibly pretty towns with everything you need for an unforgettable Italian escape. Whether you're looking for a slice of serenity or a buzzing vibe, la dolce vita is yours for the taking around every scenic corner.
SALENTO
The Ionian and Adriatic seas join on the Salento Peninsula, so it's not surprising that the region is home to some of the best Puglia beaches. Combined with ancient history, enchanting towns, nature reserves and rustic charm, it presents a cocktail of all things good for every type of traveller.
From Santa Maria di Leuca to Gallipoli and Porto Cesareo, the region's seaside towns offer unique personalities framed by spellbinding backdrops. Discover Lecce's church-lined alleyways and archaeology museums. Otranto's cathedral contains the eerie Chapel of the Dead and majestic mosaics. Are you a wine lover? Salento's wine country is dotted with lush estates to sample the renowned local drops complete with beguiling landscapes.
---
ITRIA VALLEY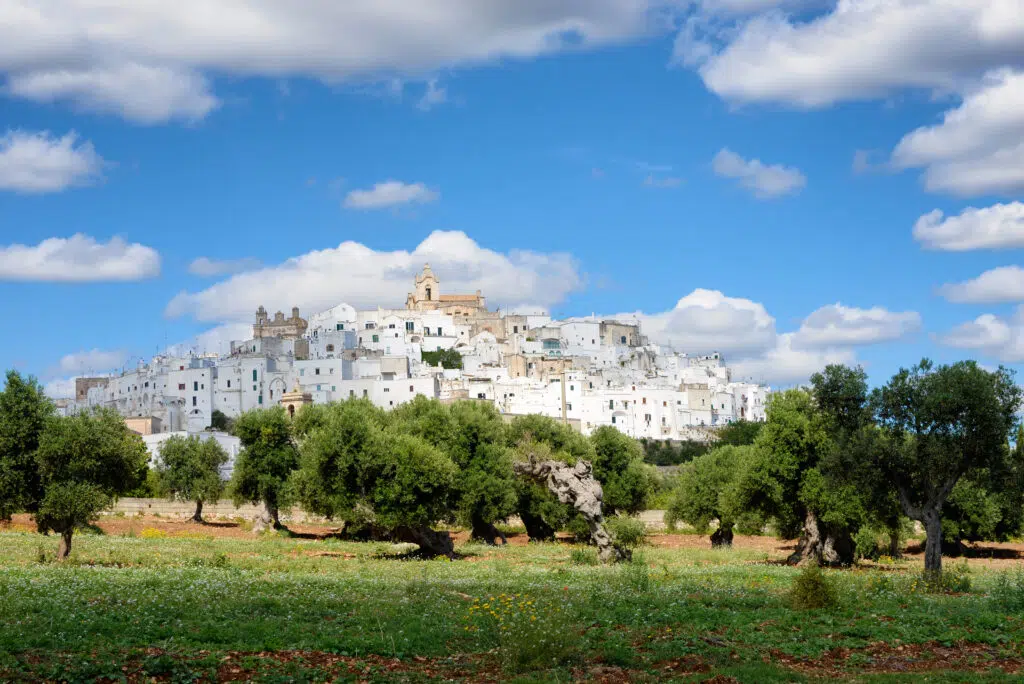 Imagine driving in Puglia on country lanes sliced by lush hills, vineyards, olive groves, farmhouses and achingly pretty villages. The valley rests in the limestone plateau of the Murgia, a natural wonderland of streams and ravines. Visit the caves of Castellana Grotta for a guided tour of stalactites and stalagmites.
Itria Valley is a foodie paradise, especially for fans of olive oil and wine. Make a beeline to whitewashed Locorotondo for sparkling white wine and cheese. Unique homes with coned roofs straight from fairy tales, trulli dot the countryside and fill the UNESCO-listed town of Alberobello. Martina Franca is the commercial area with a historic centre characterised by baroque architecture.
---
THE ADRIATIC COAST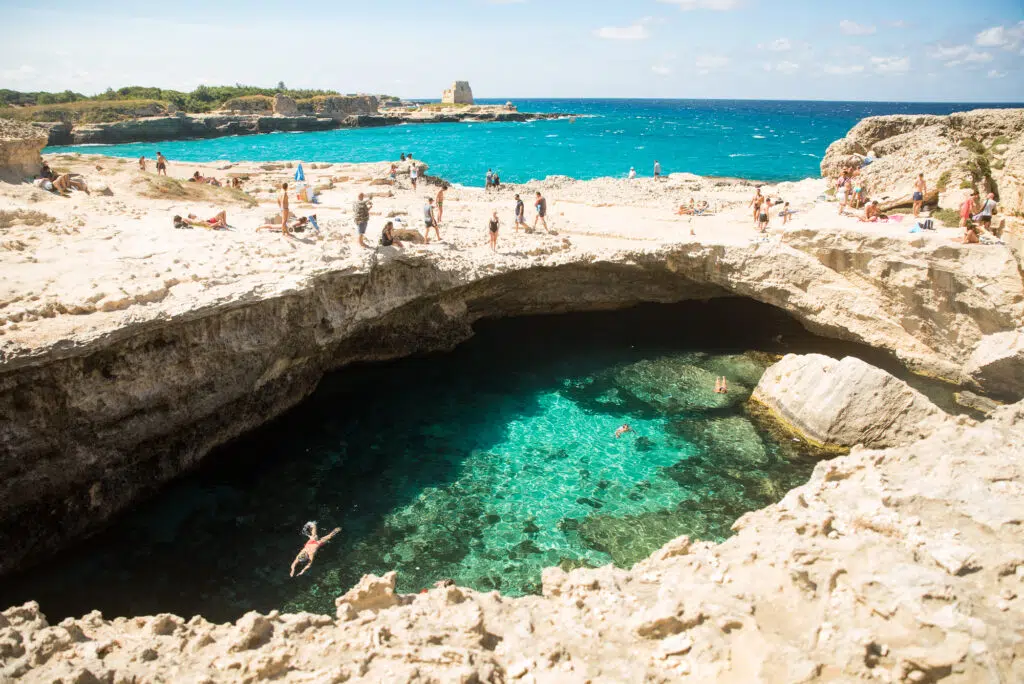 You're spoilt for choice if you're wondering where to stay in Puglia for beaches along the Adriatic Coast. It's home to the region's biggest seaside city, Bari, with a medieval centre and port. North of here is the dramatic Gargano Peninsula, which juts into the ocean with stunning coves and cliffs.
Sample local life in small fishing towns like Giovinazzo and discover the sophisticated marina of Trani. Towering limestone cliffs create a striking backdrop for the breathtaking beach at Polignano a Mare. Perhaps best known as the ferry gateway to Greece, Brindisi's palm-lined Corso Garibaldi stretches along the seafront with boutiques to please die-hard shopaholics.
---
GARGANO PENINSULA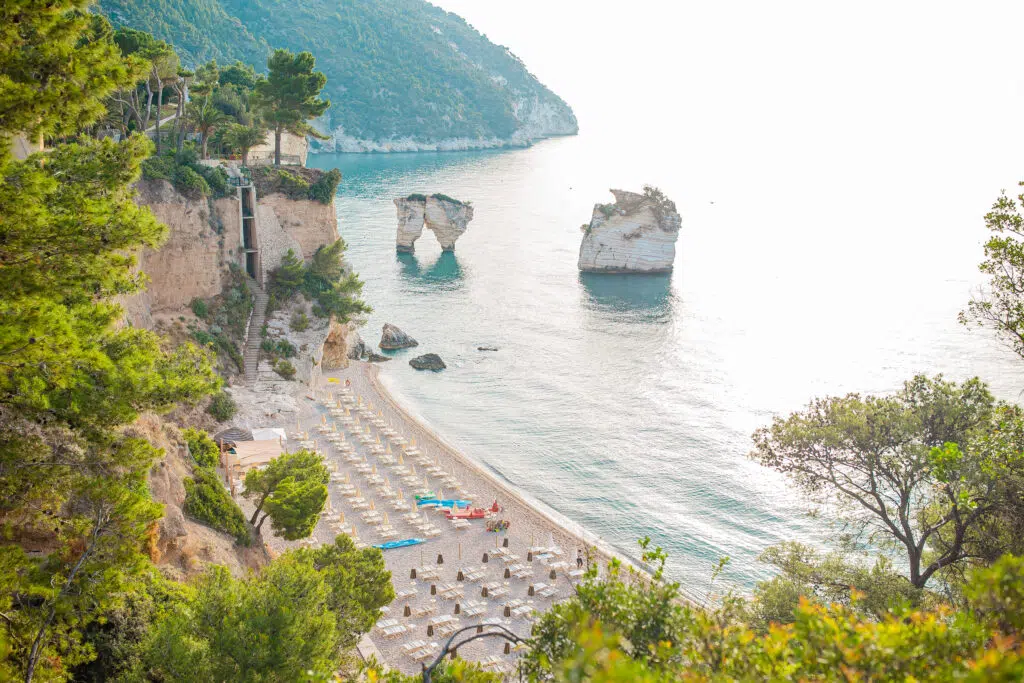 The spur in the heel of Italy's boot, the Gargano Peninsula is one of the best places to see in Puglia. This unspoilt wonderland is framed by white limestone cliffs, magical grottoes and lush forests, and much of it is protected as part of the Parco Nazionale del Gargano. If you visit during the off-season, you're likely to find plenty of remote nature scenes to yourself.
Dozens of beaches feature hidden coves and striking cliff backdrops. To really get a sense of the awe-inspiring landscapes, take a boat trip around the coastline and pack your hiking boots for a stroll in the Forest of Shadows. Visit the mountain town of Monte Sant'Angelo to explore the cobbled, whitewashed alleyways. You can settle in at a range of seaside towns, including atmospheric Vieste.
---
---
---
Though it's a fixture on the tourist radar now, Puglia still retains astonishing, peaceful pockets of tradition and nature that are otherwise hard to find across one of the world's most visited countries. From historic, cliff-hugging towns to ancient forests and character-filled fishing ports, the best of Puglia hits you at every turn and ensures you'll never forget your holiday on the heel of Italy's boot.
Pin this for later!