Les Landes may be France's best-hidden secret, and I can see why the French would want to keep it that way! As I was delighted to find out, this corner of South-West France is home to some of the most stunning beaches in the country.
Move aside Cote d'Azur, the Cote d'Argent – or silver coast – offers Europe's longest stretch of sandy coastline, spanning over 200 glorious kilometres.
When we first moved to France, we were lucky enough to have 3 months to explore the Landes and its shorelines. Below are my favourite beaches in the Landes – both ocean and lakeside.
MIMIZAN PLAGE
Mimizan Plage – also known as the pearl of the Silver Coast – is actually made up of many beaches lining the coast of this resort-style town. Both the town and its beaches are split down the middle by 'Le Courant de Mimizan' – the river which flows from the ocean through to nearby Lake Aureilhan (see more on this lake below).
All of the beaches have designated swimming areas which are monitored during the peak season. Be sure to swim between the flags, as the Atlantic currents can catch you off guard!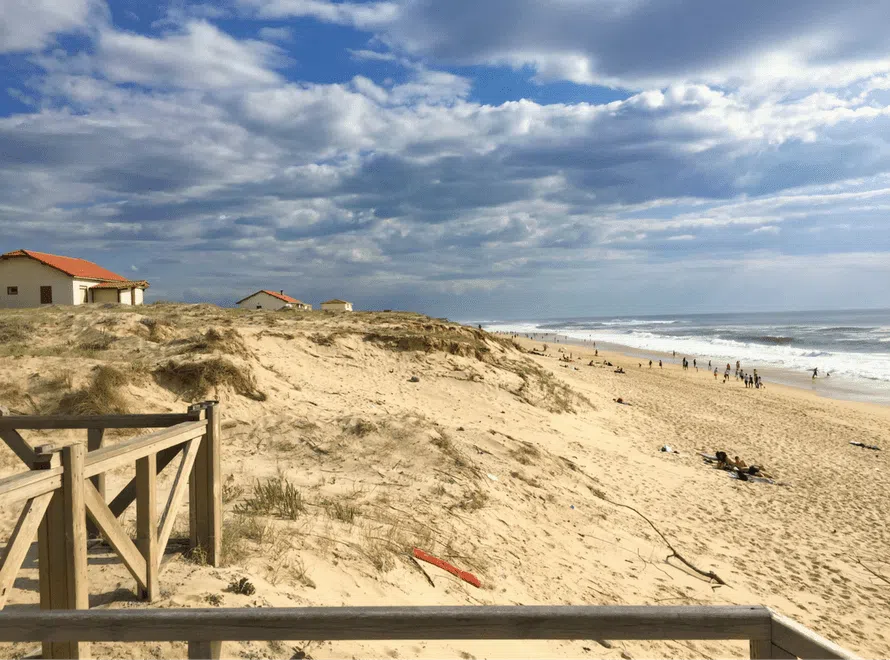 Mimizan's main village is 10 mins inland from the coast, but the resort town at Mimizan Plage has everything you need to enjoy your holiday. The town square is lined with cafes, shops, and ice-cream parlours selling the most delicious sorbet (try the lavender flavour). With visiting musicians entertaining the passers-by, it's also the perfect spot to sit back and soak up the holiday atmosphere.
As with all of the beaches on this stretch of coast, surfing is a popular past-time in Mimizan, and there are many places to rent a board or enrol in lessons. The long stretch of surf means everyone can safely enjoy the water without swimmers getting in the way of watersports and vice versa!
If you just want to enjoy the sun and sea views without getting your feet wet, there's plenty of room to pitch a sun umbrella and set up camp for the day. The beaches – especially to the north of the town – do get busy towards the end of the day, but not unbearably so.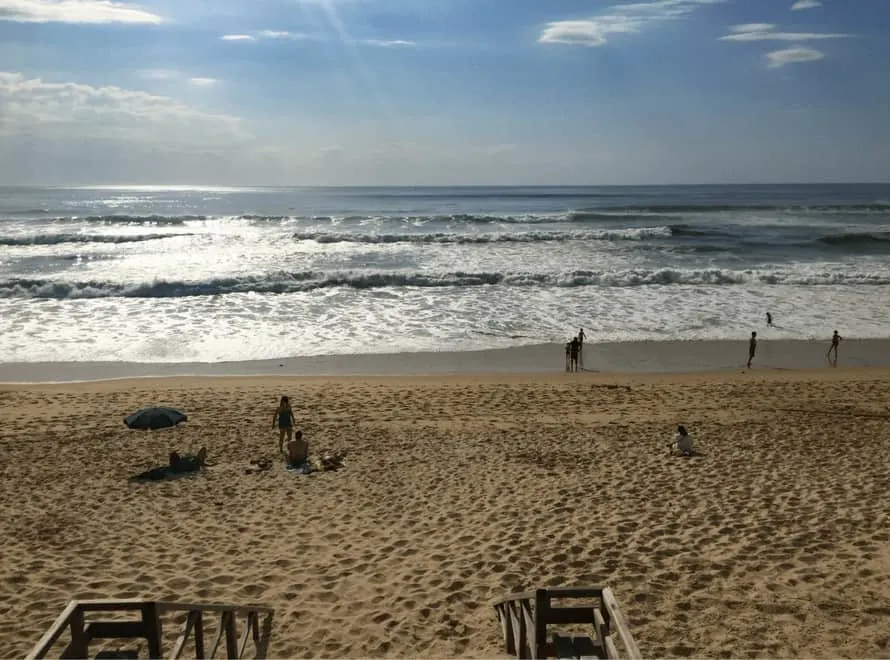 Mimizan Plage is best for:
People who enjoy the lively resort atmosphere. Renting a beach house here would be the ideal way to spend a week or so of your holidays. Hit the beach by day and explore the village in the evening. There is also a weekly farmers market and a twice-weekly night market in the summer months.
Tips for enjoying Mimizan Plage
Jalan Yoga hosts weekly yoga lessons on the beach throughout summer. A great way to ease into your holiday, or try something new!
If you're visiting with little ones, there's a great little playground on the banks of Corniche beach – on the north side of the river.
The currents can be strong and the waves unforgiving. Always swim between the flags and keep a close eye on children.
Not so much a tip as a forewarning – the Papeterie Gascogne (paper mill) gives an unmistakable pungent aroma to this area. It reminds me a bit of the sulphur smell in Rotorua, New Zealand. And like Rotorua, it's something you get used to and don't take much notice of once you're there.
LAC DE CAZAUX
Lake de Cazaux, also known as Lake Cazaux and Sanguinet – is France's second-largest freshwater lake. Its grand proportions mean there are an array of activities on offer. Relax on a sailboat, zip line above the water, bike through the surrounding forest, or simply sunbathe on the sand.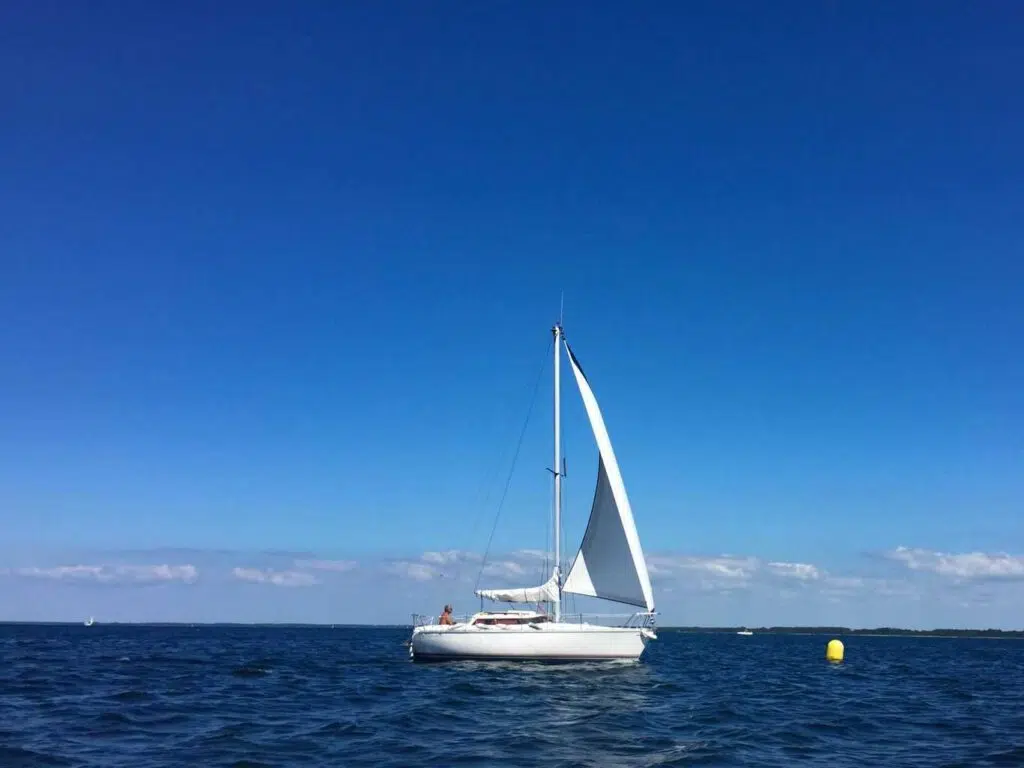 The lake provides plenty of beaches around its perimeter – if one is too busy for your liking just push on a little further until you find your ideal spot.
When we first arrived in France, it wasn't unusual to find a deserted beach (on a weekday!). But once July hit, it was another story altogether, as crowds descended on the lake to enjoy their summer holidays lakeside.
Despite the summer busyness, it was still a fun place to hire a pedal boat for an hour or hit the bouncy castles at Port Maguide – home also to AquaPark and pop-up restaurants on the beach.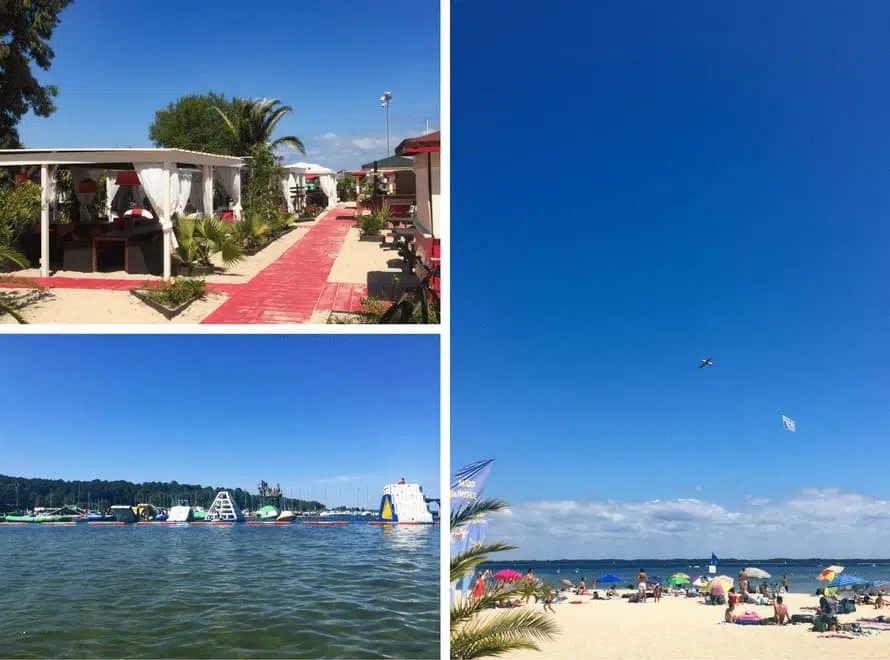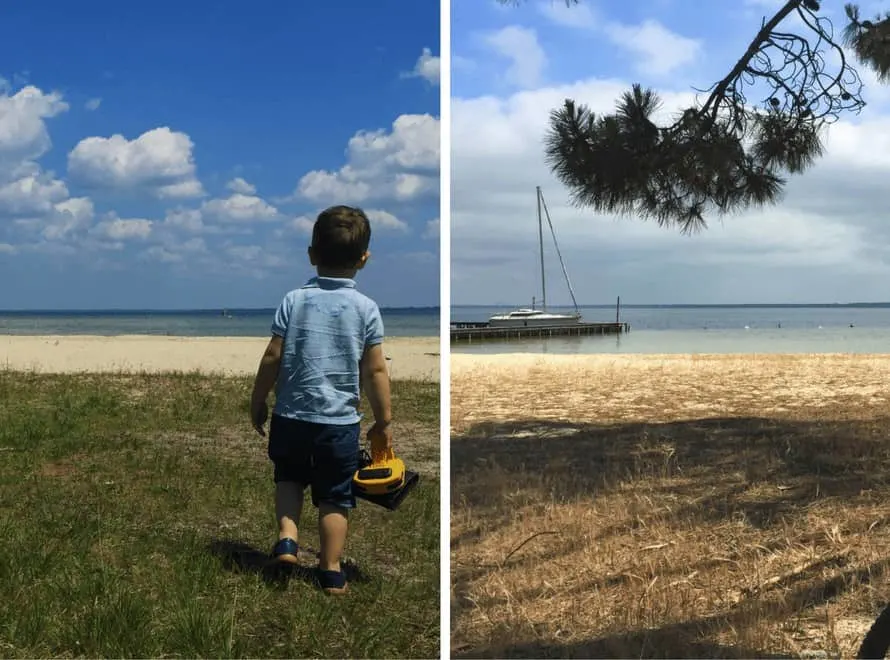 Lac de Cazaux is best for:
Families with young children, as the water is safe and warm (the water warms up to 28 degrees in summer). Older kids will enjoy it here too, as there are plenty of activities to keep the whole family busy. Mini-golf, parachuting, sailing tuition – you name it!
Tips for enjoying Lac de Cazaux
In the peak summer months (July & August) you have to pay for parking on the stretch of the lake between Ispe and Maguide. There is limited free parking over the hill towards the Port. Or pack your bikes and park further out – you'll enjoy the easy ride along the lakeside!
There's also a cycle track that connects Biscarrosse Plage with Cazaux Lake. So you can stay beachside or lakeside, and enjoy both – without having to deal with parking issues.
Load up a beach wagon with all your goodies for the day so you don't need to take trips back to the car/camping ground every time you need something. It'll also be great transport for your kids if they're too tired (after all that playing) to walk back at the end of the day!
LAC D'AUREILHAN
What Lac d'Aureilhan lacks in size, it makes up for in appeal. This petite lake offers a respite from the crowds at the bigger, more popular lakes. A slightly rustic experience, it's a good spot for an afternoon stroll or lazy shoreside picnic.
There are two beaches on the Aureilhan side of the lake, and there's plenty to do around and on the lake when you've had enough of building sandcastles. Water sports are popular here – it's a great place to learn to windsurf, go for a paddle on a canoe, or even hire a boat to explore the protected natural environment.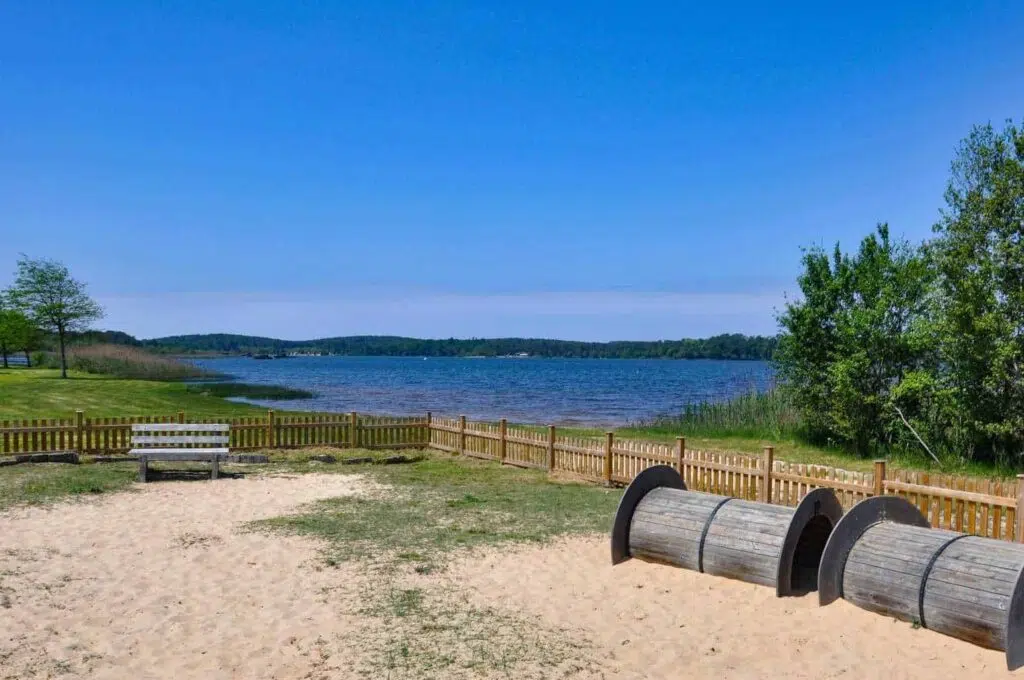 Aureilhan lake is also home to Promenade Fleurie – an unmissable garden walk for lovers of nature, flowers, and even wildlife. We saw a few playful otters in the water alongside the promenade, and various birdlife. This short lakeside walk is home to 300 varieties of plants, offering an experience that changes with the seasons.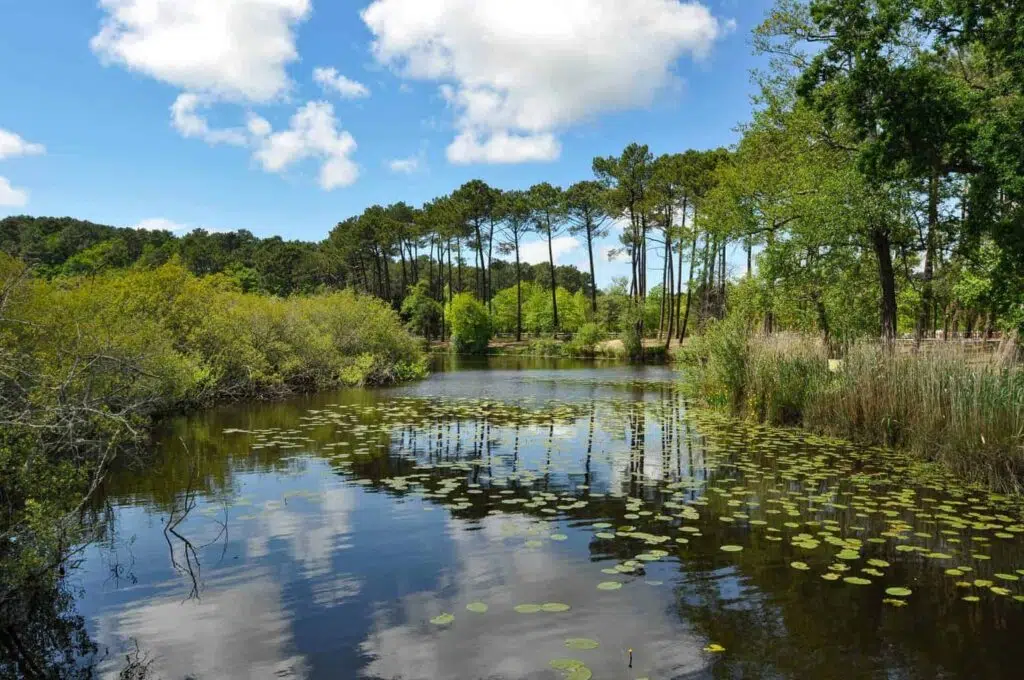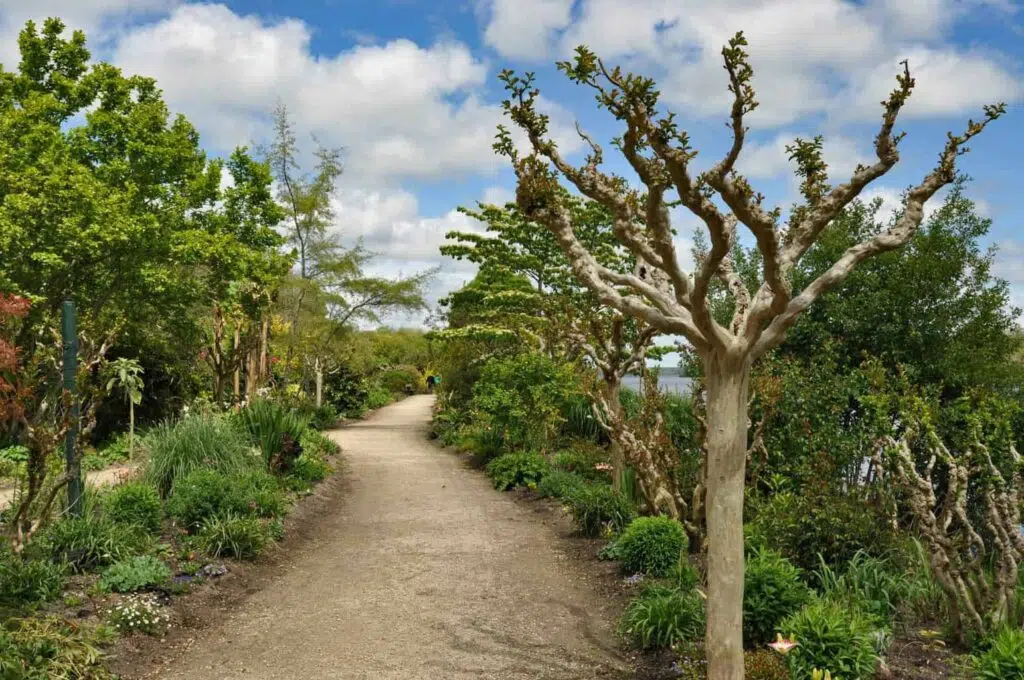 Lac d'Aureilhan is best for:
Nature lovers, those seeking a quiet respite, or to enjoy the various water-sports on offer.
Tips for enjoying lac d'Aureilhan
There's a great wooden playground at the end of the Promenade de l'Étang for children to enjoy.
BISCARROSSE PLAGE
Biscarrosse – dubbed Bisca by the locals – is in the north of the Landes. It's just over an hour's drive from Bordeaux, the wine capital of the world (if you didn't already have enough reason to visit!).
The small seaside town at Biscarrosse Plage is bursting with bistros offering mussels and steak, alongside a smattering of shops selling souvenirs and beach gear. It has a buzzing resort-style atmosphere in the summer, but visit in winter and you'll have the place almost entirely to yourself.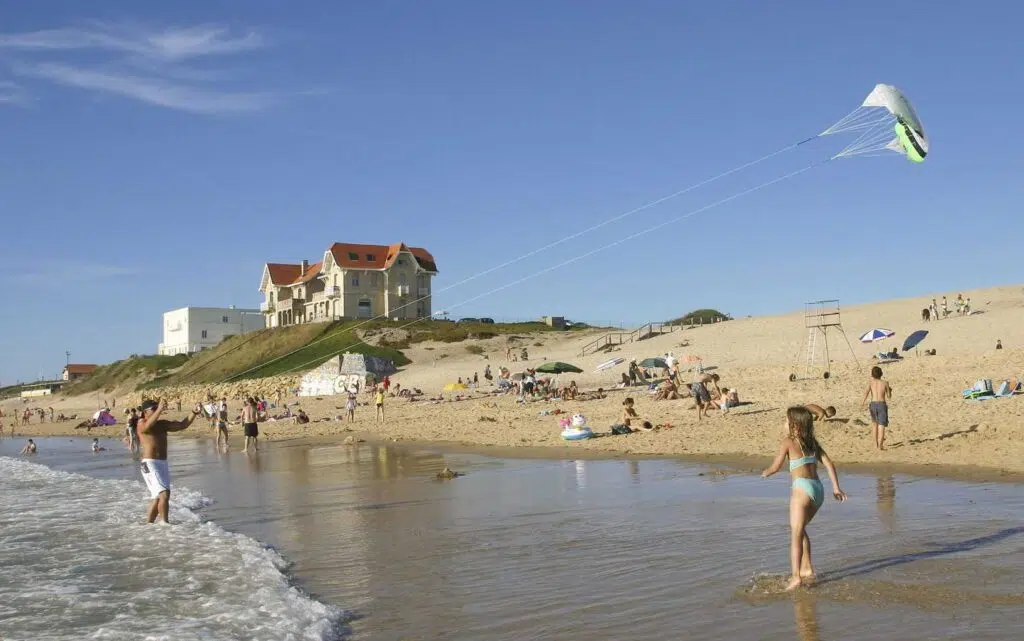 The beach is large and wide – an excellent place to hit the waves. But take care, as the sea can sometimes be a bit rough for young ones, or the uninitiated. Luckily there is an inlet which allows families with young children to have a safe spot to enjoy the water.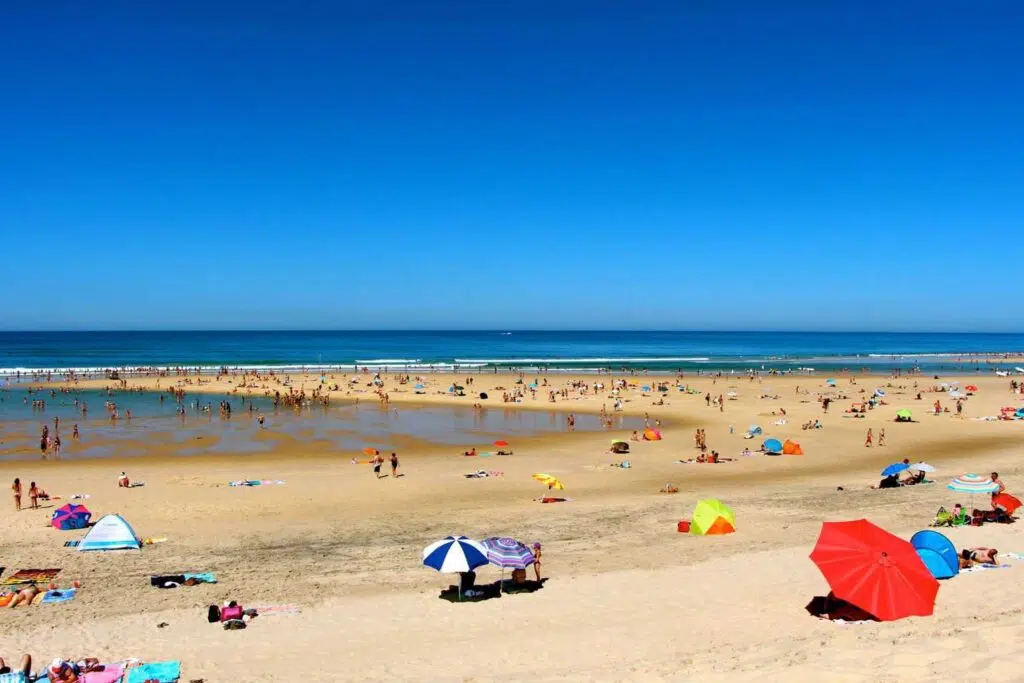 Biscarrosse Plage is best for:
Surfers (or those wishing to learn – there are plenty of surf schools here), and/or those who enjoy the party resort vibe.
Tips for enjoying Biscarrosse Plage
If you're a keen cyclist, there's an excellent cycle path that extends from Biscarrosse, 30kms up the coast to the Dune du Pilat and Arcachon in the north.
Go early! In the summer months expect long queues on the roads leading to the beach and a frustrating time trying to find a car park.
LAC DE BISCARROSSE ET DE PARENTIS
Lined with camping grounds, dotted with white sand beaches, and easily accessible by bike or car, the lake of Biscarrosse-Parentis became a firm favourite with our family.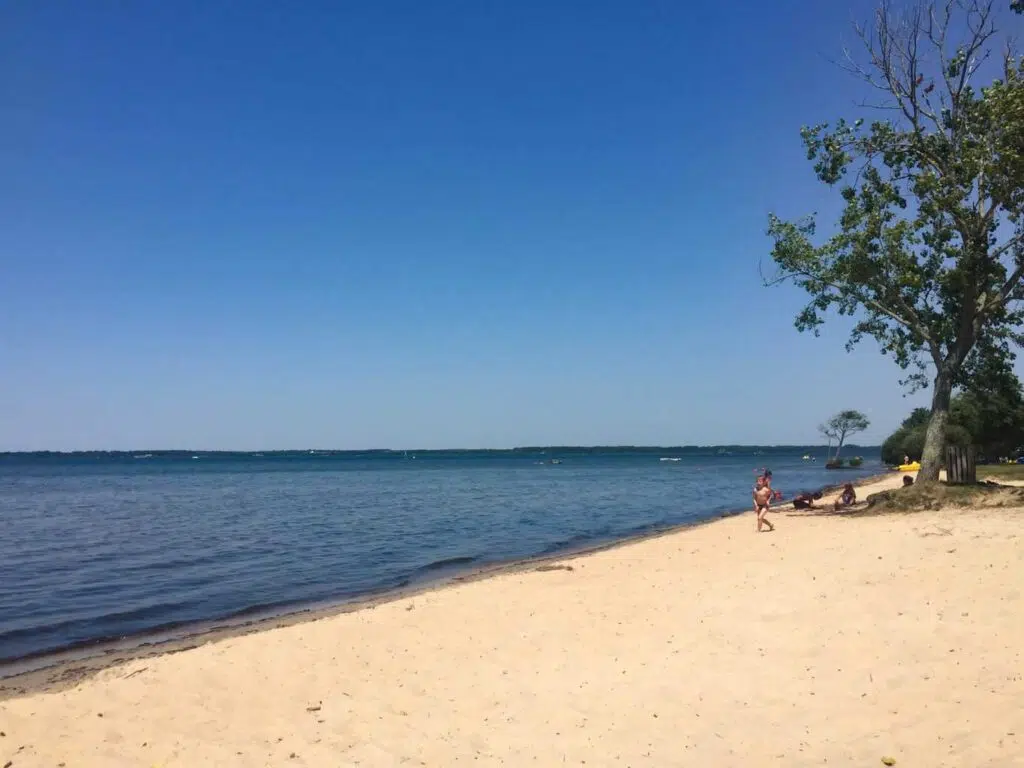 Parking just outside of Gastes, we'd jump on our bikes and follow the easy-going cycleways through the forest. First stopping at the beachfront in Gastes for a deliciously refreshing lemon sorbet and splash at the beach; then pedalling south to the beach at Sainte-Eulalie-en-Born.
Both beaches have great little playgrounds, safe swimming zones, and nearby cafes to enjoy lunch. Sainte-Eulalie-en-Born also offers pedal boats and kayaks for hire, a volleyball net, and enough space to have an impromptu game of soccer – so bring a ball!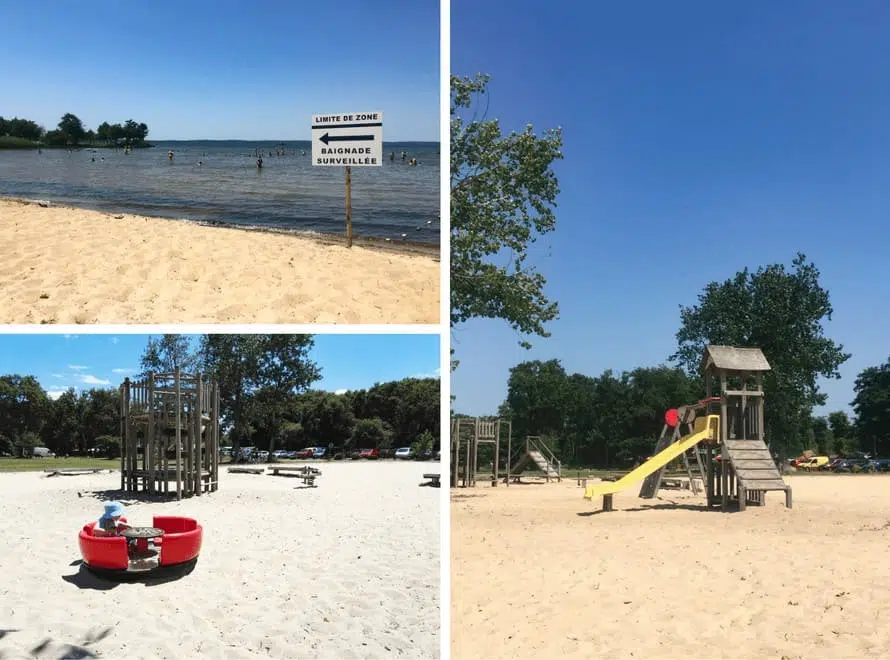 Lac de Biscarrosse et de Parentis is best for:
Families wanting an all-in-one camping holiday at a safe swimming beach, without the party atmosphere of other beach resorts.
Tips for enjoying lac de Biscarrosse et de Parentis:
Neither beach has much in the way of shade – so be sure to pack your beach umbrella.
Lake of Biscarrosse-Parentis is a cheaper option (camping, pedal boat hire, eating out etc) than the busier, more popular Lac de Cazaux.
PLAGE DE L'ESPECIER
Approx 15 mins south of Mimizan Plage you'll find plage de l'Especier. A bucolic beach with nothing but the obligatory surf school to interrupt the tranquillity – plage de l'Especier is the authentic way to enjoy the Atlantic coast.
We first visited plage de l'Especier on a particularly wild day with our two dogs, but it still managed to take my breath away (quite literally – it was so windy!).
The approach to the beach is a little inconspicuous and the car park is set well back from the beach – inviting you to walk through the pines and grass-covered dunes. But once you arrive at the top of the dunes – the views are absolutely astonishing.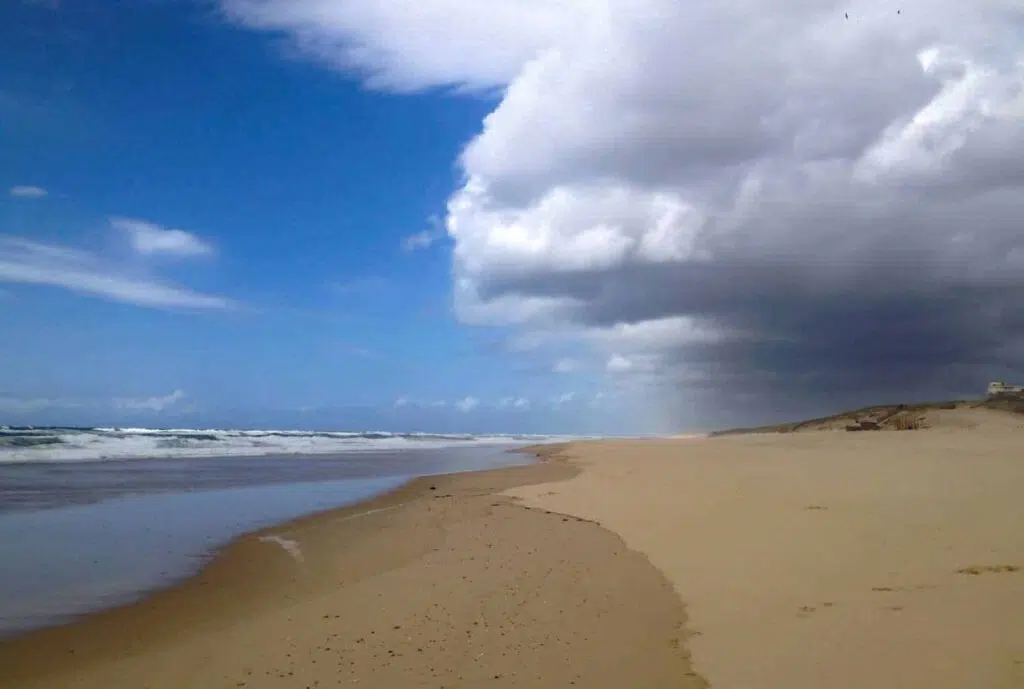 There are picnic areas near the car park, which are a welcome respite from the summer sun. A simple children's play area is provided also.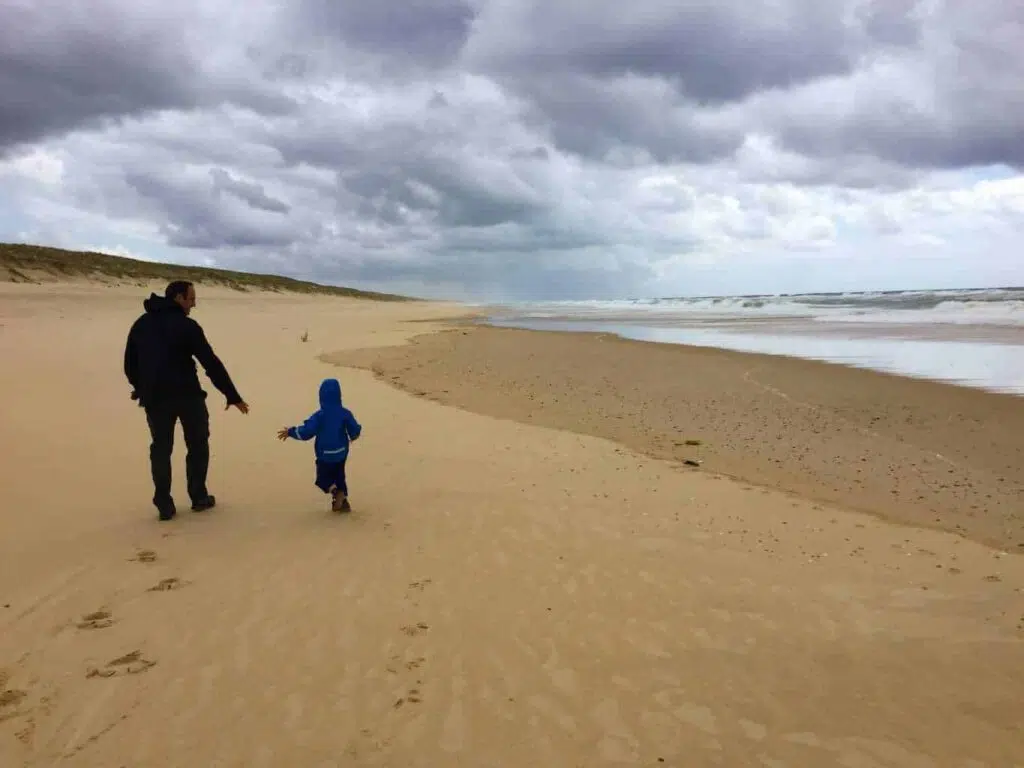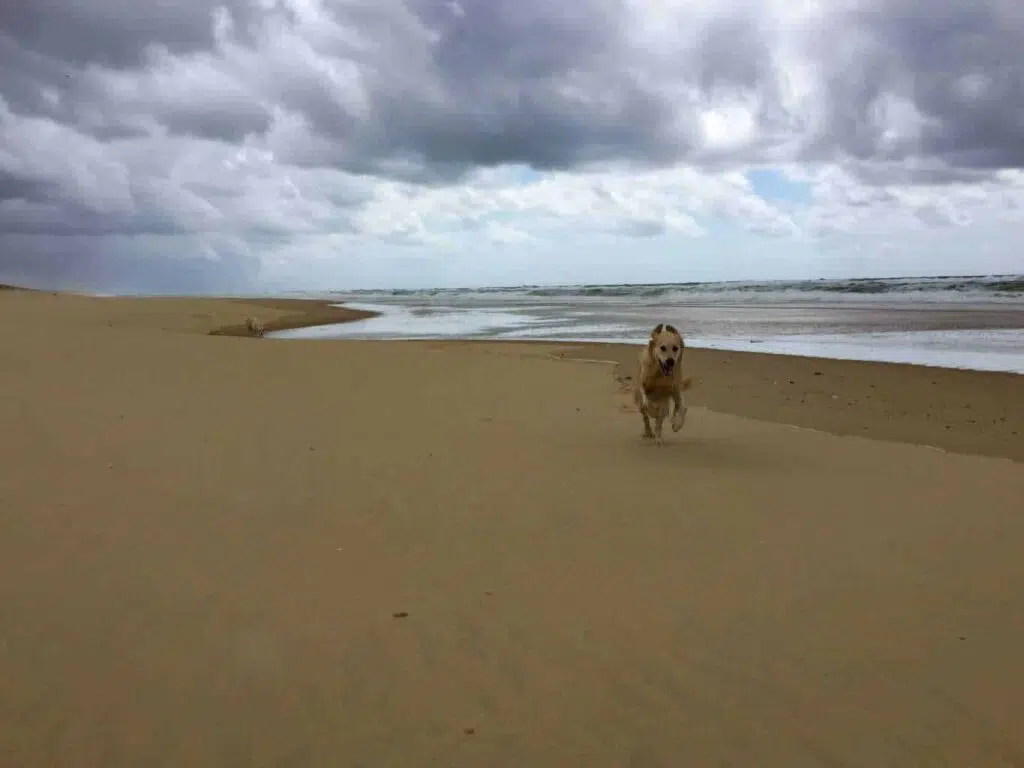 Plage de l'Especier is best for:
Surfers, dog walking (not during July/August), or those who just want to sit and stare at the endless ocean.
Tips for enjoying plage de l'Especier
There are no conveniences near this beach – so come prepared with food, water and sunscreen if you plan to spend the day!
---
Pin this for later!