When researching accommodation in Edinburgh, I was in search of three key things. At least one separate bedroom, a central location, and luxury comfort at a reasonable price.
Considering this was a last-minute getaway and our night in Edinburgh coincided with the Edinburgh Fringe Festival, I didn't hold out much hope that I'd be able to fulfil all three criteria!
But as soon as I came across Old Town Chambers I knew we had hit the jackpot. Situated right in the heart of Edinburgh's Old Town, these 5-star apartments offer stylish family-friendly accommodation in a unique setting.
---
Arriving at Old Town Chambers
Edinburgh is a compact city, and one that is best explored by foot or public transport. Nevertheless, after arriving by train from London we had hired a Mini for our onward journey, so ventured into the city undeterred.
The hotel website suggested the best access to the apartments was via Roxburgh's Close. For the uninitiated (like us), Edinburgh's closes are narrow alleyways with many steps, and certainly not navigable by car!
We stopped briefly on The Royal Mile – a stretch of several streets showcasing an incredible display of history and inspiring architecture – but a stern tap on the window jolted us out of our reverie as a parking warden instructed us to move on.
This was no place for idly wondering where our accommodation was to be found. Luckily, a coveted parking spot appeared just around the corner on St Giles' Street and we proceeded to our apartment on foot.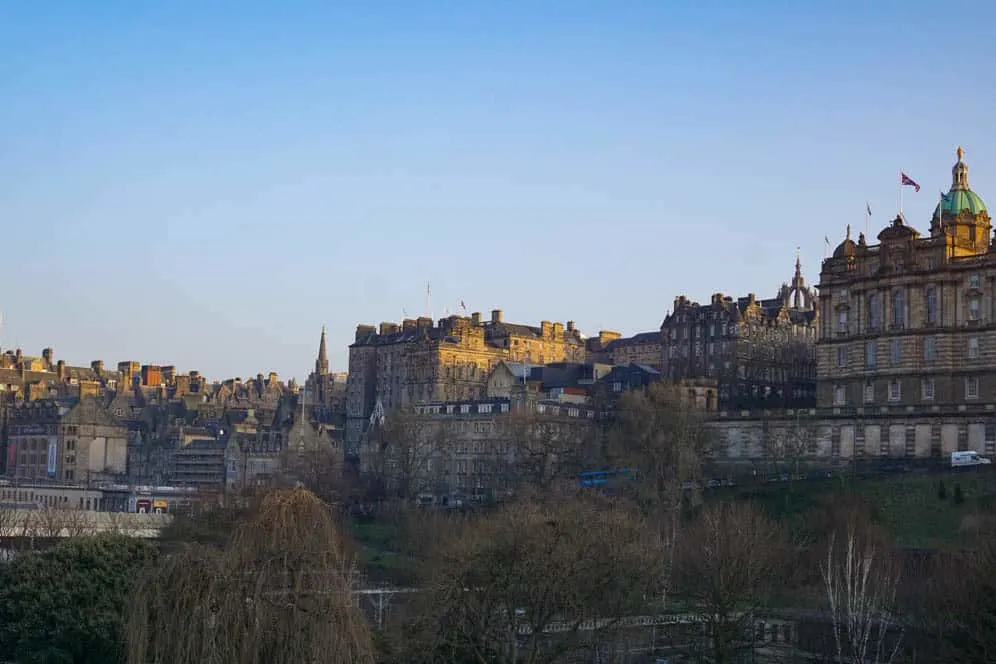 Navigating the undulating staircases with suitcases in tow, a friendly local (one of many we would encounter on this trip) came to our aid and pointed out the entrance to Old Town Chambers.
Having arrived almost an hour early for check-in, we were hoping to leave our bags in safe hands while we headed out to explore the sights of Edinburgh.
As we walked into the compact but regal-looking reception area an attentive staff member made a quick phone call to housekeeping while we happily sank into the comfortable couches. It was established that our apartment was ready for us, so we gladly headed upstairs for a quick refresh.
Our Apartment
Entering the apartment, a narrow hallway with golden wooden floors and high ceilings greeted us. We rolled our suitcases through the door and parked them to one side as we proceeded to explore the space unencumbered. The hallway veered to the left as we approached the master bedroom. The bedroom was warmly furnished and cosy, with an invitingly large bed and an amazing view of the Edinburgh skyline.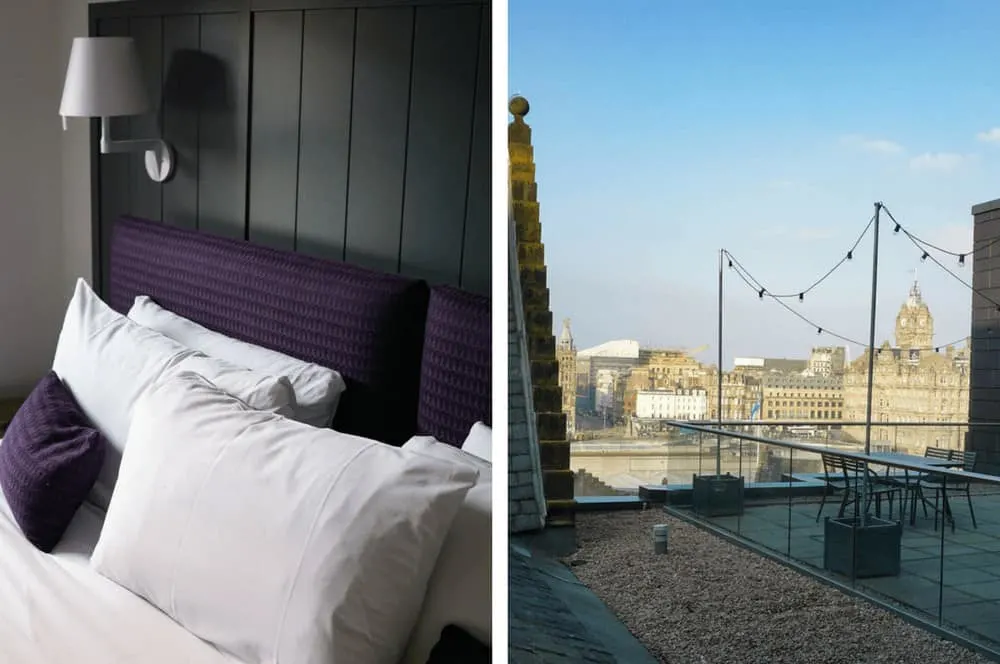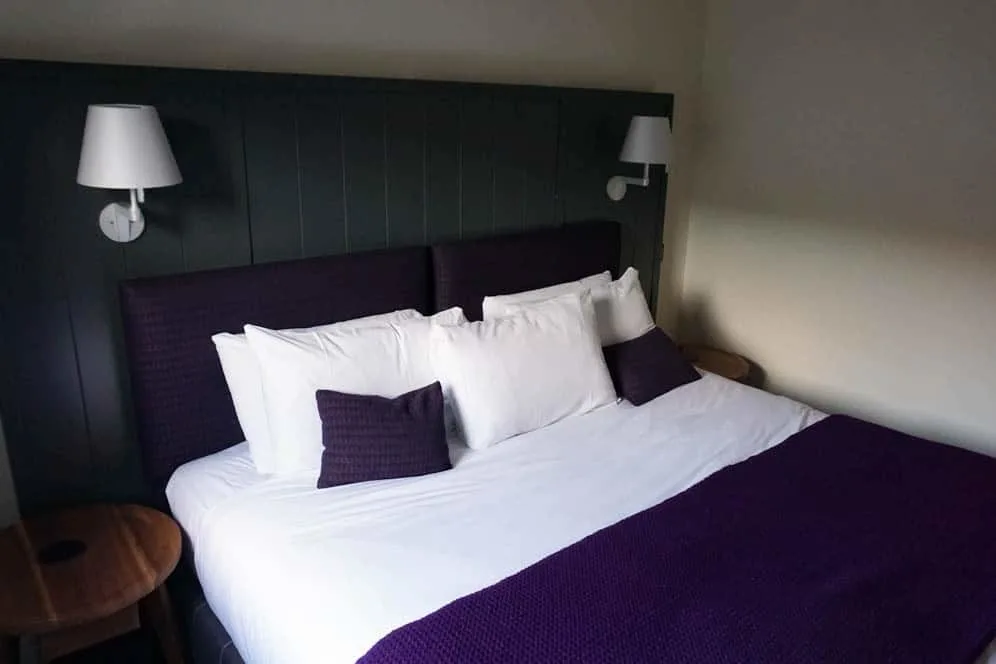 Next to the master bedroom was a modern tiled bathroom complete with separate shower and full-sized bath. Accessed via both the master bedroom and hallway, it acted as both a family bathroom and en-suite. I love relaxing in a hot bath after a full day of travelling, whereas my husband prefers the soothing effect of a rainfall-style shower.
We were both catered for with the luxurious bathroom suite at Old Town Chambers. Deliciously scented Cowshed products adorned both the vanity and shower, meaning there was no need to unpack our own toiletries.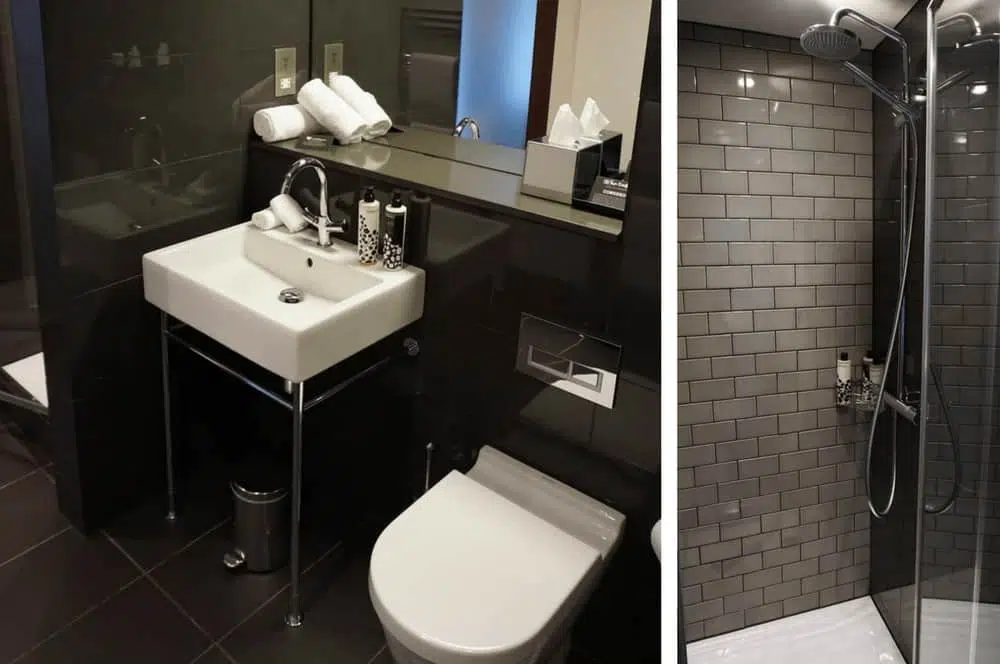 Opposite to the bathroom was a second bedroom 'nook' – this wasn't listed as a bedroom (we had booked a one-bedroom apartment), but it worked perfectly for our small family situation.
The nook housed a double bed that was wedged snugly within the narrow walls – meaning we didn't need to worry about our wriggly preschooler rolling off the bed during the night. A thick curtain hung in the door frame and a single wardrobe and mirror sat at the foot of the bed.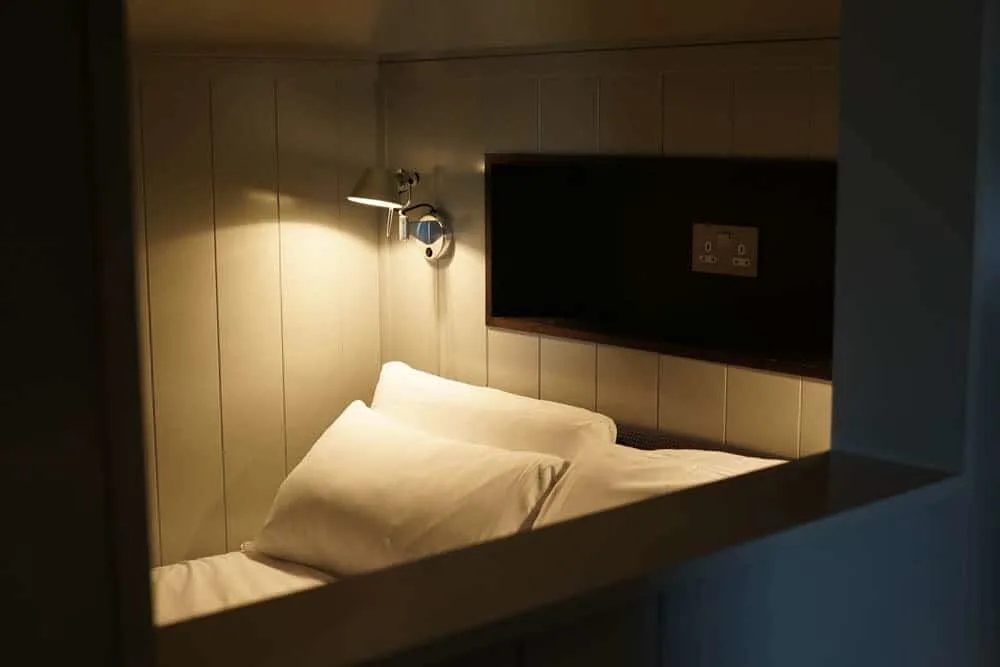 The hallway opened up to reveal a central open-plan living area and kitchen. The kitchen was well stocked and we could have easily whipped up a decent meal given half a chance. Sadly, the only appliance that was given a workout during our stay was the Nespresso machine.
The lounge was furnished with quality chattels that gave the apartment a modern yet understated feel. The TV hung discreetly on a wall, while the favourable position of the windows and balcony meant we had an intriguing view over the myriad of alleys and rooftops of Edinburgh's Old Town.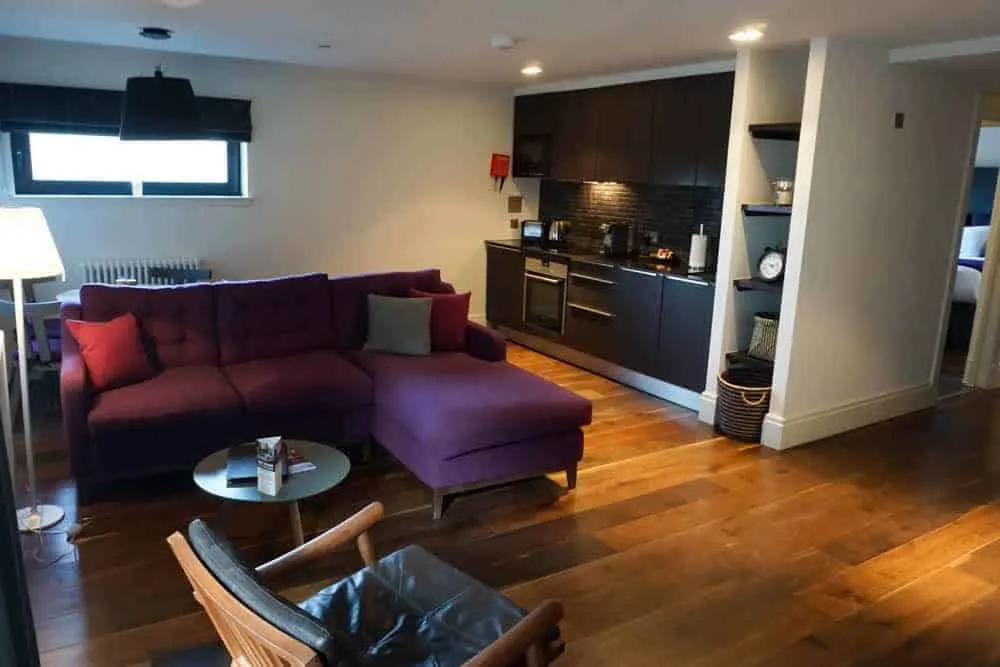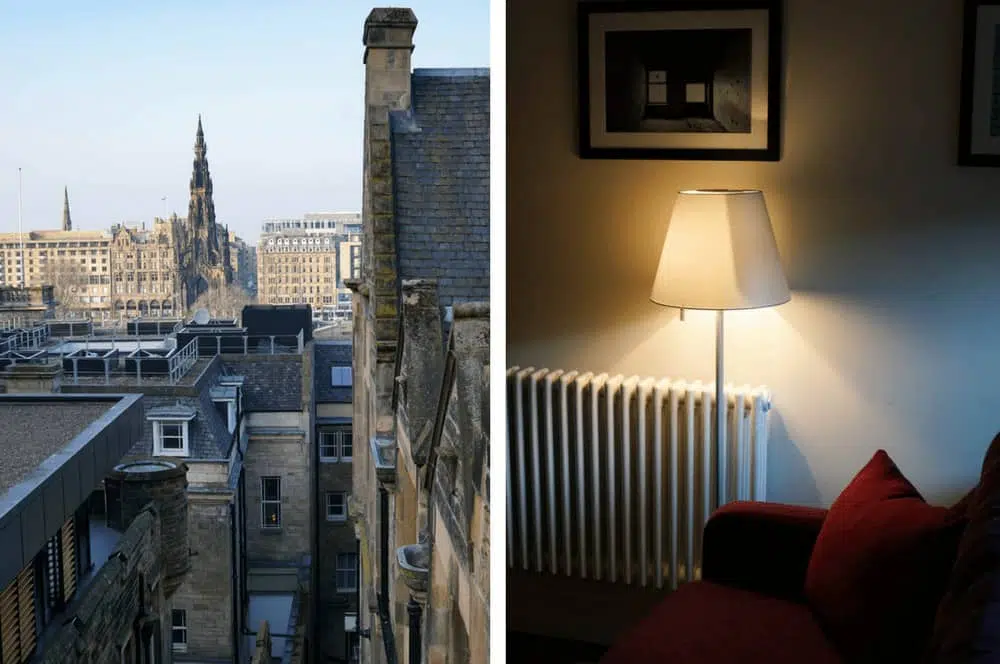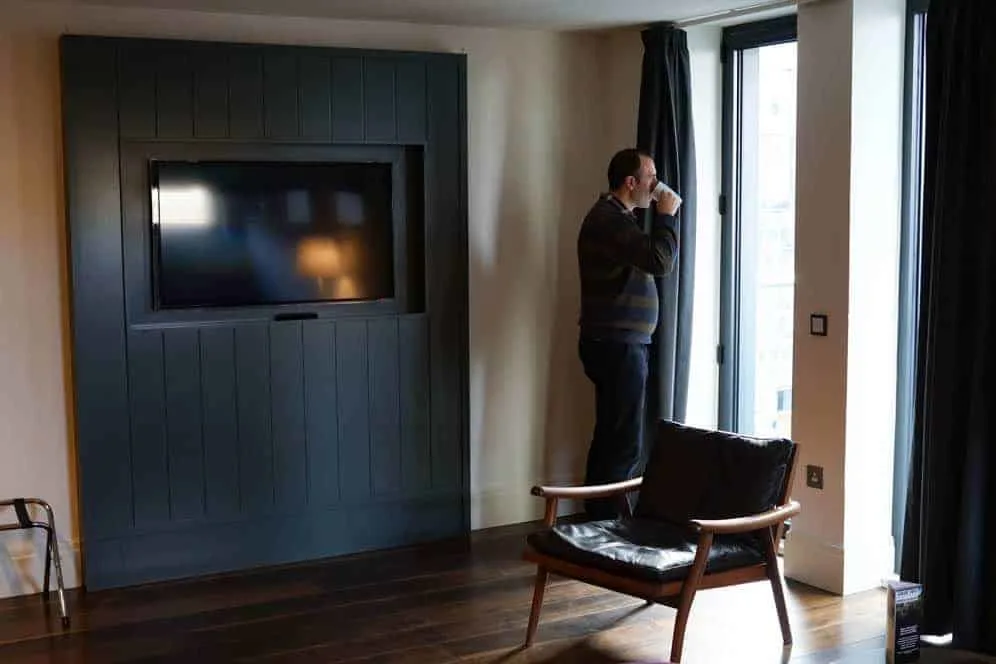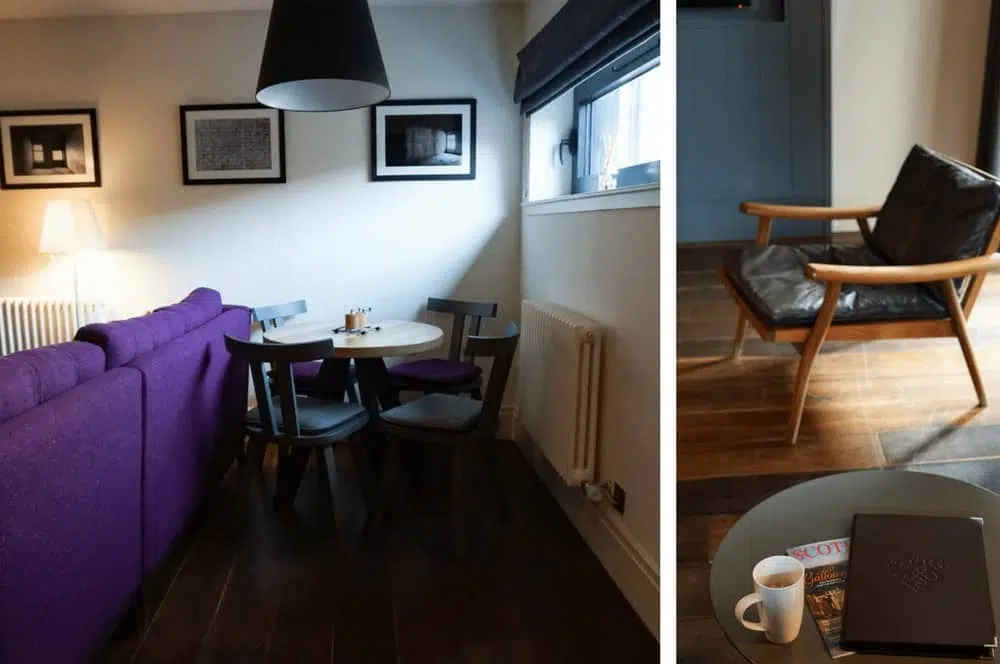 The Facilities
We could have easily spent much longer enjoying the facilities on offer at Old Town Chambers. Everything was geared towards enjoying a comfortable stay with minimal effort. From the seamless check-in & out to the dreamy beds (one of the best hotel beds I've slept on!), free WiFi, and fully adjustable heating – no detail was left wanting.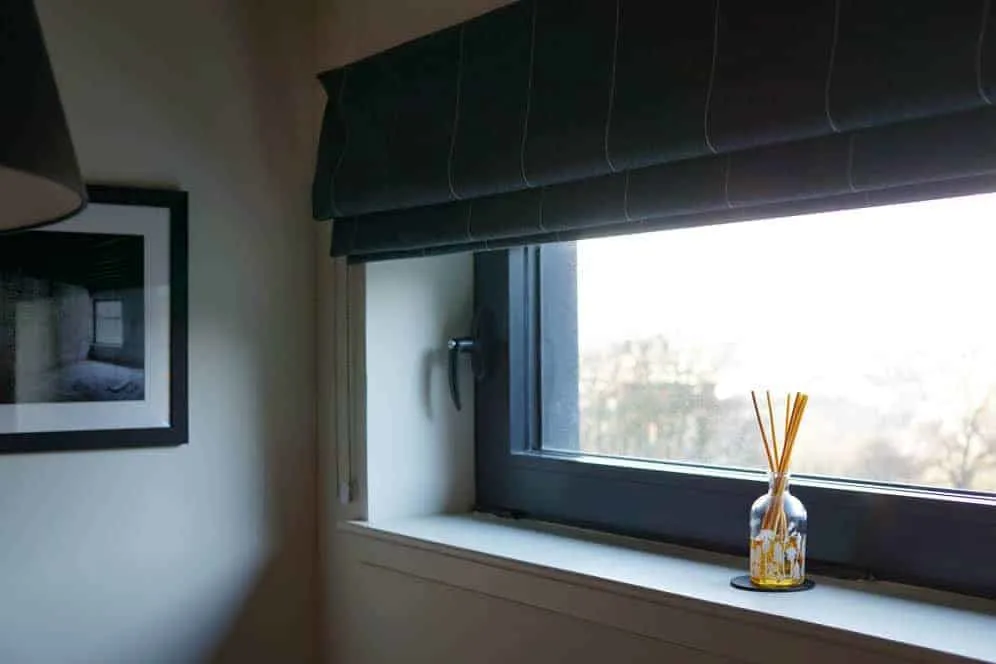 With the ample kitchen facilities in our apartment, we needn't have dined out. But after a busy afternoon of sightseeing, we were thrilled to discover the Italian restaurant located right next to the apartments offered a great range of vegan and kid-friendly options. Zizzi was busy for a Tuesday evening but still managed to offer a relaxed vibe, and deliciously simple, authentic Italian food.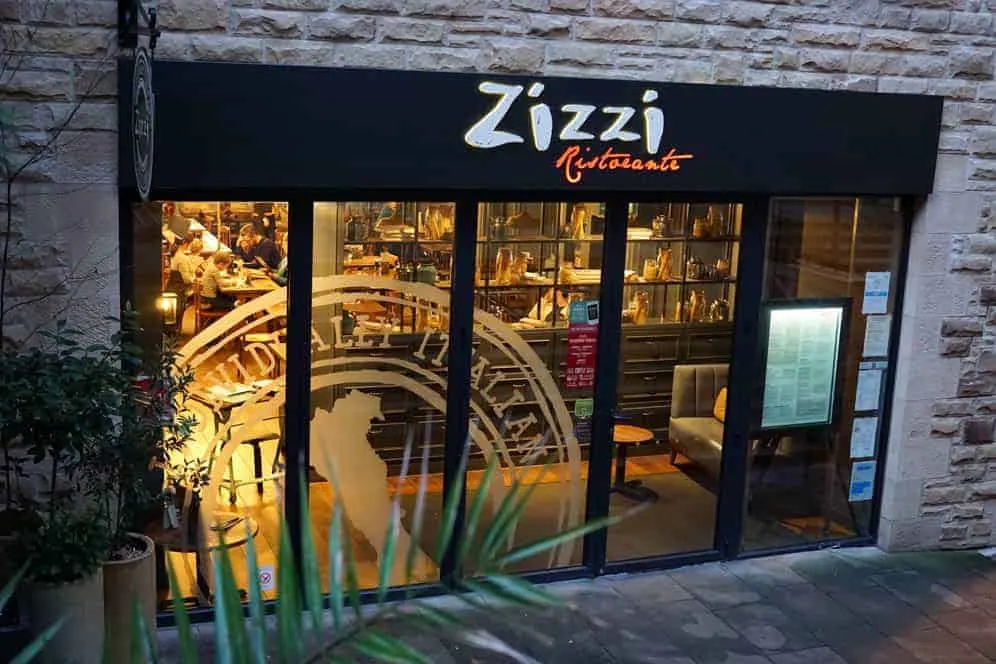 Overall Impression
Old Town Chambers is the ideal option for a mini-break in Edinburgh City. The location is spot-on for discovering all the key attractions, the facilities make staying for business or pleasure a breeze, and the room arrangement is perfect for families.
We booked our apartment through Booking.com at the discounted price of €166 (£140) a night which is a great deal for inner-city luxury accommodation.
Should we be back in Edinburgh, we wouldn't hesitate to book in at Old Town Chambers again. The only let down? Call me old-fashioned, but I miss having a good selection of teas to choose from (like the old school luxury hotels used to have). As someone who enjoys a relaxing cuppa before bed (now I'm really showing my age!), a chamomile or peppermint tea wouldn't have gone amiss among the earl grey. But, I made do with a glass of water as I settled in for a good night's sleep in the luxurious comfort of crisp cotton sheets.
Pin this for later!