I've always had a bit of a crush on the English countryside. I used to dream of living in a stone country house complete with tiled roof and rambling garden, tucked away near a charming English village. Basically, I wanted to be Iris Simpkins from The Holiday (I'll take her car too while we're at it).
So while searching for family-friendly accommodation in Cumbria recently, I was delighted to come across Graysonside Guest House – a boutique luxury B&B on the edge of the Lake District that fulfilled my English countryside fantasy.
Our preference was to book the 2-bedroom suite for our little family getaway. Unfortunately, it was fully booked for the first night of our stay but they were very accommodating and arranged for us to stay in the one-bedroom garden apartment with an extra fold-out bed for our first night. We then moved into the 2-bedroom suite for our second night.
Although the self-contained garden apartment was lovely, this review (and photos) focus on the latter.
---
Arriving at Graysonside Guest House
We drove down from Edinburgh on Wednesday morning, arriving in the historical market town of Cockermouth around lunchtime. Strolling past the boutiques selling locally handcrafted goods, we popped into Wild Zucchinis cafe and settled in for a long lunch.
After satisfying our stomachs, we stocked up at the local Sainsbury's before driving to the edge of the town to find our boutique accommodation.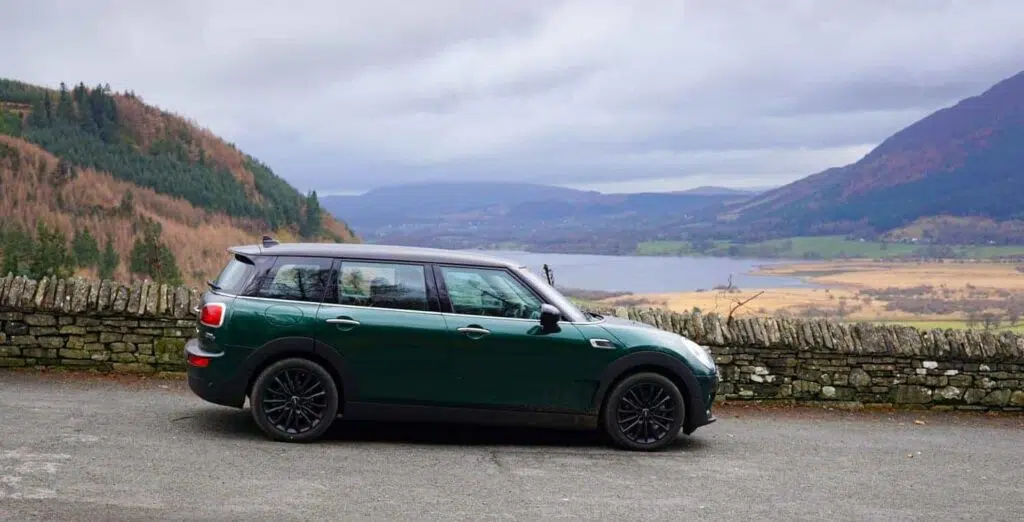 Graysonside Guest House is tucked back from the road in a delightful rural country setting. We pulled into the designated car park and walked towards the large whitewashed house, dodging freshly formed puddles from the intermittent rainfall.
In the entrance of the former farmhouse, a door to our left revealed a cosy looking lounge with glowing fireplace; to our right was a wooden staircase leading to the guest house suites. We were greeted warmly and showed to our apartment for the night where we proceeded to unpack and unwind.
The Garden Apartment
The one-bedroom garden apartment was a lovely homely space for our first night at Graysonside Guest House. Complete with ample kitchen, cosy lounge, large bedroom and Jack & Jill bathroom, it would have been perfect for a couple wanting to self-cater during their stay. As a family, it would be fine if you had an older child who could sleep in the lounge on the fold-out bed.
Seeing as our son was only 3 when we stayed, it was better for him to sleep in the bedroom. I shared the super comfortable bed with him – while hubby got relegated to the bed in the lounge.
The Two Bedroom Suite
Room 9 – the only two-bedroom suite available at the property – was on the second level of the guest house. Our bags had thoughtfully been relocated from the apartment to our new suite during the day so they were greeting us inside the entrance when we walked in.
I was charmed by the exposed stone walls and luxurious furnishings – exactly what you'd expect from an English country guest house. The rooms were simply decorated with traditional wooden furniture and understated art.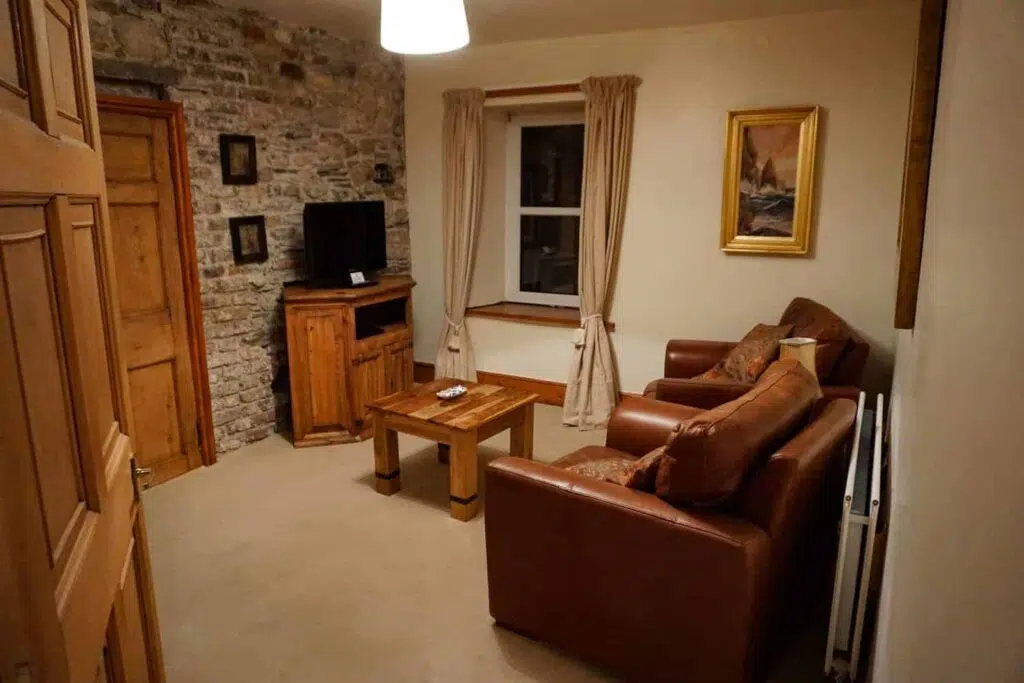 The smaller room was perfect for our 3-year-old, with a large single bed – big enough for me to snuggle in beside him for our bedtime story.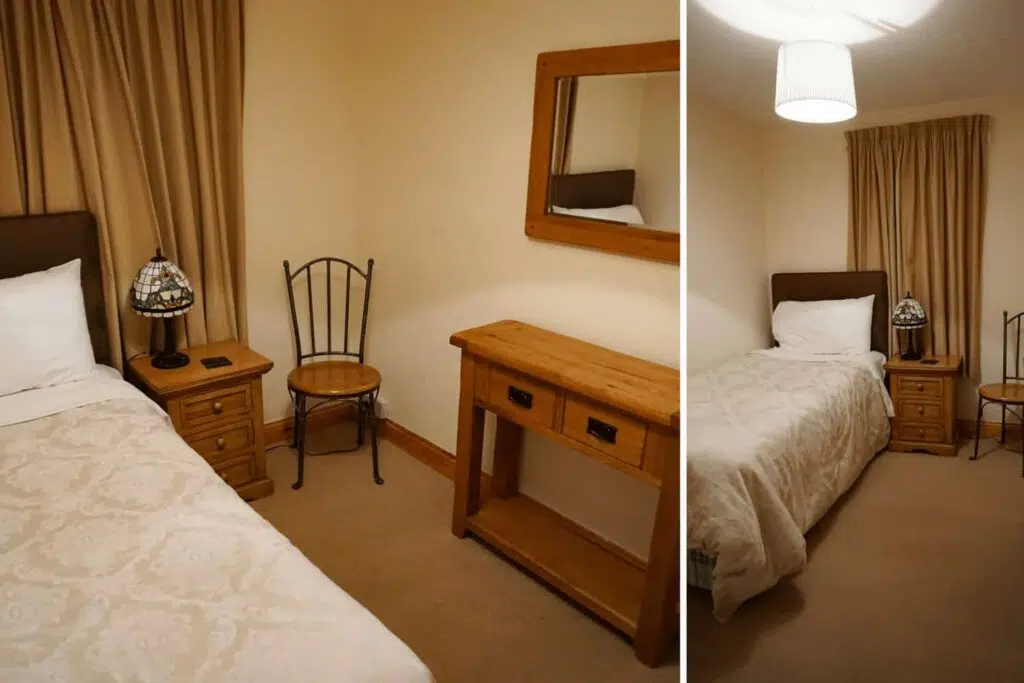 The larger room had a generous and amazingly comfortable double bed with luxuriously soft and warm bed covers. The kind of bed you could stay in all day – if you should be so lucky!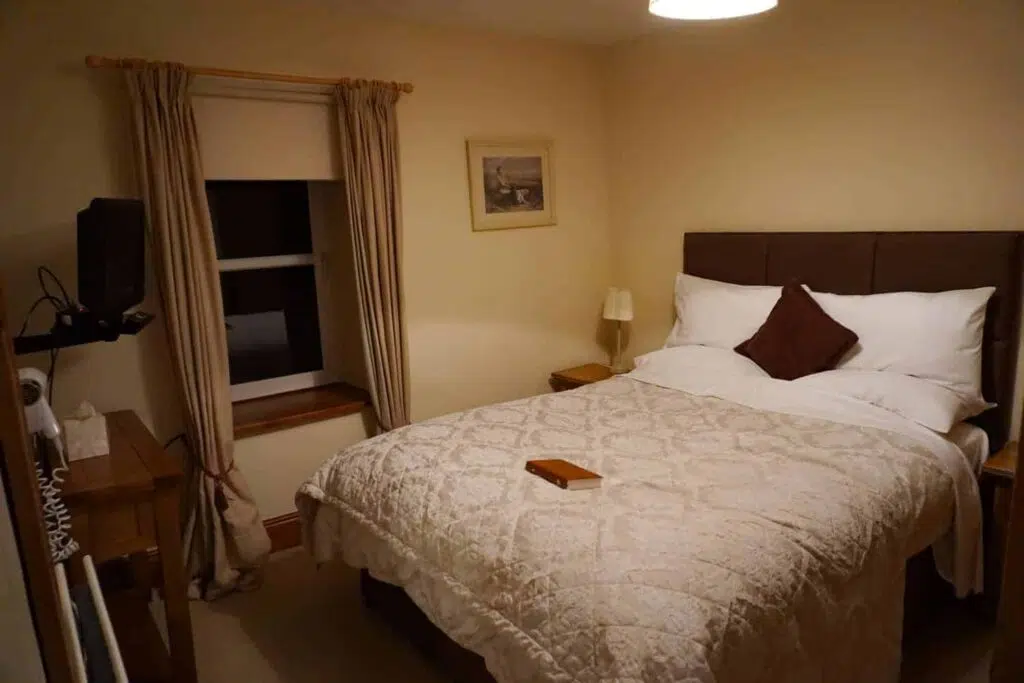 The lounge was complete with comfy leather seats to relax into after a day exploring the Lake District. On a small side table sat a basket full of biscuits and teas, plus a kettle to make yourself a cup of tea before bed.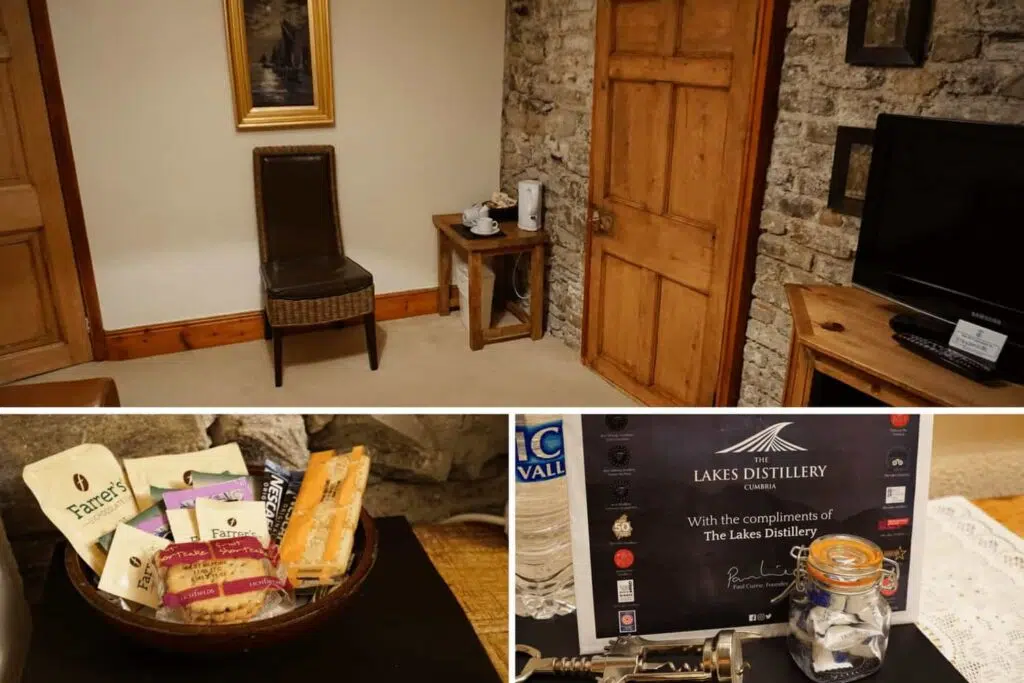 But my absolute favourite (and surprisingly large) part of this suite was the bathroom! The tiled wet room and huge walk-in shower with rainfall effect head all added to the sense of luxury and extravagance. A range of locally made toiletries was thoughtfully provided for guests.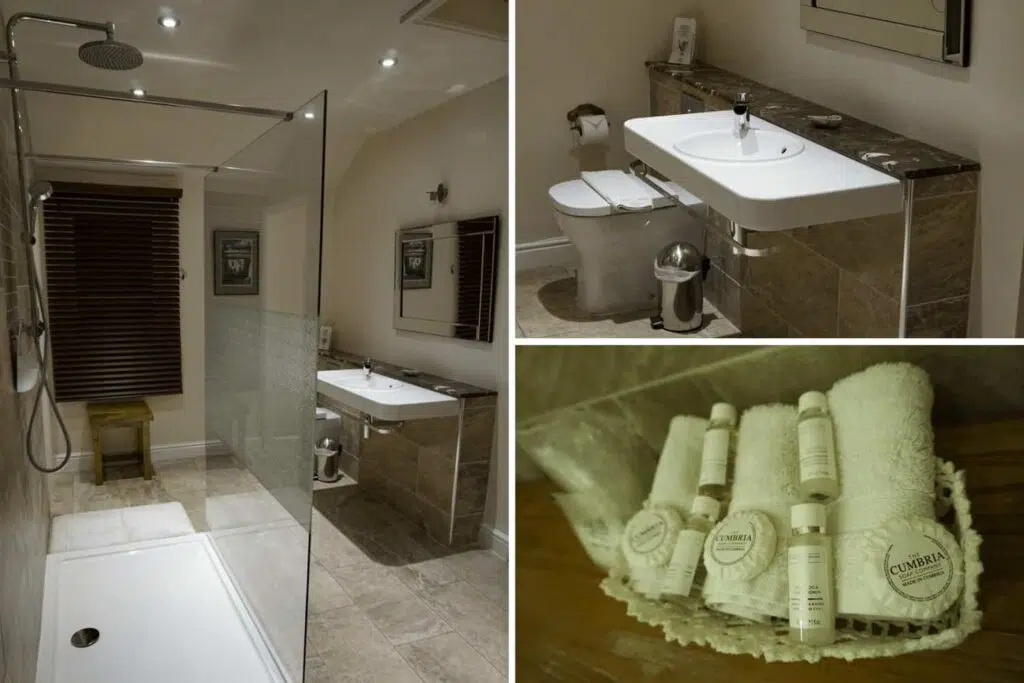 The Facilities
Graysonside offered everything we needed for our short family getaway in the Lake District. There is ample free parking, free WiFi, a jug to make tea & coffee, a hairdryer, toiletries, TV in the lounge and bedroom, even a selection of magazines to read – no detail was forgotten.
Unlike the Garden Apartment, the 2-Bedroom Suite did not have a kitchen. But, with all the fantastic restaurants available in Cockermouth – it's easy to eat well during your stay.
The Breakfast
Each morning we would enjoy an amazing breakfast in the light and sunny dining room. Hot coffee and cereal were followed by a freshly cooked breakfast of herbed mushrooms, grilled tomatoes, baked beans and artisanal (vegan) sausages.
We ate with gusto while enjoying the view from the large windows which framed the countryside perfectly. The native birdlife also kept us entertained, helping themselves to morsels left in trees. We even had a curious pheasant come right up to the french doors to check out what was on offer inside!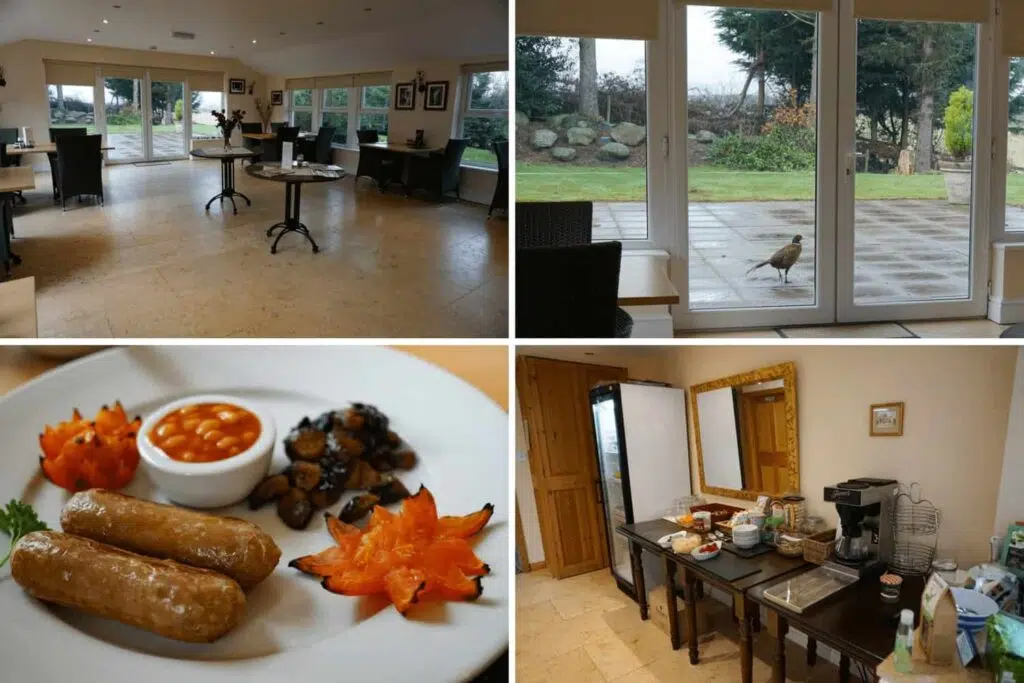 The Location
Graysonside Guest House sits in a secluded spot just outside of Cockermouth village. The courtyard – with its potted plants and living walls – would make an idyllic place to soak up some rays on a sunny day.
The fields surrounding the house make for a pleasant walk in the woodlands where you'll find several birds species and red squirrels scurrying about. Its prime position in the Lake District National Park means you won't have to venture far to enjoy the wonderful countryside walks and lakes of this bucolic area.
If you're visiting with children, I'd recommend checking out the Lake District Wildlife Park and taking a cruise on the Ullswater Steamers.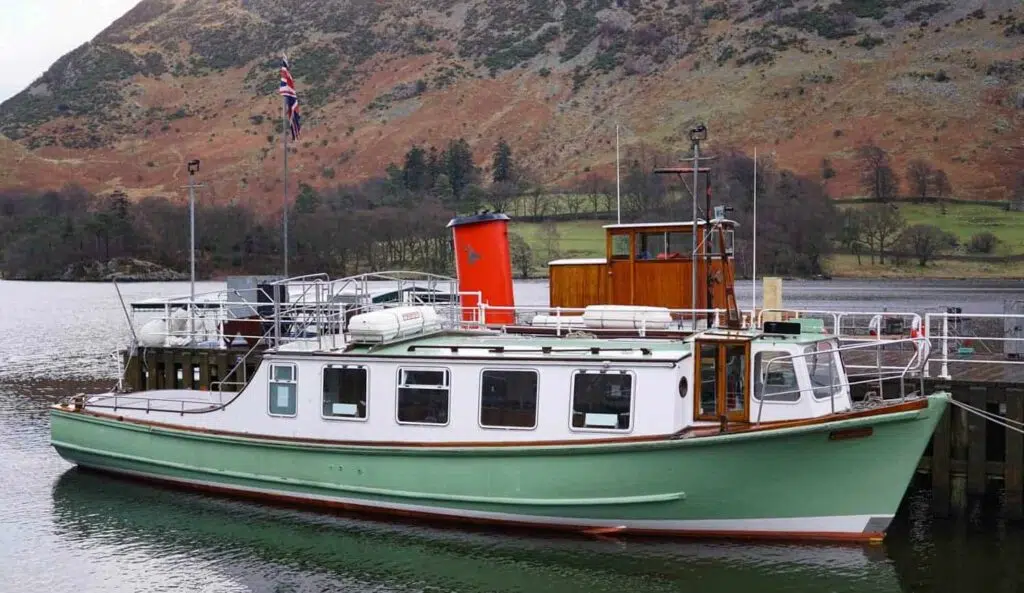 The Price
We paid the same price for the Garden Apartment as we did the 2 Bedroom Suite. Each night cost £120 for 2 Adults and a child, including breakfast. I think this is great value for 5-star comfort, the convenience of having separate bedrooms when travelling with children, and a delicious hearty breakfast!
Overall Impression
We had an amazing two days staying at the Graysonside Guest House. This 5-star B&B offered everything we were after – luxury comfort, traditional English country charm, and a family-friendly environment in an outstanding Lake District location. We can't wait to visit again!
Pin this for later!