Edinburgh's dramatic skyline captivates visitors from all over the world. The city, which sits on a dormant volcano, is known by locals as 'Auld Reekie' for the coal smog clouds that used to linger. It is best known for its castle, annual Edinburgh Fringe Festival, Hogmanay celebrations and historic monuments.
If you're spending 1 day in Edinburgh, the city is divided into dozens of charming village-like spaces spanning from the main thoroughfare Princes Street. Cobbled streets lined with stores selling shortbread, whisky, tartan accessories, and jewellery wind from the bustling Royal Mile down Victoria Street to the Grassmarket. The latter – a hive of activity with dozens of pubs featuring live music.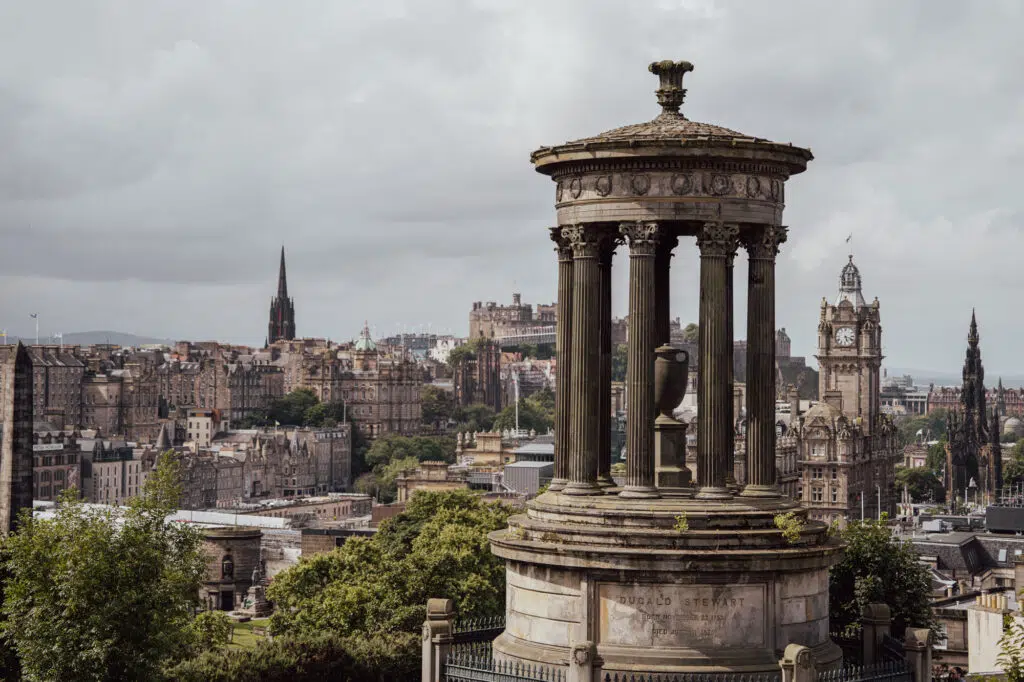 In the 'New Town' hip restaurants and holistic healing shops sit aside well-preserved Georgian architecture. In Leith, by the docks, the Royal Yacht Britannia bobs resplendently on the Firth of Forth, with stunning views of the Kingdom of Fife across the water.
The capital of Scotland delights tourists with themed bars, waterside walks, Michelin-star restaurants and independent eateries. But perhaps the most remarkable aspect of the city is its atmosphere.
It gives you a feeling that you're stepping onto the set of a period drama or the pages of a romantic novel. The scenery and ambience tell a story of its own, and if you are only spending a day in Edinburgh, you'll surely want to return to discover more of its magic.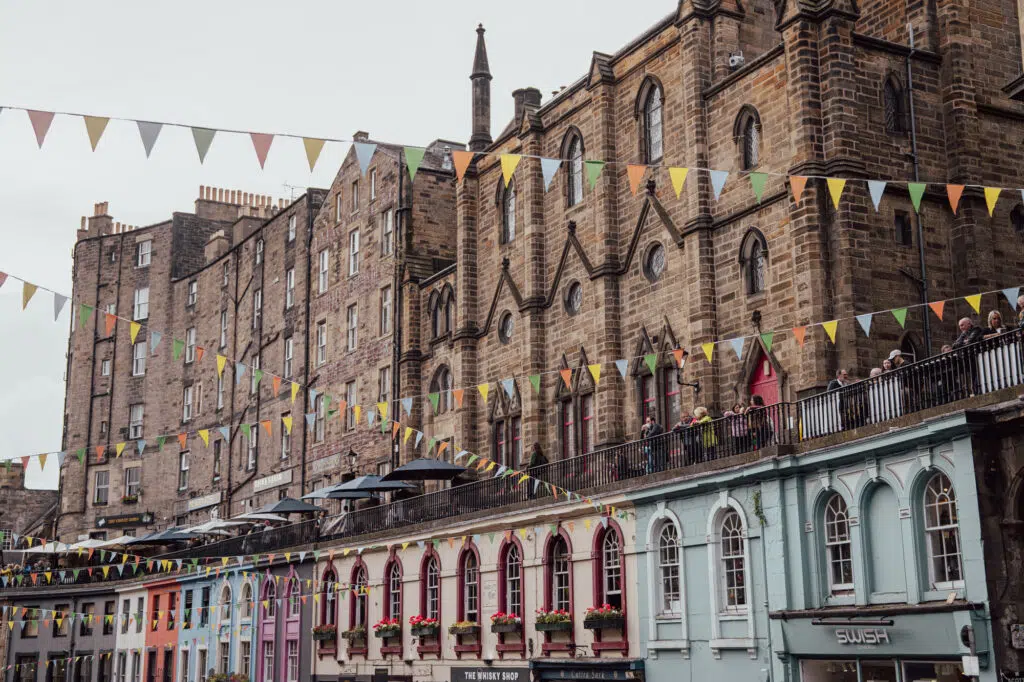 ---
Walking Tour of Edinburgh Map
The below Edinburgh itinerary is easily walkable, and modifiable based on your interests. For example, if travelling with kids, you may choose to visit Dynamic Earth, Camera Obscura, and the home of Harry Potter – Victoria Street.
If you're a history buff, the Palace of Holyrood, the National Galleries, and Edinburgh Castle may top your "to-do" list. Whatever your interests, the best sights can be found below.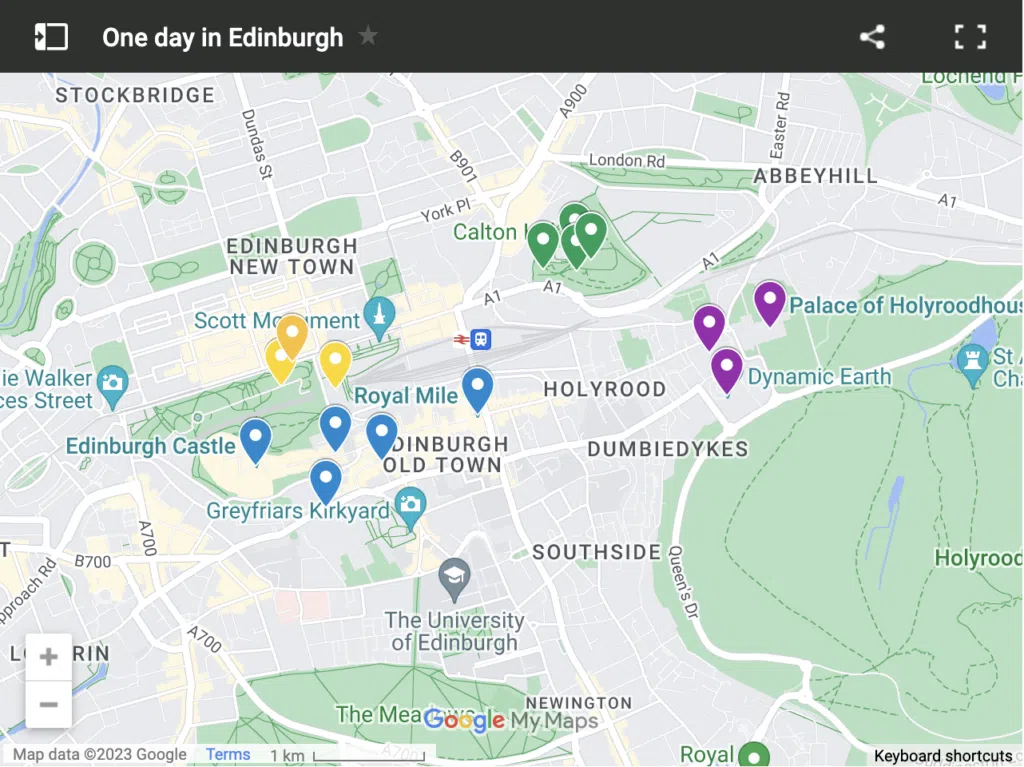 Morning in Edinburgh
If you're wondering what to do in Edinburgh during your day trip, start the day at Holyrood. This is an area close to the Royal Mile where the Museum of Edinburgh, Dynamic Earth, Holyrood Palace and the Scottish Parliament reside. It's one of the most historic locations in Edinburgh.
Uncover Scottish History at the Palace of Holyroodhouse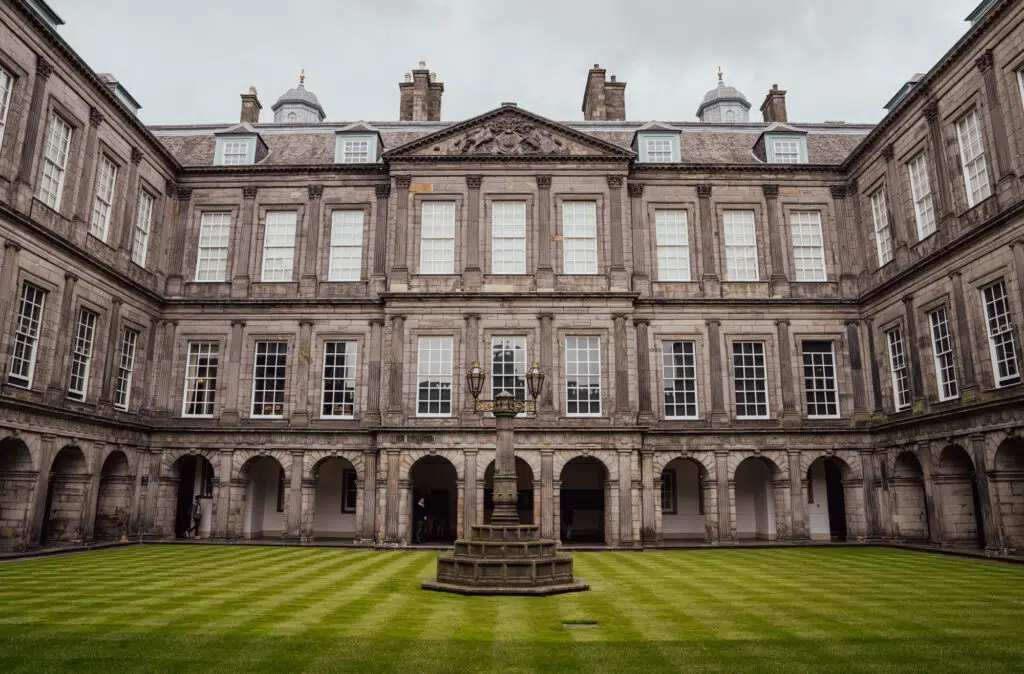 Holyrood Palace was built on the site of an ancient Augustine monastery and is today one of the King's residences in Scotland. Some of Scotland's most infamous historical figures are linked to the palace – namely Bonnie Prince Charlie and Mary, Queen of Scots.
It's home to over 900 years of history in Scotland. Take a tour (an audio guide is included with your entry ticket) to learn about the royal Stuarts who lived here, see state apartments, and beautifully tended gardens, and discover glittering treasures and the Great Gallery.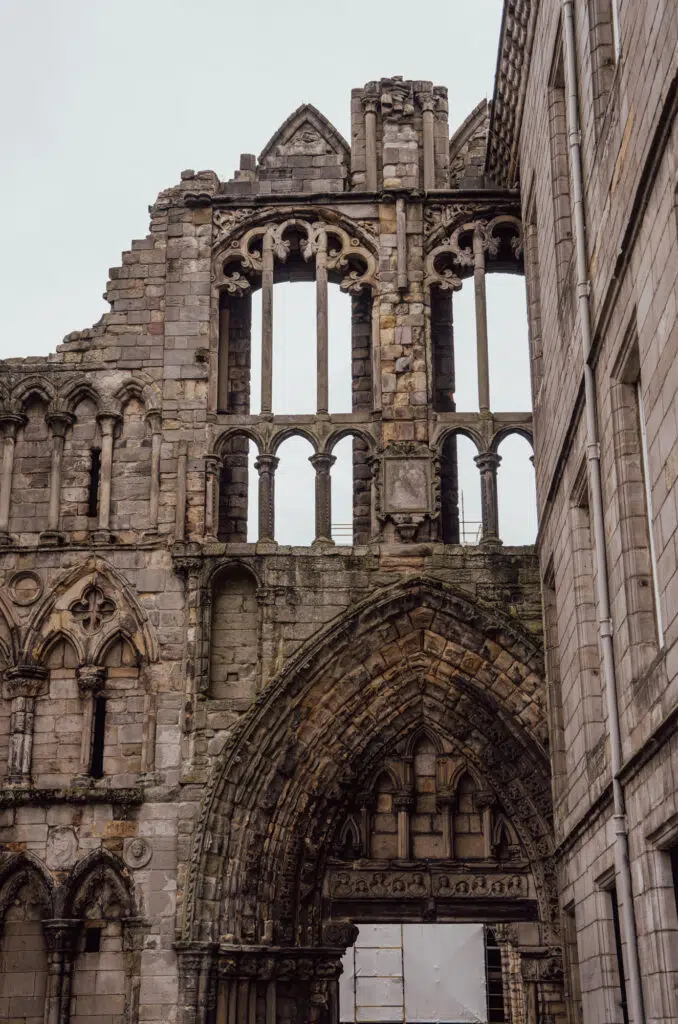 Next to the palace are the ruins of Holyrood Abbey – overlooked by Arthur's Seat, a prominent observation point and hiking destination in Edinburgh.
The abbey was founded in 1128, and when you look around at the ruins today, you can still see the outlines of Gothic windows and Romanesque arcades. Book your ticket here.
Watch a Debate in the Scottish Parliament Building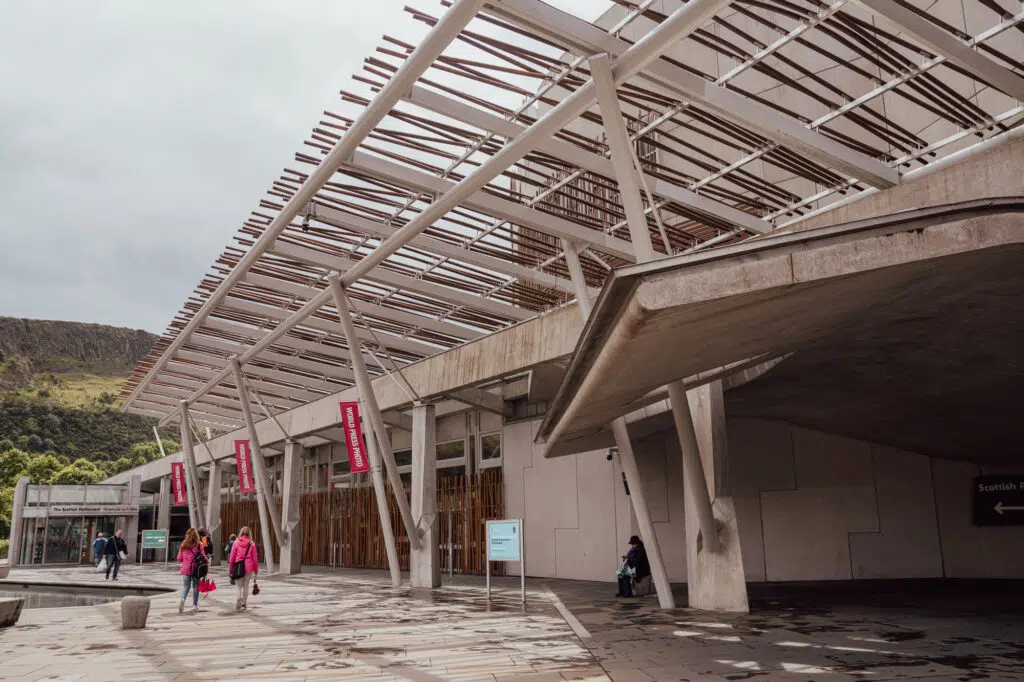 Just a two-minute walk along the Canongate from Holyrood Palace is the Scottish Parliament Building. When it was first built, local residents were up in arms about such a modern construction in an area occupied with listed historic buildings.
These days, the structure, with its glass rowboat roof design, is embraced as the new home of Scottish democracy. Visitors can take a tour and even watch from the galleries as Parliamentary debates take place. A variety of interesting events and exhibitions occur inside the building throughout the year too.
Interactive Adventures at Dynamic Earth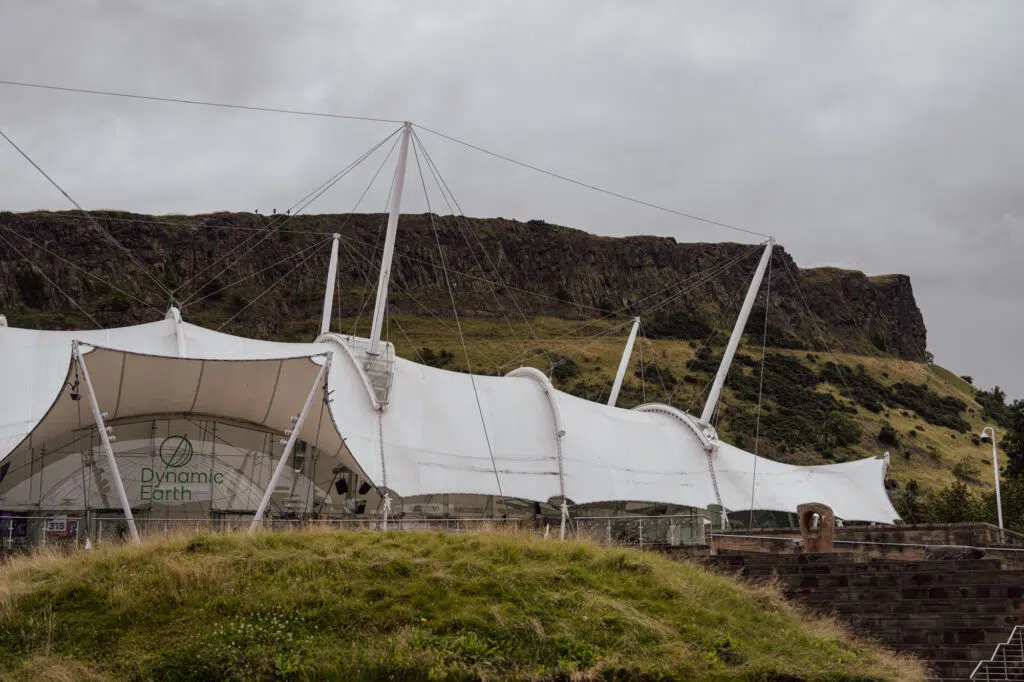 If you're seeking things to do in Edinburgh in one day with kids, head for Dynamic Earth. Also located on Holyrood Road, this family attraction transports you through space and time from the Big Bang right up to the present day.
This is a place to discover the incredible story of how Earth came to be, told through a series of thrilling interactive exhibits. Visitors can be amazed by the dancing ribbons of the Aurora Borealis one minute and be diving deep into the ocean, walking through a rainforest, or seeking out constellations the next.
It's a must-visit for families and indeed anyone interested in science, astronomy, and the environment.
---
Midday in Edinburgh
A mere five-minute walk away is the bustling Royal Mile. It's a must-do on your Edinburgh 1 day itinerary. As the beating heart of the city, it's set within a UNESCO World Heritage Site with abundant historic attractions to discover.
Walk Scotland's Most Iconic Street – the Royal Mile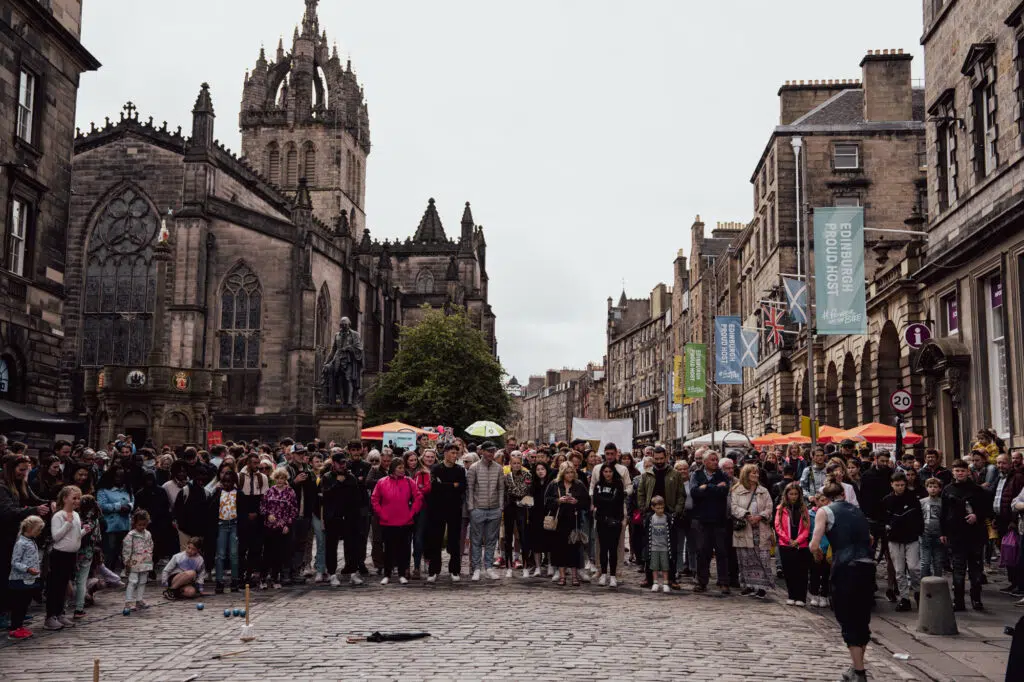 As the name suggests, the road stretches for around a mile, connecting Edinburgh Castle at the top, and Holyrood Palace at the foot of the hill. With famous cathedrals, Scottish speciality shops, restaurants, and hidden alleyways, it's often high on the list for tourists seeking out the best of Edinburgh.
Between popping into shops selling melt-in-the-mouth shortbread, and sampling a 'wee dram' with a Scotch whisky experience, you can make a stop at St. Giles' Cathedral. It's known as the 'mother church' or Kirk of Scotland. Learn about the Scottish Reformation led by John Knox or get to know more about Scottish traditions in this impressive building.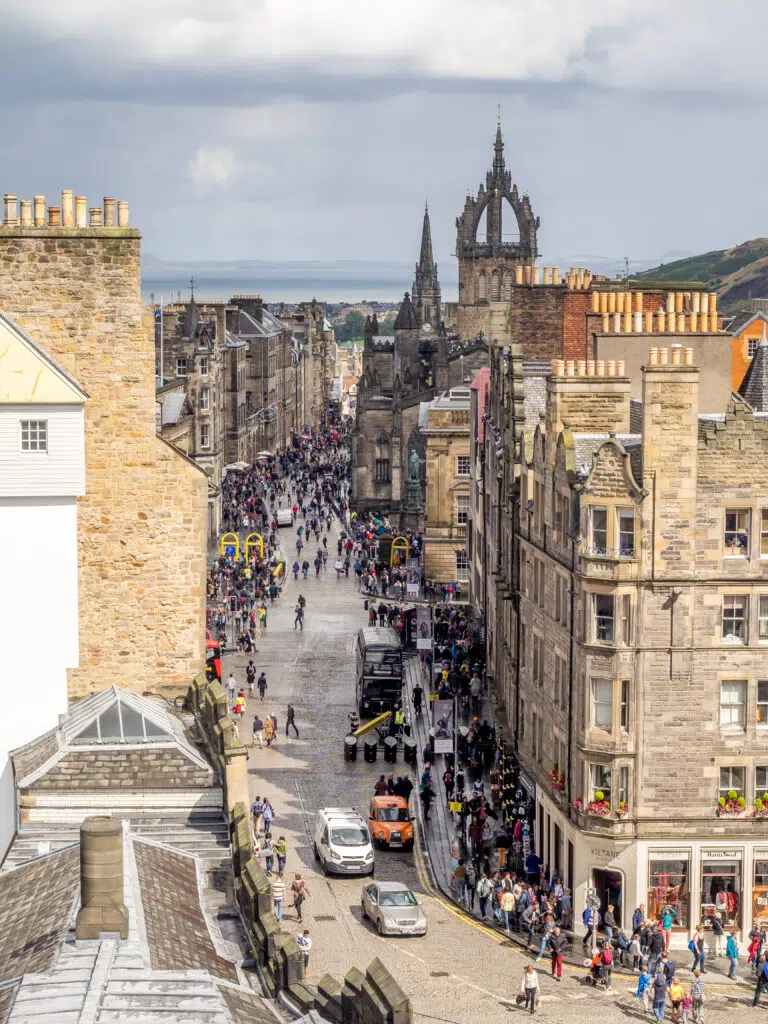 If you're looking for the best things to do in Edinburgh with a fun or creative twist, pop into the Museum of Childhood, or the fabulous Writers' Museum that showcases the lives of great Scottish literary figures, such as Robert Louis Stevenson, Sir Walter Scott, and Robbie Burns.
Before you depart the Royal Mile, did you know that there is actually another city beneath it? A maze of alleyways and abandoned houses have lain here since the 17th century. You can discover more on an eerie tour of The Real Mary King's Close…
Gain 360 Degree Views of Edinburgh at Camera Obscura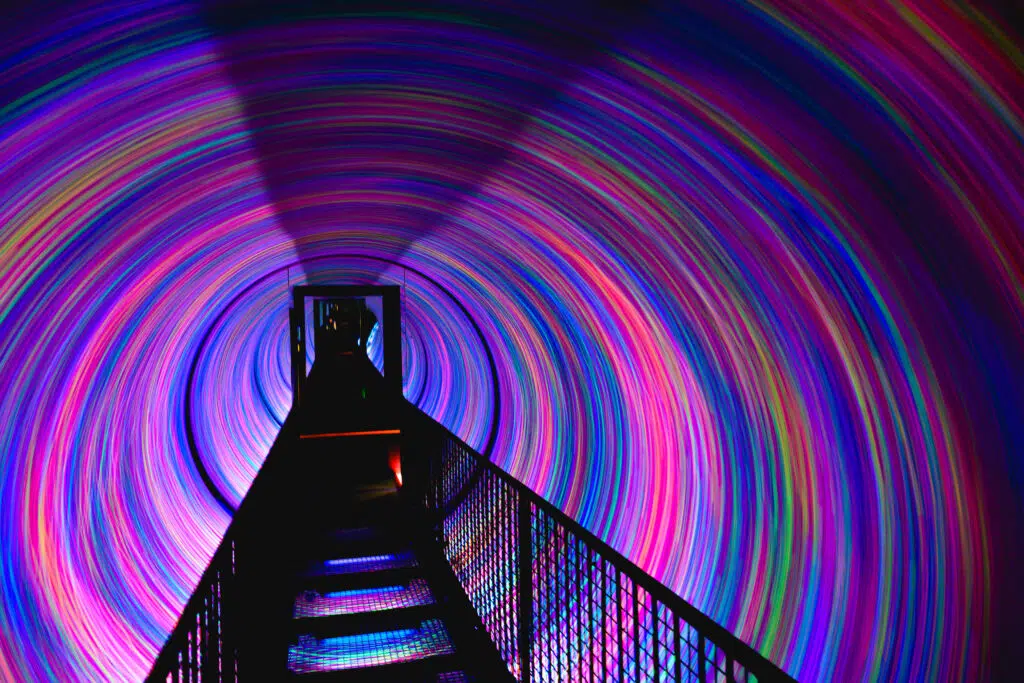 A little further up the hill past St. Giles' Cathedral, en route to Edinburgh Castle, is the intriguing Camera Obscura. The optical device located in a dark chamber on the top floor of the building, utilises light and reflections to bring you an image of the city in real time.
On the tour, an expert guide will point out monuments as seen through the live camera lens and teach you all about how the device works. Pair your visit with a trip to the accompanying World of Illusions, which has 100+ fun, interactive illusory exhibits that both adults and kids will love.
Follow in Royal Footsteps at Edinburgh Castle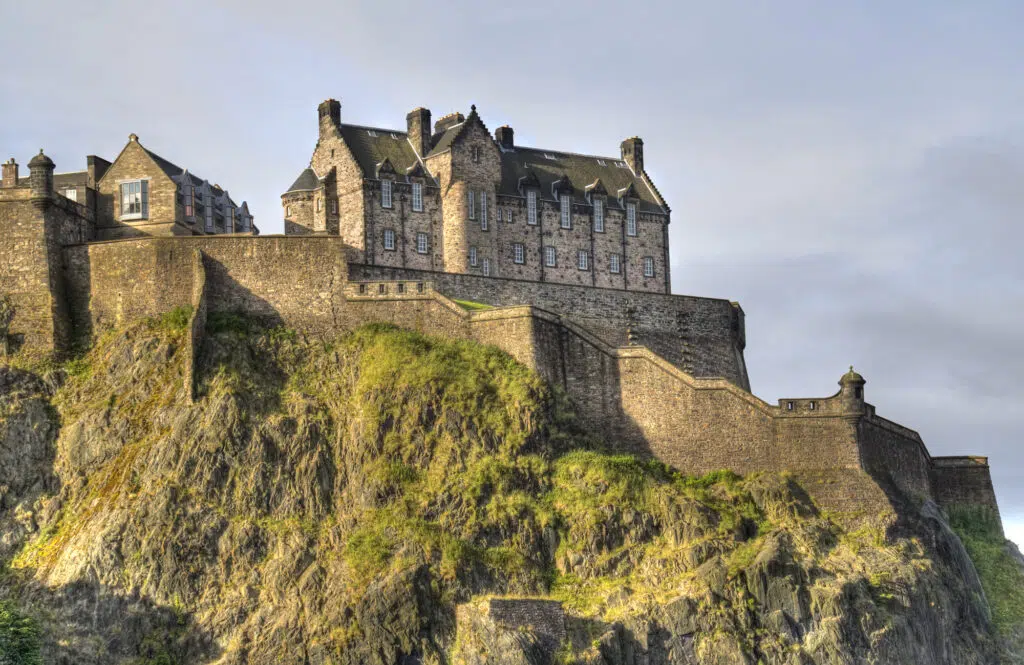 Walk in the footsteps of military and royalty at majestic Edinburgh Castle. The impressive stone fortress stands proudly atop a dormant volcano (don't worry it hasn't erupted for millions of years) at the summit of the Royal Mile.
In its lifetime, it has been a military fortress, royal residence, prison, and military barracks. In front of the castle, Mons Meg, a huge 15th-century cannon, fires its shots across the city at 1 pm sharp each day.
The bang echoes throughout the city – a reminder of the storied history that binds all residents of Edinburgh together. The cannon was built in a small town in Belgium (Mons) and gifted to King James II. When it was used in battle, locals say its firepower could reach up to two miles!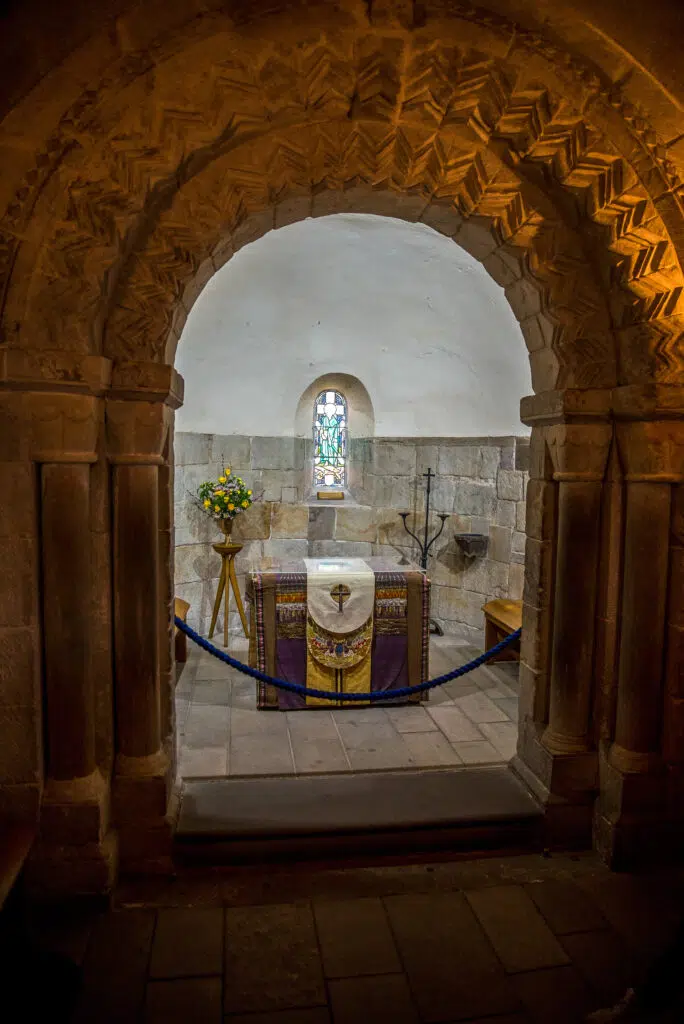 Inside the castle, don't miss St. Margaret's Chapel. It's the oldest quarter dating to the 12th century. The historic fortress is also home to the Crown Jewels of Scotland and the famous Stone of Destiny – recently transported to Westminster Abbey in London for the coronation of King Charles, before being returned.
Tip: Be sure to book your tickets to Edinburgh Castle in advance as it's likely to sell out during peak times (like on our most recent visit!). You can also book Skip-the-Line tickets here.
If you're planning a day trip to Edinburgh in August, stay for the annual Royal Edinburgh Military Tattoo – a celebration of Scottish legends and myths with parades, dancing, music, and storytelling. Again, tickets usually need to be booked well in advance of the event, but we were lucky enough to nab some on the day.
Discover the City's Storied Past at the Grassmarket
Edinburgh's Grassmarket has existed since the 14th century. The historic street sits at the foot of Victoria Street and West Bow, just a five-minute walk from the Royal Mile.
The old marketplace was once a street brimming with traders procuring woods, flax, linseed, and coloured dyes. And if you've heard the stories about Burke and Hare, the infamous grave robbers, and the Grassmarket gallows, you'll also know about the area's unsavoury past – but that's another story!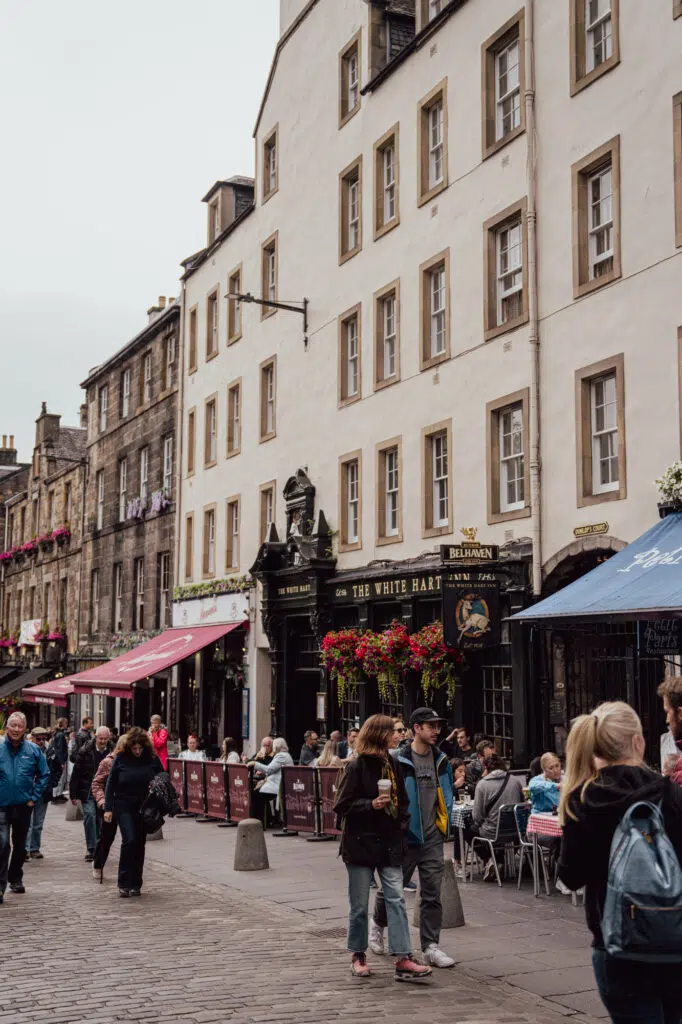 In centuries past, this was one of Edinburgh's poorest neighbourhoods, but today, with castle views, a plethora of bars and traditional pubs, artisan shops and restaurants, it's a tourist hotspot.
Don't forget to pop into the White Hart Inn before you leave. The oldest pub in the Grassmarket was once frequented by poets William Wordsworth and Robert Burns.
Bring Your Camera to Victoria Street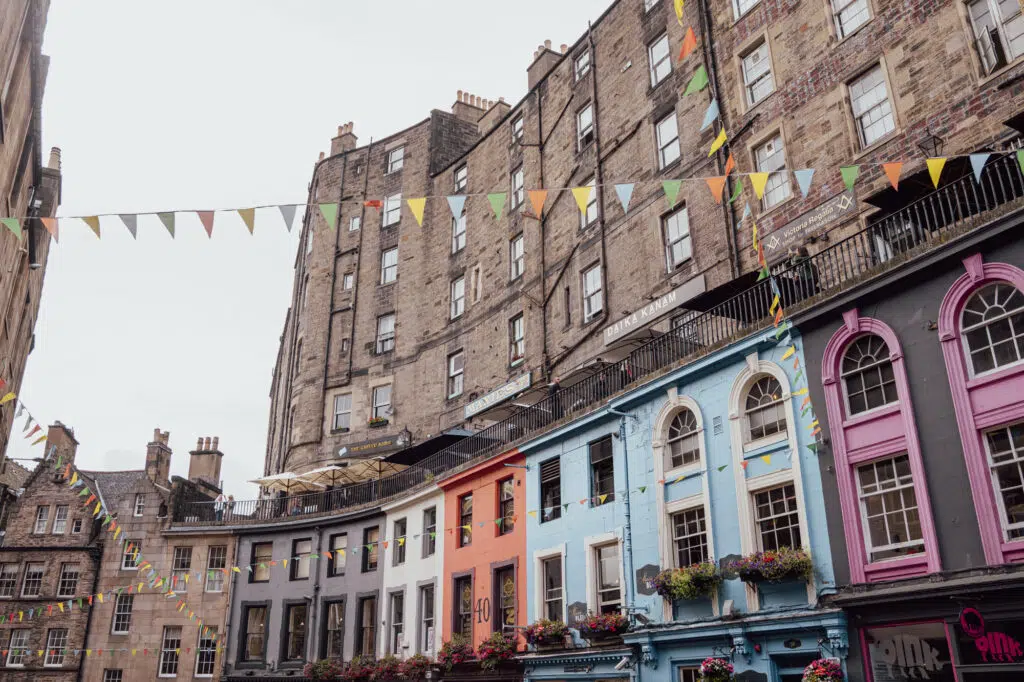 Connecting the Grassmarket to the Royal Mile is the colourful Victoria Street. This picture-postcard street, in the heart of Edinburgh's Old Town, is dotted with shops and houses painted in candy-coloured shades, making it a photographer's favourite.
Each building is unique with its own artistic flourishes, telling an individual story. It has also been said that the street inspired J.K. Rowling's Diagon Alley when she was writing the Harry Potter series. This is unsurprising, as many of her books were penned in Edinburgh.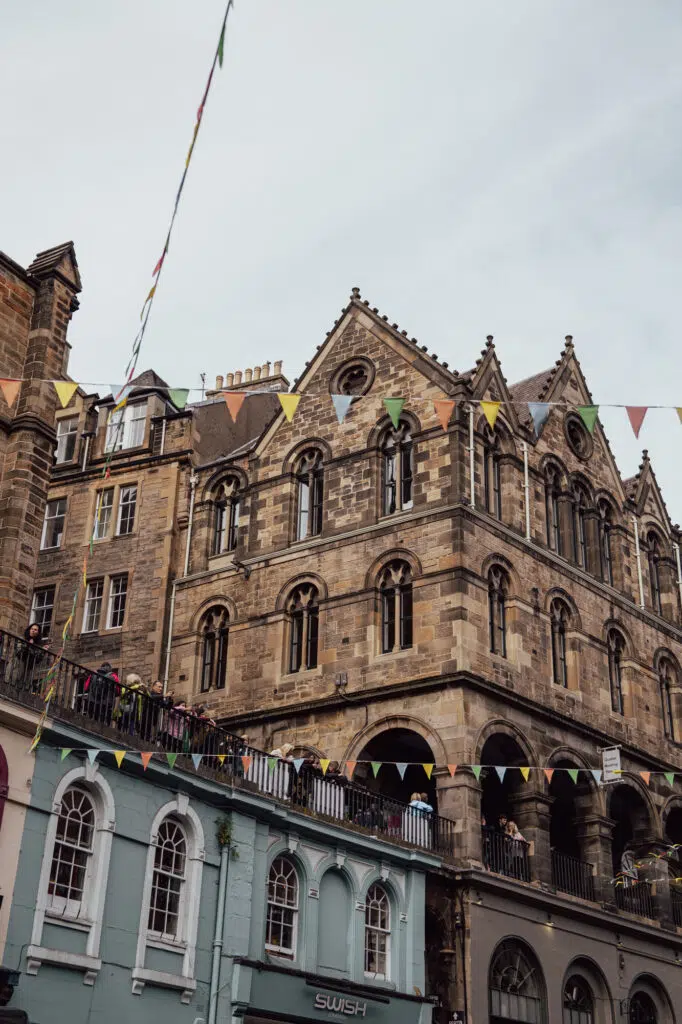 While walking along the enchanting street browsing the beautiful speciality shops selling everything from artisan jewellery, to Harry Potter wizarding collectables, to handmade stationery.
Top Tip: for the best photo opportunities view the curving road from Victoria Terrace.
Sample Scottish Fare or Upscale Vegan Cuisine for Lunch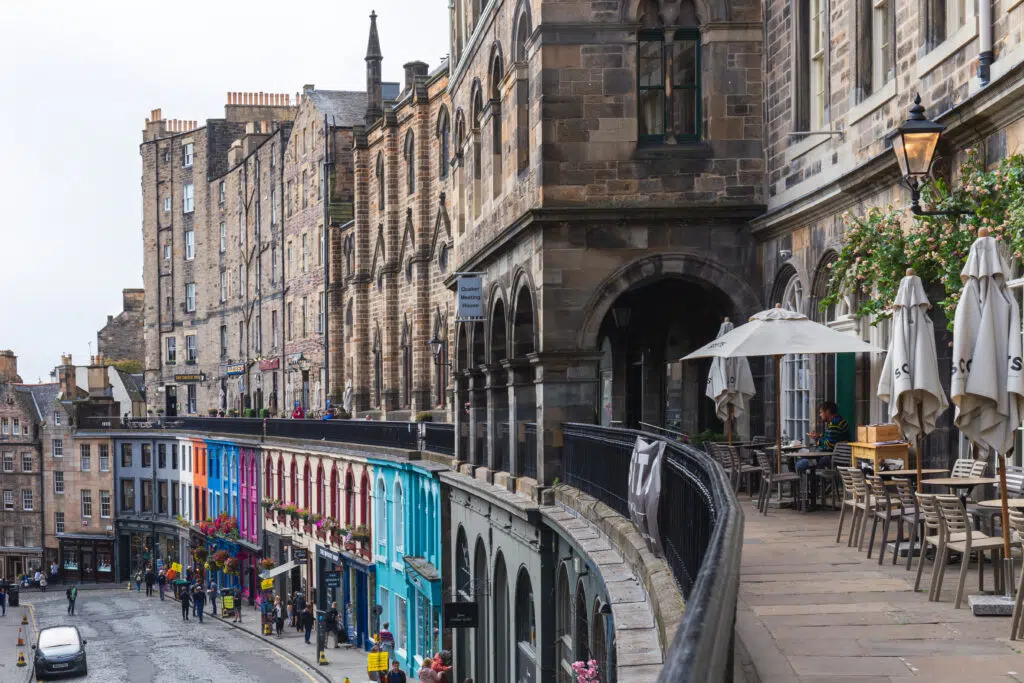 Conclude part one of your Edinburgh one-day itinerary with lunch at Howies on Victoria Street. With a menu offering a modern take on traditional Scottish cuisine and reasonable fixed-price lunch menus, it's a great choice for all palates.
Foodies can sample the Cullen Skink – Scottish smoked haddock chowder with freshly baked focaccia, handmade 6oz. beefburger or award-winning haggis with neeps and tatties (they also do a veggie version), plus, they do a great giant cous cous and puy lentil super salad!
Vegans aren't left out either. It's a ten-minute walk along the Cowgate from Grassmarket to David Bann – a licensed vegetarian restaurant with menus adapted for vegan diners.
Although it can be viewed as pricey, you are treated to mains such as Sri Lankan beetroot and roasted vegetable curry, Mexican spiced quinoa rolls and risotto of courgette with cannellini beans and lemon. There are also delicious plant-based desserts to share!
---
Afternoon in Edinburgh
Part two of your Edinburgh one-day trip can take in the areas around Edinburgh's main thoroughfare, Princes Street, and delve into magnificent artwork at the National Galleries of Scotland.
Marvel at Fine Art at the National Galleries of Scotland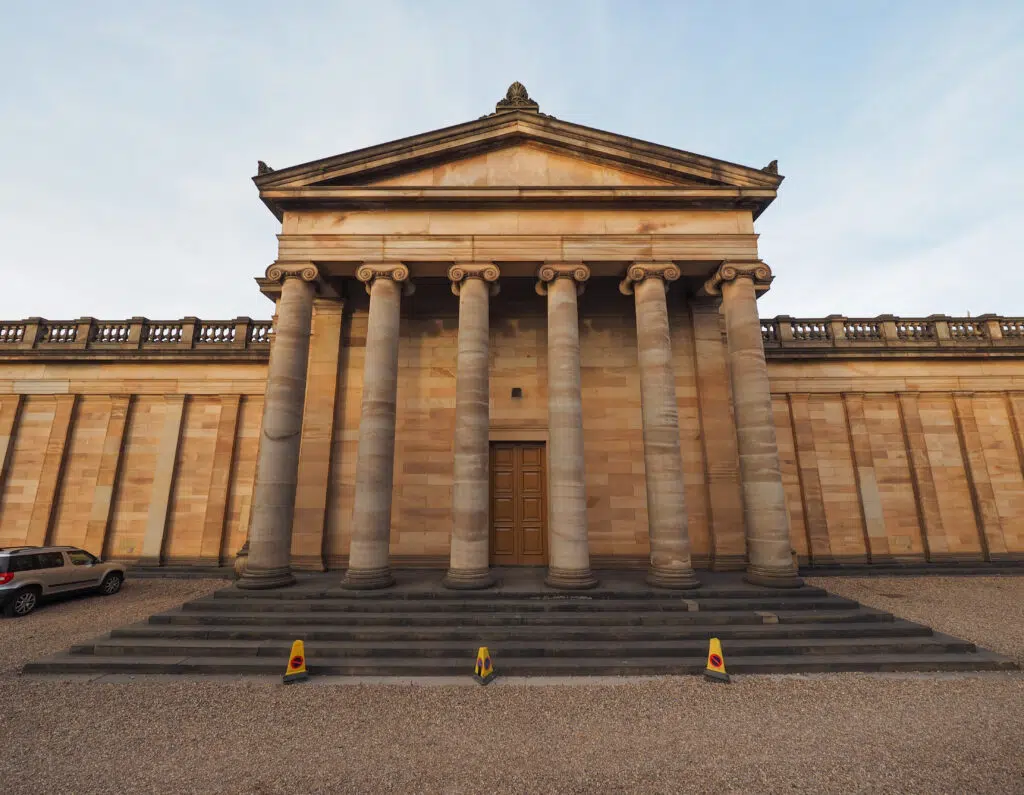 There are three sections to the National Galleries in Edinburgh which include the National, the Portrait and the Modern – and they are in different locations around the city. I recommend visiting the Scottish National Gallery on the Mound near Princes Street if you are looking for things to see in Edinburgh in one day.
The neo-classical masterpiece, designed to look like a temple of Ancient Greece boasts a plethora of fine art collections from Scottish artists and international creatives.
See famous works by Constable, Turner, Rubens, and Titian during your visit, and don't miss the magnificent 'Monarch of the Glen' painting by Sir Edwin Landseer.
Princes Street Gardens & Ross Fountain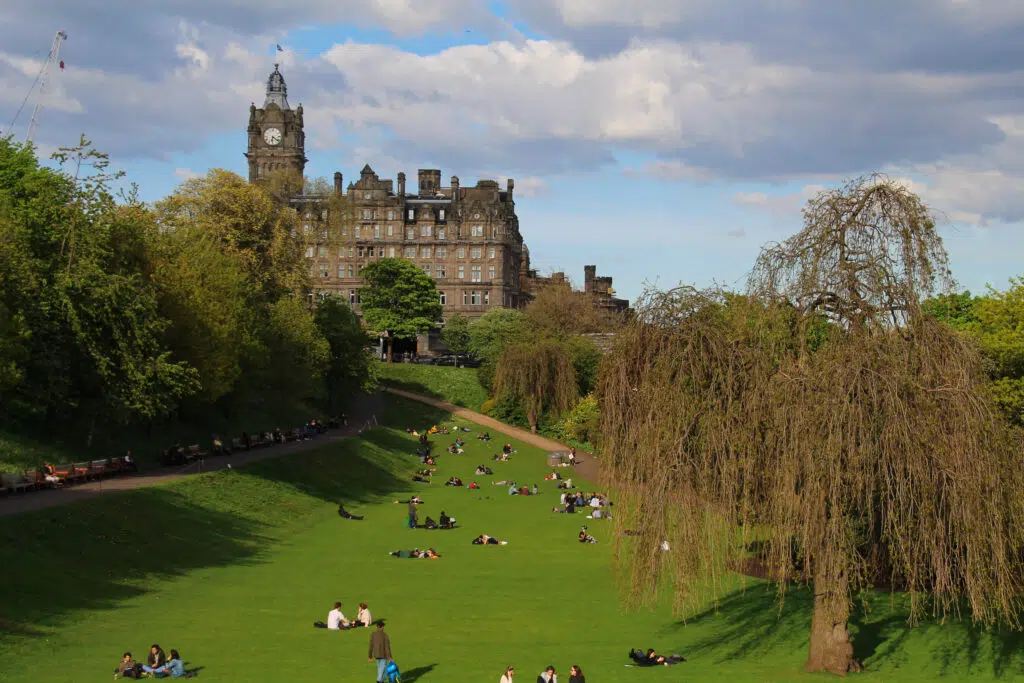 Nestled beneath Edinburgh Castle, this vast urban green space is the perfect place to take a moment following a morning of sightseeing. The park is the remarkable result of draining a loch (lake) once located here. The pretty space with grassy areas and ornate sculptures divides the Old Town from the New – an area spanning 37 acres from the National Gallery at the Mound to Edinburgh's West End.
Take a leisurely short walk, snapping photographs of the castle from various viewpoints and make a stop at Ross Fountain, an ornate 19th-century cast iron sculpture created in France. Don't miss the Robert Louis Stevenson Memorial and Gardener's Cottage before continuing your Edinburgh in-a-day itinerary.
Enjoy High Street Shopping on Princes Street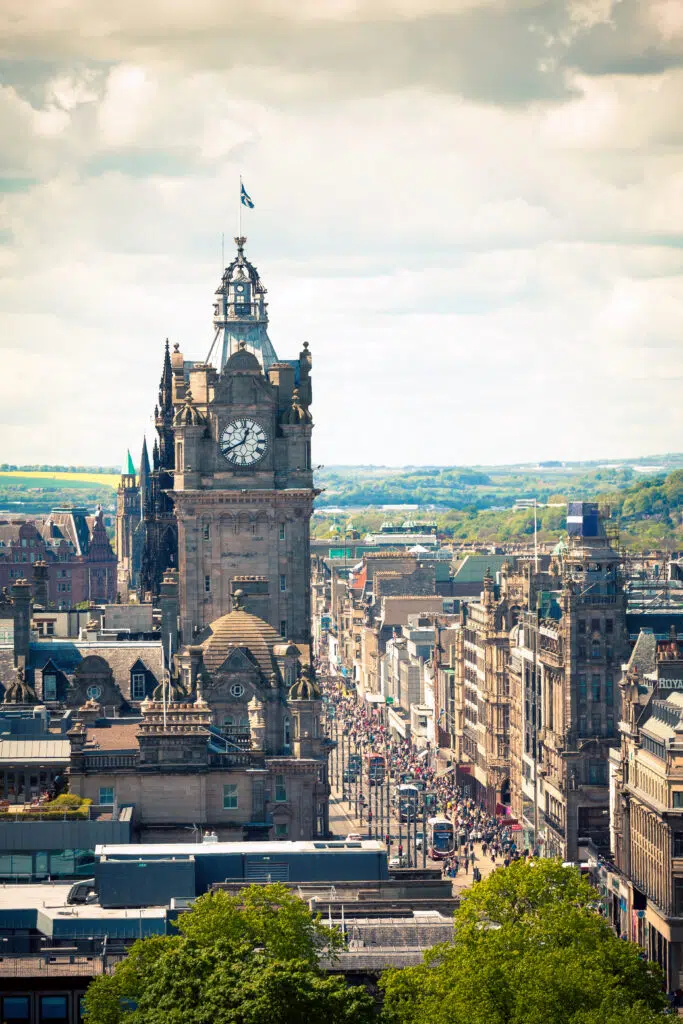 The main thoroughfare of Edinburgh is Princes Street. Lined with high street stores on one side, and historic monuments and Princes Street Gardens on the other, it's a great place to enjoy coffee while overlooking the castle. Enjoy a spot of retail therapy, and wander along the street to see the Gothic-designed Scott Monument – dedicated to the poet and novelist Sir Walter Scott.
While in the area, I also recommend walking a minute or two to explore the two streets behind Princes Street. Firstly, Rose Street has some charming pubs and entertainment venues. The narrow, pedestrianised street doesn't allow cars or buses, therefore, you can enjoy the architecture in relative peace and quiet.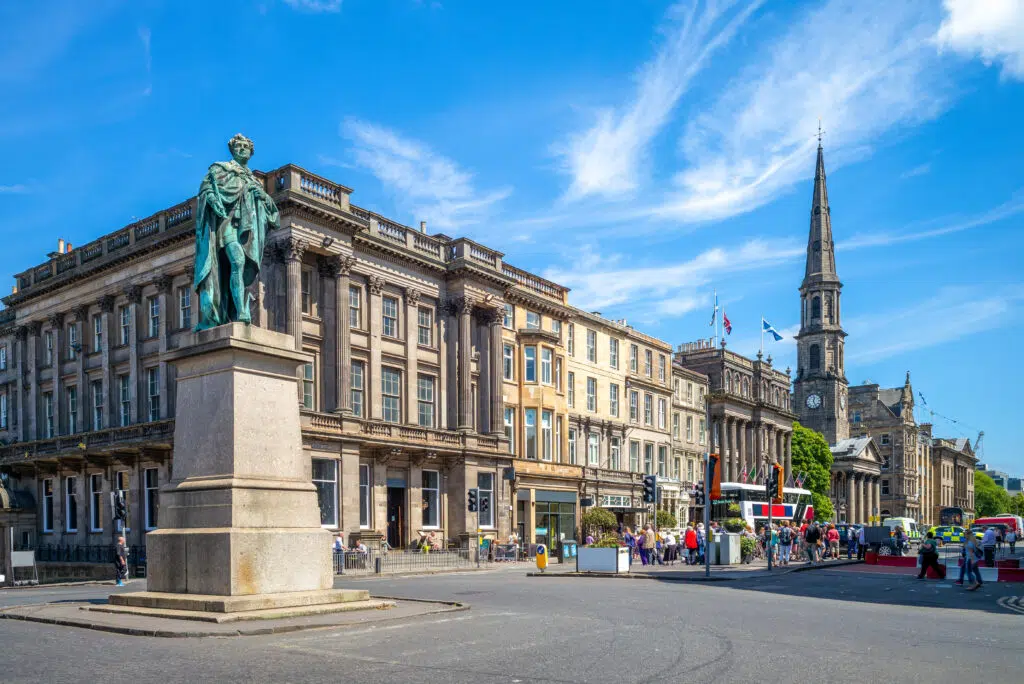 Also, behind Rose Street is 18th-century George Street – home to upscale perfume stores, designer shops, wine bars, hip hotels, and Victorian architecture.
Top Tip: Visit Princes Street in December to discover a lively festive market, a Ferris wheel and an ice rink in the gardens.
Enjoy a Dinner in the New Town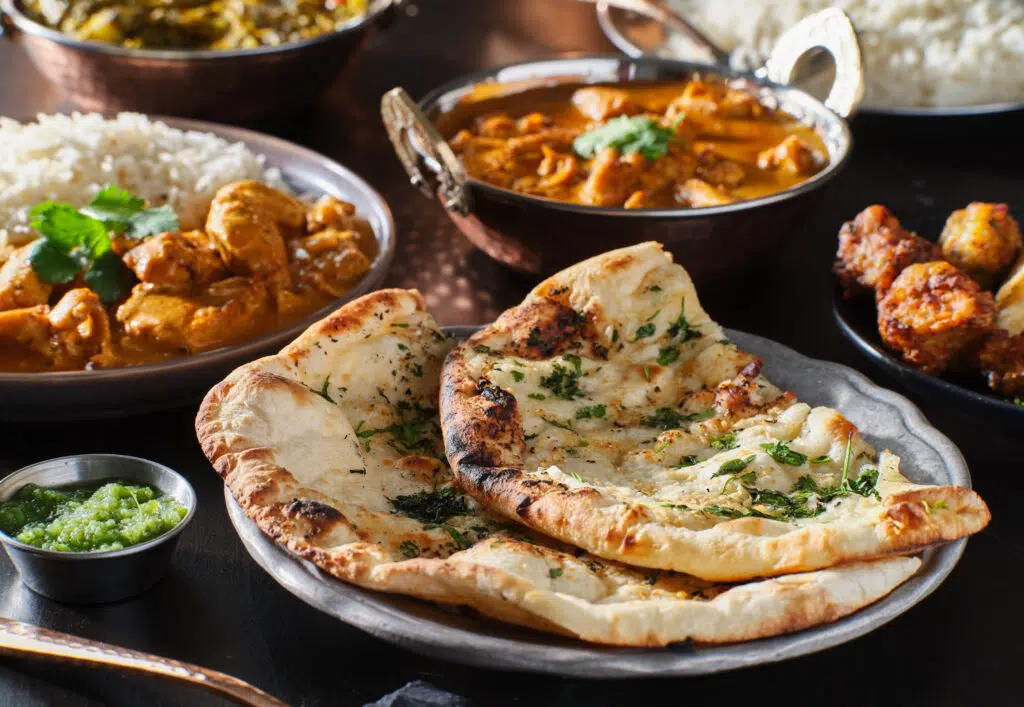 If you've enjoyed Scottish fare for lunch on your day trip to Edinburgh, head for Dishoom Edinburgh at St. Andrew's Square for dinner. With a fascinating back story and superb reviews, this Indian eatery is beautifully decorated throughout, offering menus catering to meat eaters, vegetarians, and vegans.
Order a 'ruby' (curry) choosing from chole puri – chickpeas and puffed puris with sweet halwa on the side or opt for a Bombay family favourite, mattar paneer.
Vegan diners will also delight in the offerings at Holy Cow on Elder Street. The 100% plant-based restaurant and shop was one of the city's first, and they are known for their delicious homemade burgers.
Choose from their Muu burgers – made with oyster mushroom steak, pulled jackfruit or Vietnamese tofu, or opt for a holy ruben sandwich packed with vegan cheddar cheese, sauerkraut, and pickles.
---
Late Afternoon / Early Evening
There are many locations in central Edinburgh offering outstanding vistas of the city skyline, including Arthur's Seat and Edinburgh Castle, but if you're looking for the best sunset views, read on…
See Spectacular Sunsets from Calton Hill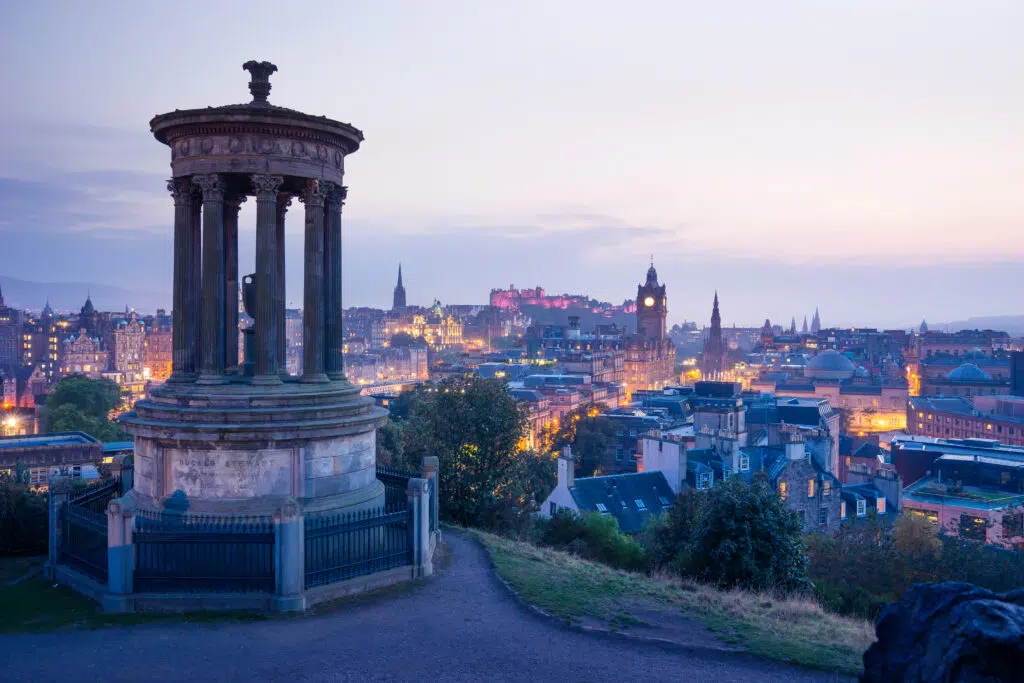 Head to Calton Hill before sunset to see the city skyline as it changes colour. The hillside offers incredible views across the Old Town of Edinburgh and its castle, all the way to Holyrood Palace and Arthur's Seat before sweeping down to the New Town and Firth of Forth.
There are a few notable monuments at Calton Hill, including the Dugald Stewart Monument. The landmark is easily recognisable by its circular architecture, columned perimeter and the stone-carved trophy that sits in the middle.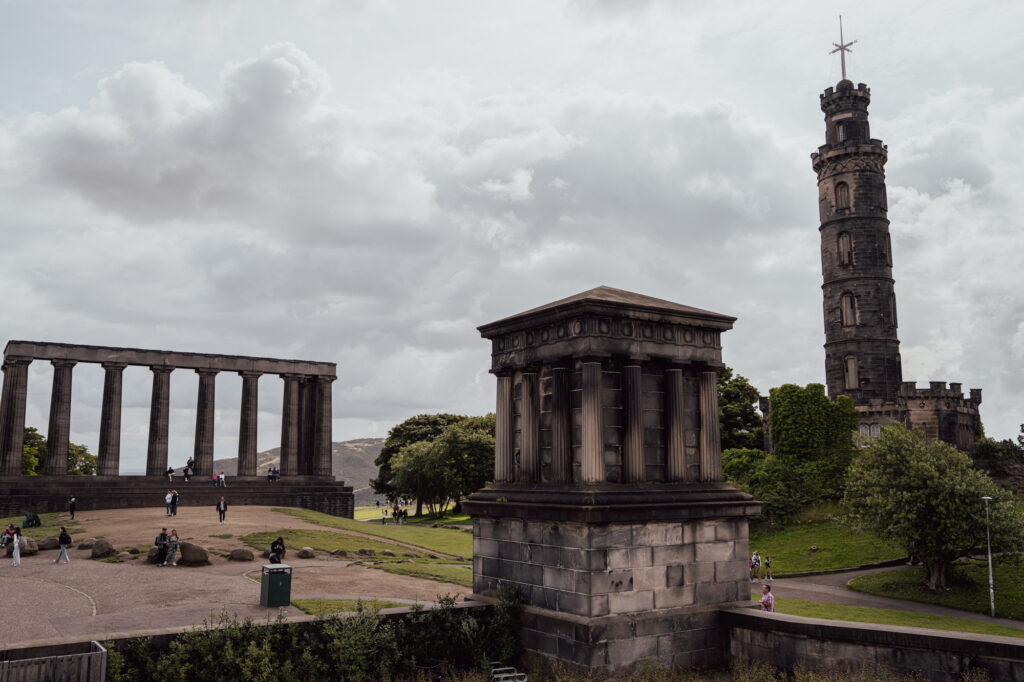 Arrive a little before sunset to give yourself time to see the striking architecture of the Nelson Monument, City Observatory, and the National Monument of Scotland – dedicated to the Scottish military that perished during the Napoleonic Wars.
Dive into Edinburgh's Nightlife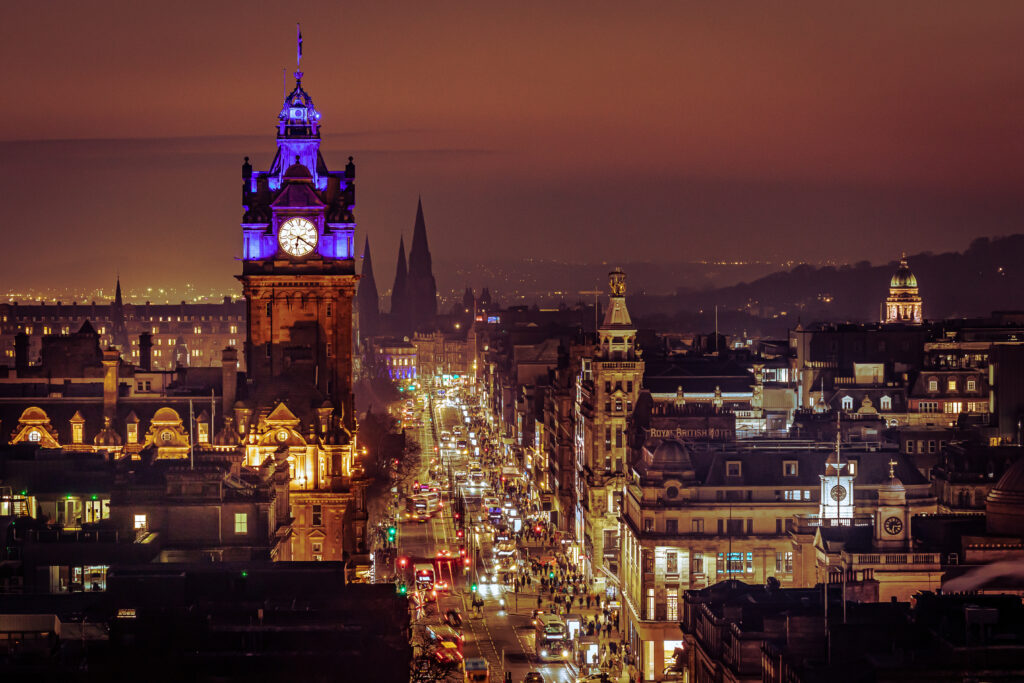 If you ever asked yourself the question, is Edinburgh worth visiting? It 100% hundred per cent is, even for the nightlife alone!
Visitors to the city can socialise in trendy wine bars or chic hotel lounges along George Street, venture to the Grassmarket for Celtic-style live music and craft beers, or dance until dawn in one of the many buzzing nightclubs.
Edinburgh hosts its fair share of concerts and events throughout the year, and there are some great comedy clubs dotted throughout the city too.
Whether you wish to sample Scottish whisky or gin, venture to a Frankenstein-themed bar or a wizarding pub where you craft your own cocktails, there's a night out for every taste and budget in Edinburgh.
After all the partying, you can even stop off at a late-night food cafe for an early breakfast!
---
Getting to Edinburgh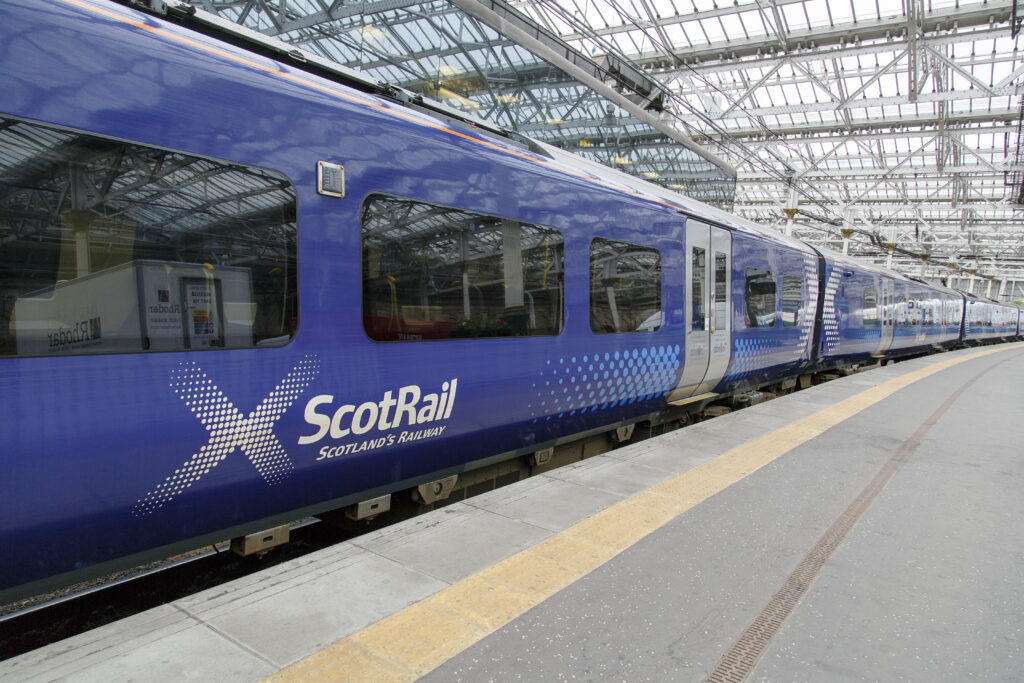 It couldn't be easier to get to Edinburgh. Regular trains run from Glasgow Queen Street Station into either Edinburgh Waverley (the main station) or Haymarket, with a quick journey time of 45 minutes on a direct train (choose "off-peak" tickets for a reduced rate). Or choose the bus for a slightly slower journey.
Domestic and International flights operate in to Edinburgh Airport, located a few miles outside the city, or you can arrive by car or bus from destinations throughout Scotland and England.
When you're in the city, you'll find most of the main attractions are within easy walking distance, although there are some fairly steep hills, therefore, I suggest wearing comfortable walking shoes.
Cycling is a popular way to navigate the city streets too, and dedicated pathways make it a viable option. There are also taxi cabs, buses, and trams but these are mainly used if you're travelling to neighbourhoods further afield, such as the Royal Botanical Gardens, Portobello Beach, or the Royal Yacht Britannia.
---
Day Trips from Edinburgh
Planning an itinerary longer than a day trip to Edinburgh? There are abundant things you can do within a short drive, train ride or bus tour from the city.
Travel West to Glasgow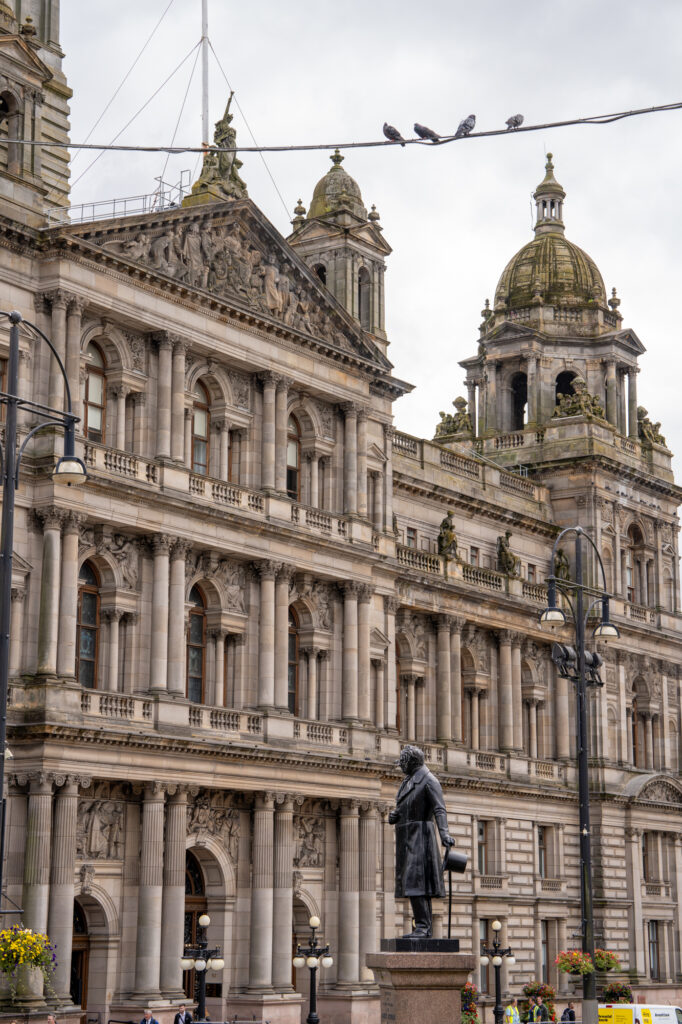 Glasgow sits on the river Clyde and is known for its beautiful architecture, maritime history, amazing restaurants, and nightlife.
Spend a day here and follow the street mural trails to gain some excellent photographs, visit the impressive Glasgow Cathedral, Hunterian Art Gallery and Museum, and head for Merchant City or the West End for shopping, dining, and nightlife.
Read Also: One Day in Glasgow (Best Things to do)
Spend a day at the Seaside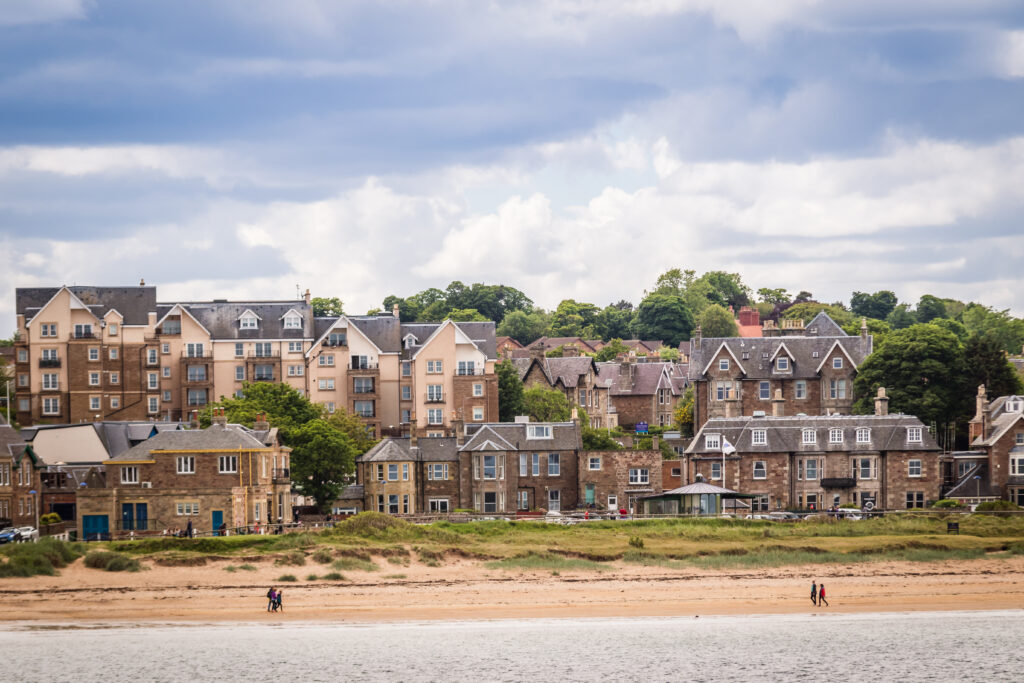 If the sun is shining during your stay, drive to Gullane, just 45 minutes along the east coast. The village is known for its pristine golf courses and is home to one of eastern Scotland's nicest sandy beaches.
Alternatively, hop on the train to North Berwick (shown above). The seaside town engages kids with putting greens, ice cream parlours and boat trips to the nearby island of Bass Rock, said to be the world's largest northern gannet colony.
Visit Scotland's Home of Golf – St. Andrews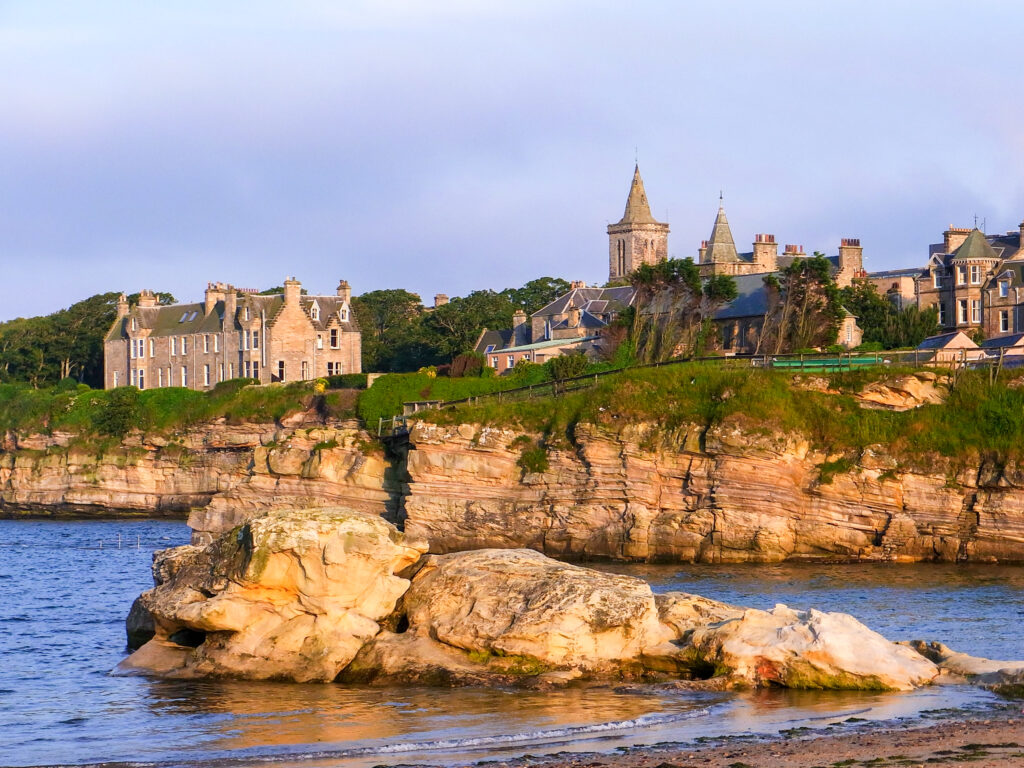 On the east coast of the Kingdom of Fife, a 1.5-hour train ride from Edinburgh is the charming upscale seaside town of St. Andrews. It's known for its famous university – where Prince William met Kate Middleton – and has an old-world charm with cobbled streets, tea rooms and fine restaurants.
Visit the world's oldest golf course, take a stroll along the beach, or enjoy champagne afternoon teas between browsing independent shops. Several tours operate from Edinburgh to St. Andrew's and the pretty fishing villages of Crail and Anstruther from Edinburgh if you fancy a change of scenery.
---
What to buy in Edinburgh
Spend any free time you have on your Edinburgh one-day tour seeking out traditional Scottish gifts to take home. These souvenirs can include a bottle of single-malt whisky distilled in Scotland. If the whisky is for a gift, you can also purchase a quaich to accompany it. This is a small pewter or silver drinking vessel often used at celebrations.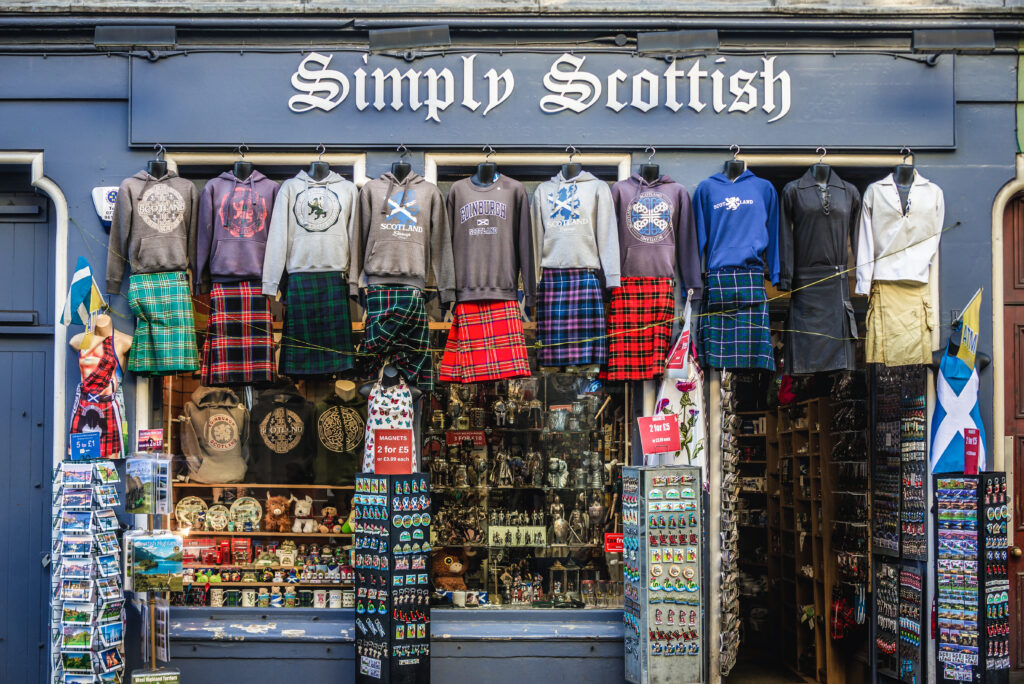 Then there's the famous Scottish tartan. A chequered fabric, similar, but not identical to plaid in the U.S. You can purchase anything from kilts (for men or women) to scarves and hats. Look for your clan (family) tartan – the one that links to your family surname. Some dedicated tartan shops will look up the details for you so you can find one that's the closest match.
The last must-purchase souvenir is shortbread. You can't leave Scotland without a decorative box or tin of shortbread. The not-too-sweet treat is buttery and delicious.
---
If you're planning to visit Edinburgh in one day, there are dozens of free and paid attractions to enjoy. From historic castles, royal palaces and science tourism destinations to beautiful gardens and scenic viewpoints, it's a great introduction to a longer stay. I guarantee you'll wish to return to experience more of this enchanting Scottish city!