It's no secret the French love their meat and cheese. Which means that trying to find vegan food in France can be an uphill battle. French meals are steeped in tradition and as a consequence, France appears to be one of the last countries in Europe to fully embrace the Vegan food trend. Despite this, vegan cafes and restaurants do exist – albeit mainly in the larger towns and cities. Luckily, Bordeaux isn't too far from where we live, so last week I eagerly took the opportunity to dine at Greedy – a Vegan Restaurant in Bordeaux I discovered on my Happy Cow app.
Greedy – Reviewed
Greedy defines itself as a tea room, but it offers so much more than tea and cake! Tucked away on a quiet street, a quick stroll from Bordeaux's main shopping street – Rue Sainte-Catherine – its stone-clad exterior doesn't give much away. Once inside, the charming interior has a retro feel with splashes of Orla Kiely's iconic prints adorning the walls. Our host – none other than co-owner Sabrina Cornereau – was quick to confirm if we knew we were in a vegan restaurant. My guess is some of the clientele are surprised to receive this news!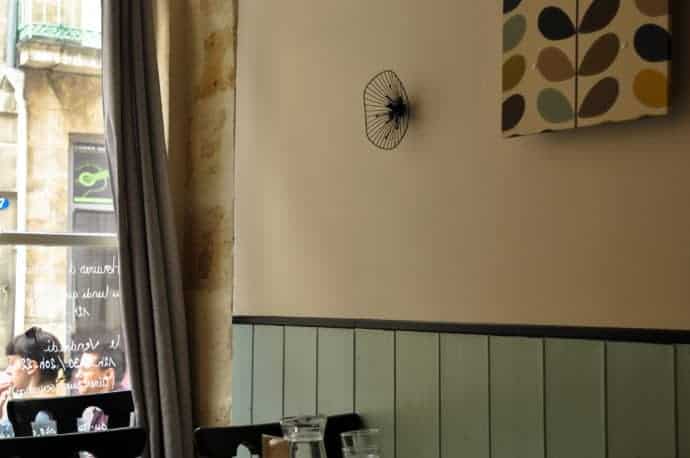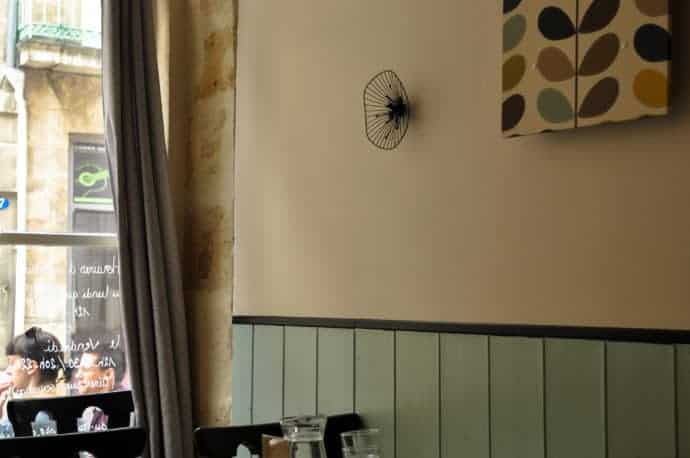 Greedy offers a fresh menu every day – with two options each of entree, main and dessert. At €12 for the main dish, €16 for an entree & main, or main & dessert, or €19 for all three dishes – I think it's incredibly good value for fine, organic, vegan cuisine (with gluten free options!). To give you an idea of the exquisite food offered, here's a sample menu from the day we visited.
Greedy Sample Menu
Entree:
Courgette, basil and lemon 'velouté glacé' (think cold, creamy, delicious soup)
Hummus with lemon & coriander, served with crusty bread
Main:
Moussaka (a Greek baked eggplant dish)
Salad with green beans, potato, tomato, sun dried tomato and quinoa – served with a kiwi vinaigrette
Dessert:
Coconut and raspberry cheesecake
Apricot, apple, nectarine and lavender compote
Are you salivating yet?!!
Between us, we took one of everything so we could try it all. After all, it's not often we get to gorge ourselves on fine vegan food…
Everything was mouth-wateringly good, but my favourites were the velouté, the salad, and the cheesecake.
To drink we ordered a sparkling water, a soda and a smoothie, then afterwards enjoyed Green tea with mint (would be remiss of me to skip the tea in a tea house after all).
Verdict – if you're visiting Bordeaux (hell, it's even worth a detour!), get yourself to Greedy for a meal. Even if you're not vegan, the finely prepared meals are sure to seduce you. In fact, 80% of their clientele aren't even vegetarian or vegan.
Greedy is open 12-3.30pm Monday-Friday and Friday evenings 8pm-10pm (for vegan burgers) at 62-64 Rue du Hâ, Bordeaux.
Bon appetit!
Pin it.