The vegan hiking boot is fast becoming a hot commodity. With environmental awareness peaking at a global scale, people are becoming more aware of the impact their daily choices have on the environment.
With this, there is a rise of vegetarianism and veganism taking the world by storm. And you'll be pleased to know that this way of living can be incorporated not just in what you eat, but also by what you wear.
Your feet have the ability to transport you to some of the most beautiful places in the world. This makes the choice of what you wear on your feet all the more important. When setting off on an adventure to explore breathtaking trails and mountains, you'll want to be sure that your feet are comfortable, can breathe and are able to handle the elements.
To help you find the perfect hiking boot that is animal-and-planet-friendly, I've compiled a guide on how to choose the best vegan hiking boots, as well as a review of our top choices.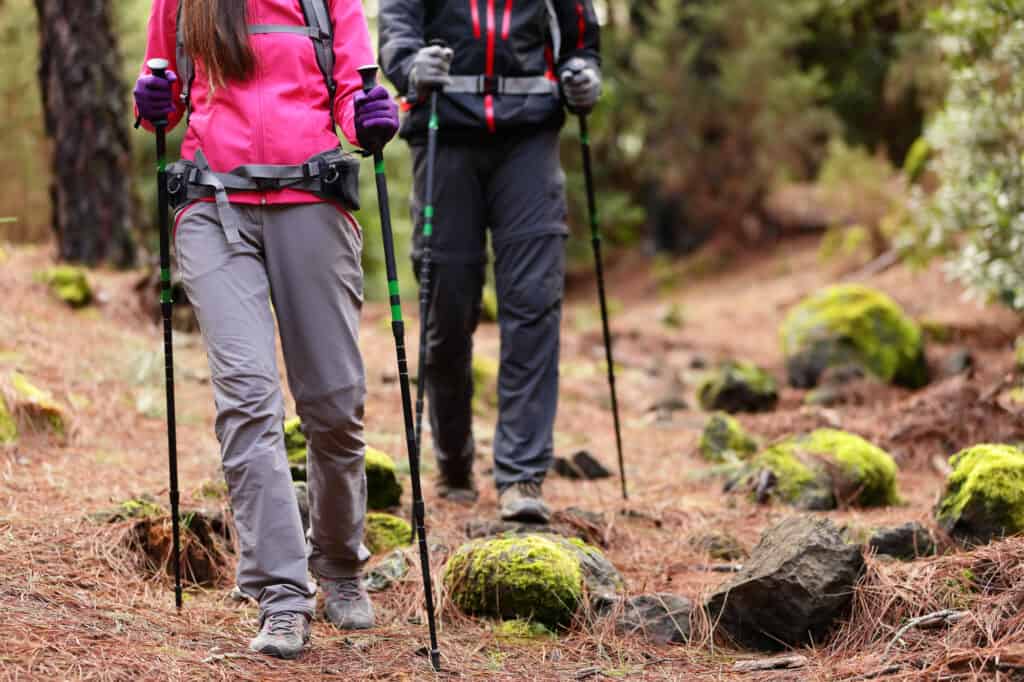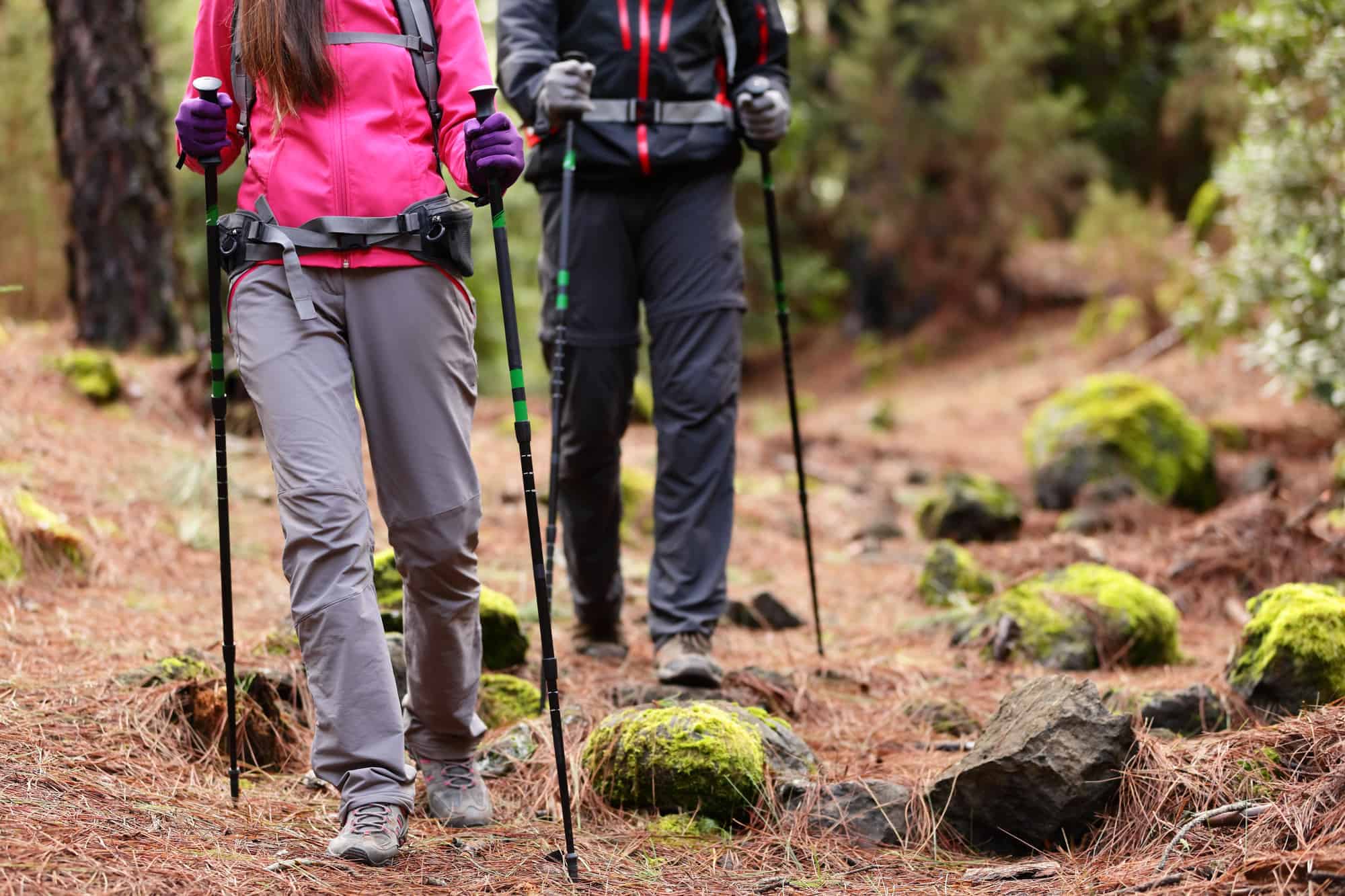 This article may contain compensated links. See our full disclosure here.
In a rush? Here are our top picks of the best vegan hiking boots for women and men…
---
Top Choice – Women's Vegan Hiking Boots
Waterproof, breathable, and comfortable – the Merrell Women's Moab 2 Mid GTX Hiking Boot is the whole package – at an affordable price tag!
With its GORE-TEX waterproof membrane, EVA footbed & durable Vibram sole, this is the vegan hiking boot that 'does it all', and looks good doing so… I personally have & love this shoe, and I trialled many others along the way! That's why it's made our top pick as the best vegan hiking shoe for women.
---
Top Choice – Men's Vegan Hiking Boots
Trail runner meets hiking boot in the adidas Outdoor Terrex Swift R2 Mid GTX . On par with the non-vegan hiking boots produced by Salomon, adidas have delivered a shoe that will comfortably carry you over the trickiest of terrains.
Perfect for those wanting a discreet hiking boot that's lightweight and waterproof. These vegan hiking shoes for men are designed with practicality and comfort in mind.
---
What Makes a Vegan Hiking Boot?
If this is the first time that you've heard of a "vegan hiking boot", then not to worry. All that it means is that the shoe has been manufactured without the use of any animal by-products.
The most obvious thing to look out for is the material that the shoe is made from. But there can also be 'hidden' animal products in glues and adhesives too. It's not always easy to tell a vegan hiking shoe right off the rack.
A vegan hiking shoe will be 100% synthetic in composition. These new textiles have been designed to be of such superior quality that even non-vegans often prefer to buy synthetic hiking boots over the traditional leather variety. Not only are non-leather hiking shoes better for the environment, but they're lighter, and often, more durable.
The Best Vegan Hiking Boots Women Will Love
Here is my list of the best vegan hiking shoes for women who love the outdoors (see further down for the Men's options).
Our top choice of women's vegan hiking boots – the Merrell Moab 2 Mid GTX is the perfect all-rounder. Light enough to wear for a quick stroll to the shops, but also sturdy enough to wear on the most strenuous of hikes. They'll be the shoes you reach for every time you leave the house.
The targeted air cushion in the heel, along with the durable and grippy vibram soles, means you'll be happy to have these boots on your feet for hours. And the GORE-TEX protection will keep your feet dry in any conditions.
Merrell boots have been my personal go-to boots for years, and I don't have any regrets – I'm sure you're going to love the quality shoes this brand creates too!
Check the latest price on Amazon
---
Looking for the perfect pair of vegan waterproof boots to wear on your next hike? The Arc'teryx Bora GTX have you covered. These rubber soled boots pride themselves in having an impressively grippy outsole and durable upper construction for stability.
This design, which comes in a blend of black and blue or black and purple, doesn't only help keep you steady on your feet, but also keeps your feet dry and cool. With the technical grip of a hiking boot, but the light feel of a running shoe, the Arc'teryx Bora GTX vegan backpacking boots strike the perfect balance.
These shoes are on the pricey end of the spectrum, but every cent is worth it. They have a reputation for being supportive, sturdy and very comfortable.
Check the latest price on Amazon
---
XPETI have managed to create comfortable and waterproof vegan hiking boots that are easy on the wallet – winning! So if you're an avid hiker, but you want a quality walking boot under $100 – the XPETI Thermator delivers on all counts.
An excellent hiking boot for winter conditions – these boots boast a whopping 200 grams of Thinsulate insulation, meaning your feet will be kept warm in temps as low as -25°C (-13°F). And the waterproof upper, along with a Hydroshield membrane, means your feet won't be getting wet in the snow either.
The high traction outsole combined with the toe and heel protection means your feet will be protected from sharp rocks and accidental toe-stubs, while keeping your feet firmly gripped to the track.
This style of XPETI shoes run a little small, so size up for the most comfortable vegan boots that'll fit like a glove.
Check the latest price on Amazon
---
When slipping into a pair of La Sportiva Blad GTX hiking shoes, you're putting on one of the most versatile and comfortable shoes imaginable.
Their trendy slate and jade green appearance is just the tip of the iceberg. The Air Mesh construction will ensure the utmost comfort for the longest hikes. When wearing these shoes, you can be sure that your feet will feel lightweight and snug while remaining fully dry!
The all-terrain Frixion AT 2.0 rubber compound makes up the outsole and offers differentiated lugs and an advanced impact brake system, keeping your feet safe on the path.
If the devil's in the details, then there's one extra special feature to take note of. There is a stretchy bit of fabric at the back of the heel which makes the shoe easy to put on, while keeping a secure fit around the top of the ankle.
Check the latest price on Amazon
---
For those living and working in warmer climates, these lightweight hiking shoes from Merrell are a popular choice. With all the features you'd expect from a high-performance shoe, and with the added bonus of being breathable, they're the best choice if your walks often include wading through a riverbed or two.
Merrell's own Omni-Fit lacing system ensures a snug fit that encases your foot without being uncomfortably tight, and the UniFly midsole protects you from uneven & sharp surfaces below foot.
If trail running is more your thing, these Merrel vegan shoes are so light you'll be flying over the terrain.
Check the latest price on Amazon
---
The La Sportiva Synthesis Mid GTX hiking shoe is the perfect choice if you're looking for a lightweight trail shoe. Its mid-height makes it versatile for a number of activities, allowing you to move fast on a variety of terrains.
With the brand's feature Gore-Tex technology, your feet are sure to stay dry without compromising on breathability. If you like to gather a bit of speed on the trails, then the Vibram nano sole and impact brake system are sure to offer you excellent traction and stability on your speedy descents.
These are a great choice of shoe if you are looking for versatile footwear that can be worn in several different outdoor situations. As an added bonus, the bright blue colour will make you stand out on the trails!
Check the latest price on Amazon
---
When you're looking for a pair of women's shoes for hiking that are discreet enough to wear in the city, these Keen Terradonna hiking boots are your best bet. They've seamlessly blended the best technology into a weatherproof, lightweight shoe that performs as good as it looks.
These non-leather boots come in a huge range of colours, meaning you don't have to be dull while enjoying the great outdoors. And the breathable construction makes them a good choice for hotter climates too.
They probably wouldn't be my first choice for winter if you hike in a lot of snow and ice, but they handle every other situation with ease.
Check the latest price on Amazon
---
adidas may not be the first brand you think of when looking for vegan walking boots, but they're quickly becoming a firm favourite due to their insanely comfortable walking shoes.
A tough-looking exterior meets a cushioning insole to provide maximum shock-absorption while you're scaling tough mountain tracks. And the continental rubber will prevent you from taking any nasty falls. Best yet, the adidas Tereex Swift's breathable, yet waterproof construction means you'll be prepared to deal with any weather situation.
The only downside is that your colour options are somewhat limited, so if you put personality over performance, these may not be the best choice.
Check the latest price on Amazon
---
The MVE women's hiking boot is the perfect shoe for the hiking fashionista. The shoes are sold in the classic black as well as tan, burgundy and even leopard print. Sleek in design and pleasing to the eye, the MVE outdoor lightweight hiking boot starts off on the right foot.
These shoes are 100% vegan leather and are versatile enough to wear in every season. The inside cushioning makes for an incredibly snug fit.
While these shoes are very comfortable, they are best suited for trekking on flat terrains and are not really designed for hardcore hiking. With that being said, they are very sturdy and have a thick traction on the bottom to prevent slipping.
When choosing your size, take note that their sizing is slightly larger than expected. This is great if you plan on wearing thick socks, but if not then you may want to get a size smaller.
Check the latest price on Amazon
---
The Ultimate Men's Vegan Hiking Shoes
If you are looking for the perfect pair of men's vegan hiking boots, then look no further.
---
Yes, adidas are getting another mention in our line up of best vegan boots for hiking – and this time it's for the guys. The Terrex Swift R2 Mid GTX boot's rock-solid construction and unparalleled comfort show that this brand, more famously known for its street shoes, is fast becoming one of the trusted brands in the hiking boots business too.
Almost on par with Salomon boots, adidas delivers a sturdy shoe with continental rubber outer soles that will have you gripping the tracks in all conditions. The breathable, yet water-tight construction is lightweight enough not to slow you down, yet the protection surpasses what's typically available in a trail running shoe.
The overall style of these shoes is discreet enough that you could get away with wearing them in the city too – proving that they're a versatile choice for the man that has a minimal approach to his footwear.
Check the latest price on Amazon
---
This tough-looking Merrell boot is made from 100% synthetic leather and mesh with a synthetic sole. The waterproof membrane means that you have the advantage of a heavy-duty shoe while maintaining exceptional breathability and waterproofness.
This is the perfect boot for adventures over rougher terrain. There is a closed-cell foam tongue that keeps both moisture and debris out of the shoe. The shoe also boasts a rubber toe cap for extra protection.
If you are going to be trekking in a very warm location, be warned that your feet may overheat a little bit, especially if you are wearing thick socks. On the plus side, the boots require less break-in period and present a low risk for blisters and hot spots.
Check the latest price on Amazon
---
La Sportiva is one of the top brands who manufacture reliable, good-quality vegan hiking shoes, and the Trango Cube GTX is no exception. The shoe itself is more vibrant in appearance, sold in blue and red, highlander camouflage and flame, so if you like to stand out on the trail then this is the boot for you.
The seam-less design blends waterproof QB3 and FlexTec 2 fabrics to keep your toes dry, while a rugged Vibram rubber rand protects them from stubborn rocks. And the Gore-Tex Performance Comfort lining guarantees a snug feel regardless of the outside temperature.
They may require a bit of time to break-in, but your efforts will be rewarded when you experience their superior performance on the trail. These boots are the perfect choice for mountaineers who spend their time exploring the expansive mountain ranges across the world.
Check the latest price on Amazon
---
Another great La Sportiva hiking shoe is the Blade GTX. Also made fully of synthetic materials, the boot prides itself on being abrasion-resistant, waterproof (thanks to the Gore-Tex mesh) and lightweight.
With reinforcements included in the design, the laces hug the shoe to the foot, while still leaving space for comfort. Sold in the black and tangerine tone, the classic boot has a burst of colour. This means that the shoe not only fits great, but looks great too.
When choosing your shoe, keep in mind that the fitting is a bit narrow. So if you plan on wearing thick woollen socks, you may want to get one size larger.
The La Sportiva Blade GTX is the perfect shoe if you're wanting multi-sport footwear. It works well when hiking, mountain running and trekking. It's one of the top non-leather hiking boots on the market, and it's easy to see why.
Check the latest price on Amazon
---
Slick in design and streamlined on the foot, the Inov8 Roclite 325 GTX trail running shoe is perfect for those who love to get some speed on the trails. Made with mesh and rubber with a fabric sole, the comfort and performance promised by this shoe is next-level.
Although not strictly a hiking boot, the shoe is great for those who love trail running. The shoe has great grip for when hurtling yourself along the path, with a high-reaching tongue to keep your ankle protected from low-lying brush as you speed by. The Inov8 Roclite 325 GTX is a lightweight shoe that will help to keep the spring in your step.
The membrane protects the shoe from water trying to get in, meaning that you can run through mud, puddles, wet grass and rivers without a second thought.
These shoes are best suited for warmer weather and don't offer much protection against the cold. So, if you are going on a snow trip, you may want to look elsewhere.
Check the latest price on Amazon
---
If you're looking for the ultimate hiking boot that is waterproof, warm and durable, then look no further. The XPETI Thermator boot is both functional and fashionable. Take your pick from light grey, camouflage, or black, and get ready for an adventure.
The boots boast special technology that helps to protect your feet on the path. The rubber toe cap and molding TPU at the heel offers the perfect protection, while the cushioned EVA midsole improves comfort and stability.
These are the perfect hiking shoes for snow or cold weather climates, with 200 grams of Thinsulate insulation, keeping you protected in temps as low as -25 °C (-13° F). The extra height up the ankle also works great to prevent snow from dropping inside the shoe.
While these shoes are incredibly durable, they are also light enough to wear as everyday work boots in colder climates.
Check the latest price on Amazon
---
Are you planning on buying a pair of vegan winter hiking boots that can endure the snow and cold climates? Look no further than the Inov-8 Roclite 335.
The black and blue shoe is made up of synthetic materials and mesh, with a rubber sole. The upper softshell material is insulated and comfortable, while the high ankle provides the perfect amount of support.
The outsole uses graphene, a single layer of carbon atoms, to make the outsole rubber 50% stronger, more elastic and hard-wearing. This means that your shoes will last longer while remaining light and flexible in fit.
These are the perfect hiking boots for colder climates. The Inov-8 Roclite is sure to keep your foot warm and dry while giving you the support and stability that you need.
Check the latest price on Amazon
---
For those wanting a truly minimalist hiking boot, the Xero Shoes Xcursion model is exactly what you're looking for. These shoes are perfect for men who prefer to feel the earth beneath their feet, while still benefitting from the protection of a sturdy sole. So sturdy in fact, Xero shoes will guarantee them for an incredible 5,000 miles.
Many hiking boots restrict your foot's natural movement, but these vegan walking shoes allow you to feel the ground beneath your feet and respond accordingly. Toes are given space to spread and flex, and your feet room to relax. Understandably, they're also one of the lightest hiking shoes on the market.
What's more, is that they've added a fully waterproof inner liner, and a water-repellent membrane – transforming these already awesome shoes into top-performing waterproof barefoot boots!
Check the latest price on Amazon
---
Will's Vegan Shoes are experts at creating good solid staples for your wardrobe, and these hiking boots are no exception. The WVSport model may look unassuming, but they boast the same Viram outer soles, EVA inner soles, and waterproof protection you'd expect in a high-performing hiking boot.
They don't have all the bells & whistles some of the other hiking boots in our lineup boast, but they're a good around shoe that will stand the test of time thanks to their scuff and abrasion-resistant construction.
Fully carbon neutral and sustainably produced, Will's Vegan Shoes are a fantastic ethical company to support when choosing your next hiking boots.
Check the latest price on Amazon
---
Why Choose Vegan or Vegetarian Hiking Boots?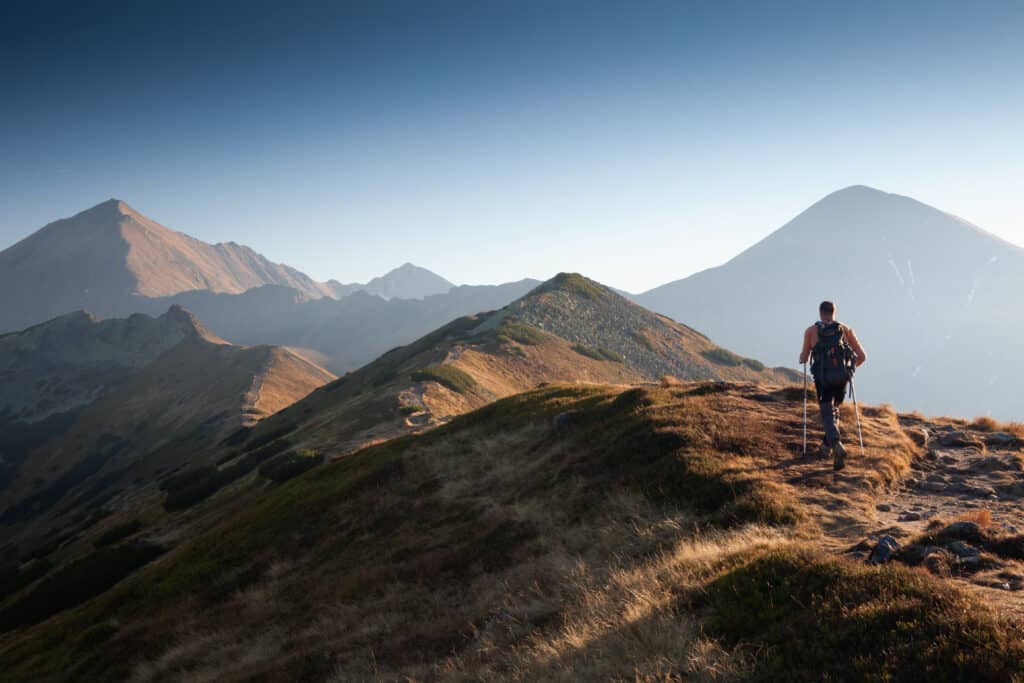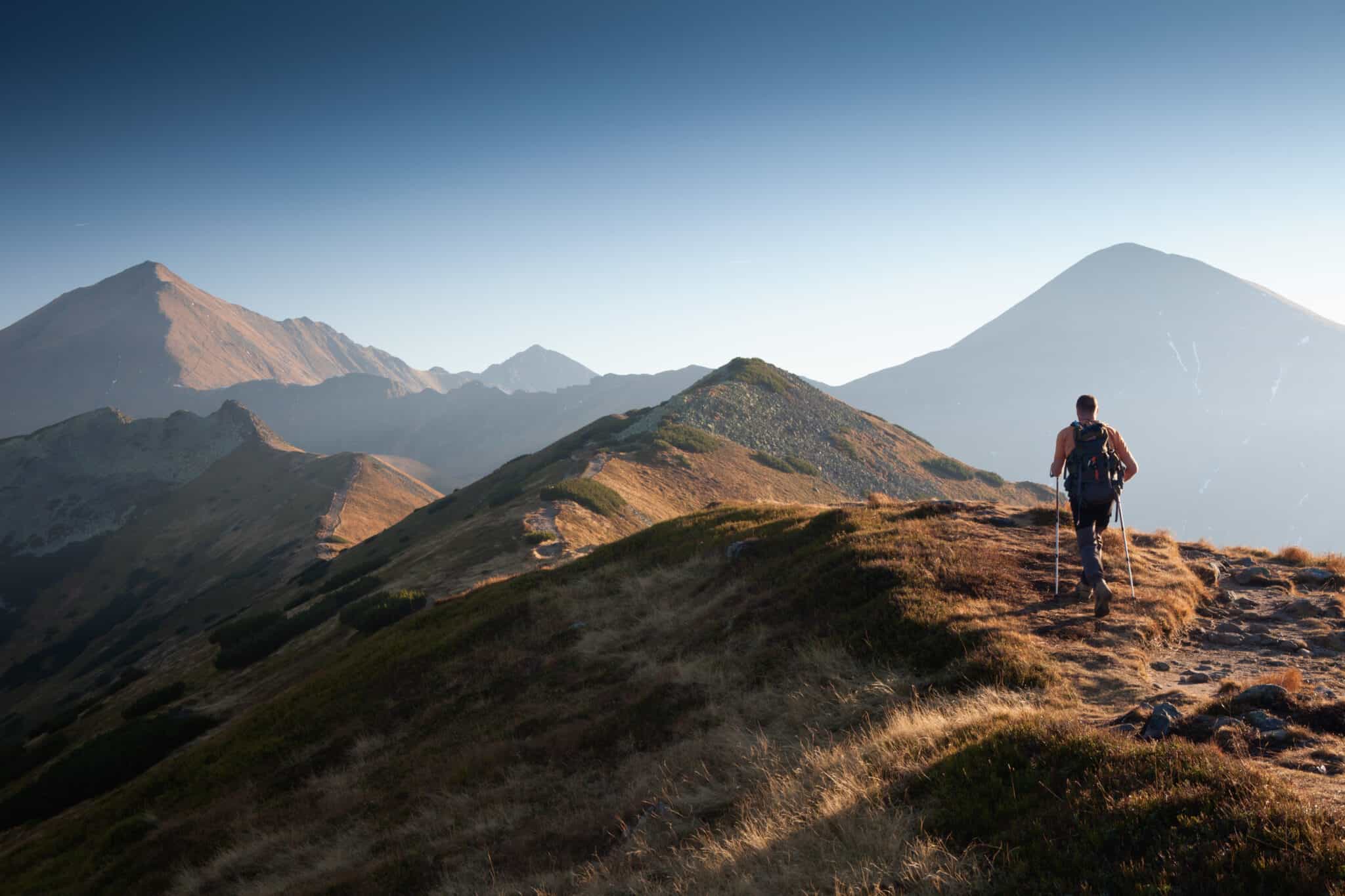 Since vegan outdoor shoes have become more popular, several big brands have jumped on board to produce non-leather hiking boots. Choosing vegan footwear doesn't mean that you have to compromise on quality or comfort.
Choosing to live a vegan lifestyle can be both rewarding as well as challenging. If choosing to give up meat and dairy sounds like too much of a challenge to handle right now, then you can start with choosing vegan footwear.
With a pair of vegan hiking shoes on your feet, you can set off on your next adventure knowing that your garments are cruelty-free.
---
The Best Shoes For Walking: What To Look For
Whether you're hiking with your family, a larger group or by yourself, very little compares to the feeling of liberation that comes from being out in the open. If you want to improve on the experience that much more, then you need to make sure that your shoe fits well and gives you the support that you need.
There are several aspects to look out for when choosing the best vegan walking shoes. Many of these factors will be determined by where you plan to wear your shoes.
Low-top vs. High-top
Low-top boots are great in warmer temperatures as they allow your feet to be kept cooler. Low-top shoes are also a popular choice for hikers wanting a lighter boot to travel and walk with. If you are off on a long trail, a little less weight on your feet can make a world of difference. The smaller size also makes low-top boots easier to pack in travel luggage.
On the down-side, low-top boots don't provide as much ankle support. Not only does this put your ankles at risk when walking on rough terrain, but it also exposes your ankles to low-lying brush and rocks. If you are hiking along a well-established trail in a warm climate, then low-top boots are a great choice.
On the contrary, high-top boots offer all of the perks that low-top boots don't. They provide additional ankle support, keep the dirt and small rocks out of your shoe, keep your feet warm, and support your feet with heavy loads.
However, if you choose high-cut boots, prepare for a little bit of extra clunkiness and weight when walking or travelling.
Breathability
The breathability of a hiking shoe is an important factor to consider, especially in warmer climates. But regardless of how hot or cold the climate is, you're likely to work up a bit of heat on a long hike. Hot, tired feet are an uncomfortable burden to bear.
Choosing a shoe that allows for the sweaty vapour to release through the shoe, while not letting outside water in, is a key feature to consider. The synthetic fabrics used in vegan walking shoes are designed specifically for this purpose, allowing more breathability than a leather shoe. A shoe with great breathability will make your hike more enjoyable.
Waterproofness
If you are hiking in warmer areas where you'll welcome a bit of refreshing water on your feet, then waterproofing may not be a top concern – as long as you don't mind hiking with squelchy shoes. However, if you are hiking in snow or wet terrain, then the last thing that you want is for water to seep into your shoes and cause your feet to freeze.
Waterproof boots will keep your feet dry and comfortable in wet situations. Whether it's raining or you need to walk through a puddle or creek, waterproof shoes will keep your feet snug, reducing chafe.
There are several vegan waterproof hiking boots that promise a great experience on the trails. If you are hiking in colder climates, waterproof boots are extra important. Keeping your feet warm is essential if you want to prevent frostbite.
Traction
Another key consideration when choosing the best shoe is the amount of traction and grip that the shoe provides. Hiking shoes should have a good grip to keep you secure on the path. These slip-resistance features will improve the stability of feet on various terrains.
If you are hiking over terrain that has lots of rocks and rubble, or fine sand, you'll be grateful for a shoe with great traction that prevents you from slipping and injuring yourself. The same can be said in wet environments where you may step on a slippery surface. The traction of a shoe will give you the extra grip that you need to stay standing on both feet.
Cushioning and Comfort
If you want to avoid blisters forming on the first day of a week-long hike, then you need to make sure that your shoe fits you well. A good fit will determine how comfortable the shoe is on your foot, and how many hours you can keep it on with ease.
Another factor to consider when choosing your shoe and the fit is the cushioning that the shoe will provide. This is especially important if going on longer hikes where the impact will be harsh over time. Adequate cushioning will keep your feet comfortable during your hike.
Durability
The durability of a shoe is a key factor to consider before making a purchase. Regardless of whether you plan on doing intense hikes or lighter trails, the durability of the shoe will determine how far your money will go as an investment.
The durability of a shoe is determined by the likes of the material used to produce the shoe, the technology that is incorporated and the number of times the shoe will be used.
---
Final Thoughts on Choosing the Best Vegan Hiking Shoe
I hope that the above guide on how to choose the perfect hiking boot has inspired you to get outdoors and start tackling the trails. There are so many hidden gems in the world just waiting to be explored.
Make sure that you are equipped for the terrain you want to hike by choosing a durable, waterproof, comfortable shoe that fits well. Ticking all the right boxes will ensure that your experience is memorable and that your feet are well supported.
Whether you want to take the challenge of an intense, overnight hiking trip, or prefer an easier stroll through the forest, you'll find the perfect vegan hiking shoe. And you'll be making a small effort towards a better world while you're at it.
Pin this for later!