With winter's chill fading beneath the sun, flowers lining majestic boulevards and Easter festivities in full swing, springtime is always a good time to pack your bags for Europe. In fact, some might say it's one of the best times to visit.
Shoulder season prices collide with fewer tourists and the exuberant atmosphere of locals as they venture back out into the great outdoors.
In terms of where to go on holiday in April, this is a great time to stroll through the continent's most popular cities before the soaring heat of summer arrives. Flourishing landscapes are a dream come true for hikers and festivals mark the season of growth and rebirth.
With the best of all worlds on offer, this is a month where European destinations bloom to match the season.
---
Best European Cities to Visit in April
There's an overall feeling of excitement and anticipation surrounding the best places to visit in Europe in April. Unique Easter traditions decorate the streets, world-famous gardens are at their colourful best and alfresco cafes spill onto the cobblestones to make the most of refreshing, crisp air and ever-increasing temperatures.
Give your senses the feast they deserve, at some of the most beautiful places in Europe.
BARCELONA, SPAIN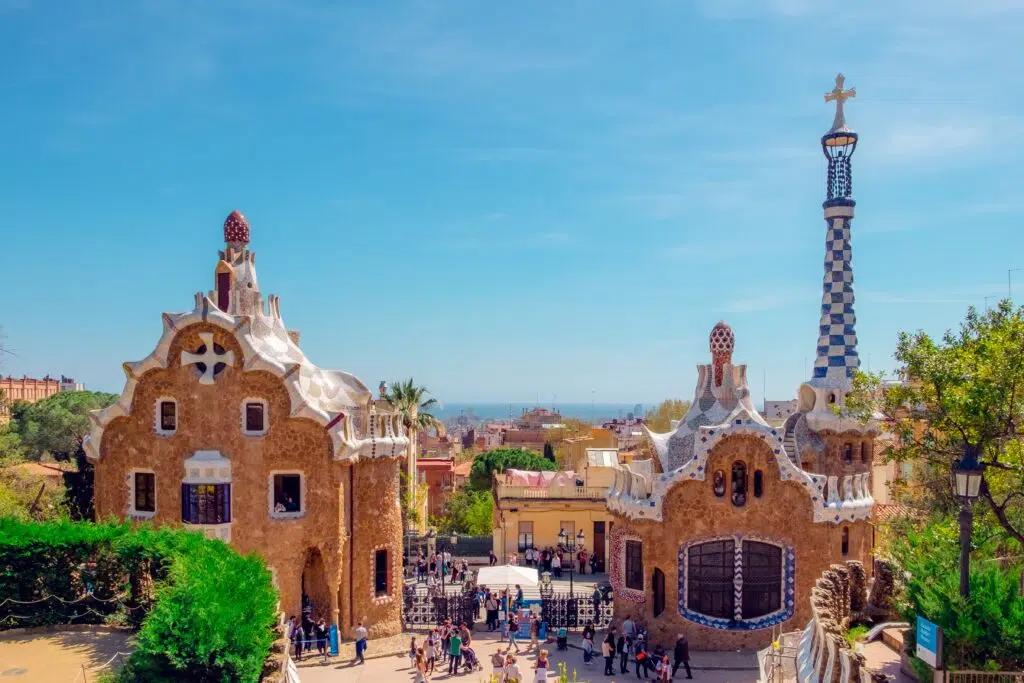 The always lively Barcelona bursts into spring with bright gardens and a range of seasonal events. This is the end of the low season for one of the world's most visited cities, so it's possible to take advantage of fewer crowds while also enjoying pleasant temperatures. You'll appreciate this while lining up outside to get into La Sagrada Familia and navigating the colourful chaos of La Rambla.
The Sant Jordi festival is a highlight of this April vacation, which is basically a Spanish version of Valentine's Day. It's customary to give books and flowers to loved ones and you'll find plenty of cultural activities to enjoy within the festive vibe.
Processions and services take place during Holy Week on Good Friday and Palm Sunday. And don't miss out on trying the Spanish Easter cake, La Mona de Pascua.
Read the best day trips from Barcelona here.
PARIS, FRANCE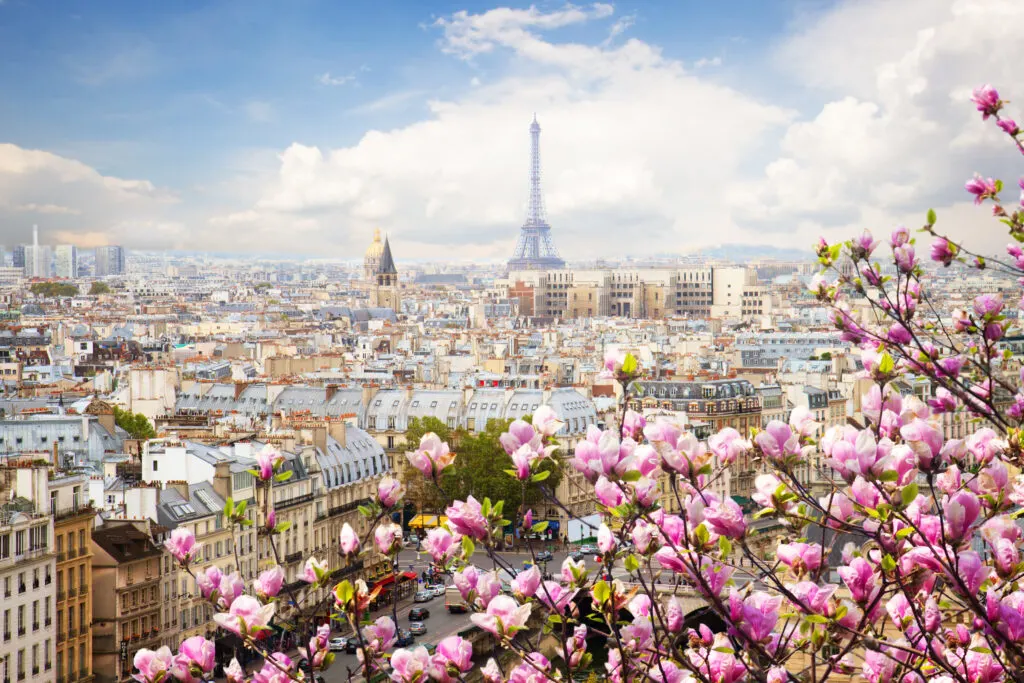 Paris is romantic at any time of year, however, spring adds a special flavour to one of the most beautiful places to visit in Europe.
To kick off the extra romance, pale pink cherry blossoms drape the city in springtime colour, from the cobbled streets of Montmartre to the courtyard of Petit Palais. If you're a keen photographer, seek out spots to capture the pretty blooms with the Eiffel Tower in the background.
Romance just isn't the same without chocolate and Easter sees the city's master chocolatiers go all out with delectable creations. Drool over ornate eggs and sculptures in window displays, especially the high-end variety found in Saint-Germain-des-Prés.
To balance out the chocolate overload, stock up on new-season fresh produce, like luscious strawberries, at neighbourhood markets across the city.
Cultural highlights range from Easter services in majestic churches and classical music concerts, alongside Easter egg hunts and egg decorating workshops that the kids will love. However, with nature adorning the city's stunning parks in floral colour, a simple picnic is all it takes to soak up the splendour of Paris in spring.
Read how to spend 4 days in Paris here.
ROME, ITALY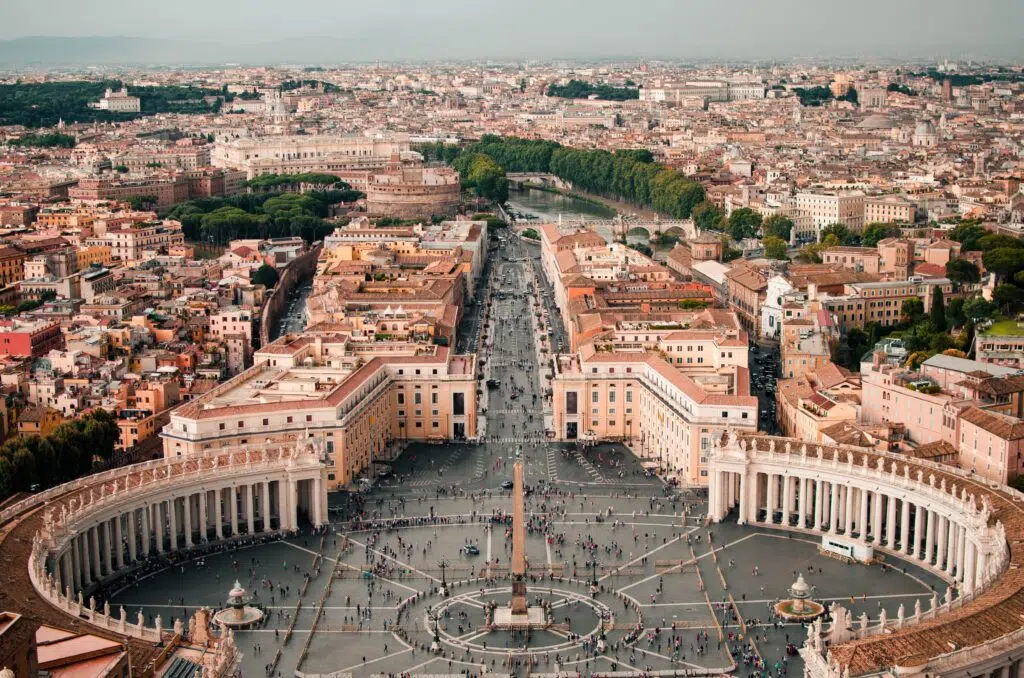 To witness Holy Week in all its glory, the best place to travel in Europe in April is Rome. The Vatican takes centre stage and, to attend a Papal Mass, you'll need to reserve free tickets several months in advance.
Among a range of events is the Easter Sunday Holy Mass, held by Pope Francis in Saint Peter's Square. You'll need to jostle for space with thousands of pilgrims to hear the Easter message and blessing, but you won't forget the experience.
Outside of Holy Week, the immense tourist crowds haven't quite hit the Eternal City yet. Mild temperatures are perfect for long walks to take in the Colosseum, the Roman Forum, the Trevi Fountain, the Pantheon and vibrant piazzas.
You'll also see the famous Spanish Steps decorated with hundreds of azaleas. Just remember that fines apply for sitting and eating on the steps, so take your gelato elsewhere.
Read our walking tour of Rome guide here.
CRETE, GREECE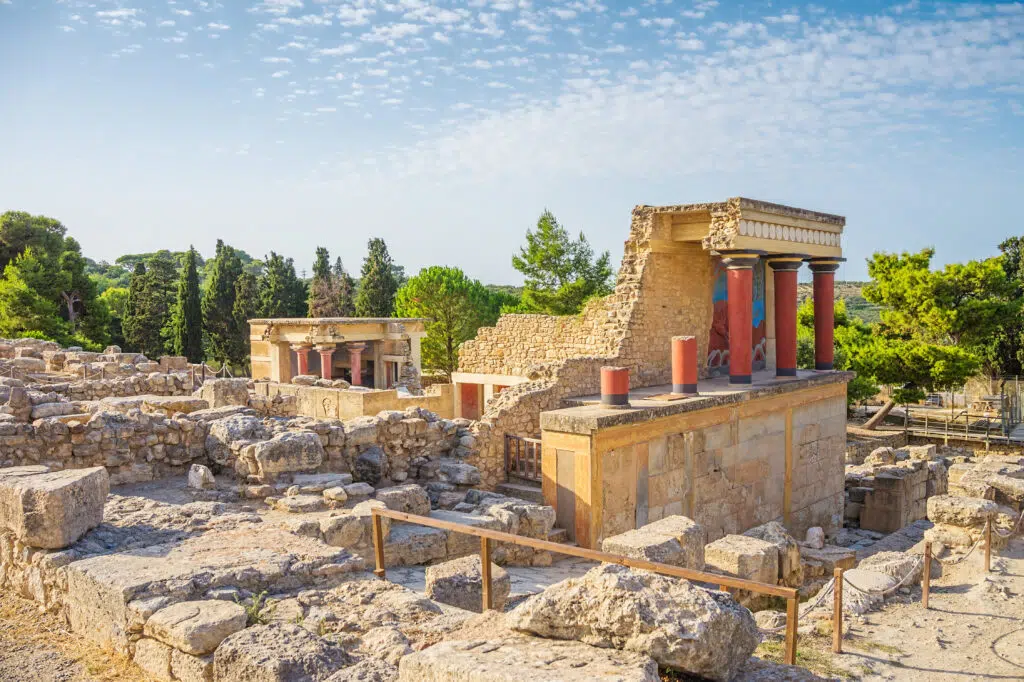 Looking for the best islands to visit in April? Crete starts to heat up and, though the ocean will certainly be refreshing, sunny days provide the perfect antidote. Though dazzling beaches like Fallasarna and Balos Lagoon are a top drawcard, it's the wildflower-covered inland landscapes that make this island a top spot for April sun holidays.
Better yet, temperatures are simply perfect for hiking through the countryside and making the most of wild orchids, poppies and field gladiolus. Drive through rugged, mountainous regions to sleepy villages to see Crete as the locals do. Taste your way around the vineyards and sample succulent produce in friendly tavernas.
Enjoy leisurely, historic explorations of the Knossos Minoan Palace, the old leper colony of Spinalonga and the Heraklion Archaeological Museum. Back to those beaches though, and this is your chance for people-free photos and moments of peace on pink-hued Elafonisi.
SEVILLE, SPAIN
Seville's fairytale streets are awash with orange blossoms at the beginning of the month, bringing with them the sweet scent of spring. Against this backdrop, you'll sink into a sightseeing enchantment while strolling among attractions like the Royal Alcazar Palace, the gothic Seville Cathedral and the atmospheric plazas of Santa Cruz.
Holy Week, or Semana Santa, heralds the arrival of Easter with extravagant processions featuring massive religious statues, in tribute to the Passion of Jesus Christ.
You won't have time to catch your breath, with the Feria de Abril following close behind. This Seville Fair offers a week of dancing, drinking, eating and joy, where you'll see traditional Andalusian dress and plenty of late nights.
But wait, that's not all that makes Seville one of the best cities to visit in April. The annual Sevilla Swing Festival takes place in this month too. It's a celebration of world music with live performances, dance classes, exhibitions and markets. Speaking of which, get set to tantalise your taste buds with seasonal produce at markets throughout the Spanish city.
Read More: Seville in Winter (includes things to do at any time of year!)
ISTANBUL, TURKEY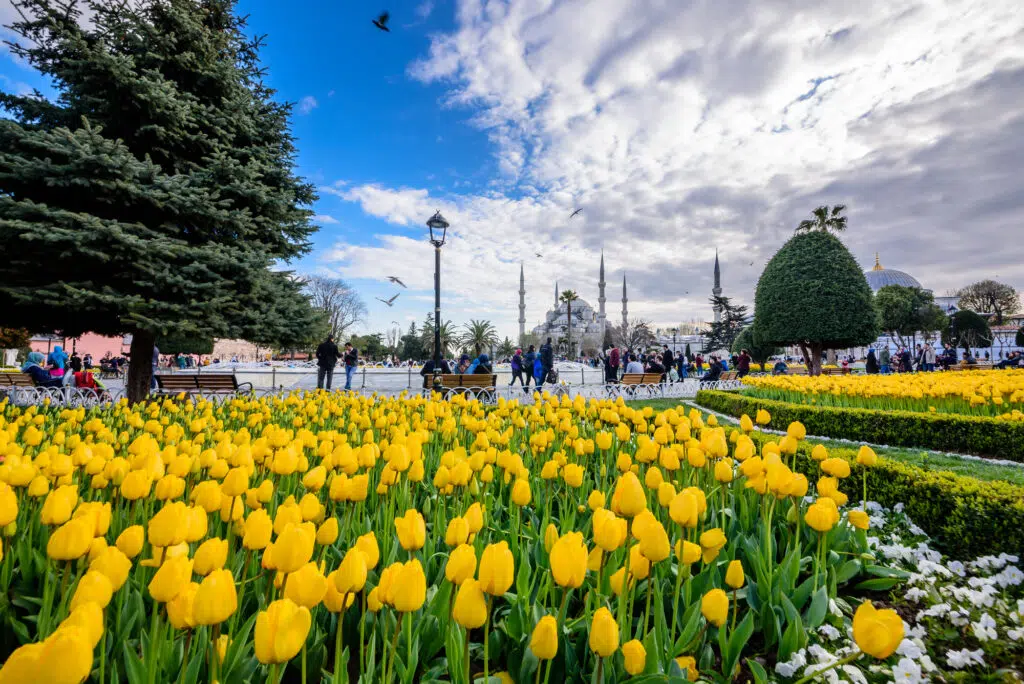 Longer and warmer days mean it's time to come out and play in Istanbul. It's festivals that make this city one of the best places to go on holiday in April. From art exhibitions to music concerts and parades, you don't have to walk far to run into a celebration of the season.
The city's most famous parks, including Gulhane Park, Sultanahmet Square, Emirgan Park and Yildiz Park, host the annual Tulip Festival. The flower is an iconic symbol that's long played a starring role in Turkish arts. Along with around 120 different types of beautiful blooms to admire, art and cultural activities offer plenty of things to do within the explosion of colour.
Movie buffs can't miss the International Film Festival, held at cultural centres and cinemas across the Beyoglu and Kadikoy districts.
In between all that, mild temperatures are ideal for taking a Bosphorus cruise, pounding the pavement along Istiklal Street and ticking the iconic landmarks of Hagia Sophia, the Blue Mosque and Topkapi Palace off your bucket list.
LISSE, NETHERLANDS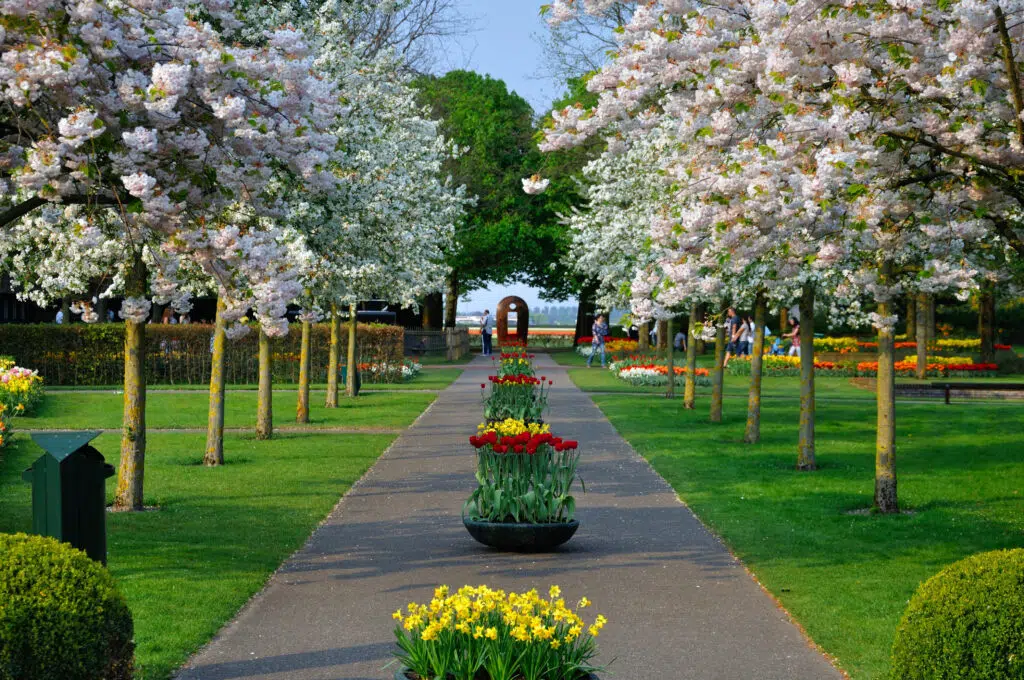 If you've ever wanted to immerse yourself in a sea of flowers that seem to drift to the horizon, the Netherlands is home to one of the best places to visit in Europe in spring. The town of Lisse rests at the heart of the flower-bulb region, near the Dutch coast and within a short drive of Amsterdam.
It's here that you'll find the famous Keukenhof, one of the world's largest flower gardens. With over seven million tulips, hyacinths, daffodils and more, the garden is at its blooming best in April. In fact, it's only open from mid-March to mid-May and each year a different theme marks the season. Not surprisingly, the park attracts over a million visitors each season, so it's best to arrive early and avoid the weekends.
Though it makes for a popular day trip from Amsterdam and the seaside towns of Noordwijk, Bloemendaal and Zandvoort, it pays to stick around for a few days. Hire a bike to venture off on your own exploration of the surrounding tulip fields all the way to Haarlem, on a dedicated cycling route through the centre of the flowering region.
FUERTEVENTURA, CANARY ISLANDS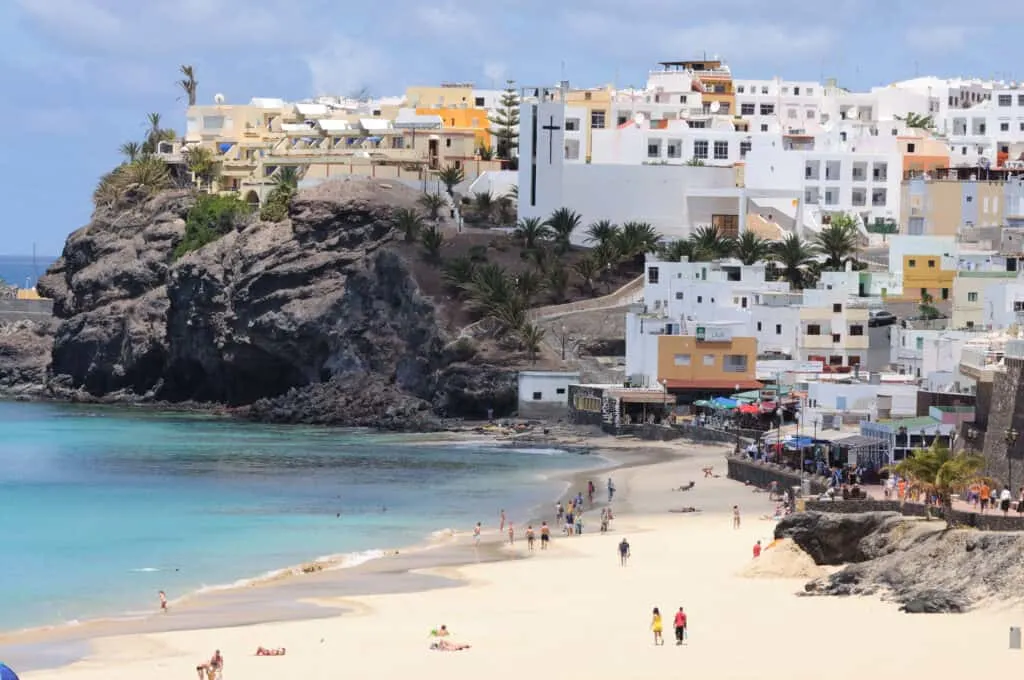 The warmest place in Europe in April is found in any one of the Canary Islands, so take your pick. When you're craving the beach, Fuerteventura arguably boasts the archipelago's best stretches of sand, with over 150 kilometres of beaches.
The Parque Natural de Corralejo hosts some of the most spectacular, with windswept sand dunes on one side and Red Mountain volcano on the other.
Inland from the turquoise seas, meander through the pretty, whitewashed towns of Antigua, Betancuria and La Oliva. Climb the sacred Montana de Tindaya, the oldest mountain in the Canaries, for views stretching as far as Lanzarote.
After hopping around the island's sights, head back to your beachfront resort for cocktails by the pool, as one does in the Canary Islands.
CINQUE TERRE, ITALY
Cinque Terre is one of the top holiday places in Europe, but its ethereal beauty also means that peak seasons here are crowded, expensive, and often too hot to enjoy the ancient system of footpaths that span the five UNESCO-listed villages.
Spring invites you to stroll more comfortably as you soak up dramatic views of pastel buildings, gardens and vineyards etched into the sides of soaring cliffs.
To escape daytrippers, stay for a few nights in one of the enchanting towns. Vernazza is often included as one of Italy's most beautiful small towns, framed by a natural harbour and adorned with steep, quaint streets linking cafes, historical buildings, and a charming seaside piazzetta.
Manarola is awash with grapevines and medieval sights. Nearby, Riomaggiore is the largest of the five and possibly the most photographed, especially at sunset. Monterosso is the spot for a day at the beach, on a backdrop spliced by lemon trees, and Corniglia sits up high in the vineyards for a quiet retreat.
Further Reading: Best Beaches in Cinque Terre / Visiting the Towns of the Cinque Terre
STOCKHOLM, SWEDEN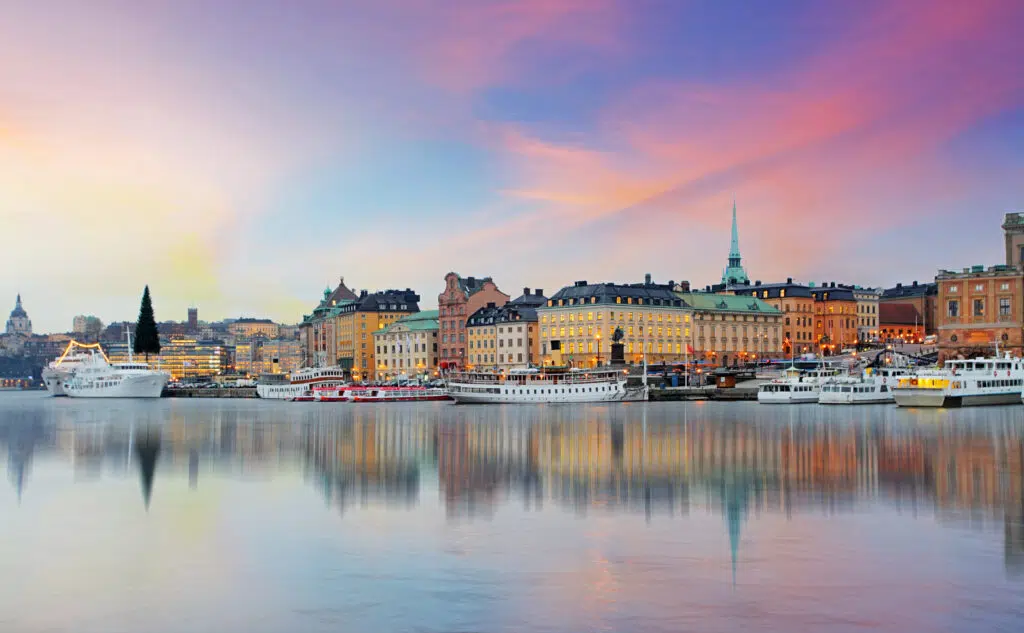 As March turns into April, Stockholm emerges from long winter days like a butterfly from a cocoon. There's still a nip in the air, but alfresco cafes pop out to line the streets, complete with cosy heaters and blankets when needed. The city is known for its green spaces and this is the time to see them, especially in Kungstradgarden.
The majestic park features rows of cotton-candy cherry blossoms (one of the best places in Europe to see cherry blossoms in April) and the annual Japanese festival beneath the magical, pink canopy. For culture-vultures, Stockholm is one of the best cities to see in Europe during the shoulder season, not to mention a lot less expensive at this time.
This is the month of the annual Culture Night, where galleries, theatres, museums, studios, libraries and more open their doors for free to show you the highlights of the city's rich cultural life.
---
Five fun ways to celebrate Easter in Europe
From the traditional to the decidedly quirky, Easter celebrations across Europe are reason enough to pop these countries at the top of your list for April holiday destinations.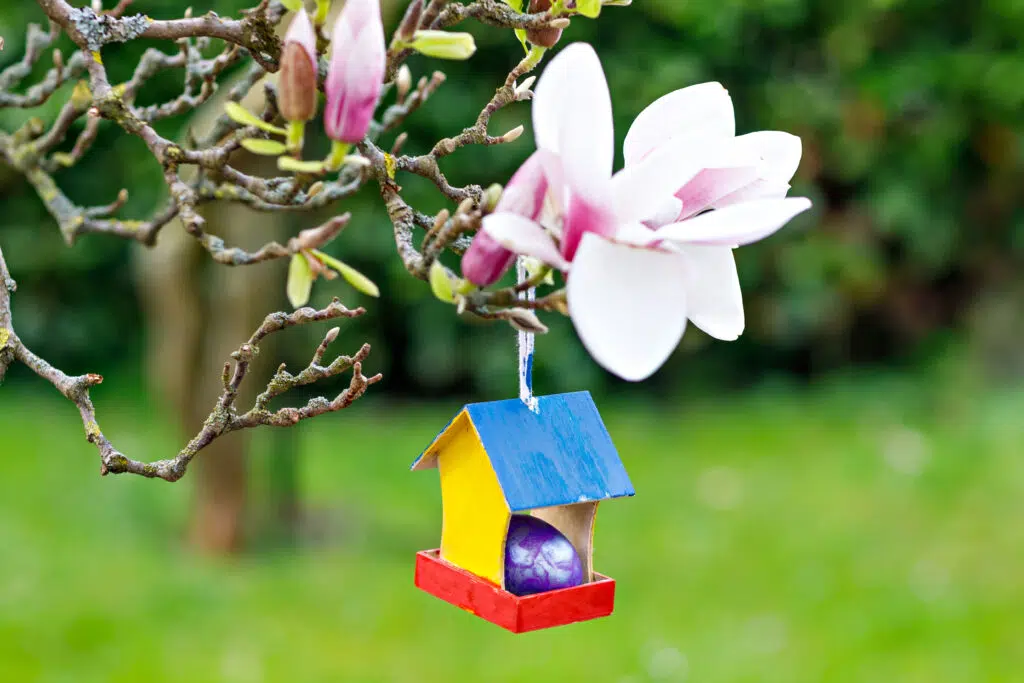 Easter in Hungary
Easter Monday is a holiday in Hungary and there's a lot more going on than just eating chocolate eggs. The Easter tradition of 'sprinkling' is a ritual left over from cleansing rites in pagan times, and involves dousing each other with water or perfume.
Easter in Armenia
Painted hard-boiled egg fights are what Easter Monday is all about for kids in Armenia. The fight consists of tapping someone else's egg with yours, to see which one cracks first. The owner of the longest-lasting, crack-free egg wins!
Easter in Germany
Can't wait to put your Christmas tree up every year? Visit Germany in April and you can decorate an Easter egg tree instead! They're known as Ostereierbaum and the eggs are usually hand-blown and beautifully painted.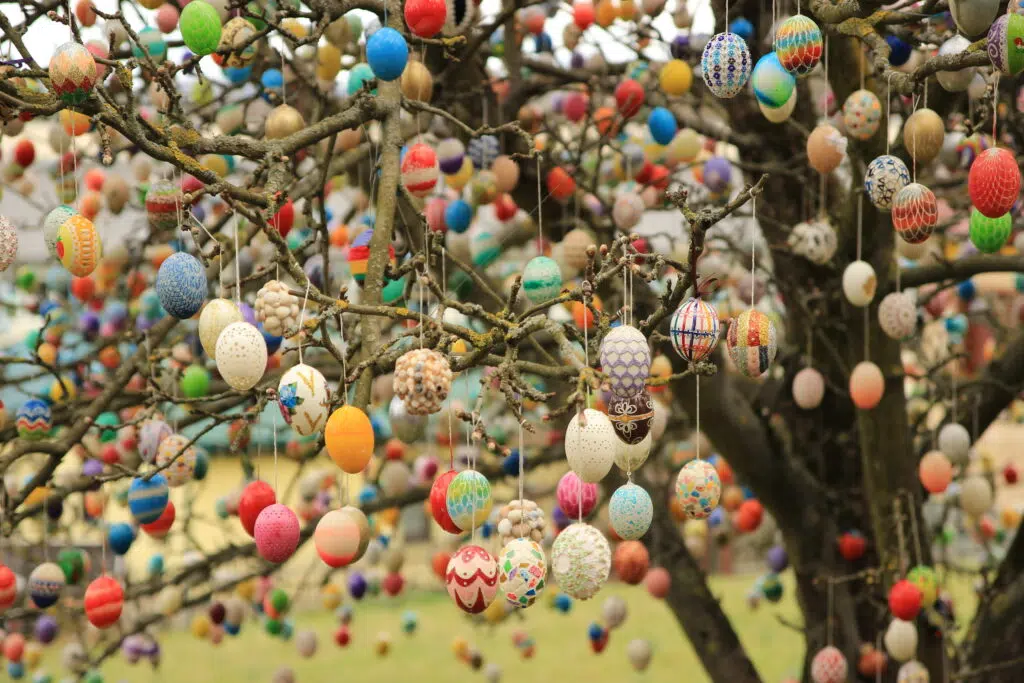 Easter in Finland
If it's Halloween you love, head to Finland for Easter. On Holy Saturday and Palm Sunday, children dress up as little witches and go door to door casting spells for a healthy year, in exchange for a sweet treat.
Easter in Greece
A Greek Easter could include the dazzling spectacle of homemade floating lanterns released into the night sky, especially in the city of Leonidio. At the same time, burning effigies of Judas light up the ground below.
---
---
The best places to visit in April in Europe all offer landscapes swiftly blooming with the season's cheerful colour. Combined with fascinating Easter traditions and temperatures custom-made for comfortable exploration, there's no reason why you shouldn't breathe in the sweet smell of spring in the top European cities.
Pin this for later!